How to do a road trip with your dog: The ultimate guide
Going on a road trip with your dog can be a wonderful adventure, with the potential to create incredible lifelong memories.
However, while road trips in general are spontaneous, fun and carefree, things tend to get a little bit more complicated when you throw your furry friend into the mix.
Not only do you have to make sure your pet is happy in the car, but you also have to plan for all the potential problems and risks that come with doing a road trip with a dog.
Plus, you have to factor in feeding and walking into your trip, which can add some extra time to the overall journey.
The most important things to remember when you're doing a road trip with your dog is to be fully prepared with food, medicine and equipment, to put your dog's safety first by keeping them secure in the car, and to make them feel as comfortable as possible during the trip.
Before you go on a road trip with your dog…
Do a few road trip practice runs
If they're not used to being in the car, some dogs can get anxious and shaky, especially on long road trips. Occasionally, they may even get motion sickness, which is no fun for anyone.
If your pup is a particularly nervous passenger, it helps to do a few practice runs before you officially set off on your road trip to help them get used to the feeling of driving.
This builds up their tolerance of the bumpy roads, swerves and sudden stops that are often unavoidable when you drive.
Start by going on a 15-minute drive with your dog to get them used to the sensation of being in a car. Then go for a few 20-minute and 30-minute trips with your pup in tow at least a few days before going on your big road trip.
Generally, dogs should eventually become accustomed to the feeling of being driven around in a car.
Make the drive a positive experience by rewarding your dog with a treat or a toy at the beginning when they hop in the car, and at the end when they get out.
If your dog still feels nervous or ill even after doing a few practice runs, it might be worth visiting your vet to see if motion sickness medications are necessary.
Pay attention to see if you notice that your dog is constantly licking their lips, excessively drooling, constantly panting or whining non-stop. These are all potential warning signs that there might be something wrong, and you should consult your vet for their expert opinion.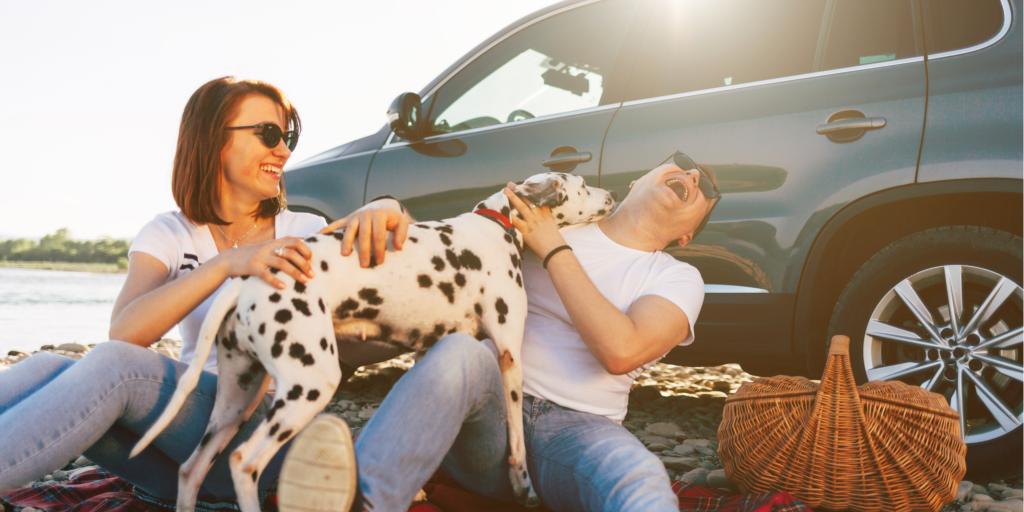 Don't feed your dog right before you set off on your road trip
You wouldn't eat a meal right before going on a roller coaster, would you? The same goes for dogs and road trips.
If you give your dog a meal right before they get in the car, it's far more likely that they'll feel sick and potentially vomit on the drive. To ensure your furry friend doesn't succumb to motion sickness, feed them about two hours before you set off on your long drive.
Then, right before you hit the road, take them for a nice, long walk so they get some exercise and fresh air before they're cooped up in the car.
Dogs are known to travel much better on an empty stomach, and hopefully going for a walk and expending some energy will help them relax and take a nap when you set off on that road trip.
Giving your pet water right before the journey, however, is fine for their stomach and might make them feel more comfortable on the journey.
Make sure your dog's tags and microchip are up to date
Can you imagine anything worse than losing your dog while on a road trip far away from home? We can't!
Before you embark on your trip, check that your dog's collar and ID tags are up to date, with your mobile phone clearly written on the tag.
It might also be worth adding a second phone number to the tag, e.g. an emergency contact like a neighbour or family member in the area, just in case your journey takes you somewhere without any mobile signal.
You should also make sure that your dog's collar fits well, and that there aren't any rips or tears that could cause it to come off during your trip.
An even better way to keep track of your dog is to get them microchipped before you go on a road trip. That way, even if their collar somehow slips off or gets lost, it will be easy to locate them no matter where you are.
Look up animal hospitals and vets along your route
You never know what will happen on a long trip, and while it's unlikely that something will go wrong, it's always best to be as prepared as possible.
If you're travelling far away from home, look up animal hospitals along your route so that you know you're never too far from a vet.
Keep a notebook in the front seat or a note in your phone with all the necessary phone numbers and addresses in each destination. That way, you won't be panicking too much if something bad does happen to your dog on the road.
Pack a road trip bag for your dog
Think of all the items you need on a daily basis to care for your dog. Some of these may be easy to find in shops when you're on the road, but others (favourite chew toy, we're looking at you!) are nearly impossible.
Play it safe by bringing all the road trip essentials you need to keep your dog happy, comfortable, and well-fed.
Here's a packing list to get you started:
What to bring on a road trip with your dog:
Water & water bowl
Plenty of dog food & food bowl
All your pet's favourite toys
Grooming supplies
Treats
Plastic poop bags for cleaning up after your dog
Any medications your dog needs
Medical records and vaccine certificates
A dog crate for the car
Safety harness
A pet towel to clean off your dog
Dog bed and blankets
Emergency numbers e.g. your vet
A seat cover to protect your car seats from dirt, scratches and chewing
When you're on the trip...
Keep your dog secure with a seat-belt or crate
Just like you wouldn't let your child roam free in the car, the same goes for a dog. Paws, ears and tails should remain in the car at all times, no matter how much your pet loves sticking their head out of the window.
Unfortunately, we've heard far too many tragic stories of dogs falling out of car windows while on the motorway. Don't let it happen to your beloved pet.
Moreover, it's a little known fact that it's actually illegal in the UK to travel with an unrestrained pet in your vehicle. If you break Rule 57 of the Highway Code, you could face fines of up to £2,500 as well as penalty points on your license.
The RSPCA recommends that you keep your pup safe by strapping them into their seat with a pet seat belt, or keeping them secure inside a dog crate while the car is in motion.
Most dogs won't love being strapped in the first time, but if you used these safety measures during all those practice runs, your pet should be an old hand by now.
If you feel bad about crating your dog for a long period of time, you can always make it as comfy as possible for them by putting soft bedding, blankets and pillows inside.
Add in an old jumper or sweatshirt that smells like you so your dog really feels at home. The extra cushioning will also ensure that your dog doesn't slip around inside the crate when your vehicle is on the move.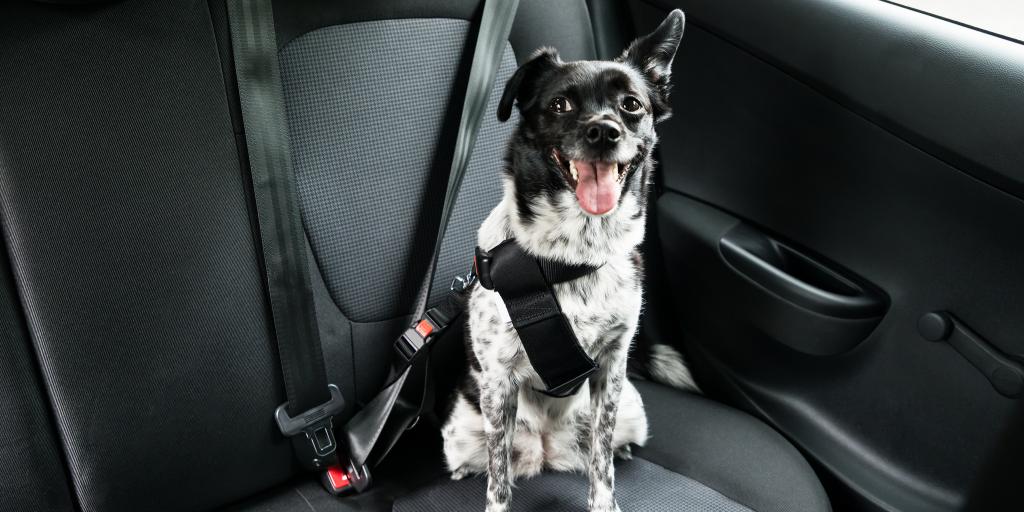 Don't let your pet ride shotgun on the road trip
As cute as it is when dogs climb into the passenger seat, seemingly pretending to be your copilot, it's actually pretty dangerous.
For one, if you have to brake suddenly or you get into an accident, your dog will likely be thrown through the windshield at an incredible speed.
If they're in the front seat, airbags will deploy from the dashboard with extreme force and can cause serious injury or even death to your dog.
Aside from potentially increasing the danger of crashing, dogs who ride shotgun can also be very distracting.
Some dogs love nothing more than crawling onto the driver's lap and licking their face, which can be dangerous as it obstructs the driver's view. Other pups will actually climb down onto the floor where the driver's feet are, potentially wreaking havoc with the brakes and gas pedal.
Taking your eyes off the road for even two seconds doubles your risk of being in a collision or accident. Don't take the risk; buckle your dog into the back seat and reserve the passenger seat for humans.
Take frequent breaks when you're doing a road trip with a dog
We all need to get out and stretch our legs from time to time on long drives, and that's especially true for dogs. We recommend stopping every two to three hours during a road trip for five to ten minutes and taking your dog for a walk around outside.
Make sure you keep them hydrated by filling up a water bowl at every stop and offering them a drink. And give your dog plenty of opportunities to pee outside so that they don't end up having to hold it in on the road, which could lead to a urinary tract infection.
Not only do frequent stops make dogs happy, but they're also a good way for you to break up the trip and avoid getting bored or tired while on the road.
Just be sure to stop in a safe and confined area, as opposed to the side of the road, which could be dangerous.
Pay attention to the temperature of the car
Unlike human passengers, who are more than happy to complain about the temperature inside car, dogs can't tell you when they're too hot or too cold. It's up to you to decide.
When you're on a road trip with your dog, check every so often that there's plenty of air circulation in the car to keep your dog cool and comfy.
If you're travelling somewhere particularly sunny, consider using sun shades to cover the car windows so that your pet isn't constantly being subjected to bright and hot sunlight.
If you do happen to notice that your dog looks overheated, crack the windows open a little to let in a cool breeze, invest in a cooling mat if the heat is extreme, and never leave your dog alone in a hot car.
On the flipside, if you notice that your pet is shivering, it may be that the AC is blasting a little too vigorously. Adjust accordingly!
Protect your dog's ears by keeping stereo sounds up front
Obviously, it goes without saying that one of the greatest joys of a road trip is blasting Free Fallin' by Tom Petty on your stereo and belting out the lyrics as you drive down the open road.
However, it's important to note that not all passengers are fans of extremely loud sounds.
While there isn't a lot of scientific data around about the effect of loud noises on dogs' well-being, we do know that dogs' ears are seven times more sensitive than humans' ears.
So it's likely that they do not enjoy having music blasting into their ears from a car speaker.
If you must listen to music on full-volume, adjust the sound settings so that it plays only in the front seat.
That way, you get to enjoy the tunes and do all the seat-dancing you want, while your dog is left in peace.
Stay in pet-friendly hotels along the way
Not all hotels accept pets, and there's nothing worse than showing up to a one-hotel town only to find that they don't allow dogs in the rooms.
Avoid disappointment by planning your route carefully ahead of time and only booking hotels that are pet-friendly.
If you're travelling around the U.S., there are some chains that tend to welcome pets. Among these is Red Roof Inn, which is not only pet-friendly, but also doesn't charge a fee for your animal.
They also have a section on their website where you can find local dog parks near the Red Roof Inn where you're staying.
Wherever you end up staying, when you arrive at the hotel, set a good example for future pet-owners by making sure your dog is well-behaved. You should also leave a nice tip for housekeepers at the end of your stay - especially if your dog tends to shed.
This creates a positive impression, which means other dog-owners are more likely to have a good experience when they stay at that hotel.
If you're booking with LazyTrips, look for the dog symbol next the hotel where you want to stay. We will always tell you if pets are allowed, and if so, whether or not there is a limit on the size of the pet.
Keep your dog on a lead
Even if your dog is used to wandering around without a lead at home, you should be extra cautious when you're travelling somewhere new.
Unfamiliar people, roads, sound and smells could cause your dog to get nervous or excitable and potentially wander off if they're not on a lead.
And if you're camping or visiting a national park, you never know what kind of creature could be hiding around the next corner.
The last thing you want is for your dog to bark at a bear, a fox or a coyote, putting themself (and potentially you and your family) at risk of danger.
By keeping your dog on a lead, you can always keep a close eye on them and make sure they don't get into any trouble.
Avoid pet boredom with games and toys
Road trip boredom is real, and luckily for humans, we have a whole host of games we can play to help assuage that restlessness. But as clever as your dog may be, they unfortunately don't have the understanding or the language needed to play I Spy!
If you want to keep your dog occupied on long drives, give them access to plenty of dog toys and pet games.
A good chew toy can keep a dog busy for hours at a time, and there's a huge variety of chew toys that you can bring along on your trip.
For an extra special surprise, buy a hollowed-out chew toy and fill it with treats.
Your pet will be over the moon when they reach the inside of the toy and finally get to snack on the good stuff.
Another way to keep your dog entertained is to take them on some longer walks when you stop for breaks.
Look at your route ahead of time and see if you happen to pass any national parks or scenic walking routes.
Your dog will appreciate the bonus bonding time, and you'll both have a chance to get some exercise before getting back in the car and driving on to your next destination.
Maintain your normal routine
Obviously it's impossible on a road trip to do things exactly as you do them at home.
That being said, maintaining a sense of normalcy and routine will help your pet relax while you're on the road.
Try to time your stops to coincide with normal feeding times so that your dog doesn't get shaken up by a new routine.
And once you've reached your destination for the day, walk and feed your dog around the same time that you do when you're at home.
Another thing to remember is that you shouldn't switch up the type of dog food you give your pet right before your trip, as travel can upset their stomachs and make them feel sick.
And if your dog normally sleeps in a bed, set it up in your hotel room to make them feel as relaxed as possible
It might be worth playing some white noise on your phone as you both sleep if there are loud or unfamiliar sounds outside the hotel.
Don't ignore your dog's nerves
If your pet seems upset or anxious at any point during your journey, don't ignore it.
Animals are extremely sensitive to change and unknown environments, so a road trip can sometimes be a little bit traumatic.
If worst comes to worst, there are some medicinal ways to reduce stress, like adding some motion sickness medicine to their food at least an hour before travelling in a car.
For a more holistic approach, try herbal remedies like chamomile, ginger or peppermint.
According toPetMD, giving your dog a small piece of a gingersnap cookie can sometimes help soothe their tummy before a long road trip.
Most importantly, always make sure you check with your veterinarian before giving your pet any type of medicine.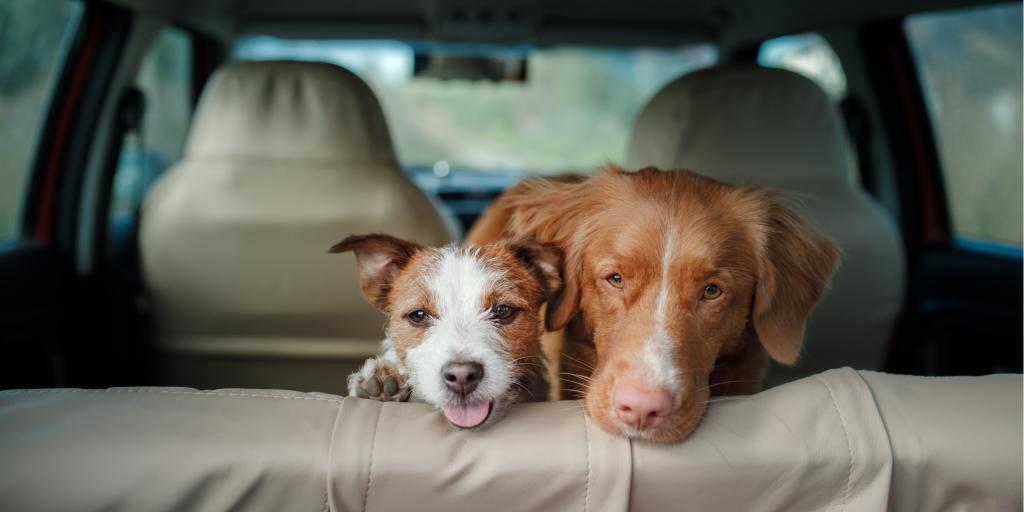 Taking your best animal friend on a road trip can be a seriously rewarding and fun experience, but only if you know what to look out for and how to properly prepare.
As long as you follow the guide above, keeping your dog happy, safe, comfortable and well-fed, you should be in for an epic road trip that you both will enjoy!