INTERVIEW: Everest climber Sadie Whitelocks on breaking the record for the world's highest dinner party
I can't help but think that the saying "big things come in small packages" was written expressly about Sadie Whitelocks. This 30-year-old bright blonde Londoner has a broad smile, a sweet disposition and an infectious laugh, but don't let her fool you; she also considers herself a hardcore explorer and has had some of the wildest and most harrowing travel experiences of anyone in the world.
Most recently, Sadie embarked on an expedition to Mount Everest, where she and seven fellow trekkers set the world record for the highest ever black tie dinner party (at an elevation of 7,050 metres!) A month after her trip, LazyTrips sat down with Sadie to learn more about the record-breaking adventure.
LazyTrips: How did the idea come about?
Sadie Whitelocks: I have no idea - such are the greatest things in life! I think I was connected to Neil Laughton [the expedition leader] through a friend. My ultimate goal had always been to summit, so when I saw his Facebook post about it I thought, this is my chance.
I had no idea who he was, but I did some research and a Telegraph article came up about how he'd driven a flying car from London to Timbuktu, so I knew he was the real deal! He'd also tackled Mount Everest before and attempted to break the dinner party record in 2015, but he had to cancel the trip because of the Nepalese earthquake. We met for a coffee and talked about previous adventurous things I've done, and he invited me on the trip.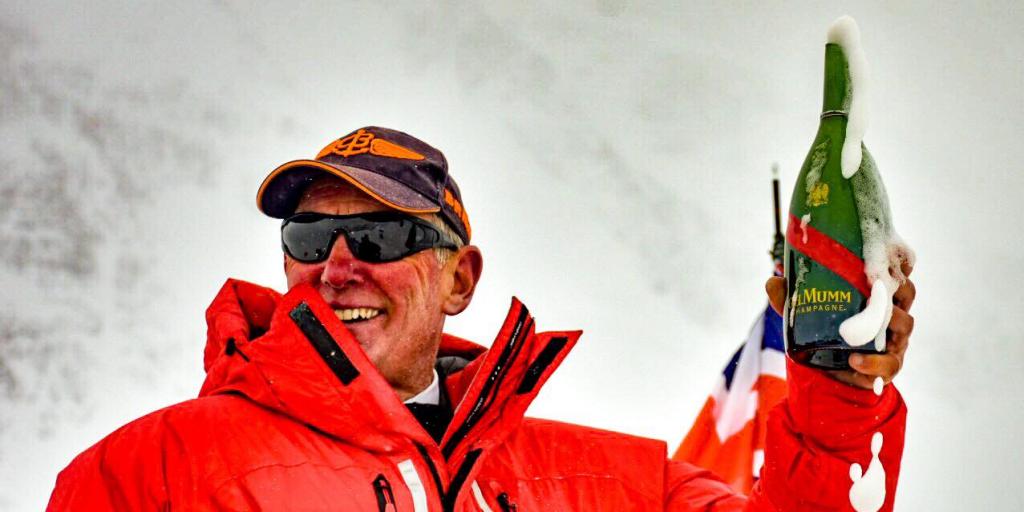 How did you pay for the trip?
Neil told me the expedition would cost between 10k and 12k per person, so I turned to sponsorship. This was one of the hardest parts - I literally sent hundreds of emails appealing to different sponsors! I had a few who agreed to do it then dropped out, but eventually I managed to find sponsors to cover the costs. [The expedition also raised funds for mountaineering charity Community Action Nepal.]
What was your training like?
I went to Everest Base Camp ten years ago for my 21st to escape the UK while I was going through some tough times. At that point I didn't know anything about how to get ready! My training was jogging up the escalators of tube stations and doing a little bit of running, so I was really badly prepared back then. But ever since that expedition, I've been dying to go back to Everest and do it right.
These days as a general rule I go to the gym every day just to be prepared for anything in life. I'll run, lie in the sauna, and I used to do a lot of Bikram yoga [in a heated room] which was great preparation. One thing Bikram gave me was the ability to breathe calmly under stress. You're in an extreme environment but you have to find a way to calm down.
Similarly, when you're in altitude, you get stressed because you think you might be having a heart attack. But the most important thing is not to panic. You do feel like you're dying, but yoga gave me the ability to calm down and feel in control of my body.
But the truth is, nothing can really prepare you for the energy-draining effects at that altitude. There were definitely moments when I felt like I was dying up there.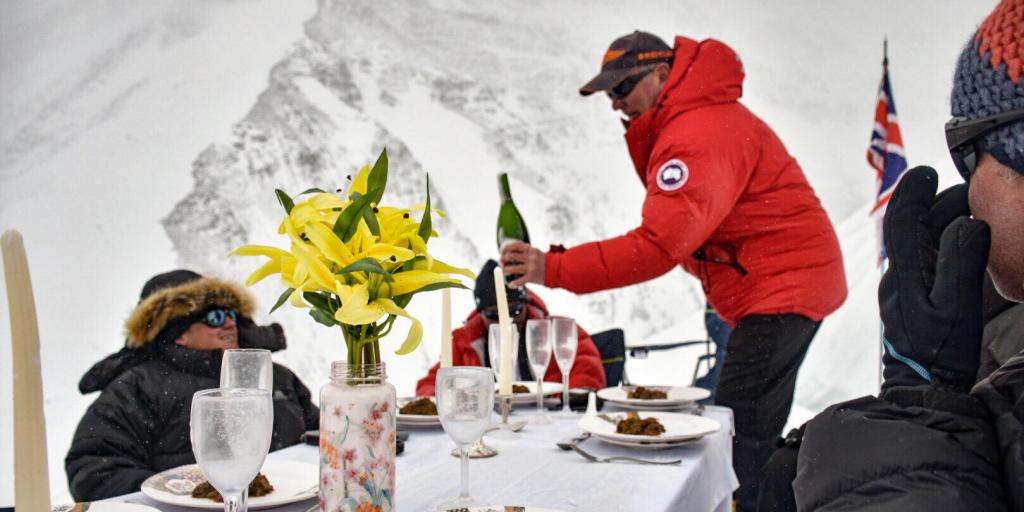 What was the hardest part?
We began our adventure in the wilds of Tibet before starting the week-long trek up Mount Everest. During the climb there were times when I felt like I couldn't make it. Your face swells up, your lips and skin get chapped, you get windburn and you start looking pretty weird from the air pressure. At times, it was so cold that I had icicles on my nose. Plus my head was pounding and I felt like a grandmother because I'd walk three steps and then I'd have to stop and catch my breath.
I didn't want to take medication because I prefer judging for myself how my body is reacting. But on Everest, when we got to Advanced Base Camp, I really felt like I was dying.
The doctor on the expedition [Marcus Stevens] told me my brain was swelling because I was only getting 35% of my normal oxygen intake! He gave me Diamox, which is what everyone was taking, and after a day of lying in bed I felt much better.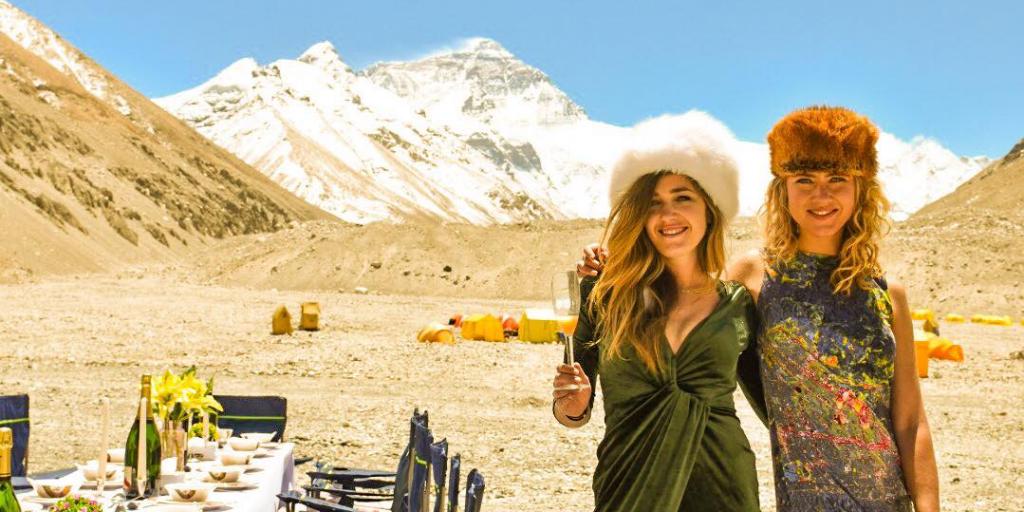 Tell me about the dinner party
On the day of the dinner party we were woken up at 5:30am because the weather's better in the morning. The sherpas brought us "bed tea," which was basically just tea with loads of sugar in! Then me and my tent buddy Jane [Chynoweth] had to change into our dresses inside our sleeping bags in ours tents on North COl.
At -25C, it was absolutely freezing as we sat down for the meal. I nearly passed out because it was so bright I didn't have sunglasses on. The blinding whiteness made me feel really dazed and confused. Finally the doctor brought me some glasses and I could see better.
Our dinner consisted of a delicious two michelin star menu cooked by Nottingham chef Sat Bains: it tasted so good, especially compared to what we'd been used to eating. We'd had normal camping food up to this point: a lot of spam, potatoes, noodles, peanuts, peanut butter. So by the time this meal came, I was like Wow, this is jolly good! Chunky miso soup with vegetables, tasty lamb tagine and then this chocolate log pudding that tasted incredible. I usually don't have a big appetite, but I had seconds and thirds!
Overall, would you say you enjoyed the expedition?
It was amazing. It's really weird going on expeditions; when you're in such a unique off-grid-environment, disconnected from the internet and the outside world, you get to know people in a completely different way. It's sort of like being with a family for that time, and it's a really enjoyable experience if you like that kind of thing.
For some people, it's their idea of hell. But if you're into it then it's the most incredible experience because you'll be with those people for life. Even the people I went to Base Camp with 10 years ago, I could message them tomorrow and I know we'd still be there for each other and remember what we've been through together.
During this Everest expedition, it was really, really tough. But looking back now, I kind of want to go back!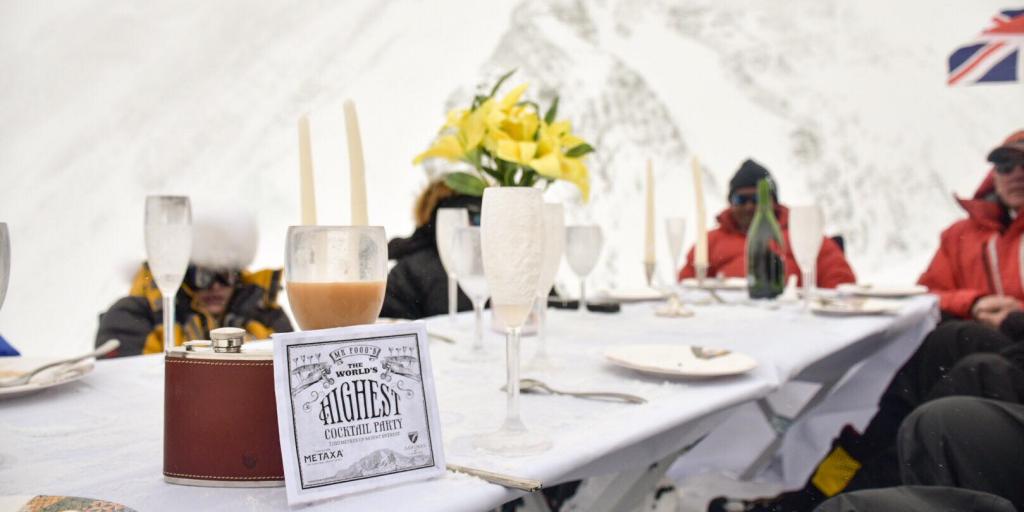 What's been your craziest adventure so far?
I think great white shark diving was the craziest experience, or maybe when I went motorbiking in Indonesia with a guy from the special forces. He does adventure trips every year, but he only takes two people on each trip. That was quite scary because I had to get my motorcycle license for the trip and it was super windy; I nearly drove off a 20 foot ravine! It was terrifying but definitely character-building.
Next on Sadie's travel bucket list: Madagascar, New Zealand and Papua New Guinea!
To keep up with Sadie's adventures, follow her on Instagram @isleofsadie