Road trip tips for families: Here's how to survive the drive
Let's face it: long drives with young children can be really challenging and draining, making the prospect of going on a family road trip more than a little daunting.
Although temper tantrums, arguments, drink spillages, and motion sickness haunt parents the world over, your family road trip doesn't have to be set to a soundtrack of 'are we there yet?' coming from the back seat.
The main thing to remember for a successful family road trip is planning ahead, making sure you've packed plenty of snacks and provisions, prepared enough games and entertainment, and have a good idea of where and when you're going to stop.
Remember: the kids aren't going to be happy unless the adults are too, so don't forget to share the driving, take turns being in charge of in-car entertainment, and plan activities that the whole family can get involved in.
To make this a little easier to digest, we've put together a list of our top 12 road trip tips for families to help you get clued-up on how to beat the boredom of the open road, and most importantly how to survive a long drive with kids.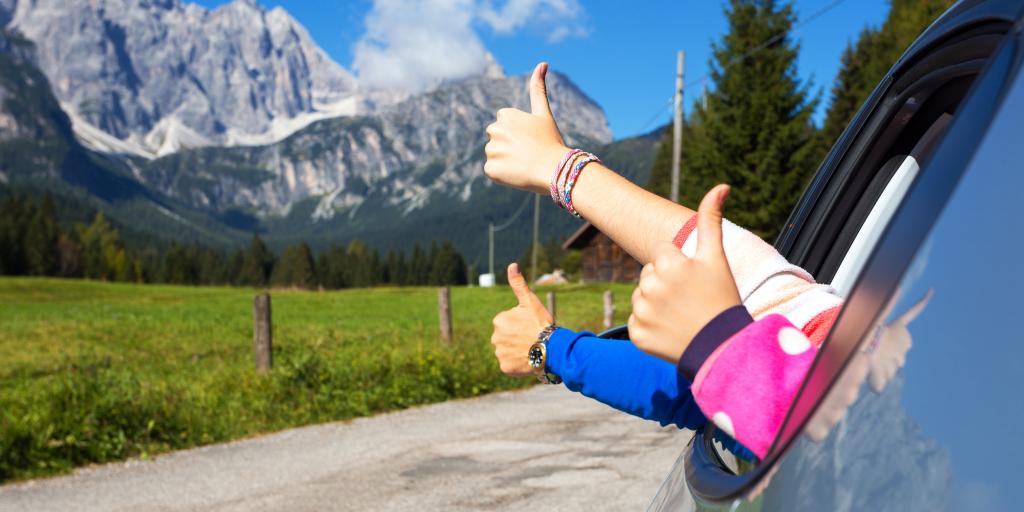 1. Hire a spacious car
Our first tip is a super simple way to make your family road trip a whole lot easier before you've even set off - simply hire a really spacious car, or opt to take your own family-sized car with you.
There's nothing worse than a cramped car to make kids agitated. By freeing up some space, you'll immediately be rewarded with calmer, happier passengers (particularly if the back has three equal-sized seats to avoid the classic argument over who has to sit in the middle).
More space also means more room to bring games and toys to occupy the kids, and should also make it a lot easier for them to comfortably fall asleep - a win-win for everyone.
2. Have some road trip games up your sleeve
One of the best ways to distract the kids from the hours of driving time that stretch out ahead of them is to have some road trip games prepared for when they start to get restless.
Easy classics like I Spy and storytelling games can be started at a moment's notice for a speedy distraction. Or, if you're a little more prepared, games like car bingo - where passengers must tick off items they see from a pre-made list - can be even more effective.
Games don't, however have to be restricted to child-friendly entertainment; they're actually a great way to occupy the adults too, and can be the perfect way to spend some quality family time before you reach your destination.
Check out our list of the top 25 road trip games, and choose a few that your family would love to incorporate into your next long drive.
3. Keep the car tidy and organised
We appreciate this is often an impossible task with young kids involved, however the tidier you can keep the car, the more pleasant the driving experience will be for everyone.
Before you set off, pack all toys into a bag or box that easily fits under one of the front seats (or on the middle seat if it's free) so there's somewhere for all the loose bits and bobs to live, even if the kids need a little encouragement to use it...
There's also a surprising number of pockets and storage spaces in the passenger areas of the car to make the most of (e.g. a drinks holder is the perfect spot for a pencil case), so it's easier than you may think to stay organised.
This goes for rubbish as well as people's possessions - have a bag for all the empty wrappers and bottles you accumulate over the drive and empty it at every stop. Try to do your part for the environment by separating recycling from rubbish!
This will make such a difference to how the car feels, and generally make it a much nicer place to spend time.
4. Pack plenty of snacks in individual portions
Snacks are absolutely mandatory for a long drive, but they can also be the source of many an argument and lots of pesky crumbs - especially when they come in shareable bags.
The solution? Before you leave home, decant the snacks into individual boxes and bags so each passenger can enjoy their own when hunger strikes.
Not only will this make the kids feel super important, but it eliminates the need to share, allows parents to exercise portion control, and makes it easy to distribute snacks evenly throughout the journey.
Opt for low-sugar foods (for obvious reasons), with the occasional naughty snack thrown in to keep everyone smiling. And don't forget to carefully hand some snacks to the driver to keep their energy levels up too.
5. Plan regular stops
Regular stops are a must when travelling with younger children - it's definitely better to be safe than sorry when it comes to those bathroom breaks!
We'd recommend having a look at the map and planning possible places to stop at regular intervals along your route. That way, you'll know exactly when the next bathroom is coming up and can plan the number of stops you think your family will need.
These breaks are also super important to give everyone in the car a chance to stretch their legs and reduce that cabin-fever feeling. With enough breaks, hopefully won't be pulling each other's hair out by the time you get to your destination.
A quick run around is also a really effective way to tire the kids out a bit, increasing the chances of them falling asleep for some peace and quiet on the next leg of the journey.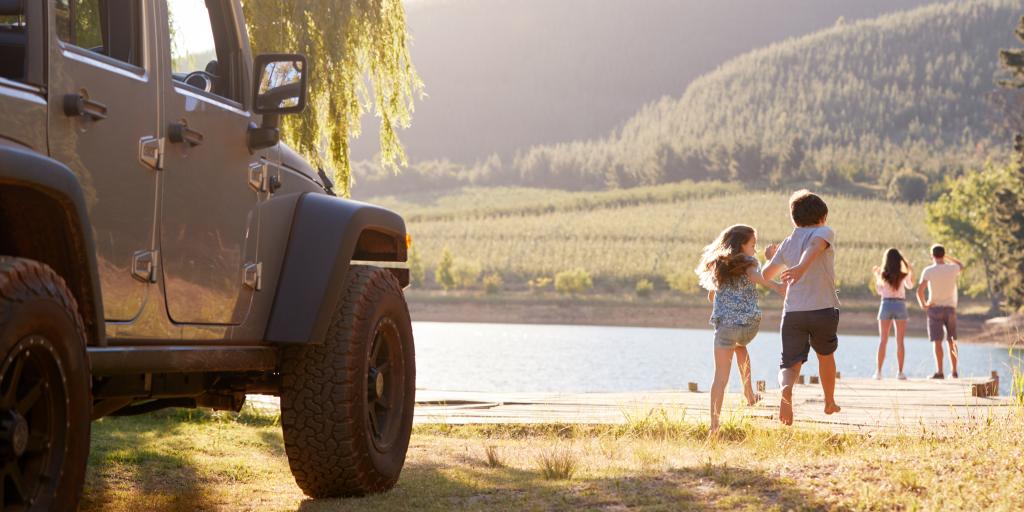 6. Share the driving and take turns entertaining the kids
Another great tip for a successful family road trip is for the adults to split their time between driving and kid-entertainment responsibilities.
While the parent that's driving concentrates on the road, it falls to the other parent to keep an eye on the kids and keep them happy as you travel - a simple yet effective formula that you can rotate frequently.
This has obvious benefits for the adults, who can stay on the ball with a change of focus every few hours. It also keeps the kids engaged, as they'll enjoy the regular shift in who's giving them attention.
This tip also works well for night time stretches of driving. The co-pilot should try to stay awake as much as possible bot to keep an eye on the kids, and to make sure the driver is staying alert; it's not much fun driving when the rest of the car is asleep!
7. Make an epic family playlist before you set off
Nothing beats driving down the open road with your favourite music on full blast. If you're going on a family road trip, plan ahead by creating an epic playlist of all your favourite songs.
Before you set off, get everyone together and compile the ultimate selection of songs featuring something that every member of the family loves listening to. You can put the playlist on whenever you can't find a good radio station or you're in the mood for a sing-song.
Use the tracks to play some musical games, sing along as a family, or just use it as background music for a moment of calm.
Everyone will love getting involved in making the playlist, and will be super excited to hear it in action on the road.
8. Get stuck into an audio book
If the novelty of the playlist starts to wear off or you've heard it on repeat three times too many, then switching to an audio book is a great idea.
The whole family will get happily engrossed in a good story, helping the long drive to fly by - so much so that you may even have someone begging to stay in the car to listen to the final chapter.
Go for something longer if you can, especially if you're doing a multi-stop trip. You can progress through the book over the duration of your whole holiday (Harry Potter is always a good shout for this, if the kids are old enough).
This is, in our opinion, one of the best forms of car entertainment around that every family needs to try out on their next road trip.
9. Have a few surprises in store
Picture this: you've been driving down the motorway for two hours, the kids are getting bored of I Spy, the healthy snacks are no longer cutting it, and you need a quick way to lift morale.
Our solution: whip out a surprise. Hold back a couple of the best games, have a few sweet treats hidden away, or announce a spontaneous stop-off at a theme park or swimming pool.
It's completely up to you what you decide to offer (you know your family's favourite things better than we do), just go for the biggest wow factor possible.
Little surprises along the way will ensure the kids are happy and remain excited to be in the car for the whole journey. So simple, yet so effective.
10. Bring plenty of wet wipes and resealable bags
Unfortunately, no parent can escape the fact that kids often get sick in cars, so it's vital to be prepared unless you fancy trying to clean the upholstery with a bottle of water on the side of the road.
The top two items for motion sickness survival are wet wipes and resealable zip-lock bags. If you pack plenty of these, it will (hopefully) mean you can avoid any major clean-up jobs and continue with your journey as scheduled.
Wet wipes are also infinitely useful for sticky fingers and spillages, and sealable bags for keeping snacks fresh, so they're just generally really useful things to have in the car on a family road trip.
Definitely add these two essentials to your road trip shopping list ASAP.
11. Avoid small country roads
Although super scenic, twisting country lanes aren't the best idea if you've got kids in the car for two main reasons.
The first is that before long, all those sharp turns are likely to induce a nasty bout of car sickness that will mean you'll find a use for those plastic bags and wet wipes pretty quickly. Need we say more…?
The second reason is that they're often much slower than taking the more direct motorway route. Average speed limits are much lower on smaller roads, and you're likely to have to pass other cars on very narrow stretches, which can be pretty tricky and time consuming.
We'd say that in general, convenience trumps beautiful scenery on a family road trip, so definitely take this into consideration when planning your route.
12. Make sure everyone's safe and comfortable
And last, but certainly not least, make sure everyone in the family is travelling safely and comfortably for the duration of the drive to ensure the most pleasant journey possible.
One of the main things to check is that you have the appropriate car seat installed for your child's age and height (if applicable to your family). You should also find out whether the country you're visiting has any specific guidelines on child car seats.
For example, in France all children below the age of ten or shorter than 135cm must use a UN R44/R129 approved child car seat. In Italy, all children below 150cm in height must use a car seat, regardless of their age and weight.
Once you've got the technicalities out the way, we also advise bringing a couple of added extras to make the ride even more comfy.
Take along a pillow and blanket for each passenger, and allow the kids to take their favourite cuddly toy if they have one - trust us, the happier and comfier the kids, the smoother the journey!
If you're travelling somewhere warm, you might want to consider installing car window sun shades to avoid uncomfortably bright sun shining in the kids' eyes.
Go for the kind that can easily roll up and down so that the little ones still have the freedom to look at the views, and to participate in your 20th game of I Spy!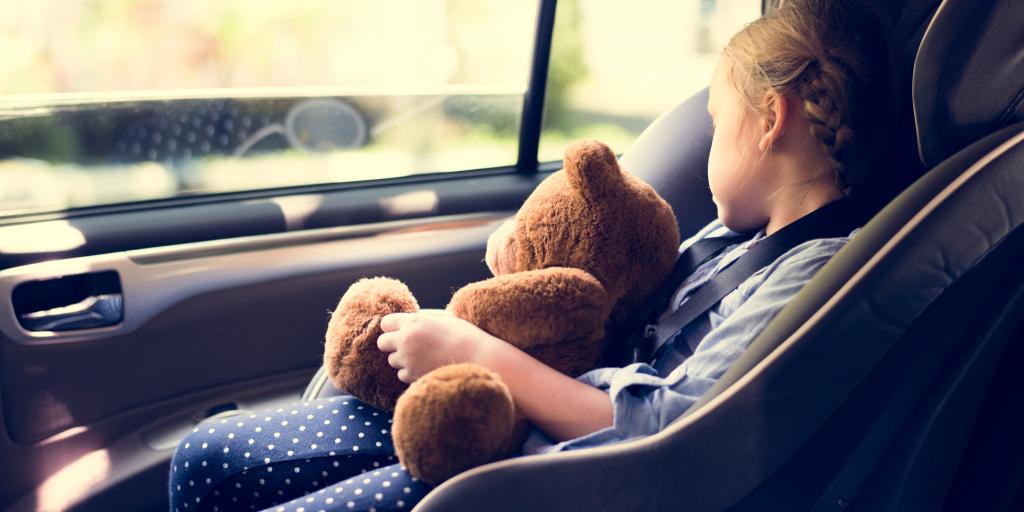 As you can see, there are plenty of things you can do to make your family road trip fun and enjoyable for both the adults and the kids.
At the end of the day, it's easy to make long drives entertaining and interesting, however daunting they may at first seem!