So you've planned your grand road trip, booked that amazing hotel and your bags are neatly packed into the car. You are ready to veer off the beaten track and drive over mountains and through deserts on an adventure of a lifetime. Is there something you might have forgotten to pack? What was it that you wish you brought with you last time you pounded the streets of far away cities, sunshine pouring through your wound down windows?
We thought we'd help you out and give you a few pointers on super useful gadgets that can transform your road trip with our list of the Top 10 most useful tools that you should absolutely bring on your road trip. We used the combined experience of tens of thousands of miles driven across every continent except Antarctica to tell you exactly what you need to throw into the glove box to make your trip perfect.
10. 4 port TeckNet travel car charger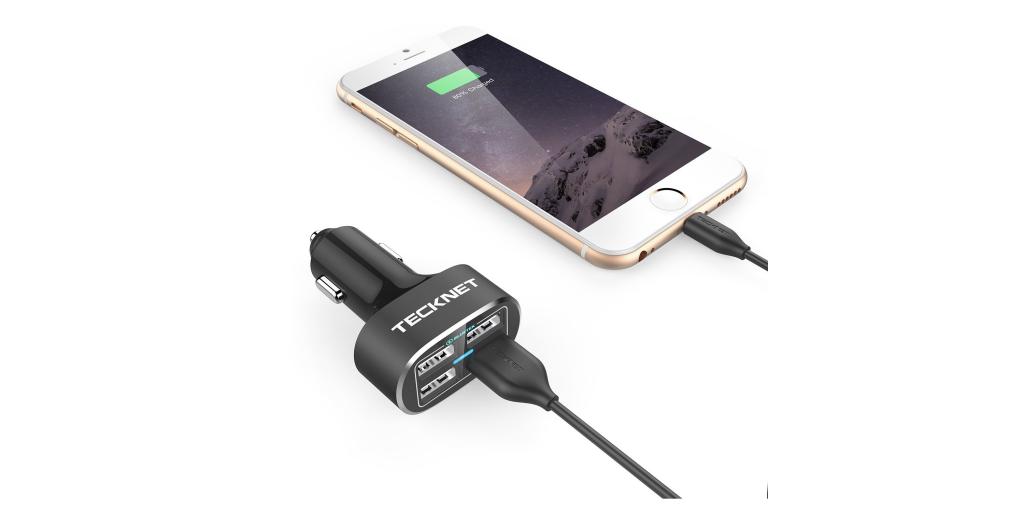 Not all car chargers are the same. You might not realise it when you buy the cheap car charger hanging by the till at the petrol station, but there is more to picking the right charger than you might think. This TekNet charger is our favourite that we have used on many long journeys and there are a few big reasons why you should make this a permanent feature in your 12V socket. First and most obvious is the fact that this charger comes with 4 USB ports. Most only do 1 or 2 but if you want to charge 2 or more phones, the iPad and any other travel gadgets like a navigation system, suddenly only having 2 ports is a real constraint.
But having 4 USB ports in this travel charger is not the only great feature. The overall design is great - some 12V splitters have a dongle that has to lie somewhere in your car and frequently bobs about or ends up in the footwell/wedged inexplicably next to the passenger seat. Others are flush with the 12V port which makes it a real pain trying to get it out when you need to. Perhaps most importantly, this TeckNet model offers up to 5V/9.6A worth of charging power. This is a million miles from the usual budget versions and will charge your devices far faster. This is especially useful for big batteries in tablets which can be fully charged on a relatively short journey.
9. Blackvue DR750S-2CH dash camera
Dash cams come in all shapes and sizes and everybody has their preference as to which features are important and which are not. On a road trip, a hard-wired dash cam can be invaluable should you need it to resolve a dispute or if you just want to look back at the scenery on a recent drive. Most dash cams have to be plugged into a 12V port but these become preciously important as all your other gadgets are competing for their attention. A hard-wired camera is great as after you've done the installation, it just does its job without you having to remember to turn it on!
The Blackvue DR750S comes as a 2-camera package - you can install one at either end of the car. The wiring is easy enough to do yourself and should take around 30 minutes. We would recommend a dedicated 12V port mounted near the fuse box and plugged into a fuse that is ignition-operated. That will prevent the battery from running flat!
The cameras will record onto one microSD card - you'll need to buy a fast card to go with the camera - we recommend you get a few so that you can record whole parts of your trip and not need to overwrite. We found that a 64GB card keeps about 12 hours' worth of driving.
8. PRO Packing cubes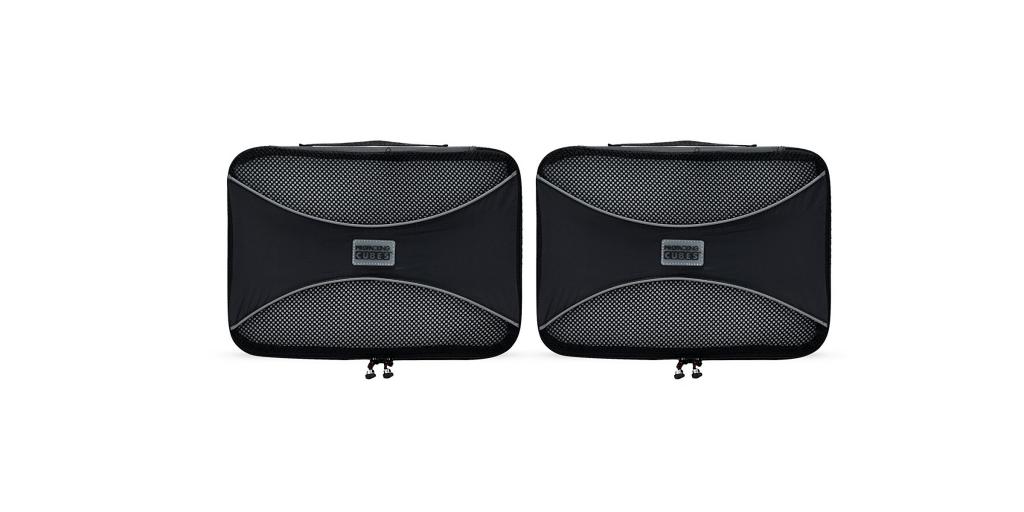 I know what you're thinking - how exciting can some packing cubes be and who uses them anyway? Truth is - there are few things that come in as useful as these on a long road trip. One of the most annoying things when you're driving between places and stopping somewhere for a night at the end of the day is having to lug your whole bag/suitcase out of the car, up flights of stairs, through doors and into your room only to spend 10 minutes trying to find the right change of clothes and toiletries that have moved around.
Packing cubes transform the way you pack for road trips. Keep one cube full of your toiletries and bathroom essentials and pack the rest of the clothes into cubes - 1 day per bag. These medium-sized PRO packing cubes are ideal for a couple to fit 1 day's worth of clothes. When you get to your hotel, grab a fresh cube and your toiletries bag and go relax in your room. Might feel a little weird without having huge amounts of luggage, but it really does make for a relaxing way to do travel.
7. iOttie Easy Touch 4 phone mount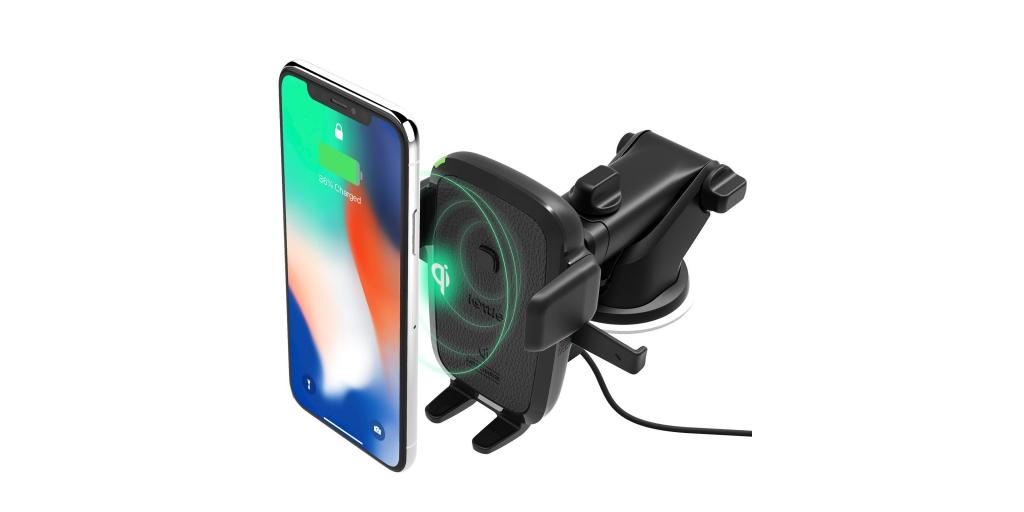 A phone holder is maybe not the most glamorous of gadgets that might capture your road tripping imagination, but we wanted to make sure you don't leave without one! Moreover, this iOittie phone mount is no ordinary flappy cradle. Aside from a robust build that lasts and a great mount onto the top of your dashboard, this phone holder has built in wireless Qi charging on the back. This means that if you own a reasonably new phone that supports wireless charging, you will always arrive on 100% battery by just placing it in the iOttie and that is pretty cool!
6. Dometic CDF-11 Car Fridge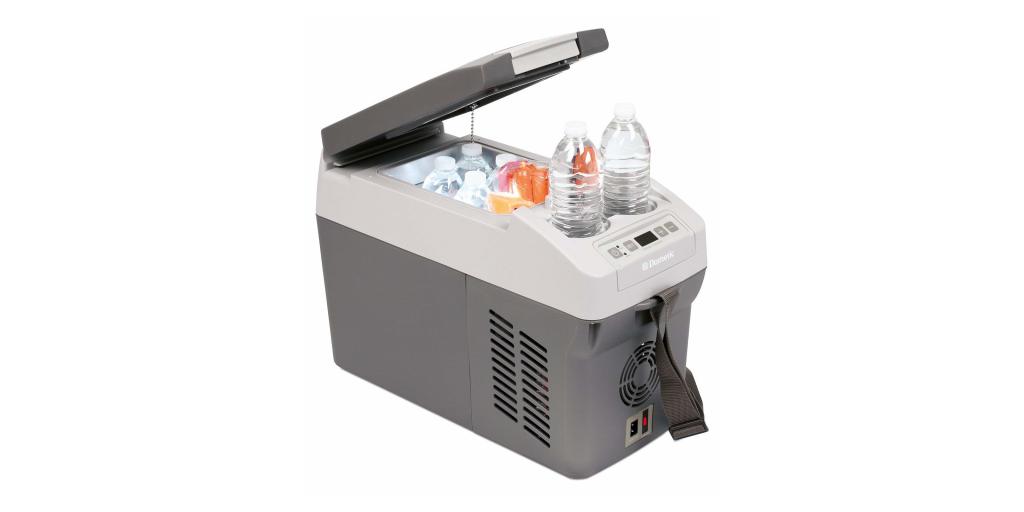 Ok. We know that you can just get a camper cooler box and fill it with ice. That ice is going to melt. That water is going to get everywhere and the chilled drinks will have very soggy labels in no time. Stopping at service stations to stack up on more ice which will also melt quickly doesn't really help either.
A car fridge may seem like an expensive luxury, but it really does add a lot to your road trip - especially if you're going during the hot summer and need your fizzy drink to hand. There are two types of car fridge - the cheaper and more common ones are electric and have no way of controlling temperatures - half the time these will freeze your coke into a giant brown icicle. We've all been there. The more expensive compressor fridges are much more quiet and can chill drinks and food properly to a set temperature which makes a world of difference. These are particularly great on longer trips or if you are going camping.
The Dometic CDF-11 is the smallest in the range, but don't let that put you off. It fits a number of large drinks bottles and you can keep your picnic in there too. We love it because it's really super quiet and fits equally well into a regular car and a campervan depending on your needs.
5. OBD2 reader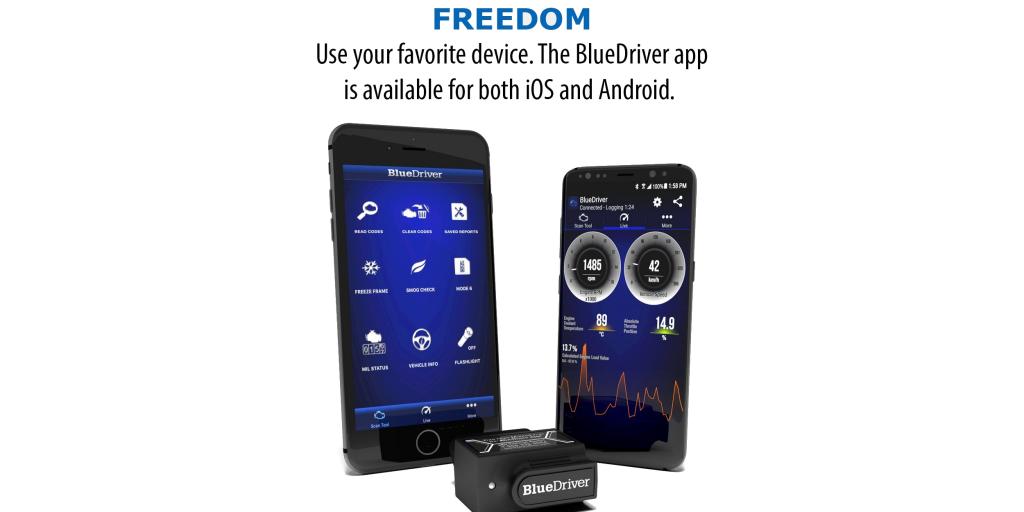 This might be the smallest of all the gadgets on the list and it is probably also the one you would be least excited to add to your must have list, but trust us - there are few things that are as useful on a long trip through places you are not familiar with than a good OBD2 reader. There are few things more worrying than the Engine light coming on when you are a few hundred miles from the nearest mechanic driving through beautiful mountains in the middle of nowhere. Having an OBD2 reader makes it super quick to understand if there is a genuine problem with the engine which means you need to call somebody to tow your car to get it urgently fixed or if it's just a warning that your gas cap is loose (yep! That can happen!)
This model is a bluetooth-enabled reader that plugs into one of the ports on your car designed for this purpose. Usually you will have one hidden away somewhere in the engine bay or near the battery and another one underneath the steering rack if you look down by the pedals. All you need to do is plug the BlueDriver tool in and connect it to your phone - hey presto you have just saved yourself a lot of worry and needless (and very expensive) diagnostic tests at the garage.
4. Handpresso 12V Car Espresso Maker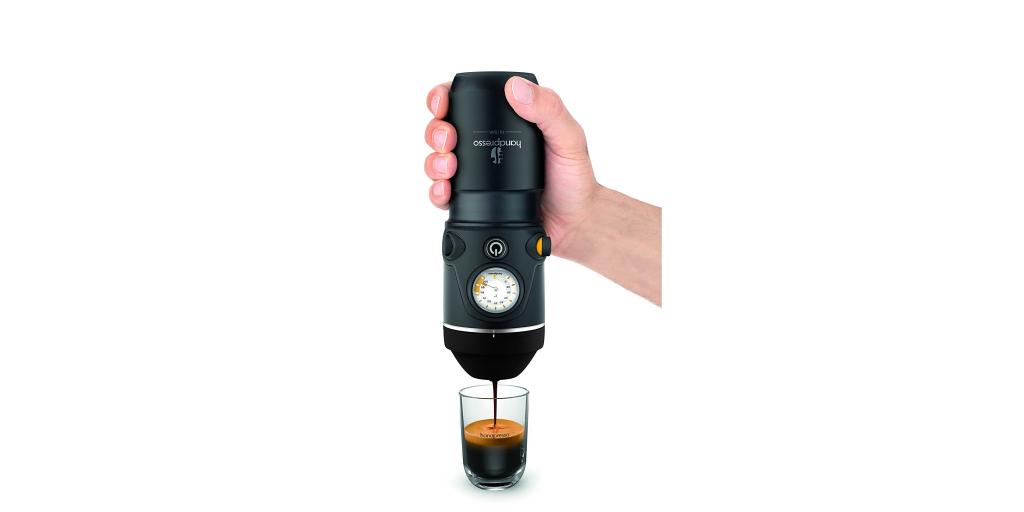 There are few things you want more when on the road than a great cup of coffee. Problem is that unless you plan on finding good coffee shops, the stuff that you can get at service stations is typically lukewarm brown water with a faint semblance of what you may call coffee. You just can't get a decent espresso in those shops so if you are after a morning drink or need a caffeine hit to get you through to your destination, this is the gadget you need!
The Handpresso 12V Espresso Maker will make a perfect espress-sized coffee while sitting in a cup compartment of your car and plugged into the 12V power supply. What's not to like? It's super easy to use, takes regular ground coffee or pods and is super easy to use on the go. Want to tone down the strength of the coffee? Just add some water to the espresso and hey presto - you've got yourself an americano!
3. Nintendo Switch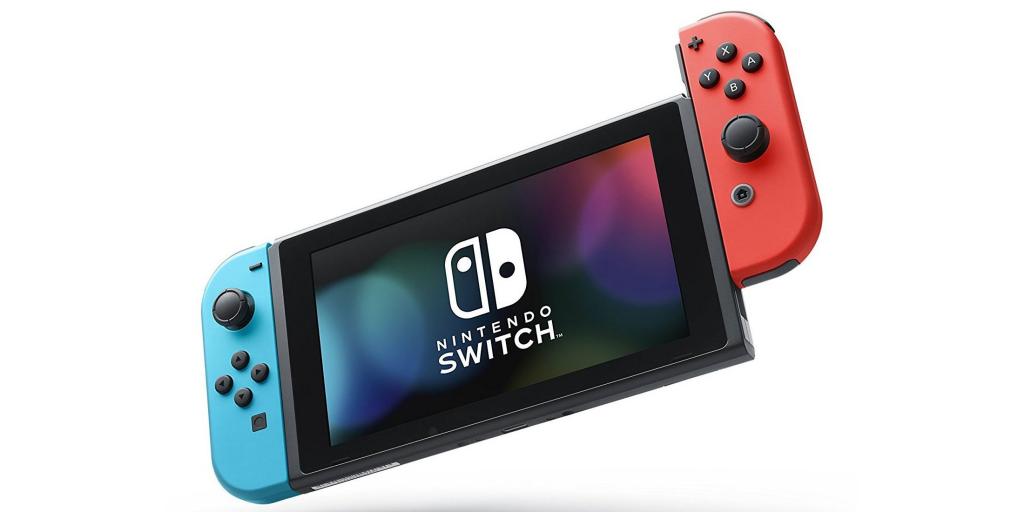 You might not think that the Nintendo Switch is a road trip must, but if you really think about it, there are few things that are as great on the road as this handy device. The entire Switch fits into a snug case (not supplied - you need to get one separately) and doesn't take up much space in the car. It's a great way of occupying kids en route to the next destination when you've run out of things you can spy with your eye. If you have monitors in the back of the headrests or want to get one that clips on, this can be a truly great pairing as well.
Even better, the switch can make for great family time when you are holed up in that hut in the woods in the middle of nowhere. Compatible with any TV that has an HDMI port (ok - that's basically any TV today), the Nintendo Switch can entertain the whole family and is a worthy eventual successor to the Wii as a top arcade console that doesn't take itself too seriously. Make sure you get enough controllers and a controller charging station. The last bit we'd highly recommend is a microSDXC memory card. You will be able to download all the games you want before setting off and keep them on the console.
2. Connex Car Tool Set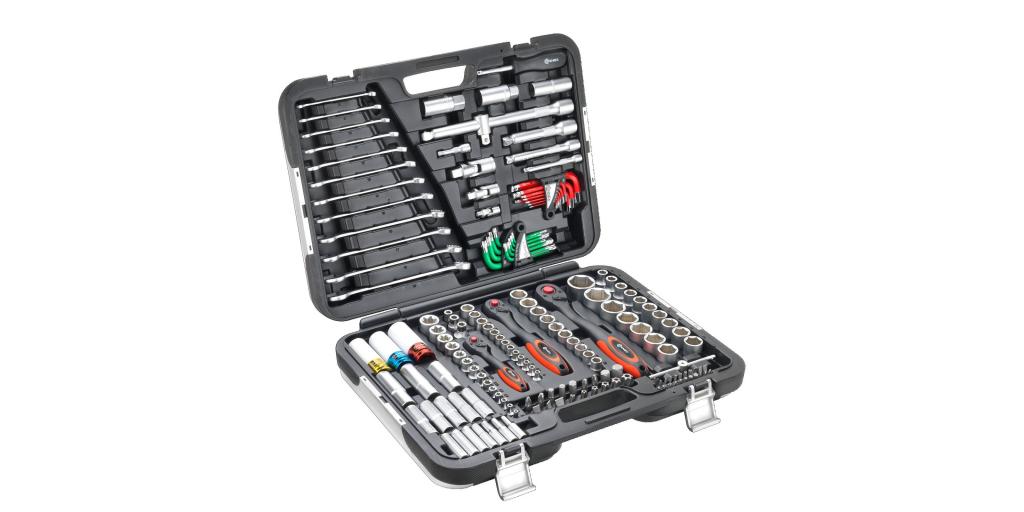 Perhaps not the most glamorous item on this list and (hopefully) one you are unlikely to actually use, this nifty travel car toolkit comes as a godsend if the unexpected happens and you are stuck by the side of the road. Granted not everybody is a car mechanic and there are many things that cannot be fixed by the roadside, but the number of times we've been saved by having a set of car tools handy makes this one of the first things that gets packed into the car.
The Connex Premium Tool set has virtually everything you might need to get the car moving if you can do the fix yourself. From changing a lightbulb that needs a little more than your hand to access to tightening a loose nut, this kit has got you covered. If you want to prepare for all eventualities, get yourself a set of mixed spare fuses to go with the kit and you're good to go!
1. DJI Mavic 2 Pro Drone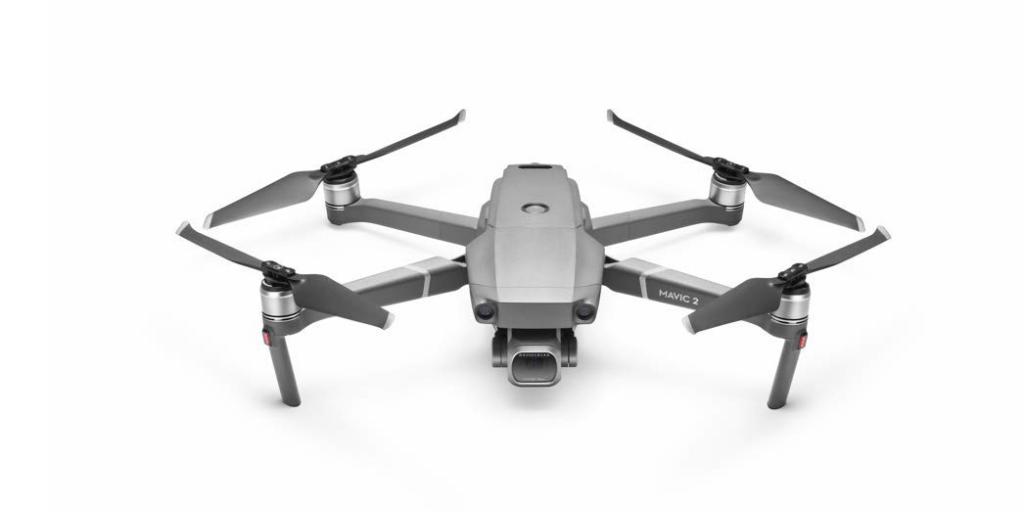 Ok. Maybe you didn't expect this one to come at the top of this list of the most useful gadgets you can take on a road trip. We have covered a lot of more practical tech that you can pack into your cars further up and this may not be as necessary as a car phone charger but trust us - a great video drone is a real game changer for your road trips.
This is a top of the range model that shoots incredible video and is surprisingly easy to use. It comes with a bunch of extras such as extra batteries so that you can use the drone for longer than the 20 minutes that it works on one, but the big question is why would you want one? If you're anything like us, photos and videos from the trip that you can look back on for years after your trip make a world of difference. You'd happily spend a lot of money on an expensive DSLR camera or buy a really expensive mobile phone justifying it by the camera. This drone comes with a 20MP camera with an industry-leading sensor. Smart tech means that the drone automatically stabilises video and this means that you can shoot incredible videos and photos of your trips that you never thought would be possible.
Are you driving along an amazing mountain road with scenery to die for? Stop for a second and get the passenger to film the drive through the drone - Top Gear style videos are really that easy to do! Want to get a ridiculous angle on the amazing house you have rented in the woods or do you want to take a selfie like no selfie stick will ever allow? The DJI Mavic 2 Pro will transform your memories and add a whole new dimension to your experiences from an angle you have never seen before.