Always lost? This is the best navigation app for any road trip
Coming from someone who couldn't find their way out of a paper bag if they were given a torch and a million flashing arrows, and can't even begin to read a paper map (millennials, eh), a navigation app is an absolute non-negotiable for any road trip of mine.
Yes, I might be a keen explorer, but Christopher Columbus and co would be thoroughly ashamed of my lack of practicality. Fortunately though, times have moved on a bit since then and if there's now a tool out there to do the work for me, then I'm only too happy to let it.
Taking the stress out of navigation by not only calculating the quickest route from A to B but literally reading it out step by step, with some also providing handy traffic updates, Sat Nav apps are now seen by many as almost as important as the car itself on any long journey.
But with so many to choose from, how can you know what is the best navigation app on the market?
Broadly, the best navigation apps have three things in common: they're easy to use, accurate and affordable. But which one to plump for really depends on what you're looking for and what your plans are - the same app that may be right for the speed seeking Dr Gadget wannabe may not do such a great job for the tech-phobe who just wants to take it slow and steady.
It's also worth having an idea of the kind of journey you want to go on, as some apps may automatically choose the quickest route, while others will offer you options for the most scenic roads or the ones with the most cultural sights en-route.
There are a few things to remember before you delve straight in, however. Firstly, in many countries there are strict penalties for using - or in some cases, holding - your phone while driving, so it's always wise to invest in a phone holder that you can attach to your windscreen.
If you need to stop and reroute, know that countries such as France and Germany actually require you to turn your engine off before you fiddle with your phone.
Similarly, speed camera detectors are illegal in the majority of European countries, so if yours has one built in then you'll need to disable it before you get going.
Right, now the boring bits are over, let's commence our journey through the confusing world of the best navigation apps.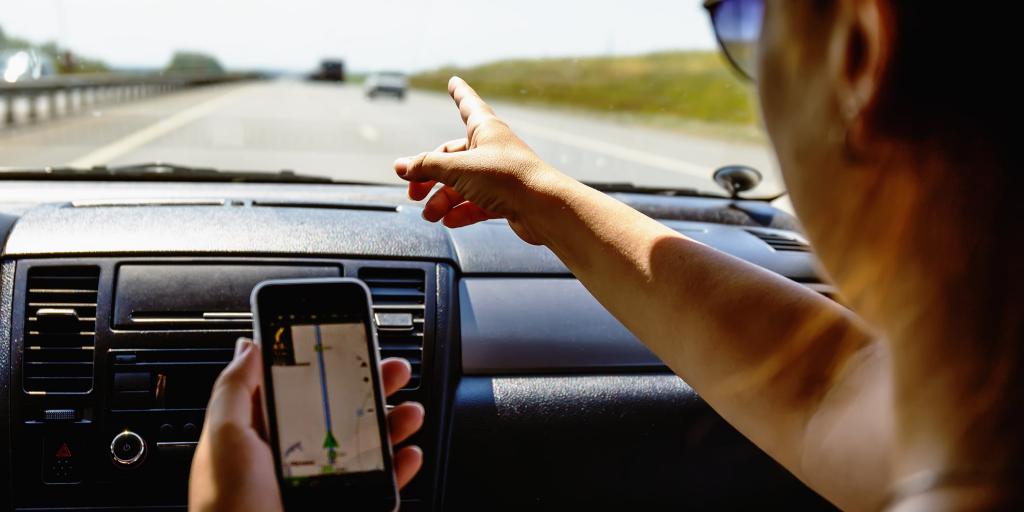 The best navigation app for tech-phobes
Google Maps
Let's start with the obvious one: Google Maps.
If you're new to navigation apps or just not that keen on technology, then Google Maps is actually a pretty reliable option to get you started.
Although the design is a little bit shoddy and old-school, the fact that if you've got an Android then it's already pre-loaded onto your phone (and if you've got Apple Maps then you've probably downloaded it anyway) means you will most likely have some familiarity with it.
What's more, it is for the most part very accurate and now covers much of the world.
Being able to download and save your maps if you know you're heading into an area that's likely to have patchy or expensive mobile data is another plus. Do note, however, that this option is actually not available in all world regions so check before you rely exclusively on it.
In summary? It's that slightly boring friend that you'll still always carry on going for dinner with because at least you know what you're getting.
Available for: Android, iOS
Price: Free
Where does it cover? Just about everywhere
Rating: 4
The best navigation app for frequent travellers
TomTom GO
You've almost certainly heard of TomTom before: the original in-car Sat Nav, it's been around since the early 2000s, back when we were all using pay-per-text flip-phones and the internet still looked like a cross between a television and a broadsheet.
Although TomTom kind of got sidelined once smartphones and Google Maps came to be, the makers have come back with an app version of their classic product, and to be honest it's not half bad.
With the first 50 miles a month free, and a monthly fee after that, it's more expensive than some of the other options on the market. That being said, it's still cheaper than a standalone unit.
What's more, its layout is simple and clear, and it even provides a surprisingly useful visual lane guidance for those do-I-don't-I motorway split moments. The 3D versions of landmarks are a nice touch too.
TomTom does tend to be highly accurate, but it loses a couple of points for the fact that it sometimes gets a bit confused in particularly built-up areas.
So if you were, for example, doing a road trip hopping between the capital cities of Europe, it might not be the one for you.
Overall, if you're a frequent long-distance traveller and are looking to invest in something that is consistently reliable, then the TomTom is a good choice.
Available for: Android, iOS
Price: Up to 50 miles free per month after which a 1 month subscription is £4.99 and a 1 year contract is £17.99
Where does it cover? 150 countries
Rating: 3.5, with points deducted purely for the cost and the occasional in-city muddles
The best navigation app for offline instructions
CoPilot
Although perhaps lesser known than some of the other navigation apps listed in this guide, CoPilot has already proved itself a strong contender in the battle of the Sat Navs.
The big draw of CoPilot comes in just how customisable it is, allowing you to input road preferences and generating multiple routes based on this, as well as giving you the ability to add addresses to a My Places tab with the click of one button, and sync them directly from your phone contacts.
It's also great in that it gives you lots of warning and repeats directions - although if you're a confident navigator (or liable to a bit of road rage) then the constant chatter can get a little irritating and you might find yourself occasionally telling it to shut the heck up.
Like Google Maps, the routes are also downloadable so you won't need to use your data, although you'll need data on if you want to receive active traffic alerts.
You can also back up your favourite and most recent destinations to your cloud, in case you need to access them from elsewhere.
Accuracy-wise, it seems to work better in Europe than in the USA or Canada, so if you're taking on something like a Pacific Northwest road trip then a different option might work better for you.
Available for: Android, iOS
Price: 7 day free trial, then £34.99 for full EU Maps version
Where does it cover? Versions available covering Europe, USA and Canada
Rating: 3
The best navigation app for up-to-the-minute routes
Waze
A community-based navigation app, Waze has had a cult following for quite some time now and is rapidly stealing new converts from Google Maps, despite both of them actually being owned by Google anyway.
The difference between the two is in how they work, with Waze taking tons of user-reported data and employing it to keep the app's info as up-to-date as possible.
In doing so, it's able to build route recommendations that avoid traffic and accident hold-ups and can adjust them in real time if a better route becomes available.
For some, the deal clincher is in the fact that, as it uses data reported by real people, it can even let you know where there are police cars pitched up so that you can avoid their speed guns.
If there's going to be a drawback, it's that in its effort to take you on the quickest route, it may sometimes take you on a slightly quirky one too.
While that won't sound like a problem to many, if you're not the most confident of drivers then the idea of finding yourself on the more, errr, scenic route may provoke the very fear and discomfort that this kind of tech is designed to alleviate.
The app is free, but in order to keep it free it does show you a quite frankly infuriating number of ads every time the car is stopped. On balance though, this one has still got to be up there with the best of them.
Available for: Android, iOS, Windows Phone
Price: Free
Where does it cover? Just about everywhere, although its biggest market is the USA.
Rating: 4
So there you have it, the best navigation apps for any type of trip.
As ever, it's probably always worth stashing a map of the country you're travelling to in your car, just in case you can't get data or forget to charge your phone the night before a long journey - or more likely, use up all the juice streaming your favourite Tina Turner hits.
Happy road-tripping!