4 days in Budapest - Ultimate long weekend itinerary
When it comes to planning a short break in Europe, you could definitely do worse than spending 4 days in Budapest, where the history is rich, the food is cheap and the atmosphere is pleasantly bohemian.
Hungary's capital is often called the 'Paris of the East,' and it certainly has the culture, cuisine and charm to rival the French metropolis.
The city is divided into two halves that straddle the Danube river: leafy Buda in the west, and urban Pest in the east, both of which are studded with unforgettable architecture, relaxing thermal baths, trendy ruin bars, and countless amazing cafes and restaurants.
If all that sounds right up your alley, we've put together the ultimate four-day Budapest city break guide - complete with what to see and do, and the best places to eat and drink, to ensure you don't miss out on any of the amazing things this vibrant city has to offer.
Day 1: Traditional Hungarian food, sightseeing & drinks to toast the start of your trip
Try to book yourself on an early morning flight to Budapest Airport to kickstart your holiday as soon as possible and make the most of every moment you can in this bustling city.
Aim to arrive mid-morning to give yourself enough time to travel into the city and check into your hotel by lunchtime.
Kick off your long weekend with some traditional Hungarian cuisine
By the time you've freshened up at the hotel you'll probably be feeling pretty peckish, and what better way to kick off your Budapest getaway than by sampling some authentic Hungarian food?
Kiszpiac Bisztro near Liberty Square is a great place to start, offering some top-notch goulash (a hearty spiced meat stew and one of the most popular national dishes), classic Hungarian sausages, and a whole range of other meaty options including wild boar and deer.
As you can probably tell, this restaurant (and Hungarian food in general) is not particularly vegetarian-friendly; but don't worry - there are also loads of great veggie and vegan spots.
For a fully plant-based lunch we'd recommend trying Great Bistro just around the corner from Kiszpiac. This cool and casual vegan restaurant has dishes ranging from soups and curries to tasty sandwiches which are, admittedly, a little less traditional, but certainly no less tasty.
Take a stroll around Pest
After refuelling at lunch, spend the rest of day one on a self-guided walking tour of the city to familiarise yourself with the streets and relax into your city break. Day two is all about the serious sightseeing, so keep this afternoon as low-key as possible.
Start by walking west towards the river to the poignant Shoes on the Danube Bank memorial.
This short stretch of the river bank is scattered with 60 pairs of shoes sculpted from iron to commemorate the thousands of Jewish people who were told to take off their shoes (which were valuable and in short supply) before being lined up and shot into the river during World War II.
This landmark was conceived by film director Can Togay, and although it may be a slightly sombre start to the trip, it's an important and incredibly moving tribute to a key aspect of this city's history that you'll come across in many locations around Budapest in the days to come.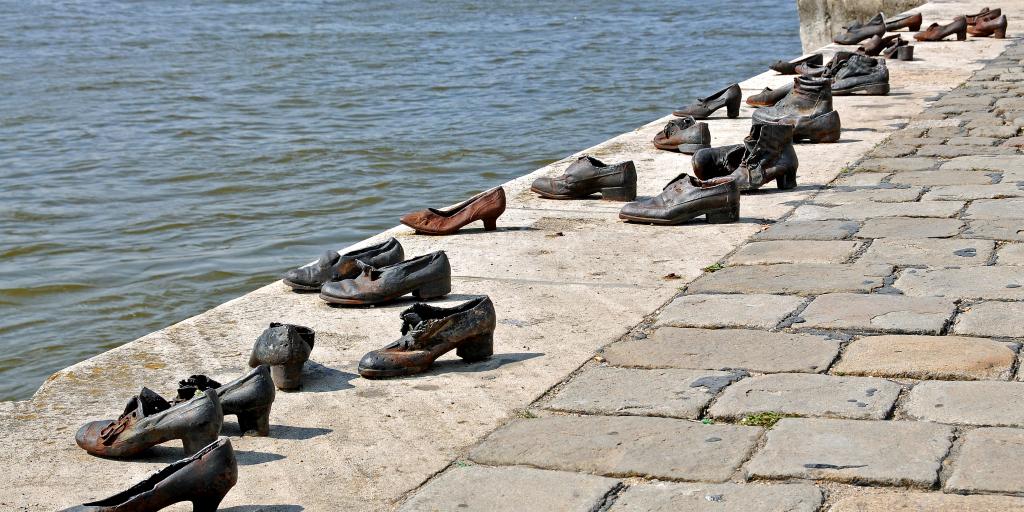 From here, walk south along the river before heading slightly east to explore the beautiful old streets of Pest.
Spend some time getting lost in this area, taking in your surroundings and snapping some stunning photos.
Travel tip: look out for the famous Fat Policeman Statue, and keep an eye out for the dome of beautiful St Stephen's Basilica (it's pretty hard to miss), where you'll be heading on day two.
Celebrate Budapest's cake culture at Cafe Gerbeaud
When your legs start to get tired, head to historic Cafe Gerbeaud for a rest and a slice of cake.
Budapest is well-known for its many cukrászda (bakeries) selling decadent sweet treats rivalling even the best Parisian patisserie, so don't miss out on trying one (or two) during your city break.
Gerbeaud is probably the most famous spot for cake in the whole city, and has been serving up incredible desserts since 1858.
Everything on offer is delicious, but we'd especially recommend sampling a legendary Gerbeaud Slice - a layered cake sandwiched together with walnuts and apricot jam and topped with chocolate.
This iconic Hungarian confectionery is generally baked for special occasions like birthdays and anniversaries, so it's only fitting that you celebrate day one of your Budapest city break with a slice.
Cross the river to Buda and explore Buda Castle
Make your way across the river and hop on the Castle Hill Funicular to take you up to Buda Castle.
This sprawling area of the city is really more of a district than a castle, with shops, museums, galleries, a church, and restaurants all dotted across Castle Hill, offering spectacular views of Pest and the Danube.
Wander round the castle area of the district for a while (you'll be back to see the rest tomorrow), take in the views, and pop into the Budapest History Museum or the Hungarian National Gallery ahead of their closing times if you fancy a touch more history and culture before you head back to your hotel.
Plus, if you stay long enough, you'll get to see the castle all lit up after the sun sets - a beautiful sight worth hanging around for!
Head back down the hill on the funicular and make your way back to your hotel to freshen up before dinner. The area is well connected with trams and buses, so if you're all walked-out it won't be too hard to get a ride back.
Head out for a light dinner and toast your holiday with a drink
After all that goulash and fancy cake, we're guessing a light dinner might be on the cards, and Mazel Tov is the ideal place.
This restaurant is light, airy, and casual, and filled with green plants and soft lighting. Fresh Mediterranean and Middle Eastern dishes are on the menu here, with loads of options that are great for sharing and cater for both vegetarians and carnivores alike.
This is the perfect setting for a romantic meal for two or a relaxed dinner with friends, as well as being a serene place to wrap up day one.
If you've got the energy, we'd recommend following dinner with one final activity: a drink at one of Budapest's many bars to toast the start of your trip.
Here are three of our favourite spots:
For somewhere trendy and lively - Famous Szimpla Kert is one of the city's original ruin bars (a bar housed in a dilapidated, abandoned building), and is very the definition of trendy. Consisting of a number of disorderly rooms filled with artwork, crazy lights, and mismatched objects, it's an edgy, alternative bar that offers a unique way to grab a drink.
For a quiet, romantic drink - Beautiful, mood-lit Doblo Wine Bar is a wonderful place for an intimate drink for two. Hidden in the historic Jewish Quarter, the bar is laid-back and elegant, with exposed brick walls and an excellent selection of local wines to sample.
For somewhere off-the-beaten-track - Pótkulcs is a hidden gem in district six which is tucked away on a side street in an unassuming former engineering workshop. This makes it a bit tricky to find, but it's worth it; expect a huge leafy patio area, an arty interior and live music, all of which help make it a hub for bohemian locals.
Day 2: Self-guided walking tour of the main sights & quirky cocktails
Wake up early on day two - you've got a busy day of sightseeing ahead.
The route we've devised for today is a walking loop around the city centre featuring some of the best sights, so get dressed, have breakfast and head out pronto.
Start your day at the Great Synagogue
If you haven't already realised, Budapest has a huge Jewish community and history, so it's only fitting to start your sightseeing at the Great Synagogue, or Dohány Street Synagogue as it's otherwise known.
As one of the largest Jewish houses of worship in the world, this Moorish building is truly impressive, so take a moment to admire it from the outside before you head in.
We'd recommend either opting for a tour that will take you through the main synagogue, the Heroes' Temple, the Hungarian Jewish Museum, and the Raoul Wallenberg Holocaust Memorial Park, or just choosing one or two sights you fancy exploring.
Although every area of the synagogue complex is beautiful and fascinating, you really don't want to miss the impressive weeping willow statue in the Memorial Park.
Each metal leaf on this man-made tree is inscribed with the name of someone who lost their life in the Holocaust, and it's a powerful reminder of what happened in this area of the city.
Head to St Stephen's Basilica via the Hungarian State Opera House
When you're ready to leave the Synagogue, head north and connect up with Dob Street.
You're aiming to get to the Hungarian State Opera House, but make a stop on the way to either grab a coffee at Cirkusz (trust us, their award-winning baristas and top-of-the-range equipment make an incredible latte), or a freshly squeezed juice at Juicy. They're located opposite each other on Dob Street, so take your pick!
From here keep walking north through the streets until you reach the stunning Opera House.
This neo-Renaissance building is regal from the outside and richly decorated on the inside, with regular operas and ballets performed on its stage.
The Opera House is closed at the moment for refurbishment and is expected to reopen in 2019, so for now, just admire the building from the outside as you continue on towards St Stephen's Basilica.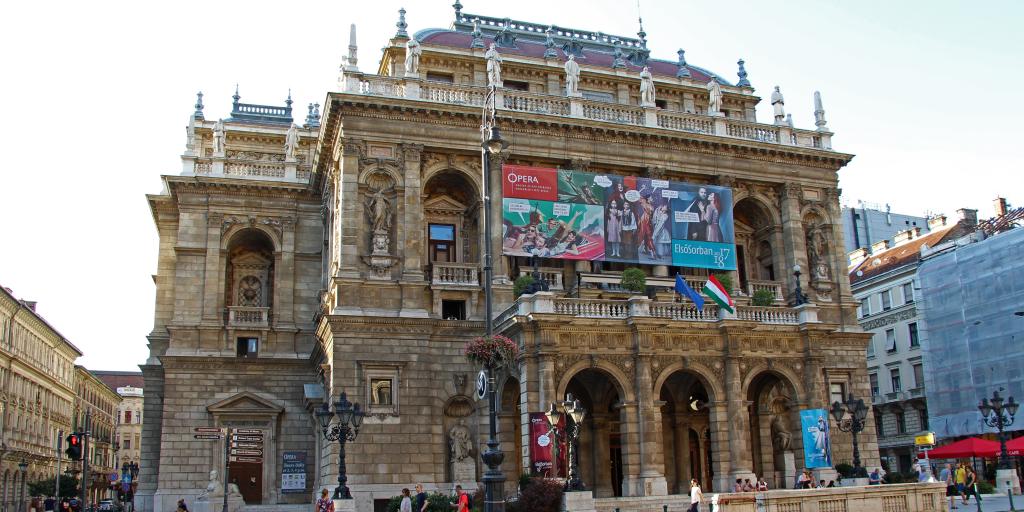 Just a short walk west from the Opera House you'll find the colossal St Stephen's Basilica Basilica, one of the most spectacular landmarks in Budapest.
You'll want to get there by about midday so you have plenty of time to look around before you grab lunch.
Although you can opt for a guided tour if you want to, we'd recommend instead climbing to the top of the dome for sensational panoramic views, and discovering St Stephen's mummified right hand in the Holy Right Chapel - they're definitely two of the best highlights.
Spend about an hour (or until you get hungry) wandering round the cathedral and taking in the incredible views from the top of the dome before setting off in search of some lunch.
Grab a Lángos for lunch and head to the Parliament Building
On a day of back-to-back sightseeing lunch needs to be quick and delicious, so this is definitely the ideal moment to treat yourself to a Lángos - a cheap and cheerful Hungarian fast food dish of fried bread covered in loads of tasty toppings.
One of the best places to grab one is Retró Lángos Büfé, just a few minutes away from the Basilica.
Go for the classic variety topped with cheese and sour cream, or opt for one piled high with Hungarian sausage - but be warned, they're pretty filling, so consider sharing one if you want to enjoy your dinner later on!
Seating is limited in the shop, so you may need to grab-and-go at busy times and enjoy it in Liberty Square right next door.
Once you're done eating, walk to the north side of the square and make your way to the Parliament Building - you won't be able to miss it standing proud on the banks of the Danube.
Although it's pretty spectacular from the outside, it's 100% worth looking inside too, so grab tickets for the next guided tour, or book in advance of your visit, preferably.
Tours last around 45 minutes (including a quick security check) and will take you through some of the most beautiful rooms in the building.
Cross the river to Buda and explore the Fisherman's Bastion
After your tour, hop on the M2 metro line from Kossuth Lajos Tér just outside the Parliament Building and travel one stop to Batthyány tér on the Buda side of the river.
Walk up Castle Hill (the side you haven't yet explored), which should take about 15 minutes through leafy, quiet streets to take you to the fairytale-esque Fisherman's Bastion at the top of the hill.
Known locally as Halászbástya, the Bastion is a kind of terrace built in the 19th century as a lookout point over the city, with seven towers dotted along its walls to represent the seven Hungarian tribes who founded present-day Hungary back in the 9th century.
It's free to wander around the balconies and walkways to take in the panoramic views of Pest (including a cracking view of Parliament that's not as good from the Buda Castle side of the hill), and it costs around HUF 1000 if you fancy heading up one of the towers.
There's also a terrace cafe here if you're in need of a drink and a rest.
Walk back into Pest by crossing the Szechenyi Chain Bridge
As the day begins to draw to a close, walk back down Castle Hill (or get the number 16 bus if you're feeling lazy) and head south slightly to cross the Szechenyi Chain Bridge.
This was the first permanent bridge built across the Danube in Hungary in 1849, and was regarded at the time as an engineering wonder that symbolised the joining of east and west.
Although it may seem like an ordinary bridge today, with similar structures found in most major European cities, take a moment to remember the pride and story of unity behind it as you pass over.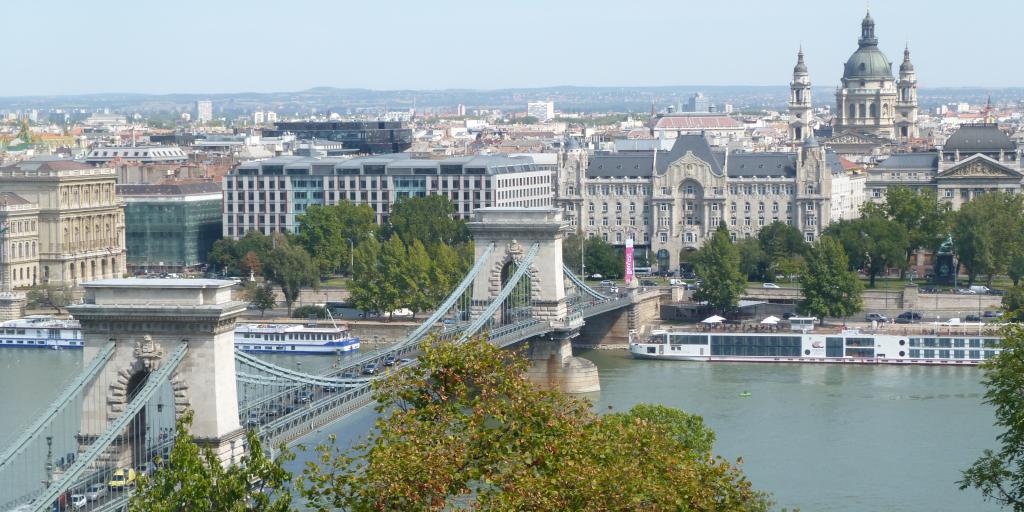 The bridge will take you back to where you started in the old Jewish Quarter close to St Stephen's Basilica, so from here either head back to your hotel to relax, or find a spot for a laid-back dinner - this area is jam-packed with places, so grab a table at whichever restaurant takes your fancy.
End day two of your Budapest city break with a quirky cocktail
Finish off the day with a drink at Boutiq Bar, a chic-yet-cosy spot that has an amazing cocktail menu with something for everyone.
Expect quirky drinks like the Lab Master Flash (served in a science lab measuring flask), the Budapest Barbecue (which comes with your own marshmallow to toast), and the Positive Drinking (which you sip from a tea cup).
If you're not feeling quite so adventurous, the menu also features classic favourites like the Moscow Mule and the 33 - a floral, fruity twist on the classic gin and tonic.
Order a cocktail, sit back, and relax in preparation for day three.
Day 3: Hungarian National Museum, lunch at the top of Citadella & soak in a thermal bath
Spend the morning at the Hungarian National Museum
Treat yourself to a bit of a lie-in on day three, then have breakfast and plan to leave your hotel by mid-morning to head to the Hungarian National Museum.
Remember to pack your swimsuit as you'll be going straight to the thermal baths a little later on.
Located in the Palace District just south of the Jewish quarter, the Hungarian National Museum illustrates the chronological history of Hungary from medieval times to the modern day, and is split into loads of different exhibitions so you can easily pick and choose which bits to visit if you don't fancy covering everything.
We recommend spending an hour or two exploring The History of Hungary Part One and Part Two exhibitions to get the most rounded view of Hungary's past.
Top tip: Book museum tickets online in advance to avoid the notoriously slow ticket queue.
Grab a picnic at Central Market Hall then walk to the top of Citadella
From the museum, head west towards the river to visit the Central Market Hall (or Great Market Hall, as it's also known).
This impressive restored neo-Gothic hall is a lovely place to scout out fresh, local produce and pick up some ingredients for a picnic.
Wander through the rows of cured meats, fresh vegetables, strings of dried chilli and garlic, local honey, and exotic spices (it's a great place to buy some much-loved Hungarian paprika to take home), and browse the authentic crafts on offer including intricate embroidery and handmade clothes.
Grab a selection of picnic food to take away with you, or head to the upper floor food stalls for some traditional lunch if you'd prefer.
Fakanál is a great option if you decide to eat in, as it offers loads of rich Hungarian dishes to choose from.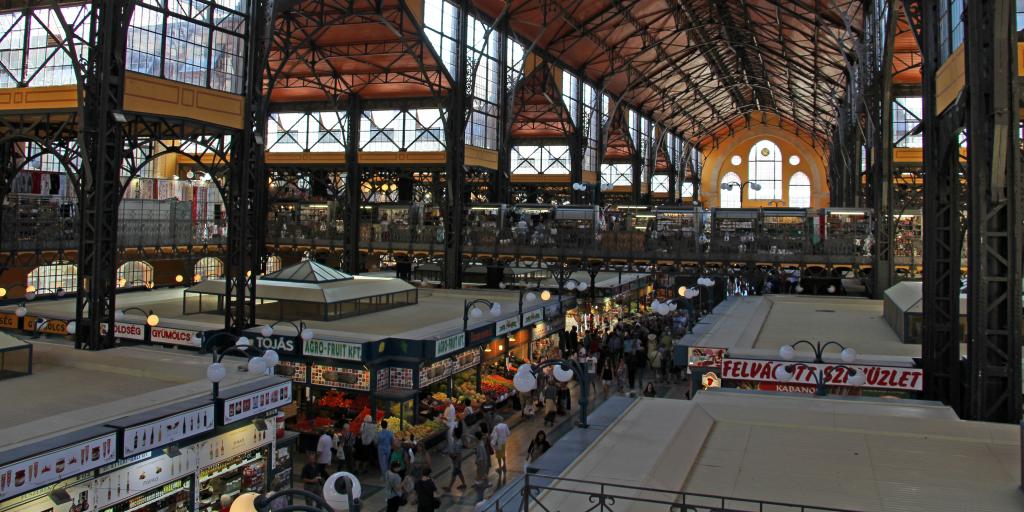 With either your bag or your belly full of delicious food, cross the river via Liberty Bridge and walk up to Citadella - a hilltop fortification built in the 19th century which offers amazing views of the river.
The super pleasant walk up follows a winding path through a lovely green park that opens at the top to reveal the towering Liberty Statue. It takes around 20 minutes to get there at a leisurely pace.
Find a spot to relax with your picnic, or if you've already eaten, grab an ice cream from the vendor at the top to savour as you enjoy the views.
Spend the rest of the afternoon at one of Budapest's thermal baths
Once you've had enough of the Citadella, it's time to experience another of Budapest's iconic pastimes - soaking in a thermal bath.
While there are loads to choose from, we're suggesting two different options that are easy to get to from the Citadella:
Palatinus Strand Baths - Located on Margaret Island slightly further north on the Danube, this modern outdoor pool complex is perfect for a more lively afternoon as you'll find a wave pool where you can surf, twisting water slides, and a diving pool. Hop on either the number 19 or 41 tram to take you up the river.
Gellért Thermal Bath - Part of the Hotel Gellért complex, this luxurious location has a stunning Art Deco design and boasts five thermal baths, an indoor pool, and two outdoor pools, as well as sumptuous spa treatments. It's located at the bottom of the hill from the Citadella, so just wander down and settle in for an afternoon of quiet pampering.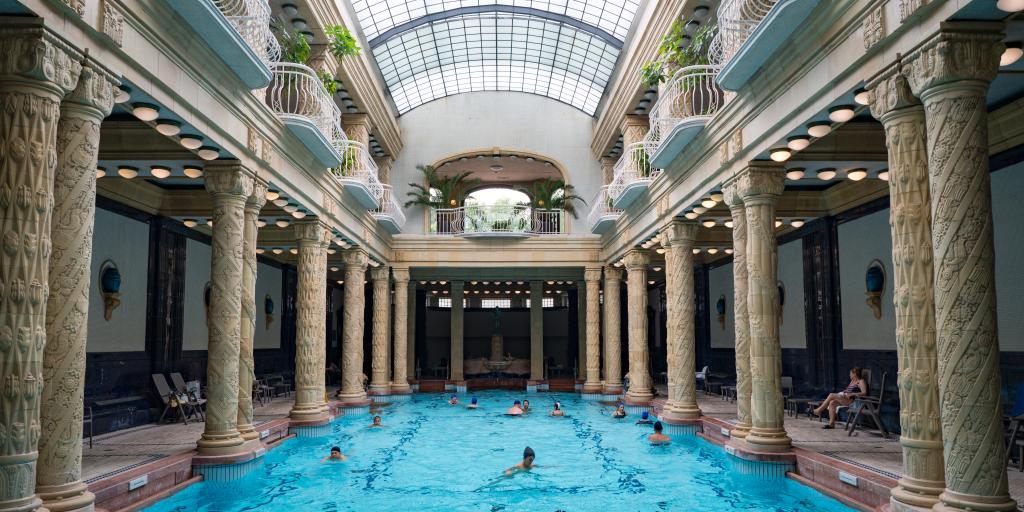 Have a relaxed dinner in Buda
Our dinner recommendation for day three, Déryné Bistro, is located on the Buda side of the river, so either take a lazy stroll there from the baths (it's roughly midway between our two suggestions), or head back to your hotel first to get ready.
There are loads of transport connections nearby including buses 5 and 956 and trams 17, 19, 56, and 56A, so it shouldn't be a problem getting there whatever you decide to do.
This French/Hungarian bistro is a little fancier than other places we've recommended on the trip, but it's the last night and you have just come from a spa... so it would be wrong not to go a bit upmarket.
The dishes on offer are simple and comforting but feel really special, and the deliciously doughy bread is all freshly made at the on-sight bakery.
The atmosphere here is warm and inviting, with cool music, softly lit tables, and amazingly well-presented dishes all making this restaurant the ideal special spot for your final Budapest dinner.
After your meal, hit the town for the evening or return to your hotel for a casual night in; either way make the most of your last night in this amazing city!
Day 4: Brunch and last minute sightseeing
Go for brunch at Liberté
If you opt for a late afternoon/early evening flight home, you'll have just enough time for brunch and some last-minute sightseeing to occupy day four.
Pack your bags before you leave your hotel in the morning - you'll want to have as much time to spare as possible after you've eaten.
Our brunch spot of choice is Liberté, a bright and modern cafe located close to the Parliament Building.
You can enjoy all the breakfast classics throughout the week including avocado toast with poached eggs and a full English, or slightly more lunchy weekend brunch dishes such as a black cod fillet and a burger.
It's extremely popular (so try and book ahead), and it can take a little while for your food to arrive, but trust us - it's totally worth it for the beautiful brunch dishes and amazing coffee that will keep you going for your final few hours in Budapest.
Squeeze in some final sightseeing before heading to the airport
Use your final afternoon to buy souvenirs, snap some photos, or head to any other sights you've had your eye on and haven't had time yet to visit.
If you'd like a bit more history, make your way to the House of Terror museum, which is housed in the ex-headquarters of the Hungarian secret police.
The harrowing exhibitions here inform visitors of Hungary's struggle for independence from both the Nazi and Soviet regimes that ruled for most of Hungary's modern history.
The museum is around a 20 minute walk away from the cafe, and a fascinating way to draw your trip to a close.
If you'd rather spend the final few hours of your long weekend in Budapest on a more cheerful note, the City Park (or Városliget) is ideal.
The largest park in Budapest, City is home to a surprising number of sights including a castle, a thermal bath, a zoo, a lush botanical garden, and a picturesque square.
It's also home to the Vajdahunyad Castle - a beautiful mismatch of Romanesque, Gothic, Renaissance, and Baroque styles encircled by a huge lake (or ice rink if you come in the winter) - and the Széchenyi Thermal Bath, which contains a beer spa where you literally bathe in beer ingredients whilst you sip on a cold pin.
Have a stroll through the park, visit one of the sights, or find a park bench and read a book al fresco until its time to head home.