Edinburgh city break - The best weekend trip itinerary
Whether you're touring Scotland or you're a literature buff (Arthur Conan Doyle, Robert Louis Stevenson and J.K. Rowling have all written books here), Edinburgh is a magical city well worth discovering.
Though it's the capital of Scotland, its compact city centre and pedestrian-friendly streets make it the perfect place to explore on foot. Even if you're only here for a couple of days on a city break, Edinburgh is surprisingly easy to get to know.
Two to three days is plenty of time to appreciate the scenery, mingle with the lively locals and discover all the city's cultural and historical treasures.
Getting there
Edinburgh is a four and a half hour train journey from London, or one and a half hours away by plane, with the international airport an easy bus ride from the city centre.
If you're driving from the south, allow eight hours to get there. And make sure you pack walking shoes - the capital is quite a hilly one!
When to visit Edinburgh
The Scottish capital is gorgeous all year round, so you can take a short break to Edinburgh whenever best pleases you.
In August, the city comes to life with the Edinburgh Fringe Festival - the biggest arts festival in the world, attracting people from all walks of life.
And winter is equally amazing, with Edinburgh's festive Christmas market and the aroma of mulled wine and hot dogs filling the air.
Travel tip: Make sure you drop into the Dome bar and restaurant on George Street if you're heading to Edinburgh during the winter festivities; the bar has the most magnificent Christmas tree that reaches the top of the domed ceiling.
Day 1: Arrive in Edinburgh & get to know Old Town
Have dinner on the Royal Mile
If you're arriving in late on a Friday evening post-work, this is a great opportunity to head to the Royal Mile for dinner.
This cobbled road runs from Holyrood Palace all the way up to Edinburgh Castle (hence its name), and is full of top-notch restaurants, bars and pubs.
Your food options are plentiful, from Italian food with Scottish influences at Gordons Trattoria to Scottish dining paired with whisky tasting at Whiski Rooms, just off the mile on North Bank Street.
Our Scottish source at LazyTrips highly recommends Angels with Bagpipes for Scottish fine dining in a 16th-century setting.
Do some window shopping
The Royal Mile is also home to a number of boutiques full of Scottish tartan, cashmere and gifts, so take this opportunity to browse the shops.
While you're at it, snap some stunning photos of the awe-inspiring architecture that lines this main thoroughfare.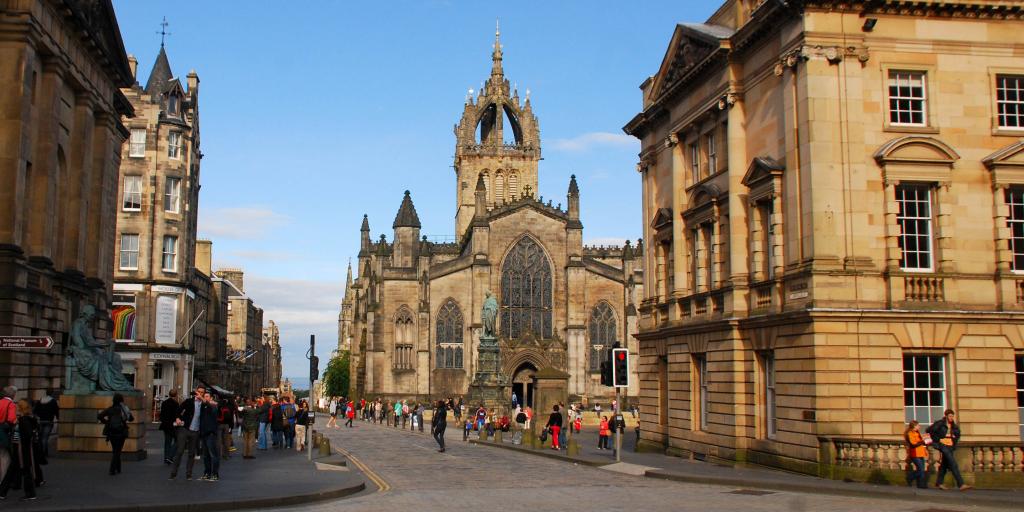 Day Two: Shopping, Edinburgh Castle & National Museum
Have breakfast in Grassmarket
Your weekend in Edinburgh truly begins today.
Start the day with a walk around the Old Town of Edinburgh, which is where both the Royal Mile and Edinburgh Castle are located. You're going to want to have breakfast first and try some tattie scones (potato griddle scones that traditionally come alongside a full Scottish breakfast).
We recommend having breakfast in the Grassmarket neighborhood, as the view of Edinburgh Castle from here is like something out of Hogwarts; you'll know where J.K. Rowling's magical moments were inspired.
The Grassmarket is a bohemian area and marketplace that's home to all types of quaint places - breakfast spots, tiny pubs, and little boutiques.
If you enjoy perusing second-hand shops, we highly recommend Armstrongs, which is full to the brim with vintage treasures.
From Grassmarket, you can walk straight up to the castle via Granny's Green Steps... you'll be glad we told you to pack those trainers!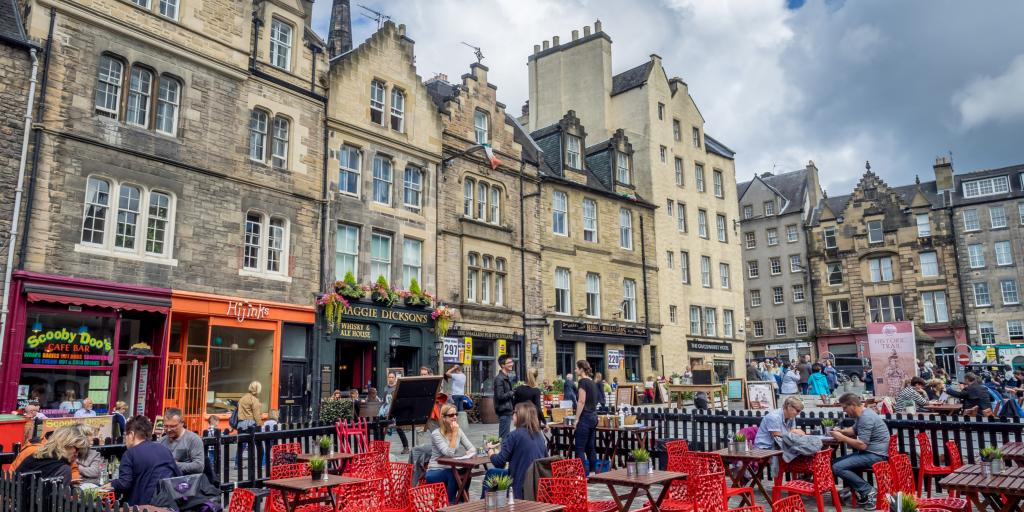 Visit Edinburgh Castle
When you get to the top of the stairs just in front of the 350 million-year-old Castle Rock, don't be surprised if you hear bagpipes echoing from the Royal Mile and feel the urge to shout "freedom" from the top of your lungs. This is quintessential Scottish territory, and you can practically feel the historical significance in the air.
Edinburgh Castle has overlooked the city for hundreds of years and has been home to many generations of Scottish royalty. From here, you can see spectacular views of Arthur's Seat, New Town and the city below.
To head into the castle only costs £18.50 ($24) for adults and £11.50 ($15) for children (you can get these cheaper online if you book beforehand).
And if you happen to be here in August, try to book tickets to the Royal Edinburgh Military Tattoo, a lively performance featuring music, dance and fireworks.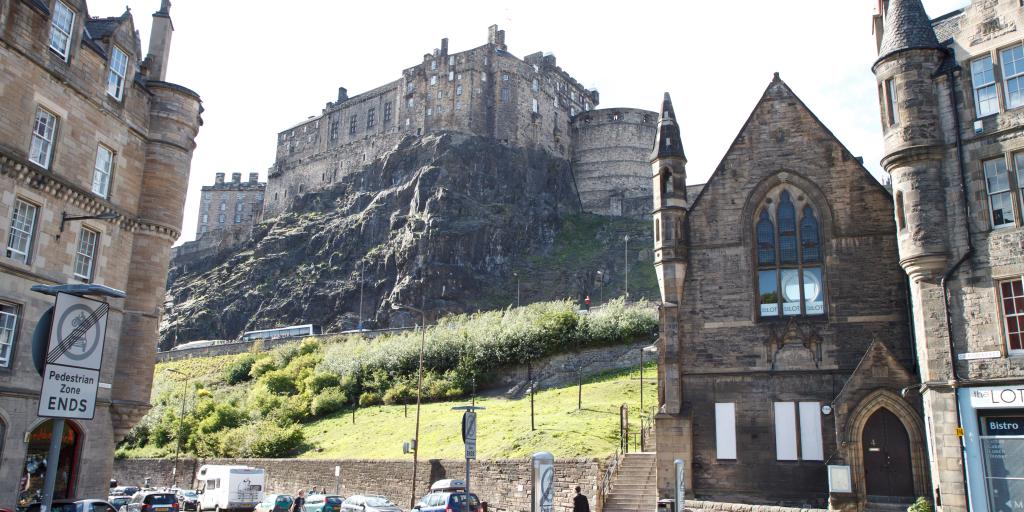 Peruse the shops on Cockburn Street & grab lunch
After visiting Edinburgh Castle, head down the Royal Mile to admire again all the beautiful buildings and cute shops along the road.
On your way down the mile you can stop off for a coffee at Deacon's House Cafe or the Coffee House.
If you'd rather tuck into something a bit stronger, go for that beer - there are plenty of pubs and taverns on the walk.
You're going to then turn left onto Cockburn Street (still part of Edinburgh's Old Town) from the Royal Mile - and you won't regret this.
This cobbled downhill street is full of little independent shops and cafes, making it the perfect picture of traditional Scotland.
If you're hungry, we recommend the popular and super cosy baked potato shop here called - wait for it - The Baked Potato Shop, which is all vegetarian and vegan, with copious amounts of fillings on offer.
If you're a Harry Potter fan, do not miss out on Museum Context, a quirky gift shop also located on Cockburn Street.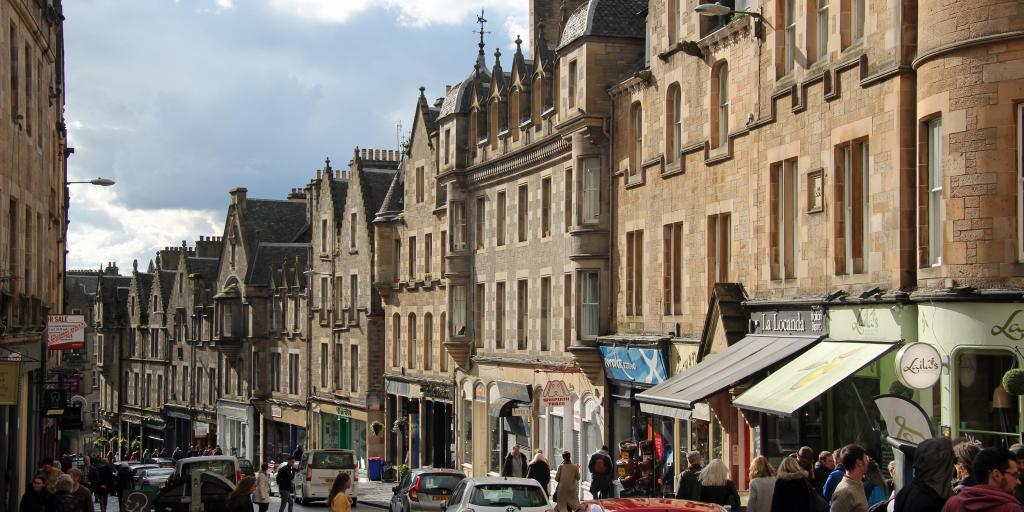 If you want to stop for a late lunch, you have loads of options on Cockburn Street.
Another place we suggest is Arcade Bar, Haggis & Whisky House, where you can get the traditional Scottish meal (again, paired with whisky) of haggis, neeps (turnips), and tatties.
If you're a veggie/vegan traveller, we suggest going on an 11-minute walk to Thistle Street and heading to Hendersons Vegan Restaurant for incredible vegan haggis. No need to miss out on Edinburgh's traditional Scottish delicacies!
Visit the National Museum of Scotland
Your last stop for Day 1 of your Edinburgh city break is the National Museum of Scotland.
It's only a ten-minute walk from Cockburn Street, and you can get there via Old Fishmarket Close, Stevenlaw's Close or South Bridge, with all routes taking about the same amount of time.
The National Museum of Scotland is perfect for everyone: solo travellers, those who travel with their partner or friends, and families with kids.
With interactive exhibitions and super informative displays, the museum is extremely accessible and fun. Plus, entry is free!
Spend a couple of hours here to learn about natural history, science, design and Scottish history.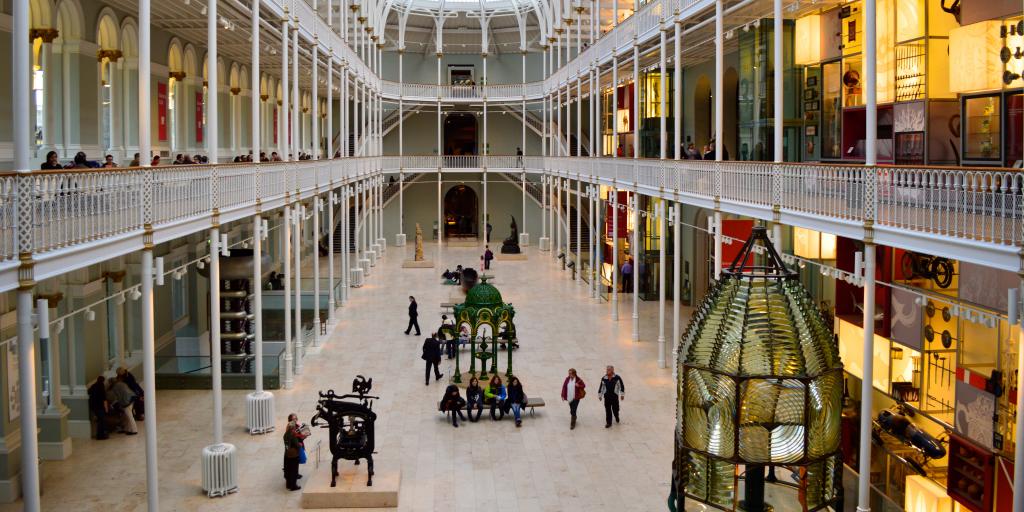 Touch Greyfriar Bobby's nose for good luck
Since you're in the area, now's the time to check out the well-known Greyfriars Bobby monument on George IV Bridge near the entrance to Greyfriars Kirk.
The small statue depicts Greyfriars Bobby, a Skye Terrier dog who famously guarded the grave of his owner for 14 years until he died himself in 1872. Visitors traditionally snap photos of themselves touching his nose for good luck.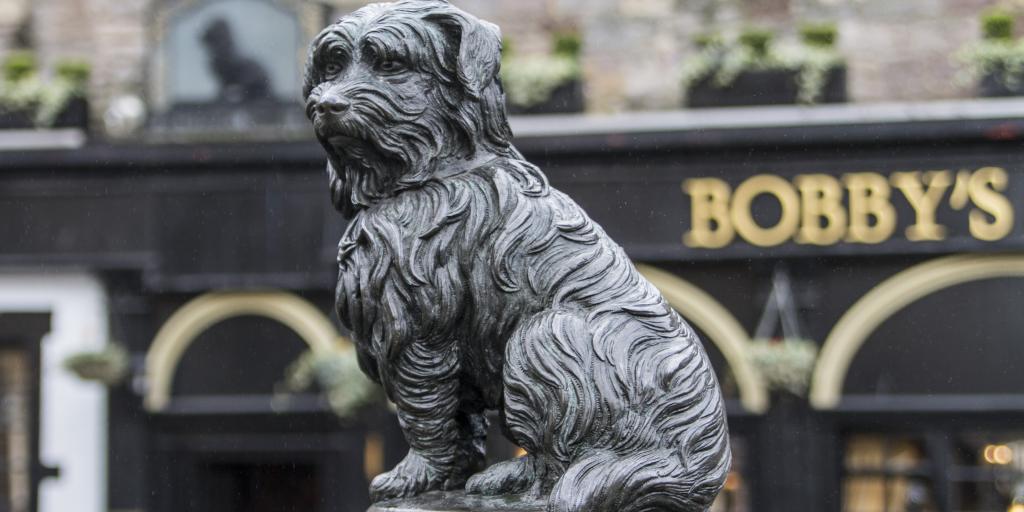 Eat dinner in Edinburgh New Town
If you feel like exploring Edinburgh a bit longer, then take a ten-minute detour and walk through the Meadows to catch a glimpse of the sunset.
The Meadows is a large park just by the University of Edinburgh (you can see this on the way, too), and it's a lovely natural escape for locals and university students alike.
In the spring and summer, you'll see students having barbecues and picnic dinners with their friends here while little kids run around and play.
Your day of touring Edinburgh is well and truly done. Head back to your hotel for a rest before you go out for dinner and a few drinks.
For a change of scenery from Old Town, head to George Street in New Town for the evening. Here you'll find lots of lovely restaurants serving up rich foods in exquisite settings.
Browns, Gusto and the Dome are all popular eateries with fun atmospheres.
Day 3: Wrap up your Edinburgh city break
Feel free to have a late morning; this is a relaxed getaway after all!
Just because today is the last day of your trip doesn't mean you need to get those last day blues just yet. There are still plenty of things to do and places to see - including a mini mountain hike and a tour of a palace!
Enjoy brunch at Urban Angel
Before you set off on your hike, treat yourself to a decadent brunch.
There are loads of fun spots dotted around the city centre, all providing hearty food to energize you for your climb up Arthur's Seat. Our favourites are Urban Angel (which has lots of great vegan options too) and the Edinburgh Larder on Blackfriars Street.
Climb up Arthur's Seat for amazing views
And now, it's time to climb up Arthur's Seat.
No one really knows how this dormant volcano got its name; some say it's where Camelot, the legendary home of King Arthur and his Knights, was once located. Others believe it's a derivation of the Scots Gallic phrase Àrd-na-Said, meaning "height of arrows."
There are a number of ways to climb to the top of Arthur's Seat, but one of the easiest routes is via the Salisbury Crags. A visit to Edinburgh isn't complete without witnessing the impressive views from the top (but be prepared to be blown away in more ways than one; it is extremely windy up there!)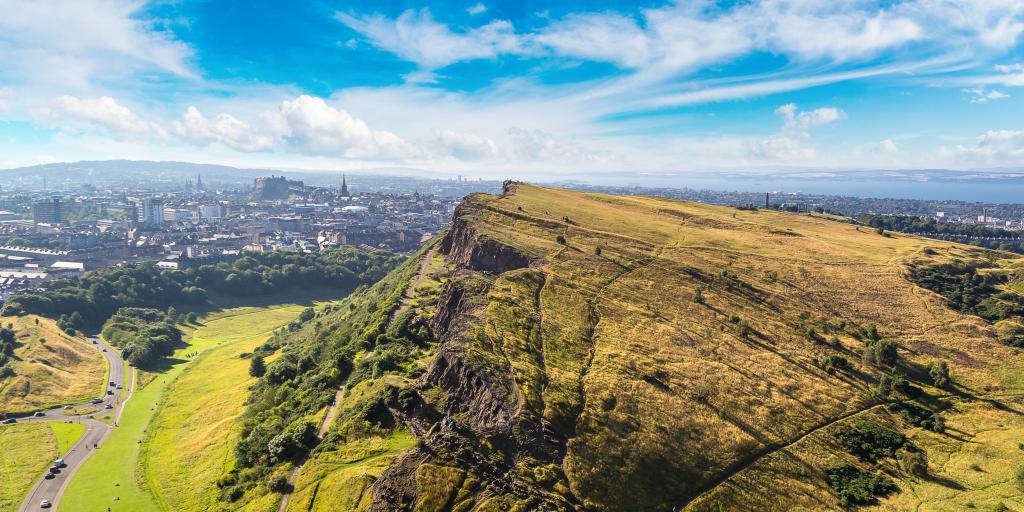 Tour Holyrood Palace - the Queen's Scottish residence
Descend Arthur's Seat and walk north along Queen's Drive to get to your final stop: Holyrood Palace, the official Scottish residence of the Queen.
The stunning building dates back to the 16th and 17th centuries, and the ruins of the Augustinian Holyrood Abbey on the grounds were founded way back in 1128.
On your visit you can see the State Apartments, Mary, Queen of Scots' chambers, and much more.
A combined ticket to Holyrood Palace and the Queen's Gallery art exhibition costs £19.10 ($26.65) for adults and £10.80 ($14.50) for those under 17. Kids under five years old go free.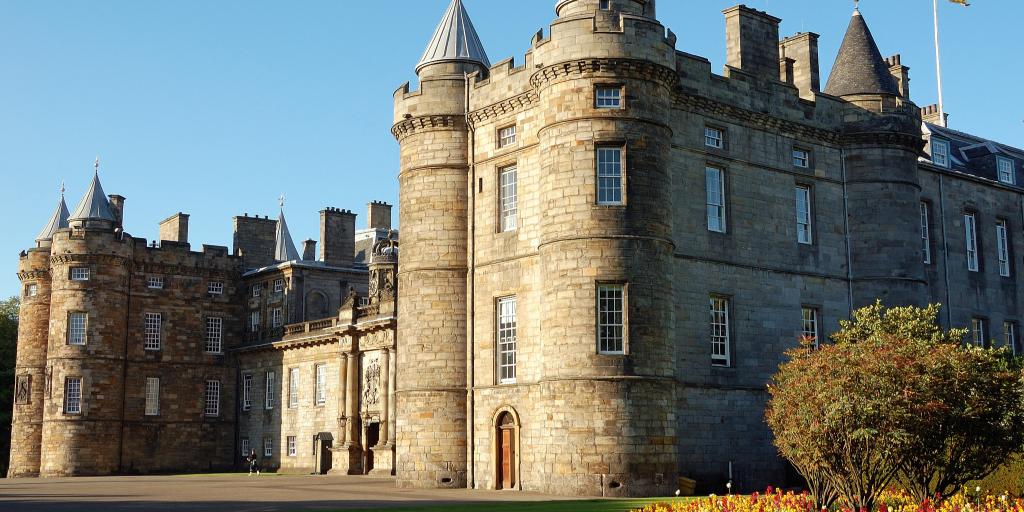 Holyrood is located right at the bottom of the Royal Mile, on the opposite end to the castle.
As you walk up that way you'll see the distinctive Scottish Parliament Building to your left. This ultra-modern building, which cost an estimated £414 million to build, makes for a stark contrast against all the other Gothic and Georgian buildings around the city.
Continue west on the Royal Mile and pop into the Tolbooth Tavern pub or the Canon's Gait for a pint before your weekend trip comes to an end. The latter has a laid-back, family-friendly setting and a huge variety of food options.
Then pick up your suitcase from the hotel and head to the train station or airport.
Other places to visit during your Edinburgh weekend trip
Landmarks and attractions
Portobello Beach: Only a 30-minute bus ride from the city centre
Calton Hill: For more incredible views over Edinburgh
Scott Monument: An impressive Gothic sculpture dedicated to author Sir Walter Scott
Royal Botanic Garden: An amazing green space located just north of New Town
Vegetarian and Vegan eateries
Just because you have dietary restrictions doesn't mean you have to miss out on delectable Scottish food! Here are our veggie-friendly restaurant recommendations:
Auld Hoose: The best vegan nachos and hot dogs in the land
David Bann: Eclectic vegan and veggie meals in a fine dining setting
Novapizza: Vegetarian and gluten-free pizzas and pasta dishes