Iceland Road Trip - The Best Route For 5 Days
Your Iceland road trip will include a lot of ice, volcanoes, waterfalls and geysers but it will not include any McDonalds – there isn't a single one on the island!
In this guide, we will tell you the ultimate route to take to get the most out of your trip including where to go and what to see, as well as some insider tips along the way.
Starting in the capital Reykjavik, this five-day Iceland road trip itinerary will take you on an amazing journey through the country visiting the Blue Lagoon, seeing the Northern Lights and doing a spot of whale-watching. You will drive the Golden Circle and the best part of the famous Ring Road route with our top destinations off the beaten track.
Get ready, dress warm, and get your camera set up, because you never know exactly what you're going to see when you're driving in Iceland.
The Ultimate Iceland road trip itinerary
Day 1: Blue Lagoon and Reykjavik
Day 2: Reykjavik sightseeing (Hallgrímskirkja church and Icelandic Phallological Museum)
Day 3: Golden Circle (Thingvellir, Kerid crater lake, Geysir Hot Springs and Gullfoss waterfall) and Akureyri
Day 4: Husavik (whale-watching and Northern Lights)
Day 5: Godafoss waterfall and the Secret Lagoon
When is the best time for a road trip in Iceland?
The look and feel of Iceland changes dramatically depending on the season, so an Iceland road trip in winter will be a completely different experience to one in summer.
The peak tourist season is in the summer, from June to August, and during the summer the weather is relatively mild, with an amazing 24 hours of sunlight - perfect for sightseeing and exploring in the wee hours of the night.
While it's true that driving in Iceland in winter can be more challenging, the roads are generally in good condition, so if you drive carefully and choose your rental car wisely (hello, 4x4 - more on this later), you are set for a perfect road trip.
If you're determined to see the Northern Lights, you'll need to plan your travel between September and mid-April, when there is guaranteed darkness.
We recommend spending 5 days in Iceland in October or late September. It won't be unbearably cold, and you'll have a much better chance of experiencing the Northern Lights than during the warmer months. If you brave the cold dark winter nights in Iceland, make sure you prepare properly for driving in thick snow and check for road closures.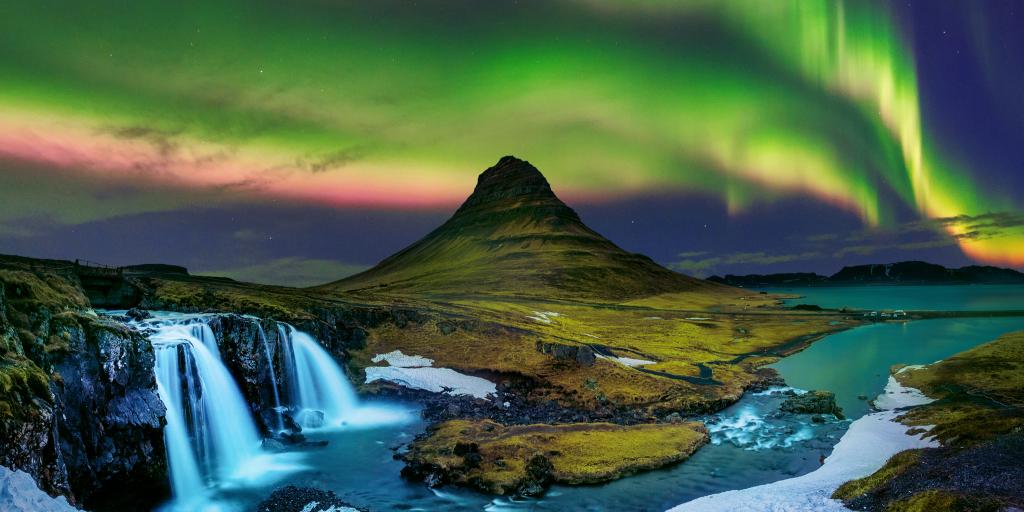 Day 1: Start your Iceland road trip with a visit to the Blue Lagoon
Every visit to Iceland starts at the Keflavik International Airport - located about 50km from Rejkavik in the south-western corner if Iceland. Most European countries have direct flights and you can get here with Icelandair or Delta from cities in the USA, with direct flights from New York, Chicago and San Francisco.
Step 1 of your Iceland road trip is to collect your hire car. All the usual car rental companies have a desk at the airport - book online in advance to get the right car and save money.
You want to get a 4x4 - do a bit of homework here. Not every SUV actually has 4 driven wheels. You also want to make sure you pay for the extra insurance that protects things like windscreen, tyres and against gravel damage. There is a lot of gravel and your car will come to blows with it - give yourself peace of mind.
When you inevitably stop at the first service station for snacks and drinks, equip yourself with a paper map. Phone coverage can be patchy and Iceland is really easy to navigate the old school way. Having said that, make sure your phone works in Iceland or pick up a local sim card in Reykjavik - you will appreciate the ability to look stuff up on the road and have GPS.
Drive to the Blue lagoon
The Blue Lagoon is an easy 20-minute drive from Keflavik airport on the way to Reykjavik. Head towards the capital along Route 41 from the airport, and turn right at the roundabout with signs to Grindavikurvegur (Route 43).
Signage on the way will make it easy to find, and parking at the Blue Lagoon is ample - and free!
Note that you need to book your Blue Lagoon tickets ahead of time, otherwise you probably won't be able to get in. It's one of the top destinations in Iceland, so it can get very busy!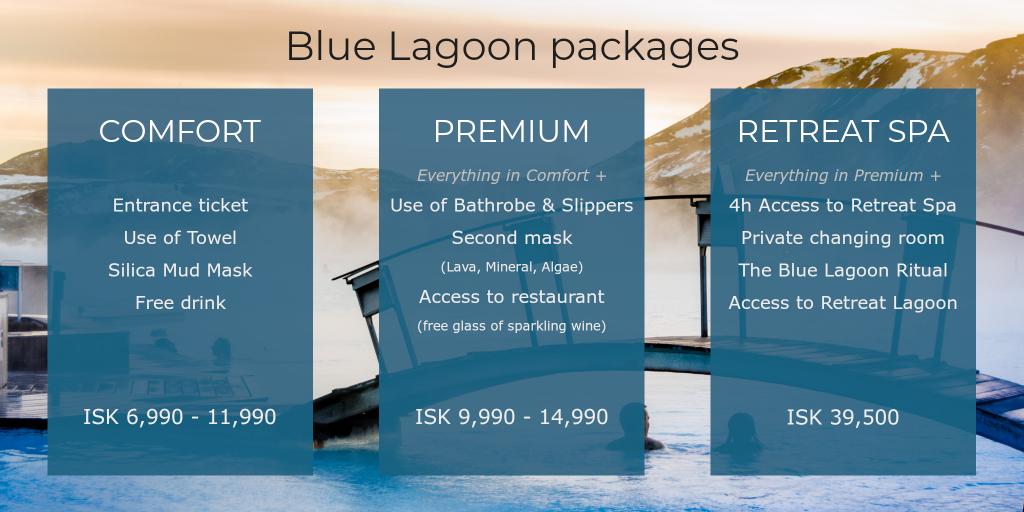 Prices fluctuate depending on the season and time of day. Evening slots are almost half the price - perfect for a wind down after your flight. US $100 is about 12,000 ISK so booking online can save a lot.
Don't be put off by the unexpected setting (there's a power plant just next door). The plant provides geothermal energy and does not contaminate the bathing water. In fact, the water here is said to have restorative powers, especially for the skin.
And what better way to relax after a long flight than floating around in a giant jacuzzi?
The Blue Lagoon is famous for its beautiful geothermal waters, which have a striking bright turquoise colour thanks to the silica, algae and other minerals that get mixed in from the lava bed below.
It's kept at a luxurious 37–39 °C (99-102°F) year-round, making it feel like a humongous communal bath tub.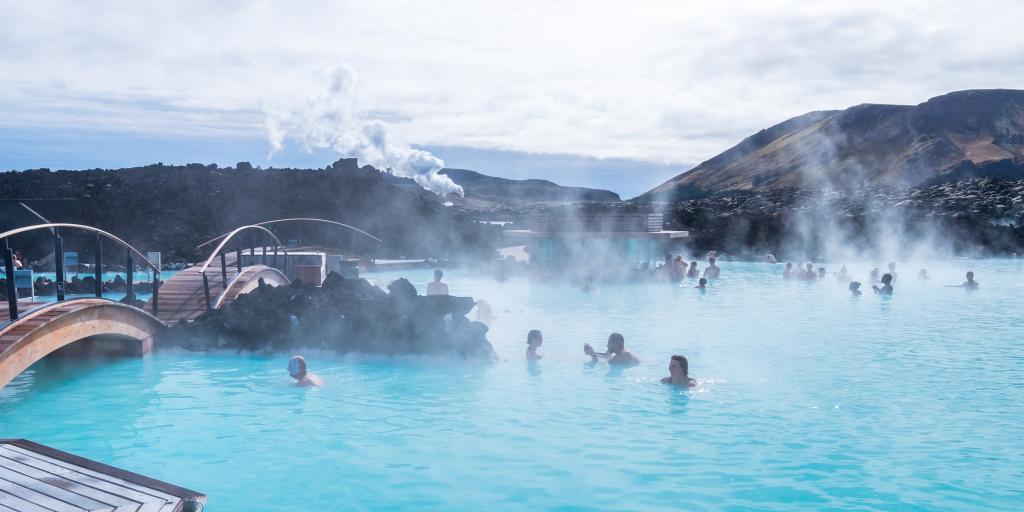 You'll notice lots of people wandering around with their faces covered in white gunk. This gunk is actually silica mud from the bottom of the pool, which is said to help exfoliate the skin. Seek out the staff members walking around with bowls of the mud.
There's also a brand new luxury hotel here called the Retreat at the Blue Lagoon (aka The Moss Hotel), a spa resort with 62 rooms that each have a view over the geothermal waters. If you're arriving late, it can be a great idea to extend your Iceland road trip by a day and stay overnight to make the most of the spa in the morning.
Once you're ready, hit the road to Reykjavik by following Route 43 back onto Route 41. The city centre is about a 40-minute drive away.
Street parking in Reykjavik is free after 6pm and all day on Sundays, and there's also metered parking and car parks dotted around.
Once you've found a good spot, check into your accommodation and get ready to explore the city!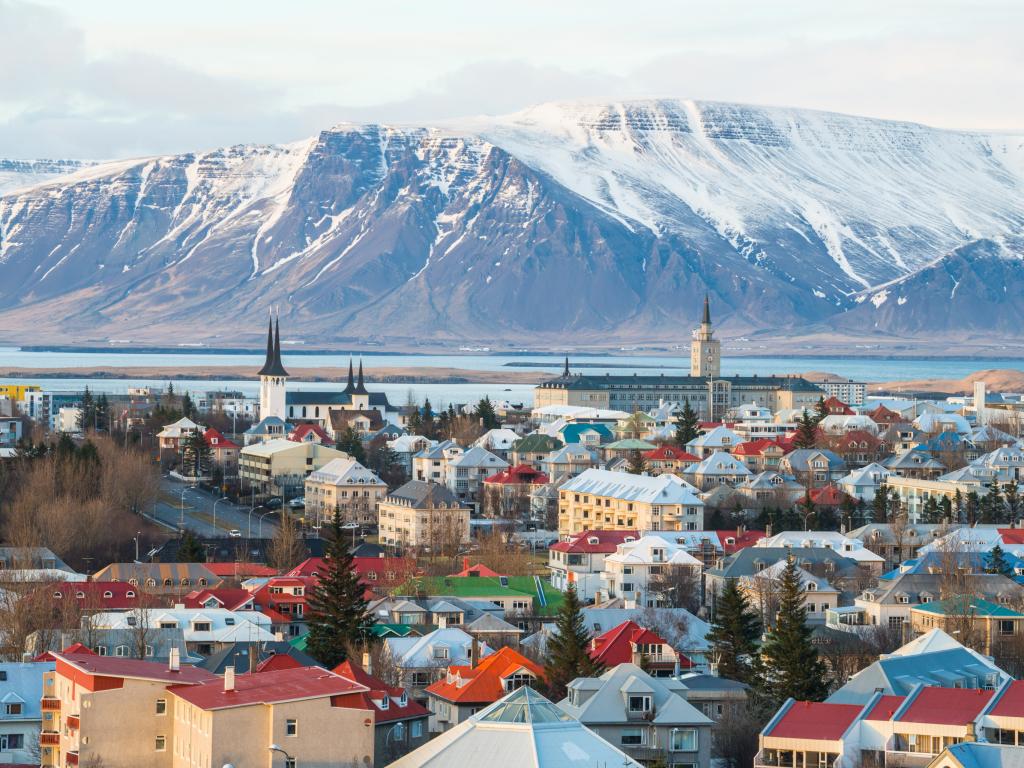 Grab dinner in Reykjavik
Everything about Iceland is otherworldly: the wildlife, the mystical Northern Lights, the wild landscape… and, especially, the food! If you can stomach it, you should definitely sample some of the strange delicacies on offer.
Fermented shark and sour ram's testicles anyone?
In all seriousness, though, there's plenty of top-notch eateries to choose from in Reykjavik.
It's famously quite expensive here - according to some estimates, it's the 7th most expensive city in the world - so the fact that popular restaurant Icelandic Street Food is both delicious and inexpensive means it truly is a must.
This family-owned eatery on Laekjargata street specialises in traditional Icelandic food like fish stew and lamb soup. Don't forget to save room for a sugary "Happy Marriage" pancake!
If you're after something a little more upscale, Nostra restaurant serves up gourmet four, six and eight-course meals in a swanky modern setting. Nostra is also lauded for its delicious vegan and vegetarian options.
Explore some of the best Reykjavik bars
After you've filled up on dinner, head to one of the bars on LaugavegIur street for a tipple.
For a small city with a population of just about 120,000, the Reykjavik nightlife is surprisingly hopping and some of the bars and clubs stay open until the wee hours, so it's easy to go to multiple places in a night.
Alternatively you can stroll along the water to the Harpa Concert Hall, a distinctive coloured glass building on the coastline that hosts regular musical performances.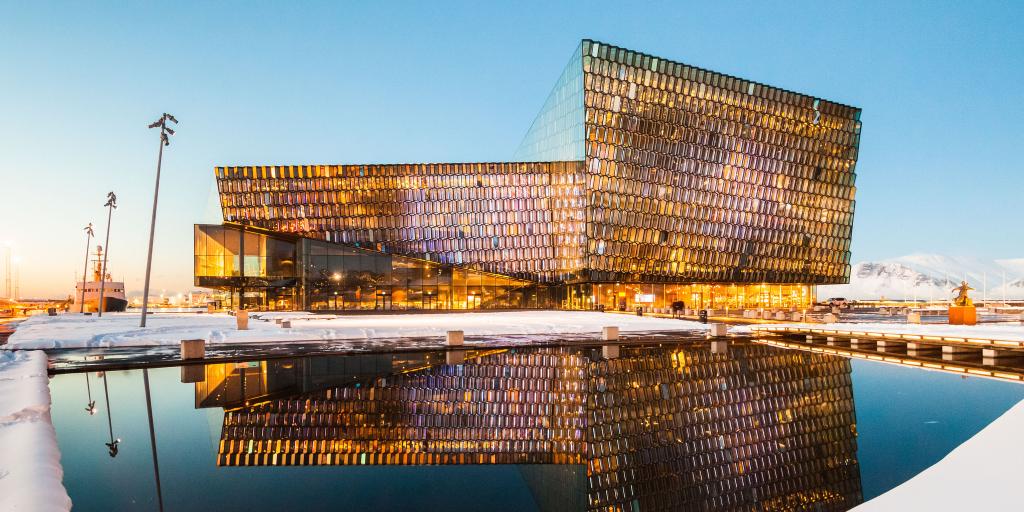 Whatever you decide, enjoy your evening and don't forget to look up at the sky before heading to bed. If you've timed your trip right, you just might catch a glance of the Northern Lights overhead. (If not, don't worry - there's a better chance for that once you head north!)
Day 2: Reykjavik - Sightseeing & hot dogs
Rise and shine - today you get to explore Reykjavik!
The traditional Icelandic breakfast consists of Skyr (a creamy yogurt-meets-cottage-cheese), oatmeal or homemade rye bread. Wash it down with a strong cup of coffee and get ready to see the sights. Savi and Vid at Bruised passports recommended Reykjavik Roasters on their trip to Iceland.
Visit Hallgrímskirkja and admire the views from the top
First on our list today is Hallgrímskirkja, the distinctive grey church overlooking the shopping streets of Reykjavik.
This Lutheran parish church was supposedly designed to mimic the shapes made by lava when it cools into Basalt rock. It was constructed between 1945 and 1986 and is now one of the most recognisable landmarks in the city.
The real treasure of the church, however, lies within: a 25-tonne pipe organ capable of filling the entire space with powerful and beautiful music!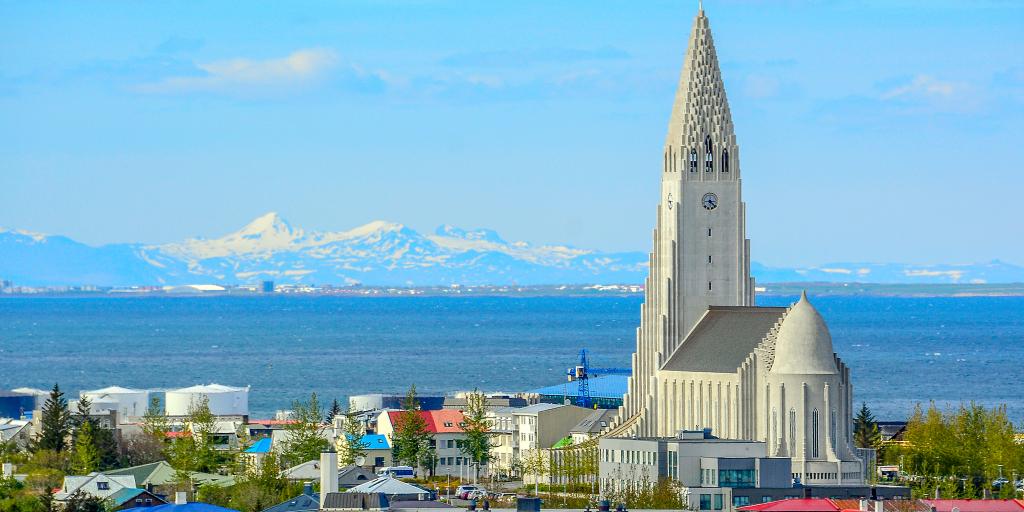 After you've climbed to the top of Hallgrímskirkja to see panoramic views from the viewing platform, it's time to do some shopping (or window shopping, if you're trying to save money).
As we said before, Reykjavik is small and super pedestrian-friendly, with all the main shopping streets - Laugavegur, Austurstræti, Bankastræti, Lækjargata, and Skólavörðustígur - within easy reach of each other.
While you're exploring, have a look at the cheerful houses that line the streets in a rainbow of bright colours.
Lunch in Reykjavik: Enjoy an Icelandic hot dog with all the fixings
Bet you didn't know that Iceland is famous for its hot dogs? Well, now you do.
The way they make them here is with lamb, beef and pork and topped with crispy fried onions, ketchup, mustard and remoladi (a mayo-sweet relish combo). Order yours ein með öllu (with all the works) to get the truly authentic experience. Liz Carlson's idea of a perfect Iceland road trip includes topping your hot dog with an ice cream - we're not entirely convinced!
If you're craving some cultural knowledge after that indulgence, Reykjavik has plenty of galleries and museums to choose from.
We recommend checking out the Northern Lights Centre and the bizarre but hilarious (and actually really interesting) Phallological Museum.
Established in 1997, the Icelandic Phallological Museum is home to the largest display of phallic specimens (read: penises) in the world, with a collection of covering 93 different species of animals. It may sound like a joke, but the science of phallology has actually been around for hundreds of years.
Don't forget to check out the elephant and whale specimens!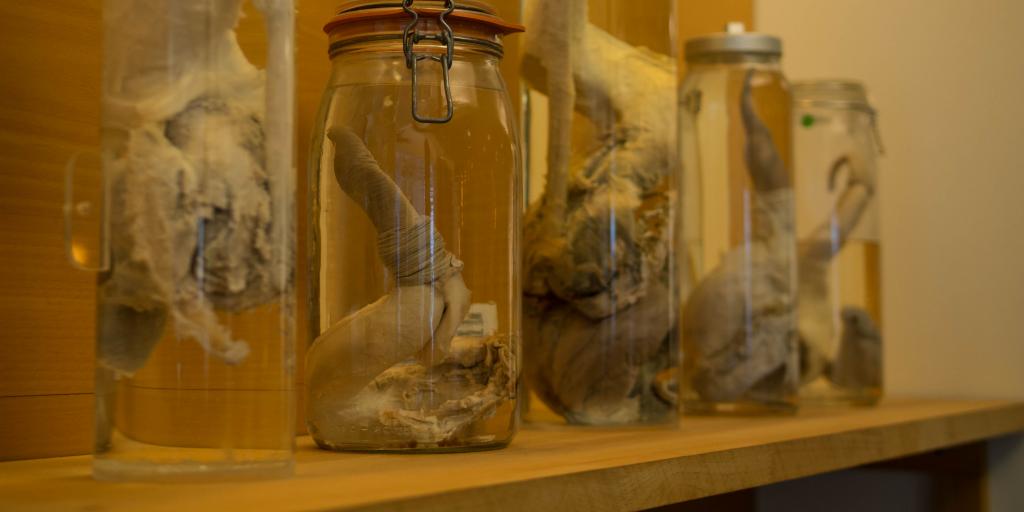 For dinner, head to any one of the restaurants along the waterfront Sculpture and Shore Walk. The eateries here range from huge upscale restaurants to low-key seafood joints.
Then head back to your accommodation and get some beauty sleep; there are a lot more adventures ahead!
Day 3: Golden Circle Route & Drive to Akureyri
Miles: 377
Drive to Thingvellir park
Wake up, have a coffee, check out of your hotel and pile into your car - it's time to embark on Iceland's Golden Circle drive, which is part of the popular Ring Road route that encircles the country.
The Golden Circle, a 300-kilometre-long tourist route in the south, encompasses most of the top attractions in the country.
You'll need to navigate to Route 49 first in order to get out of the city centre and begin your epic Icelandic road trip. This road will eventually turn into Route 1 North, aka the famous Ring Road, which you will follow past several roundabouts (Iceland loves roundabouts).
Finally you'll hit a roundabout with signage indicating Þingvellir at the second exit. Take the exit, which takes you down Route 36, and follow the signs to the Þingvellir visitor centre.
Then park your car and get out to admire the incredible views!
Þingvellir (pronounced 'Thingvellir') is a national park and UNESCO World Heritage Site with a fascinating geological and cultural history.
Firstly, the landscape features a dramatic rift in the earth that marks the boundary between the North American and Eurasian tectonic plates.
Secondly, Þingvellir was the site of the world's first ever parliament, Alþing (pronounced "Althing"), which was established by the Vikings in the year 930AD.
Within Thingvellir you'll also see the incredibly reflective Lake Thingvallavatn, Iceland's largest natural lake. If you're a diver, look into booking a scuba trip in the lake or exploring the Silfra Gorge.
The 35-square-mile Thingvellir is one of three national parks in Iceland, the others being Vatnajökull glacier in the southeast of the country and Snæfellsnes Peninsula in the west.
Once you've had a wander around the park, it will be easy to see how J.R.R. Tolkien was in part inspired by Iceland to create his fictional Middle Earth.
Admire the impossibly blue Kerid Crater Lake
Once you've spent some time exploring this unique park and snapping plenty of photos, it's time to set off to the next destination on our Iceland self-drive itinerary: Kerið crater lake.
This volcanic lake is located at the end of a long, uphill driveway, and it'll cost you just 400 ISK (£2.80) to enter.
In our opinion, the visit is priceless. Prepare to have your breath taken away as you stare into a 3,000-year-old aqua blue lake, surrounded by red clay and bright green vegetation. The colours of Kerid Lake are truly incredible.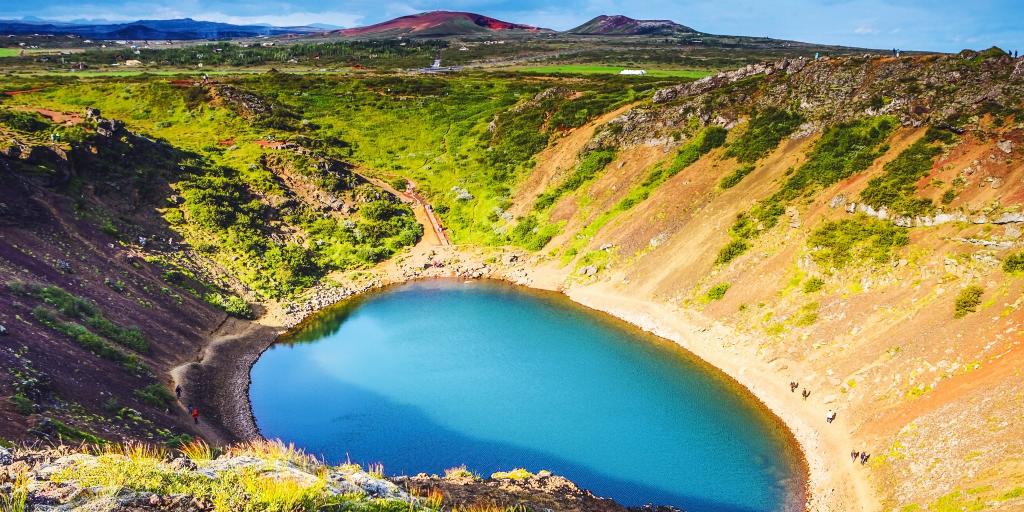 Check out Geysir Hot Springs
From Kerið, it's an easy 35-minute drive along Route 35 to Geysir Hot Springs, another unbelievable natural phenomenon.
This geothermal field features bubbling mud pits and a handful of active geysers that spew water into the air every few minutes. There are only a few places in the world where you can see something like this, so it's definitely worth including on your Iceland trip plan.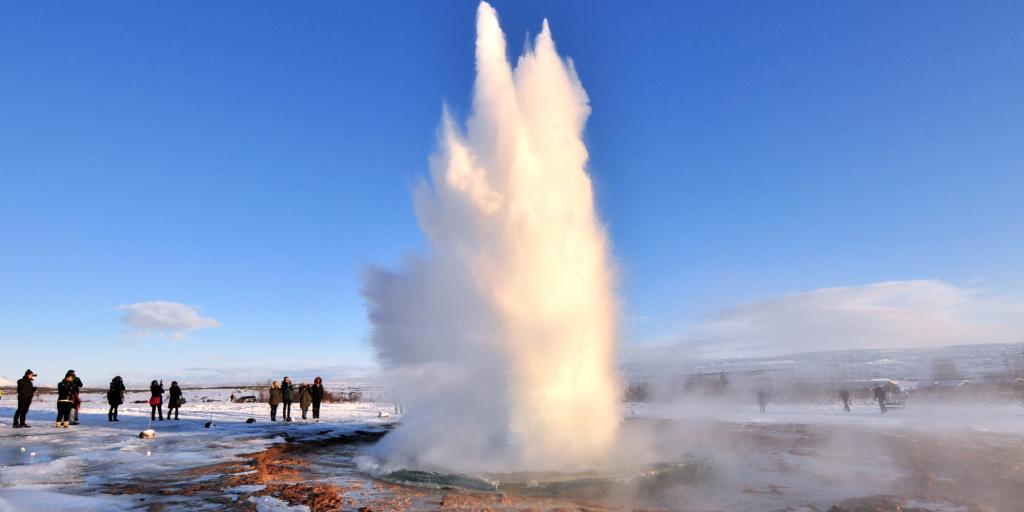 Marvel at the majestic Gullfoss waterfall
Finally, our last stop on the Golden Circle route (for now): the majestic Gullfoss waterfall, just east of Geysir along Route 35.
Gullfoss, which means "golden falls" in Icelandic, is one of the country's most famous and beautiful waterfalls. Because of its unique structure, it's one of the only falls you can actually see from above, with its water plunging down into a deep canyon at up to 2,000 metres a second!
There's a walking trail that takes you along the edge, giving you lovely views of the waterfall and the rainbow that forms overhead on any given sunny day.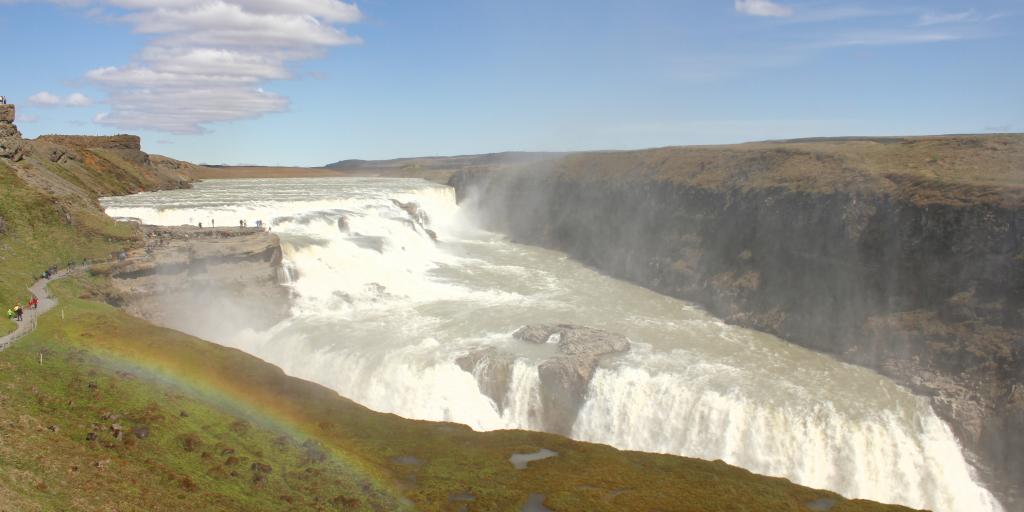 Depart the Ring Road and head north on the interior highland route to Akureyri
And so concludes our abridged Golden Circle tour. It should be about lunchtime by now, so have a bite to eat at one of the roadside cafes in the area and then get ready for a bit of an off-roading adventure.
We hope you've come with a USB cord and plenty of playlists or podcasts to listen to, because this next leg of your journey will take just under five hours. But it's far from a boring drive!
Petrol stations in Iceland are generally easy to find, but as we're heading towards a more remote drive it's best to be on the safe side fill up where you can first.
Fuel prices are fairly similar to European levels, but American tourists may find it slightly on the pricey side.
Once you exit Gullfoss Falls, take the F35 (aka the Kjölur route) north for about 108 miles.
This stretch is where the real road trip begins. It will take you past wild, moss-covered landscapes, black lava rock, snaking rivers and craggy mountains. It's just a gravelly road, so your car will probably kick up dirt behind you, adding to the exhilarating and adventurous feel.
It's important to note that like all highland roads in Iceland, F35 is only accessible in the summer.
Before you set off on your driving tour, be sure to check the Iceland roads administration website for road conditions.
After about three and a half hours, you'll hit the Ring Road again, a sign that you're almost there. Turn right onto Route 1 and follow it all the way into Akureyri, Iceland's second biggest city.
Arrive in Akureyri
Akureyri sits at the end of the Eyjafjörður fjord, a stretch of pretty blue water surrounded by green meadows.
There are plenty of hotel and accommodation options in Akureyri, whether you're after a budget hostel or something a little more swanky (though not too swanky - this is Iceland, not the French Riviera!)
Settle into your hotel and then head into town for dinner. There are plenty of nice and mostly casual restaurants along the waterfront and in the centre of town.
If you still have some room after your meal, treat yourself to an ice cream cone at Brynjuís (a favourite local haunt) before you settle into bed for the night.
Day 4: Drive from Akureyri to Husavi
Miles: 58
Breakfast in Akureyri
If you're anything like us, this just might be your favourite day of the whole trip. There's something unbelievably humbling about seeing massive whales living life in their natural habitat, and you're about to get your fill.
Enjoy a hearty brunch in Akureyri at one of the cafes or backpacking hostels in town. We recommend Akureyri Backpackers for tasty, healthy, and reasonably priced food (and free WiFi).
Then it's time to set off yet again even further north to Húsavík, just over an hour away.
Get back onto the Ring Road and take the bridge that crosses the fjord from west to east. The Ring Road will take you north along the water before cutting inland to the east.
After you pass a lake to your right, you'll hang a left on Route 85. This road takes you all the way into the fishing village of Húsavík.
Whale-watching in Husavik
Husavik translates to "house bay", probably because it was one of the first places inhabited by the Vikings. This town is known as the place to see these amazing animals, so take advantage of it!
There are a few companies that offer daily whale-watching tours out in the Húsavík Harbour, where you're almost guaranteed to spot humpbacks, minke whales or blue whales.
North Sailing tours will even provide waterproof ponchos and hot chocolate to help you stay warm while you're out on the open water.
Tickets cost 10,500 ISK (£74.66) for adults and 3,500 ISK (£24.89) for children. Kids under seven can go on the tour for free.
If you've never seen a whale in the flesh before, we guarantee you'll be absolutely gobsmacked by their peaceful nature and incredible size. An experience not to be missed!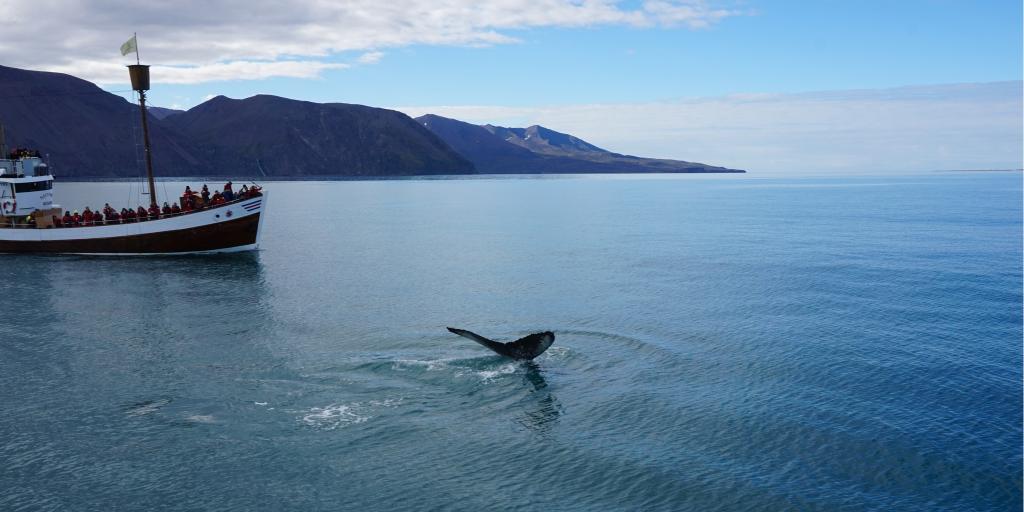 If you haven't quite had your fill of whales after the tour, you can go see the Húsavík Whale Museum, located on the site of a former slaughterhouse in town.
Settle into your hotel and look for the Northern Lights
Finally it's time to settle in to your accommodation.
There are a couple of hotels in and around the town, or you can choose to stay in one of the self-catered Husavik Cottages perched on the hill overlooking the bay. Some of these even have their own private jacuzzis, which is ideal on a cold Icelandic night.
Either way, make sure you get outside at night and spend some time looking at the sky. Since it's less populated up here than in Reykjavik, you have a better chance of spotting the Northern Lights if it's the right time of year (generally September to mid-April).
This natural light phenomenon is caused by magnetic particles from the solar wind interacting with the Earth's atmosphere. The lights tend to be a fluorescent green colour forming a wavy, slightly undulating shape. Truly magical!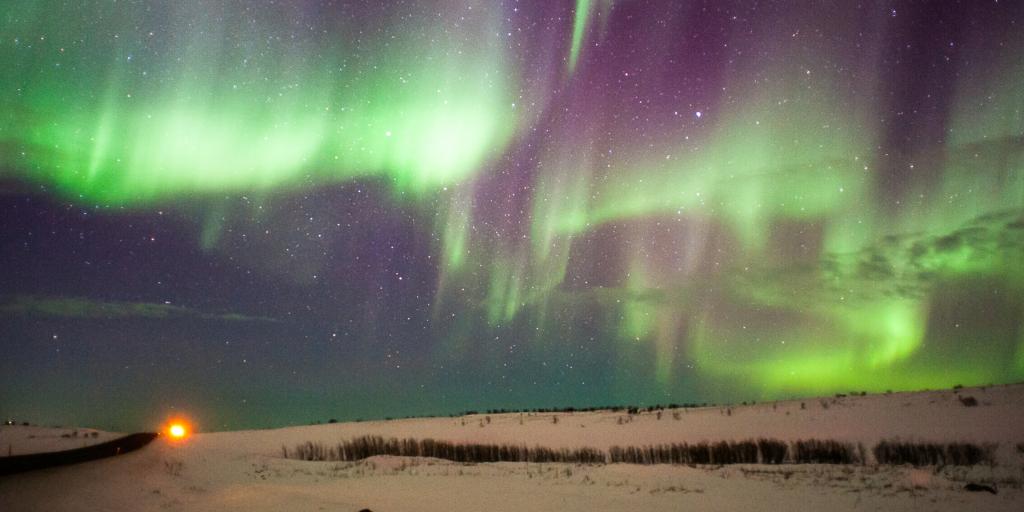 Day 5: Drive Husavik back to Reykjavik
Miles: 294
We're nearing the end of our time driving through Iceland, so it's time to start heading back down south.
Before you set off, it would be wise to buy some snacks or sandwiches at a grocery shop in Húsavík in preparation for the long drive ahead. Then wave goodbye to the whales, pack up your things and hit the road!
Take a detour to Godafoss - "the waterfall of the Gods"
Before you embark on the long journey ahead, it's worth taking a small detour on Ring Road 1 to Goðafoss, another breathtaking waterfall just south of Húsavík on a road called the Diamond Circle.
With its turquoise colour and powerful cascade of water, Godafoss, which translates to 'the waterfall of the Gods', is quite the sight to behold. It's surrounded by black lava rock that becomes snow-capped in the winter time, creating an even more scenic picture.
Once you park your car across the road, you can stand at the edge of the cliff and watch as the crystal clear water falls dramatically into the lake below. Just be careful - there aren't any barriers to stop you from falling right in.
According to Icelandic legend, Godafoss is the site where, in the year 999 or 1000, Thorgeir Ljósvetningagoði, a lawspeaker from the Icelandic Parliament, decided to throw all Iceland's wooden statues of Norse pagan gods into the waterfall.
This was a transformative moment for Iceland, marking the end of paganism and the beginning of Christianity.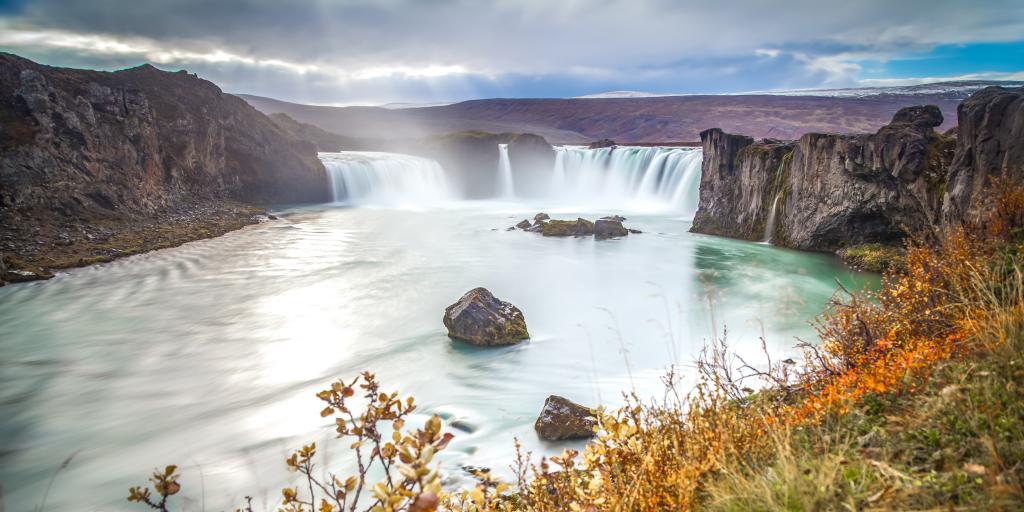 After you've oohed and ahhed to your heart's content at the sheer height and beauty of Godafoss, it's time to get back on Route 1 (the Ring Road) towards Akureyri and then back down to the Golden Circle.
Take your time and feel free to pull over as often as you'd like to snap photos of the wild scenery.
Depending on the time of year, you might see snow-capped mountains, lush greenery or wild horses prancing around.
Last stop on your Iceland road trip: the Secret Lagoon
We'll make one last stop on the Golden Circle route before going back into Reykjavik: the Secret Lagoon.
Located in a tiny town called Flúðir, this oasis will be a welcome finish to a long road trip. It's cheaper and less crowded than the Blue Lagoon, but no less relaxing and warm!
Change into your swimming costume and soak in the clear water, which stays at 38 to 40 degrees Celsius all year long.
The Secret Lagoon is also equipped with a bunch of colourful pool noodles, making it all the more fun to lounge around in.
Once you feel thoroughly relaxed, you can dry off and do the final leg of your trip back to Reykjavik, which will take about an hour and 20 minutes.
See some last-minute sights in Reykjavik
If you have time, pay a visit to Perlan (translation: "the pearl"), a massive flower-shaped museum and landmark with exhibitions, a top-class revolving restaurant and an observation deck on top.
Perlan Museum opened up in the summer of 2017, with exhibitions centred around geology and other natural sciences.
It's open every day of the week between 9am and 7pm.
This futuristic-looking building has quickly become one of the most visited attractions in Reykjavik - and for good reason.
As part of the Glaciers and Ice Cave exhibit, visitors tour a man-made ice cave that was built inside one of the museum's six hot water tanks. Here, you'll learn about the geology of glaciers and what their future holds.
Tickets are 2,900 ISK (£20) for adults, 1,450 ISK (£10) for teens, and free for kids.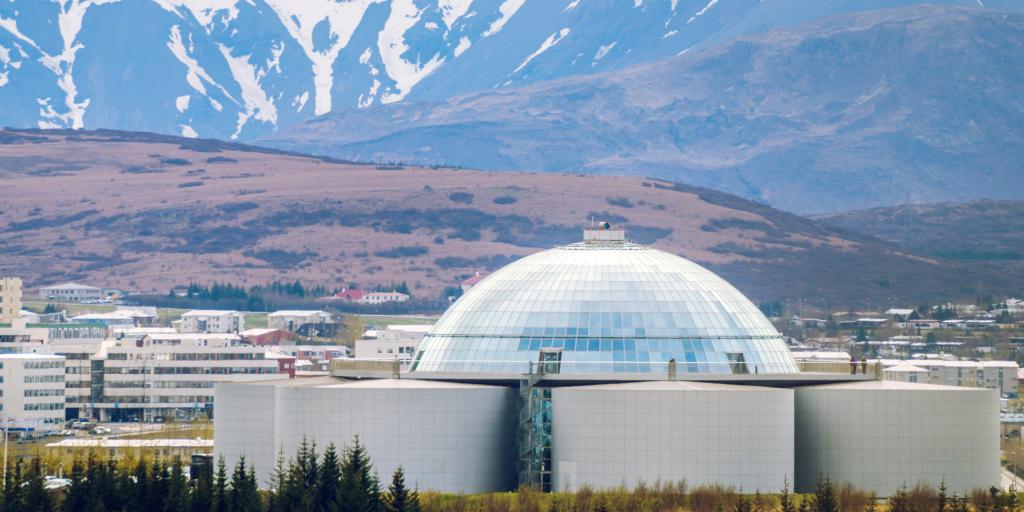 Fly back home
After perhaps one last hot dog, it's time to return your rental car and board the plane back home. We hope you'll be returning with a lot of photos, memories and stories to tell. And next time you plan a road trip to Iceland, why not choose a different time of year in order to experience all the wild and amazing things this country has to offer.