WW1 Battlefields Road Trip - Historic Drive Through France And Belgium
Day 1: Drive from Calais to Amiens via Arras
Miles: 124
Drive from the UK to Calais (or fly into Paris)
Presuming you're starting from the UK, the most comfortable option is probably to take your own vehicle and either hop aboard a cross-channel ferry from Dover or take the Channel Tunnel shuttle service from Folkestone.
If you're flying to France, then the Paris is generally the most convenient option for this kind of trip, being just a few hours from many of the most important areas and offering a plethora of car hire options.
As ever, our advice is to make the most of the time available by getting on the road as early as possible, as well as checking our essential guide to driving in France before you travel.
Head south towards Arras
As soon as you alight the ferry follow the signs for the A26 toll road - or 'Road of the English' as it has come to be known thanks to the number of British tourists using it - and start to head south towards the city of Arras, just over an hour away. Don't worry, driving on the right will feel natural in no time at all!
Just off of the A26 there are some fascinating World War 1 monuments, but the closer you get to Arras, the more frequent they become; perhaps this is no surprise, given that this countryside was the location for numerous bloody battles, including the 1917 Battle of Arras, which lasted little over a month but resulted in the deaths of 285,000 soldiers.
As you drive through France you'll notice road signs with poppies on - these generally point off of main roads and towards historically important towns, memorials, museums, battlefields and graveyards.
They tend to appear sporadically so don't be tempted to rely on them exclusively, but definitely call in at any that pique your interest - this itinerary is only a guide.
Top tip: Take a good guidebook with you so that your co-pilot can look up places as you go along, especially if you're aiming to seek out history relating to a particular nationality.
Stop at the world's largest French War Cemetery
The first stop of the trip is the Nécropole Nationale Française de Notre-Dame de Lorette, the world's largest French war cemetery.
Still relatively overlooked by British visitors and therefore quieter than many similar places you will encounter on a World War I circuit, over 40,000 soldiers are buried or their remains held in the ossuary here, alongside the ashes of a number of World War II concentration camp victims.
The site also includes an ornate chapel and a lantern tower, and is neighboured by the 'Ring of Memory' memorial, unveiled in 2014, which lists the names of the 576,606 soldiers of 40 nationalities who died in this region during WW1, alphabetically rather than by rank.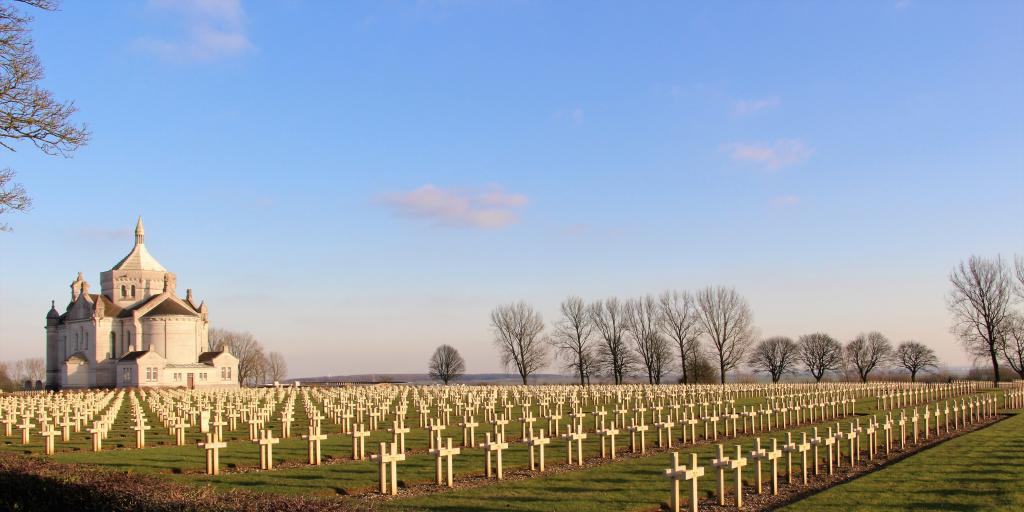 Visit the Canadian National Vimy Memorial
Next up, approximately 15 minutes on from Notre-Dame de Lorette Cemetery, is the Canadian National Vimy Memorial, which serves as a tribute to all Canadian service personnel that were killed between 1914-1918.
Built on top of the Vimy Ridge, the location of what is widely considered one of the most successful - but bloody - Canadian offensives of World War I, it features two gigantic white pylons adorned with various sculptures and is engraved with the names of those still missing.
Also in the grounds of the memorial are the trenches where these men would have fought, now preserved and able to be walked through.
Driving between the two you'll also come across the Lens' 14 - 18 Centre d'Histoire Guerre et Paix, which details the impact that the conflict had on this area through letters, photographs and film clips. Feel free to stop and take a look!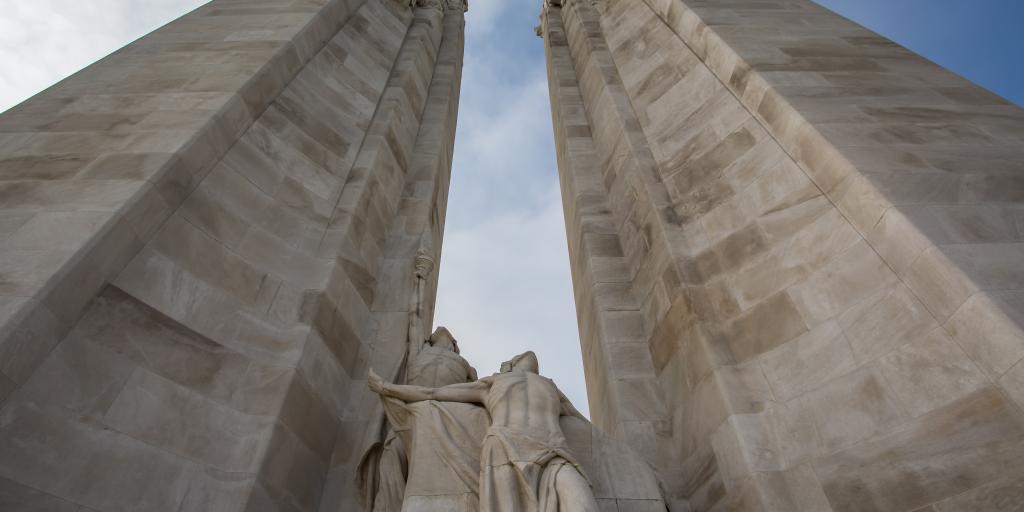 Continue onwards on your road trip to Arras
You're probably quite hungry by now, so continue on another eight miles or so into the city of Arras to for a bite to eat. Having been situated directly on the Front Line, Arras was all but completely destroyed during the war, with 75% of the city requiring rebuilding; nonetheless, it's not at all hard to imagine what it would once have been like here.
Many of the city's restaurants and cafes are clustered around the town's two central squares, the Place des Heroes and the Grand'Place, and on the strip that links them.
Ch'ti Charivari, on the Grand' Place would be our pick for the best lunch - from chunky burgers to classy cheese boards, there's something for everyone.
On-street parking in Arras is usually surprisingly easy to come by, but if all else fails there are also a number of car parks near to the Grand'Place and Arras train station.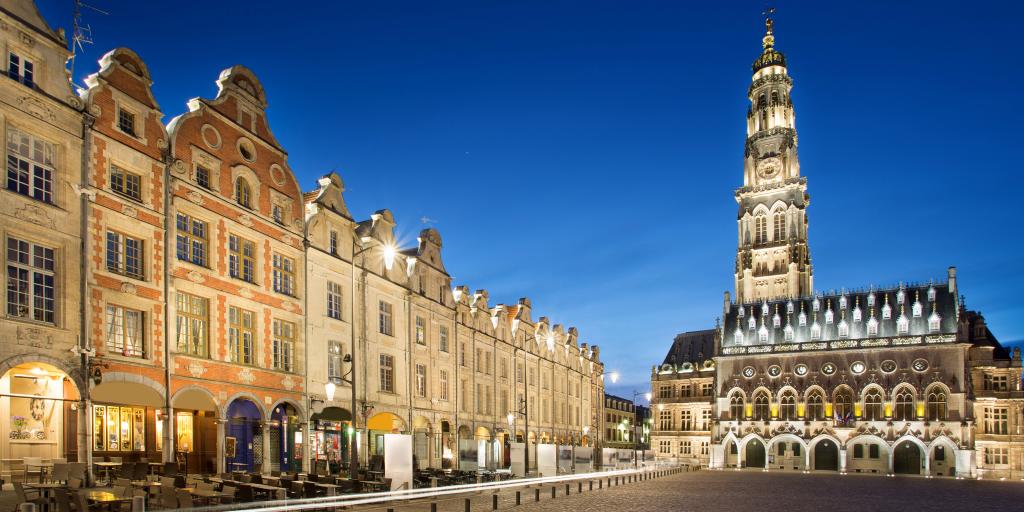 Visit Carrière Wellington (Wellington Tunnels)
After you've finished lunch, enjoy a stroll around Arras, then pick up your car and make the short drive over to the Wellington Tunnels Museum on the other side of the city.
Taking you into the warren of passages that exist over 20m below the city's pavements, it explains the work of the tunnellers who expanded this cave system - which originally dated from the Middle Ages - into a space capable of hiding 24,000 troops ahead of the Battle of Arras.
The tunnels do have to be seen by guided tour, so save time by booking ahead online.
Pay your respects at Queen's Cemetery, Bucquoy
The first British cemetery on this WW1 self-drive battlefields tour is not one of the major and much-photographed burial grounds such as Thiepval or Tyne Cot (they're coming later), but a relatively small one situated along the side of a nondescript road near Bucquoy, about 20 minutes south of Arras.
Low-key and surrounded by farmland, it would be easy to drive straight past Queen's Cemetery, but that would be a mistake; it's entirely the sense of smallness and loneliness that makes it so sobering.
Add in the knowledge that it's one of literally hundreds just like it scattered across the French countryside, and that's when you start to realise the scale of the loss of life caused by the war.
When visiting, look out for a special plaque commemorating six British soldiers (the author's great uncle included) who were, for reasons still unknown, buried in a nearby German cemetery and whose graves were later destroyed.
Walk through Beaumont Hamel Newfoundland Memorial Park
Less than 15 minutes along on the route, the next stop on the trail is a memorial to one specific group who suffered extraordinary losses: the Newfoundland Regiment.
On the first day of the Battle of the Somme, 80% of this regiment were injured or lost their lives in an assault on enemy lines that lasted just 30 minutes.
Featuring war graves and bringing visitors face-to-face with trench life, via the largest section of naturally preserved battlefields on The Somme, it's a place that stands out as particularly powerful, even in an area known for its heavy concentration of WW1 sites.
Owing to the fact that it is so undisturbed, there is believed to be a considerable amount of unexploded ordnance around here, and many of the areas are out of bounds; nonetheless, you can walk through trenches, see the pockmarked landscape, and really get a sense of how horrifyingly close the two sides were to each other.
While you can do self-guided tours of the site, the Canadian tour guides that work here provide an added level of clarity so we definitely recommend joining them.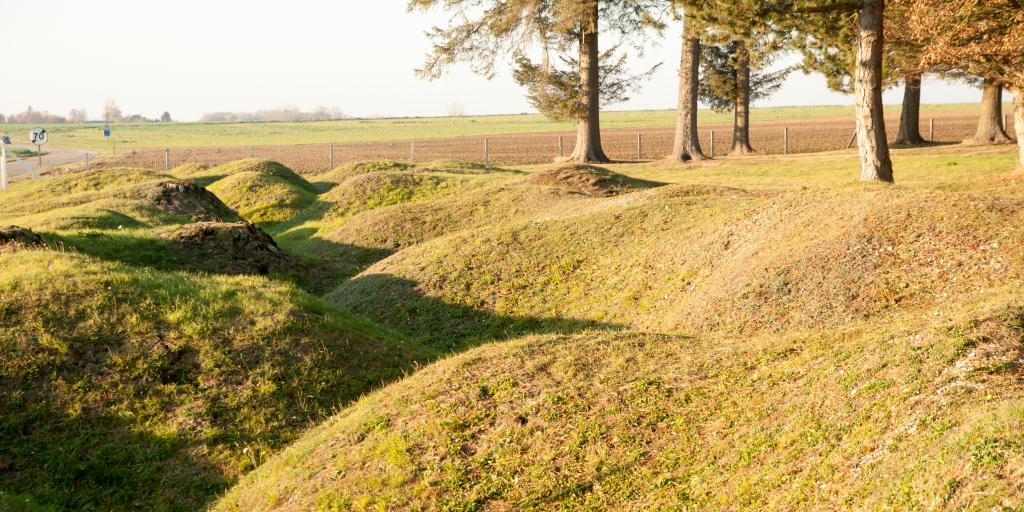 Head to Thiepval Cemetery
Just 10 minutes drive from the Newfoundland Memorial Park is one of the world's most famous WW1 memorial locations, Thiepval.
Commemorating more than 72,000 British and South African servicemen who were reported missing in the Somme up until 20th March 1918, its adjoining cemetery also holds the graves of over 300 Commonwealth and 300 French soldiers, the majority of whom remain unidentified.
Also adding to the experience, the Commonwealth War Graves Commission (CWGC) have created the Thiepval App, which provides more information about the battle, tells the personal stories of over 900 of the men listed here and makes it easy to find their names on the arch.
Do note that access to the site can only be gained by following Rue de L'Ancre from Thiepval village, as SatNavs and Google Maps will sometimes try to take you via other routes.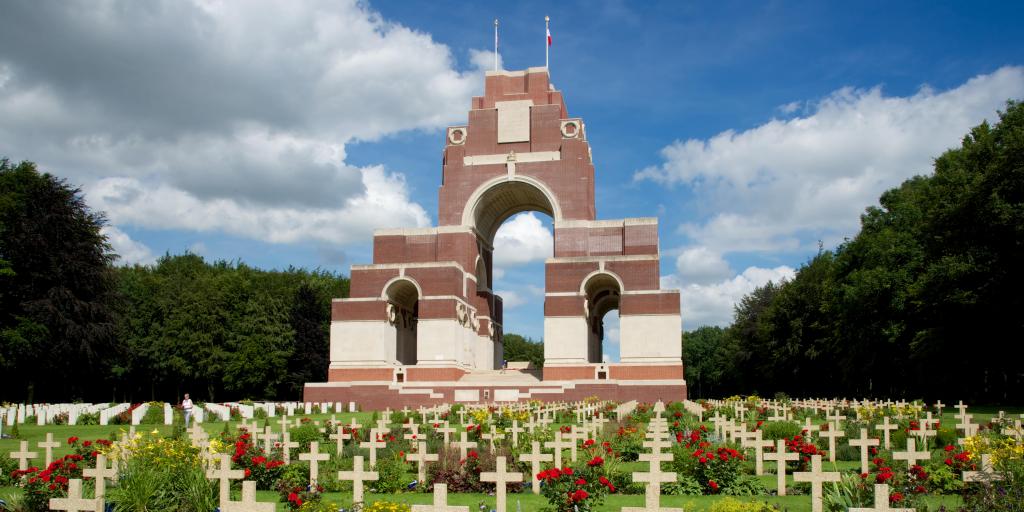 Stop at Lochnagar Crater
The next stop of the day is the Lochnagar Crater, a 30-metre-deep, 100-metre-wide bowl that was created by the explosion of a large mine placed below German trenches just two minutes before the launch of the very first offensive of the Battle of the Somme.
At the time, the blast was considered to have been the largest man-made noise, with some reports even suggesting that it was heard as far away as London.
Although just a 10-minute drive from Thiepval, by following the D73 and then the D929 route you will also get to see (or be directed to) many more monuments and military cemeteries, including the Pozières Memorial, which sits on the side of the main road.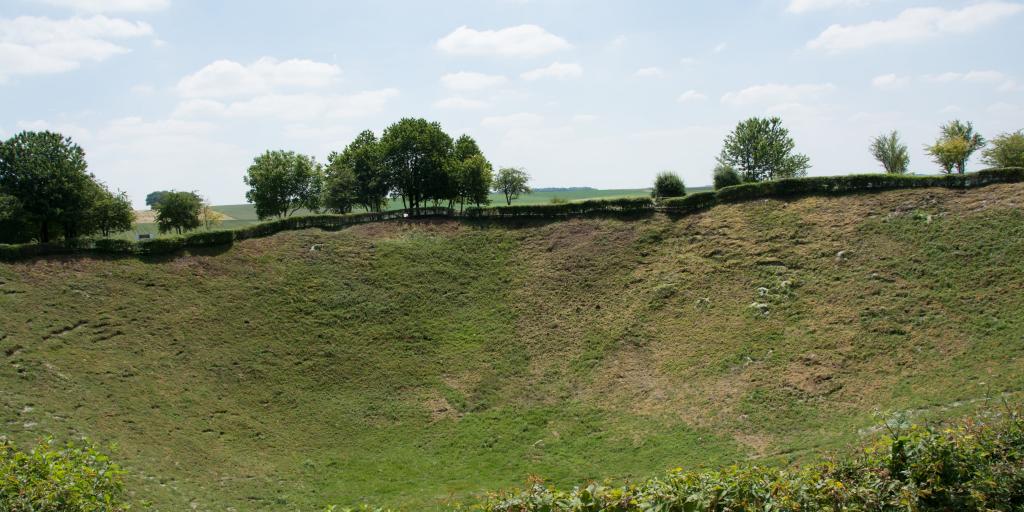 Drive down to Amiens
It was in 1918 in Amiens that the ferocious Battle of Amiens was fought, a 100-day period that changed the course of the war and ultimately led to the end of the conflict.
Today the city is a world away, with a calm atmosphere, quaint cafes and plethora of flower boxes - and it makes for the perfect place to spend the night.
Depending on how you're doing for time, you may wish to stop off in the town of Albert during the drive between the Lochnagar Crater and Amiens.
Here, you'll find a museum dedicated to the Battle of the Somme and be able to see the statue of the Golden Virgin on top of the Basilica, which was knocked to an almost horizontal position early on in the war and came to be a point of superstition among troops, who said that the war would only end when it fell.
When you arrive in Amiens, park up and check into your hotel, then spend the evening browsing the bookshops and craft stores of Quartier Saint-Leu and sipping wine in one of the waterside restaurants.
For dinner, Restaurant T'Chiot Zinc is one that's worth a visit, despite looking like some kind of puppet theatre from the outside.
Visit the cathedral
Even if you're not religious, popping into Amiens' cathedral is something that you should do while staying in the city.
Having escaped WW1 relatively unscathed, it boasts incredible Gothic architecture, as well as a number of tributes to soldiers killed during the First and Second World Wars.
From June - September, and in November and December, the outside is illuminated by a light show - times vary depending on the month, so check their website ahead of your visit.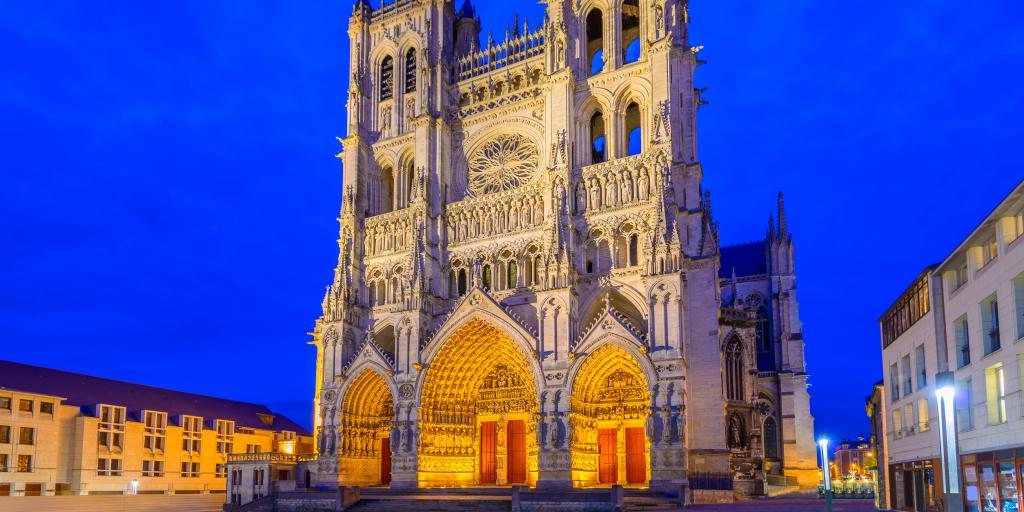 Day 2: Drive from Amiens to Verdun
Miles: 237
Wake up early and get a a good breakfast, as today's journey is the longest total distance we will cover in one day of this trip.
Taking in the armistice signing location, an internment camp and an American military cemetery, the route moves eastwards towards the city of Verdun, with the afternoon spent amidst the long-lasting impact of the Battle of Verdun. Ready? Let's get going.
See where the armistice was signed at Clairière de l'Armistice
While it would surely be fitting to finish a World War I battlefields road trip with a visit to where the armistice that ended the conflict was signed, its location between Amiens and Verdun means that it actually slots more naturally into second day of this road trip.
Known in English as the Glade of the Armistice, this national memorial near Compiegne is centered around a forest clearing marking the very spot where Allied powers and Germany agreed to cease hostilities.
It was also here in 1940 that Hitler met with French officials to negotiate an armistice between France and Germany, a meeting that ended with the establishment of a zone of German occupation in the country.
As well as the main monument, there is also a really interesting museum dedicated to the story of both of these armistices, complete with a replica of the carriage in which the signing took place.
An optional WW2 addition: Royallieu-Compiègne Internment Camp Memorial
Although not technically sticking with the World War I theme, another thought-provoking memorial that you may wish to visit in this area (and just a short drive from Clairière de l'Armistice) is the Royallieu-Compiègne Internment Camp Memorial.
Managing to be both educational and touching, it tells the story of over 40,000 French Resistance fighters and Jewish citizens who were held here during WW2 before being sent to camps in German territory.
The lists of the deportation destinations on the walls - Auschwitz-Birkenau and Buchenwald among them - are a dark reminder of the fact that it wasn't only WW1 that had a huge impact on this area.
Visit Oise Aisne American Cemetery and 'Plot E'
It takes about an hour or so more to reach the Oise Aisne American Cemetery, which is built on the spot where the so-called 'Rainbow Division' - created from units from 26 states as a symbol of inter-state collaboration - fought.
While visiting this perfectly-manicured final resting place of over 6,000 US soldiers, keep your eyes open for the grave of poet Joyce Kilmer, who lost his life just four months before the war ended.
Also here is Plot E, a semi-secret burial ground that does not even exist officially, in which US army personnel executed for dishonourable offences during World War II are buried, the majority of them having been convicted of crimes such as murder.
Unfortunately, there's little chance of you actually getting to look inside - it's separate from the main cemetery, shrouded from view and accessible only through the back door of the superintendent's office. That said, there's no harm in asking.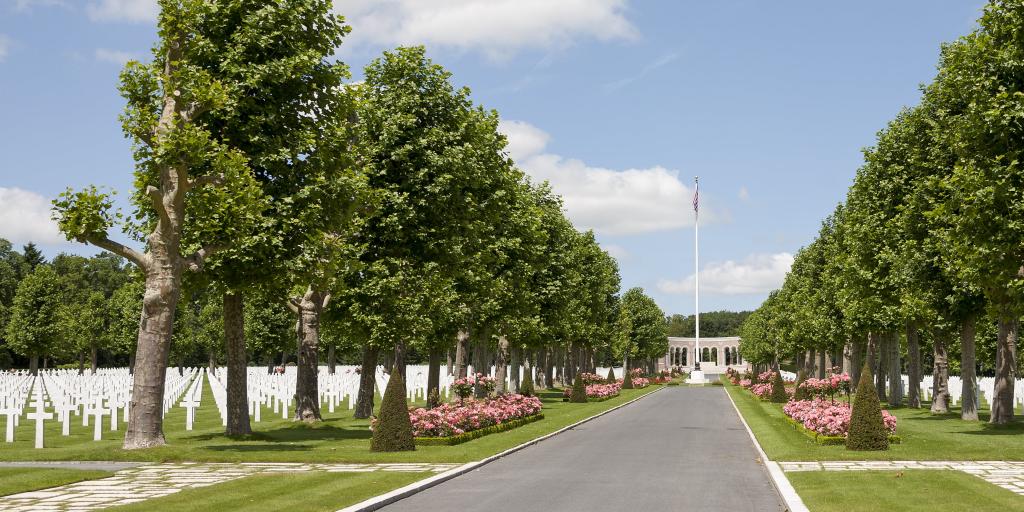 Stop in Reims for lunch
With a plentiful supply of restaurants and cafes, Reims is a good choice for a lunch pitstop.
For some truly French cuisine, our recommendation has got to be L'Epicerie Au Bon Manger, a small family-owned deli that has just a handful of tables but whose charcuterie can't be beaten and whose attention to detail will leave you smiling.
Walk off your lunch with a short amble around the city, taking in its many attractive buildings, before continuing on your way to Verdun; it should take you roughly an hour and 20 minutes to reach your destination.
There is (surprisingly affordable) on-street parking in the centre of Reims - red and orange zones have a maximum period of two hours, green have a maximum of five.
If you can't find a spot, there are also a number of car parks, so it shouldn't be too much of a problem.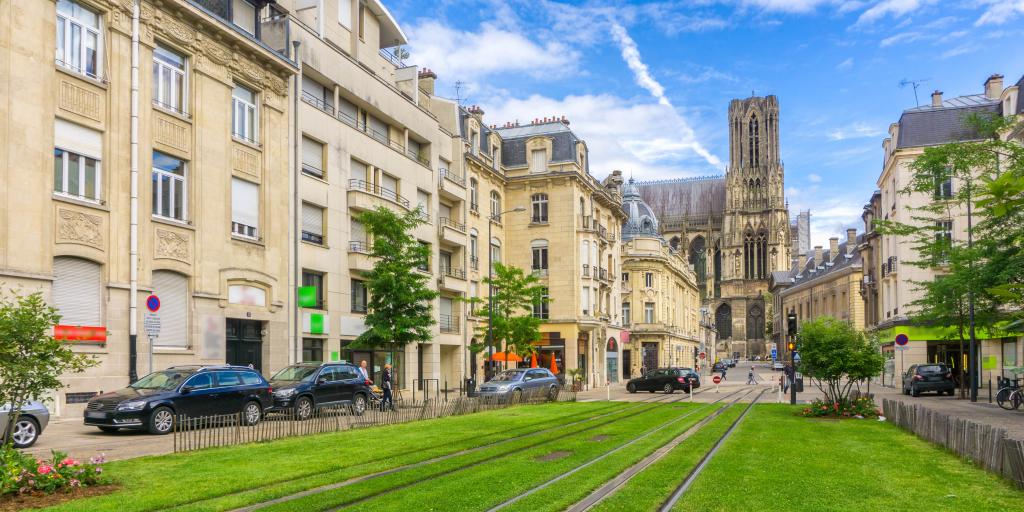 Head to the Verdun Memorial and Museum
Your first stop after checking into your hotel should be the Verdun Memorial, which focuses on the Battle of Verdun.
The longest battle of the whole of World War I, it completely reshaped the area (as you will see) and is estimated to have killed approximately 300,000 people, and wounded a further 600,000, in the process.
The museum serves as a useful and fitting introduction not only to the battle itself, but to other locations in this area, by taking you on a virtual tour through the battlefields and delving into the daily life of those serving in the trenches.
Expect to spend at least an hour, but do try not to run too far over - there's still lots to see today.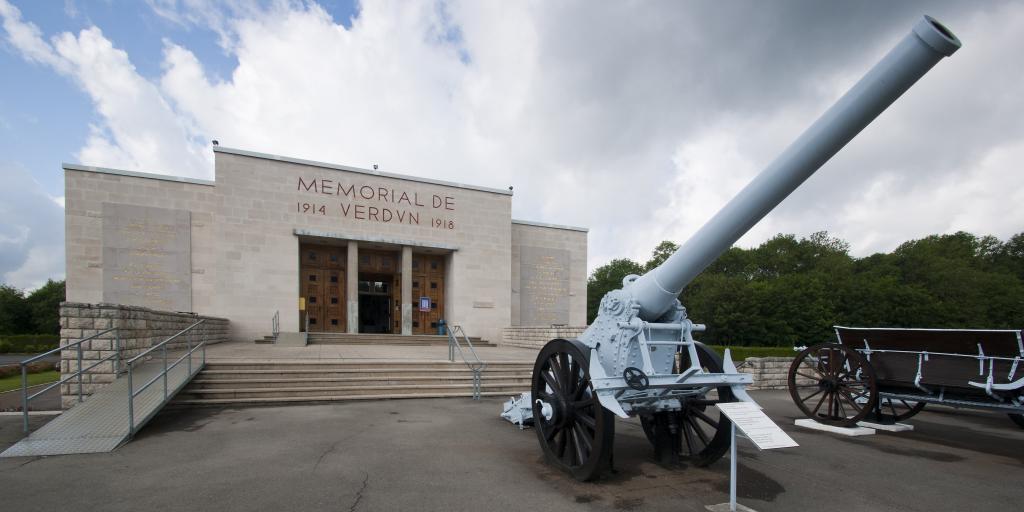 Experience a ghost town at Fleury-devant-Douaumont (Zone Rouge)
When you've finished at the Verdun Memorial pay a visit to Fleury-devant-Douaumont, directly next door, which is one a number of villages in France that are officially recognised as 'a place that died' for the country.
Having been completely destroyed by the Battle of Verdun, it was deemed a 'Zone Rouge' - an area so damaged by the war that it is considered unfit for human habitation - by French authorities in 1918.
Over a century since the end of the war, it's still considered too contaminated by corpses, explosives, toxins and poisonous gas to farm or build on.
Now reclaimed by nature, visitors can walk through where this village once existed, with posts indicating what buildings formerly stood in their place - including a grocery store, a church, a cafe and, most poignantly, a school.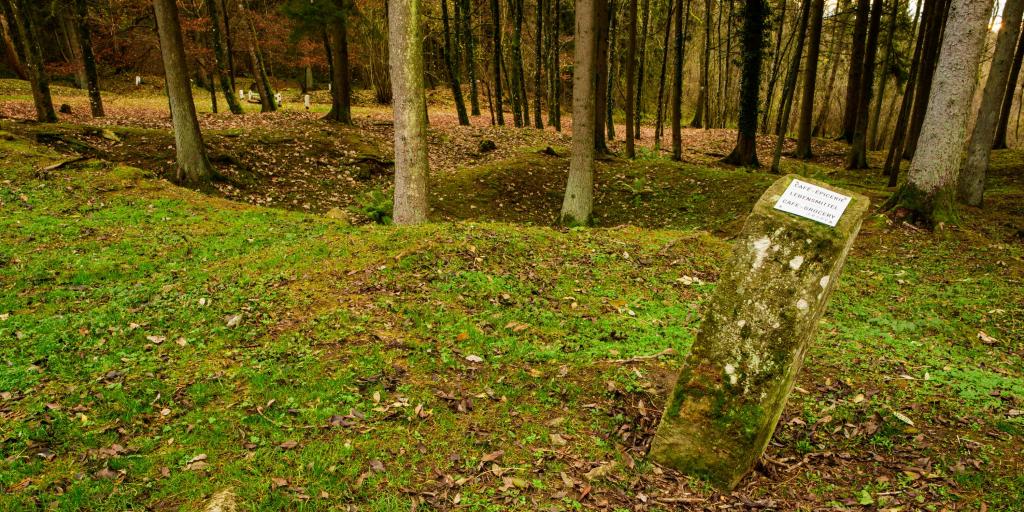 Climb the tower at Douaumont Cemetery and Ossuary
By now you don't need to be told of the human cost of World War I, but a visit to Douaumont Cemetery and Ossuary, a few minutes further on from the memorial, can't help but bring it all home once more.
Located within the Verdun battlefield, the cemetery is the largest of French World War I burial grounds, with over 16,000 graves and an ossuary housing the remains of over 130,000 unidentified soldiers from both France and Germany, whose bones are visible through a series of small windows.
Entry to the grounds is free, but there is a €6 fee to climb the tower that is built above the ossuary and provides a breathtaking bird's-eye view of the site.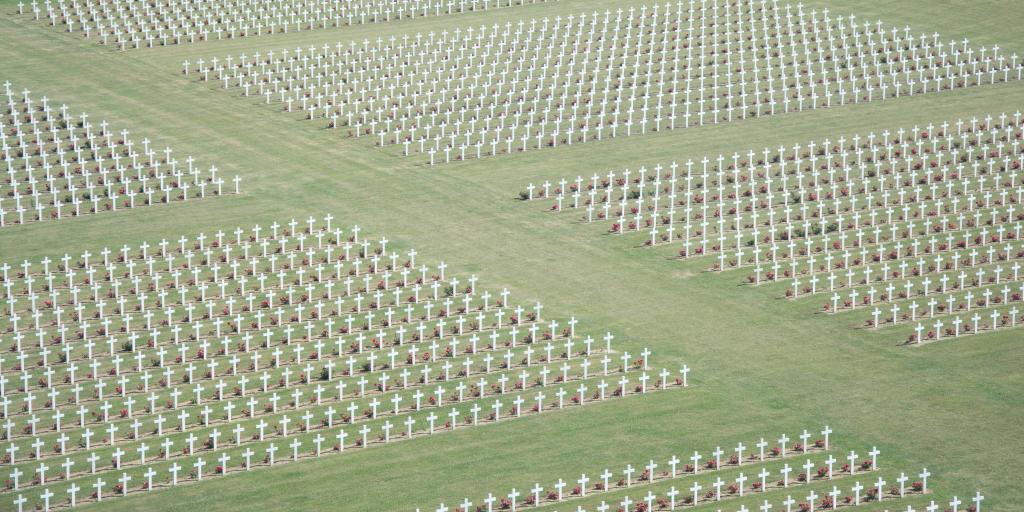 Next stop on your WWI road trip: Fort Douaumont
The next stop on our trail is Fort Douaumont, one of the most fought-over sites in this area, which changed hands several times during the course of World War I.
It's less than a mile away from the cemetery, so we suggest leaving your car there and walking along the road for a close up view of how battle-scarred the landscape still is.
Stepping inside of this damp and chilly fort, complete with stalagmites, you can't help thinking how bad life outside the fort must have been, if this was the driest, safest option.
Although the rooms themselves are not all that comprehensive, there are fully guided tours, self-guided audio headset tours and paper handouts available.
With the most popular option, the headset tour, you can expect to spend about an hour working your way round.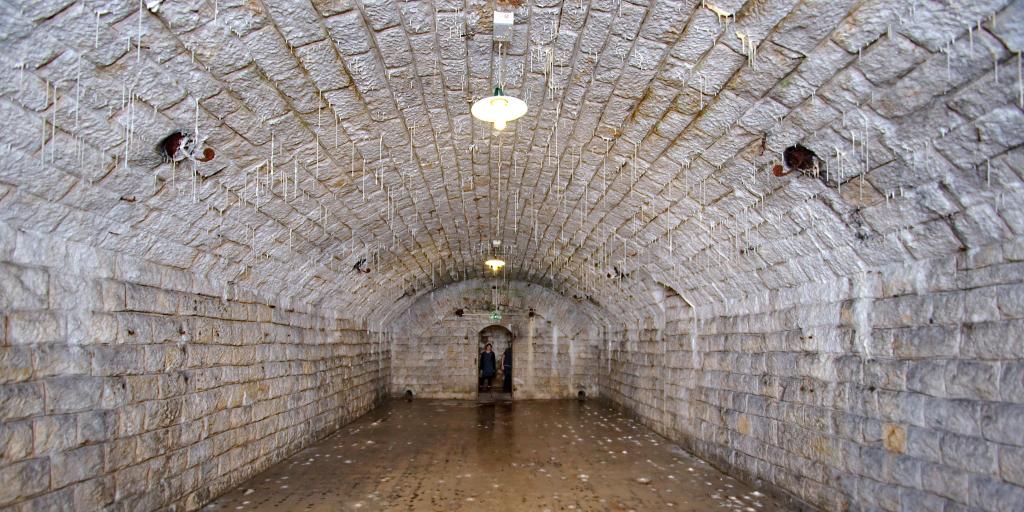 Head back into Verdun
After you've visited all of today's locations, the drive back to Verdun should take about 20 minutes or so.
Although it has become a city that very much exists around historical tourism, and isn't really all that beautiful, do take an early evening stroll around it, particularly to see the imposing and castle-esque Porte Chaussee up close.
For dinner, scoot on over to La Brasero, an unassuming little restaurant who have cooking meat down to absolute perfection.
Day 3: Drive from Verdun to Mons
Miles: 147
Today's drive starts in Verdun, France and crosses the border into Belgium, eventually ending up in the city of Mons. Although there are multiple routes you could take, the two below are the ones that we'd recommend in terms of places to stop.
Crossing the border between France and Belgium should be a simple process, with just a road sign marking the transition between the two countries.
Driving in Belgium tends to be fairly similar to France, with tailgating seemingly borderline compulsory, although there are no toll roads to contend with. At the time of writing, both petrol and diesel were a few cents per litre cheaper in Belgium.
Route 1: Visit Hitler's bunker
By travelling via Charleville-Mézières and joining the N5 on the Belgian side you will pass close to Brûly-de-Pesche, from where Adolf Hitler orchestrated the invasion of France.
Nip off of the main road and drop into the Brûly-de-Pesche 1940 museum, which is formed around the actual bunker that Hitler stayed in.
Route 2: Detour to Dinant
Another option is to drive via the Belgian city of Dinant, a route that requires a detour but only adds about 40km to the total journey.
One of the first places to feel the catastrophic impact of World War I, Dinant was the site of intense fighting between French and German forces in August 1914, which eventually culminated in the brutal massacre of 674 unarmed civilians.
A visit to La Citadelle de Dinant, of which both sides desired control, will explain what happened here as well as providing a wider history of the town.
Afterwards, grab a coffee and a crepe at Cote Sax cafe and have a walk along the waterfront, before heading on your way.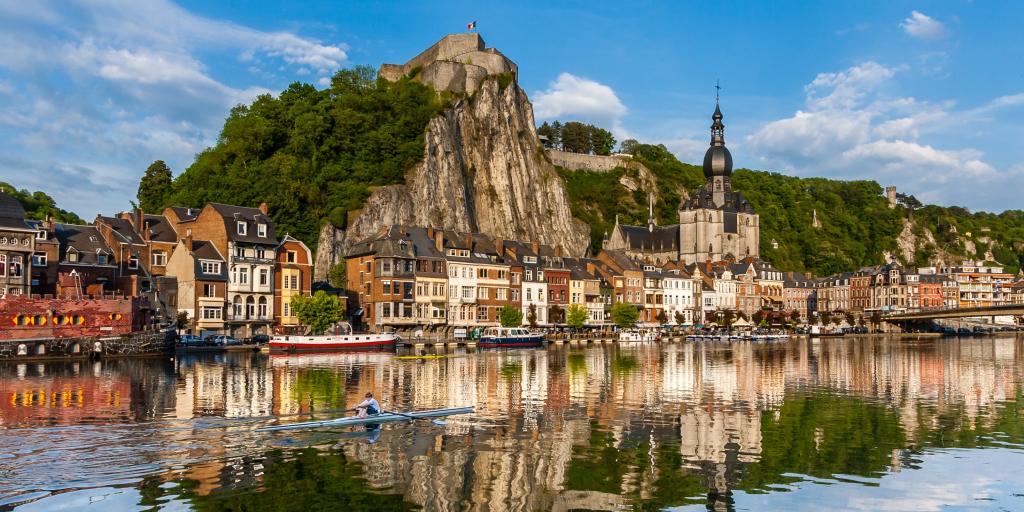 Learn about the town's history at the Mons Memorial Museum
Arriving in Mons in the early afternoon, check into your hotel and get your bearings before heading over to the Mons Memorial Museum, about a 10-minute walk from the Grand Place. Don't worry, there will be time to explore the city itself later.
Providing a strong understanding of why this town has so frequently been a centre of conflict throughout the years, as well as painting a picture of what life was like for civilians living in Mons under occupation, it's a surprisingly moving and different take on the events of World War I.
With over half of the permanent exhibition space dedicated to World War I, it's probably one of the strongest and most useful museums on the entire trip.
Tour Saint-Symphorien Cemetery
Different in both appearance and nature to any of the graveyards on the journey so far, the Saint-Symphorien Cemetery contains almost equal numbers of graves of both British and German soldiers killed in the Battle of Mons, the first major British military action of World War I.
Unlike in other cemeteries, soldiers of all ranks and nationalities, including Victoria Cross and Iron Cross holders, lie within touching distance of one another.
Of particular note are the graves of 17-year-old John Parr, who was killed in August 1914 and is believed to have been the first British soldier to die in the conflict, and George Ellison, who is believed to have been the last British soldier killed - dying 90 minutes before the armistice came into effect - and is, coincidentally, buried opposite him.
Feet away from these men lies George Price, the last Commonwealth soldier to die, just two minutes before the armistice.
Saint-Symphorien Cemetery is a few kilometres outside of town and getting there will require the car, although you could also choose to take the 22 bus from Mons to Saint-Symphorien Ecoles. From there, it's an easy 10-minute or so walk down a country lane.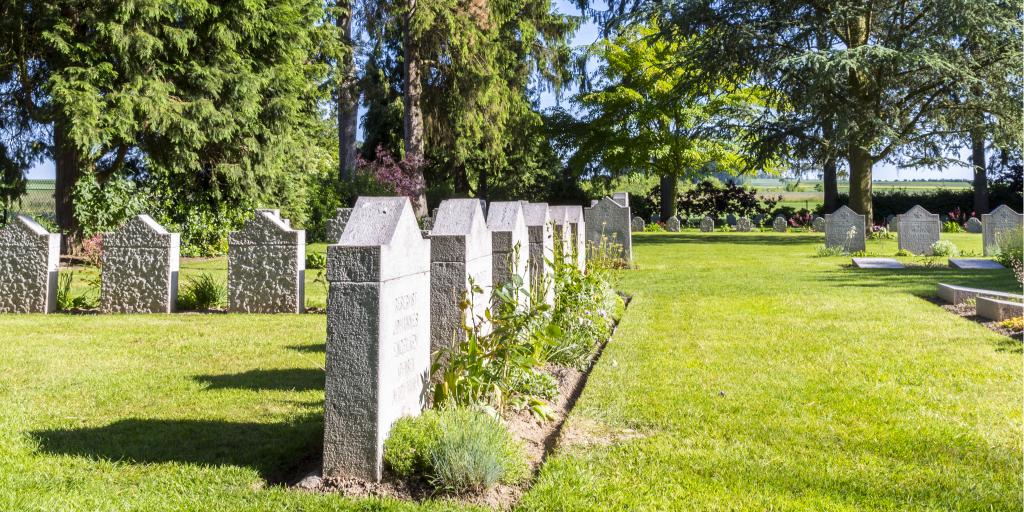 Spend the evening away from the battlefields
If you do still have time to spare in the afternoon, then take some time to discover Belgium away from the battlefields by paying a visit to one of Mons' museums.
Two trusty options are the Doudou Museum, which illuminates the heritage of the city's famous Doudou festival, and the Francois Duesberg Museum, which is dedicated to decorative arts including pottery, clocks and jewellery.
Alternatively, climb the Mons Belfry for a view over the city (last admission is 5:15pm).
Later on, grab dinner and drinks at one of the many restaurants and cafes located on or around Mons' Grand Place - we recommend Le Mechoui, not far away from the tourist information centre.
Look out for the two remembrance plaques in the porch of the square's most striking building, the Hôtel de Ville (City Hall), and if you can find the lucky Guardhouse Monkey on the side of the building, then be sure to give his head a rub for good luck.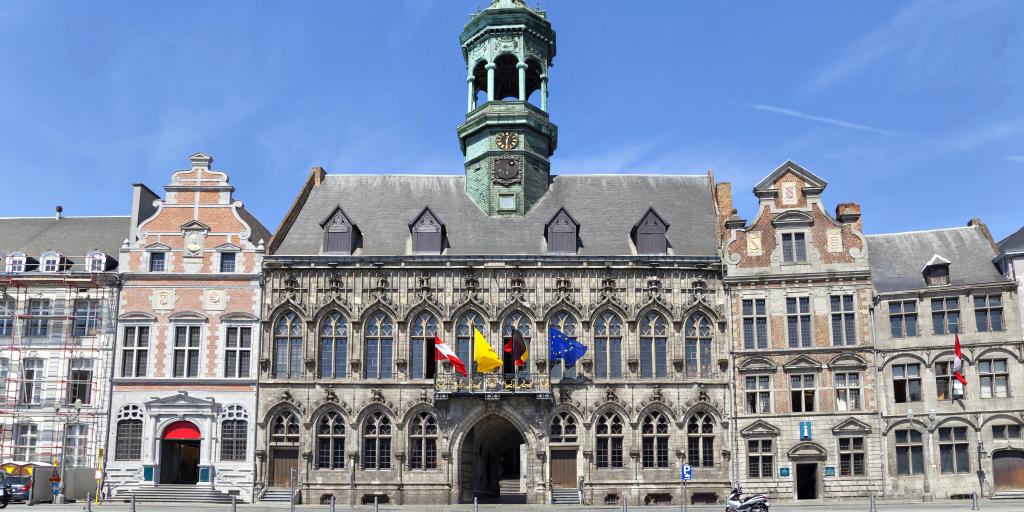 Day 4: Drive from Mons to Ypres
Miles: 68
Our the next city in this WW1 self-drive itinerary, Ypres, has long earned its place as a 'must-include' on any World War 1 tour, both for its location of the horrifying Battle of Ypres and its determination to remember the atrocities that took place there.
There isn't really all that much to see on the drive from Mons to Ypres, and it takes less than two hours in total, but as it's such a pretty city to just hang out in we'd suggest getting on the road nice and early anyway.
Educate yourself at the In Flanders Fields Museum
As you may have guessed already, we're big fans of putting each area's history into context, so make your first destination in Ypres the In Flanders Fields Museum.
Housed in the former Cloth Hall, the museum tells the story of WW1 in the West Flanders region of Belgium, and covers all aspects of warfare you could imagine, using modern technology to deliver everything from nurses' testimonies to 'then and now' visuals.
You'll probably spend longer here than you plan to, but do take time to really watch the (surprisingly tasteful) actors who bring personal stories to life at various points - it makes the human connection so much more poignant.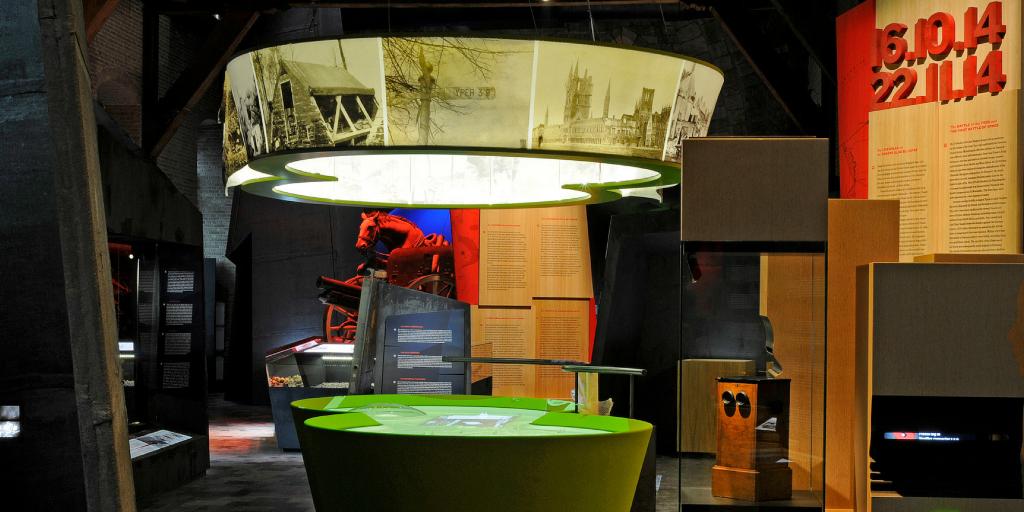 Spend the afternoon getting to know Ypres city
After the intensity of the previous few days, you're probably going to want to take some time to just kick back, relax, and enjoy Ypres.
While visitors may be drawn to the city for its history, it's actually incredibly charming in its own right - think beautiful architecture, chocolate shops, cute cafes, and walking trails along waterside ramparts. Go ahead and enjoy just doing nothing this afternoon!
Top tip: If you're in the city on a Saturday, the Kazematten Brewery offers tours between 3pm - 5pm, which cost €10 and include three tasting samples.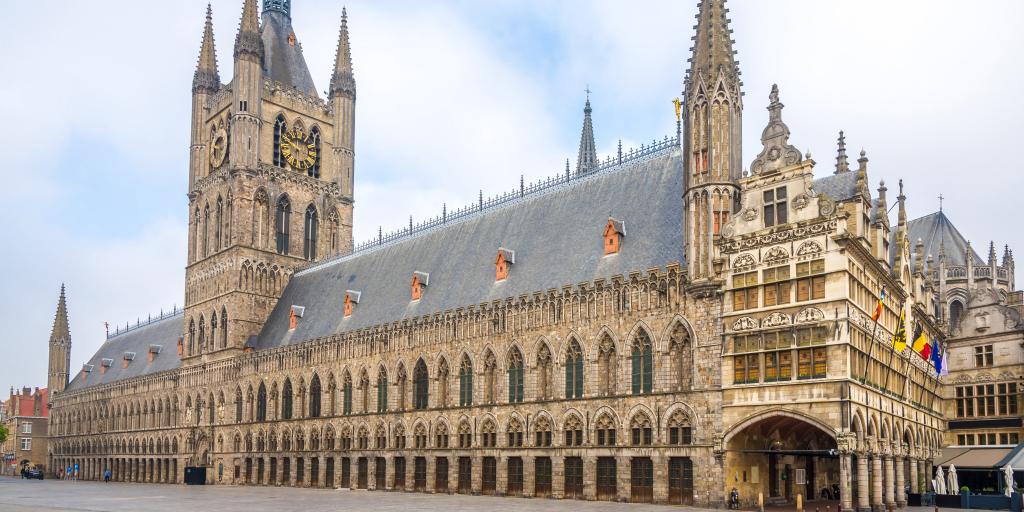 Visit Menin Gate and witness the Last Post
After walking around town, make your final visit of the day the Menin Gate, which honours British and Commonwealth soldiers killed in action in the trenches around Ypres whose graves are unknown, and is inscribed with almost 55,000 names. It's almost scary how easy it is to find your own surname or that of someone you know.
Every evening at 8pm, volunteer buglers from the Last Post Association stand underneath the Gate and sound the Last Post in a ceremony that has been conducted every day since 1928.
If you can be there when it happens, do - it's simple and yet quite something at the same time. On busy days, crowds start to gather from about 7:30pm, so if you want to be able to see the buglers then get there early.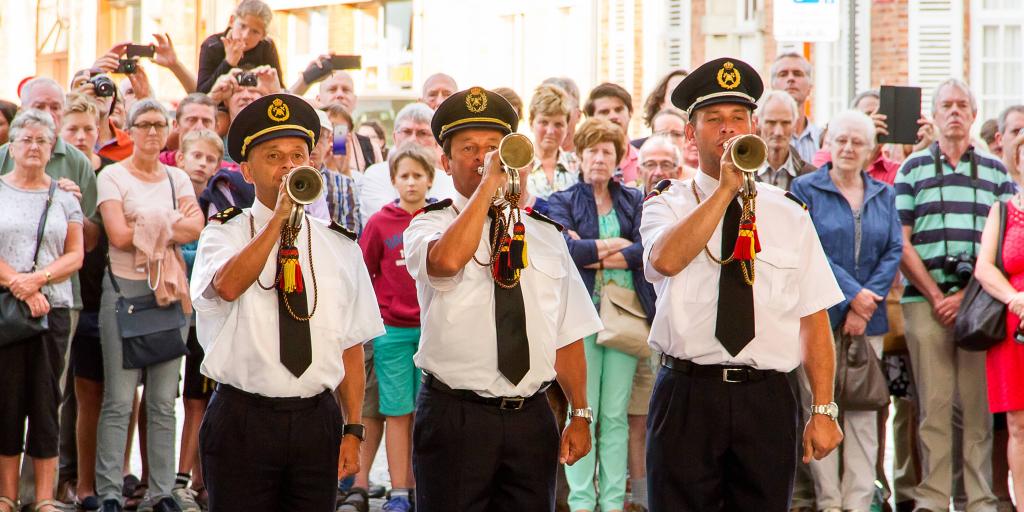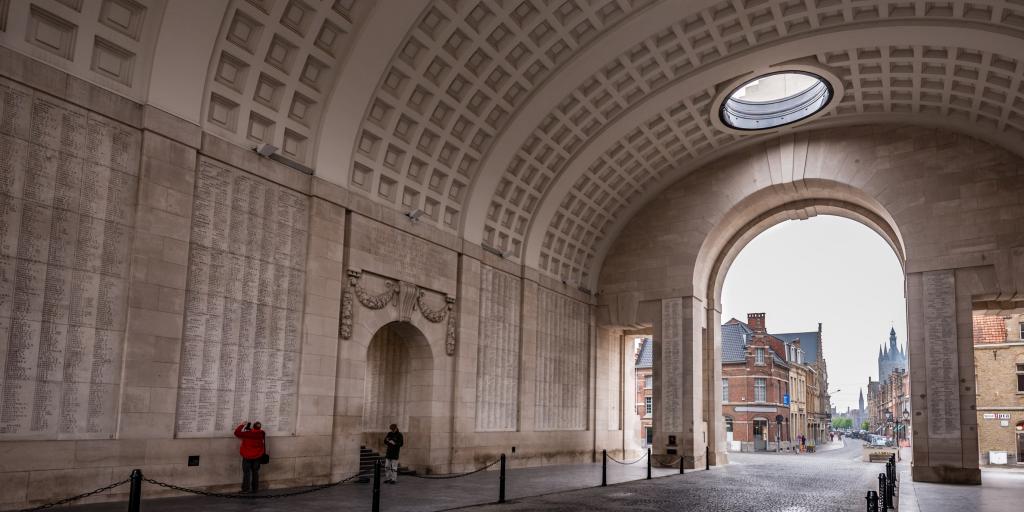 Day 5: Explore Ypres and drive back to Calais
Miles: 96
It's the fifth and final day of the trip, but that doesn't mean we're slowing down. While this is not the kind of trip in which you could ever say we're saving the 'best' until last, we've certainly saved some of the most well-known places for today.
First though, there's just one thing to do and that's have a much needed lie-in and find a cosy cafe for a traditional Belgian breakfast.
Trust us when we say that the pancakes at Mimi's teamed with one of their deliciously frothy coffees make for a particularly great morning treat.
Suitably stuffed? Let's get moving.
Stop by the Christmas truce memorial, near Ploegsteert
The first stop of the day is a visit to the site of the legendary 1914 Christmas truce - surely a must for any history-loving football fan.
Marked by a cross dedicated to the 'Khaki chums,' it's a small but sombre memorial. If you wish to do so, take a football, shirt or scarf to leave next to the memorial, as many have done before.
Right next door you'll find the Prowse Point Cemetery, which is the only cemetery on the Ypres Salient that is named after an individual soldier and contains many graves from around the time that the match was played.
Just down a muddy track to the side of the memorial (but not accessible by car) is the peaceful Mud Corner Cemetery, for soldiers from Australia and New Zealand.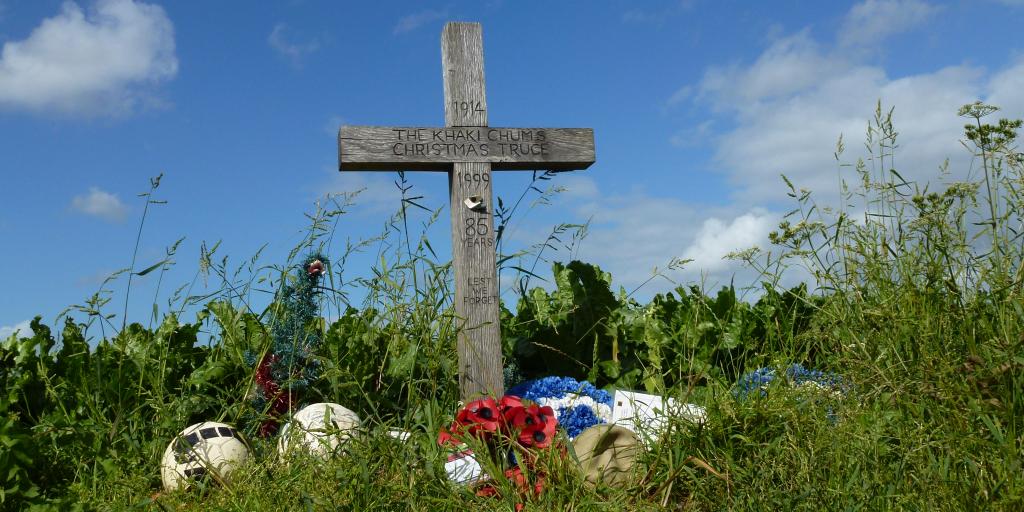 Trudge through Sanctuary Wood Museum (Hill 62)
Roughly a 25-minute drive back towards Ypres is Hill 62, which witnessed some of the most intense fighting in the area. In the aftermath of the war the trenches were cleared of bodies and bombs by a local farmer, but otherwise left intact, and the complex now serves as a slightly rough-and-ready museum.
Although more 'artificially' preserved than some of the other trenches you will have come across on this trip, they are more manageable for individuals who have trouble walking and wield no less impact.
Spend some time sloshing through the mud and clambering through the tunnels - these trenches might be comparatively neat, but it's still not what you'd call a pleasant experience.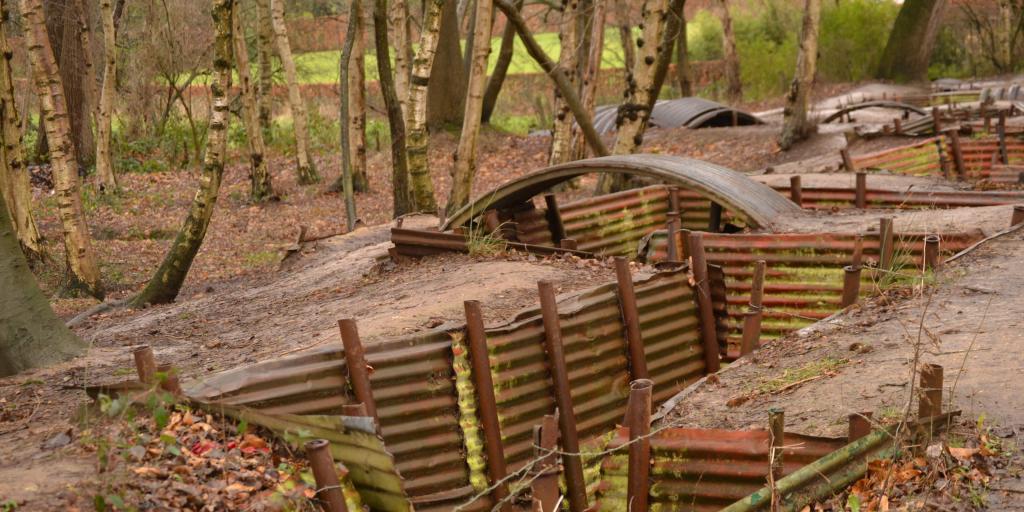 Prepare to be moved at Tyne Cot Cemetery
The next stop of the journey is, arguably, one of the most famous remembrance sites in the whole of Europe: Tyne Cot Cemetery.
Even after four days of cemeteries, it's still hard not to be slightly taken aback by its sheer scale when you see it for the first time, with almost 12,00 individual white headstones lined up, and a Memorial to the Missing wall listing a further 35,000 names.
The first thing to do when you arrive, however, is to pop into the small visitor centre which provides a good introduction to Tyne Cot, as well as displaying heartbreaking letters from loved ones.
Afterwards, spend a while just walking between rows upon row, noting in particular how many of the graves in the world's largest Commonwealth War cemetery are unnamed. All we can say is bring a tissue!
As one of the major landmarks on any World War I tour, Tyne Cot does get busy, so visiting early in the morning or in the late afternoon is better, if possible. Like most CWGC sites, parking is free.
Head to Langemark German Cemetery
In stark contrast to the rows of white at Tyne Cot, the rows of flat, black grave markers of Langemark German Cemetery are moving in an entirely different, considerably more downcast way.
Not only is it darker, but it's considerably smaller in size, despite more than 44,000 soldiers being buried here; one mass grave even contains the remains of almost 25,000 individuals.
Top tip: The two cemeteries are less than a 15-minute drive apart, so visit one and then the other for maximum impact.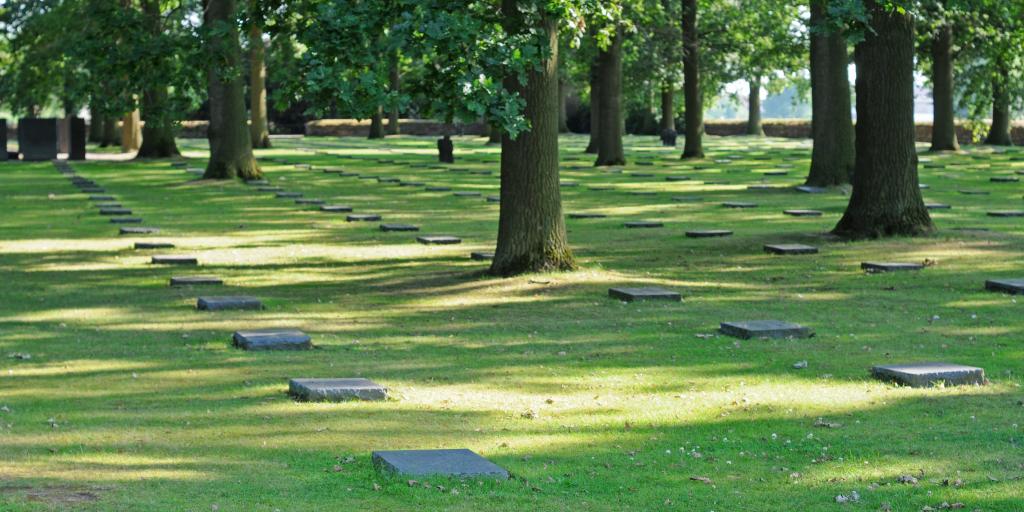 Driving to Essex Farm
Before we call time on this northern France and Belgium road trip, there's just one more major stop to make - the Essex Farm Advanced Dressing Station.
That said, there are multiple smaller monuments between Langemark and Essex Farm, including the Welsh Memorial Park, a tribute to all Welsh servicemen and women, and Cement House Cemetery, which is still used to accommodate new burials as bodies continue to be discovered.
The Harry Patch Memorial, which was unveiled by the very last surviving soldier of WW1 Harry Patch, who died in 2009 age 111, is also on this road.
Take a moment to reflect at Essex Farm Advanced Dressing Station and Cemetery
Said to be where John McCrae wrote his famous poem In Flanders Fields while serving as a medic, the concrete bunker at Essex Farm was once a makeshift A&E that would have been crowded with wounded troops.
Today, it has been restored and - even though it is empty - standing inside, you get a sense of how inadequate it must have been in a theatre of war.
When you're walking around the cemetery for those that did not make it, take a second to reflect in front of the poppy-clad grave of Valentine Joe Strudwick, the youngest soldier buried here, who was killed in 1916 at the age of 15.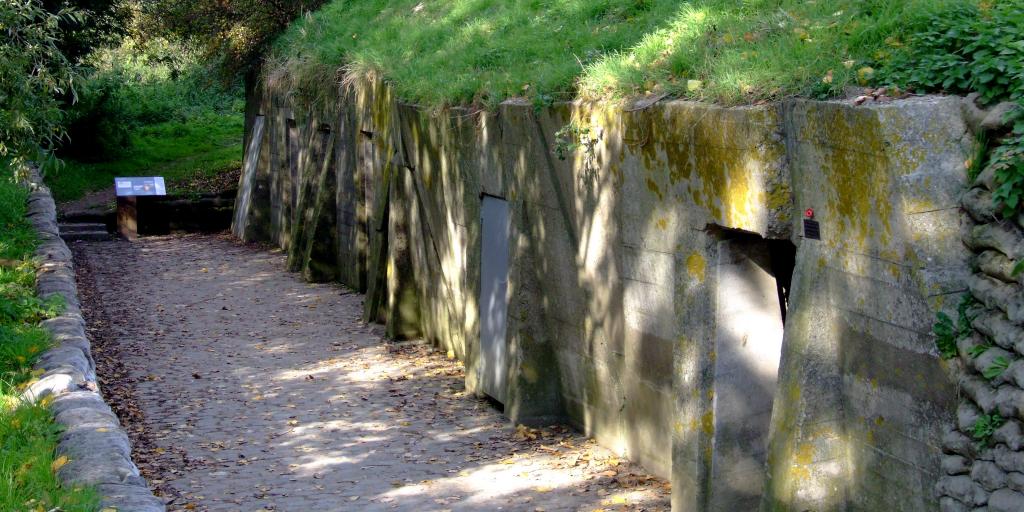 Drive back to Calais
Well, the time has come to head home - we hope you've learned something useful.
At just over 60 miles, the drive back to Calais shouldn't take much more than an hour, giving you plenty of time to stop for one last dinner along the way.
On the French side, there's a cheap and cheerful restaurant called Bistrot de Groenberg in the town of Beruges, who keep it simple with a meat-and-fries based menu.
If you'd rather stay in Belgium for dinner, Restaurant't Molenhof in Vleteren is a stand out choice, with decoration as quirky as the food.
Getting back to Paris
The drive from Essex Farm to Paris takes roughly three hours - whether you choose to make the drive this evening is entirely up to you, likely depending on what time your flight is.