Road Trip from New Orleans to Orlando
If you're up for an adventure that combines two of the most iconic cities that the USA has to offer, while exploring beautiful coasts and forests along the way, then the road trip from New Orleans and Orlando is the trip for you.
The 600-mile road trip from New Orleans to Orlando takes a minimum of 9 hours. The trip passes Tallahassee, Mobile, Biloxi, Lake City, Gainesville and Panama City, as well as Goethe and Point Washington State Forests, depending on your route.
There's so much to see on this adventure-filled trip, so read on to find out our best routes, top places to visit along the way and the best time of year to make the journey.
How far is Orlando from New Orleans and how long will the road trip take?
Comparison of road trip routes between New Orleans and Orlando

| Route | Distance | Driving Time |
| --- | --- | --- |
| The Direct Route | 600 miles | 9 hours |
| The Coastal Route | 700 miles | 11 hours |
The road trip from Orlando to New Orleans covers 600 miles and takes about 9 hours of driving without stops or any breaks.
You could complete the trip in one day with minimal stops if your time is restricted. That said, we recommend you spread the journey over several days to fully appreciate the beautiful attractions and sights along the way.
There are two main routes you can take. The Direct Route passes mainly along the Interstate 10 and gives you the opportunity to pass the stunning Bayou Sauvage National Wildlife Park and Blackwater River State Forest, as well as Lake City and Gainesville.
If you want to see more of the coast, our alternative Coastal Route is just under 700 miles long and takes around 11 hours to complete the trip. The extra miles spent on this route pays dividends when it comes to views along Florida's beautiful coastal roads, through Panama City beach and Biloxi.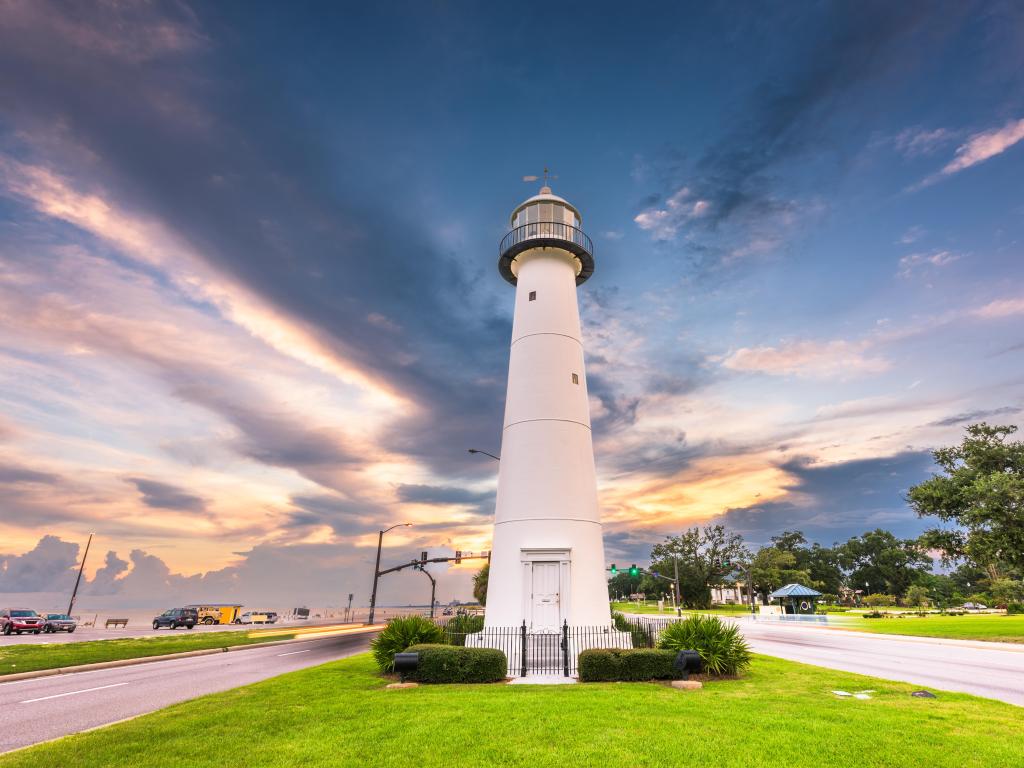 Best road trip route from New Orleans to Orlando
There is no 'best route' from New Orleans to Orlando. While the Direct Route along the Interstate 10 is a very scenic road that will take you past numerous sites of interest, the slightly longer Coastal Route is a simply stunning alternative.
Which route you decide to take will ultimately depend on your preferences and the time you have available for your trip.
How to drive from New Orleans to Orlando
The map above shows our suggestions for the best road trip routes between New Orleans and Orlando. Keep reading for detailed descriptions of both routes, where to stay on either, and the best things to do on the way.
The Direct Route
Take Interstate 10 out of New Orleans and head west, stopping to visit Bayou Sauvage National Wildlife Park before reaching the casino city of Biloxi. Continue west as you pass through the bustling city of Mobile.
Continue on Interstate 10 and take a detour to visit Blackwater River State Forest before reaching Tallahassee. Next turn right on the US-41 towards Lake City - great place for a stop before continuing south on Interstate 75 which will take you through most of Northern Florida.
About halfway along the Interstate 75 you can take a sightseeing break at university-city Gainesville. You should also consider a short detour here to visit the simply beautiful Ocala National Forest.
Back on Interstate 75, continue south until you reach exit 265 where you'll follow the road all the way to Orlando, past the region's beautiful lakes and into the city itself.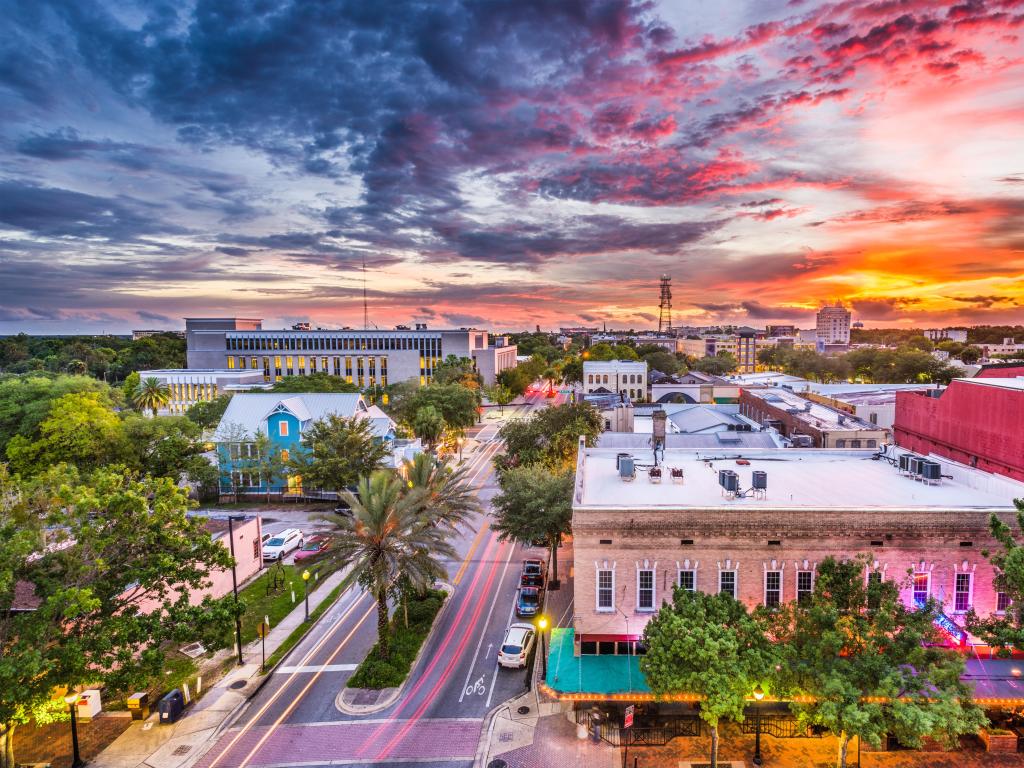 The Coastal Route
If you prefer the beach and the sea to the forest, the Coastal Route will take you along the southern coast of Florida, rather than through the forests and cities of the Interstate 10.
Just like the Direct Route, you will begin by taking Interstate 10 out of New Orleans and past the city of Biloxi until you reach Mobile. From here, head east on Route 98 which will take along the coast and pass Point Washington State Forest and through Panama City with its miles of beaches and the Apalachicola Environmental Area.
You can then rejoin Interstate 10 at Tallahassee if you want to see Florida's State Capital. Alternatively, continue east on Route 98 alongside Goethe State Forest before driving through Brooksville. From here you can follow Interstate 75 north before following the signs to Orlando.
Best places to stop between New Orleans and Orlando
To get the most of this trip you should spread your journey over several days so that you can truly take advantage of its attractions and beautiful sights.
Luckily there's no shortage of places to stay along the way, here's our pick of a few places to stop and recharge throughout your journey:
Explore and relax at Tallahassee
Both the Costal and the Direct Route can include a visit to Tallahassee, and around halfway on the road trip to Orlando it makes for an ideal place to spend a night and break up the journey.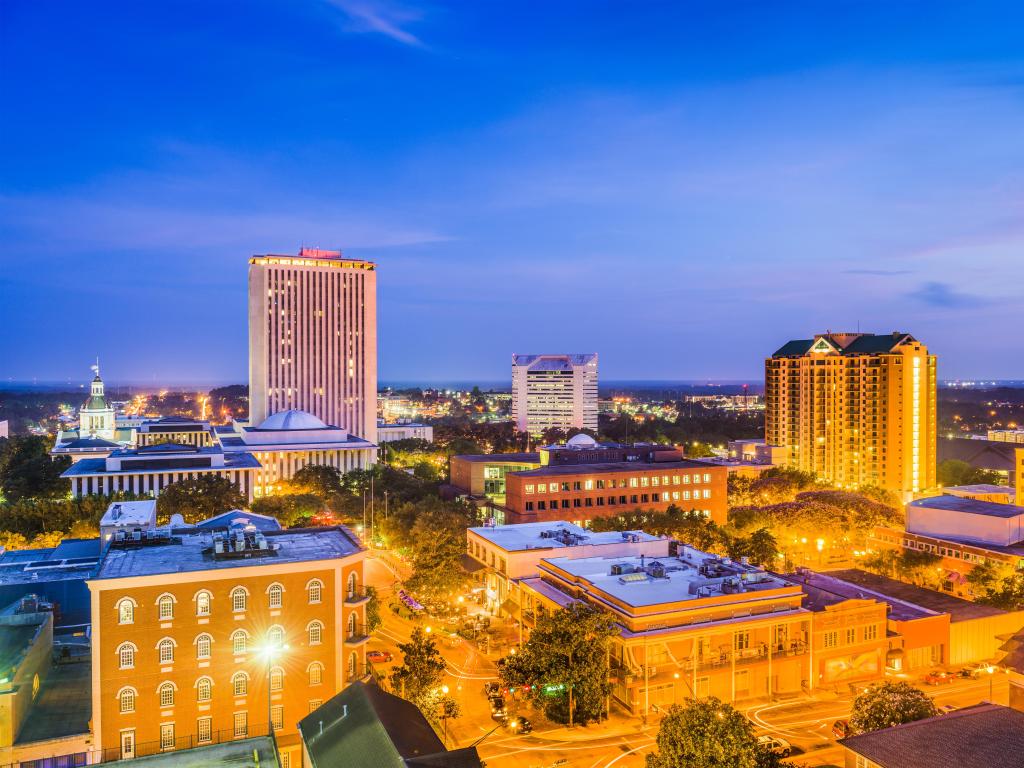 Tallahassee is the state capital of Florida and as such, there's a lot to explore in the city including several historical buildings including the Museum of Florida History.
If you want to escape the city for a wihle, the beautiful Edward Ball Wakulla Springs State Park is just a short drive away. The park is home to alligators, snakes, and manatees, as well as one of the world's largest and deepest freshwater springs.
After sometime exploring, you can't beat the luxurious atmosphere of the DoubleTree by Hilton Hotel in central Tallahassee. A modern interior is matched with a fantastic outdoor rooftop swimming pool and sundeck, perfect for stargazing.
Within walking distance of the many government offices and museums, the hotel offers first-rate amenities, including an on-site restaurant and onsite parking.
Soak up the sun at Panama City Beach
If you're taking the Coastal Route, a stop at Panama City just has to be done. Just over 5 hours from Orlando, it's an ideal spot to relax, unwind and enjoy stunning beaches before hitting the bright lights of Orlando.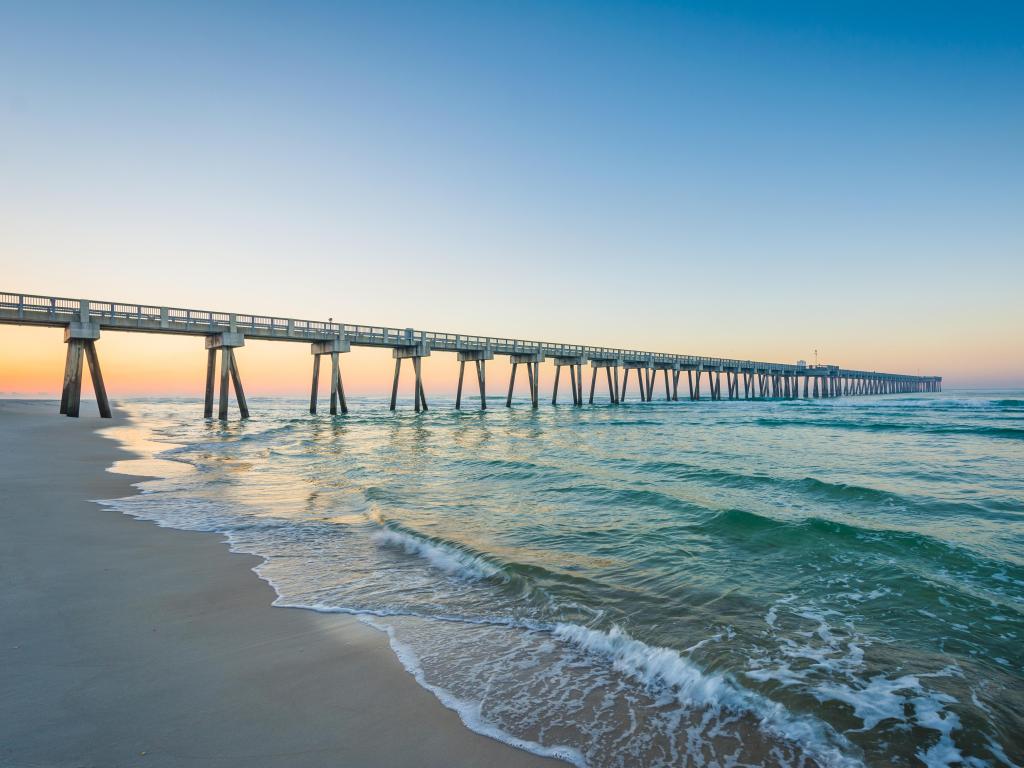 More than just a beautiful beach, Panama City is also a waterfront town and vacation destination in northwest Florida. Bordered by the Gulf, it offers hiking trails and fishing piers. Don't miss Pier Park for great shops or if you'd like to connect with nature, St. Andrews State Park is just one of two protected nature preserves nearby.
There are, unsurprisingly, a lot of options of hotels to stay on this beach fronted resort, but the Holiday Inn Resort Panama City Beach is hard to beat. Situated on the white sands, the hotel features an outdoor pool, hot tub and spa - ideal after a long drive.
To make the most of the stunning views, every room at the Holiday Inn Resort Panama City Beach comes with a balcony, as well as access to the fantastic onsite restaurant. As an added bonus, bookings also include free parking!
Enjoy Orlando with an overnight stay
The road trip doesn't have to end once you arrive at Orlando, after all, you can't come all this way and not spend some time at Florida's theme-park city can you?
Home to more than a dozen theme parks including Walk Disney World as well as water parks, Orlando is also well known destination for Universal Studios. There are also fantastic shopping malls, golf courses, great nightlife and beautiful beaches.
Escape the bright lights of the city and you'll find parks such as Lake Louisa State Park and Hal Scott Regional Preserve just a short drive away with beautiful natural wildlife and tranquil walks.
Orlando is filled with jaw-dropping hotels, but
for something really special an excellent choice has to be Caribe Royale, a tropical-style grand hotel just 2.3 miles from the Walt Disney Resort
.
This fantastic hotel offers an outdoor pool, hot tub and various restaurants. As well as a grand exterior, the Caribe Royale has a modern and immaculate decor plus a choice of rooms and villas - there's truly something for everyone. You'll know you've finished your road trip in style with a stay here.
The hotel is definitely not the cheapest option, but for location and an experience in its own right, it's definitely worth every penny.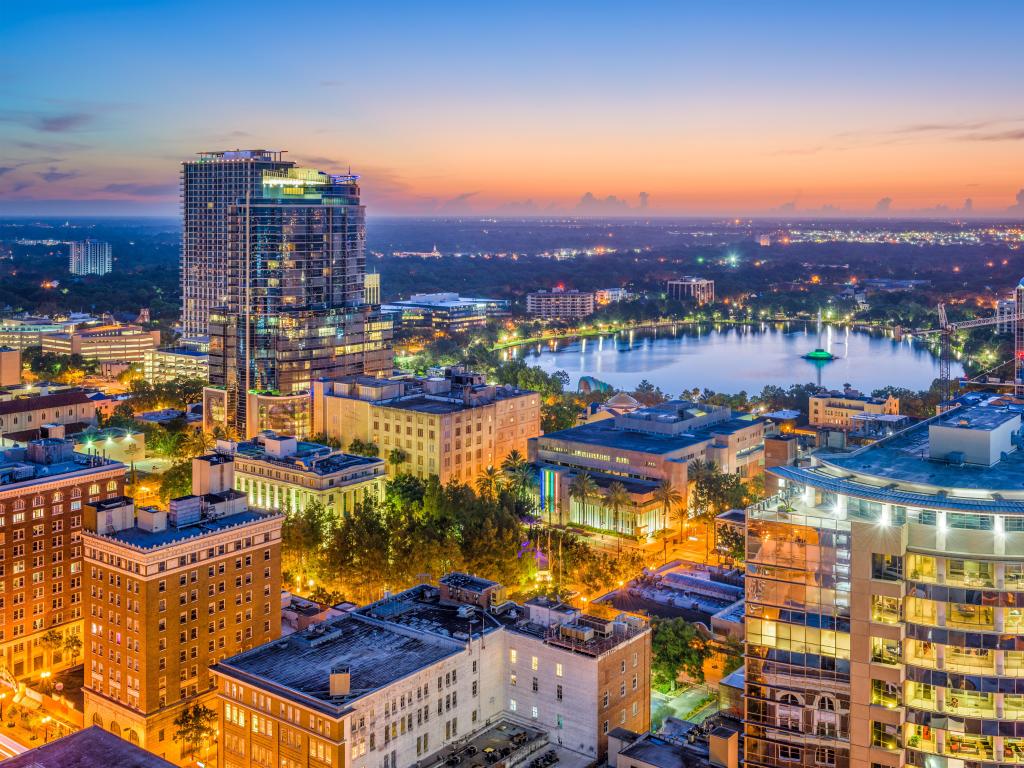 Things to see on a road trip from New Orleans to Orlando
The great thing about the road trip from New Orleans to Orlando is not just the two amazing cities you visit on either end of the journey, but also the range of attractions to see and things to do along the way.
There's so much to offer, but here's a quick round up of what I think are the best places to visit on your way to Orlando:
Bayou Sauvage National Wildlife Park – fresh marshes within the borders of New Orleans, largest urban wildlife refuge in the USA
Biloxi – visit the stunning Beau Rivage Casino, the Beauvoir estate, and of course the city beach
De Soto National Forest – protected pine forest, with endangered plant and animal species
Mobile – typical Alabama city, one of the Golf Coast's cultural centers with lots of museums and historic architecture
Gulf Islands National Seashore – protected islands on the Gulf of Mexico featuring stunning beaches, wildlife sanctuaries, and nature trails
Blackwater River State Forest – range of fishing lakes along the Blackwater River, with great options for camping
Henderson Beach State Park – relax at some of Northern Florida's best protected beaches, with opportunities for cycling, camping, fishing, and swimming
Apalachicola National Forest – largest National Forest in Florida, home to a range of species such as woodpeckers, racoons and coyotes
Tallahassee – Florida's State Capital within touching distance of great natural sites, and home to cultural museums and the Antique Car Museum
Wakulla Springs State Park – easily accessible from Tallahassee, Wakulla Springs holds Florida's largest and deepest freshwater springs with a host of diverse wildlife
Ginnie Springs – a great set of springs for freshwater diving, snorkeling, and kayaking
Gainesville – be sure to visit the Devil's Millhopper, Kanapaha Botanical Gardens, and the Florida Museum of Natural History
Daytona Beach – a bit of a detour from Orlando, Daytona Beach's hosting of the 500 NASCAR race is a must for car lovers
Playalinda Beach – one of the most popular beaches in Northern Florida, a wonderful location for surfing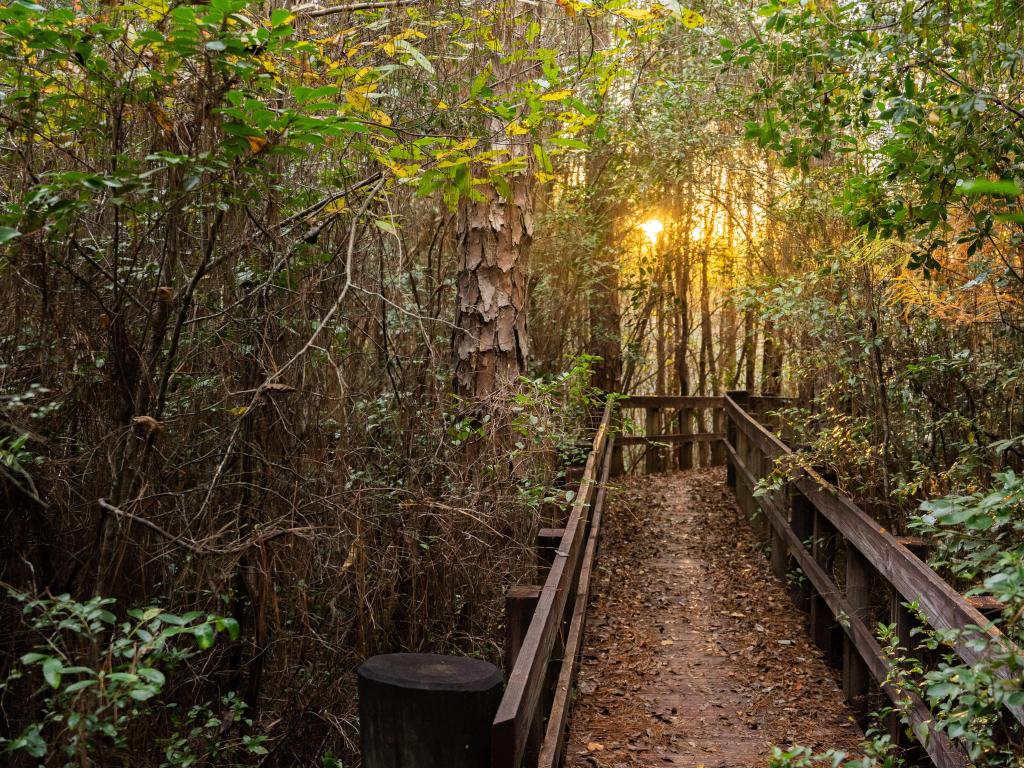 Best time to go on a road trip from New Orleans to Orlando
In theory, you can complete the road trip from New Orleans to Orlando at any time of year. As the Sunshine State, Florida is known for its wonderful weather all year round.
However, with temperatures in the state reaching a very hot and humid 90 degrees, you might find that avoiding June through October is preferable.
The best time to escape the intense heat and still enjoy the warm weather would be from March to May. This season is also the driest, allowing you to avoid the wet season of Florida's tropical summer.
Traveling during the fall and spring will also allow you to avoid the summer crowds, giving you more freedom on the road and at the various attractions along the way. Prices for hotels and tourist attractions will likely be cheaper during this season, too.
It goes without saying that New Orleans is the most famous place for Mardi Gras. If you wish to combine your road trip with this famous festival, you'll want to set off in late February (the date of Mardi Gras is normally in February but changes every year, so be sure to do your research).
Luckily winters are mild with average temperatures around 73 degrees Fahrenheit, meaning if you want to combine the trip with events such as Daytona Beach's NASCAR 500 race in February, you'll still find the trip comfortable.
Make sure you plan ahead with hotel bookings as even in the winter months, you'll find tourist hotspots busy.