The ultimate 10 day France road trip for wine lovers and foodies
Okay, so wine and road trip aren't usually the first words you would put together, but when you're drinking like the French do - and by that we mean slowly, in moderation, with food and never when driving - then that's less of a problem.
Starting in France's iconic Champagne region and ending in the famous wine producing region of Bordeaux, this route steers clear of the clichés and instead journeys across the South of France, taking in some of the most amazing sights, best views and top food and drink hotspots along the way, stopping off in Nice, Marseille and Annecy, among others.
Day 1: Breakfast in Paris, champagne in Reims
Miles: 90
From Paris to Reims
It's probably easiest to start in Paris, thanks to its major international airports and rail links with the rest of Europe, but driving can be tricky - and not entirely pleasant - in the City of Lights.
With that in mind, we're going to say start your journey with a €10, 40-minute train ride from Paris to the city of Reims, and pick up your car there.
Many companies now offer one-way car hire, and although it can be slightly more expensive, it gives you more freedom and flexibility than having to return to where you started. First though, make the time to grab a delicious brunch in Paris.
Now you're on the train it's time to learn a little about where you're headed to, Reims.
As the unofficial capital of France's famed champagne producing region, Champagne, the city draws bubble lovers from around the globe.
However, it's also a paradise for any culture vulture, with a number of UNESCO World Heritage sites, incredible architecture and fabulous food.
Celebrate being on holiday
After you've dropped your bags at a hotel and collected your car and parked it, it's time to see first-hand why people come to this area, with a visit to a local vineyard - and yes that includes a spot of sampling.
With so many in this area you'll be spoilt for choice, but our recommendation would be Champagne Pommery, a champagne house with a dramatic backstory in a stunning setting, a short bus ride from the centre of the town.
Feel free to indulge until your heart's content this afternoon; you're staying the night in Reims, after all.
Explore the city
Once you're back in city, take a wander around the town, soaking up impressive buildings such as the Cathedrale Notre-Dame de Reims or the Saint Remi Basilica.
Before long you'll be needing something to soak up the day's adventures, but of course, great champagne deserves good food, and consequently Reims has an almost endless selection of incredible restaurants.
For classic French fayre and exceptional oysters try La Brasserie du Boulingrin; for something more off the beaten track, L'effervescence - a haunt so small they don't even have a printed menu - is a winner.
Day 2: Driving south to Colmar, via Strasbourg
Miles: 260
Strasbourg: The capital of Alsatian wine
You've had a day of getting acclimatised, so now it's time to hit the road and start heading south.
Today, we'll be covering just under 300 miles in total, eventually winding our way down to the town of Colmar, in the Alsace region, which is known for its pastel painted houses and as the "capital of Alsatian wine".
Our first destination of the day, however, is Strasbourg. Now significant as the official seat of the EU Parliament, this city may not have the most glamorous reputation, but as you'll soon find out, it's actually incredibly beautiful, with a very long history.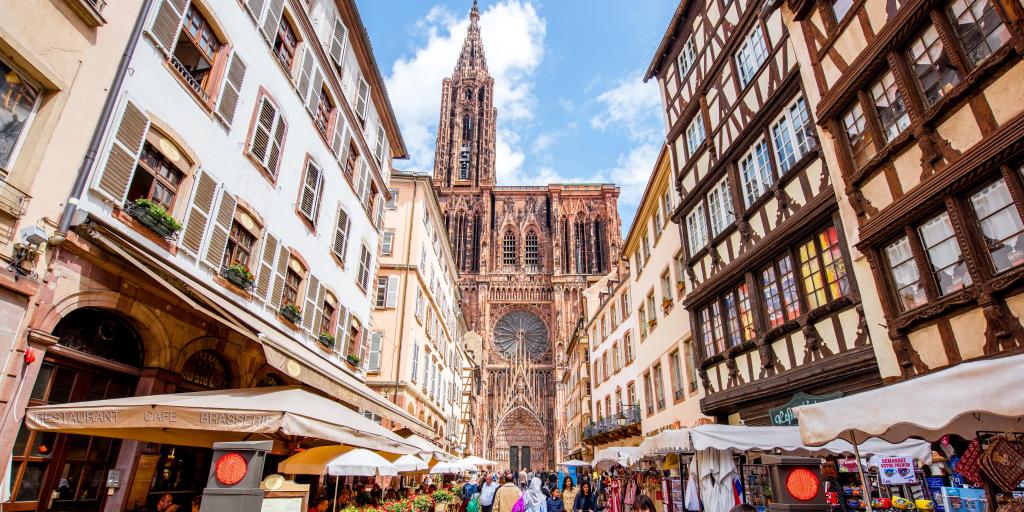 Avoiding the toll roads and taking the scenic route, the drive between Reims and Strasbourg clocks in at about six hours, passing through some pretty villages along the way.
A quicker option, which takes the toll roads and travels through the city of Metz, is also available and takes roughly four.
Once you do get to Strasbourg, the inner section is a pedestrian zone, but the city offers a park and ride scheme so that you can park near to a tram station and be in the city centre within a few minutes.
Right, time for a leg stretch.
Walk around Strasbourg's stunning centre
With a few hours to explore this tremendously walkable city, go for a long stroll around Strasbourg town centre - the buildings are what will really catch your eye - and stop for lunch in a restaurant along the river.
Once you're refueled, pay a visit to the historic Petite France quarter, which was once home to the city's tanners, fishermen and millers.
If you've got the time to spare, then you could also take a gentle boat trip along the river or go swan spotting at Parc de l'Orangerie.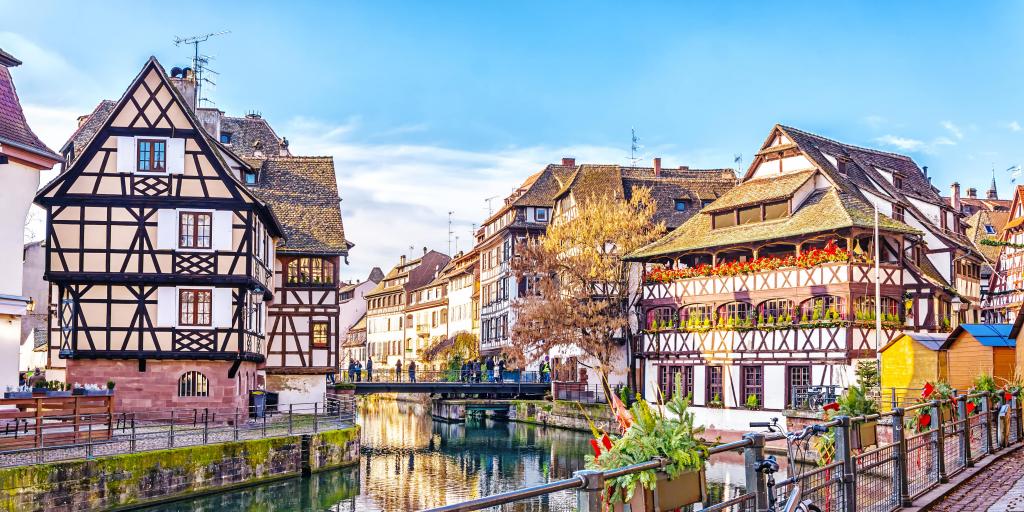 Drive to Colmar
Had enough and ready for pastures new? Well, it's time to get moving again.
Less than an hour down the road, the old Medieval city of Colmar is a little like Strasbourg, only slightly more chilled.
As a result of having changed hands between France and Germany many times, Colmar has a mix of influences, with sauerkraut and Riesling lining up alongside croissants and escargot.
Its main attraction is the Old Town, so don't worry if you don't arrive until late in the afternoon as you probably won't need a huge amount of time here anyway. That said, art lovers may wish to make a bit of extra time to visit the popular Musee Unterlinden.
Until the evening, pay and display parking in the centre of Colmar is limited to three hours, so it's a wise move to choose a hotel that includes parking, which many do.
Once you're checked in, have a mooch around the town, keeping an eye out for the Old Custom House with its snazzy roof and the intricate frescoes of the Maison Pfister.
When it comes to dinner time, your options are plentiful, but whatever you have be sure to team it with a glass of smokey, spicy, Alsatian wine.
Day 3: Nip to Switzerland and relax in Annecy
Miles: 220
Nip into Switzerland
It's another early start, with a straight drive from Colmar to the Alpine lake town of Annecy.
Now, it's not often you can say that the easiest route from A to B is through another country, but with these two towns both so close to the Swiss border, that's actually the case here.
With that in mind, today's drive nips into Switzerland, travelling directly through Basel and skirting around Bern and Lausanne, then flirting with the edge of Lake Geneva before crossing back into France.
You'll need to buy a Swiss motorway pass at the border, which as of 2018 should cost you roughly €35, but other than that the drive is fairly simple, with much of it sticking to motorways.
Although it's not overly scenic until the final couple of hours, you've got plenty of time to play with, so stop off anywhere that takes your fancy.
Bern in particular is roughly half way and very pretty; change some euros to Swiss francs in any bank or currency exchange in Colmar before you leave.
Enjoy dinner in Annecy
Once you get into Annecy, finding a parking spot isn't necessarily going to be the easiest of tasks, but some hotels have an arrangement with the Hotel de Ville (City Hall) to allow guests to use theirs for free overnight and then on a pay and display system during the day.
After checking in, hop in the shower and then treat yourself to dinner at one of the city's waterside restaurants.
Top tip: try raclette or fondue, both of which are local specialities.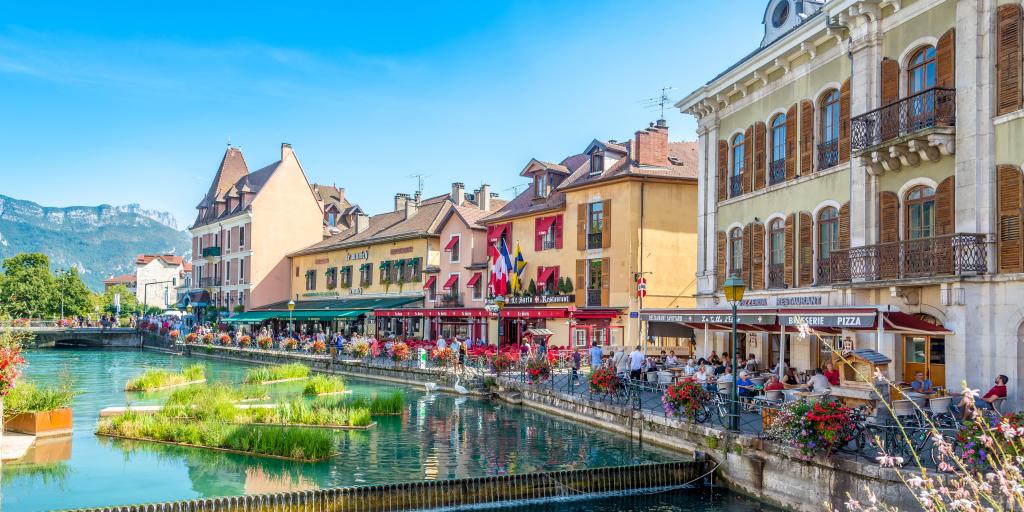 Day 4: Visit the "Venice of the Alps" and catch some sun
Miles: 0
Amble around the canals
After all of that driving, a lazy lie in and a chilled out day is definitely called for, and there's no better place for this than a peaceful city known for its gentle canals, and sandwiched between a lake and a mountain.
Otherwise known as "Venice of the Alps", this splendid town has a history stretching back to the 12th century and is gloriously picturesque.
After a good breakfast and a strong coffee in one of the many waterside cafes, check out the Palais de l'Île and the Château d'Annecy, both of which are remnants of the city's complicated military past.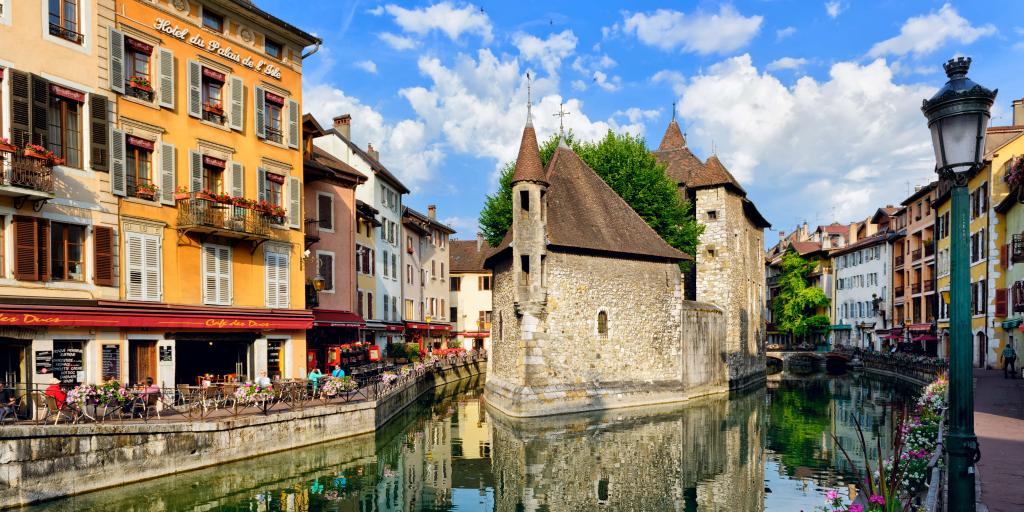 Be a waterbaby
In the afternoon, you may wish to spend some time relaxing by - or even in - the water.
Lake Annecy is famous for its clear water, and is regarded as one of the cleanest in Europe, thanks to the strict environmental controls to which it is subject.
The beach at Saint-Jorioz, a 15 minute drive from Annecy, is a particularly good spot for sunbathing.
Day 5: Drive through a National Park to reach Nice
Miles: 247
Embark on a scenic drive
Now you've indulged in some much needed R&R, it's time to be on the move again.
Most of today will be spent driving, but rest assured that there's a very Nice reward at the end of it and it's arguably the most stunning section of the entire trip, traversing through high winding Alpine roads dotted with twee villages.
Passing through the city of Briancon, which offers many options for a reasonably priced lunch, and cruising straight through the middle of the Mercantour National Park, this drive is all about playing it slow and steady and marvelling at jaw dropping views.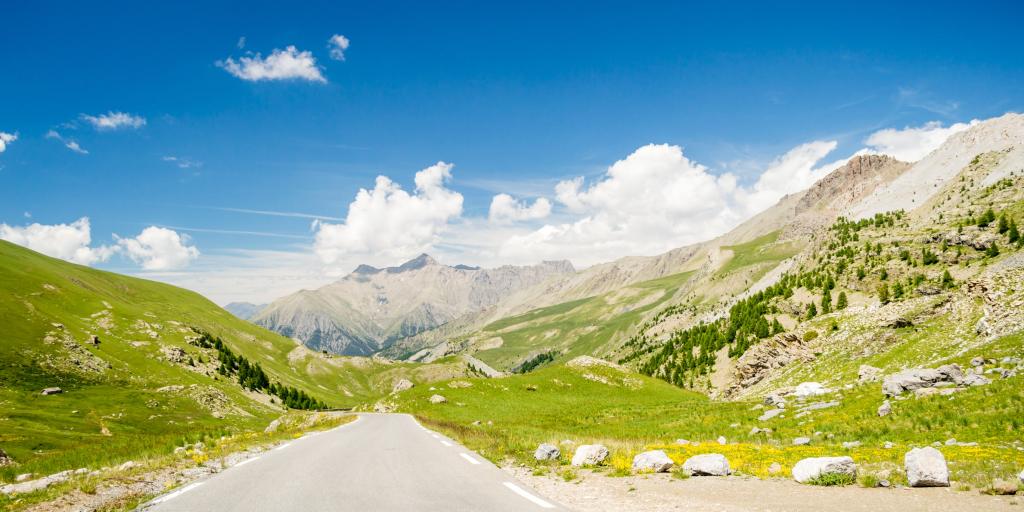 If you hadn't already guessed, we're headed down to the colourful city of Nice, one of the most iconic of the French Riviera destinations and where Parisians holiday.
With an infatuation with jazz, a penchant for art deco architecture, a selection of vibrant street markets and a 7km long waterfront overlooking a cobalt Mediterranean sea, it's a city that attracts five million people every year and yet still manages to feel classy rather than crowded.
Basically, it's worth the drive.
When you get there, 24 hour parking is available at the Promenade des Arts, just off of Place Garibaldi, at approximately €25 for 24 hours.
Park up, check into your accommodation, and walk down to the waterfront or up to the top of Castle Hill to watch the sun set.
Now for some food and a tipple or two; a local favourite is Lou Pistou, an intimate eatery which serves up some of the best octopus in the whole city. Team it with a glass of the rosé that Provence is known for. And, relax.
Day 6: Living the high life in Nice and Monaco
Miles: 0
Have a nice day in Nice
Take today to discover everything that this port city has to offer, to feast on fresh fish or try a true Nicoise salad, and catch some rays on the beach.
Among this city's other gems are the Palais Lascaris, a musical instrument museum housed in an extravagant aristocratic building and the Cours Saleya Market, a food and flower market overflowing with fresh fruit and vegetables, French nibbles, beautiful blooms.
Top tip: it's a great place to purchase a picnic spread ahead of tomorrow's drive.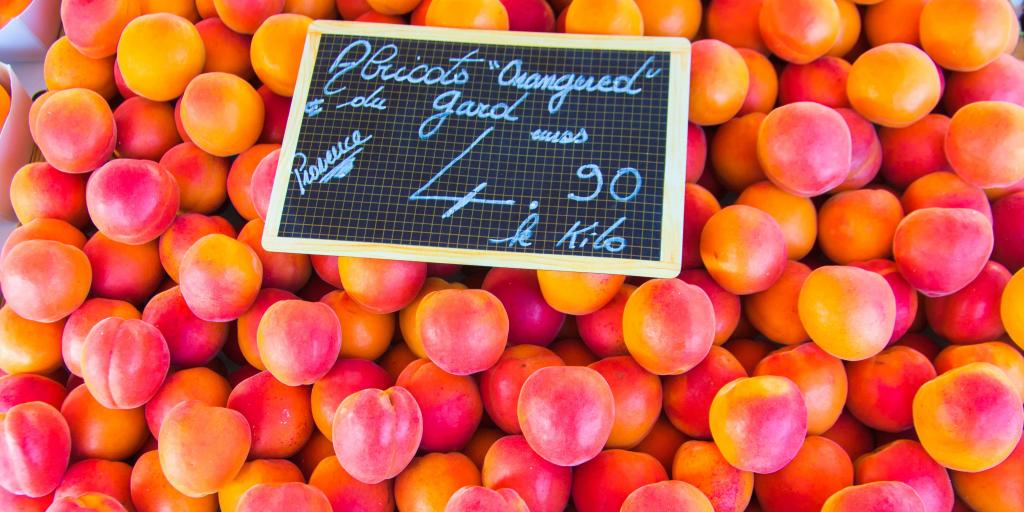 Make your mark on Monaco
Alternatively, hop on the number 100 bus from Port Lympia and take a short ride out to the municipality of Monaco, the world's second smallest country and an infamous playground of the filthy rich and fashionable.
From sports cars to super yachts, sheikhs to celebrities, it's a place where excess is encouraged and subtlety scoffed at.
Embrace your chance to be an oligarch for a day - just try not to spend like one in Monte Carlo's Casino.
There's no passport control between the two countries, but visit the Tourist Office to claim an illustrious Monaco passport stamp.
Day 7: Take the coast road to Marseille
Miles: 138
Travel via Cannes, Frejus and St Tropez
After a solid breakfast, we'll be meandering along to France's oldest city, Marseille.
Taking the D559 and D98 coastal roads that snake along the bottom of the country, and passing through the likes of Cannes, Frejus and St Tropez, the drive down should take roughly four hours, although it can take longer at the height of summer.
For a mid-trip snack and stretch, stop off at Hyères, an often overlooked town full of restaurants and secret beaches.
So, why Marseille?
Well, on paper it sounds like it should be fairly similar to Nice: a historic port city, full of boats and colourful townhouses. However, it actually - quite rightly - prides itself on being unlike anywhere else in the country.
In 2013, it was crowned the European Capital of Culture, and is a melting pot of customs and cultures, with strong influences from Spain, Italy and the Comoros Islands.
If that wasn't enough, it's also got excellent seafood, museums galore, an opera, and is a must for history buffs.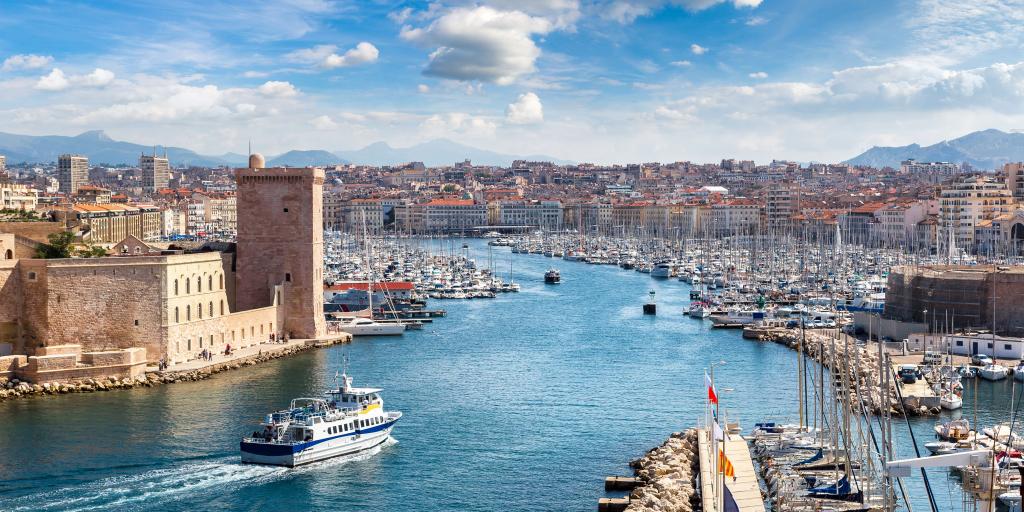 Say hello to some history
For a good insight into the history of France and beyond, seek out the Musée des Civilisations de l'Europe et de la Méditerranée, which is housed in a building that looks like something halfway between an international airport and a piece of baking equipment.
There's also a few other famous landmarks to look out for during your time in this city, including the Byzantine Basilique Notre-Dame de la Garde, the striped Cathedrale de la Major and the Palais Longchamp.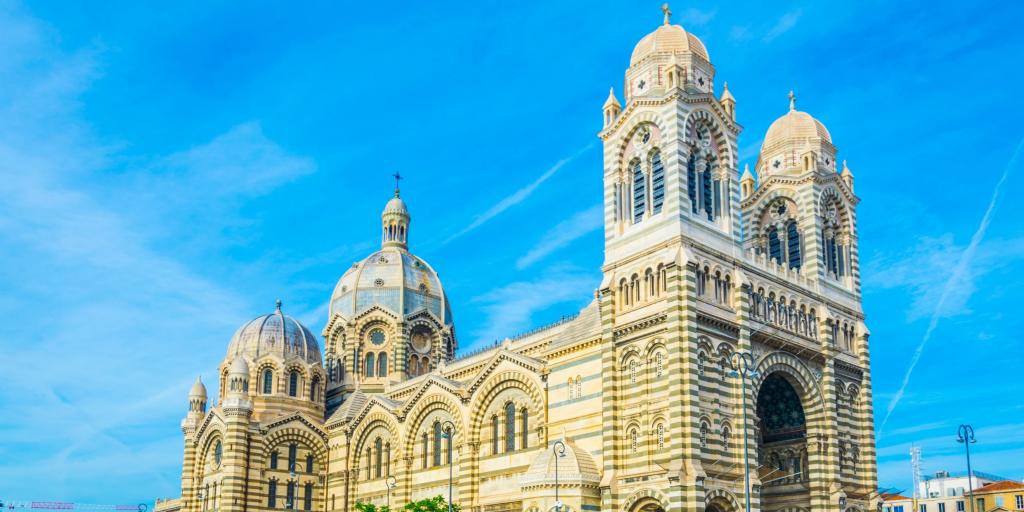 Stuff yourself silly with seafood
Thanks to its prime spot along the Mediterranean coast, Marseille's seafood is second to none; don't miss the local specialities of bouillabaisse (fish stew), moules marinière, and Pissaladière, a pizza-like tart topped with onions and anchovies.
Day 8: Get back to nature
Day trip to Calanques National Park
After a week or so of driving, it's time to get those leg muscles working again with a trip jaunt of the city and into the nearby Calanques National Park.
Characterised by azul waters, dramatic limestone cliffs and a succession of jagged inlets, this stunning area was the first in Europe to include the sea, the land and an urban area under the same protective banner.
Spend the day however you like - activities on offer here include hiking, boat trips around the craggy coves, swimming or paddle boarding - but know that it's a good idea to wear sensible shoes and bring a picnic and snacks.
Despite being less than an hour away from the city centre, it's still as wild and rugged as it would have been 100 years ago.
By car, it takes between 30 and 40 minutes to reach the park from Marseille. However, as parking can be limited it's probably better to park in the nearest public car park available and walk the rest of the way.
It's also worth noting that during July and August car access to the park is limited as part of fire precaution measures.
Day 9: Arles and Carcassonne
Miles: 190
Visit the ancient city of Arles
Just an hour away from Marseille is the ancient city of Arles, our first stop of the day.
Famous for its Roman history, UNESCO World Heritage architecture and as the one-time home of the artist Vincent van Gogh, it's also the honorary capital of the Camargue region, noted for its abundance of wild horses and pink flamingos.
While there's many a Roman ruin to see here, the real highlight is its 2000 year old preserved amphitheatre, which was once used to hold gladiator matches and today hosts live music in the summer months.
For the fastest route between the two, follow the A7 which skirts around the west side of the Etang de Berre lagoon.
However, a more scenic route, which travels through Fos-sur-mer, takes just 15 minutes longer, avoids the toll road, and spends more time along the coast road.
Fortunately for drivers, Arles has plenty of free(!) car parks dotted around the city.
A word of caution, do take valuable items with you and put your suitcases out of view where possible; although car break-ins in the city have decreased, it still has one of the more questionable reputations for this sort of thing. Once that's all sorted, go out and enjoy it!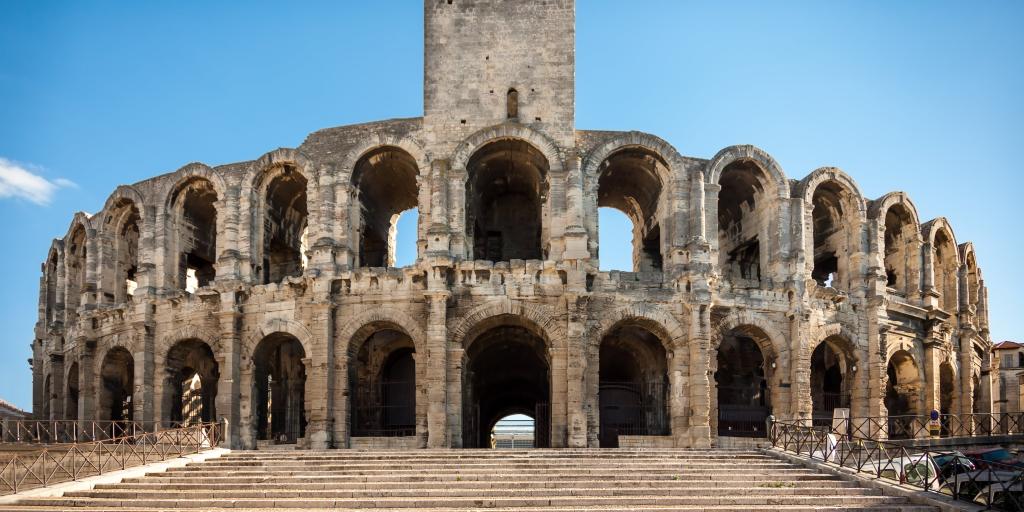 Continue onwards to Carcassonne
After your fix of Ancient Rome, it's to jump in your personal time travel portal - and by that we mean your car - and speed forward roughly 1000 years, with a visit to the Medieval city of Carcassonne, your home for the night.
While the most direct route is again via the toll roads, you may prefer to drive via the pretty city of Béziers, which avoids motorways and works out cheaper, even with the added fuel factored in.
With almost no cars allowed in the old town of Carcassonne, and limited overnight public parking in the new town, it's worth booking a hotel that includes this.
Carcassonne is often referred to as a town of two parts: the photogenic old city on the hill and the new town below it.
Today, the old city is jam packed with narrow alleyways, outdoor cafes and shops, and although it can get busy, it's a great place to sit and people watch with a glass of wine.
The new city - which is actually hundreds of years old itself - has a wonderful market square, excellent restaurants and is where the locals hang out.
Visit the Cité de Carcassonne
As much as Carcassonne is worth of a stop in this road trip simply for its incredible cassoulet, the jewel in the crown is the Old City, the Cité de Carcassonne, which dominates its backdrop.
Standing above the town, its 53 towers and turrets and impenetrable walls were reportedly the inspiration for Walt Disney's Sleeping Beauty.
Although entry to the main area is free, there is a fee to visit the inner fortress and ramparts; queues in the summer can be long, so book online ahead of your visit.
The daily jousting shows, which give a taste of Medieval life, are a mustn't miss, as popular with adults as they are the kids.
Day 10: Drive over to Bordeaux
Miles: 208
Full of cassoulet and croissants, it's time to leave Carcassonne.
The final drive of the trip - down to Bordeaux, the capital of France's best-known wine growing region - should take roughly three hours if sticking to the main toll roads.
There is a non-toll route, but it takes over double the time, and there are some perfectly pretty towns to stop off at along the quicker route, including Agen, which is famous for its brandy soaked prunes.
Go exploring
It's probably best to return your hire car once you arrive in Bordeaux - you're not going to need it now, and it'll save you the hassle and price of parking.
After that's all sorted, you've got the whole afternoon to explore the city, and there's far more to see than simply the much photographed Place de la Bourse.
From the recently regenerated riverfront to the columns of the Grand Théâtre de Bordeaux, just wandering around here is an experience in itself.
Museum fans can switch between the past and the present with visits to Musée d'Aquitaine and the CAPC Museum of Contemporary Art, the latter of which features both the beautiful and the bonkers.
Toast your trip
Of course, no trip to Bordeaux would be complete without a visit to one of this area's esteemed vineyards - and after all, you started the trip with wine, so you may as well finish it too.
If you've got time this afternoon, take a few hours to explore the countryside, popping along for a tour of one of the sprawling local vineyards. Check with the Tourist Office for times, prices and recommendations.
If you would rather stay in the city but still wish to learn about its wine producing heritage, the Cité du Vin museum offers a wealth of information.
Finish your day with a pre-dinner visit to the Bar a Vin, the historic building and extravagant interior of which will make you feel fancy while you sip €5 wine and shamelessly demolish cheese platters.
When it gets dark, pay a visit to the 'Miroir d'Eau', a shallow pool on a granite slab, just opposite Place de la Bourse, that expertly reflects the stunning buildings around it like a mirror.
When it's busy it turns into a giant paddling pool, somewhat ruining the illusion, but making for a jovial atmosphere nonetheless.
After this, lose yourself in the streets of the Triangle d'Or - literally the Golden Triangle - to try some of the local produce in one (or many) of its bars and restaurants.
Take the train back to Paris
Feel free to spend as long as you fancy in this fascinating city, but trains back to Paris can be had for as little as €20 - and as with any train company, the earlier you book, the cheaper it will be.
Our advice? Buy a bottle of wine from the vineyard, take your seat and enjoy the views.
Other things you need to know for a road trip in France...
The must haves
France has a list of things that you're legally required to carry in your car at all times. Fortunately, they're fairly easy to fit into a small bag:
Full and valid driver's licence
V5C form to show who the registered owner of the vehicle is
Proof of Insurance
Passport or national ID
Two breathalysers
Reflective jackets for all passengers
Warning triangles
Headlamp beam deflectors
Stickers identifying your car's country of origin if it is from outside of France.
The must know
France has very strict drink driving laws, with the limit set at 0.5mg/ml for normal drivers - that's equivalent to one small beer - and 0.2mg/m if you passed your test less than three years ago. They're also regarded as some of the most well-enforced in Europe.
Using your phone while driving in France is a big no-no. Not only is using one while moving illegal, you actually need to park up properly first - just stopping at the side of the road is not enough, although those using hands free devices can get away with this. Hands-free devices that require an earpiece or headset are banned full-stop, as are Bluetooth devices.
Speed camera detectors are illegal in France and if your GPS system has one built in then you are required to disable it. If you don't and you get caught, then you can face a fine of up to €1500 - far more than a speeding ticket in the first place. Or y'know, you could just not speed.
Toll roads
At some points on this trip you will come across toll roads, otherwise known as autoroutes, which you will have to pay to use; spanning the length and breadth of the country, they are almost unavoidable if travelling over long distances in France.
Fortunately, they are relatively reasonably priced, and usually well-maintained and high-speed.
They work out to about €1 for every ten miles, and you collect a ticket when you enter the pay-route, and pay as you leave.
Note that any lane with blue coins will accept cash, but that change will not be given.