The ultimate Transylvania road trip - Discover the best of Romania
Day 1: Sibiu - walking tour of Sibiu's sights & traditional Romanian food
Fly into Sibiu International Airport and kick off your sightseeing at the Bridge of Lies
Welcome to Romania! After you've landed in Sibiu International Airport (as early as possible, preferably), rent a hire car and make your way into the city - it should only take around 25 minutes.
Drop your stuff off at your hotel, freshen up and head out to explore Sibiu - day one is all about a relaxed self-guided walking tour of the main sights to ease you in to your Transylvania road trip.
This beautiful Saxon city is seriously photogenic as well as being a little quirky and bohemian, and a great place to start your tour is at the famous Bridge of Lies.
Aside from its practical function to connect the lower and upper towns of the city, this bridge is surrounded by myths and legends that attract many to cross it every day.
Legend has it that the bridge has ears, and if you tell a lie whilst you're walking over it, the bridgr will begin to creak, and if the lie is big enough the bridge will collapse. Try it for yourself, if you dare…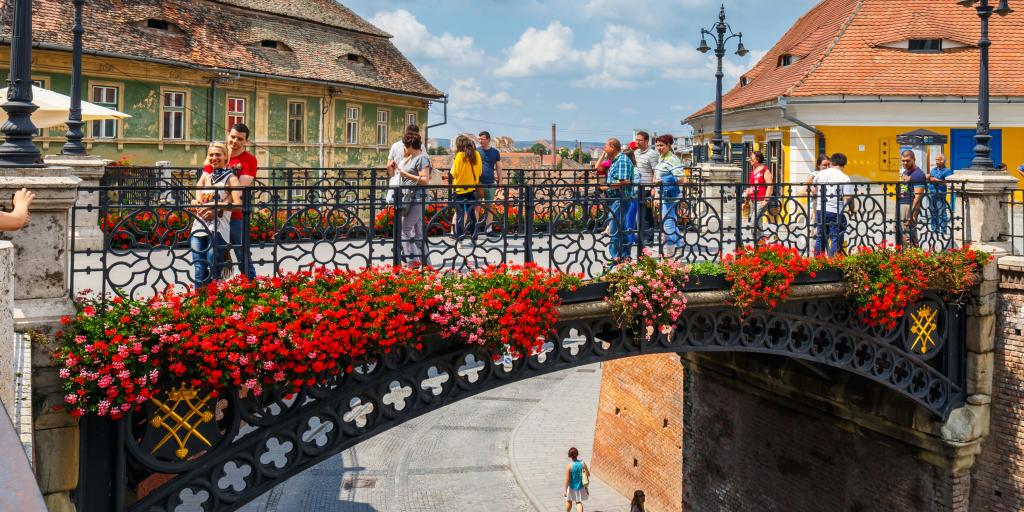 Have a staring contest with the buildings
Believe it or not, the bridge isn't the only part of this city with a human quality: many of the buildings have eye-shaped windows built into their roofs, making it feel like they're constantly watching you as you explore.
Although they might seem fun and quirky today, these windows are echoes of the German influence in Romania, and were installed by the German occupiers to instil fear in the people of Sibiu, reminding them they were always being watched.
You'll be able to find loads of these windows dotted around, so have a wander once you're done at the bridge, snap a few photos to show your sceptical relatives back home, and take in this (slightly sinister) fragment of Sibiu's heritage.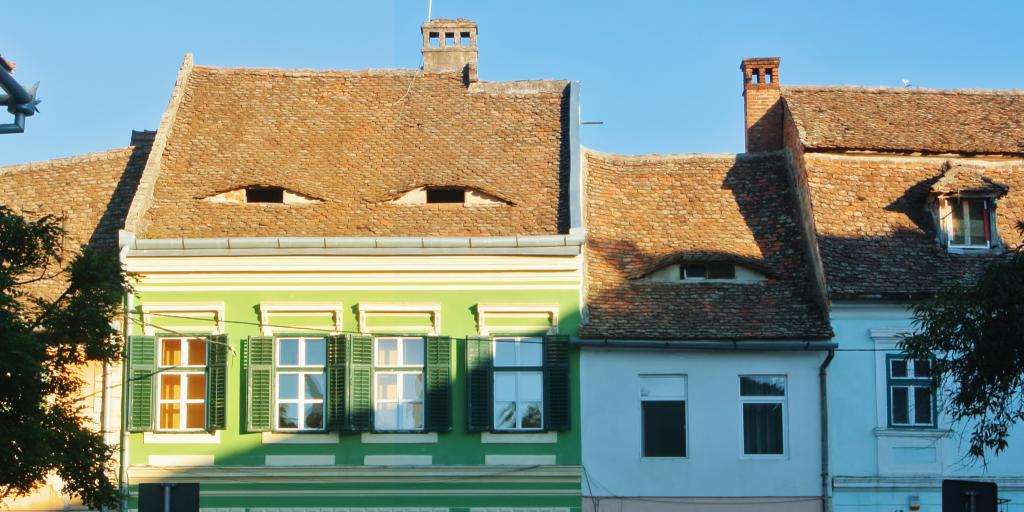 Go for lunch at Lili's Cafe
Your stroll will probably take you up to lunch time, at which point we recommend heading to Lili's Cafe: a cosy spot in the historic centre that's modern yet rustic, with loads of natural light and comfy leather chairs to relax in.
The food is fresh and beautifully presented. Try and leave room for dessert because the coffee and cakes are amazing too!
Relax, refuel, then head off to the Brukenthal National Museum whenever you're ready.
Spend the afternoon browsing the Brukenthal National Museum
The Brukenthal Museum is less than a five-minute walk away from the cafe, past the stunning Holy Trinity Roman Catholic Church (pop inside to see the breathtaking painted ceiling, if you like.) Take your time walking over and admiring your surroundings.
The Brukenthal National Museum is one of the oldest of its kind in Romania, and is split into six different museums across the city, each with its own cultural significance.
Do some research on the different exhibitions to find out which area of the museum you want to prioritise, or take our word for it and admire the four floors of European Art at Brukenthal Palace (address: Piața Mare 4 - 5) and visit the 15th-century painted murals at the vaulted Fresco Hall (Piața Mică 22).
It costs 20 lei (around £4) to visit Brukenthal Palace, and 1 lei (20p) to visit the Fresco Hall.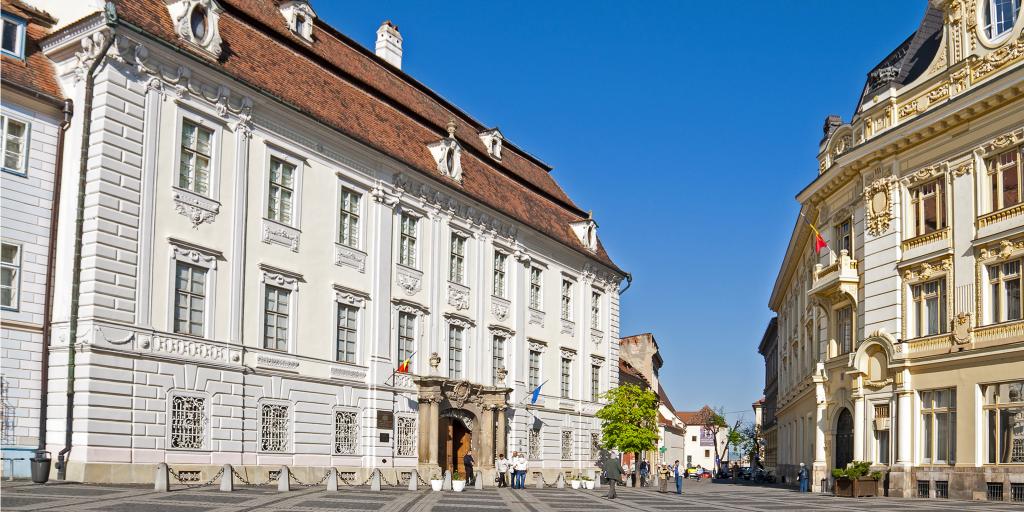 Celebrate at one of Sibiu's many festivals
Sibiu is known for hosting a whole range of different festivals, so spend the rest of your afternoon enjoying whatever's on during your visit.
A few of the best events to hit up are the Sibiu International Theatre Festival and the Sibiu Jazz festival, which are both in May, the Astra film festival in October, and the Medieval Festival - showcasing the Medieval culture and history of Transylvania- in August.
If your trip doesn't happen to fall during any festivals then don't worry, there's plenty more sights you're yet to discover around the city, so spend these few hours of downtime doing some extra exploring.
Some highlights to look out for include the Stairs Passage, The Council Tower (which has a viewpoint offering panoramic views), Sibiu City Hall, and the Reformed Church.
End day one with dinner and drinks
Once you've finished exploring for the day and have freshened up at your hotel, head out for some great food and drinks to celebrate the start of your Transylvania road trip.
There are countless amazing bars and eateries across the city offering a whole range of local and international dishes, so it shouldn't be hard to find a place to eat.
That being said, we do have two good recommendations if you can't decide:
Atrium Classic Cafe - if you want your dinner, drinks, and evening entertainment all rolled into one, then this is the place to go. Located right next to the Bridge of Lies, this spot offers great international food (the pizza is amazing), regular live music, a large selection of wines, and a buzzing atmosphere. Expect a lively welcome to Romania here.
Kulinarium - this central restaurant is definitely the more laid-back option of the two, and focuses on Romanian dishes with an international twist. To go really authentic, try the peasant bean soup served in a bread roll, and enjoy your food with a glass of wine to toast your trip.
Day 2: Sibiu to Cluj-Napoca - drive to Cluj-Napoca, see the sights, & explore the Botanic Garden
Miles: 108
Set off early on day two to drive to Cluj-Napoca
Try to set off as early as possible from Sibiu for your first day of driving - you'll want to have the maximum time to explore Cluj-Napoca (or Cluj) later on.
If you drive direct, it should take around two and a half hours to reach Cluj through beautiful green countryside. However if you fancy a dip in a thermal pool (don't we all?) then you could stop at Ocna Sibiului on the way and extend your journey a little.
This complex of several small thermal lakes and a mud pool is located just outside of Sibiu, and is a lovely place to go for a relaxing soak (plus, the pools are rumoured to have healing powers, so it's worth checking out). Stop for an hour if you're in no rush to arrive in Cluj.
Entry costs 10 lei and grants you access to all the pools.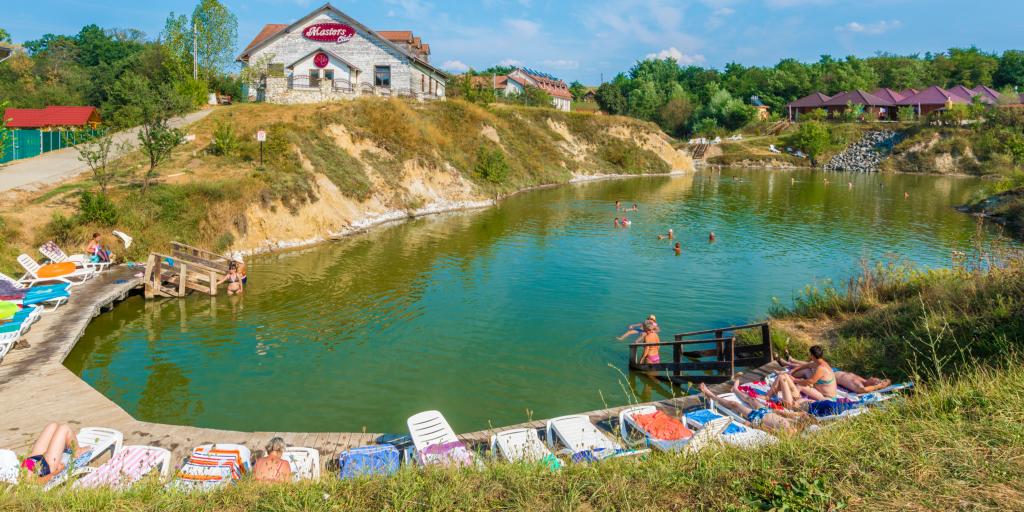 Grab a quick lunch then take a look around St Michael's Church
You probably won't arrive in Cluj much before lunch time (particularly if you went to Ocna Sibiului), so check into your hotel and grab a quick bite to eat before heading to St Michael's Church.
Located in Piața Unirii in the heart of the city, this 14th-century church is the second largest in Romania (after the Black Church in Brașov), and is famed for being the place where the 1458-90 King of Hungary and Croatia, King Matthias I, thought to be the most powerful king to rule Hungary, was baptised.
Although the church isn't intricately decorated, it's an incredible Gothic structure to visit that's full of atmosphere and character. Plus, it's a true symbol of Cluj.
Make sure you look up to admire the impressive vaulted ceilings and frescoes, enjoy the light shining through the colourful stained glass windows, and visit the Schleynig Chapel where the King was reputedly baptised.
You can also climb the tower to get uninterrupted views across the city, or visit one of the organ concerts that regularly take place in the church to hear some unforgettable music.
Note: the church has been undergoing a lot of restoration lately, so be aware that some areas may be closed during your visit. We'd recommend checking ahead to avoid disappointment.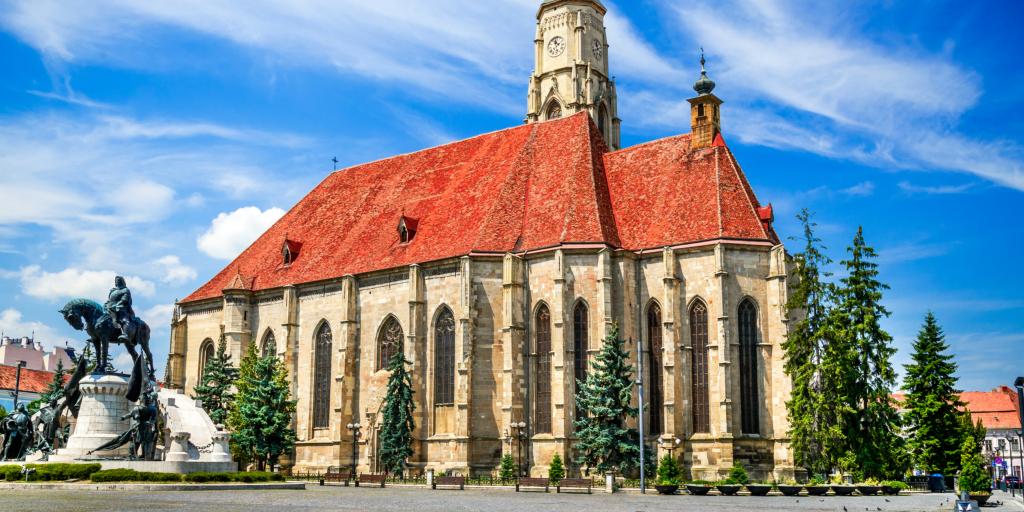 Continue to explore the Historic Centre
When you leave the church, snap a quick photo with the Matthias Corvinus Statue (the King you've just learnt about), then continue to explore the historic Old Town.
We'd recommend heading east to Piața Avram Iancu, where you'll find the beautiful Assumption Cathedral with its domed towers, the Statue of Avram Iancu, the Cluj Tailors' Tower, and the National theatre Lucien Blaga all in a line.
Admire each of the sights, but we'd recommend giving the most attention to the National Theatre, which shares its building with the Romanian Opera. This beautiful bright yellow building was built between 1904 and 1906, and still puts on regular opera, ballet and theatre performances.
Snap some pictures of the building and try and bag some tickets for a show this evening if you want to see the inside (booking tickets online in advance of your trip is definitely advisable).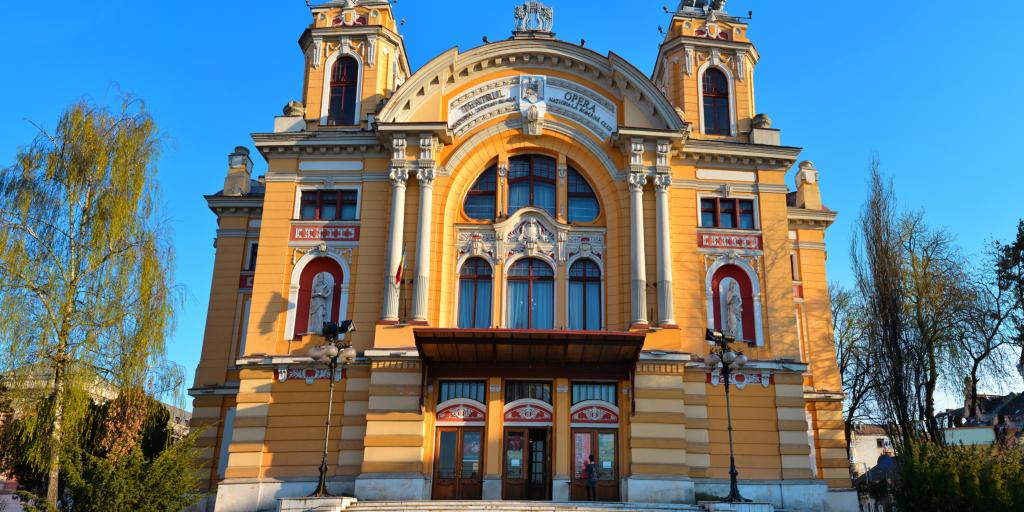 Although we think the best way to fully experience a place is to have a leisurely walk around, by all means fill this time with a trip to one of the city's many museums instead, if you'd prefer.
A few to choose from include Bánffy Palace art museum, the Ethnographical Museum of Transylvania, and the Museum of Pharma, which are all fascinating in their own unique ways.
Spend the rest of your afternoon at the Alexandru Borza Cluj-Napoca University Botanic Garden
Once you're satisfied you've seen the Historic Centre, spend the rest of the day enjoying the natural beauty of the Botanic Garden.
Located a short walk south of Piața Unirii, this garden is home to approximately 10,000 different species of plant from around the world, which you'll find throughout the leafy gardens and in three greenhouses.
Enjoy the calm, learn about the plants, and definitely check out the beautiful and peaceful Japanese and Roman Gardens.
We'd also recommend you don't miss the enormous lily pads housed in one of the greenhouses, and the statue of Romanian botanist Alexandru Borza, from whom the garden gets its name.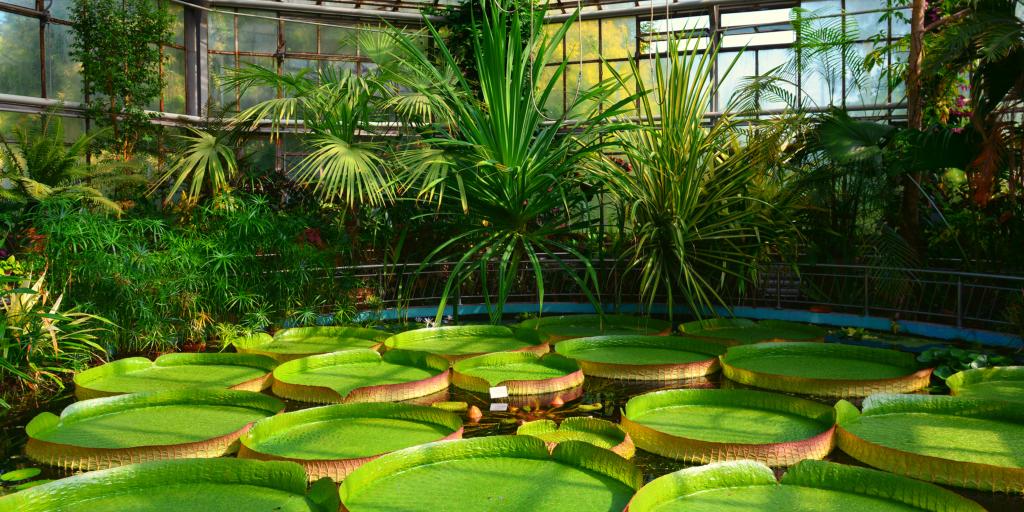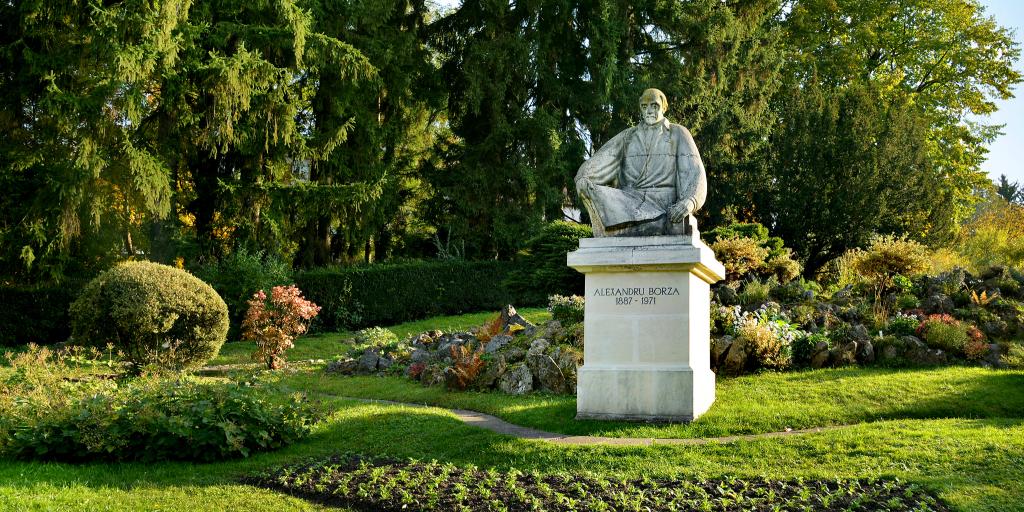 Entry to the Botanic Garden costs 10 lei.
Have dinner then hit the town to experience Cluj's buzzing nightlife
Time for some more Romanian food, except this time it's without the international twist. Roata serves up home-style, authentic dishes native to the Transylvania region, offering a true taste of this area of Romania.
This restaurant is small and simple, serving up hearty meat and cabbage dishes, steaming bowls of soup, and Transylvanian Platters for two which let you sample a little of everything.
Try something completely new (you never know, it might be your new favourite dish), and leave the restaurant feeling all cosy and satisfied (read: very very full).
If you've got the energy left after dinner, we'd suggest hitting the town to experience Cluj's nightlife.
With a really high student population, this town comes alive at night, with quirky bars and cheap drinks taking centre stage.
You can either just head to a busy local bar for a few drinks (try lively Old Shepard), or go all out at one of Cluj's many nightclubs (such as Revolution Club or Flying Circus).
Stay out until the early hours or go back to your hotel after a few beers - the choice is yours. But remember, you have to drive in the morning, so don't go too crazy!
Day 3: Cluj-Napoca to Sighișoara - Drive to Sighișoara, discover its Saxon culture & drink Pálinka
Miles: 98
Discover Sighișoara's UNESCO World Heritage Old Town
Your drive to Sighișoara should take around two hours and 45 minutes, so aim to arrive around midday.
The small fortified city of Sighișoara celebrates the fast-disappearing Transylvanian Saxon culture, and looks as if it's been lifted straight from a fairytale.
Think cobbled streets lined with pastel-hued houses, picturesque squares, and medieval spires poking out above the rooftops (have your camera at the ready).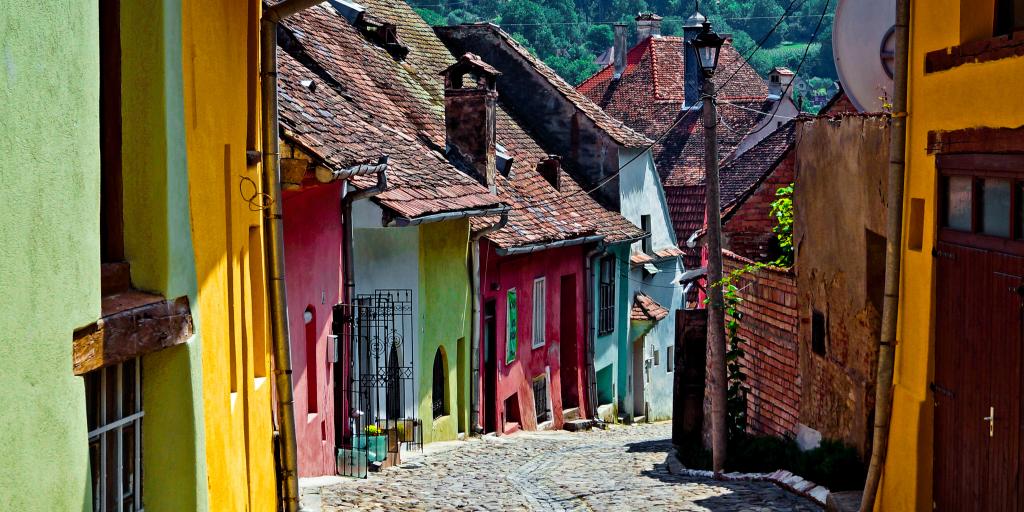 The main area in which you'll find this stunning architecture is the UNESCO World Heritage Old Town, which is made up of a medieval citadel (the core fortified area of the city) spread across a steep hill.
The citadel is enclosed within majestic walls and watchtowers, which were once used to protect Sighișoara from Turkish attacks.
Nine towers and two bastions survive today, so see how many you can find as you spend some time looking around, starting at the Clock Tower which marks the main entry point to the citadel.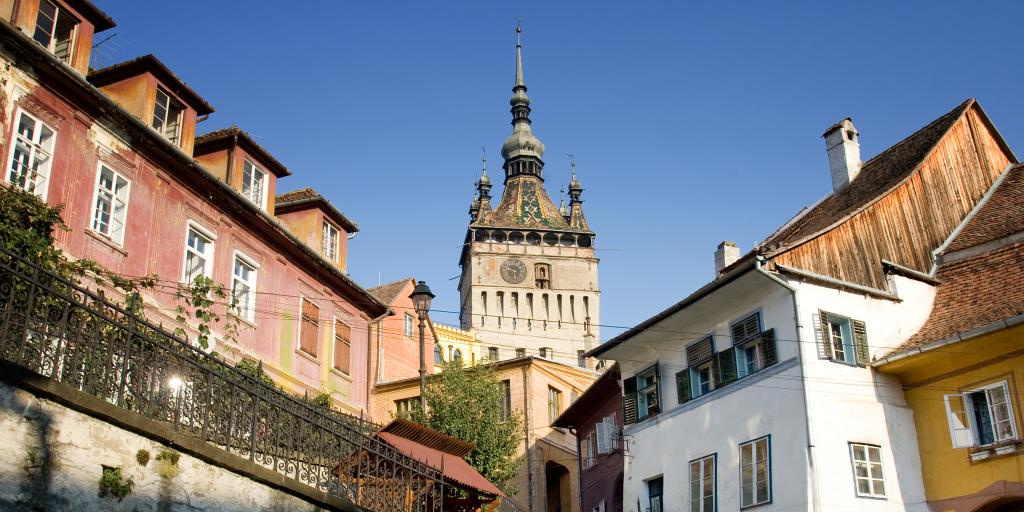 Relax and have a coffee break in Fortress Square
When you're ready to take a break, end up at pretty Fortress Square in the middle of the citadel for a well-earned sit down.
There's a great no-frills cafe here called House on the Rock that's the ideal spot to have a rest and rejuvenate before continuing your sightseeing. Either just stop here for a quick coffee and a slice of cake, or settle in for a longer lunch - the choice is yours!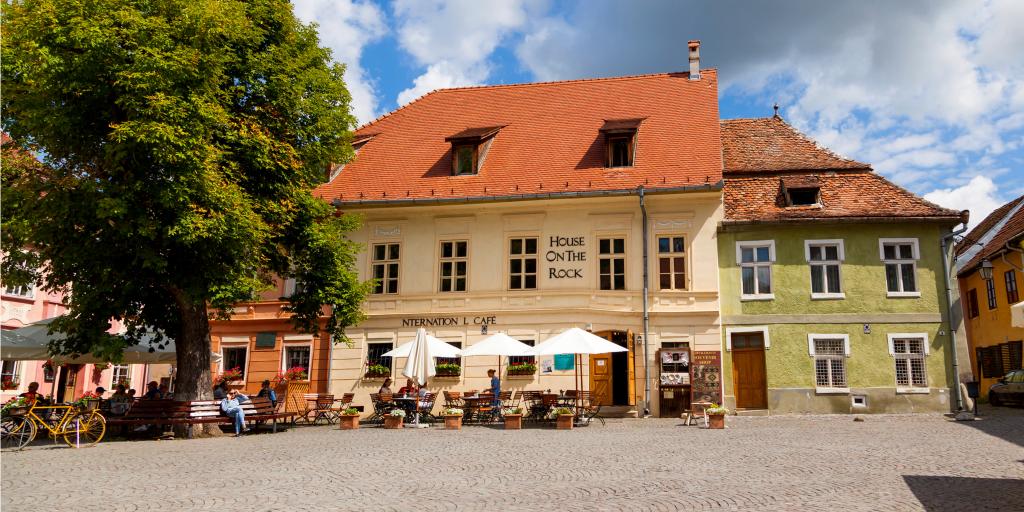 Climb up the Scara acoperită to the Church on the Hill
From here, take a short walk south to the Scara acoperită, or the 'covered staircase'. This wooden stairway was originally built in 1642 with 300 steps to make it easier for students to reach the school at the top of the hill, and was modified in 1845, reducing it to the 175 steps you can climb today.
Granted, there's not a whole lot to the steps, but they do have a story to tell and look pretty amazing if you peer through from either end.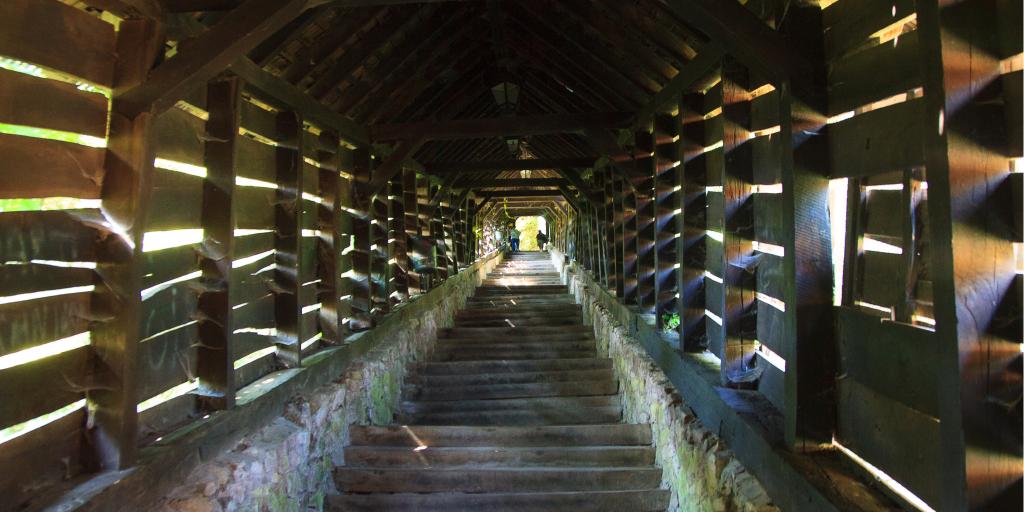 The stairs will lead you to the beautiful Gothic Church on the Hill (aka the Biserica Evanghelică Din Deal), the school, and a serene graveyard which are all lovely to explore.
Admittedly, this road trip is pretty church-heavy, so feel free to skip this one if you want to (you've got one more coming up in Brașov), however this triple-naved example features some stunning remains of fading 15th-century frescoes and an intricate altarpiece that are well worth a few minutes of your time.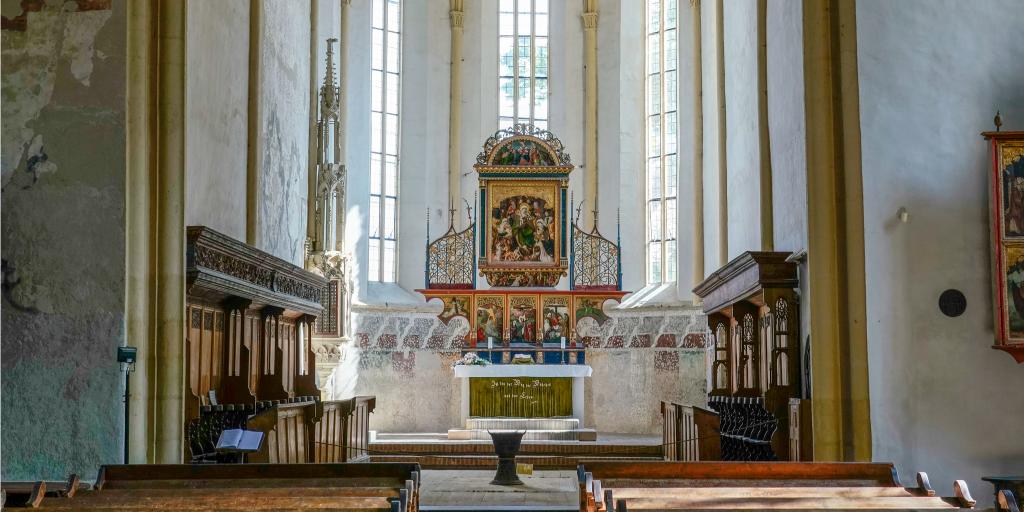 The hill in itself is a really pretty area of winding cobbled pathways with beautiful buildings and panoramic views peeking through the trees.
It's a super relaxing place to spend some time, particularly when the sun is shining, so stick around for a bit once you've seen the church for a moment of calm.
Sample some Pálinka at Teo's Distillery
Head back down the stairs if you want to, or follow Strada Scării back to the bottom for a change of scenery; either way you'll end up in exactly the same place in prime position to head to Teo's Distillery (or Teo's Cellar) to sample some Pálinka.
This traditional Romanian tipple is a kind of brandy that's classically made using plums and is typically drunk before meals and to toast happy occasions. Tradition states that it must be gulped down in one whilst shouting 'norac!' (Romanian for 'cheers').
At Teo's you can try more than just the original plum version, with loads of fruity flavours on offer including, peach, apple, pear, and forest fruits.
Have a chat to friendly owner Teo about all the different flavours of Pálinka and his production methods to get a feel for this classic Romanian tradition, and buy a bottle or two of your favourite flavour to take home and enjoy later.
A word of warning: these spirits are aged for up to five years and can contain an alcohol level of 50%, so make sure you only have a small sip of each one!
Get spooked at Dracula's house
Okay so you've had a bit of Pálinka and you're feeling a little merry, which makes it the perfect time to visit Casa Vlad Dracl, where Vlad Ţepeş (or Vlad the Impaler) is thought to have been born.
Seeing as Transylvania was the setting of Bram Stoker's classic vampire story Dracula, it would be wrong not to indulge in a little vampire fun during your trip, so make your way to the house as evening starts to fall.
Built on the site of Vlad's house (note: it's the true location of his residence but the house has since been rebuilt), this attraction is now a bar and restaurant with a spooky Vlad Room that you can access for 5 lei.
We'll admit, the room is a little gimmicky, decorated with red silk sheets and a coffin (as well as staff on hand to give you a surprise scare!) Still, it's an inexpensive bit of harmless vampire fun that'll definitely make you smile.
Grab some dinner at the house or find somewhere else nearby, then head back to your hotel to get some rest.
Day 4: Sighișoara to Brașov - explore Brașov & scale Tâmpa Mountain
Miles: 72
Kick off your Brașov stay by exploring Piața Sfatului
After you've arrived in Brașov (the drive is around an hour and 45 minutes) and dropped off your things at your hotel, head straight out to begin your sightseeing at the main square, Piața Sfatului (or Council Square).
This picturesque main square is located in the historic centre of Brașov, and is fringed with the colourful pastel-hued buildings of the city's Old Town.
In the centre of the square you'll find the former Council House (Casa Sfatului) and Trumpeter's Tower.
Built in 1420, this is both one of the most visited and most controversial buildings in Brașov (it's thought that it contained a torture chamber in the 16th century), and today houses the Brașov County Museum of History (Muzeul Județean de Istorie Brașov).
The museum contains a really interesting account of Transylvania's history including its Roman, Medieval, and Saxon heritage, and provides a great opportunity to step inside one of Brașov's most historic buildings.
Visit the museum if you're in the mood (admission costs 7 lei), or just take a seat at one of the surrounding cafes to enjoy the square and indulge in a little people watching.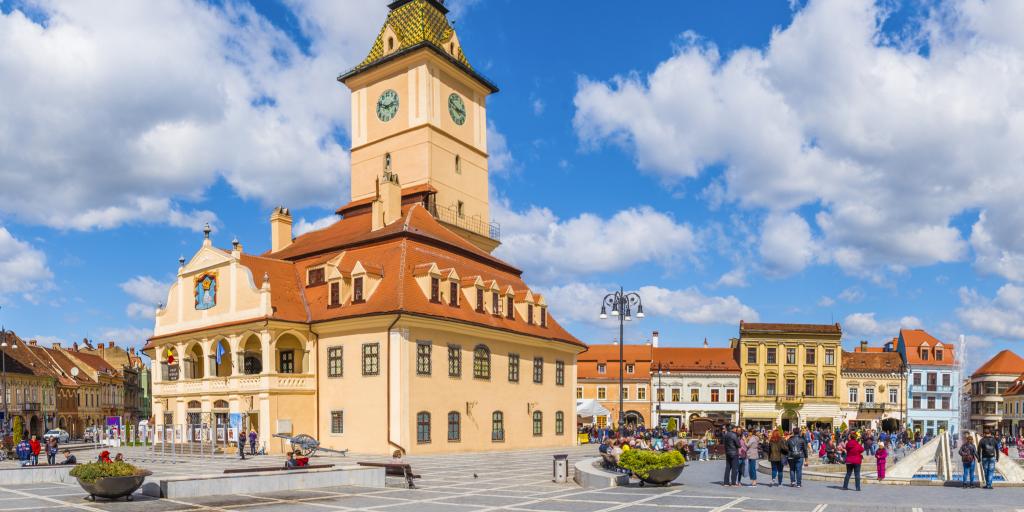 Walk south to visit the Black Church
Just to the south of the Square you'll find your next stop - the Black Church (Biserica Neagră). This towering Gothic church is the largest in Romania, and is particularly striking next to the quaint colourful buildings next door.
The Church was built between 1385 and 1477, and got its name after it was charred during Brașov's Great Fire in 1689. It took around 100 years to fully restore the building, and today it's another of the city's most iconic landmarks.
It's definitely worth going inside. Things to look out for include the enormous 4,000-pipe organ, the ornate collection of 17th and 18th-century rugs donated to the church by the craftsmen, merchants and citizens of the city, the intricate sculptures and portals, and the large bronze font.
Visiting hours are between 10am and 5pm in summer, and 10am and 3:30pm in winter (it's closed on Sundays year round). It costs 4 lei to enter.
It's also good to note that you're not allowed to take pictures inside, but definitely snap some of the blackened outside whilst you're visiting.
Climb up to some of the Old Town Fortifications
As in Sighișoara, the Old Town of Brasov was once surrounded by fortified walls to protect the city from attacks by the Turks. A visit to some of these fortifications is your next port of call.
Seven bastions were built in the city's most exposed areas, two of which you can access from close to the Black Church. So grab a quick lunch nearby (there are plenty of cafes and restaurants), and walk up Strada După Ziduri to head towards the Black and White Towers.
Both of these watchtowers are located on the hillside overlooking the orange-tiled rooftops of Brașov on the popular pedestrianised western section of the walls.
Climb first to the Black Tower before continuing to follow the path to the White Tower, taking in these spectacular buildings up close and enjoying the amazing views.
Top off your day four sightseeing with a trip up Tâmpa Mountain
Walk back down from the towers and cross Piața Sfatului, heading south east to get to the foot of Tâmpa Mountain: you've got time for one last activity before it gets dark.
You're likely to have already noticed the Hollywood-esque Brașov sign perched high on the mountain, and scaling this leafy peak to reach it is where you'll get the best views of the town (even better than from the Old Town Fortifications).
It is possible to hike to the top, but it'll probably be getting a little late by this point, and we're betting your legs are already pretty tired. Hop on the cable car instead, which will whizz you to the top in two and a half minutes (17 lei for a round trip).
The destination of the cable car is around 1,400 feet above the city, and if you're up for a short walk, we'd recommend walking west to the viewing platform which is next to the 'v' of the Brașov sign.
From here you'll be able to spot all of the sights you've visited so far, and look out across the green fields and rocky mountains in the distance. Trust us, you won't regret making the trip up Tâmpa!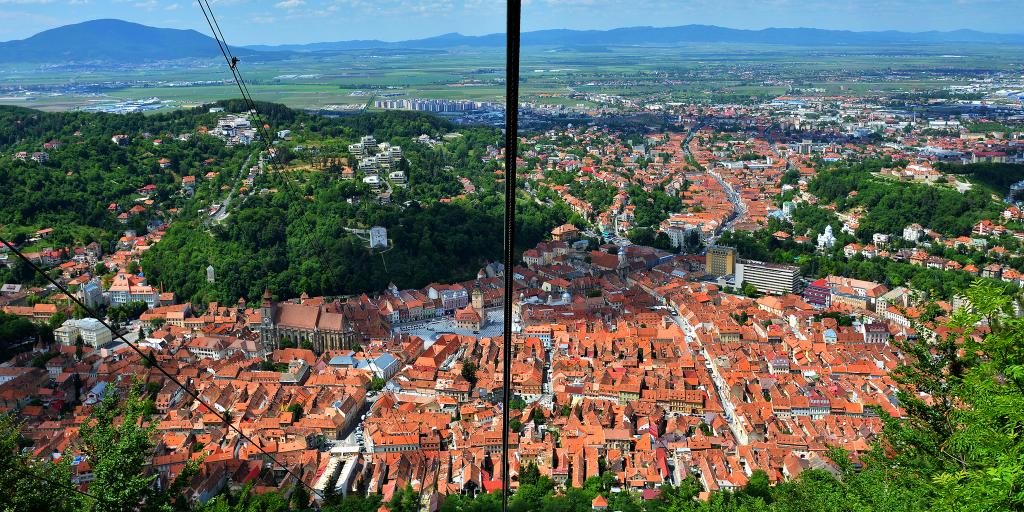 Wrap up day four with another traditional Romanian meal
Such a busy day definitely calls for some more hearty Romanian food. Once you've freshened up at your hotel, head back into the centre of town to hunt down an authentic dinner spot before you call it a night.
We've selected two great traditional restaurants in Brașov with slightly different vibes but equally delicious food:
La Ceaun - this traditional spot focuses mainly on hearty, homemade soups and stews - the ultimate comfort food after a long day of sightseeing. The locally-sourced ingredients and cosy atmosphere ensure that this place remains a firm favourite for visitors and locals alike. Note: there are two sites, but opt for the one on Piața Sfatului for maximum ambience.
Restaurant Sergiana- this elegant restaurant offers the full traditional package, with authentic dishes made with all local ingredients served up by waiters sporting traditional Romanian dress. Although there is a big focus on meaty dishes, there are still plenty of veggie options, making it the perfect spot for any visitor to enjoy a traditional dining experience.
Day 5: Brașov to Sibiu - visit Bran Castle and drive the Transfăgărășan Road
Miles: 182
Wake up as early as possible to get going on day five - today is completely focused on one of the most scenic drives in the world along the Transfăgărășan Road (with a pit stop at iconic Bran Castle).
Although covering just over 180 miles, this drive is likely to take upwards of six hours due to all the twists and turns and tricky sections of road, so leave as much time as you can. You should also plan on bringing a packed lunch, and sharing the driving if possible.
Drive to your first stop, Bran Castle
Before you get to the Transfăgărășan, make a quick stop at Bran Castle around 18 miles outside of Brașov.
This castle is one of the most famous national landmarks in Romania, mainly due to its reputation as 'Dracula's Castle' - the home of Bram Stoker's notorious fictional vampire.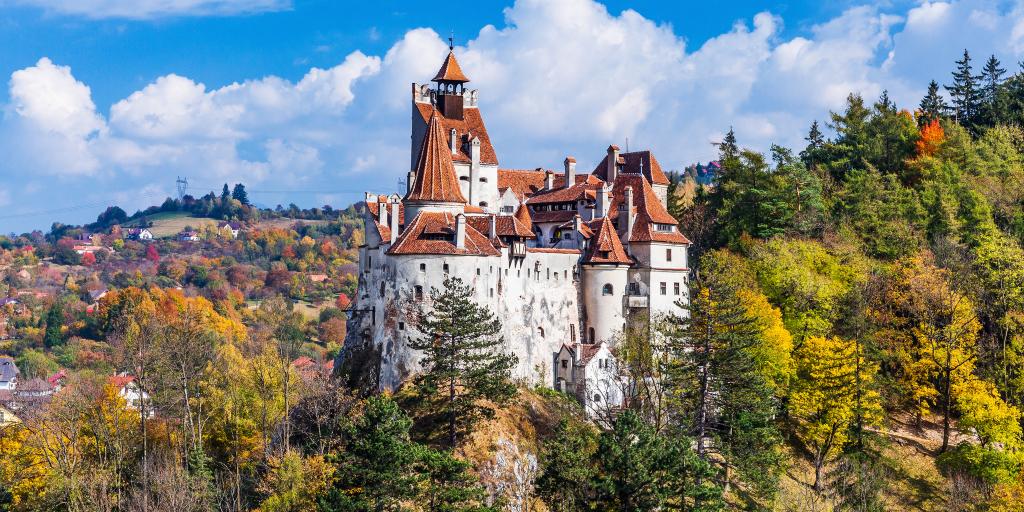 In reality, the connections between Dracula and the castle are pretty tenuous (with a loose link to Vlad the Impaler and a couple of Stoker's descriptions), so don't go expecting a dark, creepy, vampire-themed attraction, or you'll be disappointed.
The Castle is thought to have been built in the 14th century and used in defence of the expansion of the Ottoman Empire between 1438 and 1442, as well as serving as a customs port to hold goods going in and out of Transylvania via the Bran Gorge.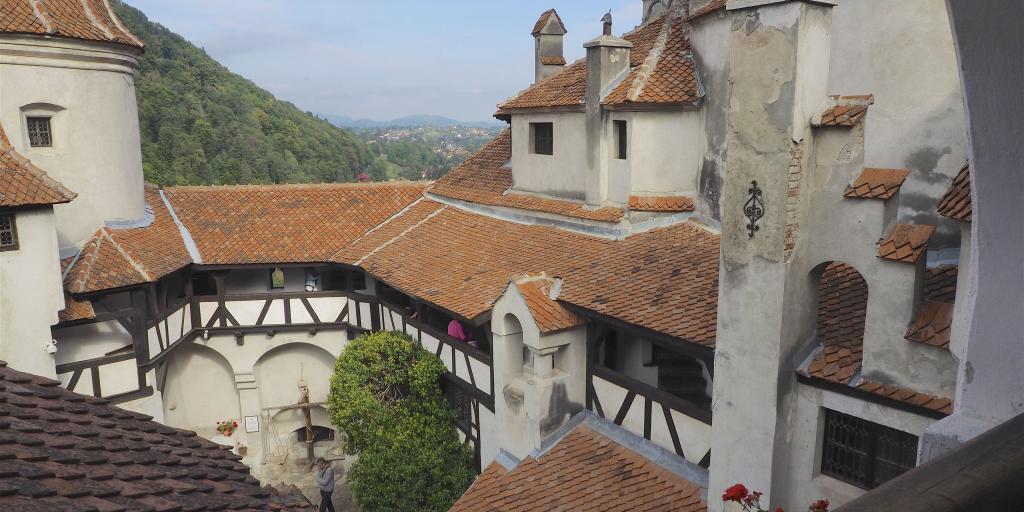 On your visit you're more likely to get a feel for its more recent history as a royal residence for Queen Maria, which was its purpose from 1920 until the royals were exiled by the Communist regime in 1948.
It was then used as a museum for a number of years before finally being returned to its royal heirs in 2009.
As you explore, you'll find simply decorated rooms with heavy wooden beams and whitewashed walls made to look as they would have in Queen Maria's day, with added displays of beautiful royal relics.
Spend around an hour here exploring before heading back to the car.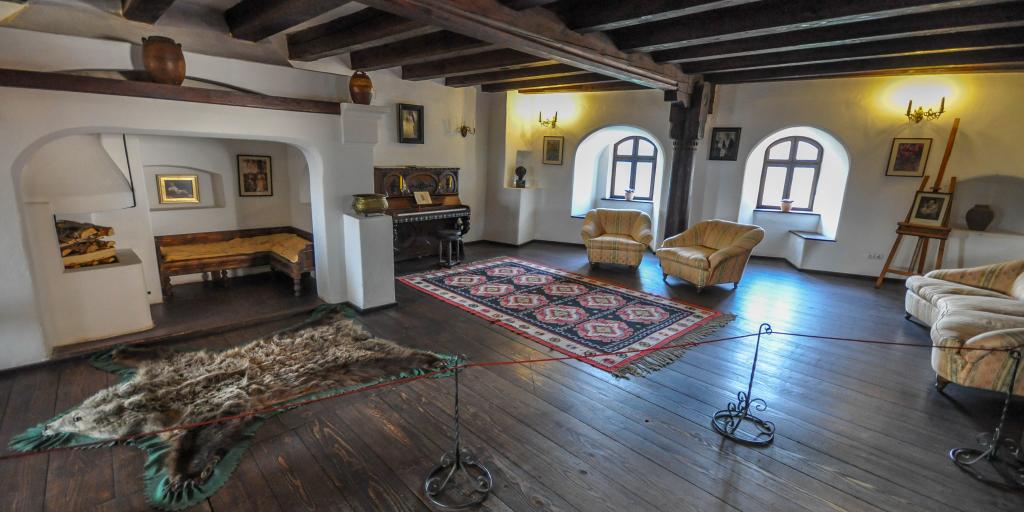 Admission to Bran Castle costs 40 lei, and the walk up to the Castle is a little steep so wear your comfy shoes!
Travel tip: if possible, try to plan your trip so that day five doesn't fall on a Monday as the Castle only opens that day at 12pm. Every other day it opens at 9am which is way better to give you time for the drive ahead.
Drive west to join up with the Transfăgărășan
Now for the bit all the driving enthusiasts among you have been waiting for: Transfăgărășan.
Drive south west from Bran Castle to get to the south end of the Transfăgărășan Road at Curtea de Argeș - the scenic leg of your trip starts now.
Roughly 56 miles long, the road was built in the 1970s under the orders of Nicolae Ceausescu, the then-Communist President of Romania, to create a strategic route across the Fagaras Mountains, thereby enabling troops to push north if they were invaded by the USSR.
Today, the road is more for entertainment than practicality, attracting both local and international driving enthusiasts to its tarmac. There's been a recent increase in British tourism in particular, thanks to its mention as one of the best roads in the world on TV show Top Gear in 2009.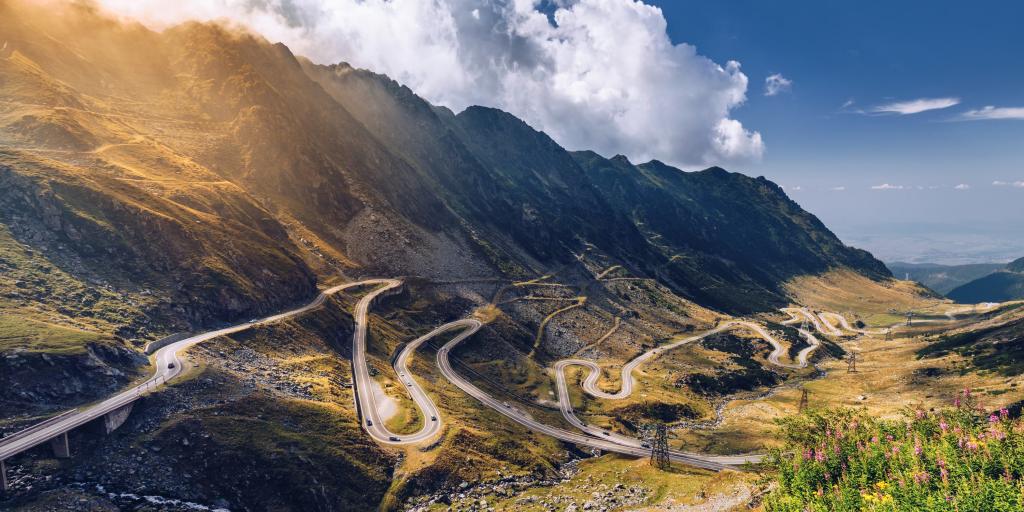 Note: the road is only open between June and October, as it's too dangerous during the snowy season. If it's not open, take E81 north to get to Sibiu instead. It goes through the Romanian countryside so is a lovely scenic alternative to the Transfăgărășan.
Things to see as you drive along the Transfăgărășan
Driving the length of the road is likely to take around three hours, however there are some really interesting, scenic attractions along the way that make great stop off points, so expect the drive to take a little longer.
Here are a few of the best bits to look out for as you drive through:
Poenari Castle ruins
The first main sight you'll come to as you drive along the road is the Poenari Castle (or Poenari Citadel) ruins.
Also known as the 'Real Dracula Castle' (although this also has no legitimate connections to Bram Stoker's novel), this 13th-century building sits high on the hill to the left of the Transfăgărășan.
You'll be able to catch a glimpse of the ruins ahead of you just after you've driven through Capatineni town, and you can stop by the Hidrocentrala Vidraru power station if you fancy taking a picture.
From here it is possible to climb up to visit the Castle, however you can only climb up twice a day with a guide due to the bear risk in the woods, and it takes a pretty long time to get there.
In light of that, we'd recommend that you just admire it from the road before you continue your drive.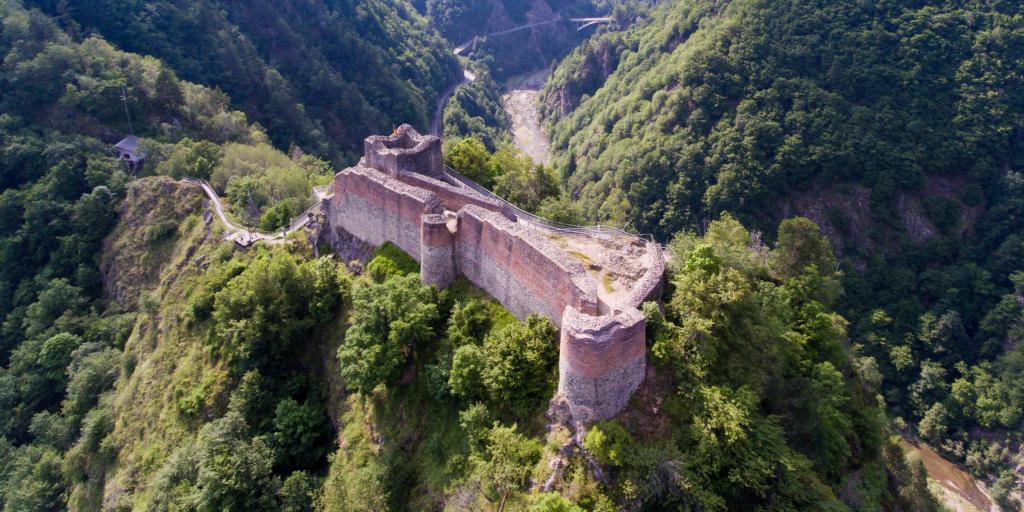 Vidraru Dam
Continue driving on from the ruins, navigating around an epic hairpin turn, before reaching the Vidraru Dam.
Okay, so visiting one of the largest hydroelectric plants in Europe doesn't exactly sound like a must-see attraction, but you'll have to trust us that it's actually a really beautiful feature of the road.
This sweeping arch was built in 1966 to produce hydroelectricity, but we think its role as an incredible viewpoint over Lake Vidraru is far superior (well, in road trip terms anyway).
You can't stop on the actual dam, but there are parking spaces at either end, so find a spot and walk across, taking in the stunning views of the lake and green hills in the distance.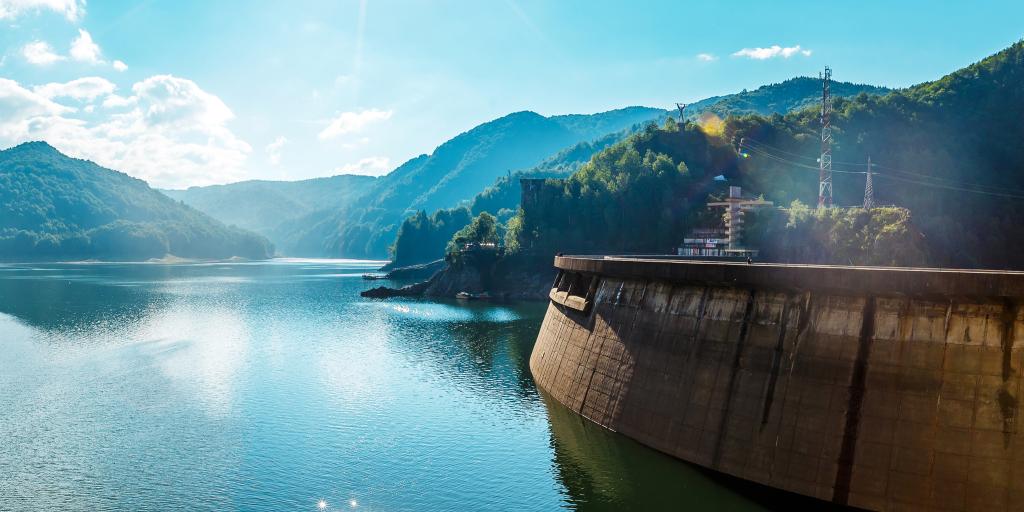 Have your picnic here if you're peckish, and make sure you spot the electricity pylon disguised as Prometheus; it's pretty unique!
Climb up to the statue if you want to, then make your way back to the car to continue your drive.
Bâlea Lake
The next leg of your drive from the Dam is pretty remote, so enjoy a long stretch of unspoilt countryside as you wriggle around the Transfăgărășan's bends until you reach the Bâlea Tunnel.
At 884 metres long, this road tunnel is the longest in Romania, taking you out at the highest point of the Transfăgărășan: Bâlea Lake.
The glacial lake is located at 2,034 metres of altitude in the Făgăraș Mountains (aka the Transylvanian Alps), and is a pretty spectacular sight to behold, with its mirror-like surface reflecting the surrounding mountains.
There's ample parking just after you come out of the tunnel, so we'd recommend hopping out of the car and wandering down to the edge of the water to stretch your legs and take a break.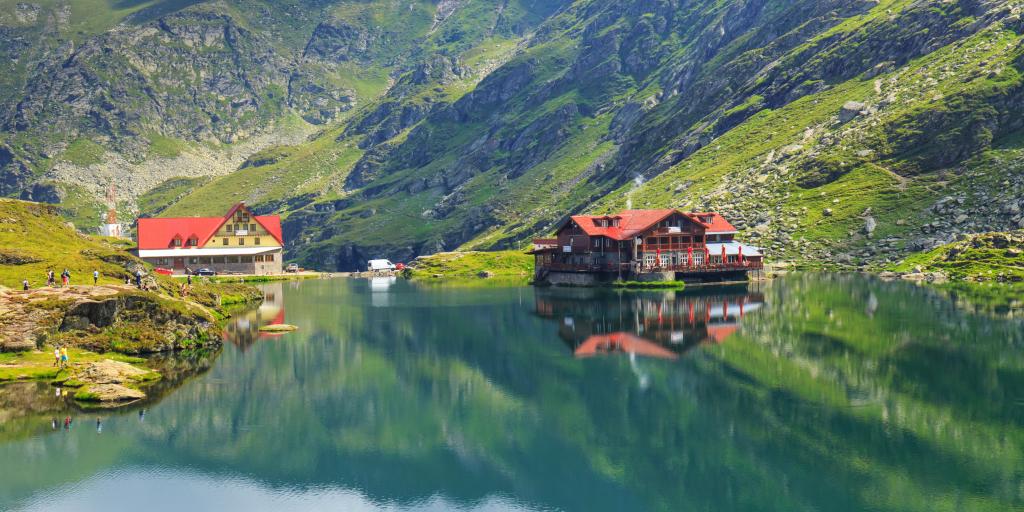 Drive the rest of the Transfăgărășan and continue on to Sibiu
When you're ready, get back in the car (this would be a great opportunity to switch drivers) and continue on to the most iconic section of the road - you've probably seen photos of this bit.
While a lot of the road winds through beautiful woodland, here you're snaking through an open valley, with the road wriggling ahead of you as if it's been draped over the hill side.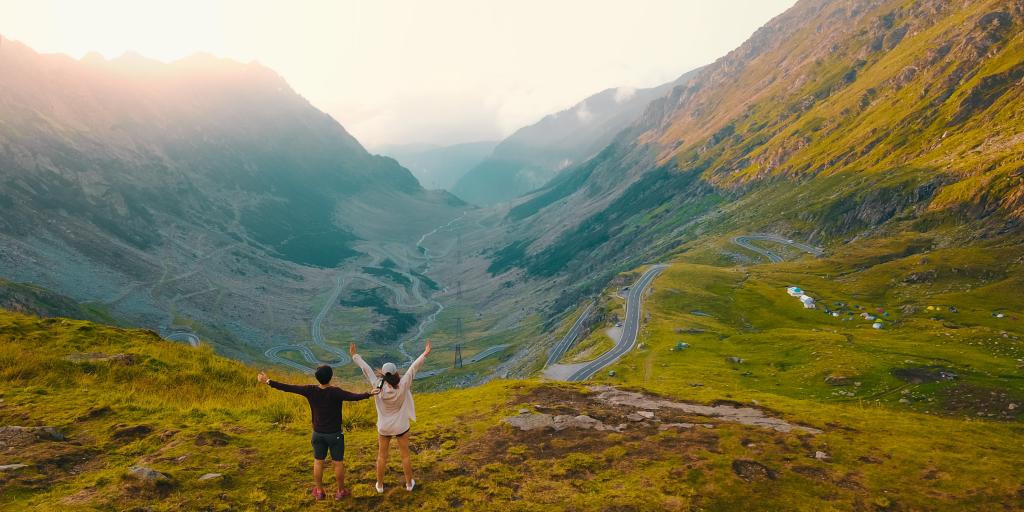 Enjoy the rest of the road (it'll be one to remember), then meet up with the DN1 to take you west back into Sibiu.
Have the last dinner of the trip
The main thing on your mind when you arrive in Sibiu will probably be food, so ditch the car and have a wander round to find a restaurant for dinner.
Either opt for somewhere you didn't get time to try first time round in Sibiu, or grab a table somewhere new.
We've got a few suggestions of places we think would be perfect for a final, celebratory meal to round off your trip:
Hochmeister- this modern, stylish restaurant is a small-but-perfectly-formed spot in the centre of town to grab some great food. With both traditional and international options on the menu, it's up to you how authentic or foreign you go, with dishes ranging from Romanian to Chinese, French, Indian and Mexican. If you're after lots of choice, definitely bag a table here.

Old Lisbon - for something international, opt for Portuguese food at Old Lisbon. This restaurant focuses on all things fish with a piri piri kick, serving up the freshest seafood and Portuguese wine in a relaxed atmosphere.

Hermania Restaurant - this spot dishes up traditional Saxon cuisine that sums up the heritage of Sibiu (and many of the other places you've visited on this trip) perfectly. Serving up comforting dishes made with fresh, local produce, this restaurant is the ideal place to celebrate the journey you've just taken through Transylvania.
Once you've eaten, find a bar if you're after one last shot of Pálinka, or just head back to your hotel to relax - either way, make the most of your final night away!
Day 6: Sibiu - see any last sights and head home
Your day six all depends on your flight time and when you need to start heading home, so your itinerary is in your hands today.
If you have time we'd recommend having one final look around the city, going to any sights you missed on your first day, and enjoying one last hearty Romanian feast before you need to head to the airport.
We hope you've had a great Transylvania road trip!