Is Trail Ridge Road Dangerous to Drive?
The famous Trail Ridge Road in northern Colorado is one of the most picturesque stretches of pavement in the American west. The road, aka US Highway 34, provides drivers with endless vistas of the Rocky Mountains, giving this roadway the nickname, "Highway to the Sky."
Trail Ridge Road's steep mountain passes, wildlife, and rugged terrain make for a beautiful driving experience. However, because of the snow, steep drops, lack of guard rails, and poor visibility from cloud coverage, some may find the Trail Ridge Road challenging to drive.
This is one of the most stunning and adventurous drives in America yet it has some dangers to consider. Read on below to learn more about what makes it potentially dangerous and how to make this amazing drive as safe as possible.
Where is Trail Ridge Road located, and why might this drive be challenging?
The Trail Ridge Road is located in northern Colorado, near Rocky Mountain National Park, just north of Boulder. Other prominent cities near the Trail Ridge Road are Denver and Fort Collins.
Denver is around 100 miles from Grand Lake, one of the most stunning stops along the drive. Fort Collins is just 40 miles from the Estes Park entrance to the Trail Ridge Road and is around a 1-hour drive away.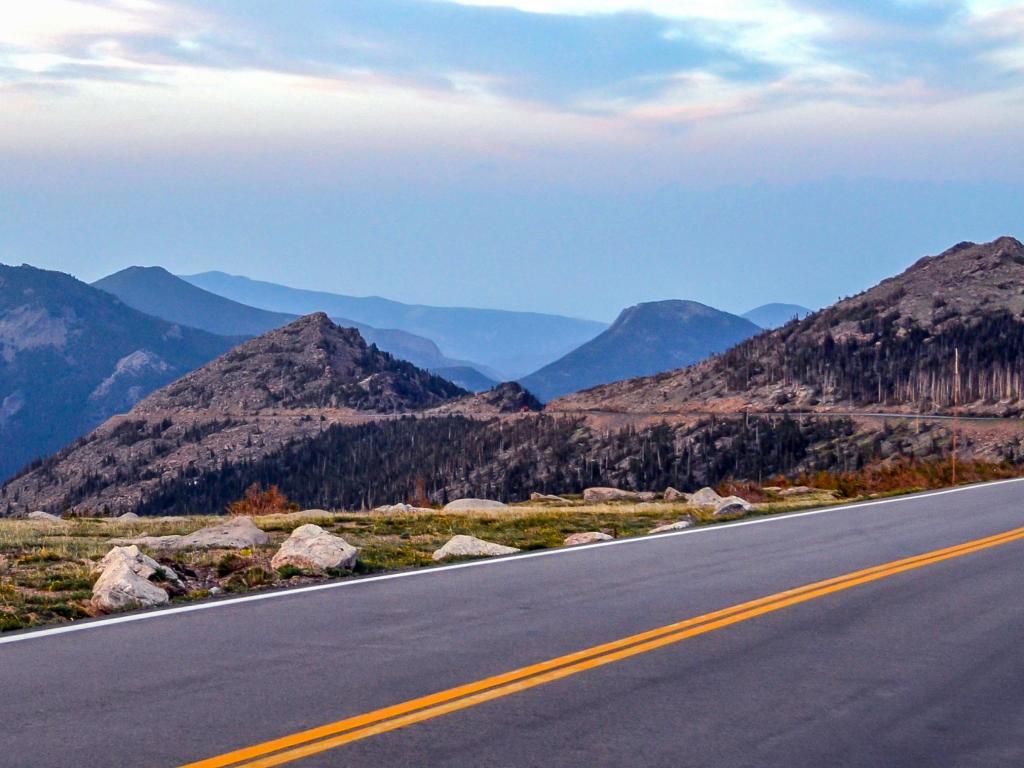 The Trail Ridge Route will take you 46 miles from Grand Lake to Estes Park. This will take you 1 hour and 40 minutes of driving time.
Along the way, you'll encounter some obstacles, depending on the season. The main obstacle in winter is snow.
The road is open between late may May and mid-late October, meaning that the authorities won't allow you to drive in the most extreme conditions. That said, the route sometimes experiences flurries of snow even in June. It's also worth noting that the road is not plowed between 4 PM and 7 AM.
You'll also encounter plenty of steep drops that may be scary for some drivers. The Trail Ridge Road is the highest paved road in the USA, reaching 12,183 feet at the crest.
Another thing that makes this road intimidating for some is the lack of guardrails. The highest part of the Trail Ridge Road is on an alpine tundra. This wide, flat terrain at the top means that it's pretty open, though, and there's no need for guard rails. Many of the pullouts have stone-walled guardrails.
Finally, another thing that can make this route dangerous is poor visibility from cloud coverage. Because of the altitude, you'll reach the point where the mountains touch the clouds.
Driving on the Trail Ridge Road from Grand Lake to Estes Park
The route is located along a two-lane road. The route is straightforward and easy to navigate.
There's no overtaking allowed but there are overlooks with parking spaces along the way to pull in and let eager drivers go ahead. Speed limits are slow, around 30 MPH.
In case of bad weather or hairpin turns, road signs will instruct when to reduce below this speed limit. Sharp turns will require you to reduce speed to 25 MPH or 20 MPH.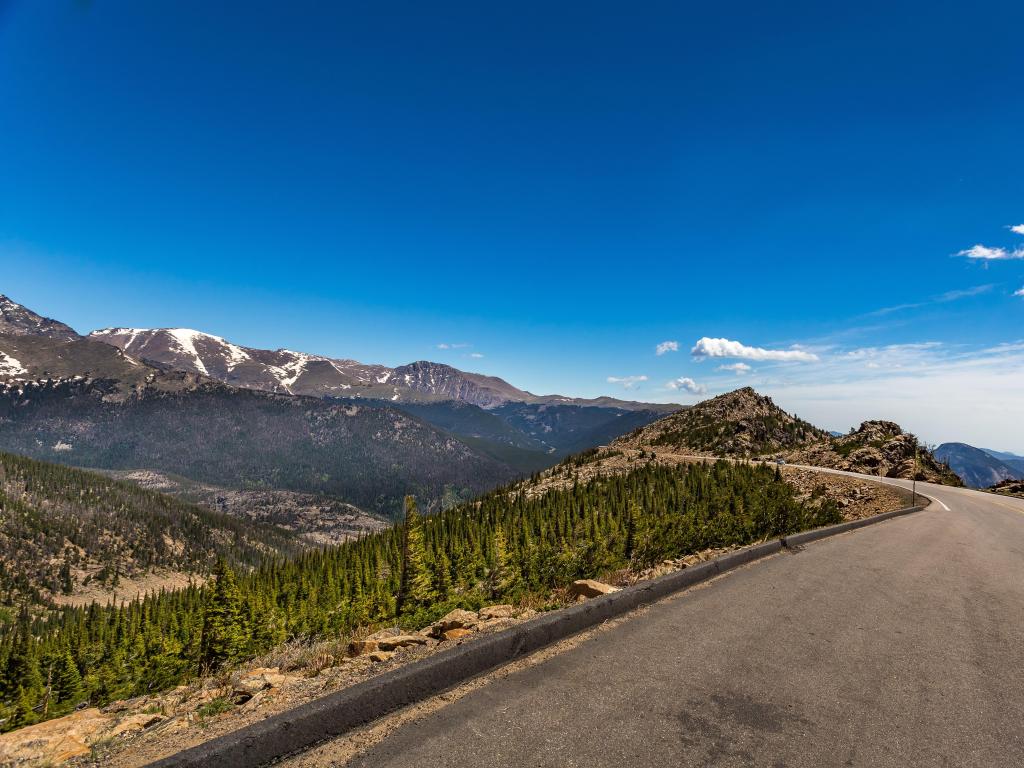 The road surface is in good condition and is plowed regularly, so you'll only rarely run into snowy roads. Wind is also a potential issue that may make the drive a little intimidating, but it shouldn't affect your journey if you are within the speed limit.
The road can get very busy in peak season. August around 10 AM is often the busiest time to drive the Trail Ridge Road. Also, national holidays can mean heightened visitor numbers, so make sure to head out early during these times.
There are some rest stops and services along the way so you can break up your drive into sections. The Alpine Visitor Center is along the road and you can stop here for refreshments and souvenirs. There are plenty of picnic tables throughout the road.
The one issue to consider is that there are no gas stations along Trail Ridge Road. Make sure you fill up before heading out.
If you need help, Estes Park and Grand Lake will have cell coverage, however further into the route there's little or no coverage. You can obtain free public Wi-Fi at Beaver Meadows and the Kawuneeche visitor centers.
Things to know that can impact the drive on Trail Ridge Road
Traffic, road maintenance, and weather are the issues that can impact your driving time along the Trail Ridge Road. Before heading out, make sure you check the weather to see if there are any storms that may impact your journey.
Because of the height of the roadway, snowstorms and ice may slow down traffic and cause delays. From late October to May the road is closed because of bad weather so plan accordingly.
Once snow and ice hit the road, snowplows will be quick to handle it. This however, may take time and will possibly add almost an hour to your journey. To keep updated on repairs, make sure to check this National Parks Service site.
Traffic can be an issue, especially in summer months. At vistas, cars will stop to take photos often without pulling over. This can cause traffic jams.
Tips to drive on Trail Ridge Road in the safest way
Although many drivers will find this drive to be only slightly dangerous, there are still things to keep in mind to make it safer. First, make the trip before 9 AM, to avoid traffic. For the same reason, avoid traveling on weekends, if possible.
Make sure you fit your vehicle with winter tires and chains if driving in the snow. If you're hiring a car, make sure you get a vehicle with winter tires, chains, and ideally 4-wheel drive.
Make sure you have adequate fuel for your journey as there are no gas stations along most of the route. Fuel up at Granby if entering through Grand Lake or Estes Park going the other direction.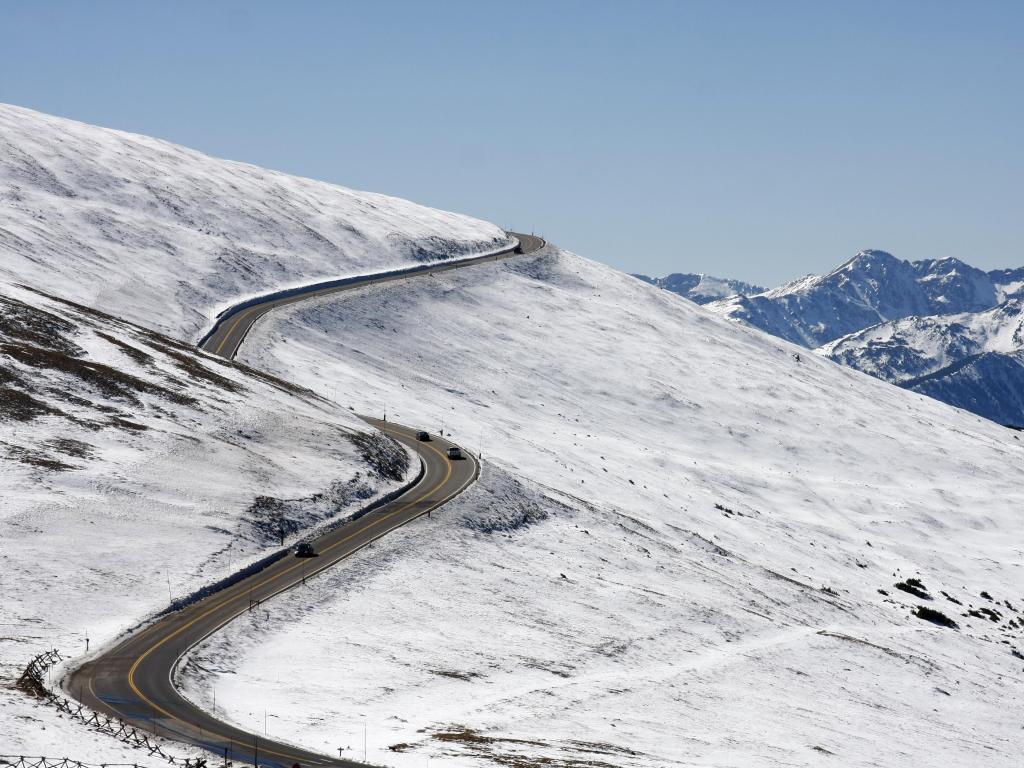 Keep updated with the weather conditions by calling 970-586-1222. As always, do a "virtual drive" using Google Street View so that you can prepare yourself and "see" the route for yourself beforehand.
If possible, have two designated drivers to share the load so you can stay fresh. Be aware of altitude sickness. Make sure you drink plenty of water along the way.
Because of sudden changes in weather, bring appropriate clothing. The route may become very chilly, especially as you get higher in elevation.
Remember that there's a cost to drive into the National Park. A 1-day vehicle pass costs $30.
Alternatives to driving yourself on Trail Ridge Road
Because this route is in the Colorado Rockies and is pretty remote, there is no regularly scheduled alternative to driving Trail Ridge Road. However, you can fly into nearby Denver or Fort Collins and get a private transfer from there.
The area is also full of hiking trails. You can choose to drive to the entrance of the Deer Mountain Trailhead and hike around the vast terrain that the route takes you through. This journey is for serious hikers only.
Best time to drive on the Trail Ridge Road
The best time to make the drive along the Trail Ridge Road is during the summer. The road is busiest during the summer, with plenty of drivers making the trip to glimpse the mountain scenery and wildlife.
But even in peak summer, you can experience flurries of snow, so it pays to be prepared! Spring and fall are beautiful times to drive but expect a lot more snow around this time.
The roadway is open from around Memorial Day until mid-late October (around 26 May to 22 October - be sure to check for this year's specific dates) and closed the rest of the time. This means that restrictions carry though into some of the spring and fall, too.