15 Best Winter Road Trips from Chicago
Chicago is a fantastic city, known for its stunning lakeside location, the Magnificent Mile, and its world-class museums and galleries. However, it's also famous for its harsh winters, so there might be times you want to head out of the city during the coldest months of the year.
Whether you want to enjoy the winter weather or escape from it, a winter road trip from Chicago can mean hitting the slopes at a ski resort, viewing iconic landmarks, taking a festive shopping trip or relaxing in the winter sun in the Southern states.
Whatever kind of winter road trip you're interested in, we've put together some of the key facts for a whole host of fabulous destinations. Keep reading to find out where you could go, how to get there, and our pick of what's waiting for you when you arrive.
Best winter road trips from Chicago: a quick overview
Single-day trips (under 3 hours each way)
Snow in the city often isn't much fun, so head out to one of the mountains or lakes for a one-day road trip that lets you enjoy the winter weather at its best.
If you're thinking of setting off on a road trip from Chicago in another season, check out our ultimate guide for Best Road Trips from Chicago for ideas and inspiration.
1. Lake Geneva, Wisconsin
1 hour 50 mins from Chicago (80 miles)
Why you should visit: The shortest trip on the list, Lake Geneva makes a great weekend getaway due to the short driving time, plus the area is perfectly set up for visitors to enjoy the winter weather.
There's a real variety of activities to enjoy here – take to the snow for an active day outside, then relax at a beautiful spa. This popular vacation town is also less crowded in winter compared to the summer months.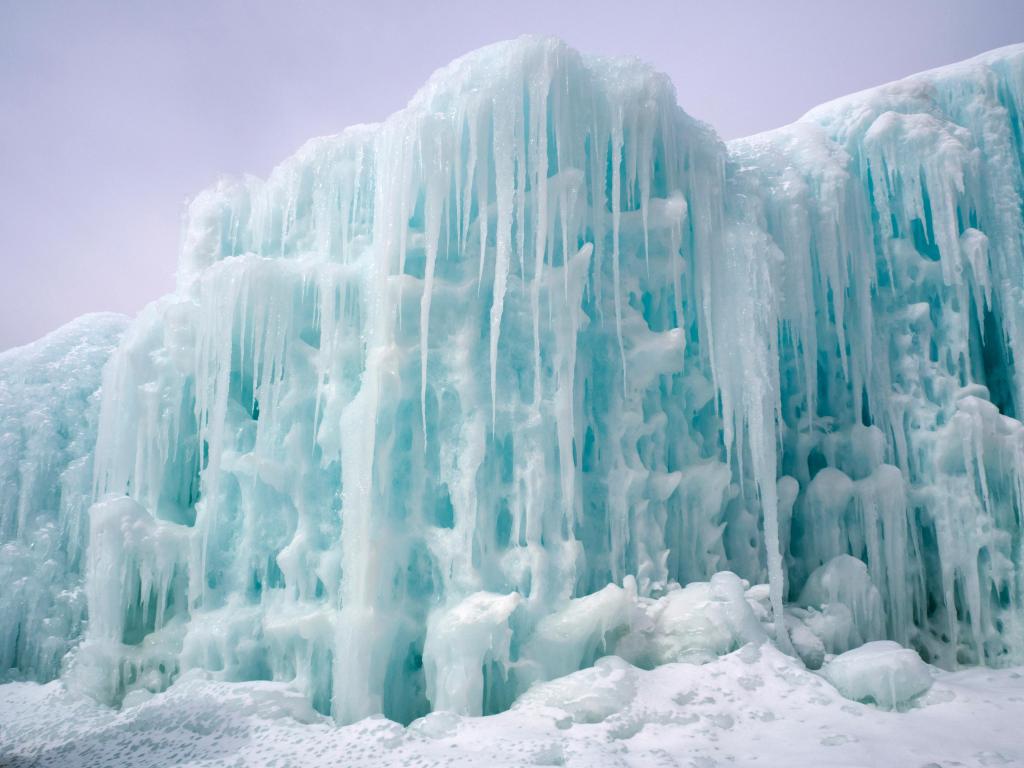 How to get there: Head north on I-90 out of Chicago then join I-94. After around an hour, exit at Kenosha and pick up WI-50 west which will take you to Geneva.
Our highlights: Roll back 100 years and one of the biggest draws of Lake Geneva, WI, wasn't its snow, but the ice! Lake ice was harvested and taken to nearby towns and cities - it was big business here as late as the 1940s.
Through the rest of the season, winter sports fans will love to ski at Wilmot Mountain, a popular ski resort with over 20 ski runs suitable for a wide range of abilities. Or explore the wintery wilderness of Kishwauketoe Nature Conservancy - you can rent snowshoes if you don't have your own.
Back in town, the Ice Castles at Geneva National Resort & Club are a must-see. Ice sculptors spend nearly 2 months creating spectacular icy towers and turrets which are especially beautiful when they're illuminated at night.
Bonus: Early in February Lake Geneva's Winterfest bursts into action, with an ice sculpting competition and snow races!
Our travel tips: Book in advance if you're visiting Winterfest, as the town gets really busy.
2. Madison, Wisconsin
2 hours 40 minutes from Chicago (150 miles)
Why you should visit: Wisconsin's state capital has all the cultural and foodie delights that you'd expect in a big city, with added snow that opens up a whole range of other activities to enjoy.
Within a short distance of the city you can ski, skate, snow tube and sled, sometimes with beautiful views across Lake Mendota.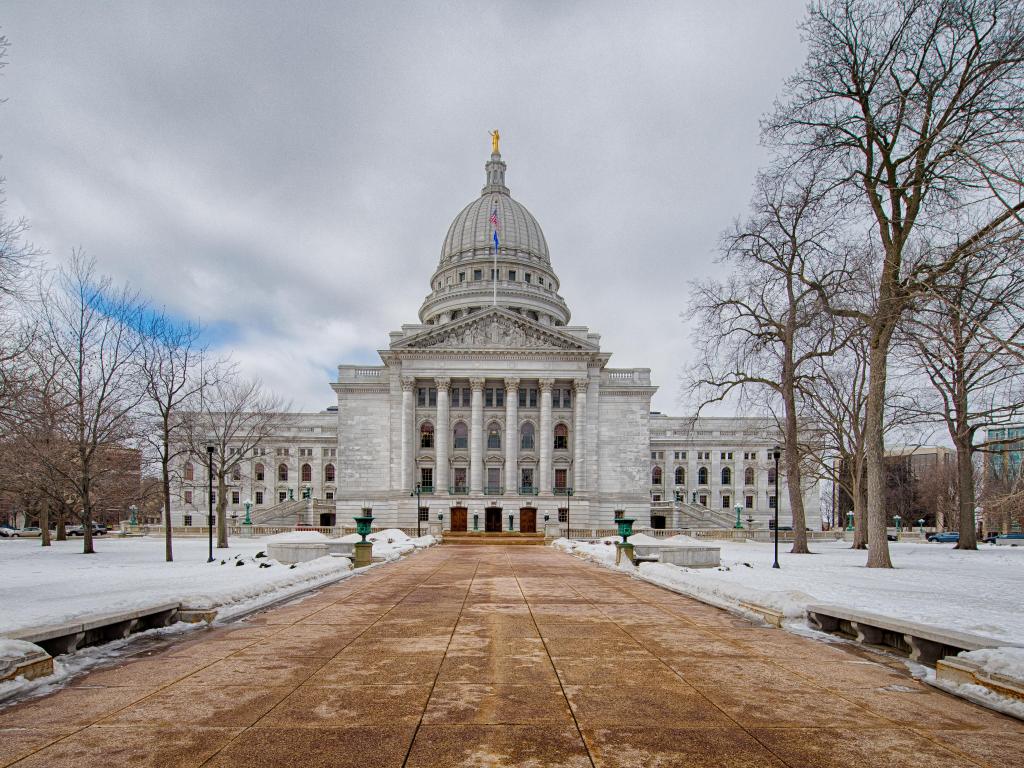 How to get there: This is a really simple trip – just follow I-90 all the way from Chicago.
Our highlights: Just outside the city at Cascade Mountain and Devils Head Resort you'll find some exhilarating downhill skiing as well as snowtubing and sledding. It's the perfect way to enjoy the snowy conditions, and there are ski runs here to suit many different abilities.
When it's time to warm up, head back into town to Old Sugar Distillery, a small local spirits producer, for a warming taster.
While you're in town you can take a magical snowy hike through the trees at Madison Arboretum, then round off your day with outdoor dining - several Madison restaurants have heated outdoor domes so you can enjoy snowy views while dining al fresco.
Bonus: After Christmas, a free maze is built on the lake shore out of the branches of discarded Christmas trees, a custom that has become firmly cemented in Madison's holiday traditions now.
Our travel tips: Check ahead for dates of candle-lit snowshoe trails across the city. They don't run every day, but when they do they're really magical.
3. Elkhart Lake, Wisconsin
2 hours 50 minutes from Chicago (150 miles)
Why you should visit: This beautiful little lakeside town hosts a magical Christmas market every year. It's also a great place to enjoy fabulous snow-based activities - the temperature usually sits around freezing and the area experiences heavy snowfall, so conditions are perfect.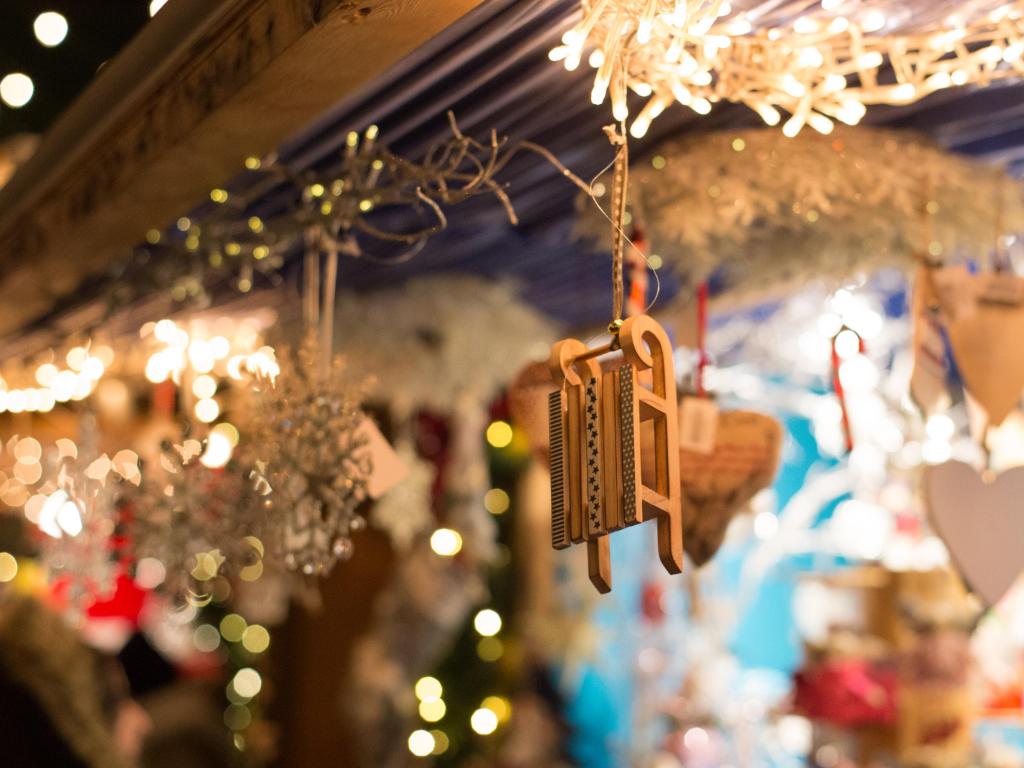 How to get there: Follow I-90/I-94 north out of Chicago, then continue north on I-94 when the interstate divides. In Milwaukee, switch onto I-43 and continue north, before leaving the interstate just after Saukville. Then, follow WI-57 towards Plymouth, from where you'll pick up WI-67 to Elkhart Lake.
Our highlights: For many visitors, the main draw is the Olde World Christmas Market, a 10-day festive spectacular bringing together Czech, German and Russian Christmas traditions. It's a great way to spend time with friends, get into the festive mood, as well as to find some unique Christmas gifts.
If you're visiting at other times during the winter, there's still plenty to do in Elkhart Lake. The lake freezes over right through the winter, so you can head out with a guide for a unique ice-fishing experience.
Also, although this isn't a ski destination like some of the other trips, you can still enjoy some winter sports in Elkhart Lake. Go snowshoeing at Quit Qui Oc golf course or ice skate at June Vollrath Park.
Alternatively, if you'd prefer to just relax and unwind, maybe after a tour round the Christmas market or some time on the ice rink, head to the luxurious Aspira Spa to round off your trip.
If you're wondering how the town got its name, it's as simple as it sounds – it's because the lake is shaped like an Elk's heart.
Our travel tips: The town will be extremely busy while the Christmas market is running, so book accommodation and any special activities well in advance.
4. Grand Rapids, Michigan
2 hours 50 minutes from Chicago (180 miles)
Why you should visit: From January to March the town hosts the World of Winter Festival, which sees dozens of huge ice sculptures on display and special events held across the town.
The World of Winter Festival is the perfect post-holiday pick-me-up - the ideal way to brighten up the dark, cold months after Christmas. Or if you're here a little earlier in winter, you can get yourself into the holiday spirit with a snowy visit to the Sculpture Gardens or enjoy some exhilarating winter sports.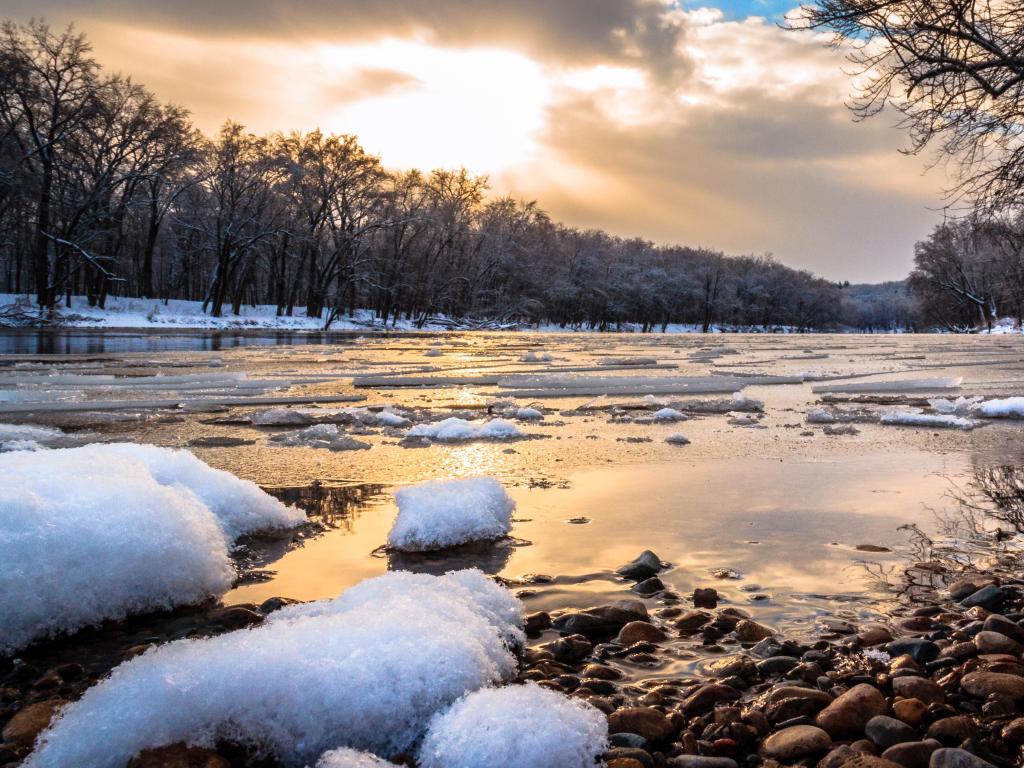 How to get there: Head east out of Chicago on I-90, keeping Lake Michigan on your left, then continue on I-94 as far as Lake Joseph. From here, follow I-196 further around the lake shore. It eventually turns inland to take you right to Grand Rapids.
Our highlights: The World of Winter Festival usually starts in the first week of January, and as well as ice sculptures you can see interactive installations from artists all over the world, with walking tours taking you through some of the outdoor art highlights.
The festival also hosts many fun events. These change year on year, but in the past have included things like silent disco, outdoor musical performances, and storytelling to mark Native American traditions or Chinese New Year.
If you're in Grand Rapids earlier in the season, you can enjoy some great skiing at Cannonsburg Ski Area. It will satisfy a wide range of abilities, and you can also try out snow tubing and snowshoeing here.
If your time is limited, take your sled and enjoy a free downhill ride at one of the several hilly public parks in the city.
For a more magical festive feel, head to Frederick Meijer Sculpture Gardens. This park is illuminated with amazing twinkling lights all through the holiday period and is a really popular local attraction. Then, for a unique and romantic end to your trip, you can even take a horse-drawn sleigh ride through the city.
Bonus: As well as being known for its winter sports, Grand Rapids is famous for its many craft breweries - in fact, it's been given the title of Beer City USA! So if time allows on your trip, you might like to tour a brewery or two or try some of the locally produced beers.
Our travel tips: You don't have to have your own equipment to enjoy skating, snowshoeing or skiing – it's available to rent at many of the attractions.
If you're coming for the World of Winter Festival, remember to wrap up warm. Many of the events and installations are outdoors, so, this being Michigan, chances are you'll be enjoying them in the snow.
Click here to skip back to the top.
Weekend trips (3-6 hours each way)
As you'd expect, with much of the Midwest sitting under snow through the winter, the weekend trips you can take from Chicago all have a winter sports element to them.
So, pack up your skis and look out for your skates - but don't worry if you're not the biggest fan of the slopes, since you'll also find great restaurants, beautiful views and stunning spas at these weekend destinations.
5. Muskegon, Michigan
3 hours 20 minutes from Chicago (190 miles)
Why you should visit: As you'd expect in a town that sees significant snowfall from December to February, you can enjoy a range of winter sports. A particular highlight in Muskegon is its Luge track, which is open to the public.
There are only 3 other Luge tracks in the whole of the United States, so if you've always fancied trying out this exhilarating sport, this is probably your best chance.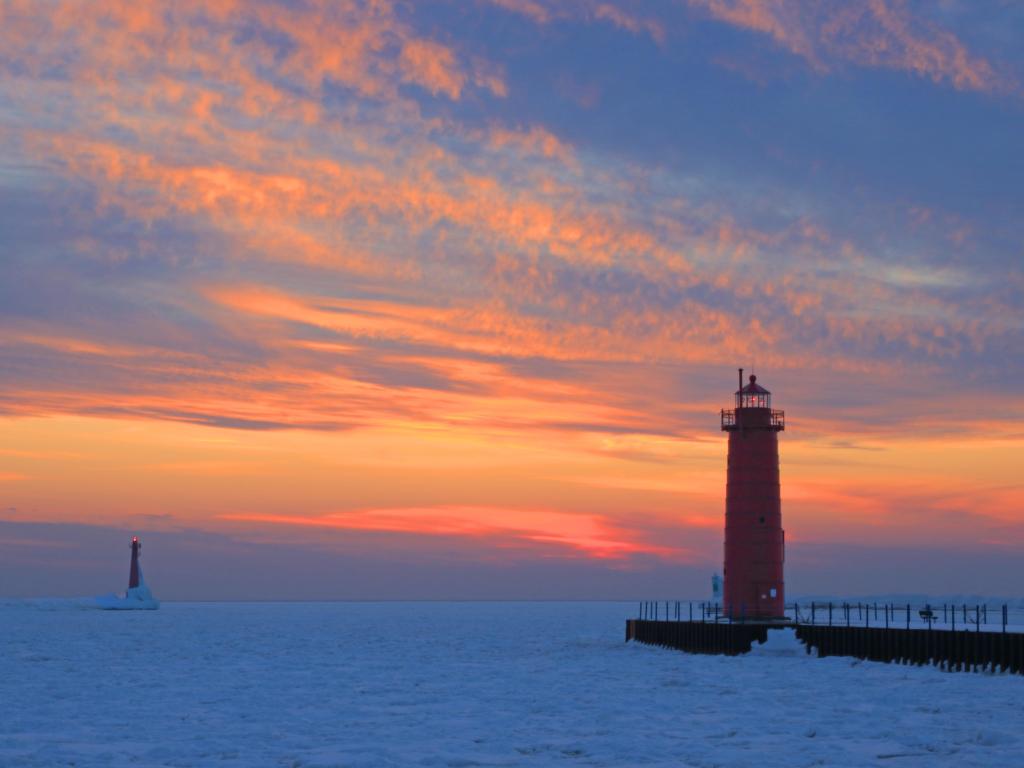 How to get there: Similar to the Grand Rapids trip, follow I-90 then I-94 east out of Chicago as far as St Joseph. Then join I-196 and follow it north along the lake shore until you reach Holland. From here, turn onto Route 31 which takes you on to Muskegon.
Our highlights: As you'd expect, the main draw of Muskegon in winter is Muskegon Luge Adventure Sports Park. As well as sliding the high-speed downhill ice track, you can enjoy cross-country and downhill skiing, snowshoeing, and ice skating at the park.
Back in town you'll get beautiful winter views over icy Lake Michigan. Wrap up warm and walk out towards Muskegon South Breakwater Lighthouse – a really stunning sight – or take a walk on the lake's frozen beaches. If you're feeling active, there are places where you can sled on the frozen sand dunes.
Staying by the lake, seeing as the water freezes over, you can go ice fishing here with a guide, who can provide all the equipment you need if you don't have your own.
It's not all about the outdoors though. Muskegon Farmers Market operates indoors on Saturdays through the winter so you can warm up and stock up on some fabulous local produce.
Olympian Mark Grimmette trained on the Luge track here when he was young and went on to compete at five Winter Olympic Games, winning medals at two of them. The track is open to kids as young as 8 so bring the whole family and see if any of them catch the sliding bug.
Our travel tips: Visit the Luge in the evenings and you can warm up by a bonfire after your slide down the track. We'd recommend booking ahead to guarantee your entry, especially if you're visiting at busy times,.
You won't need any previous experience or equipment, as your entrance to the track includes a lesson and all the equipment you'll need to enjoy your visit safely.
6. Granite Peak Ski Area, Wisconsin
4 hours 30 minutes from Chicago (280 miles)
Why you should visit: As its name suggests, Granite Peak is a fabulous and long-established ski destination with some top-class runs and luxurious resort choices.
The biggest ski area in the state is perfectly set up for skiers, with fast lifts and dozens of trails to follow. You can easily fill a weekend here with fun and varied runs.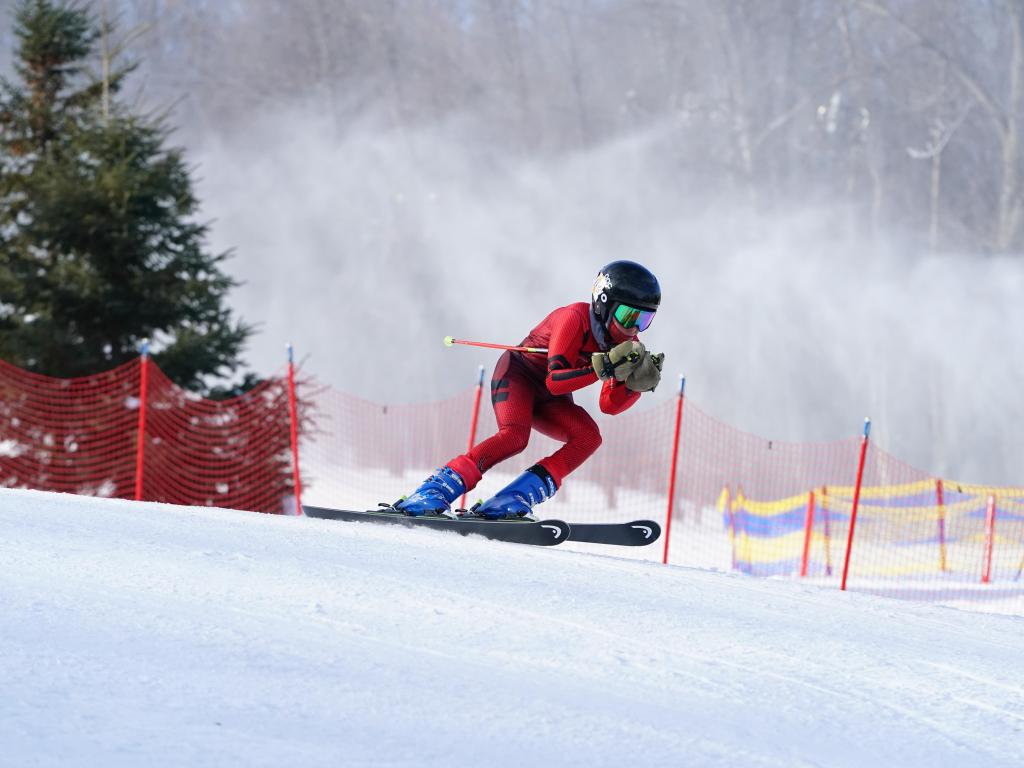 How to get there: Follow I-90 west out of Chicago, passing Rockford and Madison. Then, shortly after crossing the Wisconsin River, turn onto I-39 and follow it north to Granite Peak Ski Area.
Our highlights: Granite Mountain is one of the oldest ski resorts in the United States, and it's been at the forefront of innovation in the skiing industry. It was an early adopter of snowmaking technology in the 1950s.
Two different types of ski lifts were invented here - so when you ski here in modern times you'll be following the lead of some of the country's ski pioneers.
With fast lifts, extensive ski runs and stunning views, you'll probably want to spend most of your time here on the slopes. Rib Mountain, part of the ski area here, is Wisconsin's tallest mountain so you'll find plenty of downhill runs here to suit all abilities.
In Wasau, the nearest town to Granite Peak, there are some great food and drink options for the essential apres-ski part of the day! Visit in early February when the Winter Carnival comes to town and you can see firework displays or catch a fun ride on one of the resort's snow groomers.
When you're ready to head into the warm, make your way to Leigh Yawkey Woodson Art Museum. This award-winning, community-focused gallery always has something new to see, and with sculptures and exhibits inspired by nature, it makes the perfect complement to a day enjoying the views out on the mountain.
Our travel tips: This is a really popular ski area, and lift passes can sell out during the busiest periods. It makes sense to book ahead if you're planning on visiting between Christmas day and New Year, or weekends during January and February.
7. Boyne Mountain Resort, Michigan
5 hours 40 minutes from Chicago (350 miles)
Why you should visit: This is a year-round resort, but with 140 inches of snow, it comes into its own during winter. The extensive and varied ski slopes here are great for a wide range of skiing abilities.
This is the place to come for a great resort experience, with lodges, bars and of course, slopes, all in one place.
How to get there: Follow the interstate east out of Chicago and then continue north, keeping Lake Michigan on your left. After Grand Rapids, turn onto Route 131 and continue north past Big Rapids and Cadillac, until you reach Boyne Mountain.
Our highlights: Boyne Mountain is primarily a ski resort, so take to the slopes and explore more than 415 acres of ski runs. You can also snowshoe, tube or skate if you want a break from the slopes.
If you want to strike out a little further and explore, you can go horseback riding or cross-country skiing through the woodlands or try out snow biking for something new.
For a really exhilarating ride, fly right above the snow on one of the 9 ziplines. These will carry you up to a quarter of a mile across the resort's valleys, giving you a bird's eye view of your stunning surroundings.
For the perfect post-ski wind down, visit the Spa at Boyne Mountain before you head home. Book a fantastic treatment or simply hang out in the sauna, steam room or heated outdoor pool to enjoy the mountain vibes from a different angle.
Our travel tips: Equipment can be rented at this resort but arrive early on weekends or holidays as it's first come, first served. It's a popular place to visit, so book lift passes in advance if you know when you're traveling. If you're able to visit mid-week, you'll probably find the slopes are quieter.
Click here to skip back to the top.
Longer trips (Over 6 hours each way)
Whether you're looking for a festive shopping experience to ease you into the holiday mood, or a snowbird heading south for the winter, there are plenty of fabulous longer road trips that start out from Chicago.
8. Niagara Falls and Niagara-on-the-Lake, New York
8 hours 20 minutes from Chicago (550 miles)
Why you should visit: Seeing the famous falls cascading through the snowy ground is a truly magical experience – and one that's different from any other trip you might take.
Head across the border on this road trip to see the falls from a different perspective, or visit the fabulous wineries of Niagara-on-the-Lake. Canada produces a significant proportion of the world's Icewine, a dessert wine created from grapes left on the vine to freeze before being harvested.
Seeing the falls in winter is a magical experience, with massive icicles and undulating snow drifts surrounding the famous vistas. As well as being beautiful, the crowds that flock to Niagara Falls are slightly less during winter.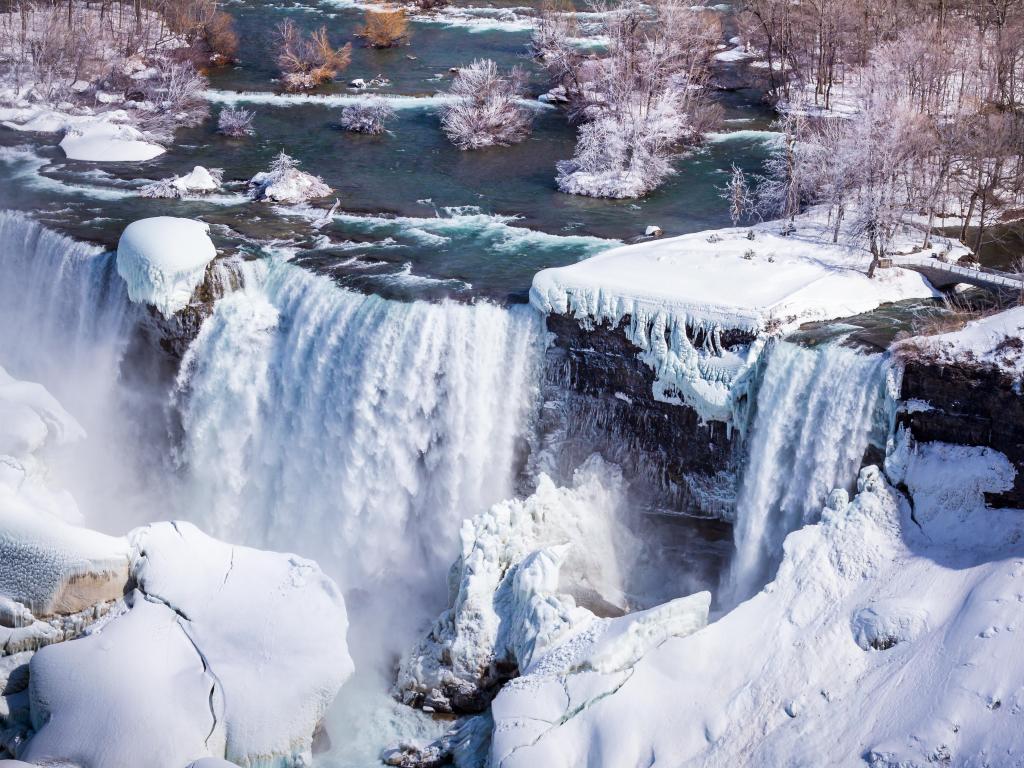 How to get there: Head east out of Chicago and join Interstate 90, then just keep going! The same road takes you right across Indiana and Ohio then along the whole length of Lake Erie, before you finally turn onto NY-5 through Buffalo around 5 miles before you reach your destination.
If you want to head across the border to visit Niagara-on-the-Lake make sure to pack the required travel documentation, and allow extra time to make the border crossing, especially if you're heading across Rainbow International Bridge.
Our highlights: The highlight of most people's visit to Niagara Falls is to see the mighty waterfalls up close, but if you visit in winter you can also marvel at the massive icicles that form right by the viewing platform on the Journey Behind the Falls. For amazing views of the snow-covered landscape, head up the Skylon Tower.
At night, you can see the falls lit up in spectacular illuminations as part of the Winter Festival of Lights. Then head quickly back into the warmth of your hotel to warm up. Several of the hotels in town have excellent in-house spas, so you can treat yourself to some relaxation time during your trip.
If you're crossing over the Canadian border to visit Niagara-on-the-Lake, the Icewine vineyards and wineries are probably the first thing that will get your attention. The long rows of vines stand out proudly in the snow and make a beautiful backdrop while you're learning about Icewine production or, more importantly, tasting a glass or two.
NOTL is also a really charming little town, and while you're here you might like to take a horse-drawn carriage ride through its historic streets - a wonderfully atmospheric way to travel through the snow-covered streets.
Bonus: Right through January you can enjoy the Icewine Festival, which celebrates this delicious local tipple. There's a real art to making Icewine and the conditions have to be just right to freeze the grapes for long enough on the vine.
This means you probably won't see the grape harvest unless you're out in the vineyards at night - pickers tend to work by hand to make sure of the most perfect harvest possible. All things considered, it's easy to see why Niagara-on-the-Lake's Icewine is such a special product to try during your visit.
Our travel tips: Some of the outdoor activities that Niagara Falls is famous for, notably the Maid of the Mist boat cruise, do not operate in winter, but as we've identified, there are plenty of other ways to enjoy views out across the falls.
Note that to enjoy all the attractions Niagara Falls has to offer, you might need to factor in crossing the US/Canada border so make sure you have any paperwork you need (dependent on nationality).
READ MORE - Road Trip from Chicago to Niagara Falls
9. Toronto, Canada
8 hours 40 minutes from Chicago (530 miles)
Why you should visit: With festive lights, winter markets, a good chance of snow, and plenty of big city attractions, Toronto is a picture-perfect winter city trip. Located right by Lake Ontario, you can enjoy frosty views out across the water, then head back into the city to indulge yourself in some culture or plain old festive cheer.
It's the perfect place for a romantic getaway - wrap up warm and enjoy snowy views over the beautiful city and lake before warming up with a hot chocolate and a loop or two around an outdoor ice rink.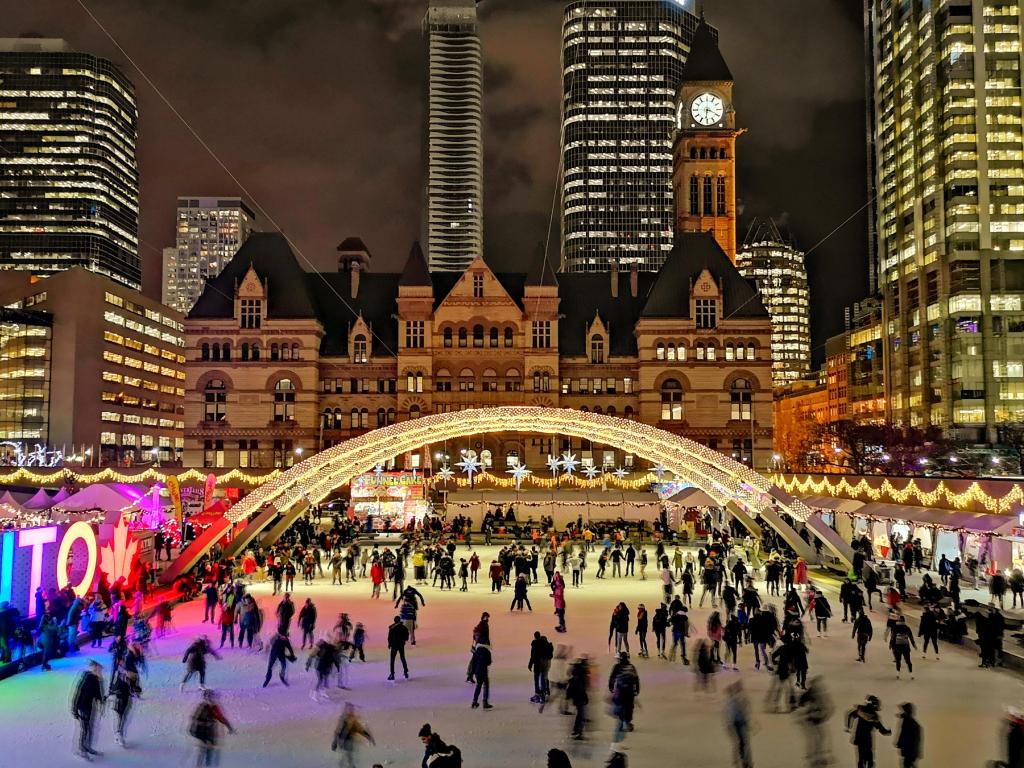 How to get there: Follow I-90 out of the city then pick up I-94 and head east towards Detroit.
After crossing the border into Canada, the road becomes ON-401. It runs parallel to Lake Erie, so if you have a little longer to make your trip then you might like to pause along the way to admire views across the lake.
Just after London, the road merges with ON-403, which will take you right into the center of Toronto.
Our highlights: Toronto is a vibrant cultural melting pot, so when you spend time in the city you'll be able to enjoy influences on food, art and recreation from all over the world.
Less than half of Toronto's residents were born in Canada, making for a varied and welcoming city that's the perfect place to head to on a road trip.
For added romantic charm, put your skates on and have laps on one of the city's many ice rinks - there are over 50 to choose from. The rinks are super-festive in the run up to the holidays, and you can relax with a hot chocolate or a local craft beer afterwards.
If you're not planning a trip until after Christmas, you'll be able to visit the Toronto Light Festival, when fabulous installations brighten up the city through the cold winter nights. Check ahead to find details of live performances and special events that are taking place.
If it's your first time in Toronto, you'll probably want to see some of the city's sights while you're in town too. Head up the CN Tower for great views of the city and Lake Ontario, which is particularly stunning when it starts to freeze over through the winter.
Then warm up in one of the city's fantastic museums, including the Royal Ontario Museum where you'll find a fascinating and diverse collection.
Bonus: If you're here before the holidays, get into the festive spirit at the Distillery District Christmas Market, which runs from mid-November until New Year. It's a great way to experience this historic part of the city, full of character.
Our travel tips: Although temperatures are at or below freezing through most of the winter, you're not always guaranteed snow in Toronto, so be prepared that you might miss out on the insta-perfect images of this particular winter road trip.
As you can see, there are still plenty of wintery attractions to enjoy in the city, just wrap up warm and see where your trip takes you.
READ MORE - Road Trip from Chicago to Toronto
10. Washington, DC
11 hours 10 minutes from Chicago (700 miles)
Why you should visit: You can see the Nation's Christmas Tree, a century-old tradition in the city - it's illuminated from early December in a popular ceremony that for many marks the start of the holiday season.
You can also enjoy a number of holiday markets, to really get you into the festive spirit. You have a few to choose from, including the outdoor Downtown DC Holiday Market, the Swedish Christmas Bazaar in Georgetown, and the Heurich House Museum Christkindlmarkt.
As well as all the holiday attractions and the chance to see some of the world-famous monuments beautifully surrounded by snow, the crowds at the city's museums are likely to be quieter during the winter.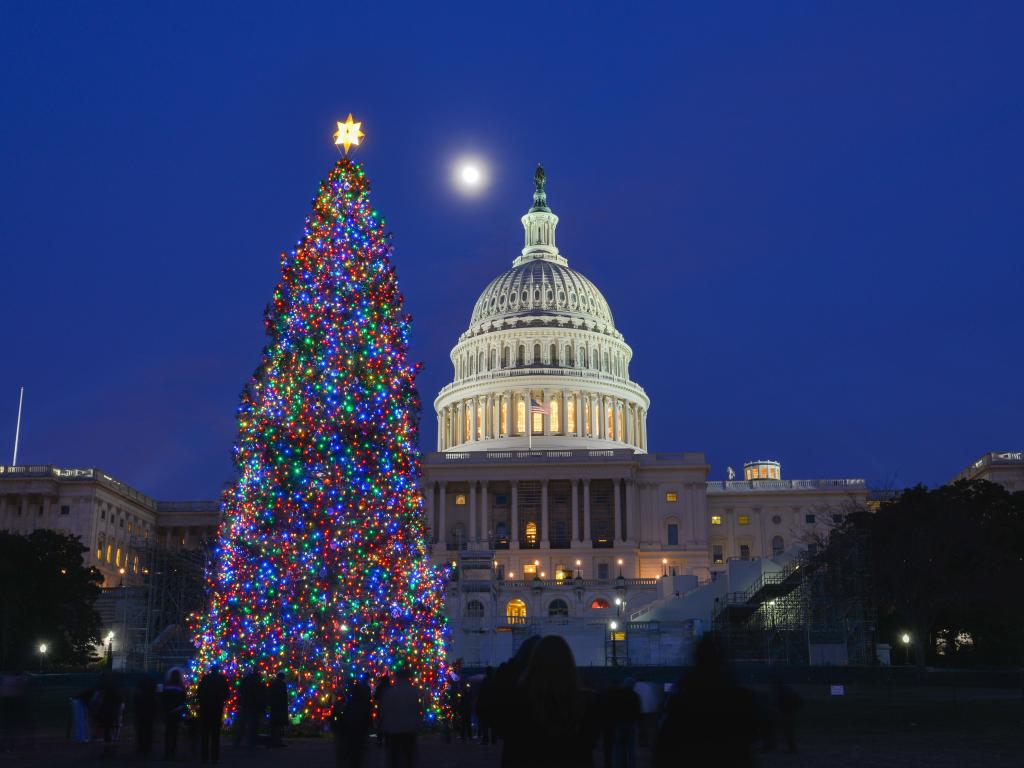 How to get there: Follow I-90 out of Chicago and east towards Cleveland. Then, join I-80 and follow it around the south of Cleveland before switching onto I-76 and continuing southeast past Pittsburgh.
After passing New Baltimore and Everett, change onto I-70 and continue on through the Appalachians before joining I-270 at Frederick and following it right into the center of Washington DC.
Our highlights: The nation's capital is a fantastic place to visit during the holiday period. As well as the festive markets that take place across the city, where you can admire beautiful decorations and gifts or enjoy some fabulous food and drink, you can take in a carol concert at the National Cathedral.
Afterwards, take some time to admire the cathedral's architecture - and see if you can spot the Darth Vader gargoyle.
Back outdoors, visit DC's largest outdoor ice rink at Washington Harbor, for views out across the waterfront, or see the Holiday Boat Parade, which includes fireworks and live music as well as festively decorated boats parading down the Potomac River.
If you're visiting later in the season, check out Winter Restaurant Week. The event runs in late Jan or early Feb, and hundreds of the city's restaurants showcase their best meals at reasonable prices - the perfect way to brighten up a long, cold winter.
Don't forget to check out some of the Smithsonian museums too – they're free to enter so you can visit one or many, and enjoy some of the more popular sites without the crowds, especially if you're visiting after the holiday period.
Bonus: The capital hosts a fabulous Lunar New Year Parade in January or February depending on when the new year begins. The parade brings together dragons and lions dancing through DC's streets, as well as drummers, dance troupes and firecrackers - it's a real feast for the senses.
Our travel tips: Don't go to DC expecting reliable snowfall – daytime temperatures are milder than the more northern destinations (in the mid-40 degrees Fahrenheit and above), though it still gets pretty cold at night, and snow is likely but not guaranteed in January and February.
The key message is to wrap up warm and be prepared for whatever weather the city throws at you - pretty standard for DC!
READ MORE - Road Trip from Chicago to Washington DC
11. Philadelphia, Pennsylvania
11 hours 50 minutes from Chicago (760 miles)
Why you should visit: Pennsylvania combines the kind of winter fun you might expect, like sledding and skating, with some unique winter traditions.
Visitors and locals alike flock to the Macy's Light Show, running for over half a century, and the charming Dickens Village, also found at the store.
Plus, you can fill yourself with festive cheer with a visit to the traditional market at Love Park's Christmas Village, or a stroll through streets filled with fabulous Christmas lights.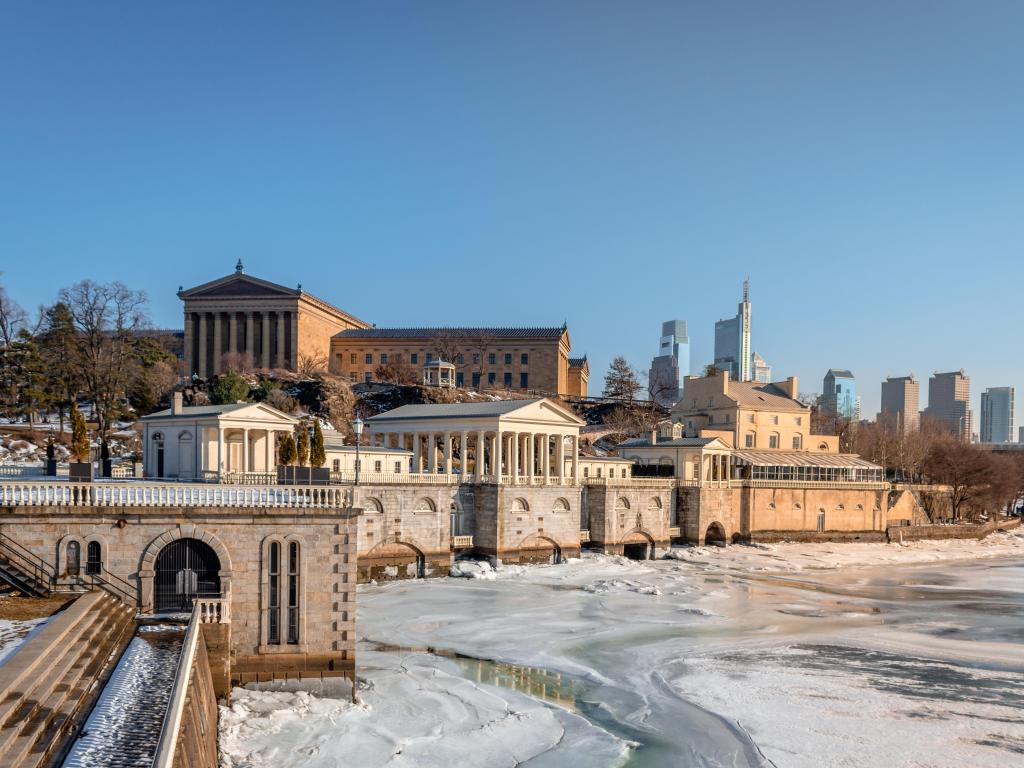 How to get there: Follow I-90 east towards Cleveland, switching onto I-80 just before you reach the city. This leads you south to join I-76, which you'll then follow past Pittsburgh, all the way across Pennsylvania. The same road takes you right into Philadelphia
Our highlights: You can see all the historic gems of Philly decked out with lights and trees for the holiday season, and the city's beautiful riverside setting just adds to the magic.
As you make your way from Chicago to Philadelphia, make sure to fit in a visit to Bethlehem, PA, too. The whole town gets decked out in style for the holidays. Take a magical horse-drawn carriage ride, check out entries for the Gingerbread House competition, and enjoy endless festive lights.
Once you've arrived in Philadelphia, you can ice skate beside the Delaware River at Winterfest, then warm up with a hot chocolate - or something stronger - with a view out across Benjamin Franklin Bridge.
Then, check out the Christmas Village or the Made in Philadelphia Holiday Market. If you're looking for unique and often hand-made gifts for family and friends, you'll find plenty of choice here.
The city's popular Longwood Gardens is transformed with amazing lights and live music, so it makes a great place to spend some time after the sun goes down (which happens early in winter!)
If you're in Philadelphia towards the end of the holiday season, you'll be able to watch the Mummers' Parade on New Year's Day. Thousands of people in absolutely dazzling costumes parade through the city in a historic tradition.
Bonus: Macy's Christmas Light Show – another of the city's festive traditions – is a record breaker! It features more than 100,000 lights and is the largest pipe organ in the world.
Our travel tips: Timed tickets are needed for some of Philadelphia's winter attractions, including Longwood Gardens and Dickens Village.
READ MORE - Road Trip from Chicago to Philadelphia
12. New York, NY
12 hours 40 minutes from Chicago (800 miles)
Why you should visit: New York City puts on an amazing display for the holidays – from festive lights to Christmas trees and fabulous window displays throughout the city, all with a thick covering of snow. This road trip from Chicago to New York is truly nothing short of magical!
Plus, if you're in the market for some Christmas shopping you can take your pick of fabulous department stores, designer brands and boutique sellers.
Get into the festive spirit and enjoy the iconic holiday views of the city - if it feels familiar, it's probably because they've featured in so many films and TV shows over the years. You should definitely visit New York in winter so you can say you've experienced them all first-hand.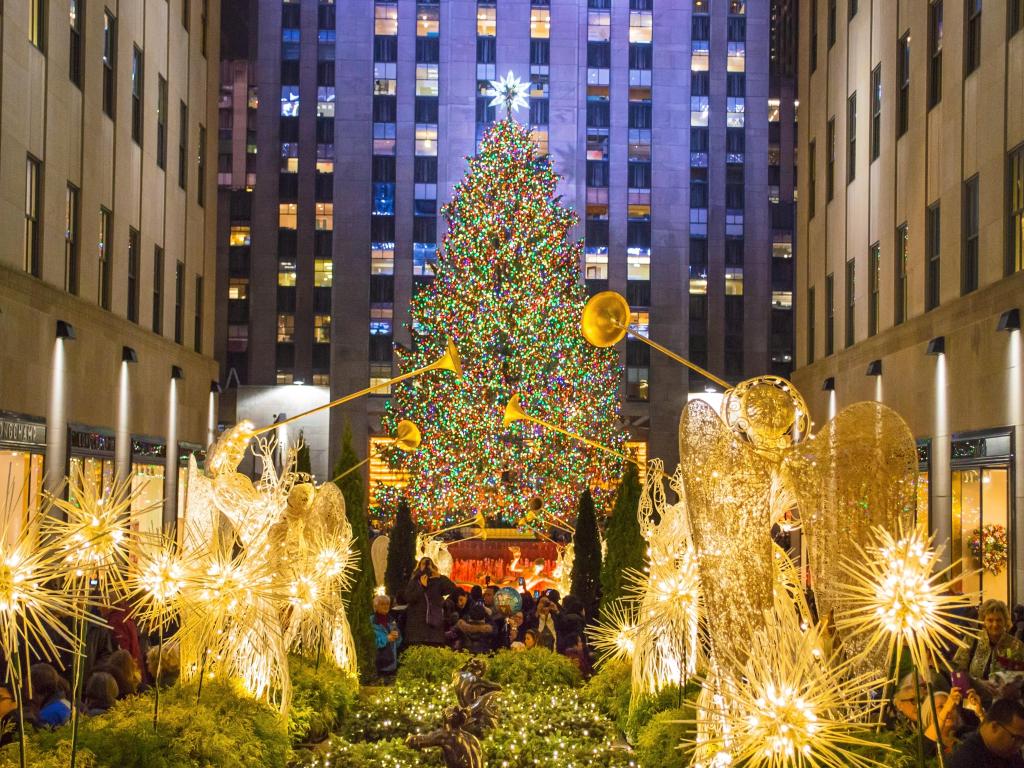 How to get there: Follow I-90 east across Indiana. Just before Cleveland, merge onto I-80 and follow this all the way across Ohio, Pennsylvania and New Jersey before crossing into Manhattan via George Washington Bridge.
Our highlights: There are so many memorable festive moments to fit into a winter trip to New York City, it's hard to know where to begin. Skate beneath the massive Christmas tree at the famous Rockefeller Ice Rink, before heading up to the Top of the Rock to take in the view of New York in the snow.
Take a carriage ride through Central Park, which is even more magical when there's snow on the ground. Or if you're feeling more active, there are sledding slopes in the park too.
Of course, NYC is famous for its shops, so leave some space in your case for whatever gifts and treats you might pick up while you're in town. Head to Macy's, Bloomingdale's or Saks Fifth Avenue for wall-to-wall shopping opportunities, or take a walk along Fifth Avenue to indulge in designer brands.
Further afield, the city is packed full of other shopping districts, including the West Village, Bleeker Street, Union Square and the Meatpacking District to name just a few. Or if you're in town with romantic intentions, a stroll through the Diamond District might go down well.
For a different experience of New York in winter, skip the crowds and visit in January to enjoy NYC Winter Jazz Fest or NYC Restaurant Week, where restaurants put on their best fare at affordable prices.
If you're traveling at this time of the year you can also stop off at New Hope, PA, as you make your way from Chicago to New York City. Here you can join in with the 9-day Winter Festival (late January).
Galleries, restaurants and local businesses come together to bring some warmth and cheer to the new year, with a legendary chilli cook-off, Soup-A-Thon and ice sculptures dotted around town.
Bonus: These days you usually need to take a ferry across from Manhattan to Staten Island, but back in 1780 the entire harbor froze so hard that it was possible to walk all the way across the river.
Our travel tips: Parts of the city get extremely crowded in December, and accommodation prices rise accordingly. The first week of December is particularly busy, but many travelers report that the crowds and prices calm down a little mid-month.
READ MORE - Road Trip from Chicago to New York City
13. New Orleans, Louisiana
13 hours 40 minutes from Chicago (925 miles)
Why you should visit: Mild weather and weeks of flamboyant parades makes New Orleans the perfect contrast to snowy Chicago. The city is famous for Mardi Gras, which takes place in late February, but warm-up events actually start in January, so you can enjoy week after week of enjoyment.
As well as Mardi Gras, New Orleans is also a vibrant city where you can enjoy live music, fabulous food and warm winter weather - perhaps the closest you can get to a trip overseas without needing a passport!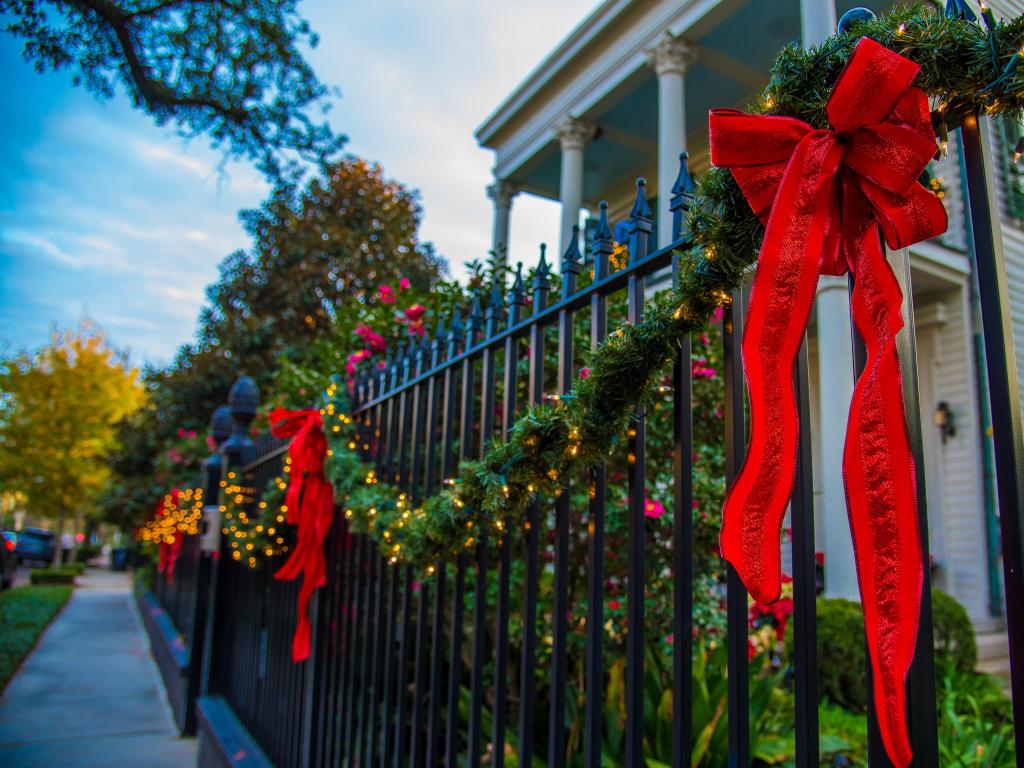 How to get there:On this road trip, join I-57 and follow it south all the way to Cairo, on the Illinois/Missouri border. Then, soon after crossing the Mississippi River, change onto I-55 and follow it south.
As far as Nashville, I-55 runs parallel to the Mississippi before passing through Jackson. Continue along the interstate then, after skirting the west side of Lake Pontchartrain, merge onto I-10, which takes you into the center of New Orleans.
Our highlights: From Thanksgiving onwards, enjoy a Reveillon Dinner – a local tradition that now sees restaurants across the city offering seasonal Creole-inspired food all through December.
Also running from Thanksgiving right up to New Year's Day is Celebration in the Oaks. This after-dark spectacle sees City Park lit up with more than a million lights. Given the city's mild winter climate, it's the perfect place to end the day with a romantic stroll.
If you're in the city for Christmas itself, head out along River Road on Christmas Eve, where you'll see bonfires lit on the night of the 24th so that Papa Noel can find his way from Baton Rouge to New Orleans.
Once Christmas and New Year are behind you, the party season in New Orleans really gets going. From mid-January, you can see parades and events starting up, then the main event, Mardi Gras, starts on Shrove Tuesday and carries on for two weeks. Expect fabulous parades, live music and all-night parties.
You'll have seen pictures of the beautiful and elaborate masks that are such a feature of the Mardi Gras parades. But did you know that every single participant has to wear one?
That way, current and future visitors will be guaranteed the same fabulous experience of NOLA's longstanding and unique traditions.
Our travel tips: Although average temperatures sit around 60 degrees Fahrenheit in winter, they can drop much lower or rise as high as 80, so it's wise to pack for three seasons to be prepared for a winter trip here!
READ MORE - Road Trip from Chicago to New Orleans
14. Savannah, Georgia
15 hours 10 minutes from Chicago (960 miles)
Why you should visit: The weather stays mild all year round in Savannah, so it's a great place to come and escape the Midwest chill. You can enjoy spending time outside, take a walk along the river, or just relax in one of Savannah's beautiful squares - the polar opposite of a Chicago winter.
Don't worry about missing out on too much of that winter snow either - your drive will take you through the Appalachians so you can take in some stunning views as you make your way south to Georgia.
Savannah is a great place to visit all year round but come in winter to enjoy this fabulous city without the summer crowds or humidity.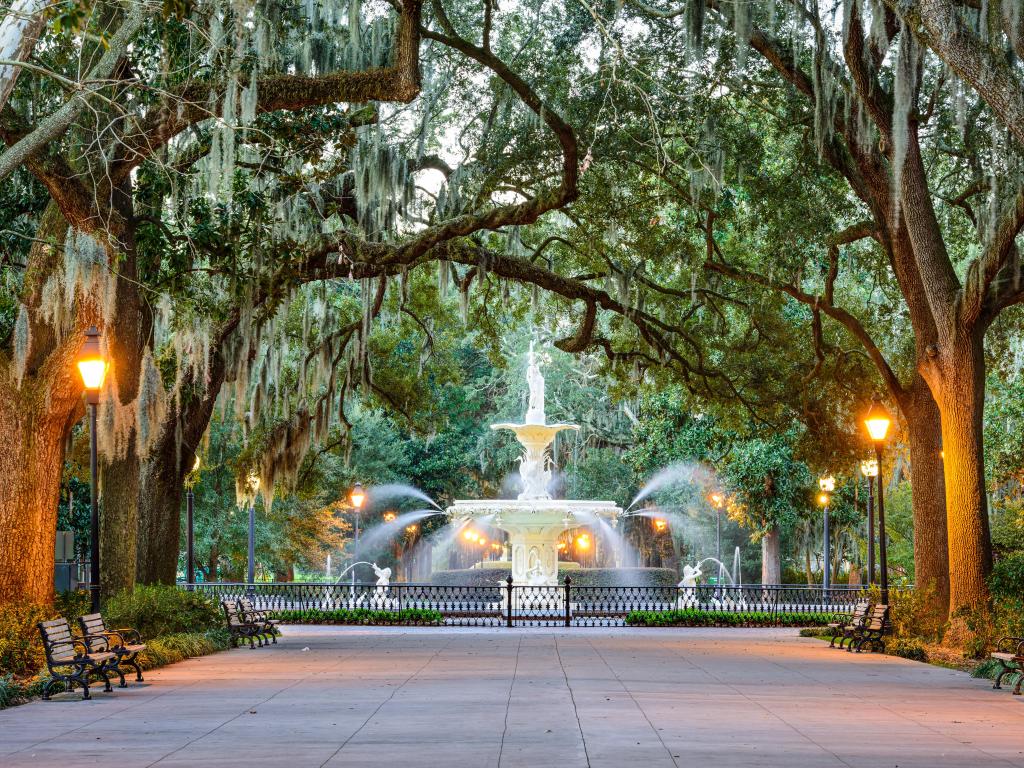 How to get there: After heading east out of Chicago on I-90, turn south onto I-65 and continue through Indianapolis and Louisville.
At Louisville, change onto I-64 and follow it towards Lexington onto I-75 which takes you across into Tennessee. Then, take I-40 from Knoxville to Asheville then join I-26 south passing Spartanburg and Columbia.
This leads you eventually onto I-95, which you'll follow south to Savannah.
Our highlights: There might not be snow and ice on the ground, but Savannah manages to fill the holiday season with its very own brand of festive charm.
At Coastal Georgia Botanical Gardens, you can follow the beautiful light trail through the magical gardens, for example, or take a holiday trolley tour or boat trip to see the city decked out in festive finery while enjoying a wonderful warm cider.
Then, follow the Christmas Parade, which makes its way through the city's streets and squares in early December.
All through the winter, you can also enjoy the shops and restaurants on fabulous River Street, the perfect place to spend some time whether you're looking for gifts to take home or just something special for yourself.
The city was offered up to President Lincoln as a Christmas Gift during the Civil War. As Christmas gifts go, a whole city is one we wouldn't mind receiving!
Our travel tips: Winter weather in Savannah is changeable, but the year-round humidity can make even warm days feel chilly when you're outdoors for a while.
READ MORE - Road Trip from Chicago to Savannah
15. Orlando, Florida
17 hours 30 minutes from Chicago (1,130 miles)
Why you should visit: Orlando is known as a winter sun favorite – so pack your sun cream and enjoy some time outdoors.
The theme parks of Orlando are popular year-round, but during the winter you get to experience them all dressed up for the holiday season, and without the heat and humidity that can be a feature at other times of the year.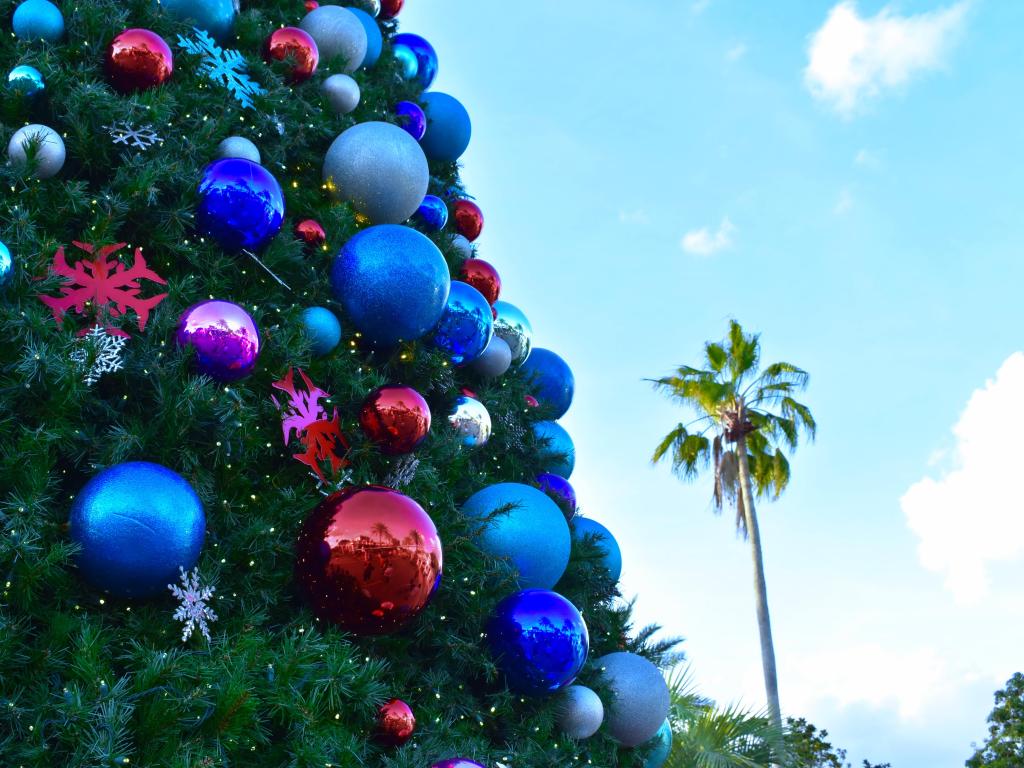 How to get there: Follow I-90 out of Chicago then merge onto US-41 at the southern tip of Lake Michigan and continue south past Terre Haute and Vincennes.
Just after crossing the Ohio River at Evansville, turn onto I-69, continuing south on I-169 where the interstates divide. After Hopkinsville, join I-24 and follow it through Nashville to Chattanooga, where you'll switch onto I-75 which runs all the way to Florida.
After Gainesville, join the Florida Turnpike which takes you the last stretch of the drive into Orlando.
Our highlights: Florida is the warmest part of the continental US through the winter - perfect for escaping the sub-zero temperatures of the Midwest on this road trip from Chicago to Orlando!
Visit the theme parks in their holiday finest – whether your first choice is Walt Disney World, Universal Orlando, SeaWorld or Legoland Florida, each one will be suitably festive with parades and events to match.
You can see Cinderella's Castle made even more magical at Walt Disney World, or visit EPCOT's International Festival of the Holidays to take a whistle-stop tour around the world's traditions.
One that stands out for its festive themes is the Grinch-mas Who-liday Special at Universal Islands of Adventure. And of course, the Wizarding World of Harry Potter comes into its own during the winter.
If you have time to head out of town, make your way to Tampa to see Christmas Town at Busch Gardens. You'll find yourself in a warm weather wonderland with trees, lights, skating and fireworks.
Outside of the theme parks, you can enjoy the Winter Park Christmas Parade, a long-standing Florida tradition, with dozens of troupes followed by Santa.
And if you're missing that traditional winter vibe, visit Now Snowing in Celebration, where frosty views meet the Florida sun – including hourly snow flurries.
Our travel tips: Pack layers, as even Florida can experience cooler days, but rest assured that with heated pools and plenty of daytime sunshine, you can enjoy yourself outdoors right through the winter.
READ MORE - Road Trip from Chicago to Orlando