15 Best Winter Road Trips from Portland, Oregon
Portland, Oregon, is famous for its lively arts scene and stunning green spaces. But when winter rolls in, you might find yourself looking for a change of scenery. Luckily, the areas surrounding Portland transform into winter wonderlands, offering everything from snow-laden mountain retreats to quaint, festive coastal towns.
In our list of 15 best winter road trips from Portland, Oregon, you will find beautiful wintery landscapes, cozy vineyards to relax in, urban escapes for the best Christmas shopping, amazing ski resorts and beautiful beaches where you can enjoy the winter sun.
So, buckle up and get ready to explore the magic just beyond Portland's doorstep. You can find a short summary of our favorite winter road trips from Portland below. Please read on to learn more about what magical experiences await you on these winter adventures.
Best winter road trips from Portland, Oregon: a quick overview
Single-day trips (under 3 hours each way)
Portland's winter, while cozy within the city, opens the door to some truly enchanting single-day road trips. Just a short drive away, you'll find yourself amidst snow-covered mountains, beautiful frozen waterfalls and stunning vineyards.
And remember, if you're planning a road trip from Portland in any other season, don't forget to check out our ultimate guide for the best road trips from Portland for more ideas and inspiration.
1. Portland to Hood River
via Multnomah Falls
60 miles from Portland (1 hour)
Why you should visit: The winter road trip from Portland to Hood River will transform the chill of the season into a soul-warming escape just an hour's drive away. You might even be able to spot Santa himself in Hood River if you are traveling during the holiday season!
Ideal for a day trip or a cozy weekend getaway, this route offers a stunning visual treat, where the majestic Columbia River Gorge unfolds alongside you, framed by the breathtaking backdrop of snow-capped peaks.
How to get there: To get to Hood River from Portland, simply follow Interstate 84 (I-84) east along the Columbia River.
Our highlights: Located just under halfway through your drive, Multnomah Falls is a sight to behold, especially when surrounded by a frosted landscape. The iconic bridge crossing offers a vantage point for breathtaking views, making it a perfect spot for a photo against a wintery backdrop.
The Hood River Waterfront is a picturesque hub of activity, where scenic views of the river set against a backdrop of snowy peaks create a postcard-worthy scene. Stroll through quaint shops, explore local breweries, and dine in cozy eateries, all while enjoying the serene beauty of a winter's day by the river.
A highlight of this winter journey is the Mount Hood Railroad. During the holiday season, the train transforms into a Christmas wonder, complete with festive decorations, joyful songs, and a visit from Santa himself! It's an ideal experience for families.
After a day of exploring, unwind in the warm ambiance of Hood River's local breweries. Here, you can savor craft beers and hearty comfort food, with the option to nestle on all-season patios, wrapped in warmth, as you enjoy the local brews.
Did you know? Enthusiasts consider Hood River to be the windsurfing capital of the world. The consistent winds attract windsurfers and kite boarders year-round.
Things to note: Winter driving can be tricky, especially with icy roads and potential snowfall. Before you set out, make sure to check the latest road conditions and weather forecasts. This simple step can help you navigate the route safely and avoid any unexpected delays.
If you're looking to enjoy winter water sports in Hood River, like the locals do, it's a good idea to check equipment rental options in advance. It is good to note that while you can enjoy water sports here year round, but the best conditions are from June–September.
Remember, winter hours for water sports facilities and other local businesses may vary. To avoid disappointment, check their availability beforehand.
If you're traveling between November 24th and December 27th, don't miss the magical Christmas Train on the Mount Hood Railroad. It's a popular attraction, so be sure to book your tickets in advance to secure your spot.
2. Portland to Mt Hood
55 miles from Portland (1 hour 15 minutes)
Why you should visit: This magical winter road trip from Portland to Mount Hood, just over an hour's drive, is perfect for those who yearn for a winter wonderland experience without the commitment of a long-haul drive.
As a renowned skiing destination, Mt Hood offers a variety of activities to cater to every level of adventure – from skiing and snowboarding to snowshoeing and tubing.
Not only full of adventure, Mt Hood is also famous for its alpine scenery, which is a quintessential winter postcard come to life. Here, you can glide down slopes with a panoramic view of wintery landscapes or trek through tranquil forest trails, leaving your footprints in the fresh snow.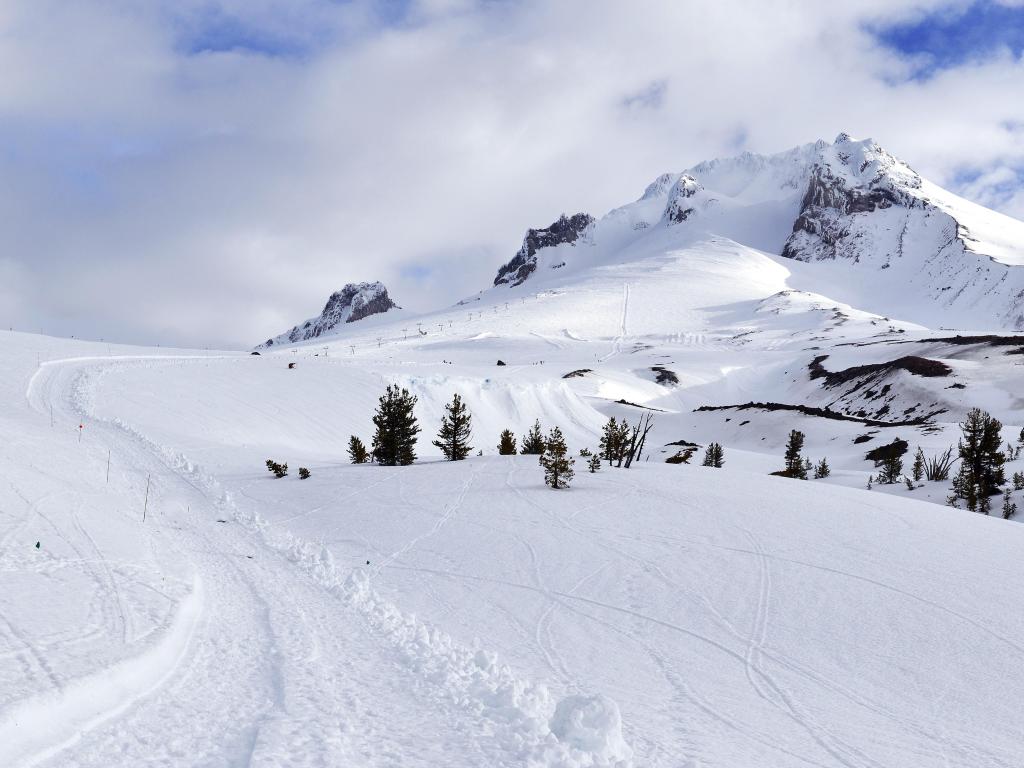 How to get there: Head out of Portland on I-84 and hop onto US-26 when you reach Troutdale. This highway will take you through Mount Hood Village all the way to Government Camp.
Our highlights: The heart of this winter adventure lies in its popular ski resorts: Timberline Lodge, Mount Hood Meadows, and SkiBowl. These destinations are renowned for their amazing slopes, popular with both skiing and snowboarding enthusiasts.
For those who prefer quieter exploration, the snow-covered trails around Mount Hood are a hiker's paradise. Set off on a snowshoeing adventure and discover the serene beauty of winter, including frozen waterfalls that seem to suspend time.
Take time to explore the quaint villages of Government Camp and Rhododendron. These charming mountain towns provide a picturesque backdrop to your journey, complete with delightful local dining and après-ski options.
If you are traveling with family, Cooper Spur Mountain Resort offers an array of activities that are perfect for all ages. This family-friendly resort is ideal for snow tubing and snowshoeing, providing a joyful and less intense way to enjoy the winter landscape.
After a day filled with snowy escapades, retreat to the comfort of snug lodging options available in the area. Imagine cozying up to a warm fireplace, with a hot beverage in hand, as you recount the day's adventures.
Did you know? Timberline Lodge ski resort has the longest ski season in North America. It's open ten months of the year for skiing!
Things to note: The roads can be icy and snowy, so it's crucial to prepare your vehicle accordingly. Make sure your car is equipped with winter tires or chains to handle the challenging driving conditions.
Before setting off, check the latest weather forecasts and road closure information. This is especially important in the event of heavy snowfall, as it can impact road accessibility and your travel plans.
Mountain lodges and cabins in the Mount Hood area are sought-after during the winter season. To avoid missing out on your preferred stay, make your reservations well in advance.
If you're planning to ski or enjoy other snow sports, consider what equipment you'll need. If you don't have your own gear, look into rental options and confirm these arrangements before your trip.
3. Portland to Cannon Beach
80 miles from Portland (1 hour 30 minutes)
Why you should visit:The road trip from Portland to Cannon Beach is the perfect laid-back winter adventure on the beautiful Oregon Coast. During the colder months, this popular summer destination transforms into a peaceful haven, offering a unique experience with fewer crowds.
Winter at Cannon Beach is also a prime time for wildlife spotting. The quieter season allows for more intimate encounters with the natural inhabitants of the coast, adding an element of surprise and wonder to your visit.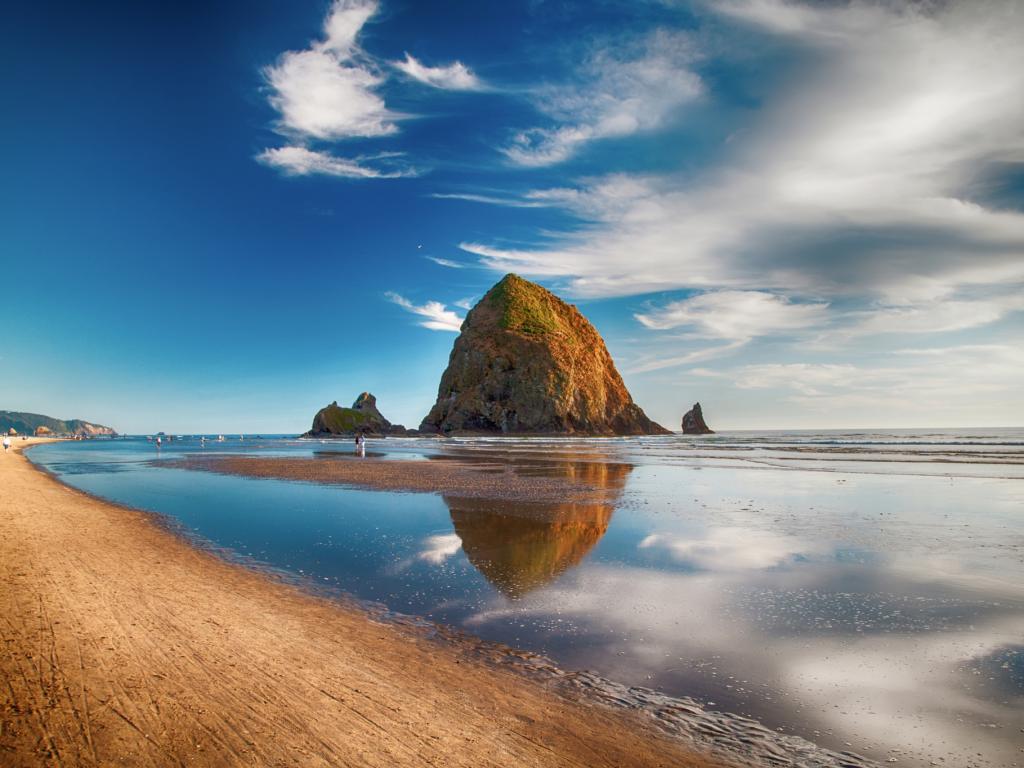 How to get there: This is a very straightforward journey; simply head west on US-26 to reach Cannon Beach.
Our highlights: An iconic symbol of Cannon Beach, Haystack Rock stands as a majestic sentinel along the shoreline. In winter, this soaring rock formation becomes an even more dramatic backdrop, especially during storm-watching sessions.
It's a perfect opportunity for photography enthusiasts to capture the raw beauty of the Oregon coast, with the powerful waves and stormy skies framing this natural wonder.
A visit to Ecola State Park offers breathtaking coastal vistas that are particularly enchanting in winter. The park becomes a wildlife haven during this season, where it's not uncommon to see a herd of elk grazing or bald eagles soaring above.
One of the most remarkable highlights of a winter visit to Cannon Beach is the gray whale migration. Between mid-December and mid-January, you have a chance to witness around 20,000 gray whales as they migrate off the shoreline.
You can also extend your trip to Manzanita if you'd like and enjoy some more unforgettable whale-watching opportunities.
After exploring the natural wonders, head to downtown Cannon Beach to warm up. The local cafes are a cozy respite, offering hot drinks to soothe the chill of winter. This quaint part of town is also home to galleries, breweries, and boutiques, perfect for finding unique souvenirs as Christmas presents.
Did you know? Indian Beach at Ecola State Park features in the popular Twilight movie franchise.
Things to note: he Oregon Coast receives rainfall during the winter, which can make the roads quite slippery. Additionally, there's an increased risk of landslides due to the wet conditions. Drive carefully and stay alert to these potential hazards to ensure a safe journey.
With the likelihood of rain, it's essential to prepare yourself with waterproof clothing. Whether you're exploring the outdoors or simply strolling through the town, having rainproof gear will keep you comfortable and dry.
Even though winter is considered the low season in Cannon Beach, it's still a good idea to book your accommodation ahead of time.
READ MORE - Our Guide to Cannon Beach
4. Portland to Willamette Valley
via Yamhill, McMinnville and Salem
80 miles from Portland (2 hours)
Why you should visit: Renowned for its wineries, the Willamette Valley is the perfect place to sample offerings of Oregon's wine country. Taking this road trip from Portland to Willamette Valley will mean that wineries will be less crowded, and more cozy - how about enjoying a sip by the log fire?
The towns of Yamhill, McMinnville, and Salem themselves offer a delightful winter charm, especially when adorned with holiday decorations. Their festive atmosphere, combined with the picturesque landscape of misty vineyards, creates a magical backdrop for your visit.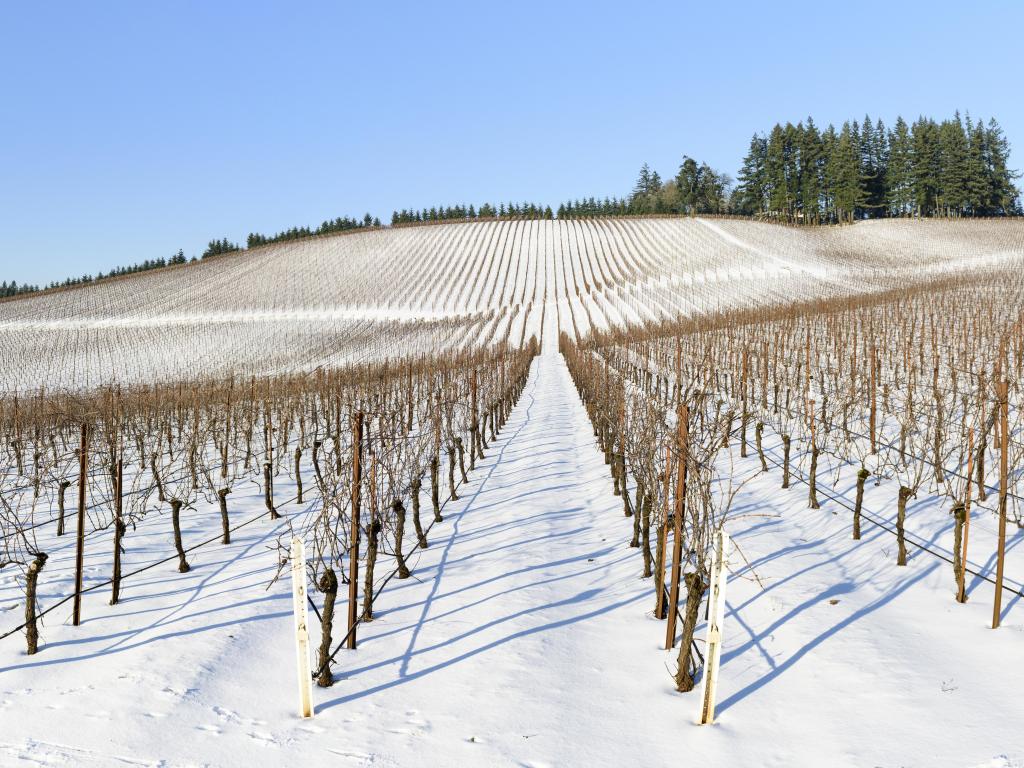 How to get there: Follow US-26 and head south past North Plains through Cornelius. OR-47 then will take you to McMinnville and OR-154, OR-153 and OR-221 will take you to Salem on this tour of the beautiful Willamette Valley.
Our highlights: A visit to the Willamette Valley is incomplete without exploring its renowned local wineries. Some of our favorites are Sokol Blosser Winery and Willamette Valley Vineyards stand out.
These places offer not only great wine-tasting experiences but also the opportunity to purchase a special bottle for your Christmas Day celebration.
The historic downtowns of these towns are a winter wonderland, with boutique shops, cozy cafes, and enchanting winter markets.
The McMinnville Holiday Market, usually happening over two weekends, and Yamhill's Handmade Holiday Bazaar offer unique shopping experiences, perfect for finding one-of-a-kind holiday gifts and enjoying the festive atmosphere.
For nature enthusiasts, a winter hike at Silver Falls State Park is a must. This popular spot transforms in the colder months, featuring stunning frozen waterfalls that create a spectacular winter scene.
If you're up for a bit of exploration, venture deeper into the valley to the Willamette National Forest. Renowned for being selected as the US Capitol Christmas Tree in 2018, this forest offers the chance to pick a lush pine tree for your holiday decorations. This experience brings you closer to nature and adds a personal touch to your festive celebrations.
Did you know? You know Willamette Valley is a wine-making hotspot. But did you know it specializes in Pinot Noir Wines and has the nickname 'Pinot Paradise'?
Things to note: Since many wineries in the Willamette Valley adjust their hours during the winter season, it's wise to check their opening times in advance.
For a seamless experience, especially at the more popular wineries, we recommend booking your wine tastings and tours in advance.
If your trip includes a visit to Willamette National Forest to pick a Christmas tree, remember that you'll need a permit. Also, bring along the necessary equipment for cutting and transporting your tree.
5. Portland to Columbia River Gorge National Scenic Area
via Bridal Veil Falls and Cascade Locks
100 miles from Portland (2 hours)
Why you should visit: Embark on a winter road trip from Portland to the Columbia River Gorge National Scenic Area, where the frosty season casts a spell of serene beauty over the landscape.
Winter is also a good time for hiking adventures in this area for experienced hikers. You can trek along the trails to discover several breathtaking waterfalls and panoramic views of the gorge, all enveloped in the peaceful snowy landscapes.
Along the way, don't miss the opportunity to enjoy local wines at the wineries dotted along the gorge. These wineries offer a warm respite from the cold, where you can savor the flavors of the region while taking in the stunning winter scenery.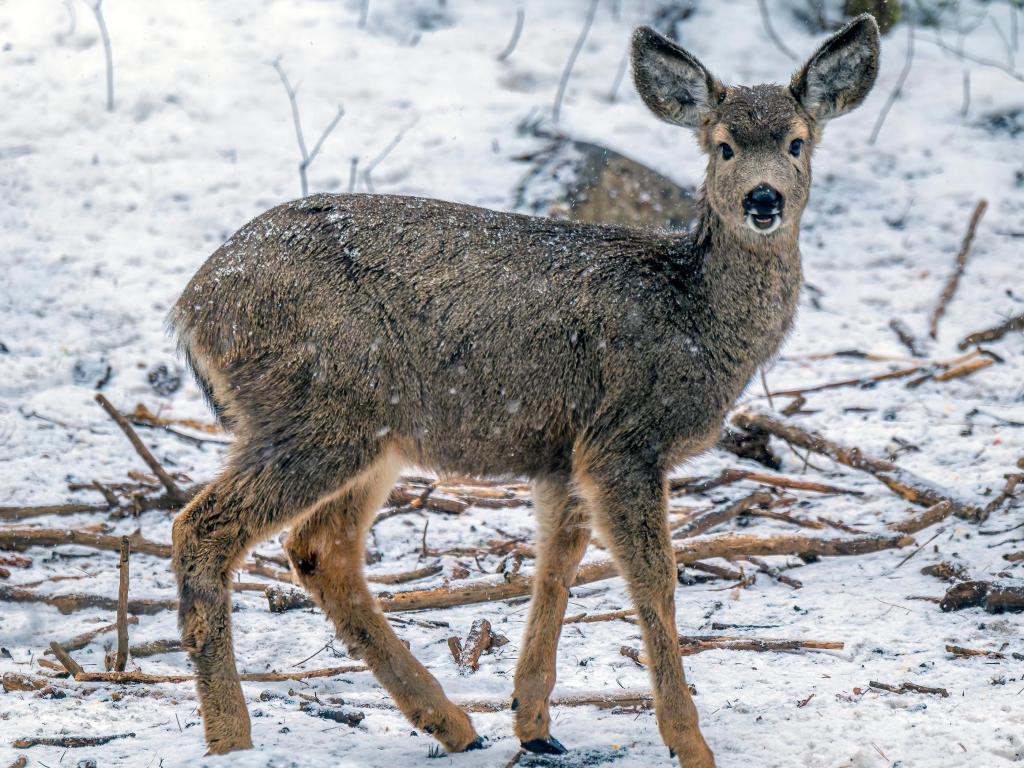 How to get there: Follow the Columbia River's shores towards northeast on I-84 past Bridal Veil Falls and Cascade Locks. Cross over the river to visit the Wind Mountain Trailhead on WA-14 and then hop back on the interstate to reach Chenoweth.
Our highlights: In winter, Bridal Veil Falls transforms into a spectacular frozen spectacle where you can relive your favorite moment from Disney's Frozen. Fewer crowds will also mean that you can sing your favorite song from the movie, too, if you are brave enough to let it go!
The quaint town of Cascade Locks is a charming stop along the route. Here, you can cross the historic Bridge of the Gods, which offers breathtaking views of the river and gorge and provides a unique perspective of the region's majestic scenery.
If you enjoy a good hike, the Wind Mountain Trailhead offers an invigorating trek to some of the most stunning views in the Columbia River Gorge National Scenic Area. Standing atop, you can take in awe-inspiring views of the Gorge and the Columbia River.
Conclude your road trip with a visit to the Columbia Gorge Discovery Center & Museum. This destination offers an enriching experience, delving into the rich history and natural wonders of the Columbia River Gorge.
Did you know? Columbia River Gorge is a geological wonder and the only place in the world where a river crashes through an entire mountain range.
Things to note: Plan your visit to the Columbia Gorge Discovery Center & Museum accordingly, as it is open from 9amto 5pm. This timing allows you to make the most of your visit, exploring the rich history and natural beauty of the Gorge at a leisurely pace.
When hiking the trails in the area, make sure you have the appropriate footwear for icy and snowy conditions. Dressing in layers will keep you warm in the fluctuating winter temperatures.
6. Portland to Astoria
100 miles from Portland (2 hours)
Why you should visit: Set out from Portland on a winter road trip to Astoria, a journey that promises scenic beauty (make sure you have your camera ready!) and a deep dive into the rich history of the Pacific Northwest.
Astoria, steeped in history, is a treasure trove of landmarks linked to the famous Lewis and Clark Expedition. This historical significance will add a layer of depth to your visit, allowing you to walk in the footsteps of these legendary explorers.
As you follow the course of the mighty Columbia River, the route will take you to stunning views, offering a visual feast of the river and its surrounding landscapes.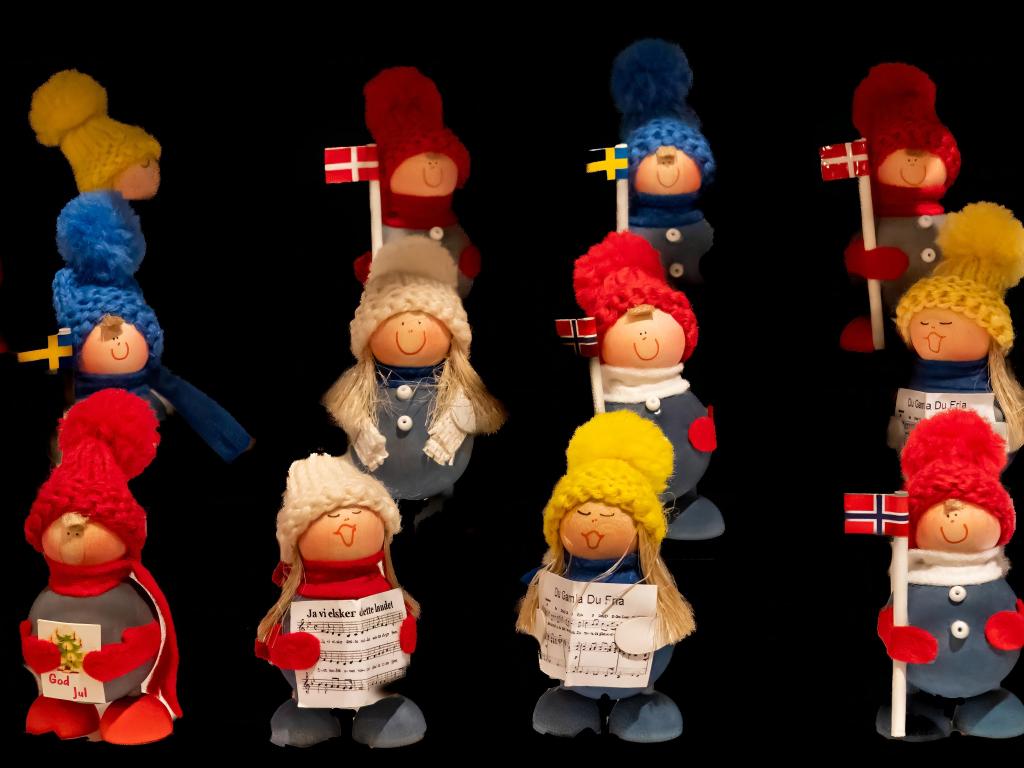 How to get there: Head out of Portland on I-5, following the interstate north. Then turn west past Longview and drive on US-30 to reach Astoria.
Our highlights: Climbing the 164 steps to the top of Astoria Column, you will be rewarded with breathtaking panoramic views from this 125-foot high vantage point. Gaze over the confluence of the Columbia River and the Pacific Ocean, with the surrounding mountains adding to the majestic landscape.
If you are looking to stay indoors and keep away from the winter chill, you can delve into the maritime history of the region at the Columbia River Maritime Museum. Interactive exhibits, including working the controls of a towboat, bring the maritime stories to life.
Starting from the end of November, downtown Astoria comes alive with the spirit of the festive season. The holiday lights add a magical glow to the Victorian Houses, creating a picturesque setting. Stroll through the streets and shop for Christmas presents in the charming boutiques.
For a scenic drive, cross the Astoria-Megler Bridge, which spans the mouth of the Columbia River. This drive provides a unique perspective of the area, where the river meets the ocean, framed by the beauty of the winter season.
Did you know? Astoria was the filming location for the cult 80s film 'The Goonies'. In particular, the iconic house with the "Goonies Never Say Die" sign.
Things to note: Astoria Column Park is open from 5am to 10pm. If you don't fancy tackling the steps, there's a light show on the hour which you can enjoy from below. The gift shop has reduced hours in winter, opening at 10am and closing at 5pm.
Although The Goonies house is a part of film history, it's inhabited, so be respectful. Instead, go to the Oregon Film Museum instead. The former downtown jail features in the film and has exhibits about the film and others made in the region.
Click here to skip back to the top.
Weekend trips (3-6 hours each way)
With the Pacific Northwest's landscape transforming into a snowy paradise during winter, weekend road trips from Portland are all about embracing the season's charm. Pack your skis, snowboards, and don't forget your warmest winter gear - the areas around Portland are a haven for winter sports enthusiasts.
But, if hurtling down slopes isn't quite your cup of tea, fear not. These weekend destinations are also brimming with cozy restaurants, breathtaking scenic views, and even a beautiful national park you can visit, which transforms into a winter wonderland!
7. Portland to Bend
160 miles from Portland (3 hours 15 minutes)
Why you should visit: On this stunning road trip from Portland to Bend, you will drive through the beautiful Mount Hood National Forest, you'll be surrounded by a winter wonderland of snow-capped mountains, frozen lakes, and quaint mountain towns.
Bend, nestled in the heart of Oregon, is a renowned hotspot for winter outdoor activities. Whether you're a fan of skiing and snowboarding or prefer snowshoeing, snowmobiling, fat tire biking, and winter hiking, Bend has it all.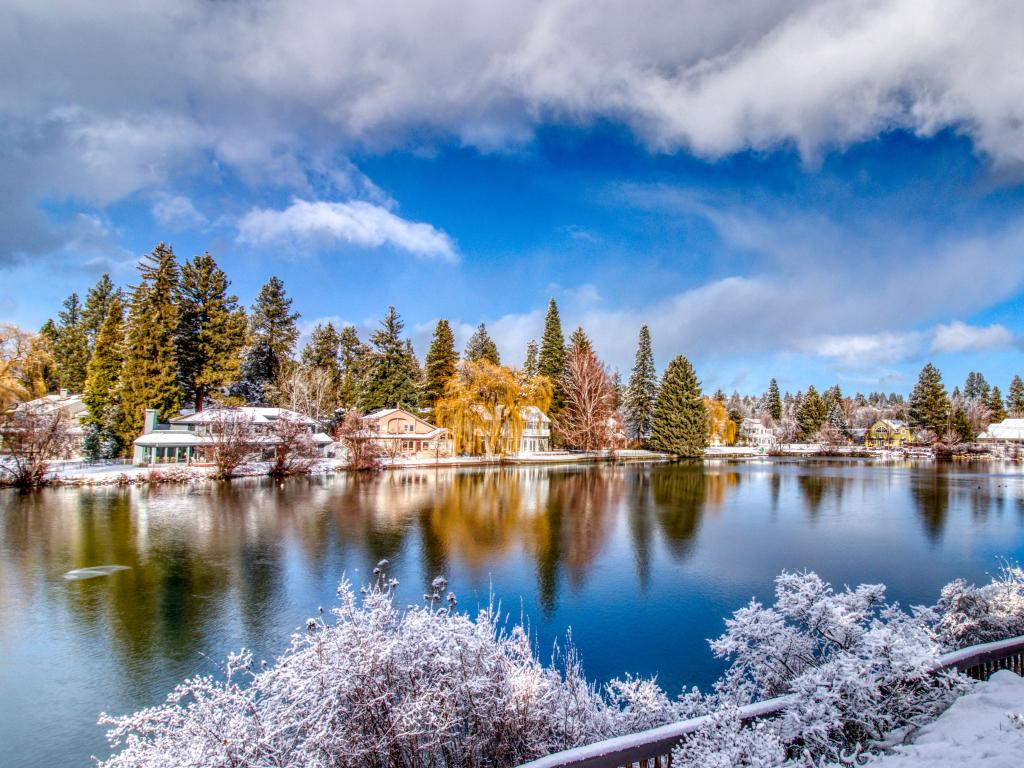 How to get there: Follow US-26 southeast towards Government Camp and keep driving in this direction until you reach Madras and then switch to US-97 to reach Bend.
Our highlights: In addition to the myriad of outdoor activities, Bend hosts WinterFest. Celebrated as the largest winter celebration in the Northwest, WinterFest is an extravaganza of live music, ice carving demonstrations, fire sculptures, and a variety of winter-themed fun.
In Bend's Old Mill District, the winter spirit is vibrant and infectious. Ice skating under the holiday lights at the outdoor rink is a magical experience. Keep an eye out for a Wanderlust Tour – these limited but one-of-a-kind excursions, like snowshoeing under a meteor shower, are not to be missed for a truly unique adventure.
Step into the enchanted winter world of Deschutes National Forest. Here, you can winter hike, snowshoe, or cross-country ski through breathtaking landscapes. For those seeking more adrenaline, Dutchman Sno-Park nearby is ideal for snowmobiling, offering a thrilling way to explore the snowy wilderness.
For a change of pace, the High Desert Museum is a fantastic destination. This museum brings to life the natural and cultural heritage of the region. Explore the indoor exhibits to learn about local wildlife and history, providing a cozy break from the winter chill.
Consider an additional detour to Belknap Hot Springs nearby. Soaking in the warm, mineral-rich waters amidst the cold winter air is a rejuvenating experience, perfect for unwinding after a day of outdoor activities.
Did you know? Bend has a prominent craft beer scene. In fact, Bend boasts the most breweries per capita in Oregon! So you will get the opportunity to sample many different types of beer during your visit.
Things to note: Winter, especially around the holidays, is a peak season in Bend. To ensure you have a comfortable place to stay, it's wise to book your accommodations well in advance.
If you're planning to hit the slopes, it's a good idea to book your ski pass and equipment rental before you arrive.
Note that its opening hours of High Desert Museum are reduced from November 1st to February 29th, during which it's open from 10am to 4pm.
8. Portland to Mt Bachelor Ski Resort
via Bend
185 miles from Portland (3 hours 35 minutes)
Why you should visit: Mt Bachelor Ski Resort is a must-visit winter destination for skiing and snowboarding enthusiasts. This stratovolcano is the 6th biggest ski resort in North America that features amazing slopes, fantastic cross-country skiing, scenic chair lifts and restaurants.
The ski resort in Oregon's Central Cascades is stunning and exciting in its own right, but it is also just 30 minutes outside of Bend, which makes this an even more appealing weekend road trip destination.
Bend is the perfect place to visit for outdoor recreation in winter, and the city is home to tens of wonderful craft breweries, something Bend is well known for.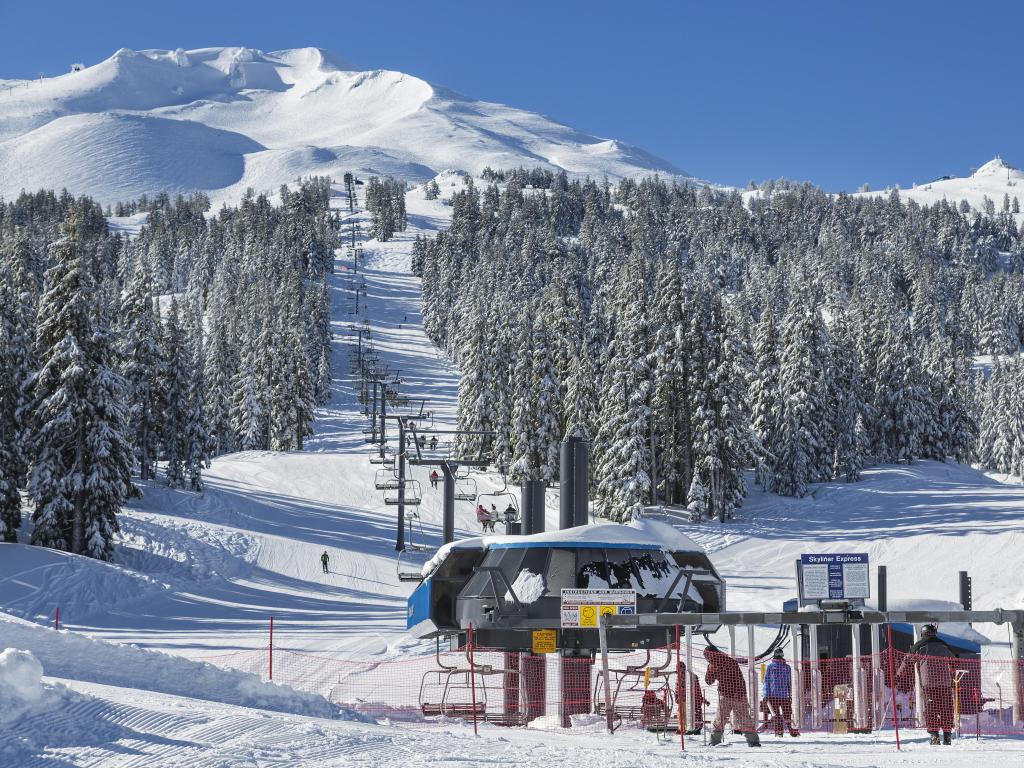 How to get there: Traveling from Portland to Mt Bachelor Ski Resort, you will follow a similar route as driving to Bend on US-26 and US-97. Past Bend, keep following US-97 to reach Mt Bachelor Ski Resort.
Our highlights: Visiting the summit of Mt Bachelor is a bucket list-worthy experience. From the top, you can ski down in all directions, and admire the views over the Cascade Mountains. The best way to reach the summit is to take the locals' favorite lift, Summit Chair, which itself offers sweeping views of the surrounding wilderness and mountains.
Should you wish to explore the area by cross-country skiing, head over to the Nordic Center, from where you may explore tens of miles of beautiful trails through the alpine wilderness.
You can also do a snowshoe trek through Mt Bachelor's forest trails with Forest Service Naturalists to learn about the ecology and geology of the area, or join a sled-dog ride with the Oregon Trail of Dreams.
Bend's Old Mill District is a special place to visit during the festive season. You'll find wonderful shopping and restaurants here, as well as special light displays, Christmas carols, and other fun festivities.
Did you know? Mt Bachelor gets its name from the fact that it is separated from its nearby volcanoes, Three Sisters, northwest of it. Mt Bachelor last erupted about 10,000 years ago.
Things to note: Due to the high likelihood of snowfall during the winter months, it is recommended to have good snow tires or chains with you when making this road trip during the winter.
Mt Bachelor is popular for having a 6-month skiing season, so you have plenty of opportunities to make a wintery road trip here from Portland.
9. Portland to Seattle
via Shelton
215 miles from Portland (3 hours 30 minutes)
Why you should visit: Seattle is a lovely destination for a weekend road trip from Portland. With amazing nature areas and skiing locations nearby, much art and culture to enjoy in the city, and spectacular Christmas light displays to admire, there is much to see and do in Seattle on a wintry day.
Seattle is near breathtaking outdoor destinations such as Olympic National Park and Mt. Baker-Snoqualmie National Forest. So if you are looking to combine an urban experience with enjoying some time in the great outdoors, this winter road trip from Portland to Seattle has everything you need!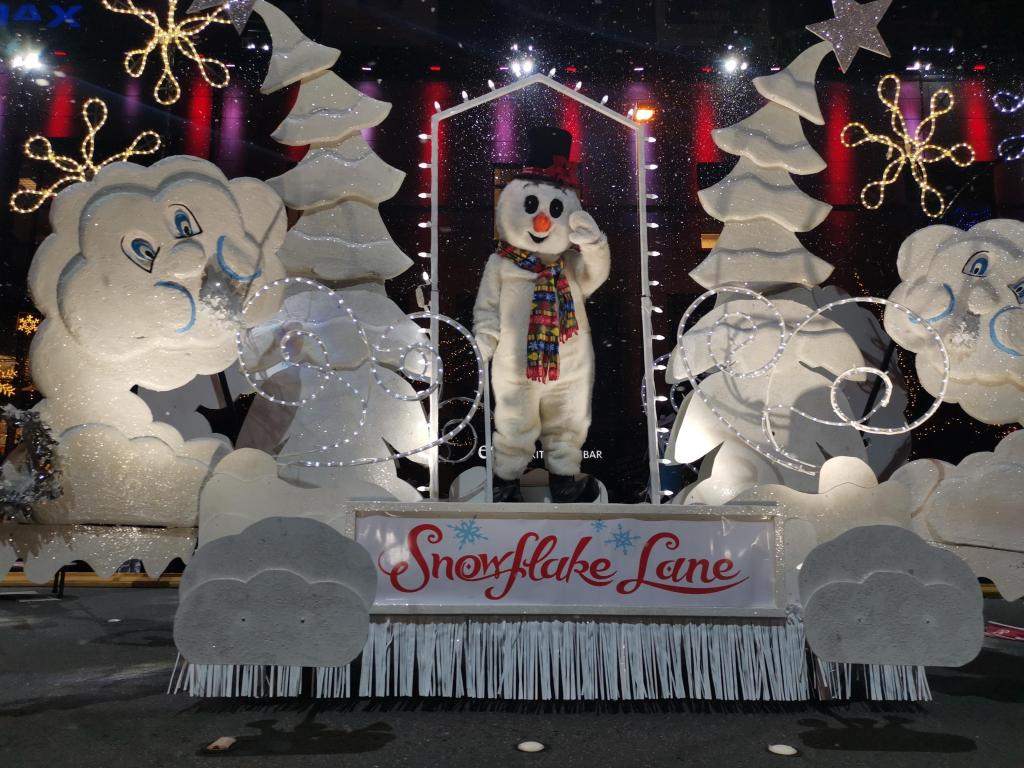 How to get there: Head north on I-5 until you reach Olympia. From here, make a short detour to Shelton on US-101. Retrace your steps to the interstate after you visit and follow I-5 to Seattle.
Our highlights: To get in the festive mood, visit Shelton on the way from Portland to Seattle. This charming town, known fondly as "Christmastown USA," has once won the Guinness World Record for "Most Lit Christmas Trees in One Display"!
We highly recommend coinciding your visit with the Festival of the Firs to experience the joy and cheer this town is famous for.
Once in Seattle, you can visit the WildLanterns at Woodland Park Zoo, filled with brilliant light displays and structures. There is also an Interactive Zone for visitors, and you may enjoy hot chocolate by the fire.
Gingerbread Village at the Sheraton Grand Hotel is an extravagant display of sugary, imaginary creations. The Village is created, every year with a different theme, by Seattle's top architects together with culinary teams, and some of the proceeds go to charity.
Pike Place Market is a historic market on the Seattle Waterfront. It is home to some of the most popular restaurants and shops in the city. During the festive season, the market transforms into a land of magical Christmas lights where you may meet Santa, listen to Christmas carols, or enjoy wintry foods and drinks.
SantaCon, for those aged 21 and older, is self-proclaimed "nation's biggest Santa bar crawl", during which people dressed up as Santa Claus visit certain bars, pubs and restaurants that host the event in downtown Seattle.
Snowflake Lane in Bellevue is a popular holiday event near Seattle. This nightly parade transforms Bellevue Way into a Winter Wonderland. Enjoy holiday lights, live toy soldiers, decorated Christmas trees and much more.
Did you know? Seattle is famous for its coffee culture. Indeed, the original Starbucks was first founded at Pike Place Market in 1971, and Seattle has more coffee shops today than most other cities in the US.
Things to note: Although it does snow in Seattle in winter, especially in December-January, you may not always experience a white Christmas here, and rainfall other than snow is also common during these months.
Come prepared with rain gear, and in case of poor weather, enjoy the many indoor attractions Seattle offers!
Pikes Place Market is open all year round, with the only exceptions being Thanksgiving and Christmas.
The road between Portland and Seattle is a much-used, major highway, but be prepared for rainy or snowy conditions during the winter months.
READ MORE - Road trip from Portland to Seattle
10. Portland to Crater Lake National Park
via Salem and Eugene
230 miles from Portland (4 hours)
Why you should visit: Crater Lake National Park is beautiful at any time of the year, and in winter, it makes a fantastic outdoorsy and scenic destination for a weekend-long road trip from Portland.
In winter, the roads of Crater Lake National Park become snowshoe trails and skiing routes. Crater Lake is also a fabulous place for photography; especially in winter, with the glistening snows and deep blue waters of the lake.
Largely car-free in winter, the national park is a place to enjoy the quiet and vast skies of the colder winter months. A real-life winter wonderland to explore!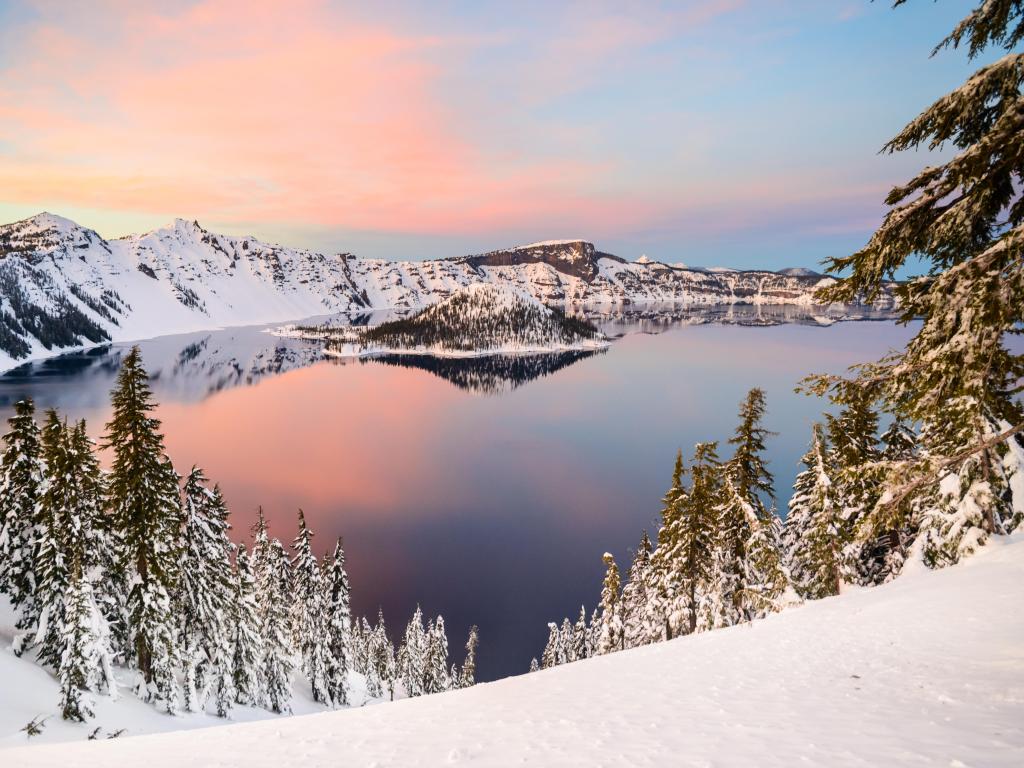 How to get there: Follow I-5 through Salem and switch to OR-58 past Eugene and then US-97 to reach Crater Lake National Park.
Our highlights: Doing a self-guided or guided snowshoe trek, or skiing adventure, is one of the loveliest ways to experience Crater Lake National Park in winter.
Whether you do an hour-long trek through the forest, or want to complete the whole 31-mile Rim Trail (a feat not for the faint-hearted), you can enjoy the beautiful vistas over the lake's rim, deep blue waters, and Wizard Island rising out of the lake.
A snowmobile trip is another fun way to see some of the wilderness surrounding Crater Lake. Snowmobiles are only allowed on a 9-mile track from the park's north entrance to the caldera's rim.
Crater Lake National Park has two visitor centers. The Steel Visitor Center at Park Headquarters is close to the south entrance and is the one that is open to visitors all year round, except for Christmas Day. Stop here to receive your nature guides and maps, or pop into the gift shop.
Why not have some more winter fun sledding down gentle slopes in Crater Lake National Park? One of the favorite spots for sledding is the open meadow south of Crater Lake Lodge. Just be mindful of other visitors enjoying this winter activity.
Did you know? Since Crater Lake was formed as a result of a volcanic eruption, the lake has no outlets or inlets. Rather, all its water is replenished through rainfall and snow melt. This is why the area is well protected: preventing pollution to the lake is very important.
Things to note: The north entrance road and Rim Drive are closed to wheeled vehicles in winter. West and south entrances are plowed to allow access to vehicles during winter, but the Rim of the lake itself is free of cars.
Check weather and road conditions before you head out, for snowfall is common in winter throughout the Cascade Mountain Range, including Crater Lake National Park.
The best conditions for enjoying rides on snowmobiles are between December and March, and trips generally start at Diamond Lake Resort.
Crater Lake National Park experiences less tourist crowds in the winter months, which may be an attractive reason for visiting the park in winter.
11. Portland to Leavenworth
via White Pass Ski Area and Yakima
300 miles (5 hours 20 minutes)
Why you should visit: A winter road trip from Portland to Leavenworth will be like magically teleporting to a festive Bavarian village in Europe during their Christmas celebrations. This charming mountain town is famous for its Alpine-style buildings and festive holiday lights, especially enchanting during the winter months.
You will also get to drive through White Pass Ski Area, perfect stopover if you are looking to incorporate some skiing adventure to your road trip, and Yakima, famous for its holiday displays.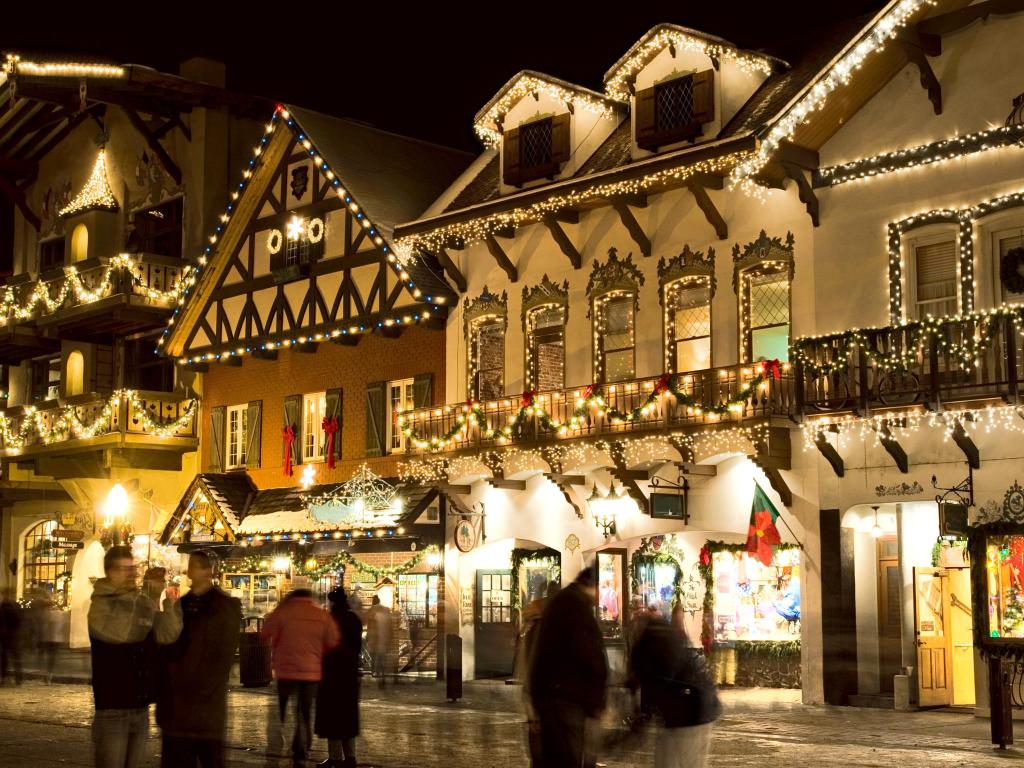 How to get there: To get there, head north on I-5 and then take US-12 east through Silver Creek to arrive at White Pass Ski Area. After your visit, follow the interstate until Yakima and then head north on I-82 and US-97 to reach Leavenworth.
Our highlights: As you travel from Portland to Leavenworth, the drive through the White Pass Ski Area will offer breathtaking views of snow-clad mountains and access to some excellent skiing opportunities, making it a paradise for winter sports enthusiasts.
Yakima's beautiful Holiday Lights Parade, which has been going on for two decades, usually happens in the first week of December. So if you plan your trip in December, you can admire the festive spirit of this charming small town.
Leavenworth in winter is like stepping into a page from a storybook - think cozy German eateries, twinkling Christmas lights, and carolers filling the air with festive tunes around the gazebo.
For a perfect day outdoors, you can enjoy a snowmobile tour of the area and take in the views from high above. You can also enjoy snowshoeing and Nordic skiing here. Sledding down the hills is a joyful activity if you are traveling with family.
Winter in Leavenworth brings with it the perfect opportunity to visit the renowned Nutcracker Museum. Boasting the world's most extensive collection, this museum is a treasure trove of everything from antique nutcrackers to modern novelties, and unique pieces from across the globe.
Looking for unique ideas for Christmas presents? Make a stop at the museum's Nutcracker Store or the festive shops in the town center. There is no place better than Leavenworth for hand-made craft items and other local gifts you won't be able to find elsewhere.
Did you know? Leavenworth was featured in the Lifetime Channel movie "Cloudy With a Chance of Christmas." The movie captured the romantic and festive atmosphere of the town, known for its Christmas charm​​.
Additionally, Leavenworth was showcased in the Amazon Prime rom-com "Somebody I Used to Know," starring Alison Brie.
Things to note: During the season, White Pass Ski Area is open daily. The timing of when the ski area is open changes from year to year, depending on snowfall, so check the official website before you visit.
You can also enjoy night skiing here on select days, when the lifts are open long, sometimes until 9:30pm. The base area lifts on normal days run from 8:45am to 4pm.
The Village of Lights in Leavenworth come on during Thanksgiving and stay on until Valentine's Day! So, you don't have to worry about missing out on them if you aren't visiting during the Christmas period.
Nutcracker Museum sometimes hosts events near the Christmas period, so check their website before you visit.
12. Portland to Vancouver
via Seattle
315 miles from Portland (5 hours 40 minutes)
Why you should visit: Vancouver is a true winter wonderland! Colorful Christmas lights displays, lovely ski resorts, ice skating opportunities and Christmas markets bring visitors to city during the winter months.
Winters in Vancouver are not as cold as you might expect due to the milder Pacific West Coast climate. Thus, although you can well enjoy skiing and other snowy outdoor sports in winter, this is also a fine time for exploring the city's attractions, including many parks and gardens, as well as culinary gems and cozy indoor attractions.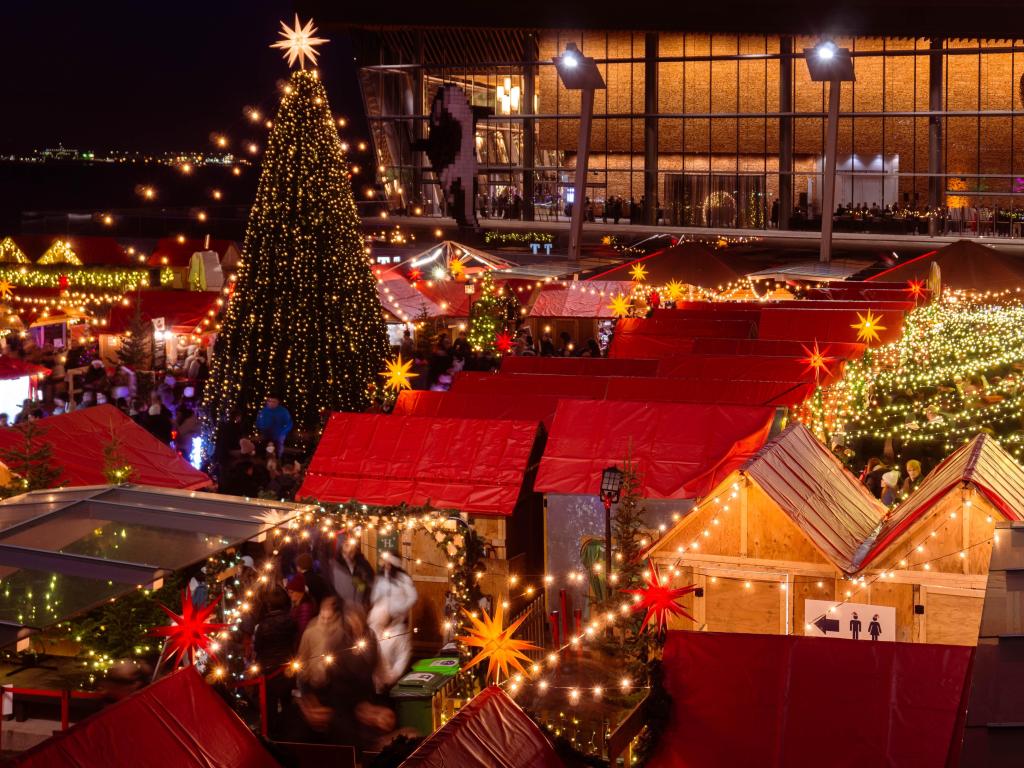 How to get there:This winter road trip will see you following I-5 all the way up north through Tacoma, Seattle and Bellingham. Cross the border near Blaine, and BC-99 will take you to the heart of Vancouver.
Our highlights: In the hills of North Vancouver, just 15 minutes from downtown, is Grouse Mountain, a scenic ski resort where you can do skiing, snowboarding, snowshoe treks, skating, or sleigh rides. Or take a walk through Grouse Mountain's Light Walk, a tunnel of lights only open during the winter months.
Capilano Suspension Bridge in North Vancouver is a popular attraction, and even more special during November and January when this rainforest setting is decorated with Canyon Lights multicolored display.
Vancouver Christmas Market at Jack Poole Plaza is a festive, German-style Christmas tradition. Here, you'll find tens of vendors offering gourmet foods, festive sweets, and German drinks, and you may enjoy a family Carousel and other fun activities.
You can enjoy outdoor ice skating at Robson Square Ice Rink between December and February. This roof-covered ice rink is located at a public landmark square with a shopping center, gardens, plazas, and the famous Vancouver Art Gallery.
Stanley Park has got beaches, a rainforest, walking and biking trails, and it is lovely to explore all year round. Between late November and early January, the park also hosts Bright Nights festivities, which involve millions of twinkling Christmas lights you admire.
Did you know? Vancouver has been the host of some important international events. In 1986, this historic city hosted a world fair to celebrate its 100th birthday. And in 2010, Vancouver hosted the Winter Olympics.
Things to note: Although Vancouver's climate is milder than that of inland Canada, it is still good to be prepared for a winter road trip with chains or proper winter tires in case of snowfall and icy roads.
Vancouver Christmas Market is a highly popular tourist destination, especially so in the evenings, weekends, and a week before Christmas. Should you wish for a more peaceful shopping experience, visit in the afternoon during the weekdays.
We recommended to book tickets for the Capilano Suspension Bridge beforehand, as entrances are limited.
READ MORE - Road trip from Portland to Vancouver
13. Portland to Spokane
350 miles from Portland (5 hours 30 minutes)
Why you should visit: Gear up with warm clothes and head over to Spokane from Portland for a weekend road trip. There's much to do in the Greater Spokane region over a wintery visit, from wine tasting to skiing, snowshoeing and snowmobiling, or walking along the many trails and parks of the city that turn into a winter wonderland during the cold season.
Spokane is an important cultural center in the region, and there are lots of wonderful attractions to explore, such as the Northwest Museum of Arts & Culture, the Fox Theater, and the many lovely parks around the city. Spokane is also known for the large urban waterfall, Spokane Falls, and for fabulous ski resorts nearby.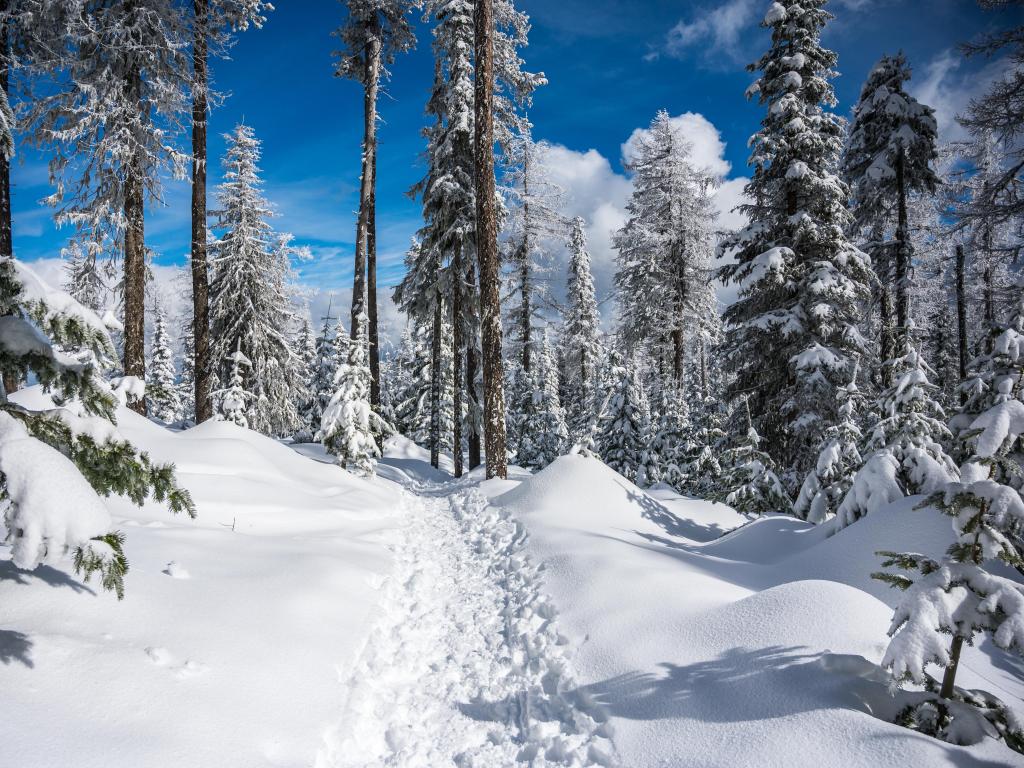 How to get there: Follow I-84 east to Hermiston and then switch to I-82 to merge onto US-395. This highway will take you northeast to I-90, which will take you to Spokane.
Our highlights: Mt Spokane Ski & Snowboard Park is a must-visit destination during a winter holiday. This non-profit alpine recreation facility has 52 runs and seven lifts, and is the closest ski resort to Spokane.
Once you are ready to settle down and explore, head over to downtown Spokane's Riverfront Park to ice skate along the Ice Ribbon. Then take a walk at the Riverfront Park to enjoy Christmas lights, snow-covered trees, or a warm cup of tea.
The Centennial Trail is a popular activity to do in Spokane. It is open year-round, and in winter, you may stroll in different directions for views of Spokane Falls, or to enjoy the sights along the way and then grab a bite to eat or a coffee at the many lovely restaurants and cafés scattered along the route.
Spokane has dozens of wineries and breweries well-loved by locals and visitors alike. Cork District for example is a partnership of organizations and wineries promoting wine tasting in Eastern Washington.
En route, you'll get to drive along the beautiful Columbia River, at the border of Oregon and Washington.
Did you know? Spokane is historically primarily known for its natural resources. It has been a Western boomtown, and businesses surrounding forests, furs, mines and railroads have bloomed here. The Spokane River contributed to the location becoming an important hub for these activities.
Things to note: Winters get cold and snowy in Spokane, so prepare well for your road trip with good snow tires or chains. Although major highways along this route are kept clear, at times of snowfall or storms you may still encounter wintery driving conditions.
Click here to skip back to the top.
Longer trips (Over 6 hours each way)
If you're looking for more than just a quick getaway and crave a deeper dive into the winter wonders beyond Portland, Oregon, the options for longer road trips are great options if you have more time on your hands.
What can be better than visiting some iconic cities when they are adorned in beautiful and festive lights? These longer journeys offer the perfect blend of adventure, relaxation, and seasonal charm with an elevated level of luxury.
14. Portland to San Francisco
635 miles from Portland (10 hours 20 minutes)
Why you should visit:This road trip takes you south from Portland to enjoy a winter holiday in the milder weather of San Francisco, on the Pacific Coast.
There are lots of winter activities and special exhibits to be found in the city during the winter months and the festive season, ranging from beautiful Christmas light displays to open days at museums, international events, and outdoor activities.
The city of the Golden Gate Bridge, antique cable cars, wine country and Redwood forests is full of wonders and fun, and in winter you get to enjoy it all with fewer crowds and during the off-season, at discounted prices.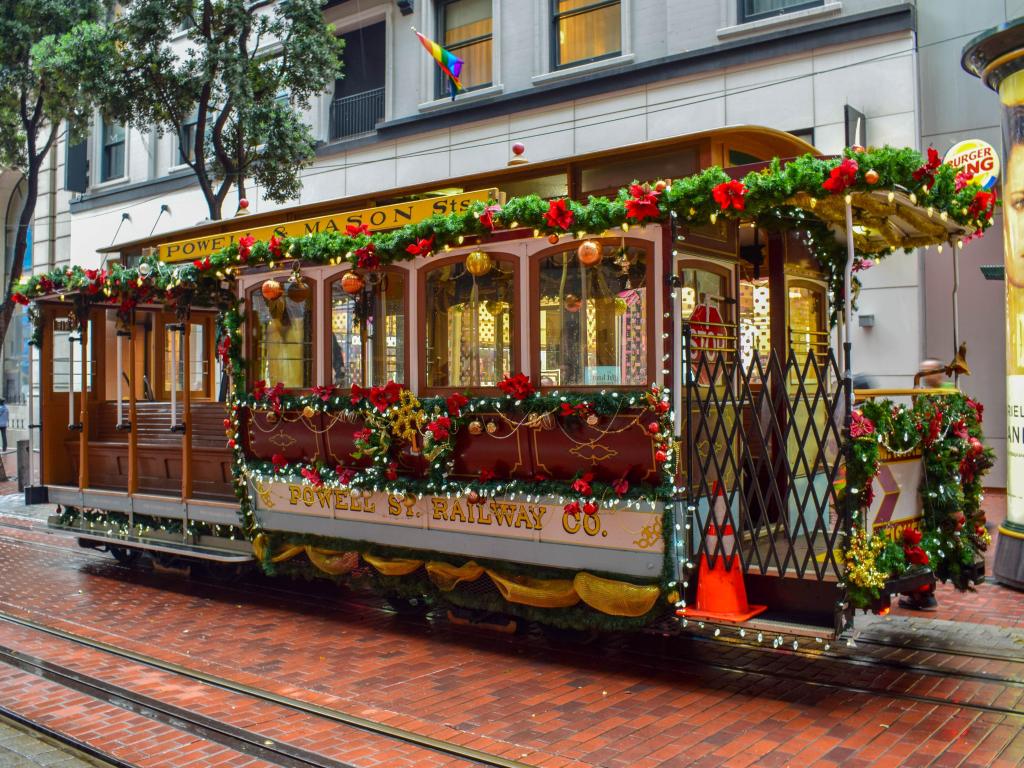 How to get there: Head out of Portland on I-5, driving through Salem and Eugene. You will soon cross from Oregon to California. Drive through Mount Shasta, Shasta-Trinity National Forest and Redding. Keep on the interstate until you reach Dunnigan.
From here, I-505 and then I-80 will take you to San Francisco.
Our highlights: Holiday in the Park at Six Flags Discovery Kingdom is a major holiday destination full of fun activities and spectacular sights. Running from end of November until early January, the celebration involves events, light displays, and activities, and there is something for everyone here.
Late December and January are the times of the southern migration of the grey whales, or California whales, making this an opportune time for viewing these gentle giants. You may walk along the cliffs of the coastline to try to spot whales or take a boat tour from Bodega Bay.
San Francisco Museum of Modern Art has a range of works by world-renowned artists such as Frida Kahlo and Andy Warhol, as well as regularly updated newer exhibitions. The museum is a perfect place to spend a chilly or rainy day during the winter months.
The recreation of the world of Charles Dickens is a fantastical Christmas festivity, with ornate holiday décor from the Victorian era, memorable characters of the books, and food and drinks. Victorian costumes are encouraged, though not required!
At the California Academy of Sciences, you may enjoy holiday fun with scientific content during the middle of winter. Exhibitions and performances all center around the science of snow, winter, wildlife and more.
Golden Gate Bridge Bike Tour is a lovely, iconic activity, even in the depth of winter - just bring gloves and a beanie to keep you warm on the bike. You can enjoy the views from the bridge, explore the Golden Gate Bridge Park, and afterward find a spot for lunch and do some sightseeing in the coastal town of Sausalito.
Great Dickens Christmas Fair takes place in Daly City on the weekends from the end of November until Christmas. It is another must-see attraction while in San Francisco.
Did you know? San Francisco is known for the dense fogs that arise from the sea, especially during the warmer months. Visiting the city in winter, you'll likely have somewhat clearer visibility, even though you need to withstand the somewhat cooler temperatures.
The San Francisco fog even has a name - Karl, which the locals claim has been the name of the fog already for decades, although other theories as to the origin of the name exist as well.
Things to note: December is considered the wettest month in San Francisco, so remember to take some rain gear with you, and get ready to enjoy the city's indoor activities and attractions if the weather is not favorable for more outdoorsy activities.
Although California's coastline doesn't get much snow, it does snow all throughout Oregon in winter, so if you are heading south, be well prepared for snowy conditions on the roads while passing through Oregon.
During the off-season, you'll often find cheaper hotels, transportation and tour deals in San Francisco.
READ MORE - Road trip from Portland to San Francisco
15. Portland to Las Vegas
via Klamath Falls and Lake Tahoe
970 miles from Portland (16 hours 50 minutes)
Why you should visit:This road trip from Portland to Las Vegas journey takes you straight through Oregon and Nevada, to land in the dreamy, vibrant Christmas-lover's paradise, Las Vegas.
Splendid Christmas lights display and Christmas decorations, luxurious ice skating rinks, and fabulous museums set Las Vegas apart as a superb festive road trip destination. Not to mention the abundant holiday parties and festivities that take place in Sin City during this time!
You will also get to visit the destinations of Klamath Falls and Lake Tahoe, with myriad outdoor and indoor activities, on this beautiful winter road trip.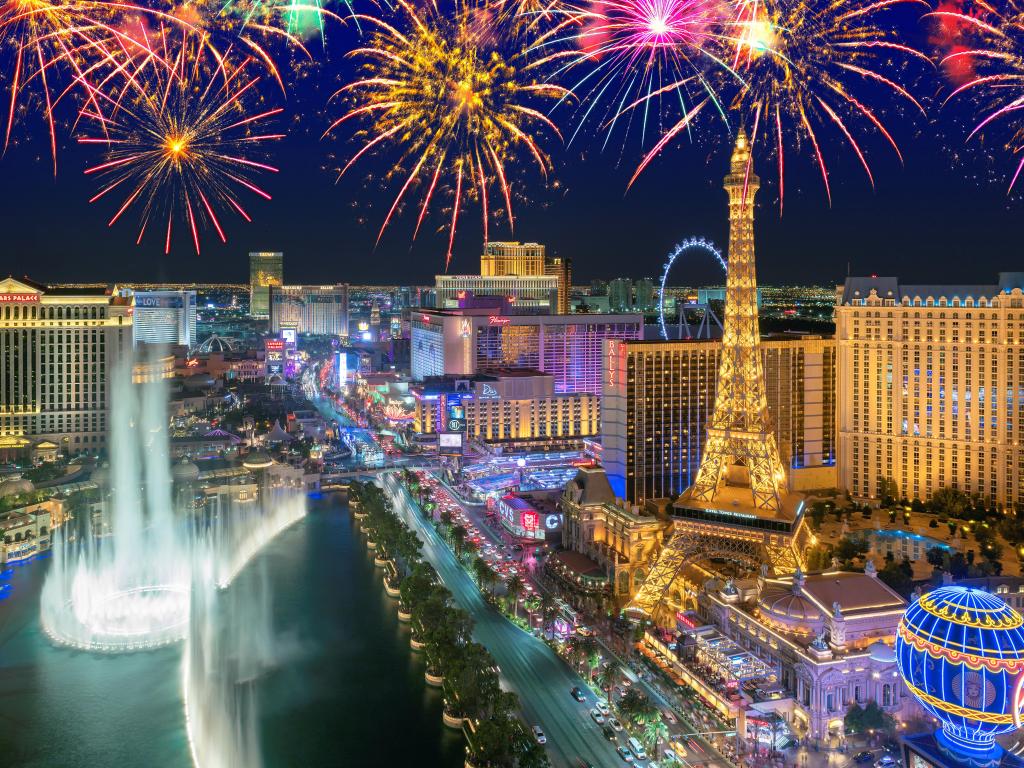 How to get there: Follow I-5 from Portland to Eugene and then switch to US-97 to drive through Klamath Falls. Crossing the state border, you will start driving on CA-139 and US-395 to reach Reno and then Lake Tahoe.
After your visit, hop on US-95 through Tonopah to reach Las Vegas.
Our highlights: On your way to Las Vegas, make a stop at Klamath Falls and explore the numerous cross-country skiing and snowshoeing trails, or enjoy ice fishing on the frozen Klamath Lake.
During Christmas, the town transforms into a festive wonderland with the Snowflake Festival, "A Country Christmas" experience, offering holiday light displays, parades, and a unique local shopping experience.
In Lake Tahoe, winter is perfect for experiencing some of the best skiing and snowboarding in the region, with resorts like Heavenly and Squaw Valley offering pristine slopes and breathtaking views.
You'll find many glitzy Christmas decorations in Las Vegas during the festive season. Some highlights include the decorations at the Bellagio, the lights and displays at Bellagio Conservatory and Botanical Gardens, or the giant lit-up Christmas trees in front of Caesar's Palace.
Las Vegas is also home to Lee Canyon, a ski and snowboard resort. Less than an hour's drive from Las Vegas, this ski resort is best experienced during the months of December and March.
Las Vegas is a fabulous destination for holiday shopping! The Grand Canal Shoppes at the Venetian turn into a Christmas village with decorations and fake snow. Other popular shopping places include Forum Shops, Miracle Mile Shops, and Shoppes at the Palazzo.
The months between November and March are great for visiting Las Vegas if you also hope to immerse yourself in some outdoor activities. For example, hiking the Red Rock Canyon is more pleasant during these months than in the scorching heat of the summer.
Did you know? Las Vegas is perhaps best known for its casinos and gaming halls, colorful neon signs, and as a wedding destination. Indeed, more than 300 weddings take place in Las Vegas every day.
Things to note: Since Oregon gets regular snow in the winter months, and Nevada is known as the land of extremes, be prepared for this lengthy road trip with good snow tires or chains.
If you plan to watch shows while in Las Vegas, it is a good idea to book tickets in advance.
READ MORE - Road trip from Portland to Las Vegas