Road Trip from Denver to Aspen
Whether you're dressed for some elegant après-ski, or have your backpack ready for a hike, Aspen is a dream destination. A road trip from Denver to Aspen promises a captivating blend of dramatic mountain vistas, historic towns, natural beauty, and high-altitude adventure, making it perfect escape from urban life.
The 200-mile road trip from Denver to Aspen will take around 4 hours to cover. Highlights include Argo Mill & Tunnel, Georgetown Loop Railroad, Dillon Reservoir, Vail, Minturn, Red Cliff, Camp Hale Memorial Campground, Tennessee Pass, Turquoise Lake and Leadville.
Read on to find out about the best routes to follow on a Denver to Aspen road trip, some incredible things to see and do, exceptional places to stay, and the optimal times to set off on this scenic adventure.
How far is Aspen from Denver, and how long will the road trip take?
Comparison of road trip routes between Denver and Aspen

| Route | Distance | Driving Time |
| --- | --- | --- |
| The Buena Vista Route | 185 miles | 4 hours |
| The Vail Route | 200 miles | 4 hours 50 minutes |
The Buena Vista Route to journey from Denver to Aspen will take you around 4 hours to drive, winding its way past Staunton State Park, Bailey, Kenosha Pass, Fairplay, Antero Reservoir, Buena Vista, Twin Lakes, and Independence Ghost Town before reaching Aspen.
Alternatively, the Vail Route is slightly longer at 200 miles, and should take around 4 hours and 50 minutes to drive, meandering past Argo Mill & Tunnel, Georgetown Loop Railroad, Dillon Reservoir, Vail, Minturn, Red Cliff, Tennessee Pass, Turquoise Lake and Leadville. Both routes merge at Twin Lakes and follow the same path to Aspen.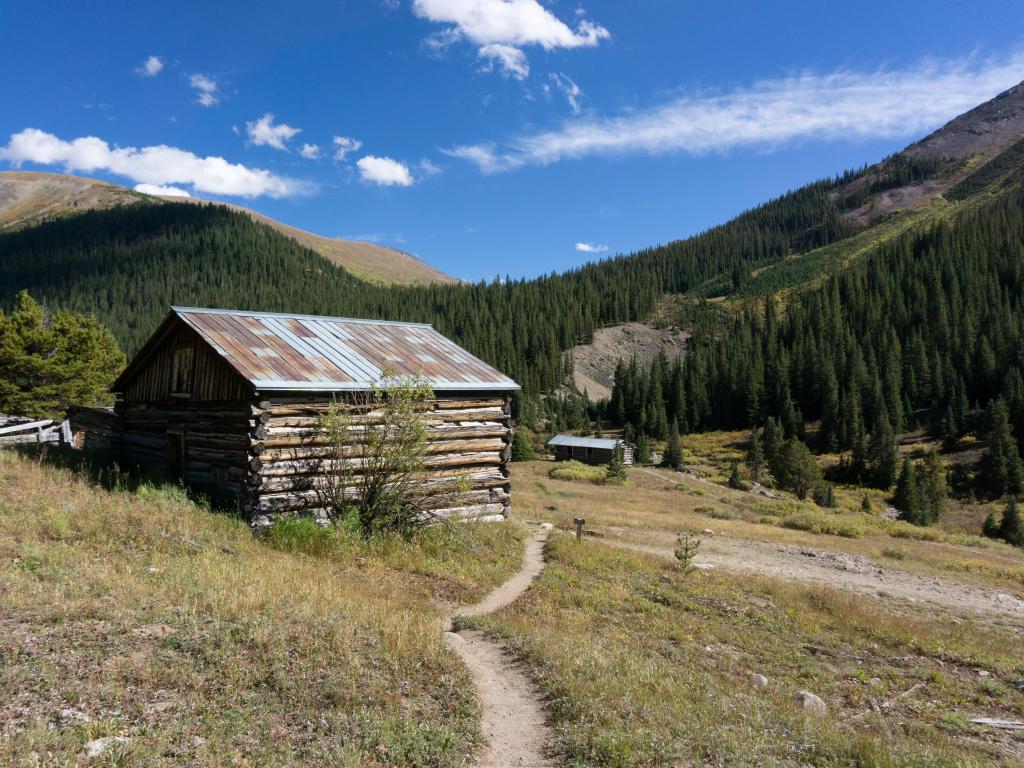 While it is possible to complete either route in under a day, we recommend dedicating 2-3 days for this trip to fully indulge in the scenic views and make plenty of stops along the way.
Best road trip route from Denver to Aspen
The Buena Vista and Vail Routes each offer enticing journeys through Colorado and similar drive times, so the route you choose should depend on your preference for the scenery and attractions on offer - which we'll get into below.
The Buena Vista Route passes through natural landmarks such as Staunton State Park, quirky attractions like the Sasquatch Outpost and the historical South Park City Museum in Fairplay.
The journey also takes you through Buena Vista town, and the landscapes of Brown's Canyon National Monument and Buffalo Peaks Wilderness Area, meaning there's a great balance here between things to do and stretches of tranquil natural countryside.
The Vail Route, on the other hand, offers more of a scenic resort experience, featuring the charming resort town of Vail, as its name suggests. It also includes attractions like the Argo Mill & Tunnel, Georgetown Loop Railroad and the famous Camp Hale Memorial, meaning you won't be short on history and culture as you make your way to Aspen.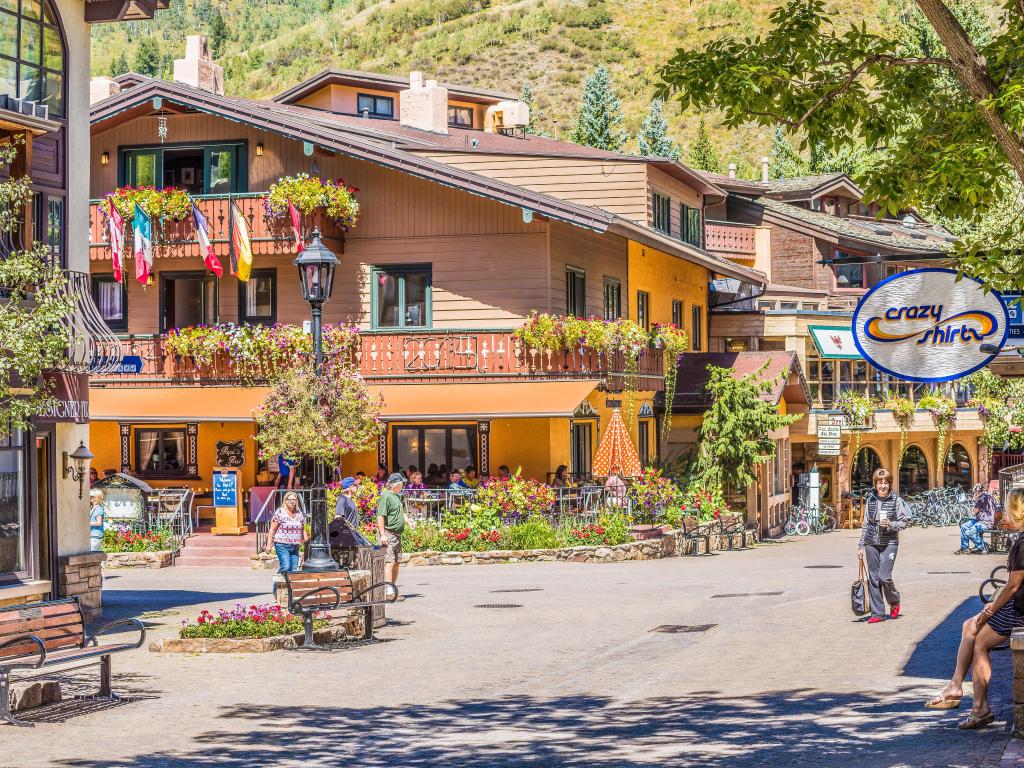 While the Vail Route features less open wilderness, the journey does take you to the Top of the Rockies Scenic Byway, the picturesque towns of Minturn and Red Cliff, the Tennessee Pass and Turquoise Lake. Be sure to bring your camera, as the scenery will be stunning!
Ultimately, your choice between the wilderness and history-rich Buena Vista Route or the resort town and scenic beauty-focused Vail Route will define your Colorado adventure. Both are laden with captivating attractions that promise an unforgettable road trip.
How to drive from Denver to Aspen
The map above shows our suggestions for the best road trip routes between Denver and Aspen. Keep reading for detailed descriptions of both routes, where to stay on either, and the best things to do on the way.
The Buena Vista Route
Begin your journey on the Buena Vista Route heading southwest out of Denver towards the tranquil Staunton State Park, an ideal location for hiking or a peaceful picnic. Continue on your journey through the picturesque town of Bailey, making sure to stop at the Sasquatch Outpost, an interesting place full of local folklore and legends.
As you travel further, you'll reach Kenosha Pass, renowned for its panoramic views and hiking trails. Soon, you'll arrive in Fairplay, a charming town with a historical appeal where you can explore the South Park City Museum. From Fairplay, it's a scenic drive to the serene Antero Reservoir, a popular spot for fishing and camping.
The route continues south to the vibrant town of Buena Vista, which not only offers breathtaking mountain views but also houses the Buena Vista Heritage Museum, offering a glimpse into the region's past. As you proceed, don't miss out on the spectacular landscapes of Brown's Canyon National Monument and Buffalo Peaks Wilderness Area, both providing plenty of opportunities for wildlife viewing and outdoor activities.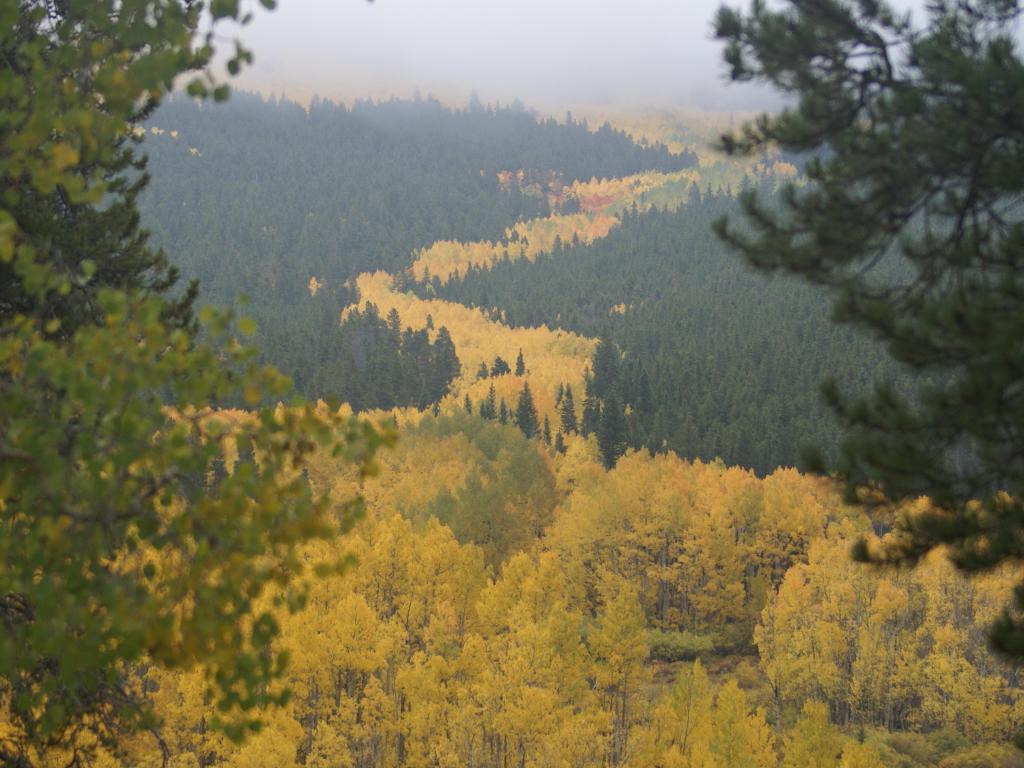 From there, head towards Twin Lakes, two majestic bodies of water nestled at the foot of Colorado's highest peak. Following a short drive from Twin Lakes, you'll find the historic Independence Ghost Town, an abandoned mining settlement that gives a unique insight into the life of the miners who once lived there.
As the journey nears its end, the route converges with the Vail Route and continues onwards to Aspen, a town known for its year-round outdoor activities and cultural events. With a plethora of unique stops, this route guarantees an unforgettable road trip brimming with natural beauty, history, and adventure.
The Vail Route
Commence your journey on the Vail Route heading west out of Denver, with your first stop being the Argo Mill & Tunnel, a rich historical site offering fascinating insights into Colorado's gold mining history. Continue onwards to the Georgetown Loop Railroad, a marvel of engineering where you can experience a memorable train ride amidst the mountainous terrain.
Your next stop is Dillon Reservoir, a beautiful body of water surrounded by mountain peaks, offering ample opportunities for water sports and scenic picnics. Further along the route, you'll enter the resort town of Vail, a winter paradise known for its skiing slopes and year-round mountain activities.
Drive along the Top of the Rockies Scenic Byway, an enthralling stretch with breathtaking views of snow-capped peaks and pristine alpine landscapes. Stop in the charming towns of Minturn and Red Cliff, each with its own unique character and small-town charm.
Your next destination is the historic Camp Hale Memorial Campground, a significant World War II site nestled amidst the mountains. As you continue through Tennessee Pass and Turquoise Lake, take some time to enjoy the tranquil settings and beautiful vistas.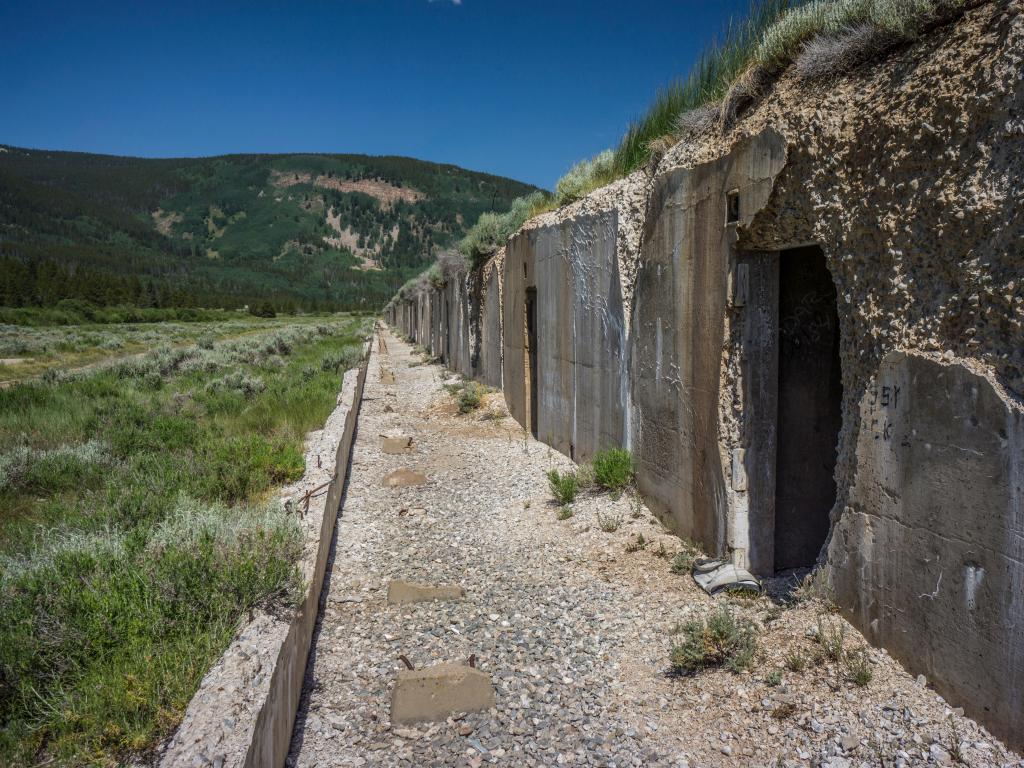 Your journey then takes you into Leadville, a high-altitude town with a rich mining history, where you can explore the National Mining Hall of Fame. As you drive south, take in the sweeping views of the towering Rocky Mountains and the surrounding wilderness.
The route converges with the Buena Vista Route at Twin Lakes, where the sparkling water bodies against the backdrop of imposing mountain peaks provide a captivating view. After a short drive from Twin Lakes, you'll arrive at the Independence Ghost Town, a well-preserved relic of Colorado's mining history.
The road trip concludes in Aspen, an iconic mountain town renowned for its skiing, arts scene, and vibrant nightlife. The Vail Route presents a diverse array of attractions, from historical landmarks to breathtaking natural sights, making for a thoroughly enriching road trip experience.
Best places to stop between Denver and Aspen
To help you with your planning, we've selected our favorite pitstops along both routes on a road trip from Denver to Aspen, coupled with a diverse array of high-quality activities to partake in during your break from the drive. Read on to discover more about the best places to stay on your road trip.
Wake up to the views in Buena Vista
Midway along The Buena Vista Route is Buena Vista itself, a tranquil enclave cradled amidst the Collegiate Peaks. This quaint town, literally translating to "beautiful view", is known for its heart-stopping landscapes and outdoor adventures, certainly doing justice to its name.
In Buena Vista, the adrenaline junkie can find their calling with the thrilling whitewater rafting on the Arkansas River or challenging mountain biking trails. Those seeking a more relaxed pace can take a leisurely hike, immersing themselves in the town's majestic surroundings.
We suggest you consider the charming Surf Hotel & Chateau for a peaceful night's rest. Sitting close to the town's heart, the hotel blends rustic design features with modern comforts. Each room is curated with attention to detail, ensuring relaxation with high-quality beds and super-chic décor.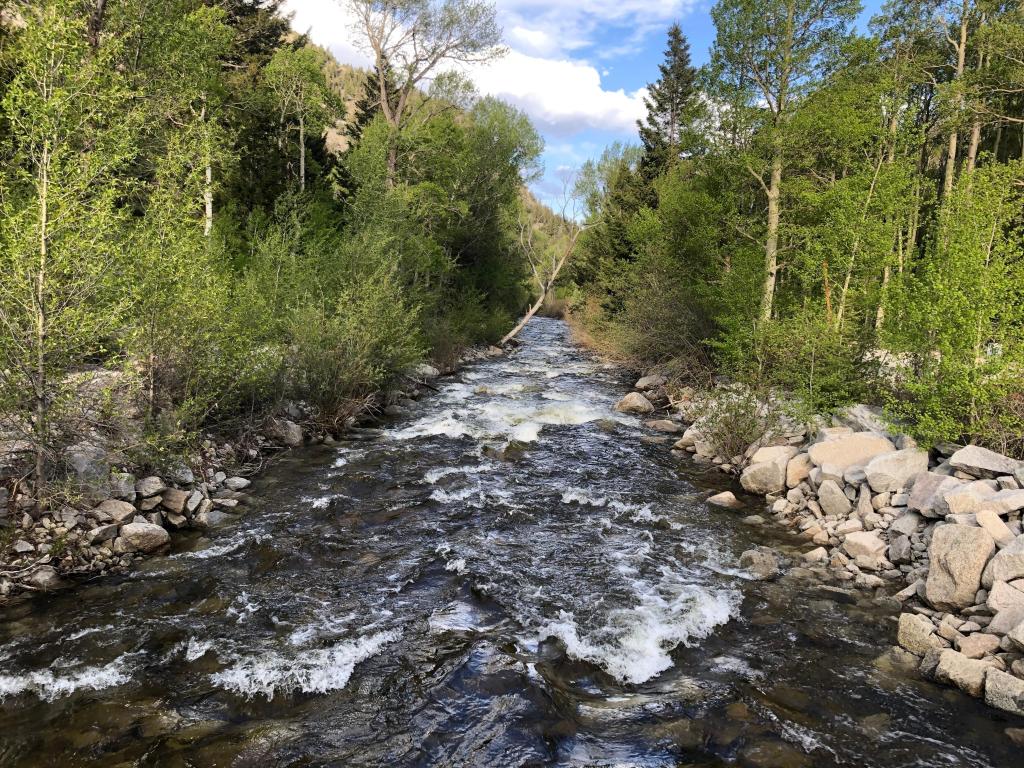 One of Surf Hotel & Chateau's alluring traits is its serene location. The tranquility of Buena Vista offers a scenic alternative to the more bustling Colorado hotspots. In addition, its proximity to the Arkansas River means that tranquil views and a host of water-based activities are only a few steps away.
Nearby, you'll find House Rock Kitchen, a culinary treasure serving diverse and locally-sourced meals. After a day full of adventure, this eatery is an excellent place to unwind, savoring a memorable dinner before retreating to the comfort of the Surf Hotel & Chateau, preparing for another exhilarating day on your journey.
Enjoy the tranquility of Red Cliff
Nestled in the heart of Colorado's breathtaking mountain landscapes, Red Cliff is the perfect stopover on the Vail Route. This historic town offers an authentic Colorado experience, away from the bustling crowds of the larger ski towns, and gives you the chance to enjoy the tranquility and stunning natural beauty of the area.
An adventure-packed day in Red Cliff can involve an assortment of activities, ranging from snowshoeing, snowmobiling, and cross-country skiing in the winter, to hiking, biking, fishing, and ATV riding in the summer. Just a short drive from the town is the renowned Shrine Pass Trailhead, known for its beautiful views of the Mount of the Holy Cross. For fishing enthusiasts, the nearby Eagle River is famous for its exceptional trout fishing.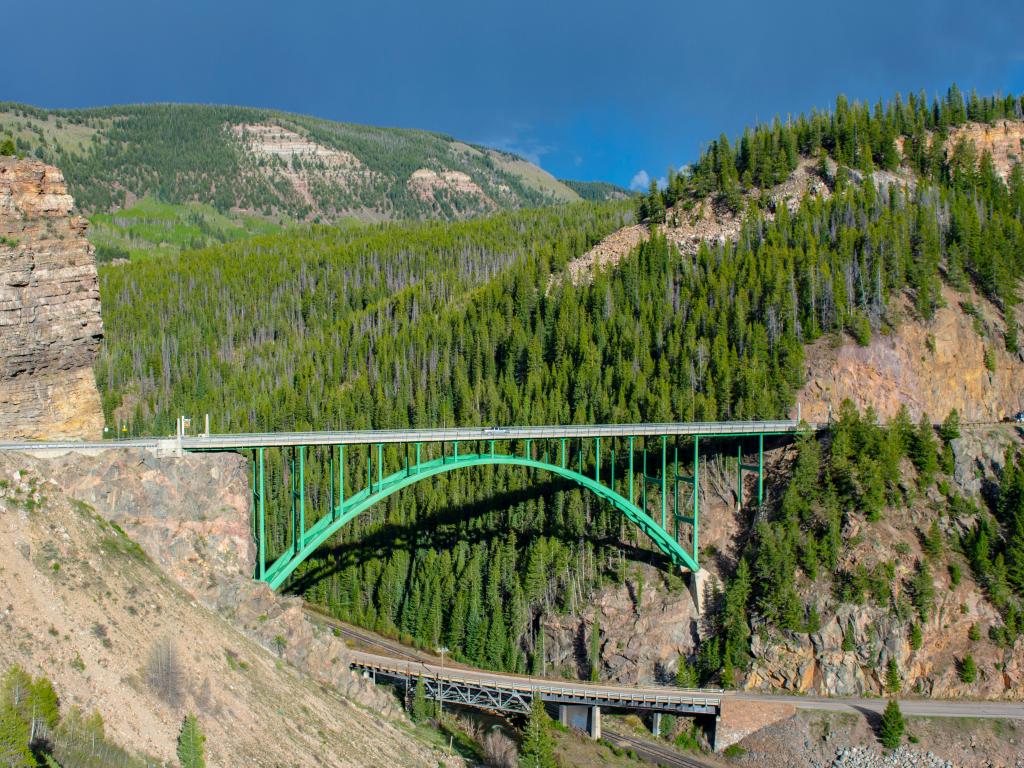 While in Red Cliff, we recommend staying at the unique, boutique-style Green Bridge Inn. With a rustic, historic vibe and modern, comfortable rooms featuring hardwood flooring and extra-long beds, the Green Bridge Inn offers the perfect mix of luxury and homely comfort. The Inn's historic charm, full of character and thoughtful details, give it a cozy, welcoming feel.
One of the Inn's best features is its on-site provisions and liquor store, ready to cater to all your adventure cravings. And just across the street, you'll find Mango's Mountain Grill, a local eatery loved for its tasty burgers and fish tacos, as well as its scenic deck.
What's more, you'll get fabulous views of the majestic Green Bridge - which the inn is named after - just down the street.
Where to stay when you reach Aspen
Nestled within the stunning landscape of Colorado's majestic mountains, Aspen is a world-renowned blend of rustic beauty and urban sophistication. Famous for its high-end ski resorts, including Aspen Mountain, the city captivates with its rich offerings.
However, beyond its well-known winter attractions, Aspen has a wealth of treasures waiting to be discovered: from the international contemporary exhibits at the Aspen Art Museum to the awe-inspiring trails and vistas at the Maroon Bells.
Tucked into the heart of this unique alpine destination, The Gant provides a sanctuary of comfort and elegance. Its spacious, tastefully decorated rooms, furnished with quality beds and top-tier amenities, create an inviting atmosphere, inviting guests to relax and unwind.
Within the confines of The Gant's expansive, beautifully manicured grounds, guests can enjoy a wide range of amenities, from taking a dip in one of the two heated outdoor pools to engaging in friendly competition on one of the five tennis courts.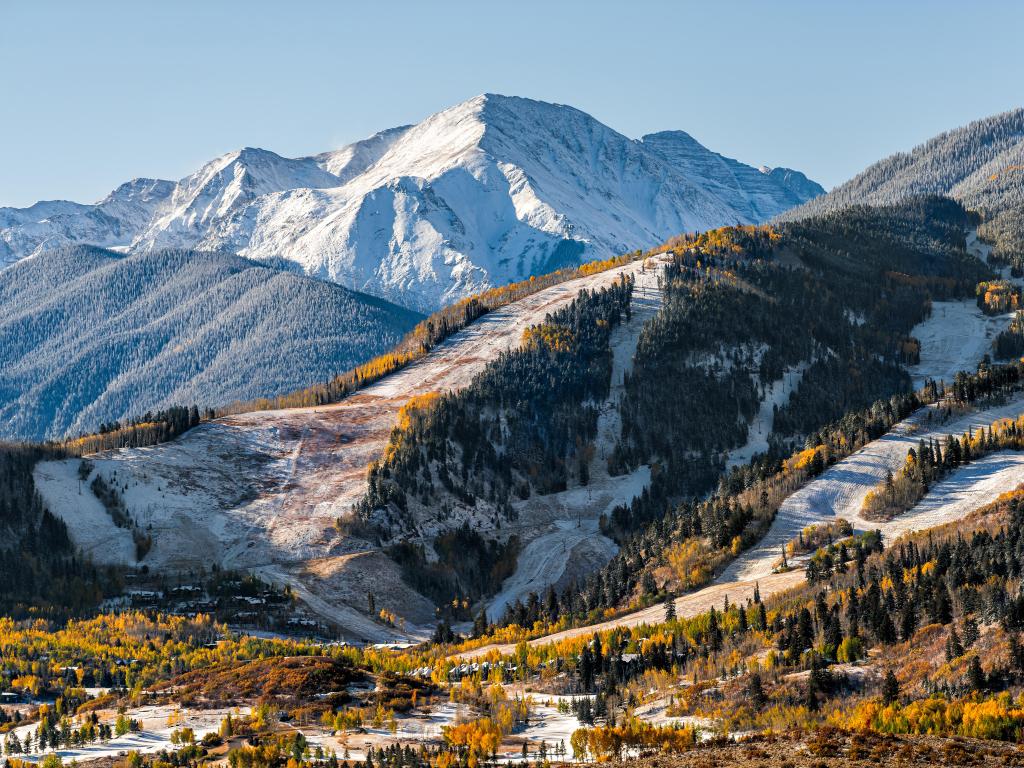 The hotel's prime location immerses guests in Aspen's vibrant heart, with scenic mountain views and close proximity to the city's finest shops, restaurants, and galleries. Secondly, despite being centrally located, The Gant's expansive and meticulously landscaped grounds provide a tranquil escape, complete with resort-style amenities.
Despite its upscale vibe, The Gant still manages to capture the feeling of home away from home, with its fully-equipped kitchens, cozy living spaces, wood-burning stoves, and private balconies.
After a day of skiing down Aspen Mountain's slopes, marveling at the contemporary artworks at the Aspen Art Museum, or hiking the trails of Maroon Bells, The Gant offers a tranquil retreat to recharge and reminisce on the day's adventures.
Things to see on a road trip from Denver to Aspen
Whether you're a fervent outdoor enthusiast, a nature lover captivated by towering mountains and expansive wilderness, or a history aficionado fascinated by Colorado's rich mining history and charming historic towns, the Denver to Aspen road trip promises an unforgettable journey.
Here is a curated selection of our favorite things to see and do along both of our suggested routes.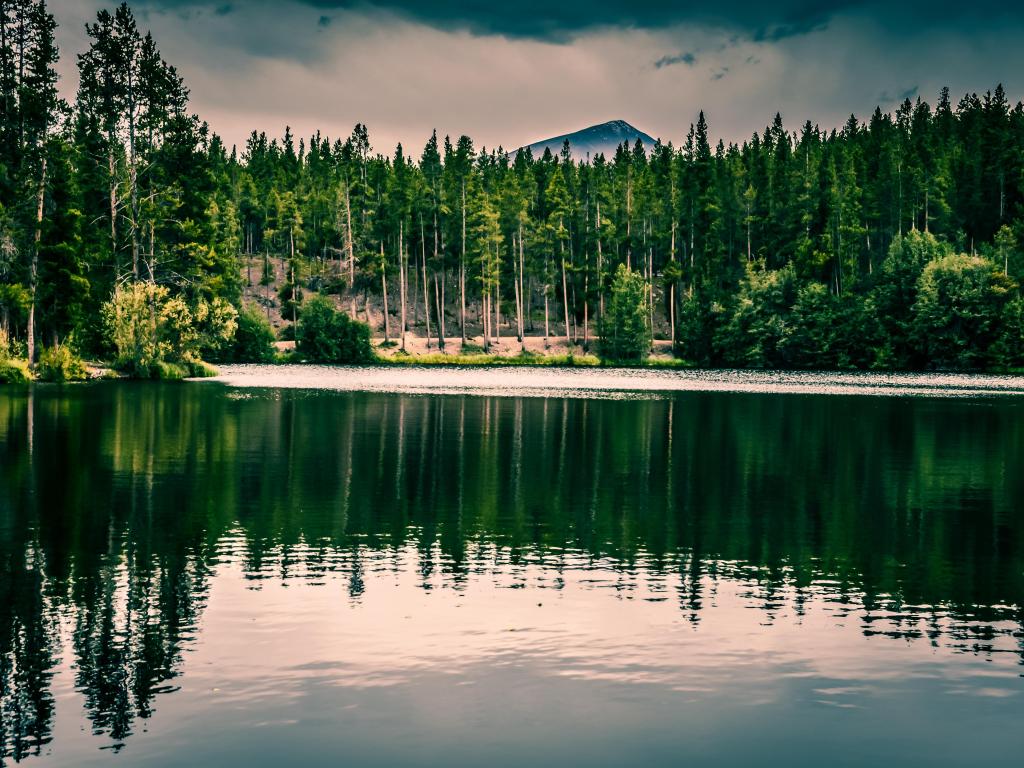 On The Buena Vista Route
Staunton State Park - A natural sanctuary that promises unrivaled beauty with breathtaking landscapes, diverse wildlife, and miles of tranquil hiking trails.
Bailey - A serene mountain town nestled in the Platte Canyon, offering a perfect getaway for nature enthusiasts and history buffs.
Sasquatch Outpost, Bailey - A one-of-a-kind destination offering a unique blend of Bigfoot-themed souvenirs, exhibits, and even a Sasquatch museum.
Kenosha Pass - A high mountain pass offering remarkable vistas, famous for its vibrant fall colors and extensive trail networks for hiking and biking.
Fairplay - Known as the official Trout Fishing Capital of Colorado, Fairplay offers visitors an authentic taste of the Old West.
South Park City Museum, Fairplay - An open-air museum transporting visitors back to the 1800s with its meticulously preserved historic buildings and artifacts.
Antero Reservoir - A scenic alpine reservoir perfect for boating, fishing, and camping, set against the stunning backdrop of Colorado's high peaks.
Buena Vista - A charming town set in the heart of the Rocky Mountains, renowned for its hot springs, whitewater rafting, and mountain biking trails.
Buena Vista Heritage Museum - A local treasure housing historic exhibits, offering insights into the rich history and culture of Buena Vista and Chaffee County.
Brown's Canyon National Monument - A national monument boasting diverse wildlife, unique geology, and gold-medal fishing waters amidst rugged canyons and towering spires.
Buffalo Peaks Wilderness Area - A serene wilderness area offering solitude and tranquility, featuring two prominent peaks and miles of undisturbed hiking trails.
Twin Lakes - Home to Colorado's largest glacial lakes, this area offers breathtaking views, fishing, boating, and a variety of outdoor activities.
Independence Ghost Town - A well-preserved ghost town dating back to the late 1800s, offering visitors a glimpse into the lives of early Colorado gold miners.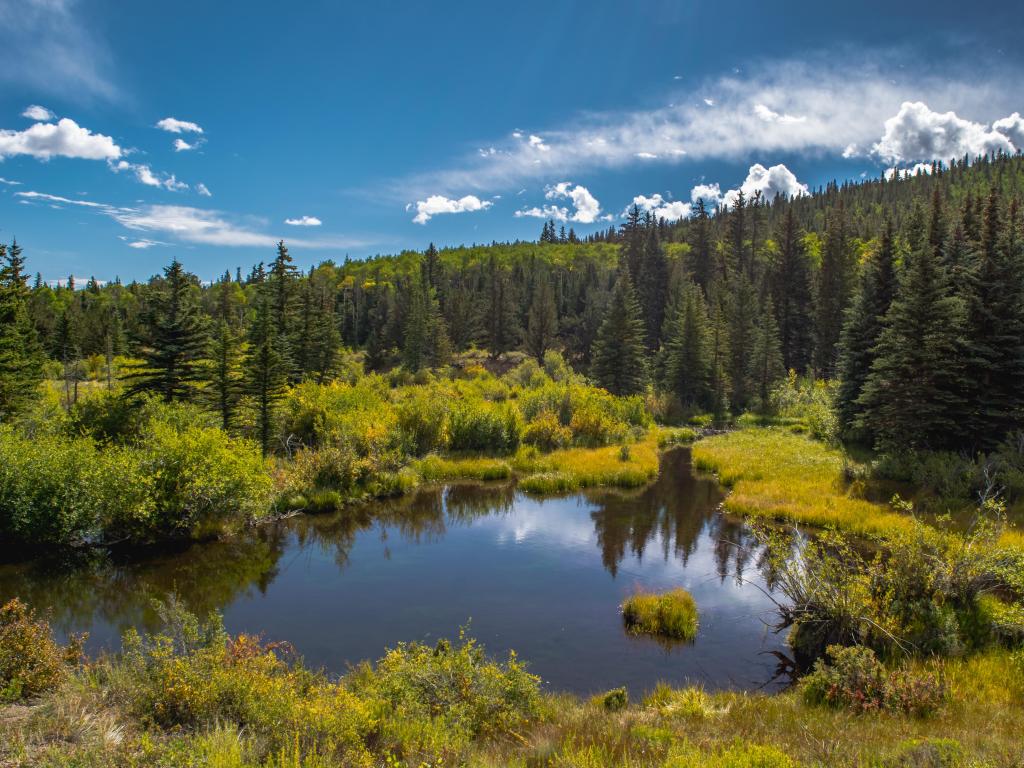 On The Vail Route
Argo Mill & Tunnel, Idaho Springs - A historic gold mine offering guided tours that delve into Colorado's rich mining history, complete with a museum and gold panning experience.
Georgetown Loop Railroad, Georgetown - A remarkable narrow gauge railroad famous for its scenic journeys, it winds through the mountains offering stunning panoramas and a glimpse into Colorado's mining history.
Dillon Reservoir - One of the largest reservoirs in Colorado, offering water sports, fishing, and stunning mountain vistas, along with a surrounding recreational area that features camping, hiking, and biking trails.
Vail - A world-renowned mountain resort town known for its top-notch skiing, upscale dining, and vibrant cultural scene, making it a premier destination for outdoor enthusiasts and luxury seekers alike.
Top of the Rockies Scenic Byway - A stunningly scenic route that winds through the heart of Colorado's high country, offering breath-taking views of the Rockies, alpine meadows, and crystal-clear lakes.
Minturn - A charming, rustic town tucked between Vail and Beaver Creek, known for its historic downtown, vibrant arts scene, and the popular Minturn Market.
Red Cliff - A quaint mountain town filled with rustic charm, surrounded by dramatic cliffs and offering a gateway to numerous outdoor activities.
Camp Hale Memorial Campground, Red Cliff - A historic site where the 10th Mountain Division trained during World War II, now a peaceful campground offering excellent opportunities for hiking, fishing, and wildlife viewing.
Tennessee Pass, Leadville - A high mountain pass situated on the Continental Divide, known for its stunning panoramas, hiking trails, and winter sports opportunities.
Turquoise Lake, Leadville - A beautiful high-altitude lake known for its turquoise waters, spectacular views, and recreational activities such as fishing, boating, camping, and hiking.
Leadville - A former silver mining town that stands as the highest incorporated city in the US, offering a rich history, charming downtown, and access to outdoor recreational activities.
National Mining Hall of Fame, Leadville - Known as the "Smithsonian of the Rockies", this museum is dedicated to the history of mining and the men and women who made it a central part of American history.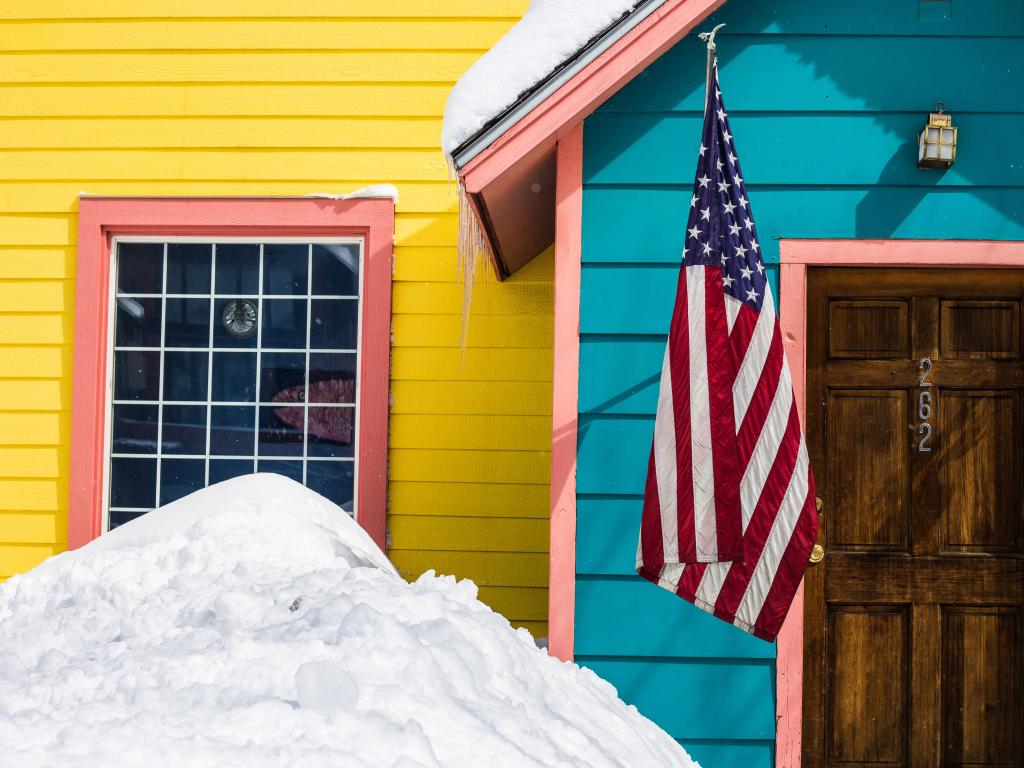 Best time to go on a road trip from Denver to Aspen
Aspen, Colorado, an iconic year-round destination, offers a different flavor of enjoyment across each season. While a road trip from Denver to Aspen is magnificent at any time of the year, the varying seasonal characteristics can create distinct experiences.
Even though the winter months in Colorado's high country are characterized by abundant snowfall and potentially intense weather, these conditions are part and parcel of the region's charm. For those adequately prepared and mindful of local weather advisories, the journey to Aspen during winter can be a delightful snowy adventure, especially with Aspen's world-class ski slopes waiting as your ultimate destination.
In early December, Aspen's beloved Wintersköl celebrates the season's delights. This "toast to winter" is a four-day festival filled with on-mountain activities, a canine fashion show, fireworks, and more, all set in your picturesque destination.
Summer, in contrast, can be pleasantly warm, with temperatures often reaching the low 80s Fahrenheit. The city comes alive during the Aspen Music Festival in July and August, with classical music filling the air and crowds gathering to enjoy the spectacle. It's a bustling time to visit, providing a vibrant atmosphere for travelers. Similarly, the Vail Dance Festival in late July draws fans from far and wide, meaning it's an exciting time to be around.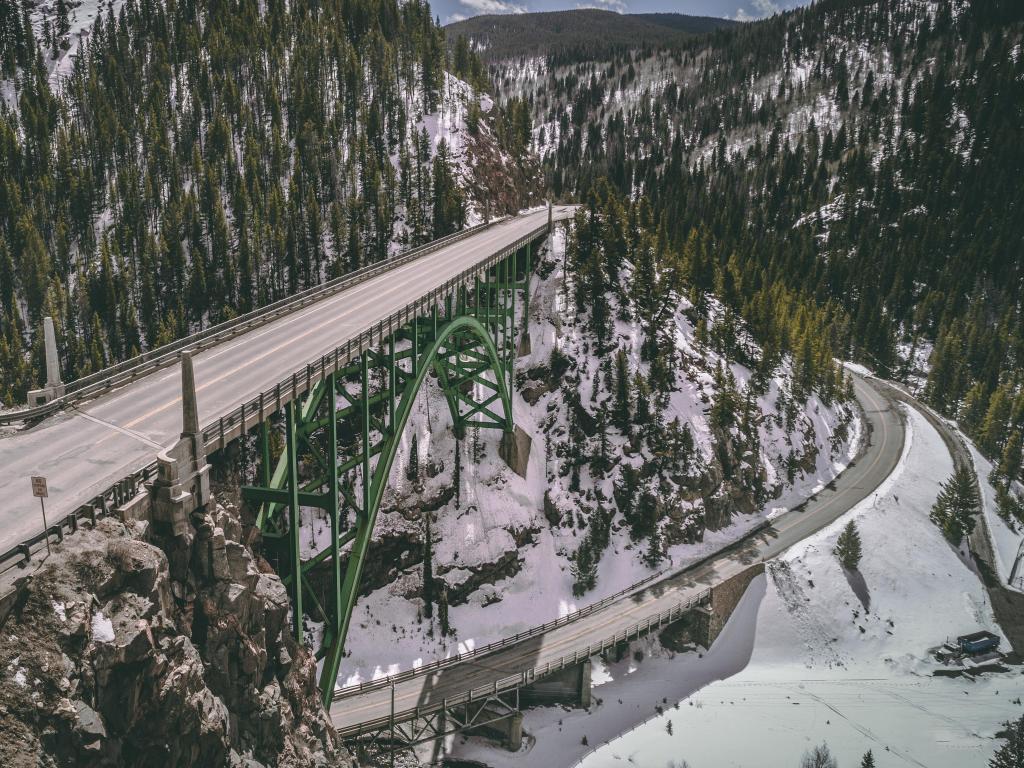 Also in July is Burro Days, hosted in Fairplay. This is an intriguing spectacle that pays tribute to the town's rich mining heritage. The festival revolves around a pack burro race, where participants run a course alongside a burro carrying mining tools. In addition to the race, the festival includes local arts and crafts exhibits, live music, and food vendors. It is an excellent event for family entertainment and offers an authentic taste of Colorado's cultural history.
Nevertheless, the mild climates of late spring and early fall provide optimal conditions for a road trip. With temperatures typically resting in the comfortable 60s and 70s, these seasons present a prime opportunity to explore the outdoors extensively.
With each season offering its unique blend of beauty and activities, your road trip from Denver to Aspen is bound to be memorable regardless of the time of year. The key lies in being prepared, staying informed about weather conditions, and embracing the wonderful variability of the seasons. This way, you can truly appreciate the dynamic charm of this incredible journey.