From Coast to Ghost: Visiting the Most Haunted Places in the USA
Whether you're a ghost-buster, a thrill seeker, or you're just here for the trick-or-treat candy, a Halloween road trip is the perfect way to mark the most spirited of the seasons.
On our list of America's 30 most eerie escapes you'll find haunted hotels and possessed prisons; abandoned asylums and spine-chilling cemeteries; mysterious mansions and the most ghoulish of ghost towns... all perfect for a supernatural sojourn.
As you'll discover below, there's a spooky spectacle hidden around just about every corner: from kooky California to the creepy Carolinas. So buckle up, grab your favorite Halloween candy, and set out on a haunting adventure - one you just might struggle to forget.
Northwest nightmares: 4 spooky spots to explore
1. Northern State Ghost Town
Sedro-Woolley, WA
What makes this place spooky: In the midst of a pristine, pastoral landscape, the cavernous buildings of the former Northern State Mental Hospital exude a haunting silence through the crumbling plaster of their walls.
Built in 1912 and shuttered in 1976, the facility has housed thousands of people working through their own demons - some of which are rumored to linger.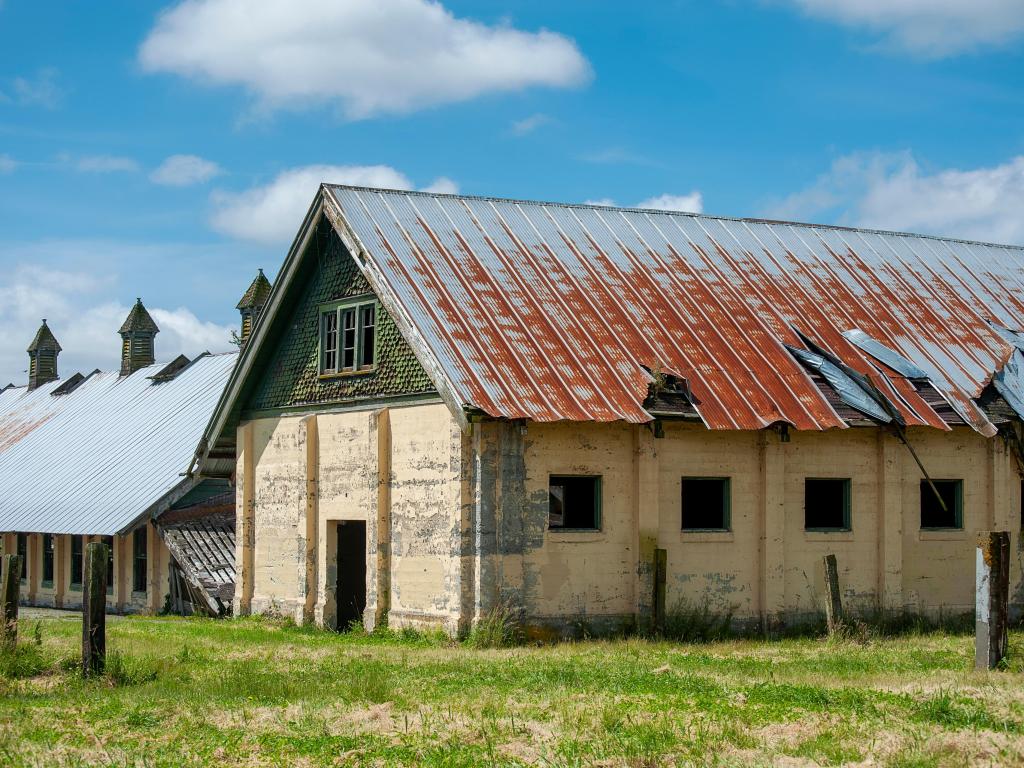 Our travel tips: The abandoned grounds of the Northern State Mental Hospital are part of the Northern State Recreation Area, which is open-year round and accessible via a short walk. It is a common hiking area with minimal elevation gain and plenty of trees that are blushing with fall colors.
Some of the remaining buildings are actively used for job corps projects and drug rehabilitation, so day visitors are requested to avoid these areas.
If you want to delve even deeper into the macabre on your trip here, visit the cemetery were over 1,000 people have found their final resting place.
While you are here: This is an ideal fall day trip from Seattle. Just drive roughly 70 miles north on Interstate 5 (I-5), past Mt Vernon, then take Cook Road towards the Northern State Recreation Area.
2. Wolf Creek Inn
Wolf Creek, OR
What makes this place spooky: Along the creaky halls of the Wolf Creek Inn, bold guests have heard an ethereal woman's voice, a piano that wasn't there, and inexplicable slamming doors.
The apparitions here are so frequent and intense that the Ghost Adventurers felt compelled to come and investigate this historic inn, which has been welcoming visitors since 1883.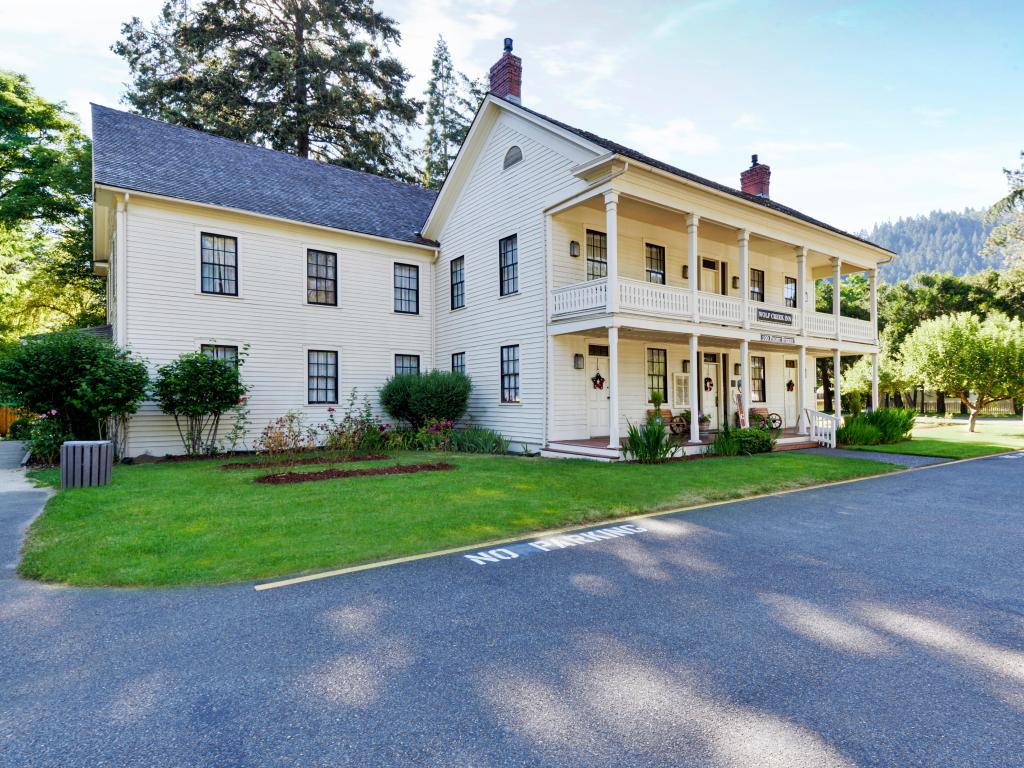 Our travel tips: The inn is part of the Wolf Creek Inn State Heritage Site that is managed by the Oregon Parks Department and is open to visitors seven days a week. It is also still an operational inn and you can book a night's stay here, if you dare.
There's no fee to take a peek around the inn and there are even some panels outside that detail the history of the inn and significance of the Applegate Trail which it sits on.
On the grounds of the park, you'll also find an old chapel and covered wooden bridge that add to the rustic atmosphere.
While you are here: The Wolf Creek Inn is a 2-hour drive south of Eugene, OR, entirely along I-5. It is about 3.5 hours south of Portland.
Just an hour's drive southeast from Wolf Creek is Ashland, OR, where you can check out a suite of spots rumored to be haunted, including the Allen Elizabethan Theatre and the Ashland Springs Hotel.
3. Alcatraz Island
San Francisco, CA
What makes this place spooky: Also known as The Rock, this former maximum security prison on an island in the San Francisco Bay was notorious for its ignoble detainees such as Al Capone and George "Machine Gun" Kelly.
Punishment wasn't doled out lightly within these cold, unforgiving walls, and many people claim that the hardened criminals housed here have a hard time leaving the world of living alone.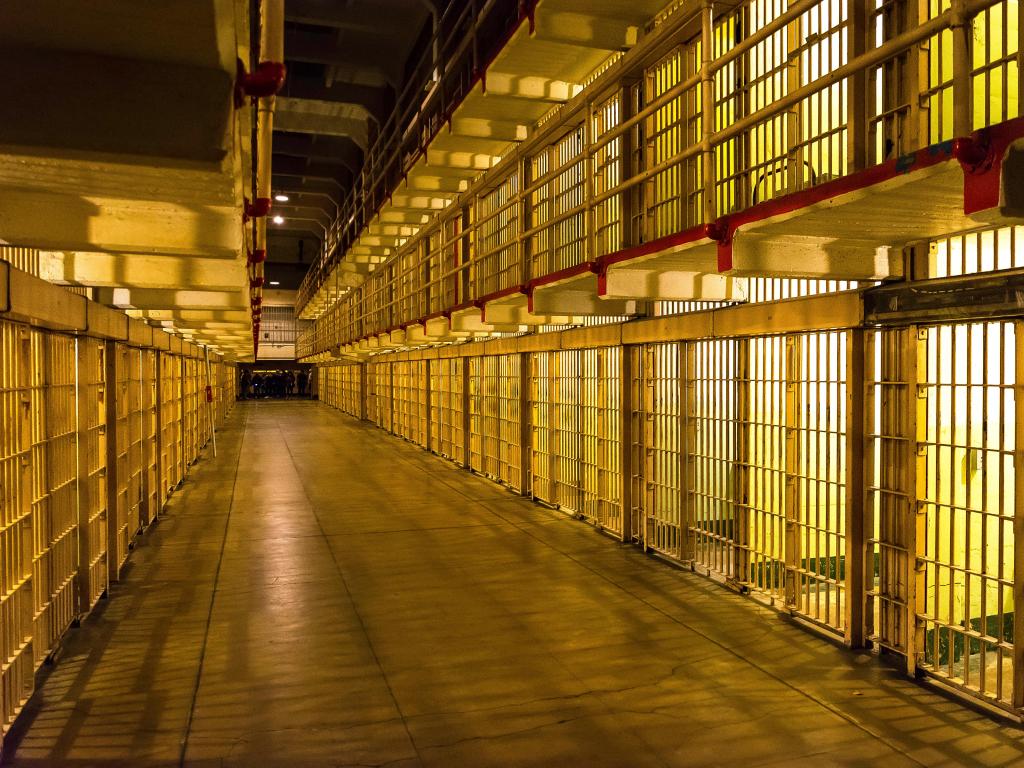 Our travel tips: You will need to take a ferry to Alcatraz. You can buy tickets and board the ferry along the Embarcadero, near Fisherman's Wharf. It would be wise to get tickets in advance online as Alcatraz is one of San Francisco's most popular tourist destinations. Paid parking is available near Pier 33.
Be sure to bundle up! It can get mighty cold and windy on the Bay as the fall chill sets in.
While you will have to purchase a ferry ticket, the site of Alcatraz, which is now managed as a state park, is free to all visitors from 10am to 8 pm year round except for Thanksgiving, Christmas, and New Year's Day.
While you are here: This is an exciting fall day trip from Sacramento. From the state capital, head southwest on Interstate 80, then take the first exit in San Francisco to get to the Embarcadero.
4. Winchester Mystery House
San Jose, CA
What makes this place spooky: This labyrinthine 24,000-square-foot abode built by the heiress to the Winchester rifle fortune has stoked rumors of otherworldly influences since the beginning of its decades-long construction period at the turn of the century.
Was the compulsive construction driven by mania, fear of those who met their demise by a Winchester, or something even more sinister? Hauntings have been reported for years, making it one of the most architecturally unique and haunted homes in America.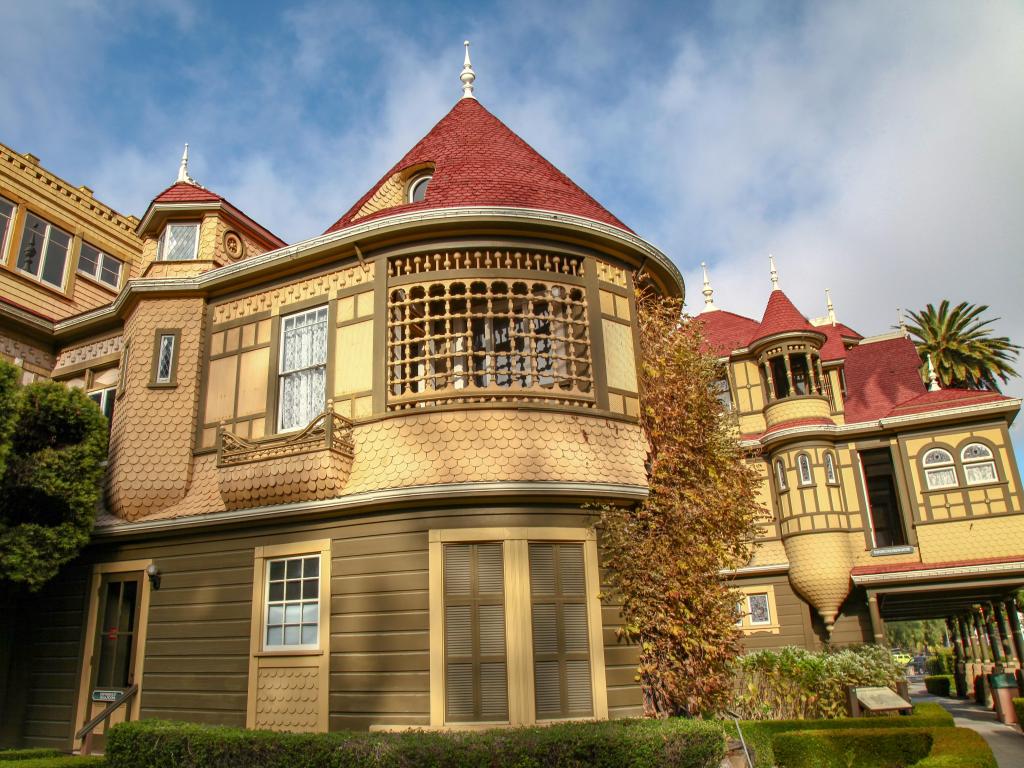 Our travel tips: There are privately operated tours of the mansion that keep to a fixed schedule, so it is better to book your tickets ahead of time online so that you can time your visit accordingly.
Tickets are also available at the mansion itself, if you happen to be in the neighborhood and don't mind waiting for the next tour to start. Tours are one to two hours long and there's free parking for guests close to the mansion.
While you are here: The Winchester Mystery House is a 2 hour and 30-minute drive from Fresno via CA Route 99, CA Route 152, and US Route 101.
The spooks in San Jose don't restrict themselves to this less-than-humble mansion. Dottie's Pond, also known as Santa Teresa Spring, was held to have healing properties granted to it by a witch according to the lore of the Ohlone people.
Nearby, you can also wander the Hacienda Cemetery with headstones dating back to the late 19th century, including one for a little boy's arm that was shot off during a hunting accident.
Midwest ghostly grounds: 4 must-visit haunts for a jaunt
5. Bachelor's Grove Cemetery
Bremen Township, IL
What makes this place spooky: Surrounded by a dense, foreboding forest, this haunted burial ground is infamous for its restless spirits and phantom apparitions, having featured in many a local ghost tale. It's a spine-tingling destination if you dare to explore the darker side of the afterlife.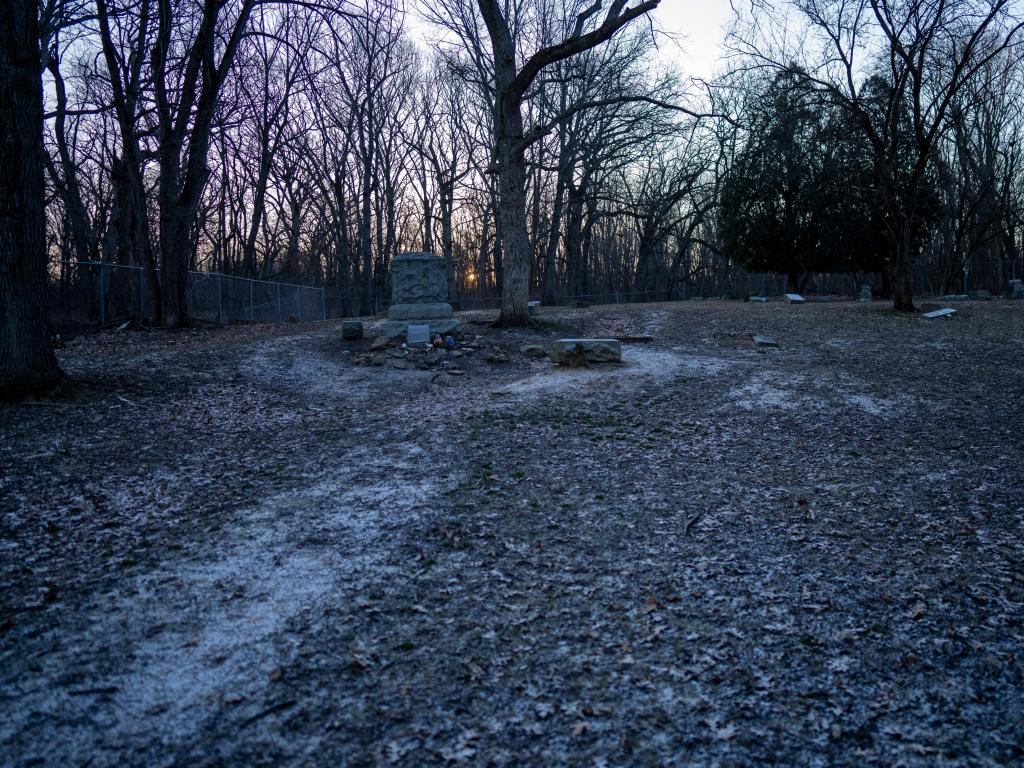 Our travel tips: Bachelor's Grove Cemetery is located in the Rubio Woods forest preserve, which is open to visitors from sunrise to sunset.
As tempting as it may be to linger after dark to have your own eerie encounter, you will be fined if your car is in the lot after sundown.
Some of the oldest tombstones here date from the mid-19th century, making it a place that might appeal to local history aficionados.
While you are here: Bachelor's Grove is a short road trip from Chicago along Interstates 90 and 57. Once you reach Midlothian, take 147th Street to Ridgeland Avenue, where you'll see signs for the Rubio Woods Forest Preserve.
6. The Congress Plaza Hotel
Chicago, IL
What makes this place spooky: This impressive and stately hotel, first built in 1893, has hosted eight different presidents and less illustrious guests, including Al Capone – who has an uncanny link to multiple haunted hotspots.
It is said to be the most haunted hotel in Illinois and the paranormal activity here is so strong at times that staff have had to seal off certain rooms - particularly Room 441, where a female specter is said to roam.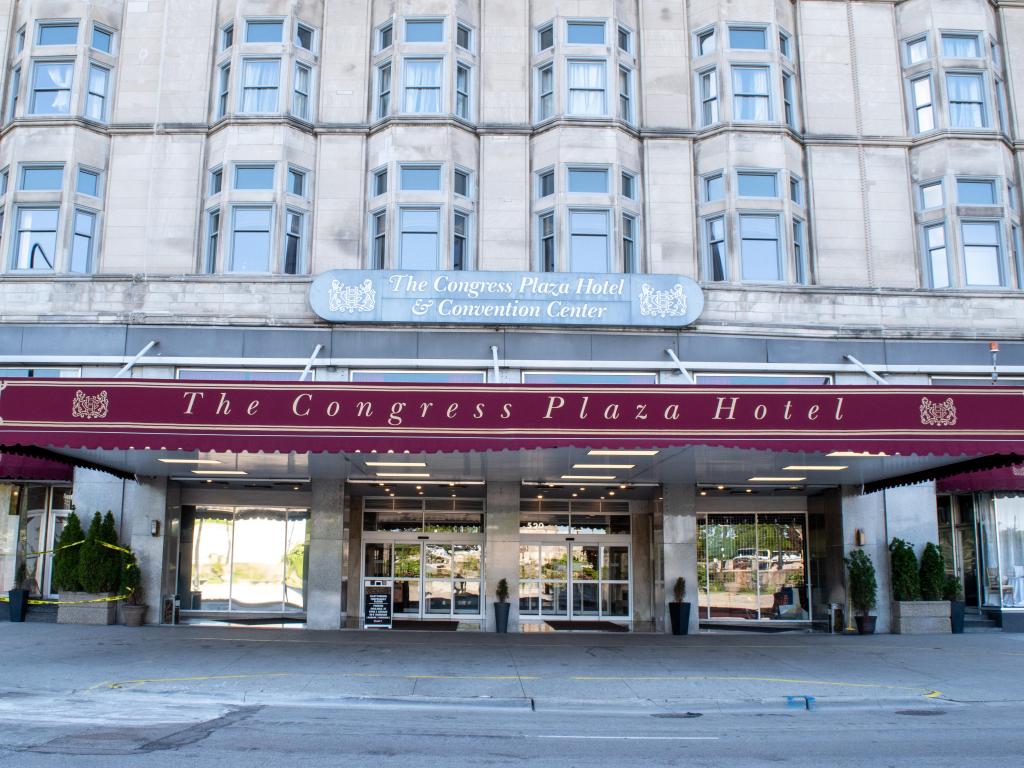 Our travel tips: The premises of the hotel are only open to guests. If you balk at spending a night here or already have accommodations elsewhere, you can reserve a spot at their afternoon high tea to take a peek inside their haunted halls.
You couldn't find a better location for exploring downtown Chicago, as the hotel sits directly across from Gant Park and Monroe Harbor.
While you are here: A fall road trip to Chicago is full of colors and plenty of other spooky haunts. From Milwaukee, it's only an hour and a half drive south along Interstates 94 and 90.
While you're here, check out some of Chicago's other sites with grizzly history, including the James M. Nederlander Theatre where the cries of the 600 victims of a tragic fire can still be heard in an alley, and the H.H. Holmes' Murder Castle, where one of America's first serial killers lured many of his victims during the 1893 World's Fair.
7. Ohio University
Athens, OH
What makes this place spooky: While a place of learning can be intimidating, few are as straight-up spooky as Ohio University.
In addition to murmurs that the West Green was constructed upon a Native American burial ground, the ornate set of buildings currently known as The Ridges were formerly the Athens Lunatic Asylum for over 100 years.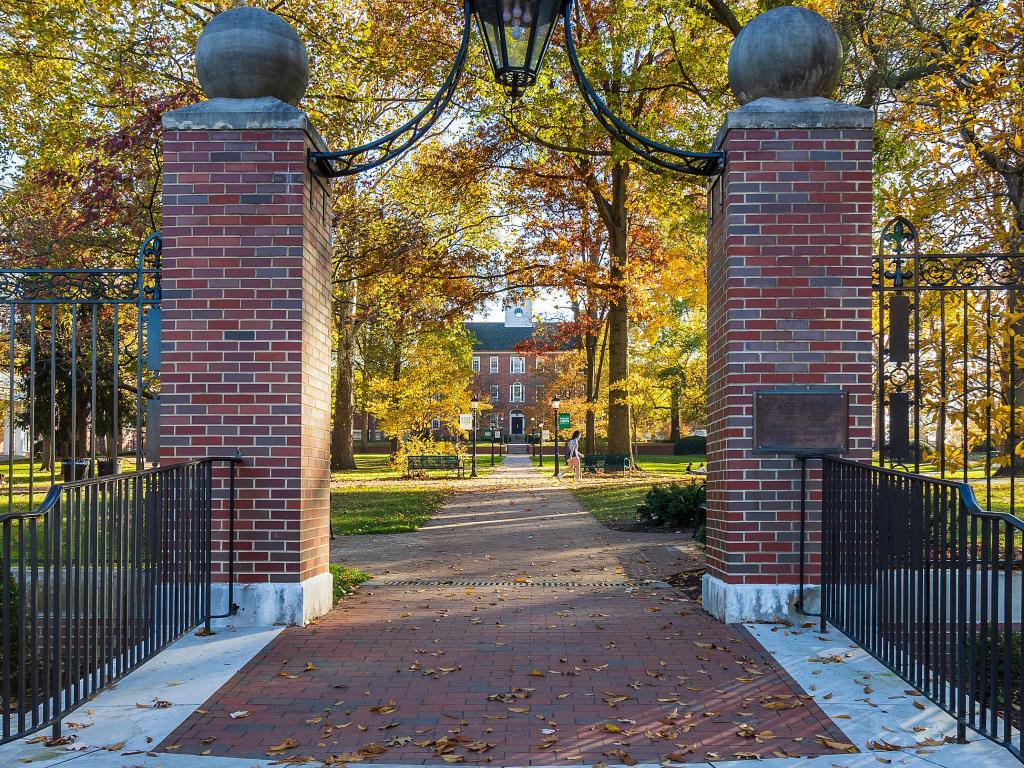 Our travel tips: Ohio University is a public institution with gorgeous tree-lined paths and tails throughout that you can walk at you leisure.
At The Ridges you can visit the Kennedy Museum of Art as well as go on curated walking tours of the former asylum grounds hosted by the Athens County Historical Society and Museum.
Walking tours are usually held on Saturdays between 2pm and 4 pm; check the historical society's website for more details and to book you moderately priced tickets in advance as they sometimes sell out.
While you are here: Athens, OH is a 3 hour and 25 minute drive from Cleveland. One of the most direct routes is via Interstate 77 South. Take this to Parkersburg, then hop on US Route 50 West towards Athens.
8. The Ohio State Reformatory
Mansfield, OH
What makes this place spooky: While you might recognize the gray masonry walls of this former prison from the "Shawshank Redemption", which was filmed here, you might not know that over 200 people, both prisoners and guards, lost their lives here between 1910 and 1990 when it closed its doors due to complaints of inhumane conditions.
Many claim that faint echoes of the brutal punishments received here, as well as heinous acts, can be heard amidst the iron bars of the supposedly empty cells.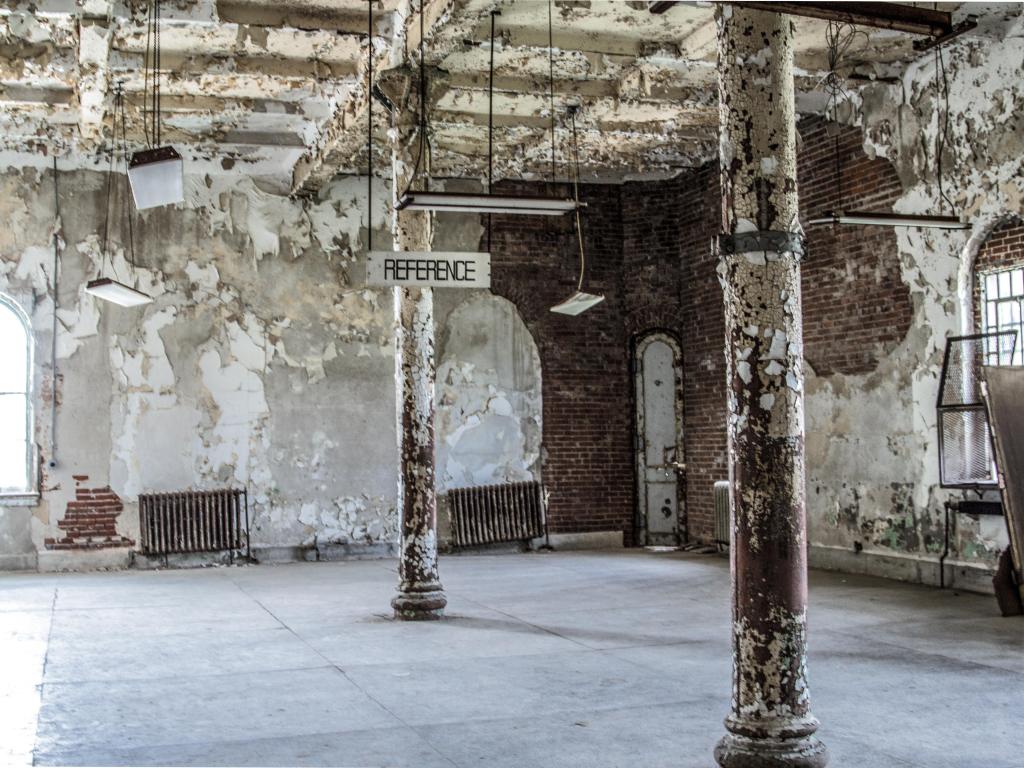 Our travel tips: The Ohio State Reformatory welcomes visitors every day from 11am to 4pm, and they have extended weekend hours of 10am to 4pm between Memorial Day and Labor Day.
They offer self-guided tours as well as guided ones, ranging from $17 to $35. It is best to book your tickets ahead online as you plan your trip as the tour timings vary.
In addition to the purportedly petrifying elements here, the Ohio State Reformatory is a well-preserved example of the Romanesque Revival architectural style and is a treasure trove of historical insights.
While you are here: Mansfield sits roughly between Cleveland and Columbus. It's a 1 hour and 15 minute drive south along Interstate 71 (I-17) from the former and a 1 hour drive north along I-71 from the latter.
Southeast specters: 5 paranormal pit-stops
9. St Augustine Lighthouse
St Augustine, Florida
What makes this place spooky: This beckon of light in northern Florida has a surprisingly dark history stemming from a tragedy on July 10, 1873 when three little girls at play lost their lives in an accident.
Legend has it that one of these girls, named Eliza, and the spirits of former keepers still linger, leaving visitors with spine-tingling encounters and unexplained phenomena.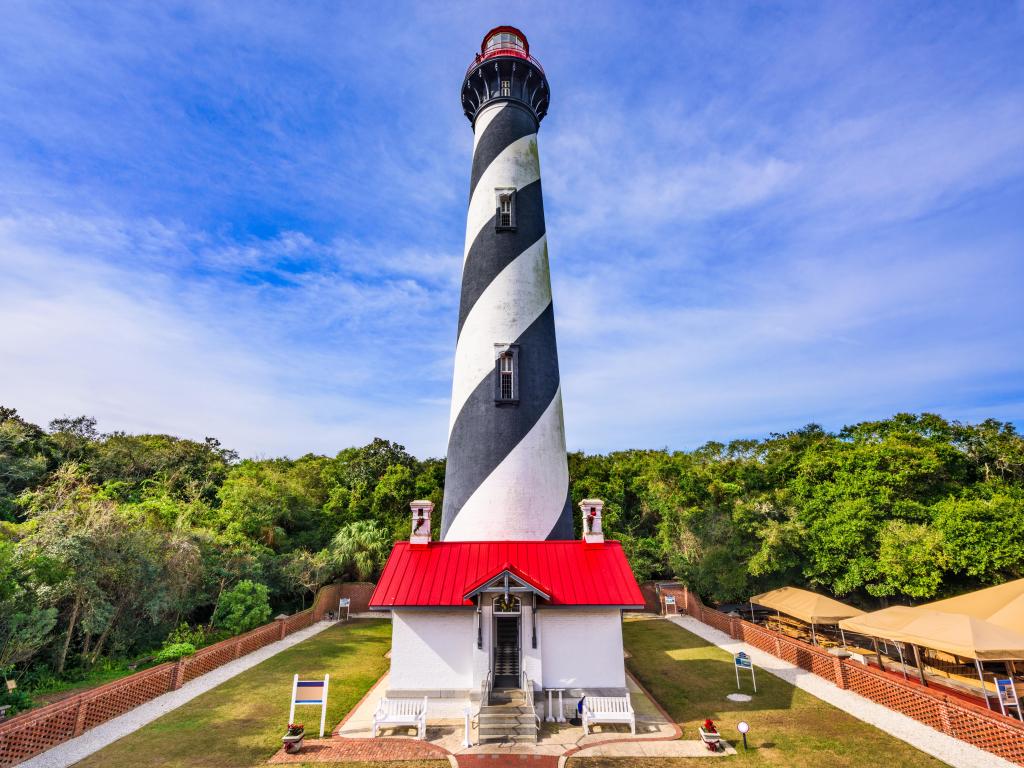 Our travel tips: This visually striking lighthouse is a popular tourist spot in St. Augustine. It is open most days from 9am to 6 pm, except for Thanksgiving and Christmas.
General admission is $15 for adults and $13 for children under 10. They also offer a range of guided tours priced between $20 and $40. By far the eeriest is the Dark of the Moon Ghost Tour which lets you explore the haunted tower at night. All tickets can be booked ahead online.
While you are here: This is an exquisitely mysterious day trip from Jacksonville, FL. Just hop on Interstate 95 South and drive for roughly 50 minutes until you reach coastal St. Augustine.
While you're here, get your fill of spooks from the sea at the St. Augustine Shipwreck Museum.
10. Cassadaga Spiritualist Camp
Cassadaga, FL
What makes this place spooky: At the Cassadaga Spiritualist Camp, eerie encounters with wandering spirits and ethereal energies are not uncommon.
This little town, not far from the joyful cheers of Disneyworld, offers its own variety of otherworldly amusement and is often touted as the psychic capital of the world.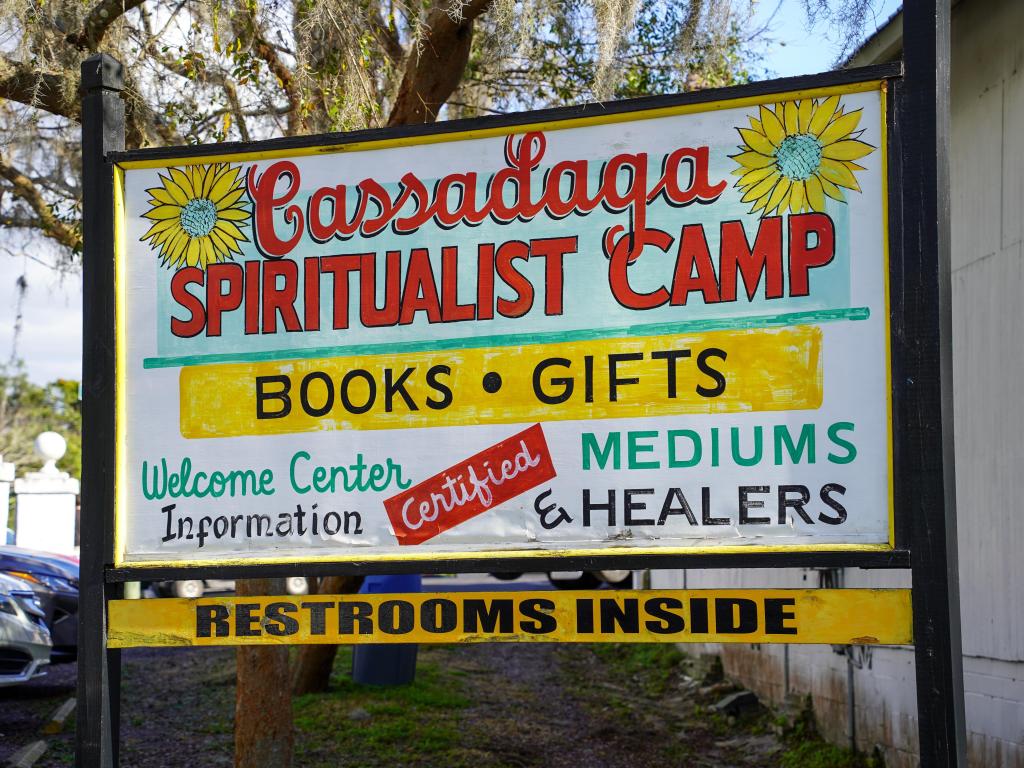 Our travel tips: This town fully embraces their band and has a variety of historical and paranormal tours on offer, they even have a special Halloween edition of their Encounter the Spirits Night Tour. All tours can be booked ahead of time online and range from $15 to $30.
If you have always felt a calling towards the more mysterious and symbolic side of life, they also host a wide range of online and in-person workshops on a variety of topic from spirit animals to tarot.
While you are here: Cassadaga is only a 30-minute drive north of Orlando along Interstate 4, making it a wonderful addition to the standard amusement park tour for families with more eccentric tastes.
11. Bonaventure Cemetery, Moon River Brewing Company, The Marshall House
Savannah, GA
What makes this place spooky: Savannah is home to a host of haunts, owing to its long, and sometimes grim history as a city deeply involved with slavery in the US.
The wind sounds a bit different, as it winds through the mossy trees of the Bonaventure Cemetery and the fixtures don't seem do fixed at the Marshall House; this is a haunted road tip for those who relish all things that go bump in the night.
Our travel tips: The Marshall House once served as a hospital for wounded Civil War soldiers and now operates as an inn. It could be the perfectly petrifying base for a ghoulish trip like this.
The Moon River Brewing Company is housed in a building from the early 19th century that has been a post office, bank, bar, and lumber warehouse. Many tours include it for its long history of hauntings, but you can also mosey on down here for their daily happy hour from 4pm.
While all cemeteries can cause one's hair to stand on end, the very bearing of Bonaventure Cemetery piques the imagination and has been privy to a wide range of paranormal activity. Anyone is welcome to respectfully walk the grounds here from 8:00am to 5:00pm.
While you are here: This is another great fall road trip from Jacksonville, FL; just head north on Interstate 95 for about 2 hours.
There are a whole bevvy of ghost tours that cover multiple sites in Savannah, including Genteel & Bard's Savannah Dark History and Ghost Walking Tour, the 90-Minute History & Haunts Candlelit Ghost Walking Tour, and the Sixth Sense Savannah Adults-Only Walking Tour.
12. Oakland Cemetery
Atlanta, GA
What makes this place spooky: The red-brick threshold of this somber yard looms large over all who pass through it. Being the largest and oldest cemetery in Atlanta, it is home to crumbling headstones and gothic mausoleums, among other reminders of a bygone era.
There's even a sleeping lion who looks over the mass grave of thousands of unknown Confederate soldiers who some say are still engaged in a supernatural battle against the North.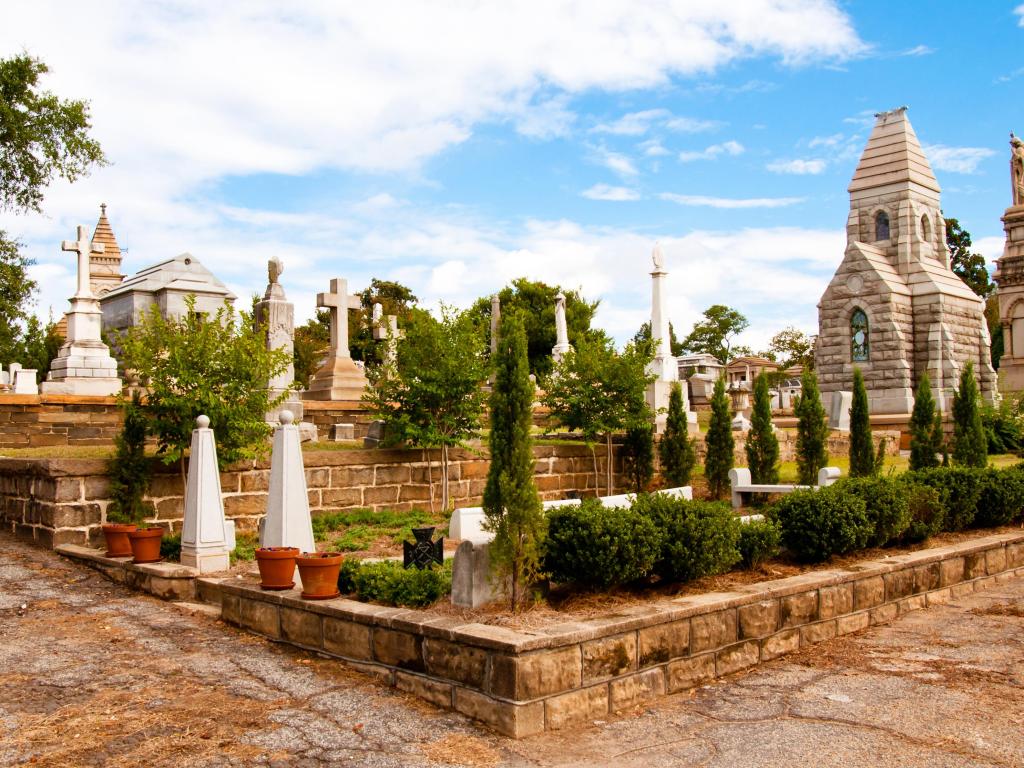 Our travel tips: The cemetery is free to visit and open from dawn to dusk daily.
If you'd like a more in-depth experience here, consider going on a guided tour, starting at $12 per adult. Check their events calendar, as they do occasionally offer after-dark tours of these bone-chilling grounds.
While you are here: For a particularly scenic fall road trip, consider driving to Atlanta from Nashville, TN. It takes about 3 hours and 45 minutes along Interstate 24 East and Interstate 75 South.
As a major city in the South, Atlanta has more than a few possessed places. While you're here consider stops at the Fox Theater, Lake Lanier, and the Ellis Hotel for a more complete experience of the city's paranormal offerings.
13. LaLaurie Mansion, St. Louis Cemetery No. 1, Hotel Monteleone, Lafitte's Blacksmith Shop Bar
New Orleans, LA
What makes this place spooky: The Crescent City is a well-known hub for the macabre and mysterious.
Eerie encounters can be had at a whole range of locations from the LaLaurie Mansion, where a horrific atrocities were committed against enslaved people, to the uncanny apparitions of a long-deceased founder at Lafitte's Blacksmith Shop Bar.
Prepare for no shortage of spine-tingling tales on this timely road trip to New Orleans.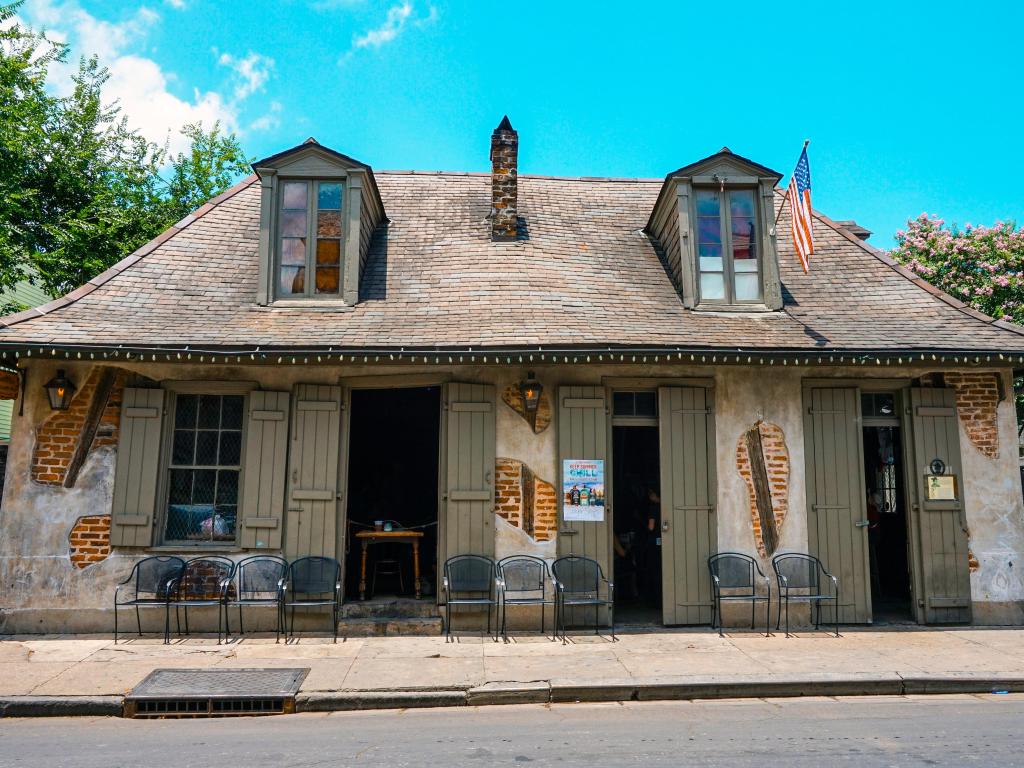 Our travel tips: The LaLaurie Mansion is one of the most famous haunted houses in the South. Almost all of the ghost tours in New Orleans make it a point to stop here, so look into which one best suits your itinerary.
Unfortunately, you can only see the outside of the building, so feel free to simply go on a self-guided tour around the neighborhood.
Lafitte's Blacksmith Shop Bar is among the oldest purveyors of spirits of all varieties in the French Quarter. They're open from 10 am to the wee hours every day.
Both the living and dead of NOLA have been coming through the gates of the St. Louis Cemetery No. 1 since 1789 – this is also the final resting place of voodoo queen Marie Laveau.
People are free to stroll the crumbling headstones and unique mausoleums here between 9am and 3:45 pm daily.
While you are here: All these spooky spots in New Orleans are about an hour's drive from Baton Rouge along Interstate 10.
Southwest spirits: 12 eerie escapes for your bucket list
14. Amargosa Opera House
Death Valley Junction, CA
What makes this place spooky: If an opera house in the valley of death doesn't send a shiver down your spine, then we don't know what will!
This desolate gem from the roaring 20s, seemingly frozen in time, was lovingly preserved by former performer Marta Becket, who can't seem to leave the stage despite leaving her body in 2012.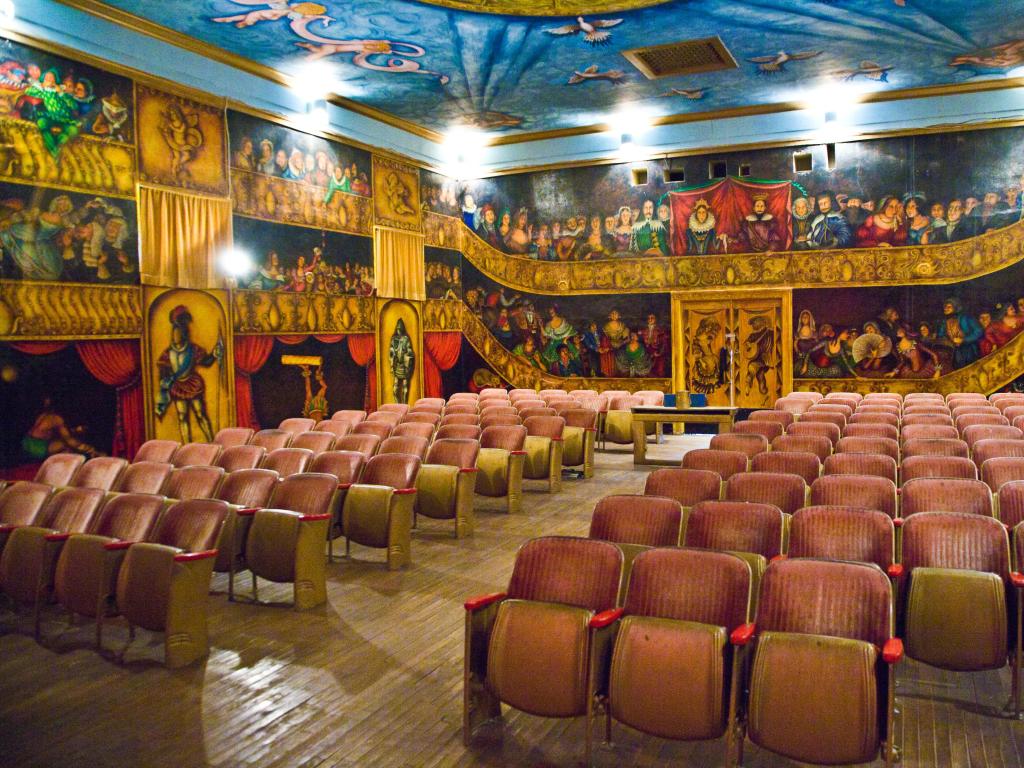 Our travel tips: The Amargosa Opera House is actually a working motel in this sparsely populated desert outpost.
Given the sheer intensity of the desert heat, the fall is an ideal time to visit this part of California.
Note that there's no gas station in Death Valley Junction. One of the closest is just under 30 miles to the southwest in Shoshone, CA.
While you are here: Of course, being on the edge of Death Valley National Park, this is a great spooky stop to include on a trip out here from Los Angeles, which takes between 4 and 5 hours, largely following Interstate 15 and CA Route 127.
Here, where the dead outnumber the living, you can see the final resting place of former residents beneath the parched earth at the Death Valley Junction Cemetery.
15. The Padre Hotel
Bakersfield, CA
What makes this place spooky: With halls that look like they were inspired by "The Shining," the eerie aura of the Padre Hotel in Bakersfield is palpable to many visitors.
Here, guests have encountered inexplicable sounds, shadowy apparitions, and unexplained events, making it a destination for ghost hunters and aficionados of the supernatural.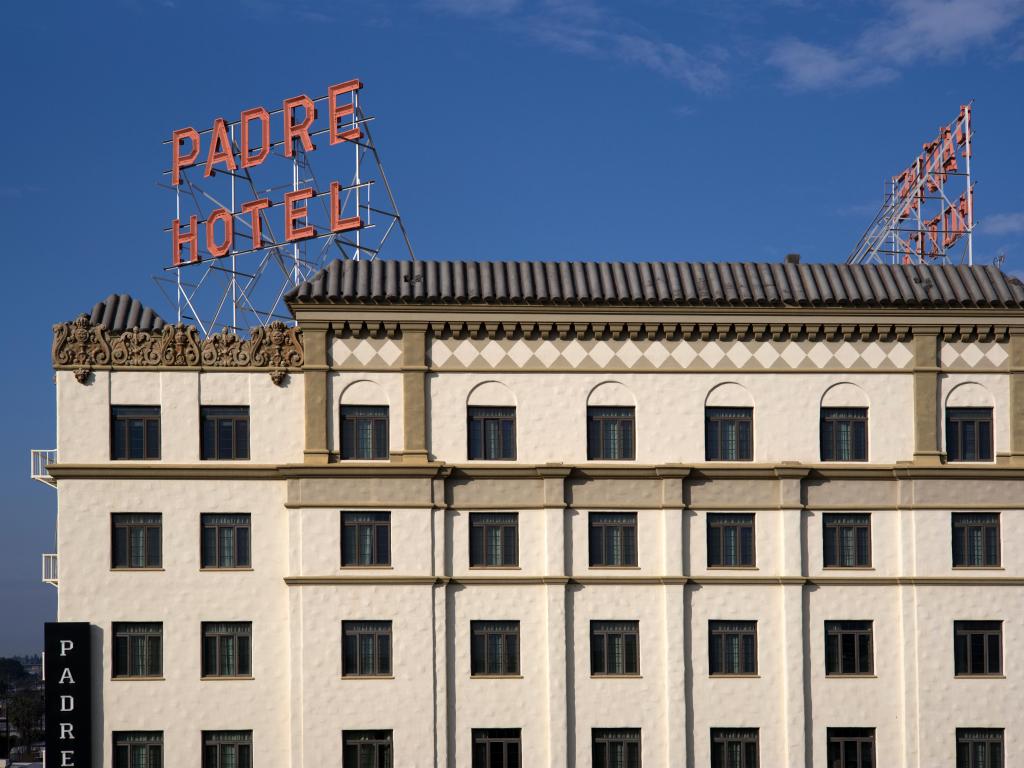 Our travel tips: The Padre has been welcoming guests from 1928 until today, despite a series of tragic events which have happened here.
If your knees quiver at the thought of spending a night here, you could also casually visit to take a look at the lobby or have a delicious lunch at their restaurant, the Belvedere.
While you are here: Bakersfield is an easy, 2-hour drive from Los Angeles along Interstate 5, once you get past the Tinsel Town traffic.
16. Hollywood Roosevelt Hotel
Los Angeles, CA
What makes this place spooky: The golden age of Hollywood has left a scandalous mark on the Hollywood Roosevelt Hotel.
Some guests report hearing the trumpet of Montgomery Clift, who stayed in room 928 for a prolonged period, and other have seen the ghost of the archetypal troubled starlet herself, Marilyn Monroe.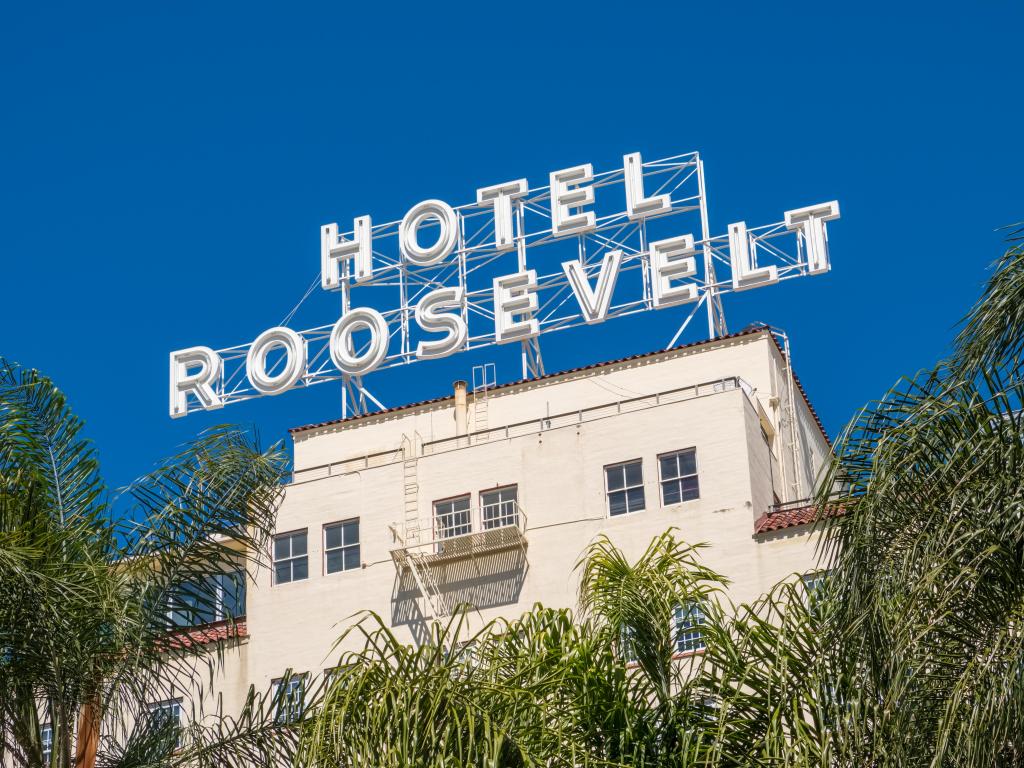 Our travel tips: You can book a night at this luxury hotel in the heart of Hollywood or come here on a guided tour and learn all the ins and outs of the troubled tales surrounding it.
We also heartily recommend checking out any of their delectable restaurants and prohibition-era-style bar.
While you are here: The mild fall weather of southern California is perfect for laid-back road trips. Hollywood is roughly a 2 hour drive north of San Diego along I-5, though this timing is heavily dependent on traffic and can take up to 4 hours.
17. The Queen Mary
Long Beach, CA
What makes this place spooky: The Queen Mary ship had a varied history, which saw her decked out as a luxury ocean liner and served in WWII.
Since 1967 this iconic ship has been docked in SoCal, but crew members and passengers from the past, including a mysterious lady in white, have made multiple appearances over the years. This ship's spooky status has even inspired a recent horror film, "The Haunting of the Queen Mary."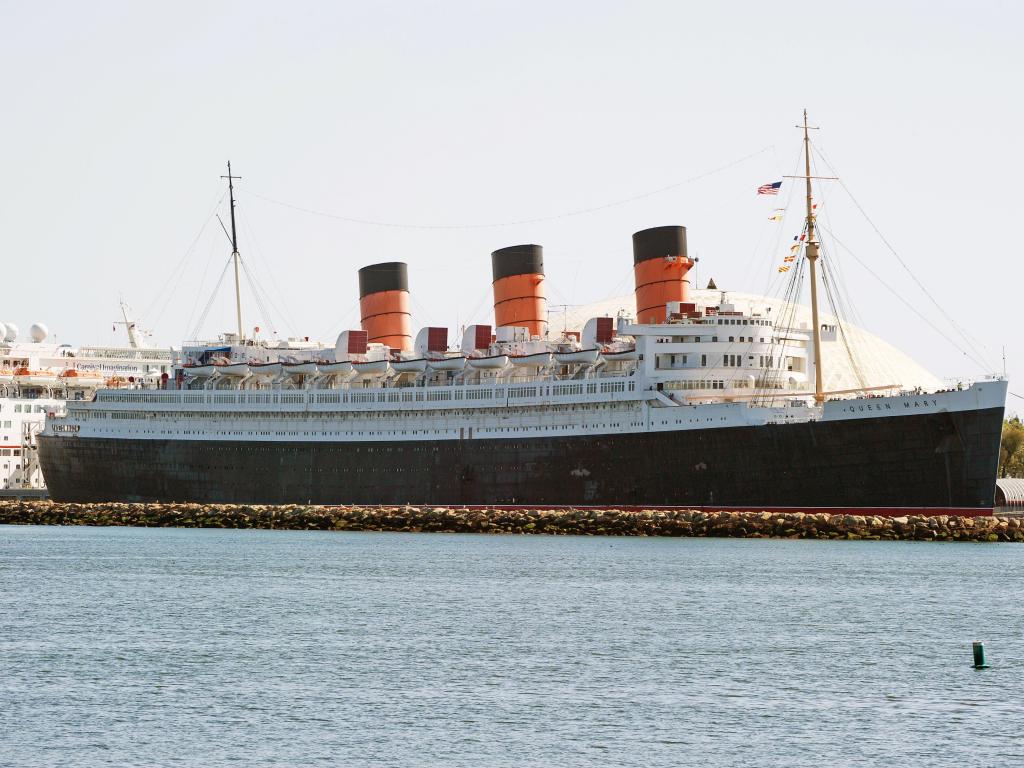 Our travel tips: The Queen Mary is a multi-purpose space that houses a hotel, several world-class restaurants, and can even be rented out as a wedding venue.
They have tours with different themes, including one that highlights its haunted history. Tours are usually scheduled between 11am and 6pm and range from $20 to $55. There's day as well as overnight parking which costs between $18 and $30 (calculated at the time of writing).
Leaning in to its reputation as a ship full of spine-chilling apparitions, The Queen Mary hosts a "Shaqtoberfest" from September 28th to October 31st, which they describe as an immersive Halloween festival.
While you are here: From the pleasant to the paranormal, a road trip from Santa Barbara to the Queen Mary in Long Beach is full of contrasts. Driving south along US Route 101, then along Interstate 405, the drive should take around two hours, traffic permitting.
Long Beach has an eclectic vibe of its own, distinct from the other hamlets that make up the greater Los Angeles area. This includes creepy and uncanny places beyond just the Queen Mary.
Be sure to include stops at the Pike, Deforest Park, and Rancho Los Cerritos, where the graves of 50 Native Americans were unearthed in during the construction of a golf course.
18. Whaley House
San Diego, CA
What makes this place spooky: It might be hard to believe that famously sunny San Diego has a dark side, but a trip to the Whaley House is an eerie experience for those who dare to explore its haunted halls.
Steeped in tales of tragic deaths and ghostly visions, this historic mansion in Old Town San Diego has borne witness to intense events that continue to impact its aura.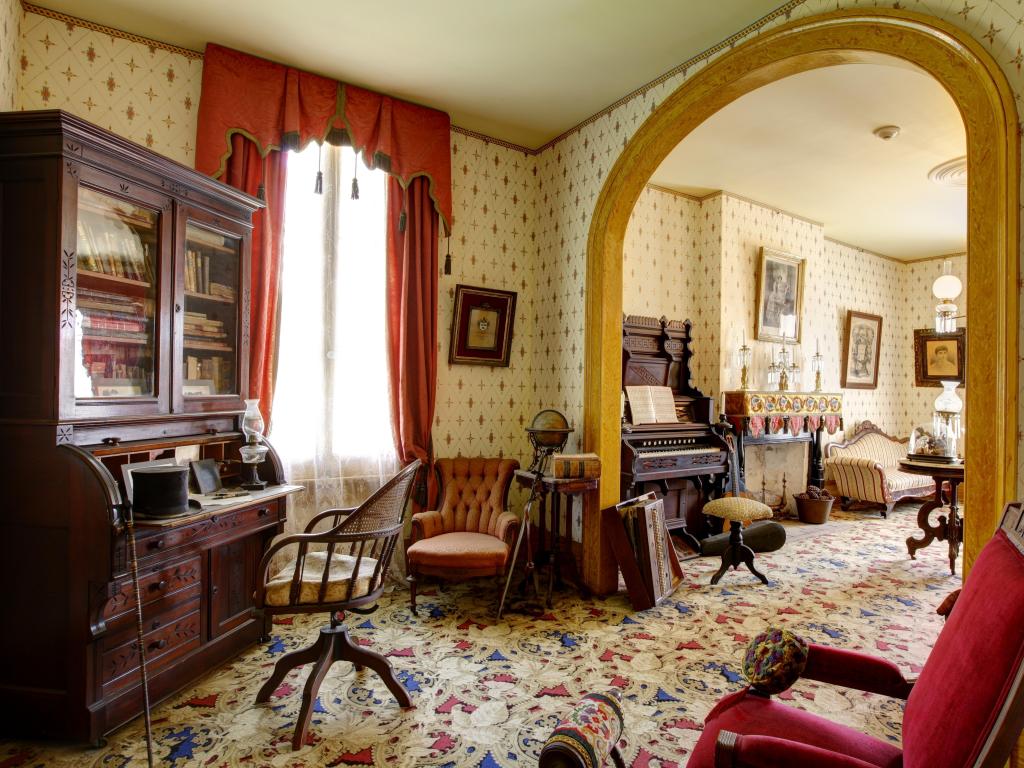 Our travel tips: Whaley House is open daily from 10am to 4:30pm, welcoming visitors for a casual peep or a wide variety of guided tours. You don't need to book any of the daytime tours ahead of time, but for some of their nighttime offerings, including an after-hours paranormal investigation, it's best to book ahead of time online.
These specialized tours can get pricey, as much as $94, but this covers a group of up to 8 people and you actually will get to see paranormal investigators at work!
While you are here: In case you were making a Halloween trip to Disneyland in Anaheim, this might be a sinister addition to your itinerary. From Anaheim, head south on I-5 for 1 hour and 20 minutes and you'll find yourself at the doorstep on one of the most haunted homes on the West Coast.
19. Bird Cage Theatre
Tombstone, AZ
What makes this place spooky: What better place to explore the darker side of the Old West than Tombstone, AZ? With its chilling history of lawlessness, gunfights, and paranormal phenomena, the Bird Cage Theatre has startled visitors with ghostly laughter, phantom music, and spectral figures complete with cowboy hats and garter belts.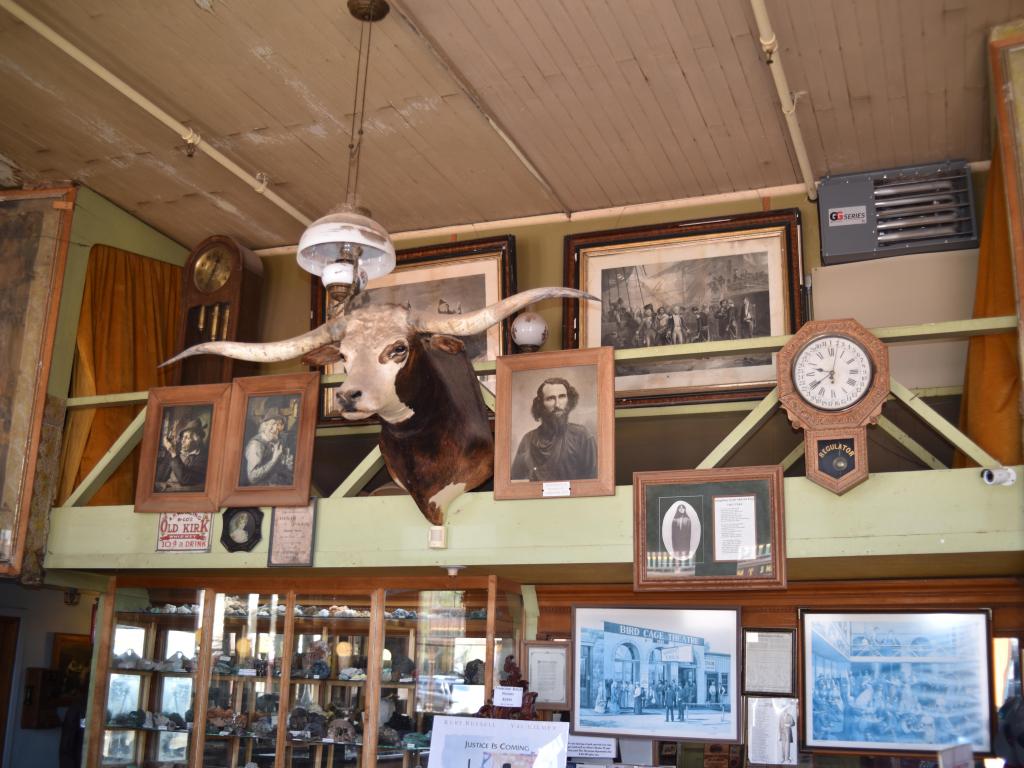 Our travel tips: With its salacious history as a saloon and brothel, many of the Bird Cage Theatre's tours are aimed at adults, but they do have a 6:15pm tour, which if open to accompanied children 7 and over.
The other tour times are 8pm and 9:30pm. All tickets are $35 and can be bought at the theater itself, though you can also call them if you'd really like to book your ticket ahead of time.
While you are here: Tombstone is a manageable 1 hour and 15 minute drive from Tucson along Interstate 10 East and AZ Route 80 East.
With a name like "Tombstone,' it would be surprising if there was only one haunted spot here. Fortunately for all you thrill seekers, there's a host of haunts to visit here, including the Boothill Graveyard, The Crystal Palace Saloon, and the O.K. Corral.
20. Jerome Grand Hotel
Jerome, AZ
What makes this place spooky: Looming like a ghostly sentinel atop a ridge in the Verde Valley, the Jerome Grand Hotel was once an asylum for the mentally ill.
As it was slowly renovated to become a hotel in 1996, construction workers and early guests reported hearing the rustling of restless spirits, including what sounded like a rolling gurney along the hall at night; perhaps the last remnants of people who had been committed here decades prior.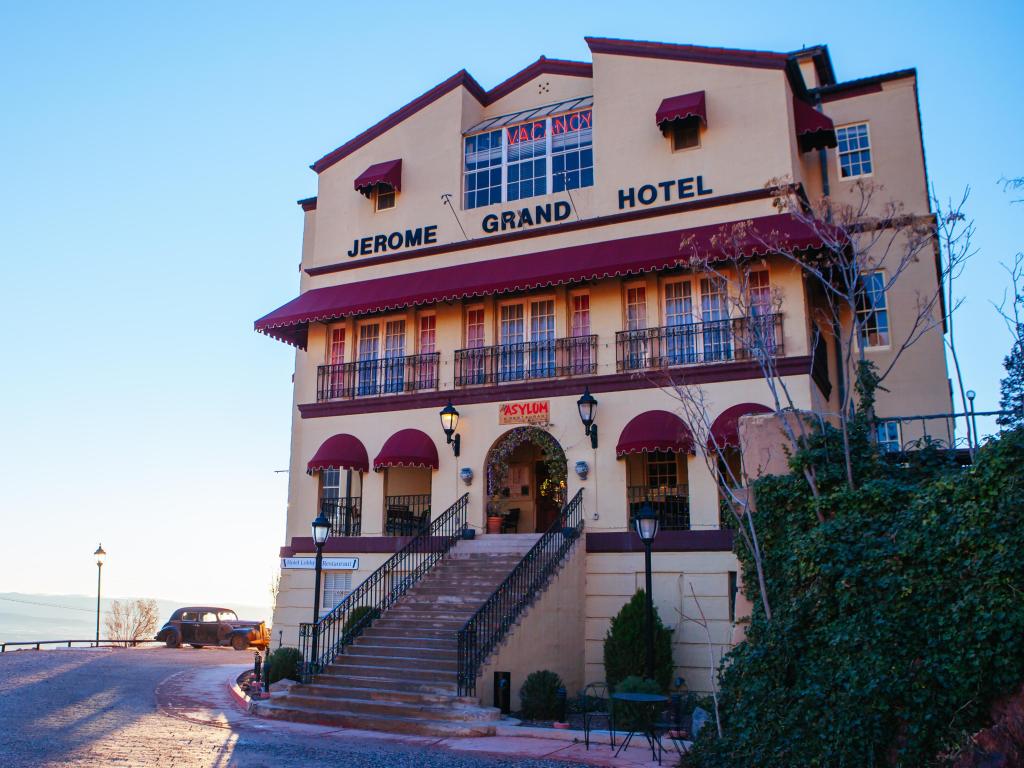 Our travel tips: As the only full-service hotel in Jerome, it makes sense to stay at the Jerome Grand Hotel unless this is a pit stop on a longer trip. In case it is, you can also step in to check the vibe or even stay for lunch at the Asylum Restaurant.
If you do have the nerve to stay overnight and you want to ensure a fright, then ask to stay in room 32, purportedly the most haunted in the building.
While you are here: This is a highly recommended haunted road trip to take from Flagstaff, AZ; it's just a 1 hour and 25-minute drive south along AZ-89A.
21. Yuma Territorial Prison
Yuma, AZ
What makes this place spooky: Built in 1876 to contain stagecoach robbers and gunslingers of the Wild West, the Yuma Territorial Prison saw over 100 inmates perish during its brief 33 years of operation.
Labyrinthine stone walls and the stark, desert surroundings, heighten a sense that some of them might be lingering in the shadows as you try to keep your cool on the museum tour.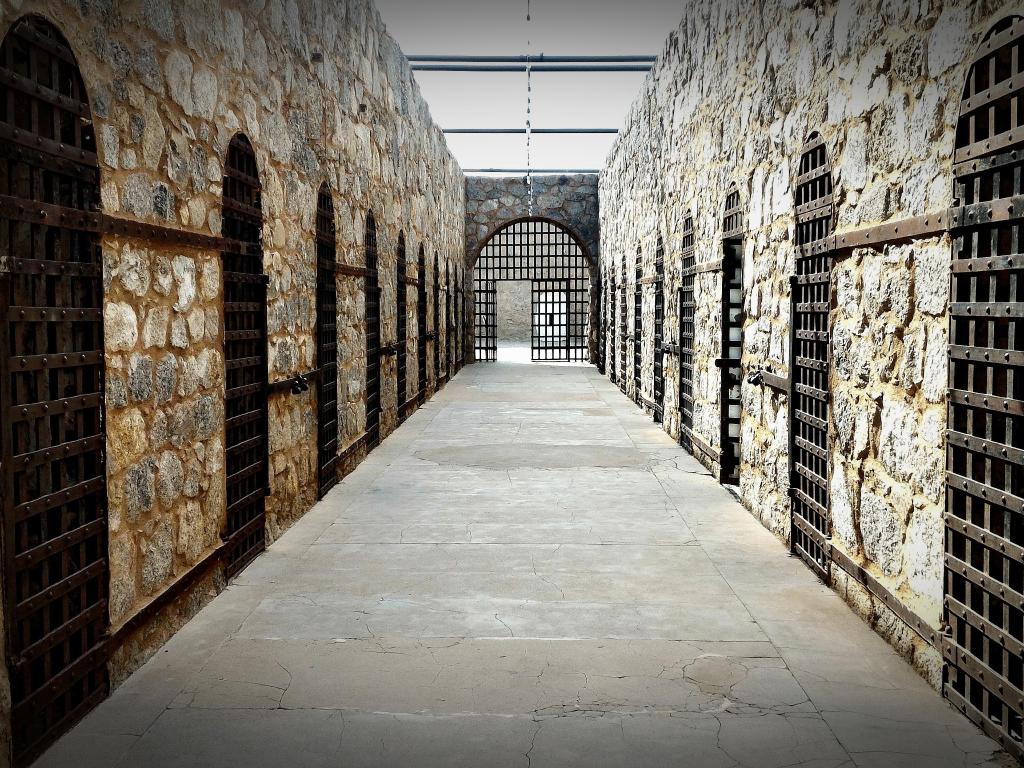 Our travel tips: The prison is on the National Register of Historic Places and currently managed as an Arizona State Historic Park. They are open year round, except for major holidays, though they have slightly more limited hours in the fall and winter, welcoming visitors from 9 am to 4pm.
Admission is $10 for adults and $5 for children 7-13. Children under 6 are free.
There's a 3,600-square-foot museum with prison artifacts and other interesting exhibits in addition to hiking trails and adorable picnic spots overlooking the Colorado River.
While you are here: Yuma is just barely in Arizona and sits a stone's throw from California. Being roughly equidistant from Phoenix and San Diego, a road trip from either takes between 2 and 3 hours along Interstate 8.
22. Fox Tucson Theatre
Tucson, AZ
What makes this place spooky: Guests and staff alike have reported eerie happening beneath the grand, art deco marquee of the Fox Tucson Theatre.
One of its most notable otherworldly inhabitants is the semblance of a man who roams the lobby asking people for change – though people kind enough to oblige are surprised when their spare coins tumble through his hand to the floor!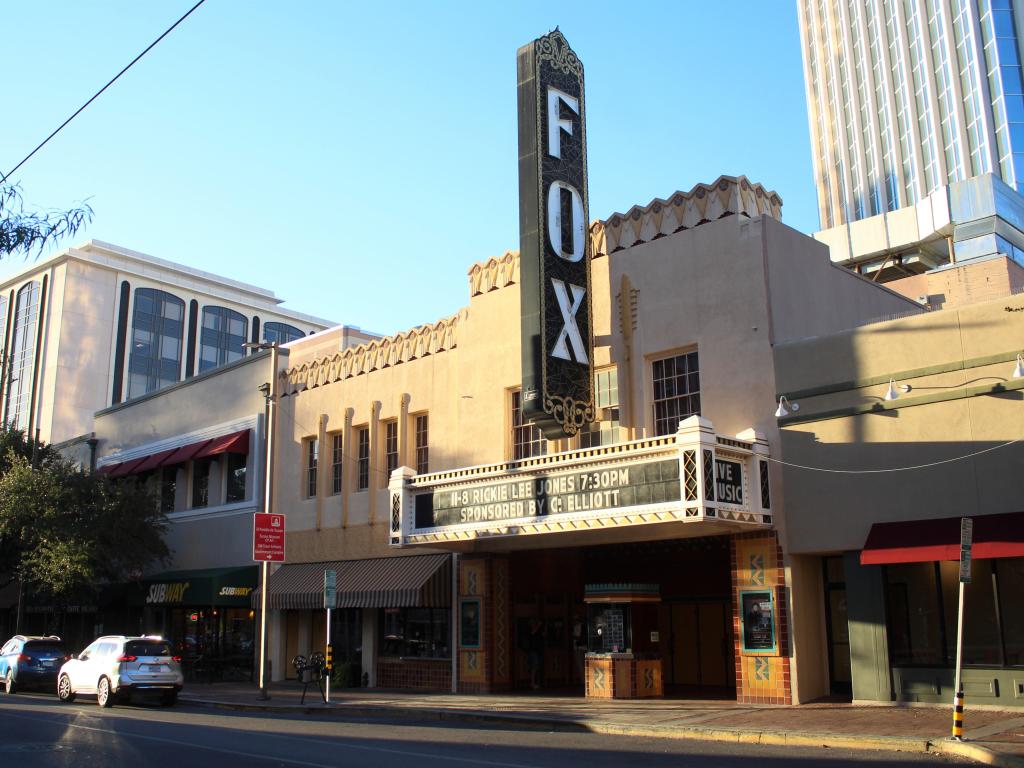 Our travel tips: In addition to a vibrant performing arts schedule, the Fox Tucson Theater also hosts ghost tours during late September and October. Check their website for the most up-to date information and to book any tickets in advance.
While you are here: This is another short road trip you can do on a spare fall day in Phoenix. Tucson is just a 1 hour and 45 minute drive southeast along Interstate 10.
23. La Fonda on the Plaza
Santa Fe, NM
What makes this place spooky: Any establishment over 400 years old is bound to attract a spook or two.
At La Fonda on the Plaza, one particularly pernicious spirit seems to be that of the Honorable John P. Slough, a former judge who used to dress in a long, black coat, and has been seen by bewildered staff entering a stairwell before vanishing entirely.
He's far from the only apparition here, yet we have a feeling that judges can be particularly frightening from beyond the grave.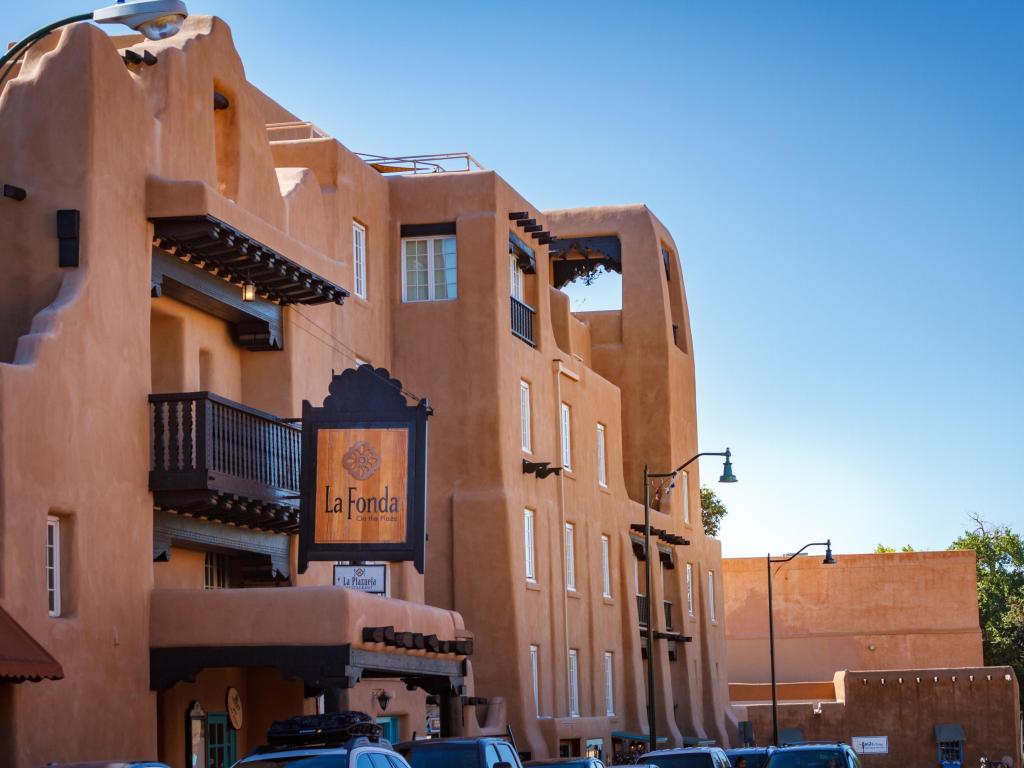 Our travel tips: As a four-star hotel in the heart of Santa Fe, La Fonda is a wonderful place to stay regardless of one's interest in the guests of the disembodied kind.
Guests are offered a complimentary art and history tour which takes place from 10:30am to 11:30am, Wednesday through Saturday.
They have a La Fonda Ghost Tour that you can book in advance as part of the deluxe package.
Another option is stopping by here for refreshment at their atmospheric rooftop bar or delicious southwestern fare at one of the on-site restaurants.
While you are here: We recommend taking a quick, yet spooky, road trip here from Albuquerque. It's just over a one-hour drive north along Interstate 25.
La Fonda isn't even the only haunted hotel in Santa Fe. Another historic and possibly possessed accommodation is the Drury Plaza Hotel, which used to be a city hospital.
24. Pioneer Living History Museum
Phoenix, AZ
What makes this place spooky: With buildings that date back to the late 1800s and reports of spectral apparitions and mysterious voices, the Pioneer Living History Museum is a place where history and the supernatural seamlessly intertwine.
Explore a world of grit that goes beyond the grave among the intriguing wooden buildings of this place frozen in time.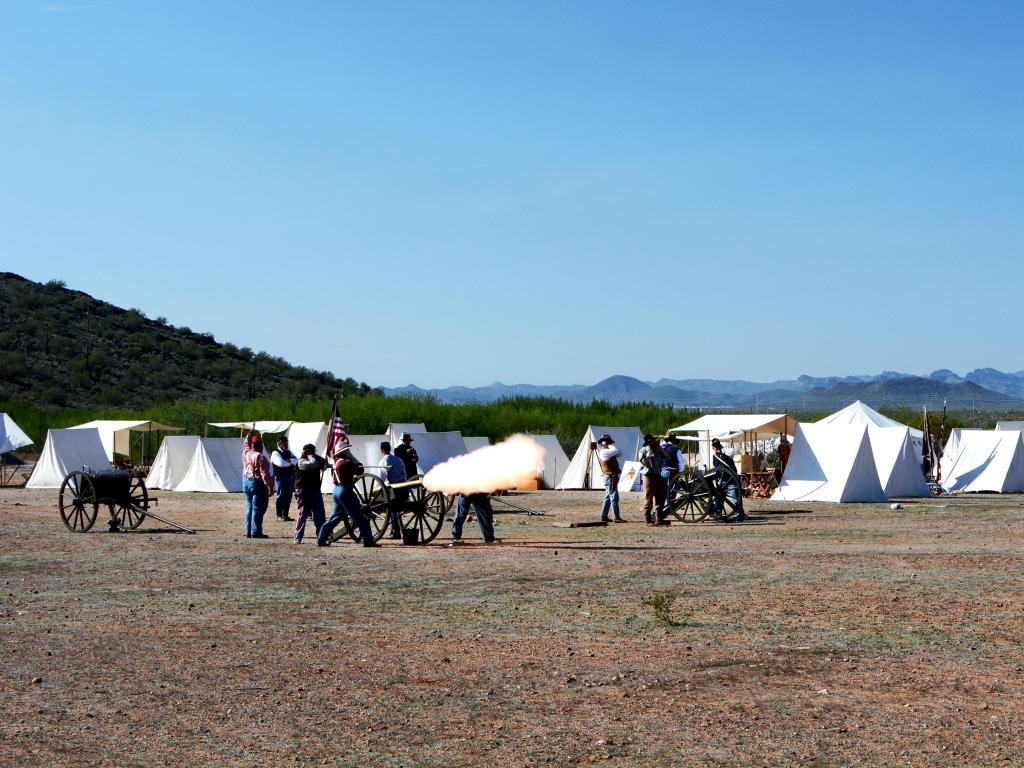 Our travel tips: The living museum is open from Wednesday to Sunday year round with morning hours between 7am and 11am during the warmer months and longer opening hours from 9am to 4pm from October 4th through May. Tickets for adults are $12 and children ages 5-16 are $10.
While the official address is in Phoenix, Pioneer is a 90-acre open-air museum about 25 miles north of downtown Phoenix.
While you are here: From Flagstaff, a road trip to Pioneer can be done in a day or as part of a longer trip to Phoenix. Just hop on Interstate 17 and head south for 1 hour and 45 minutes to get to the dusty roads of this frontier town.
25. The Flamingo Hotel and Casino
Las Vegas, NV
What makes this place spooky: The Flamingo Hotel and Casino carries a haunted history going back to its very inception.
Rumors of mob-related activities, mysterious deaths, and ghostly sightings of its mobster founder, Benjamin "Bugsy" Siegel, in the Presidential Suite, make it a place where the illusions of Sin City take on a more sinister dimension.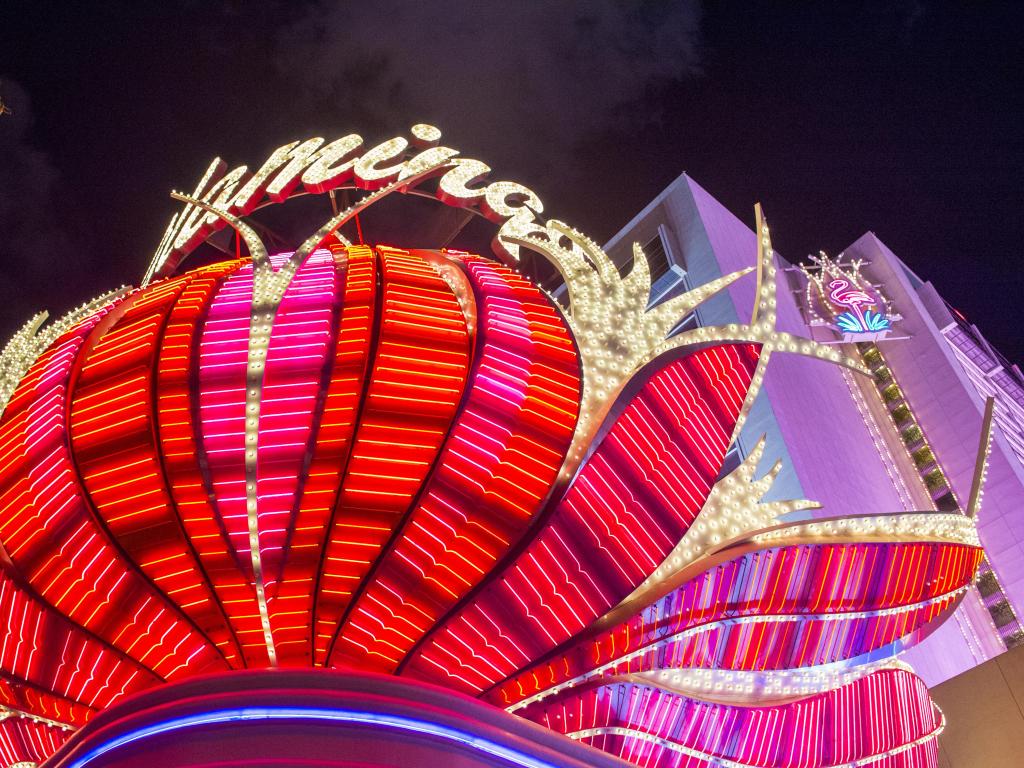 Our travel tips: This hotel is still fully operational and occupies a prime location on the Strip. It boasts a wildlife enclosure in their courtyard which is home to a variety of exotic birds, including bright pink flamingos.
This Casino is also one of several featured on the Vegas Ghost Walk in case you want to hear every salacious and spooky detail of haunted hotels on the strip.
In addition the Flamingo, Bally's Las Vegas, the Luxor, and the Venetian are rumored to house ghouls as well as gamblers.
While you are here: Most SoCal drivers think almost nothing of heading out to Las Vegas, though it is a 4-hour drive through an expansive desert. With a good playlist or spooky podcast, the time on Interstate 15 just flies by.
Northeast legends: 5 dream (or nightmare) destinations
26. Fort William Henry
Lake George, NY
What makes this place spooky: This historic fort, originally built by the British in 1755, is the site of a gruesome massacre during the French and Indian War, is said to be haunted by the anguished spirits of soldiers and settlers.
Perched upon an eerily serene lake, Fort William Henry beckons history buffs and ghost hunters alike with its chilling tales of the past.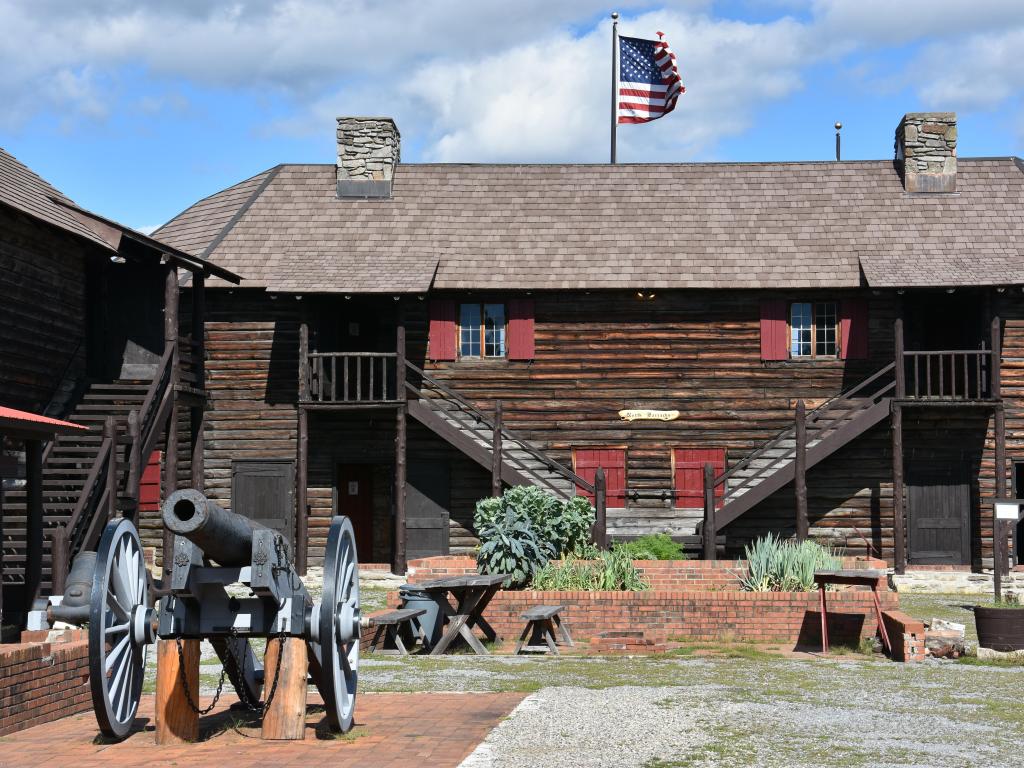 Our travel tips: The grounds of the fort are open daily from 9:30am to 9:30pm, but the museum exhibits and guided tours have more restricted hours, especially in the cooler months. There is parking for visitors nearby.
One of their most popular offerings is the Haunted History Tour, which is best to book online. If you're a military history aficionado, you might also be interested in the live musket and canon demonstrations that take place every two hours between 10am and 4pm from September 5th through October 29th.
While you are here: A gorgeous trip that will delight the senses, as your spine tingles at the thought of your destination, is from Burlington, VT along US Route 7 and VT Route 22A South. This route is alive with fall foliage and takes just over 2 hours to drive.
27. Amityville Horror House
Long Island, NY
What makes this place spooky: While this Dutch colonial house in a quiet suburb seems to be nothing more than its curb appeal, it was the site of a grisly sextuple homicide in 1974 involving an entire family.
When another family moved in a year later, they only lasted a month within its tortured walls before fleeing due to paranormal annoyances. Thus began the legend of the Amityville Horror House.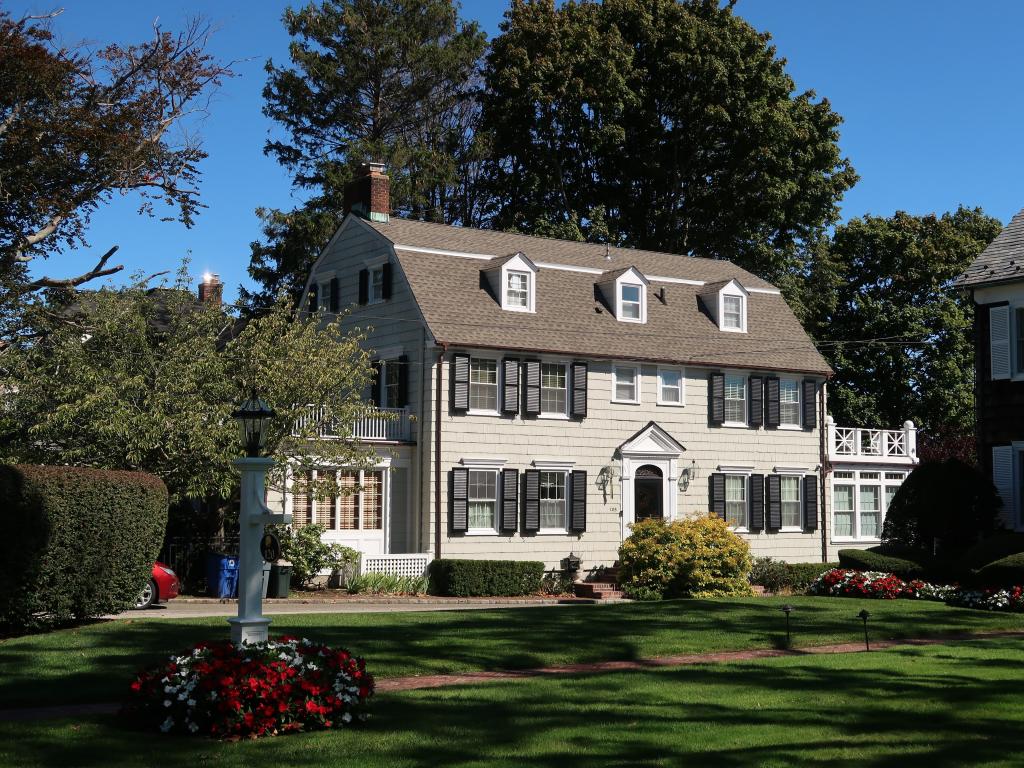 Our travel tips: Unfortunately, you can only admire America's most haunted house from the curb as it is privately owned by people who are not interested in entertaining the curious public.
While you are here: Amityville could be an oddball stop as part of a larger trip to New York City from Philadelphia. Traffic permitting, the drive between these two East Coast cities takes 2 hours and 15 minutes along Interstate 95.
Long Island is home to many creepy locations, including the Fire Island Lighthouse, Raynham Hall in Oyster Bay, and the Stony Brook Village Country House Restaurant.
28. Eastern State Penitentiary
Philadelphia, PA
What makes this place spooky: With its radiating arms of crumbling cell blocks, the Eastern State Penitentiary is the very image of a haunted prison.
During its 142 years of operation, the convicts housed here were subject to obscure forms of torture with the aim of keeping them isolated, such as being required to wear hoods covering their faces at all times.
Compounded by a prevalence of physical and mental illness, the facility was plagued by death in all its gruesome forms – and some say that these tortured souls have never quite been able to give up their solitary days of penance.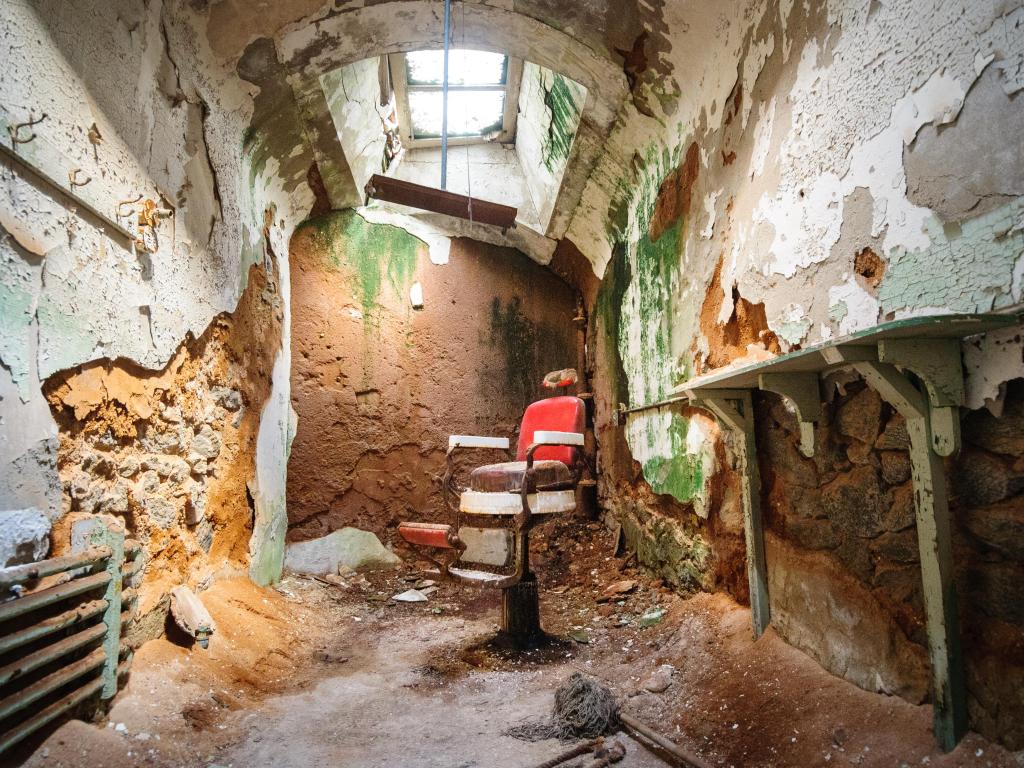 Our travel tips: The prison is currently run as a historic site and is open for daytime tours between 10am and 5pm.
All through October they offer a special series of Halloween Nights tours which occur four times every evening between 7pm and 9pm. Tickets for this even varies between $39 and $59 depending on whether you visit on a weekday or on the weekend.
Eastern State marks the third place connected with the infamous Al Capone on our list. This is the first prison the mobster ever set foot in and they maintain the cell where he was held for 7 months.
While you are here: For those of you in New York looking for a riveting fall road trip, the Eastern State Penitentiary is just under a 2 hour drive along Interstate 95 South.
29. Danvers State Insane Asylum
Danvers, MA
What makes this place spooky: When looking at old pictures of Danvers State Hospital, one might think it was a stately home of a hall of an Ivy League university. Little would one suspect its dark history of mistreatment of the mentally ill.
Here, lobotomies were regularly carried out, and people who required medical help were left to rot in their cells. Its haunted credentials are further bolstered by the fact that it was built in 1874 on a site associated with a judge in the Salem Witch Trials.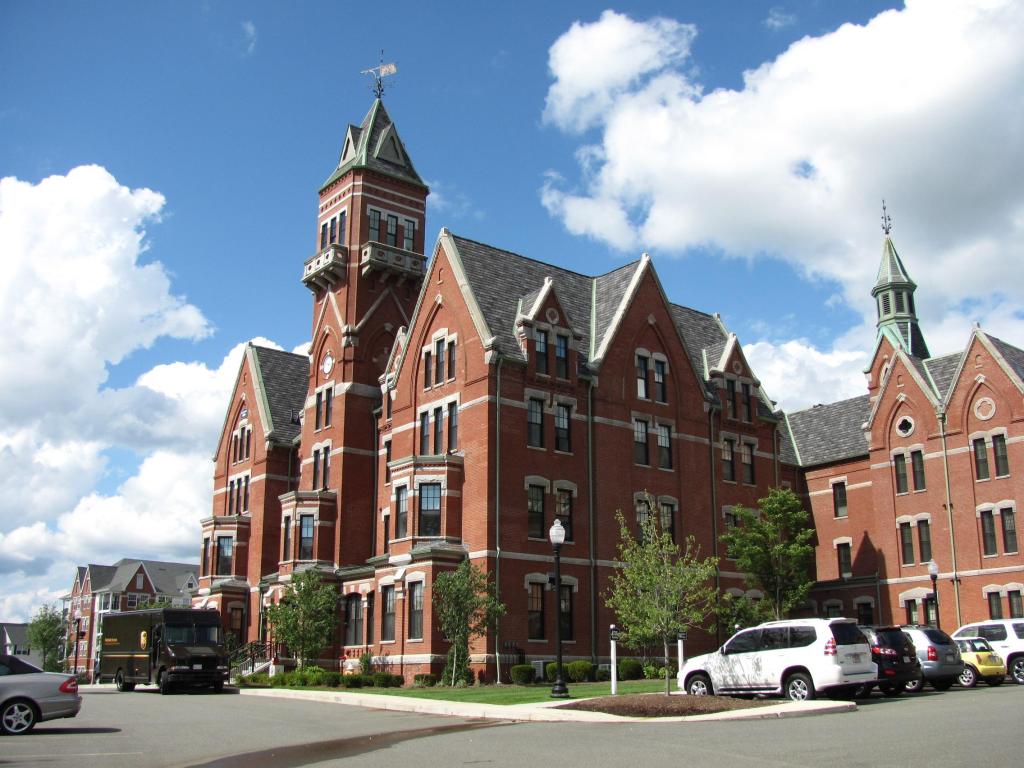 Our travel tips: Despite its architectural and historical significance, several buildings of Danvers were converted into residential apartments in 2006. Then, in a mysterious twist, there was a large fire that burnt a significant portion of the remaining buildings to the ground in 2007.
Some surmise that this was an act of vengeance from the beyond.
Due to the compassionate actions of a community member, the cemetery associated with the hospital was restored and many names of once forgotten patients recovered from records.
You can visit the cemetery on 1101 Kirkbride Drive to pay your respects and see if the departed have any final messages.
While you are here: Danvers is an easy day trip from Boston. Just head north along US Route 1 for 30 minutes and take the Maple Street Exit. It's also very close to Salem, the final destination on this list, so you could also include it as a pit stop en route to that supremely haunted place.
30. Salem Witch Trials Memorial
Salem, MA
What makes this place spooky: Perhaps America's most infamous tryst with the paranormal, today we look back at the horror of the Salem Witch Trials as an example of the terrifying evil that resides in the hearts of apparently ordinary people.
At the memorial, 20 granite benches, etched with names, testimonials, and gruesome means of death stand as a testament to the lingering energy of the tragedy and create an eerie atmosphere, reminding visitors of the dangerous panic that once plagued this town.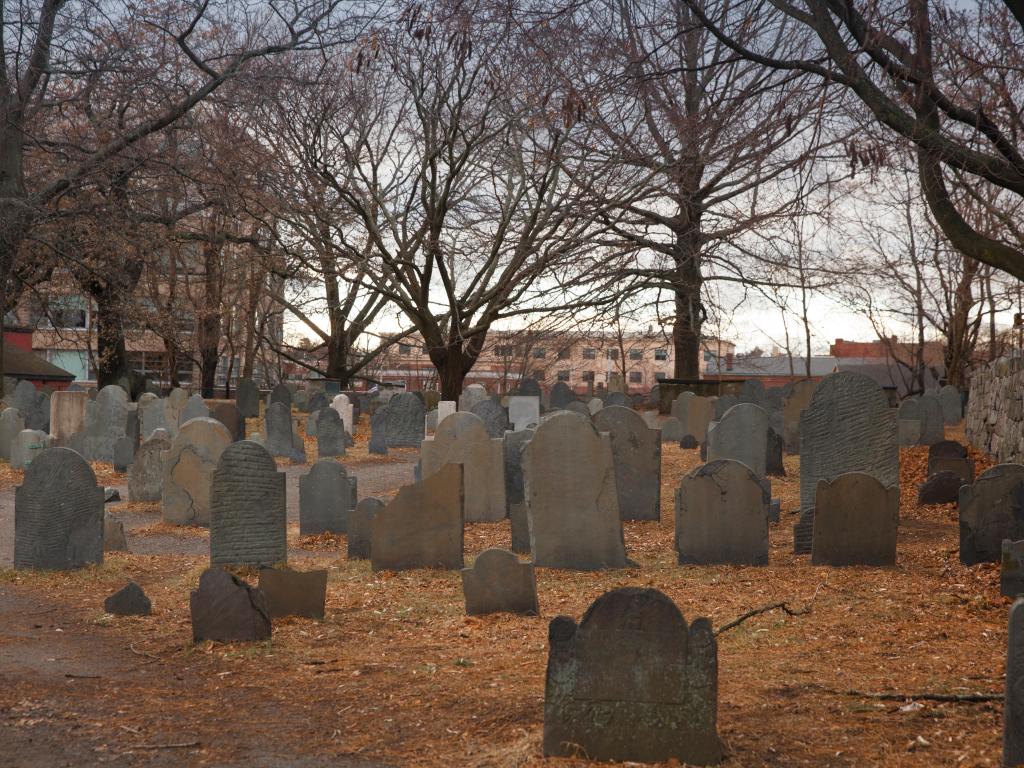 Our travel tips: The Salem Witch Trials Memorial is outside and open to visitors year-round. The nearby museum has many fascinating exhibits and is open from 10am to 5pm and the entrance fee is $17.50 for adults and $14.50 for children 3-14 years old.
During the season of spooks throughout October, there's a wide variety of witch-themed events in Salem, such as the Official Salem Witches' Halloween Ball. Check the town's website for exact times and details.
As you can imagine, the time around Halloween is peak tourist season for Salem, so make sure to book any tickets and accommodations far in advance if you want to make this trip in October or early November.
Many visitors to the memorial today feel moved to leave flowers and other totems of sympathy on the stone benches for the women and men who were senselessly murdered by their fellow community members.
While you are here: Salem draws tourists from all over the eastern seaboard and beyond. It is only a half an hour outside of Boston and is even a possible day trip from Providence. Simply follow Interstate 95 North for 1 hour and 20 minutes to reach this occult town by the sea.
*Prices are calculated at the time of writing for all the spooky places above