15 Best Winter Road Trips from Seattle
Home to Starbucks, the Space Needle, grunge music and some of the States' most exciting tech companies, Seattle is a great place to be. Seattle is also close to several National Parks, the scenic PNW coastline, the Puget Sound, and many public natural areas, making it the perfect base for a road trip this winter.
Whether you're looking for winter sports, buzzing city breaks, festive markets or a sunshine escape, there's a winter road trip from Seattle to suit everyone. Along the way you can visit scenic mountains, fabulous wineries and iconic national parks.
We've collated some of our favorite road trips to get you started with your planning, whether you have just a day out of the city or a whole vacation to fill. Keep on reading to find out where you can get to on a winter road trip from Seattle.
Best winter road trips from Seattle: a quick overview
Day trips from Seattle (under 3 hours each way)
With the Cascade Mountains just over an hour away, you're spoilt for choice with one-day winter trips from Seattle.
1. Bellingham and Mt. Baker
1 hour 20 minutes from Seattle (80 miles)
Why you should visit: Bellingham is a nature-centric town with access to the sea and mountains in proximity.
A little further out of Seattle, the Mt Baker area offers the full range of snow sports, from skiing and snowboarding to cross-country ski trails and snowshoeing through the natural forests.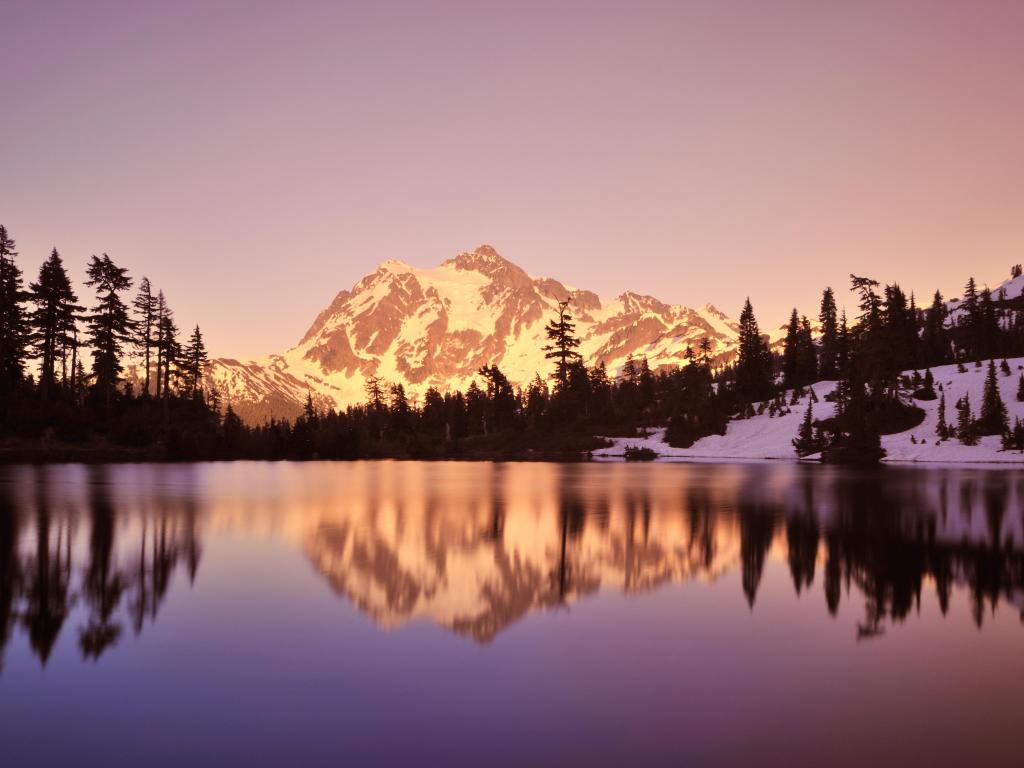 How to get there: Head north out of Seattle on I-5 as far as Bellingham. From there, turn onto WA-542 heading east for around 54 miles
Our highlights: Mount Baker is the tallest mountain peak visible from Seattle and is known for the massive volumes of snow it gets each year.
The ski area here offers lifts and gear rentals for snow sports or explore the Mount Baker Wilderness on your own with snowshoeing or cross-country skis. There are also some winter hiking trails which you can access if the snow isn't too deep.
Even the road up to Mt Baker, State Route 542, is an attraction in itself, with many snowshoeing trails where you can stop for scenic views of waterfalls and the mountain landscape, and to feel the solitude of the winter forest. Canyon Creek and Glacier Road also offer snowmobiling access
Bellingham is known for its high-quality restaurants and world-class chefs. During the holidays the downtown area is decorated beautifully for the season, with festive illuminations.
You'll also be able to see festive lights at Fairhaven Village Winterfest, a historic Victorian-era village with decorations, horse and carriage rides, holiday shopping and art markets. Special events run throughout the holiday season here.
Bonus: The Birch Bay Polar Bear Plunge happens every year on New Year's Day – join hundreds of daring visitors for this tradition of jumping into the freezing waters of Birch Bay.
Our travel tips: Local tour companies can take you to and around the Mount Baker area if you don't have your own transport, but you'll need to book in advance. Alternatively, if you need to rent winter sporting gear, it's available from many local outfitters in Bellingham.
2. Mount Rainier National Park
1 hour 40 minutes from Seattle (80 miles)
Why you should visit: Mount Rainier National Park turns into a snow-covered winter wonderland from December onwards. It's a really popular place to visit in the warmer months but coming here in winter offers more solitude.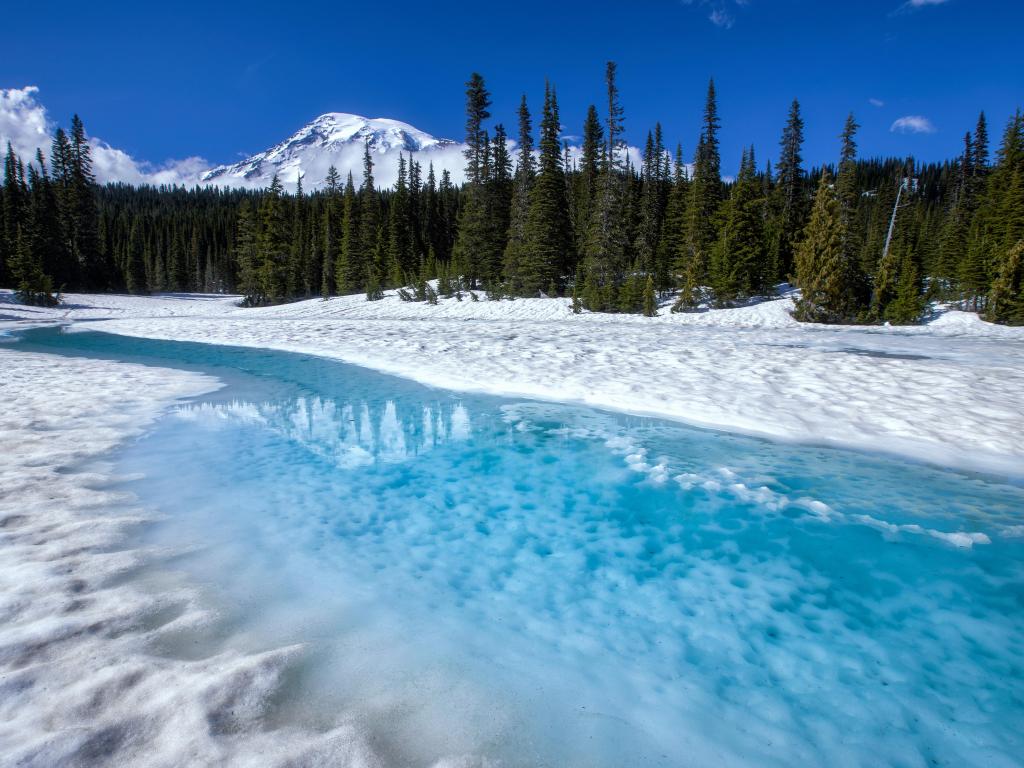 How to get there: Head south on I-5 then as you approach Tacoma turn on to WA-161. Continue south past Eatonville reach the National Park Highway which you'll follow along Alder Lake all the way to the National Park's Southwest Entrance for access to Mount Rainier.
Our highlights: At Comet Falls you can follow the trail to the largest waterfall in Mt Rainier National Park - depending on how much snow there is you'll either snowshoe or hike.
Edith Creek Basin also offers snowshoeing as well as backcountry skiing – try to snag one of the spots on a guided ranger snowshoe hike to really get to know the area.
You'll find the only sledding spot in the park at Paradise Snow play Area, where there are views of Paradise Glacier. You can also access Paradise Valley show shoe loop here (rent snowshoes at the General Store).
Longmire Museum and Visitor Centre is a historic building with local history exhibits and ranger talks. It offers a warm place to get out of the snow and cold.
For a slightly longer drive either to or from the park you can follow the Chinook Scenic Byway (WA-410), which separates from the direct route to the park in North Puyallup. Drive this road for the most scenic views close to Seattle and amazing overlooks of Mount Rainier.
Our travel tips: Winter planning is required for this short trip. Have essentials with you before driving into the remote park area, and check weather conditions. The Southwest (Nisqually) entrance to the National Park is recommended.
3. Olympic National Park and Olympic National Forest
2 hours 10 minutes from Seattle (110 miles)
Why you should visit: Located towards the coast, this road trip will take you to a unique national park that has a rainforest, mountains and access to the Pacific Coast beaches – the only place that offers this unique combination within one park.
Winter in Olympic National Park and Forest is the wet season, so the rain forests are full of deep greens. With snow on the mountains and sand on the beaches, it's a unique time to visit!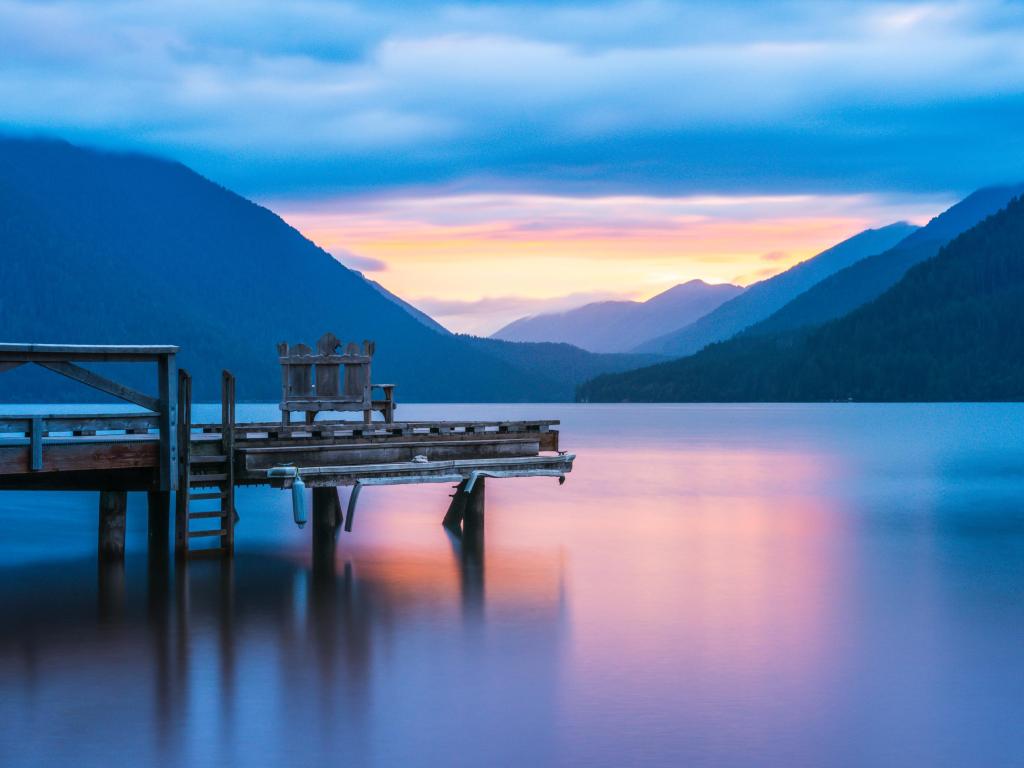 How to get there: Take I-5 south to Olympia, then turn onto US-101 just after crossing Capitol Lake in Olympia. The road follows Hood Canal on the way up to Hoodsport, where you'll join 119 to access the park. The National Forest surrounds the National Park which is centered around Mt Olympus
Our highlights: Scenic and remote Hurricane Ridge is the center for all snow sports within Olympic National Park. You can ski, tube, snowboard, and snowshoe from this area.
The National Park's beaches remain free of snow during the winter, but the swells and tides at First, Second and Third Beaches are impressive.
Walk along the beach during low tide and feel the cold spray of the huge waves and hear them crash against the rocks - winter storms often add to the atmosphere. Kalaloch Lodge offers a warm respite to see the big winter swells from its indoor cozy spaces.
The Hoh Rainforest will be wet since winter is the rainy season, but the rainforest in the winter months is extra full and green and you can peacefully hike amongst the hanging dripping mosses and ferns.
All that rain means that Marymere and Madison Falls should be at full capacity during winter. However, at times these easily accessible waterfalls can freeze into a curtain of ice. Sol Duc is another large cascade that falls into a slot canyon.
Bonus: Take Route 101 around the park and go back south along the coast to visit the towns of Forks and LaPush, made famous as the setting of the Twilight Saga novels and movies.
Our travel tips: Weather Conditions apply to snowy areas within Olympic National Park and Mount Olympus - look out for local information before you begin your trip.
READ MORE - Road Trip from Seattle to Olympic National Park
4. Leavenworth and Cashmere WA
2 hours 30 minutes from Seattle (130 miles)
Why you should visit:This road trip from Seattle will take you to Leavenworth, a unique Bavarian-style village experience. It's especially magical in winter, with festive lights and German decorations.
The holidays bring a special festive magic to Leavenworth, but the snow-covered villages are picturesque all winter long and offer a charming escape from the city.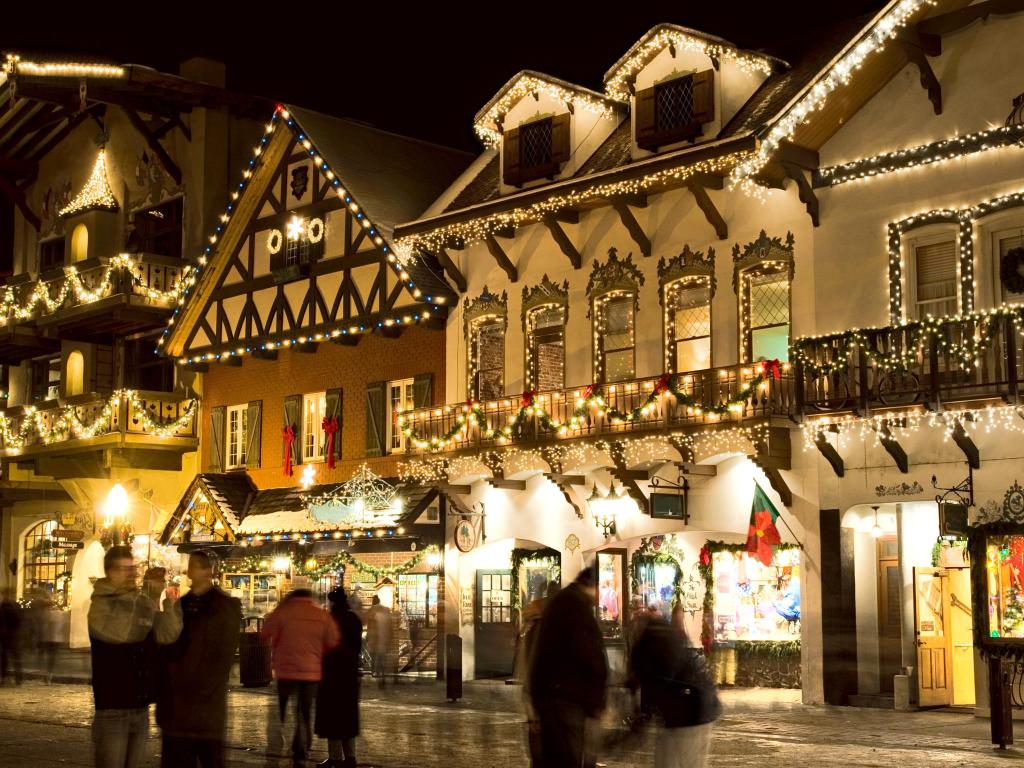 How to get there: Head out of the city on WA-522 E then merge onto US-2 headed east. Continue through Stevens Pass on US-2 and you'll reach the two towns of Leavenworth and Cashmere, which are about 15 minutes apart located on the Wenatchee River.
Our highlights: Magical lights decorate Leavenworth Village from Thanksgiving through to Valentine's Day. You can shop in an old-world-style Bavarian Christmas Market, eat delicious foods, and take in the magic of the season.
Along the way you'll drive through Stevens Pass, which offers ski lifts and a snow park with all winter sports and lighted night skiing - perfect for a final stop on your one-day trip out of the city. The Pacific Crest Trail also travels through here, although in the winter, it will be covered in snow.
In fact, much of the scenic drive along Highway 2 is an attraction in itself, including a section through Wallace Falls State Park. A good stop would be Gold Bar, where you can see Wallace Falls. You can hike here in the winter, as it's usually free of snow at lower elevations.
Head outside the village itself and Leavenworth has hundreds of miles of snowmobile trails as well as trails for skiing, sledding (at the Golf Course) and snowshoeing.
The nearby town of Cashmere has a retro feel and seems like it is straight out of the mid-20th century. You can visit the Liberty Orchards candy factory, which still looks just like it did in 1920, and get samples of their famous Aplets and Cotlets.
Bonus: The Nutcracker Museum has the largest collection of nutcrackers in the world - you can see antique and collectible nutcrackers and get your own authentic hand-carved Christmas nutcracker.
Our travel tips: US-2 can be tricky to drive in poor weather conditions so take your time, and make sure your vehicle is suitable for the trip.
READ MORE - Road Trip from Seattle to Leavenworth
Click here to skip back to the top.
Weekend trips from Seattle (3-5 hours each way)
There are some great trips you can take a little further afield from Seattle. We've included city breaks to Vancouver and Portland here as, although you can drive to either in a little under 3 hours, chances are you'll want to stay the night if you're visiting either of these buzzing cities.
5. Vancouver, BC (Canada)
2 hours 30 minutes from Seattle (140 miles)
Why you should visit: Vancouver is one of Canada's most diverse cities, and with its coastal location at the foot of the mountains, it's a beautiful place to spend a weekend. The city is about half the size of Seattle, making it possible to see a lot of the city in a short time.
Vancouver is much quieter in the winter than the busy summer season, and with a mild climate thanks to its location on the coast, it can be very enjoyable in the winter.
How to get there: Head north on this road trip, following I-5 all the way to the international border. After entering Canada remain on the same road, which becomes BC-99 and takes you right into the heart of Vancouver.
Our highlights: If you're in Vancouver during the holiday season you can enjoy festive lights across the city - even the Capilano Suspension Bridge is covered in lights in the winter.
To help build up that festive feeling head out to see Granville Island Festive Lights, then check out Robson Square where you can skate for free.
Winter is hockey season too, and you might be able to catch the Vancouver Canuks in action during your trip - maybe even against the Seattle Kraken!
World-renowned Whistler is "Vancouver's Mountain," and it's an easy drive from the city for winter sports.
Alternatively, if you want to spend less time on the road you can also head to smaller mountains closer to Vancouver, including Grouse, Seymore, or Cypress along the North Shore where you could also snowshoe, tube or skate.
Even if you're not planning on skiing, you can take the gondola up Grouse Mountain to see majestic views of the city and coastline.
When it's time to warm up, you'll have plenty of indoor attractions to choose from. Vancouver is well known for its world-class science museum and art galleries, as well as fine dining seafood restaurants.
Bonus: Vancouver Christmas Market runs from mid-November to Christmas, and offers some warming, German-inspired festive cheer and atmosphere.
Our travel tips: Vancouver often only gets a week or 2 of snow each year so this isn't a trip to take if you're looking for snow-covered festive scenes. It will most likely be rainy so prepare for wet conditions.
READ MORE - Road Trip from Seattle to Vancouver
6. Portland, OR
2 hours 45 minutes from Seattle (170 miles)
Why you should visit: Portland is another city in the Pacific Northwest that is known for its large parks, lots of green space, and craft brewery scene.
Portland offers a southern escape from Seattle and feels a little more scenic and rural, while still being a unique and vibrant city. Winter is the quietest time to visit so crowds are sparse, and hotels are cheapest.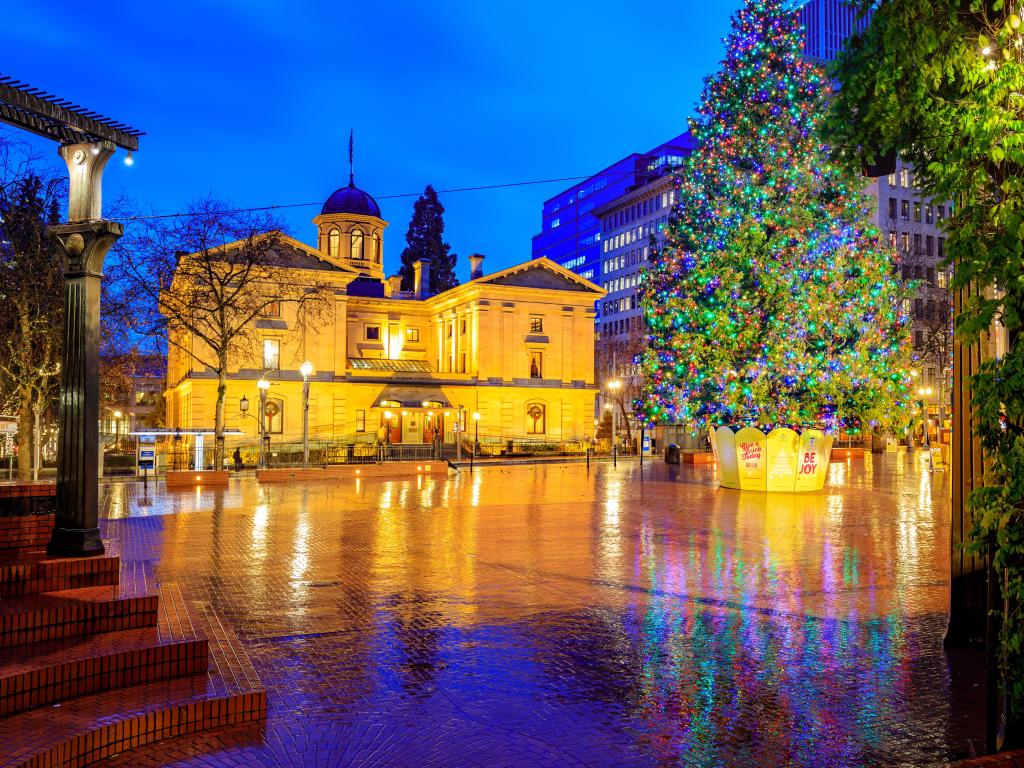 How to get there: This is a really simple one to navigate - just head south on I-5 until you reach Portland.
Our highlights: Portland's downtown area is a great place to relax. Curl up with a coffee and book at Powells City of Books, window shop for vintage clothes or vinyl records, take photos with all the street art, feel the crisp winter air as you walk along the city streets and stop for a donut at the original Voodoo Doughnut.
You can also sample food and drink from many Portland eateries, both new and long-established, on a curated food and beverage tour around the city. There are plenty to choose from based on your taste and the area of city you want to focus on.
For respite from the cold or drizzle, Portland Art Museum is a great indoor activity that has been going since 1892.
Alternatively, if you want to spend more time outdoors, head to Mount Hood where you can find ski resorts, ski trails, snowshoe trails, and sledding hills around the Mt Hood loop. From Portland, the closest ski areas are at Mt Hood Ski Bowl or Timberline Lodge.
There are also some scenic drives that you can take out of the city. Follow I-84 through the Columbia River Gorge National Scenic Area to see Multnomah Falls and Tunnel Falls. There are also hiking areas along the gorge if conditions allow.
You can also drive out to the coast – head to Canon Beach and enjoy the famous coastal views, or drive south to Arch Cape, Rockaway Beach, hike through the rainforest to the cape at Cape Lookout State Park and then back to Portland through Tillamook State Forest (grab some cheese in Tillamook).
Bonus: Portland has more breweries than any other city so it's the ideal place to go on a pub crawl or brewery tour to experience as many as you can fit in. Just don't expect to tick them all off in a single weekend.
Our travel tips: Since this drive takes place mainly on the well-kept main roads, it is a fairly straightforward drive, but you might encounter traffic congestion, especially as you exit Seattle and reach Portland. It's advisable to avoid rush hour.
READ MORE - Road Trip from Seattle to Portland
7. Manson and Lake Chelan, OR
3 hours 20 minutes from Seattle (180 miles)
Why you should visit: Lake Chelan is a picturesque destination with a crystal blue lake amidst towering peaks.
You can find tranquillity, scenic views, and area villages centered around wineries and agribusinesses.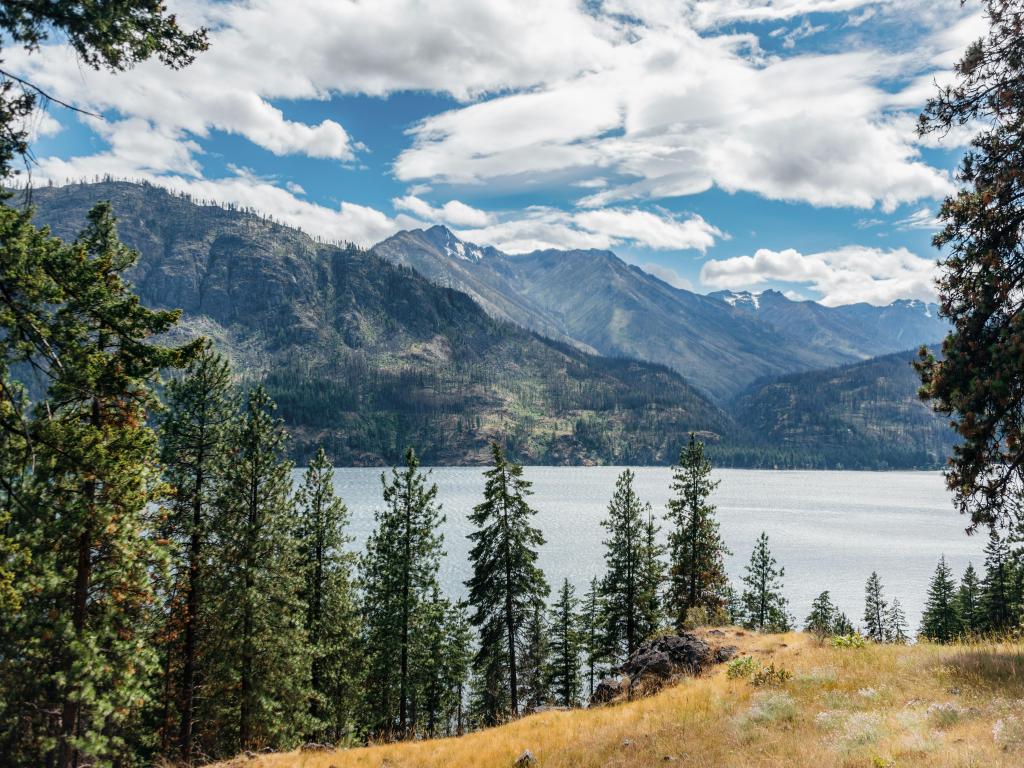 How to get there: Head east on US-2 through Leavenworth and Cashmere, or on I-90 through Snoqualmie Pass. Whichever route you take out of the city, turn north onto US-97 N the follow WA-150 around the lake to Manson.
Our highlights: Manson and Lake Chelan are known for their wineries and vineyards. The vines will be bare in winter but the wineries still offer tastings and pairings.
You can take a tour of the Manson Scenic Loop to visit a wide selection of them. Hard Row to Hoe and Vin Du Lac are particularly recommended for their ambience and views.
There are also wine-tasting rooms in lakeside Manson's downtown area, as well as family-owned restaurants, local markets and holiday festivals.
Some of the other small towns around Lake Chelan also get super festive between November and January with lights and Christmas markets. Sip on warm wine or cider as you stroll through these winter wonderlands and shop for unique gifts.
Carrying on with the festivities, late January sees Lake Chelan Winterfest starting up, with food, fireworks and more wine-tasting opportunities among the activities you can enjoy at this winter-themed extravaganza.
Finally, if you want to enjoy some winter sports during your trip, you won't have far to go. You can explore the area around Lake Chelan by snowshoeing or snowmobile, with Echo Valley the nearest downhill ski and snowboard mountain.
Bonus: Stay in a lakeside cabin or quaint Bed and Breakfast to really feel the local pride and ambience of the region.
Our travel tips: Don't forget to switch to winter tires and bring your chains as these are required in the Snoqualmie Pass, which gets quite a bit of snow in winter. Oversize vehicles are prohibited on this route during winter.
Click here to skip back to the top.
Long weekend trips (5-8 hours each way)
If you're looking for more of an adventure but only have limited travel time, take a look at these long weekend trips. You're best to stay 2 or 3 nights on these routes to enjoy them to the full and to make sure you have time to relax after the drive.
8. Kelowna and Kamloops, British Columbia, Canada
5 hours 10 minutes from Seattle (290 miles)
Why you should visit: Set at the foot of the Canadian Rockies, "Canada's Wine Country" is a great place to head for a long weekend.
In winter, the area is draped in snow and ice and the mountain setting offers great skiing in the Canadian Rockies. Add on visits to some of the region's many wineries and you have the perfect mix of both indoor and outdoor entertainment.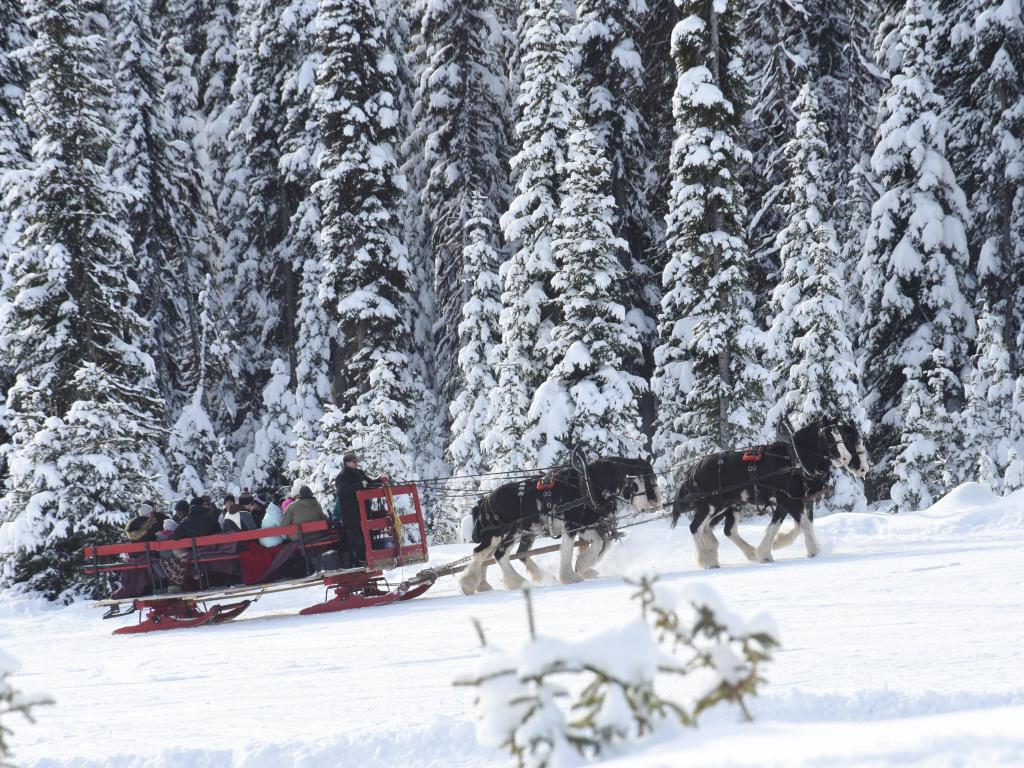 How to get there: Head north out of Seattle on US-5 then exit onto WA-542 which takes you out to Trans-Canada Hwy 1. At Hope turn onto BC-3 for a few km then pick up BC-5 which takes you northeast to Kamloops.
If you're headed to Kelowna, continue on BC-3 from Hope and follow it east through the mountains as far as Keremeos. The road divides here, and BC-3A takes you through the Marron Valley to join BC-97 heading north along Okanagan Lake to reach Kelowna.
Our highlights: In Kamloops, you can ski, snowboard, snow tube and enjoy other snow sports and several mountain resorts, including Sun Peak Resort.
You can also try out ice fishing - there are more than 100 lakes in the Kamloops area, but if you're hoping to catch a big one head to Tunkwa or Edith Lakes.
For some warmer recreation, stop at the wineries on the Kamloops Wine Trail and enjoy a selection of locally produced wines while you enjoy the beautiful surroundings looking out over the mountains or the South Thompson River.
Kelowna is also known for its wines, and you can enjoy a guided tour that takes you to multiple wineries. There are a number of wine trails to choose from or enjoy the scenery at your own pace and pick your own selection to visit.
Another great stop if you're heading to Kelowna is Okanagan Falls, where you'll be rewarded with views of Skaha Lake. You can stop to snowshoe or try out fat tire biking at some of the parks along the lake too.
Bonus: Canada is the world's leading producer of super-sweet icewine, made from frozen grapes.
Our travel tips: The highways around the region are all very scenic, but due to high snowfall you'll need to factor in winter driving conditions and make sure your vehicle is adequately prepared. Snow tires are required on a number of major roads in British Columbia.
9. Bend, Oregon, Crater Lake, and Umpqua National Forest
5 hours 40 minutes from Seattle (330 miles)
Why you should visit: Bend, Oregon is known for its natural setting and beauty with close proximity to some unique features of Oregon wilderness.
This scenic weekend trip takes you through the mountains of Oregon with plenty of stunning views to enjoy along the way as well as outdoor opportunities at Crater Lake National Park and Umpqua National Forest and Hot Springs.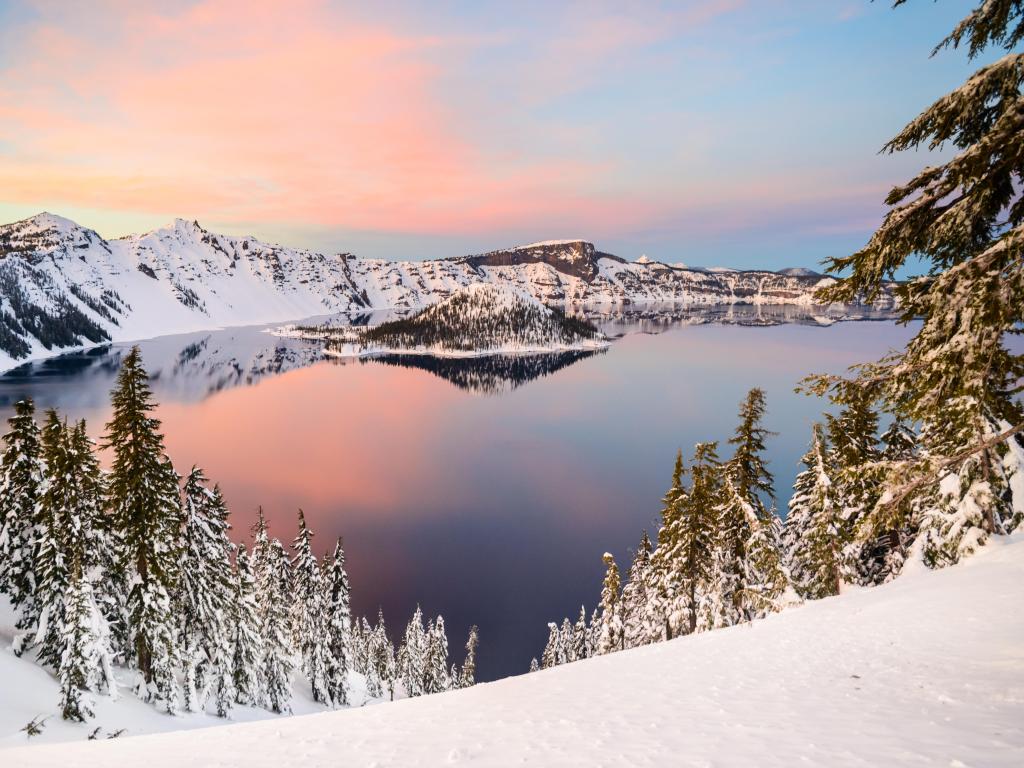 How to get there: Drive south on US-5 to Portland then take US-26 E out of Portland towards Mt Hood (see Portland and Mount Hood listing for trips to this area).
If you're stopping at Bend, simply continue south on US-97 which takes you straight there. Or if you're making the slightly longer trip to Crater Lake through Umpqua National Forest, continue along US-97 to OR-138.
Our highlights: The city of Bend doesn't get much snow so it's a great place to stay overnight and use as your base for the weekend.
There are many breweries and wine-tasting spots in Bend to sample Oregon's famous wines and craft beers. Follow the Bend Ale Trail or take a food tour to enjoy hearty foods with scenic views of the Deschutes River. There are also great shopping opportunities in the Old Mill District.
The surrounding mountains experience much heavier snowfall, making the scenery festive and serene, with many places to have fun in the snow. Try skiing at Mt Bachelor or skating under the stars at Seventh Mountain Resort.
If you have time to extend your drive by a couple of hours, head to Crater Lake, Oregon's only national park. The deep blue water looks especially scenic with white snow all around. You can take a guided snowshoe hike or start at Rim Village to snowshoe up to the crater edge.
Winter snow transforms Umpqua National Forest into a picturesque winter wonderland. The sno-parks offer many winter sporting opportunities like cross-country ski trails, snowshoe trails, snowmobile roads, and sledding parks.
North Crater Lake sno-park and Three Lakes are pretty accessible and on the east side of the forest.
The hot springs within Umpqua, which naturally reach 108 degrees, are especially welcome in the winter as you can soak in and warm up after spending time in your cold snowy surroundings. Take a towel and dry clothes with you as it's a short hike down to the pools and back.
If conditions allow, you'll also find waterfalls on many hiking trails in the northern part of Umpqua, accessible from Highway 138.
Bonus: The Old Mill District in Bend will have festive holiday lights and shopping during Christmas time.
Our travel tips: If there's too much snow, the road to the hot springs will be closed but you can still hike or snowshoe to reach the pools. Expect some nudity as bathing suits are optional when using the springs.
READ MORE - Road Trip from Seattle to Bend
Click here to skip back to the top.
Longer trips from Seattle (over 8 hours each way)
If you have time to turn your winter getaway into a longer adventure there are some fabulous road trips that you can take from Seattle. Whether you're looking for a snow-covered wonderland or some winter sun, here are some of our top picks to get you started in your planning.
10. Glacier National Park and Whitefish Winter Resort
8 hours 50 minutes from Seattle (540 miles)
Why you should visit: This road trip east through the Idaho Panhandle and the state of Montana takes you to the ruggedly scenic Glacier National Park.
The Glacier NP area is super popular in summer but much less crowded in winter. Find solitude and unpopulated vistas during the winter months with a blanket of snow making for dramatic scenery.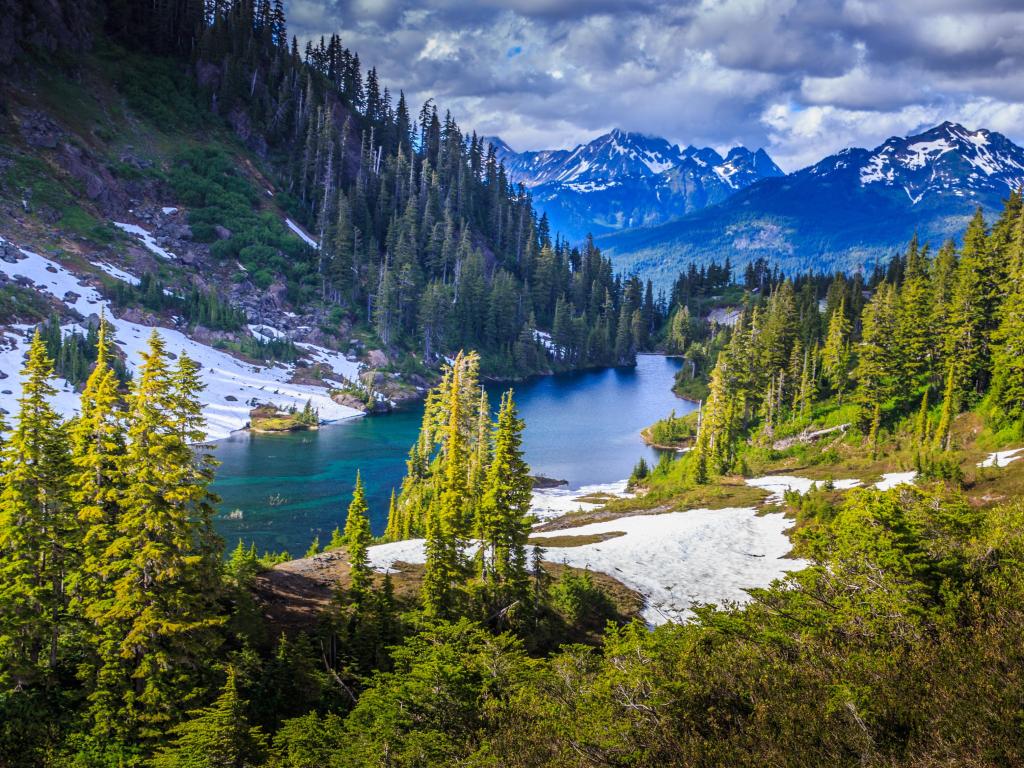 How to get there: Go east out of Seattle and follow I-90. After arriving in Montana exit onto MT-135 W in St Regis then take MT-28 and US-93 around Flathead Lake to reach Whitefish. To get to the west entrance of Glacier National Park, turn onto US-2 at Kalispell and follow it to West Glacier.
Our highlights: In the winter, Whitefish Mountain Resort offers some fantastic skiing and other winter sports, with a full alpine village where you can enjoy some après ski relaxation. There are plenty of places to stay in the resort area.
There are also a number of spas in the Whitefish area as well as Quinn's Hot Springs and Symes Hot Springs. In the downtown area, you can dine on Montana game cuisine and freshwater fish and try local craft beers and wines.
If you decide to head out to Glacier National Park, you can drive between Apgar and Lake McDonald for scenic views of the Going to the Sun Road (the rest is closed in winter) and enjoy the solitude in these high-elevation mountains.
Many trails can be accessed with hiking, snowshoeing, skiing, or you can take a guided snow sports tour. You can even let a team of huskies pull you through the snow for unique views of wildlife and scenery which are hard to access by road or on foot at this time of year.
Bonus: Whitefish Winter Carnival is one weekend in mid-February, the city is taken over by activities like a polar plunge, entertainment, parades, and winter-themed activities.
Our travel tips: Many facilities in Glacier National Park close for the winter, so plan ahead to see what's open and plan your drive to and through the park accordingly. Conversely, Whitefish Mountain Resort opens on December 8 for the skiing season.
While visiting, keep in mind that Glacier National Park implements a vehicle reservation system from May 26th to September 10th, from 6am to 3pm (at the time of writing). Before visiting, please check online to see whether you might need a reservation.
READ MORE - Road Trip from Seattle to Glacier National Park
11. Golden, British Columbia and Banff, Alberta Canada
11 hours 40 minutes from Seattle (660 miles)
Why you should visit: Head to the Rocky Mountains on this road trip for an amazing combination of winter sports, and Banff National Park is beautiful while it's shrouded in snow.
The popular ski resorts around Banff buzz all through the ski season, but it's still a lot less crowded than in the summer months. You'll also have the choice of hitting the slopes in Golden, BC.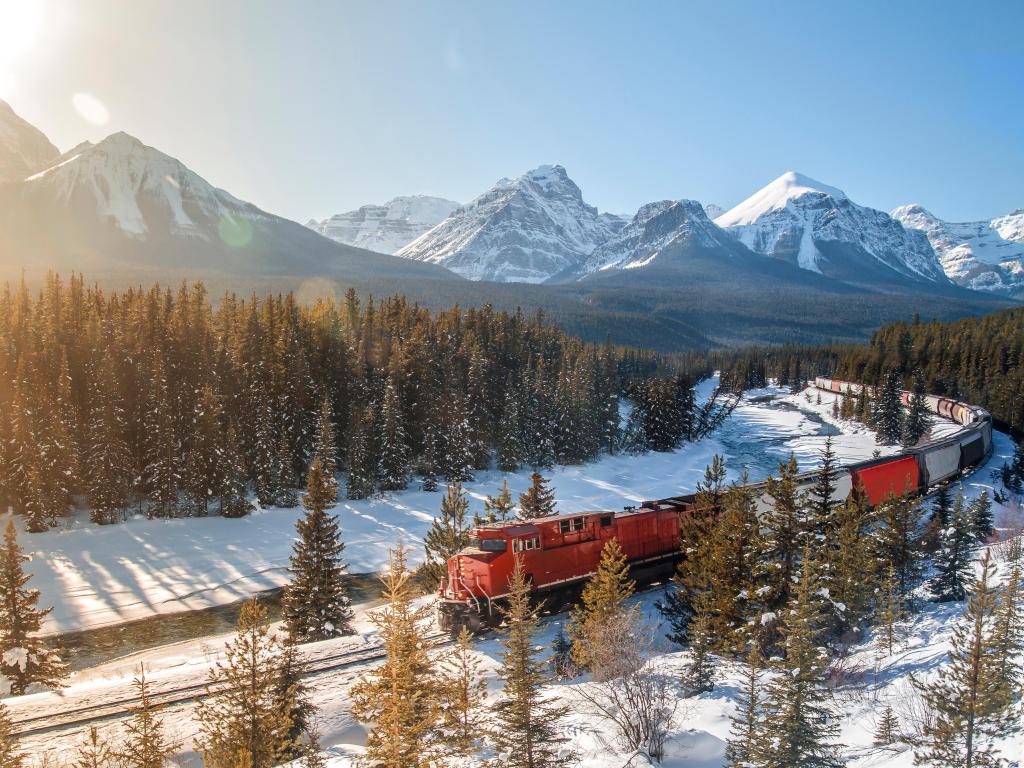 How to get there: Take I-5 North out of Seattle and merge onto Trans-Canada 1 headed northeast after a short stretch on WA-542 leading to the Candian border. After Hope, turn onto BC-5 heading north to Kamloops where you'll rejoin Trans-Canada 1. The highway follows the South Thompson River then hugs the shores of Shuswap Lake before heading through the mountains towards Golden and Banff.
Our highlights: On your way to Banff, you'll pass Golden, at the foot of the Rocky Mountains. You can ski at Kicking Horse Resort or explore the area with fat tire biking and cross-country ski trails. If you aren't into winter sports, there's also the option to take the gondola up the mountain for scenic views.
Banff itself is a quaint mountain town that lights up in style around Christmas. You can enjoy the town's Christmas market all through the holiday period as well as take a walk through the town to eat and shop.
Banff National Park is the most famous NP in all of Canada. During a trip here you can see Lake Moraine and Peto Lake, hike to the teahouse, or take the scenic drive along BC-93.
Lake Louise is the most photographed spot in Banff National Park, and the view of the frozen lake and snow-covered mountains is especially beautiful. In winter you can skate on the lake, which is known as one of the world's best and most scenic ice rinks.
Not far away in Kootenay National Park you'll find canyons, hot springs, hiking, and the Continental Divide, which you can drive through on 93. If you only have time to make a short trip to this National Park head to the Marble Canyon, in winter the blue water combined with the snow and ice is particularly photo-worthy.
Near Kootenay, you can also detour to visit Radium Hot Springs. The thermal mineral springs here sit amid craggy slopes surrounded by snow, which makes for a unique and steamy experience.
Yoho National Park is also nearby and, while it's not as popular as Banff, it still offers amazing sites to see and plenty of trails to explore.
Our travel tips: Major construction work is ongoing along Trans-Canada Highway 1 between Golden and Banff, so check ahead for any closures which might affect your route. You might need to take a scenic detour along BC-95 and BC-93 through Kootenay National Park to get all the way to Banff.
Winter tires are mandatory on many major roads through British Columbia, and you might also need to carry snow chains. Due to the chance of heavy snowfall, always check for road warnings before you set off.
It's also worth noting that front-wheel drive can be more comfortable in snowy conditions.
READ MORE - Road Trip from Seattle to Banff
12. Lake Tahoe, California/Nevada
12 hours 20 minutes from Seattle (740 miles)
Why you should visit: The mountains around Lake Tahoe see an enormous amount of snow falling in the winter, making it a beautiful and action-packed location for snow sports. This is truly the perfect winter road trip if you'd like to admire a winter wonderland!
Tahoe City and South Lake Tahoe are both great places to kick back and relax. They both offer abundant resorts, hotels, and activities with fabulous views across the scenic lake and mountain peaks that surround it.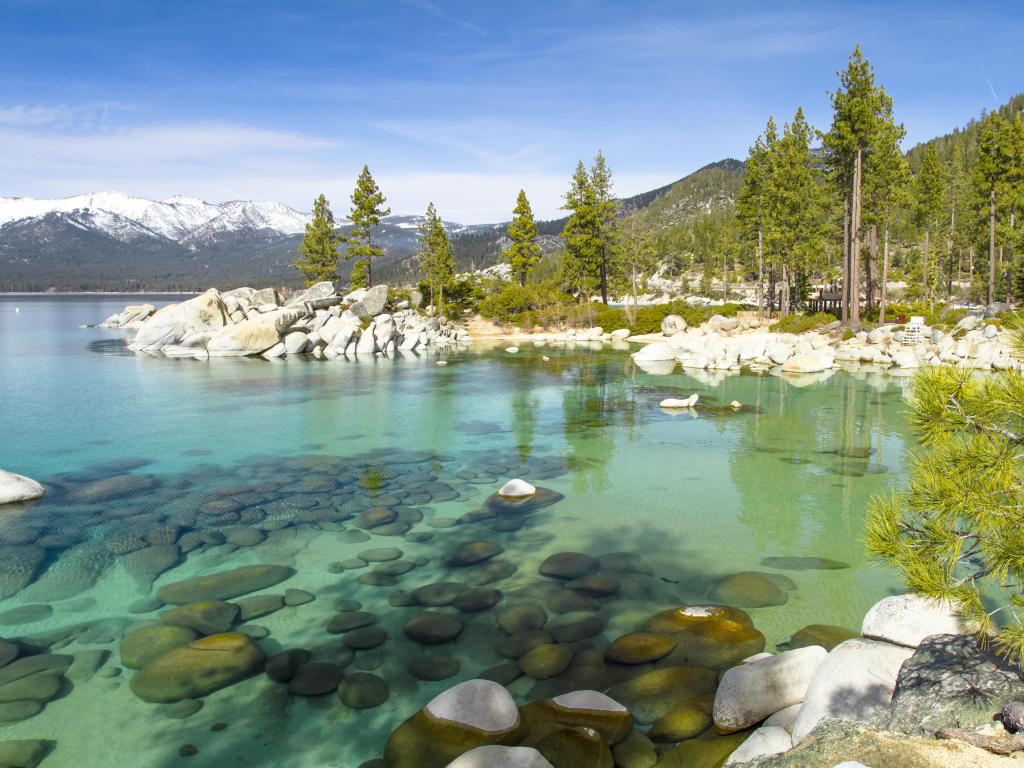 How to get there: Take I-5 South through Eugene then exit onto OR-58 headed east which leads you onto US-97. Follow the highway south as far as Klamath Falls then turn onto OR-39 (which becomes CA-139) to Susanville, from where US-395 takes you on to Reno.
From here it's just a short hop west along I-80 then follow the highway south to reach Tahoe City.
Our highlights: North Lake Tahoe is the less developed part of the lake and offers more wilderness areas for snow sports. While you're here you can try snowkiting, skydiving, or snowmobile trick riding parks. Check out resort areas like Squaw Valley, Heavenly gondola, or Diamond Peak.
The backcountry areas on North Lake Tahoe and around the California side offer many trails to explore via ski or snowshoe, and you can stay in remote and tranquil backcountry cabins for a real feeling of escape while you take in the quiet winter scenery.
Even in winter you can still take a boat tour of the lake. Climb on board a sunset cruise and see the scenic beauty of the lake from the crystal-clear deep water.
For something completely different, head to the South Lake Tahoe area. Crossing from California into Nevada, you'll find plenty of casinos and nightlife areas to enjoy here, along with clubs and restaurants.
Bonus: Depending on the conditions, the drive between North and South Lake Tahoe might be closed. If it's open, it's a beautiful scenic drive that only takes around an hour.
Our travel tips: Winter driving conditions around Lake Tahoe can be particularly intense, so snow chains and 4-wheel drive are advised.
READ MORE - Road Trip from Seattle to Lake Tahoe
13. Napa Valley and San Francisco, California
14 hours from Seattle (840 miles)
Why you should visit: Escape the snow and rain with a visit to California's famous wine region followed by some time in the Bay Area.
Napa Valley, Sonoma, and the Bay Area including San Francisco often have much milder winter weather than Seattle with warm sunny days.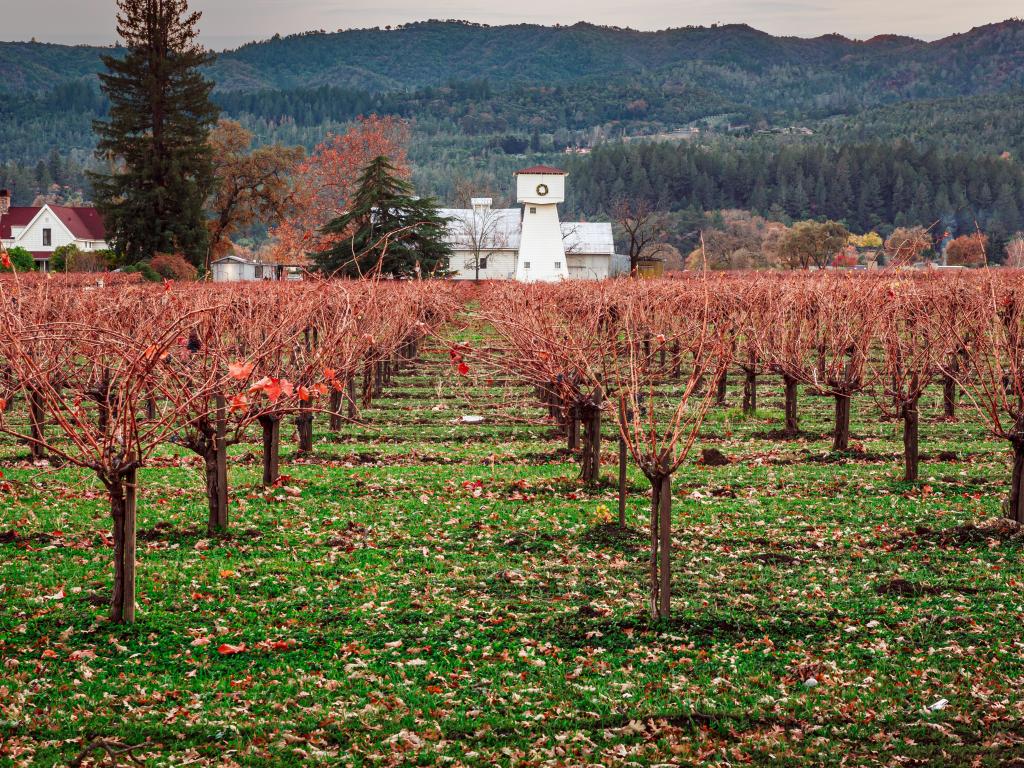 How to get there: Go south on I-5 all the way into California then join I-505 around Sacramento and follow CA-128 west through Napa Valley. Take CA-29 S and I-80 S into the Bay Area to reach your final destination, San Francisco.
Our highlights: Stop in Napa Valley to visit the wellness mecca of Calistoga Hot Springs, where there are many hot springs and mineral pool spas to choose from. Try Calistoga Spa Hot Springs for a custom treatment or the Baths at Roman Spa for a romantic dip in the geothermal water.
Carrying on to Napa Valley and Sonoma, you can visit some of the many wineries and vineyards. During winter, the vines will be bare, but the wine is still as delicious as at any other time!
Taking a group tour is the easiest way to taste as much as you can in one day and means that no one has to miss out on tasting some of the best and most famous wines in the world.
Once you arrive in San Francisco, take a bus tour around the famous sites or the cable cars. You can see the Golden Gate Bridge from the Presidio of San Francisco Park, walk up the hill at Alamo Square to view the Painted Lady houses, see the hillside and windy road on Lombard Street, or stop at the famous Chinatown district for dinner and to explore the markets.
If you're visiting during the holiday period there will be many lit Christmas trees and buildings to see, too.
San Fran also has many indoor attractions including museums such as Exploratorium, art galleries, theatres and sports games. The Ferry Building Marketplace food court is a fabulous place to get a meal too.
Bonus: Winter months bring whales to the coast of San Francisco, so jump on board a whale-watching tour boat from Fisherman's Warf to try to spot them.
Our travel tips: San Francisco doesn't experience the same near-guaranteed sunshine that you'd expect in Los Angeles or San Diego, and winter storms can bring bad weather that lasts several days or weeks. If the weather is nice, take advantage and head outdoors, it might not last long!
READ MORE - Road Trip from Seattle to San Francisco
14. Yellowstone National Park
14 hours 30 minutes from Seattle (900 miles)
Why you should visit: You can see this famous national park in a whole new way when you experience it covered in a blanket of snow and ice. Miss the busy crowds and experience some solitude in this normally tourist-heavy park.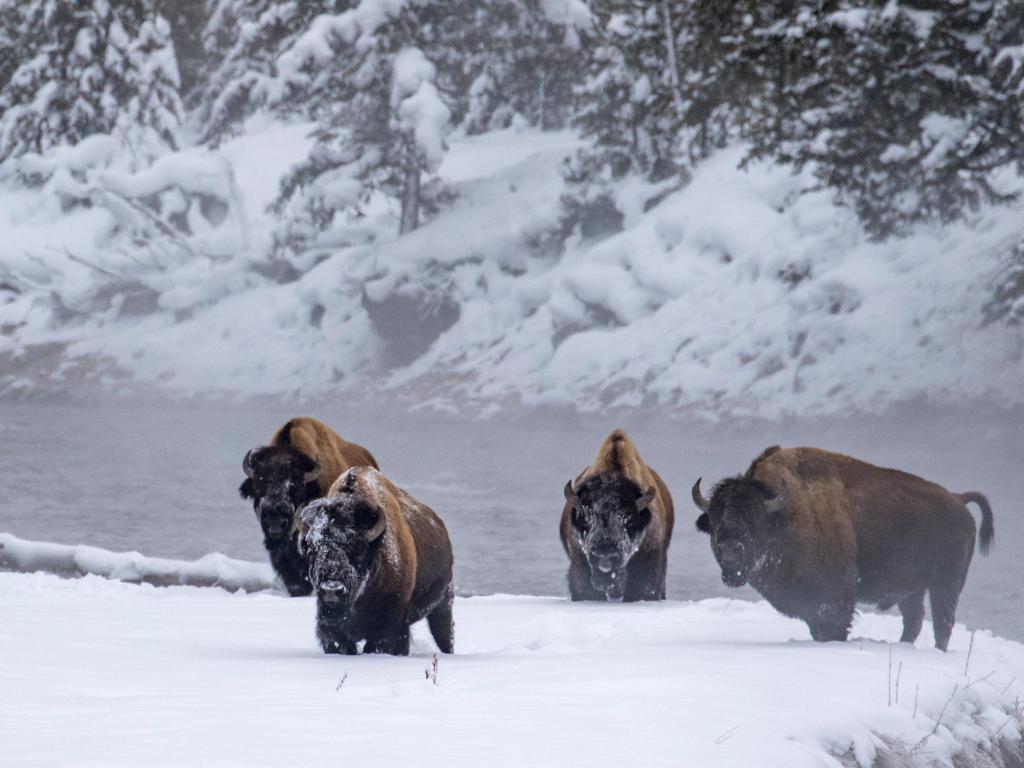 How to get there: To reach the North Entrance - which is the only way to drive into Yellowstone during winter - follow I-90 all the way to Livingstone then turn south on US-89 which takes you all the way there.
An alternative route takes you to West Yellowstone, from where you can take over-snow transport to see Old Faithful. Leave Seattle on I-90 heading east then join I-82 before following I-84 as far as Mountain Home. Next, exit onto US-20 to Sun Valley and continue through Idaho Falls to reach West Yellowstone.
Our highlights: On your way to West Yellowstone, you can stop at Ketchum or Sun Valley, "America's Original Winter Playground", to enjoy a day of winter sports and skiing. At Ketchum, you can also soak in Frenchman's Hot Springs to warm up and relax after a long day on the slopes.
Once you arrive at the National Park take a guided snowmobile tour around many of the park's most famous sites. It's a really impressive spectacle to see Old Faithful, the famous geyser, erupting from snow-covered ground - watch from the Old Faithful Inn with warm hot cocoa in hand for a cozier experience.
You can also take a trip through Yellowstone National Park on a vintage 1950s Bombardier snow coach - it's a much warmer way to see the sights than a snowmobile! Book well in advance with companies running out of West Yellowstone.
Winter is a great time for wildlife spotting as the brown coats of elk and bison contrast against the white snow. The parks' bison will be decked out in huge fluffy coats that you can only see in winter months.
Bonus: Big Sky ski resort in Montana, one of the biggest in the US, is only a couple of hours from Yellowstone and is an option for a detour as you make your way to or from the National Park.
Our travel tips: Vehicles are not allowed in Yellowstone from the first week of November, except for a very limited stretch of road through the North Entrance. You can enter the park most easily during winter using an organized group.
READ MORE - Road Trip from Seattle to Yellowstone
15. Los Angeles and Anaheim, California
17 hours 40 minutes from Seattle (1,140 miles)
Why you should visit: The ultimate escape from the winter cold, you can enjoy year-round sunshine on a road trip to southern California.
From the stunning coastline to towering Sequoia forests, the road trip to LA is a real adventure with so many things to stop and explore. Once you reach your destination, the world-class theme parks can fill any itinerary with days of entertainment in the sunshine.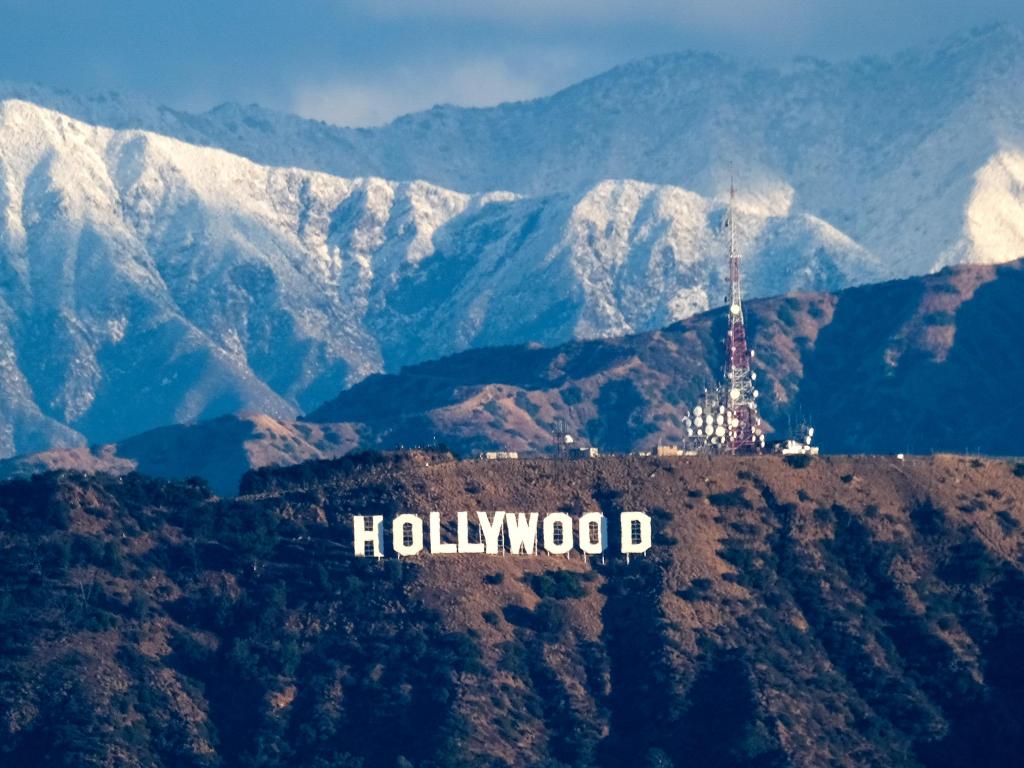 How to get there: Although this is the longest trip on our list it's one of the easiest to navigate. Just join I-5 in Seattle and follow it south for over one thousand miles!
For a more scenic route, cut across to the Pacific coast at any point in the drive and pick up US-101 or CA-1. If you follow the coast the whole way from Washington, you'll add up to 10 hours and 250 miles to your drive but you'll also get to enjoy the iconic Big Sur as well as stop at many fabulous coastal towns along the way.
Our highlights: You'll probably be making this trip to enjoy the winter sun, so where better to start than the beach? Head to the warm, sunny sand in Santa Monica, the Strand in Venice, or Malibu. Go surfing, people watching, or just walk for miles in the sunshine along the stunning coast.
Movie fans should be sure to visit Hollywood to see the Walk of Fame, the famous Hollywood sign or take a behind-the-scenes tour at Hollywood Studios. You can even take a leisurely stroll along Sunset Strip or Hollywood Blvd to go celebrity and movie-star spotting.
Of course, Los Angeles is famous for its theme parks, and whether you seek roller coaster thrills, childlike charm, or movie magic, there's a park for every day and every wish in LA. Take your pick from Disneyland, Disney California Adventure Park, Universal Studios Hollywood, Six Flags Magic Mountain, Knott's Berry Farm, or even Legoland California Resort.
When that warm sun finally sets, head up to Griffith Observatory to see the stars through the telescopes or planetarium and enjoy a warm, sunny outdoor hike at Griffith Park
Bonus: The closest National Park to LA is Joshua Tree National Park, which is a desert. A visit here is a guaranteed way to warm up in the winter months and avoid crowds.
Our travel tips: Although winter brings fewer crowds to the theme parks, you'll still need to plan ahead and book in advance. Christmas at Disneyland and in Harry Potter World of Universal Studios Hollywood is an especially popular attraction, with fabulous festive parades and light shows.
If you extend your trip by driving along Highway 1 you can visit places like Monterey, Big Sur, Redwoods National Park, Mendocino and San Francisco, as well as take in the rugged wintery coastline of Cannon Beach further up the coast in Oregon.
READ MORE - Road Trip from Seattle to Los Angeles