Road Trip From Buenos Aires To Iguazu Falls
If you are taking a few days to visit Argentina, in the approximately 17 hours that you will need to get from the country's capital, Buenos Aires, to the wild tip of the Iguazu Falls shared with Brazil, you will encounter a huge amount of diversity and rich culture.
Sure - taking a flight there is both faster and easier, but you will miss out on exploring the shared identity of Argentina with Uruguay and Brazil and discover that unique mutual love-hate relationship between the neighboring countries.
The road trip from Buenos Aires to Iguazu Falls will take you at least 17 hours of pure driving, before accounting for rest stops. The temperature will constantly rise and the trees will grow taller as you drive further north into the rainforest.
Read on to find out how to make your trip easier, get an idea about what to expect, and even a couple of ideas on where to spend the night until getting to your destination.
How far is Buenos Aires from Iguazu Falls and how long will the road trip take?
To get to Iguazu Falls from downtown Buenos Aires, you need to travel 1,300km will take at least 17 hours of driving across four provinces.
If you are traveling with someone that can take the wheel for a few hours, you may want to do a long stint to Posadas on day one which will take around 12 hours.
Here you can stay in a much nicer hotel than options available along the highway and spend some time exploring the city.
If you're driving by yourself, you will probably want to take at least 3 days. Taking time for breaks, food and filling up the car with gas, you'll still spend a solid 7 hours per day driving.
Do remember, though, that the reason for doing the road trip is not to get there as fast as possible.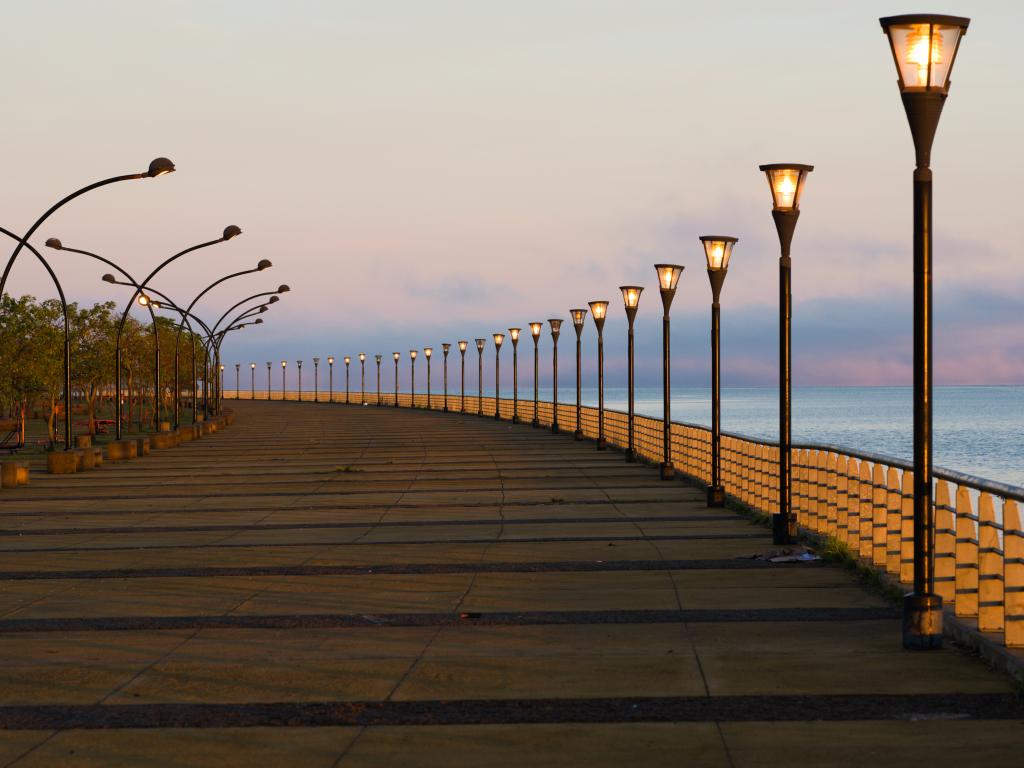 There is so much to see and explore along the way that you'll want to take your time and spend a few days to allow yourself plenty of time sightseeing and soaking up the local culture instead of spending the whole time sat in the car.
Whether you're coming back to Buenos Aires after or driving on to another location, there is more than enough along the way for two journeys.
Best road trip route from Buenos Aires to Iguazu Falls
There are two main routes you can take from Buenos Aires to Iguazu Falls. The fastest and most direct route runs right along the border with Uruguay taking around 17 hours on the road with the slower route taking you to Santa Fe and drive up the Parana River instead.
Route
Distance
Driving Time
Fast Route


(Route 14)

1,330 km
17 hours
Parana River Route


(via Rosario and Santa Fe)

1,680 km
22 hours
How to drive from Buenos Aires to Iguazu Falls
The map above shows our suggestions for the best road trip routes between Buenos Aires and Iguazu Falls. Keep reading for detailed descriptions of both routes, where to stay on either, and the best things to do on the way.
The Fast Route (along the borders with Uruguay and Brazil)
Start off by heading out of Buenos Aires along Route 9 towards Campana. As you leave the hustle and bustle of the capital behind you, turn onto Route 12 headed north at Zarate.
From here you'll want to follow the Uruguay River which doubles up as the international border between Argentina and Uruguay.
At the junction in Ceibas, join Route 14 going up to Gualeguaychu, a city known for being one of the most festive in the country.
You'll notice that the somewhat barren landscapes will get more and more green as you keep going – this region is called Entre Rios which translates roughly as Among Rivers and you'll begin noticing small streams and tributaries on you way as well as passing wider sections of the Uruguay River.
After following Route 14 for about a day (yes – it will take you a while to get up there), you'll need to take the turning towards Posadas – a border town sitting on the Parana River separating Argentina from Paraguay.
From here, Route 12 north will run right along the Parana River all the way to the point where Brazil, Argentina and Paraguay meet at Iguazu Falls.
Parana River Route
If the 17-hour drive sounds a little too easy or if you want to spend a bit more time on the way stopping off in interesting cities and get to experience Argentina's culture, this is the route for you. You will spend around 5 hours longer on the road so bake in at least an extra day for the journey.
Instead of taking Route 12, you'll want to keep going along Route 9 all the way to Rosario – Argentina's second biggest city.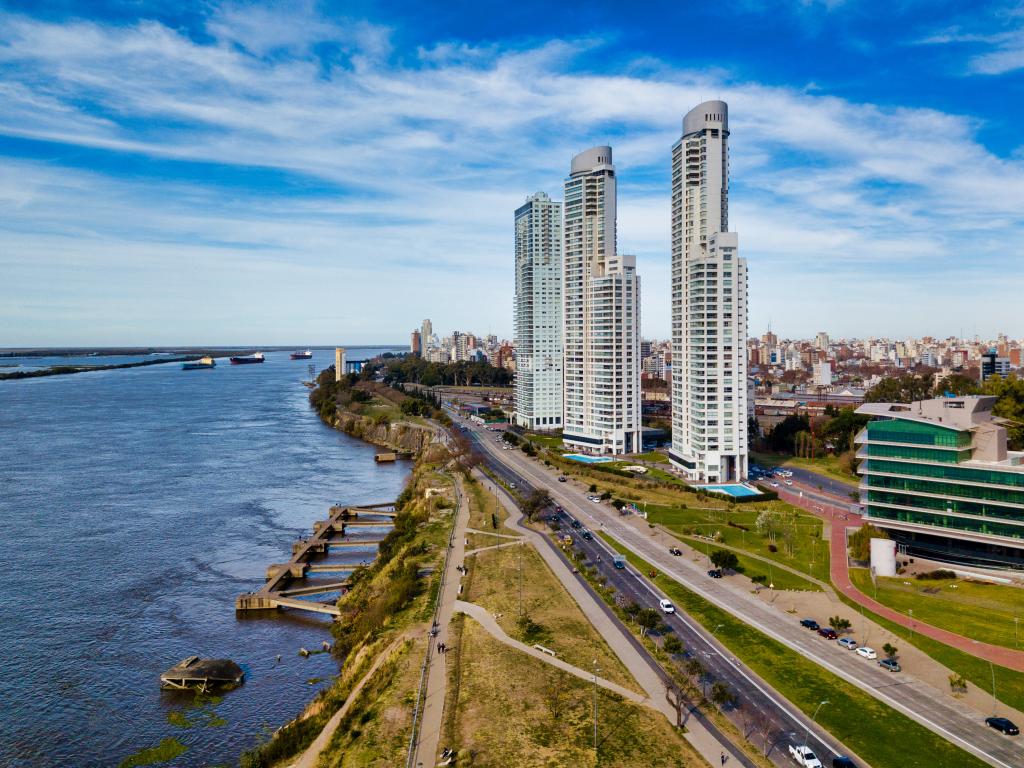 From there a short drive up Route 11 will take you to Santa Fe which is a bustling capital of the Santa Fe province.
From Santa Fe, you'll need to follow Parana River all the way to Iguazu Falls – head north along either bank to Corrientes and from there you'll have to drive along the Paraguay border to Posadas before following the same Route 12 road up to Iguazu Falls as with the faster route above.
Best places to stop between Buenos Aires and Iguazu Falls
Driving for a solid 24 hours if you include stops for gas, food and restroom breaks is a long way to go and as I mentioned earlier, you really will want to stop along the way to break up the drive and take the time to explore Argentina's culture, food and sights.
A lot of the more premium hotels in Argentina have set up in places more commonly visited by tourists – the Mendoza wine region, Patagonia and the Andes foothills as well as in Buenos Aires itself so there aren't that many really amazing hotel options along the way, but here's the ones that really stand out.
A spa break in the middle of your drive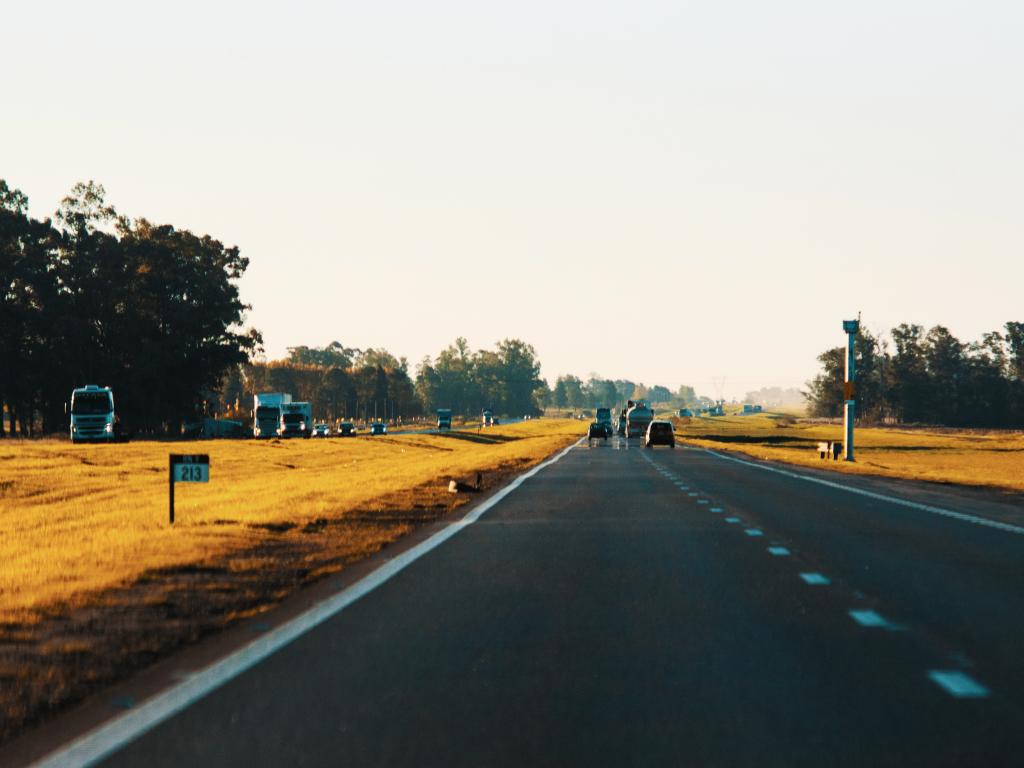 After driving almost half the way to Iguazu Falls along the direct route and about an hour before you get to the junction of Route 14 and Route 127 is a great place to stop.
The Dinastie Palace Hotel & Spa in Chajarí will make you feel relaxed and refreshed if you're planning to get there on day 2 or serve as the perfect spot to spend a day unwinding.
Soaking in thermal baths, spending time in the spa, swimming pools or getting a massage are all on the menu and the small town has a host of other hotels offering special buffets to attract travelers to stop over.
The truth is that the Dinastie Palace won't be the fanciest spa hotel you've ever stayed in but it's a great option in a great location if you're looking to get up to Iguazu Falls quickly.
Explore nature from a luxury hotel
A little off either of the two routes and sitting in the middle of the Esteros del Ibera wetlands is the luxurious Rincón del Socorro hotel.
The original hotel building was built in 1896 in traditional Spanish style and today the spacious rooms will make you wish you could stay longer.
Enjoy the rustic wooden furniture, organic food served at the restaurant and exploring the surrounding country including guided night safaris.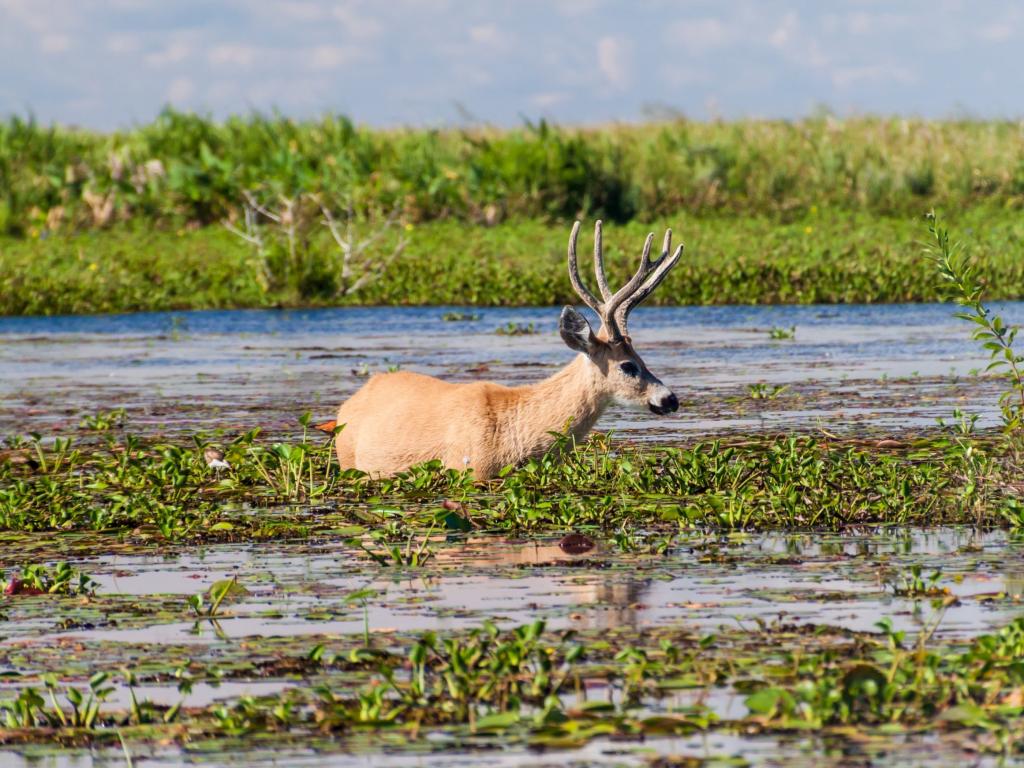 Best place to stay in Puerto Iguazu
There are dozens of hotels in Puerto Iguazu vying for the tourists that come here from all over the world.
If you want to avoid the giant block hotels with casinos and lots of people and instead relax surrounded by a mini rainforest, you may want to stay at Secret Garden Iguazu.
From the name itself, this "hotel de charme" prides itself with its garden that is home to some species of birds, orchids, and ferns. Enjoy your breakfast or request for your simple candlelight dinner there. They'll gladly oblige. On top of that, you will be served with sunset caipirinha at no cost.
While everybody else will be looking for drivers to take them to and pick them up from the waterfalls, the hotel can negotiate for all your transfers.
Things to see on a road trip from Buenos Aires to Iguazu Falls
As you make your way north on a road trip from Buenos Aires to Iguazu Falls, you'll notice how everything from the landscape to weather will begin rapidly changing around you. The further you go, the more nature you'll see as you reach further into the rainforest.
To help you make stops along the way and enjoy your trip, here are some amazing things to do and see along your route.
Temaiken: One of the biggest and zoos in Latin America known for great animal care just as you leave Buenos Aires
Gualeguaychú: The Carnival town, where more than 200,000 people come together to celebrate in January and February every year
Termas de Colón: A healing site for some, a beautiful spa for others. Beautiful and relaxing either way
Santa Fé: Historic riverside town with a relaxed café culture that doesn't attract tourists which is a plus in our books
El Palmar National Park: A unique nature reserve with a diverse range of bird and palm species
Concordia: A huge city with a lot of historic sites that tells an important tale about the history of the country as a whole.
La Alemana Regionales: A town that will make you feel like you teleported to Germany right in the heart of Argentina
Establecimiento Las Marías: Learn everything you need to know about Mate – the traditional national drink of Argentina
Iberá National Park: large marshes and lakes with walking trails and the opportunity to spot local otters
Posadas: A popular city sitting on the Parana River with Paraguay on the other side
Ruinas de San Ignacio Mini: ruins of a 17th century Catholic Mission with a visitor center on your way up to Iguazu Falls
Cruz de Santa Ana: A huge metal cross towering above the forest with an observation deck and a separate butterfly garden
Triple Frontera: Right near the Iguazu Falls, you can easily travel from Argentina to Paraguay and Brazil across the rivers that act as borders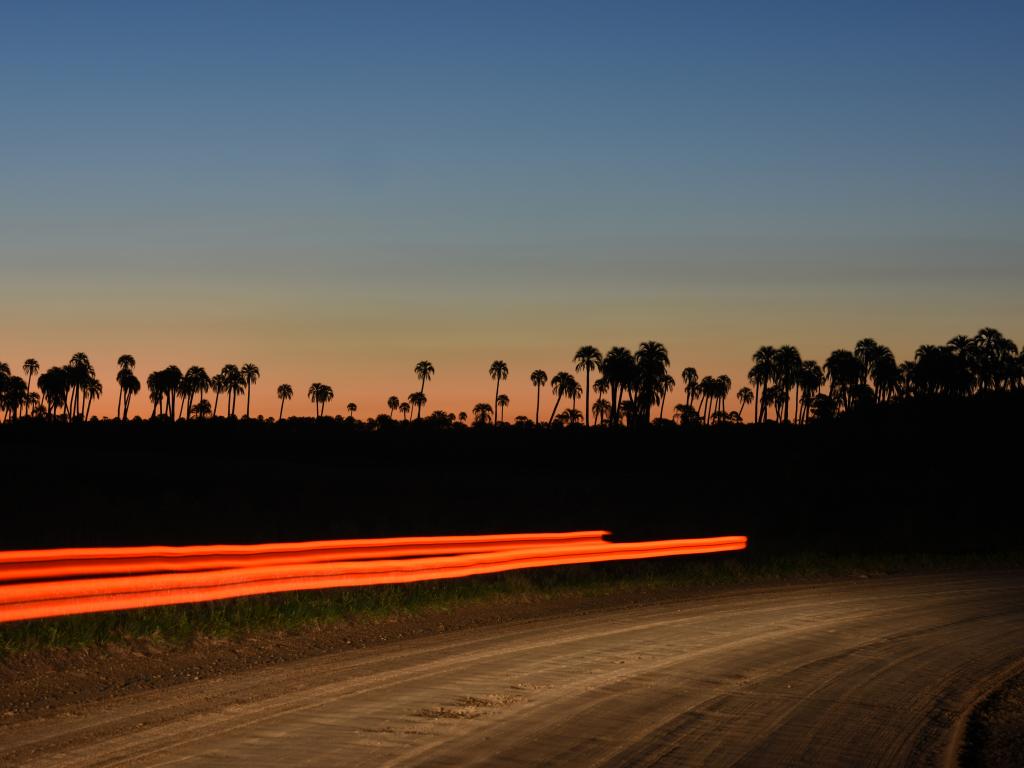 Best time to go on a road trip from Buenos Aires to Iguazu Falls
The best time to go on a road trip from Buenos Aires to Iguazu Falls is in April and May when the summer heat has gone and the weather is a lot more pleasant when you get into the rainforest.
There's enough rain for the waterfalls to have a big flow of water, but it's also dry enough to enjoy exploring unlike the wet season that lasts from October to February.
Be sure to expect a lot of people visiting as Iguazu Falls are widely regarded as one of the 7 Natural Wonders of the World and attracts visitors from all over the world.
Try coming outside the obvious holiday and vacation seasons (e.g. June to August) when North American and European tourists come in their droves.