Road Trip from Denver to Badlands National Park
Located on the Great Plains of South Dakota, Badlands National Park is a stunning panorama of unique landscapes and unforgettable views. Travelling there on a road trip from Denver, you'll cross parts of the historic Oregon Trail so you can imagine yourself stepping back in time to follow the journey of the first European settlers, learning about the region's Native American history along the way.
The 430-mile road trip from Denver to Badlands National Park takes 7 hours 15 minutes to drive, passing through Cheyenne, Scottsbluff and Chadron State Park. Or follow the longer route through Black Hills National Forest to visit Custer and Mount Rushmore.
This is the perfect road trip for lovers of the great outdoors, taking you through contrasting national parks and state forests as well as the wide open landscapes of Nebraska, Wyoming and South Dakota. Read on for more information on the best route to take from Denver to Badlands National Park, where to stop along the way, our favorite things to see and do, and the best time of year to take this trip.
How far is Badlands National Park from Denver, and how long will the road trip take?
Comparison of road trip routes between Denver and Badlands National Park

| Route | Distance | Driving Time |
| --- | --- | --- |
| The Nebraska Route | 430 miles | 7 hours 15 minutes |
| The Wyoming Route | 530 miles | 8 hours 45 minutes |
It's a relatively short road trip from Denver to Badlands National Park, with the shorter route through Nebraska taking just 7 hours and 15 minutes to drive. This 430-mile route takes you through Fort Collins, Cheyenne, Scottsbluff, Alliance, Chadron State Park and Scenic before arriving at the Badlands.
Taking the 530-mile Wyoming Route instead will add about 90 minutes to your drive time. You'll visit Fort Collins and Cheyenne on this route too, before branching off to explore Torrington, Custer, Black Hills National Forest, Deadwood, Rapid City, and Wall. This route also lets you visit Mount Rushmore and the cluster of national and state parks that surround it.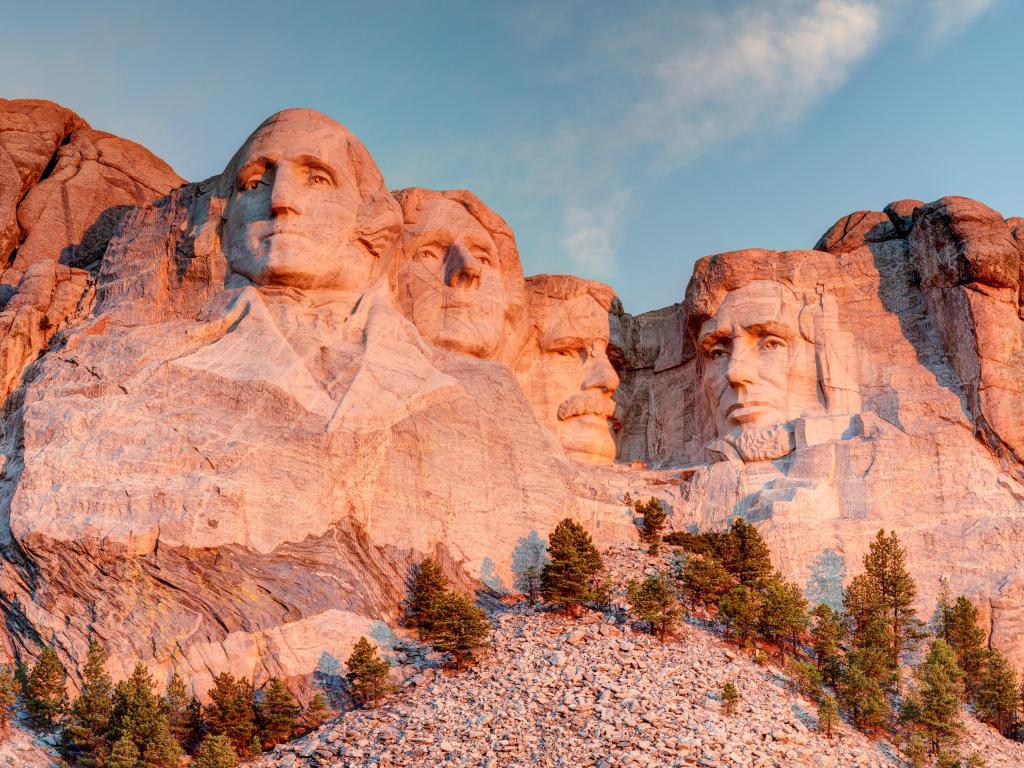 Whichever route you decide on, this is a great road trip for anyone who wants to take in views of the region's vast landscapes, and even if you only have a day to make the drive you'll be in for a real treat. However, there's so much to see and explore along the way that we suggest taking at least a couple of days for your trip.
There are also options to extend this glorious road trip further, detouring to even more beautiful National Parks and natural wonders along the way.
Best road trip route from Denver to Badlands National Park
Whichever route you take between Denver and Badlands National Park, you'll leave the interstate after just 90 minutes and complete your road trip to South Dakota on highways that cross the impressive landscapes of Nebraska and Wyoming.
The journey to Badlands National Park weaves together a unique tapestry of American landscapes and culture, but you'll encounter strikingly different scenery depending on which route you decide on. So, your choice of route will depend on the vibe you are after.
Both routes start out through Fort Collins, where you can visit the hands-on Fort Collins Museum of Discovery, then go their separate ways after Cheyenne.
The Nebraska Route is a passage through history and natural wonder which takes you to the grandeur of Scotts Bluff National Monument and the whimsical Carhenge in Alliance.
This route is perfect for nature enthusiasts, as you'll get to experience the great outdoors in Chadron State Park and Oglala National Grassland. Then the route's finale, Yellow Mounds Overlook, offers a breathtaking and unforgettable vantage point.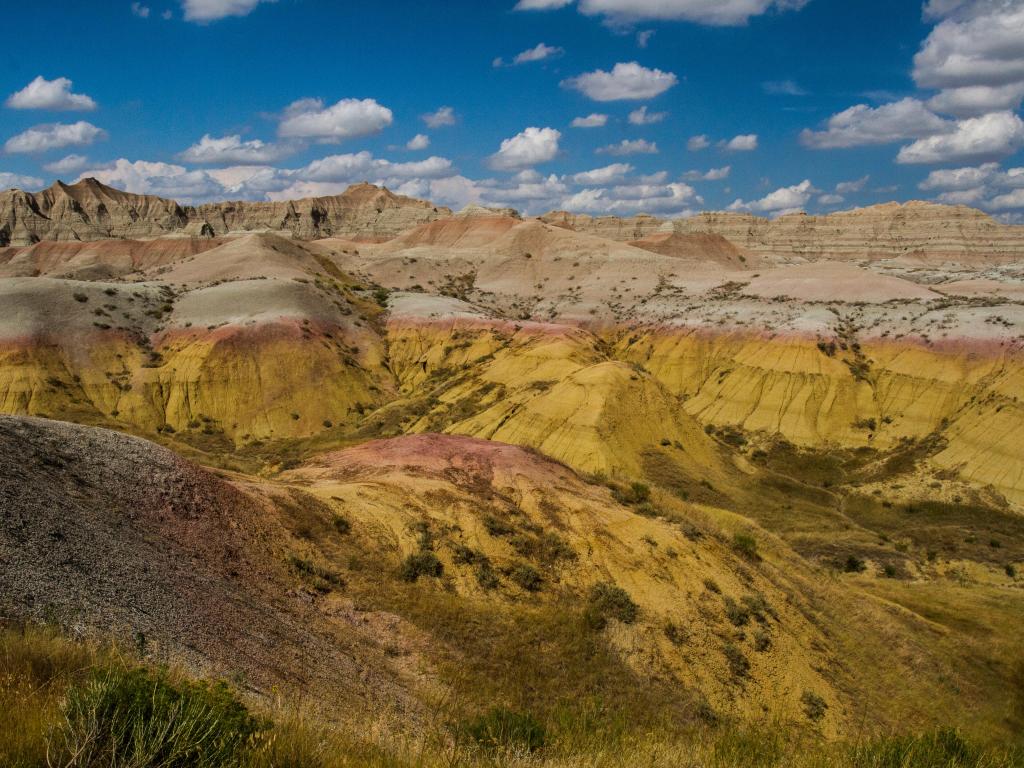 You won't find many facilities along this route and you'll be traveling along some remote stretches of the highway, so be sure to fill up on gas and provisions before you pass Oglala. Understanding and respecting local customs, traditions, and regulations is an essential part of being a responsible visitor on this route.
In contrast, the Wyoming Route takes you on a scenic journey through some of America's iconic natural landmarks. Explore the sprawling Thunder Basin National Grassland and marvel at the mysterious Jewel Cave National Monument.
The splendor of Black Hills National Forest sets the stage for the iconic Mount Rushmore National Memorial. History comes alive in Deadwood with The Adams Museum, and Wall Drug adds a quirky charm to this diverse itinerary.
As you can see, both routes deliver their own blend of beauty, history, and adventure, and you offer tantalizing choices for a road trip. Keep on reading to find out more about the unique flavors and attractions of each route while you plan your perfect road trip to Badlands National Park.
How to drive from Denver to Badlands National Park
The map above shows our suggestions for the best road trip routes between Denver and Badlands National Park. Keep reading for detailed descriptions of both routes, where to stay on either, and the best things to do on the way.
The Nebraska Route
Begin your journey in Denver and head north on Interstate 25 (I-25) towards Fort Collins, where you can explore the Fort Collins Museum of Discovery. Continue north on I-25 through Cheyenne, the gateway to the west, before turning onto US-85 which takes you across the wide open farmland and plains that characterise the region.
Turn right when when you reach the sign for La Grange, then follow the highway across the state border into Nebraska. The road ends just after you cross Pumpkin Creek, but a left turn here will take you towards the towering Scotts Bluff National Monument, a key landmark on the Oregon Trail.
Next, join US-26 to reach Chimney Rock National Historic Site, another significant landmark on the pioneering westward trails, then continue north on US-385.
You'll pass through Angora on the way to Alliance, where a short detour will take you to quirky Carhenge, a must-see roadside attraction. From here, continue north on US-385, passing through the verdant Nebraska National Forest and Chadron State Park, which is a perfect place for hiking or wildlife spotting.
If you have time, detour west from Chadron along US-20 to reach the sprawling Oglala National Grassland, then retrace your route to Chadron. Just after the town, the left turn onto Slim Butte Road will take you across the state border into South Dakota.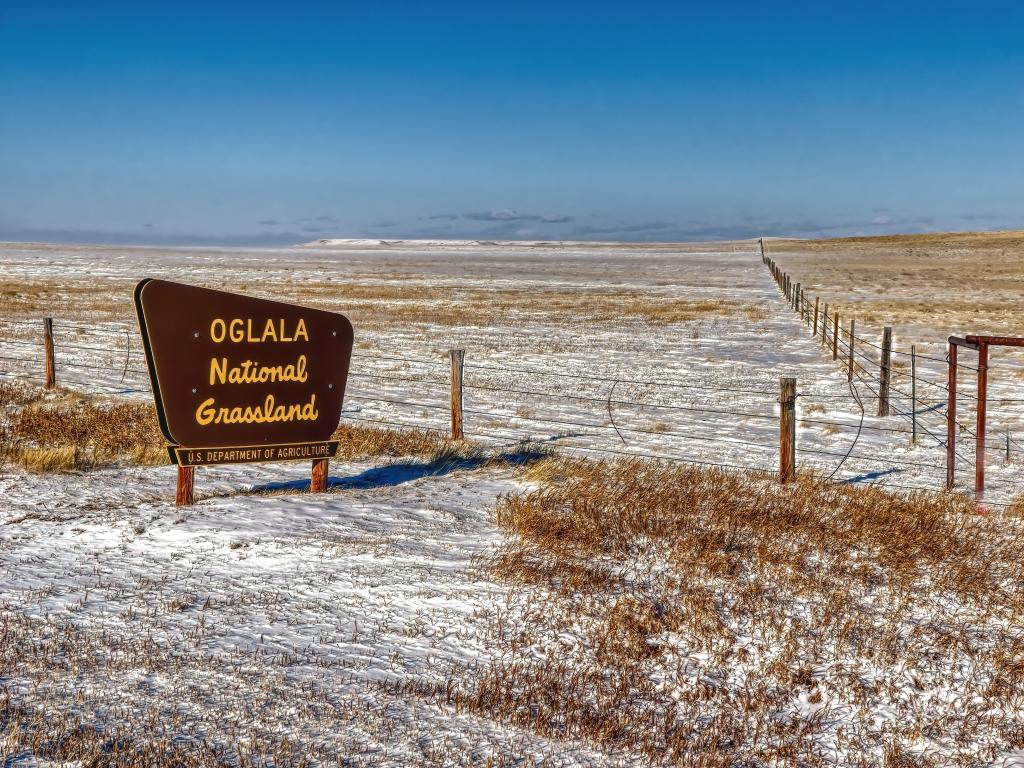 When you reach Highway 18, turn right then soon after take a left to follow the road north. An unsignposted right turn towards will see you travelling through Scenic, where you can stop at the haunting Scenic Ghost Town. It's easy to miss your turn on these long stretches of road, so make sure you have a map or ideally GPS available to keep track of your route.
Finally, make your way to Badlands National Park via SD-377 south and SD-44 east, passing through Interior. Your final stop, Yellow Mounds Overlook, is a breathtaking vista that serves as a fitting end to a spectacular journey.
The Wyoming Route
The Wyoming Route also starts on the same path through Fort Collins and Cheyenne before turning onto US-85. Instead of turning turning east at La Grange though, continue north towards Torrington, WY. You can take a detour here to visit scenic Glendo State Park.
Next, continue on US-85 north through Lusk and on to Newcastle then head east on US-16 to reach Custer. Along the way you'll pass through Thunder Basin National Grassland, an expansive sea of grass that stretches as far as the eye can see.
For a slightly quicker route that takes you to Wind Cave National Park instead, follow US-18 through through Edgemont and Hot Springs before carrying on north to Custer.
There's plenty to see and do if you have time to explore the alluring Black Hills National Forest, before continuing east on US-16 to Jewel Cave National Monument. Then take US-385 north to reach Mount Rushmore National Memorial, an emblem of American heritage.
Travel north through Deadwood, SD, a historic town that's home to The Adams Museum and Historic Mount Moriah Cemetery. From there, take I-90 east towards Rapid City, from where you can divert south to explore Bear Butte State Park.
You can also take Highway 385 and then 16A to Keystone for a great stopover option, especially if you want to see Mount Rushmore.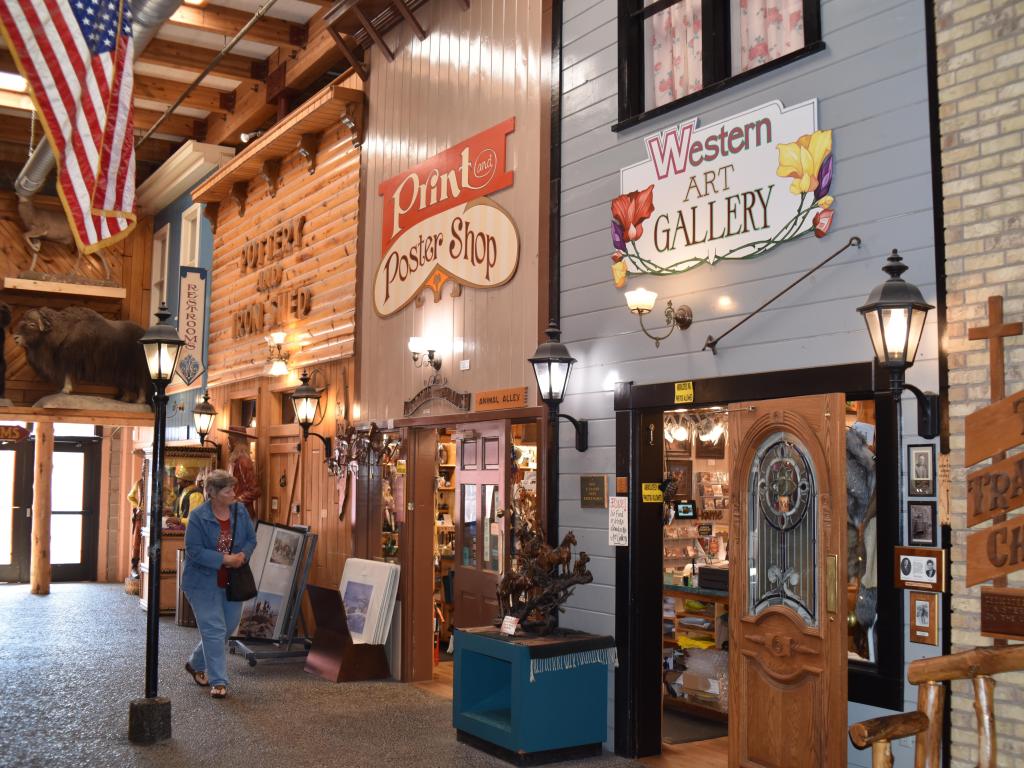 Proceed on I-90 east to Wall, a town famed for Wall Drug, an eclectic shopping mall full of kitschy charm. Finally, take the exit for SD-240 south into Badlands National Park, a journey that will introduce you to the otherworldly landscapes and astonishing geological formations of Badlands National Park.
Best places to stop between Denver and Badlands National Park
Although you could drive all the way from Denver to Badlands National Park in a day, if you want to stop and explore along the way you'll need to make at least one overnight stop.
Here are our top picks for places to stay when you're making the journey to Badlands National Park.
Step outdoors (or back in time) in Chadron
Chadron, Nebraska is an ideal spot for an overnight pause on The Nebraska Route, situated just under 5 hours into the drive. Nestled at the gateway to the breathtaking scenery of Chadron State Park and Nebraska National Forest, this former fur-trading post offers a chance to explore High Plains heritage.
The centerpiece of this stop is the Nebraska National Forest, with its sprawling landscapes that offer a taste of nature's grandeur. Nearby, the Dawes County Historical Museum provides a glimpse into local history, and if you're lucky enough to be there in July, you might even catch the World Champion Buffalo Chip Throw during the Annual Fur Trade Days festival.
Chadron's attractions extend beyond just the historical and natural. The nearby Chadron State Park, a 20-minute drive from the town, offers a multitude of outdoor activities from hiking to wildlife watching. Whether you're an avid adventurer or just looking for a leisurely stroll, the area's offerings are sure to please.
While visiting Chadron, we recommend staying at the Holiday Inn Express & Suites - Chadron. With a view of the forest and the Black Hills from your window, this hotel is a picturesque stopover in a convenient location.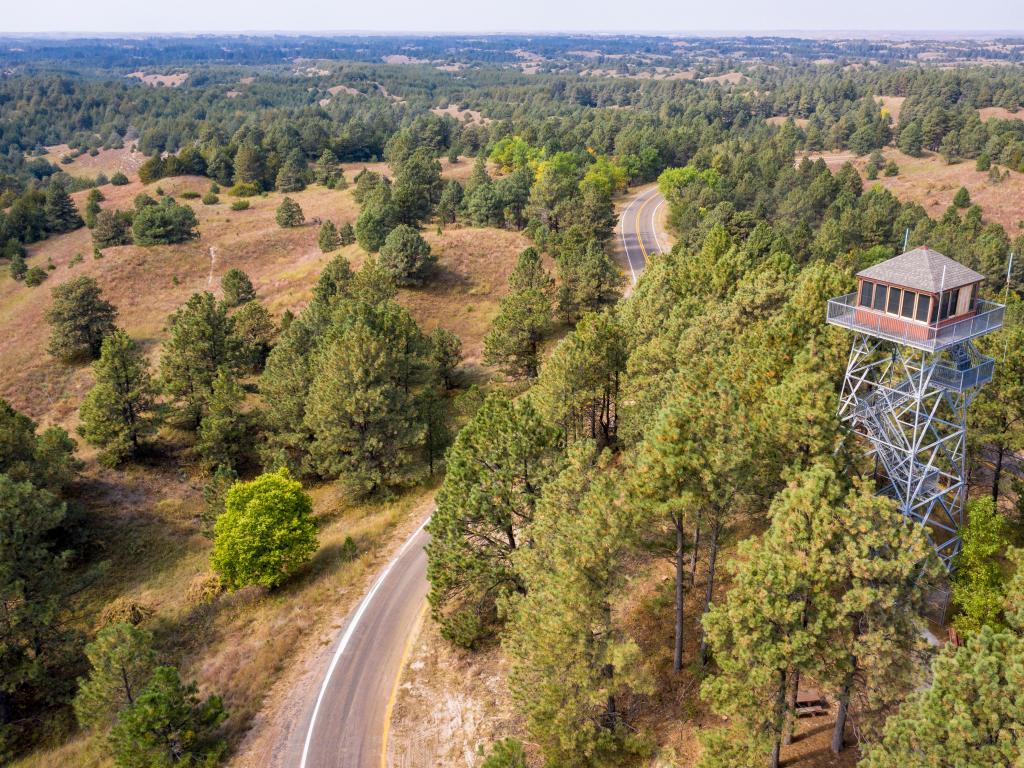 The hotel welcomes guests with a happy hour and snacks upon arrival, and its outdoor areas, including a BBQ space, are perfect for relaxing after a day on the road. It's close to the route, as well as local amenities and fuel stops, making it a practical choice for road-trippers.
A couple of must-see attractions near this hotel include the Museum of the Fur Trade, just a 15-minute drive away, where you can delve into the rich trading history of the region and learn about the indigenous cultures that once thrived here. Then there's Chadron State Park, a natural haven that offers hiking, bird-watching, and the chance to unwind amidst Nebraska's serene beauty.
Whether you're a history buff, outdoor enthusiast, or just looking to take a break from driving, Chadron's blend of culture, nature, and quirky charm makes it an unforgettable stopover on your journey.
Rest up at the "Home of the Carvers" in Keystone
Keystone, SD, positioned about 6 hours into The Wyoming Route, makes for a superb overnight stop, especially for those drawn to the iconic Black Hills National Forest and Mount Rushmore.
Known as a small town nestled at the base of Mount Rushmore, Keystone's history as "Home of the Carvers" who crafted the renowned presidential monument is still celebrated today. Moreover, the town's gold mining heritage adds a unique allure, as Keystone was once one of the richest gold mining towns in the Black Hills.
The area's major highlight, Mount Rushmore, is more than a massive sculpture - it's an iconic symbol of American history. Nearby, Tramway Adventures offer a thrilling way to see the landscape from above, providing an unforgettable perspective of the beautiful surroundings.
When visiting Keystone, the K Bar S Lodge is a must-stay. Nestled within the Norbeck Wildlife Reserve in the Black Mountains of South Dakota, this stunning hotel offers profile views of the Mount Rushmore Monument.
Its proximity to many great local attractions and hiking trails will keep you busy, while the hotel's quiet location combined with the short walk to local shops and restaurants, offers the best of both worlds.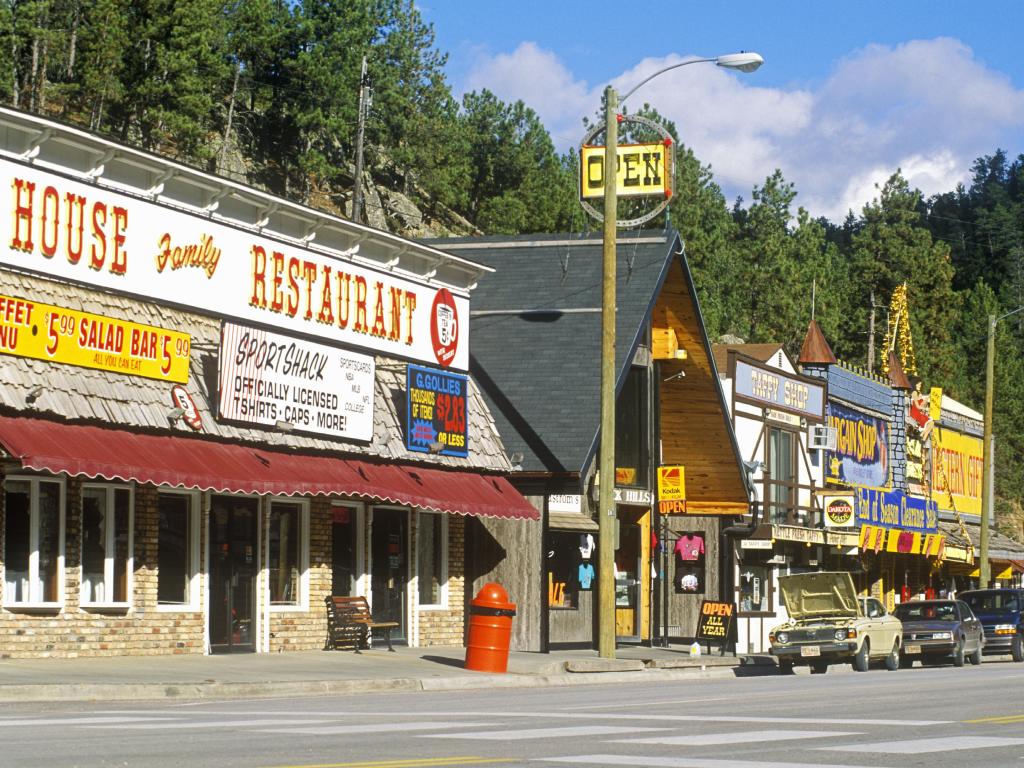 Imagine enjoying a cup of coffee with a view of Mount Rushmore from the comfortable outdoor seating. It's a serene experience that only K Bar S Lodge can provide.
Things to do near this hotel are plenty. Mount Rushmore, under a 15-minute drive from the hotel, offers a chance to marvel at the remarkable craftsmanship up close. For a taste of the local mining history, a 20-minute walk or 3-minute drive will take you to the Big Thunder Goldmine, where you can explore the gold rush era of the Black Hills.
Keystone's blend of historical charm, natural wonders, and unique attractions make it an appealing and insightful stopover on The Wyoming Route. Whether you're seeking adventure, history, or just a beautiful place to rest, Keystone promises a memorable experience.
Where to stay when you reach Badlands National Park
Badlands National Park, renowned for its 244,000 acres of scenic landscapes, stands as one of the world's richest fossil beds. Its name, steeped in local lore, originates from the indigenous community that dubbed the challenging terrain as 'bad land'.
The Park offers a fascinating blend of nature's artistry and history, featuring the Badlands Loop Road, the captivating Pinnacles Overlook, and the delightful experience of Prairie Dog spotting at Roberts Prairie Dog Town.
Exploring such unique landscapes requires a comfortable retreat, and Badlands Frontier Cabins offers just that. These comfortable cabins, conveniently located for visiting Badlands National Park, present a rustic charm that reflects the style and heritage of the area. With wood structures, rustic soft furnishings, and local patterns, the decor invites you right into the warm embrace of the prairie.
Within walking distance of local amenities and the town of Wall, you'll find everything you need close at hand. However, what truly sets these cabins apart are the stunning sunsets over the prairie that you can enjoy from the comfort of your front porch. These breathtaking views, combined with the region's tranquil environment, provide a serene backdrop to your exploration of the Badlands.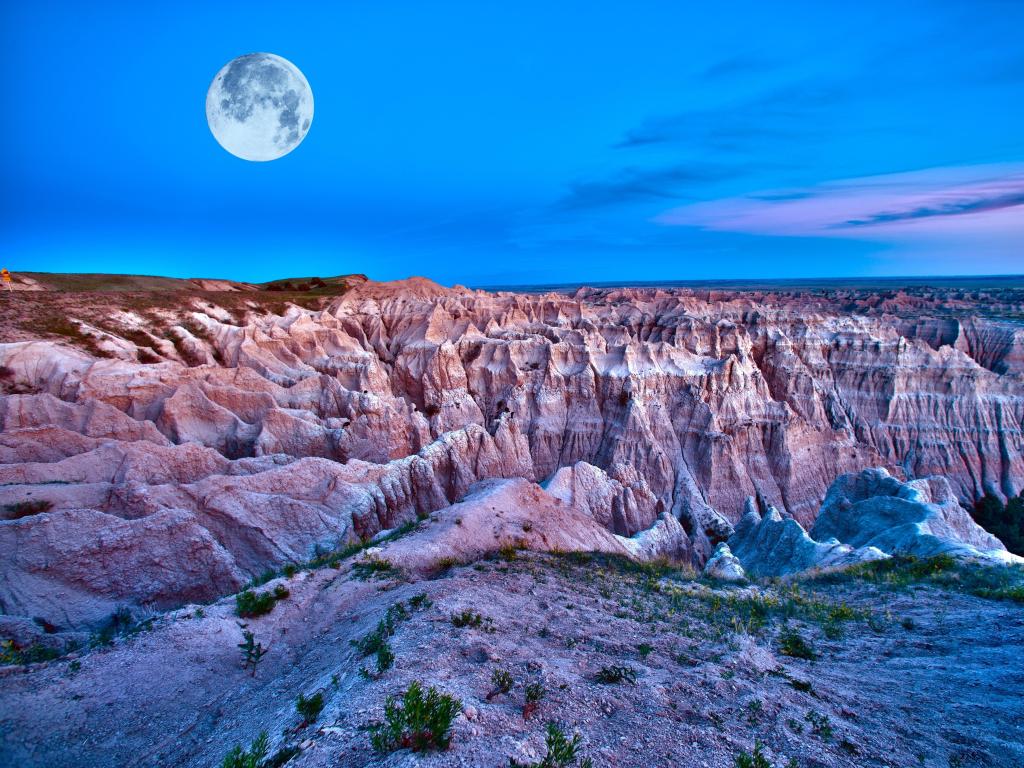 The Badlands Frontier Cabins are a gateway to a landscape filled with natural wonders and historical intrigue. Whether you're venturing through the looping roads, gazing from the overlooks, or engaging with the lively prairie dogs, your stay at these cabins will enhance your connection with this stunning area.
Things to see on a road trip from Denver to Badlands National Park
There's plenty to keep you busy as you travel to Badlands National Park from Denver. Here are some of our highlights.
On The Nebraska Route
Scotts Bluff National Monument - A prominent geological landmark with hiking trails that offer panoramic views of the surrounding plains.
Chimney Rock National Historic Site - An iconic spire rising above the North Platte River, historically used as a landmark by pioneers.
Carhenge, Alliance - This unique replica of Stonehenge was created from vintage automobiles, showcasing both art and whimsy.
Chadron State Park - Nebraska's oldest state park offers ample opportunity for hiking, mountain biking, and a serene experience of nature.
Nebraska National Forest - The largest hand-planted forest in the US is home to diverse wildlife and recreational opportunities.
Oglala National Grassland - Expansive grasslands that provide habitat for wildlife and a glimpse of the prairie as it once was.
Scenic Ghost Town - A once-thriving town now left in a preserved state, offering an eerie yet fascinating look into the past.
Yellow Mounds Overlook - A viewpoint in Badlands National Park showcasing vibrant yellow sedimentary layers, providing a stunning contrast to the rugged terrain.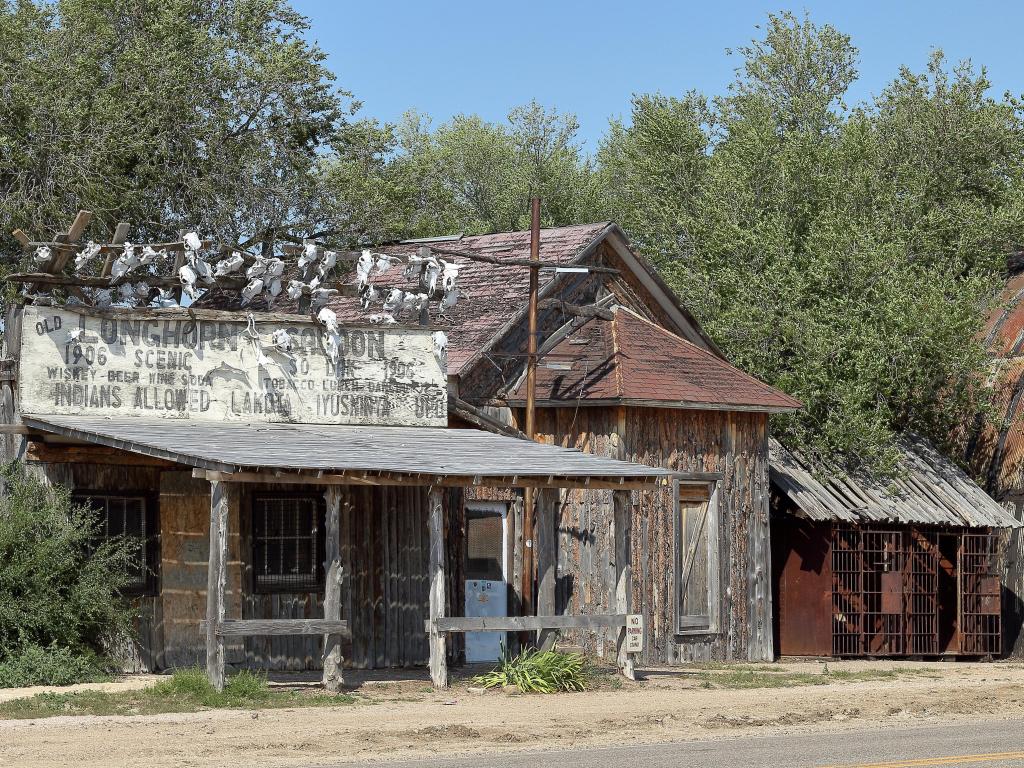 On The Wyoming Route
Glendo State Park - Renowned for its fishing and boating opportunities, this park boasts stunning views and recreational activities on the shores of Glendo Reservoir.
Thunder Basin National Grassland - This expansive prairie landscape is a serene setting for bird watching, hiking, and connecting with nature.
Black Hills National Forest - A picturesque forest featuring rugged rock formations, canyons, and unique wildlife, offering various outdoor adventures.
Jewel Cave National Monument - Home to the third-longest cave in the world, this underground wonder showcases dazzling formations through guided tours.
Black Hills Mining Museum - The Black Hills region has a rich mining history, and this museum is dedicated to preserving its heritage through engaging exhibits and tours.
Mount Rushmore National Memorial - This iconic sculpture carved into the Black Hills depicts four US Presidents, and symbolizes American democracy and freedom.
The Adams Museum, Deadwood - A museum preserving Deadwood's unique history, which features artifacts and exhibits from the Gold Rush era.
Historic Mount Moriah Cemetery, Deadwood - A resting place for many famous Western figures, offering a glimpse into Deadwood's past through guided tours and historic markers.
Bear Butte State Park - Sacred to various Native American tribes, this geological laccolith offers hiking and a place for reflection and spiritual connection.
South Dakota Air and Space Museum - If you're ready from a change after enjoying all the outdoor attractions on this route, visit this dynamic museum to see a wide range of military aircraft and artifacts, highlighting aviation history and technological achievements.
Wall Drug - An iconic roadside attraction known for its eclectic shopping, dining, and famous free ice water, offering a quintessential road trip experience.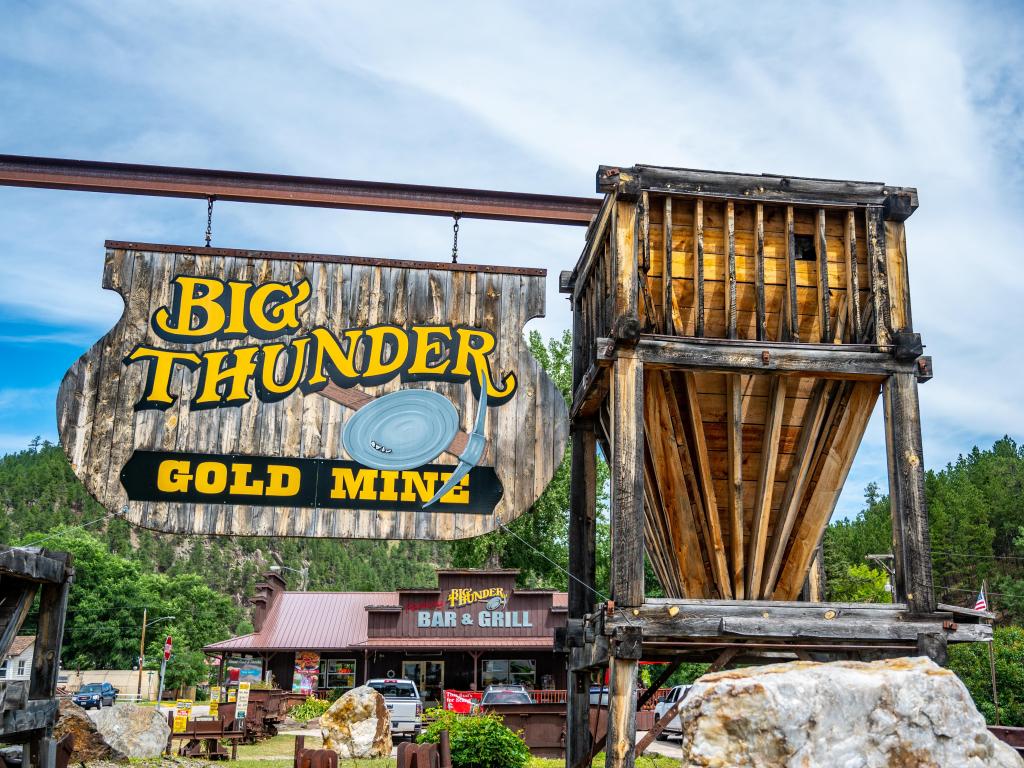 On both routes
Fort Collins Museum of Discovery - This interactive museum combines science, history, and culture, with engaging exhibits and hands-on activities that will appeal to visitors of all ages.
Terry Bison Ranch - Dip into the heritage of the Old West with a visit to this working bison ranch offering train tours to view and feed bison, with additional attractions such as horseback riding and fishing.
Cheyenne Frontier Days Old West Museum - Celebrating Cheyenne's rich Western heritage, this museum showcases the world's largest outdoor rodeo, Western art, and the history of frontier life.
Best time to go on a road trip from Denver to Badlands National Park
Badlands National Park is a captivating destination, offering distinct experiences throughout the year.
In the spring, with average daytime temperatures ranging from 45 to 65 degrees Fahrenheit and mild weather with occasional rain, you can enjoy the blooming wilderness. Driving conditions are generally fair during these months, and lower hotel prices make it one of the best value times for your road trip.
Summer, from June to August, is the most popular time to visit, characterized by hot and dry weather with temperatures soaring between 70 and 95 degrees Fahrenheit.
This is the ideal time to explore the park's vibrant landscapes, including attractions like Badlands Loop Road and Pinnacles Overlook, or attend the Badlands Astronomy Festival, but be sure to plan ahead if you're exploring the park's exposed scenery in the peak of the summer heat.
The fall season brings milder temperatures from 45 to 70 degrees Fahrenheit and an opportunity to witness the changing foliage, especially if you're taking the Wyoming Route through Black Hills National Forest.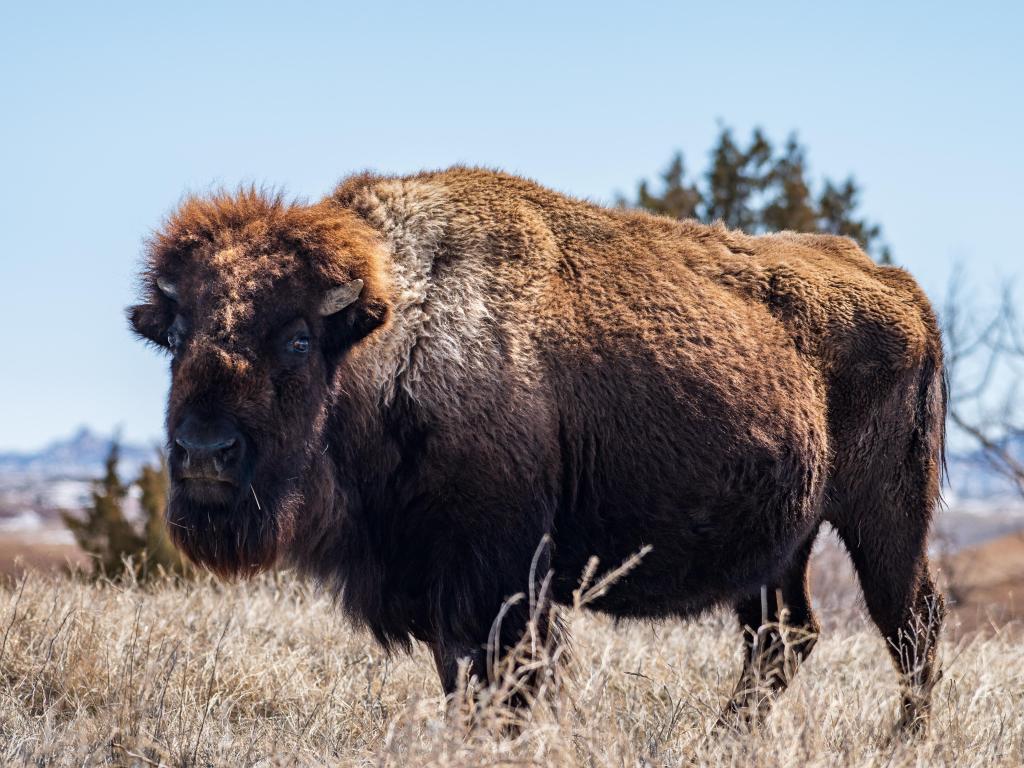 Winter, however, may present challenges with temperatures plummeting to between 10 and 40 degrees Fahrenheit. Snow and ice can lead to road closures and adverse conditions, particularly on the I-25 between Fort Collins and Cheyenne on the Nebraska Route, or in the mountainous sections of the Wyoming Route.
Events like Cheyenne Frontier Days in July, accessible via both routes, or the Black Hills Pow Wow in October if you're taking the Wyoming Route, can add unique flavors to your trip.
Whether you're planning an outdoor adventure or simply taking in breathtaking views, a road trip to Badlands National Park is an unforgettable journey.