Road Trip from Denver to Mesa Verde National Park
Cruise through the majestic Rio Grande National Forest, or take an exhilarating drive on the legendary Million Dollar Highway on this road trip from Denver to the ancient and mysterious Mesa Verde National Park.
The 415-mile road trip from Denver to Mesa Verde National Park takes almost 8 hours to drive. Depending on your route, you'll pass Black Canyon of the Gunnison National Park, Ouray and Silverton; or Great Sand Dunes National Park and Rio Grande National Forest.
Discover the allure of the journey from Denver to Mesa Verde, as we showcase two exceptional routes to choose from, the captivating sights to see, our favorite places to stay, and the best time of year to travel. Let's delve into the exploration that awaits you on this scenic trip across the heart of the Centennial State.
How far is Mesa Verde National Park from Denver, and how long will the road trip take?
Comparison of road trip routes between Denver and Mesa Verde National Park

| Route | Distance | Driving Time |
| --- | --- | --- |
| The Rio Grande Route | 415 miles | 7 hours 20 minutes |
| The Million Dollar Highway Route | 415 miles | 8 hours 10 minutes |
The Rio Grande Route to journey to Mesa Verde National Park from Denver spans approximately 415 miles, taking around 7 hours and 20 minutes to drive under ideal conditions. Alternatively, the Million Dollar Highway Route, also clocking in at 415 miles, tends to take slightly longer - about 8 hours and 10 minutes. The variation in drive times can be attributed to the differing road conditions and sceneries each route provides.
While you could technically do your road trip from Denver to Mesa Verde in a day, we wouldn't recommend it simply as a point-to-point drive. Rather, it's an adventure filled with breathtaking landscapes and unique attractions. With this in mind, we recommend taking at least 2-3 days for this trip, allowing yourself ample time to soak in the beauty along the way.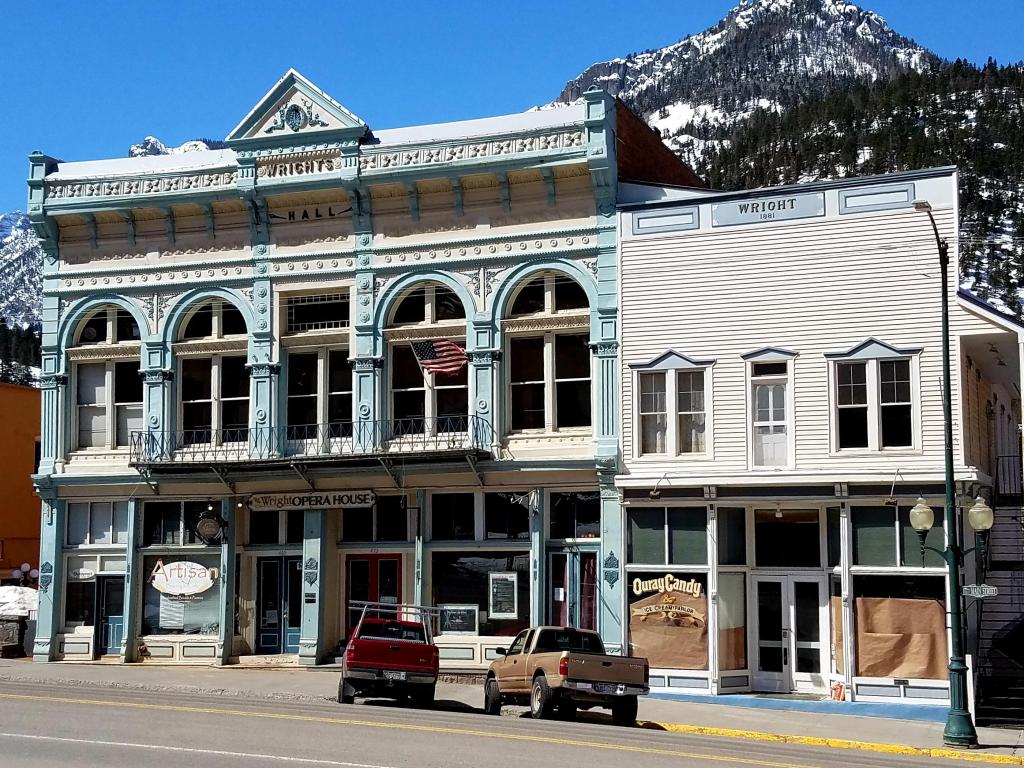 For those with a little extra time, consider extending your road trip to explore additional charming towns, state parks, and scenic detours that add to the overall experience. Remember, the joy of a road trip often lies as much in the journey as it does in the destination.
Best road trip route from Denver to Mesa Verde National Park
Embarking on a road trip from Denver to Mesa Verde National Park? You've got two fabulous routes at your disposal.
First, the Rio Grande Route. A blend of city life and rustic charm, it starts in Denver and courses through historic Cañon City and charming Center. You'll be wowed by sights of the Sangre de Cristo Mountains and Pagosa Springs' hot springs, wrapping up the journey with Mesa Verde's archaeological wonders.
Alternatively, consider the Million Dollar Highway Route. A palette of art and high-altitude thrill, this trail takes you from Denver through Salida's thriving art scene and the magnificent San Isabel National Forest. A highlight is the Million Dollar Highway itself, with its breathtaking vistas of the rugged San Juan Mountains and a stopover in quaint Ouray.
In short, both routes offer a hearty slice of Colorado - majestic mountains, rural scenes, hot springs, small-town charm, and historical treasures. Whether you choose the Rio Grande Route or the Million Dollar Highway Route boils down to what you fancy most in your travel.
How to drive from Denver to Mesa Verde National Park
The map above shows our suggestions for the best road trip routes between Denver and Mesa Verde. Keep reading for detailed descriptions of both routes, where to stay on either, and the best things to do on the way.
The Rio Grande Route
You'll start your journey in the vibrant city of Denver, heading south on I-25 to Cañon City. This initial stretch of the drive is about 115 miles and should take around two hours. The highway drive will give you views of Colorado's diverse landscapes, from rolling plains to the looming peaks of the Rocky Mountains.
Your first stop is Cañon City, known for its rich old west history and as the gateway to the Royal Gorge. The town itself is nestled at the mouth of the Royal Gorge, which is spanned by the highest suspension bridge in America, the Royal Gorge Bridge. Nearby, you could take a side trip to see the incredible views of the Royal Gorge from the Royal Gorge Railroad.
From Cañon City, you'll continue on US-50, heading west to Center, Colorado. This stretch of the drive is largely rural, with wide-open spaces and panoramic views of the Sangre de Cristo Mountain Range. This leg of the trip is around 100 miles and should take around two hours. Center is a small agricultural town located in the San Luis Valley, known for its potato farming.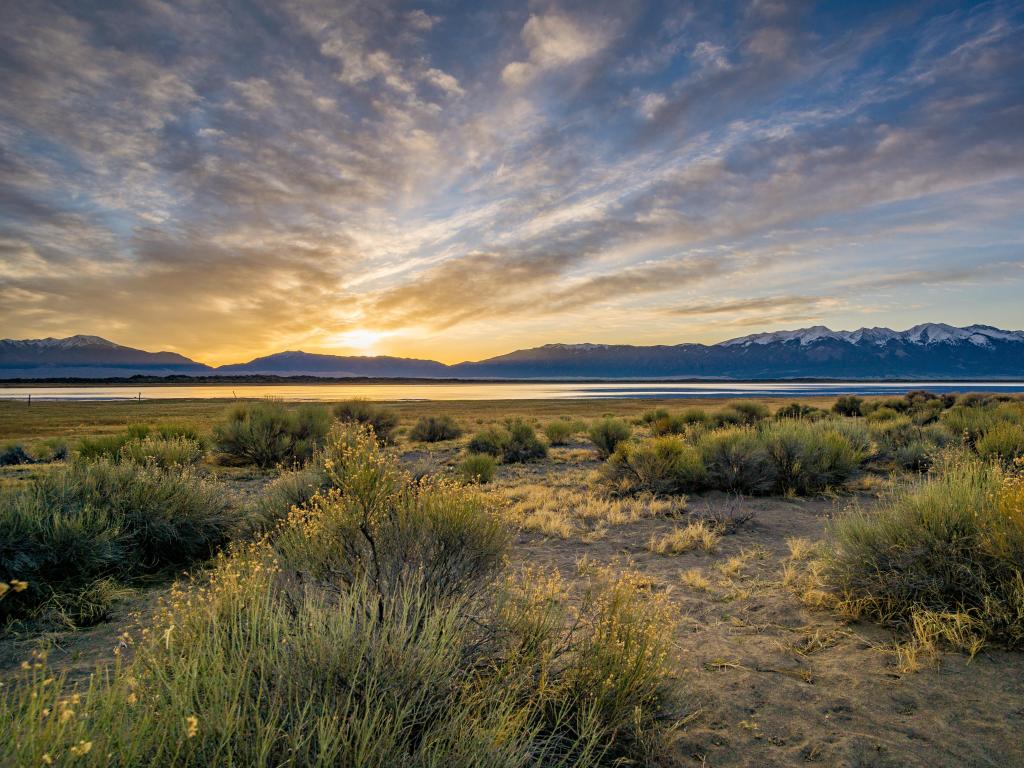 Continuing from Center, you'll head south on CO-285 to Pagosa Springs, a mountain town known for its hot springs. This part of the drive is around 120 miles and should take around 2 hours 30 minutes. As you approach Pagosa Springs, you'll be treated to stunning views of the rugged San Juan Mountains. In Pagosa Springs, you may want to take a break and enjoy the natural hot springs which the town is famous for.
The final leg of your journey will take you west on US-160 to Mesa Verde National Park. This part of the drive is just over 100 miles and should take around 2 hours. The route will wind you through more of the San Juan National Forest's stunning mountain and forest landscapes before you reach your final destination.
The Rio Grande Route will provide you with a diverse sampling of Colorado's natural beauty, from its mountains and gorges to its valleys and forests. Along the way, you'll pass through charming small towns each offering a unique slice of Colorado's history and culture.
The Million Dollar Highway Route
Take US Route 285 southwest from Denver, passing by beautiful landscapes as you make your way to Salida. Salida is nestled in the heart of the Rockies, known as a hub of art and creativity. The town is surrounded by mountains, making it a great location for outdoor activities like biking, hiking, and white-water rafting.
From Salida, you'll head west on Route 50 through the stunning scenery of the San Isabel National Forest and over Monarch Pass. Here you'll reach an altitude of more than 11,000 feet, offering spectacular views of the surrounding mountains. This highway leads you to Montrose, from where you'll head south on Route 550, also known as the Million Dollar Highway, leading to the quaint town of Ouray.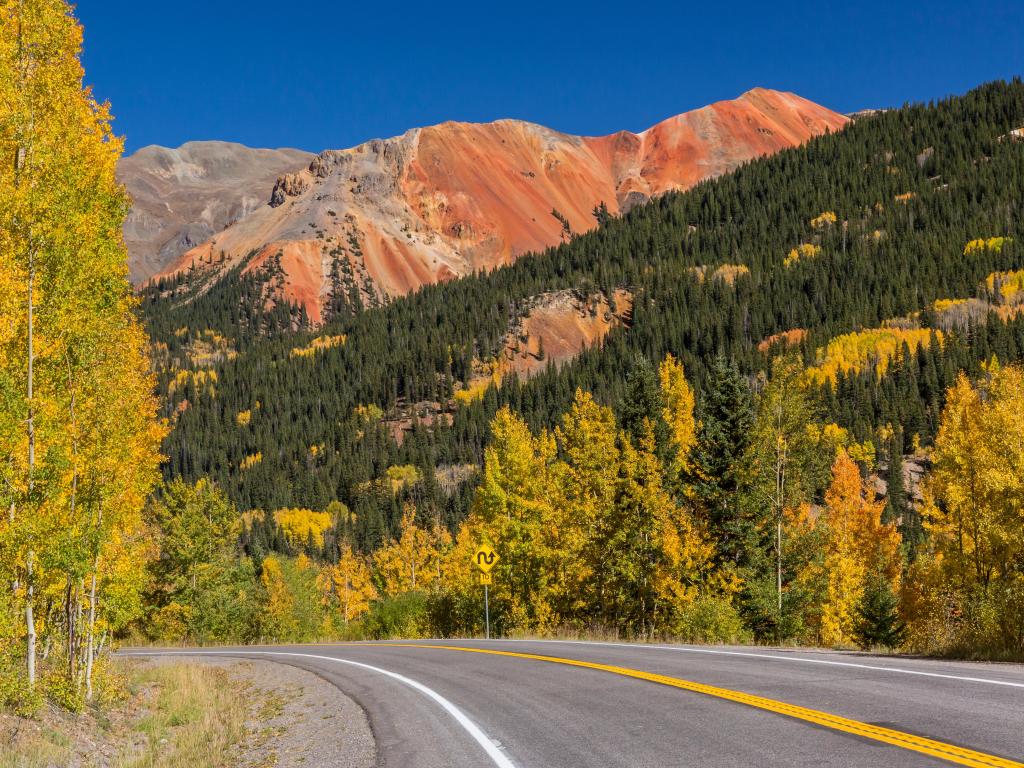 This stretch of highway is considered one of the most beautiful drives in the USA, offering dramatic vistas of the rugged San Juan Mountains. Ouray itself, often referred to as the "Switzerland of America", is renowned for its historic buildings, hot springs, and ice-climbing opportunities.
Following the Million Dollar Highway further, you'll journey through more breathtaking mountain scenery, including the Red Mountain Pass, before arriving at Durango. Durango is an animated city known for the historic Durango & Silverton Narrow Gauge Railroad and its vibrant downtown with plenty of shops and restaurants.
Finally, from Durango, you will continue west on Route 160 to Mesa Verde National Park.
Best places to stop between Denver and Mesa Verde National Park
At over 400 miles of driving (via either route), you'll need to break up your road trip from Denver to Mesa Verde with an overnight stop.
It can be daunting to find the perfect place to stay overnight when faced with such an array of beautiful options. This is certainly the case when it comes to a road trip through Colorado.
We've taken the hard work out of the matter, though, with our favorite places to stop on the way to Mesa Verde from Denver. Plus, we've also thrown in a suggestion for your destination for good measure!
Stay on the Frontier in Center, Colorado
Just under halfway into your journey on the Rio Grande Route is Center, Colorado. In an area known as the "Potato Capital of Colorado," this cozy agricultural town won't disappoint. And for those of you fascinated by the cosmos, the UFO Watchtower is a must-visit. With an unrivaled view of the night sky and tales of UFO sightings, it's a spot that intrigues and captivates.
But the fun in Center doesn't stop there. The Great Sand Dunes National Park and Rio Grande National Forest are just around the corner. Feel the thrill as you sled down North America's tallest sand dunes or trek amidst a canvas of wildlife in the National Forest. With the Sangre de Cristo Mountains as your backdrop, these adventures are hard to beat.
Now, where to stay? The unique Frontier Drive Inn is a real treat. Mixing luxury with a touch of whimsy, you get to choose between retrofitted Steelmaster sheds and snug yurts. They're kitted out with high-end comforts like Pendleton blankets and Parachute mattresses. Plus, each comes with outdoor perks like private decks and spa-like bathhouses. And for some old-school entertainment, the inn even boasts an outdoor drive-in movie theater!
What's more, Frontier Drive Inn's location is a gateway to nearby attractions. The UFO Watchtower, Rio Grande National Forest, and Monte Vista National Wildlife Refuge are all a short drive away. Particularly for birdwatchers, the Wildlife Refuge is a treasure trove during migration seasons. So, whether you're a UFO enthusiast, nature lover, wildlife buff, or in for a unique stay, Center is the perfect pit-stop on your road trip to Mesa Verde National Park.
Stop in Salida: the "Banana Belt" of Colorado
Not far from Center - but on the Million Dollar Highway Route - you'll find the town of Salida, Colorado. Known as the 'Banana Belt' of Colorado, Salida is a hub of outdoor recreation and is particularly famous for the Arkansas River that flows through the town. Here, water sports enthusiasts can revel in whitewater rafting and fly fishing, while the surrounding mountains provide excellent opportunities for hiking, mountain biking, and skiing.
Salida also prides itself on a vibrant art scene and is Colorado's first state-designated Creative District, featuring many colorful murals, sculptures, and unique festivals like "FIBArk," America's oldest whitewater festival.
Popular tourist attractions in Salida include Monarch Mountain, offering excellent skiing in winter and scenic hiking in the summer. Historic Downtown Salida is a charming area to explore, teeming with boutiques, restaurants, and art galleries, while Tenderfoot Hill provides a gentle hike and stunning panoramic views of the surrounding valley.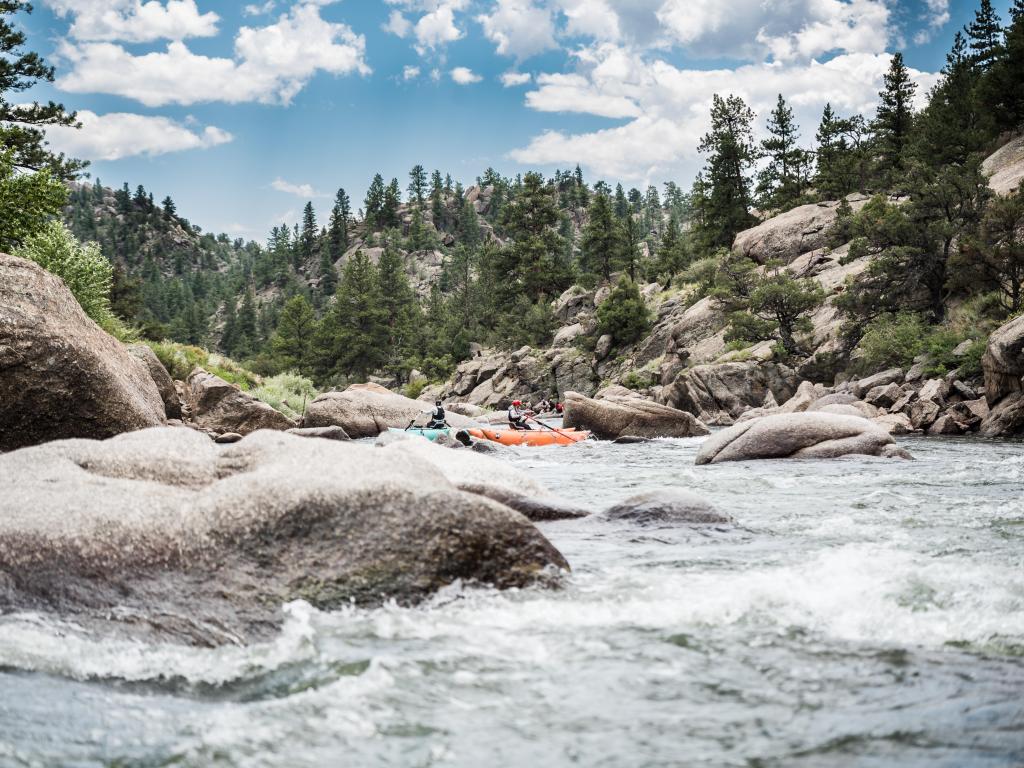 During your stay, consider the Amigo Motor Lodge for a memorable experience. The lodge offers traditional rooms and on-site Airstream trailers, promising an unconventional and unforgettable stay. Known for its quality amenities and numerous relaxation opportunities, Amigo Motor Lodge ensures guest comfort with high-quality mattresses and luxurious bath products in each room.
If you choose to stay at Amigo Motor Lodge, you'll find Riverside Park, the Salida Museum, Wood's High Mountain Distillery, and The Maverick Potter studio all within a short drive away.
From leisurely strolls along the Arkansas River to delving into regional history, tasting handcrafted spirits, or even trying pottery-making, Salida offers a rich mix of natural beauty, outdoor adventure, and cultural experiences on your road trip to Mesa Verde National Park.
Where to stay when you reach Mesa Verde National Park
Once you're close to your destination, Mesa Verde, why not treat yourself at the Blue Lake Ranch? Each room, suite, casita, and cabin is individually decorated with luxury and comfort in mind. Imagine private decks, warm fireplaces, and walk-in showers. Some even have whirlpool tubs. With views of the La Plata Mountains and the ranch's serene lake, you're in for a truly restful stay.
Set on a private ranch near Durango, Blue Lake Ranch is a peaceful retreat, around 30 minutes' drive from Mesa Verde National Park. Housing some of the best-preserved Ancestral Puebloan archeological sites, it's a chance to travel back to the 7th century. Also within reach is the Durango & Silverton Narrow Gauge Railroad and Museum. Enjoy scenic train rides through the San Juan National Forest and get a dose of the area's railway history.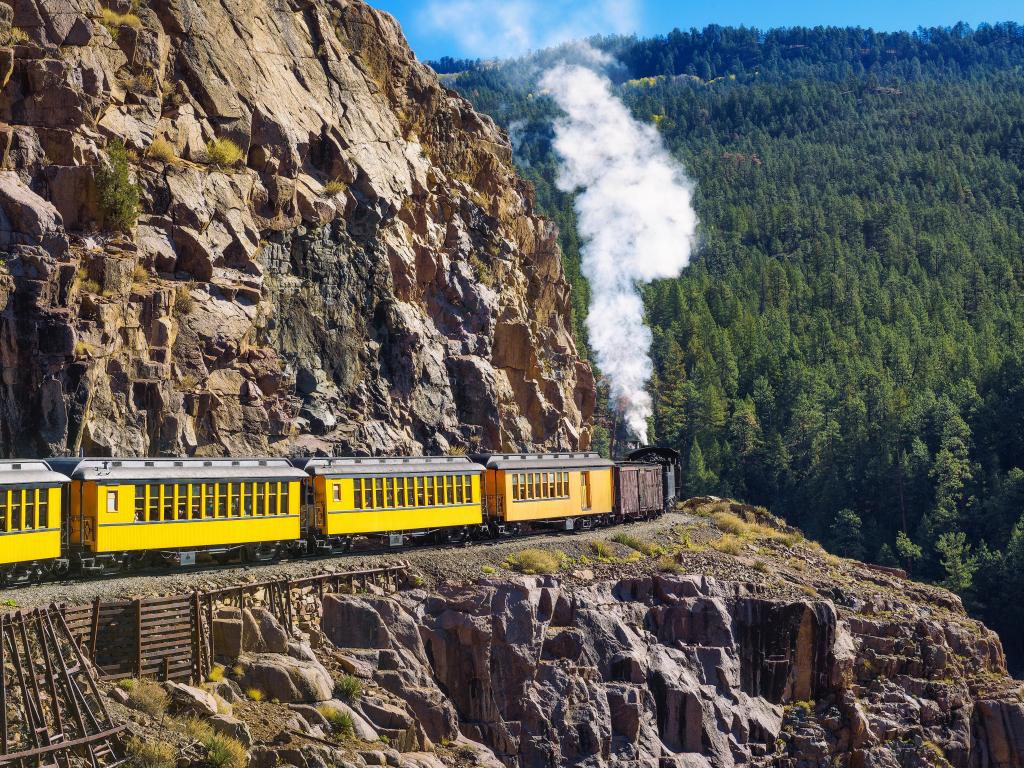 Lastly, don't miss the La Plata Mountains. Just a half-hour drive away, it's a hiker's paradise with trails for every fitness level. Sweeping views and fresh air are your rewards.
Between the natural beauty, outdoor adventures, and cultural experiences, your stay near Mesa Verde will surely be memorable. Oh, and did we mention the complimentary gourmet breakfast? Think Southwest-inspired buffets that will kickstart your day deliciously.
Things to see on a road trip from Denver to Mesa Verde National Park
This part of Colorado is brimming with things to see and do: from awesome nature spots to adrenaline-filled escapades. And for those who'd rather take in some culture - or even just some fantastic food and drink - never fear, there's plenty for you to do, too!
Whichever route you decide to take, we've got recommendations on things to do on your way to Mesa Verde. Read on for our favorites, below.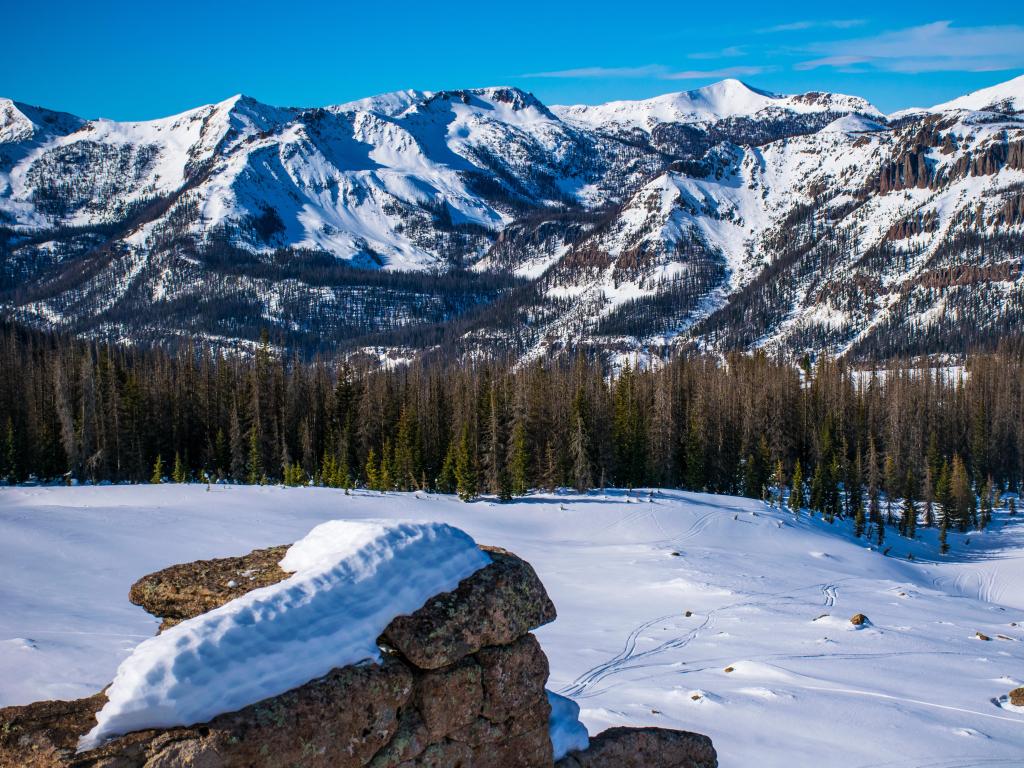 On The Rio Grande Route
Royal Gorge Bridge - Standing tall in Cañon City, this magnificent structure ranks among the world's highest suspension bridges. With heart-stopping views of the gorge below, it offers a thrilling zip line experience across the canyon, combining scenic beauty with adrenaline-inducing excitement.
Whitewater Adventure Outfitters - Specializing in white water rafting adventures, this company offers unforgettable experiences in the rapids of the Royal Gorge. An exhilarating way to enjoy the river's natural beauty while satisfying your craving for outdoor adventure.
Royal Gorge Regional Museum & History Center - Nestled in Cañon City, this museum stands as a testament to the rich heritage of the Royal Gorge Region. With captivating exhibits, it offers an enlightening glimpse into the area's colorful past and evolution.
Fremont Center for the Arts - An integral part of Cañon City, it holds the title of the oldest privately run art center in the United States. A hub of creativity, it features a diverse array of artistic expressions, encouraging appreciation of the visual arts.
Great Sand Dunes National Park - Just a slight detour from Center, CO, this unique park showcases North America's tallest sand dunes. A mesmerizing landscape for outdoor enthusiasts, it provides an opportunity to explore and conquer these sandy giants.
Colorado Gators Reptile Park - Situated in Mosca, near Center, CO, this park offers a distinctive experience. It's a haven for learning about and interacting with alligators, serving as an intriguing and educational stop on your journey.
Rio Grande National Forest - Located near Center, CO, this expansive forest is an outdoor paradise. With ample opportunities for hiking, biking, fishing, and wildlife viewing, it encapsulates the raw beauty and wilderness of Colorado.
Wolf Creek Pass - Positioned just before Pagosa Springs, this mountain pass provides awe-inspiring views of the San Juan Mountains. It's a rewarding detour that ensures unforgettable photo opportunities amidst stunning landscapes.
Wolf Creek Ski Area - In close proximity to Pagosa Springs, this ski area is a much-loved winter sports destination. Renowned for its snow-covered slopes and inviting ambiance, it's a great spot for skiing enthusiasts.
Geothermal Greenhouse Project - In the heart of Pagosa Springs, these public geothermal greenhouses are powered by the world's deepest geothermal hot spring. A testament to sustainable living, it's a glimpse into innovative agriculture.
Treasure Falls - Situated near Pagosa Springs, this waterfall offers a short, scenic hiking trail leading to its stunning cascade. An enchanting retreat in nature, it's a must-visit for those seeking serene beauty.
Chimney Rock National Monument - Just west of Pagosa Springs, this site harbors ancient ruins perched atop a high mesa. Offering panoramic views of the area, it's a fascinating step back into history and a chance to appreciate the ancestral heritage of the region.
On The Million Dollar Highway Route
Pike-San Isabel National Forest - This vast and stunning forest, celebrated for its extensive network of hiking trails, abundant wildlife, and Mount Elbert, the highest peak in Colorado, showcases the state's natural grandeur. Perfect for outdoor enthusiasts, it serves as a sprawling playground of adventure and exploration.
Monarch Pass Scenic Overlook - Offering panoramic views of the stunning landscape, this scenic overlook near Salida is a photographer's delight. The overlook provides a visual feast of verdant valleys, snow-capped peaks, and pristine alpine beauty, serving as a testament to Colorado's breathtaking natural wonders.
Salida Museum - Located in the art-centric town of Salida, this local museum hosts exhibits that narrate the intriguing history of the region and its people. Providing a deeper understanding of the area's cultural heritage, it offers visitors a glimpse into the area's rich past and evolution.
Black Canyon of the Gunnison National Park - Renowned for its dramatic landscapes and some of North America's steepest cliffs, this national park near Montrose is a spectacle of natural wonder. Its sheer black granite walls, roaring river, and panoramic vistas make it an extraordinary destination for outdoor exploration.
Ouray County Museum - Set in the historic St. Joseph's Miners' Hospital, this museum in Ouray carries the legacy of the region's mining history. Showcasing the history and heritage of Ouray County, it's an enriching destination that blends educational displays with a charming setting.
Box Canyon Waterfall & Park - An enchanting destination in Ouray, renowned for its beautiful waterfall and the scenic hike leading to it. This park provides a stunning mix of natural beauty and adventure, offering a refreshing escape within Colorado's landscape.
Ouray Ice Park - A distinctive park in Ouray that transforms into a paradise for ice climbing during winter. The park offers an opportunity to ascend frozen waterfalls and ice formations, creating an unmatched experience for thrill-seekers and winter sports enthusiasts.
Wright Opera House, Ouray - A meticulously preserved historic opera house in Ouray that continues to enchant visitors with concerts, talks, and theatrical performances. This landmark not only delivers cultural events but also serves as a splendid testament to the town's vibrant history.
Red Mountain Pass - Renowned for its breathtaking views of colorful mineral-stained mountains, this pass along the Million Dollar Highway offers a visual spectacle of Colorado's geological richness. Its vibrant landscapes provide a picturesque journey through the San Juan Mountains.
Gnome Road - Also known as Elf Lane, this quirky little road near Redvale is dotted with gnome and fairy statues, adding a sprinkle of whimsy to your journey. It offers a fun, offbeat diversion that's sure to bring a smile to travelers of all ages.
Purgatory Resort - Located near Durango, this resort is a popular destination for winter sports like skiing and snowboarding. When the snow melts, it transforms into a summer playground with opportunities for mountain biking and hiking, making it a year-round outdoor adventure hub.
Durango & Silverton Narrow Gauge Railroad - This historic steam-powered railway offers scenic trips between Durango and Silverton, delivering a captivating journey through Colorado's wilderness. Experience the thrill of a bygone era while enjoying panoramic views of the San Juan National Forest.
Strater Hotel, Durango - A historic Victorian hotel in Durango that's graced the silver screen in several films. Famous for its old-west charm, antique furnishings, and elegant ambience, the hotel offers a luxurious stay that transports guests back to the Victorian era.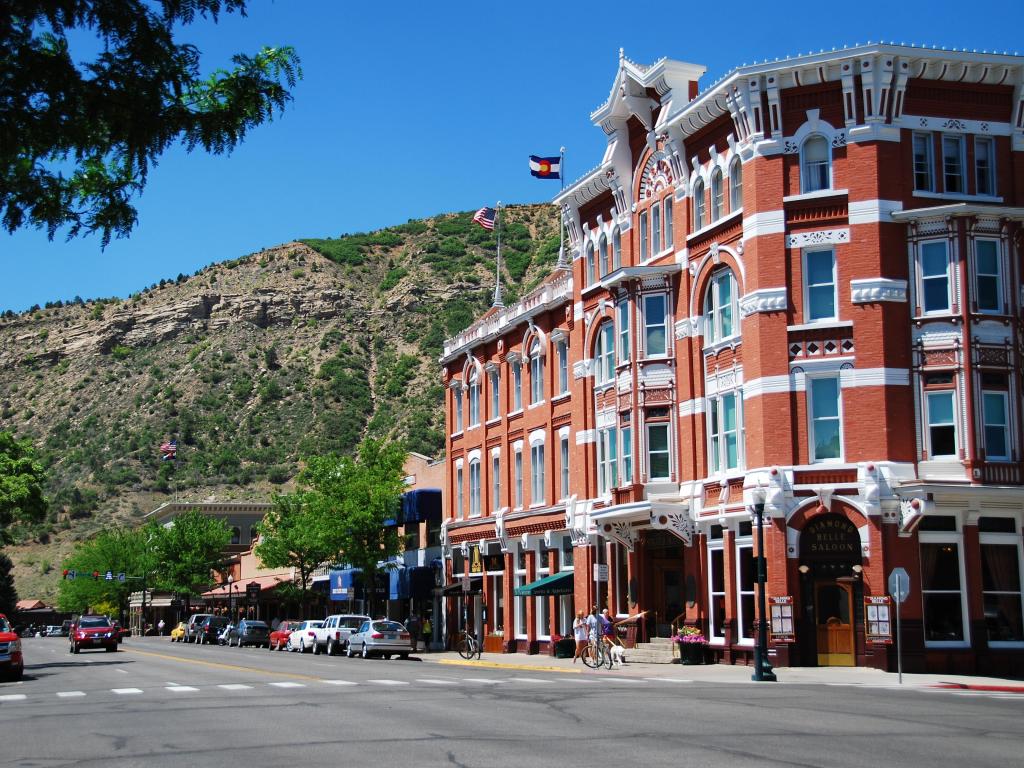 Best time to go on a road trip from Denver to Mesa Verde National Park
Planning a road trip from Denver to Mesa Verde involves careful consideration of the best time to travel. Spring, from March to May, offers temperatures ranging from mid 50s to low 70s Fahrenheit in areas like Salida and Center. However, spring weather in Colorado can be unpredictable, with late snowfall common in the mountains and the possibility of sudden showers.
In Mesa Verde, situated in a desert region, spring temperatures can reach up to 80 degrees Fahrenheit by May, offering a warmer climate for exploration.
Summer, from June to August, is the warmest season with temperatures from mid 70s to high 90s Fahrenheit. Afternoon thunderstorms are common in the mountains, making for a generally drier but occasionally wet season.
Summer is also the most popular time for a visit to Mesa Verde National Park. All park facilities are open, and ranger-guided tours are available, offering access to sites such as Cliff Palace, Balcony House, and Long House.
Come fall, from September to November, you'll experience cooler weather, with temperatures dropping gradually. Fall offers a spectacular show of Colorado's foliage, particularly in September and early October. In fact, coordinating your trip with the Durango Autumn Arts Festival in September could provide a unique cultural experience as you traverse through Durango towards Mesa Verde.
Winter, from December to February, paints a different picture. Colorado's high country, including areas like Salida and Center, is known for its winters. Snow is common, with temperatures ranging from below freezing to the mid 40s Fahrenheit. Nonetheless, Mesa Verde presents a milder winter experience, with less snow and temperatures from the 40s to high 20s.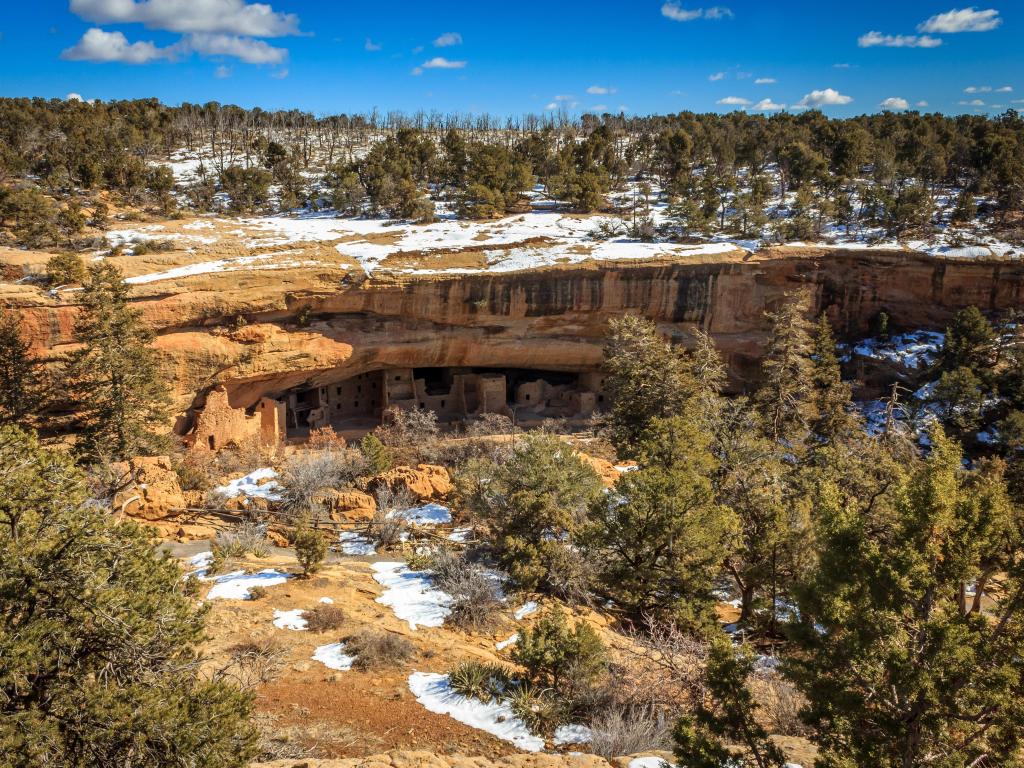 Please be aware that The Million Dollar Highway can be challenging to drive, with its mountainous curves, in the best of conditions. In winter, this is an even more serious consideration. Furthermore, you should prepared for possible road closures in winter due to snowfall, avalanche risk, or potential flooding from melting snow and rain. Always check the weather forecast and road conditions before setting out.
Ultimately, the best time for your road trip depends on your preference for weather, crowd sizes, and the experiences you're seeking. Aligning your journey with local events can enhance your experience, such as the Royal Gorge Whitewater Festival in July or the Four Corners Folk Festival in September. Just remember - the journey is as significant as the destination.