Is The Million Dollar Highway Dangerous?
The stunning backdrop of Colorado's mountains is the perfect setting for a scenic road trip, and the Million Dollar Highway is possibly the most picturesque of them all. Heading through the San Juan Mountains in southwestern Colorado, this short but spectacular drive is a truly memorable experience.
The rugged scenery of Uncompahgre Gorge and the Red Mountain Pass means the Million Dollar Highway is an unforgettable drive, but with hairpin bends, a narrow road and steep drop-offs to contend with, some drivers might find the drive dangerous.
This is considered one of the most spectacular drives in the United States and it takes you through a stunning wilderness area, but it also has a reputation for being a dangerous drive. Keep on reading to find out whether that's justified, and how to enjoy this iconic drive as safely as possible.
Where is the Million Dollar Highway located, and why might this drive be challenging?
The Million Dollar Highway is located in Colorado's San Juan Mountains and runs between the towns of Ouray and Silverton. It's actually a short stretch of US-550 which winds through unforgettable mountain scenery to connect these two former mining towns.
While you're in the area you can visit ghost towns which used to be home to mining communities, and of course, spend time hiking the picturesque trails through this beautiful natural area.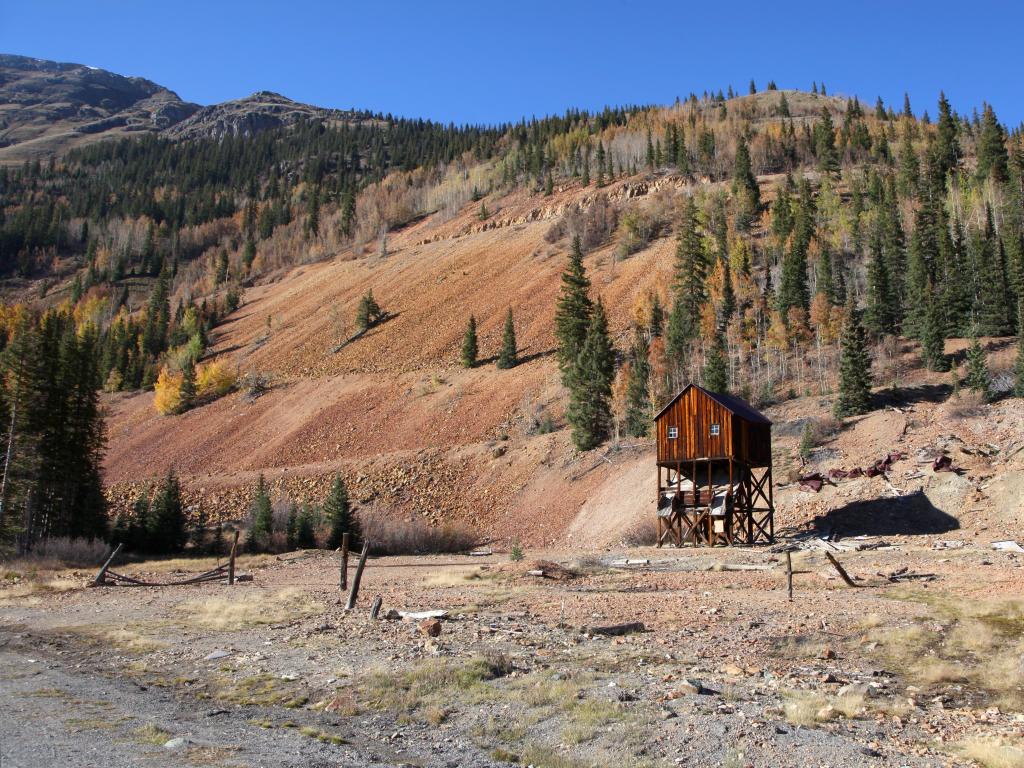 This is a well-traveled and well-maintained road, but it's known for its steep drop-offs, which can feel extra scary because there are no guard rails along most of the route.
Narrow shoulders mean you'll feel like you're driving very close to the edge at times, especially when you're negotiating the many tight switchbacks as the road makes its way through the mountains.
As you might expect, this mountain drive also experiences heavy snowfall and freezing temperatures in winter.
All of these factors lead to frequent accidents on the Million Dollar Highway, many of them serious. They're often single-vehicle incidents, which suggests that driver error in relation to one or more of the above issues is likely to be at fault.
As you'll see below, the best way to approach this challenging drive is slowly and cautiously.
Driving on the Million Highway from Silverton to Ouray
The Million Dollar Highway is really simple to navigate as it's the only road in the area. From Durango, US-550 takes you north through San Juan National Forest on the way to Silverton. Then simply continue on the highway in the direction of Ouray.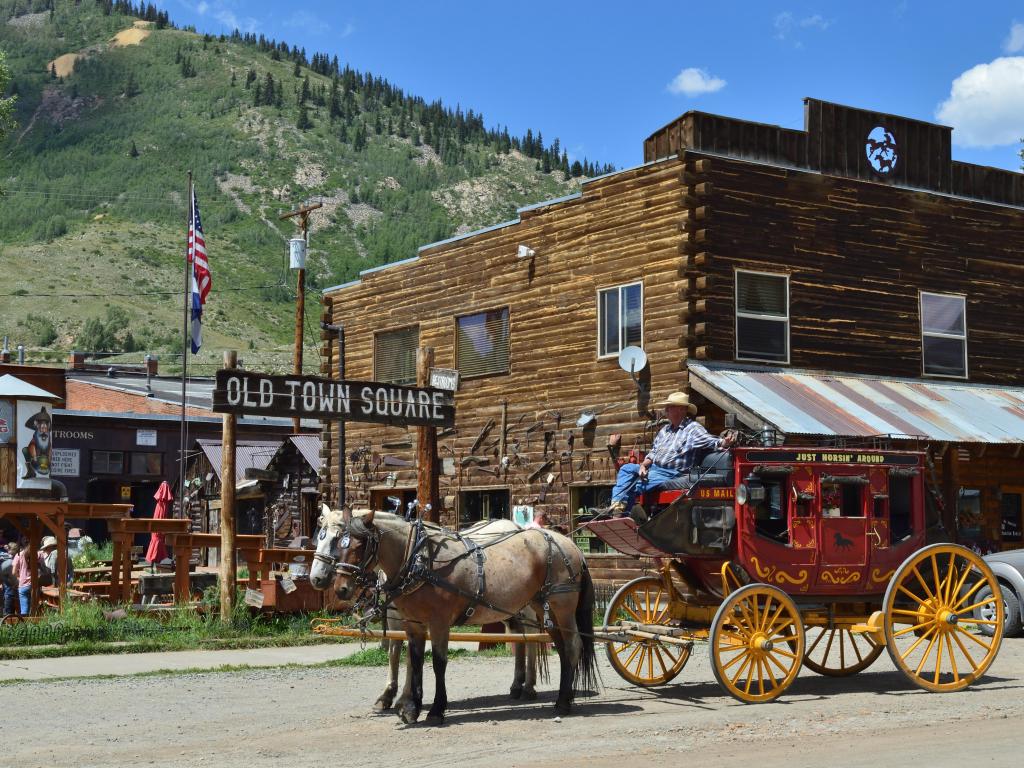 As you travel along the Million Dollar Highway, you'll be passing close to Telluride, which is less than 5 miles away on the other side of the mountain. It'll take you over an hour to reach the resort's slopes though, as there's no direct road route.
Things to know that can impact the drive on the Million Dollar Highway
The Million Dollar Highway is an undivided 2-lane highway which winds through an unforgiving mountain landscape.
During winter the road is regularly salted and ploughed to try to avoid ice and snow, and it will remain open except in extreme conditions or following heavy snowfall, so use extreme caution if you do drive the route in winter. Just because it's open, doesn't mean you need to drive it!
It's also possible that Colorado's traction laws will be enacted during particularly icy or snowy periods, in which case you'll need to use chains or appropriate tires if your vehicle doesn't already meet requirements. However, we'd advise against taking this trip during these periods, especially if you're not an experienced mountain road driver.
The route takes you across Red Mountain Pass so expect some soaring views from the highway - it's around 2,000 feet higher than Silverton then you'll have to make the steep 3,000-foot descent to Ouray.
The steep drop-offs are also worth keeping in mind. There are no guard rails on this trip so it's hard to avoid noticing how close you are to the cliff edge at times.
There are also a few places where you can see the switchbacks snaking down the mountainside below you, which might feel a little intimidating when you're still at the top. So, although it's not the highest altitude drive you could take, you might want to think twice about the route if you're scared of heights.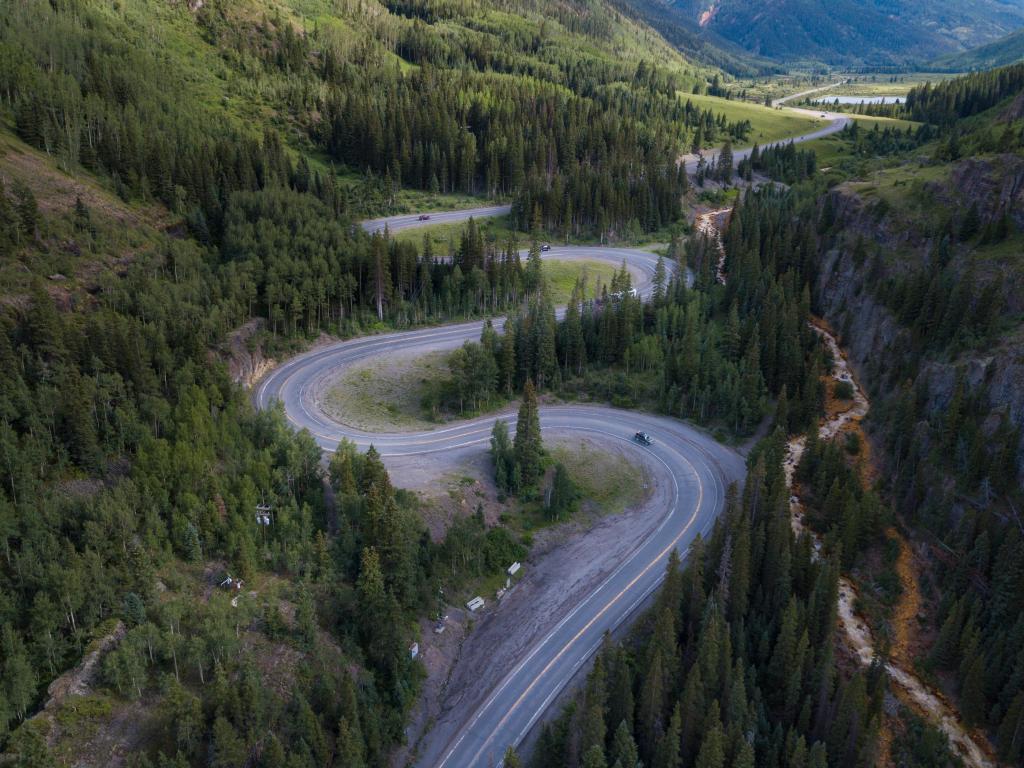 With so many twists and turns on the road it can be tricky to pass other vehicles, so be prepared to follow in line if you get stuck behind a slower road user. If you're the slower driver, pull over if you get the chance to let other vehicles pass.
Although this is only a 24-mile drive you should allow at least an hour as the speed limit is restricted to 25 mph on most of the route, and some sections dip as slow as 10mph. Follow these limits – excess speed is one of the main causes of accidents on the route.
Tips to drive on the Million Dollar Highway in the safest way
One of the main issues on the Million Dollar Highway is the steep drop-off at the edge of the road, so nervous drivers should aim to drive from Silverton to Ouray rather than the other direction as this means you'll stay on the mountainside of the road, not the cliff side, for most of the trip.
You'll still have to navigate the tricky hairpin bends though. Consider taking a "virtual drive" using Google Street view so that you can prepare yourself and "see" the route for yourself beforehand.
Alternatively, as this is only a short drive, you might want to take turns to drive out and back so that both drivers get a shot at enjoying the view. That way the driver can really focus on driving.
Avoid traveling during summer weekends and holiday periods, when the road will be particularly busy. Drive cautiously in case you meet oncoming traffic.
In winter, snow chains or mud and snow tires aren't compulsory on this route unless additional traction laws are put in place in severe weather.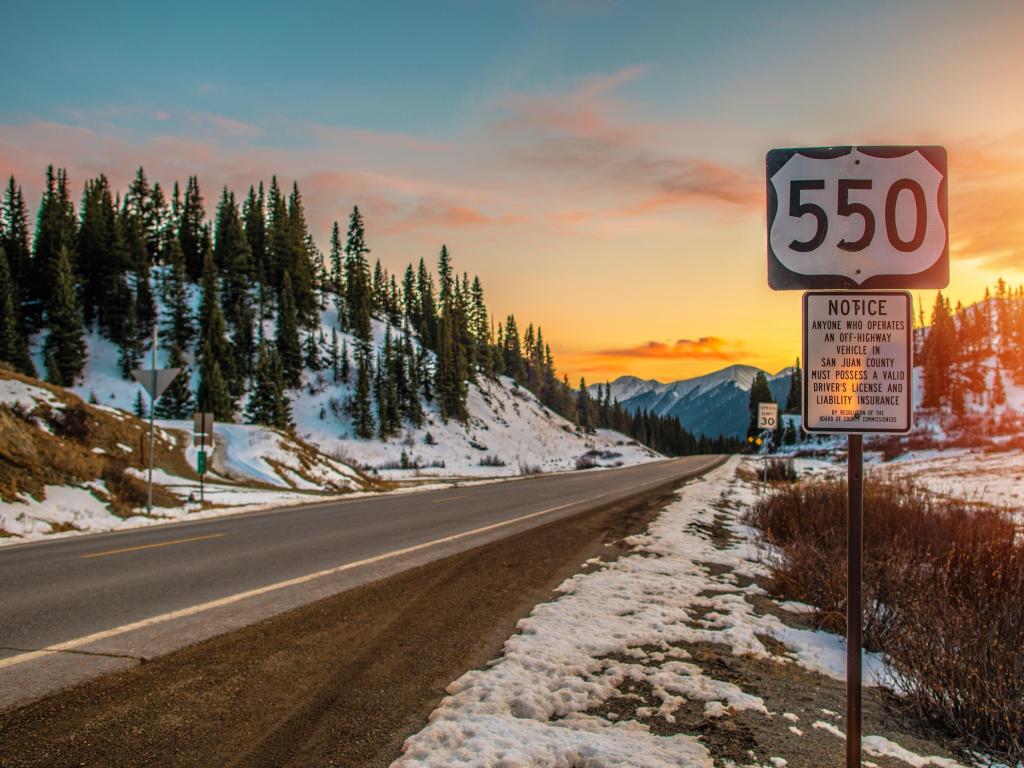 Always drive for the conditions, and don't set out in the snow or heavy rain (which can throw mud across the highway). Stay in a hotel in Ouray or Silverton instead. You can check the weather and other travel advisories at the Colorado Department of Transport.
There's very limited cell phone coverage on this route so download any maps or information in advance, especially if you're planning on stopping to hike along the way.
Also, take what you need for the drive as although there are plenty of places to stop and enjoy the view along the way, don't bank on being able to buy a picnic or fill up with gas. You'll have to fill up in Silverton or Ridgway (north of Ouray)
Bearing all this in mind, if you're really nervous about the drive, avoid this highway altogether and consider taking another scenic Colorado mountain drive such as the 285 to Breckenridge, which although packed with twists and turns is less intimidating than this route.
Alternatives to driving yourself on the Million Dollar Highway
It's possible to take a jeep tour of the Million Dollar Highway and the surrounding area – that way you can enjoy the scenery without having to worry about the drive. This has the bonus option of heading off-road in places to explore this stunning wilderness area.
If you're not set on traveling the exact same route, the Durango & Silverton Narrow Gauge Railroad takes you on a thrilling steam train ride through the mountains just to the south of the Million Dollar Highway.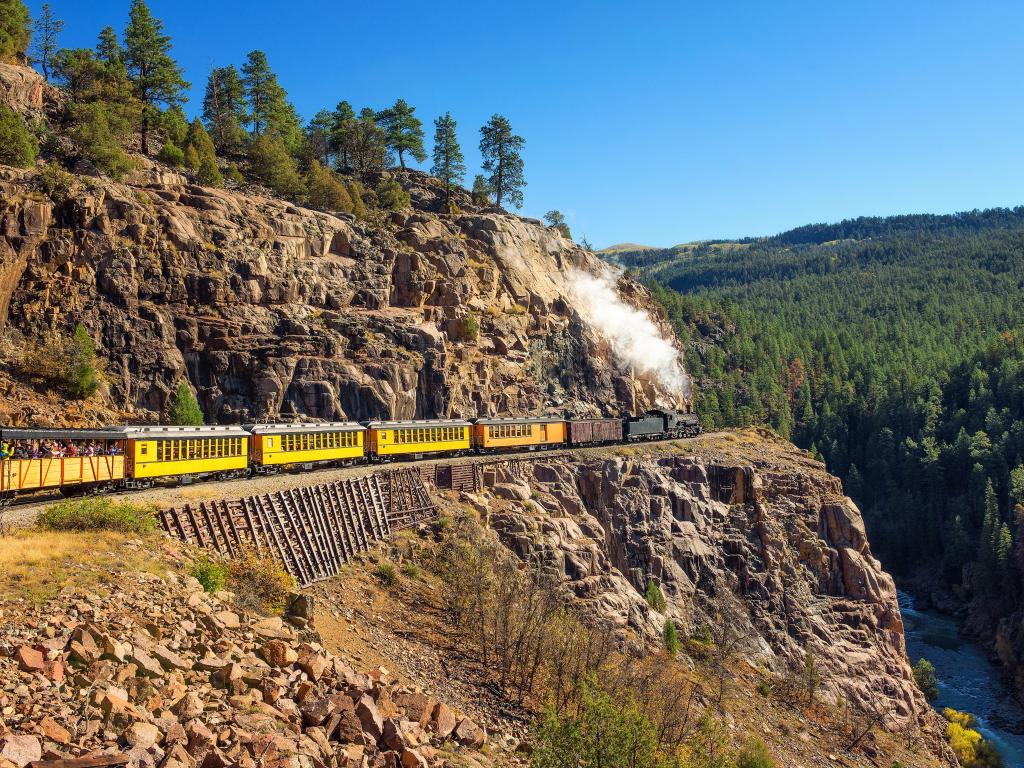 Choose from a full day round trip, a shorter ride or a stopping train that lets you disembark to hike through parts of the wilderness that you can't get to by car. Book in advance to secure your choice of route if you're thinking of making this trip.
Best time to drive on the Million Dollar Highway
The best time to drive this route is summer, when temperatures sit around a pleasant 70 degrees Fahrenheit and you won't have to contend with snow and ice on the highway.
In fact, it's a really popular route in summer despite the driving challenges, so leave extra space for the many RVs that you'll meet along the way and take the switchbacks extra slow in case you meet one coming in the opposite direction.
Additionally, sudden changes in the weather can affect driving conditions, especially if a heavy rainstorm hits. Always check for local advisories before setting out on this route and be prepared to slow down to adjust to changing conditions.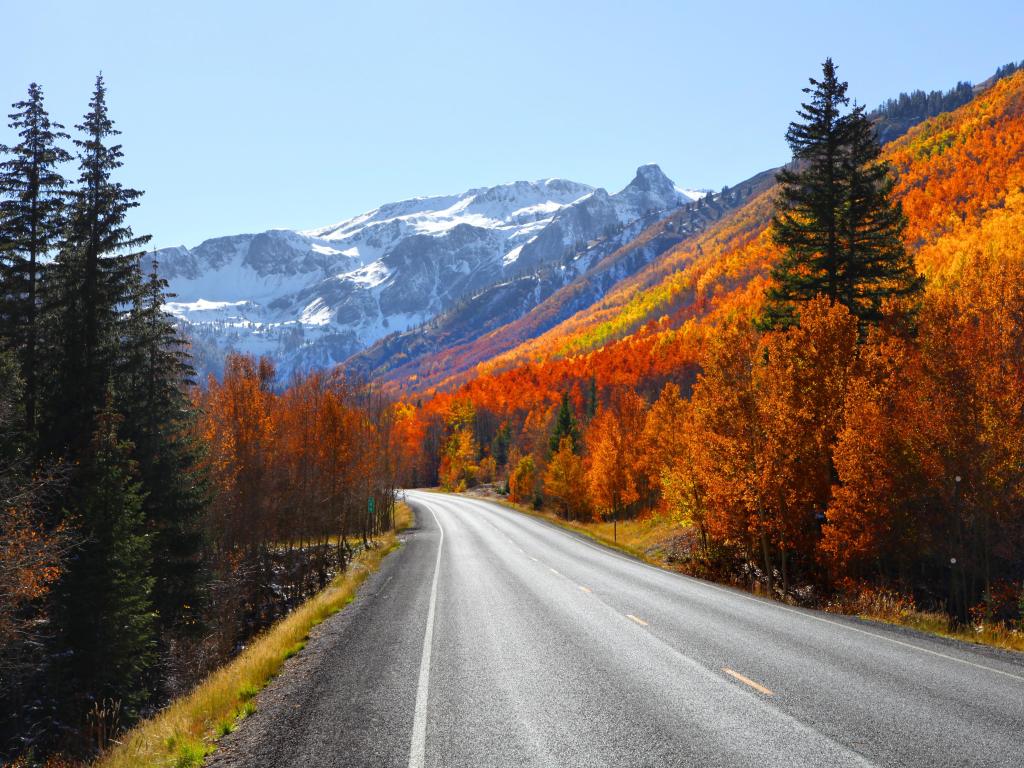 You can also enjoy a stunning drive through the snowy mountain landscape if you take this route on a sunny winter's day. Heavy snowfall is a regular occurrence, but the road is regularly ploughed and gritted so as long as you're not driving in a blizzard the road should be passable.
However, ice remains a possibility even on sunny days so take the tight bends even more cautiously than normal.
If you're hiring a car, a well-maintained vehicle with all-terrain tires should be fine – local advice is that if conditions mean you need to use chains or tires, it's probably best to skip this scenic drive unless you're an experienced driver and know the road well.