18 Best Road Trips from Edmonton
Edmonton is the biggest northernmost metropolis in Canada, making it a hub for urban life set amongst the beautiful wilderness of the North Saskatchewan River Valley. With year-round festivals and long summer days, the city offers up something for culture lovers, outdoor explorers and shopping addicts alike.
Despite its northerly location, there are many adventures to be had near Edmonton. Our list of the 18 best road trips shows you where you can go hiking in mountains and crystal lakes, walk in the footsteps of cowboys or unwind in charming towns.
Keep reading to find a trip from Edmonton that suits you, whether you have a day, a weekend, or a whole week to skip town and discover a new part of the world. There is surely a road trip for you on our ultimate list, no matter what time of the year you are looking to travel!
Best road trips from Edmonton
Day trips (under 3 hours each way)
If you only have a day to spare, there are plenty of amazing trips within spitting distance of Edmonton that will take you off the grid and into nature.
1. Pembina River Provincial Park
40 minutes from Edmonton (30 kilometers)
Why you should visit: The Pembina River offers scenic water views and the opportunity to kayak, canoe, or swim in a tree-lined river landscape. And what's more; this road trip from Edmonton will take you less than an hour to complete.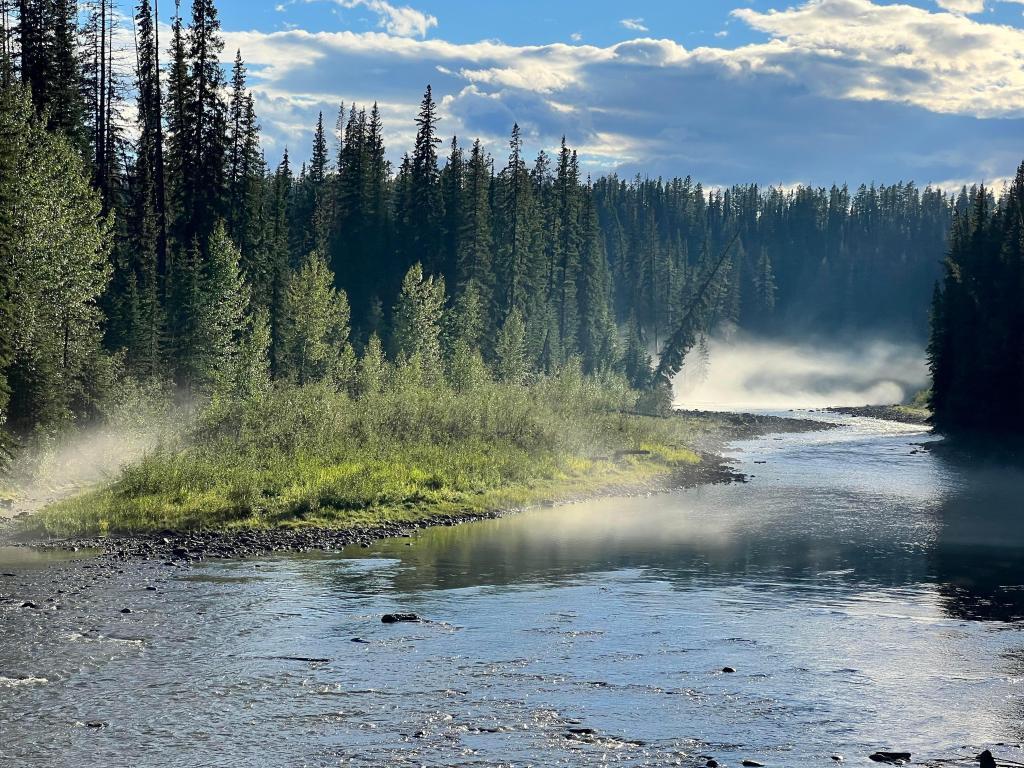 How to get there: Head west to the Pembina River via the towns of Evansburg and Entwistle on Highway AB-16.
Our highlights: There is plenty to do, but your main priority should be floating on the tranquil waters of the river and enjoying the sunshine.
In the warmer months you can rent tubes and kayaks from outfitters that provide a shuttle service, then take a float or paddle down the river. Bring a cooler along with drinks or snacks and enjoy the sunshine!
There are some beautiful hiking trails to explore - Peregrine Falcon Trail and Hillside Trail offer great views of the old historic bridge crossing. Pembina River Bridge was built in 1908 and is still in use by the Canadian National Railway.
If you want to go even more remote, Matthews Crossing Natural Area is not far north of Entwistle and is a nature area that also has hunting access.
Tipple Park Museum in Evansburg often has great coal mining and railroad exhibits, located in a place rich with small town history and the occasional farmers' market.
Our travel tips: Camping in this provincial park is allowed in the park with a permit.
Keep in mind that floating the main section of the Pembina River takes about 3-4 hours.
2. Elk Island National Park
30 minutes from Edmonton (50 kilometers)
Why you should visit: Just a short drive from Edmonton, here you can see majestic elk and bison roaming, and explore a boreal forest (or "taiga") within this fenced national park that features fantastic hiking trails.
This park is a UNESCO-designated Biosphere Reserve and is great for birding, wildlife viewing, and immersing yourself in nature.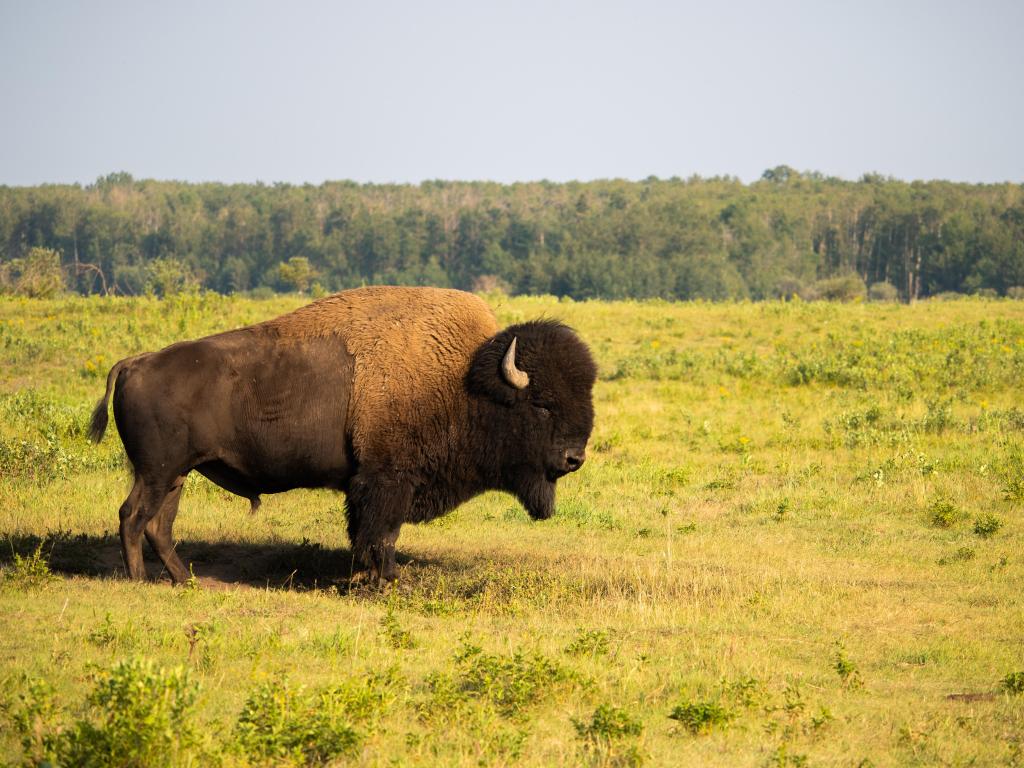 How to get there: Take AB-16 east out of Edmonton to Elk Island National Park.
Our highlights: What sets this park apart is its hiking trails, used to explore the many different aspen forests, spruce forests, lakes, meadows, wetlands, and boreal bird areas of the park - try the Wood Bison Trail, Moss Lake Trail, or the Amisk Wuche Trail.
The park is part of the historical native lands of the Cree and Metis peoples and has been integral in the conservation of bison, so keep your eyes peeled.
Bring supplies - the park is known for its great picnic sites, and even has places to camp overnight for more time away from the city. On dark winter nights, the Beaver Hills Dark Sky Preserve is a great place to go stargazing, see a meteor shower, and even glimpse the Northern Lights.
The area is rich in Ukrainian heritage, and the nearby towns of Lamont, Andrew and Mundare offer quaint Ukrainian restaurants, small town breweries, souvenir shopping and antique browsing.
Bonus: This is one of Canada's oldest national parks and has seen many important visitors over the century, including Saint John Paul II in 1984.
Our travel tips: While the park is open every season, activities change in the winter to snowshoeing, fat biking and snow play.
You should book campsites online in advance, and keep in mind that some services and visitor centres are only open in the summer months
3. Wetaskiwin
1 hour 10 minutes from Edmonton (70 kilometers)
Why you should visit: Visit Wetaskiwin to see a whole host of unique cultural centres and museums to learn about indigenous people. The town is located on Treaty 6 Territory and is rich in First Nations ancestral history and influence.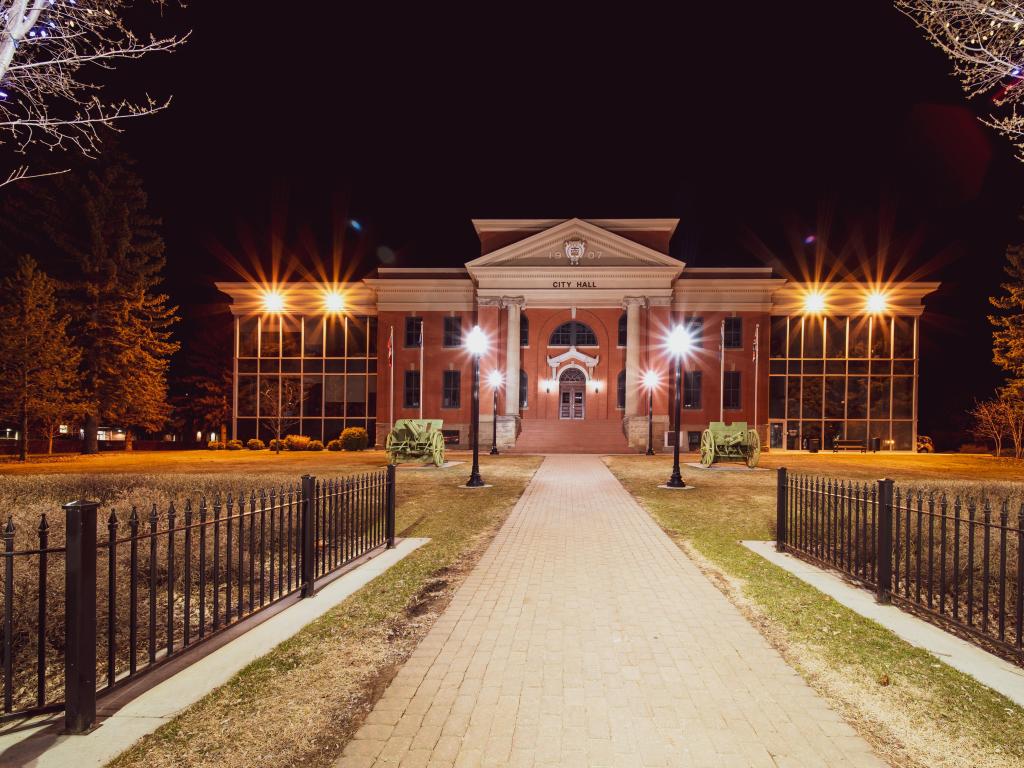 How to get there: Head south on AB-2 to Leduc. From Leduc take AB-2A to Highway 13 and head south to Wetaskiwin.
Our highlights: Wetaskiwin is named after the battle between the Cree and Blackfoot peoples that took place here before it was settled by pioneers.
The Reynolds-Alberta Museum focuses on the history of engineering and technology in agriculture and transportation. It includes historic automobiles, planes and agricultural machines.
Our next museum pick is the Wetaskiwin and District Heritage Museum, which celebrates the boomtown pioneers' early lifestyle in this area. You can visit a home from the 1900s and see exhibits on the origins of fur trading.
If you'd like to enjoy the great outdoors, you can take a nature walk around By-the-Lake Park, where you can try out a trail or rent a canoe to paddle on the lake. It's a great place to while away the afternoon with a picnic.
In contrast to the historic town, Edmonton International Raceway is a venue for live NASCAR series car racing where you can see some fast driving using high-speed technology, and even try it out yourself.
Our travel tips: Reynolds-Alberta Museum is open Wednesday to Sunday 10am-5pm and costs $15. Advanced booking is required for warehouse tours, which are open weekends only.
4. Athabasca
1 hour 40 minutes from Edmonton (150 kilometers)
Why you should visit: This destination is a charming town with Ukrainian heritage on the bank of the Athabasca River. Rich in farming history and with a deep-rooted community, this is a small town gem that's worth exploring that is just a short drive away from Edmonton.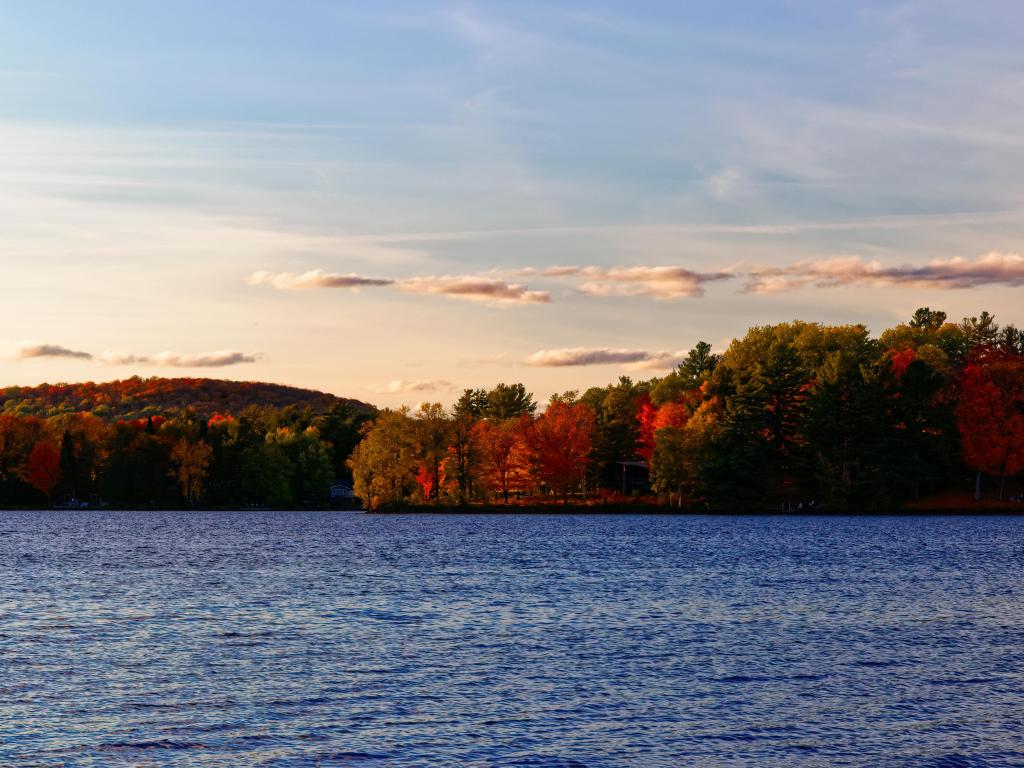 How to get there: Head north on AB-2 all the way to Athabasca.
Our highlights: Muskeg Creek Park is a stunning park for hiking, bird-watching, or cross-country skiing in the winter (cross-country). It is fairly under-populated, so you have a great chance of spending a day in peaceful solitude. If you're after something more active, River Front Park has a skatepark.
The area is filled with picture-postcard lakes, but Baptiste Lake is closest and offers paddling rentals, and is a great spot to stargaze and see the northern lights at night. Ice fishing is also popular here in the winter.
If Baptiste Lake is too crowded for your taste, you can try visiting Flat Lake instead, as this is a lesser-known but still equally beautiful area.
You can stock up on fresh local produce and farm goods during your day trip by shopping at the many farm stands and nearby markets. Make sure to stop at Boyle Co-op and Farmers Market.
Bonus: The biggest and most technologically advanced bleached kraft pulp mill in the world is located not far from the town. If you are an engineering or technology enthusiast, this is a must-visit.
Our travel tips: Athabasca Farmers' Market is open every Saturday from May – September.
5. Red Deer and Sylvan Lake
1 hour 40 minutes from Edmonton (160 kilometers)
Why you should visit: This town south of Edmonton along the Red Deer River offers quaint shopping, swimming holes, and nature parks to explore. Sylvan Lake is a popular lake getaway from Edmonton where you can swim, boat, or fish.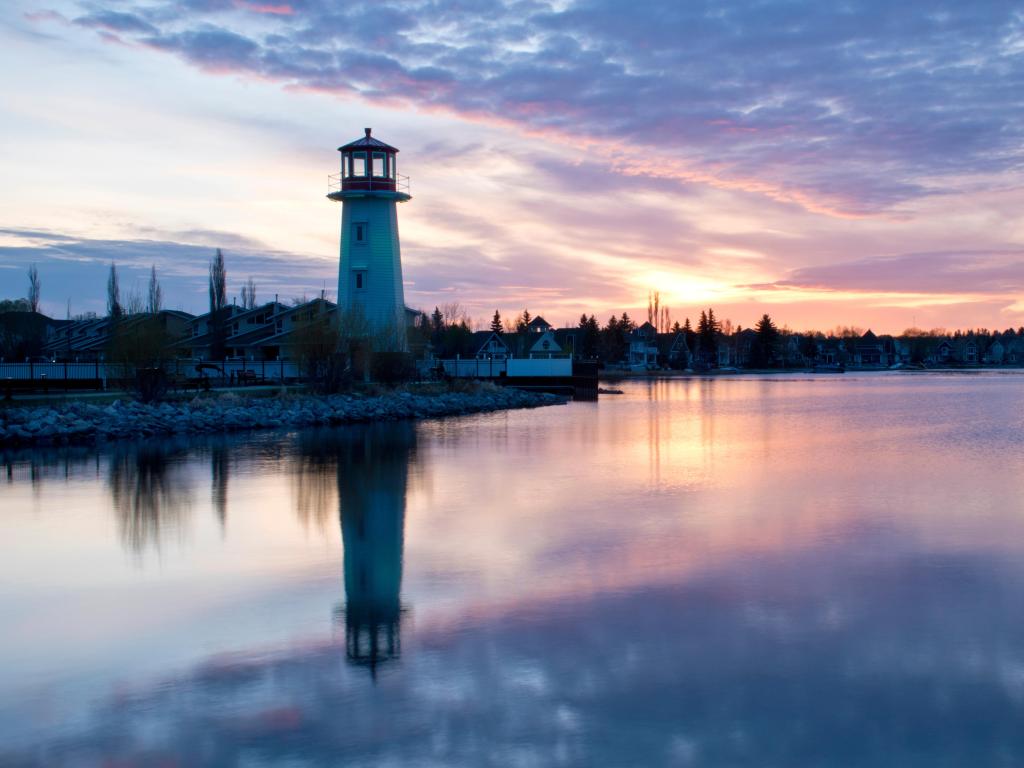 How to get there: Head south on Highway 2 to Red Deer. From Red Deer, go west on Highway 11A to Sylvan Lake.
Our highlights: The biggest draw is Sylvan Lake itself, which you can enjoy on one of the lakeside beaches or at the Aqua Splash Park. There are also plenty of camping areas and boat launches for public use.
In winter you can go ice-fishing or skating on the lake, and take a hair-raising ride down the Sylvan Lake Ice Slide, which is constructed every year on the lake shore.
Along the river is the Red Deer Kerry Wood Nature Center, which is a peaceful spot for hiking and wildlife spotting in the connecting Bower Ponds. For a livelier experience, try Discovery Canyon - a river water park where you can swim in the river-fed pools.
If you're making a romantic trip, Heritage Ranch is a farm and ranch that offers guided horseback trail riding and date-night dinners. In the winter they hang the ranch with seasonal decorations and put on sleigh rides.
Bonus: This area proudly features its fishing heritage. Stop in Lacombe on the way down to see the world's largest fishing lure!
Our travel tips: Gasoline Alley Farmer Market is indoors and open year-round, while Red Deer Market is open May-Thanksgiving. The winter market happens on select weekends in December.
6. Hard Luck Canyon
2 hour 10 minutes from Edmonton (200 kilometers)
Why you should visit: This day trip to a spectacular waterfall and canyon is the only one of its kind in this part of Alberta, and it's not even in a national park. Visit for breathtaking views of towering sandstone cliffs, waterfalls and the canyon itself along Hard Luck Creek.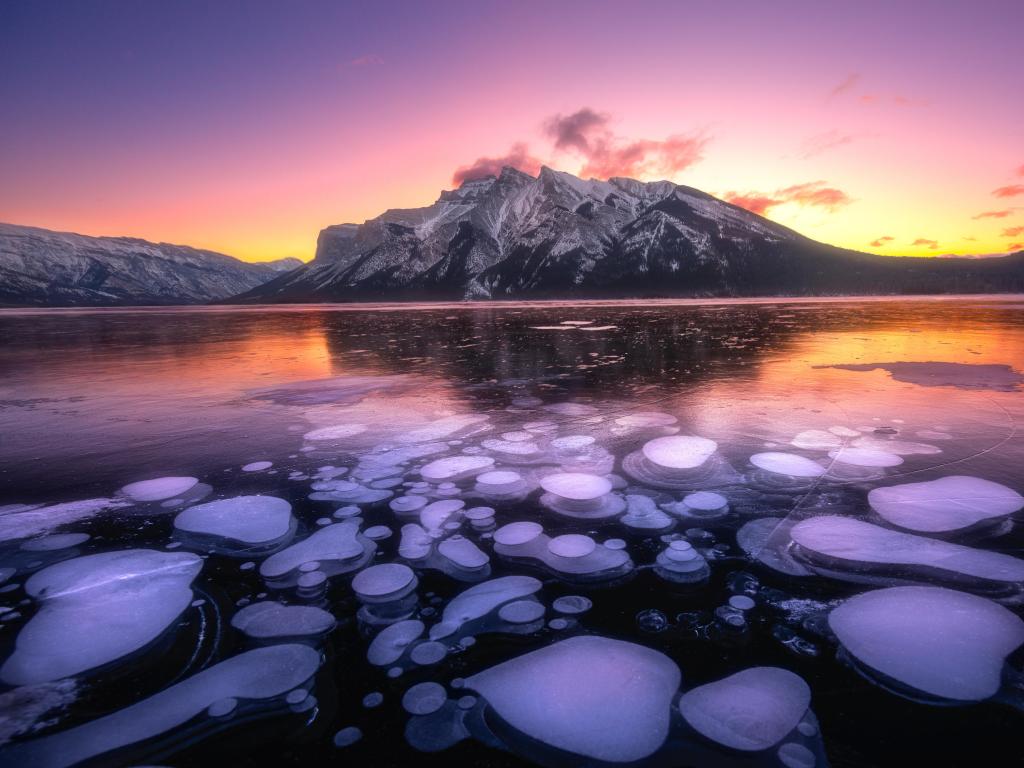 How to get there: Follow AB-43 N northwest out of Edmonton to the town of Whitecourt. From Whitecourt, go south on Lost Creek and West Mountain Road (Range Road 130/125A) to the Whitecourt Mountain Natural Area and Hard Luck Canyon trailhead.
Our highlights: Hike the stairs down to Hard Luck Canyon floor and see the waterfall from below or take an overhead view from the bridge above. You can bring a picnic and enjoy it in the shaded canyon to the sound of the creek flowing beneath you.
Near the canyon is Whitecourt Mountain Natural Area, a pine forest mountain with stunning vistas. The town of Whitecourt is known as the snowmobile capital of Alberta and has extensive trail systems for snowmobiling in winter, or biking and hiking in summer.
For more sports, Eastlink Park is a small community snow park with skiing and snowboarding in the winter, while Rotary Park has an outdoor tubing lazy river in the summer months.
Bonus: In the winter the falls freeze over, and the scenery makes this a beautiful ice palace and winter wonderland to explore!
Our travel tips: The parking area is small and there are a lot of stairs, so come early to find parking.
On the way back, you can take AB-32 south for a scenic drive along the McLeod River or take AB-22 south out of Mayerthorpe to get on the "Cowboy Trail".
Click here to skip back to the top.
Weekend trips (3-5 hours each way)
If you have a free weekend, why not go that little bit further to experience a new place? In under 5 hours, you can get to a former Winter Olympics host city, bathe in hot springs and even enter a dinosaur country.
7. Jasper National Park
3 hours 50 minutes from Edmonton (400 kilometers)
Why you should visit: Visit Jasper National Park for spectacular views of glaciers, blue lakes and snow-capped mountains. Jasper is just as gorgeous as Banff but more remote and therefore less crowded. This road trip and destination are a good-looking combo!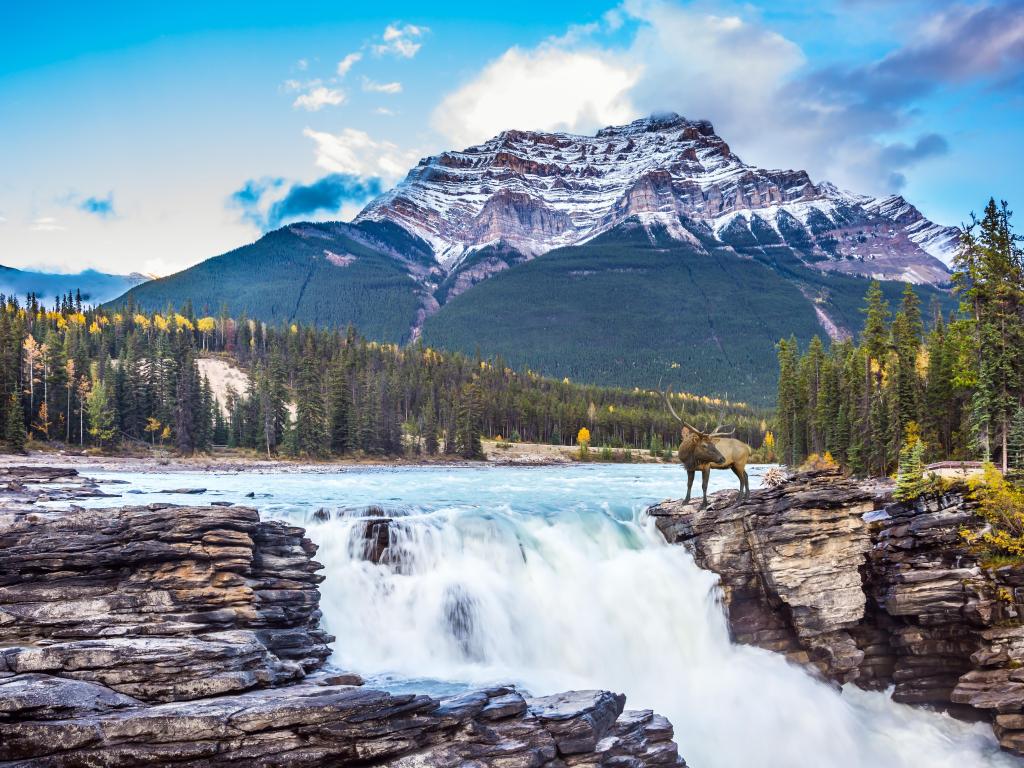 How to get there: Take Yellowhead Highway (AB-16) west out of Edmonton to reach Jasper. Stop in Miette Hot Springs via Range Rd 275A.
Our highlights: We recommend making a beeline for Miette Hot Springs, where you can indulge in a healing thermal soak.
Part of the drive is along the Columbia Icefields Parkway, a scenic road that connects Banff to Jasper with stunning vistas and mountain views. Stop and hike around Peyto Lake, or take in the glaciers via the Columbia Icefield skywalk suspended on a glass bridge.
Also worth stopping for are Tangle Creek Falls and Athabasca Pass. There is the option to take a walking or driving tour of the Athabasca Glacier, travelling on the ice itself.
Some of Jasper National Park's great hits include hiking around Athabasca Falls, Maligne Canyon and Lake, Sunwapta Falls and the canyon pass, or taking a Spirit Island boat ride and walking the Mt Edith Cavell trail.
You can take the Jasper Sky Tram above the Whistler Peak trail to get scenic views of Jasper and the surrounding peaks.
In winter you can ski at Marmot Basin, or go ice-climbing in Maligne Canyon and see the frozen waterfalls.
Bonus: The Valley of Five Lakes Trail is a great way to take in 5 stunning turquoise-blue glacial lakes, as the name suggests!
Our travel tips: You can easily extend this trip by adding on a few days in Banff, as they are connected by the Icefields Parkway.
Tours on the glacier operate from May - October only.
8. Canmore and Kananaskis Village
4 hours from Edmonton (400 kilometers)
Why you should visit: This area is known for its spectacular vistas of the Rocky Mountains, which you can take in while exploring the Bow River Valley.
Visit the lakes, go on a hike or two and take your time, as you take a leisurely drive along this scenic roadway to Canmore, a town that is reminiscent of Banff with less tourism and more small-town charm.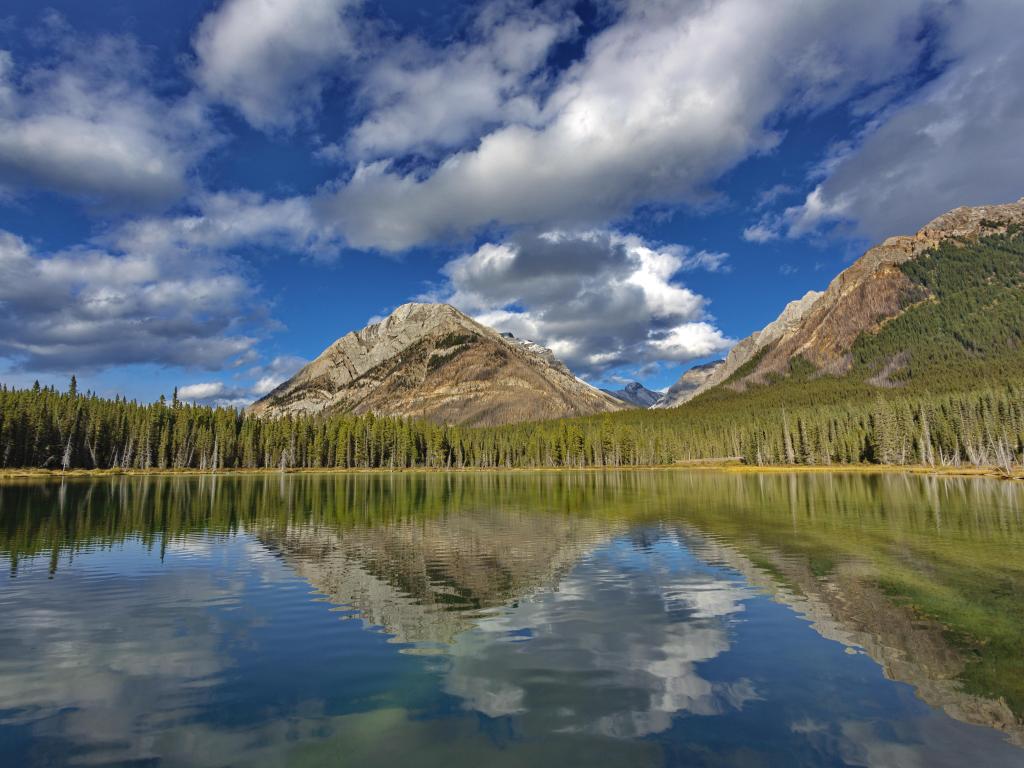 How to get there: Take AB-2 south to Calgary, then head west via Trans Canada 1 to Canmore, or take AB-1A via the Bow Valley Trail for a scenic drive.
Our highlights: The town of Canmore is situated at the start of the Smith Dorrien trail, and is a great spot to take one of many small day hikes around the Bow River valley, a stroll around the downtown area or a spot of lunch after your drive.
In winter, you can visit the Canmore Nordic Center for miles of ski trails and the site of the 1988 Calgary Olympics.
Several kilometers along the trail road is Spray Valley Provincial Park, which has views of mountain peaks and hiking trails to break up the drive. We recommend trying to see the Spray Lakes Reservoir, Old Goat Glacier, Buller Mountain, Karst Spring, and Mt Shark.
On the way back to Calgary, stop by the quaint village of Kananaskis for dining, shopping and walking trails in the shadow of Kananaskis Peak.
In winter you cross-country ski here, or downhill ski at the nearby Nakiska Ski Area. Troll Falls is a nearby hike to waterfalls if you're there during the summer.
You can take Highway 22 south out of Entwistle to jump on the "Cowboy Highway" for a scenic road trip to Canmore. You'll travel through rustic cowboy towns with fun stops like Rocky Mountain House and Cochrane.
Bonus: Take the Smith Dorrien Trail Road Highway 742 loop for a scenic drive through the mountains outside of Canmore.
Our travel tips: Highway 742 is a gravel road and can be dusty - high winds in winter can also make it tricky to navigate.
9. Calgary
Via Boomtown Trail
4 hours 40 minutes from Edmonton (420 kilometers)
Why you should visit: En route, the Boomtown Trail follows the path of early settlers of the area and is rich in both First Nations history and 19th and 20th-century pioneer history.
A lot of the towns along the Boomtown Trail have maintained their facades since the 1900s - taking this relaxed route is a charming bonus to an attractive weekend trip to the city of Calgary.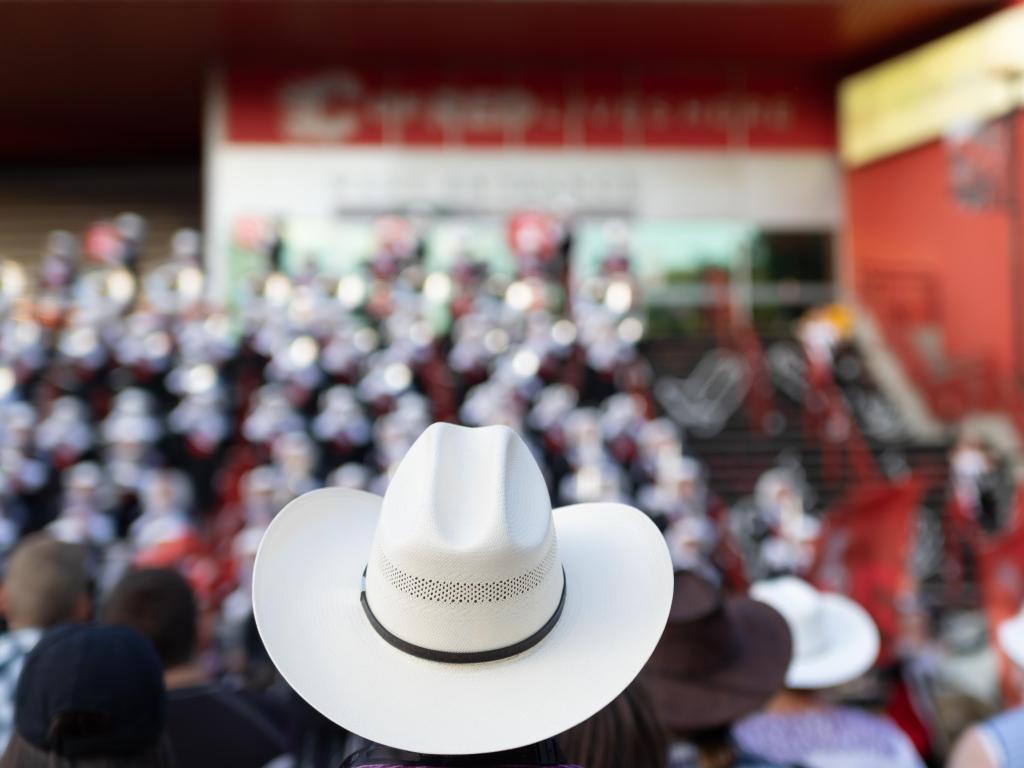 How to get there: Travel south from Edmonton on AB-21 N and head through the towns of Camrose, Delburne, Donalda, Erskine and Stettler, then follow signs for Calgary.
Our highlights: Every Boomtown is different, from quirky landmarks like the "world's largest golf tee" in Trochu or the "world's largest lamp" in Donalda, to history museums, historic buildings and sites like the Bailey Theatre in Camrose.
There are also natural areas to explore, such as Buffalo Lake and Dry Island Buffalo Jump Provincial Park. Rochon Sands Provincial Park is a good swimming spot on the route.
Calgary Stampede happens every July and is a cowboy rodeo and festival where you'll find fairgrounds, line dancing and endless Western entertainment.
For a meal in the clouds, Calgary Tower offers 360 degrees views of the city - you can book for either drinks or a romantic dinner at the rotating restaurant and bar.
Bonus: Calgary hosted the winter Olympics in 1988 and you can still tour the facilities and go bobsledding or skiing.
Our travel tips: Stop in the small stores in each town along the way, as there are plenty of unique souvenirs to pick up.
10. Drumheller and Dinosaur Provincial Park
4 hours 40 minutes from Edmonton (450 kilometers)
Why you should visit: Make this a dinosaur-themed road trip by heading to this area rich in palaeontological and geological history.
You can see rare, preserved dinosaur bone fossils and active palaeontological dig sites at this UNESCO World Heritage Site. There is also hiking in the Badlands valley and river-carved hoodoos, or through the riverside grasslands.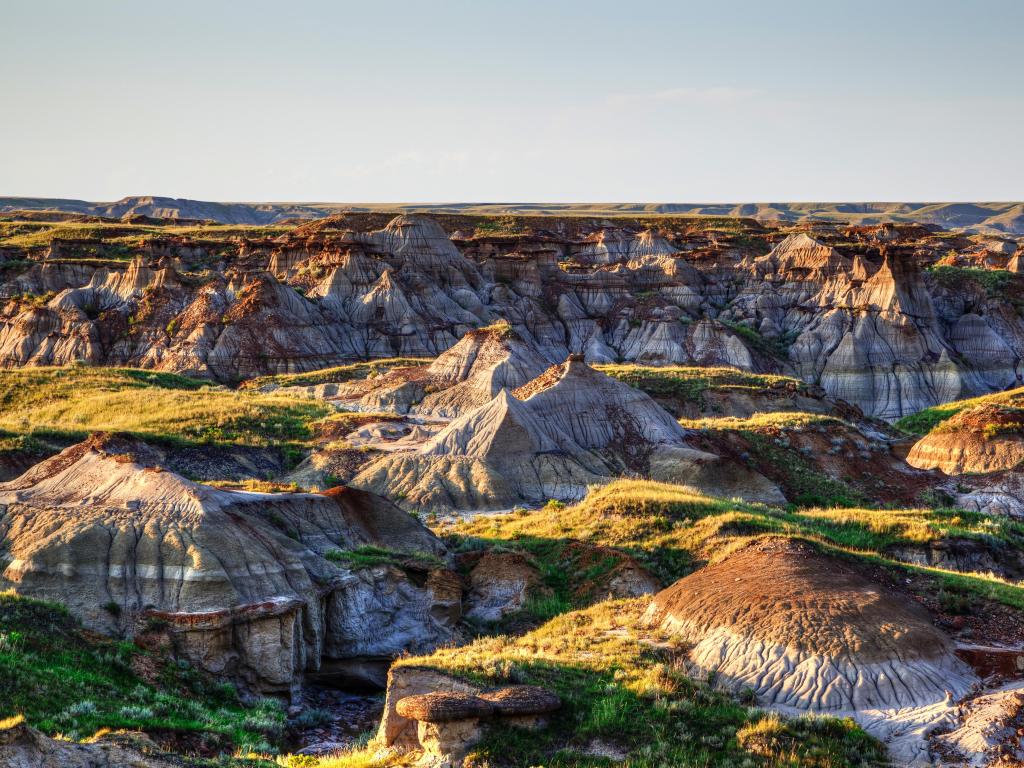 How to get there: Head south out of Edmonton on AB-21 S to Bashaw. Take AB-53 to AB-56 south near Donalda (see Boomtown Trail route) and continue south to Drumheller. From Drumheller go south on Highway 570 through Dorothy to AB-36 S. Turn east on Township Rd 212 to Dinosaur Valley Provincial Park.
Our highlights: This route partly follows along the Boomtown Trail, so if you want to add on a few cultural stops we recommend checking out Donalda and Stettler.
In Drumheller, visit the Royal Tyrrell Museum to see fossils and geologic exhibits and artefacts, and make sure to leave time to explore the surrounding Midland Provincial Park.
There is some great hiking on offer here - try the Horsethief Canyon for its spectacular sandstone locations and riverside location, or further west is the Horseshoe Canyon where you can explore incredible geologic formations and go fossil hunting.
You can take a guided bus tour around Dinosaur Valley Provincial Park from the Royal Tyrrell Museum Field Station. Along the trail are fossil display houses, where you can see who was walking the very same path in ancient times!
For a sky-high view of the Badlands River, walk over the Star Mine Suspension Bridge, or for a historical perspective head to the Atlas Coal Mine National Historic Site - this historic coal mine showcases the heritage of the settlers in the Drumheller Valley.
Bonus: Take a look at the world's largest dinosaur statue and climb the stairs for a one-of-a-kind view from the mouth of the T-rex!
Our travel tips: Most of the parks have visitor centres and cafes, with campgrounds if you want to stay overnight.
You can book guided tours in advance at Dinosaur Valley.
Click here to skip back to the top.
Long weekend trips (5-8 hours each way)
Take a long, lazy weekend and put some thinking space between you and the city. If you have the time to head even further out of Edmonton, there are new horizons to explore.
11. Yoho National Park
5 hours from Edmonton (480 kilometers)
Why you should visit: See the stunning Emerald Lake in this national park, which is equally as scenic as Banff but much less crowded. This park is known for its scenic beauty at high elevation, with rugged peaks, ice walls, glaciers, wildlife, and lots of hiking.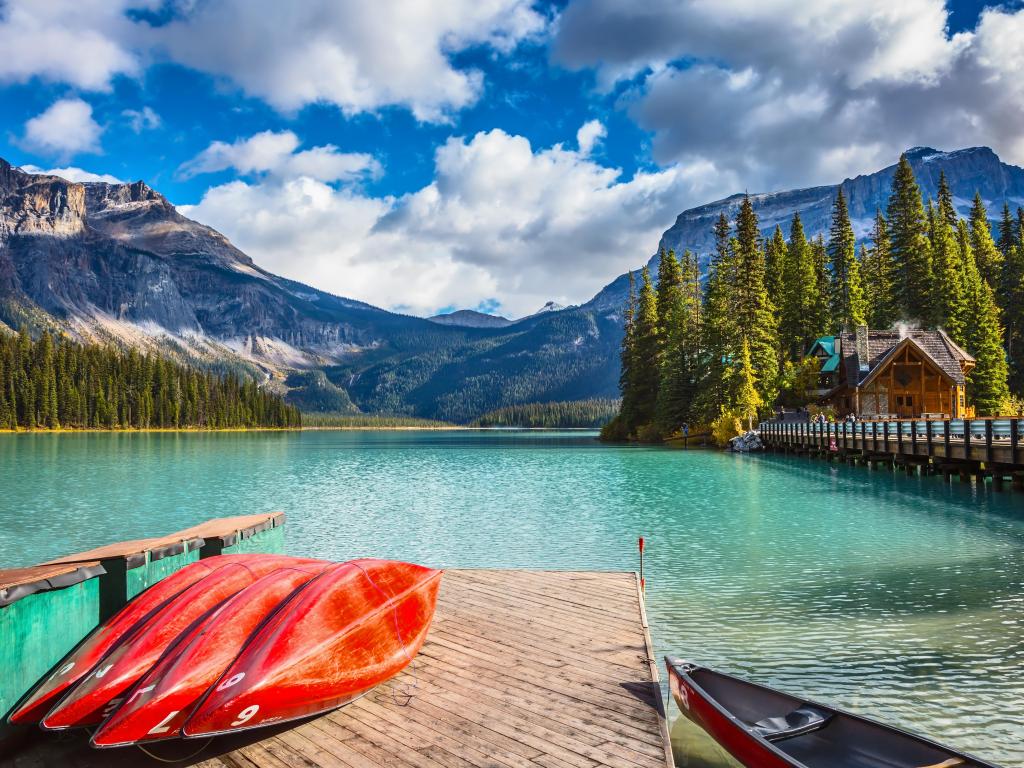 How to get there: From Banff, head to Lake Louise and follow Trans Canada 1 west to Field. Take Trans Canada Highway 1 through Banff and Lake Louise. As the highway turns west you can stop at the visitor centre in Field, or take Yoho Valley Rd or Emerald Lake Rd to arrive.
Our highlights: Emerald Lake has to be seen to be believed - this stunning natural wonder offers a café, canoe and kayak rentals, a lodge to stay at, and hiking trails. You can drive right up to the lake so it's super easy to access.
Just off the highway is the Spiral Tunnels Lookout. It's a great viewpoint from which to view the Kicking Horse Pass National Historic Site, or watch for trains emerging from the tunnel.
One of the highest waterfalls in all of Canada, take a hike up to Takakkaw Falls and you're sure to get splashed by the spray. There is a convenient parking lot off of Yoho Valley Rd so you can get straight on the trail.
If you're interested in palaeontology, this national park houses a UNESCO World Heritage Site world-famous for its collections of fossils. Take a guided tour of Burgess Shale with one of its geoscience experts and learn your stuff.
Bonus: "Yoho" is a Cree language (native) word that means awe and wonder – apt for describing the park's stunning scenery.
Our travel tips: The Canada Parks pass will get you access to all national parks including neighbouring Banff, Jasper, and Kootenay, which you can tack on a few extra days to explore.
12. Banff and Banff National Park
5 hours 40 minutes from Edmonton (520 kilometers)
Why you should visit: Banff National Park is the most iconic park in Canada, with towering mountain peaks, turquoise glacial lakes, glaciers and rare wildlife.
Get outdoors into this iconic scenery and explore the lakeside trails and mountain hikes, or wander around the historic mountain towns for shopping and dining.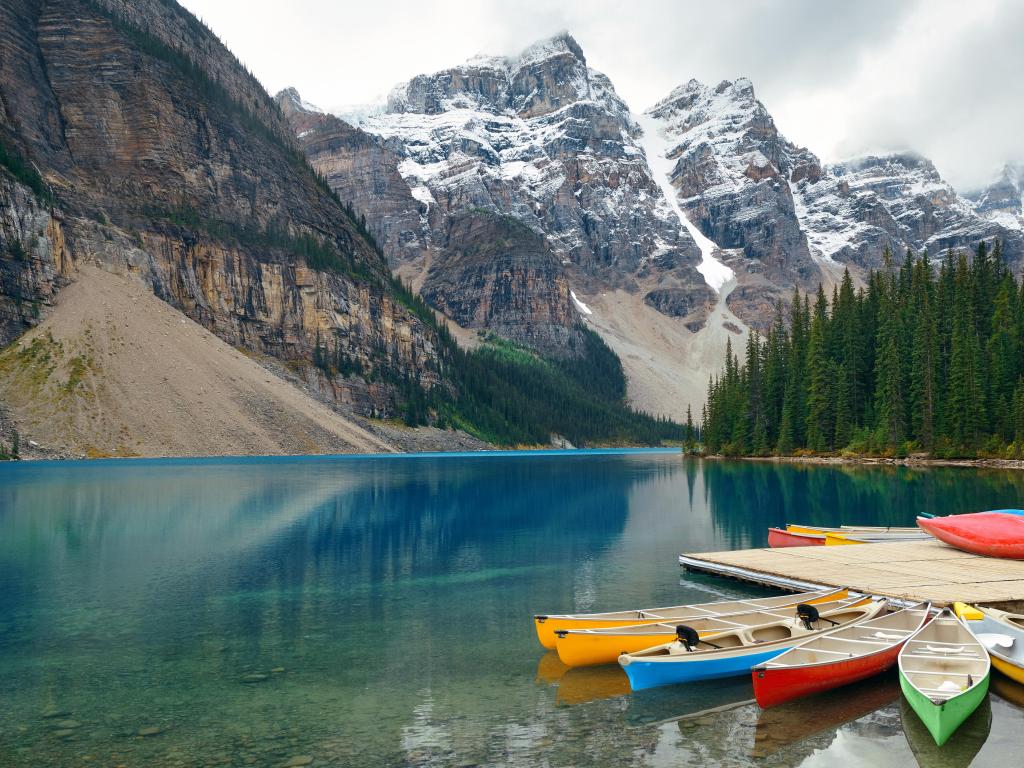 How to get there: Take AB-2 south to AB-12 and AB-11 W near Rocky Mountain House. There is the option to detour on AB-22 South along the "Cowboy trail" from Entwistle to Rocky Mountain House. From AB-11 W at the Saskatchewan River Crossing, turn south on Highway 93 (Columbia Icefields Parkway) to the town of Banff.
Our highlights: Lake Louise is probably the most photographed spot in Alberta, recognisable by its crystal blue water. You can rent a canoe to paddle out on the water and get a close-up of the view.
In winter, the lake becomes one of the world's most scenic ice rinks. The Fairmont Chateau Lake Louise is a great place to have afternoon tea, or stay overnight for a romantic getaway.
Lake Minnewanka is just north of the town of Banff and has walking trails, picnic areas, boat tours, and canoe and kayak rentals on the deep green-blue water. It's also open for skating in winter, if it's not covered in snow.
Banff National Park is probably the most famous in all of Canada, home to Lake Louise, Lake Moraine and Lake Peyto. Take it in by driving the scenic 1A and highway 93, or take a hike to the teahouse.
Another great walk is from Banff to Bow Falls, which takes you past the picturesque castle-like Fairmont Banff Spring Hotel to the waterfall.
The town of Banff has lots of options to eat and shop, or opt for a hike up Tunnel Mountain. The holidays are especially festive - the town is adorned with lights and the Banff Christmas market takes place.
Bonus: The Banff Springs Hotel was the largest hotel in the world when it was built in 1888, and the hotel still displays historical exhibits which make it worth a stop.
Our travel tips: You can also get to Banff from Jasper, via Sunwapta Pass on Highway 93 from the north, or via Canmore. Click here for our detailed guide on the fascinating road trip from Banff to Jasper.
13. Giants of the Prairies Loop
6 hours from Edmonton (520 kilometers)
Why you should visit: A quirky road trip that takes in some of the unique, random and even ridiculous roadside attractions and giant statues across Alberta.
This is a fun way to explore the lesser-travelled towns of Alberta and see these eccentric landmarks in person - you'll certainly get a few artsy Instagram pictures!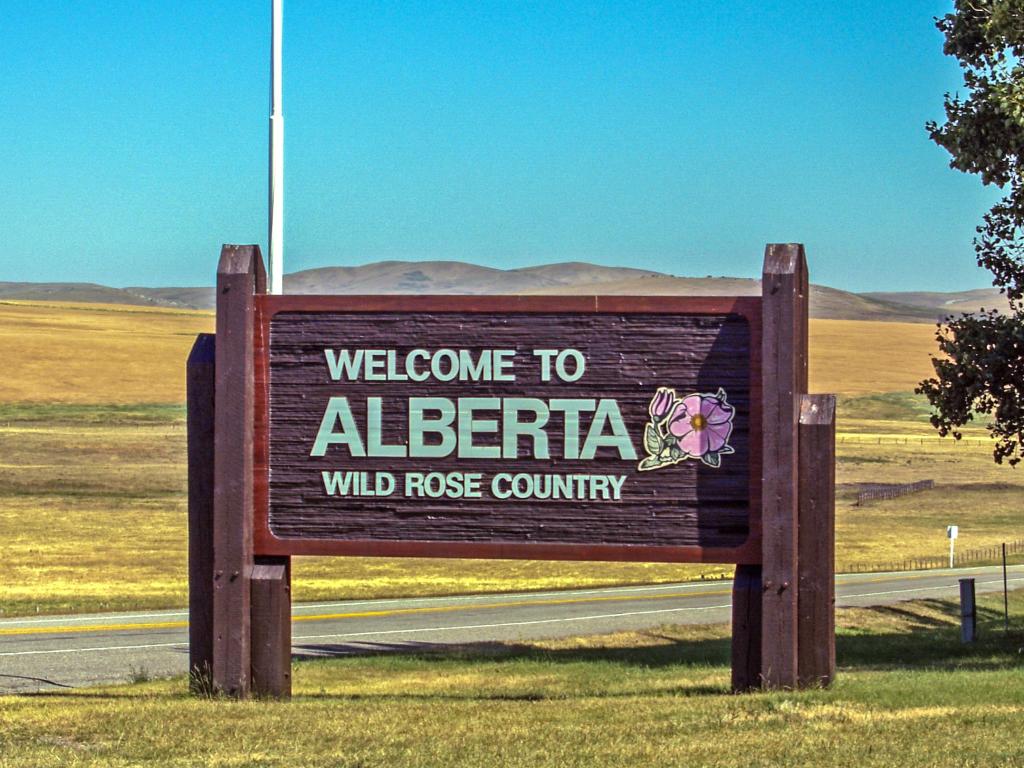 How to get there: From Edmonton, go east on AB-16 through Elk Island National Park to Mundare. Continue north on Highway 881 then turn west on AB-28 near Saint Vincent. Head back south on AB Highway 855 towards Ukalta and finally go west on AB-45 to Redwater. Follow AB-28 S to Edmonton.
Our highlights: There are so many attractions to see on the loop - we've chosen our favourites in order of appearance from Edmonton. Start with the Mundare giant sausage, then onto the giant Easter egg Vegreville Pysanka. Pass by the Assumption of the Blessed Virgin Mary, a Ukrainian church in Myrnam, to reach the UFO Landing Pad in St Paul.
You'll come across the World's Largest Perogy in Glendon and the World's Largest Mushroom in Vilna. Stop for Giant Pumpkins in Smoky Lake and continue onto Andrew to find the World's Largest Mallard Duck and the World's Largest Oil Derrick in Redwater.
That's not forgetting the giant landmarks in Edmonton itself - hopefully you'll already laid eyes on the World's Largest Boot, Baseball Bat, Beer (Labatt Breweries) and Dove of Peace, as well as North America's Largest Mall!
Bonus: The original "Giants" of the prairies were grain elevators. Like 1900s era skyscrapers, these structures could be seen all over Alberta, though today only about 100 are left.
Our travel tips: This road trip is pretty open-ended, with options to stay in any of the towns along the way. You could also shorten the length and make it a day trip with a picnic.
14. Waterton Lakes National Park & Cowboy Trail
7 hours 26 minutes from Edmonton (690 kilometers)
Why you should visit: Waterton Lakes National Park borders the US Glacier National Park and pulls its weight in terms of scenery, offering vistas of mountain peaks, colourful lakes and crashing waterfalls.
Known as one of the most beautiful parks in the Rockies, this park centred on a crystal lake is very accessible but maintains its small-town charm.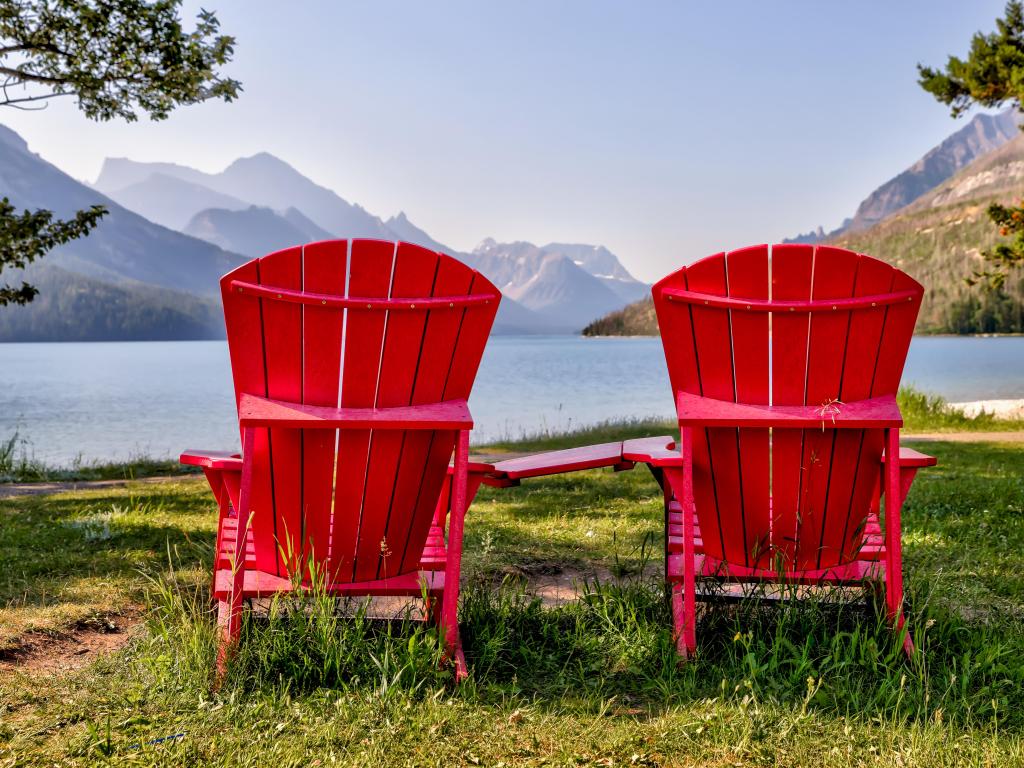 How to get there: To take the Cowboy Trail, head east to Entwistle on AB-16 then turn south on AB-22 and wind through small cowboy towns all the way to Waterton. For the direct route follow AB-2 S through Calgary to Carston, then turn west on AB-5 to Waterton.
Our highlights: Put on your boots and take the Cowboy Trail through foothills, farm fields, ranches, and small farm towns. Stop for heritage museums, antique shopping and old time ranches, alongside top sites such as Rocky Mountain House National Historic Site, Cochrane Ranch, Bragg Creek Trading Post, Bar U National Historic Site and Lundbreck Falls.
Waterton Park is a lovely town to stop at, sitting on the shore of Waterton Lake with Cameron Falls in the distance. You can explore the town, discover hiking trailheads, take a boat cruise or have dinner with a lakeside view.
To fully immerse yourself in nature, head to Waterton Lake National Park and check out the Carthew Alderson and Crypt Lake trails, which will take you past Cameron Lake and Cameron Falls.
Don't miss the chance to visit Red Rock Canyon and see the vibrant red and green colours from different vantage points. For a bonus view, you can hike up to Blakiston Falls.
Bonus: The Prince of Wales Hotel in the park was built in the 1920s - it serves high tea daily and is a National Historic Site of Canada.
Our travel tips: The Cowboy Trail is featured on several other trips from Edmonton on the list (for example. #6) and can be added on as a bonus scenic drive to many other destinations south and west of the city.
Click here to skip back to the top.
Longer trips (Over 8 hours each way)
If you have the time to spare, the world is your oyster. These trips will take you about a day's travel each way, so hit the open road and drive until you've left Edmonton in the distance.
15. Glacier National Park of Canada and Revelstoke, BC
8 hours 30 minutes from Edmonton (800 kilometers)
Why you should visit: This national park is known for its outdoor adventure offering in a forest setting with high peaks and river valleys.
Revelstoke is a mountain community with small-town hospitality - it has everything from high class dining and craft beer drinking, to adventure mountain sports, beautiful scenery and romantic charm.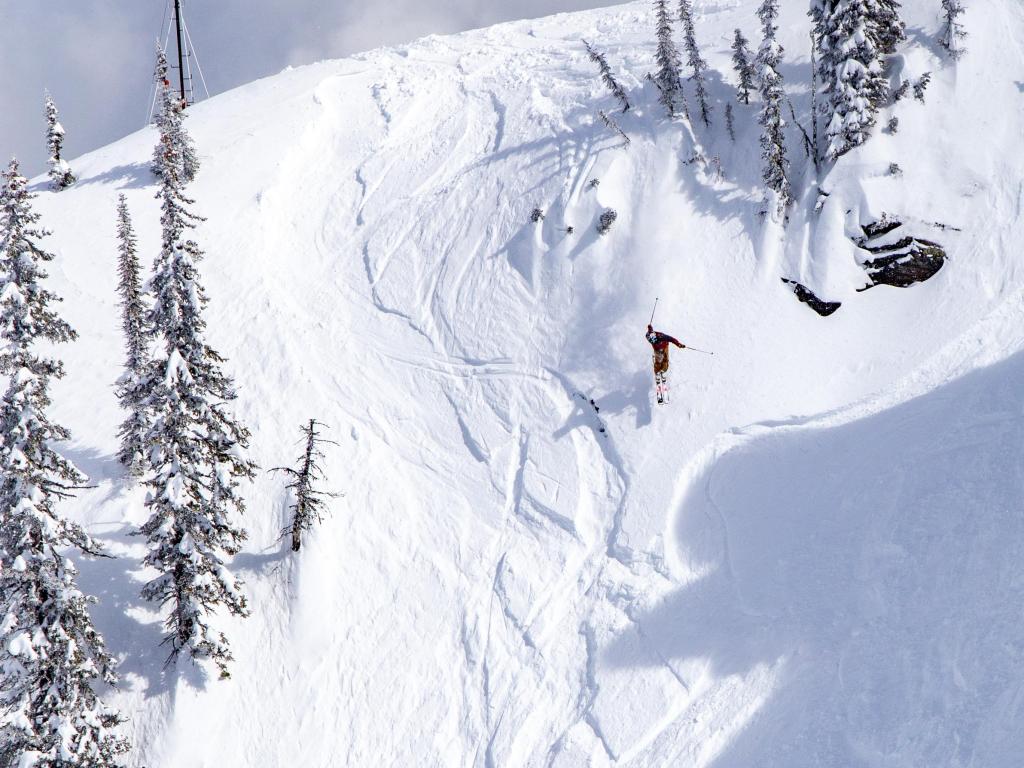 How to get there: Head south to Calgary via AB-2 S, then turn west on Trans Canada 1 through Banff. From Banff, either head south on 93 to Radium Hot Springs and back north on 95 through Golden, or head north on 93 to Lake Louise and west on TC 1 to Golden.
From Golden, head north on TC 1 to Glacier National Park and onwards to Revelstoke.
Our highlights: The discovery centre at Rogers Pass is a good place to start - it has exhibits about the mountain pass and the founders of the park. You can use it as a gateway to the national park, as the Balu Pass Trailhead starts here.
If you fancy an adventure, there are many small trails right off the highway that are often overlooked. Try taking Hemlock Grove, Rockgarden, or Loop Brook Trail for a break from driving.
Mt Revelstoke National Park is somewhat undiscovered, and offers stunning snow covered peaks and overhead views of the town of Revelstoke. Revelstoke Mountain Resort is a great place to ski or snowboard in winter, while in summer you can bike, hike, and ride the gondola for views over the mountains.
Bonus: Rogers Pass was the final span of railroad built to connect the Canadian Pacific Railway. It has deep rooted history which you can learn about on your visit.
Our travel tips: Stops along this route include Banff, Lake Louise, Yoho National Park, Kootenay National Park and Radium Hot Springs.
Trans-Canada 1 often has closures in winter, so check conditions before setting off to determine the best route.
16. Kelowna and Kamloops, BC
8 hours 30 minutes from Edmonton (800 kilometers)
Why you should visit: A fantastic wine region of Canada, these towns offer relaxation in a picturesque setting with plenty of vineyards to tour. A chance to escape the typical mountain settings of Canada and head instead to this lush wine valley in British Columbia.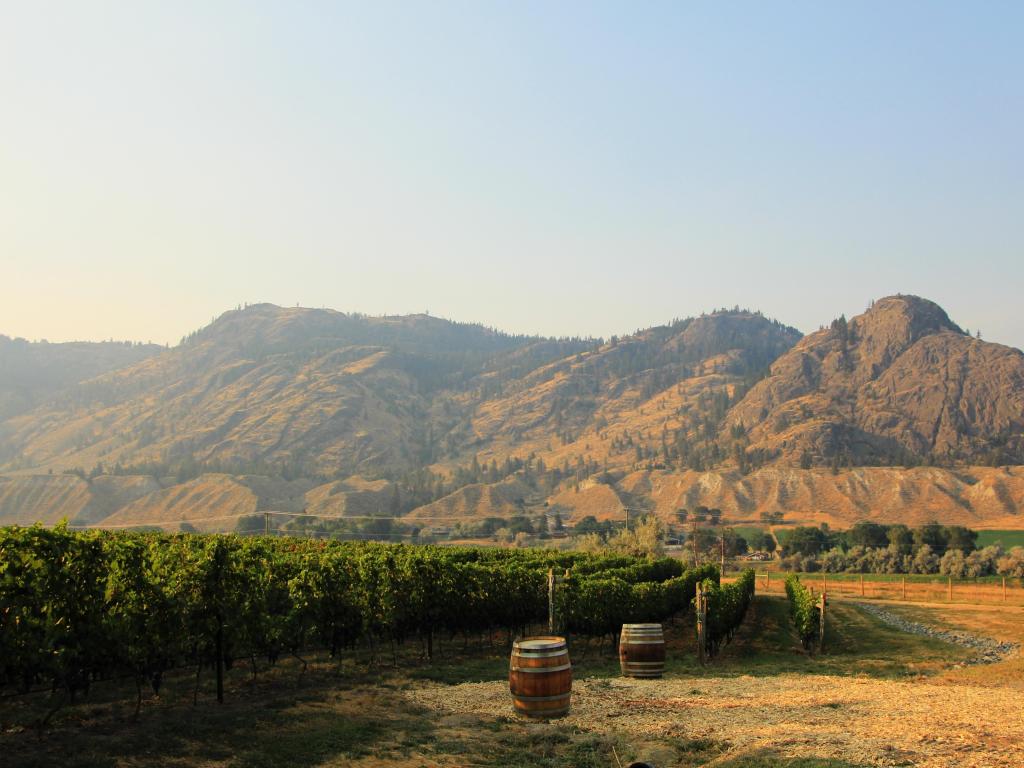 How to get there: For the direct route, head west on Yellowhead Highway (16) to meet BC-5 south near Tete Jaune Cache to Kamloops. From Kamloops take BC-97 S to Kelowna.
Alternatively, head south to Calgary via AB-2 S, then turn west on Trans Canada 1 through Banff. From Banff either head south on 93 to Radium Hot Springs and then back north on 95 through Golden, or head north on 93 to Lake Louise and go west on TC 1 to Golden. Take Trans Canada 1 all the way west to Kamloops. To get to Kelowna, head south from Kamloops on BC-97.
Our highlights: The Kamloops Wine Trail is a must-do, with great stops along the way including Harper's Trail Estate Winery and Privato Vineyard and Winery. Stop at multiple wineries and taste their selections while enjoying the beautiful surrounding scenery of the South Thompson River.
You can also enjoy a guided tour of the multiple wineries in Kelowna Wine Country. There are multiple areas and wine trails to choose from, or select your own route and go at your own pace.
In the winter there are plenty of activities on offer in the surrounding mountains - ski, snowboard or tube at the Sun Peak Resort, or go ice fishing on one of 100 lakes in Kamloops and try your hand at catching some big ones!
Where the North and South Thompson Rivers meet you can explore the Lake Kamloops clay hoodoos. To understand the history, the riverside Secwepemc Museum & Heritage Park features the remains of a 2,000-year-old village.
Bonus: This wine dense region is world-famous and is also the founding location for Icewine - made with frozen grapes.
Our travel tips: This road trip has several additional route options which can be combined with other destinations.
We recommend staying at a winery or bed and breakfast inn to soak in the romantic charm of these two cities.
17. Vancouver
12 hours 30 minutes from Edmonton (1,160 kilometers)
Why you should visit: Vancouver is one of Canada's most diverse and scenically beautiful cities, with a spectacular mix of coastline juxtaposed with mountains.
The culture of Vancouver is buzzing, and it is a great city for explore multicultural dining, breweries and wineries. You can go whale-watching and see the ocean, and the weather in mild in summer and winter.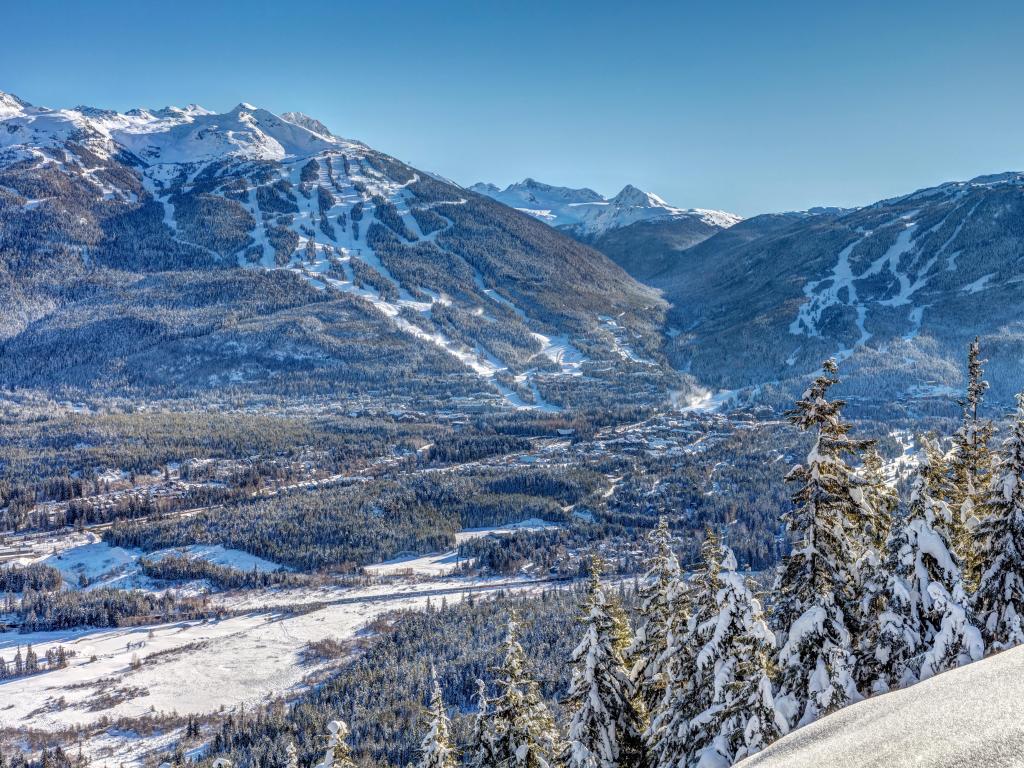 How to get there: Head west on Yellowhead Highway (16) to meet BC-5 south near Tete Jaune Cache to Kamloops. Continue on BC-5 S to meet Trans Canada 1 and follow this road to Vancouver.
Our highlights: You can take a scenic detour via Whistler en route to Vancouver by heading west out of Kamloops and taking the BC-99.
Whistler offers summer season activities including gondolas, hiking and spas with thermal spring waters in addition to the world-famous winter ski resort. From there, head down the Ski to Sky Highway for views of the coastline, waterfalls, and the Capilano Suspension Bridge.
Vancouver is well known for its world-class science museums and art galleries - the Museum of Anthropology, Van Dusen Botanical Gardens, Christ Church Cathedral, Science World and Vancouver Art Gallery are well worth a visit, to name a few.
Take a steep hike to the top of Grouse Mountain, or skip the walk and take the gondola up to enjoy panoramic vistas of the city and coastline from the café at the top.
Take some time getting to know the districts of the city by exploring areas like Gastown, Chinatown, Richmond Night Market, the West End and Granville Island (via the aquabus).
Bonus: Vancouver is often called the "Hollywood of Canada", so there could be a big-name movie being filmed during your visit!
Our travel tips: This trip has several route options that include other destinations in this list, so feel free to tack on some stops or an overnight stay somewhere along the way.
18. Yellowknife and Slave Lake
14 hours 50 minutes from Edmonton (1,450 kilometers)
Why you should visit: This is the northernmost road trip destination in the Northwest Territories, a place not often visited by Canadians! Experience the vibrant culture and welcoming locals of Yellowknife.
The Great Slave Lake is the deepest lake (614 m) in all of North America and one of the largest lakes in the world. See the spectacular lake and learn about its central place in the history and culture of the Northwest Territories.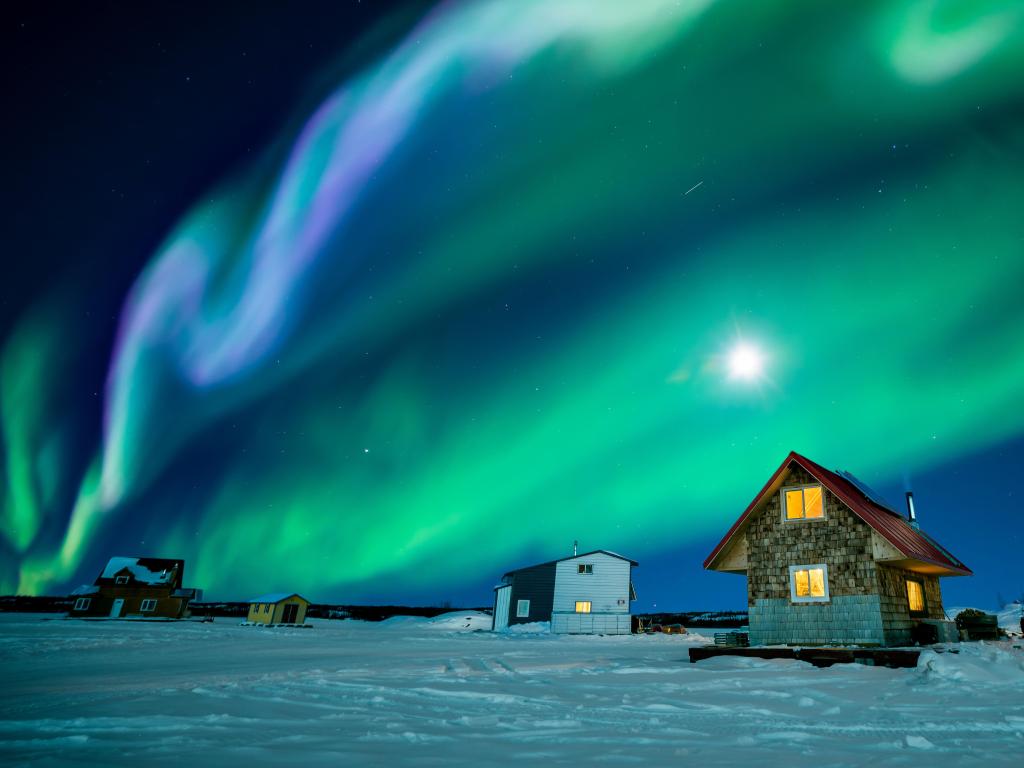 How to get there: Head north on AB-44 N to Bicentennial Highway AB-88 N at Lesser Slave Lake. At Fort Vermillion merge onto AB-35 N which turns into NT-1, and turn east on Yellowknife Highway NT-3 near Kakisa.
Our highlights: The huge lake is a fisherman's mecca with species like huge trout, pike, grayling, cod, and bass - it attracts world-class trophy fishing but is also great for beginners.
There is a colourful community of houseboats on the lake, some of which are up for rent if you want to spend a day or a night living on the water. You can also rent sailboats, canoes, kayaks or stand up paddle boards to further explore the lake.
The East Arm has islands, cliffs and deep clear water to discover from your water vessel of choice.
This area is home to some of the oldest geologic formations on earth with rocks found here as old as 2.7 billion years old. The first explorers to this area in the 1700s used this as a base for arctic explorations, and there was even gold found here in the 1930s.
Take some time to walk in the footsteps of these early explorers, and maybe you'll discover a few secrets of your own.
Yellowknife hosts the giant Snowking Winter Festival each March, which involves a huge ice castle and tons of activities, making it a great time to visit. The rest of the year is great for immersing yourself in the cultural history of the Cree people and sampling the wonderful fresh fish and local cuisines.
Bonus: In the summer there is 24-hours of daylight here, while in the winter it stays cold and dark all day long. However, one of the best views of the Northern Lights is up for grabs if you travel this far north.
Our travel tips: In winter, the activities on offer include ice fishing, dog sledding and snowmobiling, but the journey to get there can be cold and icy with tricky road conditions.