Road Trip from Edmonton to Vancouver
Looking to explore Western Canada's awe-inspiring national parks on a once-in-a-lifetime adventure? Then set out on a road trip across the vast open plains of Edmonton to vibrant Vancouver and you'll find yourself on an unforgettable journey across Alberta and British Columbia.
The 1,290 km road trip from Edmonton to Vancouver will take 14 hours and 30 minutes to drive. On the way, you can visit Jasper, Banff, Calgary, Red Deer, Golden, Lake Louise, Kamloops, Kelowna and Calgary, plus Jasper and Banff National Parks.
With this road trip taking you through the heart of the Canadian wilderness, it's the perfect journey for lovers of stunning scenery and the great outdoors. So keep on reading to discover the must-see stops and best places to stay on your epic Canadian road trip.
How far is Vancouver from Edmonton, and how long will the road trip take?
Comparison of road trip routes between Edmonton and Vancouver

| Route | Distance | Driving Time |
| --- | --- | --- |
| The Banff Route | 1,165 km | 13 hours |
| The Jasper Route | 1,290 km | 14 hours 30 minutes |
The longer of our two routes, the splendid drive through Jasper, takes around 14 hours and 30 minutes to drive, but you'll discover such amazing scenery on the way that the 1,290 km journey will feel much shorter.
If you'd rather visit Banff along the way then you'll shave around 125 km off your mileage. You should allow about 13 hours to drive this equally engaging road trip.
Although you could easily complete the road trip with just a single overnight stop, we definitely recommend giving yourself a little longer to travel between Edmonton and Vancouver so that you can fully immerse yourself in the sights and scenery of whichever route you choose.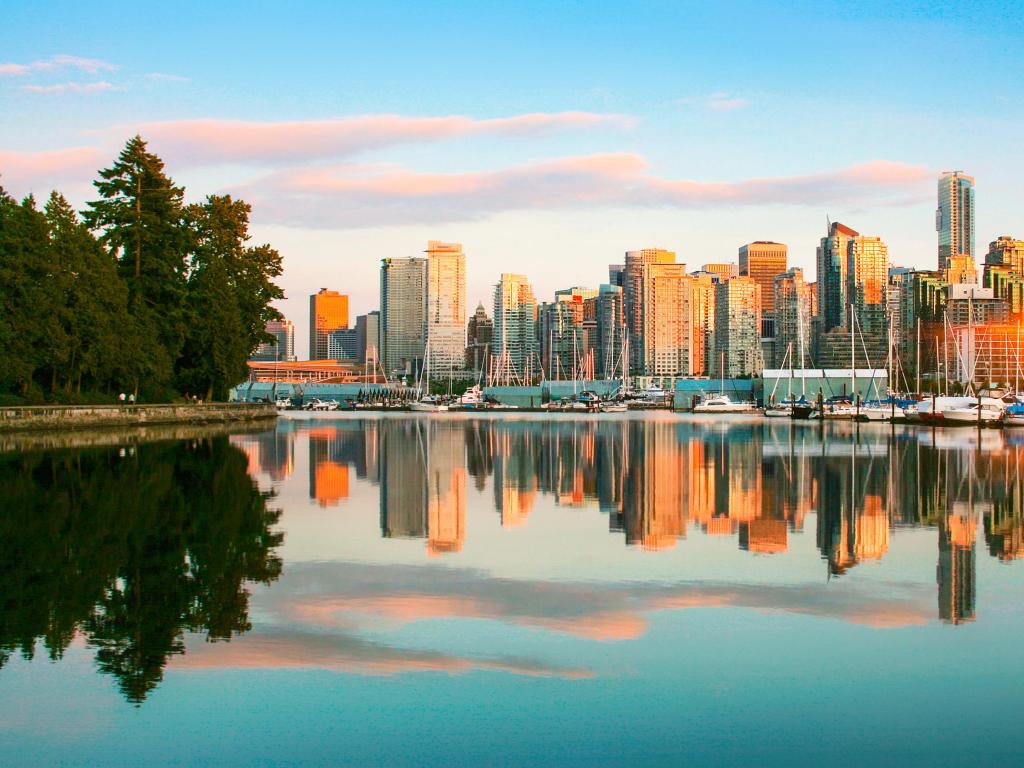 Best road trip route from Edmonton to Vancouver
The best route choice will ultimately depend on your preferences, whether you're craving an undisturbed connection with wilderness or are eager to journey through iconic Canadian Rockies landscapes.
For intrepid explorers who find serenity amidst untouched landscapes, the Jasper Route is the way to go. This journey passes through key locations such as Jasper National Park, Mount Robson Provincial Park, Jackman Flats Provincial Park, and the cities of Clearwater and Kamloops.
The terrain on this route varies dramatically, taking you from the grandeur of the Rocky Mountains to sprawling pine forests, discovering tranquil grasslands and mysterious hoodoos along the way.
Following long stretches of highway through the wilderness inevitably means that you won't see as many iconic sights on the Jasper Route, but it makes up for that with its endless opportunities for introspection and wonder.
On the other hand, if it's your first time navigating through the Canadian Rockies and you're eager to tick off some of the region's most celebrated landmarks, the Banff Route is your ideal choice. It might not feel as wild as the Jasper Route, but it is an unforgettable mountain adventure.
As well as visiting the cities of Calgary, Banff, Revelstoke and Kelowna, this route is brimming with classic Canadian Rockies landscapes, awe-inspiring forests and crystal-clear lakes. Along the way you'll visit Lake Louise, Banff National Park, Yoho National Park and Glacier National Park of Canada.
How to drive from Edmonton to Vancouver
The map above shows our suggestions for the best routes between Edmonton and Vancouver. Keep reading for detailed descriptions of both routes, where to stay on either, and the best things to do on the way.
The Jasper Route
Head west out of Edmonton, taking AB-16 to Jasper, nestled in the heart of the Canadian Rockies, where you can marvel at the picturesque landscapes and bountiful wildlife. From there, continue along AB-16 until you reach Tête Jaune Cache.
Here, turn onto BC-5 S, also known as the Southern Yellowhead Highway. The highway, which runs through the wide fields, evergreen forests and towering mountain peaks that characterize the region, leads you towards Kamloops, famous for its vibrant arts scene and outdoor recreational opportunities.
From Kamloops, stick to BC-5 S for around 2 hours. On the way you'll skirt around the town of Merritt as you enjoy the striking contrasts between the rugged mountainous landscapes and the calm serenity of the region's lakes and rivers.
As you approach Hope you'll meet the Trans-Canada Highway, BC-1 W, that will lead you to your final destination, Vancouver. Along this route, you'll pass through the magnificent Fraser Valley, offering breathtaking views of mountains, rivers, and farmlands - or hop off the highway and follow BC-7 along the opposite side of the Fraser River to explore the southwest corner of British Columbia at a slower pace.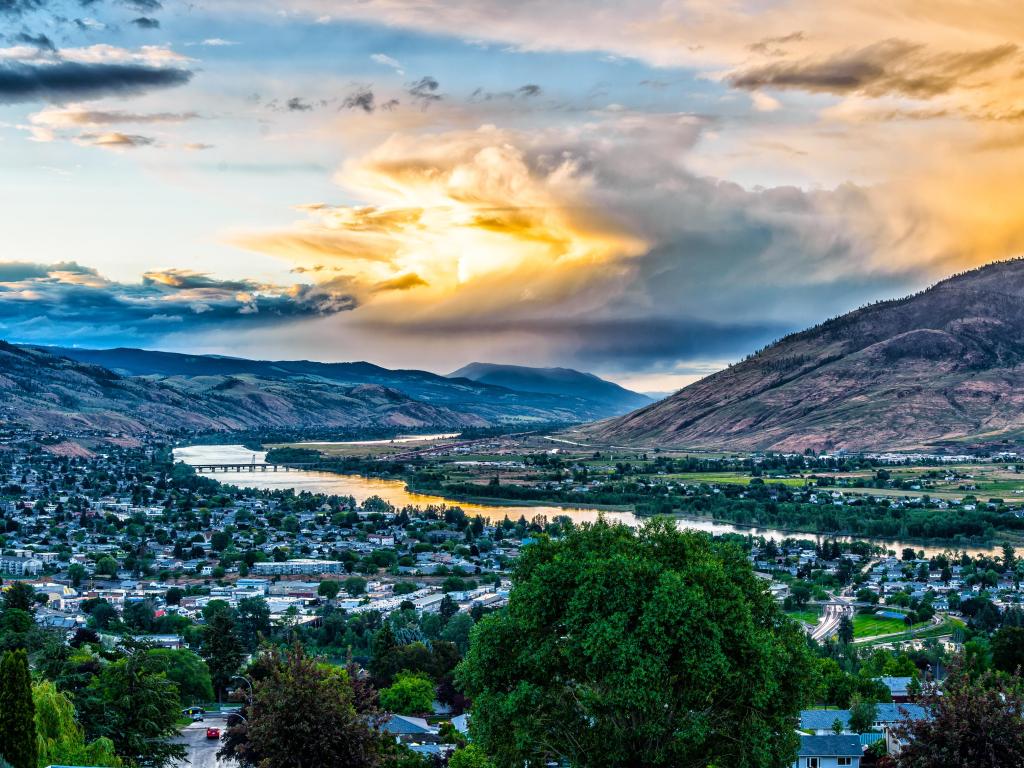 The Banff Route
Start your adventure by heading south from Edmonton on AB-2, which will take you directly towards the mountain town of Banff. Situated in the heart of the Rockies and surrounded by the national park of the same name, Banff offers you an incredible combination of stunning alpine landscapes and rich local history.
From Banff, drive along the Trans-Canada Highway (AB-1 W) towards Lake Louise. This pristine, turquoise lake is a must-see on this route.
Continue your journey along AB-1 W, then switch onto BC-95 S as you make your way to the city of Golden. From there, hop onto BC-97 S, which takes you towards the lakeside city of Kelowna.
Known for its verdant vineyards and sandy beaches, Kelowna offers a unique blend of natural beauty and urban attractions, from wine tastings to water sports.
Finally, from Kelowna, you'll want to take BC-97C W towards Merritt, before picking up BC-5 S to connect with the Trans-Canada Highway (BC-1 W). You'll enjoy even more awe-inspiring mountain landscapes and views of the Fraser Valley before you reach your final destination, Vancouver.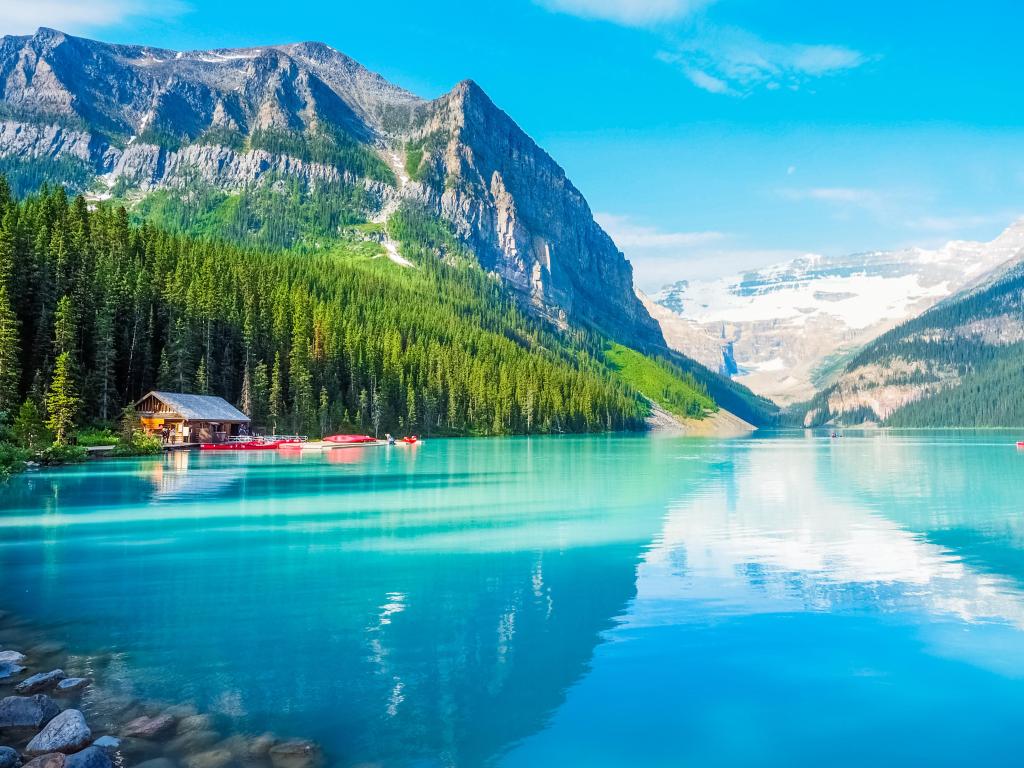 Best places to stop between Edmonton and Vancouver
With so many activities to enjoy and stunning landscapes to explore, you will want to split your Edmonton to Vancouver drive into manageable parts and take some breaks to recharge. Here are our favorite places to visit and stay at during this awe-inspiring road trip.
Take in the stunning views in Jasper
Renowned for its breathtaking natural beauty, Jasper is the perfect place to immerse yourself in the rugged landscapes of Jasper National Park, the largest national park in the Canadian Rockies. You'll reach the town around four hours into your journey on the Jasper Route.
Take the Jasper Sky Tram for unparalleled views of the park. Or head to nearby Miette Hot Springs, where you can soak in nature's own hot tubs, drawn from natural hot springs.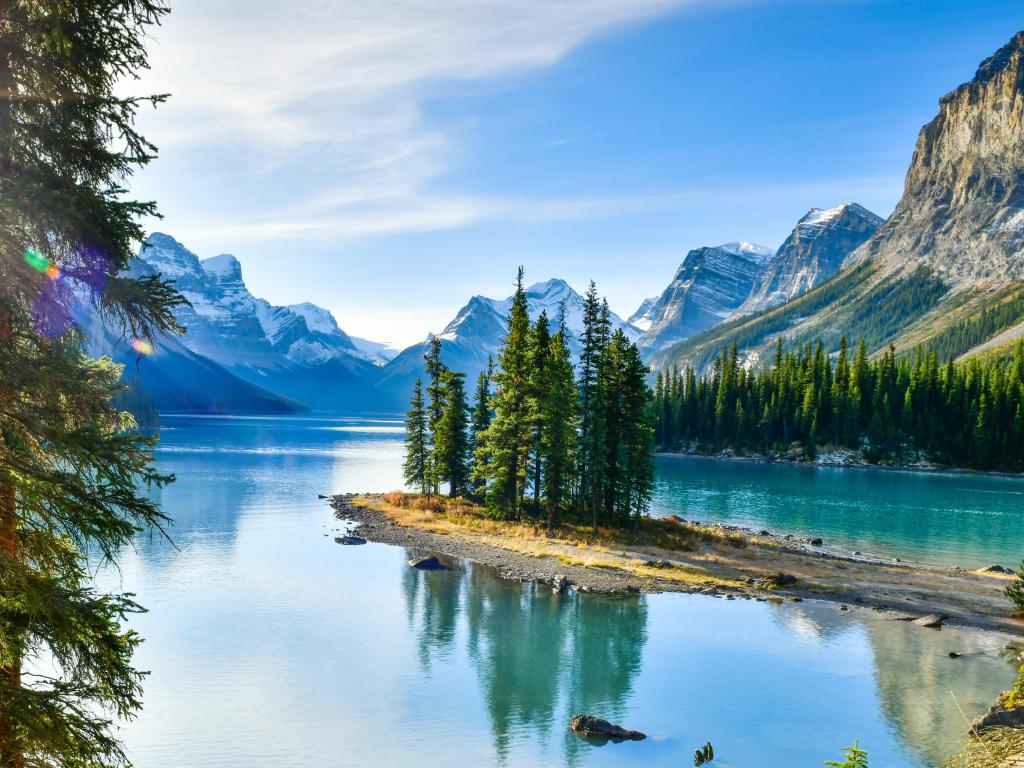 With its lakeside position, Pyramid Lake Lodge is the ideal place to stay while you're in Jasper. You can paddle a canoe across the placid lake, fish in the clear waters, or lace up your boots and explore the many hiking trails.
Just a short hop to Jasper's town center, you can dive into the local culture before heading back to unwind on the lodge's floating deck as you soak up serene views of the shimmering lake against the backdrop of towering mountains.
If winter sports call to you, the Marmot Basin Ski Area is also a mere 40-minute drive away, offering an expansive playground for snow lovers.
Hit the slopes in Golden
Just under six hours into your journey along the Banff Route, you'll arrive at Golden. Nestled in the Canadian Rockies and the gateway to awe-inspiring Yoho National Park, Golden offers many outdoor activities, so it's a haven for nature and adventure lovers.
For an unforgettable experience, take in the breathtaking mountain views from the Golden Skybridge. Or feel the thrill of rafting at the confluence of the Kicking Horse and Columbia Rivers.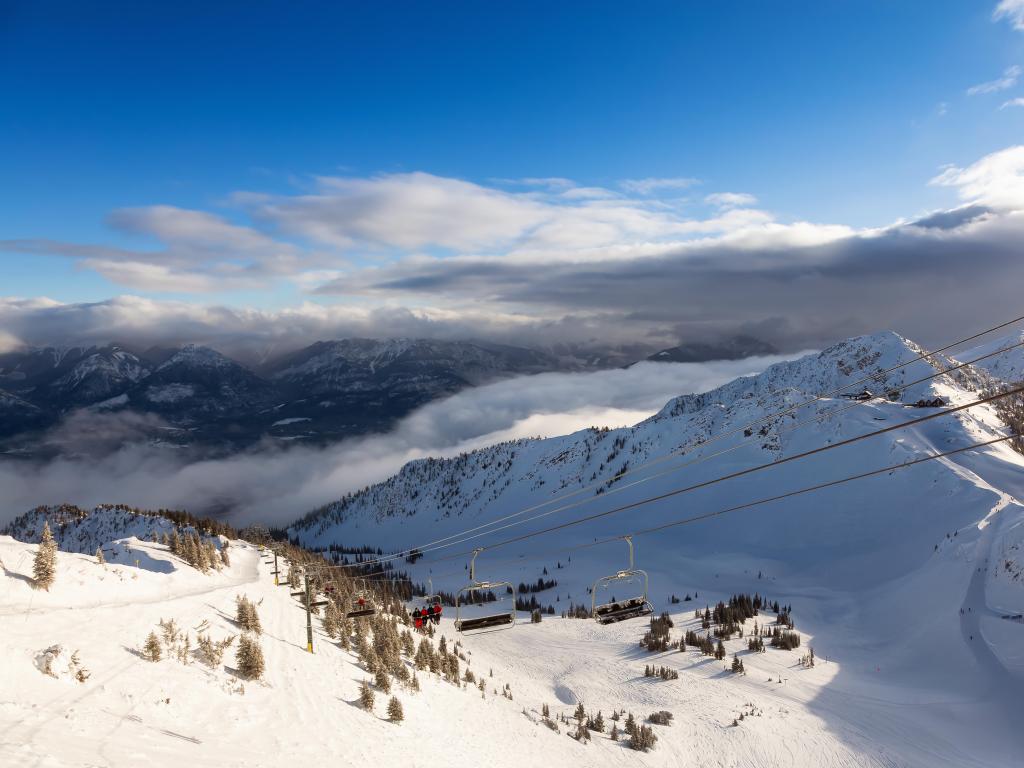 When in Golden, make Moberly Lodge your home away from home. This comfortable retreat strikes a perfect balance between rustic charm and upscale amenities. Guests often rave about the made-to-order breakfast, a culinary delight that fuels your day of exploration.
The lodge's outdoor hot tub is another highlight - letting the fresh forest air revitalize your sense is the perfect end to a day of adventure.
During your stay at Moberly Lodge, you can also head to Kicking Horse Mountain Resort, a paradise for skiers and snowboarders. Even if winter sports aren't your thing, you can still enjoy the scenic gondola ride and mountain-top dining or walk the Kicking Horse Pedestrian Bridge, Canada's longest freestanding timber frame bridge.
Where to stay when you reach Vancouver
You're in for a warm welcome and a fascinating stay once you reach Vancouver.
Stanley Park is a magnificent green oasis in the midst of the urban landscape, and historic Gastown has a unique vintage charm, plus its iconic steam clock. History and culture buffs will enjoy the Museum of Anthropology too.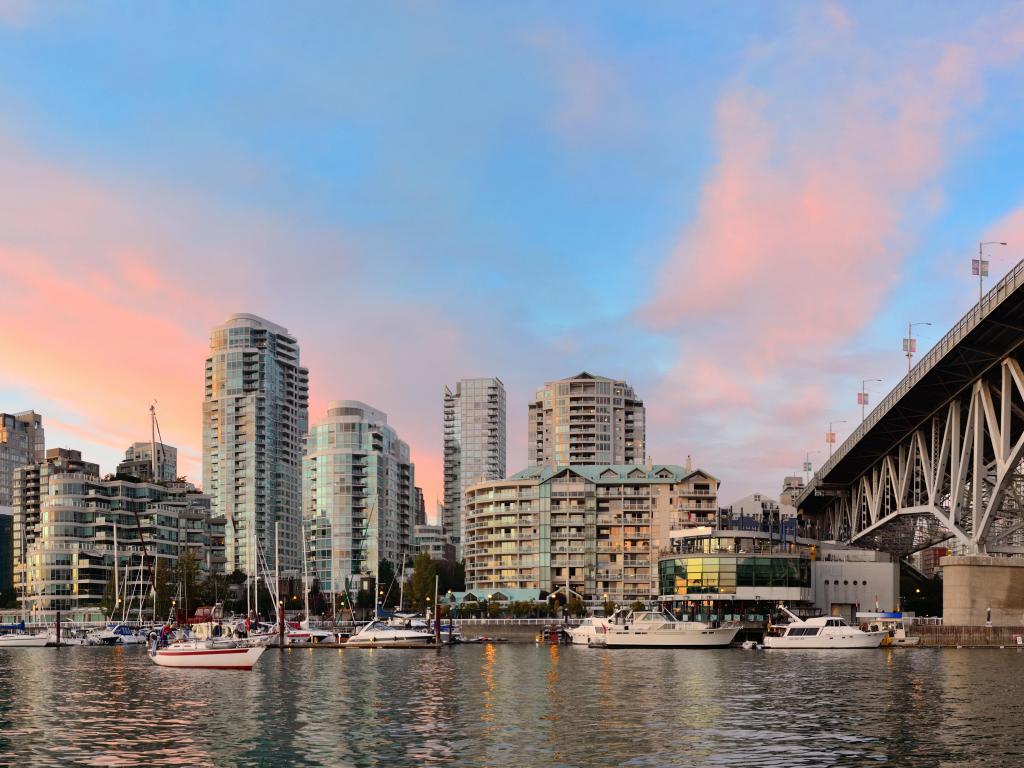 An oasis nestled in the heart of downtown Vancouver, L'Hermitage Hotel is an exquisite boutique hotel where you can enjoy quiet moments on the courtyard patio surrounded by exotic plants, or relax in the outdoor lap pool and hot tub. You'll find the service at L'Hermitage Hotel matches the top-notch facilities too.
While staying at L'Hermitage, head out to Granville Island to explore its vibrant public market, unique shops, and arts venues. And be sure to check out the city's fast food district, where various cuisines await to tantalize your taste buds.
Things to see on a road trip from Edmonton to Vancouver
The Edmonton to Vancouver road trip passes through some of the most iconic Canadian sights and national parks, taking in fabulous wine country and bustling cities along the way.
Here are some highlights you can discover on your amazing Canadian adventure.
The Jasper Route
Beaver Boardwalk - This stroll along the longest freshwater boardwalk in Canada, located in Hinton, Alberta, features picturesque wetlands and a plethora of wildlife.
William A Switzer Provincial Park - A tranquil retreat near Hinton, offering lush forests, sparkling lakes, and scenic trails, ideal for camping, kayaking, and hiking adventures.
Miette Hot Springs - Nestled inside Jasper National Park, these hot springs offer soothing, natural mineral pools amid stunning alpine scenery.
Jasper National Park - This UNESCO World Heritage Site boasts rugged mountains, sprawling glaciers, and deep-blue lakes, providing endless outdoor recreation opportunities.
Jasper Sky Tram - Canada's longest and highest guided aerial tramway offers unparalleled views of Jasper National Park's pristine landscapes and alpine tundra.
Mount Robson Provincial Park - Located in British Columbia, this park is dominated by Mount Robson, the highest peak in the Canadian Rockies, and is a haven for hikers and mountaineers.
Rearguard Falls Provincial Park - Just west of Mount Robson, the Fraser River cascades over ancient rocks in a thunderous display.
Tete Jaune Cache - This small, historic community is a gateway to outdoor adventures in the Canadian Rockies.
Jackman Flats Provincial Park - Discover a unique ecosystem of dunes and pine forests, offering intriguing trails perfect for hiking and birdwatching.
Pyramid Creek Falls Provincial Park - Experience the raw power of nature where these impressive waterfalls plunge through a lush forested landscape.
Clearwater - This charming gateway town to Wells Gray Provincial Park in British Columbia offers remarkable waterfalls, wilderness adventures, and vibrant community events.
Bonaparte Provincial Park - A remote and pristine wilderness area near Cache Creek, Bonaparte offers diverse landscapes ranging from lush forests to grasslands - it's perfect for backcountry exploration.
Kamloops - A lively city along the Thompson River, Kamloops combines outdoor activities with rich cultural experiences, including the informative Kamloops Museum and Archives.
Lac du Bois Grasslands Protected Area - Just north of Kamloops, this protected area is home to many endangered species, and showcases stunning grassland vistas and hoodoos.
Logan Lake - Known for its vibrant outdoor recreation scene, Logan Lake offers fishing, hiking, and birdwatching amid a serene highland setting in British Columbia.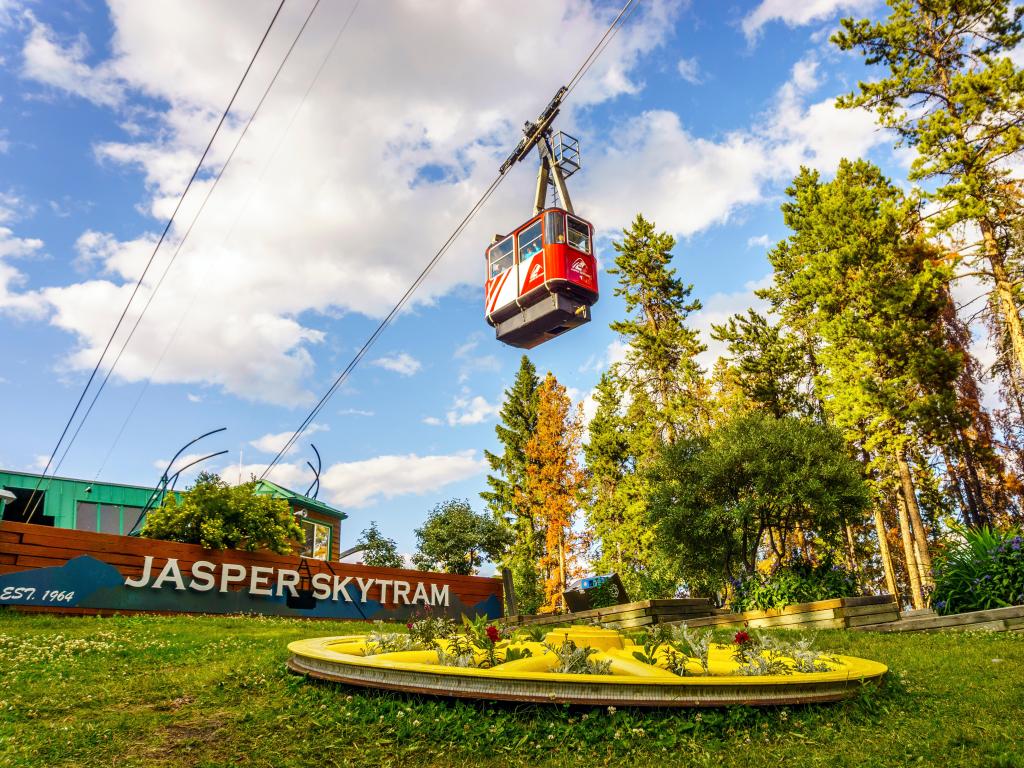 The Banff Route
Sylvan Lake - This vibrant resort town in Central Alberta offers a plethora of water sports, beach activities, and lakeside promenades.
Red Deer - Visit the Alberta Sports Hall of Fame, a museum that pays tribute to Alberta's sporting history, and Fort Normandeau, a historical site that represents the area's rich history, featuring a replica of the 1885 fort.
Calgary - Calgary is a bustling city known for its zoo, which houses over 1,000 animals, and Heritage Park Historical Village, where visitors can experience life as it was in the 19th and early 20th centuries.
Calaway Park - Just outside Calgary you'll find Western Canada's largest outdoor family amusement park, featuring over 30 rides and attractions, games, and live entertainment.
Canmore - A quaint Rocky Mountains town known for its stunning landscapes, outdoor activities such as hiking and skiing, and a vibrant arts community.
Lake Minnewanka - Located in Banff National Park, this glacial lake offers boat tours, hiking trails, and scuba diving in a stunning mountain setting.
Banff - This picturesque resort town boasts iconic attractions such as Bow Falls, the cultural Buffalo Nations Museum. The Banff Gondola promises panoramic mountain views.
Johnston Canyon - A must-see natural attraction in Banff National Park, follow the scenic, well-maintained trail to visit waterfalls and beautiful pools.
Moraine Lake - The lake's turquoise waters and surrounding snow-capped peaks create one of the most photographed landscapes in Canada.
Lake Louise - Renowned for its emerald-colored waters and stunning mountain backdrop, Lake Louise offers outdoor activities such as hiking, canoeing, and winter sports.
Yoho National Park - Adjacent to Banff National Park in British Columbia, this natural wonderland features dramatic waterfalls, ancient fossils, and soaring peaks.
Golden - Located in the Canadian Rockies, Golden is an adventure hub offering thrilling activities such as skiing, whitewater rafting, and paragliding.
Glacier National Park of Canada - In the heart of the Canadian Rockies, this park features impressive glaciers, deep forests, and rugged mountains, perfect for hiking and backcountry camping.
Revelstoke - This mountain town is known for its excellent skiing and snowboarding, and the Revelstoke Railway Museum, which showcases the history of Canadian railways. Check out the Last Spike in Malakwa nearby.
Sicamous - Known as the Houseboat Capital of Canada, Sicamous is a paradise for water enthusiasts, offering houseboat vacations, water sports, and fishing on Shuswap Lake.
Log Barn 1912, Armstrong - A delightful roadside offering homemade goods, farm animals, and an authentic taste of country life.
Kelowna - Set on Okanagan Lake, Kelowna is a dynamic city famous for its vineyards and wineries so you can enjoy wine tours and tastings with stunning lake views.
Okanagan Lake - This pristine freshwater lake in British Columbia's Okanagan Valley is ideal for boating, swimming, and fishing, surrounded by picturesque vineyards and orchards.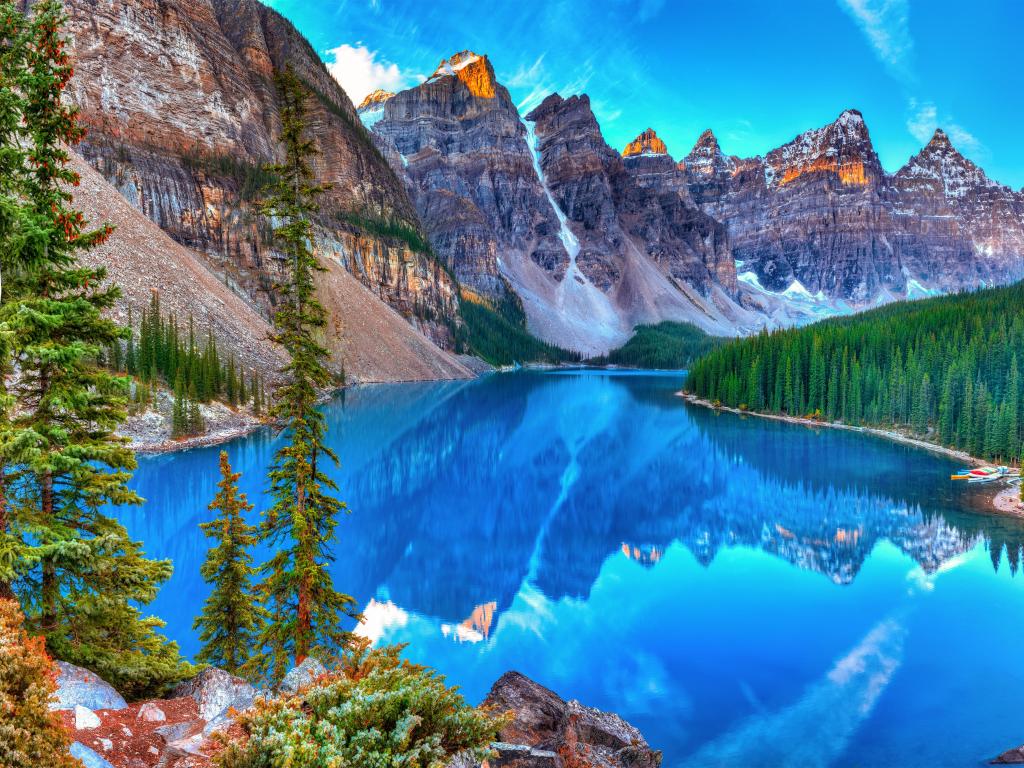 Both routes
Coquihalla Summit Recreation Area - Perched in the Coquihalla Range of the Cascade Mountains, this recreation area features awe-inspiring vistas and trails, making it an ideal spot for hiking, snowshoeing, and backcountry skiing.
Hope, British Columbia - Fondly known as the "Chainsaw Carving Capital," Hope is a quaint town nestled in the mountains offering outdoor adventures, historical attractions, and an array of wooden sculptures throughout the town.
Bridal Veil Falls Provincial Park - Just east of Chilliwack, you'll find these stunning falls, which tumble gracefully over a rocky precipice reminiscent of a bridal veil. The lush forests surrounding the falls are perfect for hiking and picnicking.
Chilliwack - Renowned for its agricultural heritage, Chilliwack boasts a blend of natural beauty and urban living, with opportunities for fishing, hiking, and exploring charming shops, and indulging in fresh farm-to-table cuisine.
Abbotsford - Often referred to as the "City in the Country," Abbotsford combines vibrant city life with rural charm, featuring local markets, picturesque wineries, and the famous Abbotsford International Airshow.
Best time to go on a road trip from Edmonton to Vancouver
Thanks to its relatively mild climate, you can enjoy spending time in Vancouver all year round, but since you'll be traveling through the Canadian Rockies to get there you'll need to factor in some significant seasonal variation on the rest of your road trip!
With its spectacular location on the ocean, Vancouver truly blossoms in summer. Between June and August, temperatures typically swing between 15 and 25 degrees Celsius, and this is the perfect time to enjoy strolling through the city or spending time on its beautiful beaches.
Of course, if you travel in the colder months you can enjoy winter sports at resorts such as Kicking Horse or Banff, before escaping the harsh winter chill in Vancouver - unlike the Rockies, temperatures tend to sit on the warmer side of freezing in the city.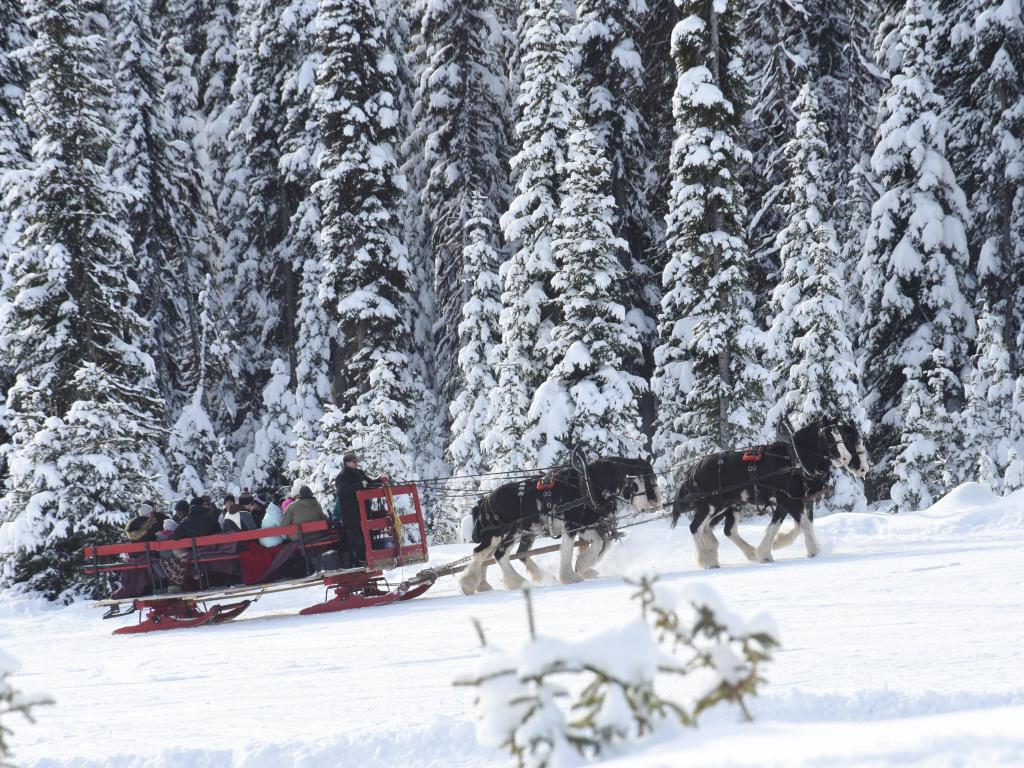 The road trip from Edmonton to Vancouver has its own special allure in the winter, particularly for winter sports enthusiasts. The Rocky Mountains become a snowy playground with very cold temperatures and heavy snowfall, transforming into a paradise for skiing, snowboarding, and snowshoeing.
You'll also be able to enjoy some festive cheer near the holiday period. At Christmas, you can visit the Vancouver Christmas Market and admire the VanDusen Festival of Lights.
Spring in Vancouver is usually mild but wet, with temperatures ranging from a cool 7 to a more pleasant 16 degrees. With the city and its surroundings waking up from their winter slumber, you can stroll through the cherry blossom-lined streets, explore the city's parks, or take part in the various spring festivals.
If you're arriving in Vancouver in the fall months, you'll find that fall brings with it a mild, with temperatures ranging from 9 to 20 degrees. From a budget perspective, fall's reduced tourist traffic means that you'll likely find more attractive rates for hotels and attractions.
As an added bonus, Jasper Dark Sky Festival takes place in October. Jasper National Park is a designated dark sky preserve, and during the festival, you can engage in stargazing events, astronomy-themed programs, and workshops.