Road Trip from Edmonton to Alaska
Take a road trip of a lifetime from bustling Edmonton to the beautiful city of Anchorage in Alaska, America's largest state. You'll pass towering snow-capped mountains, endless stretches of wilderness, and some of North America's most iconic northern landscapes.
The 3,120 km long road trip will take you around 34 hours. You'll experience beautiful landmarks like Jasper National Park of Canada, Mt Robson Provincial Park, Prince George, Whitecourt, Fort Nelson, Muncho Lake, Haines Junction, and Beaver Creek.
You'll be immersed in beautiful natural wonders and wildlife like moose, elk, and bear on your way to Anchorage, Alaska. Read on to discover the best routes and places to see on your way through this unparalleled part of the world.
How far is Alaska from Edmonton, and how long will the road trip take?
Comparison of road trip routes between Edmonton and Alaska

| Route | Distance | Driving Time |
| --- | --- | --- |
| The Direct Route | 3,120 km | 34 hours |
| The Provincial Parks Route | 3,490 km | 39 hours |
The fastest and most direct route will cover 3,120 km and take you 34 hours to cover without accounting for any stops. The Direct Route is less scenic than our second option but will take you through some of Canada's most charming towns.
Next is the Provincial Parks Route, where you can experience some of Canada's most breathtaking natural spaces including Jasper National Park and Seven Sisters Provincial Park. This route will take you 39 hours to complete, spanning 3,490 km.
We recommend taking 6 to 7 days to drive from Edmonton to Anchorage. This will give you plenty of time to experience all the postcard-worthy sights along the way.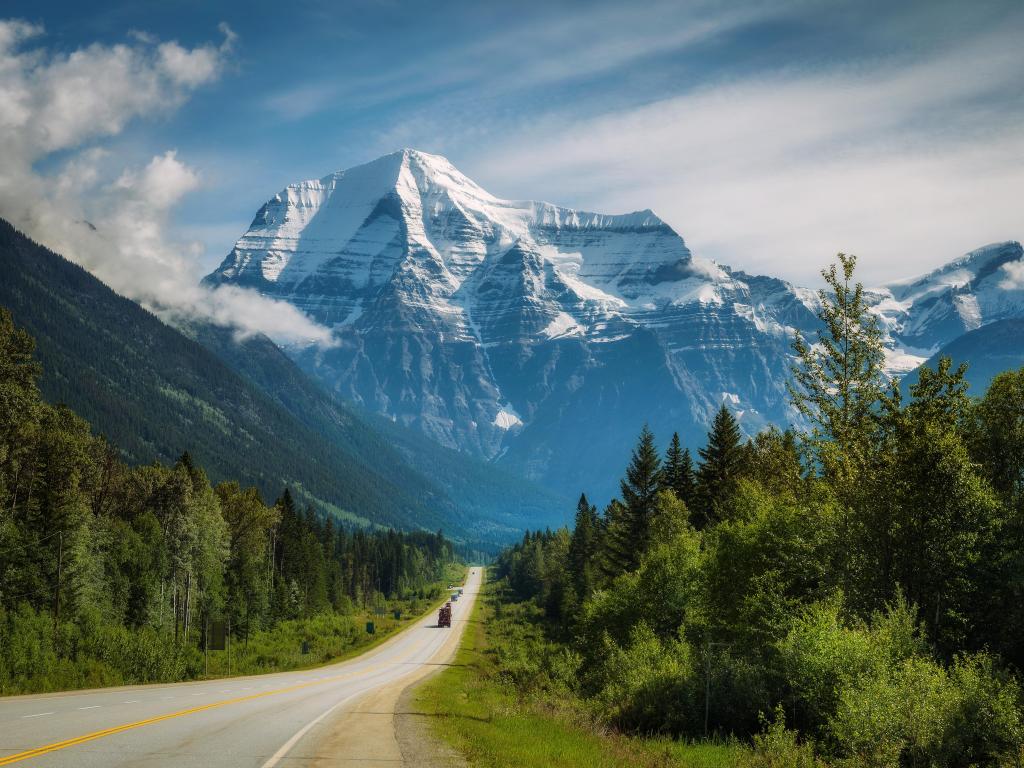 Best road trip route from Edmonton to Alaska
Both routes offer a great combination of small town charm and dramatic scenery. Choose your route based on how much time you have and how long you'd like to drive on mountainous roads.
The Direct Route is perfect for experiencing beautiful BC and the Yukon Territories on your way to Alaska. This route includes a stretch along the Alaska Highway, one of North America's most beautiful highways.
The Provincial Parks Route is more leisurely and takes you through some of BC's most beautiful natural offerings. You'll pass through Prince George, a small but beautiful city on the Fraser and Nechako rivers, as well as a stretch along the Alaska Highway.
With both routes, you will also have the option of taking a ferry from Haines to Juneau, Alaska's capital, which is unreachable directly by car. If you want to spend more time on the water, you can also take a cruise from Anchorage to Juneau and explore the Alaskan coastline.
The Direct Route
Begin your journey in Edmonton, Canada's fifth largest city. Head northwest on AB-43. Continue your drive through the breathtaking open landscapes of Alberta and cross into British Columbia.
From here, drive on BC-97 along the eastern side of the Canadian Rocky Mountains. Take in the incredible natural surroundings and wildlife.
Drive into Yukon Territory on the Yukon 1 highway. Drive along the mighty Yukon River and head west and cross the northern edge of the Rocky Mountains.
Continue into Alaska and drive through snow-capped mountains and wilderness. Once you hit the town of Tok turn south and drive along AK-1 into Anchorage.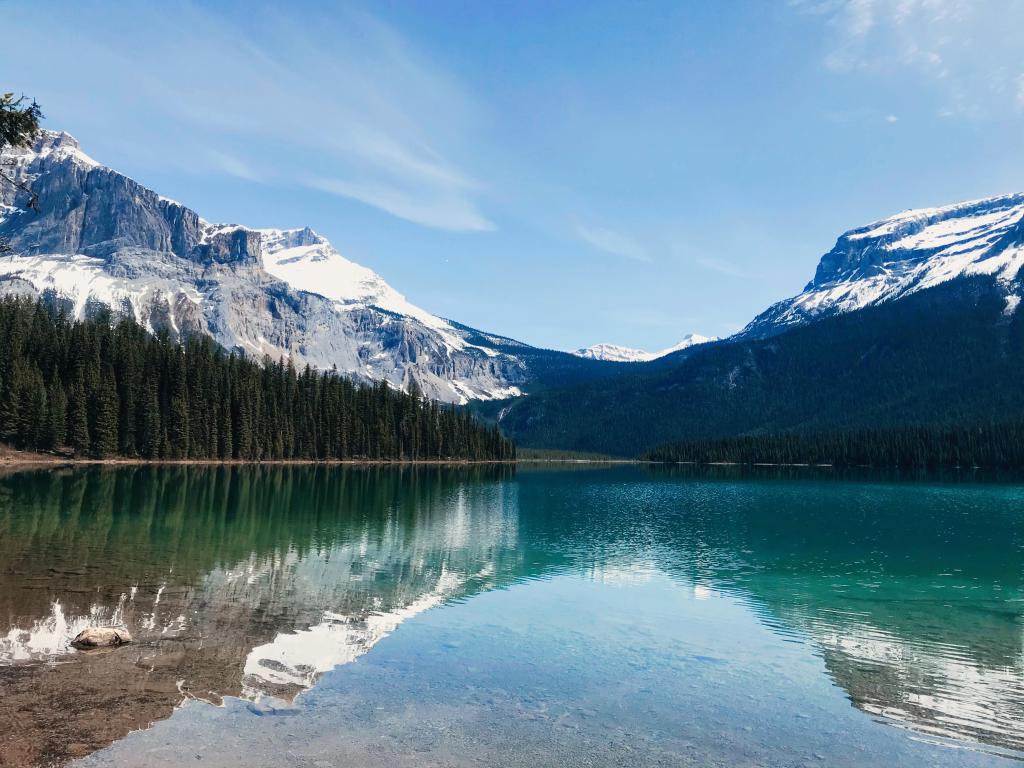 The Provincial Parks Route
Head west from Edmonton along AB-16 until you reach beautiful Jasper National Park. From here, continue west until you reach British Columbia. Continue northwest on BC-16 through the snow-capped mountains of BC. Drive into the charming town of Prince George.
From Prince George, continue west on BC-16 through unparalleled lakes and forests. Drive north through the wilderness of northern BC until you reach Yukon Territory. From here, continue on Yukon 1 through some of Canada's most dramatic landscapes until you reach Alaska.
Once you're in Alaska, drive until you reach the town of Tok, turn south, and drive through Alaska's beautiful mountainous landscape into Anchorage.
Best places to stop between Edmonton and Alaska
With impressive distances to cover, you'll want to break the trip up a bit to allow yourself to rest up and reenergize. Below, we've included our favorite stops along the way so you can make the most out of your drive.
Take in the small town charm of Whitehorse
The capital of the Yukon Territories and accessible on both routes, Whitehorse is one of the last large cities before crossing into the US. This charming city is home to many cultural attractions, restaurants and stores, and is a great spot to stop to explore before heading into Alaska.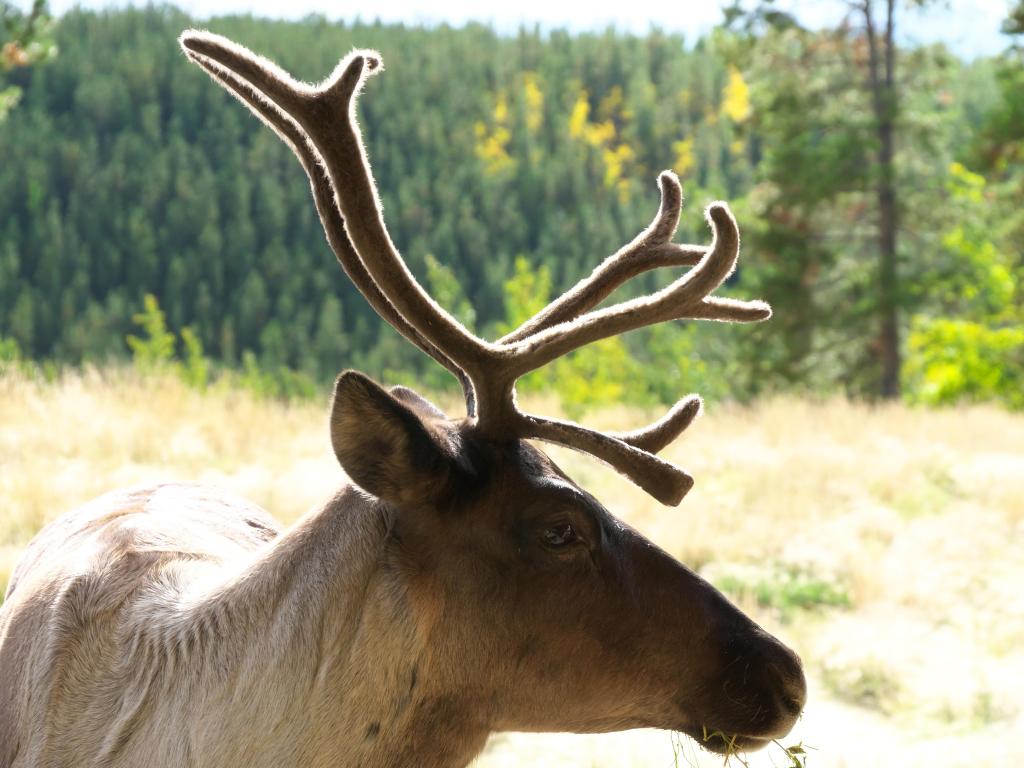 This small and unique city was founded during the Klondike Gold Rush, Whitehorse offers fascinating opportunities to explore unique phenomena in nature. Catch the Northern Lights before relaxing at the Takhini Hot Springs after a long drive.
Wildlife lovers should experience the Yukon Wildlife Preserve just half an hour away from Whitehorse. This one-of-a-kind preserve is home to a variety of Yukon native creatures including moose, mountain goats, bison, elk and caribou.
History buffs can check out the SS Klondike National Historic Site. This restored sternwheeler dates back to 1936 and now offers guided or self-guided tours.
Our top option for where to stay in Whitehorse is undoubtedly the Raven Inn Whitehorse. Out of the somewhat limited selection of hotels to choose from in this city, the Raven Inn comes most highly rated with great amenities to take advantage of during your stay such as a fabulous outdoor hot pool.
From your hotel, you can set off on foot to explore the shores of the mighty Yukon River and downtown's many attractions. After your stay, getting back on the highway and your route is easy, which will definitely save you time as you set off on the road again.
Experience nature's best in Jasper National Park
On the Provincial Parks Route and only about 3 hours from Edmonton, Jasper Park is certainly a spot where travelers will want to stop and spend a night. The park's impressive acreage and postcard-worthy beauty may be hard to take in just a few hours.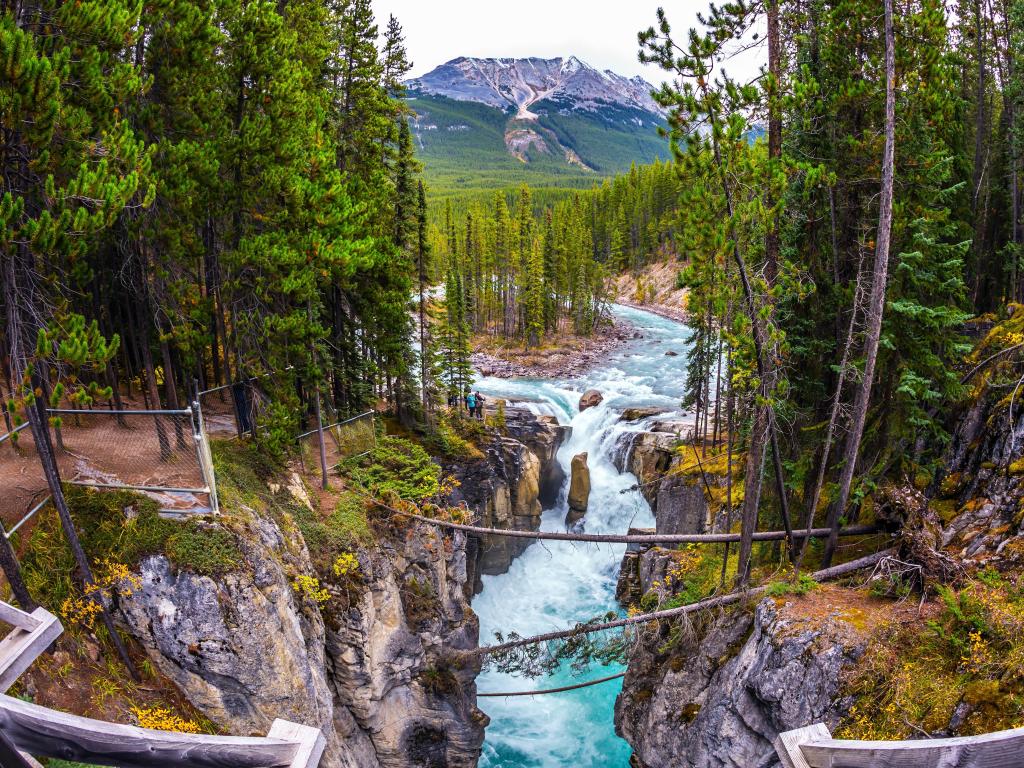 The largest national park in the Canadian Rockies, Jasper National Park encompasses thousands of kilometers of mountainous regions and boasts tons of fascinating wildlife and beautiful wilderness. It also allows ample opportunity to enjoy outdoor activities such as rafting, climbing and skiing.
Back in the city of Jasper, you should visit the Jasper Skytram. Offering daytime and nighttime rides, this aerial tramway is Canada's longest and highest, and is the perfect way to get the awe-inspiring views of mountainous Jasper.
If you're into learning more about the night sky, check out the Jasper Planetarium. This is by far the best way to enjoy Jasper's renowned star-and aurora borealis-filled night skies.
While in beautiful Jasper, we recommend staying at the highly rated Fairmont Jasper Park Lodge, located on the shores of Beauvert Lake. Embraced by the breathtaking scenery Canadian Rocky Mountains, this hotel boasts a golf course, 8 on-site restaurants and a full-service spa.
Here, you can enjoy your terraced rooms and swimming pool after taking in the sights of Jasper. Plus, the hotel offers free on-site parking which will make your stay that much more enjoyable.
Where to stay when you reach Anchorage
When you reach your destination, our top recommendation for accommodation is the beautiful Hotel Captain Cook. Just minutes from the Anchorage Museum, Cook Inlet, and several green spaces, this luxury hotel in downtown Anchorage is perfectly located to explore the city.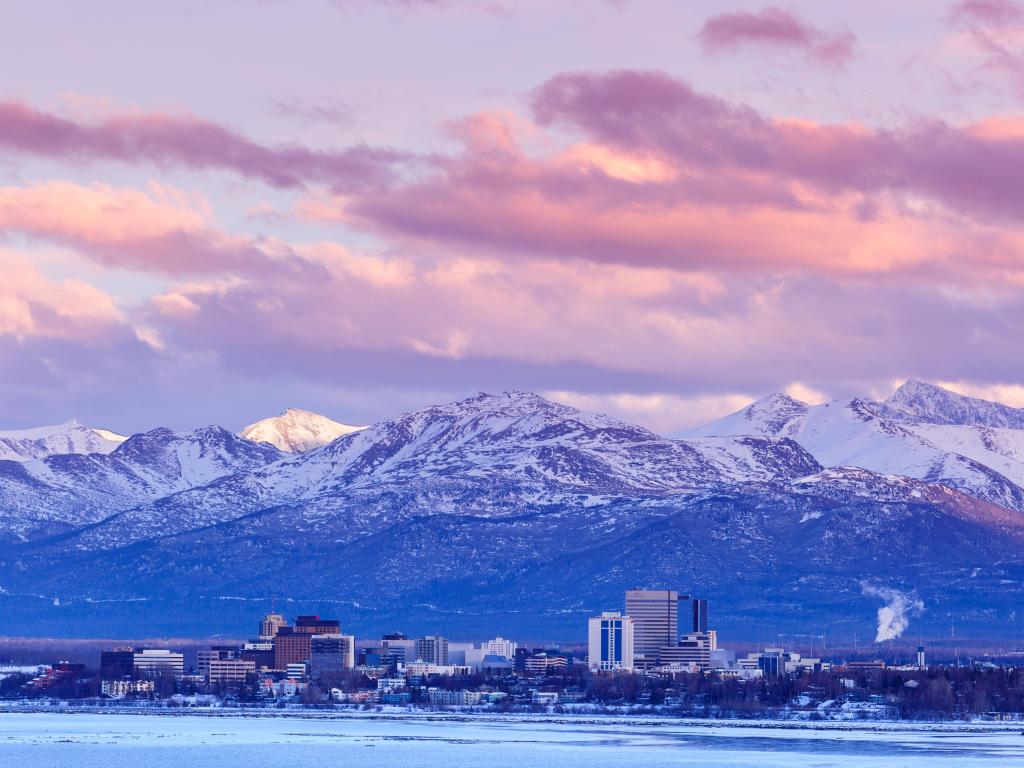 Inside, you will have beautiful views of the Chugach Mountains from your room. There are also several fantastic on-site dining options and an array of retail stores to enjoy.
After a long drive, why not take advantage of the hotel's indoor pools, and massage services to unwind? Alternatively, head to Elderberry Park nearby if you would rather spend your day outdoors.
Things to see on a road trip from Edmonton to Alaska
Both routes are full of incredible sights and natural scenery. From wildlife to some of North America's tallest mountains, you're sure to experience a trip of a lifetime. Below are some of our highlights to enjoy on both routes.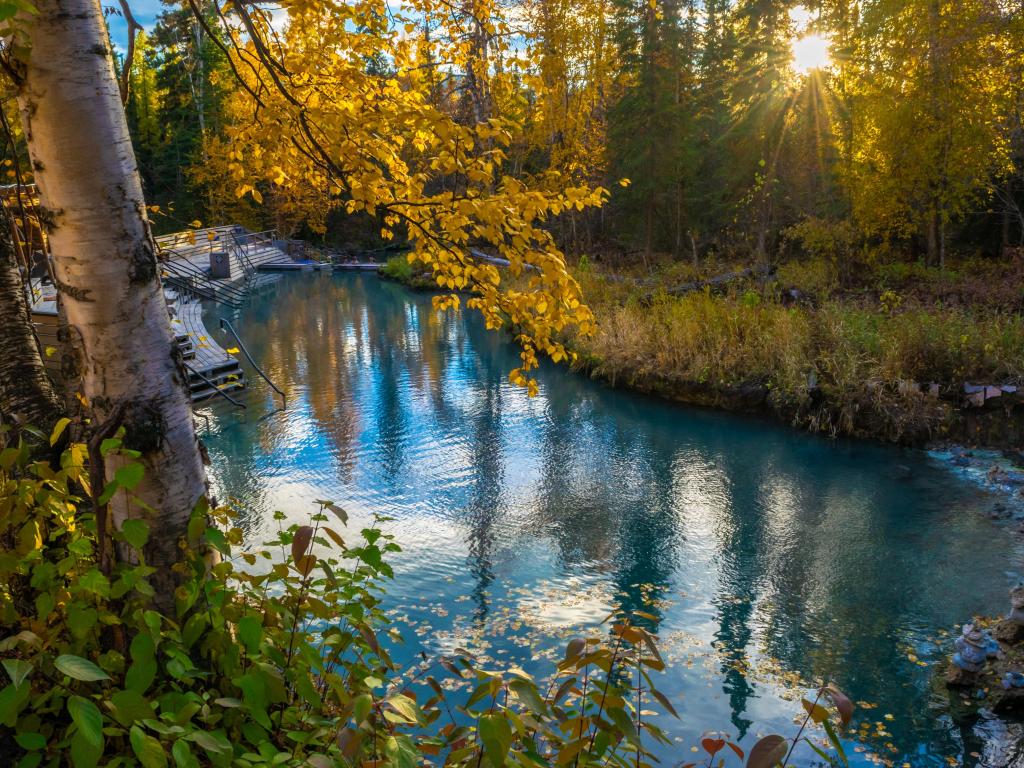 The Direct Route
Rotary Park Outdoor Waterpark - If you're taking this road trip during the hotter months, make sure to check out this waterpark located right along the banks of the Athabasca River.
Winagami Lake Provincial Park - Add a couple hours to your route to discover this stunning serene lake in Northern Alberta that boasts awesome views of the surrounding forested land.
Young's Point Provincial Park - This small but beautiful provincial park boasts another beautiful Albertan lake and tons of land for camping and picnicking.
Dawson Creek Art Gallery - Housed in a beautifully renovated annex of a prairie grain elevator, this small museum boasts interesting exhibits and a gift shop.
Fort Nelson Heritage Museum - The Fort Nelson Heritage Museum is located on the world-famously scenic Alaskan Highway. This museum is home to a large collection of WWII equipment and vehicles.
Liard River Hot Springs Provincial Park - Visit these hot springs (which are open from 7am to 11pm every day), where you will be surrounded by a stunning pine-forest park as you are taking a relaxing soak.
George Johnston Museum - Boasting a stunning Indigenous-art façade, this museum features both indoor and outdoor exhibits, including a collection of vintage vehicles.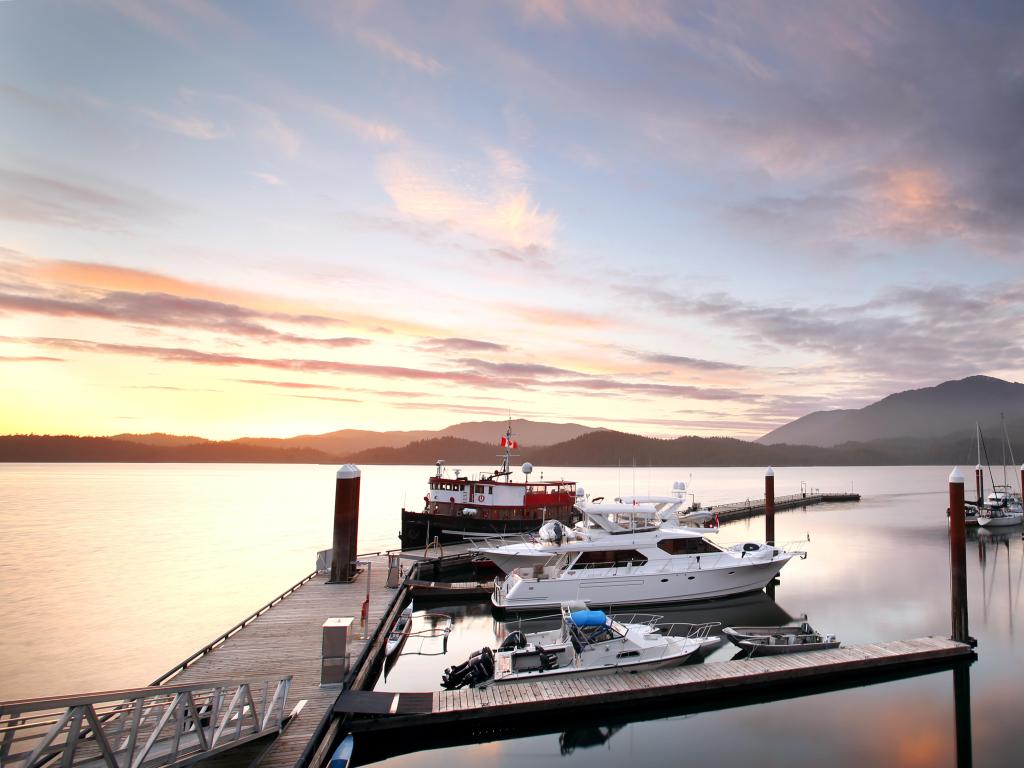 The Provincial Parks Route
Beaver Boardwalk - This boardwalk is located in the town of Hinton, AB where you can catch a glimpse of Canada's national animal, the beaver.
Barkerville Historic Town & Park - This is a Gold Rush-themed Museum and village which boasts period displays, satellite museums and an impressive number of heritage buildings. There are also restaurants and shops located on-site.
Prince George - Discover this small town boasting several interesting museums, including the Central British Columbia Railway and Forestry Museum and the Two Rivers Gallery.
Ksan Historical Village and Museum - Take in this museum exploring Indigenous history in the area and boasting stunning totem poles.
Gitanyow Totem Poles - Indigenous tribes on the West Coast build dozens of totem poles facing the ocean, and the Gitanyow Totem Poles are beautiful examples of these significant sculptures.
Prince Rupert - Add a couple hours to your route and explore Prince Rupert, a port city on BC's northwest coast that acts as a gateway to tons of nearby natural parks and sites.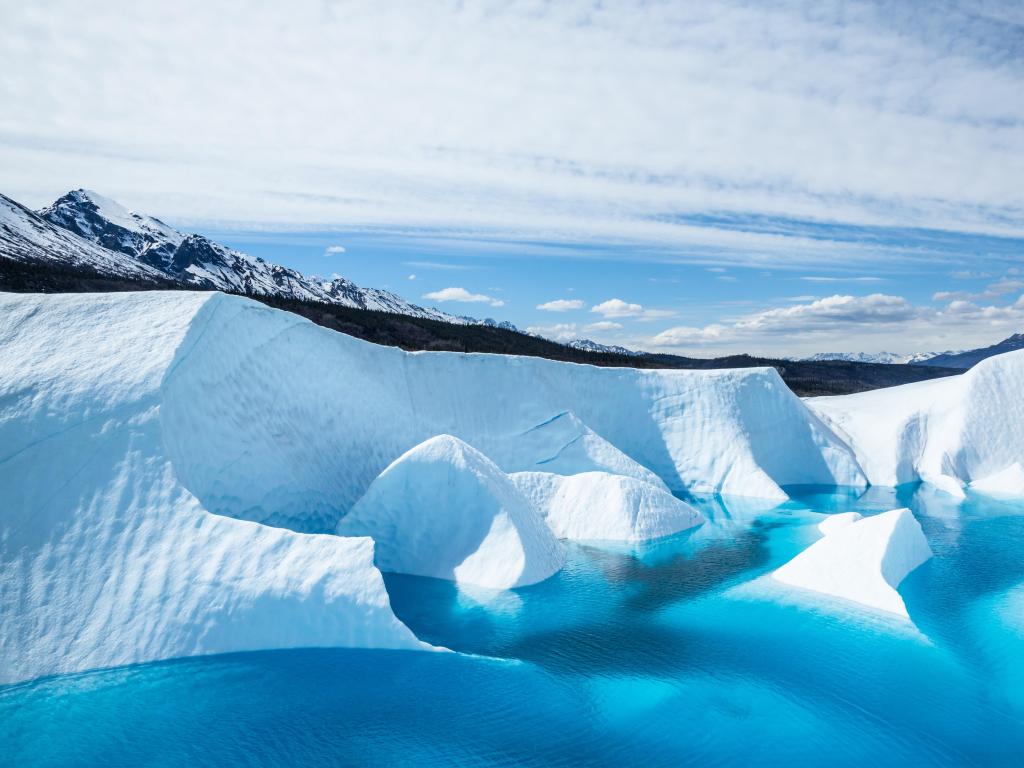 Both Routes
MacBride Museum of Yukon History - This quaint museum houses exhibits that explore Yukon's natural, economic, and industrial history. While in Whitehorse, this is a must-see museum for all history buffs!
Mukluk Land - This is surely one of Alaska's most interesting attractions. Mukluk Land and the adjacent Alaskana Museum offer beloved and time-tested fair attractions like bouncy houses and mini golf. Keep in mind that it is only open between June and August!
Alpine Historical Park - Boasting a museum and a playground (something for all ages!) this open-air historical park is home to lush gardens with inspiring views of the surrounding mountains.
Matanuska Glacier - An impressively large and scenic glacier surrounded by sky-scraping mountains. This is the perfect place to stop and stretch your legs while marveling at the views.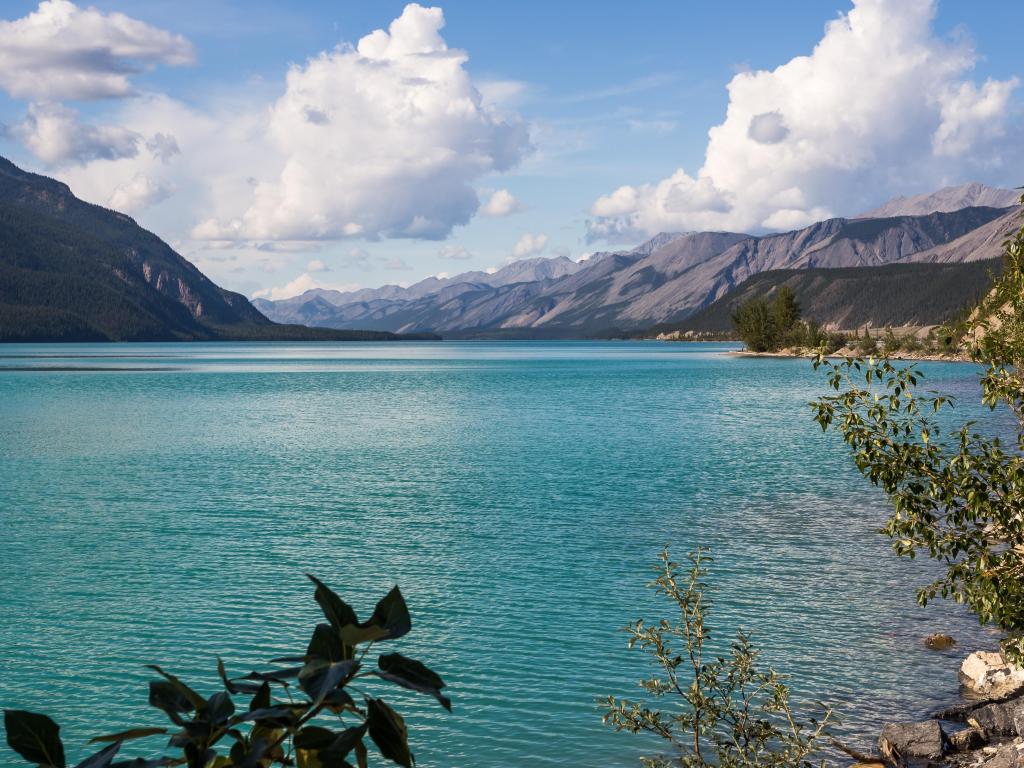 Best time to go on a road trip from Edmonton to Alaska
Anchorage is located far up north, and this will be a consideration in planning your trip. The peak season is during summer as can be expected. This is when Alaska is at its sunniest with 19 hours of exposure every day.
There is no sunlight between November and January. If you are a winter sports fan, the colder months are the best time to visit. Otherwise, plan your visit during the peak season between June and August and shoulder seasons between March to May and August to November.
The temperatures range between the mid-40 degrees and the low-70 Fahrenheit in summer. You can encounter the occasional rainstorm, so it is a good idea to pack layers and a rain jacket.
Winters in Anchorage are snowy and cold. You won't see many tourists visiting during these months. Temperatures range between 13 degrees and 24 degrees Fahrenheit, but sometimes drop up to -10 degrees, so pack warm if visiting during these months.
Spring and fall are fantastic times to visit Anchorage. Spring temperatures average between 10 and 50 degrees Fahrenheit and you will be able to enjoy Fur Rendezvous and Iditarod Sled Dog Race during these months, so if you are a dog sledding fan, this is the season to visit.
Fall lasts shorter than spring and the temperatures range between the low 20 degrees and high 50 degrees. You can expect fewer crowds during this time, but the hotel prices will also be proportionally lower.