21 Best Road Trips from Pittsburgh
Whether you know it or not, you've seen the dramatic skyline in films: Pittsburgh's dramatic cityscape linked by tunnels and 446 bridges makes it a scenic location for superhero movies. To its inhabitants, it's known as the Steel City for its industrial history and is well-loved for its major league sports teams, riverfront walkways and vibrant arts scene.
If you fancy voyaging outside of the city, this list of the 21 best road trips from Pittsburgh will have you dreaming of pristine lake waters for boating and swimming, bustling towns with distinctive cultures, peaceful camping in state parks and world-famous American metropolises.
Take advantage of Pittsburgh's landlocked location and head out on the road for one of these remarkable trips. Read on for a guide to the best places to go, see and where to stop along the way.
21 Best Road Trips from Pittsburgh
Day trips (under 3 hours each way)
Perfect for fitting into a single day, these bite-sized road trips can all be undertaken without much planning - you'll be back in Pittsburgh before nightfall with a great experience under your belt.
1. Lake Arthur and McConnells Mill State Park, PA
50 minutes from Pittsburgh (40 miles)
Why you should visit: Lake Arthur is the nearest notable trip from Pittsburgh and is a favorite for both long-distance tourists as well as locals.
Lake Arthur, PA is particularly well-known for its boating and fishing spots. The lake offers activities for all ages throughout the year, regardless of the season.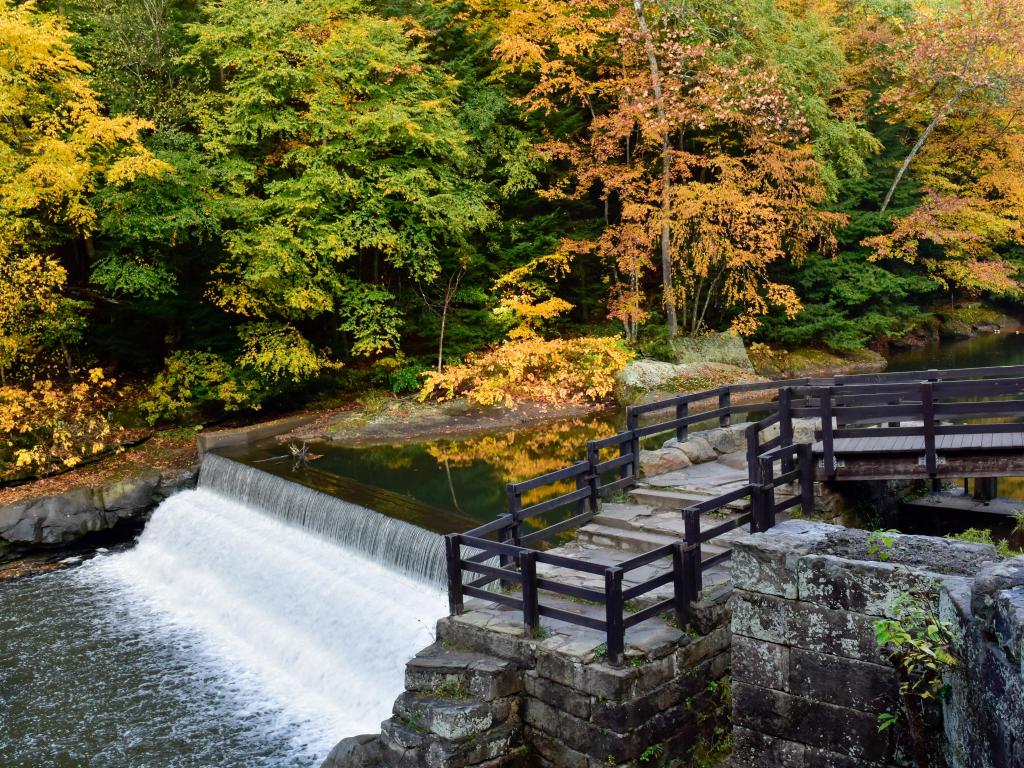 How to get there: Take Interstate 579 (I-579) north from Pittsburgh, then take exit 96 and follow PA-488 east to Lake Arthur. To get to McConnells Mills State Park, take US-19 after Exit 96.
Our highlights: To get out on the 3,225 acres of water, you can rent your own boat from Crescent Bay Marina and get exploring the many tributaries of the lake.
Lake Arthur is only one small part of the much bigger Moraine State Park, which is Pennsylvania's fourth biggest State Park. Take a hike or drive around to experience the natural splendor of the place.
To secure the catch of the day, have a go at reeling in the northern pike, largemouth bass, crappie, catfish, and bluegill fish that inhabit the waters. Try McDanels Boat Launch, which is a tried and tested spot to park up with your line.
If you visit the McConnells Mill State Park, hunt out the Mill and Dam, a set of man-made historical structures that stand in scenic contrast to the surrounding nature.
Our travel tips: If you want to use your own boat in Lake Arthur, you must have a launch permit from the state authorities.
Guided tours of the McConnell Mill are only conducted in summer between Memorial Day and Labor Day.
2. Seven Springs Mountain Resort and Laurel Hill State Park, PA
1 hour 10 minutes from Pittsburgh (60 miles)
Why you should visit: Seven Springs Mountain Resort is one of the most popular ski resorts in the state, though it also offers recreational activities for all seasons.
Seven Springs is the place where Pittsburgh natives as well as tourists go to take a welcome break from the city. Expect relaxed vibes as you sit beside a warm fireplace and take in the snow-covered landscape.
How to get there: Drive south on I-579 and then take I-376 heading east. Continue on to I-76 and take exit 91. Drive along PA-31E to reach Seven Springs Mountain Resort. Navigate to Laurel Hills Park Road via Ski View Avenue and County Line Road.
Our highlights: Seven Springs Mountain Resort is home to some of the most popular ski and snowboarding slopes in Pennsylvania. It is also a favorite location for family vacations.
Try your hand at some shooting at Sporting Clays, where machines fire out clays at various speeds and angles for you to aim at over three different courses.
Get some air on the Laurel Ridgeland Zipline Tour, where you'll go down not one but ten ziplines, two aerial bridges, as well as a thrilling rappel. A must for thrill-seekers, it's not for the faint-hearted!
The Laurel Hill State Park is the result of the conservation effort that began in July 1935 by the Civilian Conservation Corp. In the heart of this state park, you'll find Laurel Hill Lake, a 63-acre man-made lake that is fantastic for birdwatching, fishing, boating, and swimming.
Possibly the best hiking trail at Laurel Hill State Park, the Hemlock Trail is a 1.2 mile-hike surrounded by old-growth Eastern Hemlocks beside Laurel Hill Creek.
Bonus: Did you know that the Eastern hemlock is the state tree of Pennsylvania?
3. Morgantown and Coopers Rock State Forest, WV
1 hour 20 minutes from Pittsburgh (80 miles)
Why you should visit: West Virginia University's hometown is known for its stalwart football support along with all the fun of being a vibrant college town.
For fans of quaint small towns, Morgantown is a must-visit. You can dabble in water sports, hiking, and get out into the breathtaking nature nearby, or hang around in the city and browse the tourist shops.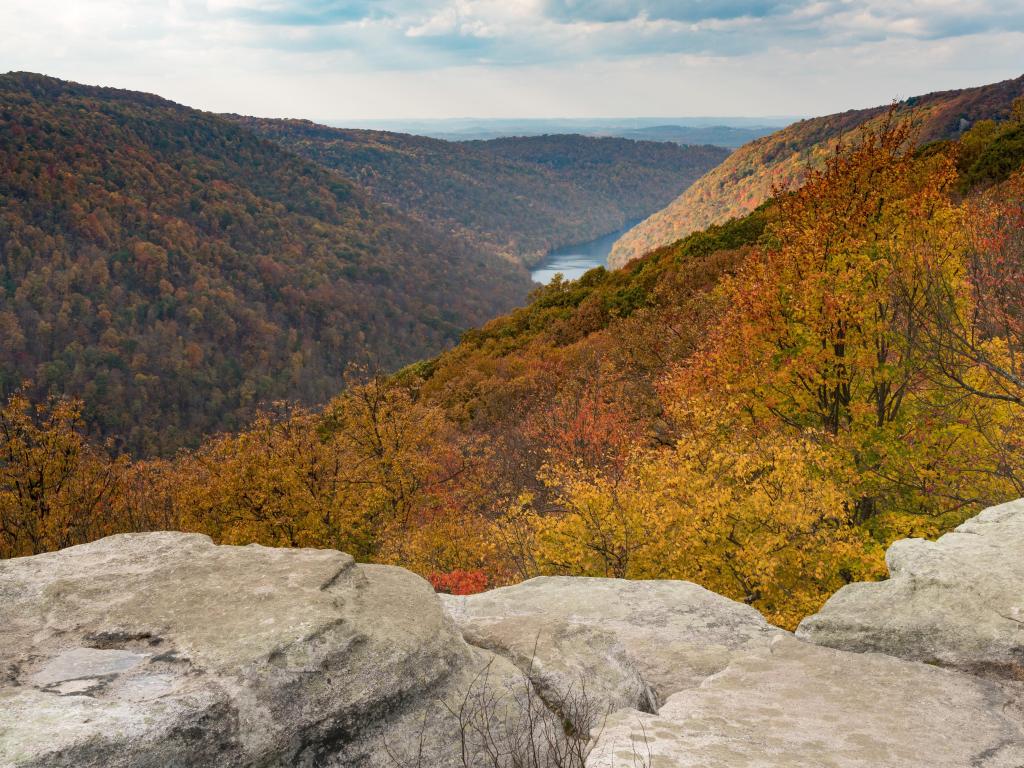 How to get there: Drive west from Pittsburgh on I-376. Follow I-76 south and take exit 155. Drive to Morgantown via US-19S, or take I-68 east to get to Coopers Rock State Forest.
Our highlights: Get into the college spirit and visit WVU Coliseum, the stadium that's the home ground to the WVU Mountaineers. Try to catch a game of baseball or volleyball and experience the electric atmosphere.
Take in some culture at WVU Art Museum, which houses historic and modern artworks as well as a selection of art representing Morgantown itself.
Stop by Morgantown Brewing Company and choose from one of their 8 unique craft beers. The Morgantown Brewing Company is the town's oldest brewery and it is not surprising that it's one of Morgantown's most popular tourist attractions!
For a manageable hike, try the Raven's Rock Trail at Coopers Rock State Forest. This popular 1.5-mile trail begins and ends with scenic views of the Cheat River and Gorge.
Bonus: The name Coopers Rock derives from a legend that claims that the central overlook was the hiding place of a future cooper - the name for a barrel-maker.
Our travel tips: Coopers Rock has limited phone service, so plan ahead.
4. Erie and Lake Erie, PA
2 hours from Pittsburgh (130 miles)
Why you should visit: Touted as one of America's most beautiful locations, a visit to one of Pennsylvania's best-loved cities is nothing short of a treat.
In Erie, you can expect fantastic sights, amazing natural landscapes and a bountiful list of attractions. Located on the shores of Lake Erie, it is perfect for relaxing without the hubbub of larger cities.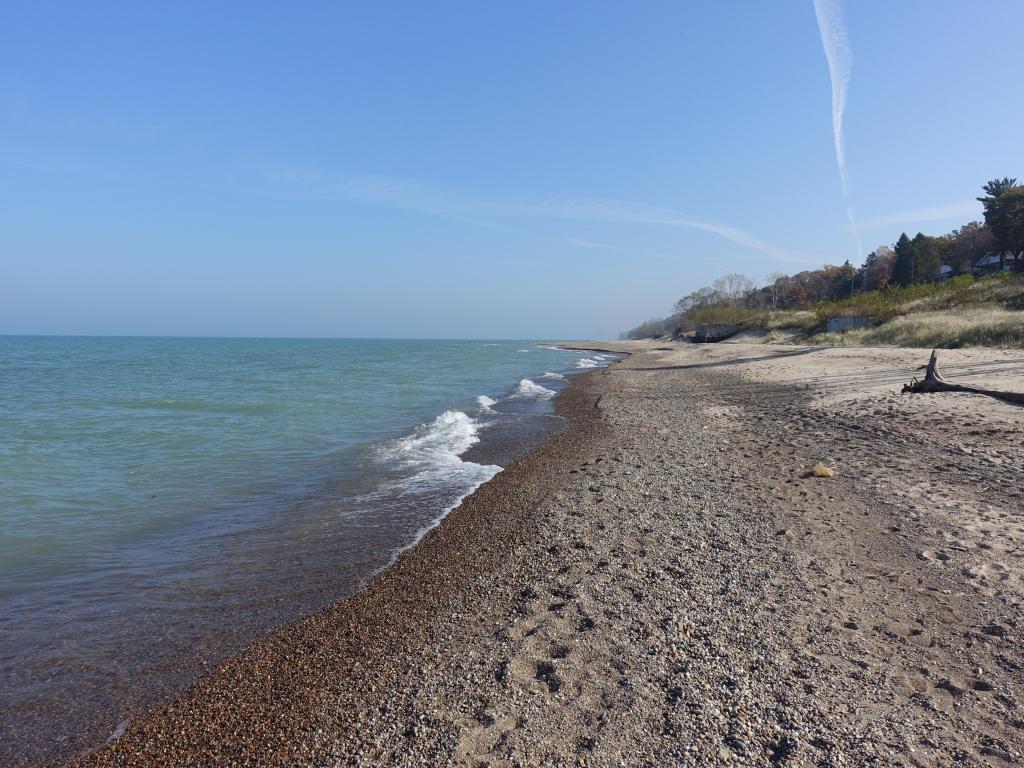 How to get there: Drive north on I-579 and I-79 to reach Erie via Bayfront Parkway Drive. Drive through the city to Peninsular Drive and take Coast Guard Road to reach Lake Erie.
Our highlights: Take your pick from birdwatching, boating or swimming at Presque Isle State Park. The location is replete with picturesque marinas, trails, and scenery that you can spend the entire day exploring.
For a great view, head up Port Erie Bicentennial Tower – constructed in 1996, the tower offers a relaxing and quiet panoramic view over Lake Erie.
The Tower stands at 187 feet and is one of Pennsylvania's biggest structures and if the day is clear enough, you can catch a glimpse of Ontario, Canada which is 27 miles away from the building.
For wildlife-lovers, Erie Zoo and Botanical Gardens house more than 400 animals including cheetahs and warthogs, among others. Similarly, the botanical gardens boast over 400 species of flowers, many of which are not found in the region.
If you're making the trip in mid-October, the drive through Mercer County offers some of the best fall scenery in the nation.
Our travel tips: Presque Isle becomes extra lively during the winter because of the great skiing routes, so prepare for crowds.
The Erie Zoo and Botanical Gardens require a lot of walking, so be sure to wear comfortable shoes.
5. Cleveland and Akron, OH
Via Cuyahoga Valley National Park
2 hours 10 minutes from Pittsburgh (130 miles)
Why you should visit: The largest city on the shores of Lake Erie is also a place filled with great attractions that will keep you busy regardless of the duration of your trip.
Cleveland is a buzzing metropolis with lots of action, whereas Akron has a more relaxing pace as a former farming community turned industrial city.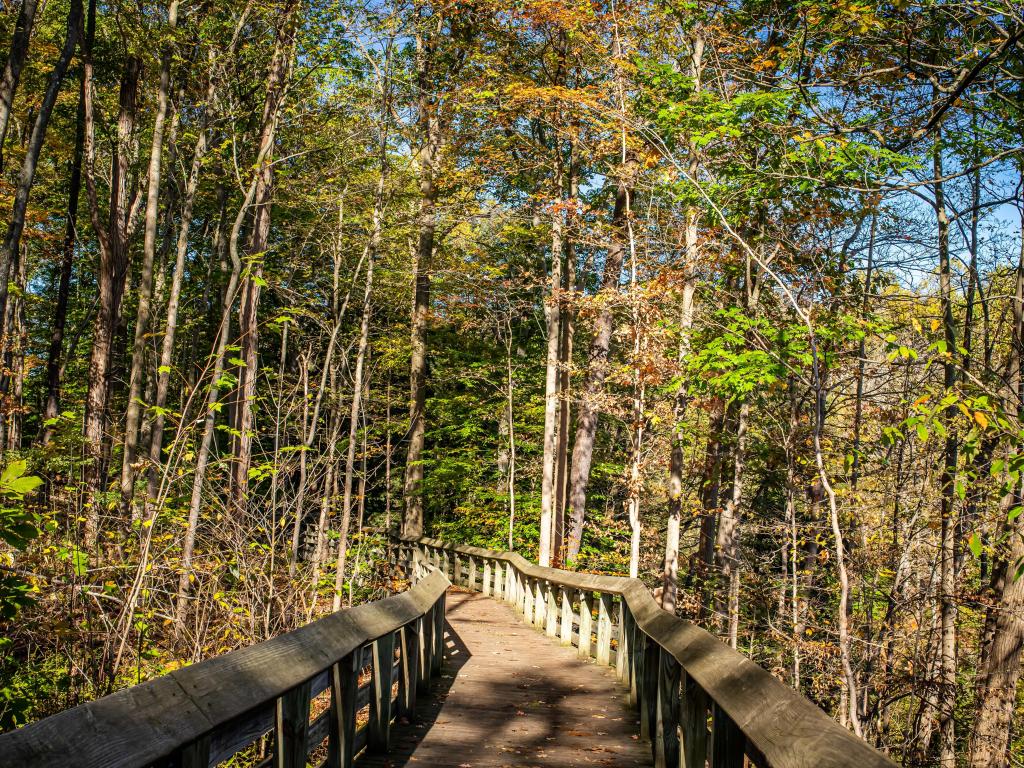 How to get there: Take I-576 heading north and drive west along I-76. Take Exit 22-A on I-76W to reach Akron, which will add another 20 minutes to the drive time.
Drive via OH-59E and OH-8N to reach Cuyahoga Valley National Park, which will add a further 10 minutes' drive time. Rejoin I-76 to reach Cleveland.
Our highlights: Once in Cleveland, head to Playhouse Square to soak up the fun atmosphere of the theater district. You can catch anything from local city productions to Broadway shows on tour, depending on the timing.
Cleveland Museum of Art is a peaceful refuge from the city and houses an impressive collection of approximately 45,000 art pieces - some as old as 6000 years!
For ski-lovers, the Boston Mills and Brandywine Ski Resorts are must-visits in Akron. These two sister ski locations have 19 ski runs and are open to novices as well as experienced skiers. The Tiger Run at Boston Mills is the nation's steepest ski slope.
If you take the detour via Cuyahoga Valley National Park, be on the lookout for Cuyahoga Falls. This ten-minute detour takes you on a fantastic expedition through the outskirts of the Cuyahoga State Forest.
Bonus: The world's biggest outdoor chandelier is situated at Playhouse Square (Euclid Avenue, to be precise). It is also home to the nation's second-largest performing arts Center.
Our travel tips: Spring and fall are the recommended times for making this trip unless you are going to hit the slopes.
6. Happy Valley and Rothrock State Forest, PA
2 hours 30 minutes from Pittsburgh (140 miles)
Why you should visit: The hometown of the Nittany Lions and Pennsylvania State University, this trip offers more than enough to do in a single visit.
Football is, of course, one of the primary draws to this region. However, there are many man-made and natural attractions here which make for an adventurous as well as cultural trip.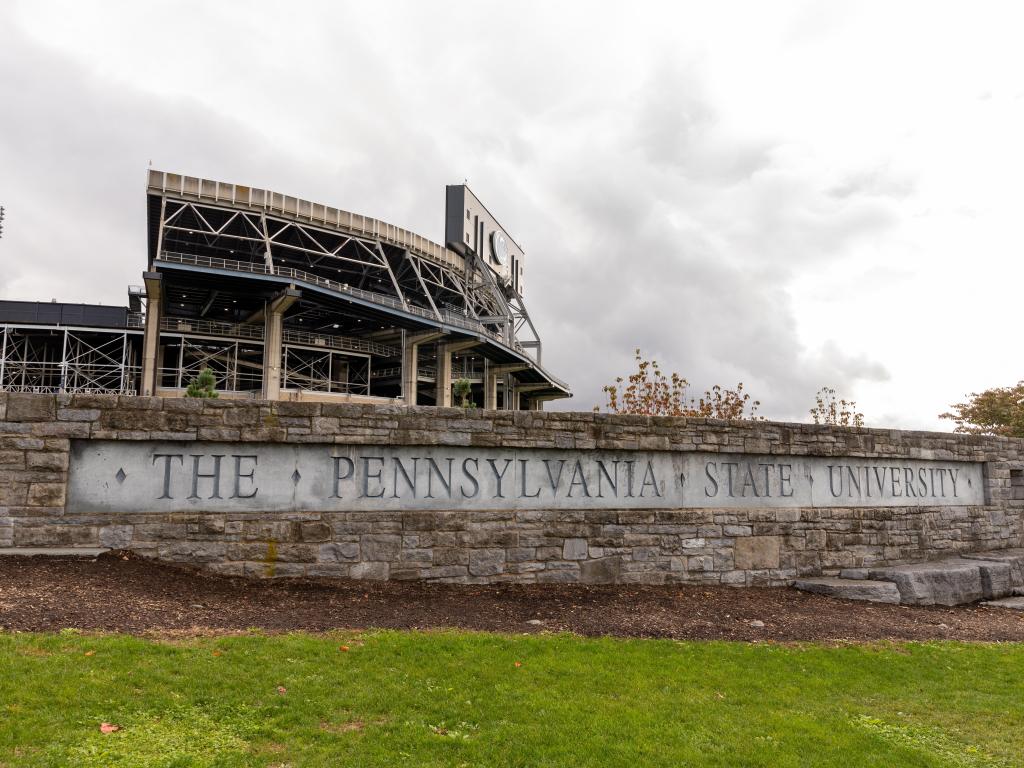 How to get there: Drive south on I-579, and navigate to Monroeville via I-376E and US-22E. Drive via Allegheny Township, US-22E and US-220N to reach Happy Valley. From there, take PA-26S to reach Rothrock State Forest, which is a further 30 minutes' drive time.
Our highlights: Right beside the University Park campus, you can spend an enjoyable hour at Penn State Arboretum walking around attractions like a limestone cave, a children's garden and an amphitheater.
The Penn State University Creamery boasts the moniker "best ice cream in the world", so make sure to give them a try and let us know what you think!
Spend a few hours at the Palmer Museum of Art, where you can see the works of European as well as American artists. It also houses ceramics, prints, and jades from contemporary America and Japan.
For a slice of the past go and see Old Main, Pennsylvania State's administrative center and a breathtaking piece of history that has stood for over 150 years.
Nature-lovers should head to Millbrook Marsh Nature Center, a unique marsh landscape which is the perfect place to witness various species of birds, reptiles, fish and amphibians.
Bonus: The Hosler Oak, aka the "Witness Tree", is the arboretum's first planted tree, and still stands today.
Our travel tips: The Arboretum and the Palmer Museum of Art have no visiting or admission charges.
7. Chautauqua Lake and Jamestown, NY
Via Allegheny National Forest, NY
2 hours 30 minutes from Pittsburgh (160 miles)
Why you should visit: Chautauqua Lake is deservingly famous for its sailing and fishing offerings. The lake is a charming sight in summer with hundreds of boats on the water.
Jamestown sits at the southernmost tip of Chautauqua Lake. During summer the lake water sparkles while in the winter, the frozen lake is solid enough for snowmobiles to race across.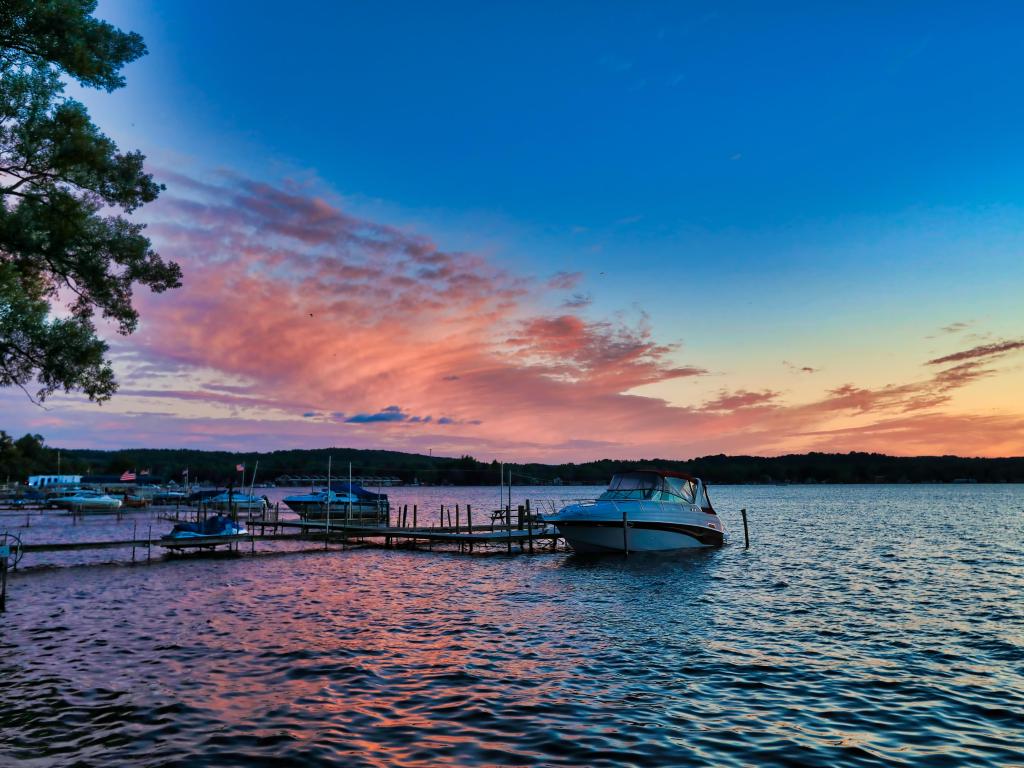 How to get there: Drive north on I-579 and east on I-86. Take exit 7 to reach State Fish Hatchery and Chautauqua Lake. Remerge with I-86E and take Exit 12, then drive along NY-60S to reach Jamestown which is a further 20 minutes drive time.
Our highlights: Enjoy some solitude by doing a spot of fishing on Chautauqua Lake - musky is the most popular catch, though bass is also quite common.
To learn more about the area, head to Chautauqua Institution – it's a community-oriented center for recreation, religion, education and the arts, and is an awesome place to spend a day exploring.
If you like your comedy, the Lucille Ball Desi Arnaz Museum dedicated to the comedians Desi Arnaz and Lucille Ball is a heartfelt tribute replete with all kinds of memorabilia belonging to the two personalities.
You can choose to take an alternate route via the Allegheny National Forest to enjoy the splendor of Pennsylvania's only natural forest. For this detour, take the I-57N and PA-28N from Pittsburgh to reach the forest. It will add another hour to the drive time.
Bonus: Jamestown was once the country's furniture capital, and its annual furniture expos are still a matter of worldwide interest.
Our travel tips: The Chautauqua Institution offers a host of recreational activities from July-August.
Click here to skip back to the top.
Weekend trips (3-5 hours each way)
Make a weekend of it by heading slightly further out of Pittsburgh to one of these trips, which include state parks, dramatic waterfalls and historic cities.
8. Columbus, OH
Via Egypt Valley Wildlife Area and Salt Fork State Park, OH
3 hours from Pittsburgh (180 miles)
Why you should visit: Ohio's capital and the biggest city has plenty to discover and is a great place to re-energise after a drive. The city's innovative, hip, and young vibe is what draws the crowds to its happening arts and tech scene.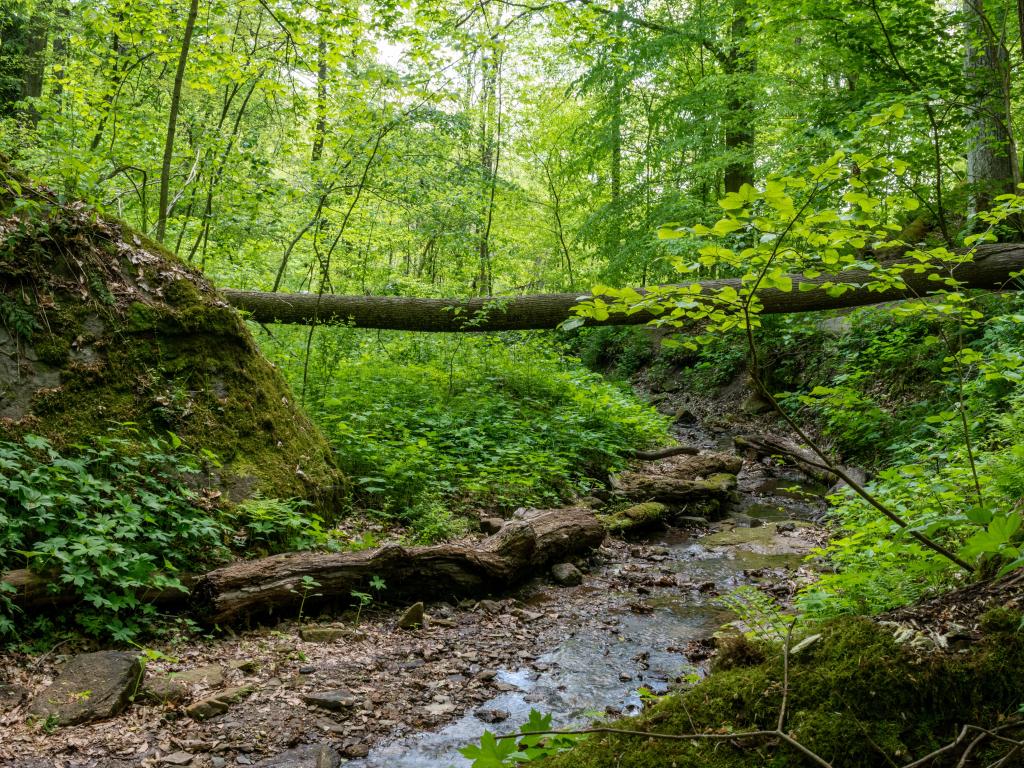 How to get there: Drive west on I-376 and I-70. Take Exit 101B to reach Columbus. For Egypt Valley Wildlife Area, take exit 208 on I-70. For the Salt Fork State Park Route, take exit 60A on I-376.
Our highlights: Pick up some fresh produce at North Market, one of the world's biggest farmers' markets where the goods are high quality and with plenty of choice.
If you're in downtown Columbus, check out Franklin Park Conservatory and Botanical Gardens, which is a well-curated array of plants and mesmerizing art pieces.
Budding scientists should head to the Center of Science and Industry to learn while having fun - you'll find a dinosaur gallery, a planetarium, and an enormous science park all in one place.
For a break from the city, take a walk in Egypt Valley Wildlife Area, which is a former surface mining area turned natural area where wildlife thrives. As such, it allows legal hunting of specific bird species.
If you want to admire stunning forested hills, dramatic valleys and wide open meadows all at once, we recommend taking a break at Salt Forl State Park en route.
Bonus: The city of Columbus gets its name from the famous Italian explorer Christopher Columbus.
Our travel tips: North Market is only open on the weekends from June to October.
9. Hocking Hills State Park, OH
3 hours 30 minutes from Pittsburgh (190 miles)
Why you should visit: A natural reserve that is filled with splendid caves, waterfalls, and quaint gorges in the shade of hemlocks, Hocking Hills State Park is a place where Ohio's history is written in the rocks. Even if you don't know how to read rocks, it offers some adventurous hikes through untamed nature.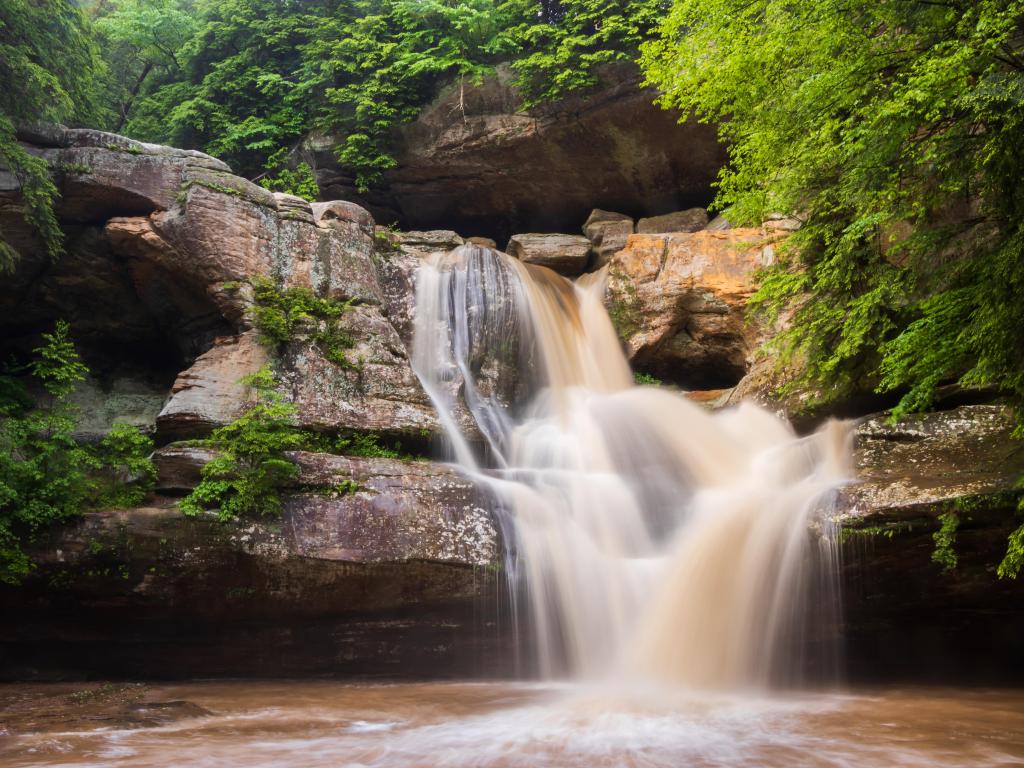 How to get there: Drive west on I-376 and I-70. Take exit 42 and navigate via US-22W and OH-664S to Benson Township, Hocking Hills State Park.
Our highlights: This is one of the few remaining areas in Ohio where light pollution barely has an effect, meaning that even looking up with the naked eye will yield an unforgettable scene of the starry sky.
For a truly unique experience in Hocking Hill, head to the Ohio Glass Museum and try out glass crafting for the first time!
This area has a rich connection with the history of the nation. At the Hocking Hills Historical Society & Museum Complex, you can learn about the region's past including its connection with World War II.
Bonus: There are a few unique museums near Hocking Hills, such as the Pencil Sharpener Museum or the Columbus Washboard Factory.
Our travel tips: The Ohio Glass Museum is only open from Tuesday to Saturday.
You can take an alternate route through Ohiopyle State Park and Fallingwater by taking I-579 south. This will take about 1 hour and 30 minutes longer, but offers stunning scenery.
10. Niagara Falls, NY
3 hours 50 minutes from Pittsburgh (240 miles)
Why you should visit: One of the most well-known waterfalls in the entire world and the oldest state park in New York, open to the public since 1885, Niagara Falls is a bucket-list destination that lives up to the hype.
The sheer volume of water passing through makes Niagara Falls an impressive sight, and the chance to witness it up close and from different angles is worth a trip.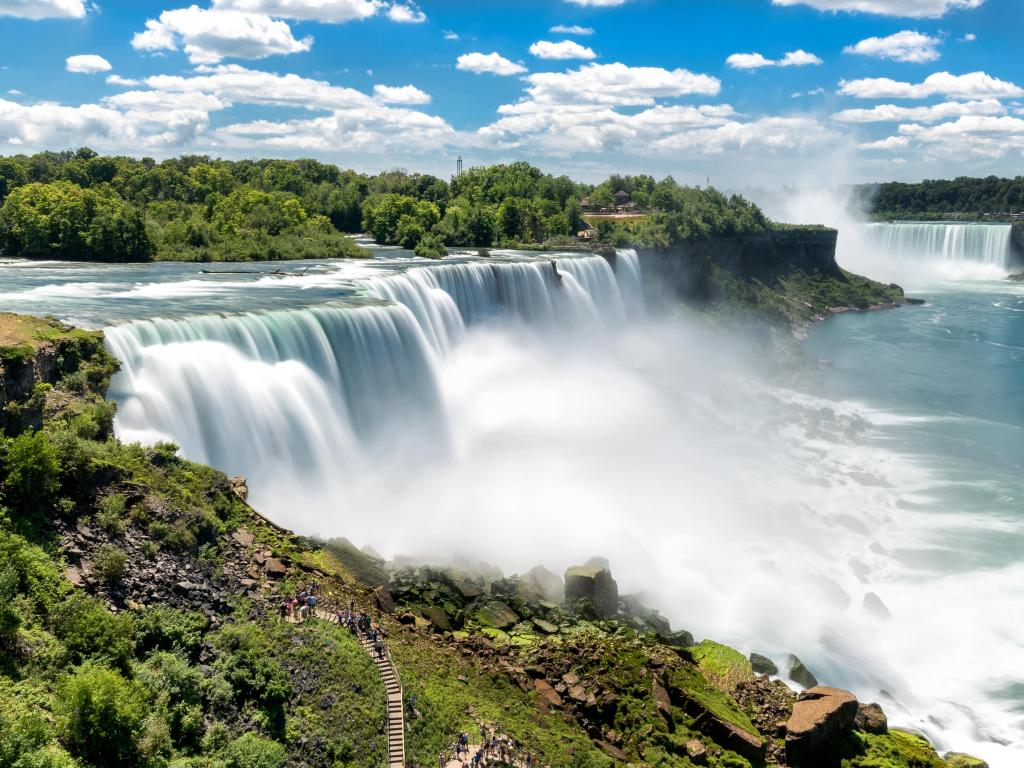 How to get there: Drive north on I-579 then I-79, before taking I-90 east. Take Exit 22 on I-190N and drive north along US-62 to reach Niagara Falls.
Our highlights: One of the best ways to witness the waterfall without leaving the ground is Prospect Point Observation Tower, which offers a great lookout over all three falls.
Take the Maid of the Mist boat tour, which has been running since 1846. They'll tell you about the history of the falls and take you close enough to get well and truly soaked in the plumage of water.
For adventurous types, head up to Goat Island's Cave of Winds. Getting there is a thrill in itself, but the main act is standing just 20 feet above the Bridal Veil Falls on a wooden platform in the strong wind.
On this trip, you can take a detour via Erie and Lake Erie to enjoy the waterfront scenery, which will add about 10 minutes to the drive time.
Bonus: Niagara Falls actually consists of three waterfalls: the American Falls, the Bridal Veil Falls, and the Horseshoe Falls.
Our travel tips: While visiting Niagara Falls, leave behind anything that can be damaged by water. No matter how much protection you have, anyone who gets close will end up soaked!
11. Washington, DC
Via Frederick, MD
4 hours 20 minutes from Pittsburgh (250 miles)
Why you should visit: As you'd expect, the capital of the United States is home to an array of culturally and historically significant monuments and sights.
Government buildings, war memorials, museums, as well as quaint boutiques, shops and sprawling wildernesses – you'll find everything here at the capital.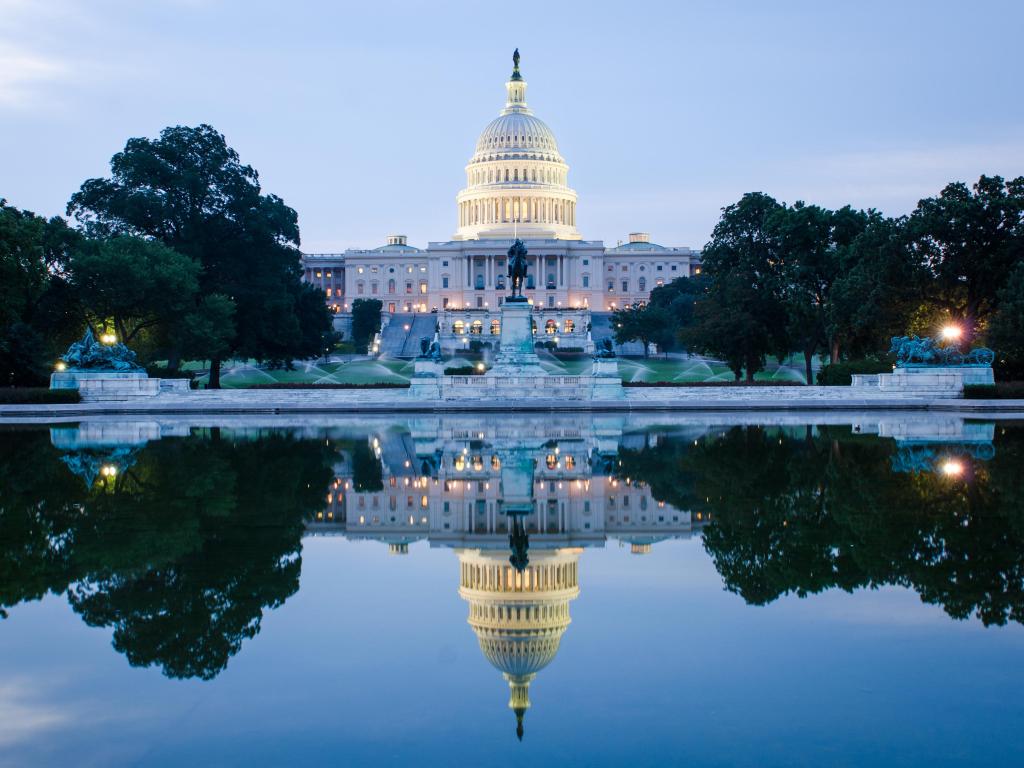 How to get there: Drive south on I-579 and take I-376 east. Take exit 54 on I-70E to reach Frederick. Rejoin US-40 heading east and take I-270 south. Use US-29N to reach the Scott Circular NW in Washington.
Our highlights: For a glimpse of the grassy slopes that characterize Washington on the news, head to the National Mall and visit a number of famous structures including the Lincoln Memorial, which in itself is an iconic sight.
A trip to Washington DC is not complete without visiting the White House. Keep in mind that you have to put in a request for a public tour if you'd like to see the inside of this world-famous building.
The Library of Congress houses over 67 million objects, so it is perfect for a dig around - the shelves hold everything from fragile and rare books to popular contemporary music recordings.
Make sure to check out Historic Downtown Frederick, a well-preserved section of the city that has more than 200 museums, art galleries, specialty shops and restaurants.
It's possible to take an alternate route via Ohiopyle, Fallingwater, and Fort Necessity National Battlefield, which will add about 20 minutes to the journey time.
Bonus: On the National Mall, the tallest monument is the Washington Monument, and the largest is the Smithsonian Museum.
Our travel tips: The Library of Congress is free for all to enter.
12. Luray and Shenandoah National Park, VA
4 hours 30 minutes from Pittsburgh (250 miles)
Why you should visit: Luray's granite mountains and thundering waterfalls have long been a place that the great and good residents of Washington DC have retired to in search of respite.
This trip is a chance to get off the grid and witness nature at its most beautiful. The numerous trails provide great exercise and the opportunity to spot wildlife. You will also get to thread the stunningly scenic Appalachian Trail.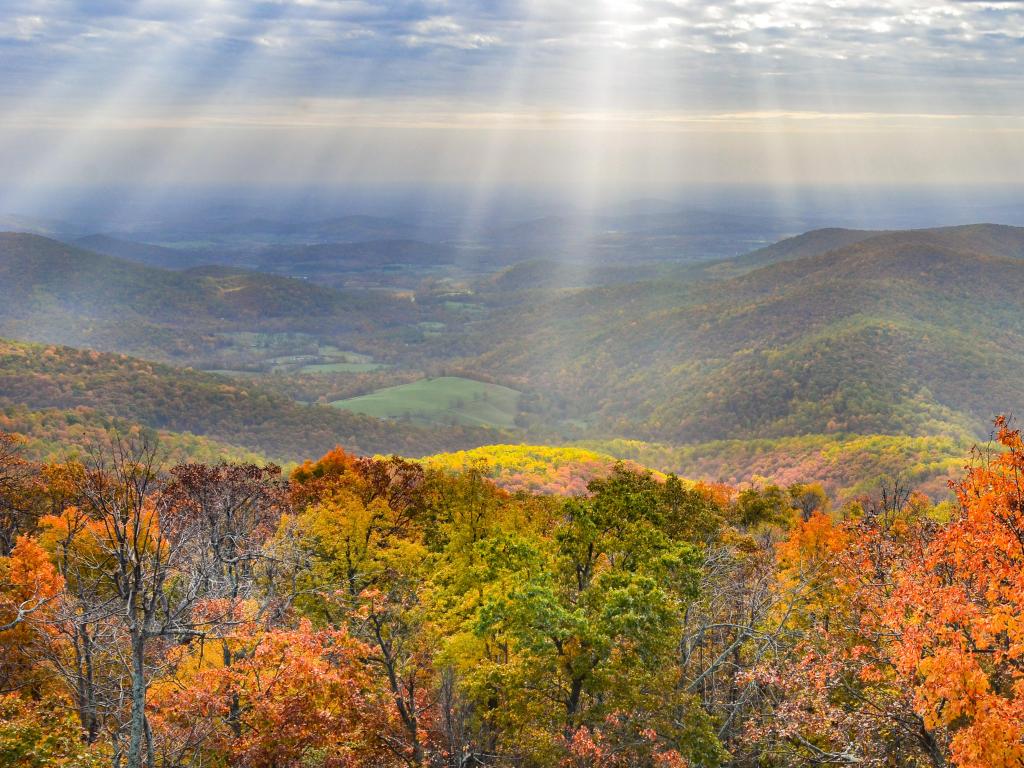 How to get there: Drive south on I-579 and east on I-376. Take Exit 1B from I-70E to join I-81 heading south. Take Exit 6 on I-66E to reach Luray, then navigate to Shenandoah National Park via US-211 going east.
Our highlights: During the beginning of the Great Depression, President Hoover used to hike and fish at Rapidan Camp in Shenandoah to deal with the stress. Today it is open for all to enjoy.
The world-renowned Luray caverns have been forming for several millions of years. Today, their vast chambers exhibit glistening draperies, stone columns and crystal-clear pools that are well worth a visit.
If quirky museums are your thing, stop by the Car and Carriage Caravan Museum. It houses cars, carriages, and all kinds of automobiles dating back to the 18th century. It houses one of the oldest cars in the country, an 1897 Mercedes-Benz that is still in working condition.
If you are in Luray, don't miss the bottle shop-cum-restaurant-cum-wine bar The Valley Cork. Its inventory is never the same but it will always have something local on offer.
Travel back in time to the 1920s at the Shenandoah Heritage Village and wind slowly back to the present as you travel through the historical homes and buildings in the valley.
Bonus: The Appalachian Trail is the longest hiking-only footpath in the world, stretching 544 miles in total. About 100 miles of it run through Shenandoah, parallel to Skyline Drive.
Our travel tips: You might need to make a reservation to hike on Old Rag Mountain, so check the official website to make sure before you visit.
Shenandoah National Forest is home to one of the densest Black Bear populations in the country, so be mindful of food safety and bear awareness rules if you are camping out.
13. Baltimore, MD
Via Michaux State Forest and Gettysburg, PA
4 hours 50 minutes from Pittsburgh (250 miles)
Why you should visit: Maryland's largest city is an important coastal area with massive historical significance. The Inner Harbor of Baltimore houses attractions for all ages, including museums, restaurants, and most notably, moored historic ships.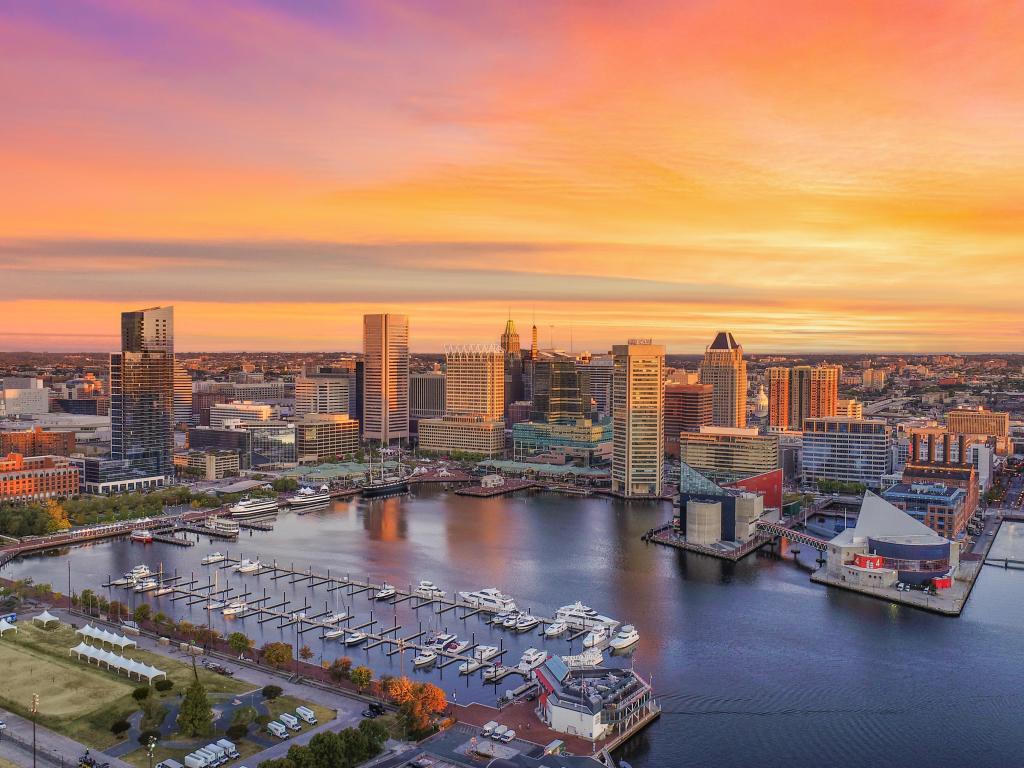 How to get there: Drive south on I-579 and east on I-376. Take the exit for US-30E on I-70 to reach Michaux State Forest. Rejoin this road to arrive in Gettysburg. Then take MD-97 and I-83 heading south to reach Baltimore.
Our highlights: The Fort McHenry National Monument and Historic Site has a well-curated visitor center where you can learn about this historic landmark through exhibits and films.
It takes something special to be a standout museum in Baltimore. Walters Art Museum is one of the best, among the few that contain art pieces that date back to 3 B.C.!
However, the most unique art museum in the city only houses the works of artists who are self-taught. The American Visionary Art Museum is much more than a gallery, it's a celebration of the spirit of creativity.
There's lots to see at the National Aquarium, including coral reefs from the Pacific and Atlantic, river forests from the Amazon, a kelp forest, aquatic life from Australia and much more. Plus, the building overlooks Baltimore's Inner Harbor so offers great views.
Bonus: Fort McHenry's flag is believed to be the original inspiration for the country's national anthem. The sight of this flag is said to inspire Francis Scott Key to write the first words of Star-Spangled Banner.
Our travel tips: Baltimore is a busy city, and the best time for visiting is between June and August. Be sure to book as early as possible as the summer is filled with various festivities and events.
Click here to skip back to the top.
Long weekend trips (5-8 hours each way)
Sometimes it feels good to disappear for the weekend and leave the city behind. These trips that take a half-day's travel each way include the option to explore one of America's great cities or drive through the Great Smoky mountains.
14. Finger Lakes and Ithaca, NY
Via Cherry Springs State Park, NY
5 hours 50 minutes from Pittsburgh (300 miles)
Why you should visit: The streams that flow north here create spectacular waterfalls that have to be seen to be believed. It is also a culturally significant area with various Underground Railroad escape route sites.
Alongside its natural splendor, Finger Lakes is famous for its excellent wine, especially its Riesling.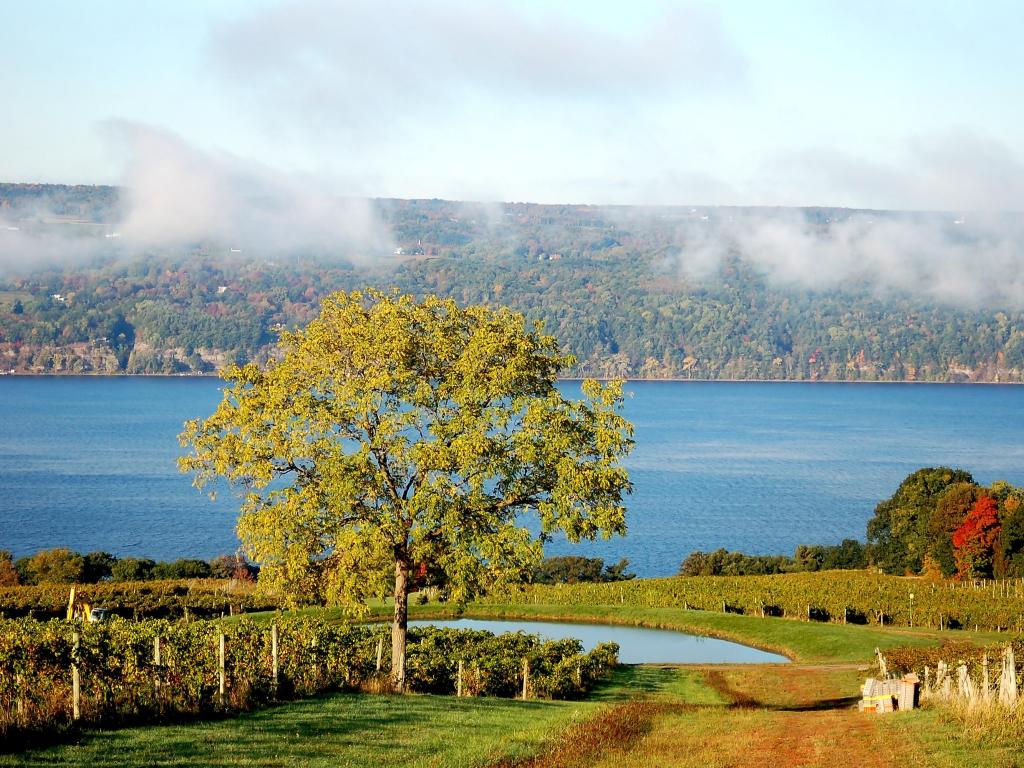 How to get there: Take PA-28 north to Wharton Township. Then follow PA-44 south to reach Cherry Springs State Park. Drive west on US-6 and south on US-15. Navigate to Lansing in Finger Lakes via I-99 and NY-34N.
Our highlights: Finger Lakes is a collection of 11 lakes formed by glacial activity. Not only geologically fascinating, but Finger Lakes is also historically significant as well; the Women's Rights Movement in America began here in Finger Lakes.
Take in some greenery at Cornell Botanic Gardens, which are a part of Ithaca's Cornell University and one of the best arboretums run by a college.
For a real immersion in nature, join the birdwatchers at Montezuma National Wildlife Refuge, which is an expansive marshy area that is a significant location for spotting migratory birds.
Taking its name from the unique Black Cherry Trees, Cherry Springs State Park is a natural refuge and by night you can even catch the Northern Lights here in certain spots.
Our travel tips: The best chance to catch the Northern Lights is near the end of September.
15. Philadelphia, PA
Via Harrisburg, PA
5 hours 10 minutes from Pittsburgh (310 miles)
Why you should visit: There are very few places in the country which are as iconic as Philadelphia. It's friendly too - the community is also known for its status as the "city of brotherly love". The largest city in the state is famous for the history on display, including the iconic cracked Liberty Bell.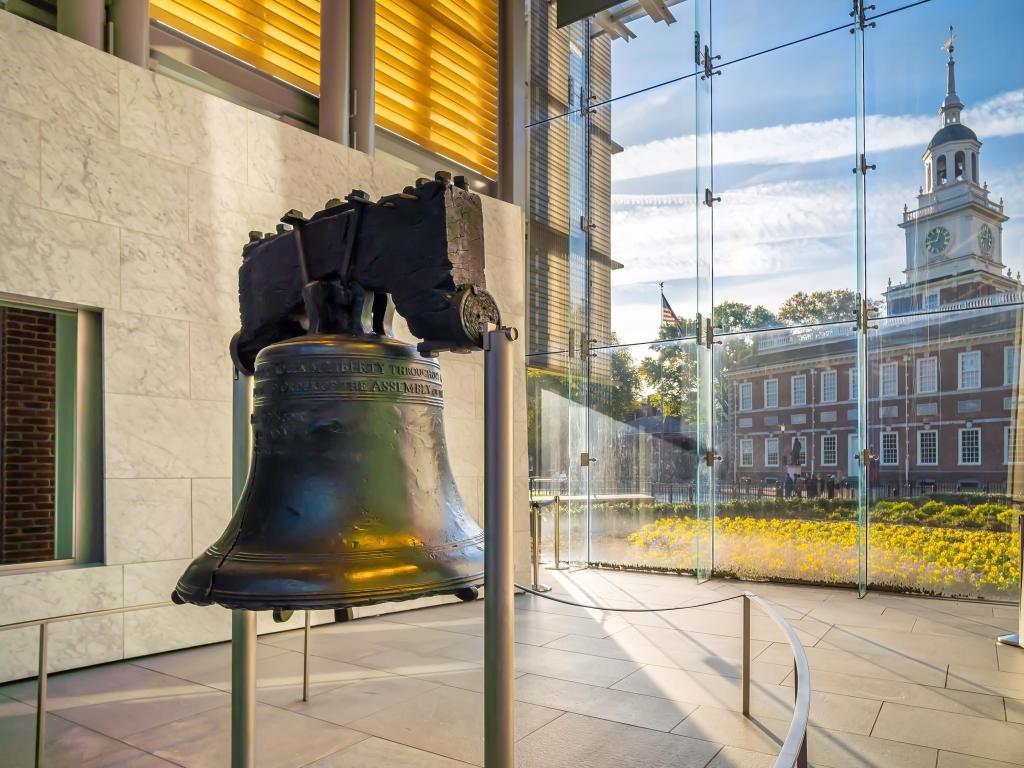 How to get there: Drive south on I-579 and east on I-376, then follow I-76 and US-15N to Harrisburg. From there, take I-83 north and re-merge with I-76. Take the Central Phila exit on I-676 to reach Philadelphia.
Our highlights: Stand at the site where history was made by visiting Independence Hall, where the Declaration of Independence was originally signed after much heated debate.
Calling all cheese fans - the Reading Terminal Market is a bucket-list destination to pick up fresh mozzarella made on-site, among other rare Pennsylvania Dutch varieties. Reading Terminal Market is the nation's oldest farmers' market that has been continuously in operation.
A must for any Harrisburg visitors, the Pennsylvania State Capitol Complex is among the nation's most impressive state capitols and is deservedly categorized as a National Historic Landmark.
You can take a detour via I-79N and I-80 which will take you through DuBois and State College (Happy Valley), which will add 1 hour 30 minutes to the drive time.
Bonus: The Wanamaker Grand Court Organ at Macy's in Philly is the world's largest operational musical instrument and can be viewed by the public.
Our travel tips: Philadelphia is at its best right at the beginning of spring, as the city's nature is in the colorful process of coming back to life.
16. New York, NY
Via Hershey and Allentown, PA
6 hours 30 minutes from Pittsburgh (380 miles)
Why you should visit: New York needs no introduction, it's one of the biggest and most famous metropolises with an iconic skyline, incredible shopping and showstopping entertainment. Experience the quintessential American dream as you walk through the glitzy city by night or day.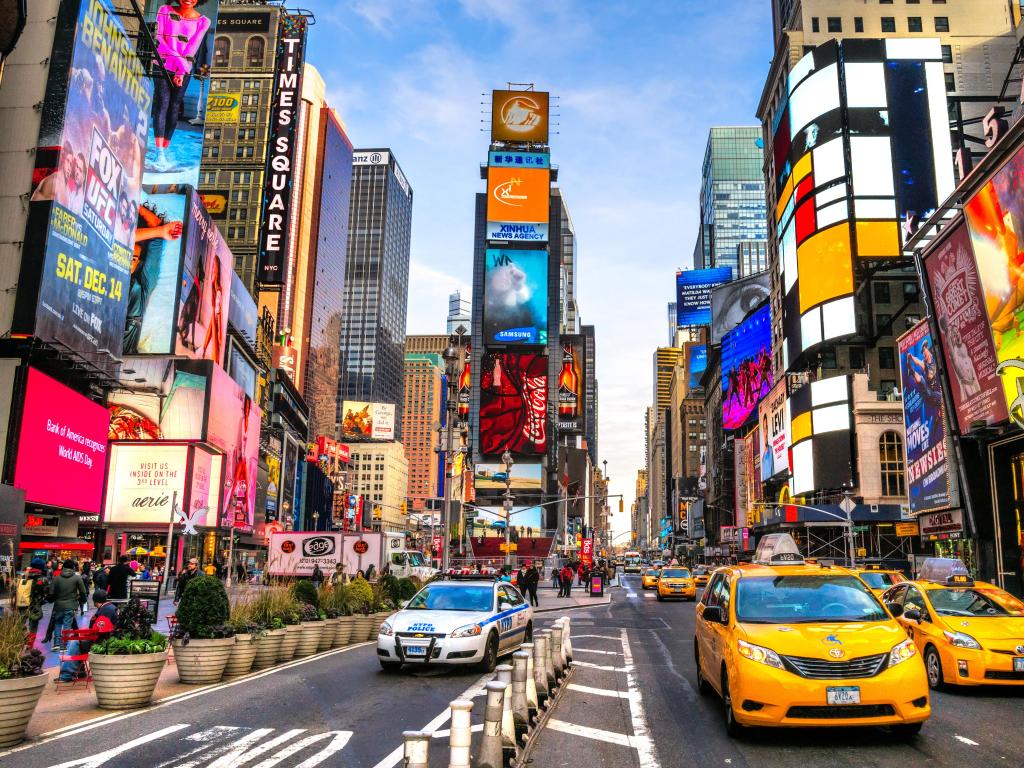 How to get there: Drive south on I-579 and east on I-376. Take exit 46B on I-83N to reach Hershey via US-322E and US-422E. From there, take I-81N and PA-145S to reach Allentown. Then take US-22E and I-78E to arrive in New York.
Our highlights: It wouldn't be a trip to New York without a stroll in Central Park, a humongous 693 acres of artificial parkland which has hillsides, forest, meadows, and gardens, all in the center of the one of the busiest cities in the world.
The Cloisters is the only museum in the US that is exclusively dedicated to Middle Ages art and architecture. The building itself is a work of art to experience!
If you visit New York in the festive wintertime, you can get to see the famous Christmas tree at the Rockefeller Plaza go up, if you are lucky! Make sure to admire all the sparkling lights and to visit the Fifth Avenue for some festive shopping.
Hershey's Chocolate World en route is bound to excite people of all ages with a sweet tooth. It's not just about eating chocolates though - you can also learn about the preparation and quirks of this particular world-famous dessert.
If you want a taste of home, visit the Liberty Bell Museum in Allentown which houses an exact replica of the original bell sitting in Pittsburgh. This is where the original was hidden at the time of the Revolutionary War in 1777.
Bonus: The last remaining forest in Brooklyn is Prospect Park, which is like a little brother to Central Park in its appearance and features.
Our travel tips: Even if you're arriving by car, after parking your car somewhere convenient try to explore New York via public transport, which is one of the most well-connected systems in the country.
Start your day early in the city to bypass the crowds, and avoid the holiday season for the same reason. There's much more to New York than just Manhattan, so be sure to do some research!
You can choose to take the PA-981 south instead to drive through Keystone State Park and Loyalhanna Creek. This detour will add about 40 minutes to the drive time.
READ MORE - Road Trip from Pittsburgh to New York
17. Knoxville and Great Smoky Mountains National Park, TN
7 hours 40 minutes from Pittsburgh (490 miles)
Why you should visit: People are drawn to Knoxville for its liveliness and beauty, along with its football culture and intellectual buzz courtesy of the University of Tennessee.
Treat yourself to some savory Southern food while touring natural attractions, historical sites, and dipping into the vibrant footballing community.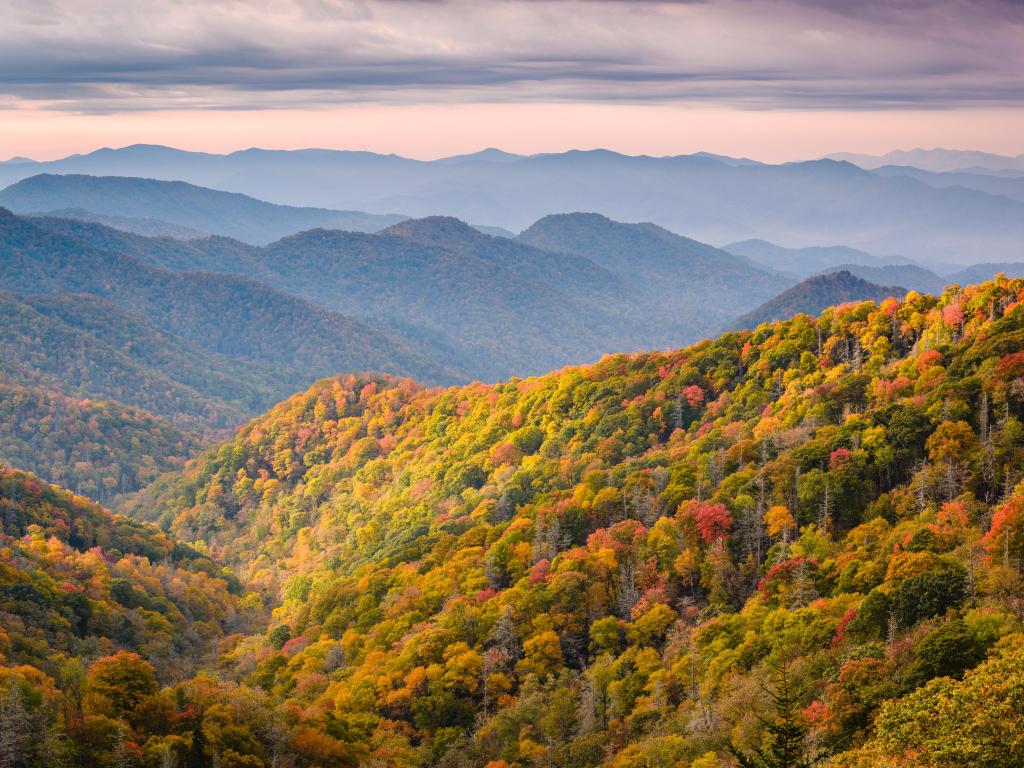 How to get there: Drive west on I-376 and take I-79 south. Take exit 57 and drive south on I-77. Reach Knoxville via I-81S and TN-158W. Take US-129 south and US-321 north to reach the Great Smoky Mountains National Park.
Our highlights: Knoxville is a city that's full of wildlife, and a great place to start is the Ijams Nature Center. Originally a bird sanctuary, today, it sits on 300 acres and is dedicated to wildlife education and preservation.
For more exotic animals, check out Zoo Knoxville, which houses over 900 animal species from all over the world and has been awarded for its red panda conservation efforts.
To hang out and soak up the vibe of the city, visit World's Fair Park where the World Fair was hosted in 1982. It's now a great place for relaxation and hanging out, featuring gorgeous lawns, and enjoyable water features.
Along the route, you can add a minor detour to explore New River Gorge Bridge, which will add about 30 minutes to the drive time.
Bonus: Ijams Nature Center has Knoxville's only outdoor rock-climbing area, so why not head there and enjoy a day outdoors if the weather permits?
Our travel tips: Fall and spring seasons are when the colors of Knoxville and the surrounding Great Smoky Mountains National Park really come to life.
Click here to skip back to the top.
Longer trips (Over 8 hours each way)
Schedule some time off work and pack your suitcase for a proper holiday. These trips will take you far out of Pittsburgh for a proper break and time to reflect, relax and discover new horizons.
18. Nashville, TN
Via Cincinnati, OH and Louisville, KY
8 hours 50 minutes from Pittsburgh (590 miles)
Why you should visit: Nashville is the cradle of country music, but music lovers can find everything here from R&B, a strong pop and rock culture, and the home of bluegrass.
In addition to being a music capital, Nashville is brimming with historical sites, outdoor activities, professional sports and delicious food.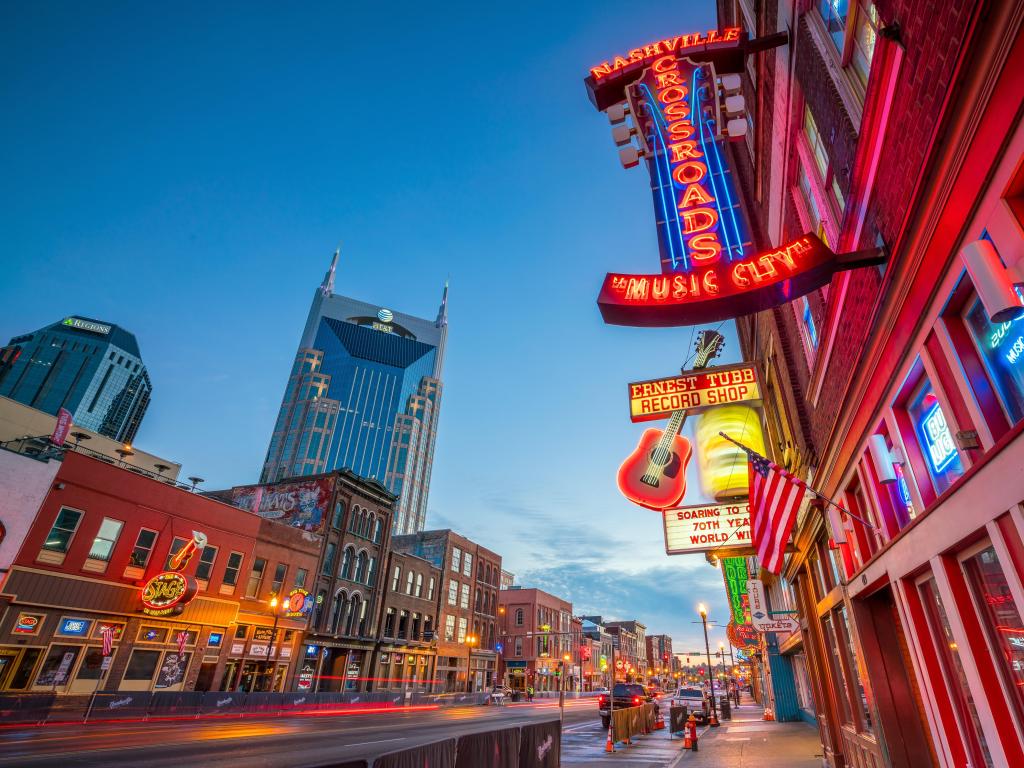 How to get there: Follow I-386 west and I-71 south to reach Cincinnati. From there, re-merge with I-71 and take I-64 west to reach Louisville. Then head south on I-65 and take exit 209A to reach Nashville.
Our highlights: Watch the curtains go up at the Grand Ole Opry, the most famous country music venue in the world. Visit the building or book yourself in for a toe-tapping show.
There's more country on offer at the Country Music Hall of Fame & Museum, with windows that resemble piano keys. Tour the museum on your own or get the audio guide and hear from legends like Dolly Parton.
Your last monument to country music is the Ryman Auditorium, which housed the Grand Ole Opry from 1943 until 1974 and still broadcasts the popular radio show.
The theater is located right near Honky Tonk Row and has a museum that you can visit with displays linked to its rich musical history.
The best place to soak up Nashville's electric vibe is downtown, which houses many of the city's most popular music attractions including the Honky Tonk Row, Ryman Auditorium and museums commemorating well-known musicians such as Patsy Cline.
If you are a history fan, head to former president Andrew Jackson's former house in Nashville is now a museum which is open to the public.
Our travel tips: Nashville boasts relatively mild weather in wintertime around 40-50 degrees Fahrenheit. with thousands of holiday decorations and seasonal entertainment.
19. Atlanta, GA
Via Blue Ridge Parkway and Asheville, NC
11 hours 50 minutes from Pittsburgh (720 miles)
Why you should visit: Since its founding in 1837, Atlanta, Georgia, has been known for its historical significance and innovative thinkers. This road trip is not rich in history though-you will get to travel on one of the most scenic roads in USA on your way from Pittsburgh-Blue Ridge Parkway!
Atlanta is renowned for being one of the fastest-growing cities in the US, but it retains its family-friendly atmosphere and has something for people of all ages.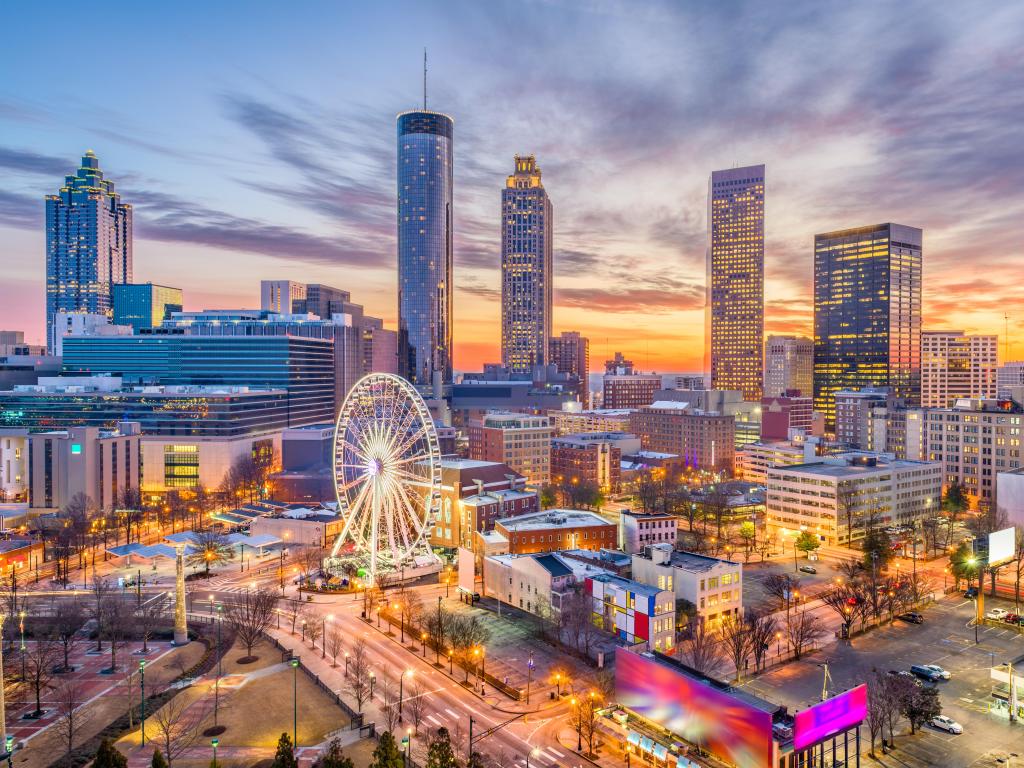 How to get there: Drive west on I-376 and take I-79 south. Wind through the mountain roads of the Blue Ridge Parkway via I-77S and VA-89S. Then follow I-40W and I-85S to arrive in Atlanta.
Our highlights: There are plenty of quirky attractions in Atlanta, including the World of Coca-Cola. Here you can learn about the iconic beverage's history, see memorabilia, participate in multimedia experiences, meet the Coca-Cola Polar bear, and sample formulas from across the world.
Another fun one is the Chick-fil-A College Football Hall of Fame, which is a must-see destination for university football and sports fans.
If it's nature you're after, Zoo Atlanta offers exhibits and encounters with over two hundred different animal species. You spend a whole day here learning about these fascinating creatures.
For a deeper understanding of the natural world, head to the Fernbank Museum of Natural History which has indoor and outdoor displays as well as lots of interactive activities - great if you're traveling with kids.
En route, Asheville is an extremely scenic city which is well worth a visit. We recommend staying here overnight if you can spare the time to take in all the beauty and outdoors activities like hiking trails.
Bonus: Atlanta is one of just two cities on the planet to have housed two Nobel Peace Prize Laureates: Jimmy Carter and Dr. Martin Luther King, Jr.
Our travel tips: Getting about Atlanta is simple, as the city districts are relatively close together and the roads are well maintained.
MARTA has a complex network of trains and buses that can quickly transport you from point A to point B. The airline station is the most convenient method to travel to one of the busiest airports in the world.
20. Bar Harbor and Portland, ME
14 hours from Pittsburgh (860 miles)
Why you should visit: This part of the world-famous for its natural beauty, rich history, and celebrity residents such as Martha Stewart, David Morse and Susan Sarandon.
Bar Harbor is a charming little resort town with lots of outdoor activities for youngsters including kayaking, whale watching, and animal viewing.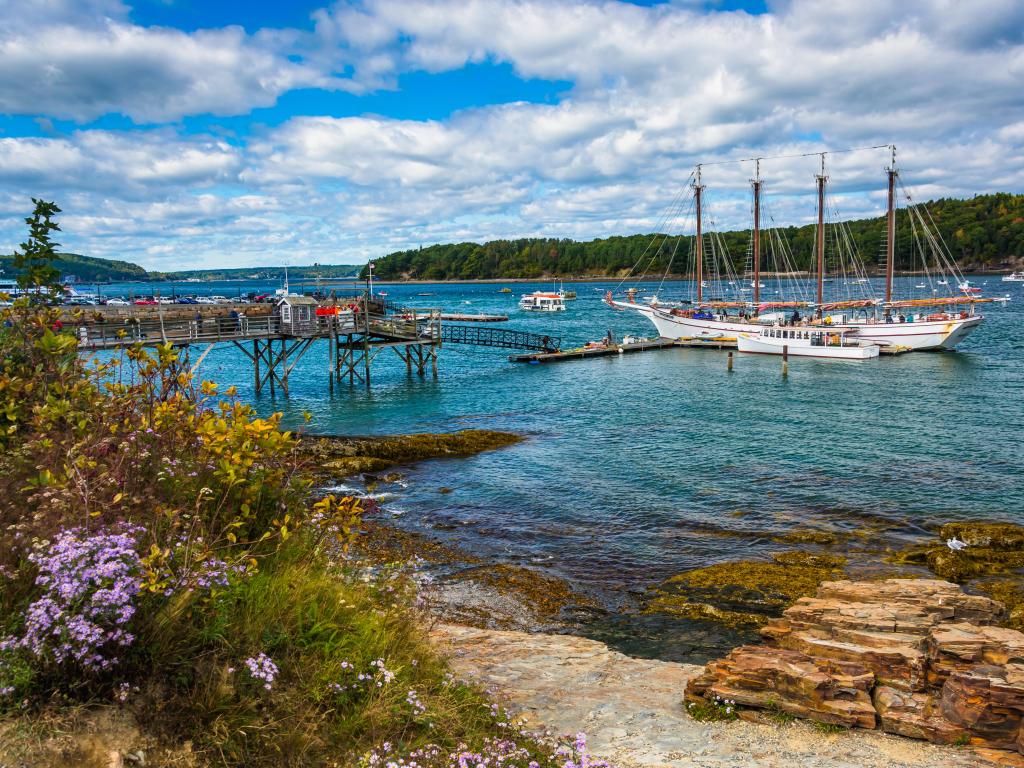 How to get there: Follow I-579 south, then take I-376 and US-22 east. Follow I-93 north and take exit 17 to reach Boston. From there, follow I-295N and take Exit 7 to reach Portland. From there, re-merge with 295N and take US-1AE and ME-3E to reach Bar Harbor.
Our highlights: Follow the tourist trail and use Bar Harbor as a base for exploring Acadia National Park. The top activities there include hiking, biking, and driving along the gorgeous ancient carriage routes.
Frenchman Bay, with its sparkling waters, is an easy location to fall in love. Take a boat trip, try your hand at fishing, go for a swim, or attempt waterskiing.
At Cadillac Mountain you can be one of the first people in the country to see dawn from early October to the beginning of March. On a good day, you can even spot Mount Katahdin across the valley.
If you are visiting Acadia National Park and plan to drive on the Cadillac Summit Road, keep in mind that vehicle reservations might be required. Please check the national park's website to avoid any disappointment.
If you're prepared to climb for a great view, take the Land Bridge to Bar Island and trek up to the island's highest altitude for a spectacular vista of Frenchman Bay and Bar Harbor.
Bonus: Maine has around sixty lighthouses, 6 of which are within 20 minutes of Portland.
Our travel tips: Maine has cool weather throughout the year, which makes summer the best time for visiting Bar Harbor.
21. Orlando, FL
14 hours 30 minutes from Pittsburgh (970 miles)
Why you should visit: Every year, around 60 million people travel to Orlando for the warm weather, world-famous theme parks, golf courses, retail malls and nightlife.
Orlando, home to 7 of the world's best theme parks, is the country's most popular family holiday destination, with outdoor thrill coasters, world-class water parks and plenty of outdoor activities in sunny Florida.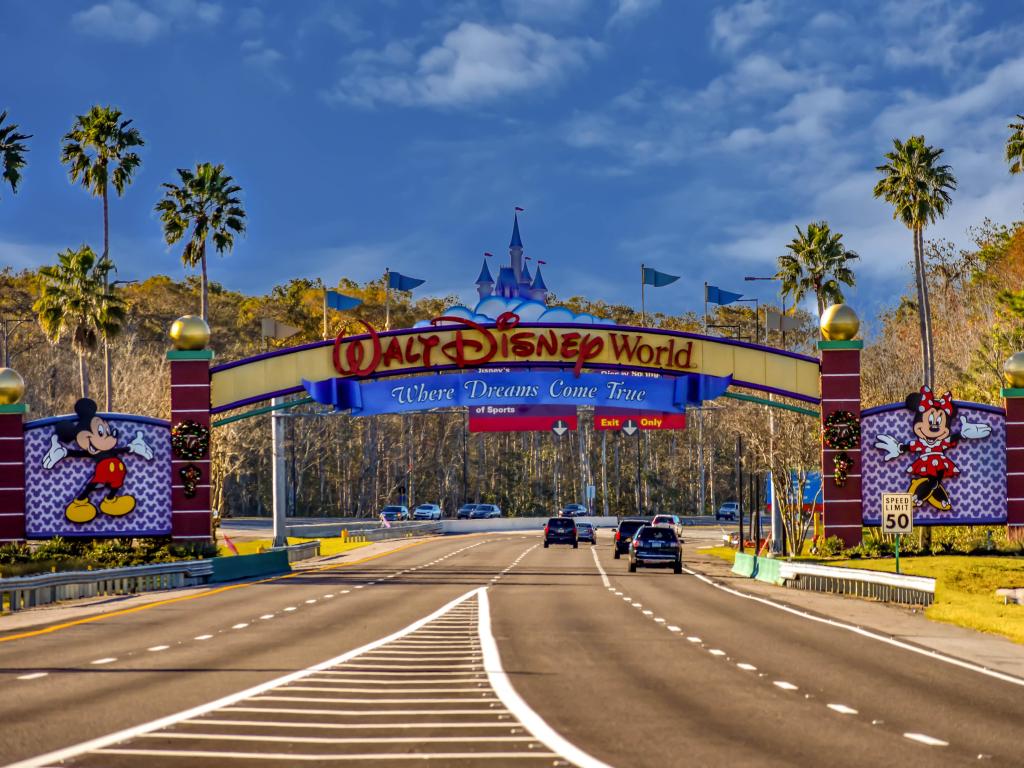 How to get there: Drive west on I-376 and take I-79 south. Take Exit 57 to reach Raleigh County. Continue on I-77 south and I-4 heading west, then take Exit 83 to arrive in Orlando.
Our highlights: Discover the Florida Everglades on a trip with Boggy Creek Airboat Adventures. Located approximately an hour south of Orlando's main tourism areas, you'll glide through the tributaries of the Everglades on six-passenger inflatable rafts at speeds that reach up to 40 mph.
Walt Disney World Resort is a no-brainer if you're in Orlando - this world-famous resort consists of four theme parks and two water parks: Magic Kingdom, Epcot and Disney's Animal Kingdom to name a few.
Afterwards, check out Universal Orlando - home to the much beloved Wizarding World of Harry Potter. It's visited by millions of domestic and international tourists annually and with so many attractions, rides and studios, it's easy to understand why!
To get a sense of Florida's lush wildlife, visit Central Florida Zoo & Botanical Gardens. It is nestled in tropical greenery and is host to 23 acres of native parks and over 500 species. It also has an insect zoo, a reptile house, a children's section, a water playground and a zip line.
After that, take a paddle adventure through Florida's crystal-clear springs, look for aquatic life on the tailwaters and soak up the sun on one of Orlando's many beautiful lakes.
For a scenic detour, you can choose to take a longer route via Roanoke and Charlotte. To take the detour, get on I-64E from I-79S and drive along I-581S.
Bonus: Upwards of 100 lakes can be found throughout Orlando - see how many you can spot!
Lake Eola near downtown Orlando is a massive sinkhole that is eighty feet deep.
Our travel tips: Orlando has a sub-tropical climate and a monsoon season that lasts from May to October, so expect a midday shower virtually every day if you arrive during the summer.
Renting a vehicle or using taxis are probably the most convenient methods to experience Orlando once you arrive.