Road Trip from Pittsburgh to New York
A road trip from Pittsburgh to New York City will take you on an epic adventure through some fascinating cities and towns. This fantastic route passes through some of the most stunning forest parks and scenery that Pennsylvania and New York have to offer.
The road trip from Pittsburgh to New York takes 6 hours and 30 minutes, covering 370 miles. Key stops include Altoona, State College, Bellefonte, Bald Eagle Valley, and Newark, as well as Harrisburg, Philadelphia, and the Tuscarora State Forest Park.
With plenty of attractions and places to visit on the journey, keep on reading to learn about the best routes to take, the best time of year to travel, and some of our favorite things to do along the way to help you plan for your trip.
How far is New York from Pittsburgh and how long will the road trip take?
Comparison of road trip routes between Pittsburgh and New York

| Route | Distance | Driving Time |
| --- | --- | --- |
| The Scenic Route | 370 miles | 6 hours 30 minutes |
| The Philadelphia Route | 410 miles | 6 hours 50 minutes |
The road trip from Pittsburgh to New York through Philadelphia covers 410 miles and takes around 6 and 50 minutes. This doesn't include time for breaks or detours along the way, and you'll want to make a few to enjoy all the wonderful sights along this epic route.
Alternatively, there is a more scenic route option which covers 370 miles and will take around 6 hours and 50 minutes. It passes through many state parks and forests with breathtaking scenery, as you head through the Pennsylvania countryside, and pass by Altoona and Bellefonte.
Both routes take similar times to drive and can be completed within a day if you are in a hurry. However, we suggest taking at least 3 days to enjoy the beautiful scenery and amazing attractions on your way to New York.
Best road trip route from Pittsburgh to New York City
The best road trip route from Pittsburgh to New York will depend on your preferences and what you would most like to see and do along the way. With this in mind, we have suggested two routes with quite alternative options.
The Scenic Route is aptly named because it will take you through beautiful state forests and parks that are on the way before taking you to the buzzing streets of New York City.
The Philadelphia Route will take you further south, where you will get to experience the vibrant city that shares the same name as you drive through some of the most charming towns of Pennsylvania.
How to drive from Pittsburgh to New York City
The map above shows our suggestions for the best road trip routes between Pittsburgh and New York City. Keep reading for detailed descriptions of both routes, where to stay on either, and the best things to do on the way.
The Scenic Route
As you start from Pittsburgh, head east on Interstate 376 before merging onto US-22E passing Seanor Farm Park and Loyalhanna Lake National Recreation Area, with its rugged scenery lake, it's ideal for outdoor activities and watersports.
Take PA-981 heading south, which will take you past Keystone State Park and onward towards Loyalhanna Creek. It's well worth a trip to see Loyalhanna Gorge, at 900 feet and beautifully carved into the sand and limestone where millions of years are recorded in the rocks.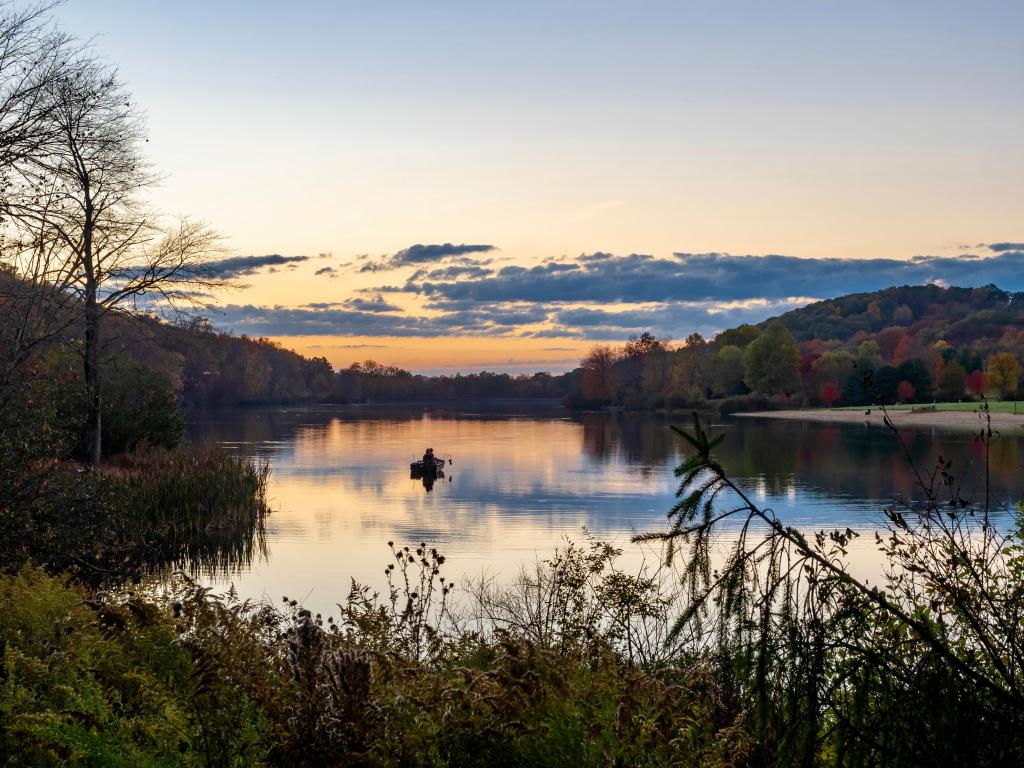 Carry on until you reach Duncansville, where you'll then take Interstate 99 North heading towards Altoona. A slight detour will take you to the famous horseshoe curve, popular with visitors from around the world and it is worth a visit, before continuing on past Altoona City.
From Altoona, make your north passing Tipton and Tyrone before crossing the Bald Eagle Valley. Bald Eagle State Forest offers more than 200 miles of hiking trails, and opportunities for mountain biking, horseback riding, ATV riding, picnicking, fishing, and camping.
Cross the beautiful Happy Valley, State College, and Penn State University Campus, and follow I-99 to Bellefonte. Located almost halfway into the trip, this quaint city makes an ideal place for a stopover.
Leaving Bellefonte, follow Interstate 80 heading east, crossing the Susquehanna River, Delaware Water Gap, and passing the Worthington State Forest on your way. Delaware River is the border so once you have crossed it you have reached New Jersey.
Take Exit 47A for Interstate 280 E to Newark where you can spend a few hours exploring the Newark Museum of Art and the impressive Basilica of the Sacred Heart.
Then follow the signs for County Road 508 East towards New York. You'll reach the New Jersey Turnpike, which leads you all the way to New York City.
The Philadelphia Route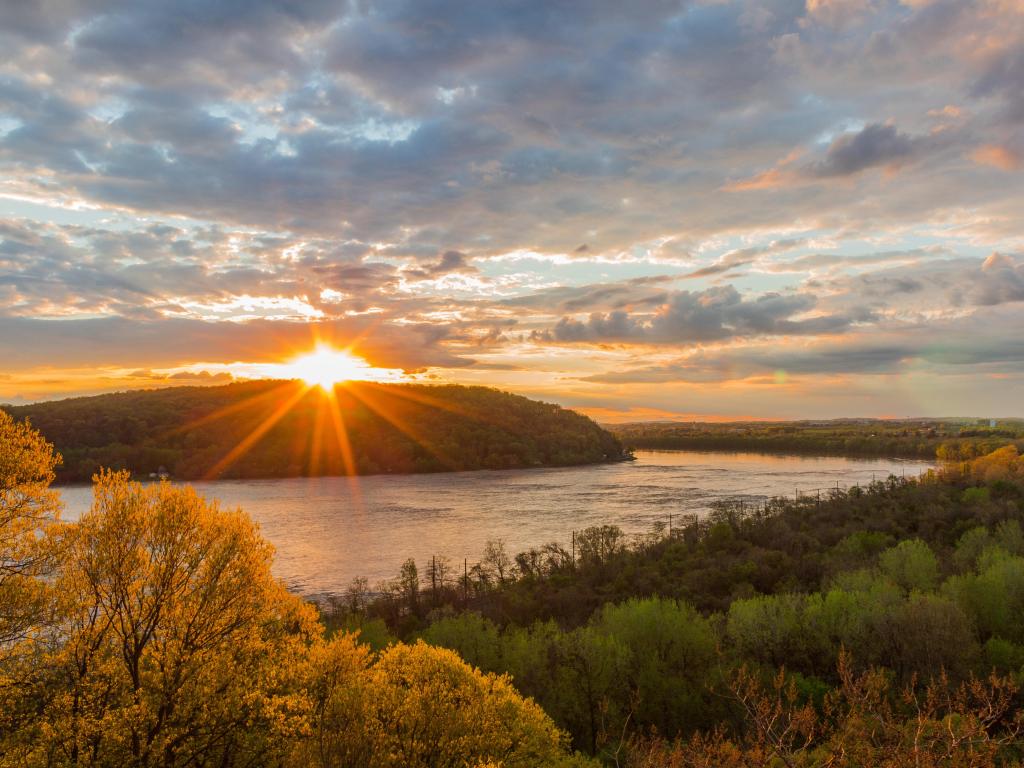 Leaving Pittsburgh, join Interstate 579 S and then head east on Interstate 376 before taking Interstate 76. Pass New Stanton and head towards Donegal where you can take a detour south on PA-381 to Mill Run.
Here you can discover one of architect Frank Lloyd Wright's masterpieces, Fallingwater. It's well worth the diversion to see the exquisite harmony between the native sandstone structure built upon a waterfall.
Visit the museum and take a stroll through the enchanting landscape before continuing your journey. Once back onI-76, continue east passing Breezewood.
The interstate will take you past Tuscarora State Forest. Comprising over 96,000 acres of narrow valleys, steep rocky ridges, and forests of magnificent oak. Explore the many walking trails or take an invigorating swim in Tuscarora Lake.
Continue along I-76 and you'll arrive at Harrisburg, the state capital of Pennsylvania, on the banks of the Susquehanna River. Here you can see re-enactments and exhibits at the civil war museum, and take a trip to Hersheypark, a chocolate-themed park with rides and entertainment.
Following the interstate will take you directly into Philadelphia, a city full of rich history and well worth an overnight stopover, allowing you to immerse yourself in the city's culture and explore everything it has to offer.
Leave Philadelphia on Interstate 95 N following the Delaware River before crossing it and entering New Jersey. You'll pass the Etra Lake Park and Crystal Springs family waterpark as you head north, catching views out to Sandy Hook Bay as you arrive at the Big Apple.
Best places to stop between Pittsburgh and New York
There are a few great places to stop overnight when you're on a road trip from Pittsburgh to New York. This will break up the journey and make it more enjoyable, giving you the chance to find some fun things to do and experience the local culture.
Explore the picturesque beauty of Bald Eagle State Park
Traveling along our Scenic Route option, then a little under halfway into the journey is The Hampton Inn and Suites of Lamar, a world-class hotel located just off the interstate and a short drive away from the beautiful Bald Eagle State Park.
It features an indoor pool, spa, and fitness room for you to relax after a day at the wheel, and the rooms are spacious with excellent facilities and close to many excellent local attractions.
Bald Eagle State Park offers 194,000 acres of picturesque Pennsylvanian beauty right at your doorstep, dominated by a series of impressive sandstone ridges, with many miles of hiking trails to explore, and in the winter months, it's a great place to try cross-country skiing.
Another local attraction well worth a visit is Penn's Cave and Wildlife Park. Penn's Cave is America's only all-water cavern and farm-nature-wildlife park.
Here you can enjoy a fully guided cavern tour by boat, a beautiful farm to enjoy nature and wildlife, and an off-road mountain tour and gemstone panning before heading to the hotel for a refreshing dip at the pool to unwind.
Stay in the historic heart of Philadelphia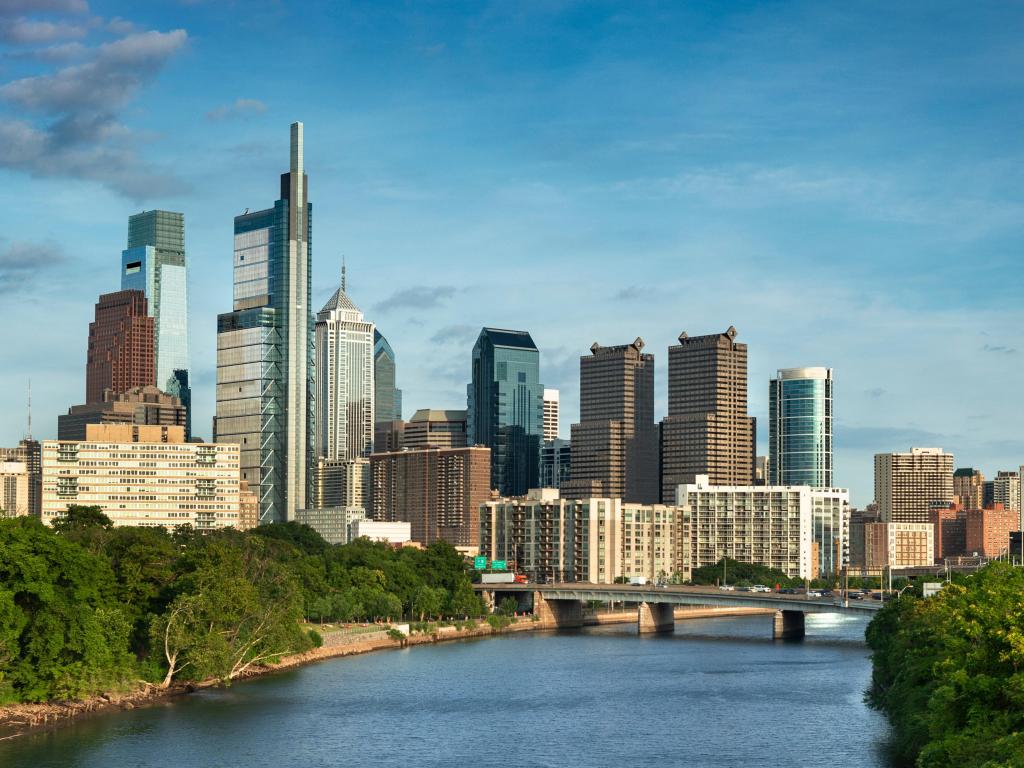 Located about 5 hours from Pittsburgh, Philadelphia is a fascinating city, known for its rich history, from the Liberty Bell to Independence Hall, where the declaration of Independence and the Constitution were signed. This is an ideal choice for a stopover on the Philadelphia Route.
You won't find many better places to stay than The Rittenhouse Hotel, within walking distance of the city's major attractions, museums, and world-class shopping. It is perfectly situated in Rittenhouse Square.
The luxurious hotel has a world-class spa and club, with an indoor pool and sun terrace, the ideal place to relax and unwind after a day of driving.
With its stellar location, the hotel is located near several impressive museums, all of which are worth a visit. Take your pick from the Museum of Art, The Museum of the American Revolution, or see the blockbuster exhibits at the Franklin Institute, named after America's first scientist.
Philadelphia is a foodie's heaven, with an incredible array of amazing food on offer in its incredibly diverse dining experience. It's also home to over 90 breweries and the craft beer and brewpub scene can be the beginning of a fun exploration of the best the city has to offer.
However, if you wish to relax in the comfort of your own hotel, you can indulge in award-winning international cuisine at Lacroix on-site, or enjoy British tea and cocktails in the Marry Cassatt tearoom, complete with its own private outdoor garden.
Where to stay once you reach New York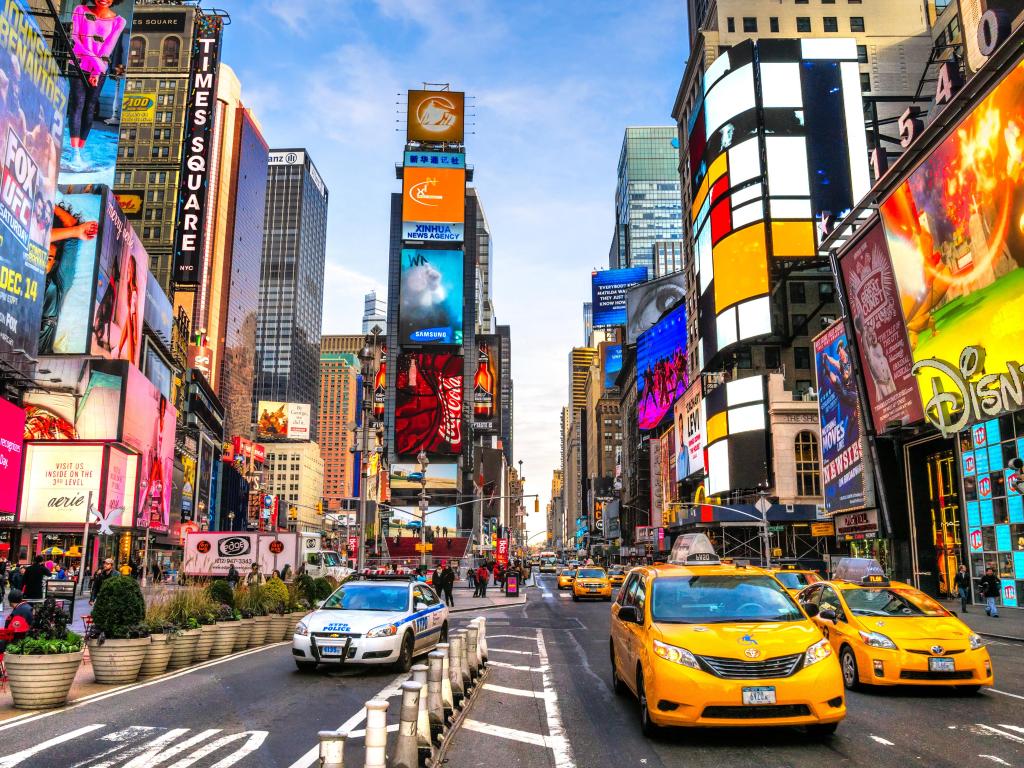 New York is one of the most popular tourist cities in the world and with good reason. With its iconic buildings, a whole host of things to see and do, and home to some of the finest restaurants you'll find anywhere, it's easy to see why it's known as the city that never sleeps.
Naturally, you'll be spoilt for choice when it comes to choosing somewhere to stay and we recommend the Langham, New York, Fifth Avenue, where you can enjoy a luxurious stay right in the heart of the city.
The rooms are refined and stylish, with some offering views of Fifth Avenue and midtown Manhattan, and the hotel also boasts a Michelin-starred restaurant and a fabulous bar famous for its artisanal cocktails and an award-winning wine list.
The Langham is also located centrally, making it an ideal base to explore the city, with Grand Central Station and Times Square being only a short walk away.
Take a visit to Central Park, the most famous park in the world, and see the Statue of Liberty, Empire State Building, the Guggenheim Museum, and Brooklyn Bridge whilst making your way around the city.
Things to see on a road trip from Pittsburgh to New York
Whether you're a history buff or a nature lover, there are plenty of things to do on your road trip from Pittsburgh to New York. From historical sites to natural wonders, this road trip has it all.
Scenic Route
Loyalhanna Lake National Recreation Area - Take a break at this beautiful park right as you leave the commotion of the city and get a fresh breath in nature as you enjoy the tranquil hikes here.
Keystone State Park - This state park is perfect for day-long trips as it offers opportunities to hike, swim, wildlife watching, boat, fish and enjoy water sports.
Horseshoe Curve -This is a National Historic Landmark that was constructed to help maintain the railroad grades on ascent and descent for freight trains.
Bellefonte Art Museum -Founded in 1810, this museum has a wide variety of artifacts and paintings that will provide some education on the history of art.
Bald Eagle State Park - Have you ever spotted a Bald Eagle in the wild? If not (or even if you have) you might just get lucky and see one during your trip to this stunning state park which boasts diverse ecosystems for many other species of animals.
Penn's Cave -You can visit the only all-water cavern and farm-nature-wildlife park in the United States.
Knoebels Amusement Resort -With pay-as-you-go roller coasters, golf courses, pools, and campsites, this free-admission amusement park is a great place to spend the day.
Camelbeach Mountain Waterpark -A world-class mountain water park that is perfect for thrill-seekers on a road trip from Pittsburgh to New York.
The Newark Museum of Art -Featuring a wide variety of art including a planetarium, this is a must-see on your road trip from Pittsburgh to New York.
Bushkill Falls -A scenic waterfall located on the main branch of Bushkill Creek, famous for the 8 waterfalls and hiking trails.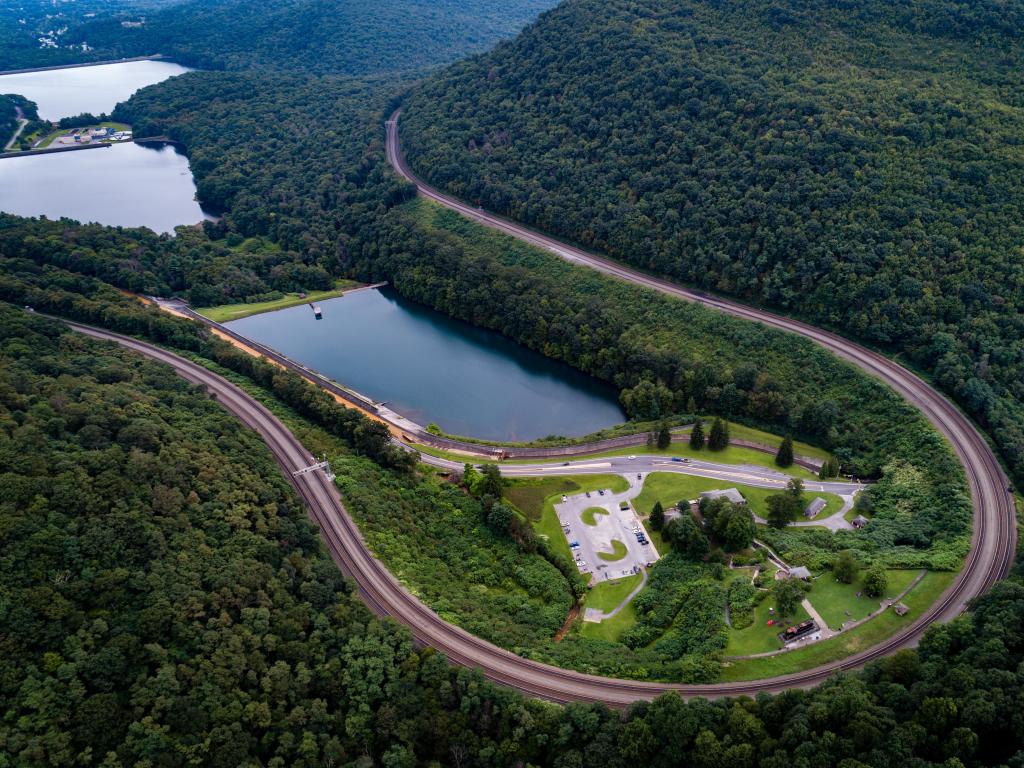 Philadelphia Route
Idlewild & SoakZone - One of Pennsylvania's premier amusement parks, featuring unique attractions like the SoakZone Water Park, and StoryBook Forest.
Fallingwater - Frank Lloyd Wright's architectural masterpiece is a must-see featuring a cantilever structure built over a waterfall and stream.
Coral Caverns - These gorgeous caverns are a little bit of a hidden gem. Make sure to stop and explore them as they are located right off the interstate.
Tuscarora State Forest - Overlooking the valley region of Pennsylvania, this state forest consists of tranquil views as well as rugged and steep rocky ridges and narrow valleys. Why not enjoy a scenic picnic here while taking a break from driving?
Hershey's Chocolate World -As the self-proclaimed sweetest place on Earth, there's no better place on a road trip from Pittsburgh to New York than this.
Flight 93 National Memorial -This National Memorial honors the passengers and crew members who lost their lives onboard Flight 93 during a terrorist attack in September 2001.
Philadelphia, Pennsylvania - Known as the "City of Brotherly Love", Philly is home to the famous Eastern State Penitentiary, Philadelphia Museum of Art, Barnes, and the Liberty Bell Center.
Philadelphia City Hall – the largest municipal building in the US, and an architectural treasure inside and out. Climb to the top of the tower and get breathtaking views over the city from the viewing platform.
Wissahickon Valley Park – Over 2,000 acres of parkland, including Wissahickon Creek. Enjoy the many outdoor trails and take a hike or mountain bike up Forbidden Drive to the beautifully wooded gorge.
Best time to go on a road trip from Pittsburgh to New York
New York is an amazing city to visit at any time of the year, so there is never really a wrong time for a road trip, and it is down to your personal preference and agenda as to when is the best time to travel.
If you want to catch some of the best attractions when they are less busy, then a road trip in spring or fall may be for you, as the weather is beautiful and temperatures during these seasons average around 70 degrees Fahrenheit during the day.
New York in the summer is host to the Summer Stage Festival, one of the best events in Central Park, with over 100 concerts and shows taking place and you could time your trip to take in one or more of the shows.
In the winters, snowfall in the mountains may make parts of this road trip tough to travel, especially on the Scenic Route, but the roads are usually clear of snow, unless it is actively snowing, and the attractions are open.
New York City is cold in winter with temperatures around the freezing degree at 35 degrees Fahrenheit. However, this is also one of the most exciting times to visit, as the city comes alive for the holidays just after Thanksgiving.
The Rockefeller Center Christmas Tree is a must-see, the largest reaching 100 feet tall and draped in 25,000 crystals, a true sight to behold.
Whenever you decide to travel, a road trip from Pittsburgh to New York is a great experience, whether you're traveling with family, friends, or significant other. There's so much to see and do along the way, so it is time to pack your bags up and take on this adventure yourself!