Road Trip from Pittsburgh to Portland and Bar Harbor, Maine
Experience the beauty of the Northeastern U.S. on this scenic road trip. Enjoy a journey through Connecticut, Massachusetts, and New Hampshire on your way to Maine. The first leg of the trip will take you to the waterside city of Portland, before you continue on to Acadia National Park and the pretty town of Bar Harbor on Mount Desert Island.
The 870-mile road trip from Pittsburgh to Bar Harbor takes 14 hours. Highlights include Hartford, Boston, Portland, Acadia National Park, Mark Twain House & Museum, Muscongus Bay and Yale University. There is also the option to visit New York City.
We've found all the highlights of this stunning trip, as well as the best times of the year to travel and a couple of great overnight stops. So, join us as we take a leisurely road trip from Pittsburgh to Portland and Bar Harbor, Maine.
How far are Portland and Bar Harbor, Maine from Pittsburgh, and how long will the road trip take?
Comparison of road routes between Pittsburgh to Portland and Bar Harbor, Maine

| Route | Distance | Driving Time |
| --- | --- | --- |
| From Pittsburgh to Portland | 690 miles | 11 hours |
| Portland to Bar Harbor | 180 miles | 3 hours |
| Entire Journey | 870 miles | 14 hours |
The road trip from Pittsburgh to Bar Harbor extends a total of 870 miles and takes around 14 hours to drive, non-stop.
We've divided the road trip into two stages. The first takes you from the starting point of Pittsburgh to Portland. The 690-mile drive takes around 11 hours to complete. Our route, which is the most direct, takes you via Boston, so you have the chance to explore this characterful Massachusetts city.
The second leg of the trip is from Portland to the destination of Bar Harbor and Acadia National Park. This section of the journey is just 176 miles and takes about three hours to drive. The main highlight is a long drive up the New England coast.
There is a slightly more direct route, which shaves about 15 minutes off the driving time, but the route we've selected is the more scenic.
This is a minimum two-day trip but you may like to spend longer exploring the scenic Northeastern states that you will pass through.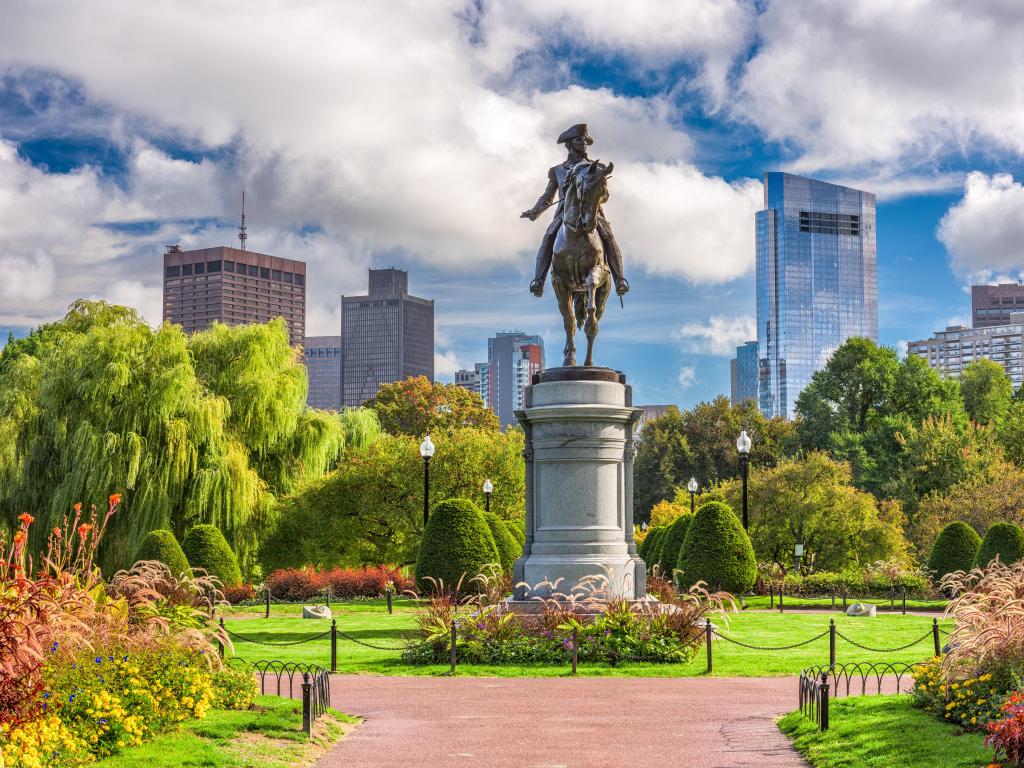 Best road trip route from Pittsburgh to Portland and Bar Harbor, Maine
Both legs of our route include some great highlights. As well as the country and coastline of Maine, you will get to see rural Pennsylvania, New York, Connecticut, Massachusetts, and New Hampshire.
Aside from Boston, highlights on the first leg of the journey to Portland include Rothrock State Forest, Stewart State Forest, Hartford, and Nipmuck State Forest. You will also pass close to New York City, New Haven, and Providence.
The shorter second leg through Maine takes you to Newport and on to Mount Desert Island, where you can explore Acadia National Park, which borders the lovely coastal town of Bar Harbor.
Road trip route from Pittsburgh to Portland
For the first leg of the journey, leave Pittsburgh, heading east on US-22. Pass through towns including Blairsville and Armagh. At Hollidaysburg, take I-99 North. Stay on the interstate towards Rothrock State Forest.
Pick up I-80 East and then I-81 North, heading to Scranton. Leave Scranton via I-84 East. Cross the Delaware River and maybe take a photo stop at the Tri-States Monument that marks the point at which Pennsylvania, New Jersey, and New York meet.
Stay on I-84 East into New York. Pass by Huckleberry Ridge State Forest on your way to Stewart State Forest. Cross the Hudson River on the Newburgh-Beacon Bridge. The interstate will take you into Connecticut, through Danbury and Waterbury, on the way to Hartford.
Leave Hartford on I-84 East once more for Nipmuck State Forest. From here, rejoin the interstate and, shortly after, cross into Massachusetts. Just past Sturbridge, pick up I-90 East, which will take you all the way to Boston.
Leave Boston via I-95 North. Enjoy a lengthy drive up the stunning New England coast, as you pass into New Hampshire. Maybe take some time to visit Hampton Beach before you continue north into Maine and the stopping point for the first leg of the trip, Portland.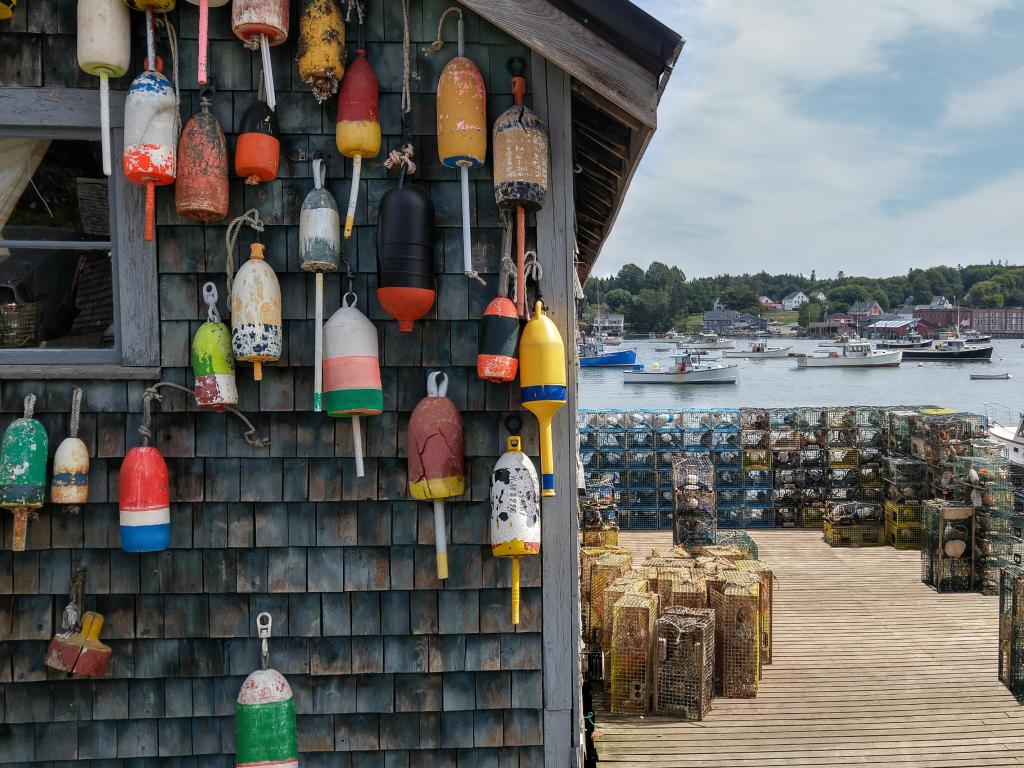 Road trip route from Portland to Bar Harbor, Maine
Leave Portland heading north on I-295 and enjoy a drive up the Maine coast through towns including Freeport and Brunswick. Continue northwards, heading inland on I-295, then pick up I-95 North for the drive to Newport, Maine.
From Newport, rejoin I-95 North, which will take you east. At Bangor, take I-395 East and then US-1A East. This will take you south through some lovely countryside. At Ellsworth, pick up ME-3 East.
Cross Mount Desert Narrows via Thompson Island for Mount Desert Island. Stay on ME-3 East for the final stretch of the journey to Bar Harbor, gateway to Acadia National Park.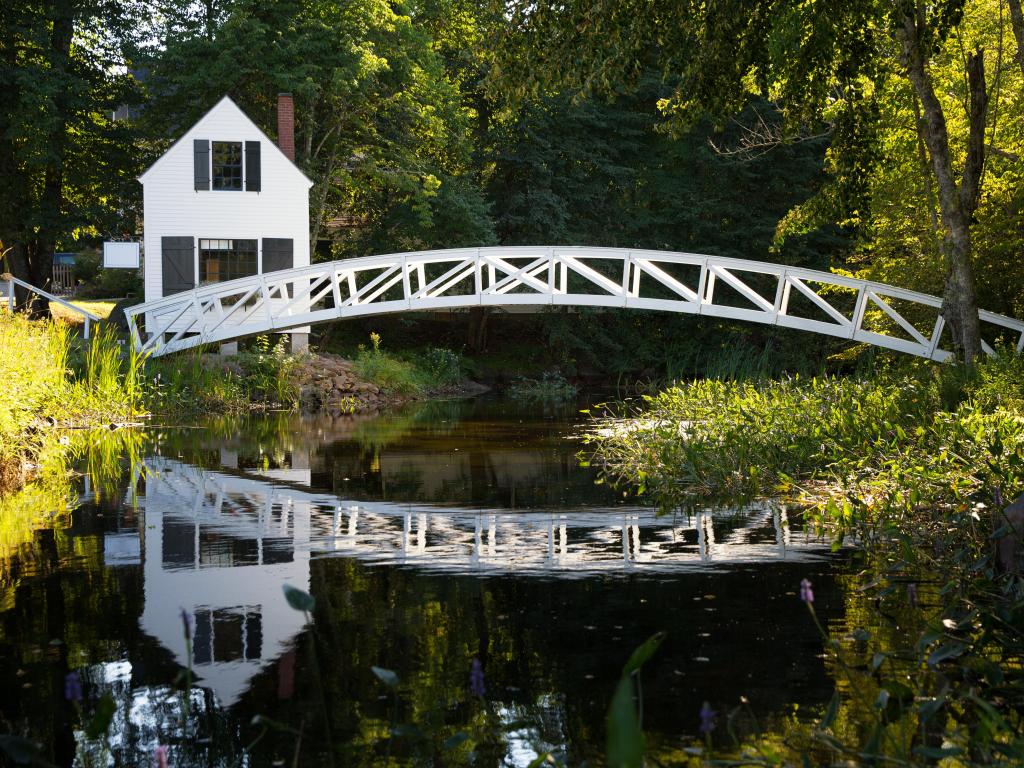 Best places to stop between Pittsburgh to Portland and Bar Harbor, Maine
There are some great places to stop along our route from Pittsburgh to Bar Harbor, giving you the opportunity to spend time discovering some wonderful New England towns and cities. We've picked out two that are worthy of an overnight stay and offer a suggestion for a wonderful hotel in Bar Harbor.
Boutique luxury in downtown Boston
One of the U.S.' great cities, Boston has a unique character and an interesting history. You will reach Boston with about four hours left on your road trip, so it makes a great stopping point before Maine.
Be sure to walk all or part of the 2.5-mile Freedom Trail, a self-guided tour that takes you to many important sites, including Boston Common, the country's oldest public park, and the Bunker Hill Monument, which commemorates the first major battle of the Revolutionary War.
Boston also boasts great food and plenty of cultural highlights, which you can discover on Newbury Street.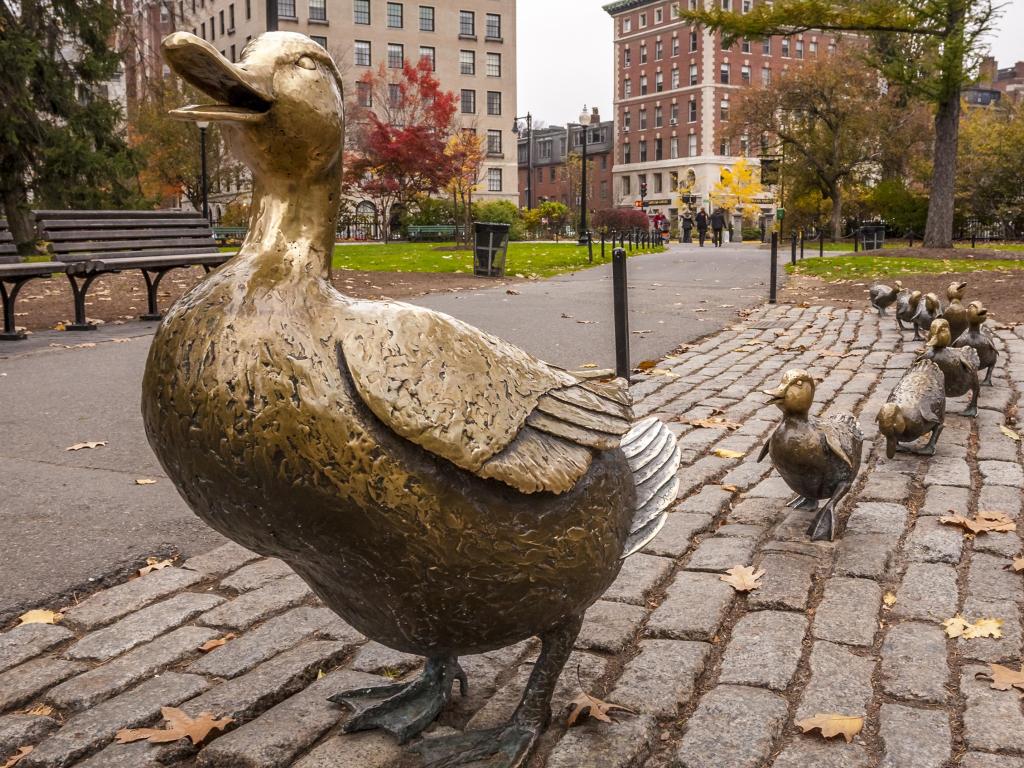 Our choice for a superb night's stay in Boston is The Eliot Hotel in the conveniently located Back Bay neighborhood. The wonderful landmark hotel has been welcoming guests since 1925.
The property retains its historic elegance and charm but has been modernized to offer upscale accommodation. You can relax in your chic guestroom with its marble bathroom or at the on-site Japanese izakaya bar. Guests also enjoy access to Boston Sports Club.
The hotel is close to Charles River Esplanade, Prudential Shopping Center, and Newberry Street shops, while baseball fans can take the short walk to Fenway Park to watch the Boston Red Sox.
Harborside hospitality in Portland
As you reach the end of the first leg of this road trip, the charming coastal city of Portland, Maine offers the perfect place to rest ahead of the final three-hour drive to Bar Harbor. Given that it's only about two hours from Boston, it might also be a great stopping point on the return journey.
While you're here, you can explore the rich maritime history, which includes the famous Portland Head Light lighthouse. Maine's oldest lighthouse stands at the entrance to Casco Bay and features awesome views of the coastline.
On the city's waterfront, you can stroll along Commercial Street, which features a selection of restaurants. You might also wish to visit Allagash Brewery, the largest craft brewery in the US, which serves a menu of authentic local fare, including lobster rolls.
Elsewhere, Portland is home to an impressive art museum, as well as theaters, independent stores, and picturesque streets. You can also take a ride on the scenic Maine Narrow Gauge Railroad.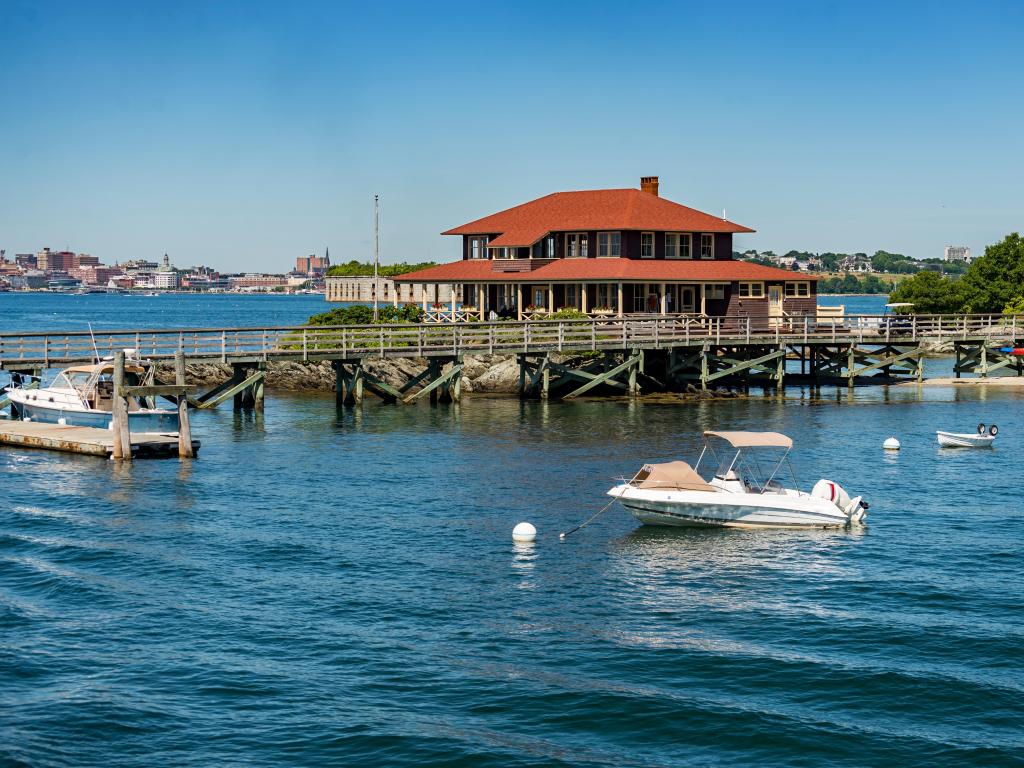 For a comfortable night's stay, we highly recommend the elegant Portland Harbor Hotel. Located on the waterfront in the Old Port district, the hotel is a great base for enjoying the sights of the city. Portland Museum of Art, Monument Square and the Observatory are all close by, as is the Historic District.
You can enjoy a drink or a meal at the newly renovated bistro and terrace, which serves coastal cuisine using locally sourced ingredients. The well-equipped guestrooms each have a maritime theme, while private parking is available.
Where to stay when you reach Bar Harbor, Maine
Once you reach the destination stop of Bar Harbor, an excellent choice for accommodation is The Inn on Mount Desert. This lovely traditional B&B is ideally located for exploring Bar Harbor on foot, with Acadia National Park about one mile away.
The rooms are modern, cozy, and well-equipped. Parking is free and the hotel serves a delicious complimentary breakfast each morning.
Things to see on a road trip from Pittsburgh to Portland and Bar Harbor, Maine
There are plenty of great attractions on this road trip route. To help you plan your itinerary, we've picked out a selection of the best things to see on both legs of this fantastic journey.
Pittsburgh to Portland
Rothrock State Forest, Pennsylvania - Hike, mountain bike or horse ride along the trails in this spectacular 96,975-acre forest.
Stewart State Forest, New York - Open year-round, this 4,226-acre park offers a mix of wetlands, fields, and forests to explore.
New York City, New York - While the "Big Apple" is a detour from the route, it's worth the trip to see Central Park, the Empire State Building and all the other iconic attractions.
Yale University, Connecticut - Take a personal or self-guided tour of one of the country's oldest universities, located in New Haven.
Mark Twain House & Museum, Connecticut - Visit this museum in Hartford to spend some time learning more about the life and work of author Samuel Clemens, better known by the name Mark Twain.
Nipmuck State Park, Connecticut - The second oldest forest in Connecticut extends across the 9,000 acres that surround Bigelow Hollow State Park.
Salem Witch Museum, Massachusetts - Pay a visit to this thought-provoking museum to learn more about the Salem Witch Trials of 1692.
Hampton Beach, New Hampshire - If you're taking this trip during the summer, join the crowds at this popular beach resort or visit off-season when it's a little quieter!
Marginal Way, Maine - Stop off at the quaint village of Ogunquit to enjoy this mile-long walking trail that offers stunning coastal views.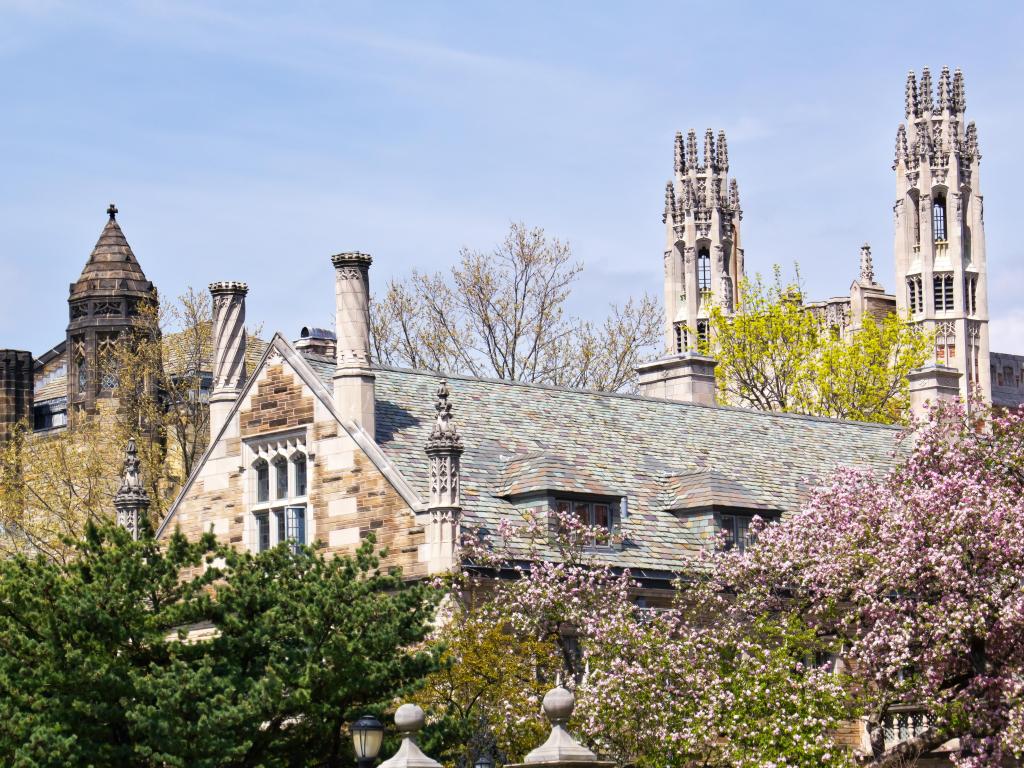 Portland to Bar Harbor
Wolfe's Neck Woods State Park, Maine - Explore woodlands and the rocky geography of the coast at this 244-acre state park, which is also great for osprey watching.
Maine Maritime Museum, Maine - Visit this museum in Bath to see artifacts related to the history of shipbuilding, sailing, and lobstering.
Giant's Stairs, Maine - This trail in Harpswell features great views of Casco Bay, and you might just see some seals playing in the water.
Wiscasset's Waterfront Main Street, Maine - This charming small town has one of the busiest seaports in New England. You can take self-guided tours and visit the many museums.
Coastal Maine Botanical Gardens, Maine - Located in Boothbay, these botanical gardens extend across 250 tranquil acres.
Muscongus Bay, Maine - Located between Penobscot Bay and John's Bay, here, you can take a kayak ride or simply enjoy the coastal views.
Camden Hills State Park, Maine - Stop here to hike up Mount Battie to take in the amazing views across the ocean.
The Breakers, Maine - Formerly the Vanderbilts' summer cottage, this quaint building in Newport is now a museum.
Cellardoor Winery, Maine - This 200-year-old barn in Lincolnville is now home to an award-winning winery.
Bass Harbor Head Lighthouse, Maine - Nestled on a sea cliff, this lighthouse has been standing since 1858.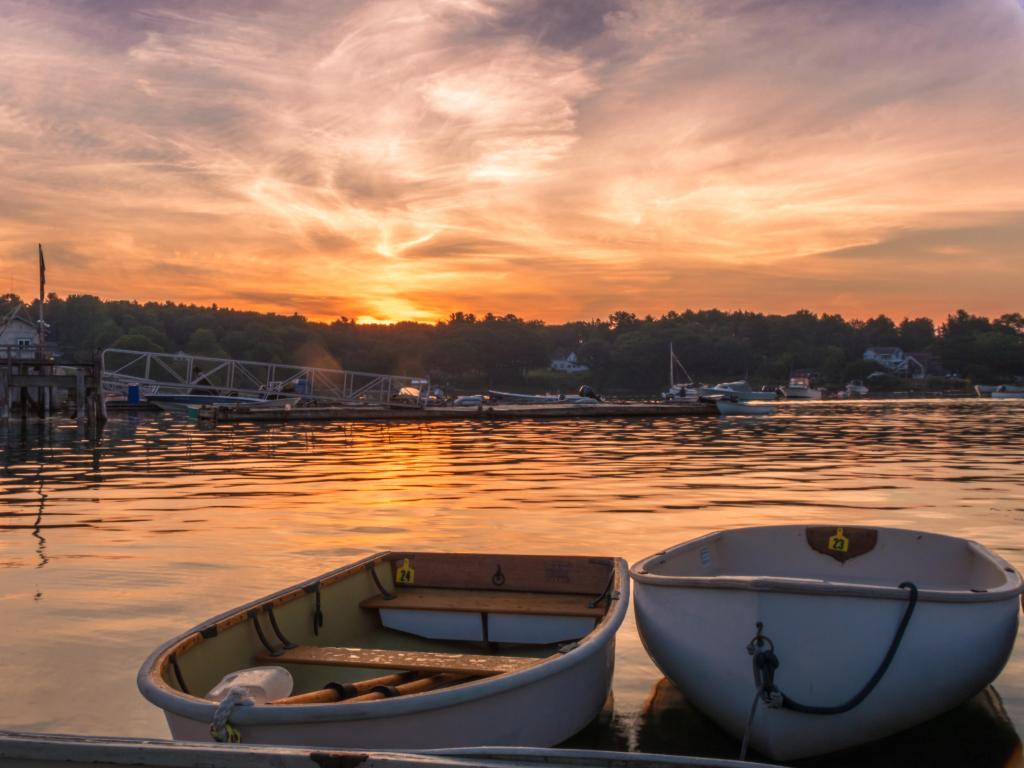 Best time to go on a road trip from Pittsburgh to Portland and Bar Harbor, Maine
This is a fantastic year-round road trip and there is lots to enjoy throughout the seasons. However, the area does experience harsh winters, which may affect road conditions en route.
The coldest month is January, when temperatures fall to between 15 and 25 degrees Fahrenheit. You might also see overcast skies and some snow or rain. However, there are winter events held at various towns along the route and the wintery landscape can look stunning.
Summer is the peak tourist season, with visitors flocking to the beaches. With the warmer weather and sunny days, Acadia National Park is especially great to visit at this time of year. Expect temperatures from 45 to 90 degrees F. It can get muggy and hot along the ocean, but Bar Harbor is usually pleasant.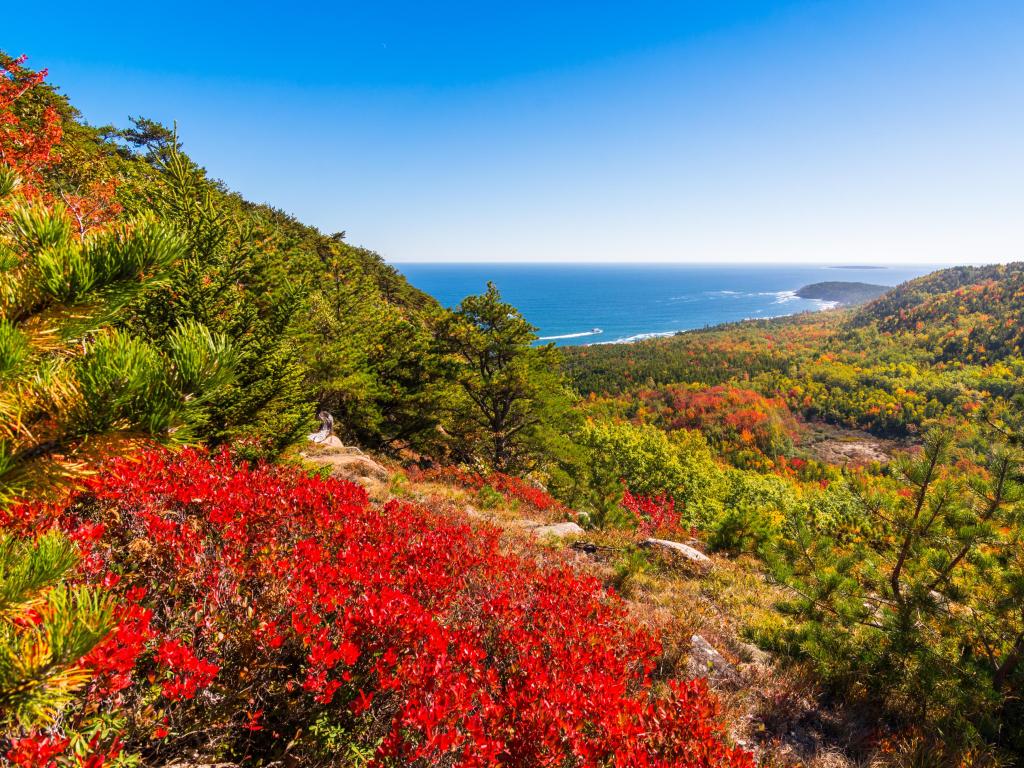 Early spring can be chilly, as the area recovers from the winter. The weather is most pleasant from August to October, with the added attraction of the spectacular fall colors.
There are lots of regional events throughout the year in this area, including Bar Harbor Music Festival and Maine Lobster Boat Races, which are both held during the summer.