26 Best Road Trips From Cleveland, Ohio
Beautiful Cleveland, Ohio, is an exciting Midwestern city right on the shores of Lake Erie. On top of its Great Lakes charm and nightlife is its easy connection to the rest of the Great Lakes region and beyond.
There is so much to see within a day trip, a weekend adventure, or a cross country road trip through the USA and Canada. From Cleveland you can drive to destinations like the Finger Lakes, Niagara Falls, Louisville, Washington DC, Philadelphia, Boston, Detroit, Toronto, Chicago, and New York.
So get your road trip playlist ready and set out on one of these incredible road trips from Cleveland, Ohio. Read on for inspiration to plan, book and head out on your adventure.
Best road trips from Cleveland, Ohio
Cleveland is full of wonderful green spaces and public museums and entertainment venues like the Cleveland Museum of Art, Rock and Roll Hall of Fame, Cleveland Orchestra, and Playhouse Square. With a signature local culture, Cleveland dazzles visitors with vibrancy and inspiration
After you've explored Cleveland, set out to explore the surrounding Great Lakes cities, towns, and countryside. Below, we've listed our favorite road trips from the 216.
Day trips from Cleveland, Ohio (under 3 hours each way)
Cleveland sits at the base of the Great Lakes region, one of America's most scenic coasts. From forested beaches perfect for campfire by the lakes or sampling the Midwest's famous cuisine, you're in for a treat.
1. Cuyahoga Valley National Park and Akron, OH
50 minutes from Cleveland (20 miles)
Why you should visit: This is the shortest drive from the city where you can immerse yourself in nature to hike rocky ledges and see waterfalls, forests and wildlife
Here at this beautiful natural area, you can see Twin Sisters Falls and many other waterfalls and scenic water views along the Cuyahoga River Valley.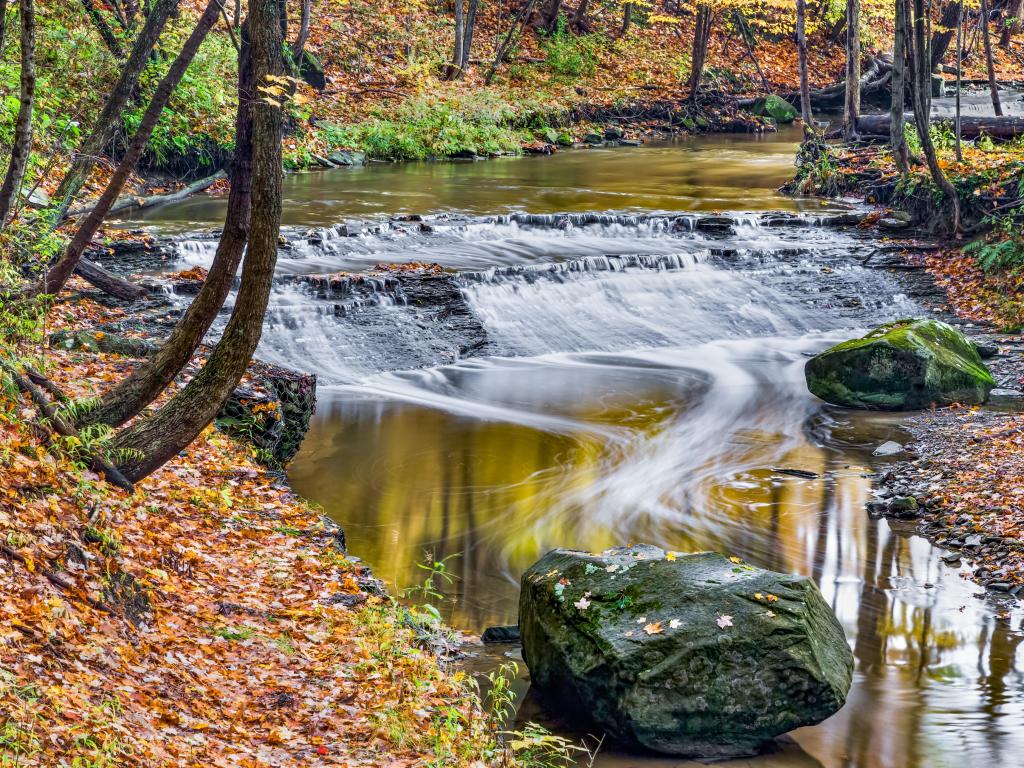 How to get there: Head south on I77 to exit 147 to Miller Rd, Snowville Rd and Dewey Rd to Columbia Rd within the Park area. From the park drive south on OH-8 to Akron, or follow the scenic Riverview Rd.
Our highlights: Check out the many different hiking trails within the park. Some favorites and notable ones are the Twin Sisters waterfalls, the Cuyahoga Valley Ledges Trail, the Brandywine Gorge Trail, and the Kendall Lake Trail.
Brandywine Ski and Boston Mills Ski Area in winter offers many different ski runs and tubing within the natural setting of the park.
Take the scenic road from I-77 to Canal Rd south out of Cleveland near Brooklyn Heights, cross the Cuyahoga River on Alexander Rd to Riverview Rd that drives south through and within the park. Follow this south to Akron.
Akron is the nearby city known for being where the hamburger was invented. Grab a burger at Bob's Hamburg. Since 1931, this spot has been Ohio's best burger joint.
Also, see the historical home of one of the founders of Goodyear in the "Rubber Capital" at the Stan Hywet Hall and Gardens.
Bonus: Akron is the hometown of LeBron James, NBA star, where Main Street was renamed King James Way in his honor.
Our travel tips: There are many different access areas to the park so look ahead of time to where to plan to park based on what trails and sites you want to see, or plan to take a scenic drive throughout the park all day.
2. Geneva-on-the-lake and Geneva State Park, OH
1 hour from Cleveland (55 miles)
Why you should visit: Take this short drive to one of the best lakeside beaches in Ohio where you can catch a beautiful sunset and play the carnival games.
This is a historical town with a vintage feel. It's also known for its wineries and for being the wine country of Ohio.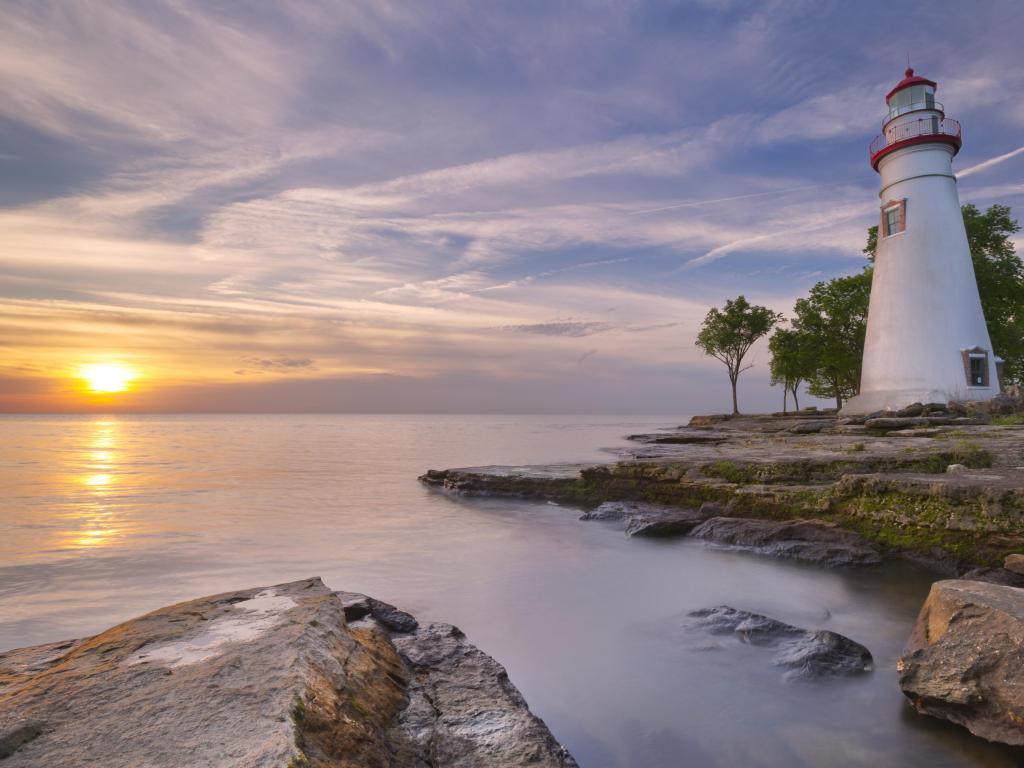 How to get there: Head northeast along the lake following OH-2, exiting Heisley Rd to Headlands Beach State Park. From I-90 E or US-20 E, take Broadway north to Geneva, OH-534. The state park is accessed via Lake Rd off N Broadway (534)
Our highlights: Check out Headlands Beach State Park. This stop along the route is a great beach on Lake Erie with views of Headland Dunes State Nature Preserve and some excellent walking trails along the shore.
Head to Lake Erie beach in Geneva State Park or in the town of Geneva-on-the-lake. Visit the beach to feel the cold water on your feet, watch the sunset, and find some peace.
The Strip along Lake Rd has a vintage boardwalk feel with carnival games, eateries, and other entertainment options with a view of the lake.
Winter activities can be especially charming in the cold weather such as ice skating, sleigh rides, snowshoeing, and winter hiking.
Try some local wines at the area's wineries and cozy eclectic restaurants and The Lodge.
Geneva State Park offers hiking trails and undeveloped areas to explore the peaceful and sandy Lake Erie shoreline.
Bonus: The town was started in the early 1900s and frequented by John D. Rockefeller, Harvey Firestone, and Henry Ford, and other American business tycoons. The classic style grills and arcade attractions along the Strip are vintage from the 1950s.
Our travel tips: This is a year-round destination. Thunder on the Strip is an annual biker rally on Labor Day weekend.
3. Amish Country (Millersburg, OH)
1 hour 40 minutes from Cleveland (80 miles)
Why you should visit: Witness the Amish culture firsthand and shop for handmade artisan goods from this cultural center in rural Ohio.
This region around Holmesville, Millersburg, and Berlin, Ohio in the heart of the Amish Country is populated by Amish families and homesteads. This rural scenic area is left undeveloped and untouched by modern technology and infrastructure.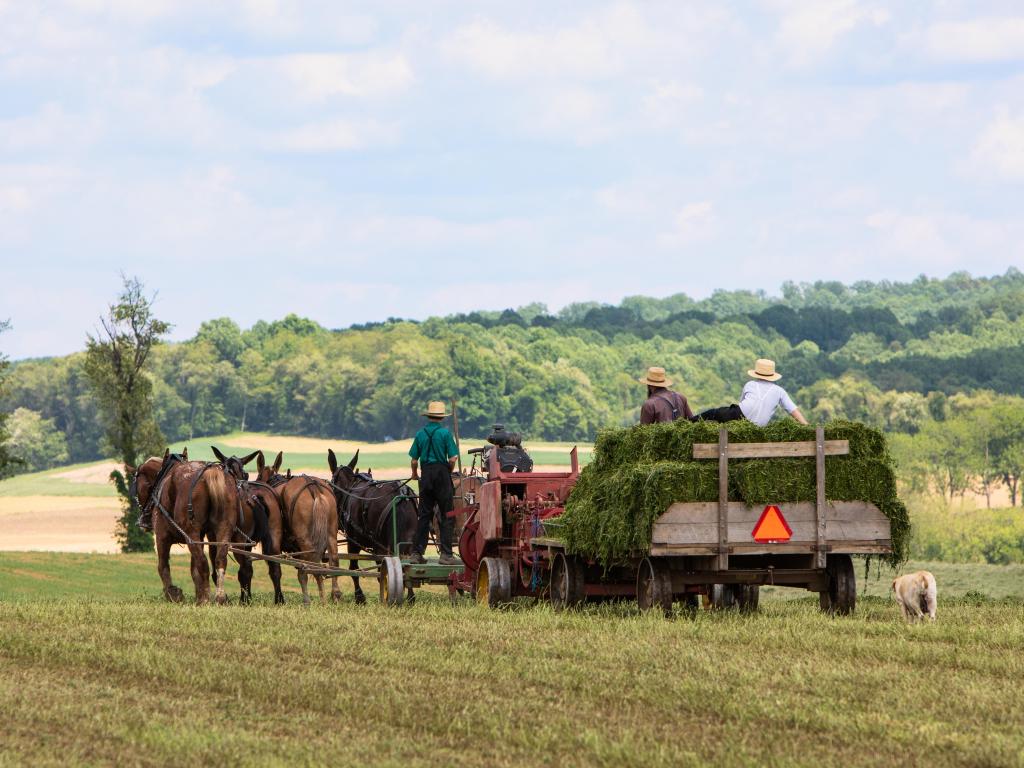 How to get there: South on I-71 to Burbank. Then, head south on OH-83 to Holmesville.
Berlin and Millersburg are accessible on OH 62 E.
Our highlights: Museums in the Amish Country showcase handmade art, crafts, industrial goods, and homestead goods. See the Millersburg Glass Museum, Open Air Art Museum, German Culture Museum, Wendell August Forge, and the Victorian House Museum.
Explore the Rails to Trails Holmes County Trail. Bike tour this paved trail. Share the trail with horse buggies and casually explore the trail on your bike, you can hop on and off (rent e-bikes for a faster ride).
Go on a Horseback riding adventure! Take a horseback riding tour or horse and buggy tour through Amish country, Amish Country Riding Stables or Skyview Ranch are some options.
Enjoy the Amish Farms and tours. Visit Millers Bakery to start the morning and then walk the main street in Berlin to find exciting goods and crafts. Eat at the Berlin Farmstead Restaurant, a well-known place for traditional meals.
Head out on the Amish Country Byway. This 160-mile-long route connects Killbuck to Millersburg and Berlin to Walnut Creek. Drive along US 62 and state route 39 and County Road 77 to get here.
Bonus: Holmes County and the surrounding area has the largest concentration of Amish settlers in the world.
Our travel tips: Visitors are welcomed by the Amish. Sundays are the day of rest and many things are closed.
4. Lakeside Marblehead, Kelley's Island and Put-in-Bay, OH
2 hours from Cleveland (80 miles)
Why you should visit: This day-trip-worthy drive from Cleveland offers beach vibes and peaceful relaxation with a touch of thrill-seeking adventure.
Come to Lakeside to find peace and serenity and recharge on the lake shore beaches.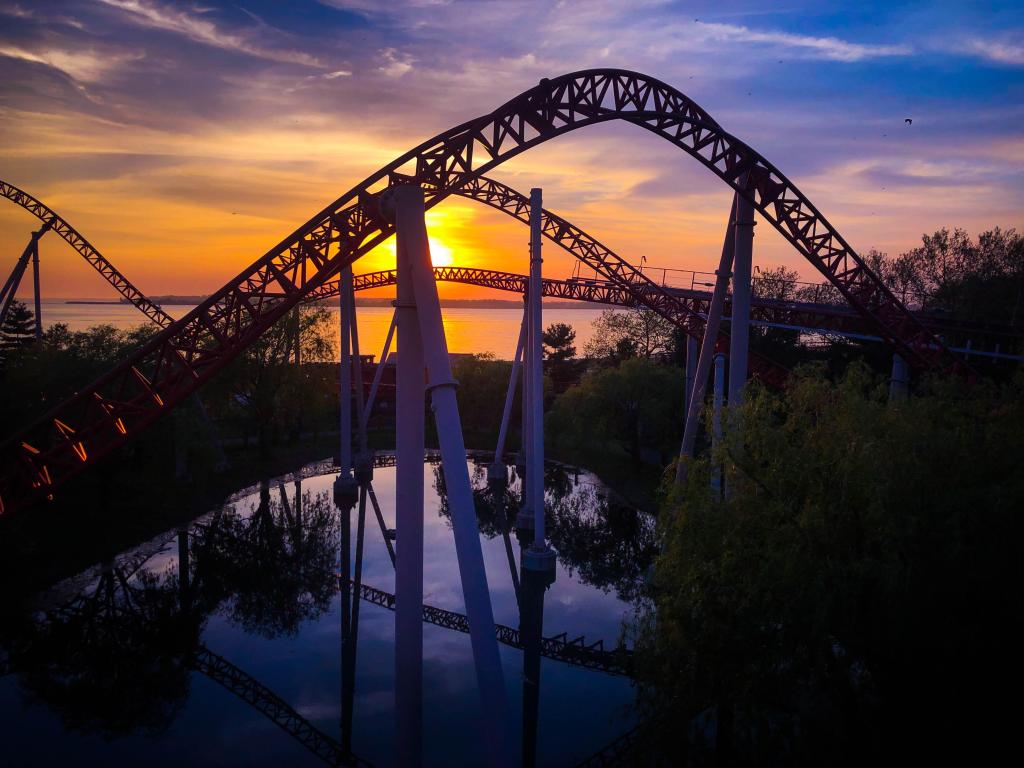 How to get there: Take I-90 W to OH-2 W. continue on US 269 north across Sandusky Bay to OH 163 W to Lakeside Marblehead. Put in Bay is north across Miller Ferry from Catawba Island.
Our highlights: Visit the beautiful Cedar Point. This is one of the largest amusement parks in the country. It offers the most, the largest and the most thrilling roller coasters in the state. This stop will fill your adventure bucket before heading to the peaceful lakeside.
Check out Lakeside Marblehead (Lakeside Chautauqua). This top location is a vacation destination with beaches, scenic lake views, casual shopping, and restful relaxation. Rent kayaks and paddle boats, relax on the beach, or charter a wooden boat on the lake and soak in the sunshine. See the oldest Great Lakes lighthouse and other historical attractions in the area.
Take a ferry from Lakeside Marblehead to Kelleys Island. The island offers a state park with beaches, waterfront dining, and marinas for boat tours.
Take a ferry from Lakeside Marblehead to Put in Bay. Tour the island by bike or golf cart and enjoy the slower pace of its small-town quaintness. Shop and eat along the lake shore or go hiking in Coopers Woods.
You can also experience world-class ice fishing can be found here in the cold months on the harbor's frozen surfaces.
Our travel tips: This trip includes ferry travel. Ferries can be booked in advance and are about $9 per adult or $20 per car. Reservations for Cedar Point need to be made in advance.
5. Erie and Presque Isle State Park, PA
1 hour 40 minutes from Cleveland (100 miles)
Why you should visit: Take a day in the sunshine and soak in the sites on Presque Isle, an island/peninsula in Lake Erie with beaches, a lighthouse, and camping. Erie is a small bustling city with charm and Pennsylvanian history.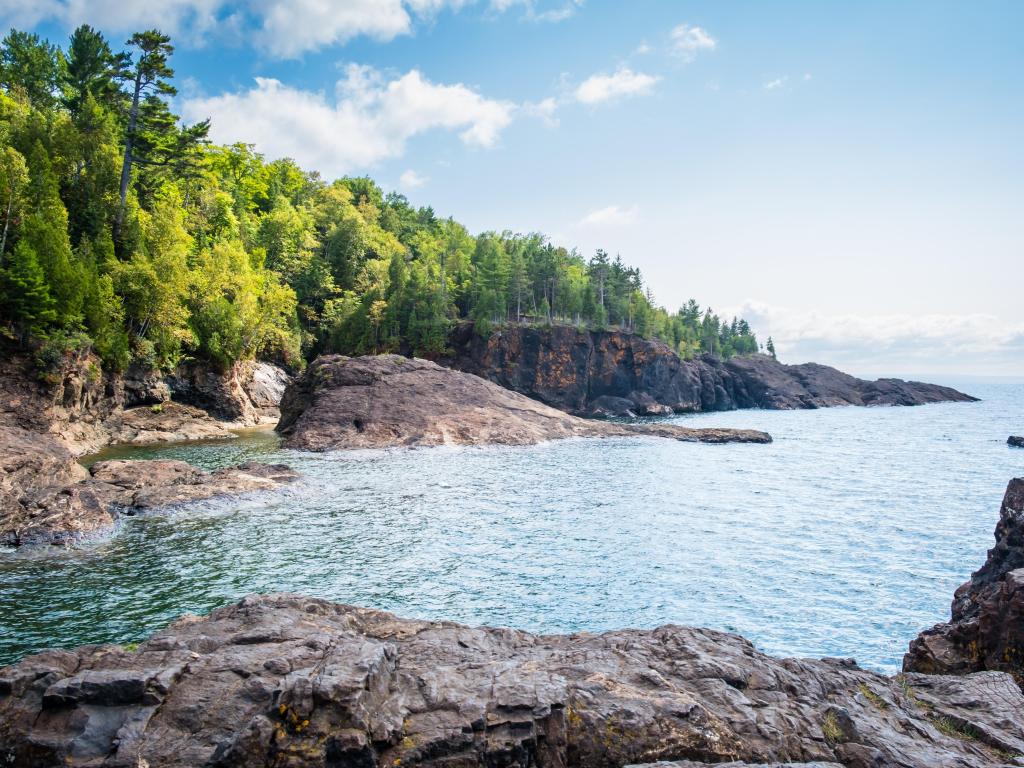 How to get there: Head northeast along the lake following I-90 E. exit 18 to PA-832 to Erie. The state park is accessed via Peninsula Dr.
Our highlights: Check out Presque Isle Lighthouse and Presque Isle Beach. Explore the peninsula and soak your toes at the sandy beaches or climb the lighthouse for a panoramic view of Lake Erie while learning the history of the lighthouse and its importance.
Gulf Point Trail takes you walking out into the marshes and beaches on the farthest point of the peninsula, look for shorebirds and find serenity with a sunset or solitude on the beach.
Erie Maritime Museum and Bicentennial Observation Tower on the shore of Lake Erie. Learn about the history of the lake and the industry of the city.
Waldameer Park & Water World offers roller coasters, rides, and waterpark rides for a fun day with thrills.
Our travel tips: This state park is free to visit. Enjoy!
6. Mount Vernon, OH
via Kokosing Gap Trail
2 hours 10 minutes from Cleveland (110 miles)
Why you should visit: Escape to a small and quaint little town along the riverside for shopping, eating, and some natural solitude. This little town offers a lot of cultural flare and warm hospitality on top of pure relaxation.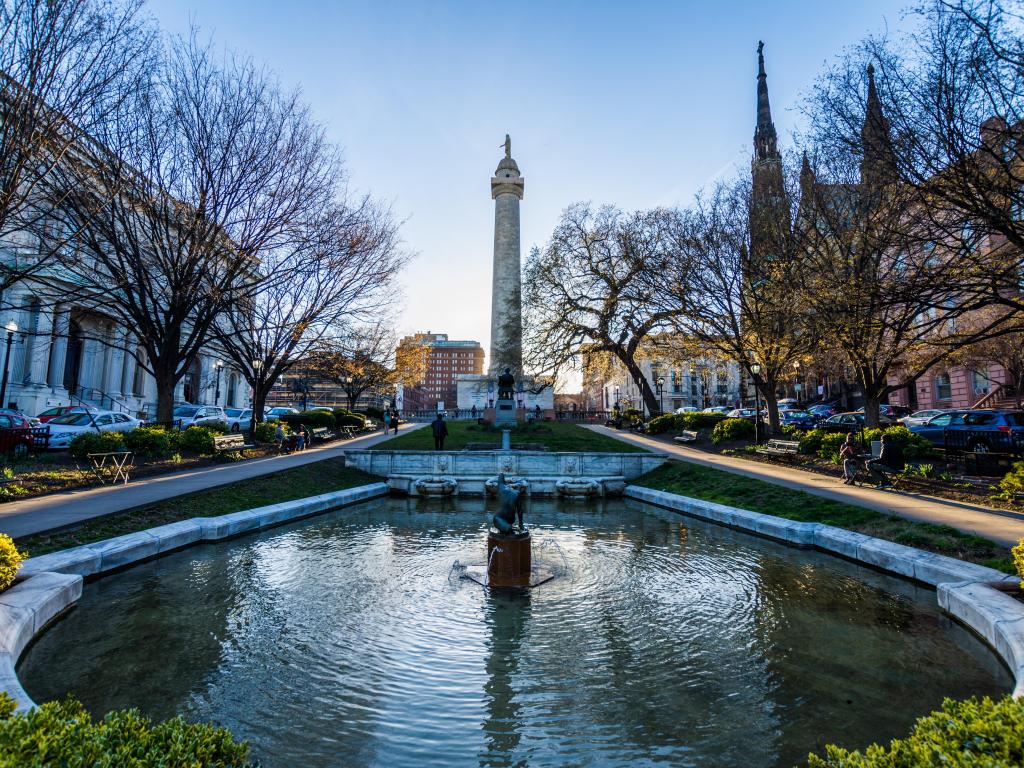 How to get there: Take I-71 S to Ashland. Take OH-511 S and OH-39 E OH-3 S towards Mohican State Park. From there take OH-3 S to Mount Vernon.
Our highlights: Visit the historic Mohican State Park. This park is known for the scenic Clear Fork Gorge and Lyons Falls and covered bridges. With hiking and mountain biking trails that can also be hiked in the winter and snow. If you have time, try fishing Pleasant Hill Lake.
Visit the Kokosing Gap Trail. This 14-mile trail is a paved recreation trail that connects Mount Vernon to Gambier and Danville, OH and follows the path of the historic Pennsylvania Railroad.
Cross the river on elevated railroad bridges, look for wildlife, and enjoy the scenery of the Kokosing River. You can walk from Danville to Mount Vernon or do an out and back hike along the trail.
Visit beautiful Mount Vernon. Here you can shop on Main Street, explore the quaint downtown area and find delicious food at the local restaurants. The historic downtown district has many old buildings and eclectic storefronts.
Get your fill of nature at the Ariel-Foundation Park. Walk the trails, enjoy the gardens, sit by the lakes, find the glass art exhibits, visit the onsite museum to learn about the park's history as a brownfield site. Also, explore the old glass factory ruins that dapple the park.
Bonus: The Kokosing Gap Trail is the largest paved rail-to-trail park in the US and is maintained entirely by donations and volunteers. Find the 1914 locomotive and 1924 caboose next to the trail near Gambier.
Our travel tips: Rent e-bikes for the gap trail to make it faster (and we'd say more fun!).
7. Columbus, OH
2 hours 10 minutes from Cleveland (140 miles)
Why you should visit: The capital city and largest city of OH is a short drive away. Here you can expand your taste in city life with new museums, shopping, restaurants, entertainment, and nightlife. A big foodie city, find amazing restaurants and trendy bars.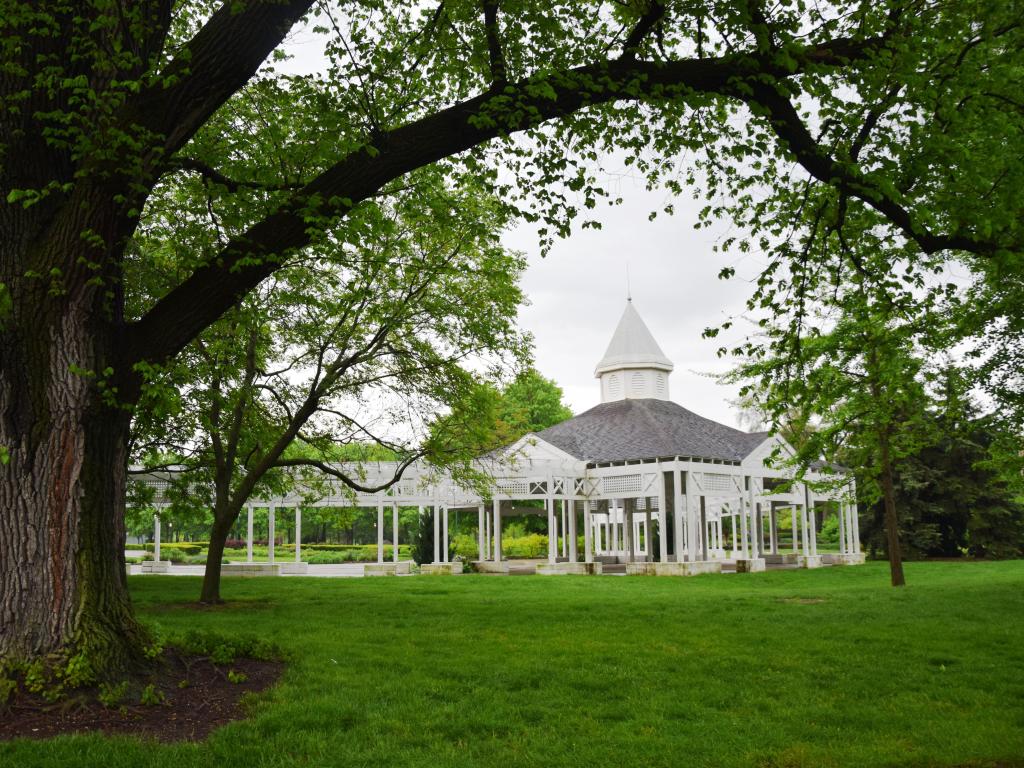 How to get there: Drive south on I-71. Simple!
Our highlights: Check out the Columbus Distillery Trail. Tour these 7 local distilleries to taste their creations to get to know local specialty cocktails. Also try the Dry Mill, a sober bar, for those that don't want alcoholic drinks.
Spend time in the famous Food Halls. Try these unique conglomerations of eateries and market vendors in a foodie heaven like North Market (and Short North Arts District), Budd Dairy and Bubbly Hall and East Market.
Enjoy the plentiful outdoor parks. Columbus has so many green spaces and Metro parks to explore including Alum Creek, Indian Run Falls Park and Franklin Park.
Visit the Franklin Park Conservatory and Botanical Gardens. This is a world-famous collection of botanicals and natural exhibitions in picturesque glasshouses. Come here to explore, photograph, and enjoy (decorated seasonally around holidays).
Bonus: There's a lifesize statue of Arnold Schwarzenegger downtown to celebrate the Mr. World competition. There's also an annual Arnold Sports Festival in Columbus (march).
Our travel tips: There are lots of sporting events from pro teams and colleges (Ohio State University) to see.
8. Pittsburgh, PA
2 hours 10 minutes from Cleveland (135 miles)
Why you should visit: Set on the confluence of three major rivers, Pittsburgh offers scenic water views over its many bridges (many more than any other city in the world!) and a fun atmosphere for sports fans and foodies.
Explore the "Steel City" for a great way to experience the industrial architecture, great restaurant scene, and scenic views from the hills and bridges.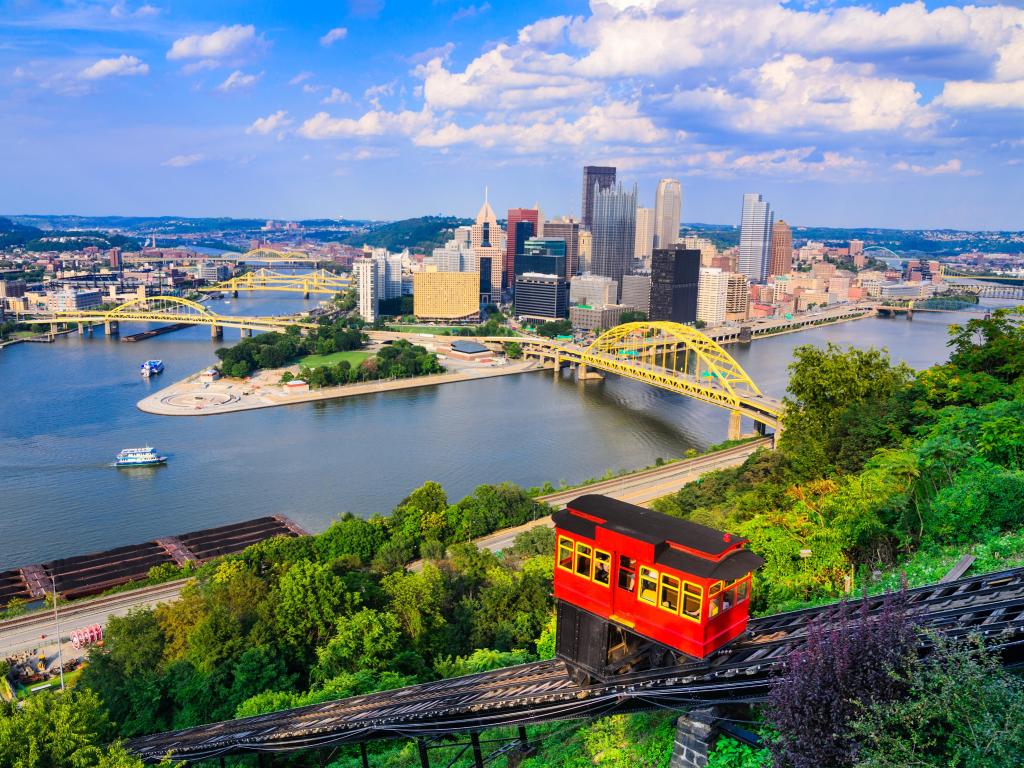 How to get there: Take I-77 S to I-80 E (Ohio Turnpike) then continue on I-76 and I-279 S to Pittsburgh.
Our highlights: Enjoy the Pittsburgh Inclines. Ride the Funiculars Railways car up the hill for dramatic views of the city and the river confluence. The Duquesne Incline is red and here you can see "the Point". The Monongahela "the Mon" Incline is yellow and has views of the South Shore.
Stroll through the Point of View Park. This park is on the south shore (at the top of the Duquesne Incline) and from here you can see the whole downtown and point areas. It is on the end of the Grand View Scenic Byway Park and the Grand View Scenic Byway roadway where you can drive and take in the views of the city and the iconic yellow Fort Pitt Bridge.
Another great park is the Point State Park. Explore the point where the Ohio River forms from the Allegheny and Monongahela Rivers and see the historical buildings of Fort Pitt like Fort Pitt Block House and the Fort Pitt Museum.
Explore Downtown Pittsburgh. Downtown is fun to explore and do a brewery tour or restaurant tour. Some fun places to visit are Market Square, Strip District, The Church Brew Works, and Butler St bars and brew pubs.
Set off and explore the city's fantastic museums. Some amazing places to check out on the north shore of the city for museum and educational experiences include the Phipps Conservatory and Botanical Gardens, Bicycle Heaven, National Aviary, and the Carnegie Science Center.
Finally, take some time at The Nationality Rooms. For a unique cultural experience, explore this gothic-style Cathedral of Learning at the University of Pittsburgh where each room is decorated with representations and artifacts of nations from around the world.
Bonus: Pittsburgh is the home to Mr. Rogers (famous TV show personality) and his statue is on the North Shore and Heinz History Center.
Our travel tips: Sports teams that are home here are the Pittsburgh Penguins (hockey), Steelers (football), Pirates (baseball), and Pitt Panthers (college basketball) so depending on the season you can get tickets to see the home team.
9. Detroit, MI
2 hours 40 minutes from Cleveland (170 miles)
Why you should visit: Detroit gets a bad rep and is not the typical tourist destination. Yet, this city is coming back and is full of local gems and off-the-beaten path treasures.
New development and a young entrepreneurial and artistic crowd are rejuvenating the abandoned city back into a lively and energetic hub of creative spirit. Come here and you'll find outstanding new restaurants, museums, and entertainment.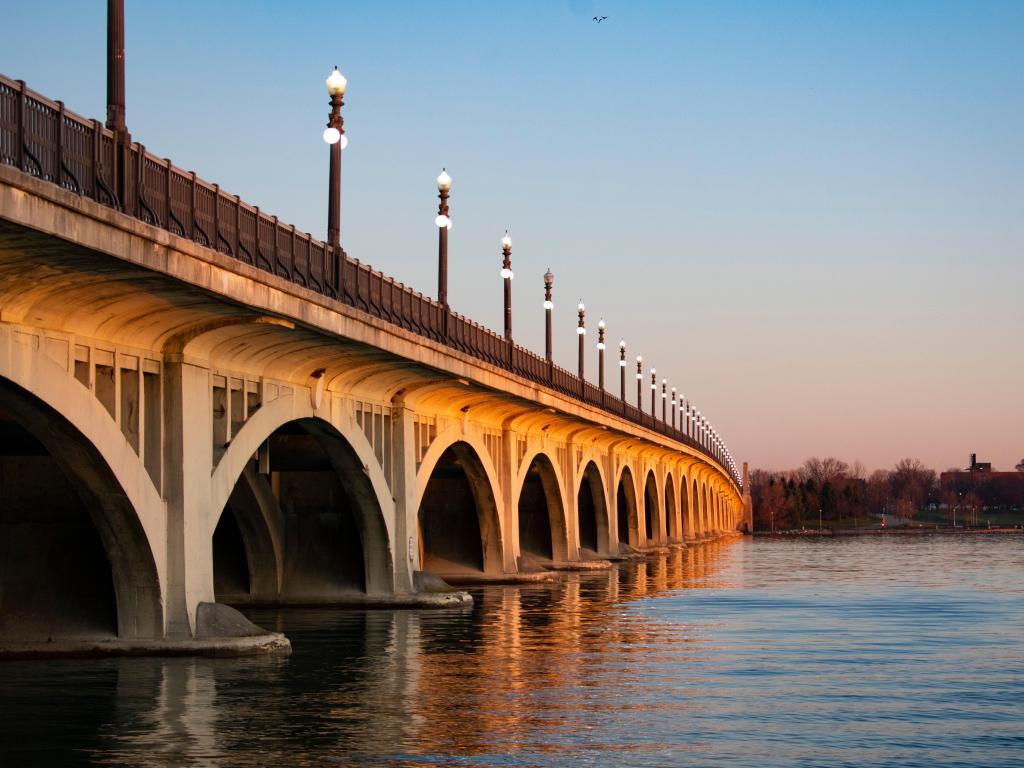 How to get there: Take I-90 headed west and OH-2 W to Sandusky. From Oregon Take I-280 N towards Toledo. Take I-75 to Detroit
Our highlights: On the way stop in Sandusky where you can stroll along the lakefront, visit the unique Merry Go Round Museum. Take a detour to Cedar Point amusement park and ride the famous roller coasters, or stop at Cedar Point Shores water park.
Visit Belle Isle State Park. This little island in the Detroit River is a beautiful park with great places to hike, walk, kayak, and have a picnic on the beach with views of the river and tree lined reflection pond. Take a look at the conservatory and museum to learn the cultural history and significance of the island.
Spend a day sightseeing. Detroit Masonic Temple is the largest Gothic archetype in the US and hosts concerts and events. See if there are any shows while you are here.
Check out old Fort Wayne. See old military barracks and a historic building that was an Officers house from 1840 onwards.
The Detroit Antique Mall is one of the best spots in the country to find antiques. From there, head to the Eastern Market to explore and go treasure hunting for a one of a kind find.
A must see destination is the Henry Ford Museum and Greenfield Village. Learn all about the history of the automobile and industry in Detroit and visit the living history village for a blast back to the turn of the 19th century in Detroit. Also see the Automobile Hall of Fame in Dearborn.
Bonus: The most iconic food of Detroit is the Coney Dog - grab one from American Coney Island Chili Dogs!
Our travel tips: Brush up on Detroit's music heritage. The city is the home of mo-town and several genres of electronic music.
Click here to skip back to the top.
Weekend trips from Cleveland (3-5 hours each way)
Cleveland is surrounded by beautiful cities and natural areas that are perfect for a weekend. Below are our favorite destinations that are full of fun and adventure.
10. Allegheny National Forest, PA
3 hours 10 minutes from Cleveland (170 miles)
Why you should visit: This large National Forest offers undisturbed mountains and forest land to experience some adventures and natural scenery away from the city.
This is Pennsylvania's only national forest and carries a rich cultural history of the Native American people and colonialism history as well as the scenic beauty of the area and surrounding Appalachian Mountains.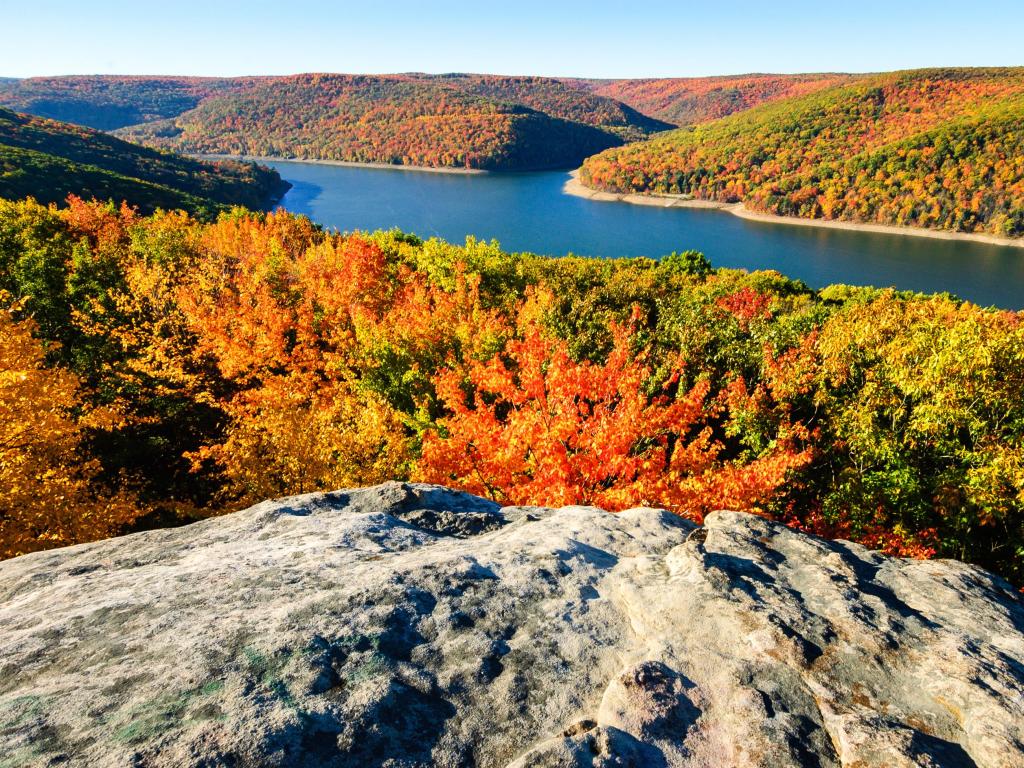 How to get there: Take I-77 S, I-480 E, I-80 E, and I680 S to Youngstown. From Youngstown, head back on I-80 E to exit on PA-66 N near Clarion PA (see the Clarion Trestle bridge). Take 66 N into the Forest towards Kane.
Our highlights: This is the ultimate location for hiking. There are many trails to explore through the forest including a portion of the historic North Country Trail. Other notable trails include Jakes Rocks, and Tom's Run. The trail system is very extensive and you can also ATV and mountain bike as well as canoe and kayak in many areas.
Check out the Kinzua Sky Walk. Walk out on this 301 feet high bridge that used to be a railroad bridge where you can daringly step onto the glass lookout platform at the end.
Visit the Allegheny Reservoir and Kinzua Dam. This large dam forms the reservoir where you can boat, swim, and enjoy the beaches or the marina where they have live music every Sunday.
Enjoy the Longhouse National Scenic Drive, Scenic Route 6, and Kinzua Byway. These are all beautiful scenic drives to take through the Forest to see stunning vistas and enjoy the views.
Our travel tips: You can visit in any season, snowy winter is a great time to visit the forest where you can snowmobile and snowshoe/ski the trails.
11. Chillicothe and Hocking Hills State Park, OH
3 hours 50 minutes from Cleveland (220 miles)
Why you should visit: This area has many state parks with unique features to enjoy for some natural scenery and recreation
Chillicothe offers a gateway to some of the more unique natural areas in the state to explore and a quaint town for an escape from the city.
How to get there: Take I-71 S through Columbus to Chillicothe. From Chillicothe, take OH-180 E to Laurelville, get on OH-56 E and continue to OH-664 N towards the State Park.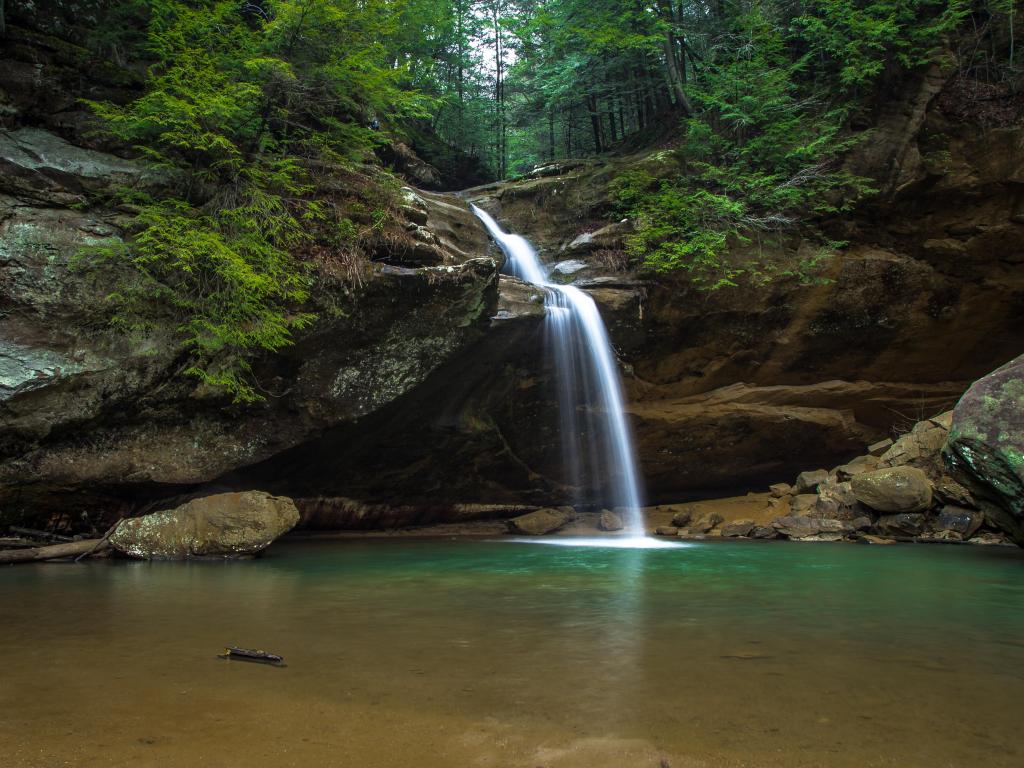 Our highlights: Hocking Hills State Park is a natural gem of the state. Here you can hike to and around caves, rock cliffs, waterfalls, hollows and forests.
Swim, canoe, or paddle board on Rose Lake or float along Queer Creek. A portion of the state Buckeye Trail goes through the park and connects to the North Country Trail.
Conkle's Hollow State Nature Preserve is just north of Hocking Hills is a preserve which has a waterfall filled gorge and a scenic hiking trail along cliffs.
Tar Hollow State Park is another great place to hike, camp, swim and fish in a tranquil lake.
Check out Great Seal State Park and Ross Lake. Hike Sugarloaf Mountain, camp or explore the Ross Lake Wilderness area with hiking.
Chillicothe, stay here overnight and enjoy views of the Scioto River and visit the Hopewell Culture National Historical Park to see the ancient burial mounds and Native American artifacts.
Bonus: A little farther past Hocking Hills, within Zaleski State Forest is Moonville Tunnel, which is a well-known haunted train tunnel. It is said to be haunted by an old man in a top hat who died during its construction and a ghostly prankster who throws rocks at hikers from above (how can anyone be above you in a tunnel?) Don't believe it? Experience it for yourself.
Our travel tips: Hocking Hills is best experienced if you are prepared to get wet, with waterfalls and dripping caves, wear waterproof shoes and bring layers of clothes. Pack a picnic to experience all the state parks have to offer and not have to leave to find lunch.
Plan ahead as each park has different areas with parking lots and lots of trail systems.
12. Niagara Falls, NY
3 hours 20 minutes from Cleveland (220 miles)
Why you should visit: Niagara Falls and the town of Niagara are beautiful destinations that make the perfect road trip from Cleveland to witness a bucket list-worthy natural phenomenon.
Niagara is often considered the "eighth wonder of the world" and the surrounding area including Niagara on the Lake is renowned for winemaking
How to get there: East on I-90 to Buffalo and across I-190 to Niagara Falls.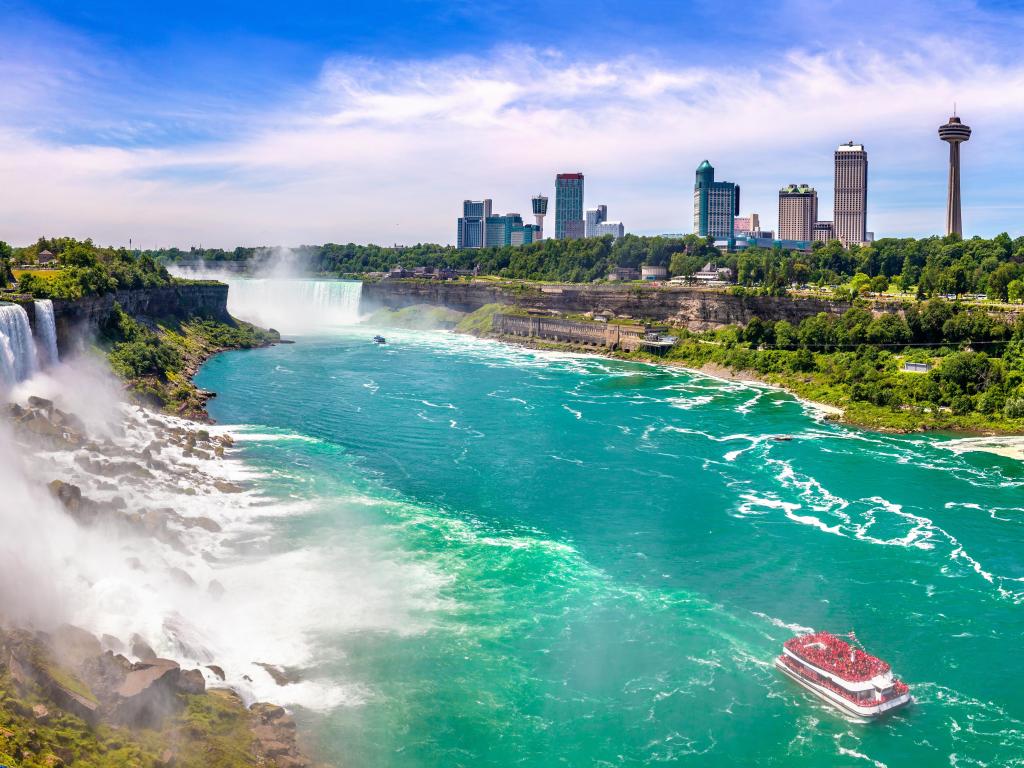 Our highlights: The falls! Of course, Niagara Falls is the main attraction. Here, where you can ride the Lady of the Mist in warmer weather and tour behind the falls. The American Falls have a boardwalk with stairs to get really close (and wet!) and are super unique in the winter with the ice frozen all around.
Another great draw is the wineries. We recommend Wayne Gretzky's with an ice rink on site or Peller Estates which has an ice bar in the winter. Trius Winery and Restaurant has great romantic vibes for couples. You could make this a weekend trip and stay on-site at a lovely B&B or wintery boutique hotel.
See Niagara Falls attractions. In the city of Niagara Falls, you can find many restaurants, shopping, a Ferris wheel, and a butterfly conservatory.
Bonus: Inniskillin winery is the original maker of icewine in North America. Icewine is made with grapes that have frozen on the vine and is very sweet, like a dessert wine.
Our travel tips: You could cross the Rainbow International Bridge to see the Canadian view of the falls (immigration customs apply).
The Icewine festival in Niagara in 2023 is on the last two weekends in January.
READ MORE - Road Trip from Cleveland to Niagara Falls
13. Grand Rapids, MI
4 hours 30 minutes from Cleveland (300 miles)
Why you should visit: Situated on the Grand River, this city offers northern charm and proximity to Lake Michigan
This city is an affordable destination for great food and attractions and is often voted America's Best River Town.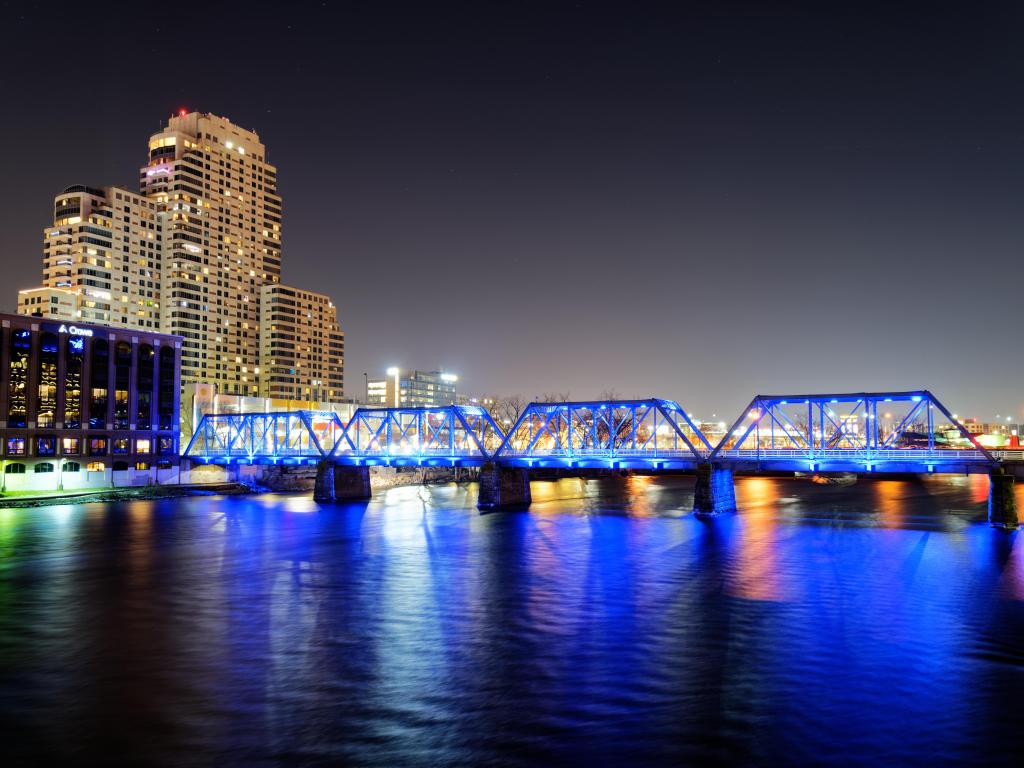 How to get there: Via Ann Arbor and Lansing, take I-90 West to I-80 Ohio Turnpike to Toledo. Take I-475 around Toledo. Take US-23 N to Ann Arbor and I-96 W through Lansing.
Our highlights: Visit the Gerald R Ford Presidential Museum to learn about this famous president and his life and American History of the time.
Take a brewery tour of the city but definitely don't miss stopping at Founders Brewing Co. Grand Rapids is one of America's top cities for craft beer.
A short drive takes you to the shores and beaches of Lake Michigan where you can swim, soak in the sunshine, and enjoy the sandy views.
Eat at the Downtown Market food hall and outdoor shopping at local artists' stalls and vendors.
Bonus: Grand Rapids has great festivals hosted in Rosa Parks Circle, one of America's Great Public Spaces, including ArtPrize which is an internationally renowned art competition, and GrandJazzFest.
Our travel tips: Art Prize is in the Fall which would be a beautiful time to explore the outdoor-centric city.
On the way, stop in Ann Arbor for a walk around Main Street. Lansing is also a good stopover point where you can see the Michigan capitol building or visit the Michigan History Center.
14. Toronto, ON
4 hours 52 minutes from Cleveland (290 miles)
Why you should visit: Toronto is known for being a vibrant and multicultural, diverse city. Toronto is the most economically advanced and influential Canadian cities and hosts many large IT companies, financial centers, and industrial business centers.
On par with other major North American cities, Toronto also offers endless options for delicious and diverse cuisines, sports events of every type, and a vibrant art and entertainment scene.
How to get there: East on I-90 to Buffalo, across I-190 to Niagara Falls. ON-403 takes you around the lake through Hamilton to Toronto.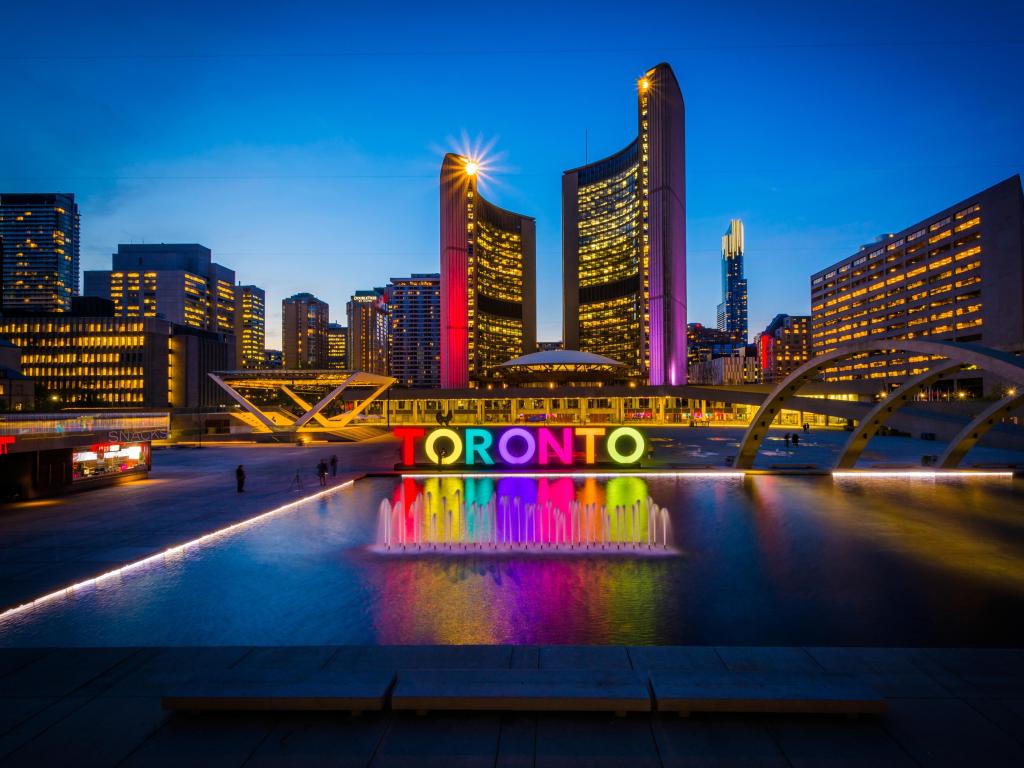 Our highlights: Toronto offers countless entertainment and food and beverage experiences to choose from. Take a food tour, a brewery tour, catch a sports game, or see a concert on King Street in the Entertainment District.
Visit the iconic CN Tower. You can view the city from the observation deck and take in the sites. Brave the glass floor observation deck to look down over the city.
Visit Niagara Falls and Niagara wine region. This is an easy stop to make on the way to Toronto and is worth the drive to see this spectacular gushing waterfall, in the summer take the Lady of the Mist boat ride to feel the mist up close!
This route stays on a highway or you could Follow the shorelines of the great lakes to see dramatic views of the lakes and experience a slower pace of driving and leisure and stop in smaller towns along the way.
Bonus: The Toronto Islands are the largest community in North America that doesn't use cars. You can explore these by walking, biking, or boats/canoes to hang out on the beaches, walk the trails, and go to the amusement park.
Click here to skip back to the top.
Long weekend trips from Cleveland (5-8 hours each way)
There are many excellent road trips within 5 to 8 hours from Cleveland. You can experience classic cities, dense forests, and some of the most striking scenery in America.
15. Finger Lakes and Syracuse, New York
5 hours from Cleveland (360 miles)
Why you should visit: The Finger Lakes region is made up of several long slender lakes in a lush setting renowned for its scenic beauty, quaint towns, and winemaking region.
Upstate New York offers scenic beauty among these 11 lakes and charming, colorful communities all around to explore.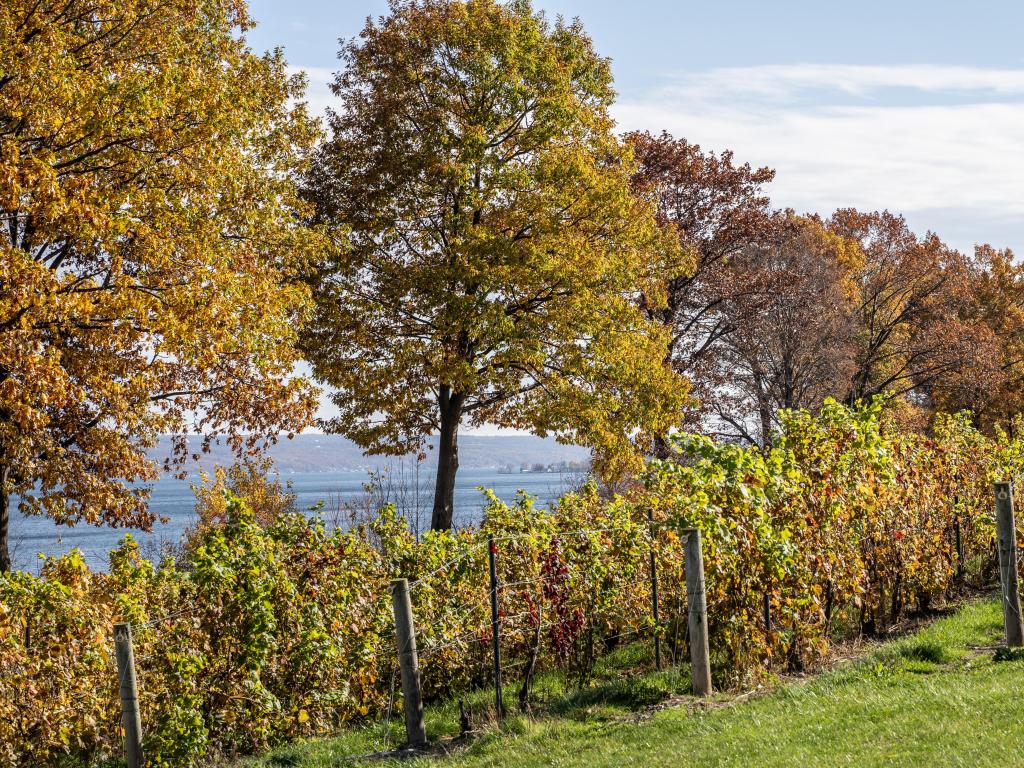 How to get there: Take I-90 through Buffalo then take NY 14 or NY 414 south towards the lakes. Or, take I-90 E to Syracuse.
Our highlights: Scope out the Cayuga Lake Wine Trail. This scenic drive takes you to many different wineries along the shore of Cayuga Lake and can be linked with the Seneca Lake Wine Trail. You can also find many breweries, cider houses and distilleries in the region.
Get outdoors in the scenic beauty with hiking, biking, and boating on the lakes. Visit Finger Lakes National Forest and Taughannock Falls. Visit Bristol Mountain (ski in the snow season) or Greek Peak Mountain
Spend time in the Watkins Glen State Park. This natural area is a picturesque park with trails around waterfall cascades and rocky cliffs and gorge.
Syracuse makes a great ending point for this trip where you can shop at the huge Destiny USA mall and visit museums and other entertainment venues
Scenic drives are plenty here, take the Seneca Lake Scenic Byway around Seneca Lake or 89 south around Cayuga Lake.
Bonus: The Finger Lakes Trail is a long hiking trail that runs through this region and connects other trails like the North Country Trail and Catskill Park.
Our travel tips: This can be a year-round destination with activities for any season.
16. Chicago, IL
5 hours 20 minutes from Cleveland (345 miles)
Why you should visit: This vibrant waterfront city has great waterways and outdoor spaces and iconic architecture. Chicago has a rare mix of old and new that makes for a fun weekend trip to experience its famous food, museums, and art scene, which make this a great road trip from Cleveland.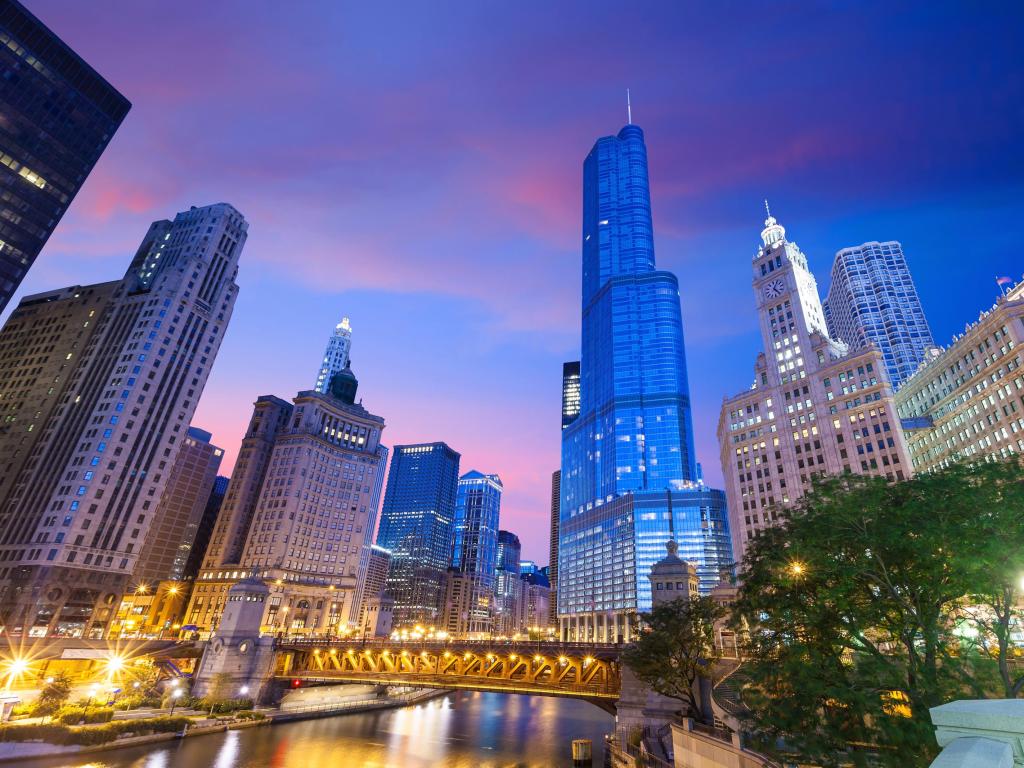 How to get there: Take I-90 W and/or Ohio Turnpike (I-80).
Our highlights: Visit the world-famous Willis Tower. Take the elevator to the top observation deck and brave the tilt-out glass windows or glass floor balcony.
Take a water taxi down the river through downtown and marvel at the city's landmarks and architecture.
While visiting the city, you must try the famous Chicago deep dish pizza at Giordano's, Lou Malnati's, or Beatrix Market.
Visit Millennium Park. Enjoy views of downtown and the nearby riverfront. Walk through Chicago's iconic parks and take a picture at the "bean" Cloud Gate statue.
Check out the Museum Campus. Take a stroll through this collection of museums including the Field Museum, Adler Planetarium, and Shedd Aquarium and explore Grant Park on the shores of Lake Michigan.
Bonus: Catch a baseball game in spring and summer to root for the home Chicago team at Wrigley Field, one of the 2 oldest baseball parks in the country dating back to 1914.
Our travel tips: Chicago is known for its St Patrick's day celebrations in March when they dye the river green.
READ MORE - Road Trip from Cleveland to Chicago
17. Louisville and Kentucky Bourbon Trail
5 hours 20 minutes from Cleveland (350 miles)
Why you should visit: All bourbon fans would love this trip through the heart of Kentucky to find rare and small-batch bourbons and soak in the stunning mountain scenery
Louisville is a city rich in history and offers unique culture, great food, bourbon, and hospitality of a small town but with city-like entertainment and a unique bluegrass flare.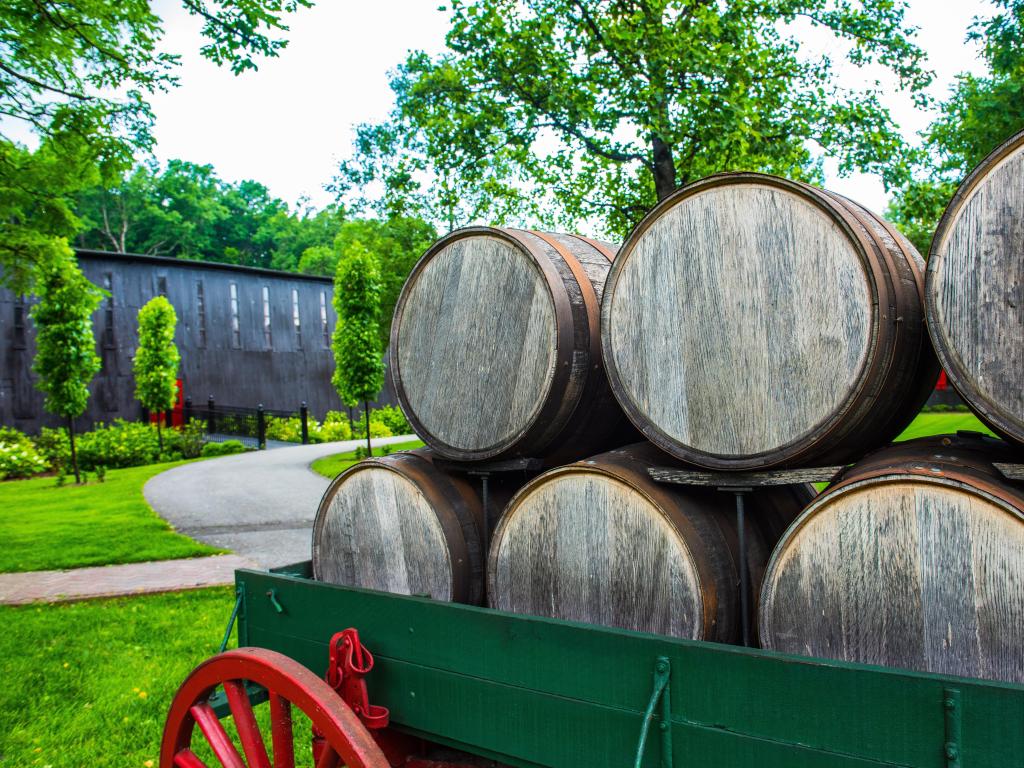 How to get there: Take I-71 south/southwest all the way.
Our highlights: Get on the Kentucky Bourbon Trail. Tucked between Cincinnati, Louisville and Lexington you can head out on a multi-day road trip or a quick trip to the area's famous bourbon distilleries.
Take tours, mixology classes, tastings, and start or grow your collection of rare find bourbons. Stop at distilleries such as Evan Williams, Old Forester, Bulleit, Rabbit Hole, Stitzel-Weller, and James B Beam.
See the Kentucky Derby Museum. Learn about the history of Thoroughbred racing and experience some bourbon tasting, and tour Churchill Downs Racetrack
Enjoy amazing food. Kentucky has some amazing cuisine so find a delicious restaurant to eat some fried chicken, barbecue, Burgoo, a Hot Brown, or some Bourbon Balls.
Enjoy the soothing sounds of Bluegrass. Take a sunset river cruise on a riverboat to experience a true Kentucky dining night with great food and bluegrass music.
Bonus: The Kentucky Derby is held at Churchill Downs every year since 1875 and is a national event that brings people to Louisville each May. Celebrate at a Derby Party complete with Mint Juleps, wear your hat, and try to win big on your bets.
Our travel tips: There are many tours that operate on the bourbon trail so you don't have to drive yourself if you would like to sample the bourbon. You can also stay in many of the smaller towns along the trail for a unique bed and breakfast experience.
18. Lancaster County, PA
5 hours 30 minutes from Cleveland (365 miles)
Why you should visit: The Pennsylvania Dutch Amish and Mennonite communities in this area are America's first Amish settlements.
This is a great cultural destination where you can go back in time and enjoy a peaceful slow-paced visit and learn about Amish heritage.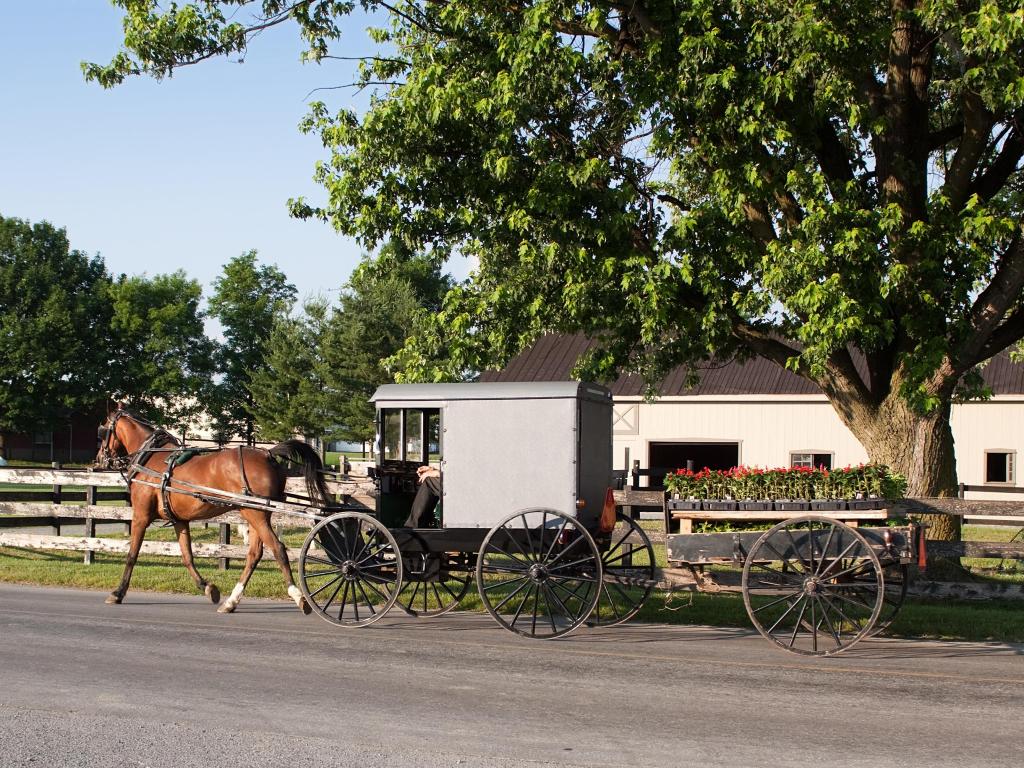 How to get there: Follow I-80 E, I-76 and PA-283 E to PA-340 E in East Lampeter Township. Take the PA-340 E exit from US-30 E.
Our highlights: You can find many tours that offer buggy rides, attractions, and Amish activities to experience from the locals.
Eat a Dutch meal at an Amish-owned restaurant, try BrickHouse Coffee and Kitchen or Katie's Kitchen.
Buy goods at the Green Dragon Farm Market or other farmers markets, roadside stands, and Amish craft markets around the back roads of the county
Visit the Dutch Wonderland, a themed amusement park.
Bonus: Discover Lancaster offers a prize for completing the Lancaster County Coffee Trail by visiting the listed small town coffee shops and cozy cafes
Our travel tips: It's fun to explore the back roads but keep to proper etiquette around Amish horses and buggies.
19. Washington, DC
6 hours from Cleveland (370 miles)
Why you should visit: Many popular attractions for fans of American History and military history as well as other museums and collections
DC is known for the memorials and museums but also offers many scenic parks and greenspaces and fun foodie and entertainment scene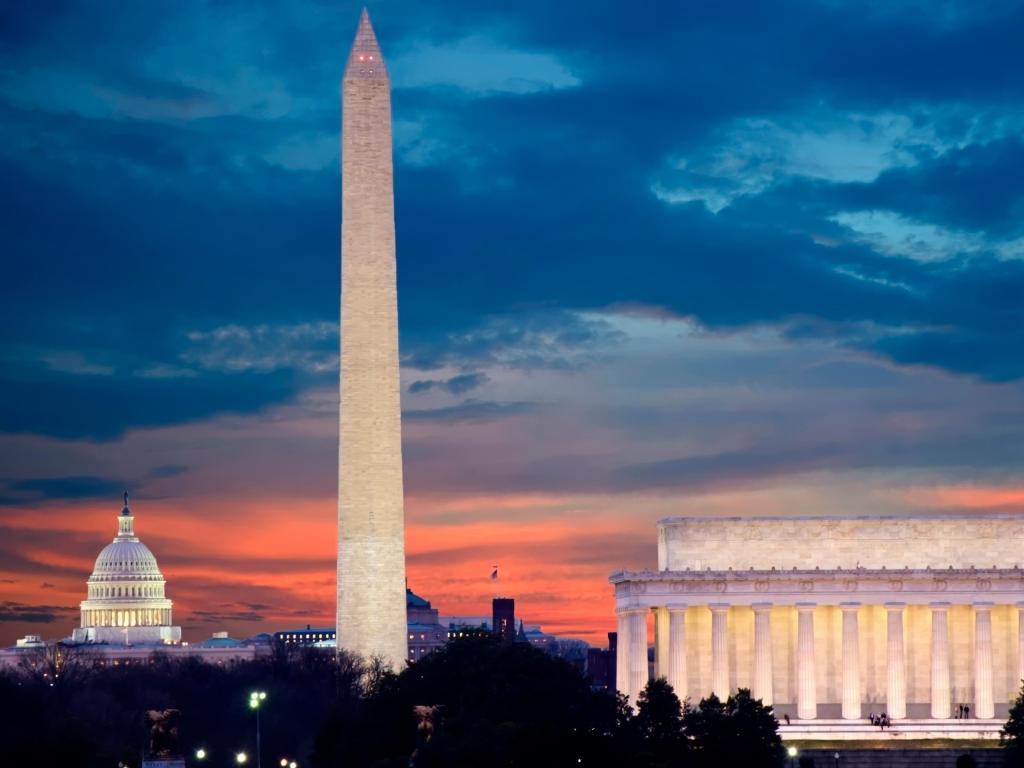 How to get there: Take I-76 to Breezewood, take I-70 E., take I-270 S to Cabin John Pkwy in Potomac. Take exit 40 from I-495 S
Our highlights: Visit the National Mall. Walk, bike, take a Segway tour, take a trolly tour, use the train system, etc and visit all the main attractions.
See the White House Lawn and US Capitol. Tour these institutions of American government, or simply take a bike tour around the city and check off a lot from the "DC Bucket List"
Check out the Washington Memorial. Visit the reflection pool, park, and take in the sites.
Head to the Lincoln Memorial and statue and get that Instagram picture! Afterwards, see the War Memorials, Martin Luther King Jr. Memorial, and FDR memorial.
Visit the incredible Smithsonian National Museum of Natural History. This space houses the largest collection in the US. See the acclaimed museum, Smithsonian National Zoo, National Arboretum, National Museum of African American History, Holocaust Memorial Museum, National Gallery of Art, National Air and Space Museum and many others!
Explore nearby Arlington. The Arlington National Cemetery is where you can pay your respects to military heroes. Here you can also visit the Pentagon.
Walk along the Potomac River. There are a number of nature preserves, parks, and trails that follow the river.
Bonus: The Washington Monument is the tallest building in DC.
Our travel tips: Cherry blossoms bloom in March and April is an especially beautiful time to see DC.
20. Philadelphia, PA
7 hours 20 minutes from Cleveland (435 miles)
Why you should visit: Visit early colonial history and a vibrant city with art, culture, and a riverfront.
Philadelphia has a lot to offer with history, culture, and scenery as well, tons of popular attractions centered around early 18th-century American history and Revolutionary war history.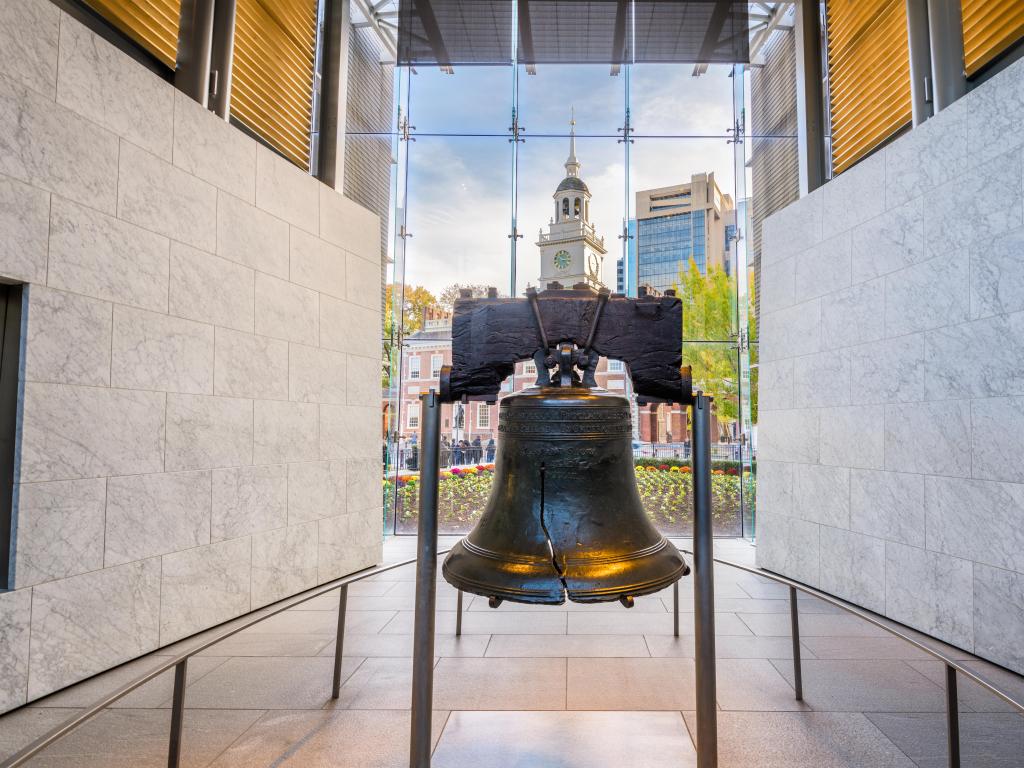 How to get there: Take I-480 E, I-80 E, I-76, towards Hershey, take I-83 Capital Beltway, 322 to Hershey. From there take PA-743 South to PA-283 E and US-30 E to Lancaster County. Take US-30 E to US 202 to I-76 to Philadelphia.
Our highlights: See the Liberty Bell and Independence Hall. Visit these American history attractions, where the Declaration of Independence and the Constitution were signed.
Visit the "Rocky steps" at the Philadelphia Museum of Art and take a picture with the LOVE statue in Love Park
Another iconic thing to do is to eat at Reading Terminal Market. Stop in Lancaster and Lancaster County to visit the Amish attractions (see above)
Stop in Hershey to see Hersheypark. This chocolate-themed park has rides and rollercoasters dedicated to the company. The Hershey Story Museum is a themed museum of Milton Hershey's life and how he started Hershey Chocolate.
Also, you can see the Hershey Gardens. These expansive gardens with butterflies house Hershey's Chocolate World: a chocolate-themed attraction with many things to do, like rides, 4D shows, chocolate candy bar tasting, and the chance to create your own chocolate bar and visit the largest candy store in America.
Bonus: Philadelphia is the most haunted city in America, so take a ghost tour!
Our travel tips: Brush up on pop culture history before visiting. You'll be surprised how much takes place in this city.
Click here to skip back to the top.
Longer trips from Cleveland (Over 8 hours each way)
From Cleveland, take even longer to explore far away landscapes and exciting destinations. On the way, you'll pass incredible scenery and some of the coolest little towns in America.
21. Green Mountain National Forest, VT
7 hours 40 minutes from Cleveland (500 miles)
Why you should visit: Experience scenic mountain forests with stunning vistas and quaint hidden villages.
Steal away from the city for a weekend in the Green Mountains where you can raft, hike, explore charming mountain towns, and take in the scenery.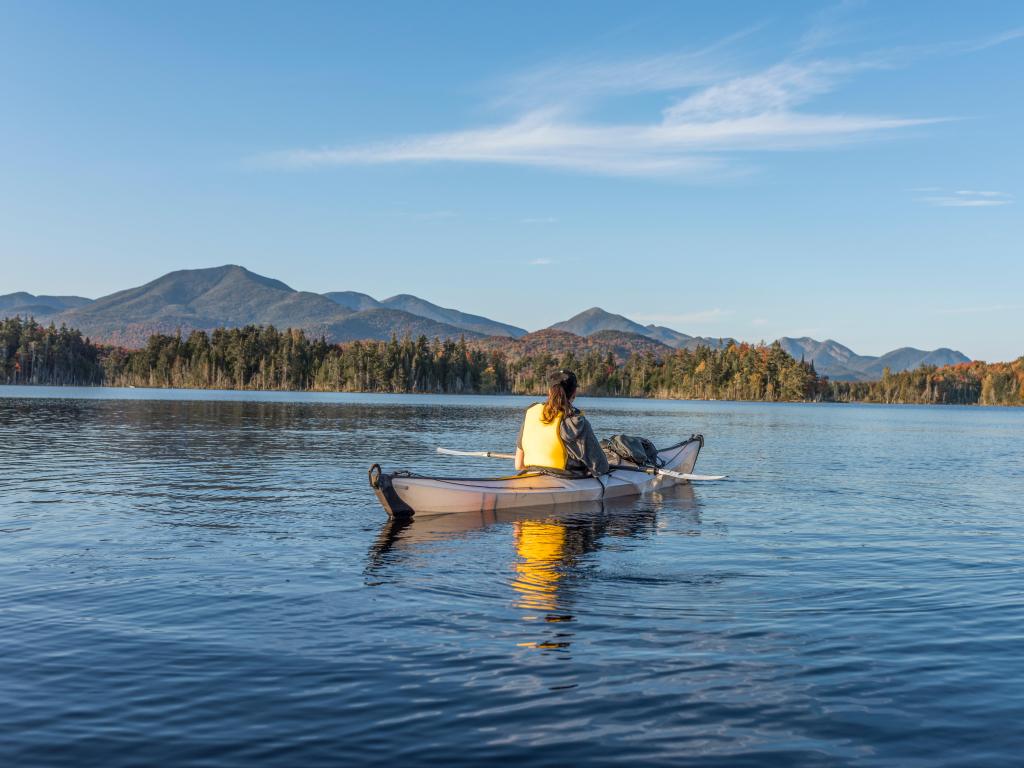 How to get there: Take I-90 E to NY E in Latham. Continue to I-87 N from Albany towards Saratoga Springs and VT-346 S to the Forest.
Our highlights: See Saratoga Springs and Saratoga Lake. This is a great stop to see and explore the Adirondack Mountains and enjoy the lake with a hike or paddle. This is also a great place to book some Whitewater rafting or river tubing.
Gaze at Mount Mansfield and Smugglers Notch Scenic Highway. This is the highest mountain peak in the forest where you can hike or climb (if that's your thing) and Smugglers Notch State Park is the narrow pass through the Green Mountains where you can hike and drive through this historic trade pass.
Do a Covered bridges tour. Drive around the small quaint towns and find the historic covered bridges to make a beautiful photo backdrop. See the Silk Road Covered Bridge, Bridge at the Green, and the Papermill Village Bridge while you check out the surrounding towns and support local businesses.
Experience the Green Mountain National Forest scenic drive on the Green Mountain Byway which takes you between Waterbury and Cambridge Vermont.
Bonus: Smugglers Notch was used as an illegal trade route to Canada during the 1807 embargo as well as a slave escape route and a liquor smuggling route during prohibition.
Our travel tips: This is an all-weather destination. In winter you can ski and do other snow sports on the trails and mountains.
Smugglers Notch Road is closed in winter. Peak leaf season is high tourism time so plan in advance for traffic and hotels to fill up.
22. Nashville, TN
7 hours 50 minutes from Cleveland (520 miles)
Why you should visit: Nashville is a great destination for those wanting a road trip out of the hustle and bustle of the city and enjoy small historic towns, art museums and some nature along the way
Visit "The Music City" Nashville, where you can find vibrant nightlife, live music at every turn, and great southern food and hospitality.
How to get there: Take I-71 S to Louisville and then continue south on I-65.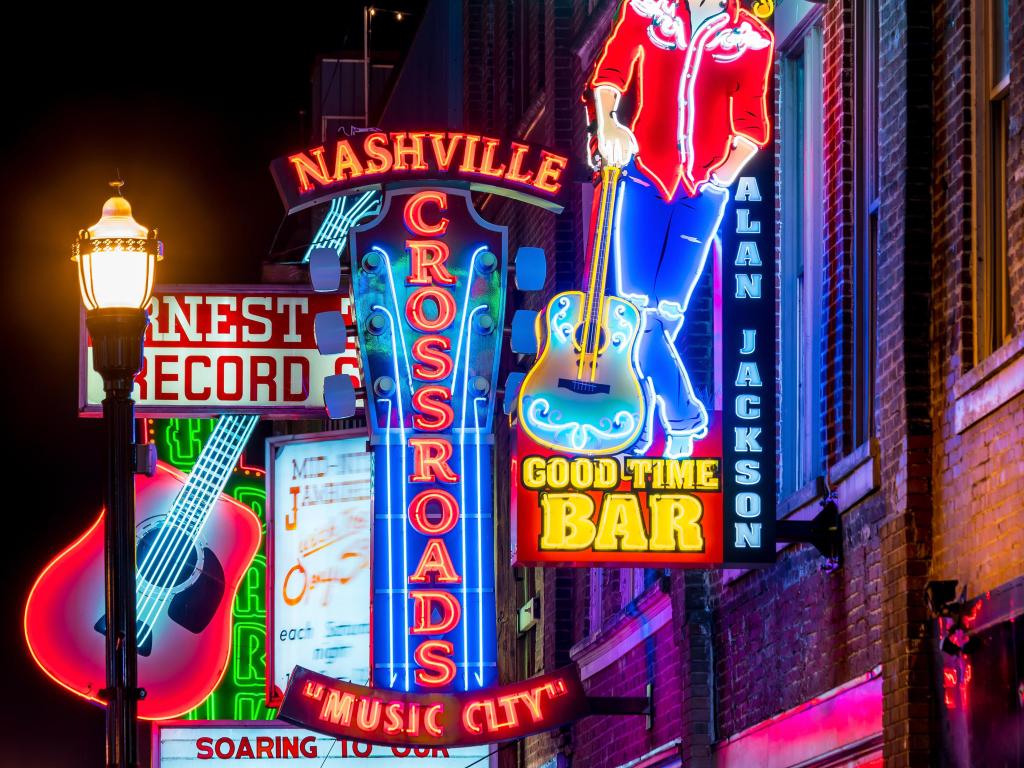 Our highlights: Stop in Bowling Green and Mammoth Cave to explore the large Mammoth Cave or Lost River Cave and have a scenic meal in the charming town.
Eat and drink and enjoy the music and nightlife on Broadway St in Nashville or Honky Tonk Row.
See live music shows at many different venues around town, the most famous being the Ryman Auditorium and the Grand Ole Opry.
Visit the Country Music Hall of Fame and Museum to see costumes, instruments, and other memorabilia from your favorite artists.
Bonus: Some of the biggest Nashville events occur in the summer like the CMA Music Festival in June and Bluegrass Nights at the Ryman. But there are also notable festivals and the GMA Dove Awards in October.
Our travel tips: Visit via Columbus, Cincinnati and Louisville (see other trips for connections to attractions).
23. Knoxville, Pigeon Forge, and Gatlinburg TN
7 hours 20 minutes from Cleveland (530 miles)
Why you should visit: A scenic drive to the Smoky Mountains and many options of attractions from nature to amusement parks to shows and museums.
Charming towns with exciting activities in stunning mountain scenery.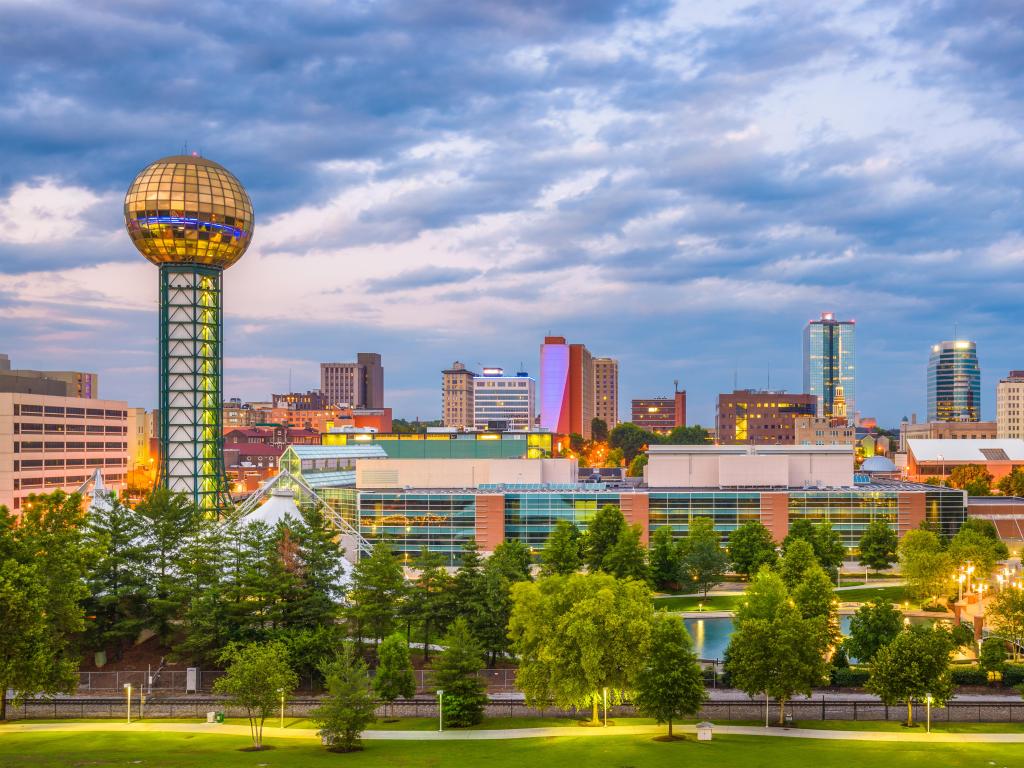 How to get there: Take I-71 S to Cincinnati then I-75 S through Lexington to Knoxville, I-40E towards Pigeon Forge.
Our highlights: Knoxville is known for being a bigger city with mountain charm. A great place to explore downtown, hear live music, eat southern soul food, and have a drink at a microbrewery or distillery.
Check out the Pigeon Forge. This is the incredible location of the Dollywood amusement park, TITANIC museum, alpine coasters, zip lines, and many other attractions, shows, and amusement rides.
Visit Gatlinburg. Set in the foothills of the Smoky Mountains, this town has a beautiful setting and lots of attractions to choose from including many nature-based activities. Ride the gondola at Ober Gatlinburg amusement park or hike to Mount Harrison and Cataract Falls.
See the Great Smoky Mountains National Park. This is a very large National Park that covers a lot of area of the Smoky Mountains. The park is very driveable, or you can stop and hike some trails to see waterfalls, mountain views, and infamous fall foliage (during the right time of year). The park is accessible from many areas and directions/ locations (also an option that drives through the length of the park on the Blue Ridge Parkway).
Bonus: Pigeon Forge is the hometown of Dolly Parton, which is why she has used her namesake on so many attractions in the town.
Our travel tips: This is a popular tourism center and can be busy any time of year.
24. New York, NY
7 hours 40 minutes from Cleveland (460 miles)
Why you should visit: The "Big Apple" has so much to offer and is an exciting city to experience. See all the famous landmarks like Time Square and The Statue of Liberty.
New York is more than just Manhattan. You can also find local gems and fun experiences in Brooklyn, Long Island, or other boroughs.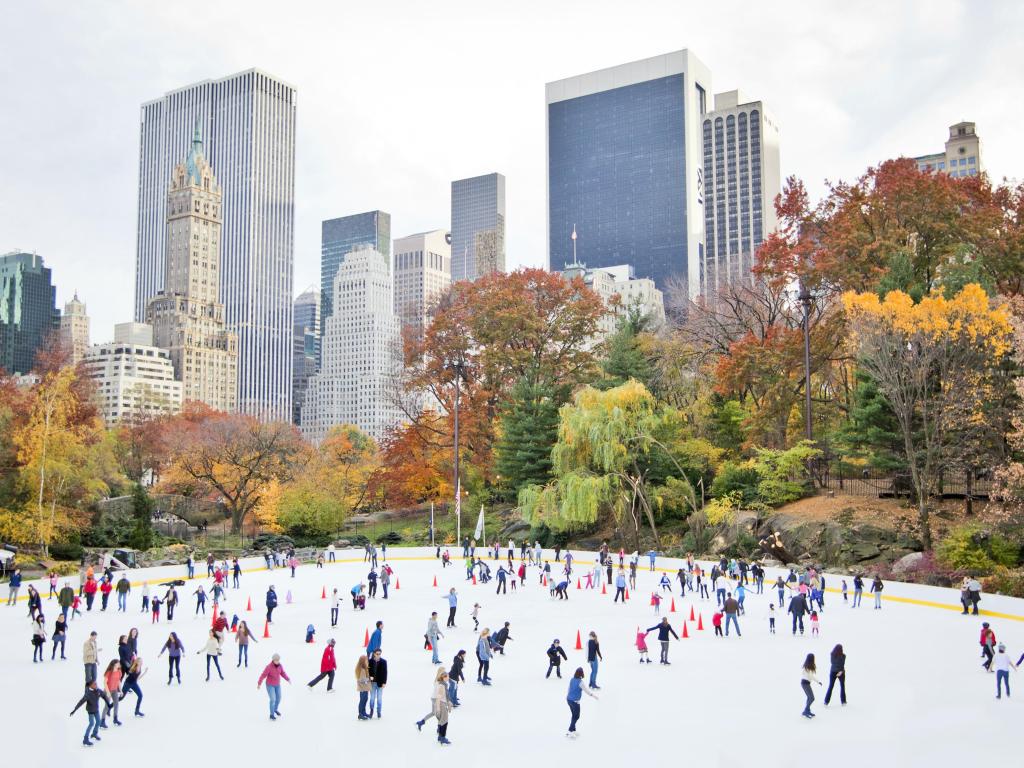 How to get there: Take I-80 to I-280 into Newark, NJ. Cross the Hudson River via the Holland Tunnel in Jersey City into Manhattan via 12th street and I-78.
Our highlights: On the way from Cleveland, check out the Rothrock State Forest and Mount Pocono. This detour off I-80 south on I-99 in Bellefonte PA will awe you with its natural beauty. I-80 drives you through the Pocono Mountains where you can stop at Big Pocono State Park near Tannersville PA and see
See towering Manhattan. Explore the city on foot or take the subway around different areas of Manhattan. See Rockefeller Center (get an amazing view from the Top of the Rock, including the Empire State Building which you don't get to see if you use the Empire State Building as your observation point)
Go shopping on Fifth Avenue. The most famous shopping street in the city, offers luxury brands and storefronts straight out of magazines.
Visit the Lower East side Orchard Street. Explore endless art galleries, museums, and more eclectic shops to browse
Head over to Broadway. What better winter activity in New York than seeing some Broadway shows, or any time of year?
Experience NYC on the holidays. During Christmas, see the Rockefeller Christmas Tree, ice skating in the plaza, Radio City Christmas Spectacular show, and Christmas markets (Bryant Park, Dyker Heights, Union Square)
Visit Times Square NYE. The famous Times Square New Year's Eve Party happens every year and features performances, the ball drop, and TV specials broadcasted worldwide.
You can't miss Central Park. It's impossible to see all of this massive park in one trip but a nice walk around or through the park is a great way to experience the city.
If you'd like to learn more about other places you can visit in New York City, including places to stay, here is our area-by-area guide to the city:
READ MORE - Our Area-by-Area Guide to NYC
Bonus: New York is the most populous city in the US, and the food and languages you hear reflect this diverse population. New York is the city where things happen!
Our travel tips: Travel to New York any time of the year but be prepared for hot humid weather in summer and cold snow in winter. The holidays bring big crowds to the city so buy tickets to Broadway shows in advance.
Staying in Brooklyn is a good way to find more availability and this area is on the rise in popularity and development plus it has loads of cultural activities.
READ MORE - Road Trip from Cleveland to New York
25. Boston, MA
9 hours 40 minutes from Cleveland (640 miles)
Why you should visit: Experience true American culture and history with 18th-century British colonial, Revolutionary War, and American Civil War history sites. The trip also offers the opportunity to visit some mountainous and scenic rivers and waterfalls as stopovers on the way through the Catskills.
Boston is an iconic American city with countless landmarks and historically significant sites as well as a very refined art scene, all set on the Charles River for a true north-eastern experience.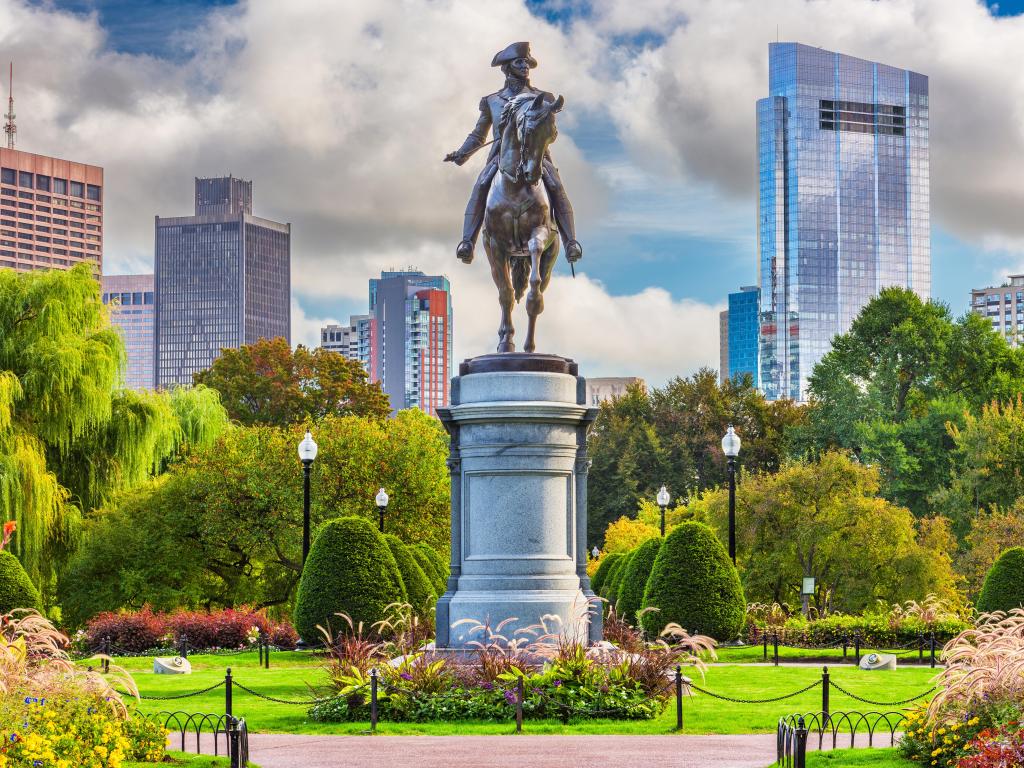 How to get there: Take I-90 E to Albany and Springfield, then all the way to Boston.
Our highlights: Travel through the Catskill Mountains, Callicoon and Woodstock if you have a few days to spare (This detour adds about 2 hours to the drive).
Walk the Freedom Trail. Start at the historic Boston Common and walk a path through the city to see 16 of Boston's historic sites of colonial and Revolutionary War history.
See the Museum of Fine Arts, Boston Symphony Orchestra, Fenway Park and Museum, and Isabella Stewart Gardner Museum for a taste of the art and culture of the city.
Explore the Boston Public Garden or take a stroll along the Charles River. Even jump in a rowboat if you desire, and take a row down this infamous river through the city.
See the famous Harvard University. Walk the beautiful campus and see the iconic red brick buildings, stop at the Harvard Museum of Natural History, have a coffee at a cozy collegiate café.
Bonus: Boston was the site of the start of the American Revolutionary War and many historically significant sites and landmarks can be toured for free here.
Our travel tips: This is a walkable city and many sites are close together to walk to so wear comfortable walking shoes to explore and see the sites.
26. Orlando, FL
15 hours 30 minutes from Cleveland (1,040 miles)
Why you should visit: A warm weather destination sure to offer outdoor time and iconic Disney and Universal Studio parks and attractions.
The drive from Cleveland to Orlando has many amazing destinations to stop along the way, the journey is half the fun here where you drive through scenic mountains, southern cities, and can experience warm beaches and tropical climate.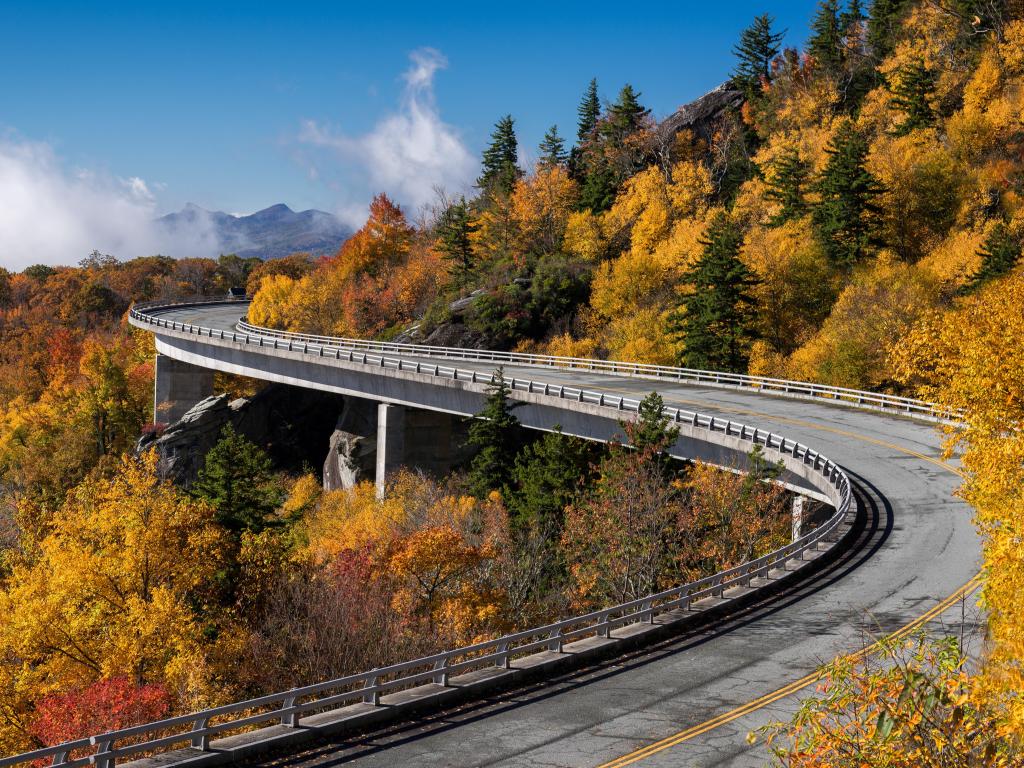 How to get there: Take I-77 S to Charlotte NC and then to Columbia NC. Take I-26 Southeast to meet I-95 S to Jacksonville FL. Follow I-95 South to Daytona Beach and then take I-4 to Orlando.
Our highlights: Visit Orlando via Charlotte, Savannah, and Jacksonville. You can drive on the Blue Ridge Parkway if time allows.
The starting point (northern end) of the Blue Ridge Parkway, one of America's most infamous scenic drives, is in Afton, south of Shenandoah. The route follows the parkway 469 miles through the Appalachian Highlands and Ridges all the way south through VA and NC to end at Great Smoky Mountain NP.
There are many, many, scenic overlooks along the Parkway with various pullouts to hiking trailheads, waterfalls, mountain peaks, and other vistas. Photographers gather every sunrise and sunset at the vistas, and even more so in the fall when the leaves are changing colors.
The Parkway is known for being winding and can be difficult to drive in rain or snow conditions and can have traffic and delays. If planning to drive the whole route, leave ample time and plan a few overnight stays along the way to take advantage of all it has to offer.
You can also detour to stop in Charleston SC where you can eat oysters, and southern food, walk along the waterway, tour old antebellum-style houses,
Visit the awe-inspiring Cape Canaveral, Florida. This is where you can see the rockets launch. Nearby, you can go surfing at Cocoa Beach, home of 11x world champion surfer Kelly Slater. Also, you can visit the Kennedy Space Center NASA and see the Canaveral National Seashore.
Experience Disney World Orlando. This park consists of Hollywood Studios, Epcot, Animal Kingdom Theme Park, Magic Kingdom, Walt Disney World Resort, Downtown Disney, Blizzard Beach, and Typhoon Lagoon. Plan to stay here for a day or two, if you want to enjoy all the attractions.
Get your fill of fun at Universal Studios. Attractions include The Wizarding World of Harry Potter, Islands of Adventure, Volcano Bay, Universal Orlando Resort. You can easily spend a few days here.
Bonus: You could easily extend this trip with onward routes to other cities such as Asheville, NC, Charleston, SC, Hilton Head Island, and Jekyll Island, before even getting to Florida. There are so many possibilities!
Our travel tips: This is a long drive with many different route options. We recommend at least 3 days to complete the drive, more if you wanted time to explore other areas along the route.
READ MORE - Road Trip from Cleveland to Orlando