Road Trip from Cleveland to New York
This epic adventure from Cleveland to New York is a real journey through America's great history. This historic and cultural trip takes you across several great states, through fascinating cities and towns - allowing you to explore some stunning natural wonders along the way.
The 540-mile road trip from Cleveland to New York will take you just under 10 hours to drive. The route passes Rochester, Buffalo, Allentown, Pittsburgh, Philadelphia and Washington DC, as well as Lake Erie, Niagara Falls and Lost River Caverns.
There's so much to see on this cultural and historical journey, from great monuments and museums in fascinating towns and cities, to beautiful natural landscapes and stunning waterfalls and lakes. To help you make the most of your trip, we've set out the best routes, places to stop along the way and our favorite things to do between Cleveland and New York.
How far is Cleveland from New York, and how long will the road trip take?
Comparison of road trip routes between Cleveland and New York

| Route | Distance | Driving Time |
| --- | --- | --- |
| The Direct Route | 540 miles | 9 hours 50 minutes |
| The Northern Route | 690 miles | 12 hours 20 minutes |
| The Southern Route | 660 miles | 12 hours 30 minutes |
The trip from Cleveland to New York spans a distance of 540 miles and will take 9 hours and 50 minutes of non-stop driving. This is the most direct route between the two cities.
Two further alternative routes are slightly longer. The Northern Route is the furthest, taking 690 miles and 12 hours and 20 minutes to reach your destination. Meanwhile, a Southern Route, which spans a distance of 660 miles will take slightly longer to drive at 12 hours and 30 minutes.
Given the length and sheer number of great attractions you will pass along the way, this road trip cannot be comfortably completed in a day. A much better option would be to take between two and five days, allowing you to stop overnight in a couple of places and further explore.
If you opt to follow the Northern Route, you could cross into Canada to explore more of Niagara Falls and the nearby scenery. Remember if you do, you will need to check ahead of traveling that you have the correct documentation and proof of identification.
Best road trip route from Cleveland to New York
There is no best route for this trip from Cleveland to New York. Instead, we have suggested three route options that each deliver something different, giving you the opportunity to pick the best one that offers the best attractions along the way.
If you are pressed for time but still want a great selection of interesting stopping points along the way, our Direct Route is ideal. Offering a great mix of outdoor attractions, such as Lost River Caverns, as well as city exploring, this option is the quickest without compromising on fun.
Those who wish to explore a bit deeper in this part of America should consider either our Northern or Southern Route. The former will include stops at the iconic Niagara Falls and Lake Erie, as well as some great cities like Buffalo.
Meanwhile, our Southern Route offers the most opportunities for city exploring, which is particularly appealing for history lovers. While it is the most time-consuming of all the routes, there is a huge amount to see along the way, including iconic Washington DC and Philadelphia.
How to drive from Cleveland to New York
The map above shows our suggestions for the best road trip routes between Cleveland and New York. Keep reading for detailed descriptions of both routes, where to stay on either, and the best things to do on the way.
The Direct Route
The most direct option, which still includes several stopping points, will see you leave Cleveland by taking Exit 147 towards OH-21. Make an early stop to visit Cuyahoga Valley National Park before taking OH-8 south to the city of Akron.
Following the signs for Interstate 76, you'll pass by West Branch State Park, a great opportunity for a hike, before continuing with your drive and following the Interstate to exit 28 where you'll follow the signs to Pittsburgh, a great overnight stop option.
Leave Pittsburgh on Interstate 376 before changing at Murrysville to I-76 which you will follow past Mt. Pleasant, Donegal and Somerset. You could add an additional detour here to visit Laurel Ridge State Park, or further along the interstate, Buchanan State Forest.
This stretch of I-76 takes you through some pretty towns, giving you plenty more opportunities to stop. Just past Spring Run, you will drive between Tuscarora State Forest and Michaux State Forest, ideal detours for the outdoorsy fans.
At Exit 236, follow US-15 north as you cross the river and shortly arrive at Hershey, made famous by the popular chocolate named after it. On leaving, take exit 89 to join Interstate 78 and continue east to Allentown, another great overnight stop option.
Just a short drive from the city is the Lost River Caverns, a great attraction to visit before continuing on I-78 which you will follow all the way to your destination in New York.
The Northern Route
This route might be longer, but it offers some stunning iconic sites as well as great historical places of interest. Leaving Cleveland, this journey will see you follow the shore of Lake Erie as you travel on Interstate 90 heading east.
You will pass through several pretty towns before making a stop at Bicentennial Tower, which offers stunning views. Continue alongside Lake Erie until you reach Exit 57 and then follow NY-75 and NY-5 north to Buffalo where you can explore Niagara Falls or cross over into Canada.
Otherwise, continue east on I-90 before taking Exit 47 for Interstate 490 to the city of Rochester. Rejoin I-90 and continue east, making sure to make a stop at Seneca Falls, a great natural area to explore.
Back on I-90, you have the option to stop at Syracuse or Oneida Lake, before continuing to follow the interstate until you reach Exit 30 whereby you will follow NY-28 south for a short stretch, stopping at the National Baseball Hall of Fame and Museum.
At the town of Middleburgh, continue to follow NY-145 south before changing to NY-32 alongside Big Indian Wilderness. You will then follow the winding route south, initially on NY-17 and then US-6 before taking Interstate 87 and passing Harriman State Park.
The rest of your journey will see you take Exit 15 and follow NJ-17 all the way to the iconic city of New York.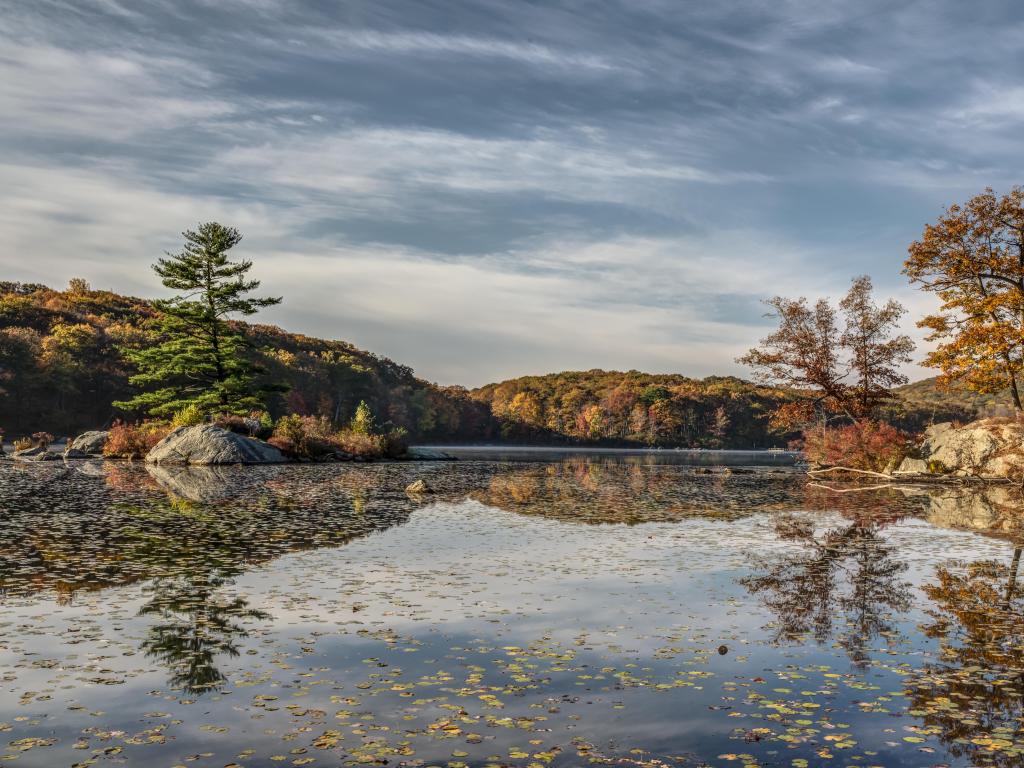 The Southern Route
Taking you past many cities packed full of American history, this route may be time-consuming but it's incredibly rewarding. Begin by leaving Cleveland much like the Direct Route, passing by Cuyahoga Valley National Park before taking OH-8 south to the city of Akron.
Follow signs for I-76, also passing by West Branch State Park, before taking the exit to Pittsburgh. From here the routes differ, and in this instance, you will head further south.
Leave Pittsburgh on I-76 and head south, passing Somerset and Bedford before taking the exit and following Interstate 70 to just south of Michaux State Forest.
Take Exit 53 and follow Interstate 270 through Rockville to the city of Arlington, Alexandria and then onto iconic Washington DC. This is a great place to stop to explore a fantastic city full of fascinating history.
When you leave the city, follow the Baltimore-Washington Parkway to Baltimore in Maryland. Spend some time visiting the museums and art galleries here before taking a drive to Patapsco Valley State Park.
Continue north on Interstate 95 to Wilmington in Delaware, before taking Exit 22 to Philadelphia, another fantastic opportunity for an overnight stop to explore this city full of history.
Continue heading north on I-95, before taking Interstate 295 and US-1 north, past Trenton and make a stop en route to visit Princeton University. You will then follow US-1 until you rejoin I-95 which will lead you to I-278 and I-478 and see you arrive at your destination.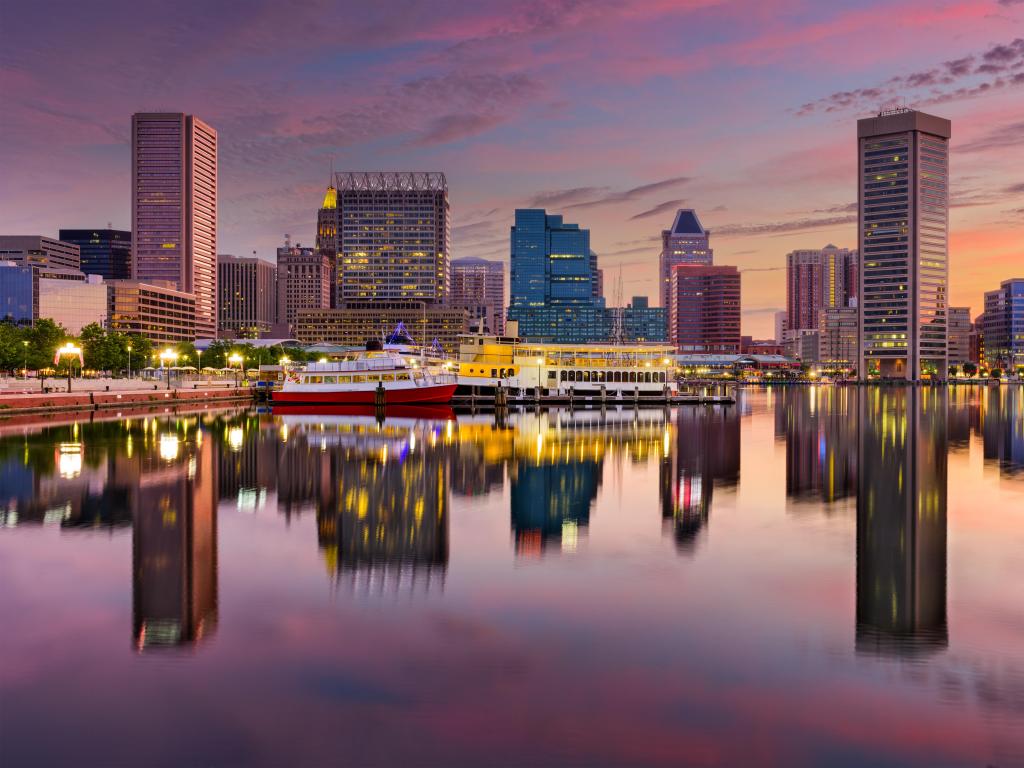 Best places to stop between Cleveland and New York
This great road trip from Cleveland and New York is best enjoyed over several days, allowing you ample opportunity to explore all the great attractions and places of interest along the way.
There's a huge choice of towns, cities and some incredible hotels to stay at. Of all the spectacular places, these are the ones you'll want to look out for.
A photographer's dream in Rochester
Almost halfway on the Northern Route about 4 hours from Cleveland, Rochester is a great option for an overnight stop. This city is conveniently located on the way and offers a huge number of attractions to visit; the extra time spent here will only add to your great adventure.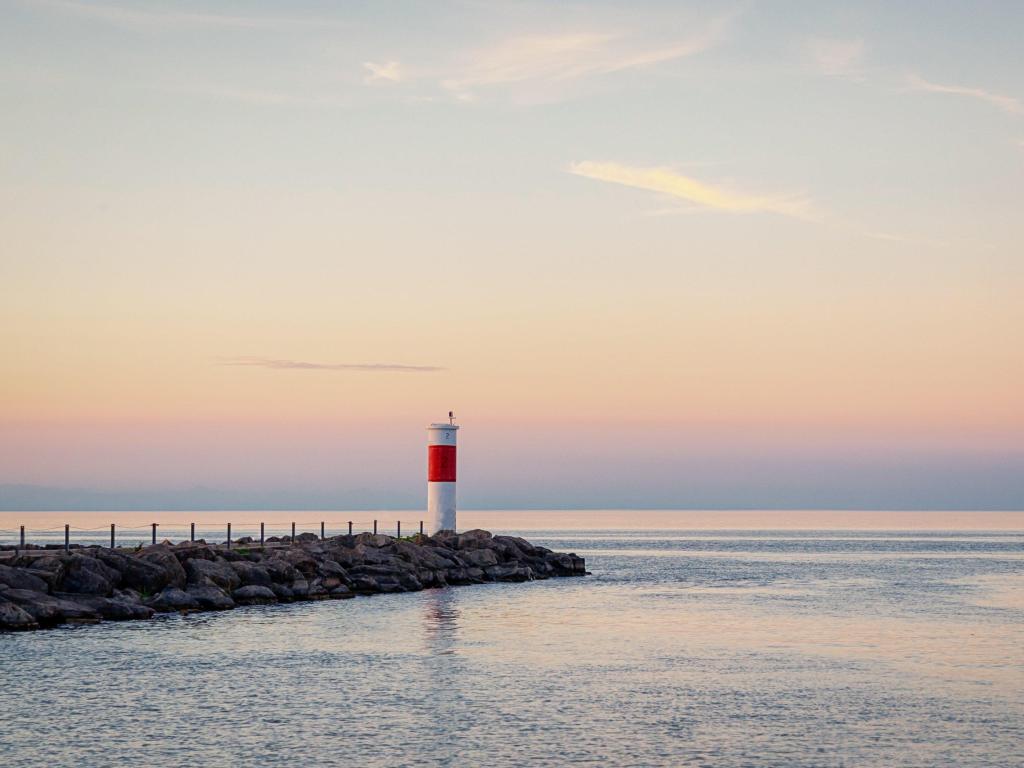 South of Lake Ontario, Rochester is known for its old industrial buildings and great photography companies such as Eastman Kodak Co. and Xerox.
Given its great historical and cultural past, it's not surprising that the city offers a number of museums to explore. Make sure you spend some time at the George Eastman Museum, which is the world's oldest museum dedicated to photography, or the Strong National Museum of Play.
Rochester also has a popular Museum & Science Center, as well as the Memorial Art Gallery which was founded in 1913. After all that city exploring, you'll only be a short drive to the shore of Lake Ontario where you can escape the bustle and enjoy a tranquil spot or spot wildlife.
To complete your stay in this fine city, a stay at Hyatt Regency Rochester is highly recommended.
Situated just a short walk from the Genesee River and the Strong National Museum of Play, this 4-star hotel is ideally located.
Featuring multiple onsite restaurants, a bar and rooftop terrace and a heated indoor swimming pool, whether you're looking to spend some time relaxing in your room or exploring the city, you can't go wrong with Hyatt Regency Rochester.
A stay fit for a president in Washington DC
For a truly iconic stop on the Southern Route, you can't pass Washington DC without spending the night. Roughly halfway from Cleveland to New York, this city is already one of your stops on the trip and makes an ideal longer stay.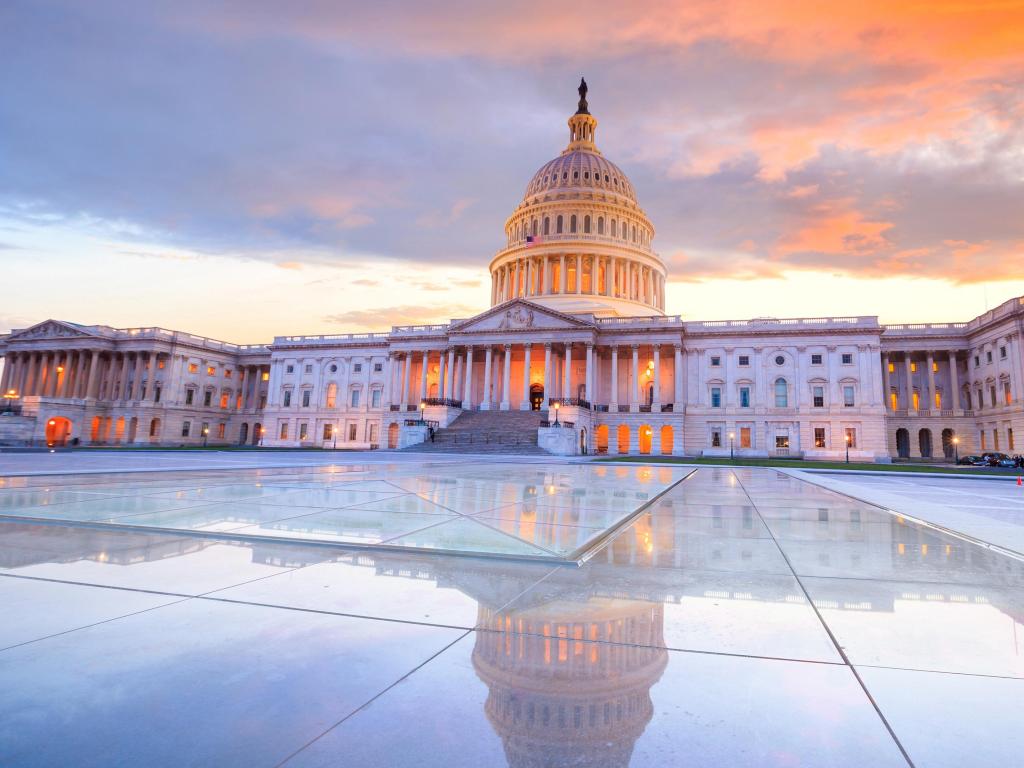 Famous as being home to the US President, who lives in the White House, Washington DC also features a lot of US government buildings, monuments and officials.
After visiting the most famous home in the city, make sure you stop at the US Capitol, Lincoln Memorial and Martin Luther King Jr. Memorial. As well as these great iconic spots, there's a great choice of museums, art galleries, restaurants and outdoor recreation places to explore.
As you can imagine, there's a huge choice of accommodation in this fine city. One that stands out is the JW Marriott Washington, DC. This sleek and modern 5-star hotel is just a minute away from the White House and the Smithsonian American Art Museum.
This super hotel offers rooms which feature views of the Washington Monument. There's also an onsite fitness center, a great restaurant serving American cuisines and its own Starbucks.
Offering parking, a fantastic city location, modern decor and being within walking distance of the President, what more could you want from a stay in Washington DC?
Where to stay once you reach New York
New York City is about as iconic as you can get. From famous shopping malls to incredible restaurants and world-famous buildings and skyscrapers, this city is a tourist hotspot for all the right reasons.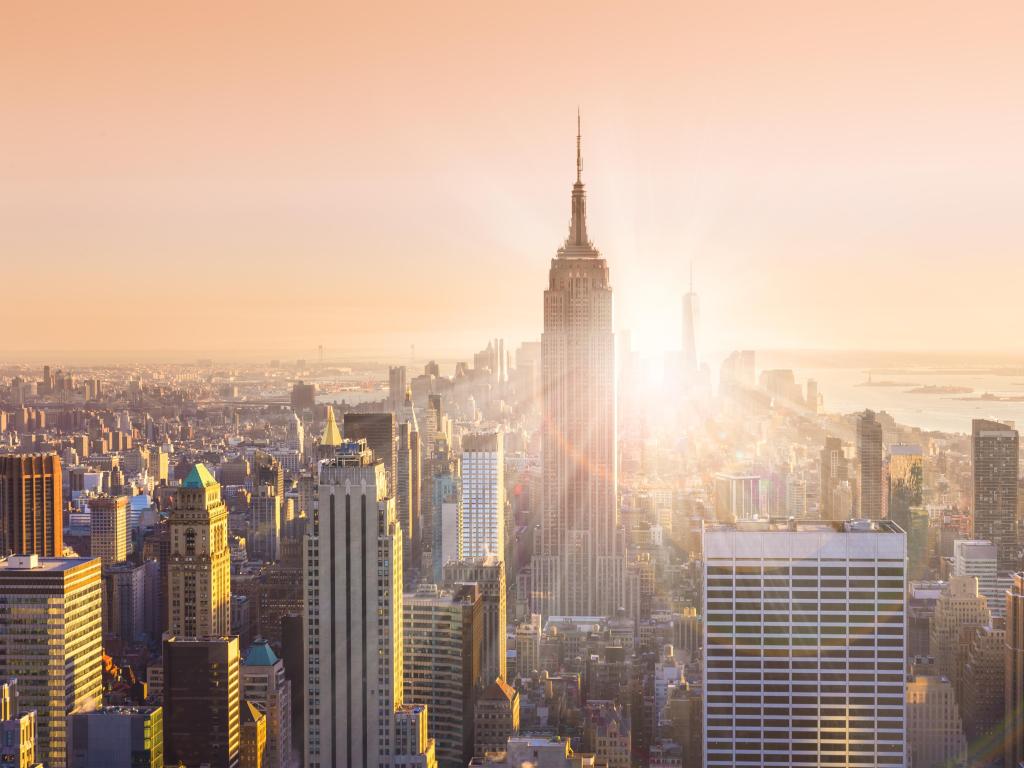 Built around the stunning Central Park, an oasis of green surrounded by stunning skyscrapers and busy streets, New York offers so much to see.
At its core is Manhattan, a borough that's among the world's major commercial, financial and cultural centers. Its iconic sites include the famous Empire State Building. For a spot of culture, you can't miss a visit to its Broadway theaters which line the neon-lit Times Square.
In the heart of New York City sits the LUMA Hotel - Times Square, a modern 4-star hotel perfect for all your needs when staying in the city. With rooms featuring sofas and electronic control sheer blackout shades, no detail is spared in this incredible resort.
You can unwind with a creative cocktail in hand at the onsite bar while watching the busy city that surrounds you. Being just a short walk from Times Square and the Empire State Building, it'd be hard to beat the location of this great hotel.
If one of the many great restaurants nearby doesn't suit, the LUMA Hotel offers American-style dining that serves freshly prepared salads, seafood and steaks. In this great city, parking is certainly a luxury, so it's also a great plus to have this on offer at this fantastic hotel.
Things to see on a road trip from Cleveland to New York
There are so many wonderful places to visit on the road trip from Cleveland to New York. You could easily spend up to a month exploring them all.
If you are pressed for time, here are some of the best things that you won't want to miss out on: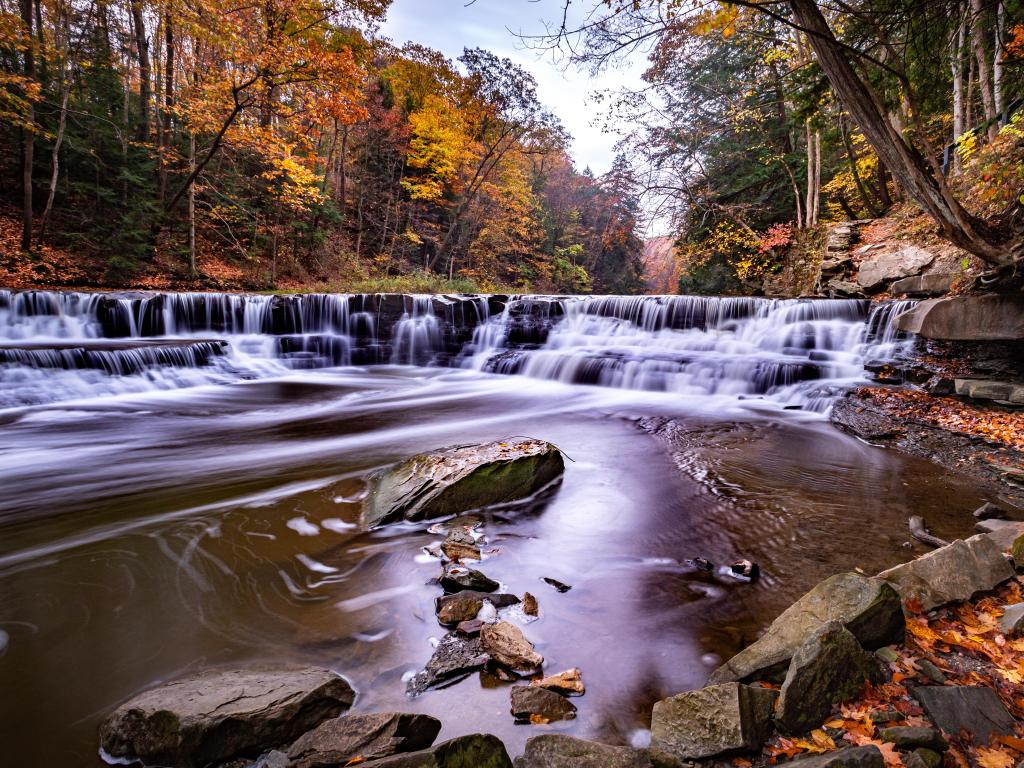 The Direct Route
Cuyahoga Valley National Park - Located along the Cuyahoga River between Cleveland and Akron, this 33,000-acre park offers hiking trails, bike paths, and a scenic railroad. Brandywine Falls is one of the most popular waterfalls in the park.
Akron, Ohio - Between Cleveland and Pittsburgh sits a city with a historic house museum, Stan Hywet Hall & Gardens. It features Tudor Revival Manor House, one of the largest houses in the US. In the city you can also find the Akron Art Museum, displaying modern pieces from pop art to photos.
West Branch State Park - Surrounding a 2,600-acre lake called the Michael J Kirwan Reservoir is a state park that offers camping, hiking, and beaches for swimming.
Pittsburgh, Pennsylvania - This large city in western Pennsylvania sits at the junction of three rivers and features attractions like Heinz Field, PNC Park, and for art and history lovers: the Carnegie Museum of Natural History and the Andy Warhol Museum!
Harrisburg, Pennsylvania - The capital of Pennsylvania sits on the Susquehanna River and includes sites such as the National Civil War Museum, the Capitol building, and the State Museum of Pennsylvania.
Hershey, Pennsylvania - Milton S. Hershey started his Hershey chocolate business in this town. Today, there are plenty of things to do in the town, including Hersheypark, the Hershey Story Museum, and Chocolate World Way.
Allentown, Pennsylvania - Allentown is located in eastern Pennsylvania near the Lehigh River. Some of its attractions include the America on Wheels Museum, Allentown Rose Gardens, and Da Vinci Science Center.

Lost River Caverns - Opening to the public in 1930, these natural underground caverns were formed by the dissolving of the limestone by water. Walking tours are available and there is also a gem mill and a museum on the grounds.

The stunning city of Pittsburgh is just one of the highlights on the Direct Route.

Sean Pavone/Shutterstock.com
The Northern Route
Lake Erie - The second smallest lake of the five Great Lakes but the eleventh-largest lake in the world, Lake Erie offers kayaking, fishing, and plenty of beaches. It is also the southernmost and the shallowest of the Great Lakes.
Bicentennial Tower - This 187-foot tower located in Erie has panoramic views of Lake Erie, Presque Isle State Park, and downtown Erie. It also has two observation decks.
Buffalo, New York - The second-largest city in New York State sits at the eastern end of Lake Erie and across from the second-largest Canadian province of Ontario. It's also the home of the NFL team Buffalo Bills, who play at Orchard Park.
Niagara Falls - These are the famous roaring waterfalls that sit on the border between the US and Canada. Over 3,000 tons of water flows through the Great Lakes-fed waterfalls every second. The waterfalls at 32 feet per second over the Falls!
Rochester, New York - Sitting on Lake Ontario is the fourth most populous city of New York. Here you can visit the Susan B. Anthony Museum & House. Susan Brownell Anthony was one of the most important leaders of the women's suffrage movement.
Seneca Falls, New York - This is where the first Women's Rights Convention was held in 1848, which launched the women's suffrage movement led by main leaders Elizabeth Cady Stanton, Susan B. Anthony, and Ida B. Wells.
National Baseball Hall of Fame - Located in the heart of Cooperstown is one of the country's most popular destinations for sports fans, specifically baseball fans. The museum opened its doors to the public in 1939 and stands to preserve history and connect generations.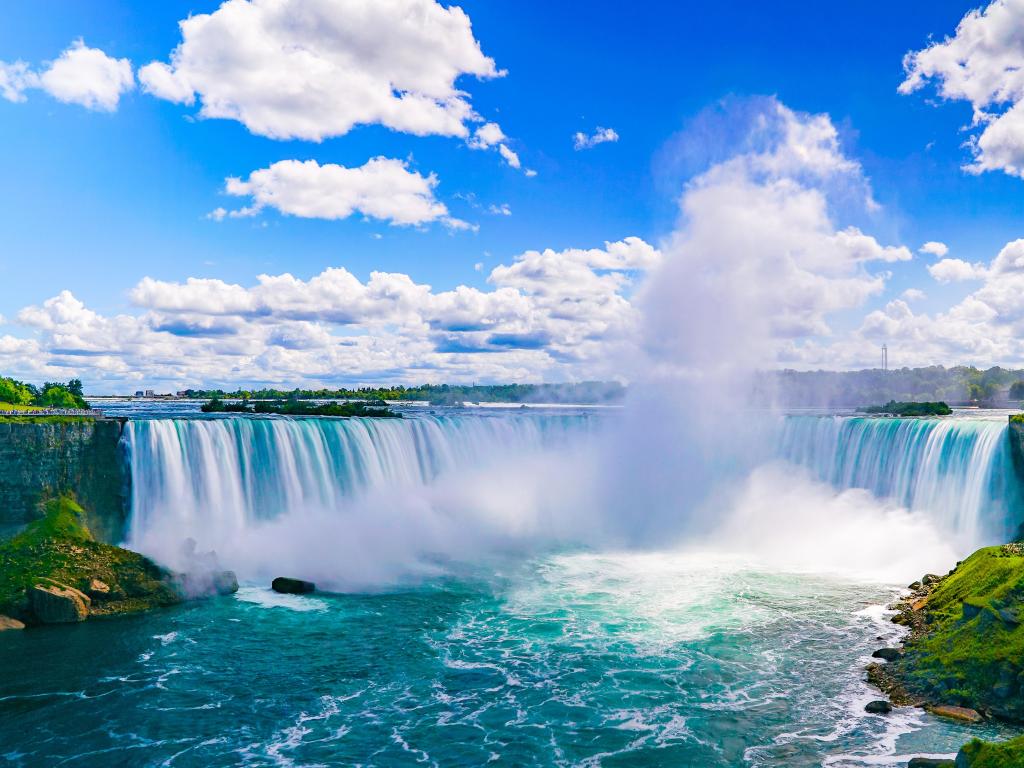 The Southern Route
West Branch State Park - Surrounding a 2,600-acre lake called the Michael J Kirwan Reservoir is a state park that offers camping, hiking, and beaches from swimming.
Pittsburgh, Pennsylvania - This large city in western Pennsylvania sits at the junction of three rivers and features attractions like Heinz Field, PNC Park, and for art and history lovers: the Carnegie Museum of Natural History and the Andy Warhol Museum!
Arlington, Virginia - Sitting on the Potomac River across from Washington DC is a city famous for the Arlington National Cemetery and the Pentagon. It was considered a county of DC in 1789 but became its own city again in 1846.
Alexandria, Virginia - South of Arlington and Washington DC on the Potomac River is Alexandria, which was considered part of DC from 1790 to 1846, Alexandria is known for its Old Town, with brick sidewalks and preserved 18th- and 19th-century buildings.
Washington DC - The capital of the US sits north of Alexandria and east of Arlington. It is a city in Virginia but is considered its own district. This is the focal point of US politics, where Congress (the House of Representatives and the Senate) and the President all meet.
Baltimore, Maryland - This is the birthplace of the US national anthem, "The Star-Spangled Banner". It has a long history as an important seaport and today the harbor offers attractions like the Civil War-era warship, the USS Constellation and the National Aquarium.
Philadelphia, Pennsylvania - The home of the Philadelphia Eagles, this city is most notable for its American Revolutionary War history, including the Liberty Bell and Independence Hall, where the Declaration of Independence and the Constitution were signed.
Trenton, New Jersey - Briefly serving as the US capital for a couple of months at the end of 1784, Trenton is now known for being the capital of the state of New Jersey. It was founded in 1719 and has a population of over 80,000 inhabitants.
Princeton University - One of the eight Ivy League universities in the US, Princeton University is the alma mater of two US Presidents, two US Vice Presidents, and four US Supreme Court Justices. The Princeton University Chapel is the third-largest university chapel in the world.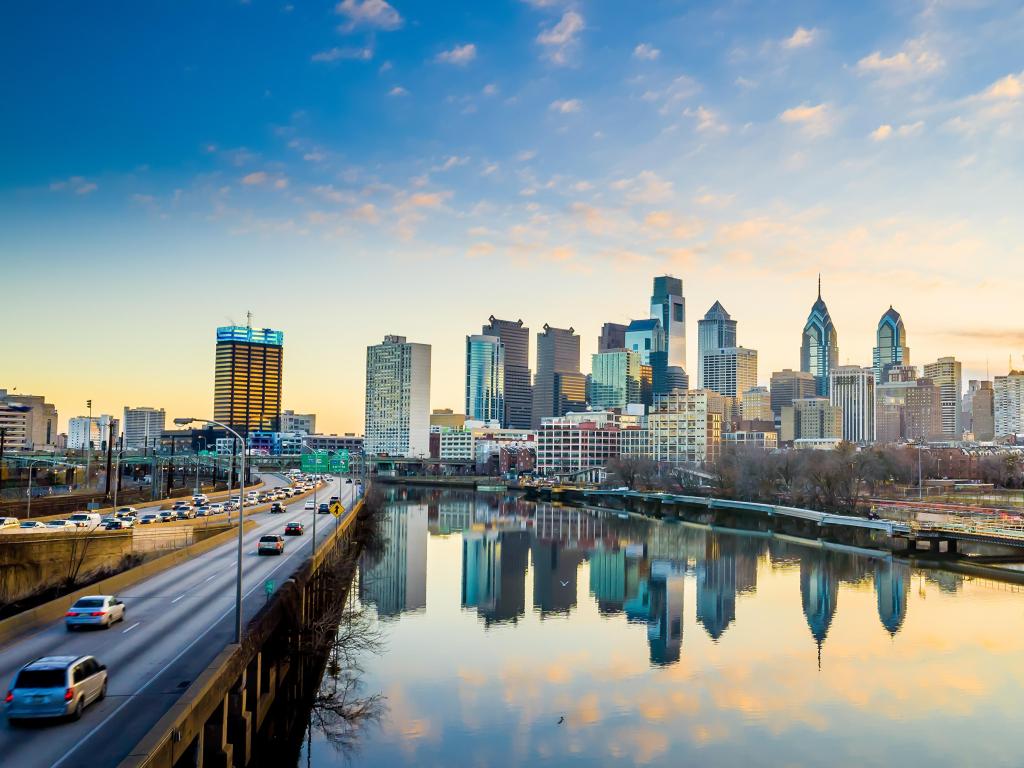 Best time to go on a road trip from Cleveland to New York
The road trip from Cleveland to New York is one that can be enjoyed all year round. Featuring plenty of cities along the way which can be enjoyed in any season, plus lots of indoor attractions, there's something to see and do no matter the weather.
To make the most of the beautiful lakes and outdoor attractions, such as Niagara Falls, you might want to consider a summer trip. Summer in this part of the US doesn't get as hot as further south with highs averaging 85 degrees Fahrenheit in New York.
For those looking to escape the busy tourist crowds in the heart of summer at popular destinations such as Niagara Falls and Washington DC, you may want to consider a winter trip.
Despite New York is a really popular destination around New Year and Christmas, it's also a fantastic time to visit as you can enjoy the iconic Times Square ball drop on New Year's Eve, the Macy's Thanksgiving Day Parade, as well as enjoying some Christmas shopping.
That being said, the city does get really cold in winter with temperatures dropping to less than 38 degrees Fahrenheit. Expect snow and ice and remember to bring plenty of extra layers. Though if you do brave the winter, you could be rewarded with a frozen Niagara Falls!
Another great option is to visit in either spring or fall. Both seasons will not only give fantastic views of the parks along the way, and they offer the best weather for enjoying hikes and wildlife spotting.
You won't be disappointed if you'd like to time your visit with a festival, New York has a full calendar's worth of events happening throughout the year including the St. Patrick's Day Parade, LGBT Pride in March and the Times Square Countdown on New Year's Eve.