Road Trip from Cleveland to Orlando
For an incredible adventure taking you from the Great Lakes in the north to the Florida coast in the south, the road trip from Cleveland to Orlando is a journey of amazing contrasts. Discover great cities, beautiful landscapes and the epic Appalachians on this unforgettable ride.
The 1,240-mile road trip from Cleveland to Orlando takes around 20 hours to drive. Key stops include Nashville, Atlanta, Columbus, Pittsburgh, Savannah as well as Daytona Beach, Great Smoky Mountains National Park, and Shenandoah National Park.
To help you make the most of this great journey, we've set out the best routes and places to stop overnight, our favorite things to do and the best time of year to make the trip from Cleveland to Orlando.
How far is Orlando from Cleveland, and how long will the road trip take?
Comparison of road trip routes between Cleveland and Orlando

| Route | Distance | Driving Time |
| --- | --- | --- |
| The Western Route | 1,444 miles | 22 hours |
| The Eastern Route | 1,240 miles | 20 hours |
There are several different ways to embark on the trip from Cleveland to Orlando. The quickest of the routes we're going to recommend spans a distance of 1,240 miles and will take 20 hours to drive without stopping.
A slightly longer route, heading further west, covers a distance of 1,444 miles and takes close to 22 hours to drive non-stop. There are also several detours you can add to this trip, which will of course add more miles and time to your journey.
A trip of this length simply cannot be completed in a single day. We'd recommend spending between five and seven days to drive between the two cities, allowing you to spend some time at your overnight stops to explore and enjoy the surrounding landscape.
Best road trip route from Cleveland to Orlando
The straightforward Western Route is slightly longer but does take you through a number of major cities, with manageable drives in between that take you through the varied and changing countryside.
This route really showcases the difference between the north and south of the US, giving you the opportunities to take in the history, musical legacies and stunning parks along the way. You'll pass through Nashville and Atlanta and can visit the Great Smoky Mountains National Park.
In contrast, the Eastern Route strikes a perfect balance between city stops and stunning mountain views. With fewer cities in the north section of this trip, this route is ideal if you like exploring smaller towns along the way.
If you decide to follow the Eastern Route, you'll also have the option to add a much longer detour on the Blue Ridge Parkway.
You'll likely need a couple of extra days to make the most of this scenic detour, but you'll get beautiful views, hiking trails, rugged hillsides, sweeping forests and spectacular waterfalls in exchange.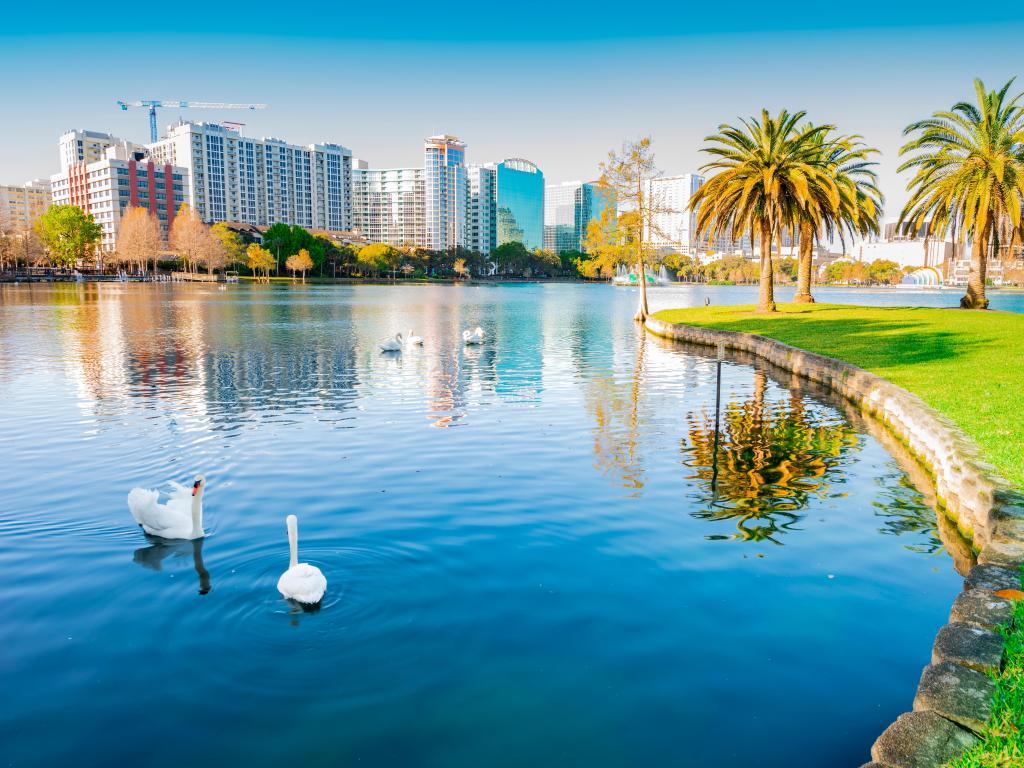 The Western Route
Leave Cleveland on interstate 90 heading west before continuing on Interstate 71 south through Strongsville. Make an early stop to explore Cuyahoga Valley National Park, before rejoining the interstate.
Continue heading south through several towns before arriving at the city of Columbus in Ohio. Stop here to explore before continuing on I-71 to another fabulous city, this time Cincinnati.
Leave Cincinnati on the same interstate and pause to visit Big Oaks National Wildlife Refuge to stretch your legs before arriving in Louisville in the state of Kentucky. At this point in your trip, you'll switch to Interstate 65 but continue heading south.
Past Shepherdsville, you'll drive alongside Bernheim Arboretum & Research Forest, before passing Elizabethtown and several more towns on this stretch.
Make a stop at Park City to explore Mammoth Cave, before continuing on I-65 all the way to the music city of Nashville - a great base for an overnight stop to really explore the exciting and iconic Tennessee city.
You'll leave on Interstate 40 this time heading east and follow the road quite a distance, passing Catoosa Wildlife Management Area and Frozen State Park before following I-40 to Knoxville. Stop here for a longer detour to the Great Smoky Mountains National Park.
Back on I-40 but this time heading west, you'll then join Interstate 75 which you can follow to Chattanooga or bypass the city by taking Exit 2 and continuing to head south, past Johns Mountain Wildlife Management Area.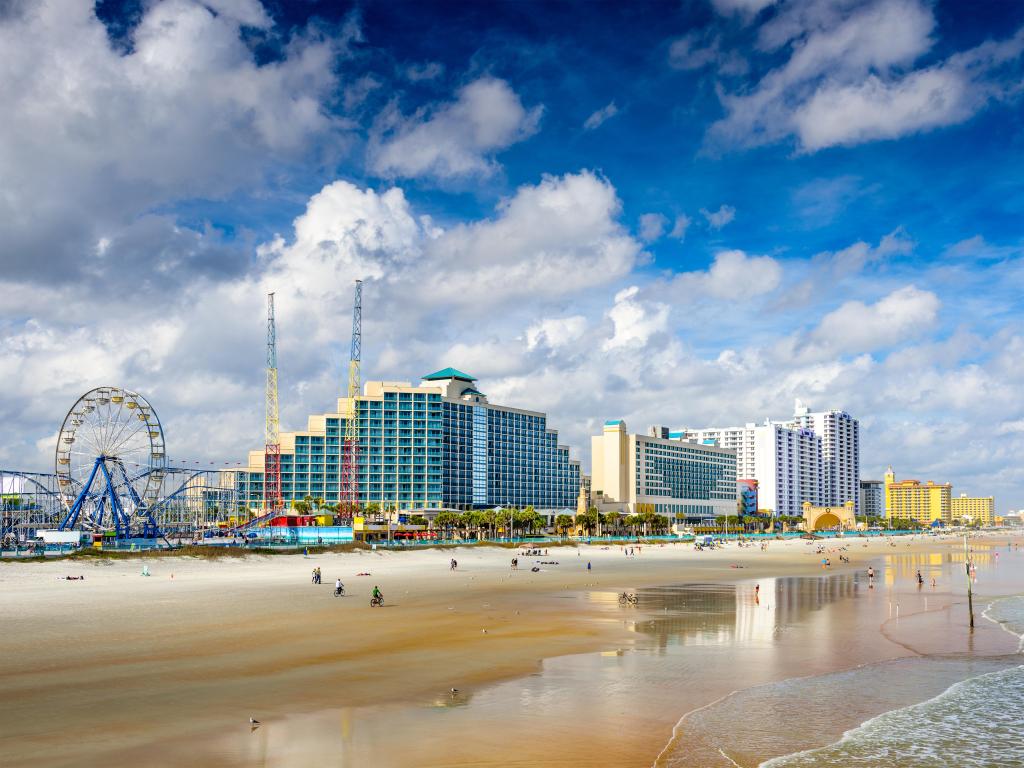 Continue heading south on I-75, passing optional short detours to Chattahoochee River National Recreation Area before arriving at Atlanta in Georgia, a great base for a rest.
From this city, you'll continue on I-75 south for another long stretch, passing through a few towns but with the option to make a great detour to Piedmont National Wildlife Refuge. At Exit 165 you'll switch to Interstate 16 which you will follow all the way to Savannah.
Stop here to explore the nearby Savannah National Wildlife Refuge, before retracting your steps on I-16 to Exit 157A and join Interstate 95 South. This next stretch follows the coast and offers ample opportunities to stop and enjoy the scenery, as well as the several wildlife areas it passes.
Eventually, I-95 will take you across states into Florida, passing by Four Creeks State Forest and giving you the option to drive into Jacksonville. You can avoid the city by taking Interstate 295 and driving around the outskirts, before rejoining I-95 along the coast.
You'll pass several beautiful beaches and conservation areas on this stretch, including the famous Daytona Beach. Take Exit 260 and drive beside the beautiful Tiger Bay State Forest before joining Interstate 4 West.
This final section offers the chance to stop at Lake Monroe, plus several state forests, parks and conservation areas before you arrive at your destination in Orlando.
The Eastern Route
The quicker of the two routes will take you further east. Begin by leaving Cleveland on Interstate 77 before taking Exit 146 and following Interstae 80 east. After a short drive, merge with I-76 before taking Exit 28 onto I-79 and arriving at Pittsburgh, an early overnight stop option.
Leave the Pennsylvanian city on I-76 continuing east before merging onto US-219 and following the road alongside Savage River State Forest. Stop at Exit 40 for a short drive to Buchanan State Forest, or continue following the road down, eventually joining WV-28.
Continue south on this road, passing Nathaniel Mountain Wildlife Management Area to WV-29, passing a few towns. At Baker change to WV-259, driving past Lost River State Park to the town of Broadway.
Here you'll turn right onto VA-42 all the way to Harrisonburg, where you can take a longer detour to Shenandoah National Park if you have the time.
You'll leave Harrisonburg on Interstate 81 south, before merging with Interstate 64. This next stretch is particularly scenic and there's the option of adding a longer detour to really make the most of the views if you have the time (see detour route below).
Continue on I-81, stopping at Roanoke if you're ready for a longer and scenic rest, before passing Clayton Lake State Park and taking Exit 81 to join I-77. This interstate will take you from Virginia and into North Carolina.
Carry on heading south on I-77 all the way to Charlotte, passing by Lake Norman en route. After exploring this great city, you'll then continue on I-77, driving to the east of Columbia and merging onto I-26. Stop on this stretch for a visit to Congaree National Park or Manchester State Forest.
The next stretch of the I-26 will take you close to the shores of Lake Marion and Lake Moultrie before taking you into Charleston, on the shore of South Carolina. This is another city that would make a scenic overnight stop.
Leave on US-17 south before joining I-95 and drive alongside Savannah National Wildlife Refuge and the outskirts of Savannah. This final stretch of your trip is the same as the Western Route. After following the interstate to Jacksonville, you will then follow I-4 west to Orlando.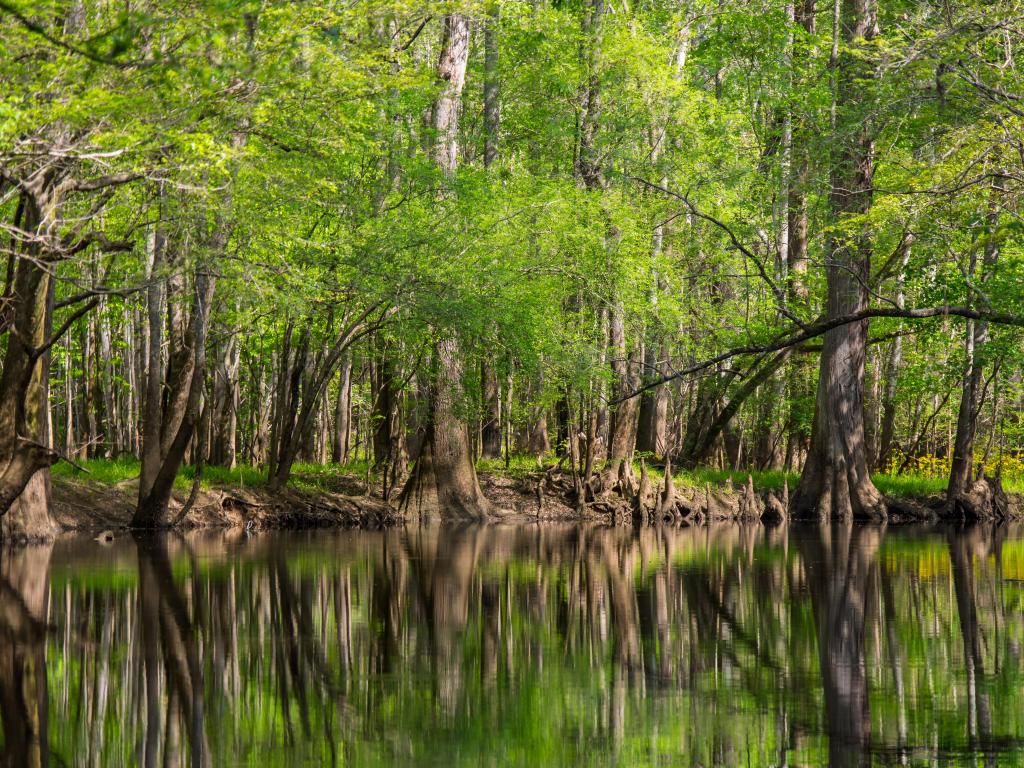 The Blue Ridge Parkway Detour (Eastern Route only)
The optional additional Blue Ridge Parkway detour on the Eastern Route will add a couple of miles to your journey but you should allow for a couple of extra hours of drive time, as traveling on this scenic road will be slower.
Follow the Eastern Route as far as Harrisonburg and continue on Interstate 81 as before. When you reach Exit 81, take I-77 south towards Charlotte. When you reach Fancy Gap, you'll head north on US-52 before turning left on the Blue Ridge Parkway.
Here you'll really get to enjoy fantastic scenery as you follow the parkway past Bluff Mountain Overlook, several small towns to the stunning Blowing Rock, a great base for an overnight stop.
This stretch passes Cumberland Knob, Stone Mountain, and Sheets Gap: just a few of the popular mileposts along this part of the Blue Ridge Parkway. Stop at these and enjoy the opportunity to admire stunning mountains and waterfalls - and perhaps take one of the many stunning hiking trails.
You'll leave the scenic parkway by taking the slip road onto US-221 south and US-321 which you will follow to I-83, passing by South Mountains State Park along the way.
At Exit 30 you can head into Charlotte or follow I-485 and then take the exit to join I-77 south which will then rejoin the Eastern Route above and take you to your final destination of Orlando.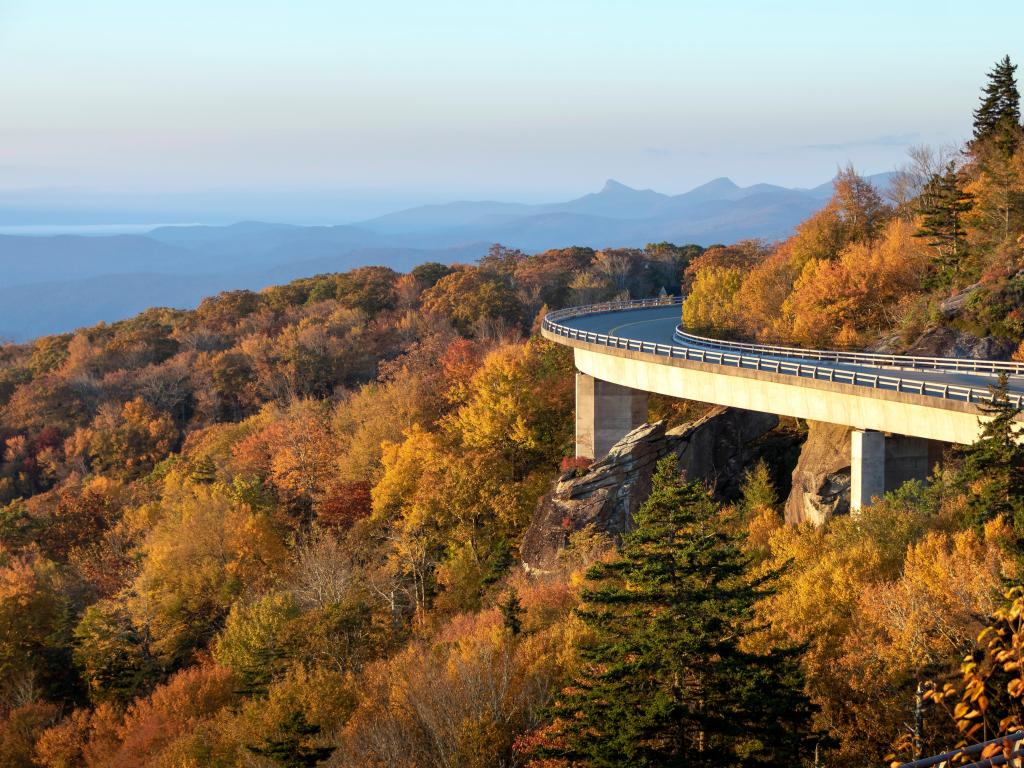 Best places to stop between Cleveland and Orlando
The road trip between Cleveland and Orlando spans a huge distance, taking you from the north of America to the south. It goes without saying that you will need several overnight stops along the way to enjoy a rest from driving and admire the scenery.
Of all the spectacular hotels you can stop at, here are just a few of our favorite places that you might want to consider:
Immerse yourself in music at Nashville
Located just 8 hours from Cleveland and almost a third of your way along the Western Route, Nashville is an ideal location for an early stop on this trip.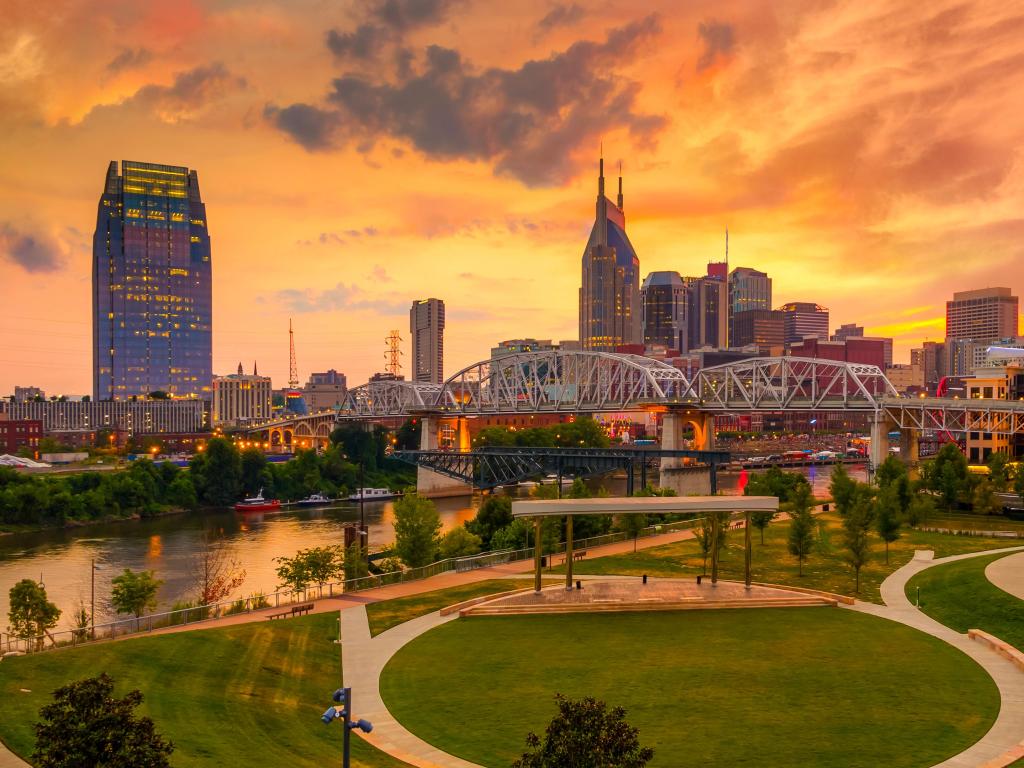 Whether this is your first, or you've stopped along the way in Cincinnati or Louisville, the city of Nashville is not only a convenient place to break your long drive, but it has so much going on that it would be a shame to drive past without doing it justice.
"The home of country music", Nashville is the city where you can catch a live show or dig into the history of modern music in a museum or two. Key attractions here include the Grand Ole Opry House and Tennessee State Museum.
If you're looking for something outdoors then why not take a visit to the Lost River Cave and Zipline – a fascinating underground boat tour which takes you through a stunning cave system beneath the city?
If characterful hotels in fabulous locations are your thing, then head right to the Graduate Nashville. This 4-star hotel is super stylish, with quirky rooms featuring splashes of color and fun.
With a nod to Dolly herself in its styling, it's the ideal place to stay before you head on to Dollyland or out to enjoy a live performance. Or you'd prefer to stay within the resort, the Graduate Nashville has a rooftop bar with skyline views, a restaurant, plus a karaoke bar.
Coastal views at Charleston
Charleston in South Carolina is perfectly placed to be the final stop if you're following the Eastern Route. Just 6 hours away from Orlando, you can rest up in this city before finishing the drive the very next day.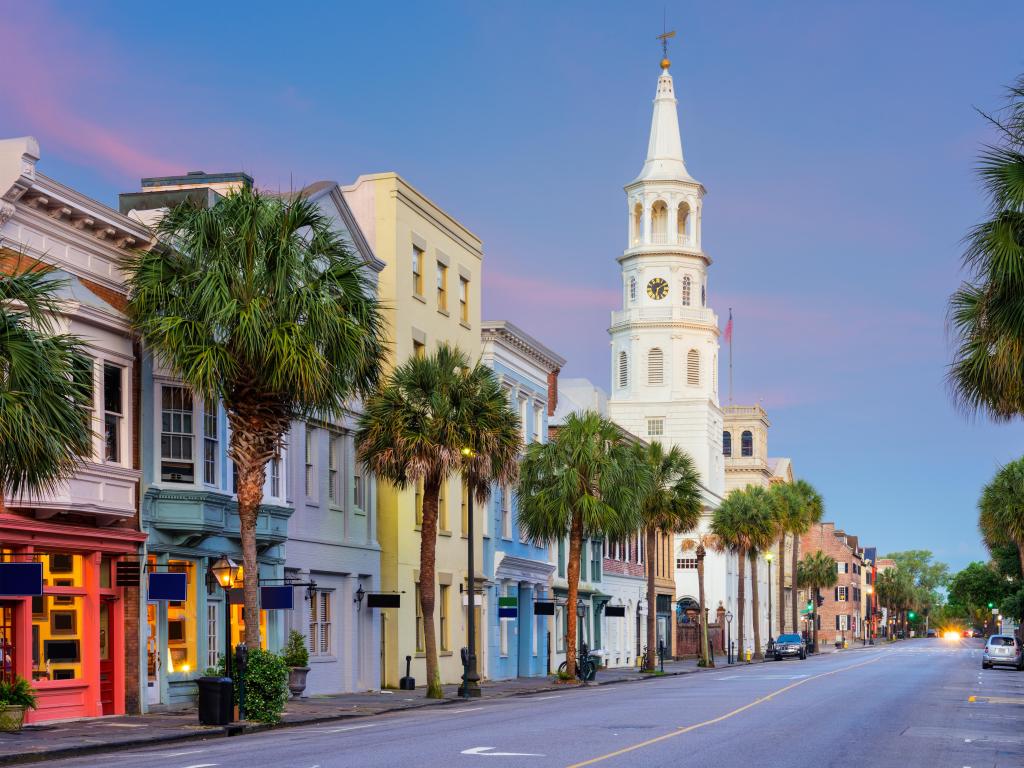 As well as being well located in terms of driving distance, Charleston itself is a fabulous city which is worth spending some time in. Known for its colorful antebellum houses and cobblestone streets which run through the extensive historic districts, it's also set on the waterfront.
To make the most of this beautiful spot, a stay at Harbourview Inn, Charleston is a top choice. Located in the French Quarter with views over the ocean, you're just around the corner from the city's main attractions including Charleston Waterfront Park and Fort Charleston.
The décor of this popular hotel has a stylish flair, which reflects the history of the city. Rooms are spacious and you can expect a warm and friendly welcome. As an added bonus, parking is also available on site, which always makes life easier on a road trip.
An adventurous dream at Blowing Rock
We couldn't not recommend a stop at the fabulous location of Blowing Rock, especially as the Blue Ridge Parkway Detour actually passes through it!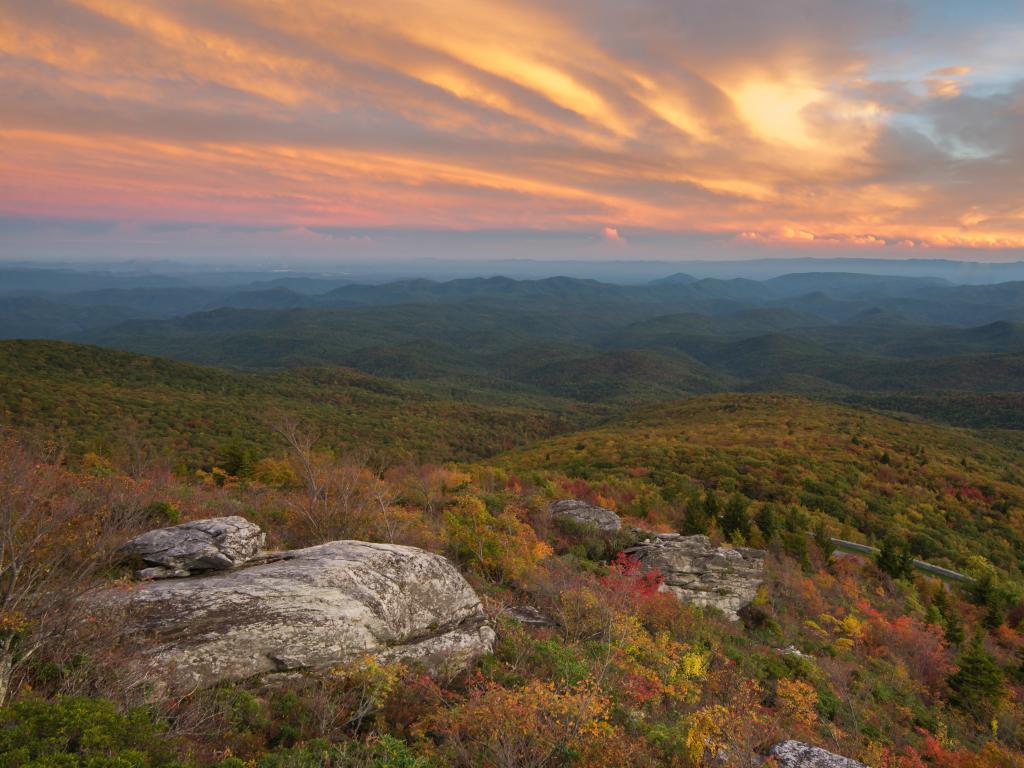 Located at the end of the scenic parkway, Blowing Rock is a great place to stop and rest after a busy day exploring the many possible stops along the way. While accommodation is limited on the parkway itself, having a stop en route is a real bonus.
Known for its stunning mountain location and views, as well as a plethora of walking and cycling trails and other outdoor activities all close by, Blowing Rock packs a real punch. There's also a brilliant Museum of Art & History, which is dedicated to telling the story of these mountains.
You're likely to be tired after a strenuous day enjoying the picturesque Blue Ridge Mountains, so choosing the right hotel is key. Chetola Resort at Blowing Rock is the perfect place to recuperate, with its indoor pool, hot tub and spa treatments on offer.
It also has a stunning lakeside location, with some rooms even having a lake view. If you fancy a little more time outdoors, there are hiking trails starting from the property, or you can arrange activities including cycling, horse riding, canoeing, fishing and skiing (in season) onsite.
Where to stay once you reach Orlando
Once you arrive at Orlando, it's likely that you'll want to be in the heart of the action - which for many means being close to one of the city's famous theme parks.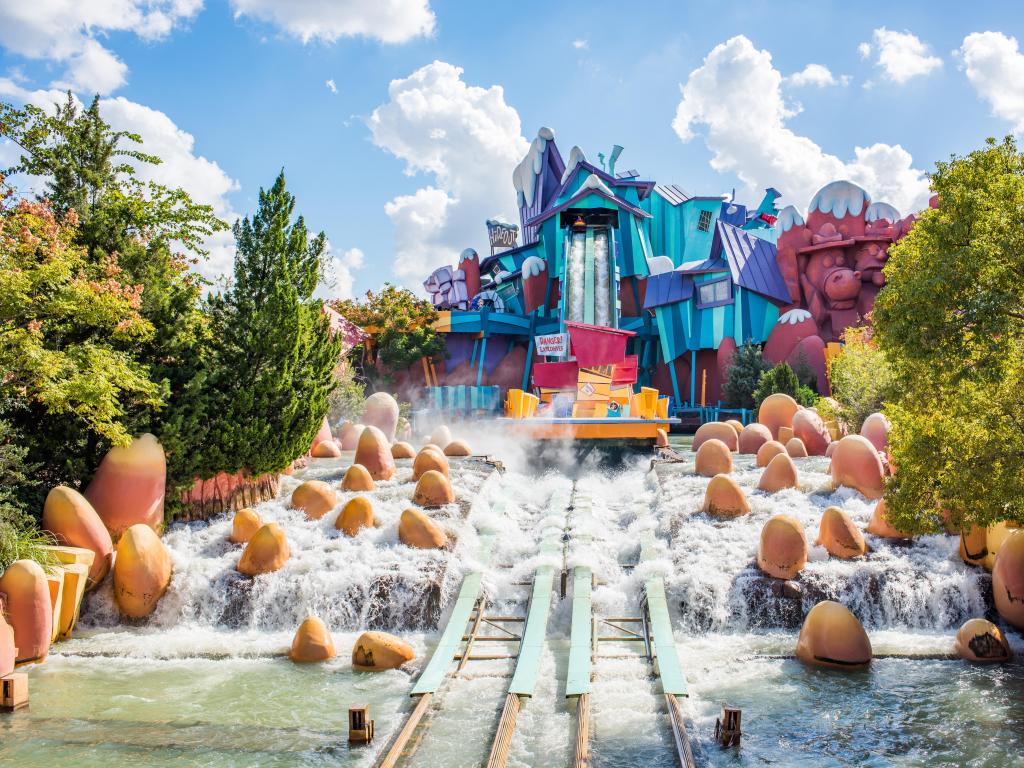 There are so many parks to choose from when you visit Orlando, and a stay at the Sheraton Vistana Villages Resort Villas puts you within easy driving distance of all of them. You can take your pick of Disney or Universal parks from here, and the reasonable price tag should leave more in your budget to enjoy an extra park or two.
Despite being one of the more affordable options in the area, you won't miss out on the full resort experience here. Take your pick from three beautiful pools at the resort's outdoor water park, relax in the hot tub or even book a massage during your stay.
The hotel offers a theme park ticket service, so you can curate the best possible experience for your stay in Orlando.
Things to see on a road trip from Cleveland to Orlando
There is so much to see on this road trip from Cleveland to Orlando, including stunning mountains and beautiful lakes, to pretty towns and bustling cities, and so much more.
If you don't have several weeks to explore them all, here are a few of our favorite things to help you plan your trip:
Western Route
Columbus, Ohio - Ohio's state capital is a large city built around the rivers that converge here. Spend some time at the art museum or botanical garden or enjoy the charming vibe of the German Village.
Cincinnati, Ohio - Pack your walking shoes as you take a stroll through this hilly city on the river. Take a fascinating tour of underground tunnels and crypts or check out the American Sign Museum for some iconic images.
Louisville, Kentucky - Visit the "gateway to the South" to follow the Kentucky Bourbon Trail, see Muhammad Ali's childhood home, or watch the Kentucky Derby. Abraham Lincoln's childhood home is also nearby, at Hodgenville.
Mammoth Cave National Park - Mammoth Cave is the longest cave system in the world - once you've taken a fascinating guided tour, you can hike, cycle or kayak through the beautiful national park that surrounds it.
Nashville, Tennessee - Think of Nashville and you'll almost certainly think of country music. Visit the Country Music Hall of Fame & Museum here, or head to the Grand Old Opry House to see a show.
Edgar Evins State Park - This park, which covers the hills around Center Hill Lake, is known for its hiking and fishing, and is home to plentiful wildlife. There's a marina on the lake or take in the view from the top of the observation tower.
Knoxville, Tennessee - Take a stroll past some of Knoxville's historic buildings or step into a museum for a break from the heat. Not far away you'll find Dolly Parton's Dollywood and historic Gatlinburg.
Great Smoky Mountains National Park - A slight detour from the route, these mountains are part of the Blue Ridge Mountains, known for the beautiful blue haze that settles on them. You can cycle, hike or drive through the park, or visit historic log cabins found here.
Atlanta, Georgia - Start your visit at Martin Luther King Jr National Historical Park and the National Center for Civil & Human Rights, then head to the World of Coca-Cola or the College Football Hall of Fame.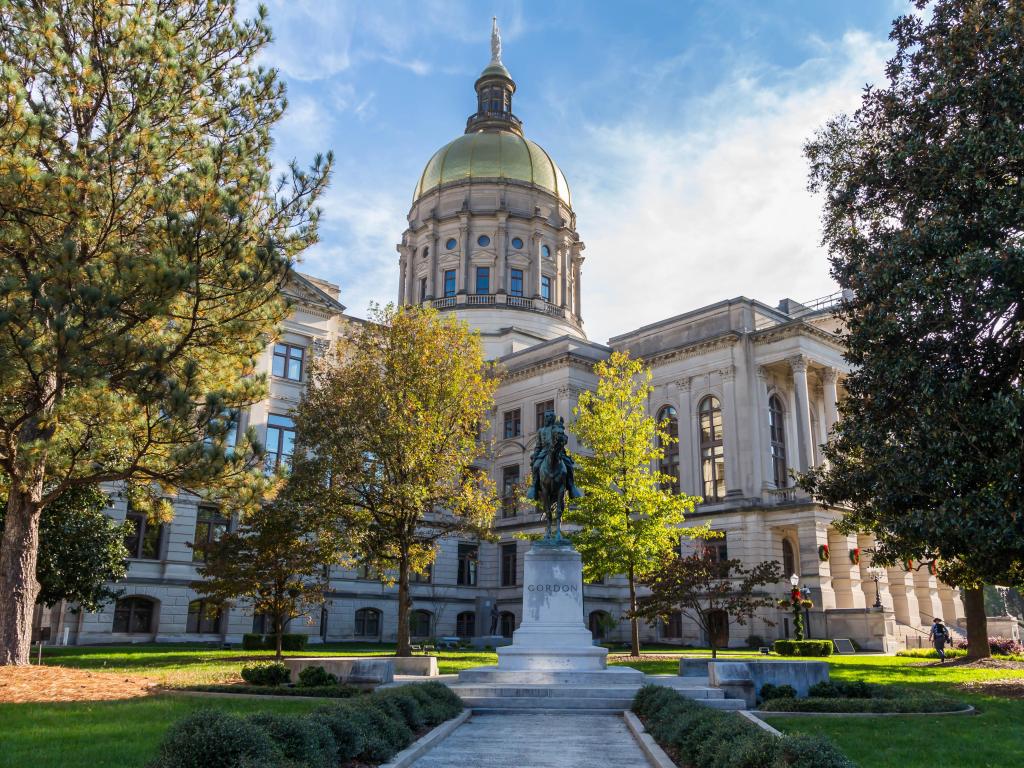 Eastern Route
Cuyahoga Valley National Park - Follow the Cuyahoga River or take the scenic train ride through this beautiful park, which is just outside Cleveland.
Pittsburgh, Pennsylvania - Traditionally known for its industry – its football team is still known as the Steelers – it's now known for the Carnegie Museum of Natural History and Science Center, the ride up the Duquesne Incline, the Andy Warhol Museum, and the Pittsburgh Vintage Grand Prix.
Shenandoah National Park - Take a detour from the main route to travel Skyline Drive, which runs along the ridge of this fabulous national park. You can hike from trailheads along the road, or just stop to admire the fabulous views.
Harrisonburg, Virginia - With the stunning scenery of the Shenandoah Valley on its doorstep, this is a city where you can get active without straying far from the route. Then head back into town to enjoy a top-quality meal or to visit one of the local craft breweries.
George Washington & Jefferson National Forest - Covering a vast area, this forest includes a section of the Appalachian Trail as well as countless other walking and cycling routes. You can also enjoy the river here, following it to beautiful waterfalls.
Monongahela National Forest - Take the scenic byway through this stunning national forest (which is a detour from the main route but worth the extra miles).
Monticello - A great attraction for history fans, Monticello is the home of President Jefferson is laid out so that you can learn more about the man himself and his life and times.
Greenville, Virginia - Visit Greenville Museum of Art or simply relax at River Park North, then hit the water to explore the Tar River by kayak. Feel the charming small town vibe as you tour wider Pit County too.
Roanoke, Virginia - Admire the Roanoke Star which shines out from the top of Mill Mountain, then head to Virginia's State Transport Museum. Arts venue Center in the Square is also worth a visit.
Lake Norman - As you make this long, mostly inland drive, you'll probably leap at the chance to swim, boat or hike at this large, popular reservoir.
Charlotte, North Carolina - The Queen City is home to the NASCAR Hall of Fame and Hendrick Motorsports Complex as well as charming historical districts and the Mint Museum.
Columbia, South Carolina - The capital of South Carolina, which prides itself on its fabulous weather, is home to historic buildings which can be toured, as well as the South Carolina State Museum and Columbia Museum of Art. You can even go white water rafting nearby.
Charleston, South Carolina - This beautiful and historic city by the sea is known for its colorful houses, cobblestone streets, scenic views and historic landmarks.
Middleton Place - Now one of America's most important landscaped gardens, Middleton Place was once a vast plantation. There's plenty to do on the estate, with tours of the house and gardens where you can find out about the people who lived and worked here.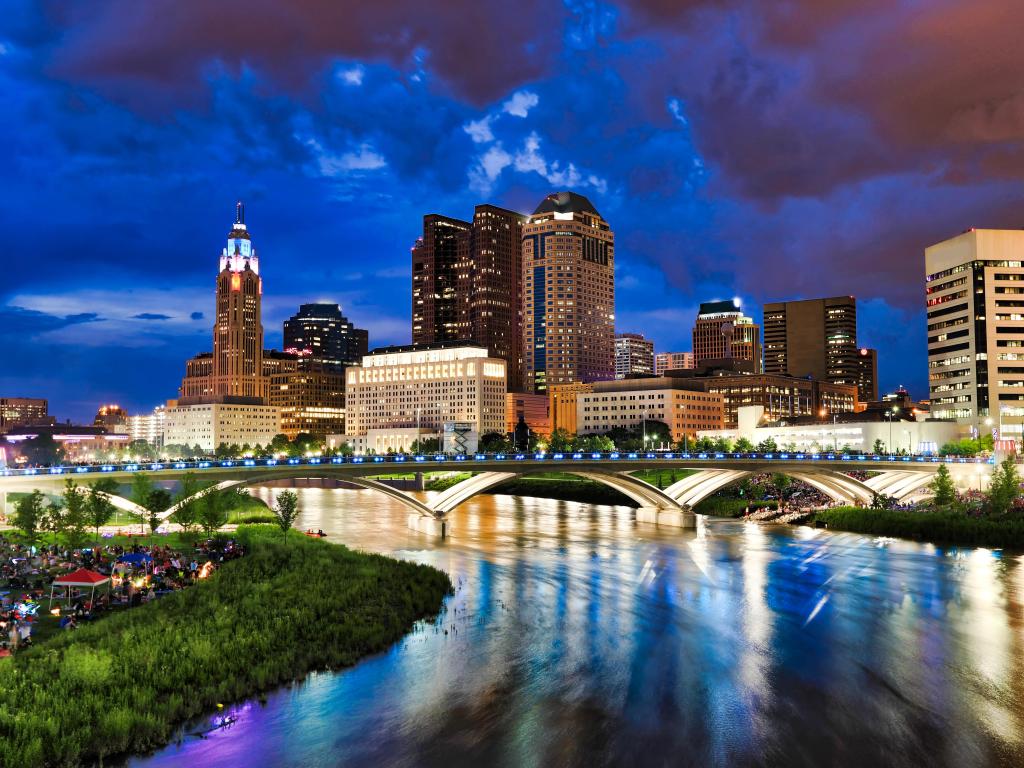 Blue Ridge Parkway Detour
Cumberland Knob - Construction of the parkway started right here in 1935. The walking trails here cover different levels of ability, with fabulous views across forests and farmland.
Stone Mountain - Hike to the top of the massive granite dome that gives this state park its name, then head to the park office here to find out about the lives of the first European settlers to strike out into the mountains here.
Mahogany Rock - You'll get views across two states from this fabulous outlook, which is right on the parkway.
Alligator Back - Spot the rocky outcrop that gives this overlook its name, then head out to explore one of the trails that start nearby.
The Lump Overlook - Take the short trail to the top of the Lump to watch the sun setting over rolling hills.
Tompkins Knob - From this overlook, there's a short trail out to a historic log cabin preserved in the woods.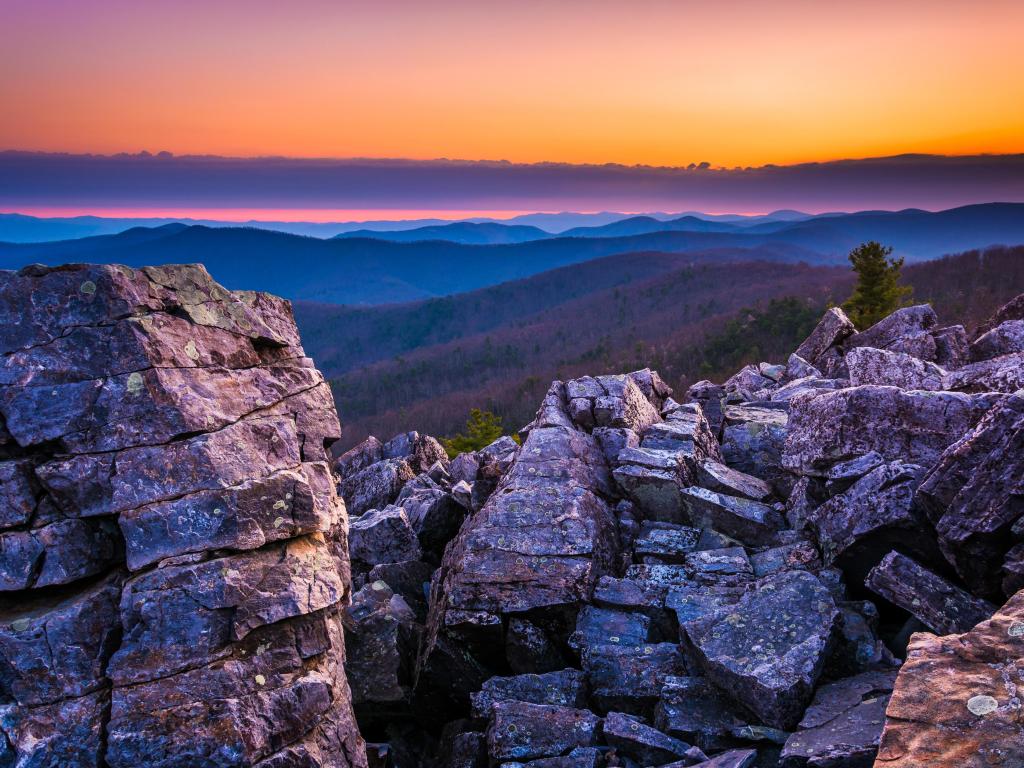 Best time to go on a road trip from Cleveland to Orlando
While Orlando is definitely a year-round destination, with warm winters and even warmer summers, it's likely to be conditions in the northern part of the trip that determine when you make your journey.
Orlando is hot and humid in the summer, with temperatures around 90 degrees Fahrenheit from June to August. Meanwhile, on the Western Route, Nashville can reach 80-90 degrees from May to September, and further east, Pittsburgh ranges from the 70s to mid-80s with it rising the closer you get to Florida.
The warm weather will mean larger crowds and busier hotels, especially in Orlando during the school holidays. If excessive heat and lots of tourists is a deciding factor for you, you'll be better off avoiding July and August at least.
You could travel during the coldest months as Orlando never really gets cold, with temperatures in the 70s even in mid-winter. However, temperatures in Pittsburgh are a real contrast with highs rarely above 40 degrees. You should expect significant snowfall through the winter.
Even further south, the Blue Ridge Parkway and any other scenic detours you take can experience snow from December to March, meaning some roads might be closed. Check for local information before setting out on the route if this is when you need to travel.
Ordinarily, spring and fall would offer more moderate weather, but Orlando sees temperatures around 80 degrees between April to May, and September to October. They're less popular but still busy, yet you won't pay premium prices like you would in the peak of summer.
In early spring the northern part of either route will feel pretty cool in comparison, with the chance of some snow persisting into April, so remember those extra layers. The Eastern Route can offer spectacular fall foliage in October, making this a scenic time to travel.
How about travelling during a festival or event? If you're okay with crowds, there's always something going on in Orlando. Visit in January for the Central Florida Scottish Highland Games, March for Central Florida Fair or April for the Florida Film Festival.