26 Best Road Trips From Tampa
Home of the famous Cuban sandwich, sunny Tampa has a great standard of living with botanical parks, a blend of modern and historic architecture and a great assortment of beaches. From taking a wild roller coaster ride at Busch Gardens to relaxing in the blue calm of Florida Aquarium, there is no shortage of things to see and do in Florida's third-most populated city.
But for when you want to spread your wings, this list of the 26 best road trips from Tampa includes world-famous beachside destinations, the natural landscapes of Everglades National Park, and iconic American metropolises teeming with culture.
Dip your toe by venturing out into and beyond the Sunshine State for one of these incredible road trips. Read on for inspiration to plan, book and head out on your adventure.
Best road trips from Tampa
Day trips from Tampa (under 3 hours each way)
The following mini-trips can all be squeezed into a single day, so fill up the car and you can be back in Tampa by bedtime with a great new destination under your belt.
1. St. Petersburg, FL
30 minutes from Tampa (25 miles)
Why you should visit: St Petersburg is a short drive that's perfect for an afternoon outing, and you can enjoy dinner on the way back.
One of Florida's sparkling gems, this beachside destination has a vibrant arts scene, sandy beaches and fun attractions for the entire family.
How to get there: Take I-257 south, then follow I-175 east to reach St. Petersburg on the coast.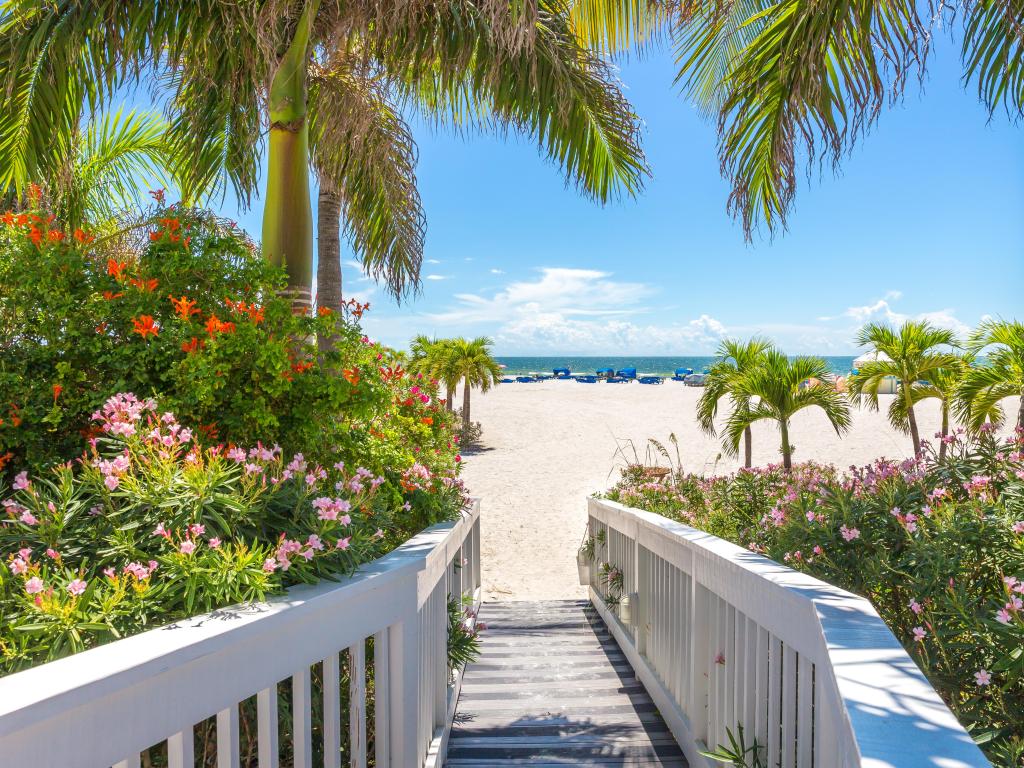 Our highlights: For a surreal spin on your trip, visit the Salvador Dali Museum. As per his mind-bending paintings, this building combines the rational and the fantastical with 96 oil paintings by the contemporary master. Impressively, it is the largest Dali collection in the United States.
If community-focused art is more your thing, try the Morean Arts Center, which displays international, national and local artists side-by-side. It also houses the Chihuly collection – a permanent exhibit featuring works of Dale Chihuly.
Right in the city center, the Sunken Museum is the old living museum in St. Petersburg - the century-old garden houses over 50,000 tropical flowers and plants and is great for a wander.
Catch a show at Mahaffey Theater, a vintage theater hosting a wide variety of events from Broadway shows to pop music performances.
Bonus: St. Petersburg holds a Guinness World Record for the most consecutive days of sunshine. Grab your sunscreen and head out!
Our travel tips: Try and time your trip between Mary and March, which is when the weather is cooler and the majority of events take place.
2. Clearwater and Pier 60, FL
43 minutes from Tampa (25 miles)
Why you should visit: This coastal Florida city is one of the best swimming locations in the state.
White beaches, warm waters and frolicking dolphins, which can be combined with a stay at some of the delightful beachside accommodation on offer.
How to get there: Drive south on I-275 and follow North Fort Harrison Avenue to reach Clearwater. For the pier, drive along Clearwater Memorial Causeway to reach Pier 60.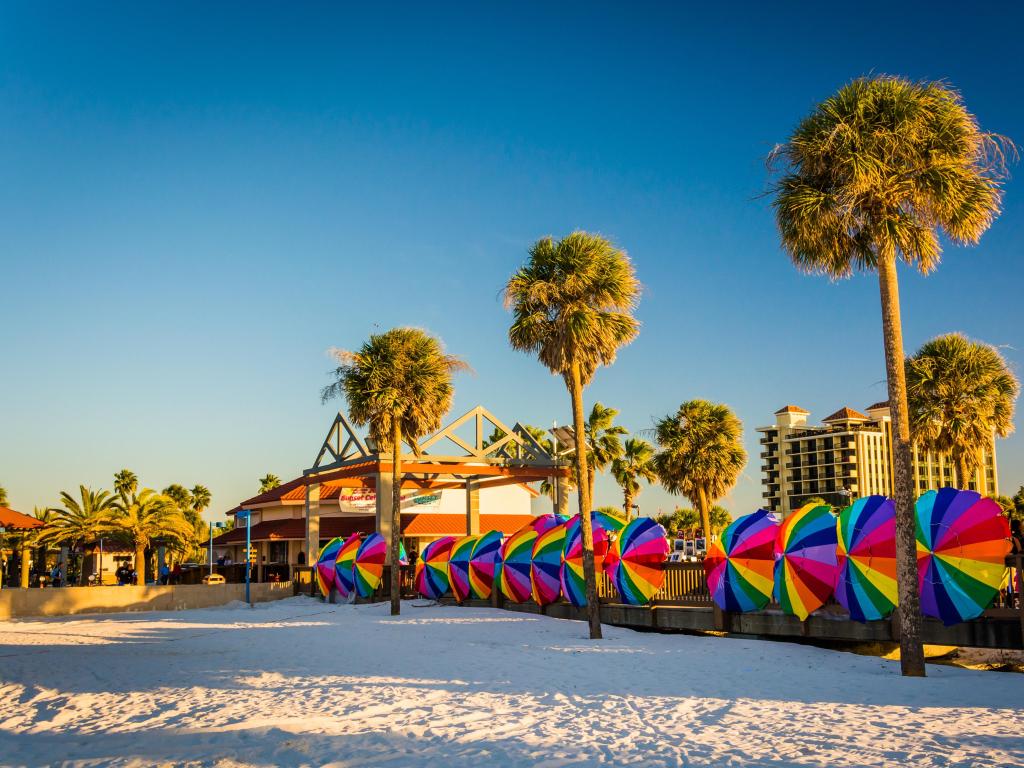 Our highlights: Not to be missed, Pier 60 is the said to be the premier fishing spot in the entire state of Flotida, and also offers exquisite dining, boardwalk entertainment, and relaxing beach walks.
When you're not swimming, check out Clearwater Marine Aquarium, which has a tribe of intelligent resident dolphins. You can also marvel at the clever pelicans, slippery eels, cute sea turtles and many more fascinating creatures.
Trade in your car for a boat and hop aboard the Calypso Queen - a renowned cruise trip featuring a vibrant sunset and an all-you-can-eat buffet in the day. At night it turns into an exhilarating dance party drifting atop the Caribbean.
Just under a 10-minute drive from Pier 60 lies Sand Key Park, a 95-acre area consisting of two beaches that are perfect for surfing.
Bonus: Clearwater Beach's sand is so soft and white because it isn't mixed with coral or shells, unlike most of the other beaches in the country.
Our travel tips: A pleasant time to make this trip is between October and December, when the humidity and footfall decrease with the arrival of fall.
3. Honeymoon Island and Caladesi Island, FL
50 minutes from Tampa (30 miles)
Why you should visit: One of Florida's calmer beaches, it's the perfect setting to relax amidst natural beauty.
Honeymoon Island has one of the country's best pet-friendly beaches, alongside hiking and nature trails. Caladesi's beaches remain untouched and are surrounded by swaying palm trees.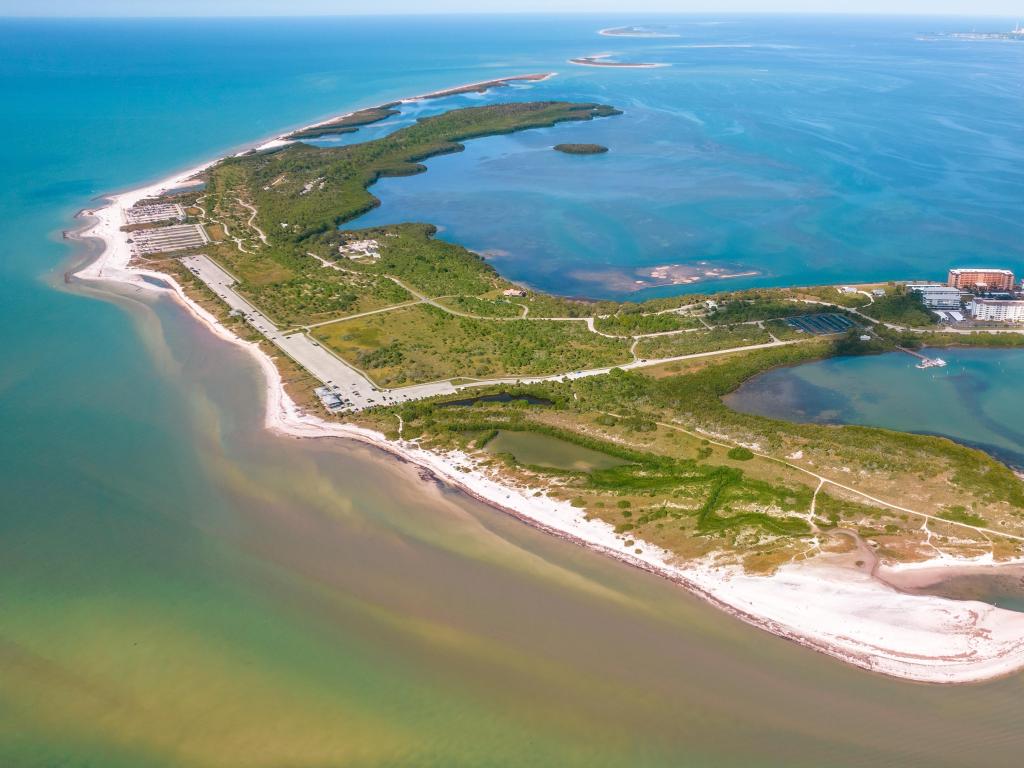 How to get there: Take I-275 south and drive west on FL-60. Take US-19 north and follow FL-586 west to reach Honeymoon Island. You can take a 20-minute ferry from Honeymoon Island to arrive on Caladesi Island.
Our highlights: One of the nicest things you can do on Honeymoon Island is roam around, which can be done in the company of your favorite pet! If sunbathing isn't your cup of tea, try the 2.5 mile hiking trail to work up a sweat.
Get a feel for the local wildlife at Rotary Centennial Nature Center, where you can explore the grass beds, oysters, mangroves and mud beds of Honeymoon Island, alongside magnificent marine life such as shoebirds and pelicans.
For the truly adventurous, it's possible to rent a kayak and paddle from Honeymoon Island all the way to Caladesi Island.
Bonus: Honeymoon Island's name originates from a 1939 contest for newlyweds held by Life Magazine - you guessed it, the prize was a two-week stay here.
Our travel tips:
The Honeymoon-Caladesi Ferry runs every hour, starting from 10am, as long as the weather is fine - you get a maximum of 4 hours on Caladesi before you have to return.

Bring your own drinks to make sure you keep hyrdrated.

Taking live shells from Caladesi beach is prohibited, so please resist the temptation.

Both Honeymoon Island and Caladesi Island have entrance fees.
4. Lake Tarpon and Tarpon Springs, FL
52 minutes from Tampa (32 miles)
Why you should visit: A coastal town with a twist of European culture, boasting with fascinating handmade goods and gift shops.
The highlight of Tarpon is its lake and its world-famous Tarpon Spring – a unique location featuring rich Greek heritage and the Sponge Docks.
How to get there: Drive south on I-275 and west on FL-60 to reach Lake Tarpon. Follow Highpoint Drive and East Tarpon Avenue to reach Tarpon Springs.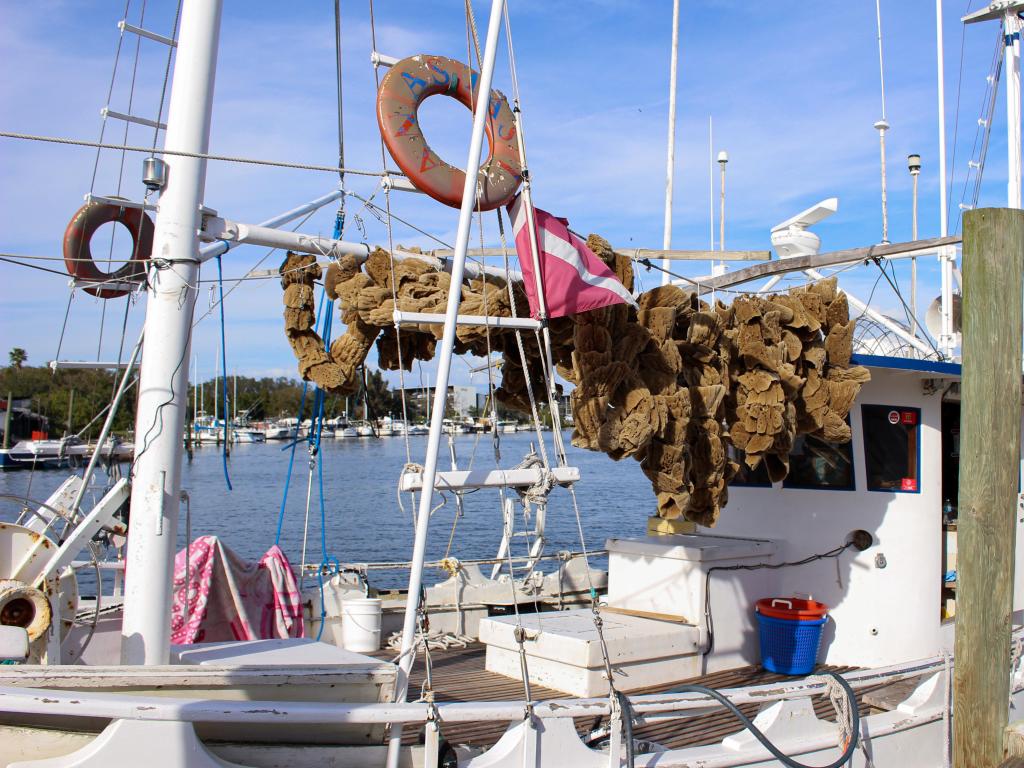 Our highlights: Stop by Sponge Docks for a glimpse into the historic sponge trade - no longer at its peak, the docks remain a fascinating place for learning about the city's identity.
The city has numerous waterfront areas among which Sunset Beach is the most popular because of its shallow, calm water, and absolutely stunning sunsets.
To escape the heat, duck into Leepa-Rattner Museum, which is a modern museum housing 20th and 21st century artworks across several mediums including photography and ceramics.
You can't visit Tarpon without sampling some Greek food, and Dine Greek offers up splendid home-cooked Mediterranean cuisine every night.
Bonus: Tarpon Springs is known as the world's Sponge Capital - perfect for some souvenirs!
Our travel tips: Spring is Tarpon's driest season and is therefore an ideal time to visit.
5. Sarasota, FL
1 hour 15 minutes from Tampa (60 miles)
Why you should visit: One of Florida's best locations if you are looking for a beach-centered vacation.
Alongside a raft of beaches within spitting distance and splendid warm weather, the city pulls its weight with significant cultural attractions.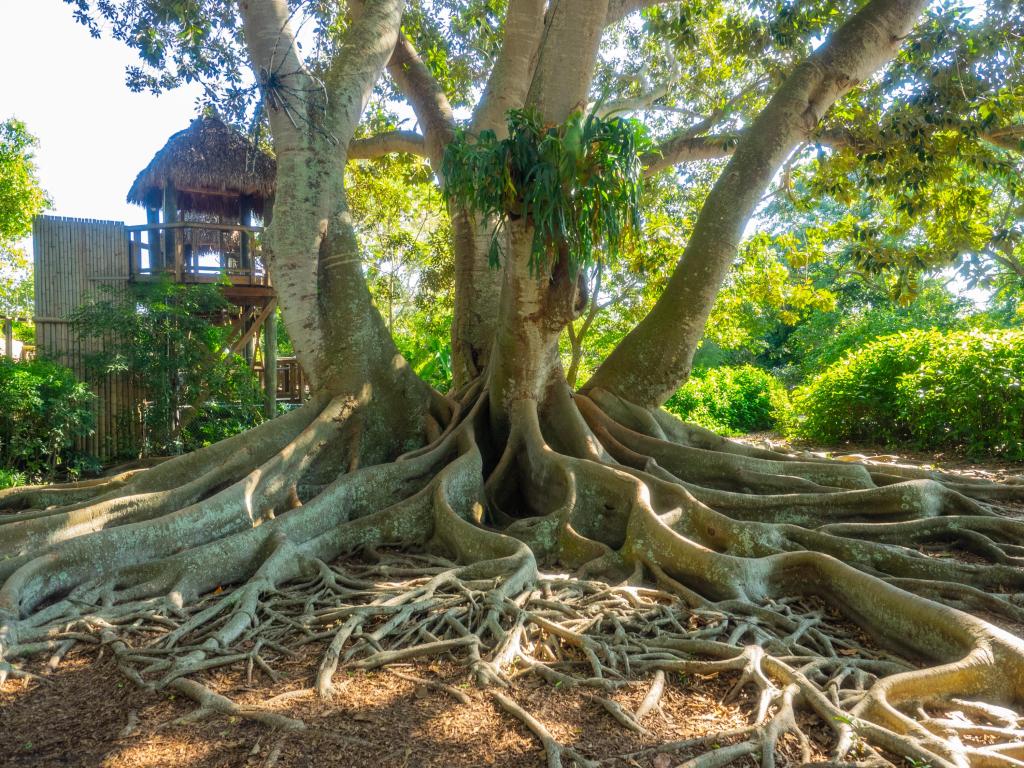 How to get there: Take FL-618 and join I-75 going south. Drive west on FL-780 to arrive in Sarasota.
Our highlights: Discover the secrets of sea life at Mote Marine Laboratory and Aquarium, which is an estuary-specialized research center with an aquarium. It houses over 100 marine creatures, with international ones as well as domestic ones.
See some four-legged animals at the Big Cat Habitat and Gulf Coast Sanctuary, where rescued exotic cats get a home and much-needed care. You can also see other creatures such as bears and chimpanzees.
Once you're done with the beach, make sure to visit John & Mable Ringling Museum of Art, where you can browse through classical art and architecture across several eras including the Renaissance, Roman, and Greek. The Museum helpfully runs 45-minute tours for visitors.
See the fruits of Florida's tropical climate at Marie Selby Botanical Garden. Spanning 7 acres, it houses an exquisite display of over 6000 plant species, and the world's biggest collection of bromeliads.
Bonus: Myakka Canopy Walkway in Sarasota is the only place is the world where you can walk through the treetops of a subtropical forest.
6. Weeki Wachee Springs State Park and Palm Island, FL
1 hour 15 minutes from Tampa (65 miles)
Why you should visit: A water-filled paradise where you can spot exotic animals and hike beautiful trails. With waterslides, peacocks and even mermaids, Weeki Wachee is a State Park unlike any other.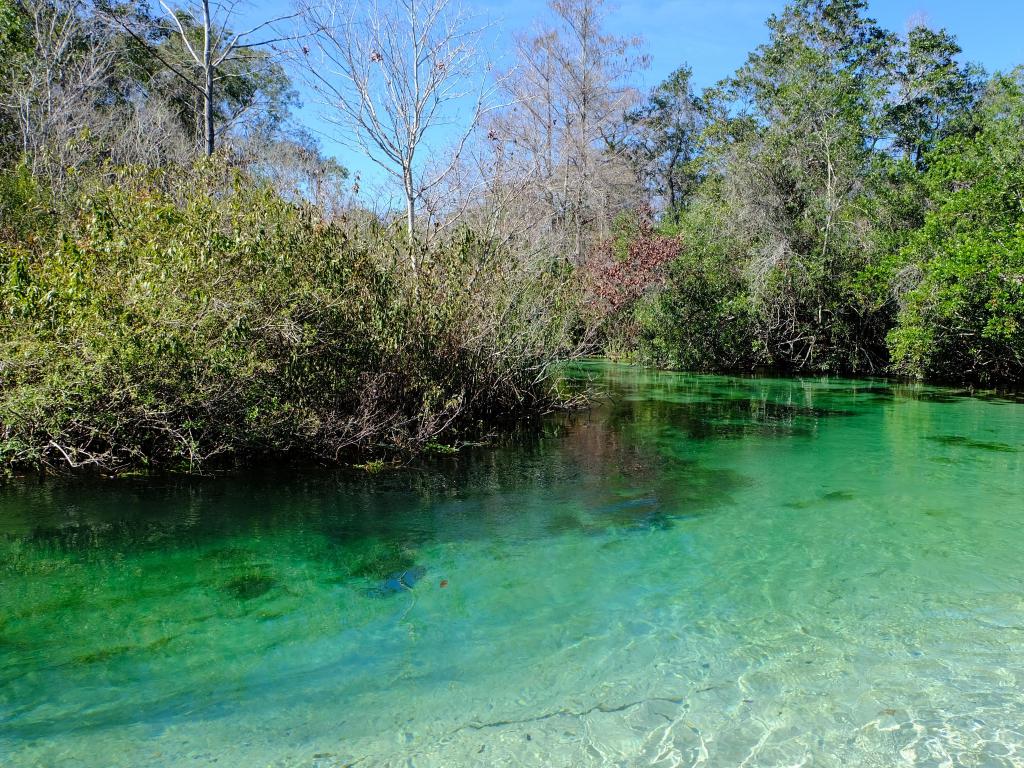 How to get there: Drive south on I-275 and then take FL-589 north. Take exit 46 and drive west along FL-50 to reach Weeki Wachee Springs State Park. From here, take US-19 south to reach Palm Island.
Our highlights: Enjoy a refreshing dip in Weeki Wachee Springs – the temperate water remains comfortable throughout the year and is perfect for a float.
One of the highlights of the State Park is a special performance underwater by divers dressed as mermaids, which is enjoyable for all ages but will certainly excite youngsters the most!
Another great family attraction is Buccaneer Bay, a great waterpark right in the heart of the State Park where you can ride 4 huge water slides.
For more advanced adventurers, Roger's Park offers a different way to experience the crystal clear waters, with a host of sports gear available to rent for a whole host of watersports.
Bonus: Weeki Wachee is a name given by the Seminole Indians meaning "winding river".
Our travel tips: There is no specific season we'd recommend to visit the park. However, try to get there as early as possible (before 9am) because it can become crowded.
7. Crystal River, FL
1 hour 15 minutes from Tampa (80 miles)
Why you should visit: The warm waters here are fed by natural springs, and are home to a generous amount of wildlife and outdoor activities.
Learn about the diverse history of the area while enjoying the company of some of Florida's world-famous resident manatees on this trip.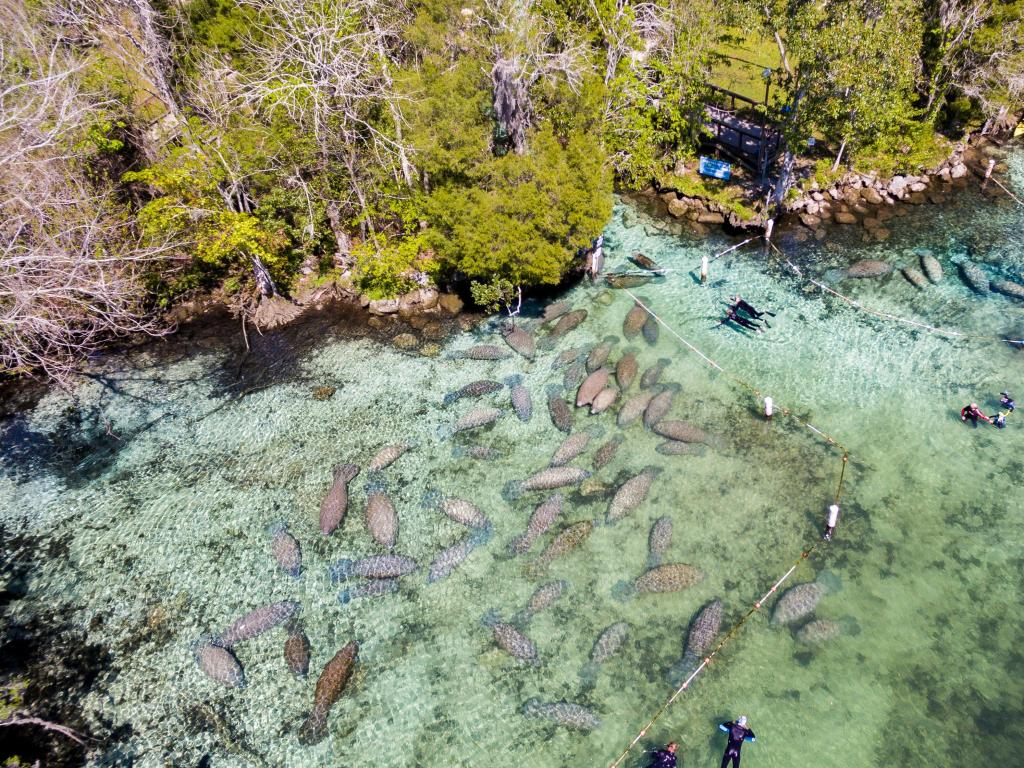 How to get there: Drive south on I-275, then take FL-589 north and drive west on FL-44 to reach Crystal River.
Our highlights: Bring your swimsuits, flippers, and snorkels along if you want to swim beside Florida's cutest natives, the manatees.
Another swimming opportunity is to be found at Three Sisters Springs, where you can wander along the waterside trails and boardwalk, or head to the center and dive straight in.
About 20 minutes away by car from Crystal River lies Fort Island Gulf Beach - a small sandy beach that is perfect for picnics, fishing and family playtime.
Get in the local spirit by partaking in the Crystal River tradition of scalloping. Hitch a ride on a fishing charter and dive into the waters about 3 miles offshore, though be sure to travel with a local tour guide to catch the freshest scallops.
Bonus: According to some biologists, Crystal River is the country's most important manatee habitat.
Our travel tips: You can take the scallops you catch to any restaurant in the locality to get them cooked and served.
8. Orlando
via Lakeland, FL
1 hour 40 minutes from Tampa (91 miles)
Why you should visit: The world's theme park capital needs no introduction, with enough thrilling attractions to last for weeks.
Why you should visit: Experience some of the world's biggest theme parks in Orlando. At Lakeland, soak up more of a small-town vibe with street festivals and amazing restaurants.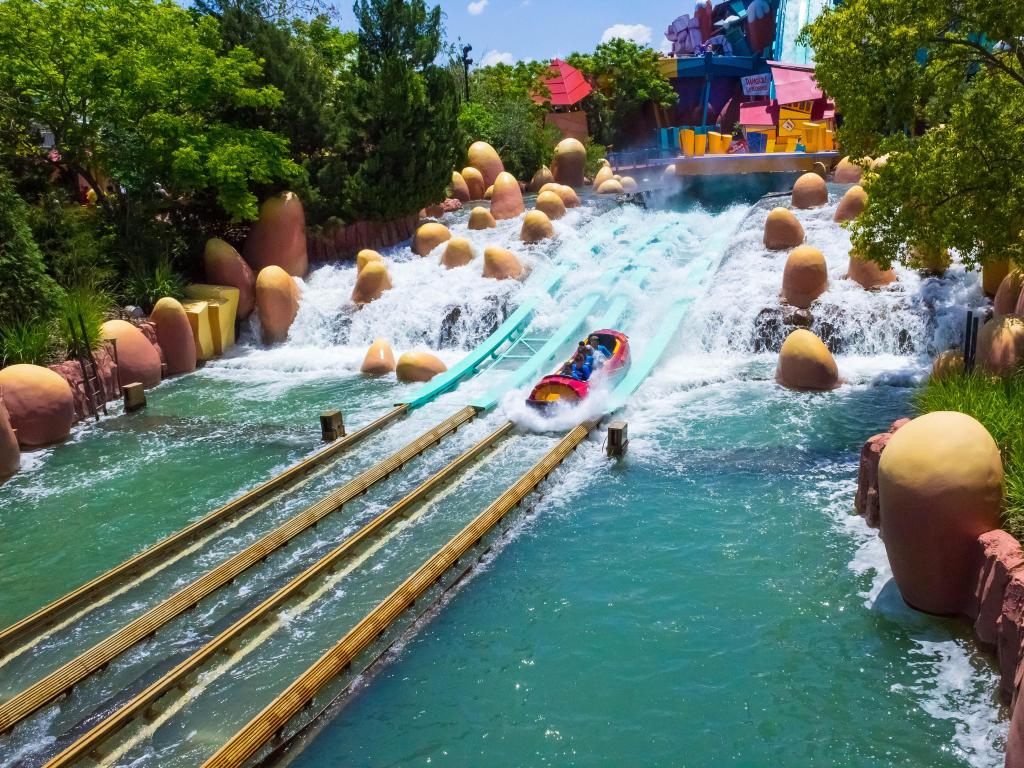 How to get there: Drive north on I-257 and then take I-4 east. Take exit 28 to reach Lakeland. Remerge with I-4E and continue on this road to reach Orlando.
Our highlights: The most popular reason for visiting Orlando is Walt Disney World Resort and it doesn't disappoint, with 4 theme parks, 2 water parks, and more than 20 hotels.
At the nearby Universal Studios Resort you can walk through some of the most famous places in film history, including the streets of Harry Potter's Diagon Alley here.
If theme parks aren't up your alley, head up to Harry P. Leu Gardens where visitors can walk through 50 acres filled with beautiful fauna and flora, all of which were gifted by donation in 1961.
Alternatively, Hollis Garden Lakeland is a botanical garden spread across 1.2 acres with a neo-classical theme, complete with fountains between the flowers and ferns.
While in Lakeland, head to Circle B Bar Reserve for great hiking on unpaved trails and to bike beside trails and roadways.
Our travel tips: Entry to Hollis Garden is free of charge, which can make a refreshing change in this wallet-busting city!
9. Ocala and Silver Springs State Park, FL
1 hour 45 minutes from Tampa (104 miles)
Why you should visit: A natural wonderland awaits you on this trip, with beautiful freshwater springs and rolling hills. Close by to the immense greenery of Ocala Natural Park lies Silver Springs – one of the world's most famous artesian lakes.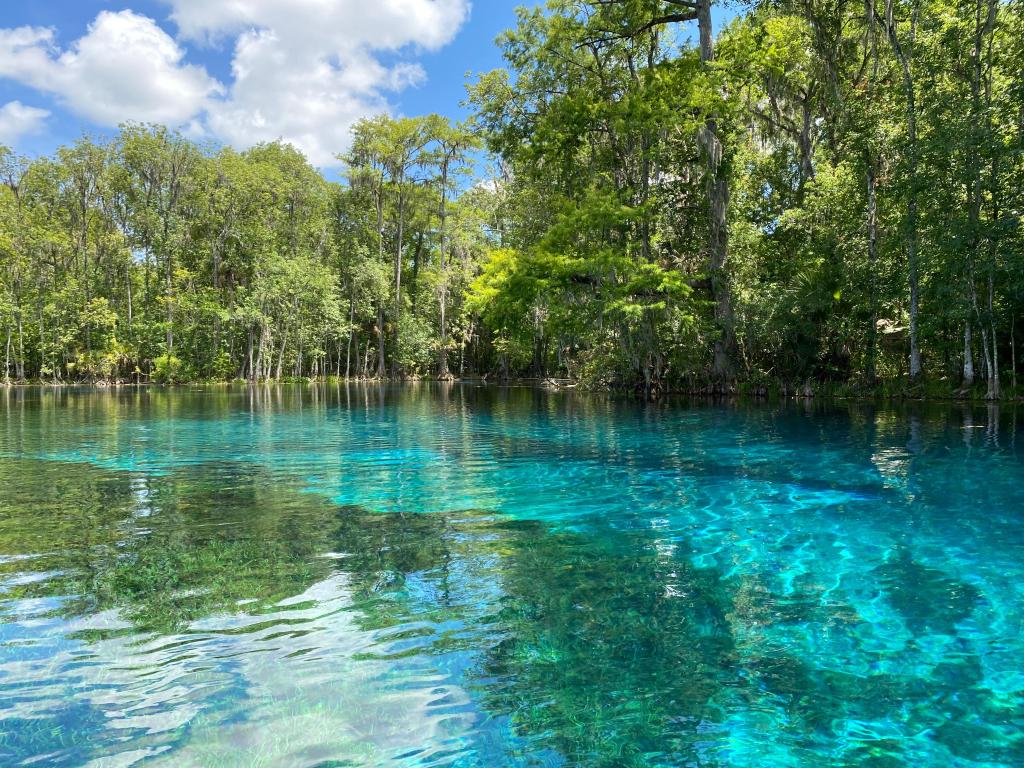 How to get there: Drive north on I-275 and I-75. Take exit 32 and drive down FL-40 to reach Ocala. Remerge onto this road and drive east to reach Silver Springs State Park.
Our highlights: Among the finest art destinations in the region, Appleton Museum of Art is home to an immense collection of contemporary and classical art from across the world.
If you want something a bit quirkier, though, try Don Garlits Museum of Drag Racing and International Drag Racing Hall of Fame. This unique collection based around the niche sport of drag racing boasts several hundred exhibits, vehicles and historical artifacts related to Garlits and the sport.
Don Garlits is popularly called the "Father of Drag Racing" and has the nickname "Big Daddy".
The best view of the clear spring waters is found on a glass-bottomed boat tour at Silver Spring State Park, which offers an unparalleled look into the deep. Learn about the natural history of Florida at the Silver River Museum, where you can view interesting artifacts like prehistoric remains.
Our travel tips: Winter is the best time to make this trip, when the temperatures are low enough to enjoy outdoor activities.
10. Fort Myers and Cape Coral, FL
2 hours 15 minutes from Tampa (135 miles)
Why you should visit: Another one of Florida's coastal paradises, this one is known particularly for its golfing. Lush green golf courses await you here, along with white sandy beaches and deep-sea fishing.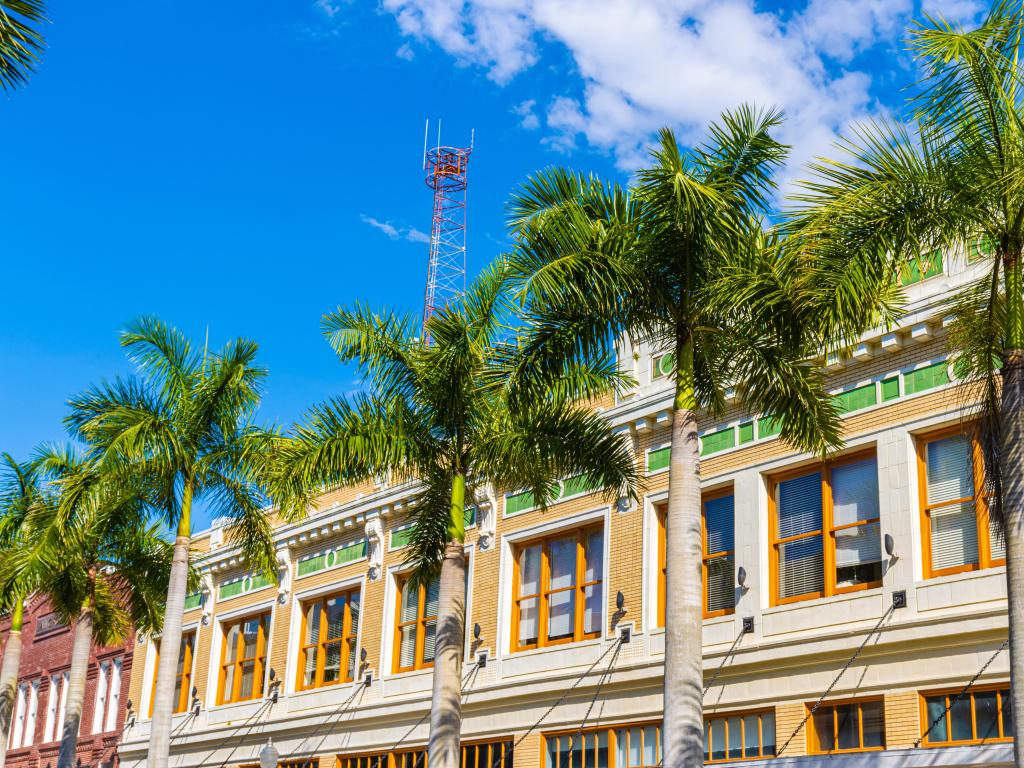 How to get there: Drive east along FL-618 and take I-75 south. Take exit 158 to reach Fort Myers, and follow FL-687 south to reach Cape Coral.
Our highlights: Experience a slice of history at the Edison & Ford Winter Estates, one of the last remaining residences of the two famous inventors. The estates sit across 21 waterfront acres and have been converted into an artifact-packed museum related to the two men.
As well as being a great place to immerse yourself in history, you can check out North America's largest banyan tree, which sits in the Edison & Ford Estates' Botanical Gardens.
Step back in time by walking through the Fort Myers River District, a prime spot for theaters, boutiques and restaurants filled with Art Deco architecture from the 1920s.
If you want some serenity from the hustle and bustle, head to Six Mile Cypress Slough Preserve, a 3500-acre green haven with all kinds of fauna and flora and famous for its birdwatching.
One of Southwestern Florida's best attractions is here in Cape Coral: Sunsplash Waterpark has some legendary rides including the Power Surge and the Electric Slide. Be sure to pack your swimsuit!
Our travel tips: Springtime (between March and May) can be a quieter time to visit these destinations, and you're also more likely to find better hotel deals if you do want to stop over.
11. Gainesville, FL
via Devil's Den Prehistoric Spring
2 hours 30 minutes from Tampa (144 miles)
Why you should visit: Discover miles and miles of natural hiking trails at Gainesville, along with artistic attractions. Live music, world-renowned museums, and performing arts are among Gainesville's highlights, amidst acres of greenery in multiple state parks.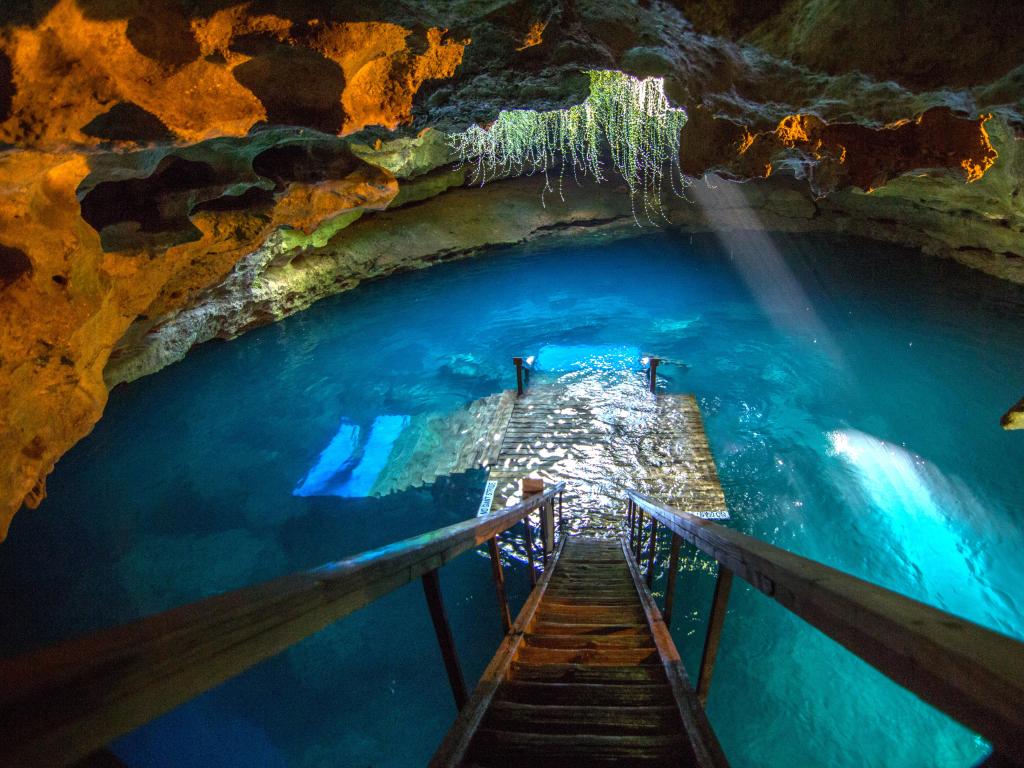 How to get there: Drive north on I-275 and I-75. Take exit 354 to drive along US-27 to reach Devil's Den Prehistoric Spring. Drive north on FL-121 and FL-331 to reach Gainesville.
Our highlights: The Devil's Den Prehistoric Spring is a stunning underground spring where you can go scuba diving and snorkeling. Its satanic name is derived from the steam rising from the spring on cold mornings.
A real blockbuster of a museum, the Florida Museum of Natural History is an enormous sprawling complex that houses everything from butterfly rainforests to real dinosaur bones bigger than humans!
There is only one park in Florida that sits inside an actual sinkhole, and it's Devil's Millhopper Geological State Park. Stretching about 500 feet wide and 120 feet deep, visitors can reach the bottom using boardwalks and steps.
Even if there are no beaches in land-locked Gainesville, there is plenty of splashing to be done at Ichetucknee Springs State Park, including snorkeling, swimming and more.
Bonus: The Devil's Millhopper Sinkhole is so big that there are three different ecosystems inside it.
Our travel tips: Gainesville is a busy commuter city, so there may be congestion during peak times - try to plan around these if you can!
12. Cape Canaveral, Cocoa Beach and Kennedy Space Center, FL
2 hours 40 minutes from Tampa (148 miles)
Why you should visit: Cape Canaveral, site of the Kennedy Space Center, remains one of the most significant landmarks to the scientific progress of mankind.
Along with the historical launch site for NASA, Cape Canaveral also features a host of outdoor activities, beautiful scenery and magnificent weather.
How to get there: Drive north on I-275 and take FL-528 east. Take exit 37 to reach Kennedy Space Center. Take Florida A1A south to reach Cape Canaveral, and follow signs to Cocoa Beach.
Our highlights: Among the most desired tourist destinations in the country, Kennedy Space Center needs an entire day to do it justice. Learn about everything NASA has achieved and plans to conquer in the field of space exploration.
Enjoy a peaceful day at Manatee Sanctuary Park, a serene spot perfect for fishing, kayaking and picnicking. If you're lucky, you'll catch some of the blubbery animals lazing on the banks.
Pop by Dinosaur Store and Museum in Cocoa Beach, where you can see dinosaur fossils hanging from the ceiling and a few prehistoric cave paintings as well.
If you need a break, take a seat in Cherie Down Park, a small but pretty park in Cape Canaveral that is a little-known beachfront spot to enjoy the view. And don't miss Cape Canaveral Lighthouse - the Cape's oldest man-made structure, built in 1838.
Our travel tips: During spring the weather is dry and there are fewer crowds here, making it an ideal time to visit.
13. Lake Okeechobee
via Lake Placid and Sylvan Shores, FL
2 hours 50 minutes from Tampa (153 miles)
Why you should visit: Lake Okeechobee is a great spot for boating enthusiasts, while Lake Placid remains one of the country's most intellectually interesting places.
Festivals, vineyards, history, and culture await you at Lake Placid. In contrast, Lake Okeechobee is famous for fishing as well as a natural habitat for other wildlife.
How to get there: Take FL-618 east, then drive south on I-75 and US-27 to reach Sylvan Shores. Remerge with US-27 and continue along East Phoenix St Drive to reach Lake Placid. Rejoin US-27 and take US-441 south to reach Lake Okeechobee.
Our highlights: Lake Placid is known as the town of murals, and there are over 47 outdoor artworks to discover as you wander the streets of this quaint town.
Savor the superior quality of the local fish at Lake Okeechobee's most iconic joint, Lightsey's Seafood Restaurant. It's perfect for a family dinner or romantic meal for two.
Head out into the great outdoors at Dupuis Nature Center, which offers scheduled nature walks and interactive displays informing visitors about the wildlife and research projects within the DuPuis Management Area of northwestern Florida.
14. Marco Island via Naples, FL
3 hours from Tampa (184 miles)
Why you should visit: Marco Island is all about entertainment, and is a great combo with Naples - this trip is a chance to let loose and enjoy a taste of luxury.
These two cities are all about world-class restaurants, golf courses, shopping, dining, arts and culture.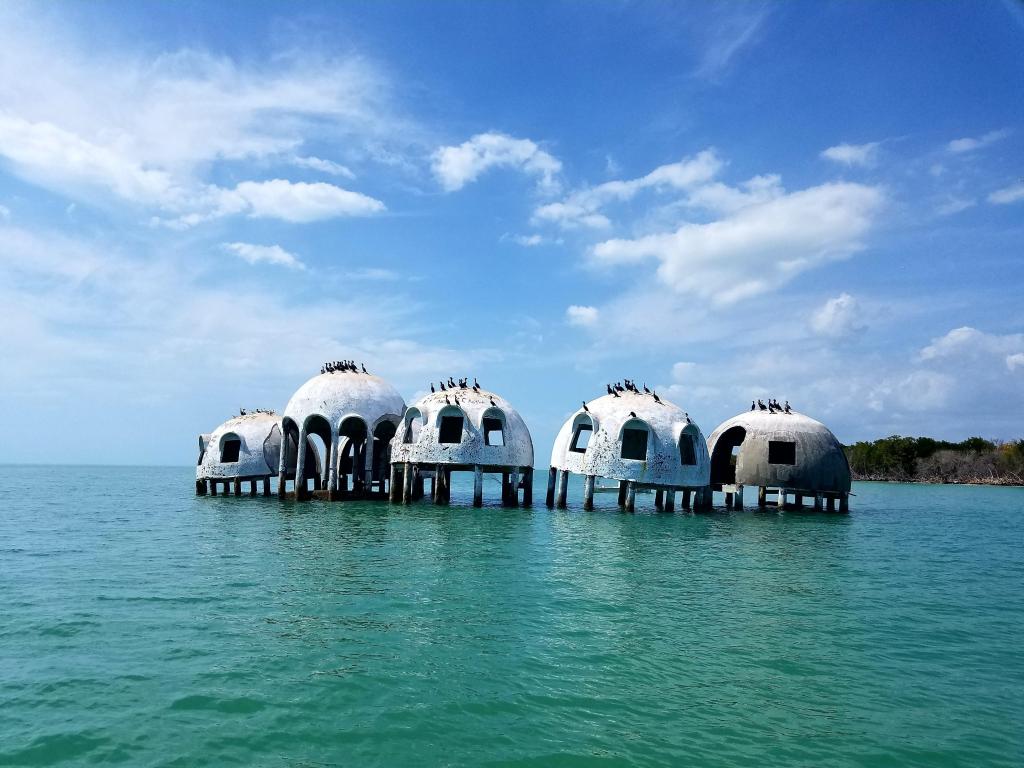 How to get there: Drive east on FL-618 and then take I-75 south. Take exit 105 to reach Naples. Drive along Tamiami Trail and Yellowbird St to reach Marco Island.
Our highlights: A spooky sight awaits at Cape Romano, where you can find a collection of uncanny dome-shaped structures made of concrete - they were once ultra-modern vacation homes that have been left to the waves.
To learn more about your destination, visit the Marco Island Historical Museum, which contains important information about the native Calusa people to whom this place was once home.
See and be seen at Naples Pier, an ocean-side haven on the Gulf of Mexico. Head here for bird-watching, dolphin-watching, fishing and classic beach activities like volleyball.
You can take a detour via Fort Myers and Fort Myers Beach into Naples to catch some beautiful sea views. For this, you can drive via US Hwy 41 which will increase the journey time by 1 hour.
Bonus: Marco Island is the largest among the teeming "Ten Thousand Islands".
Our travel tips: You can take a ferry to Key West from Marco Island that takes about 3 hours.
Click here to skip back to the top.
Weekend trips from Tampa (3-5 hours each way)
Give yourself the whole weekend and head further out of Tampa to take one of these trips, which include national parks, dense forests and beachy cities.
15. Blue Springs State Park
via Lakes Harris, Eustis, Dora and via Seminole State Forest, FL
3 hours 5 minutes from Tampa (146 miles)
Why you should visit: This state park offers an impressive number of outdoor activities, along with an abundance of beautiful campsites.
What can you not do here? Hiking, paddleboarding, kayaking, canoeing, tubing, diving, swimming – chances are this park will have an area dedicated to any activity that takes your fancy.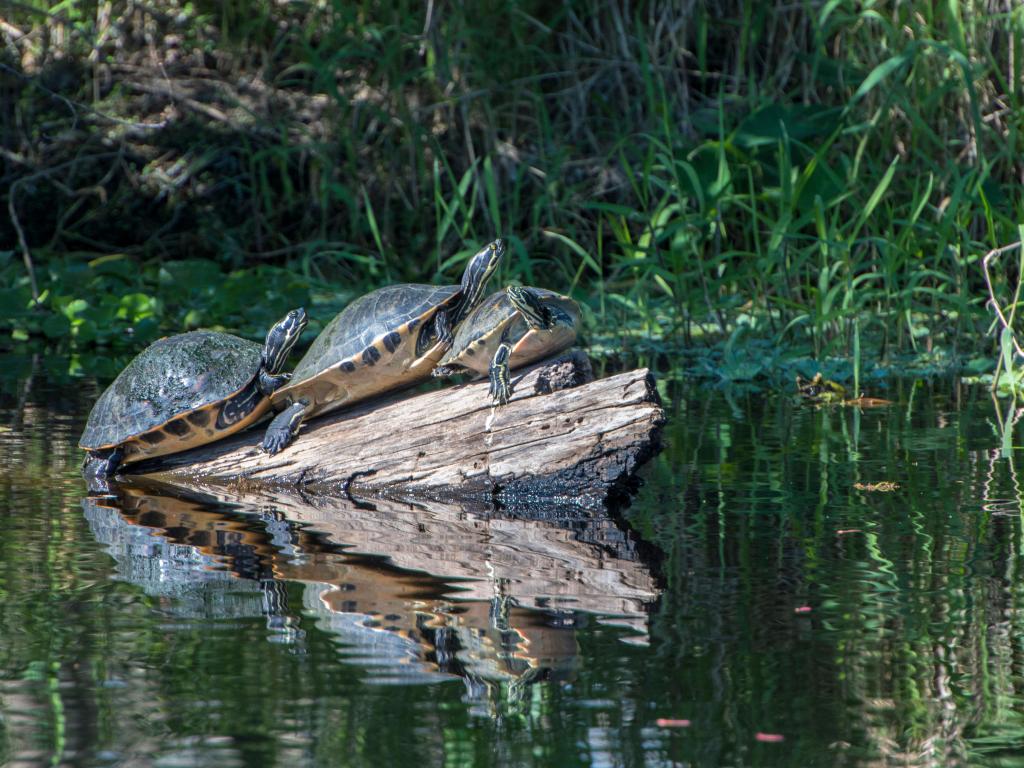 How to get there: Drive north on I-275 and I-75. Take exit 321 and keep to County Road 448 to pass by Lake Harris, Dora, and Eustis and reach Seminole State Forest. Drive east on I-4 and take US-17 going north to reach Blue Springs State Park.
Our highlights: Take a leisurely walk down the scenic 1.3 mile boardwalk in Blue Springs State Park, which stretches from the source of the spring to where it meets the St. John River.
Very few places are more refreshing than the water at Blue Springs, particularly during the notorious Florida summers - bring your swimsuit and take a dip!
If you are traveling with kids, the pretty playground is a lifesaver. Helpfully, it has picnic tables and is located in one of the few spots far from any water.
Choose from any one of the 51 campsites at the State Park, as they are all well-equipped with comfort stations, electricity, water, fire pits, and picnic tables.
Bonus: Choose any of the 51 campsites at the State Park as you want since you will get comfort stations, electricity, water, fire pits, and picnic tables at all of them.
Our travel tips: The playground has almost no shade, so be sure to carry your sunscreen and plenty of water.
16. Everglades National Park, FL
3 hours 5 minutes from Tampa (207 miles)
Why you should visit: The Everglades is an official World Heritage Site, home to several rare species and an important location for research on biodiversity.
Aside from the usual host of outdoor activities, you can also take guided tours with volunteers and participate in science workshops to learn more about the park's environmental significance.
The Everglades are a "Wetland of International Significance", and are home to the western hemisphere's largest mangrove ecosystem.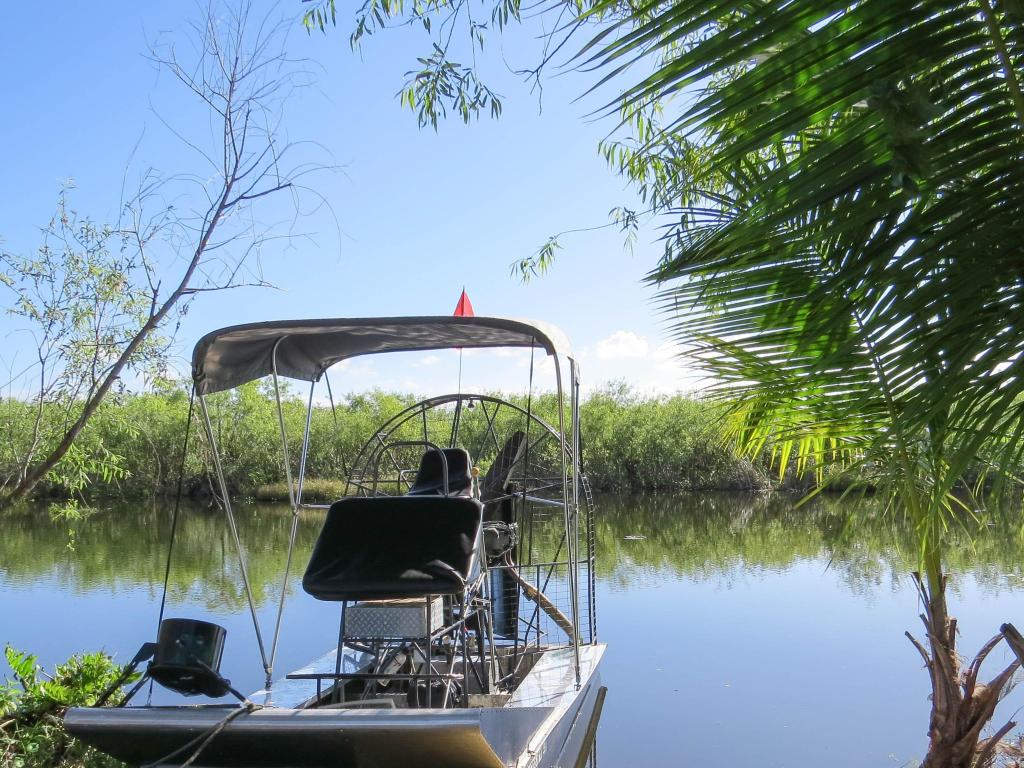 How to get there: Drive east on FL-618, then take I-75 south and take exit 80. Drive south along FL-29 to reach Everglades National Park.
Our highlights: The scenic kayak trails of the Everglades have something suitable for everyone, regardless of time frame or budget - the Kayak Eco Tour offers a unique experience weaving through open wetlands and mangrove tunnels.
You can also take a tour by airboat, which might be one of a few chances to ride this quirky vehicle. It's particularly good if you want to explore the river trails but don't have experience in a kayak or a canoe.
The ominously named Shark Valley is actually a short and comparatively easy trail perfect for beginners - at the end you can enjoy the 65 foot observation deck looking over the mangroves.
You can detour via Fort Myers Beach, Cape Coral, and Naples for an extended scenic drive alongside the ocean, which will add about an hour to the drive.
Our travel tips: Make the trip between November and April to remain within the dry season, meaning fewer mosquitoes, lower temperatures, and more active wildlife.
17. Jacksonville, FL
3 hours 15 minutes from Tampa (199 miles)
Why you should visit: Jacksonville is known for its entertainment on the water, with a bonus helping of a bustling cosmopolitan culture.
The craft beers of Jacksonville, by themselves, are a good enough reason to come here. On top of that, there is a buzzing food scene along with an extensive system of urban parks.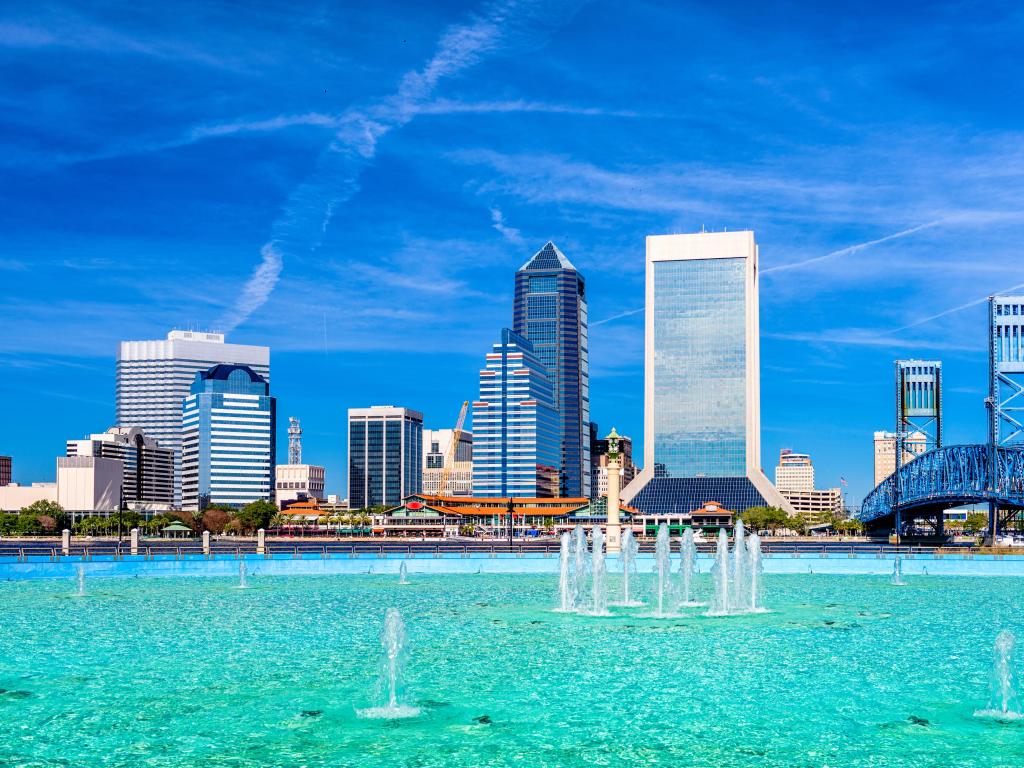 How to get there: Drive north on I-275 and I-75. Take exit 358 to join I-10 going east. Follow I-95 north and take exit 353B to reach Jacksonville.
Our highlights: If you're traveling with mates, there is no better place to soak up the bustling metropolis at Friendship Fountain, a tranquil spot with a spectacular fountain in the backdrop. It was the world's tallest and largest fountain at the time of construction in the 1960s.
Cat-lovers should visit Catty Shack Ranch, a "forever home" for all kinds of rescued big cats, including lynxes, pumas, tigers, leopards, and lions. Visitors get to observe the animals and learn more about them on guided tours.
If you're hoping to camp for the night, head to Kathryn Abbey Hanna Park – it's an ideal campground for RV vehicles as well as tents, and you can also enjoy canoeing, paddle-boating, canoeing and fishing at this local spot.
It wouldn't be Florida without a theme park - head to Adventure Landing to ride go-karts and splash through water slides at this fun amusement park for all ages.
18. Palm Coast and St Augustine
via Daytona Beach, FL
3 hours 30 minutes from Tampa (199 miles)
Why you should visit: The country's oldest continuously inhabited city, St Augustine offers a historic snapshot of Spanish colonial architecture, while Daytona Beach and Palm Coast serve up several relaxing beaches along the way.
The rich history awaiting you in St Augustine is complemented nicely by the luxurious golf courses and sandy coastlines along the way.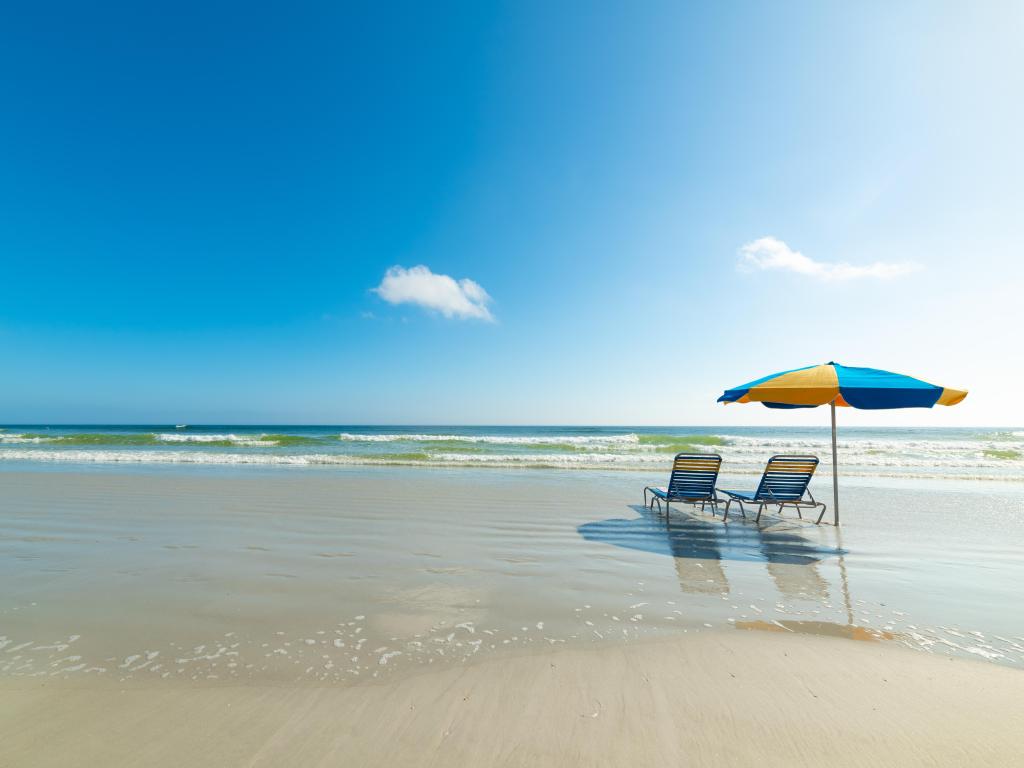 How to get there: Take I-275 north and then join I-4 heading east. Take exit 92 onto US-92 to arrive at Daytona Beach. Get on I-95 and head north, then take exit 289 to reach Palm Coast. Remerge with I-95 and take FL-207 to reach St Augustine.
Our highlights: A great historical stop is the Lightner Museum, which is situated within the 1887 Hotel Alcazar. The building features quirky historical architecture with a courtyard, a fishpond and other delightful remnants of a bygone era.
Even older is the Castillo de San Marcos - believed to be unbreakable, the fort has been standing strong since 1702 due to its special walls made of coquina.
For a general insight into the Spanish occupation of St Augustine, walk around the Colonial Quarter to see well-preserved streets and architecture dotted with traditionally dressed tour guides.
One of the few places in Florida where you can experience real pirate life, Black Raven Pirate Ship welcomes you aboard with period-attired staff and embarks on two daily voyages, three days a week.
Our travel tips: Different Black Raven voyages have different features on offer, including exclusive voyages for those who are 21 and older.
Click here to skip back to the top.
Long weekend trips (5-8 hours each way)
There's plenty to discover a bit further out of the city if you can spare the time - put some distance between yourself and Tampa to discover some of Florida's most recognizable cities, or dip into South Carolina.
19. Miami
via Orlando, West Palm Beach, Boca Raton and Fort Lauderdale, FL
5 hours 30 minutes from Tampa (330 miles)
Why you should visit: Some of the world's best beaches await you on this trip, along with intriguing city stops at Boca Raton and Fort Lauderdale.
Stunning nightlife, food, art, and culture are on offer in Miami – the party destination of the world, not to forget the iconic beach.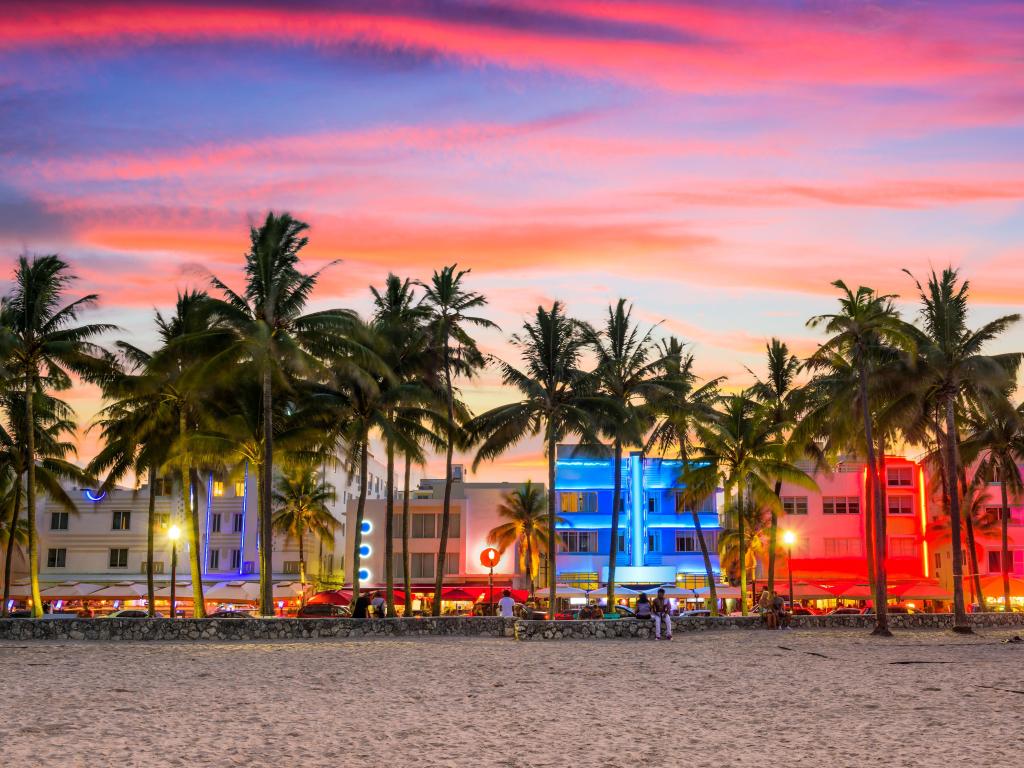 How to get there: Take I-275 north and then join I-4 heading east to reach Orlando. Remerge with I-4 and take exit 70 on I-95 to reach West Palm Beach. Rejoin I-95 heading south and take exit 27 to reach Fort Lauderdale. Get back on I-95 and take exit 2C for Miami.
Our highlights: Miami Beach is iconic, and a must-visit to snap a picture of the skyline and spend a few hours people-watching in the sun.
Your first stop in Fort Lauderdale should be Las Olas Boulevard - this central street is a great introduction to the city with an array of dining, shopping, and museums.
As well as beach-goers, there are flowers, turtles, trees, iguanas and sharks that call Boca Raton their home, and you can visit them all at Gumbo Limbo Nature Park.
To get a sense of history among Miami's modern skyscrapers, duck inside Vizcaya Museum and Gardens.The beautiful Renaissance-style architecture features 34 rooms surrounding a stunning courtyard, the insides filled with authentic 15th-19th century European art and furniture. More than 1,100 European craftsmen were employed in creating the Vizcaya Museum to make it as authentic as possible!
Our travel tips: The Miami beaches are spacious, so try your best to find a secluded spot to enjoy some privacy.
READ MORE - Road Trip from Tampa to Miami
20. Key West, FL
6 hours 25 minutes from Tampa (425 miles)
Why you should visit: Key West is renowned for its beaches, watersports, historic attractions, vibrant nightlife and pastel conch-style architecture. The smallest of the Florida Keys, Key West is a fantastic destination to unwind and have fun.
This farther-flung destination feels almost a world away from the rest of the US. And that's not surprising - Key West is actually closer to Cuba than Miami.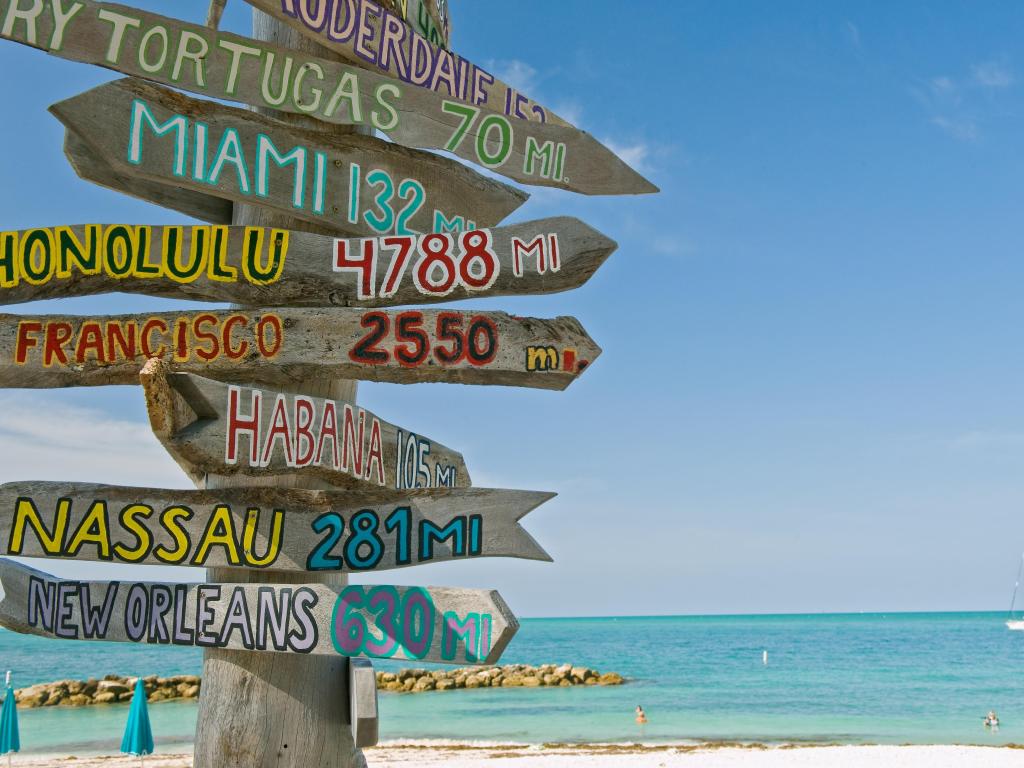 How to get there: Drive east on FL-618 and take I-75 south. Drive along US-1 to reach Key West. You can also take a ferry to Key West from Fort Myers, which will take about 4 hours.
Our highlights: One of the major attractions in Key West is the Ernest Hemingway Home and Museum. A must for fans of the author, it's a stunning mansion in the Spanish Colonial style that was constructed in 1851 from local limestone.
If you want more historic architecture, follow it up with a visit to Audubon House, a stunning home which was constructed in 1840 for Captain John Huling Geiger and his family.
For a great view towards the Gulf of Mexico, situate yourself in Mallory Square, where you can grab a drink and watch people go by. The square is also host to the popular Sunset Celebration, a nightly event as the sun goes down.
You can take an alternate route via Fort Lauderdale and Miami, along Miami's eastern coast, which will take about an hour longer.
Our travel tips: Lodging and food can be expensive in Key West. The ideal time of year to visit Key West is during shoulder season when prices may be cheaper.
READ MORE - Road Trip from Tampa to Key West
21. Destin
via Tallahassee, FL
6 hours 40 minutes from Tampa (435 miles)
Why you should visit: Along Florida's stunning Emerald Coast sits a short piece of heaven, known unimaginatively as Scenic Highway 30A. You'll get to drive along here en route to Destin.
A vast range of waterfront dining options, retail stores, paragliding, dolphin tours, fishing vessels, nightclubs, and even monthly fireworks are all on offer around Destin Harbor. Rather fittingly, Destin is also known as the "World's Luckiest Fishing Village."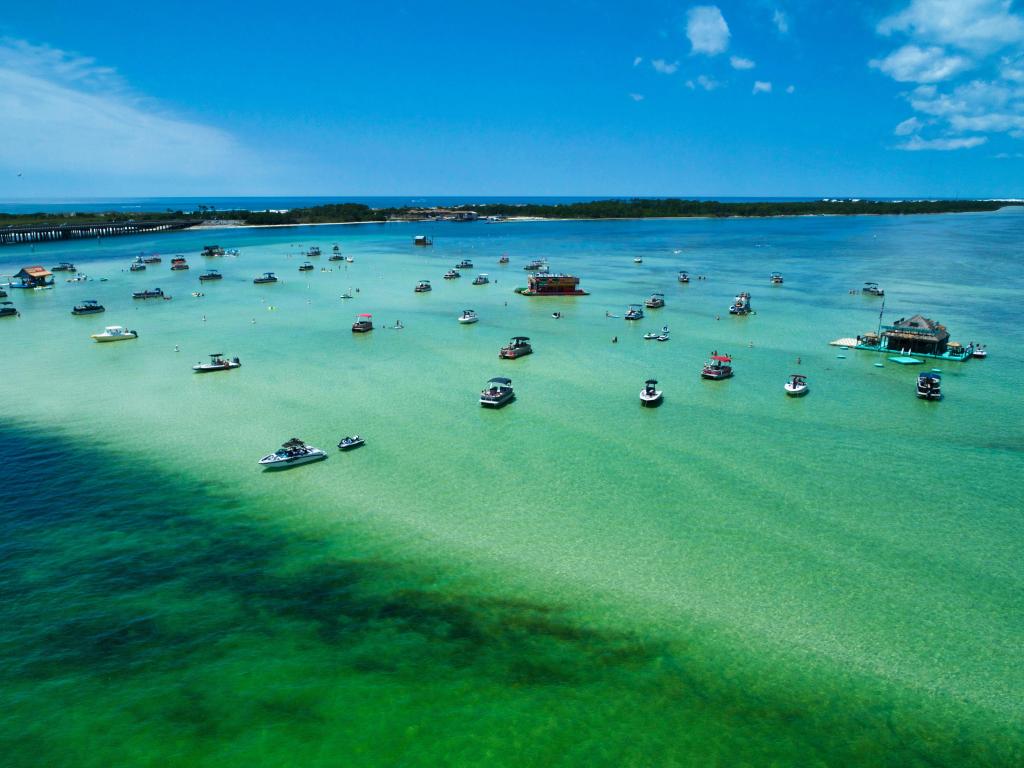 How to get there: Drive north on I-275 and I-75, then take I-10 heading west. Take exit 209A on I-10 and continue along US-90 to reach Tallahassee. Remerge with I-10 and continue on US-331 heading south to reach Destin.
Our highlights: No sight in the world compares the Isle of Crabs, a sandbar where hundreds of boats are moored. It used to be an island, but eroding sands from the Gulf of Mexico created the curious geological occurrence that is in use today.
Test your prowess at deep-sea fishing in one of the several fishing competitions held throughout the year that draw skilled anglers to the region. If you're keen to give it a go, the majority of fishing vessels provide full-service excursions with qualified crew, equipment, permits, bait, and ice.
For a bit of water-based fun, visit Big Kahuna's, which has more than forty water activities providing a wide range of outdoor recreation for people of all ages.
While in Tallahassee, visit Lake Jackson Mounds Archaeological State Park, a historically significant site which depicts the Fort Walton culture of Florida and has remains dating back to 1050 C.E.
Our travel tips: Try visit outside of peak summer season for the best prices and fewer crowds. Destin is at its finest between April and May when the weather is pleasant and the water is warm.
22. Savannah, GA and Charleston, SC
7 hours 5 minutes from Tampa (442 miles)
Why you should visit: Savannah has a lengthy history and is well-known for its stunning coastal scenery, well-preserved architecture and vibrant history.
There is no shortage of unique activities to do in Savannah, from historical cemeteries to trolley excursions and intriguing museums.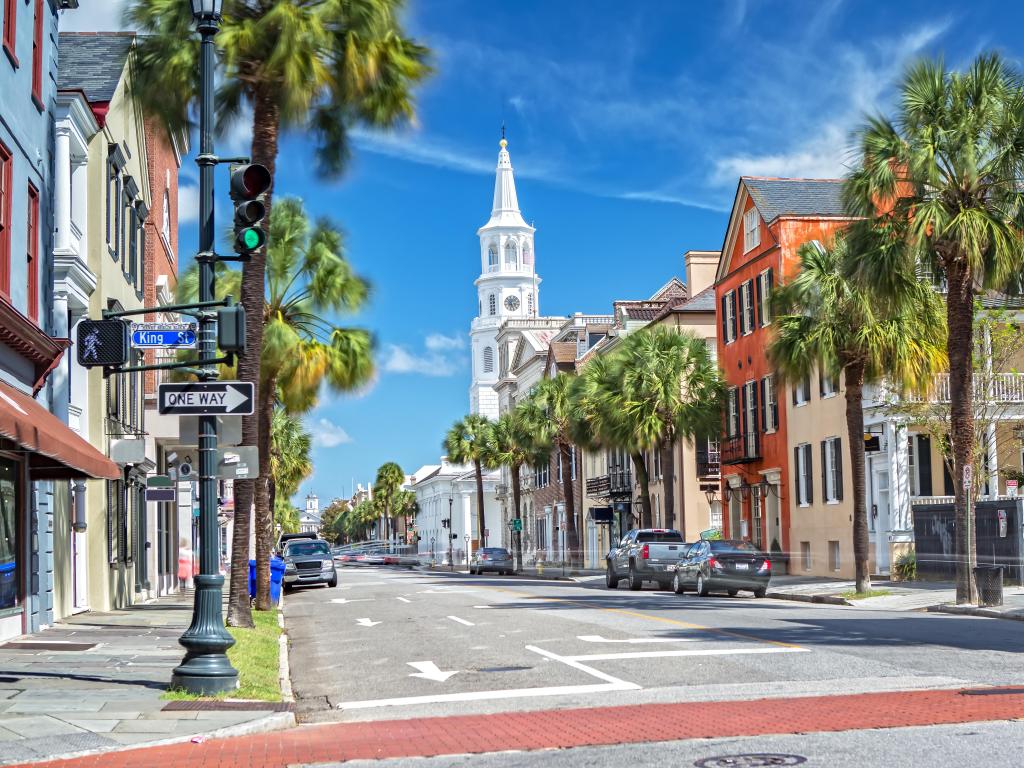 How to get there: Drive north on I-275 and I-75. Take exit 358, then drive east on I-10 before getting on I-95. Take exit 33 to reach Charleston, then drive south along highway 17 and rejoin I-95 to reach Savannah.
Our highlights: Pick up some quirky souvenirs at The Paris Market, a unique curiosity store that draws inspiration from bazaars across the world.
Grab a drink at the cheesiest pub in town, The Pirates' House. Bonus tip - they keep rare first editions of "Treasure Island" here!
If you have time, hopping on a dolphin-watching cruise is a memorable experience - the best chance of spotting them is to go on a boat around Hilton Head Island.
You can take a detour via Orlando, Daytona Beach,and St Augustine to enjoy even more coastal scenery. This will add about half an hour to the total drive time.
Bonus: Did you know, President Lincoln received Savannah as a Christmas gift during the Civil War? Also, Spanish moss in Savannah is not a moss at all, but an epiphytic flowering plant.
Our travel tips: In Savannah it's legal to drink on the streets, so you can take your beer or cocktail to go!
Click here to skip back to the top.
Longer trips from Tampa (Over 8 hours each way)
Get yourself off the grid and take a proper vacation with one of these longer trips, which can take you all the way to some of the most iconic cities in the US.
23. Myrtle Beach, SC via Lake Marion, FL
9 hours 30 minutes from Tampa (611 miles)
Why you should visit: Several of the most stunning state parks and gardens on the eastern seaboard can be found in gorgeous Myrtle Beach. The ubiquitous wax myrtle trees in the region are how Myrtle Beach derives its name.
A vibrant coastal getaway, Myrtle Beach is home to a magnificent 60-mile stretch of beaches called the Grand Strand.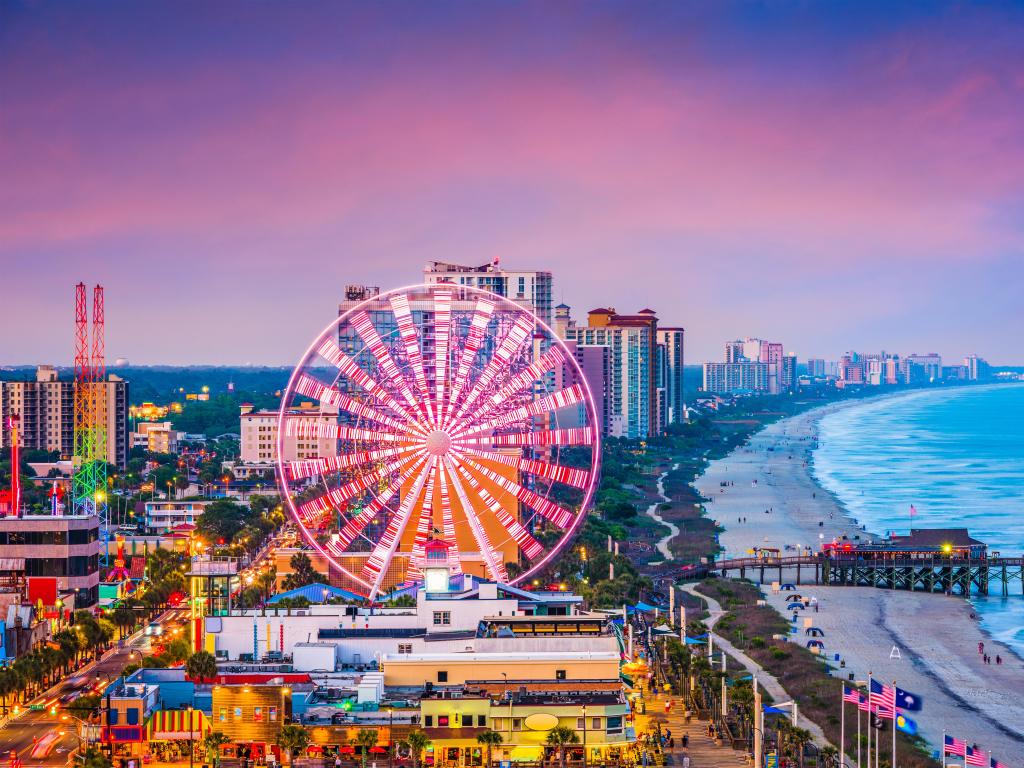 How to get there: Drive north on I-275 and take I-4 east to reach Lake Marion. Rejoin I-4 and take I-95 north. Take exit 135 and drive along US-378 to reach Myrtle Beach.
Our highlights: The beaches are the main draw here, and you can try out some of the most popular water sports available in the region, including exhilarating banana boat rides, jet skiing and parasailing.
Another local pastime is fishing, which you can do from a dock or a chartered fishing vessel.
The largest freshwater lake in South Carolina in Lake Marion, which is a captivating location for a picnic with friends or family. The fresh waters are renowned for their profusion of animals and enormous fish.
You can take a minor detour via Savannah and Charleston to enjoy more of the coast, which will add about 20 minutes to the drive time.
24. Nashville, TN
via Atlanta, GA and Chattanooga, TN
10 hours 20 minutes from Tampa (708 miles)
Why you should visit: In addition to being the music capital of the US, Nashville is brimming with historical sites, outdoor activities, professional sports and delicious food that truly set the city apart.
Nashville is a fantastic location to visit even if country music isn't your thing as it's full of history. On the way, Chattanooga is the perfect location to enjoy some incredible scenery and outdoor activities.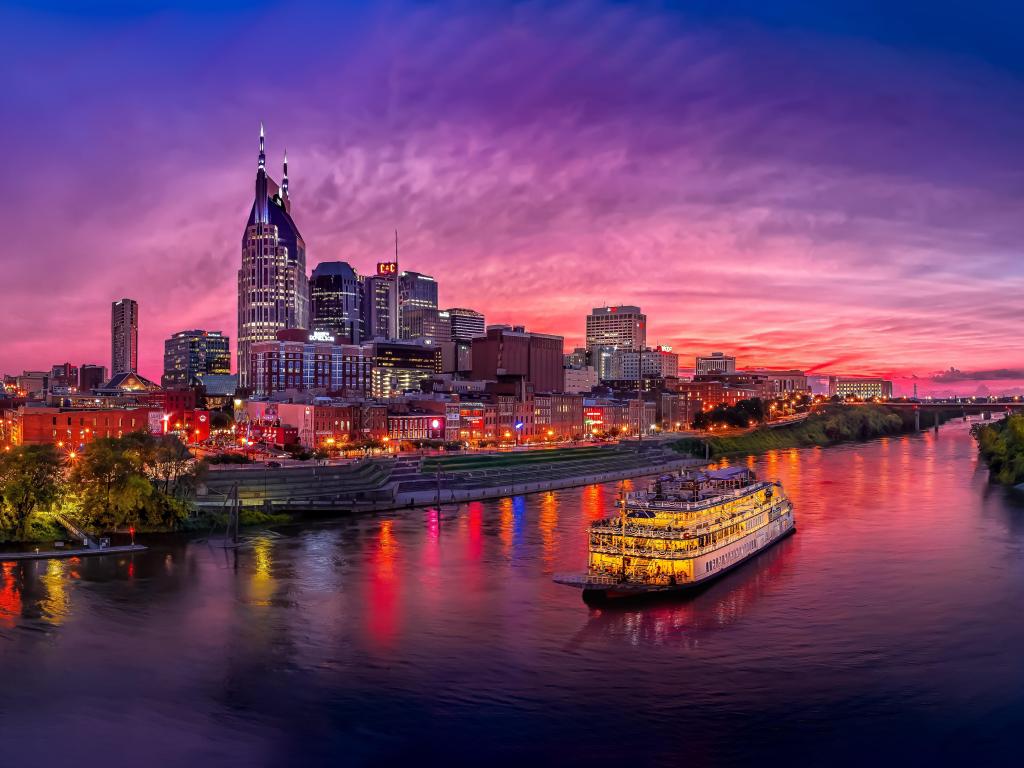 How to get there: Drive north on I-275 and I-75 to reach Atlanta. Remerge with I-75 and take US-27 to reach Chattanooga. Take US-27 again and take I-40 west. Take exit 209 on I-40 to arrive in Nashville.
Our highlights: You might be surprised to see the Parthenon in Nashville, but in fact it's known as the Athens of the South. It was built to celebrate the 100th anniversary of Tennessee becoming a state, to celebrate the state's focus on higher education.
While Nashville is high energy, you can take a moment of calm by visiting Cumberland Park for a great view of the Cumberland River, a 700-mile watercourse that flows through both Tennessee and Kentucky.
It's worth stopping in Atlanta to see all of the artifacts from the 1996 Centennial Olympic Games, and the historic Swan House, which served as the setting for the Hunger Games films. They are all featured in the 33-acre Atlanta History Center in Buckhead.
You can take an alternate route via Alabama and Huntsville to get a better feel of the American South. This will add about 3 hours to the drive and you via I-65N.
25. New Orleans, LA
via Destin, Pensacola, FL, Mobil, AL and Biloxi, MS
10 hours 50 minutes from Tampa (692 miles)
Why you should visit: New Orleans is well known worldwide for its unique music, Creole food and the abundance of festivities and events, most notably the famous Mardi Gras celebration, which dates back to the 1800s.
Soak up food, jazz, people and architecture in this diverse and buzzing city, via a whole host of lesser-known cities on the way.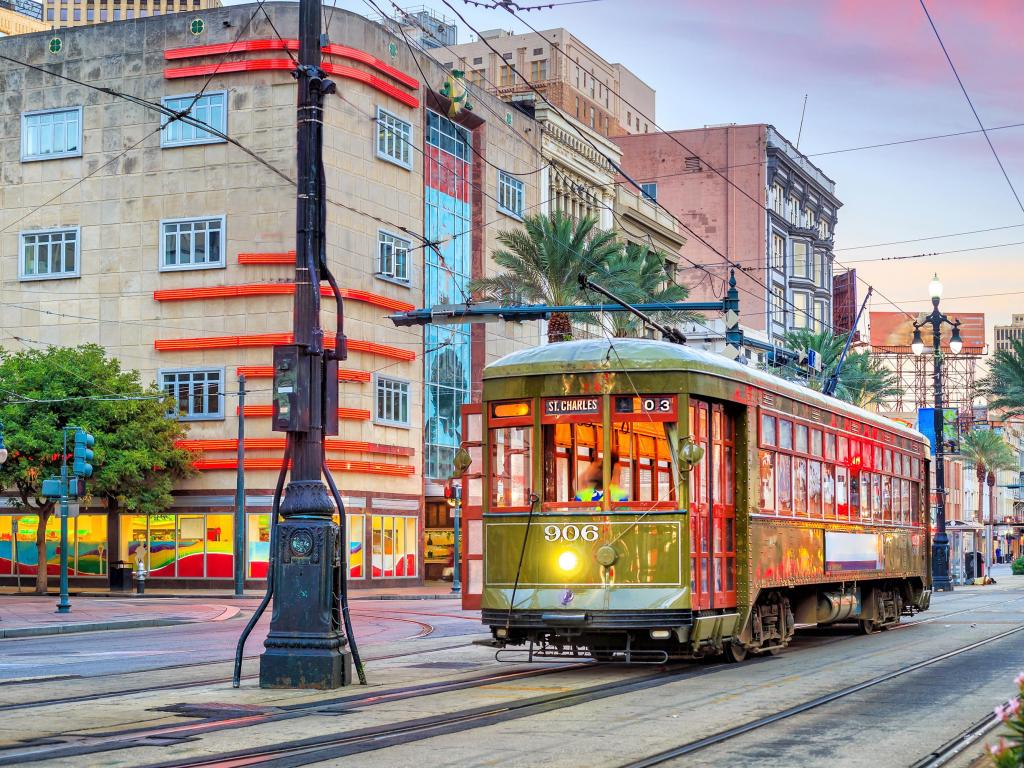 How to get there: Drive north on I-275 and take I-10 west to reach Destin. Continue west along US-98 to reach Pensacola. Drive north along I-110 and rejoin I-10 to reach Mobil and Biloxi, and continue on this road to reach New Orleans.
Our highlights: Stop by Orange Beach, a tiny city on the Gulf coast of Alabama which is renowned as a center for water sports. If sports aren't your thing, you can sit back and watch!
Some of the nicest residences in the city are in the Garden District - it's definitely worth taking a stroll around here and choosing your fantasy dream house.
The French Quarter, or the Vieux Carré, is a national historic landmark and the beating center of the city. You'll find great food, street performers and cultural influences from all over the world.
If you need a break from the party atmosphere on the streets, duck inside the National WWII Museum to see world-class exhibits telling the tales of the men that fought, died and lived on the frontlines.
Our travel tips: New Orleans is best explored on foot, so be prepared to do plenty of walking. You should also definitely seek out some live music!
READ MORE - Road Trip from Tampa to New Orleans
26. New York, NY
via Washington DC, Baltimore, MD and Philadelphia, PA
17 hours 50 minutes from Tampa (1140 miles)
Why you should visit: From its magnificent skyline to the abundance of nightlife, diverse neighborhoods and the bustle of city life, New York City needs no introduction.
New York is an amazing place for some retail therapy and is home to some of world class museums like MoMA and the Met. On this road trip, you will have the opportunity to visit some other iconic cities like Washington DC as you make your way to the Big Apple.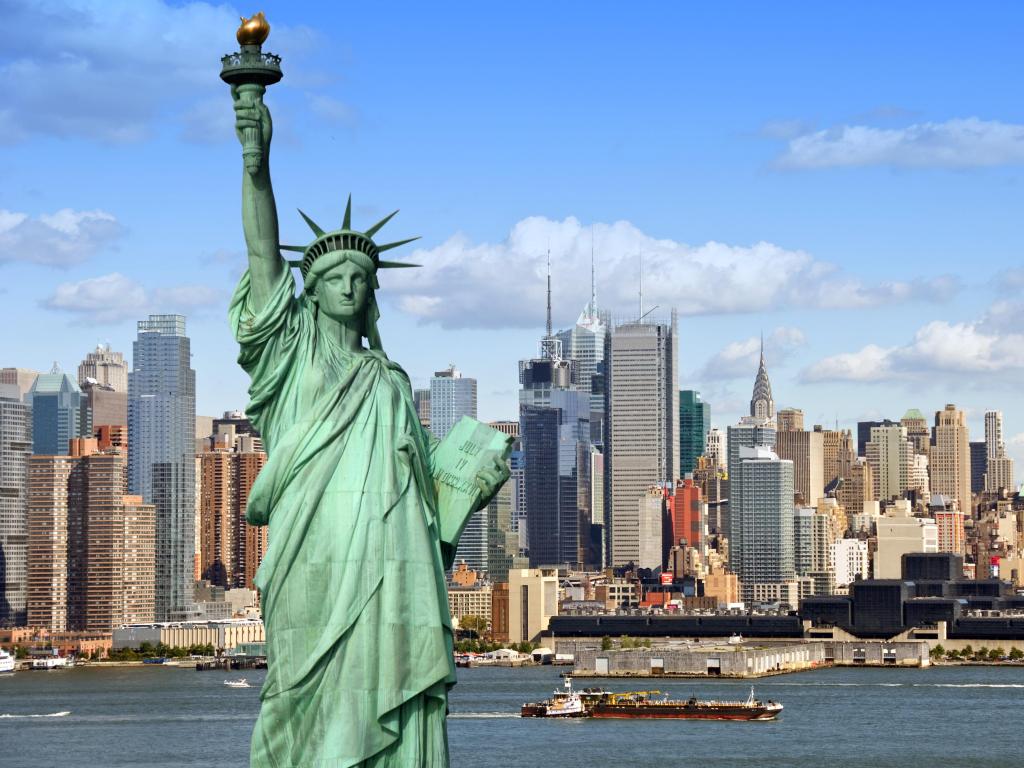 How to get there: Drive north on I-275 and I-75, then take I-10E and I-95 north to reach Washington DC. Hop on the Baltimore-Washington Parkway to reach Baltimore. Follow I-95 north and I-676 west to reach Philadelphia. Take I-676, I-95 and I-78 east to arrive in New York.
Our highlights: Channel Nora Ephron and take a stroll around Central Park, Manhattan's central green space and the lungs of the city.
There are some great neighborhoods to dine in, but our pick is Chinatown in Lower Manhattan for its cheaper eats and dynamic atmosphere.
There are too many museums to visit in one trip, so be selective. It's worth checking out the recently renovated Whitney Museum of American Art, which moved from its Upper East Side headquarters to its considerably enlarged Meatpacking headquarters in 2015.
You can make a detour via the Blue Ridge Parkway to experience one of the country's most scenic drives. This will add about 2 hours to the total journey time.
Our travel tips: The East River Ferry is a fantastic way to travel while taking in the sights of New York City's skyline.