Road Trip from Tampa to New Orleans
Whether you're looking to explore Florida's large cities into the Antebellum south, or if you'd prefer to enjoy the white sandy beaches of the Gulf of Mexico, then awesome road trip from Tampa to New Orleans is a brilliant way to spend several days enjoying this gorgeous part of the US.
The 650-mile road trip from Tampa to New Orleans takes under 10 hours to drive. Key stops include Gainesville, Tallahassee, Mobile and Biloxi, as well as Panama City Beach, Lake Panasoffkee, Apalachicola, Three Sisters Springs and Pensacola Beach.
To help you make the most of your adventure, we've set out the best routes and places to stop overnight, as well as our favorite things to do along the way and the best time of year to make the trip from Tampa to New Orleans.
How far is New Orleans from Tampa, and how long will the road trip take?
Comparison of road trip routes between Tampa and New Orleans

| Route | Distance | Driving Time |
| --- | --- | --- |
| The Direct Route | 650 miles | 9 hours 30 minutes |
| The Coastal Route | 670 miles | 12 hours 30 minutes |
The quickest of our two recommended routes from Tampa to the incredible city of New Orleans spans a distance of 650 miles and will take 9 hours and 30 minutes to drive without stopping.
The Coastal Route, which follows the Gulf of Mexico, is slightly longer at 670 miles and will take closer to 12 hours and 30 minutes of non-stop driving.
While you could complete a road trip of this length in a single day, it would mean driving without seeing any of the attractions and sights along the way.
A much better idea would be to break the journey up into two days, giving you the chance to stop overnight along the way and explore more of Florida and its beautiful scenery.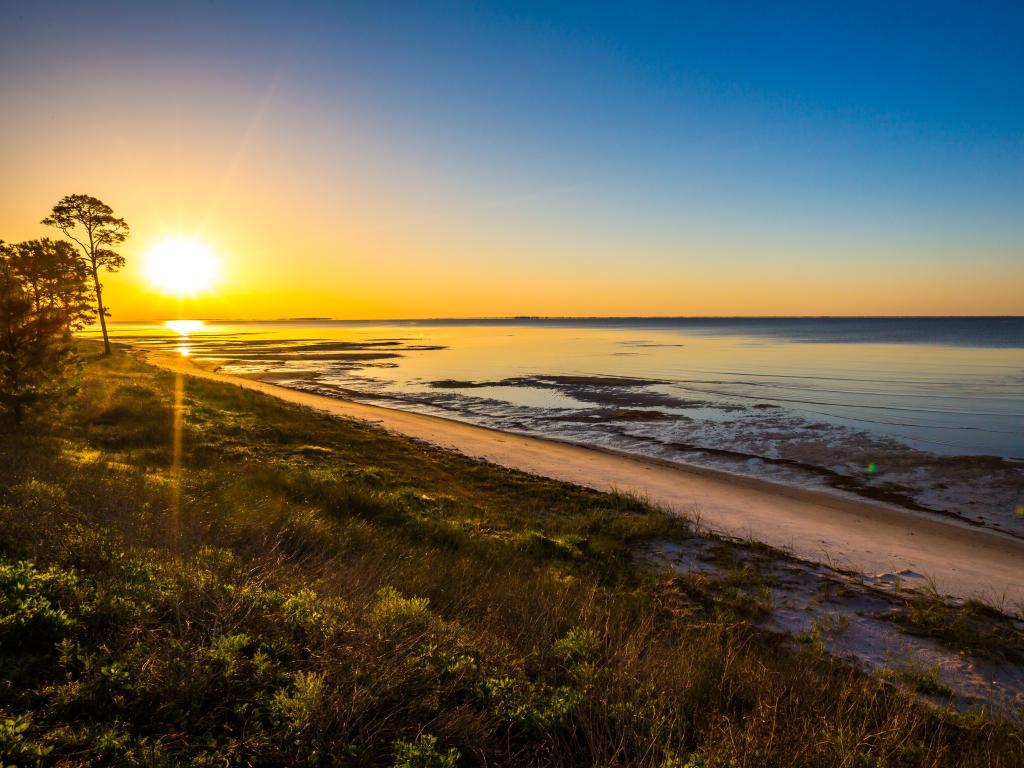 Best road trip route from Tampa to New Orleans
Our Direct Route is the simplest of the two. Following two major interstates, it will get you to the Big Easy quicker while still passing through several major cities as well as national forests and natural areas.
If time is against you, this route can be completed in a single day, although we'd highly recommend a stop in Tallahassee. There are fewer natural scenic stops and no beaches on this route, but you will get to visit places like Lake Panasoffkee and Lake Talquin State Forest.
Meanwhile, our Coastal Route is less direct but follows the Gulf of Mexico and offers ample opportunities for stops at beautiful natural springs and beaches, as well as staying off the main highway and inland major cities.
This route follows smaller state highways and routes through charming beach towns with views of the beautiful turquoise waters and white sand beaches along the way including Panama City Beach and Bald Point State Park.
If you really decide between the two, why not follow one route to New Orleans and then follow the other back to Tampa? That way you'll get to see the best of both inland and coastal drives without compromising.
How to drive from Tampa to New Orleans
The map above shows our suggestions for the best road trip routes between Tampa and New Orleans. Keep reading for detailed descriptions of both routes, where to stay on either, and the best things to do on the way.
The Direct Route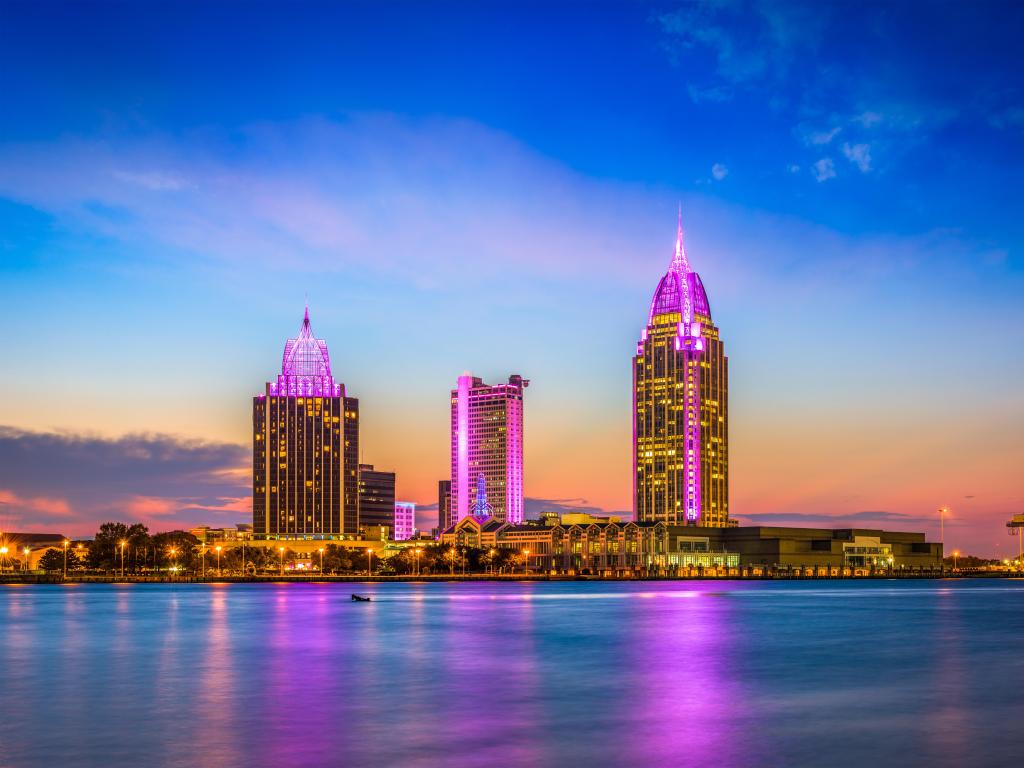 To begin, take Interstate 275 (I-275) North from Tampa before merging with Interstate 75 (I-75) and passing through Wesley Chapel and alongside Richloam Wildlife Management Area and Withlacoochee State Forest.
Passing Jumper Creek Wildlife Management Area and Lake Panasoffkee, where you can stop for beautiful lakeside views, you'll continue heading north on I-75 past several more towns and state forests and natural wildlife areas.
At Exit 375 leave the interstate and join US-441 to Gainesville, a great city in Florida with fantastic museums and nearby attractions. After leaving, take FL-26 back to Interstate 76 (I-76) and continue north.
This next stretch offers the opportunity of a longer detour to Osceola National Forest, otherwise, continue until you reach Exit 435 where you'll take Interstate 10 (I-10) and head west.
Follow this road past Twin Rivers State Forest to Exit 209A where you'll follow US-90 to Tallahassee, a great overnight stop on this route. After resting and exploring, you'll need to rejoin I-10.
Pass Ochlocknee River Wildlife Management Area and make a stop at Lake Talquin State Forest, a great place for a hike or picnic to make the most of the beautiful views.
Continue on I-10 west across Apalachicola River and below Florida Caverns State Park. You'll drive through Choctawhatchee River Water Management Area and alongside Yellow River Wildlife Management Area.
You'll reach Avalon Beach where you'll drive across Escambia Bay, eventually crossing into the state of Alabama. Continue on I-10 as you cross Mobile Bay and arrive at the city of Mobile. Spend some time here, before continuing on the interstate and crossing into Mississippi.
Still heading west, pass Mississippi Sandhill Crane National Wildlife Refuge, as you follow the coast inland. Drive through Pearl River Wildlife Management Area in the state of Louisiana.
You will then drive on the Twin Span Bridge, an almost 5.5-mile causeway through Bayou Sauvage National Wildlife Refuge and to your destination of New Orleans.
The Coastal Route
To follow the Coastal Route, leave Tampa on I-275 south to FL-589 north and follow it to Weeki Wachee Spring, a beautiful natural spring and swimming area.
Next take US-19 North, stopping at Homosassa Springs and Three Sisters Springs for more natural springs and beautiful views. Continue on US-98 North and pass Goethe State Forest and several smaller towns.
Continue on US-98 to Aucilla Wildlife Management Area, before turning right onto US-319 and then continuing on US-98 along Apalachee Bay to Apalachicola where you visit the nearby wildlife area.
Continue heading west, joining FL-30 and drive through Panama City Beach and Rosemary Beach, two great places to stop and enjoy their white sand and beautiful views.
Continue following the coast and you'll pass Henderson Beach State Park before heading to Ferry Pass (where you can take a short detour to Blackwater River State Forest) before joining I-10 west.
Cross into Mobile, before following I-10 the rest of the way to your destination in New Orleans, following the same route as the one above but making sure to stop by at Biloxi en route for sensational seafood and fun casinos.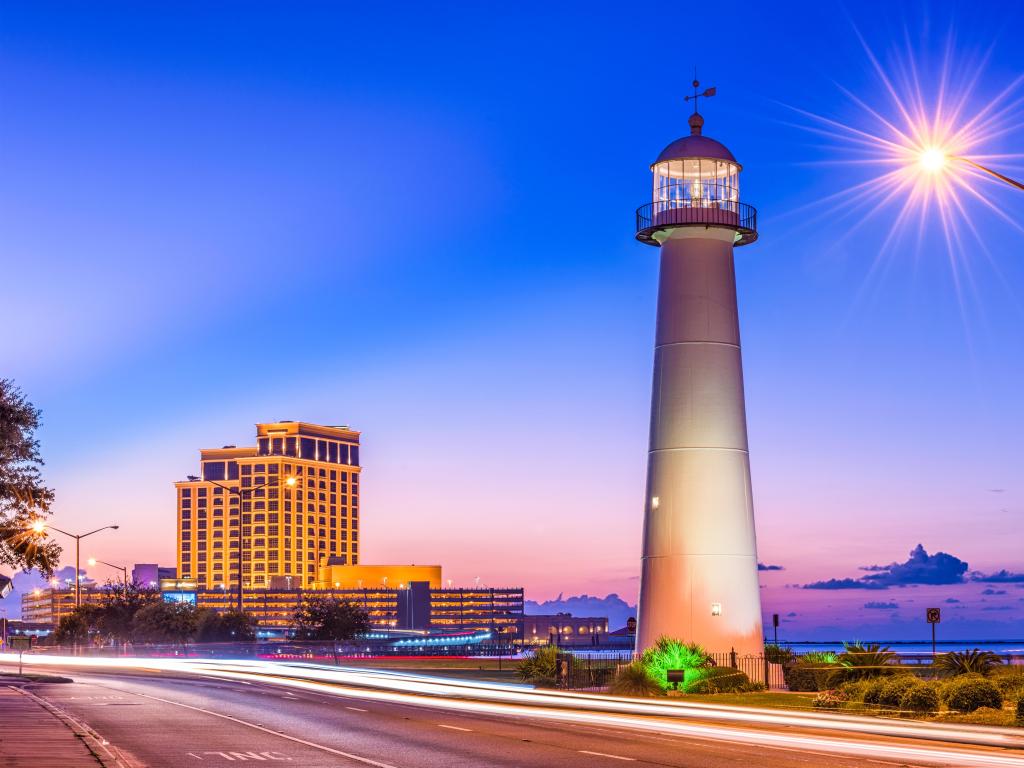 Best places to stop between Tampa and New Orleans
Although you can manage this road trip in a single day, a much better way to enjoy it would be to include an overnight stop along the way. This will allow you to enjoy more of the fantastic attractions you'll pass, while ensuring you are well rested before arriving in New Orleans.
Of all the great hotels you'll pass, here are a few of our favorites:
A city break in Tallahassee
Set almost exactly halfway to New Orleans and 4 hours from Tampa is the state capital of Florida; Tallahassee. An ideal stop on the Direct Route, you could also make this city an overnight rest on our Coastal Route if you're looking to enjoy more scenery around the springs.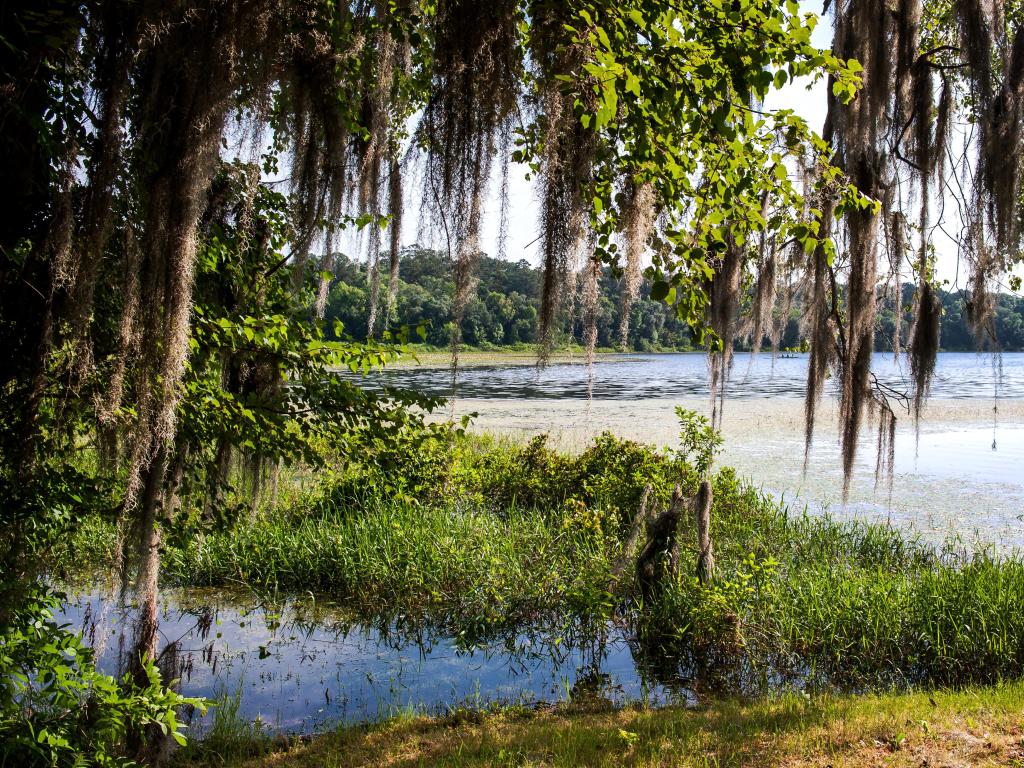 After exploring the home of the Seminoles, why not take a walk around Park Avenue, a continuous chain of green spaces and parks that is not only historically famous but also offers a shady respite under Spanish moss-laden oak trees?
For a longer hike, a visit to Lake Talquin State Forest is a must. Here you'll discover trails and a scenic lake which offers relaxation or hiking opportunities to stretch your legs before continuing on with your drive.
There are lots of great resorts in the city, but you won't go wrong with a stop at Hotel Indigo - Tallahassee - College Town, an IHG Hotel. This centrally located accommodation is convenient to the major highway but doesn't compromise on style, comfort or amenities.
While you're close to great dining options nearby, if you don't want to leave the comfort of your hotel you can enjoy the onsite restaurant. The modern décor of the recently renovated Hotel Indigo ensures you'll get a great night's sleep and enjoy stunning city views the next day.
A coastal retreat in Panama City Beach
If you've opted to follow the Coastal Route, then you will have the fantastic opportunity to somewhere near the beach en route. Conveniently placed halfway on your road trip and a day's drive away from Tampa is Panama City Beach, a simply stunning location that's hard to beat.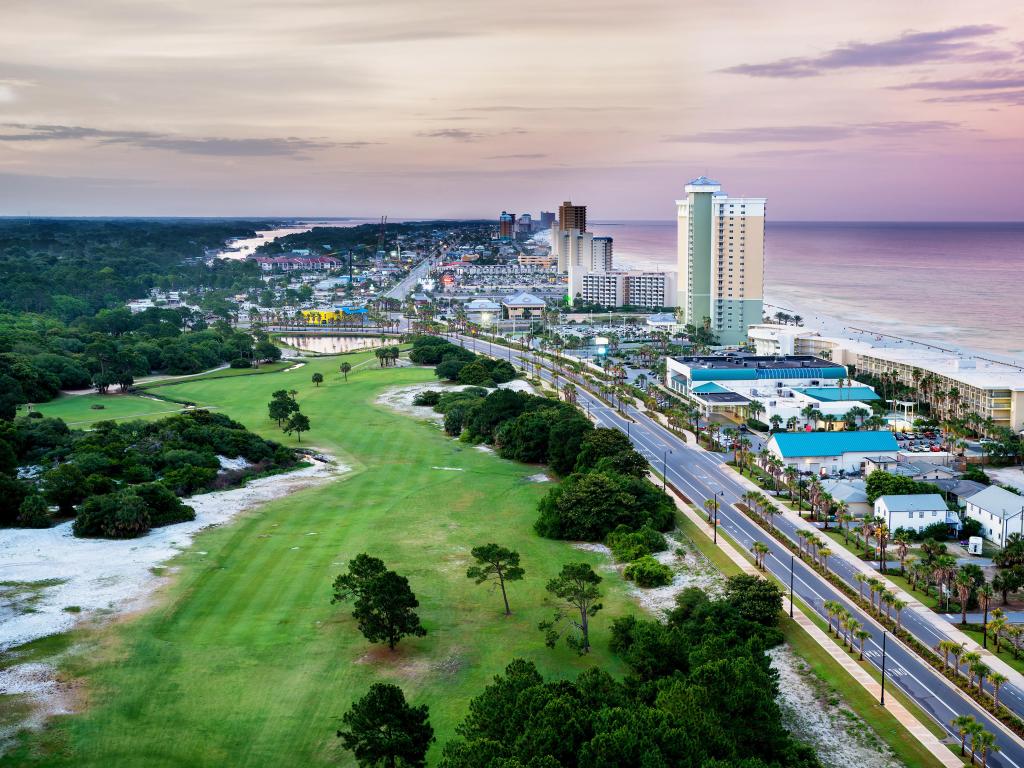 One of the most stunning beaches on the Gulf Coast, Panama City is a popular tourist destination and has all the offerings such as dining, entertainment, as well as a beautiful setting.
Famous for its emerald-turquoise water and white soft sand, clean people friendly beaches with seafood restaurants, cocktail bars, and Gulf breezes, Panama City Beach is also close to West Bay and several wildlife areas for a longer excursion.
You'll be spoilt for choice for resorts at this tourist hotspot, but a great option is the Springhill Suites Panama City Beach Beachfront. With a convenient location, easy access, beachfront and plenty of amenities including a resort pool and private beach access, this hotel has it all.
Overlooking the coast, this hotel also features a dining area with sea views, parking onsite, a restaurant and modern and stylish rooms. With select beachfront rooms and within walking distance to Shipwreck Island and Gulf World Marine Park, there's few hotels better located!
A historic stay in New Orleans
Once you reach New Orleans, you'll be spoilt for choice for things to do and attractions to visit. Located on the Mississippi River, the city earned its nickname the "Big Easy" thanks to its round-the-clock nightlife, vibrant music scene and spicy cuisine, reflecting its cultural melting pot.
World-renowned for its distinctive music, Creole cuisine, unique dialects and annual celebrations and festivals, including the hugely popular Mardi Gras, New Orleans is a historic city at its heart with the beautiful French Quarter and amazing French and Spanish architecture.
One of the most historic hotels in New Orleans is The Bourbon Orleans. This 4-star hotel is everything you'd want from the city: Southern hospitality and charm within walking distance of the French Quarter, Jackson Square, the waterfront, Bourbon Street and Canal Street.
The exterior charm of this great hotel continues inside, with grand rooms and lounge areas and an onsite restaurant offering Creole and American cuisine for breakfast and dinner. There's even live jazz music on select nights at the hotel's bar.
To really set the mood, select rooms offer a balcony with an outdoor seating area, the perfect location to admire the downtown city. Or to relax after your long road trip, you can always take a dip in the outdoor pool.
Things to see on a road trip from Tampa to New Orleans
There's a huge choice of places to visit and things to see on this great road trip from Tampa to New Orleans, including wildlife areas and beautiful lakes to fabulous cities and stunning beaches.
To help you plan your trip, we've set out some of the highlights that you'll pass en route:
Both Routes
Pensacola, Florida - This large city is a great place to stop and get a meal, it also offers entertainment and dining options. You can visit the military and air force museums or the Pensacola Museum of Art.
National Naval Aviation Museum - Located south of Pensacola, a short detour would afford the opportunity to see over 150 restored military aircraft and play in the flight simulator.
Mobile, Alabama - A charming antebellum city rich with history. Tour preserved 19th-century mansions, get delicious local gulf seafood, and take a stroll under the Spanish mossy oaks.
USS Alabama Battleship Memorial Park - This WWII vessel would make an interesting short stop for anybody interested in the military or for history fans.
Biloxi, Mississippi - Heading to the ocean front in Biloxi would allow you a chance to take a break and gamble at any of the famous casinos and have some more seafood (if you aren't sick of it yet!).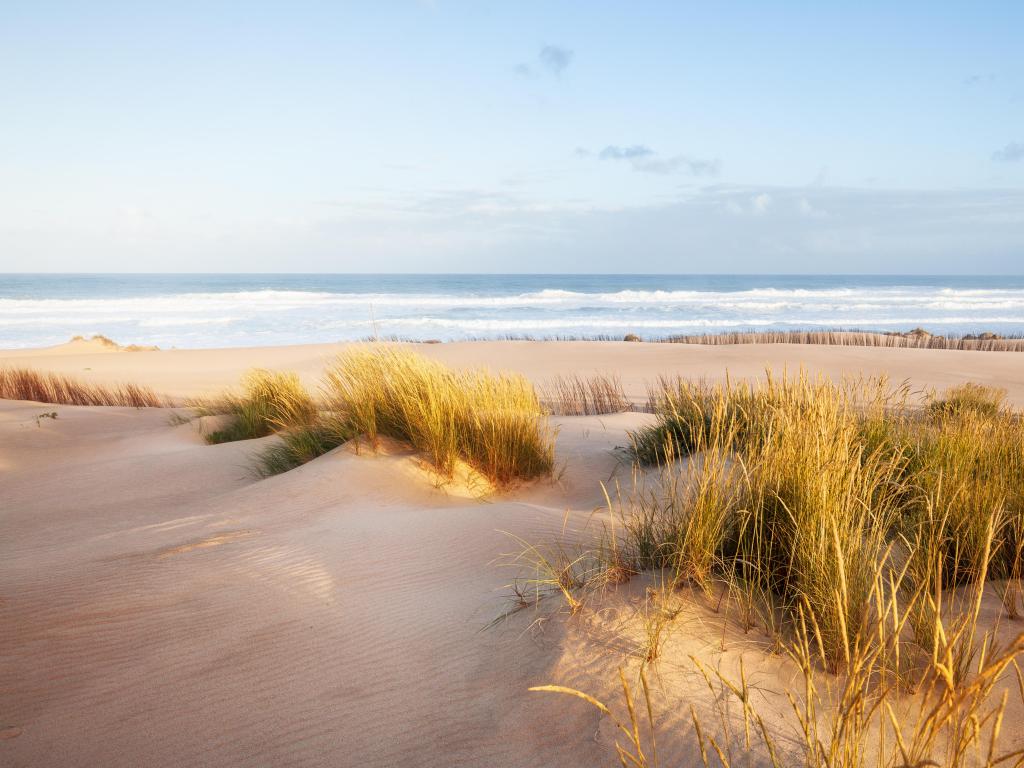 The Direct Route
Lake Panasoffkee - This large lake offers lakefront restaurants and a marina, plus you can enjoy a swamp tour by airboat or just enjoy the beautiful vista.
Alachua Lake Overlook - South of Gainesville, stop and see this large lake and wetland area. It's also a great place to see local birds and wildlife.
Florida Museum of Natural History - Located in Gainesville, this museum offers many exhibits about the natural history of Florida, the Caribbean and Latin America.
University of Florida - The University of Florida is home to the Gators and the campus is one of the most beautiful in Florida and the southeast. See the expansive red brick buildings and walk under the canopy of oaks and palm trees.
Alligator Lake State Park - Near Lake City in Florida, stop over at the Alligator Lake State Park to enjoy the local wildlife before turning on to Interstate 10.
Hillman Bridge, Twin Sisters State Forest and Suwannee River State Park - A short detour off I-10 will take you slightly north to this historic landmark bridge over the Suwanee River State Park. You could also go for a short hike to the Suwanachoochee Spring or the Big Oak.
Florida State University - visit the home of the Seminoles and tour the beautiful campus. FSU is known for dedicated alumni and sports fans as well as being a highly respected research institution.
Park Avenue - A continuous chain of green spaces and parks that is historically famous and offers a shady respite under Spanish moss-laden oak trees.
Lake Talquin State Forest - Explore the trails and scenic lakes on offer at this state forest where you can either relax by the shore or enjoy hiking opportunities to stretch your legs before continuing the drive.
Ponce De Leon Springs State Park - Stop at this state park for a dip in the springs or just a scenic spot to stretch your legs and maybe have a little roadside picnic.
Five Flags Speedway - Any car racing enthusiast would love to see this 1950s-era racetrack, even if there's not a race happening on that day!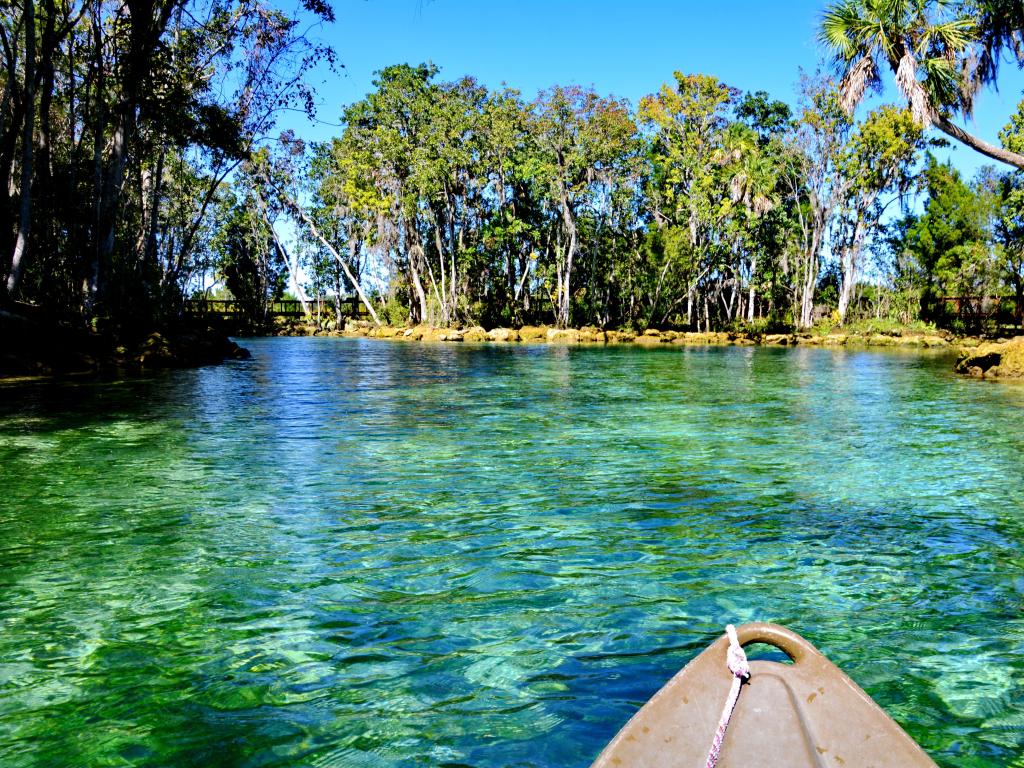 The Coastal Route
Weeki Wachi Springs State Park - See the manatees in the colder months or catch a mermaid show at this beautiful natural spring and swimming area.
Ellie Schiller Homosassa Springs Wildlife State Park - See manatees at Homosassa Springs or take a dip in the refreshing water. If you don't want to swim, it makes for a beautiful rest stop, paddle trip, and photo opportunity.
Three Sisters Springs - Another beautiful natural spring where you can find manatees and take a dip in the cold refreshing water, or jump on a kayak and paddle around. Take a guided manatee tour if time allows.
Bald Point State Park - Along the drive towards Apalachicola, stop by Bald Point State Park for its beautiful sandy beaches and wildlife viewing.
Apalachicola - This quaint southeastern town is known for its oyster bars and fresh fish, as well as beautiful views of the Bay surrounding it.
Panama City Beach - Plenty of beach options ranging from sparsely populated to party-central to fit any mood. Enjoy the solitude on a walk in Shell Island Park or have a cocktail on the famous PCB.
Rosemary Beach - This picturesque beach town with colorful antebellum houses, offers lots of shopping opportunities amidst the backdrop of emerald, turquoise waters and white sand.
Gulf Islands National Seashore - This undeveloped and more natural beach along the Florida/Alabama barrier island has fewer crowds. You might even catch the Blue Angels doing some practice flights above the beach!
Fort Pickens - Take a visit to Fort Pickens to discover a historic military fort built in the 1830s. It would make for a fun tour for any interested in local history.
National Naval Aviation Museum - Located south of Pensacola, this short detour would afford the opportunity to see over 150 restored military aircraft and enjoy a play in the flight simulator.
Best time to go on a road trip from Tampa to New Orleans
The road trip from Tampa to New Orleans is one that can be enjoyed all year round, thanks to the fact that the Gulf Coast and the Big Easy are popular destinations with great weather regardless of which season you travel in.
The most popular time to visit is during the summer months and the spring break weeks during mid-March. In the height of summer, beachgoers flock to the Florida coast for the beautiful waters, white sands and warm temperatures with highs of 89 degrees Fahrenheit.
Expect crowded beaches and traffic in the peak season along the Coastal Route. Meanwhile, New Orleans can be very hot and humid in the summer with average highs of 92 degrees Fahrenheit, which can make travelling in this season uncomfortable.
Fall would be the most affordable time to visit as it is the shoulder tourism season. Though you'd need to beware of hurricane season between July to September.
The best time to visit New Orleans is typically from February to May, when the weather is comfortably cool, and the celebrations are in full swing. Though if you aren't interested in the Mardi Gras mania, plan to visit in December or January.
New Orleans best-known festival is of course the famous Mardi Gras which is held in February. Expect lots of parties, parades, music, libations, and a flock of tourists. Just remember that if you plan to travel around this festival, you'll need to book your hotel well in advance.