Road Trip from Tampa to Miami
The Sunshine State provides perfect opportunities for exciting road trips with its theme parks, ocean views and winter sun, as well as a truly stunning national park. The drive from Miami to Tampa has the picture-perfect setting for a laid-back adventure.
The road trip from Tampa to Miami takes 10 hours to cover 425 miles, passing Fort Myers, Cape Coral, Lovers Key State Park as well as Biscayne and Everglades National Parks, or through Orlando, Cape Canaveral, Palm Beach and Walt Disney World Resort.
Read on to discover how to make the most of this sparkling trip, which takes you from the Gulf of Mexico to the Atlantic coast. We'll cover the routes you could take, the best places to stop along the way, our top picks of things to see and do, and the best time of year to make this enchanting journey.
How far is Miami from Tampa, and how long will the road trip take?
Comparison of road trip routes between Tampa and Miami

| Route | Distance | Driving Time |
| --- | --- | --- |
| Gulf Route | 425 miles | 10 hours |
| Atlantic Route | 590 miles | 11 hours 30 minutes |
There are several route options to make this road trip from Miami to Tampa. The Gulf Route is the shorter of our two suggested routes, taking just under 10 hours to cover 425 miles without accounting for any stops.
Coming in significantly longer at 590 miles is the Atlantic Route. You should expect around 11 and a half hours of driving on this route, not allowing for stops.
Seeing as you're looking to make this a road trip and not just a straight A-to-B drive, we'd suggest splitting the journey over at least 3 days. This gives you enough time to enjoy the many attractions along the way, but you can still fit the trip into a long weekend.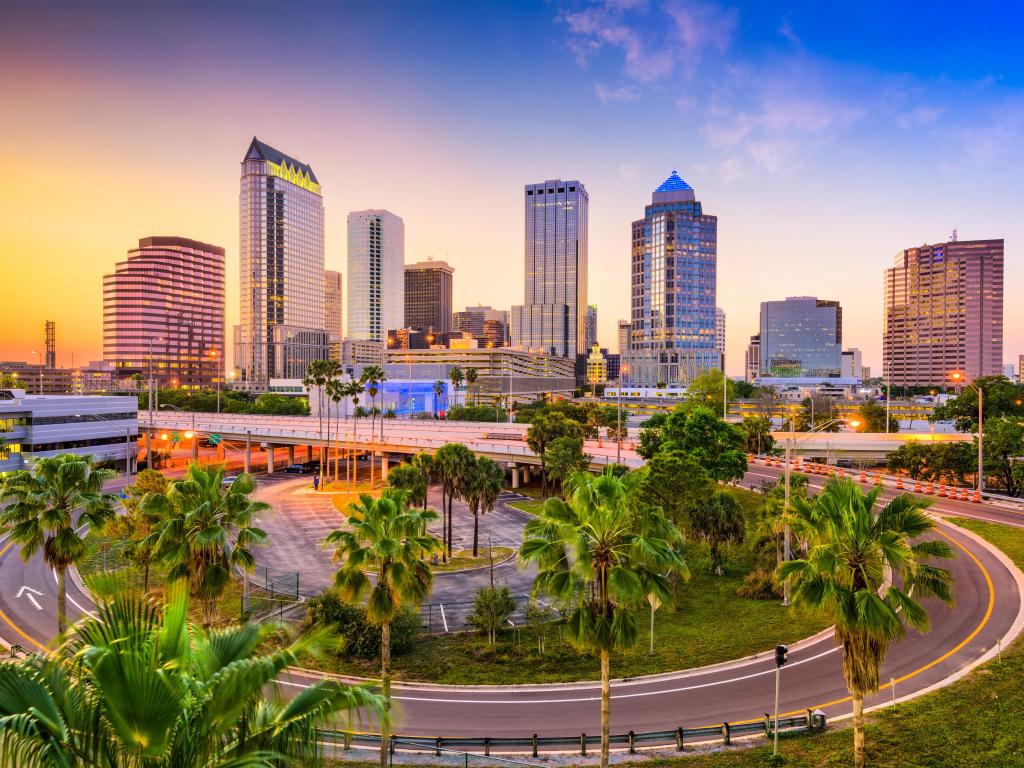 Best road trip route from Tampa to Miami
You have a couple of great options for your road trip from Tampa to Miami, but whichever route you choose, you'll encounter a lot of fantastic beaches and vibrant cities in Florida.
The Gulf Route will take you down the western side of Florida, through two of its national parks, and back up to Miami. This is the least urban of our route options, though you'll still head through some great cities along the way.
The Atlantic Route will take you east through Orlando, before heading south along the eastern coast of Florida. You can take in the theme parks of Orlando along this route, and enjoy the wide, sandy beaches of the Atlantic coast.
Both routes are packed with some fabulous attractions that tick so many boxes, but if you're still undecided about which route to take, read on to learn more about the routes to help you make up your mind.
How to drive from Tampa to Miami
The map above shows our suggestions for the best road trip routes from Tampa to Miami. Keep reading for detailed descriptions of both routes, where to stay on either, and the best things to do on the way.
Gulf Route
To start your drive out of Tampa, join Interstate 275 (I-275) heading west and then to Clearwater, where you can enjoy some time on the beach before continuing your drive.
Next, head to St. Petersburg. Enjoy the ocean views as you cross Tampa Bay and pass Terra Ceia State Preserve, before turning onto I-75 to continue south.
Take a break in Myakka River State Park to stretch your legs and then drive towards Fort Myers and Cape Coral. From there, head towards the coast to Lovers Key State Park, before you swing inland again.
You will soon have the opportunity to visit Audubon Corkscrew Swamp Sanctuary before reaching Naples. Lowdermilk Park is just a short distance from the route at this point.
From Naples, continue on to Sweetwater. You'll be crossing the Everglades at this point, so think about taking a boat trip to explore them properly from the water. After your trip to the Everglades, you will soon arrive at your destination in Miami.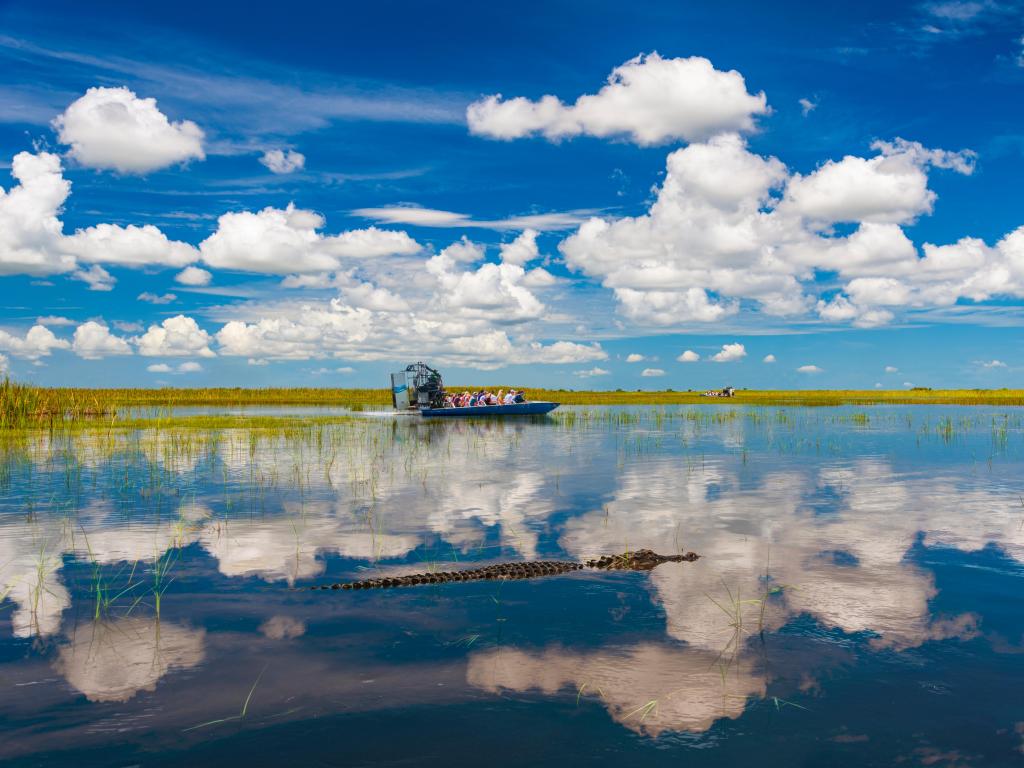 Atlantic Route
Leave Tampa heading east on I-4, which will take you all the way to Orlando. Along the way consider a stop in Lakeland. When you're ready to leave Orlando, head towards Cape Canaveral. The road here runs right along the coast, so you'll have plenty of options for a beach stop.
Along this stretch of the route, you could also make a short detour into Saint Sebastian River Preserve State Park, before continuing south. Drive through South Beach and onwards until you reach the National Navy SEAL Museum.
Next head west until you reach Okeechobee. From here you'll head back towards the coast and follow the highway south into West Palm Beach.
Soon, you'll follow the interstate south all the way into Miami, with the chance to stop off in Boca Raton and Fort Lauderdale before you complete your road trip.
Best places to stop between Tampa and Miami
Florida is awash with fabulous places to visit, and if you spread out your road trip from Tampa to Miami over a few nights, you'll get the perfect chance to relax and enjoy them in the sunshine.
We'd recommend at least one stop on each route - keep reading for our top picks.
Relax in Fort Myers
If you're taking the Gulf Route, Fort Myers is roughly the halfway point. Known for its beaches, shopping and fishing, it's also possible to take a 3.5-hour ferry ride from here to Key West, to experience another of Florida's gems.
The Florida Keys are a very popular destination in Florida because of the water that actually looks like it's part of the Caribbean. You're so far south you'll forget you're still in the US. It's definitely a must-do US bucket list item.
Whether you're taking the ferry ride, or even if you just want to spend some time relaxing on the beach, this is a great place to spend a day or two.
Make sure to visit Manatee Park, which provides kayak rentals, paved trails, and up-close views of manatees, also known as 'sea cows'. These gentle giants will tug at your heartstrings.
For a different but equally relaxing visit, head to Edison & Ford Winter Estates. This museum and beautiful 21-acre botanical garden sit on the sites of the former winter homes of Thomas Edison and Henry Ford, beside the Caloosahatchee River.
Let's be honest and guess that you're probably in the market for some relaxation if you've chosen to take a road trip across Florida. If that's the case, Marriott Sanibel Harbour Resort & Spa is a great place to stay while you're in Fort Myers.
At this hotel, you're only a short walk to the beach, but if you don't even want to go that far then maybe a spa with a jacuzzi, sauna and massage services is right here on site.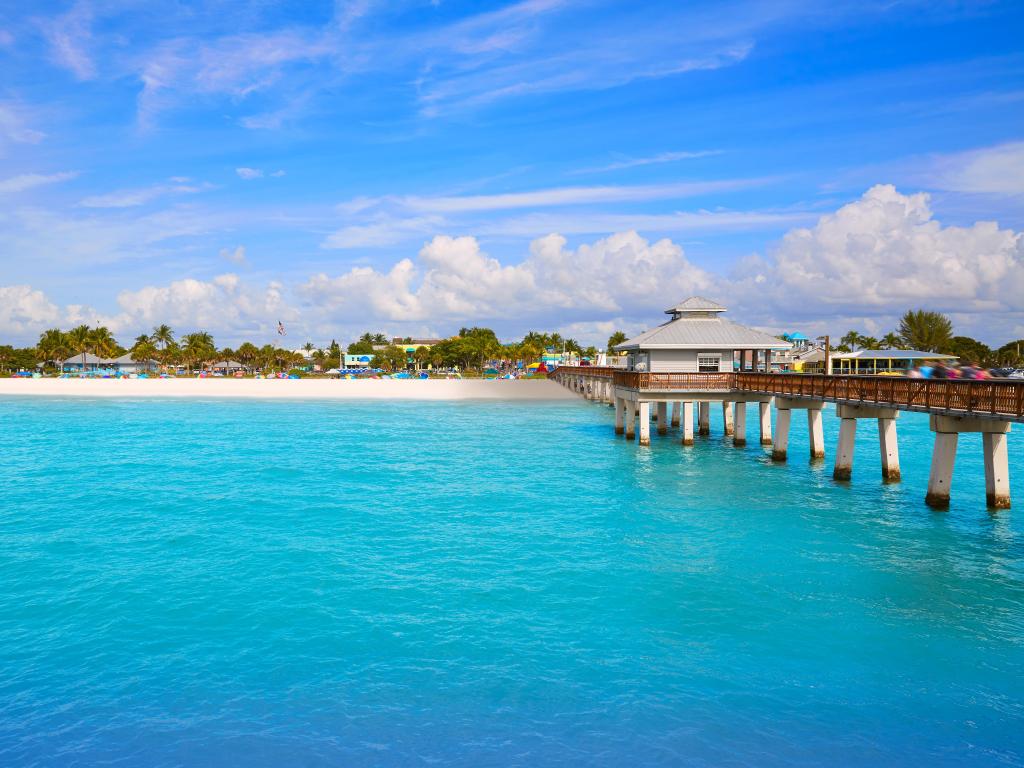 Watch the waves come in at Vero Beach
At the halfway point of the Atlantic Route, you'll find Vero Beach, known for its golf, water sports and fishing. You have a choice of places to enjoy the ocean here, but South Beach Park is a real highlight. This park on the beach offers walking paths and gorgeous ocean views.
If you wish to spend some time in the town, you can visit the famous McKee Botanical Gardens. This subtropical botanical garden features beautiful flora and fauna for your viewing pleasure.
As well as being a great place for pampering, with its full-service spa, Kimpton Vero Beach Hotel & Spa is also eco-friendly. There's a sun terrace, heated outdoor pool, and hot tub, and each room has a bathtub and rainfall shower head.
When you're ready to venture away from the room, Vero Beach Museum of Art is just 3 minutes away, and Pelican Island National Wildlife Refuge is a 19-minute drive from the hotel.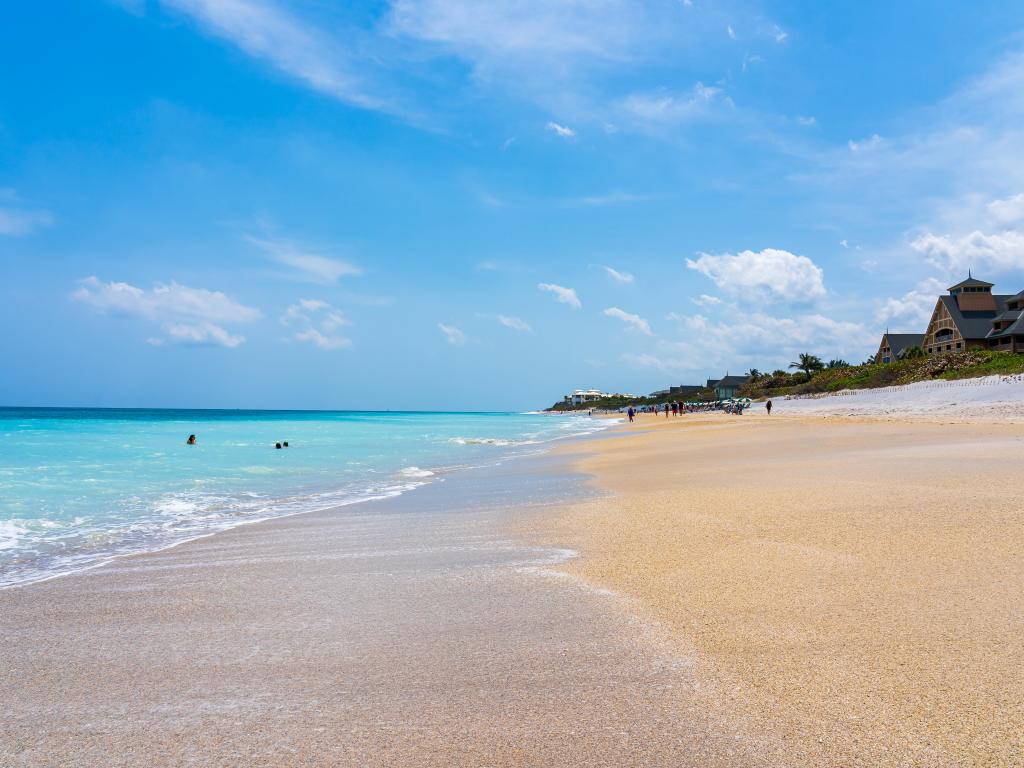 Where to stay when you reach Miami
Located in stunning South Beach, the Betsy Hotel is a fabulous accommodation option right in Miami's luxurious entertainment district on Ocean Drive - which is also great for people-watching.
The hotel has direct beach access, a gorgeous courtyard and a rooftop pool with 360 views. You can also enjoy fabulous cocktails at the Rooftop Bar if sunbathing is not your thing, or participate in sunrise yoga.
All in all, a great combination for relaxation before you head out to enjoy the city.
Things to see on a road trip from Tampa to Miami
While we're guessing you've planned on a fair bit of rest and relaxation as you head through Florida, there's still plenty to see while you're here.
Whichever route you take, check out our top picks for places to enjoy along the way,
Gulf Route
Clearwater - Known for its sunny weather and gulf coast beaches, this city is located in the Tampa Bay area. Clearwater Beach is a three-mile stretch of white sand sitting on a barrier island.
St. Petersburg - Also on Florida's gulf coast and part of the Tampa Bay area, this city is nicknamed "Sunshine City" for good reason. It's a popular place for boating, beachgoing, and swimming, and is home to the Dali Museum, Museum of Fine Arts, and Mahaffey Theater.
Myakka River State Park - This 37,000-acre park features forests and wetlands that provide kayaking, camping, and wildlife viewing. Take some time to do the Myakka Canopy Walkway and Observation Tower - it's incredible!
Fort Myers - Visit the Edison & Ford Winter Estates and Manatee Park, where you can rent kayaks and get up close and personal with manatees. If you have some time to spend here, we highly recommend taking the ferry down to Key West.
Cape Coral - This city in southern Florida is known for its many canals. You can spot manatees at Sirenia Vista Park, where you can kayak to Matlacha Pass Aquatic Preserve, where a plethora of birds awaits you among the mangroves.
Lovers Key State Park - This 712-acre park spread across four barrier islands sports over two miles of sandy beaches. It's a pretty underdeveloped park so you can enjoy swimming, sunbathing, kayaking, and hiking in peace.
Audubon Corkscrew Swamp Sanctuary - These natural wetlands boast a famous 2.25-mile boardwalk trail, observation tower, and wildlife spotting opportunities.
Lowdermilk Park - This scenic beach in Naples (no, not Italy) has a scenic beach and volleyball courts. You can do water sports here or relax on the beach with a good book in hand.
Everglades National Park - What's the first thing everyone thinks of when they hear the word 'Florida'? That's right, gators. If you've ever wanted to see them up close and personal in their natural habitat, this would be the place. You won't be able to see anything by car in this park because it's a giant wetland. You'll have to park up at the visitor center and book a tour with an airboat.
Biscayne National Park - Similar to Everglades National Park, this park is a giant wetland, so you'll also have to park up at the visitor center and explore via boat. It sports coral reefs and islands in the northern Florida Keys, only accessible by boat.
Atlantic Route
Lakeland - One of the most well-known lakes in this city east of Tampa is Lake Mirror, which has a promenade and Hollis Garden to explore. The Munn Park Historic District downtown is known for its antique shops and 1900s architecture.
Orlando - This city in central Florida is home to more than a dozen theme parks, including, of course, Disney World. Universal Studios is one of the other big-name theme parks here, holding the Wizarding World of Harry Potter.
Cape Canaveral - If you're a space nerd, this is your kind of place! It's home to the Kennedy Space Center, which has a platform from where the US government frequently sends rockets. It's quite a cool thing to watch if you're in town during one of the takeoffs.
St. Sebastian River State Park - This riverside park offers activities like boating and hiking. It has grassy forests and swampland but don't try to go swimming. You might become gator chum.
The National Navy SEAL Museum - This museum, full of exhibits, equipment, and historical artefacts, stands in honor of the US Navy SEALs. It's an informational place to learn about the history of the SEALs and their predecessors.
Jetty Park - This beachfront park near the National Navy SEAL Museum offers views of beautiful beaches, beachgoing activities, and a long jetty on which to walk out into the ocean safely.
Lake Okeechobee - This huge freshwater lake is a haven for fishermen. It's great for catching bass and crappies. Surrounding the lake, for those of you who don't enjoy fishing, is a 110-mile scenic walking trail.
West Palm Beach - This city in South Florida is separated from Palm Beach by the Lake Worth Lagoon. Here you can find heaps of restaurants, shops, bars, and clubs. You can visit the Norton Museum of Art and the Kravis Center for the Performing Arts here.
Boca Raton - This city is known for its beaches, parks, and golf courses. Red Reef Park is a great oceanfront place to see, which has Gumbo Limbo Nature Center. The center has walking trails, a butterfly garden, and a sea turtle sanctuary.
Fort Lauderdale - This popular destination is known for its beaches and canals. You can walk along The Strip, which is a promenade along the ocean, or you can go to one of the many outdoor restaurants, bars, and boutiques.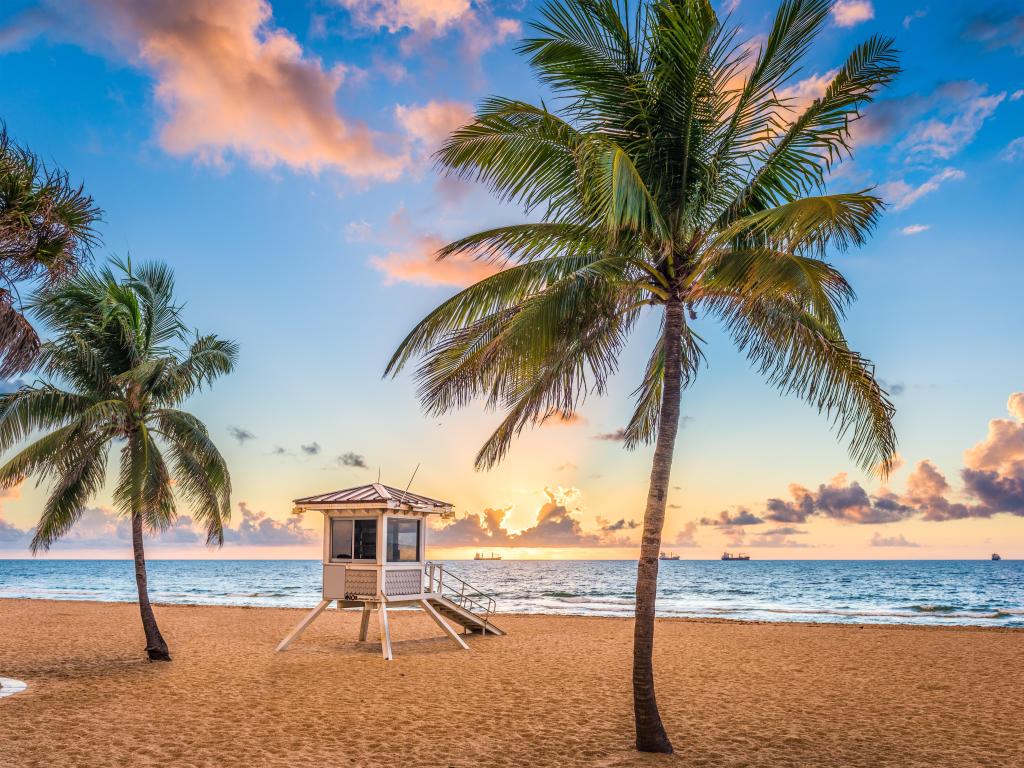 Best time to go on a road trip from Tampa to Miami
Miami's tropical climate makes it a perfect vacation spot for visitors no matter the time of year, but there are still a few seasonal variations that might help you decide on the right timing for your trip.
Winter in Miami can range from the low 60s to the low 80s Fahrenheit - not at all cold when you think about the fact that it's winter. This will be the cheapest time to visit Miami simply because the main draw of the city (the ocean) is a little cool for swimming.
Miami International Boat Show is a big draw if you're here in the winter. One of the largest boat shows in the world, it takes place every February and everyone is welcome, from boaters looking to purchase their next superyacht to everyday beachgoers looking to enjoy a nice day in the sun.
By way of contrast, Miami in the summer can be quite hot and humid. Temperatures reach the high 90s and rain is frequent. With all this being said, this is the best time to enjoy the ocean because it's at a perfect temperature and the waves are nice.
This will also be the most expensive time to travel to Miami because it's such a popular summer destination.
Miami can also be a very popular destination for Spring Breakers. If you're not a Spring Breaker yourself, avoid Miami during the month of March at all costs! The city will be full of parties, which of course means plenty of noise, and it's much more expensive during this time.
Fall in Miami is also a wonderful time to travel, with temperatures ranging from the mid-70s to the mid-80s. If you're brave, you can try for a dip in the ocean - but otherwise you can enjoy a nice, long walk on the beach, search for sand crabs, see some museums, the works.
Whatever time you travel, with Florida's famous year-round sunshine and sparkling ocean views, you're guaranteed a fabulous road trip full of unforgettable memories - what's not to love about that?