Road Trip from Tampa to Key West
This impossibly stunning road trip from Tampa to Key West is a great way to escape the city and get wonderfully lost in Florida's coasts, while exploring local cultures, discovering beautiful beaches, historical cities and journeying on one of the best bridges in the US.
The 460-road trip from Tampa to Key West takes 9 hours to drive. Key stops include St. Petersburg, Sarasota, Cape Coral and Miami, as well as West Palm Beach, Fort Lauderdale, Venice Beach, Fort Myers, Marco Island and Big Cypress National Preserve.
To help you make the most of your adventure, we've set out the routes and places to stop overnight, as well as our favorite things to do and the best time of year to make the trip from Tampa to Key West.
How far is Key West from Tampa, and how long will the road trip take?
Comparison of road trip routes between Tampa and Key West

| Route | Distance | Driving Time |
| --- | --- | --- |
| The West Florida Route | 470 miles | 10 hours 40 minutes |
| The East Florida Route | 460 miles | 9 hours |
Regardless of whether you tackle the journey from Tampa to Key West on the west or east side of Florida, the distance you'll travel is roughly the same at 470 miles and 460 miles respectively.
The shortest of our two recommended options (The East Florida Route) will take 9 hours without stopping to drive, while if you chose to head over the west side of Florida, you'll need at least 10 hours and 40 minutes to complete the journey.
While you could complete either route in a single day, we wouldn't advise it. You'll be passing by so many beautiful spots that it would be a real shame to not stop and admire the view and explore the city you're passing through. We suggest allowing at least three or four days.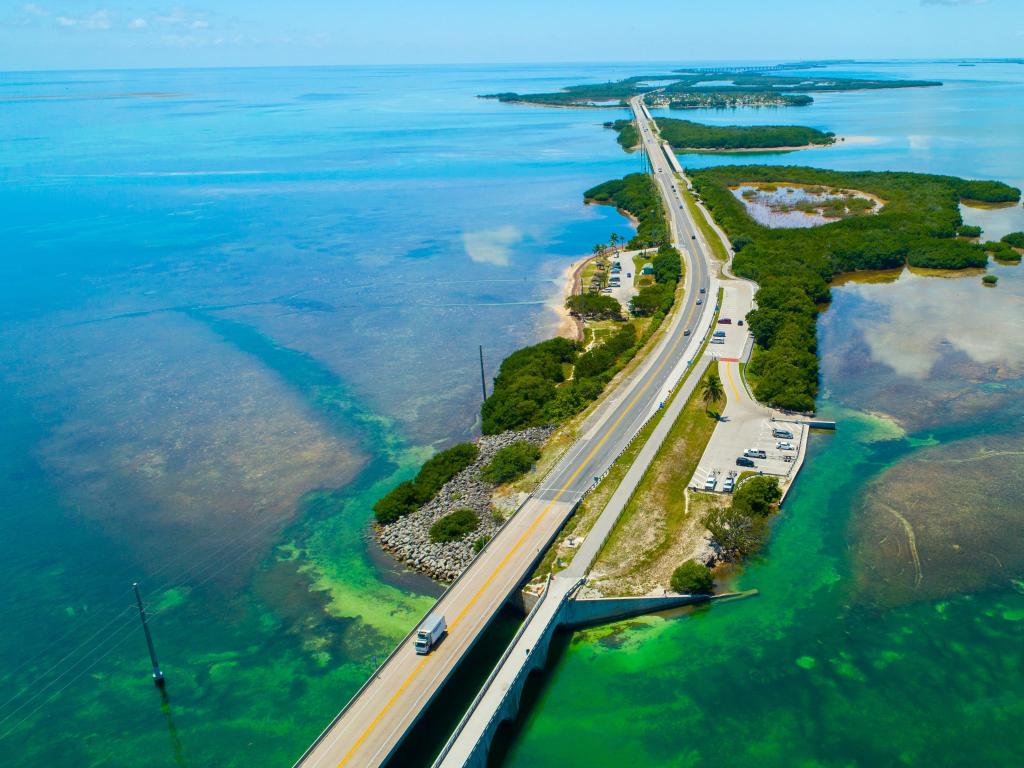 Best road trip route from Tampa to Key West
Both of our routes between Tampa and Key West are stunning in their own right. The East Florida Route takes in scenic islands, beaches and beautiful counties, including the popular Venice Beach and Fort Myers, plus the wildlife haven of Big Cypress National Preserve.
Meanwhile, the West Florida Route is ideal if you love the beach. You'll pass the scenic Fort Lauderdale and West Palm Beach, as well as world-famous landmarks including Jupiter and Boca Raton.
This option is slightly longer than the East Florida Route, though there's not a considerable difference in distance.
With both routes meeting in the glamorous city of Miami and given that there's not a huge distance to travel between your start and destination, you could always follow one route to Key West and the other on your return leg. That way, you'll get to enjoy both routes.
How to drive from Tampa to Key West
The map above shows our suggestions for the best road trip routes between Tampa and Key West. Keep reading for detailed descriptions of both routes, where to stay on either, and the best things to do on the way.
The West Florida Route
Your trip begins by leaving Tampa on Interstate 275 heading south as you cross Old Tempa Bay before taking Exit 22 to visit St. Petersburg, a small city on Florida's stunning gulf coast.
Rejoin I-275 south as you cross scenic Tampa Bay. As you arrive at the mainland, you'll take Exit 5 to follow US-19 through Bradenton where you'll take US-301 to Sarasota. Next, take US Highway 41 south to the stunning Sarasota Beach.
Change to State Highway 758, FL-72 east and then US-41 as you follow the coast south through several towns before making a stop at the famous Venice Beach for some relaxation (or stop for swimming).
Take Interstate 75 south as you head inland, passing close to Myakka River State Park. Follow the interstate as you cross Peace River and drive alongside Charlotte Harbor Preserve State Park.
Take Exit 158 and follow US-41 south to Fort Myers, a great option for an overnight stop. Next, you'll take FL-867 before taking the Cape Coral Bridge Road to Cape Coral, a historic old town full of wonder.
Retrace your steps and take US-41 at Villas, again following the coast as you head south. There are plenty of opportunities for detours to the surrounding swamp trails and wildlife areas if you'd like to stretch your legs.
Otherwise, continue south to Naples, before following signs for Collier Boulevard to Marco Island which offers beautiful beaches and unspoiled parks.
Follow US-41 South, passing Collier Seminole State Park and through Big Cypress National Preserve. Continue on this long stretch before turning left onto FL-825 and then FL-836 east to the iconic city of Miami.
After spending time in this fun city, you'll follow Interstate 95 south before merging with US-1 on the west side of Florida and following the road past several beaches and towns.
This road will take you to the Florida Keys where you'll pass Key Largo, John Pennekamp Coral Reef State Park and enjoy incredible coastal scenery on the Overseas Highway.
The Florida Keys are connected by 42 bridges (one of which is 7 miles long), making it one of the most beautiful drives in the US.
Along the way you'll pass state parks, museums and small resort towns. Eventually, you'll reach Key West, the furthest point of the Keys and your final destination.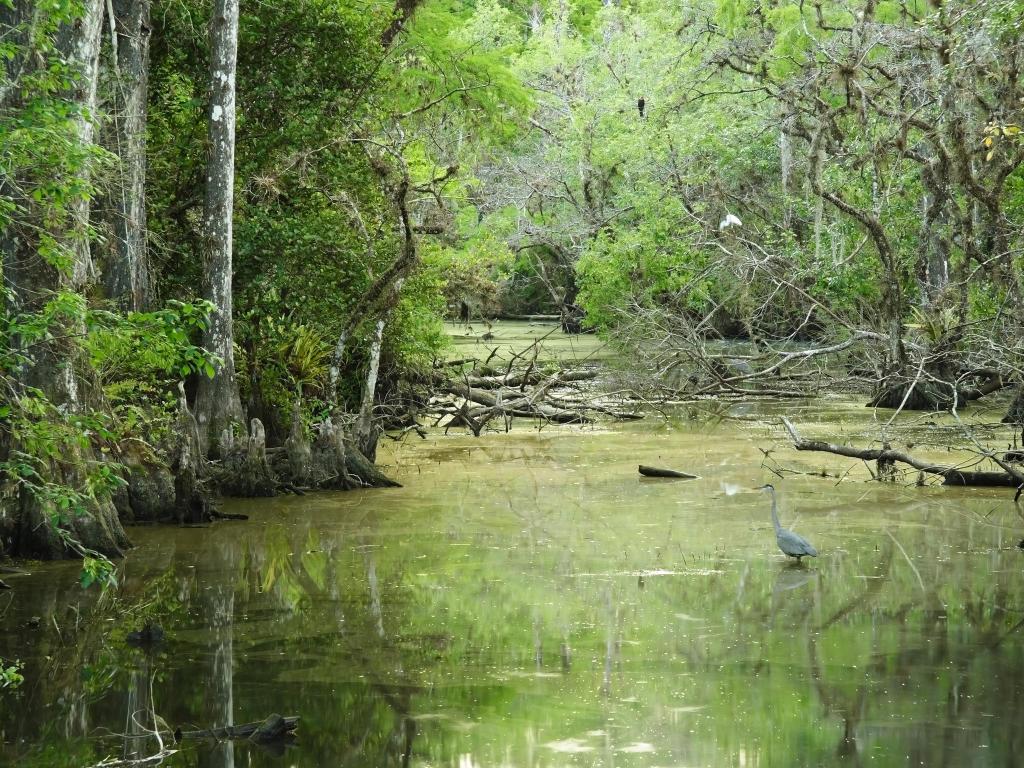 The East Florida Route
The alternative route will take you to the eastern side of Florida. Begin by taking Interstate 4 east from Tampa and inland to Exit 27. Continue on FL-570 east before taking Exit 10 and following US-98 south to Bartow, past Lake Hancock.
Switch to FL-60, still heading east, until you reach several lakes including Lake Pierce and Tiger Lake. This stunning natural area is worth a pause to explore before continuing with your drive.
Still following FL-60, you'll cross Kissimmee River and pass Lake Marian. Continue heading east, alongside Fort Drum Marsh Conservation Area and all the way to Vero Beach, a small city with Atlantic-facing beaches.
Retrace your steps on FL-60 back to the junction where you'll then turn left onto 43rd Avenue. Turn right on FL-614 and then merge to join Interstate 95 heading south.
Follow this road past Woodland Trails Park and Atlantic Ridge Preserve State Park all the way to Exit 87A to Jupiter. Join FL-811 south, passing by Juno Beach and join I-95.
Follow the interstate to Exit 70 where you can detour to stop at West Palm Beach, an ideal overnight stop on this route. After a restful stop, you can rejoin the interstate heading south. Along the next stretch, you can head to a beach or park at any point.
I-95 will take you to Boca Raton, known for golf courses, parks, and beaches. Continue heading south past Fort Lauderdale, where you can add an extra stop or simply continue on the interstate.
Follow I-95 until you reach the exit for Miami. At this point, your journey will follow the above West Florida Route all the way to your destination of Key West.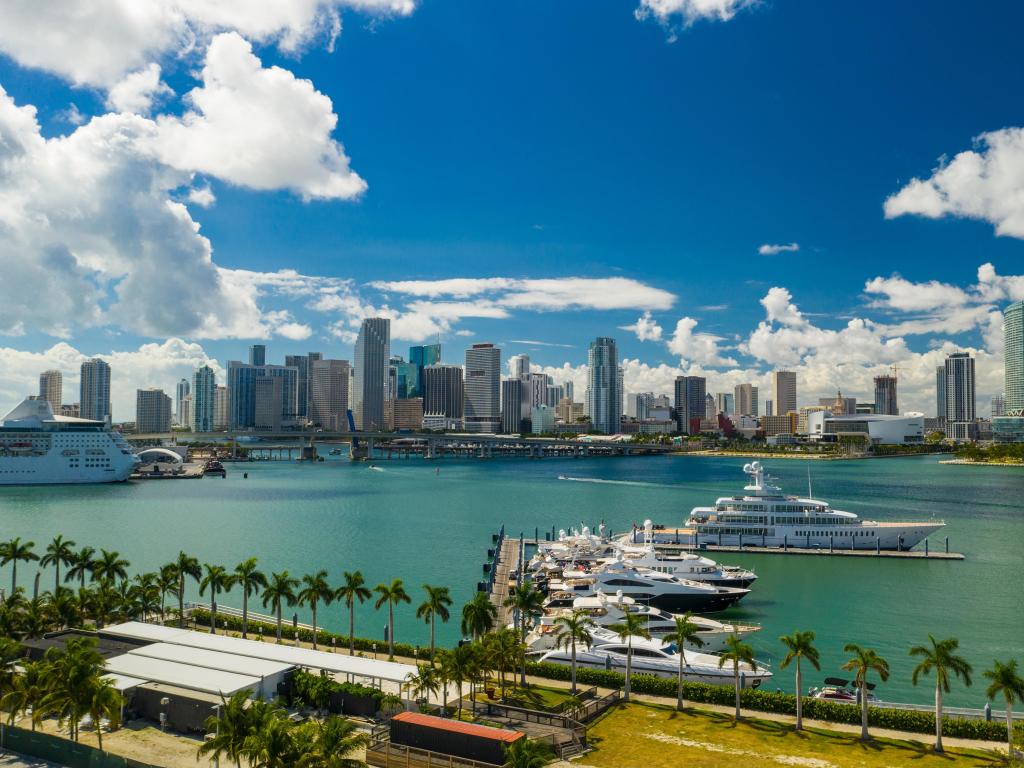 Best places to stop between Tampa to Key West
Although you can drive between Tampa and Key West in a single day, the distance and time it will take you mean you wouldn't get any opportunities to enjoy the incredible scenery you'll pass en route. Instead, you should consider a couple of overnight stops.
Given the popularity and tourist draw that Florida and the Florida Keys attract, there's a huge choice of stunning resorts you can stop at. Here are a few of our favorites that you'll pass along the way:
A port with history at Fort Myers
Located just two hours from Tempa and a comfortable day's drive to Key West on the West Florida Route sits the city of Fort Myers. A perfect gateway to the southwest region and a major tourist destination in Florida, an overnight stop in this city will really enhance your trip.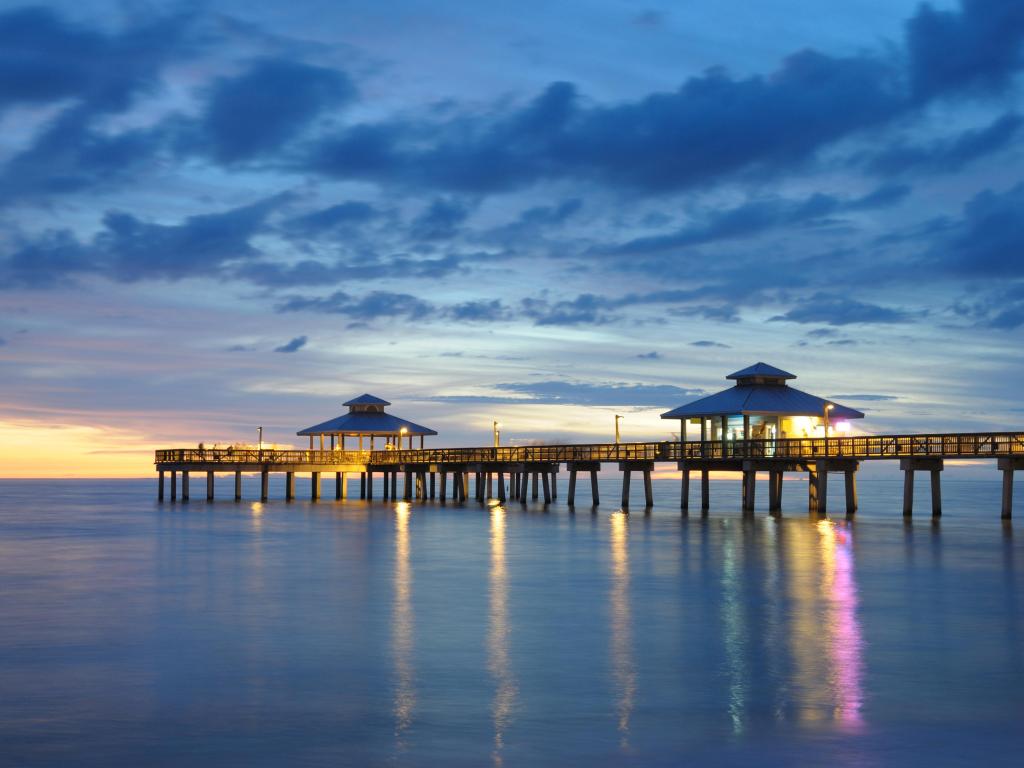 Named after the local former fort that was built during the Seminole Wars, it is now a commercial center, known for its rich history, beautiful natural scenery, and shell-covered beaches.
Discover The Calusa Nature Center and Planetarium, known for educational exhibits of the earth and sky, or explore the Edison and Ford Winter Estates, known for historic homes, exhibitions and gardens, before taking a walk around Centennial Park or Estero Bay Aquatic Preserve.
For stunning views and an ideal location near the marina, a stay at Luminary Hotel & Co., Autograph Collection is a great option. This modern hotel has a highly rated onsite restaurant and a fabulous outdoor pool.
This 4-star hotel even features rooms with balconies overlooking the ocean. Rooms here are stylish and fresh, there's onsite parking available and you're just a short stroll to Fort Myers Historical Museum or the marina where you can watch the sunset. It's the perfect place to unwind.
A coastal stay at West Palm Beach
A great option for an overnight stop if you're following the East Florida Route is the stunning and popular West Palm Beach. Almost halfway from Tempa and just 4 hours and 30 minutes to Key West, this city is an ideal stop if you're looking to break the trip into two manageable days.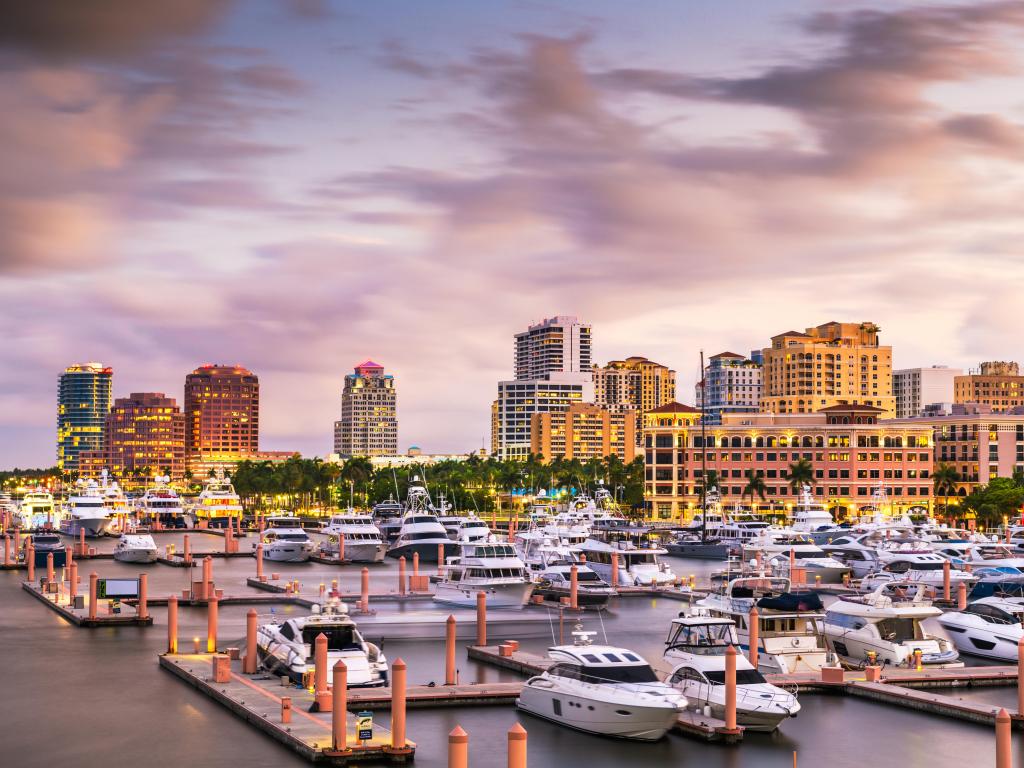 West Palm Beach is a moderately sized city in South Florida which is world-renowned for its scenic beauty, as well as its beautiful downtown Clematis Street and CityPlace districts.
Despite its beautiful setting, it's also a fast-growing urban area with numerous cultural treasures, countless excellent restaurants and a bustling city center.
Key attractions nearby include the Richard and Pat Johnson Palm Beach County History Museum which will give you a great insight into local history, as well as Municipal and Singer Island, two scenic beaches overlooking the amazing Atlantic coast.
Just a short stroll from the city attractions, including CityPlace, is the Hilton West Palm Beach. A great resort offering stunning city views, a classy interior and all the amenities you could hope for, including an incredible bar offering special cocktails.
This amazing hotel is surrounded by stunning gardens, and an outdoor pool perfect for relaxing in. The Hilton in West Palm Beach is a great hotel for a long or short stay, guaranteeing you a flavour of Florida in all its glory.
A scenic stay at Key West
Key West is a small 2-mile by 4-mile island at the very tip of Florida, but despite its size, it's a great destination for an awesome long stay. This incredible island has crystal blue waters, amazing reefs, fun restaurants and the most incredible sunsets.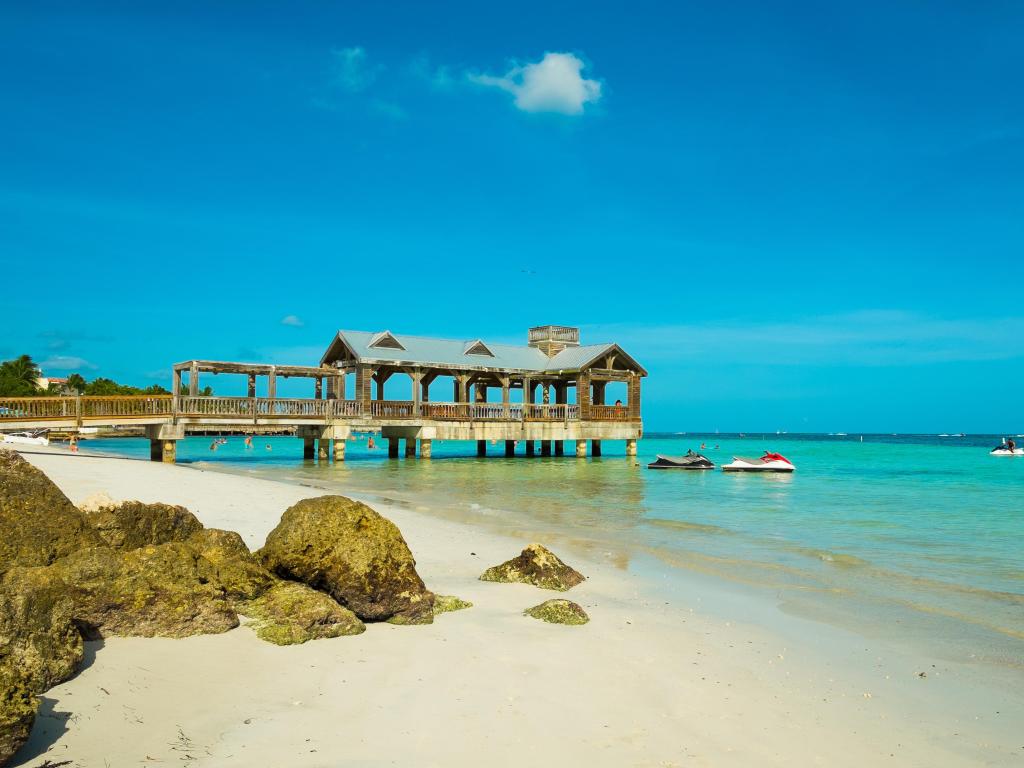 There's a lot to take in at this tiny island; you could take a boat to visit the only living barrier reef in the US which is just 6 miles offshore of Key West or enjoy a spot of snorkelling.
If you'd prefer to stay on land, there's Fort Zachary Taylor Beach, ideal for sunbathing and relaxing. There are also plenty of shops, restaurants and bars at Duval Street.
Although small, there are plenty of fantastic resorts at Key West. One of our favorites is The Capitana Key West. Just a short walk from Smathers Beach, South Beach and Duval Street, this 4-star hotel is in a prime position and offers fantastic views of the coast.
The stylish resort has an onsite restaurant, outdoor pool and a great bar. Given how difficult parking is in Key West, a real bonus is that hotel reservations include free parking. If that's not enough to tempt you, there's also a fabulous hot tub to soak away the long miles on the road.
Things to see on a road trip from Tampa to Key West
Although a small road trip, the route from Tampa to Key West offers a huge choice of nearby attractions, beautiful scenery and incredible beaches to enjoy.
To help you plan your trip, we've set out some of the best places to visit along the way: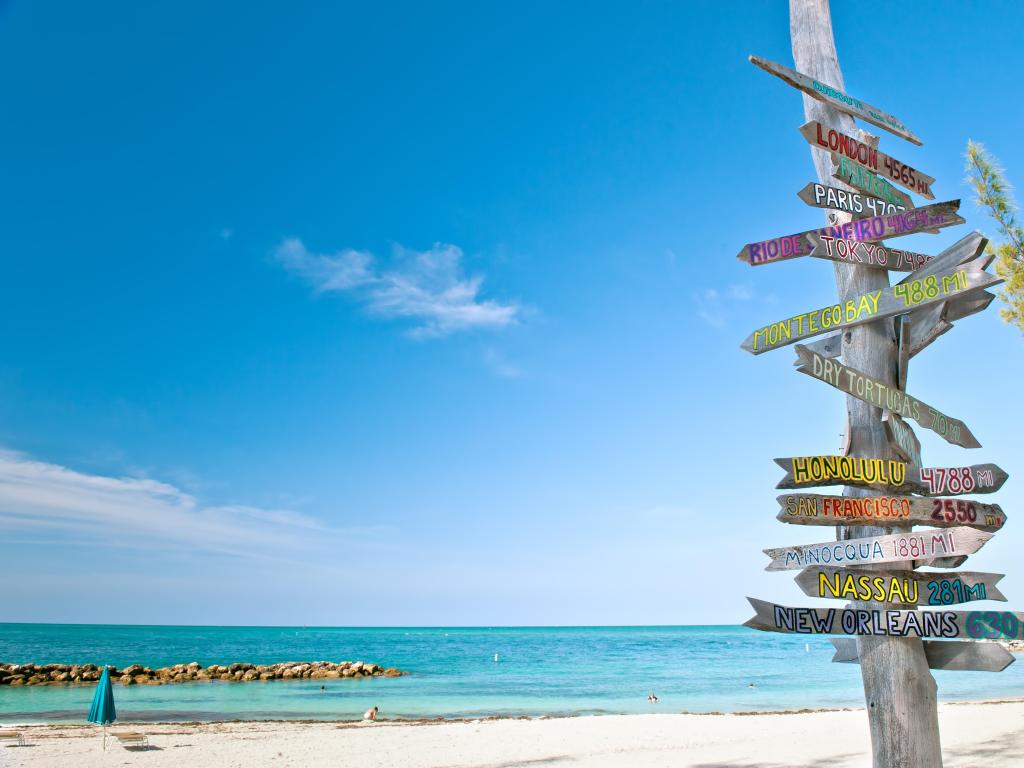 Both Routes
Hollywood City - Located on Florida's east coast, between Fort Lauderdale and Miami, the city is home to more than 60 parks, 7 golf courses, 7 miles of pristine beaches and Hollywood Beach Broadwalk, a promenade that stretches nearly 2.5 miles along the ocean.
Miami Beach - Pristine beaches, exciting nightlife and fantastic warm weather make it special. Not to forget its international stature with celebrities, world renowned art galleries and a unique architectural style.
Biscayne National Park - Located in the south of Miami, this national park is home to coral reefs, mangrove forests and emerald islands which are only accessible by boats.
Black Point Park and Marina - Often referred as "Black Point", it is the largest public marina located in Miami. Home to the iconic Ocean grill restaurant, this marina is a great spot for fishing and diving expeditions.
Fruit & Spice Park - Containing 500 varieties of fruits, vegetables and herbs, this botanical garden is spread over 37 acres situated 35 miles south of Miami. Visitors can schedule a tour of the park, pick fallen fruits and enjoy lunch at the Mango Cafe.
Homestead Bayfront Park - This family-friendly beachfront park located in the heart of South Dade is a popular point for exploration of the nearby Biscayne National Park. It includes a beach, a shallow swimming area in an atoll pool, a restaurant, and a full-service marina.
Harry Harris Beach and Park - This cute little beach is located on your way to Key West once you leave mainland Florida. There is shade covered picnic tables, fenced playground, boat ramp, small beach, restrooms, and plenty of wildlife to view.
Founders Park - This 40-acre recreational park is one of Islamorada village's treasures. Just 7.1 mile south of Harry Harris Beach and Park, this facility has plenty of options for water sports activities.
Sugarloaf Beach - 19 miles ahead of Key West, Sugarloaf is a rocky beach which is mainly visited by tourists looking to relax or to enjoy the many bars on the island.
Key West Tropical Forest & Botanical Garden - Located on Stock Island, the botanical garden is the only frost-free botanical garden in the continental US. Open daily, there is a nominal fee for admission, with free admission for locals on the first Sunday of every month.
Fort East Martello Museum - Located on Smathers Beach, the museum constructed during the Civil War highlights relics plus folk art. There's so much showcased here including art, warfare, history, and legendary stories.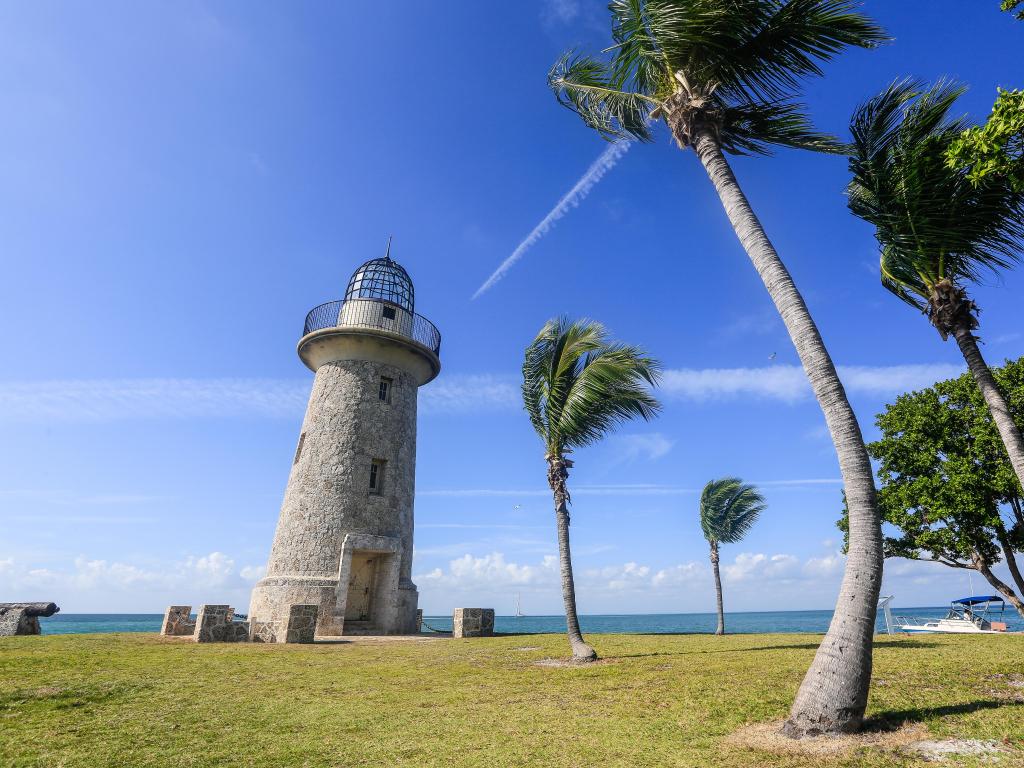 West Florida Route
St. Petersburg - Home to the world-renowned Salvador Dali Museum, amazing restaurants and beautiful Fort De Soto Park, it's a great location to visit for its events and festivals hosted each year, such as St. Pete Pride Festival, art attractions and popular nightlife.
Bradenton - This city has a mix of urban and suburban areas that offer a vibrant downtown, the RiverWalk and the Village of the Arts. You can experience Robinson Preserve, DeSoto National Memorial Park, the Cortez fishing village and the Manatee Village Historical Park.
Nathan Benderson Park - Incorporated by a 400-acre artificial lake in northern Sarasota County, this place is a multi-use sports venue and offers recreational activities such as boating, fishing, birdwatching, and trails for jogging, walking, cycling and more.
Sarasota - One of the beautiful places to visit for a beach, this city is also famous for the Ringling Museum of Art, as well as a collection of excellent performing arts companies and an active community of artists and craftspeople creating unique works.
Venice beach - Best known for the scenic view of the Venice Public Fishing Pier and many opportunities to see dolphins and shorebirds, this place is a gem for stunning natural beauty.
Fort Myers - Sitting at the mouth of the Caloosahatchee River, you can experience a historic gem that still retains much of its vintage look and feel. Its beautiful natural scenery and shell-covered beaches make it unique and special.
Cape Coral - The city of canals, this place is referred to as 'Waterfront Wonderland'. The historic old town, Imaginarium Science Center, the Railroad Museum of South Florida, and the Southwest Florida Museum of History are all worth visiting.
Bonita Beach Park - Located in southwest Florida between Naples and Fort Myers, this is one of the popular beaches with a volleyball court, playground, and picnic shelters for a great family day.
Naples - Located on the Gulf of Mexico in southwest Florida, the city is known for high-end shopping and golf courses. The iconic Naples Pier is a popular fishing and dolphin-spotting destination.
Marco Island - A short ride from the Florida Everglades and close to Naples, this place is the largest and only developed land in Florida's Ten Thousand Islands that offers luxury resorts, beautiful beaches and unspoiled parks.
Big Cypress National Preserve - This freshwater swamp ecosystem provides critical habitat for a variety of wildlife. It is free to visit and famous for the Florida panther, which is one of the most endangered mammals in the United States.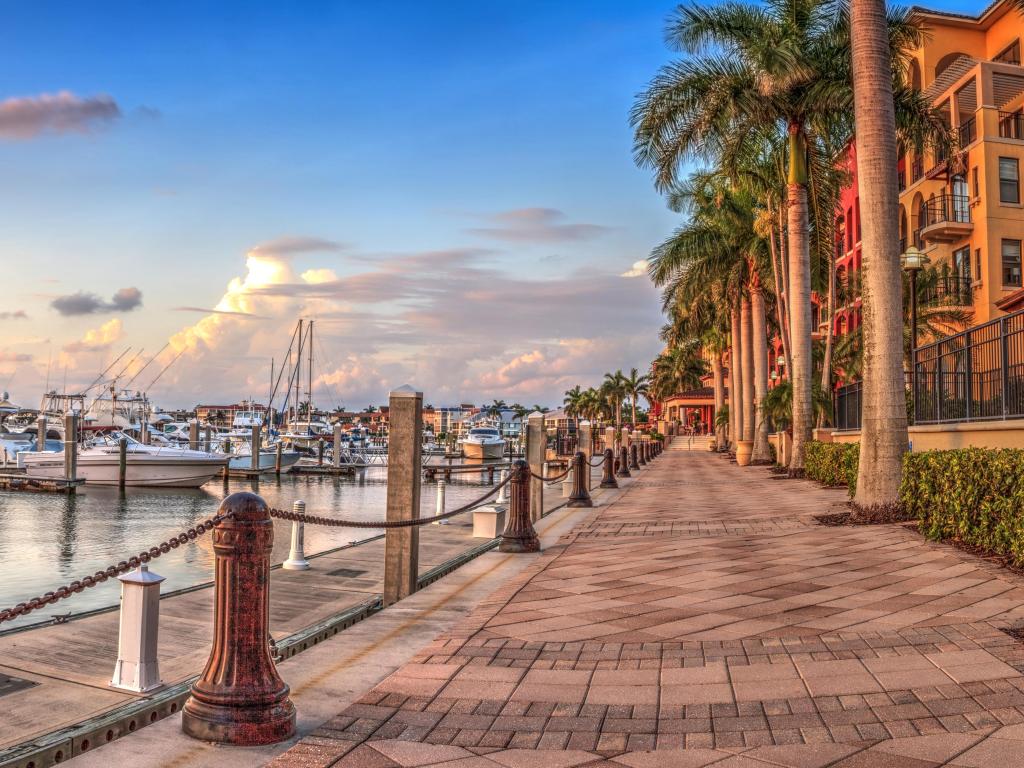 East Florida Route
Lakeland - Experience the beautiful antique shops and early-1900s architecture around. The city has a number of lakes including Lake Mirror, with its promenade and neoclassical Hollis Garden.
Sebastian - Located two miles away from the Atlantic Ocean, this city is home to Pelican Island, America's first National Wildlife Refuge, and is also known for its unspoiled beauty and diverse fishing opportunities.
Vero Beach - A small, elegant city with Atlantic-facing beaches on a barrier island across the Indian River Lagoon. It is a haven for golf, water sports and fishing.
Fort Pierce Botanical Garden - Located in Fort Pierce, this five-acre subtropical botanical garden consists of an assortment of speciality spots such as a Japanese Garden, Reflection Garden, Herb Garden, Rain-forest Display, Native Plants Garden and a Palm & Cycad Walk.
Jupiter - Located on the southeastern coast of Florida, this city is rich in scenic beauty and its history. Experience a tropical small town packed with big city benefits.
West Palm Beach - This moderately-sized city situated in South Florida is known for its world-renowned scenic beauty. Experience one-of-a-kind shops, great dining and countless entertainment options.
Boynton beach - This place is known as the Gateway to the Gulfstream. It's a magnificent place to enjoy the great outdoors, attend a live music concert, fish on the open sea and much more, which adds to a perfect holiday.
Boca Raton - Located on Florida's southeastern coast, you'll find golf courses, parks and beaches. Plus, you can experience the pristine two-mile stretch of fluffy white sand and blue waters that are patrolled by lifeguards.
Fort Lauderdale - Experience the beautiful beaches and sunshine year-round, Fort Lauderdale is a place of fun for all ages where you'll find a city lined with upscale outdoor restaurants, bars, boutiques, luxury hotels, bars and so much more.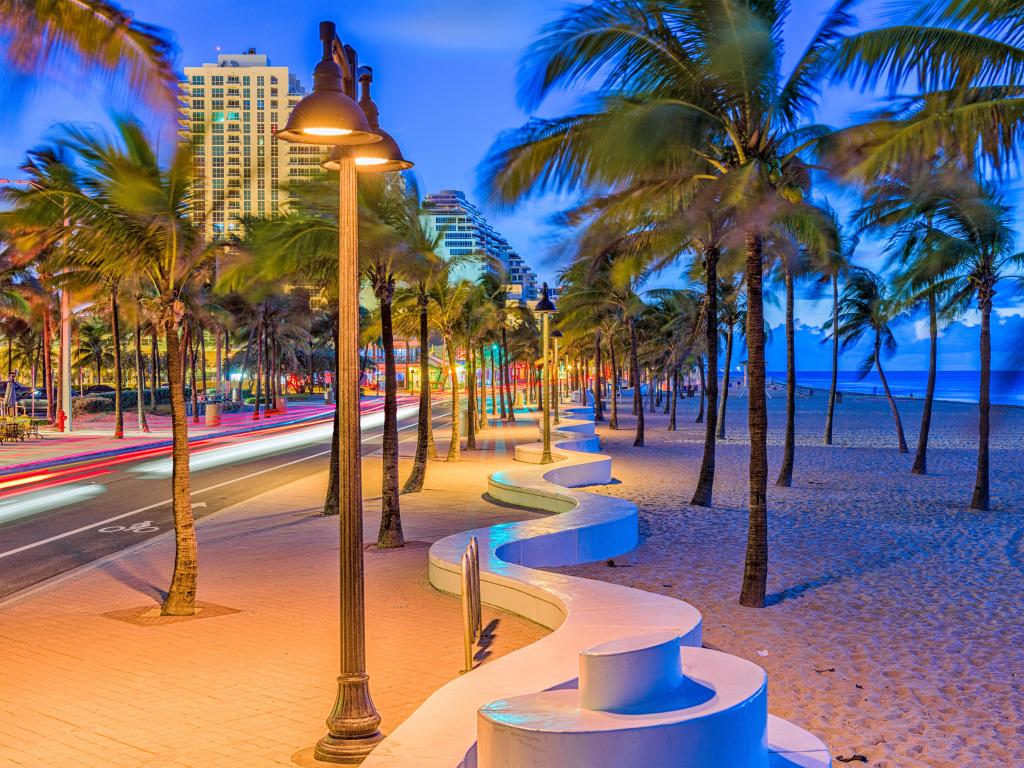 Best time to go on a road trip from Tampa to Key West
Florida is a great time to visit all year-round thanks to its warm summers, mild winters and assortment of great activities available in all seasons. That said, there are a few things worth noting.
You might typically think that summer is the most ideal time to travel between Tampa and Key West. While temperatures are pleasant at 80 degrees Fahrenheit, there's always a chance you'll hit extreme weather as hurricane season lasts from June to November in Key West.
Unusually, the winter season (between November and March) is actually the busiest and most expensive time to visit the island. Expect pricey hotels and busy tourists, however, if that doesn't put you off, it's a great season to enjoy the mild weather with daily highs of around 77 degrees.
Another solid option is to plan your trip between April and June where you'll enjoy temperatures between 70 and 80 degrees and there will be fewer crowds. You'll also get to enjoy spring blossoms in the botanical gardens you'll pass en route to Key West.
One guarantee of large crowds is if you visit Fantasy Fest, a 10-day festival held every October on Duval Street. The festival is great fun and involves street parties, a parade, music and plenty of activities.
For something more food orientated, you could time your visit with Lobsterfest in late July or for a cultural event or two, there's also the Hemingway Days and Womenfest occurring throughout the year.