Can You Drive To Iceland?
Iceland is a magical destination, famous for its unspoiled wilderness, stunning landscapes, and beautiful Northern Lights. Once there, you can follow the Ring Road to see volcanoes, geysers, waterfalls, fjords, lava fields, black sand beaches, and Europe's largest glacier.
It is not possible to drive all the way to Iceland, but you can get there on a vehicle ferry from Denmark if you have time for the 47-hour crossing. Alternatively, frequent flights connect Iceland with many European cities in a matter of hours.
Whether visiting for just a weekend or taking a longer trip, a road trip is a great way to explore Europe's 6th least populated country. We've put together all the key facts to help you plan your journey to Iceland - including how to get there across the ocean if that's your top choice.
Can you drive to Iceland?
Iceland is an island nation situated more than 280 km away from its nearest neighbor, Greenland, so you won't be surprised to hear that there are no bridges to the island.
It's very well connected with Europe and North America by air, with frequent flights to many major cities. If you're short on time, then the best way to get to Iceland is to fly and then hire a car once you've arrived.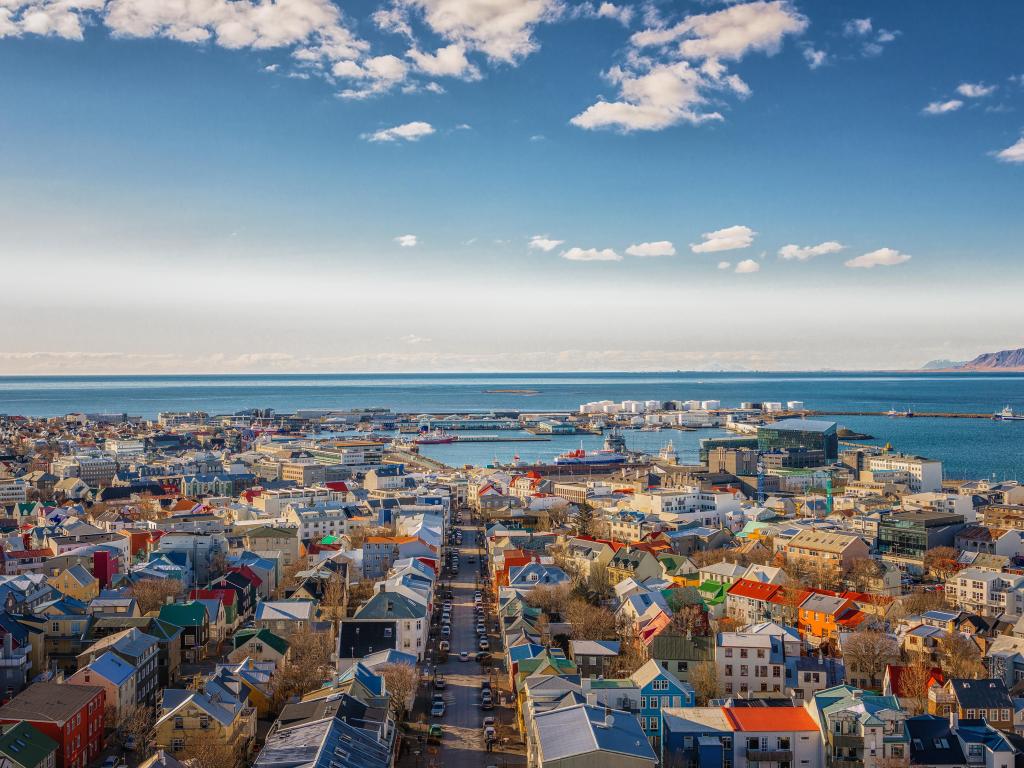 However, if you want or need to take your own vehicle to Iceland, it's also possible to take a ferry across the North Atlantic Ocean, as long as you have plenty of time to sit back and enjoy the journey.
This route is accessible by car from across mainland Europe and can be an exciting way to begin your Icelandic expedition. It does take a lot longer than a flight, though.
There are multiple daily flights from departure cities across the world. These tend to run all year round, give or take a slight seasonal variation. In contrast, the car ferry doesn't sail between November and March due to weather conditions. The rest of the year, it operates weekly.
Taking the car ferry to Iceland from Denmark
The car ferry between Denmark and Iceland departs from Hirtshals, a port town on the northern coast of Denmark. It arrives in Seyðisfjörður, about 1,520 km away on Iceland's east coast.
It's a straightforward 45-minute drive to Hirtshals from Aalborg, the nearest major city. The E-39 cuts through countryside and farmland to connect the two cities.
It's a well-maintained 4-lane road, and there shouldn't be too many hold-ups on the 70-km route, although you might experience light traffic heading into Hirtshals in the summer or snow and ice in the colder months.
If you have some time to fill before boarding the ferry, you might also like to stop at Lindholm Høje Viking Museum, the open-air Vendsyssel Historical Museum, or the North Sea Oceanarium.
The ferry crossing itself is a marathon undertaking, unlike almost any other journey you can take between two European countries. Covering over 1,500 km, it will be around 47 hours before you're on dry land again.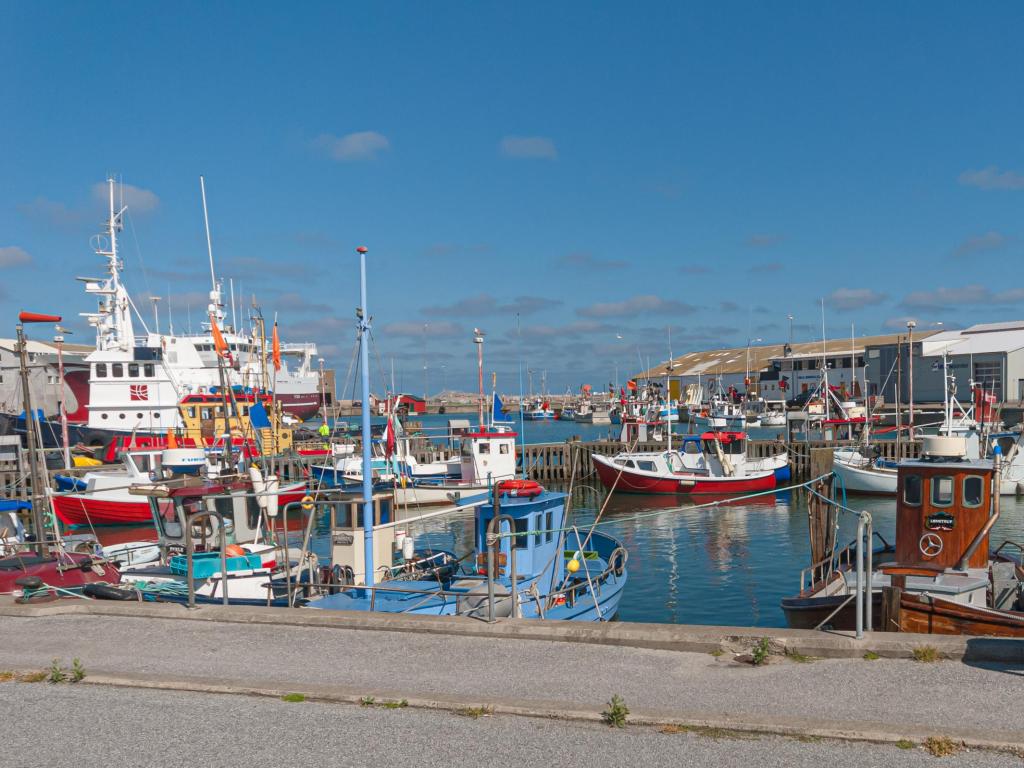 Once you're on board, it's time to make yourself comfortable for your 2-day voyage. There are several cafes and restaurants on board, and you can even pre-book a spot in the restaurant.
You'll be traveling through the night, so consider booking a cabin. There are different styles, including the more luxurious outside cabins where you'll wake up to views of the North Atlantic.
There's plenty to keep you busy en route, as the ferry has a cinema, swimming pool, and fitness area. However, you currently have to pay for Wi-Fi, so remember to bring some offline entertainment with you if you don't want to pay the extra €25 internet fee (calculated at the time of writing).
How long does it take to reach Iceland with a car?
There's no avoiding that traveling to Iceland with your car will mean a long journey ahead. The ferry crossing takes 47 hours, and you'll also have to allow some time to check in and board the ferry. Check your booking for the latest possible boarding time.
If you're traveling from other parts of Europe or the United Kingdom, you'll also have to factor in travel time between your starting point and the ferry port in Hirtshals.
There's a high chance you'll hit some congestion spots as you travel around major cities. But apart from this, the roads are well-maintained, and there are regular service areas along the way.
Travel time between major cities and the Hirtshals Port (for taking the car ferry to Iceland)

| Origin | Distance | Drive time to ferry port |
| --- | --- | --- |
| Aalborg, Denmark | 70 km | 45 minutes |
| Gothenburg, Sweden | 145 km | 5 hours |
| Copenhagen, Denmark | 480 km | 5 hours |
| Hamburg, Germany | 520 km | 5 hours 10 minutes |
| Amsterdam, Netherlands | 970 km | 9 hours 40 minutes |
| Paris, France | 1,400 km | 14 hours 40 minutes |
| London, England | 1,430 km | 16 hours 30 minutes |
* Travel times and distances are given from the origin city to the ferry port in Hirtshals, Denmark. The travel times do not include embarking times for the Gothenburg and London routes.
Which port to arrive in Iceland
Although there are several ports around the island of Iceland, Seyðisfjörður is the only one with ferries arriving from mainland Europe.
Reykjavík, Akureyri and Húsavík also have ports, but as a tourist, you'll only be able to use these for puffin and whale-watching tours or connections to nearby islands.
If you use the car ferry to Seyðisfjörður, it's a 26-km drive to reach the Ring Road. To get there, you'll use Route 93, a road that climbs over a mountain pass with viewpoints along the way.
With such quick and frequent flights available, however, most visitors arrive in Iceland on a flight to Reykjavik airport. From here, it's an 18-km drive to the western side of the island's Ring Road.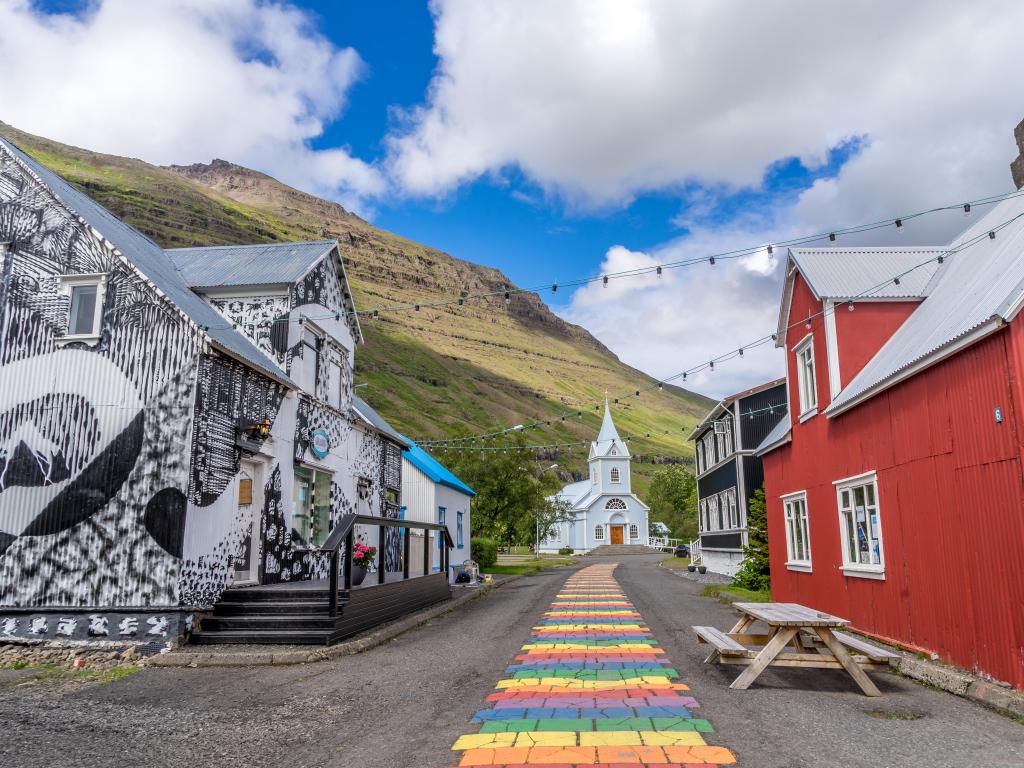 The Ring Road circumnavigates the island of Iceland and is a popular road trip for visitors. As its name suggests, the epic Ring Road takes you to all the corners of Iceland, allowing you to explore the country's amazing landscapes and natural wonders.
Things you need to know about reaching Iceland with a car
You've already found out that reaching Iceland with a car is (sometimes) possible if you have time to spare for the ferry crossing. To make your journey smoother, here are a few other things to keep in mind when you're planning your trip.
Make sure you book your ferry tickets in advance. Prices get more expensive closer to travel time, especially in the summer and during school holidays. Its limited schedule means there can be high demand for tickets.
You won't be able to access your car once the ferry sets sail, so pack a bag with whatever you'll need onboard.
Some crossings also stop at the Faroe Islands, so check the schedule.
Between June and August, the crossing takes 2 days. So, if you leave on Tuesday, you'll arrive in Iceland on Thursday - keep this in mind when booking hotels.
You'll need a passport valid for three months after the date of your arrival, with an issue date less than 10 years before your arrival date.
Residents of Europe's 26 Schengen countries can stay in Iceland for 90 days without a visa. If traveling on other passports, check for visa requirements well ahead of your trip.
Travel prices vary depending on the time of year and increase closer to your departure date. That means it's almost always cheaper to book in advance if you're sure of your travel plans.
Check out the table below to get an idea of how much it might cost you to travel to Iceland. Don't forget to add fuel and toll costs if you're driving to Hirtshals from other parts of Europe.
Comparison of travel times and prices from major cities to Iceland
Departure
Arrival
Mode
Travel time
Adult fare
Hirtshals, Denmark
Seydisfjördur
Vehicle ferry
47 hours
€260


Car fare: €625

London, UK
Reykjavík
Flight
2 hours 50 minutes
€50
Oslo, Norway
Reykjavík
Flight
3 hours
€55
Copenhagen, Denmark
Reykjavík
Flight
3 hours 15 minutes
€90
Paris, France
Reykjavík
Flight
3 hours 35 minutes
€190
Montreal, Canada
Reykjavík
Flight
5 hours 10 minutes
€330
New York, USA
Reykjavík
Flight
5 hours 45 minutes
€145
Chicago, USA
Reykjavík
Flight
6 hours
€315
* Calculated at the time of writing, the ferry prices are for a round trip with a car and 2 passengers, and the flight prices are starting fares for a one-way journey for a single person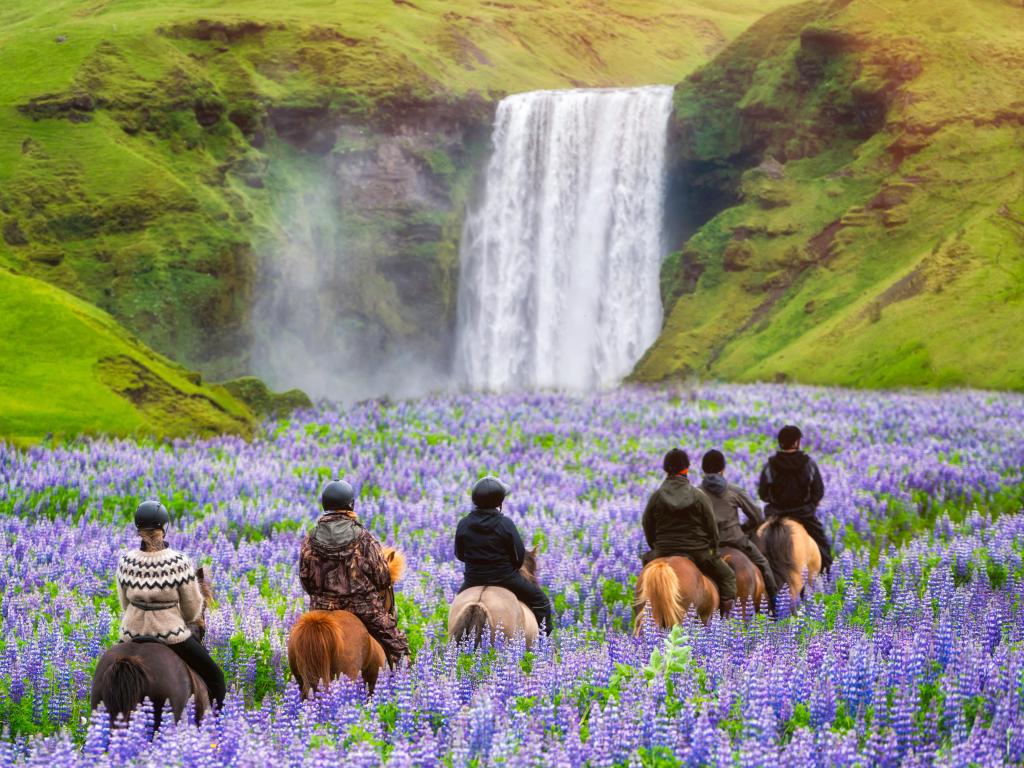 Things to see once you reach Iceland
Whether you're making the short hop by plane or the epic ferry adventure, make sure you're ready to hit the road and explore once you've got through passport control.
There's plenty to see and do in Iceland, but here's a snapshot to get you started with planning your trip:
Ferry Terminal Views - Upon arrival, don't rush from the port. Instead, take a moment to appreciate the views of the fjord and surrounding mountains from Seyðisfjörður harbor.
Seyðisfjörður Village - Delve into this charming village before beginning your drive across Iceland. You'll find colorful houses, shops, and cafes. Seyðisfjarðarkirkja, a blue church, is an iconic local landmark.
The Ring Road -With your vehicle at the ready, head on an epic journey along the Ring Road. You'll encounter glaciers, waterfalls, volcanoes, and natural hot springs where you can bathe and see the Northern Lights.
Egilsstaðir -On the Ring Road, this small town has the East Iceland Heritage Museum, where you can learn about the history of East Iceland.
Gufufoss and Haífoss Waterfall -Just a 4-minute drive from Seydisfjördur will take you to Gufufoss. The waterfall is surrounded by lush greenery and is a peaceful setting for a walk or photos.
This list is just the beginning to inspire you and help you get started on your planning. Whichever way you make the journey to Iceland, there are countless natural wonders and buzzing city sights to enjoy once you've arrived.