Ireland driving tips: Rules, road signs and essential advice
Driving in Ireland falls somewhere in between UK and European rules, which makes navigating this country's breathtaking roads a little tricky at times.
With confusing Gaelic road signs, driving on the left, and multiple emergency phone numbers, it can be quite overwhelming heading out on your first Ireland road trip.
That's where we come in. Our guide to driving in Ireland will provide you with all the knowledge, tips and tricks you need to get you driving confidently and safely, so you can spend less time worrying and more time taking in the views.
Rules of the road
Drive on the left - This means the steering wheel is on the right, so make sure you're confident with the back-to-front controls before you set off if necessary.
Always overtake on the right
You must be 17 or over to drive in Ireland
Wearing your seat belt, and a crash helmet when on a motorcycle, is compulsory at all times
Children under 1.5m tall or under the age of 12 must use a suitable car seat when on the road
It's frowned upon to use your car horn between 11.30pm and 7am
It's illegal to carry radar detection devices in your car - if your GPS has a built-in function which can detect speed cameras, it must be deactivated
The general blood alcohol limit is 0.05%, however if you've been driving for less than two years it's 0.02%. You may have to undergo a random breath test, even if you are not suspected of drink driving
Speed limits are displayed in kilometres per hour
Overtaking
Be courteous - drivers must not attempt to overtake if it's likely to inconvenience other drivers, so think before you pull out.
Another thing to remember is that at a junction not controlled by either traffic lights or a traffic warden (a member of the Garda Siochana), right of way is given to vehicles travelling on the main road. If the roads are of the same standard, give way to vehicles approaching from the right.
Roundabouts
Driving on the left means going clockwise around roundabouts.
Traffic entering the roundabout must give way to any cars already driving around it (which will be approaching from the right).
What do I need in my car?
There are a number of things you should carry in your car whilst driving in Ireland:
A valid driver's licence - visitors from certain countries also have to carry an International Driving Permit, so check before you set off.
A copy of your car rental agreement if you've hired a vehicle
Spare bulbs for your car's external lights
A warning triangle in case you break down
A first aid kit and fire extinguisher in case of emergency
What should I probably have in my car?
Something else you should bring other than the above essentials is change for toll roads. In Ireland most tolls don't take credit cards, so it's a good idea to have some cash on hand.
Speed limits
Speed limits are displayed in kilometres per hours and vary depending on the type of road you are driving on. The general limits are as follows:
120 km/h on motorways
100 km/h on national roads
80 km/h on regional and local roads
50 km/h in built-up areas
Don't be tempted to break these speed limits as that will incur some pretty hefty consequences.
If you're caught driving 10 km/h over the speed limit, you will receive an €80 fine and two points on your licence, 20 km/h hour over the speed limit will get you a €150 fine and four points, and anyone driving 30 km/h over the speed limit will get a €200 fine and six points on their licence.
Speed limits are displayed on circular signs with a red border.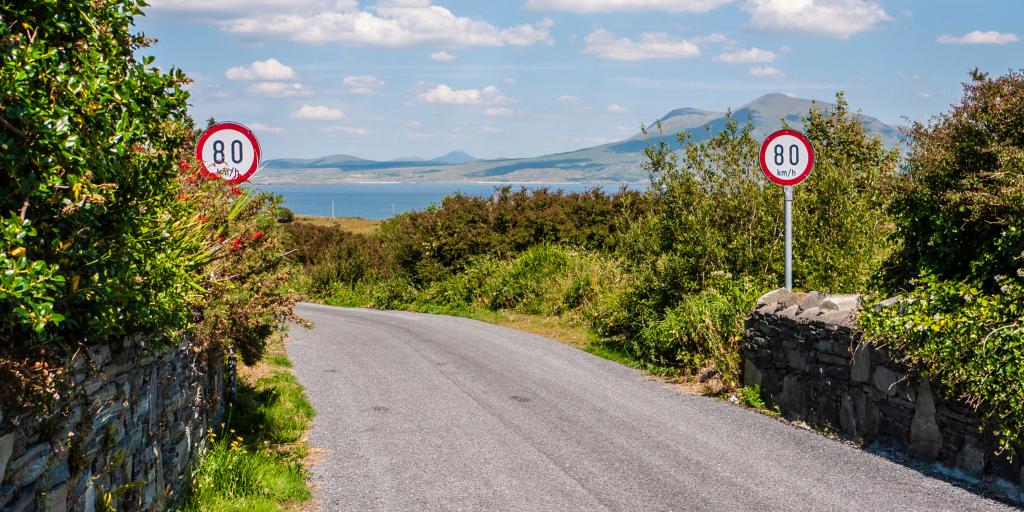 Tolls
In the Republic of Ireland there are 11 toll roads stretching across the country, so you're likely to cross paths with one or two during your road trip.
Ten of the 11 have regular tolls where you pay by cash (and sometimes card), and the M50, which loops around Dublin, operates on a no-stop electronic system that reads your number plate.
Probably the easiest way to pay for tolls is via a Toll Tag account, a pre-paid tag that gives you a €1 discount on the M50 toll.
Prices range from around €1.40 to €3 depending on the road, so they're relatively inexpensive.
Parking
There are some pretty specific rules when it comes to parking in Ireland, so it's important to know a few things to avoid facing fines during your road trip.
Firstly, there are a number of instances in which parking is prohibited (these are pretty self-explanatory, but good to be aware of nonetheless).
You cannot park within nine metres of either a junction or a pedestrian crossing, and it's illegal to park at a marked bus stop or on a cycle path.
Drivers are also forbidden from parking on the pavement if it interferes with the movement of pedestrians, so make sure all four wheels are safely on the road.
It's also good to note that yellow lines mark areas that you're not allowed to park in, so if you see these markings move on and find a different spot.
In most towns, parking time will be limited by the use of paid meters, from which you must display your ticket in the window of your car.
Parking fines
If you don't adhere to parking regulations you could face on-the-spot fines. It's also possible that your wheel could be clamped, in which case an €80 fee must be paid to have it removed.
In some areas your car may even be towed if it's causing an obstruction. This will result in a significant fee for the car to be released - not ideal when you're trying to enjoy your holiday!
Disabled Parking
Disabled parking spots are marked with blue lines and the international disabled parking sign of a wheelchair, so it's easy to distinguish from regular parking.
Drivers must display their disabled badge, and can park in these spaces for as long as necessary (although in private car parks the time you can park may vary, so make sure you check).
It's also important to note that disabled badge holders cannot park on single or double yellow lines if their car is likely to cause obstruction, so be mindful of this too.
Fuel
There are a good number of fuel stations dotted across the country, however if you're doing some wilder, more remote drives it's a good idea to fuel up when you're close to a town or city as you won't always find places to top up in the middle of nowhere.
Fuel prices are generally a tiny bit higher here than in other European countries, but it's still really affordable at around €1.28 per litre for unleaded, and €1.38 for diesel.
Remember - fuel prices aren't rigid and these are just approximate figures, so expect to see these numbers fluctuating a little around the time of your visit, and don't forget that you pay with pounds in Northern Ireland, and euros in the Republic.
You shouldn't have any problems paying with your credit or debit card in Irish petrol stations, and most have a cash point if you do need to pay in cash and don't have any to hand, so don't stress about your fuel payment method.
Important phrases to know
There are some areas of Ireland, called Gaeltacht areas, where Irish Gaelic is the main language spoken by the local population, so it's a good idea to be familiar with some Gaelic words you're likely to see on road signs during your trip.
Whilst in lots of areas you'll find both English and Gaelic on the signs, be prepared to go without English in more rural areas.
The Gaeltacht covers big chunks of counties Donegal, Mayo, Galway and Kerry, as well as areas in Cork, Meath and Waterford, and the Gaelic words include place names as well as general road instructions, so make sure you've looked up the places you're going.
Note: You're much more likely to see Gaelic words on signs rather than hear it spoken, so don't worry too much about a language barrier when you're talking to locals.
Useful phrases:
Géill Slí = give way/ yield
An slí amach = exit
Bealach isteach = entrance
Teorainneacha luais = speed limits
Stad = stop
Carr-chlos = car park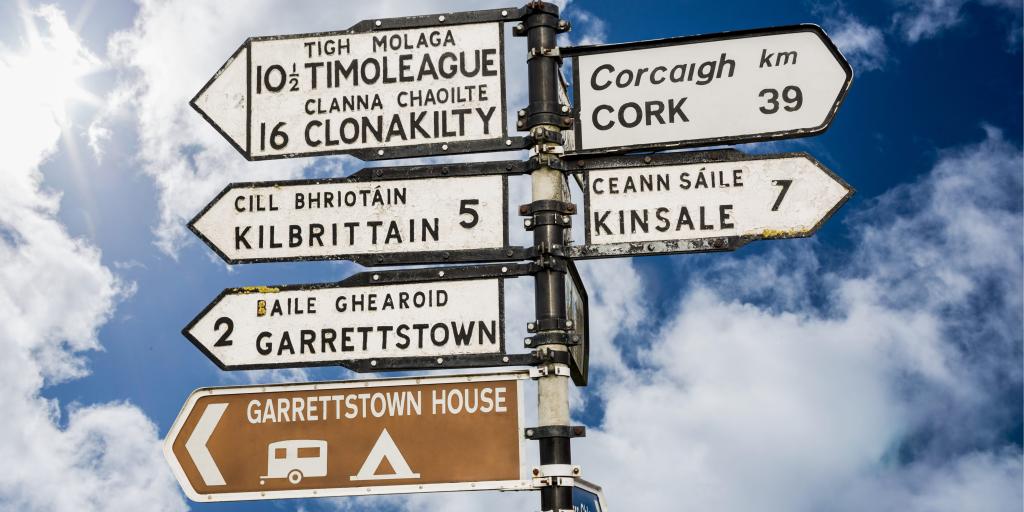 Emergency phone numbers
You can dial either 112 or 999 to contact the emergency services in Ireland.
If you are deaf or have a hearing impairment, it's possible to register for a 112 SMS service so you can text rather than call an operator.
It's also good to note that the operator will ask you to provide your Eircode if possible. This is Ireland's version of a postcode, and will consist of a combination of seven letters and numbers.
Just in case of emergency, you should write down the Eircode of your hotel and keep it in your car.
Recommended road trips
Our scenic 10 day round trip from Dublin is the ideal road trip if you're in the market for the ultimate Ireland driving experience.
Covering iconic cities including Dublin, Cork and Kilkenny, stunning coastal stretches like the Dingle Peninsula, and incredible famous Irish drives including the Ring of Kerry, this itinerary is the perfect way to discover the best of Ireland's roads.