Can You Drive To Puerto Rico?
Puerto Rico is a one-of-a-kind destination, located over 1,000 miles off the Florida coast with the Caribbean to the south and the Atlantic to the north. Once a Spanish colony, it became a US territory in 1898, and its culture today has Spanish, Afro-Caribbean and US influences.
You can't drive from the United States to Puerto Rico as no car ferries travel this route, but you can board a ferry from the Dominican Republic. The best way to get to Puerto Rico from the USA is to catch a flight, or to visit while you enjoy a Caribbean cruise.
Once you've arrived in Puerto Rico there's a rich history to explore, from the cobblestone streets of Old Town Juan and fortresses perched high up on hills overlooking the sea. Part of the Caribbean, Puerto Rico has scenic beaches to boot. So, while it's not an ideal road trip destination, it's still a fabulous place to visit.
Can you drive to Puerto Rico?
Puerto Rico is a US territory which sits between the Caribbean Sea and the North Atlantic Ocean. To the west and east you'll find the Dominican Republic and the British Virgin Islands, which are around 60 and 80 miles away respectively.
Driving from the USA is nigh on impossible as there are no direct car ferries and there's no bridge that spans the 1,000 miles of ocean. If you really wanted to take your car to the island, you'd have to send it as cargo which, considering the hassle, we don't recommend.
Instead, you can easily from the USA to Puerto Rico via a commercial flight, by ferry from the Dominican Republic, or as part of a cruise. Keep on reading to find out more about each of these options.
How to get to Puerto Rico from the mainland USA
Table comparing routes to San Juan, Puerto Rico

| Departure Point | Mode | Travel time | Adult fare |
| --- | --- | --- | --- |
| Miami International Airport | Airplane | 2 hours 30 minutes | $100-120 |
| Tampa International Airport | Airplane | 3 hours | $120-150 |
| Orlando International Airport | Airplane | 2 hours 30 minutes | $100-120 |
| Orlando International Airport | Airplane | 2 hours 50 minutes | $120 |
| Santa Domingo, DR | Car Ferry | 13 hours | $130 |
| Miami | Cruise | 9-10 nights | from $460 |
| Fort Lauderdale | Cruise | 6-15 nights | from $715 |
*Price calculated at the time of writing, for 1 adult, based on a round trip
The quickest and most convenient way to get to Puerto Rico, flights are cheap and run daily all year round, with a flight time of 2 hours 30 minutes from Miami. Once you've arrived in Puerto Rico you can drive around the island if you pick up a rental car - there are some beautiful places to explore.
Alternatively, visit the island as part of a cruise - many routes visit San Juan as part of a trip around the Caribbean. The downside to this is that you'll often only stay one night in Puerto Rico, and cruises are significantly more expensive than the budget flights.
You'll also have to fit in with the cruise schedule if you take this option to travel to Puerto Rico. Different routes operate with varying frequencies, so you'll have limited flexibility around when you travel.
As we've mentioned, there's also the possibility of taking the boat from the Dominican Republic, which departs 3 evenings a week, all year round. However you'll still have to get there which can be tricky as there are no car ferries running between the USA and Dominican Republic either.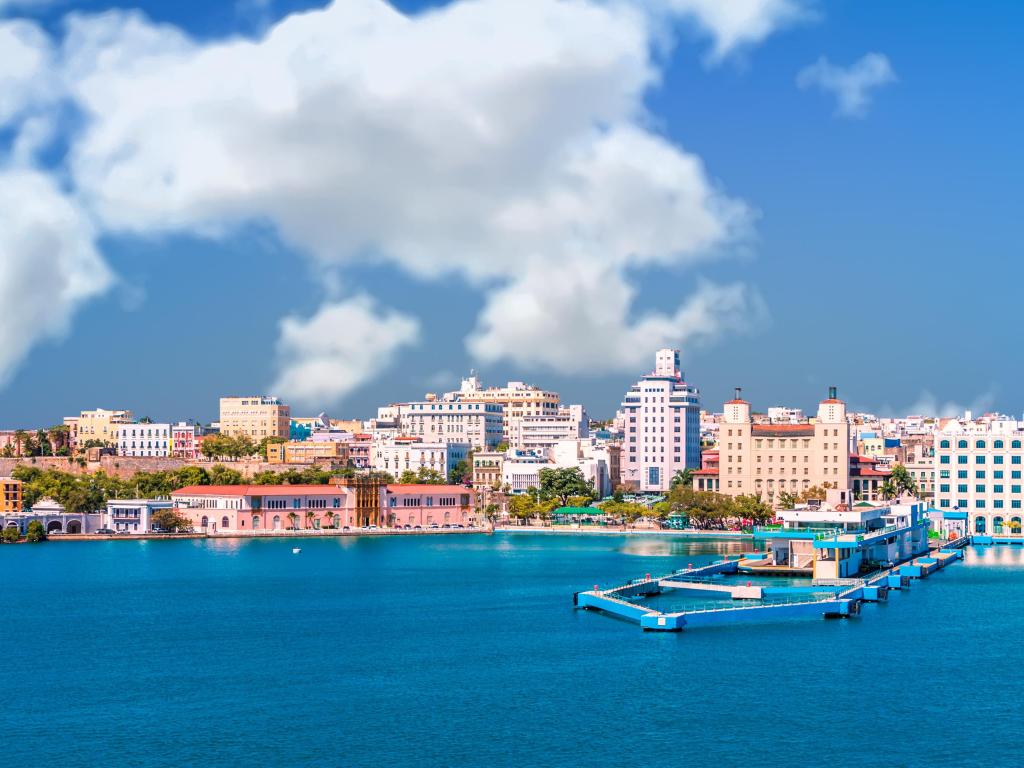 With budget airlines such as Frontier and Spirit both running commercial flights between mainland USA and Puerto Rico, flights can be a very affordable option. American Airlines and United Airlines also fly there.
We've summarized approximate costs of some of the most popular routes below, although as you might expect, prices are usually higher than this during summer or over holiday periods.
You might also need to add on the cost of leaving your car at the airport or near the port while you take this trip. As an example, it costs around $17 per day to leave your vehicle at Miami International Airport's Dolphin and Flamingo Garages, and between $15 and $22 a night if you're departing on a cruise from Miami or Fort Lauderdale.
How long does it take to get to Puerto Rico?
As most travelers will take the plane to Puerto Rico, the journey is relatively quick even if you're travelling long distance. This also means that there isn't a huge variation in travel time even if you're starting as far away as New York.
Just remember to add on time to check in and get through security, and to transfer to your final destination in Puerto Rico.
Please refer to the table above for the travel times to Puerto Rico from United States and the time to take the ferry from the Dominican Republic.
Which port should you arrive at in Puerto Rico?
San Juan, the capital city, is the main entry point for most international travelers. It's the focal point for many visits, with many beach resorts and hotels in or near the city. More than half of the island's residents live in the San Juan area so it's a busy and vibrant place.
San Juan is one of the oldest cities founded by European settlers in the Americas, and visitors can enjoy exploring its cobbled streets, colonial architecture and forts, as well as the city's many restaurants, bars and other attractions.
If you're staying elsewhere on the island, or if you're hoping for a break from the crowds, you also have the option to fly in to Aguadilla Airport or Ponce Airport.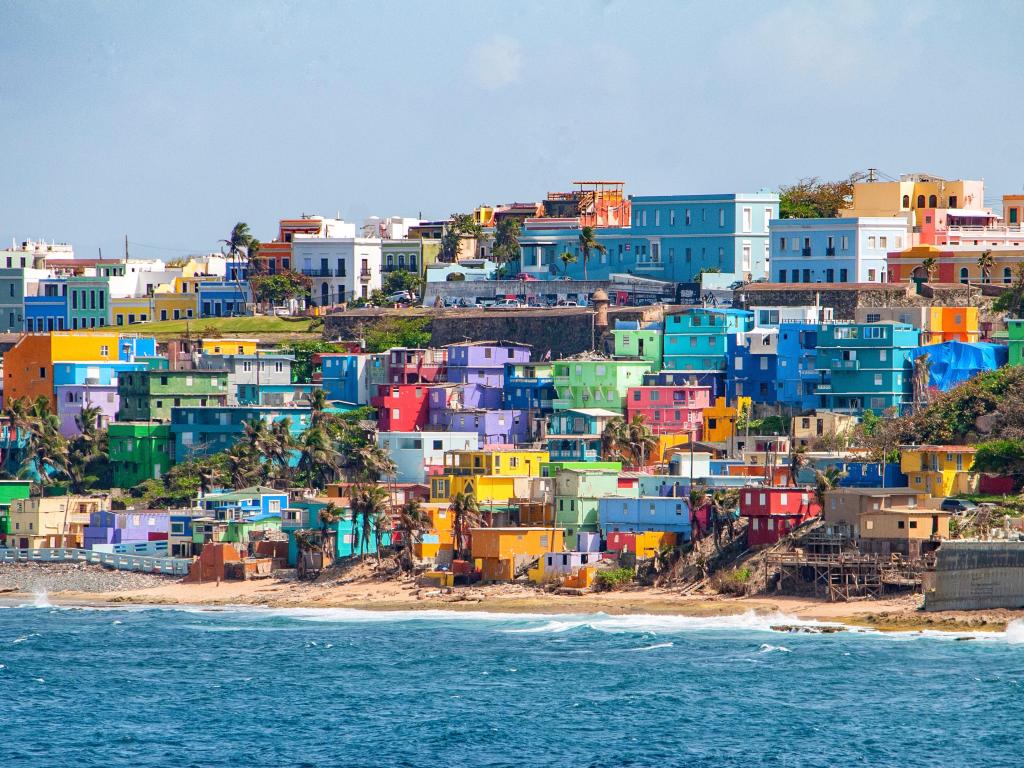 If you head to Aguadilla there are some great beaches to enjoy, including Survival Beach and Surfers Beach, and you can visit the Old Aguadilla Lighthouse Ruins.
Basing yourself in Ponce puts you near a number of great attractions, including Isla de Caja de Muertos, Parque de Bombas, Museo Castillo Serralles and Plaza Las Delicias. You can also get a feel for the history of this part of the island with visits to the Cathedral of Our Lady of Guadalupe and Museo de la Historia de Ponce.
Things you need to know about driving to Puerto Rico
Flights are much cheaper out of season. Visiting San Juan in winter is a good choice because you can get round trip flights for $100, and this is a great time to visit Puerto Rico's beaches. The cost increases in the summer months and holidays.
You'll need to book cruises well in advance. With limited availability, they often sell out and booking is open a year in advance. That said, you can discover offers at short notice, but you run the risk of missing out.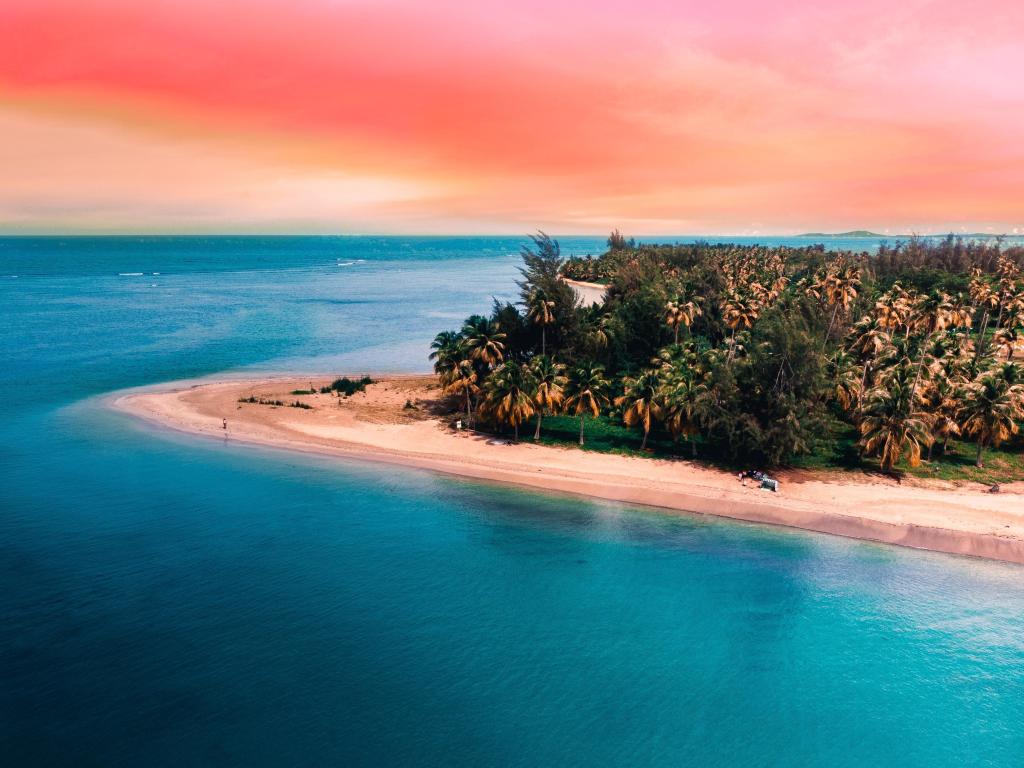 United States citizens don't need a valid passport to enter Puerto Rico but you will need valid ID if flying. If you're not a US national, check ahead for ID requirements.
If you're taking a cruise, you'll most likely need a passport even if you're a United States citizen as cruises often stop at places such as the Bahamas, where you need a passport.
However you choose to travel, it's worth noting that in May 2025, the US will introduce the Real ID Act. Check if you're ready here.
Here are our top tips when it comes to preparing for a drive to Puerto Rico:
If you're short on time, such as on a cruise, go to Old San Juan.
There is plenty of accommodation on Puerto Rico, but don't leave it too late to book.
If you want to drive, hire a rental car so you can explore. However, prepare for crazy driving and heavy traffic.
It's sunny all year round, but expect short sharp showers through most of the year.
Hurricane season is between June and November, so you should expect tropical showers even if you manage to avoid a full-blown hurricane. Although there's increased risk, if it's a risk you're willing to take, you can get cheaper flights and cruises, especially after August.
The currency in Puerto Rico is dollars. But it's not cheap and you can expect prices similar to Miami.
If you're going in the sea waters, beware of rip currents.
As with most Caribbean islands, mosquitos are rife on Puerto Rico, so pack repellent.
Things to see once you reach Puerto Rico
There's plenty to see and do in beautiful and historic Puerto Rico. Here are some of our top picks to make your stay sparkle:
Old San Juan - The colorful cobblestone streets are lined with 16th and 17th-century Spanish buildings offering a European vibe. A great place to wander and fall upon boutique shops.
Fortaleza Street - In old San Juan, take a walk along this famous street. There's an art installation of colorful umbrellas floating above the street, making for a prime photo opportunity.
La Fortaleza - At the end of Fortaleza Street is La Fortaleza. This 16th century mansion is open from Monday to Friday for walking tours.
Castillo San Felipe del Morro - Perched on a hill overlooking the sea is this Spanish castle and fort, named a World Heritage Site by UNESCO. You can take a tour through the historic landmark.
Catedral Basilica Menor de San Juan Bautista - A cathedral built in 1540 with medieval architecture. It's also the place where the famous conquistador Ponce De Leon is entombed.
Condado Beach - After exploring the history, relax on the beach with its crystalline waters.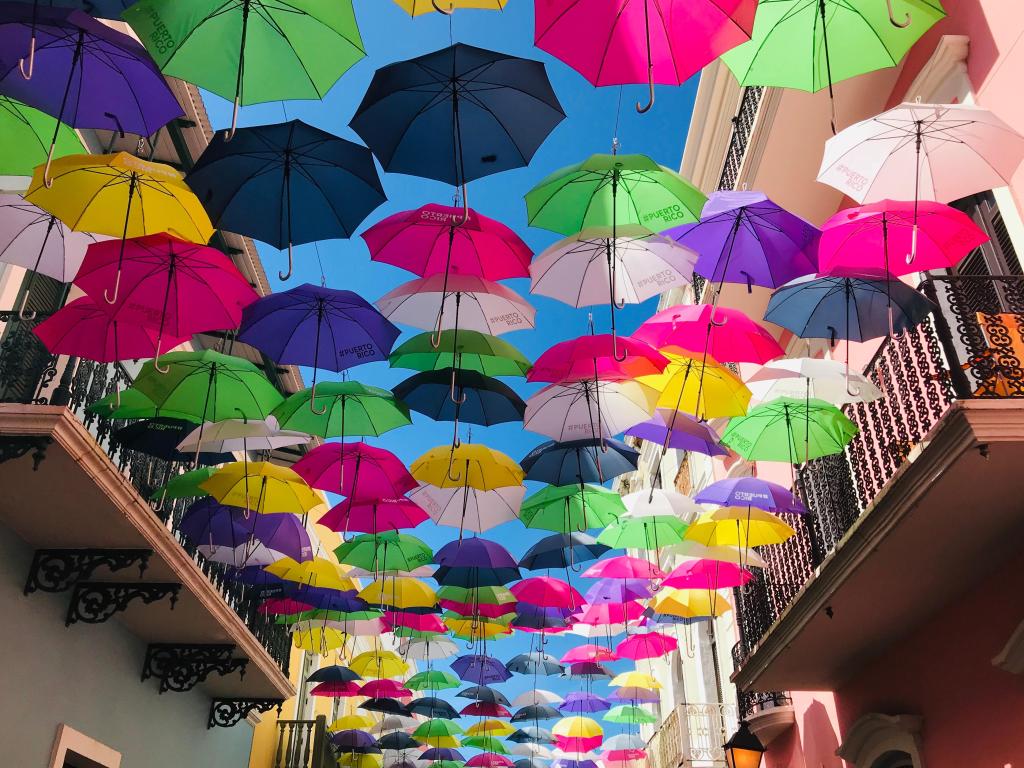 Although you can't drive to Puerto Rico from the mainland United States, it's still a fabulous place to visit that gives a real contrast to other parts of the United States. So, pack your case and get ready to head on over to the airport!