Ready for Fast X? Here are our favorite locations from the Fast & Furious Movies
Are you a fan of Fast and Furious, and want some hands-on experience, exploring the filming locations to relive your favorite moments in this epic movie franchise? While you won't be able to pull off the action-packed scenes yourself (some of which were created by CGI), you can still create your own Fast and Furious adventure.
The Fast and Furious movie franchise was filmed in various locations around the world. We have curated the best places you can visit to get a feel of the movies, see where some of the iconic races took place and set off on trips to explore further.
Some of the filming locations correspond to the ones featured in movies while some are fictional or undisclosed places. Don't worry if you were looking forward to visiting these locations though, because we've done our research and found out where these places could actually be.
Read on to learn more. And remember - safety comes first!
*Note: Spoilers ahead!
1. The Fast and the Furious (2001)
First street race
What happens in this scene?: Undercover police officer Brian O'Conner (Paul Walker) tries to prove himself to infamous street racer Dominic Toretto (Vin Diesel) by participating in a street race with Dom and other racers.
Where to visit to get a feel for the scene/movie: The street rally is held in Los Angeles, California. The event takes place in Alameda Square near Dodger Stadium in a parking lot, which is located on the edge of the Arts District.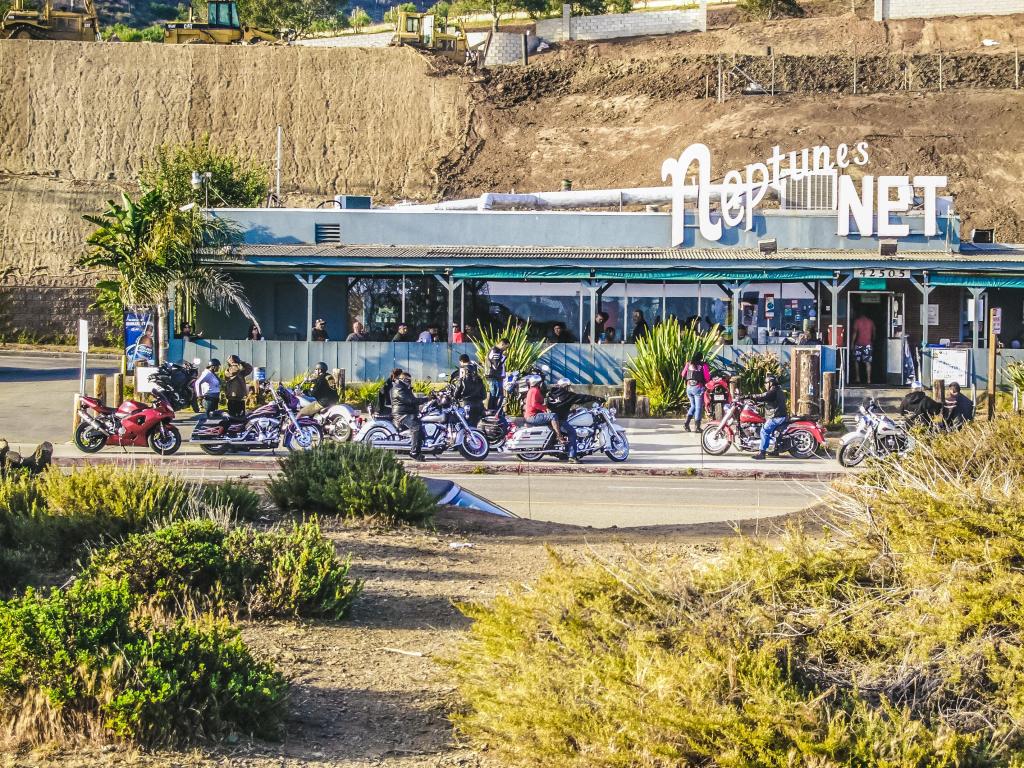 Other filming locations to visit:
Toretto's Market & Cafe - This iconic fictional location from the movie is where Dominic Toretto's (Vin Diesel) family-owned business is set. It was filmed at Bob's Market in Echo Park, which is a real-life grocery store. Address: 1234 Bellevue Ave, Los Angeles, CA 90026
Echo Park - The Fast and the Furious features several scenes in the Echo Park neighborhood, which is near Dodger Stadium. Some street racing events and gatherings in the film take place around this area. Address: Echo Park, Los Angeles, CA 90026
Racer's Edge Performance - This location served as the exterior of the auto shop where Brian (Paul Walker) worked. The building is now home to a different business, but the structure still stands. Disappointingly, there is no car on the roof in the real-life filming location. Address: North Orange Drive, Los Angeles, CA 90012
Neptune's Net - Dom and Brian stop at this quaint eatery in the movie. Established in 1956, Neptune's Net is a historic and iconic seafood restaurant located along the scenic Pacific Coast Highway in Malibu, California. Address: 42505 CA-1, Malibu, CA 90265
Things to see nearby:
Dodger Stadium - Catch a baseball game at Dodger Stadium, home to the Los Angeles Dodgers. This iconic sports venue offers a great atmosphere and classic ballpark snacks.
Echo Park Lake - Spend a leisurely day at Echo Park Lake, where you can enjoy a picnic, walk around the park, or rent a pedal boat to explore the lake and its famous lotus flowers.
Angel City Brewery - Taste some locally brewed craft beers at Angel City Brewery, a popular spot that often hosts food trucks, art shows, and live music events.
Olvera Street - Explore the historic Olvera Street, known as the birthplace of Los Angeles. This lively marketplace features traditional Mexican food, shopping, and cultural events. You can also see some of the oldest buildings in LA here.
The Broad Museum - Visit the contemporary art museum, The Broad, which houses an impressive collection of postwar and contemporary art. Admission is free, but it's recommended to reserve tickets in advance.
Where to stay: While visiting Los Angeles and the Echo Park area, we recommend staying at the fabulous Conrad Los Angeles. This way, you will be located in the heart of the city and can explore all the attractions, related to Fast and Furious or otherwise, easily.
Explore further: While visiting Echo Park and retracing the steps of Dom and Brian, why not take a break and visit the gorgeous natural scenery located a stone's throw from the city? You can make a day trip to Angeles National Forest via Pasadena (around an hour's drive from the hotel).
Interesting facts: To make the street racing scenes as authentic as possible, the filmmakers invited real-life street racers to be a part of the movie. They were hired to drive their own modified cars in the racing sequences.
The first race scene was filmed in the streets around Dodger Stadium in Los Angeles. However, the actual race was filmed on several different streets, which were edited together to create the illusion of one continuous race. This technique is common in filmmaking to achieve desired shots and sequences.
In the movie, the racers use nitrous oxide (NOS) to give their cars a significant speed boost during the race. While nitrous oxide is used in real-life racing to increase an engine's power output, the effect is not as dramatic as depicted in the film.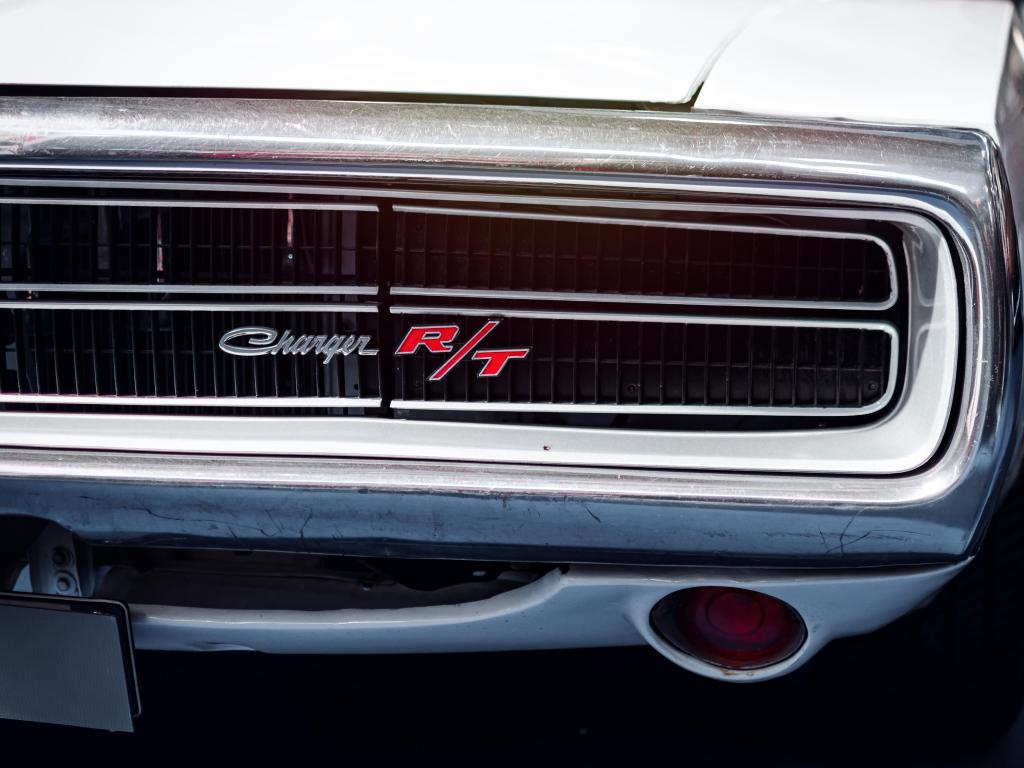 What to drive:
Mazda RX-7 (FD)
Mitsubishi Eclipse
Toyota Supra Mk IV
Dodge Charger R/T
Other races in the movie:
Race Wars - Invented by Dom and his team, Race Wars consists of drag races where racers compete for large amounts of cash or pink slips. There are real-life versions of this event based on the movie which take place throughout the world, including in Australia. This race takes place in San Bernardino Airport.
Highway truck hijacking - Dom and his crew attempt to hijack a truck on a highway (possibly San Bernardino Freeway), located in Los Angeles. While not a traditional race, it involves high-speed driving and coordination between the team members.
Final quarter-mile race - Brian and Dom go head-to-head in a quarter-mile race as the police close in. It's a pivotal moment in the movie where Brian reveals his true identity as an undercover cop. This scene takes place near Terminal Island, Los Angeles.
Click here to skip to the top.
2. 2 Fast 2 Furious (2003)
First street race
What happens in this scene?: Brian competes against other racers, only to be arrested by the police and be given a deal by his former boss to bring down the drug lord Carter Verone.
He then asks to work with his old friend Roman Pearce (Tyrese Gibson) to bring down Verone. The race serves as a way to establish Brian's racing credentials.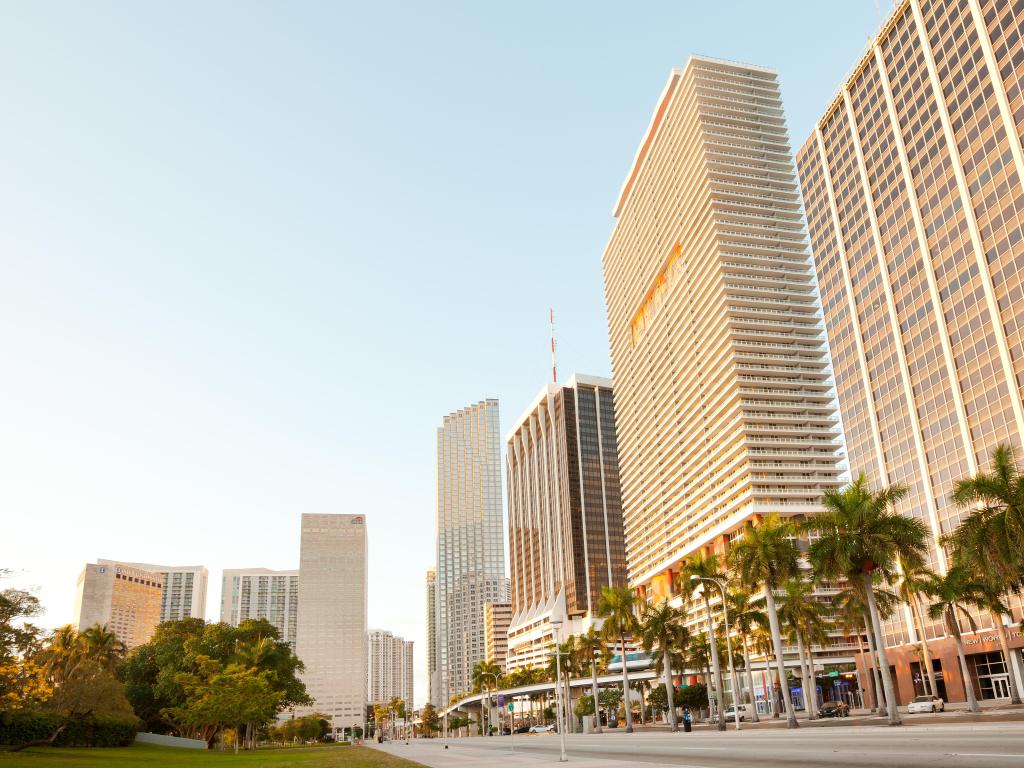 Where to visit to get a feel for the scene/movie: The race takes place just north of Downtown Miami on North Miami Avenue (possibly starting at NE 14th Street) and then most likely follows a southward direction with sights of Kaseya Center (formerly known as American Airlines Arena) on Biscayne Boulevard.
Other filming locations to visit:
Tej's Garage - This garage is a hangout spot where the crew spends time together, and it often serves as a hub for street racing in Miami. This is where Brian and Roman work on their cars in preparation for the mission to take down Carter Verone. This garage is now called Ted's Garage in its real-life location. Address: 1200 N Ocean Dr, Hollywood, FL 33019
Carter Verone's estate, Miami -This location was used for the exterior shots of Carter Verone's mansion, where Brian and Roman attend a party in the movie. This estate was previously owned by Sylvester Stalone. Address: 100 SE 32nd Road at Brickell Avenue in Coconut Grove
Versailles Restaurant - The duo meets up with Verone's henchman for the big job in front of Versailles Restaurant, which is still open and serves delicious Cuban food today. Address: 3555 SW 8th St, Miami, FL 33135
Things to see nearby:
South Beach - Stroll along the iconic South Beach, soak up the sun, and take in the Art Deco architecture in the surrounding area. Enjoy the vibrant atmosphere, trendy shops, and delicious restaurants lining Ocean Drive.
Vizcaya Museum and Gardens - Visit this stunning Italian Renaissance-style villa, which houses an extensive collection of art and antiques. Explore the beautifully landscaped gardens and admire the views of Biscayne Bay.
Little Havana - Experience the Cuban influence on Miami by visiting Little Havana, a lively neighborhood filled with colorful murals, art galleries, and authentic Cuban cuisine. Be sure to check out the famous Domino Park, where locals gather to play dominos.
Coral Castle - A 40-minute drive from the city center, this unique and mysterious attraction is an impressive stone structure built by a single man, Edward Leedskalnin, over several decades. The construction methods remain a mystery, making Coral Castle a very unique destination.
Where to stay: To immerse yourself in the ultimate Florida experience, we highly recommend staying at the Ritz-Carlton, Key Biscayne during your visit.
Explore further: A Florida getaway is not complete with a visit to the gorgeous beaches of Key West. Allow 4 hours each way for this scenic road trip from Miami to Key West on the famous Seven Mile Bridge.
Interesting facts: The street race was filmed on location in Miami, which presented challenges for the production team. The city only allowed the filmmakers to close down the streets for a few hours each night, which limited the time they had to shoot the high-speed sequences.
During the race, Brian uses a ramp to jump his Nissan Skyline GT-R R34 over a drawbridge. The production team built a large ramp, and a stunt driver performed the actual jump. However, the bridge was added in post-production using CGI.
What to drive:
1999 Nissan Skyline GT-R R34
2001 Mitsubishi Eclipse Spyder GTS
1993 Toyota Supra Turbo
1994 Mazda RX-7 FD
2002 Mitsubishi Lancer Evolution VII
2003 Dodge Viper SRT-10
1969 Chevrolet Yenko Camaro
1969 Chevrolet Chevelle
Other races in the movie: In 2 Fast 2 Furious, while there isn't another street race on the same scale as the opening race, there is a significant high-speed car chase towards the end of the movie. This scene involves Brian and Roman trying to evade the police and Carter Verone's henchmen while driving at high speeds.
This car chase sequence takes place on various roads and highways in and around Miami, Florida including Wynwood Arts District north of Downtown and Dade Collier Training and Transition Center.
Click here to skip to the top.
3. The Fast and the Furious: Tokyo Drift (2006)
Drift race in the parking garage
What happens in this scene?: The main character of the movie, Sean Boswell (Lucas Black), has moved to Tokyo to live with his father after a street racing incident in the United States.
He quickly gets involved in the underground world of drift racing and is introduced to Han (Sung Kang), who teaches him about drifting. In an attempt to prove himself, Sean challenges DK (Brian Tee), the local drift king, to a race.
Where to visit to get a feel for the scene/movie: While the specific parking garage from The Fast and the Furious: Tokyo Drift was filmed in Los Angeles (Hawthorne Plaza Mall, Hawthorne Boulevard), there are multi-level parking garages in Tokyo that resemble the one depicted in the movie. One such place is the Daikoku Futo Parking Area.
Daikoku Futo Parking Area is a large parking lot and rest area located in Yokohama, near Tokyo. It is a popular gathering spot for car enthusiasts, who often meet there to showcase their vehicles and socialize.
Although it's not an exact match for the parking garage in the movie, it does share a similar atmosphere and vibe.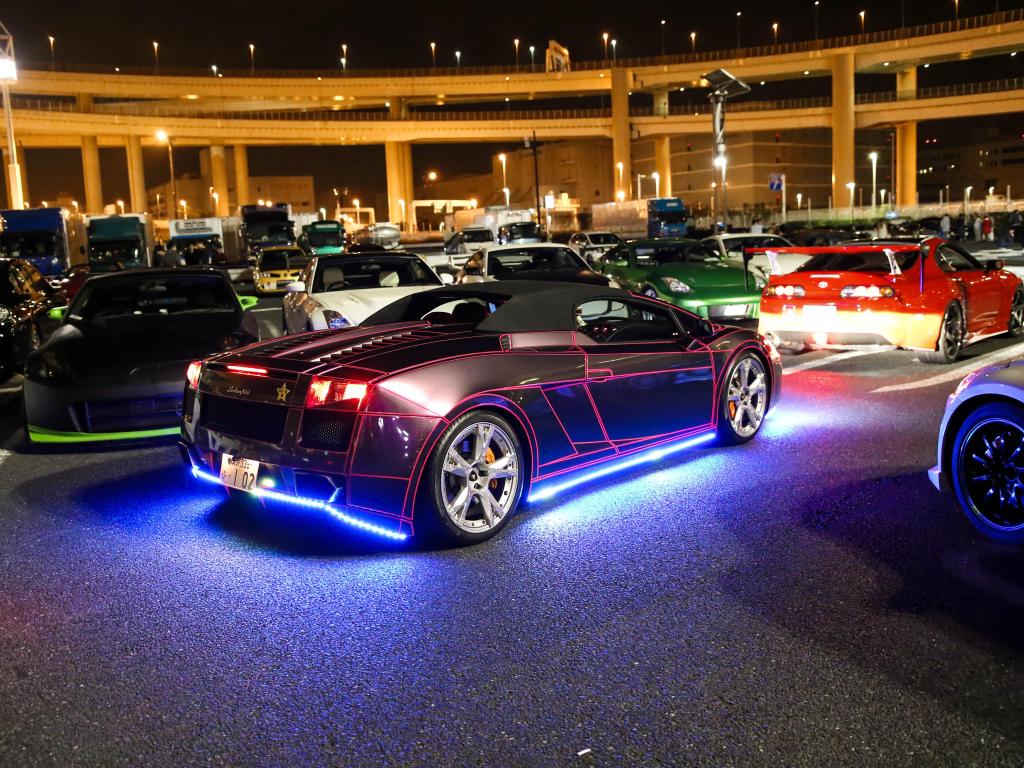 Other filming locations to visit:
Han's Garage - This is a fictional location where Sean Boswell learns about drifting and forms a bond with Han. Although the movie is set in Tokyo, Han's garage was filmed at a warehouse in Los Angeles, California. It was a warehouse on Santa Fe Avenue at Mesquit Street Downtown LA before the area was redeveloped. Address: E 6th St, Los Angeles, CA 90013
Shibuya Crossing, Tokyo - A famous pedestrian crossing in Tokyo, featured in the movie when Sean Boswell first arrives in the city. The bustling intersection is known for its massive video screens and neon signs, as well as the large crowds of people crossing the street simultaneously from multiple directions. Address: Shibuya Crossing, Shibuya City, Tokyo, Japan
Harajuku District, Tokyo - The vibrant Harajuku district is featured in several scenes throughout the movie. Known for its quirky fashion, youth culture, and numerous shops and restaurants, Harajuku is a popular destination for both locals and tourists. Address: Harajuku District, Shibuya City, Tokyo, Japan
Things to see nearby:
Takeshita Street - This bustling pedestrian street is the heart of Harajuku's fashion scene, filled with trendy boutiques, vintage shops, and colorful fashion stores. It's the perfect place to shop for unique clothing items, accessories, and souvenirs.
Meiji Shrine - A serene Shinto shrine located in a tranquil forest, Meiji Shrine is dedicated to Emperor Meiji and Empress Shoken. Visitors can appreciate the traditional Japanese architecture, take part in Shinto rituals, or simply enjoy the peaceful atmosphere.
Yoyogi Park - This large urban park is a popular spot for locals and tourists alike, offering a green oasis in the middle of the city. Visitors can enjoy picnics, participate in outdoor activities, or simply relax and people watch.
Kabukicho - This dazzling entertainment district dotted with shops, izakayas (tavern-style small restaurants), bars and clubs is worth a visit. Shinjuku's famous Golden Gai is a part of this district. See if you can spot the Godzilla head from a distance!
Where to stay: There are plenty of options as to where to stay in Tokyo for all budgets, but our absolute favorite is The Aoyama Grand Hotel in the affluent Aoyama neighborhood in the center of the city.
Explore further: While in Japan, you can easily hop on the Shinkansen (fast train) or rent a car and explore some of the other metropolises like Kyoto and Osaka. Here is our ultimate guide to the road trip itinerary from Tokyo to Osaka.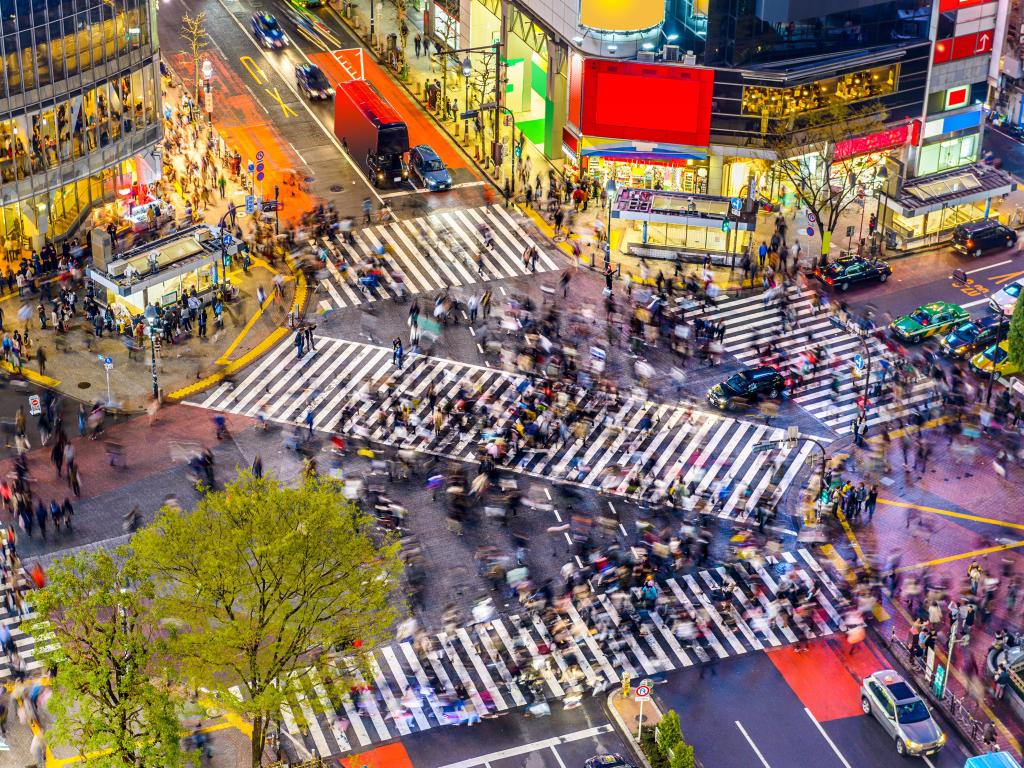 Interesting facts: The cast members, including Lucas Black, who played Sean Boswell, received intensive training in drifting techniques before filming the movie. The actors worked with professional drivers and stunt coordinators to learn the necessary skills and ensure authenticity in the on-screen racing scenes.
The majority of the drift racing scenes in the movie were performed using real cars and practical effects rather than relying solely on computer-generated imagery (CGI).
Due to strict regulations and the need to minimize disruptions in the busy city, many of the racing sequences were filmed during nighttime hours or in less crowded areas. Some scenes were also filmed in Los Angeles, with sets and locations dressed to resemble Tokyo.
What to drive:
2006 Mitsubishi Lancer Evolution IX
1971 Chevrolet Monte Carlo
2001 Nissan Silvia S15 Spec-S
2003 Nissan Fairlady Z (350Z)
2006 Mazda RX-8
1997 Mazda RX-7
1967 Ford Mustang Fastback
2005 Volkswagen Golf R32
Other races in the movie:
Night drift race - This race takes place on a mountain road on the outskirts of Tokyo. The exact location is not specified in the movie, but it is likely that these scenes were filmed in Southern California, possibly on San Gabriel Canyon Road, Route 39 near San Gabriel Dam (see if you can spot a dam in the background as the race starts!).
Click here to skip to the top.
4. Fast & Furious (2009)
Dom's escape
What happens in this scene?: The fourth installment in the Fast & Furious franchise brings back Dominic Toretto and Brian O'Conner as they join forces to take down a common enemy: a drug lord named Arturo Braga.
At the end of the film, Dom is captured and sentenced to 25 years in prison. As Dom is being transported to the Lompoc Penitentiary in a prison bus, Brian, Mia, and their friends intercept the bus to help Dom escape.
Dom's escape takes place on an unspecified highway in California, where Lompoc is located.
Where to visit to get a feel for the scene/movie: The exact location and coordinates are not provided in the film, and the location was likely a fictional mix and match of several routes, most likely Highway 166 or Highway 58 in California.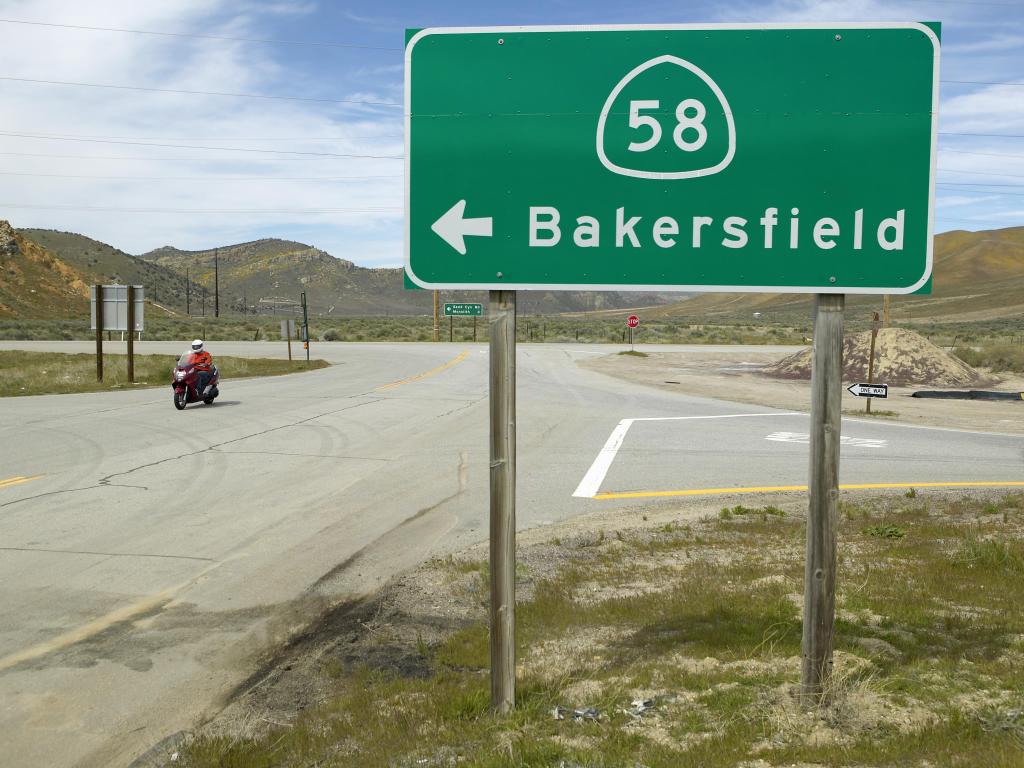 Other filming locations to visit: Potential drivers who want to work for Braga by winning a car race meetup at a parking lot, which is potentially Aroma Golf Range's parking lot in real life.
However, you won't be able to follow the exact route after this spot as the filming locations are a mash-up of various places in LA, including North Spring Street in Chinatown and Chinatown Metro Station on West College Street. Address: Aroma Golf Range 3680 Wilshire Blvd, Los Angeles
Things to see nearby:
Griffith Observatory - An iconic Los Angeles landmark offering stunning views of the city and the famous Hollywood Sign. It features exhibits on astronomy and space, as well as the Samuel Oschin Planetarium. The observatory is a short hike or drive from the hotel.
Barnsdall Art Park - A lovely outdoor space that houses the Hollyhock House, a UNESCO World Heritage Site designed by architect Frank Lloyd Wright. The park also features an art gallery, a theater, and art classes for both children and adults.
Hollywood Walk of Fame - A famous sidewalk along Hollywood Boulevard and Vine Street, featuring stars embedded in the pavement to honor notable entertainment industry professionals. Take a stroll along the Walk of Fame, explore the shops and restaurants nearby, and visit the TCL Chinese Theater and Dolby Theater.
Where to stay: The sky is the limit with lodging options in Los Angeles. However, if you are looking for a stylish hotel that won't break the bank, it is hard to beat The Metric, Los Angeles Downtown, located right in the heart of all the action.
Explore further: Pacific Coast Highway is a stunning drive, and it is absolutely worth taking an extra day or two to enjoy the many gorgeous coastal cities and beaches you can reach using this highway.
You can drive to Big Sur via Bakersfield and then take Highway 58 for a Fast and Furious adventure of your own (see above) and then return to LA on Pacific Coast Highway for the ultimate Cali adventure.
Interesting facts: Fast & Furious marked the first time since the original movie, The Fast and the Furious, that the main cast members, Vin Diesel and Paul Walker, starred together in a Fast & Furious film.
The production team decided to use a replica of Dom's original 1970 Dodge Charger R/T, built on a 1968 model with a customized body kit to resemble the 1970 model. This decision allowed them to preserve the original car and use the replica for the demanding action sequences.
What to drive:
1970 Dodge Charger R/T
1995 Mitsubishi Eclipse
2009 Subaru Impreza WRX STI
2002 Nissan Skyline GT-R R34
1987 Buick GNX
1972 Ford Gran Torino Sport
2001 BMW M5 (E39)
Other races in the movie:
The opening gas tanker heist - While not exactly a race, the opening scene of the movie features an action-packed gas tanker heist sequence in the Dominican Republic. Dom and his crew attempt to steal fuel from a moving tanker truck, resulting in a high-speed chase and daring stunts on the road.
The street race for Braga's team - In Los Angeles, Brian O'Conner participates in a street race to gain a spot on the drug lord Arturo Braga's team of drivers. This race takes place on the city's streets and showcases the movie's signature high-speed driving and impressive car maneuvers.
The tunnel race - Towards the end of the movie, Dom and Brian team up to chase down drug lord Arturo Braga and his henchman, Fenix, in a high-stakes race through a network of underground tunnels connecting the US and Mexico. This action sequence was filmed in various locations, including Southern California, but was meant to portray the border area between the two countries.
Click here to skip to the top.
5. Fast Five (2011)
Train heist scene
What happens in this scene?: In Fast Five, Dom, Brian, Mia, and their crew attempt a daring heist to steal high-performance cars from a moving train in the desert.
They successfully extract their primary target, a rare Ford GT40, but are double-crossed by their teammate Zizi. A high-speed chase ensues, involving both Zizi's men and the authorities.
Where to visit to get a feel for the scene/movie: The train heist scene in Fast Five was filmed near the desert landscape of California's Mojave Desert and in Arizona.
The famous scene of Dom and Brian's climactic leap was filmed on the Colorado River Railway Bridge at Parker as they jump into the Colorado River.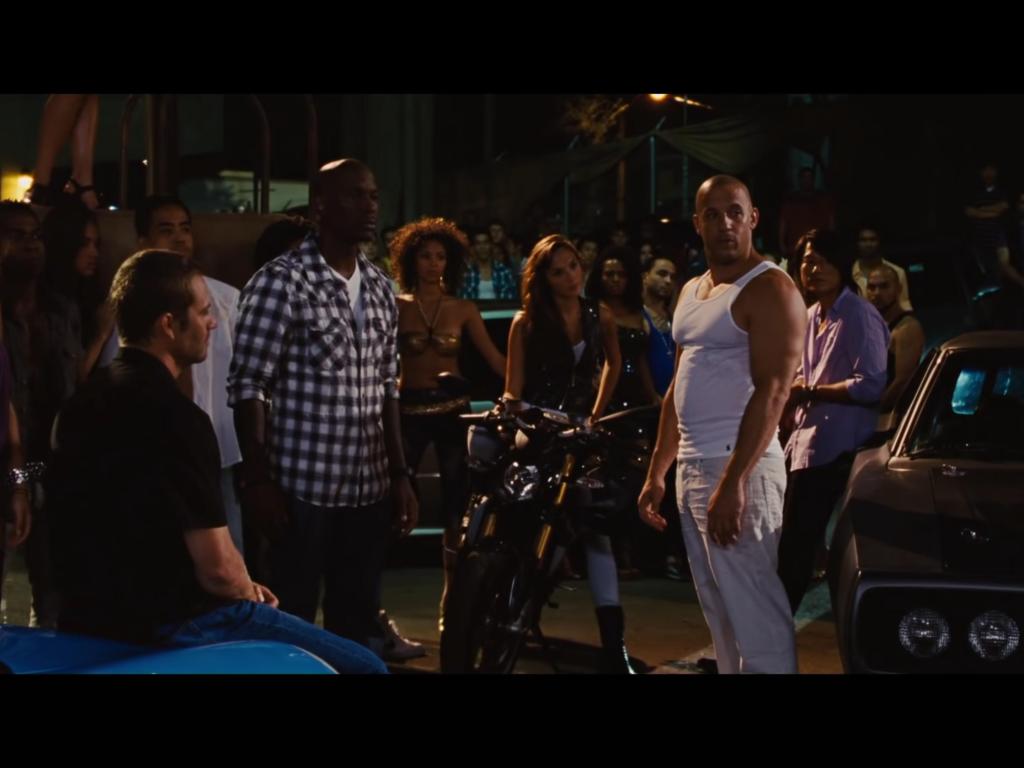 Other filming locations to visit: Many of the scenes were shot in Puerto Rico, which served as a stand-in for Rio de Janeiro, Brazil, where the film is set.
The production team chose various locations throughout the island to create an authentic Brazilian atmosphere since Puerto Rico's wider streets are more accommodating for car scenes.
Things to see nearby:
Old San Juan - A UNESCO World Heritage Site known for its colorful colonial buildings, cobblestone streets, and historic forts. Visit the iconic Castillo San Felipe del Morro and Castillo San Cristóbal, which are part of the San Juan National Historic Site, and learn about the island's rich history.
El Yunque National Forest - Take a trip to El Yunque National Forest, the only tropical rainforest in the United States National Forest System. It is home to a diverse range of plant and animal species, including the endangered Puerto Rican parrot.
Bioluminescent Bays - Experience the natural wonder of Puerto Rico's bioluminescent bays, such as Mosquito Bay in Vieques or Laguna Grande in Fajardo. These bays are home to bioluminescent microorganisms that emit a blue-green glow when disturbed, creating a magical experience for visitors. You can take guided kayak tours at night to witness this extraordinary phenomenon.
Where to stay: Located in Old San Juan, 352 Guest House Hotel Boutique is a gorgeous hotel that features authentic Puerto Rican architecture and stylish rooms. There is even a roof top hot tub to relax in!
Explore further: If you are looking to drive from the United States to Puerto Rico and use your car to explore the island, here is our comprehensive guide on whether you can reach Puerto Rico by car.
Interesting facts: During the filming of the train heist scene, the production team faced the challenge of ensuring the safety of the actors and stunt drivers while performing the dangerous stunts. To overcome this, they used remote-controlled versions of the cars in certain shots.
In the vault chase scene, a custom-built ramp car (nicknamed the "flip car") was used by the crew to flip pursuing police cars in the air, creating spectacular crashes.
This unique vehicle was designed and built specifically for the movie, featuring a wedge-shaped front end that allowed it to slide under other cars and launch them into the air.
What to drive:
2010 Dodge Charger SRT-8
1963 Chevrolet Corvette Grand Sport
1970 Dodge Charger R/T
2010 Nissan GT-R
2011 Subaru Impreza WRX STI
1966 Ford GT40
Other races in the movie: Fast Five takes a different approach compared to previous installments in the Fast & Furious franchise. Instead of focusing on street racing, the film centers around heists and action-packed sequences.
While there are no major street race scenes in Fast Five, the movie still features thrilling car chases and stunts, such as the vault chase through the streets of Rio de Janeiro.
Click here to skip to the top.
6. Fast & Furious 6 (2013)
Dom and Letty's race
What happens in this scene?: At this point in Fast & Furious 6, Dom and his crew are in London to track down former British Special Forces soldier Owen Shaw (Luke Evans), who is leading a team of skilled mercenaries.
Dom learns that Letty, his ex, who was presumed dead, is now working with Shaw's team and has no memory of her past. He manages to catch up to her at a street racing event and challenge her to a race. The race serves as a way for Dom to reconnect with Letty and potentially help her remember their shared history.
Where to visit to get a feel for the scene/movie: The street race between Dom and Letty in Fast & Furious 6 is set in London, England. The scene was filmed on location in London to maintain authenticity.
The filming location for the start of the race is King Charles Street and one notable location featured during the race is Shaftesbury Memorial Fountain. Piccadilly Circus, Coventry Street, and Leicester Square also make appearances.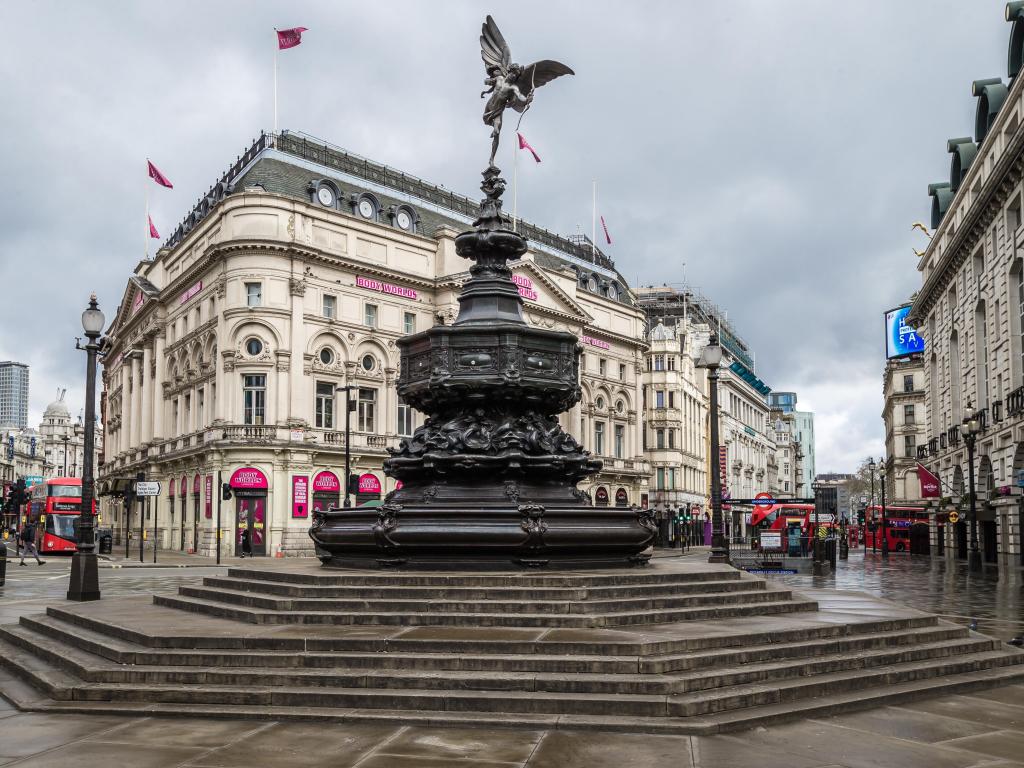 Other filming locations to visit:
Shaftesbury Memorial Fountain - The Shaftesbury Memorial Fountain, located in London's vibrant Piccadilly Circus, is a Victorian-era monument featuring the iconic statue of Anteros, often mistaken for Eros, commemorating the philanthropy of Lord Shaftesbury. Address: Piccadilly Circus, London W1J 9HS
Admiralty Arch - Located at the western end of The Mall, the Admiralty Arch is a prominent London landmark. It serves as a backdrop for some of the car chase scenes in the movie. Address: The Mall, St. James's, London SW1A 2WH
Wembley Stadium - The exterior of the famous Wembley Stadium makes an appearance in the film when the crew first arrives in London. Address: London HA9 0WS
Canary Wharf - The modern business district of Canary Wharf is also showcased in Fast & Furious 6 during some of the movie's action-packed scenes. Address: London, E14 5AB
Queen Victoria Street - Queen Victoria Street, which runs through the City of London, was used for a car chase sequence. The road's distinctive architecture and layout added to the film's authenticity. Address: London, EC4N 4UA
Senate House Library - The exterior of the Senate House Library, part of the University of London, served as the location for an important scene involving Owen Shaw. Address: University of London, Malet St, London WC1E 7HU
Things to see nearby:
British Museum - The British Museum is one of the world's most famous and comprehensive museums, housing over eight million artifacts from various cultures and periods throughout history. Some of the highlights include the Rosetta Stone, the Elgin Marbles, and the Egyptian mummies.
Buckingham Palace - As the official residence of the British monarch, Buckingham Palace is a must-see London attraction. Visitors can watch the Changing of the Guard ceremony or, during the summer months, tour the State Rooms.
Sir John Soane's Museum - This unique and lesser-known museum is the former home of the architect Sir John Soane. The museum showcases his eclectic collection of art, antiquities, and architectural models, as well as the unique design of the house itself. It offers a fascinating glimpse into Soane's world and the artistic tastes of his era.
Where to stay: Located in Covent Garden, adjacent to the Royal Opera House, NoMad London is situated in a beautiful, historic building. In addition to being a stone's throw from restaurants and bars, you will also find several dining and drinking options on-site.
Explore further: If you are looking to travel a bit during your visit to the United Kingdom, you can set off on a cross-country road trip from London to Edinburgh, or hop over to Europe and head to Paris via Eurotunnel or Amsterdam via ferry.
Interesting facts: During the street race between Dom and Letty, Letty drives a Jensen Interceptor, a British sports car from the 1970s. This particular vehicle was customized by the film's vehicle coordinator, Dennis McCarthy, to give it a unique and aggressive look.
The car features a supercharged GM LS3 V8 engine, making it a powerful contender in the race against Dom's Dodge Charger.
What to drive:
1969 Dodge Charger Daytona
1970 Ford Escort RS1600
2012 Nissan GT-R (R35)
1969 Ford Mustang
1969 Chevrolet Camaro ZL1
1971 Jensen Interceptor
Other races in the movie:
London car chase - Dom, Brian, and their team engage in a high-speed car chase through the streets of London as they pursue Owen Shaw and his crew.
Runway finale - The climactic scene of the film takes place on an airport runway, where Dom and his team attempt to prevent Shaw's cargo plane from taking off. The scene features high-speed car chases, stunts, and an intense battle with the villains.
Click here to skip to the top.
7. Furious 7 (2015)
Bus chase
What happens in this scene?: In the scene where Brian pursues hacker Ramsey, portrayed by Nathalie Emmanuel, the action unfolds on a bus navigating the mountainous terrain of Colorado.
Following a battle against Mose Jakande's mercenaries, among them a combatant played by martial arts sensation Tony Jaa, the bus hurtles off a precipice. Consequently, Brian faces a desperate struggle for survival.
Where to visit to get a feel for the scene/movie: The bus chase scene takes place on Pikes Peak Highway, which is a winding, daring drive.
Some of the car chase scenes were filmed in the southern California desert at Lancaster, on Route 138 about 70 miles north of Los Angeles, so you can visit and take a (safe!) ride on this highway.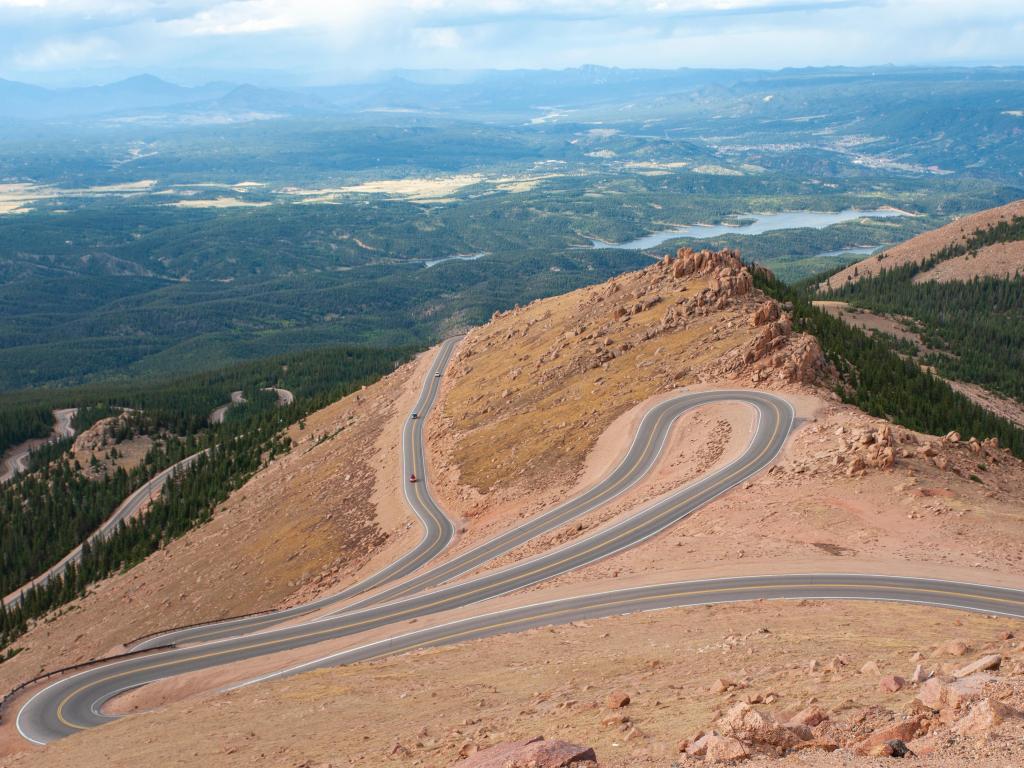 Other filming locations to visit:
Pikes Peak Highway - A scenic mountain road, where the high-speed chase scene near the beginning of the film was shot. Fans can drive along the highway and enjoy the stunning views of the surrounding landscape. If you'd like to learn more about how to drive up Pikes Peak, you can find our comprehensive guide here. Address: Cascade, CO 80809
Dom's house - This location in Los Angeles served as Dominic Toretto's home in the movie. You can either take a look at the exterior from a respectful distance or view the house on Google Streetview. Address: 722 E Kensington Rd, Los Angeles, CA 90026
Things to see nearby:
Echo Park Lake -Located a short distance from Dominic Toretto's House, Echo Park Lake offers pedal boating, picnicking, and walking paths with picturesque views of downtown Los Angeles.
Angels Flight Railway - Take a ride on the historic Angels Flight Railway, a short funicular railway connecting Hill Street and California Plaza. It's a unique and nostalgic way to travel between Bunker Hill and Downtown LA.
Garden of the Gods - If you are driving on the Pikes Peak Highway to see the twists and turns shown in the movie for yourself, visit this breathtaking park that features towering sandstone rock formations and offers hiking, rock climbing, and guided nature walks.
Manitou Cliff Dwellings - Also near Pikes Peak Highway, you can explore the fascinating Anasazi cliff dwellings, which were relocated from their original location in southwestern Colorado to preserve and educate visitors about the ancient culture.
Where to stay: Another of our favorite hotels in Los Angeles is CitizenM Los Angeles Downtown. Located a short distance from Dodger Stadium and Microsoft Theater, you will be within easy reach of many of the city's amazing attractions.
Explore further: After paying homage to your favorite scenes in Furious 7, we recommend heading to Palm Springs to wind down and relax in this luxurious resort city. The road trip from Los Angeles to Palm Springs will also give you the opportunity to visit Joshua Tree National Park.
Interesting facts: After Paul Walker's tragic death in a car accident during the production of Furious 7, his brothers, Caleb and Cody Walker, were brought in as body doubles to help complete the film. The filmmakers used CGI and face replacement technology to blend their performances with previously filmed footage of Paul Walker.
In the film, a rare Lykan HyperSport car crashes through the windows of the Etihad Towers in Abu Dhabi. In reality, the filmmakers created a full-scale model of the car and used a combination of practical effects and CGI to achieve the jaw-dropping stunt.
The Lykan HyperSport is one of the most expensive cars in the world.
The thrilling skydiving scene, where the characters parachute their cars out of a cargo plane, was filmed using real skydivers and cars. It took multiple takes and several cars to get the perfect shots. The scene set a new world record for the longest film sequence featuring a car drop.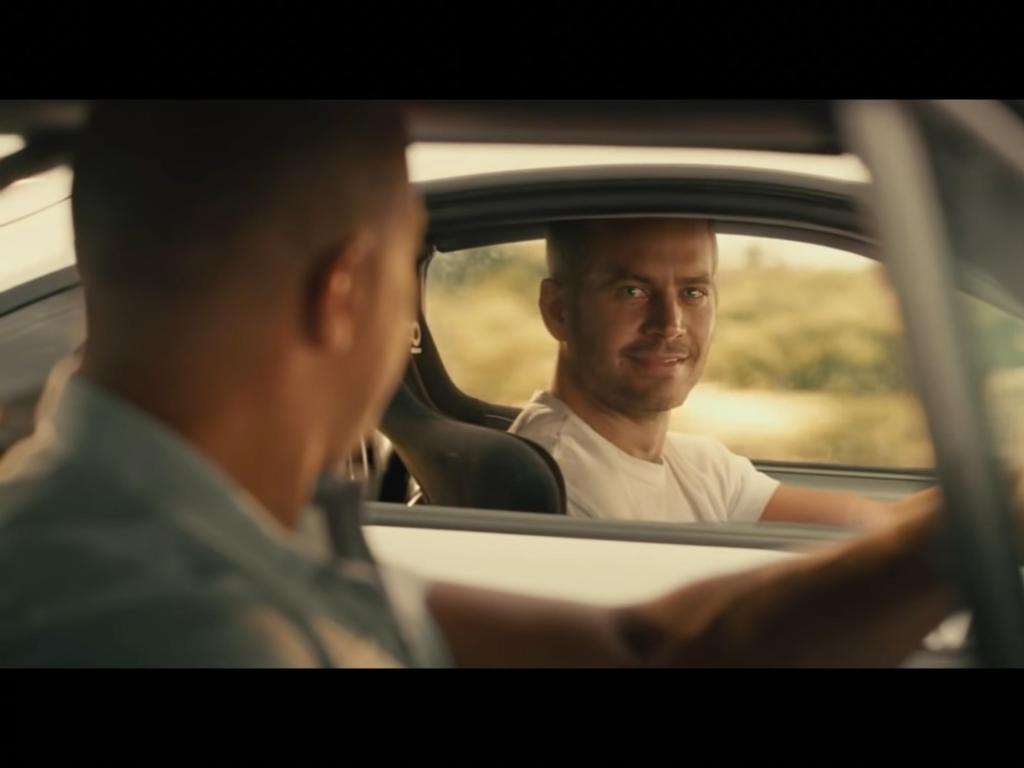 What to drive:
1970 Dodge Charger R/T
2015 Dodge Charger R/T
2014 Maserati Ghibli
2011 Bugatti Veyron
2012 Nissan GT-R
1967 Chevrolet Camaro Z28
2010 Audi R8
2013 Aston Martin DB9
2015 Lykan HyperSport
2015 Subaru Impreza WRX STI
Other races in the movie: While the film doesn't have other "big races" in the traditional sense, it is filled with high-octane car chases, heist sequences, and action scenes that showcase impressive driving stunts and various exotic and muscle cars.
These sequences take place in diverse locations such as Los Angeles, the mountains of Colorado, and the streets of Abu Dhabi.
Click here to skip to the top.
8. The Fate of the Furious (2017)
Dom's race against Raldo
What happens in this scene?: In The Fate of the Furious, Dominic Toretto races Raldo, a local racer, in a thrilling street race through Havana, Cuba, to help his cousin Fernando. Dom wins the race in a dramatic finish, gaining the respect of the locals and Raldo himself.
Where to visit to get a feel for the scene/movie: The opening street race sequence featuring Dom's race against Raldo was filmed in Havana. The iconic Malecón roadway, which runs along the coast, is a key part of the race and offers picturesque views of the city and the ocean.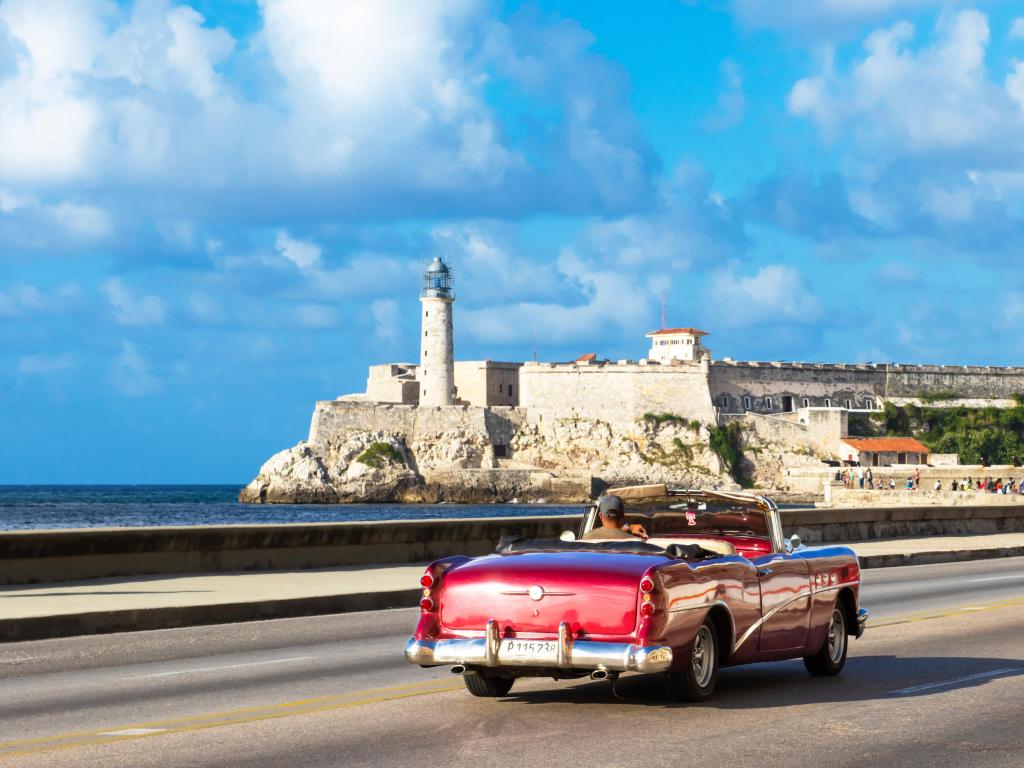 Other filming locations to visit:
Malecón - Take a leisurely walk along the Malecón, a famous 8 km (5 miles) long seafront promenade, and enjoy the ocean views, the vibrant street life, and the colorful historic buildings that line the avenue.
Hotel Nacional De Cuba - During the car scene in Cuba, you can spot Hotel Nacional De Cuba, which you can still visit or even stay at today!
Things to see nearby:
El Morro Castle - Explore the historic Castillo de los Tres Reyes del Morro (El Morro Castle), located near the entrance to Havana Harbor. This 16th-century fortress offers panoramic views of Havana and the sea, as well as a glimpse into Cuba's rich history.
Fusterlandia - About a 30-minute drive from the Malecón, you can visit Fusterlandia, a unique artistic neighborhood created by Cuban artist José Fuster. Fuster has transformed his home and the surrounding area into a vibrant mosaic wonderland, reminiscent of Gaudí's work in Barcelona. Wander through the colorful streets and admire the intricate tilework, murals, and sculptures.
Interesting facts: The Fate of the Furious set a new Guinness World Record for the largest indoor on-screen explosion. The record-breaking explosion took place during the climactic airplane hangar scene, using a combination of liquid propane gas and gasoline to create a massive fireball.
The movie's action-packed sequence on the frozen lake in Myrdalssandur Beach, Iceland, marked the first time a major car chase scene was filmed in the country.
The film's antagonist, Cipher, played by Charlize Theron, gets her name from an encryption algorithm.
What to drive:
1961 Chevrolet Impala
1971 Plymouth GTX
2016 Lamborghini Murciélago LP 670-4 SV
2018 Dodge Challenger SRT Demon
2016 Bentley Continental GT
2016 Mercedes-AMG GT S
2015 Jaguar F-TYPE R Coupe
2016 Subaru BRZ
Local Motors Rally Fighter
Other races in the movie:
New York City chase - A major action scene takes place on the streets of New York City, with the team trying to stop a rogue Dominic Toretto. This sequence showcases various vehicles and stunts, including a swarm of self-driving cars being remotely controlled by Cipher (Charlize Theron).
Ice chase in Iceland - The climactic action sequence occurs on a frozen lake in Myrdalssandur Beach, Iceland. The team faces off against a submarine while driving various vehicles, including a Lamborghini Murciélago, a tank, and a custom-built Ripsaw tank.
Click here to skip to the top.
9. F9 (2021)
Edinburgh race
What happens in this scene?: Similar to some of the other movies in the franchise, F9 does not have a major car race scene, but it features some adrenaline-pumping car chase and heist scenes.
One of these race scenes takes place in Edinburgh, Scotland around the middle of the film. The team, split into two groups, tries to retrieve a device, engaging in a high-speed chase through the streets of Edinburgh.
Where to visit to get a feel for the scene/movie: The car chase takes place on various streets throughout the city of Edinburgh, Scotland. One prominent location featured in the chase is the Royal Mile, a historic street in the heart of Edinburgh's Old Town.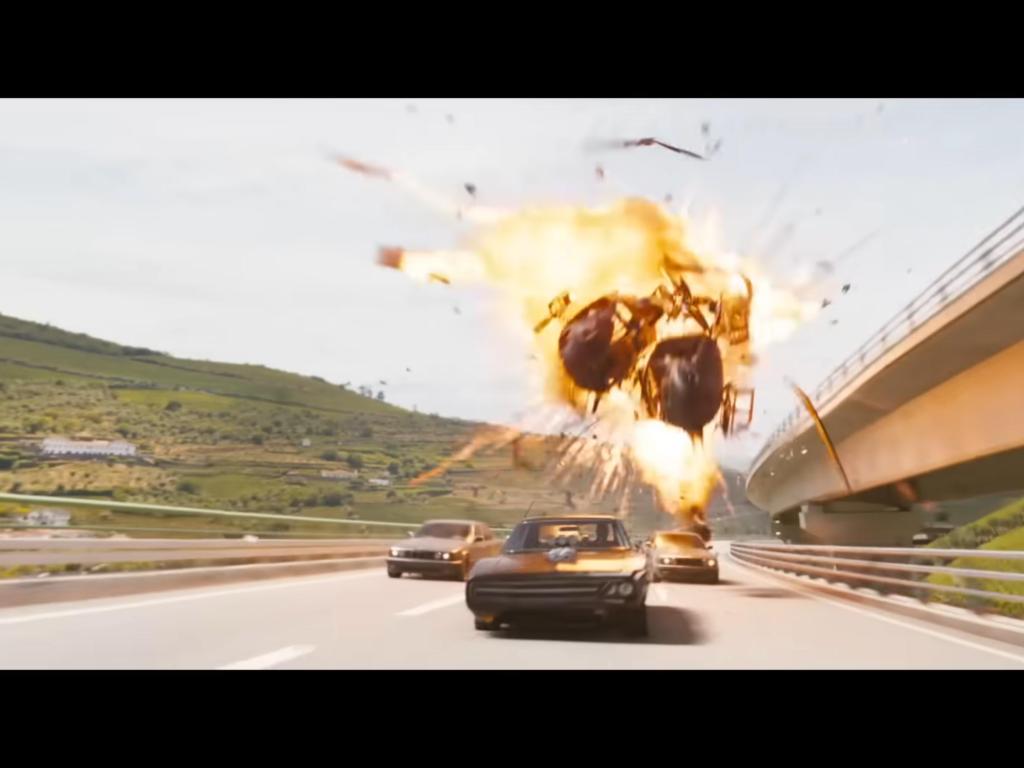 Other filming locations to visit:
Royal Mile, Edinburgh - The thrilling car chase scene through the streets of Edinburgh includes the historic Royal Mile, a famous street in the heart of the city's Old Town. Address: Royal Mile, Edinburgh EH1, Scotland
Parliament Square - Located near the Royal Mile, a cobbled plaza dominated by the impressive St. Giles' Cathedral and the former site of the Scottish Parliament. Address: Edinburgh, Scotland, EH1 1RF.
Things to see nearby:
Edinburgh Castle - Visit the historic Edinburgh Castle, which dominates the city's skyline from its position atop Castle Rock. This iconic fortress offers stunning views of the city and a glimpse into Scotland's rich history.
Palace of Holyroodhouse - Explore the official residence of the British monarch in Scotland, the Palace of Holyroodhouse. The palace is located at the opposite end of the Royal Mile from Edinburgh Castle and is surrounded by beautiful gardens.
The Real Mary King's Close - Embark on a guided tour of The Real Mary King's Close, a series of underground alleys and hidden streets beneath Edinburgh's Old Town. Learn about the city's fascinating history, ghostly tales, and the people who lived and worked in these hidden closes centuries ago.
Where to stay: If you are looking to rest and recharge after your Fast and Furious adventure, there is no better place than Virgin Hotels Edinburgh. This luxurious, yet affordable hotel is located in close vicinity of The Real Mary King's Close, the National Museum of Scotland and Camera Obscura.
Explore further: Edinburgh is a gorgeous city, but while in Scotland, exploring its stunning countryside and famous islands is almost a must. A road trip from the heart of the city to the Isle of Skye will take you through breathtaking scenery and charming Scottish towns if you are looking to venture further.
Interesting facts: The movie marks the return of Sung Kang as Han Lue, a fan-favorite character who was presumed dead in previous installments. The #JusticeForHan campaign by fans led to his return, giving his character a proper resolution in the franchise.
F9 is the first movie in the Fast & Furious franchise to feature a scene set in outer space. Roman Pearce (Tyrese Gibson) and Tej Parker (Ludacris) embark on a mission in a rocket-equipped Pontiac Fiero, pushing the boundaries of the action sequences in the series.
In F9, Vin Diesel's real-life son, Vincent Sinclair, plays the younger version of Dominic Toretto in several flashback scenes. This casting choice adds a personal touch to the exploration of Dom's backstory and his relationship with his brother, Jakob.
What to drive:
1968 Dodge Charger
2020 Toyota GR Supra
2018 Dodge Challenger SRT Demon
2017 Ford Mustang Shelby GT350
2019 Chevrolet Silverado 1500
2019 Jeep Gladiator
2020 Dodge Charger SRT Hellcat Widebody
2021 Noble M600
2021 Toyota 86
1987 Pontiac Fiero
Other races in the movie:
Montequinto (a fictional Central American country) chase - The team infiltrates a military base to retrieve the first half of the Aries device. This sequence features off-road driving and stunts with vehicles like the Jeep Gladiator and a custom-built 2020 Toyota Supra.
Tbilisi, Georgia truck drive -The team engages in a high-speed chase through the streets of Edinburgh and later Tbilisi to retrieve the second half of the Aries device. This chase includes cars like the Toyota 86, Ford Mustang GT350, Noble M600, and Dodge Charger SRT Hellcat Widebody.