Is there a ferry from Florida to Puerto Rico?
Puerto Rico is a beautiful tropical island in the Caribbean. This culturally rich vacation zone is part of the United States and just over1000 miles from Florida and is home to rich culture, incredible natural diversity, and delicious cuisine.
There are no ferries from Florida to Puerto Rico. In fact, there are no ferries from the USA at all to Puerto Rico. However, you can still get there with ease.
There are plenty of other options to get yourself to this mesmerizing tropical island. Read on to learn about the ways to visit the island, how long it takes to get there, and the best things to do and see once you get there.
Is there a ferry from Florida to Puerto Rico?
Although Puerto Rico is part of the United States, you cannot take a ferry there. On top of that, you cannot catch a ferry to Puerto Rico from anywhere in the United States.
Although Puerto Rico is an island belonging to the United States, it's quite far from the continental United States. The island of Puerto Rico is just 80 miles from the Dominican Republic and 60 miles from the British Virgin Islands.
If you want to see Puerto Rico, you will have to fly on a commercial airline or take a cruise ship. Some people even choose to set sail on their own boats and sailboats, in an adventure that would surely be magical.
Fortunately, there are plenty of flights from many cities in the United States. Also, there are cruise ships that depart from many cities and sail straight to the island throughout the year.
Regardless of how you choose to get to the island, you will be in for a treat once you arrive. Continue on to learn more about how to get there and what to do once you arrive.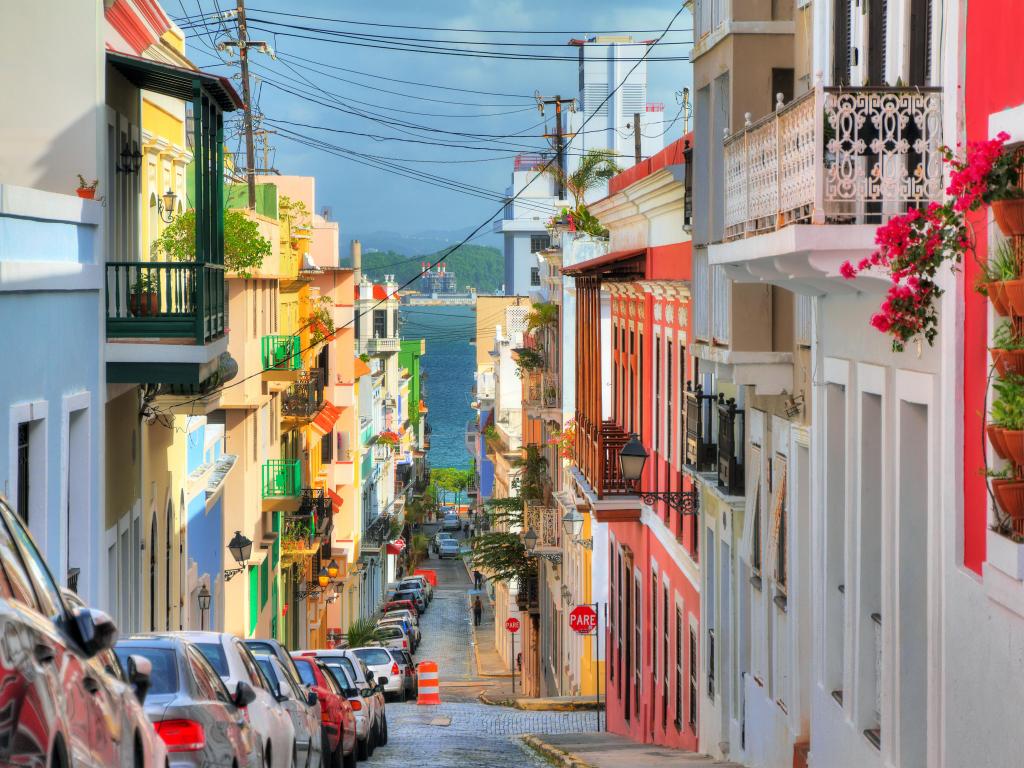 How to reach Puerto Rico from Florida
Even though you can't reach Puerto Rico by ferry, you still can still get there by boat or plane. Of course, it depends what you're looking for and how much time you have.
There are plenty of flights to Puerto Rico that depart throughout the year. Several flights to the Puerto Rican capital of San Juan depart from Florida and are usually very affordable.
Flights to San Juan depart from Miami, Orlando, and Tampa. Flight operators who fly from Florida to San Juan are: American Airlines, Frontier, and Spirit.
Flights fly daily from Miami, Orlando and Tampa so, if the weather cooperates, you can get to Puerto Rico from Florida any time of the year.
You can also look for cruises that go to Puerto Rico. Many depart from Miami or Tampa. However, if you're pressed for time, we recommend flying to the island instead.
How to drive from Florida to Puerto Rico
Because Puerto Rico is an island and there's no ferry, there's no way to drive there. There's a car ferry from the Dominican Republic, but you can't drive there from the USA either.
However, once you arrive in Puerto Rico, you can easily rent a car. Driving in Puerto Rico is like the mainland United States, as it follows the same driving rules and has relatively well-kept roads. Sometimes there are potholes due to the constant wear and tear of the tropical weather.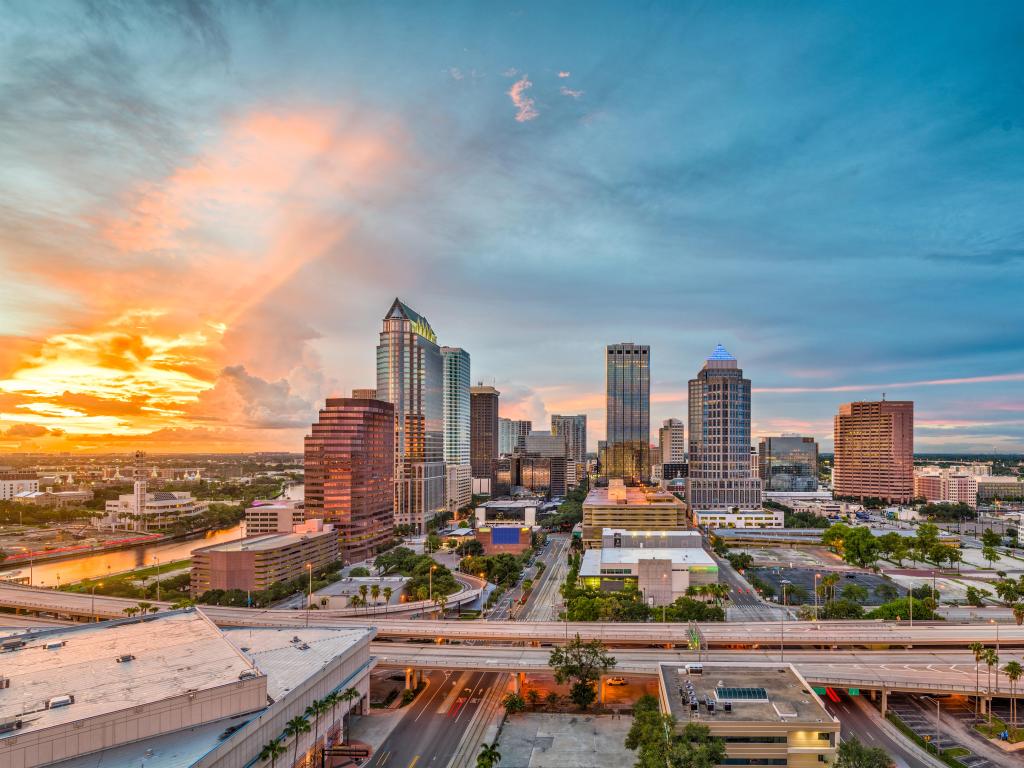 How long does it take to reach Puerto Rico from Florida?
Flying is the fastest and most direct way to get to Puerto Rico. All Florida flights take less than 3 hours and the view out the window is stunning.
Most cruise ships from Florida take roughly three to seven days to reach the island. The ships have to cross over 1000 nautical miles to get there, braving currents and sometimes bad weather.
Both flights and cruise ships will take you to the capital of Puerto Rico, the historic City of San Juan. Both the airport and the port are easy to get around in and have all the amenities you need.
How much does it cost to take a plane to Puerto Rico from Florida?
Comparison of flight prices to San Juan, Puerto Rico from major cities in FL
Starting point
Operator
Ticket price


Starting from

Miami
Frontier Airlines
$88
Miami
Spirit Airlines
$120
Miami
American Airlines
$200
Orlando
Frontier Airlines
$78
Orlando
Spirit Airlines
$120
Orlando
American Airlines
$240
Tampa
Frontier Airlines
$98
Tampa
Spirit Airlines
$145
Tampa
American Airlines
$290
*Prices are calculated at the time of writing for 1 adult, round trip. Please note, airlines change prices without notice.
Good to keep in mind that with Spirit and Frontier airlines, baggage isn't included. Yet, baggage is included with American Airlines.
That said, even if you were to add baggage, flying from Florida to San Juan is still cheaper than a cruise. While some may prefer the luxury of a cruise if on a budget, a cheap flight is by far the most affordable way to go to Puerto Rico.
As you see, prices vary. There are a lot of factors in play, including days of the week. Friday and Saturday flights increase the price. In summer, prices can double. So if you're flexible, you can grab a bargain.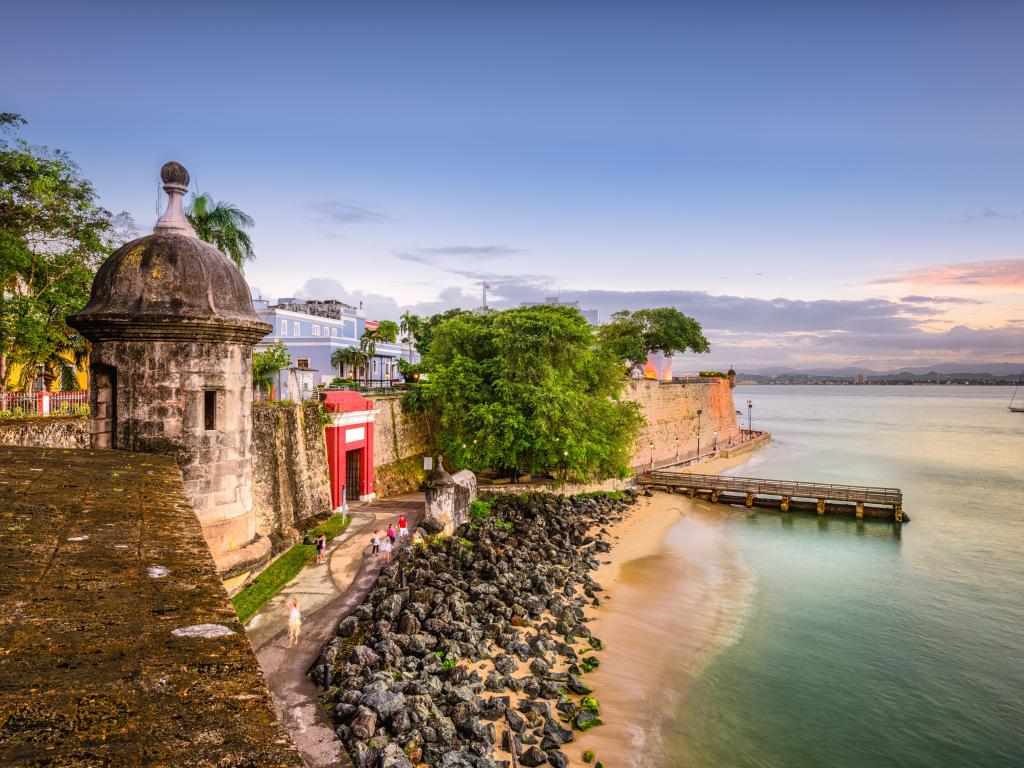 Things you need to know about traveling from Florida to Puerto Rico
Make sure you have all the necessary travel documents ready, including a valid ID.
To make sure you get the best deals, always try to book flights in advance. However, even a month in advance, you can get flights from Florida to San Juan for less than $100 return using budget airlines.
Consider luggage restriction with airlines such as Spirit. You have to pay extra to check baggage and carry-on allowance is as little as 18" x 14" x 8". Checked baggage costs around $40 each way with Spirit when paid during booking. Similarly, it's around $40 with Frontier when paid during booking.
You can hire cars from respected companies such as Sixt at San Juan Airport. But, rental cars are expensive and prices at Sixt start at $260 per day, so book in advance to get cheaper vehicles.
If driving in Puerto Rico, remember that traffic is hectic in San Juan, drivers switch lanes and are in a hurry.
Best time to visit Puerto Rico
Because Puerto Rico is in the tropics, you can get to Puerto Rico all year round. However, on days with bad weather or storms, flights may be canceled.
Flights run from Orlando 7 days a week and all year-round. Celebrity Cruises run cruises from Orlando, Miami and Tampa to San Juan throughout the year.
October is the cheapest month to book hotels in San Juan. Flights are also cheap in October during this low season. February is another budget month to visit with cheap flights.
Puerto Rico enjoys a tropical marine climate. Simply put, it's sunny and hot throughout the year. Although you can experience winter sun you may experience short heavy showers.
May to November have average temperatures above 80 degrees Fahrenheit. Even the coldest months of January and February have average temperatures of 77 degrees Fahrenheit.
There's a high risk of hurricanes in August and September, so keep that in mind when traveling during these times.
Early December to mid-April is a good time to visit for beach activities, with little cloud cover and low precipitation. With this in mind, December to April are the busiest times to visit when tourists escape and get some winter sun.
Fiestas de la Calle San Sebastián, the third week in January, inundate Old San Juan with visitors. Noche de San Juan on 23rd June is St John's Eve.
A celebration in honor of Saint John the Baptist, beaches become busy at midnight while bars throw late night parties. Christmas Eve and New Year's Eve are also big events in Puerto Rico.
Things to see once you reach Puerto Rico
The island of Puerto Rico is full of adventure, history, and cultural activities to enjoy. Not to mention, it has rich food traditions and is home to many styles of dance and music. Below are our top things to check out and experience in beautiful Puerto Rico.
Old Town San Juan - Meander through the walkable old town. A 16th century wall encloses the colorful cobblestoned streets of Old San Juan, where you'll find Spanish buildings dating back to the 16th and 17th-century.
La Fortaleza - Head to Fortaleza Street. An art installation of umbrellas dangles above the street. At the end of the street is La Fortaleza, a 16th century mansion that you can tour on weekdays.
City Beach - Experience beach days with a difference. The Balneario Escambrón is between San Juan and Condado, so locals consider it a city beach. Snorkel and spot the sea turtles, relax in the sun or enjoy a romantic wander.
Hidden Beach - If you're willing to travel further afield, you can fall upon more secluded beaches. An hour's drive from Puerto Rico and a 25 minute hike can take you to Playa Escondida. Meaning 'hidden beach' it's a slice of paradise.
Condado - The luxurious Condado is a San Juan district. Not only is there a picturesque oceanfront, but there's also fine dining, designer boutique shops, and casinos. Go here for the vibrant nightlife.
Castillo San Felipe del Morro - Castillo San Felipe del Morro, one of San Juan's most notorious landmarks. So much so, UNESCO labeled it a World Heritage Site. On the top of a hill overlooking the coast, this Spanish castle is open 7 days a week for visitors.