How Long Does It Take To Drive Across Russia?
Having been born and grown up in Russia, I have always wanted to explore this vast country and wondered how long it would take to drive across Russia from edge to edge.
I know that a lot of people would love to do a road trip across Russia, but when you look at the route on the map, it seems impossible to gauge how long the journey would actually take.
It will take a minimum of 11 days to drive across Russia from Saint Petersburg or Moscow to Vladivostok. The route is about 9,700 km long and the driving time has reduced considerably since the roads have been significantly improved in recent years.
Read on to find out what might affect how long it takes to drive across Russia the difference in time depending on the route you take.
Time to drive across the whole of Russia
First off, it's important to note that driving across Russia can mean a number of different things to most people.
In most cases, when people think about driving across the country, they naturally think of the route from Russia's capital Moscow to Vladivostok. Moscow is located fairly far west and Vladivostok is the best known city in the far east, located in a natural harbor in the Sea of Japan.
Driving across Russia from Moscow to Vladivostok will take at least 11 days on the road. The route is almost exactly 9,000 km and even if you spend all day on the road driving at the speed limit (mostly 90-110 km/h), you won't be able to drive much faster than this. I've seen reports of people doing it in as little as 7 days, but I am presuming this meant switching drivers, driving literally 24 hours every day, sleeping in the car and having very questionable hygiene by the time you arrive.
Starting or ending in Saint Petersburg adds another day to the time taken to drive across Russia as the route adds a further 700 km onto the journey - you'll have to drive right past Moscow along the way.
If you're wanting to do the most extreme version of driving across Russia, you might opt to start at the Latvian border (APP Ubylinka Border Crossing Station) and drive all the way to Magadan.
Magadan is located further east than Vladivostok and to get there, you'll have to drive through less developed parts of eastern Siberia through Yakutsk.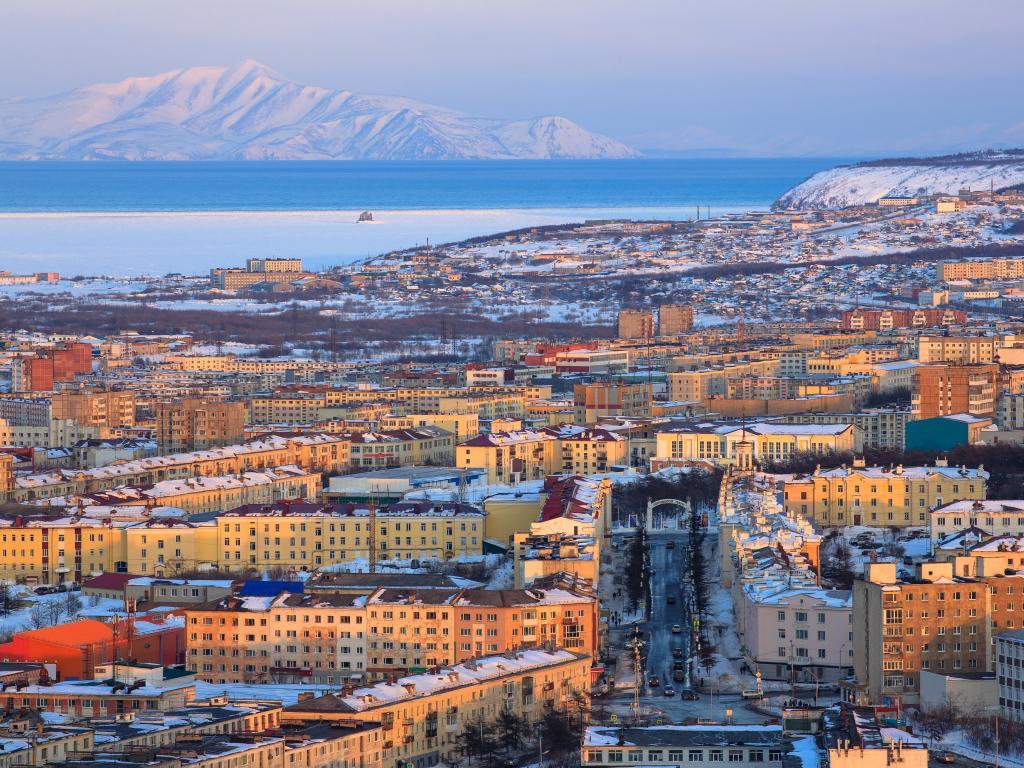 There are two Russian regions that are located even further east - Chukotka and Kamchatka. Although some expeditions have driven that far, you won't be able to do it in a regular car. Think thousands of kilometres of wilderland, volcanoes, no petrol stations and the requirement for your car to have to swim across rivers.
If you want to follow something that resembles a road, Magadan is about as far as you'll be able to go. Although the route is only marginally longer, be prepared to spend at least an extra 5 days on the road as you'll make slower progress along mud roads and dirt tracks that lead there.
Route across Russia
Distance
Driving time
Moscow to Vladivostok
8,999 km


5,592 miles

11+ days
Saint Petersburg to Vladivostok
9,701 km


6,028 miles

12+ days
Latvian border to Magadan
Furthest points west and east
10,619 km


6,598 miles

16+ days
Factors affecting how long it will take you to drive across Russia
There's quite a few factors that you should consider that may impact the amount of time it will take for you to drive across Russia.
First, let's bust a big myth that I hear mentioned all the time - the roads all the way from Moscow to Vladivostok are pretty decent and paved. You might find people on forums and various YouTube videos showing you mud tracks and the truth is that before 2014, a significant part of the Trans-Siberian Highway was indeed in pretty bad shape.
You could get to Novosibirsk and Krasnoyarsk in the heart of Siberia fairly quickly from Moscow along good roads and then things would get worse. Once you passed Lake Baikal, large stretches of the road near Chita were barely more than a path leading through a field.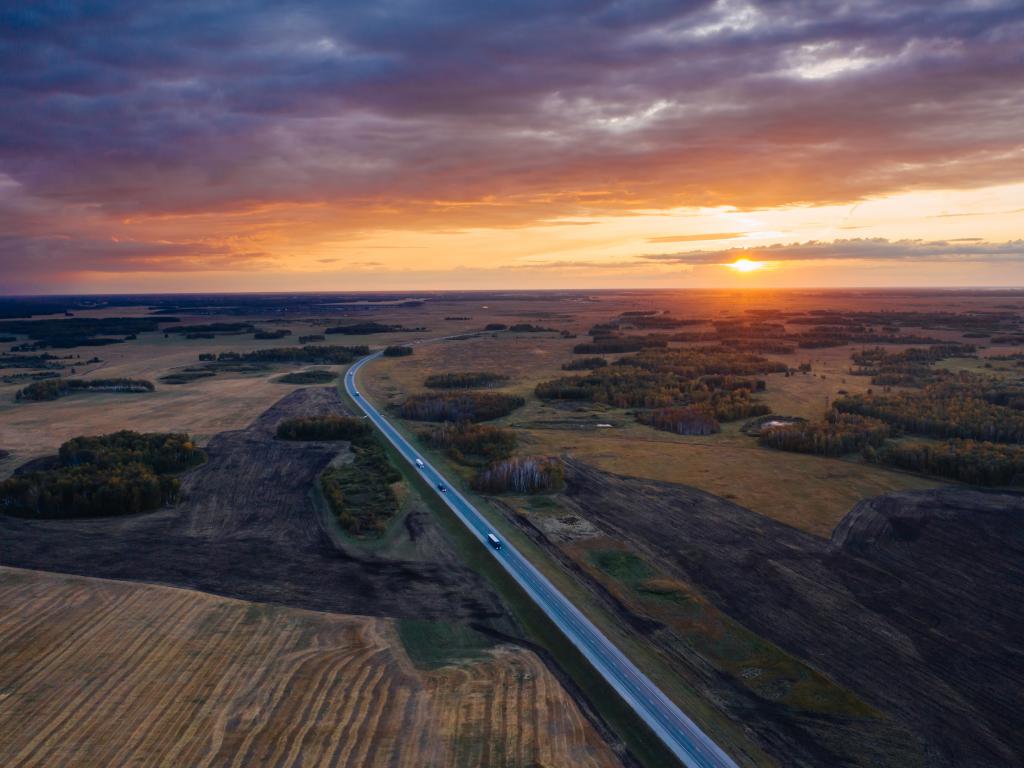 A massive upgrade of the road network means that the entire route now lies along good quality tarmac which means your journey should be fairly smooth.
Just remember that if you decide to take detours, you're likely to encounter some very poor roads. Russians famously say that their country has two problems - fools and roads and you'll get to experience plenty of the latter if you decide to take a few scenic routes on your way.
How weather and seasons affect driving time
Russia is known for some of the most extreme weather conditions in the world. Depending on when you choose to drive across Russia, you may encounter anything from stifling 40 degree heat (104 °F) to bone chilling -40 °C (also -40 °F) winters. Although the roads are better than they were, they do pass through large swathes of wilderness , across streams and rivers.
In the spring and early summer, you may encounter more difficult conditions. Rains and fast flowing rivers can make some parts of the road network more difficult to pass and slow down your progress.
In July and August, you are likely to not want to drive long stints in one day - the weather can be incredibly hot and mosquitoes arrive in mid to late August. Your aircon may begin to struggle and you might want to make more rest stops.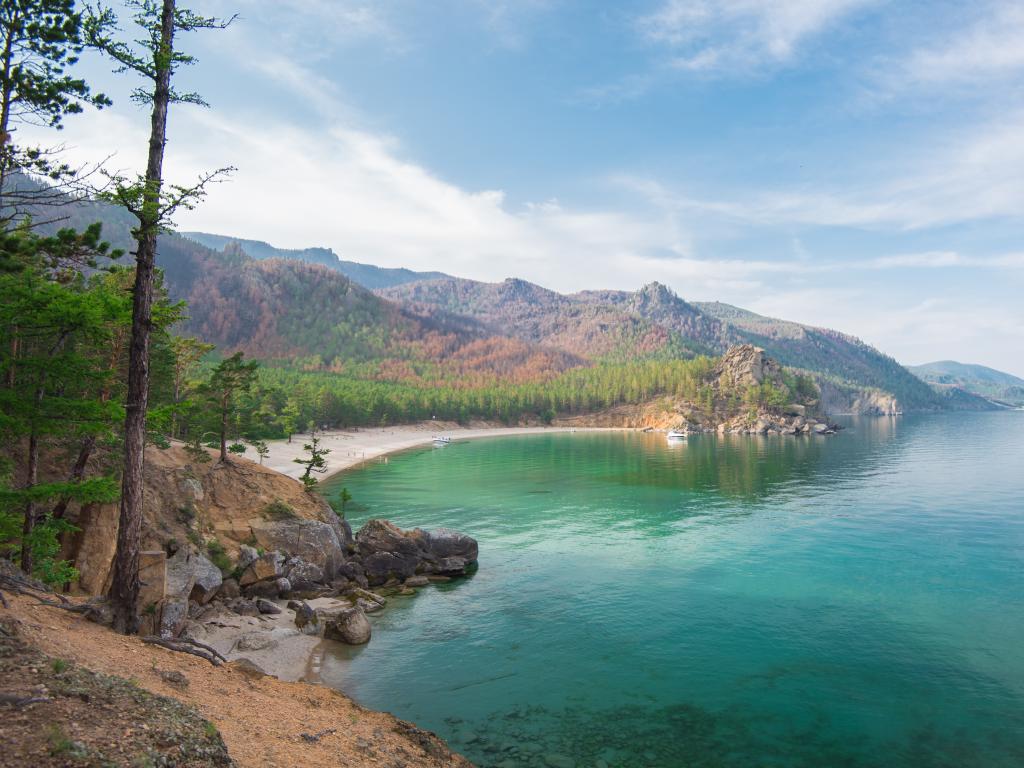 Surprisingly enough, it is probably now quickest to drive the route in the winter. When the entire way the road is completely frozen, you can make progress without anything slowing you down as long as your car is equipped with proper snow tires.
You will need to prepare your car
Sure - you can technically make the drive in any car you like and given enough time and care you will get to your destination.
But Russian roads are well known for developing pot holes the size of a football field the very first winter after they have been constructed. The intense freezing conditions mean that water will find the cracks it needs to do the damage.
So be prepared to encounter a few jaw crunching pot holes along the way and make sure that your car's suspension is in good shape if you don't want it to give up a few hundred kilometres outside Blagoveshchensk.
A 4x4/SUV will be a much better option - especially if you plan on taking your time and making stops along the way to see more than just the highway.
Fastest route between furthest points east and west in Russia
For those who take the meaning of words literally, driving across Russia may really mean driving across the entire width of the country from the furthest point west to the furthest point east (or the other way round).
Kaliningrad is technically the westernmost point of Russia, but it's separated from the rest of the country by 2 countries, so let's assume that the border between Russia and Latvia is where you'l start.
The APP Ubylinka or APP Burachki are both popular border crossings and I've crossed in and out of Russia through both myself. Before anyone points it out, yes - the crossing between Russia and Estonia at Narva is slightly further west but unless you live in Estonia, you're unlikely to ever use it so your trip probably won't be starting there.
As I mentioned further above, the furthest east you can go is Magadan. This remote city is further north than Vladivostok and to get there, you'll need to come off the Trans-Siberian Highway at Never (yes - it's a real place even if that phrase sounds funny). You'll find the turning a few hundred kilometres after you've gone past Chita.
The route will then head north, deep into Siberia towards the Lena River and Yakutsk before heading east to Magadan. This road is not quite as new or well maintained as the Trans-Siberian Highway so you're likely to drive much more slowly taking at least 16 or 17 days to make the drive.
Driving Route across Russia
Although Russia is vast, there is only one real road that goes along the length of the country and this is the road you will have to follow if you want to make the journey.
Although it consists of many different highways, it is collectively known as the Trans-Siberian Highway all the way from Moscow to Vladivostok.
The first leg will take you from Moscow to southern Ural mountains that separate geographical Europe and Asia. You'll pass through the historic cities of Nizhniy Novogorod, Kazan and Ufa before arriving in Chelyabinsk.
Once you're over the Urals, the highway runs along southern Russia to Omsk before continuing to Novosibirsk and Krasnoyarsk right in the middle of Siberia.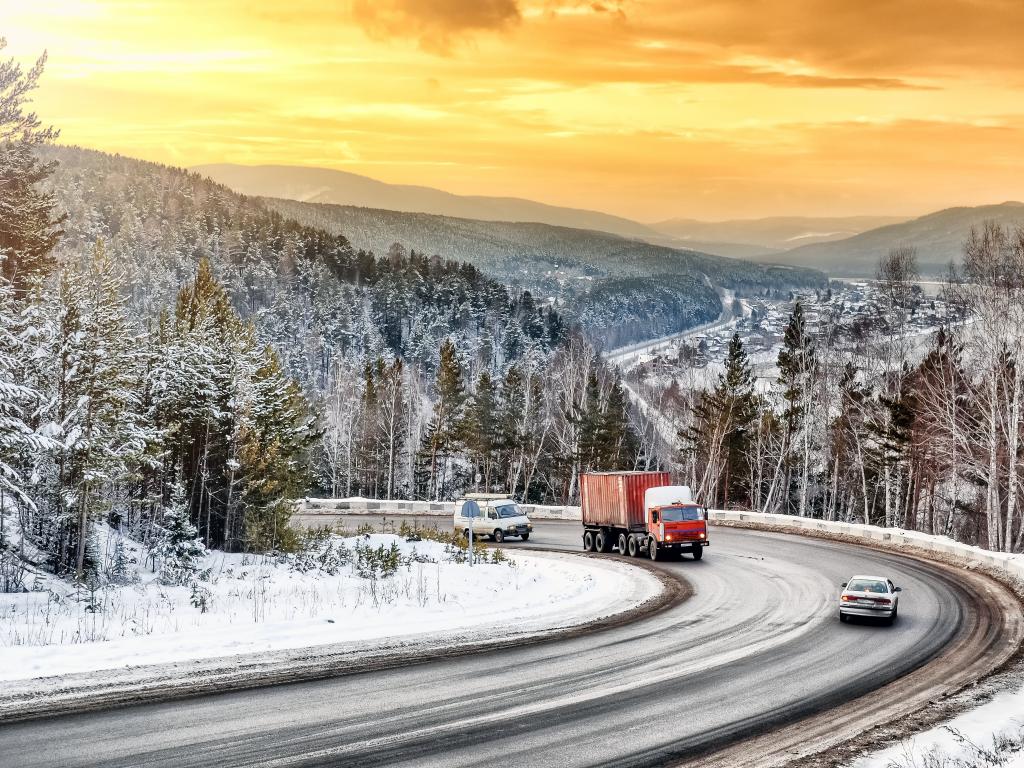 The next major city is Irkutsk that sits just off the largest freshwater lake in the world - Lake Baikal and some 400-500 km later you will arrive in Chita.
If you thought you'd seen wilderness before you got to Chita, you will learn what real wilderness is fast enough. For hundreds of kilometres after Chita you will see no signs of civilization except the odd truck coming the other way. The majority of goods and people move across Russia by plane or train because of the huge distances, so you won't be seeing too much traffic en route.
The road follows close to the border with China eventually reaching the city of Khabarovsk before heading south to Vladivostok, just a few kilometres away from the border with North Korea.
How long to allow for a road trip across Russia
Although it can take as little as 11 or 12 days to drive across Russia, unless you are transporting a car imported from Japan or really need to get from one side the other as fast as possible without getting on the train or flying, you'll want to take a lot more time.
There's some great cities to explore along the way and although you may not want to stop in each one, it's worth taking some time along your way to explore different parts of Russia's rich history.
Kazan and Nizhniy Novgorod in the European part of Russia are amazing destinations for a city break so I'd highly recommend taking at least a day or two to stop there.
The big industrial Siberian cities are less historic, but offer a fascinating insight into the "real" Russia and it's worth stopping in at least one of Omsk, Novosibirsk or Krasnoyarsk.
If you love nature, the Altai mountains are located at the point where Russia, Kazakhstan, China and Mongolia meet and are one of the most beautiful mountain ranges in the world. You'll need to take a detour south off the Trans-Siberian Highway from Novosibirsk.
Lake Baikal is also a unique place that is right along your route and worth a few days of exploring - there's unique plants and animals that live in the area and lots of activities on the lake which is so vast it looks and feels like a sea.
To make the most of all these opportunities and to stop you from spending too much time sat in the car on continuous days, you'll want to allow at least 3 weeks to make the journey comfortably. 4 weeks will give you plenty of time to see most of the sights along the way and will allow you to spend less time driving on the days you're spending in the car.