Is there a Bridge from Italy to Sicily?
Sicily, the largest island in the Mediterranean, is separated from mainland Italy by the beautiful strait of Messina. At its closest point, Sicily lies 3km from the mainland.
Although the island of Sicily is located on Italian soil, just 3 kilometers away from the mainland, there is no bridge that connects one to the other. You can, however, travel to Sicily from Italy easily by taking a ferry, train, or commercial airplane.
Sicily is a beautiful Italian destination full of history, amazing cuisine, and landscapes that will make your jaw drop. Although there isn't a bridge connecting it to the mainland, you can easily make a trip there from the mainland. Read on to learn more about how to get to Sicily, how much it costs, and what to do when you're there.
Is there a bridge from Italy to Sicily?
Sicily is only 3 km off the coast of mainland Italy at the narrowest point. There is currently no bridge connecting the two landmasses.
In the past there have been proposals to build a bridge that would be called the Strait of Messina Bridge. However, the Prime Minister at the time Mario Monti canceled the project in February 2013 due to budget constraints.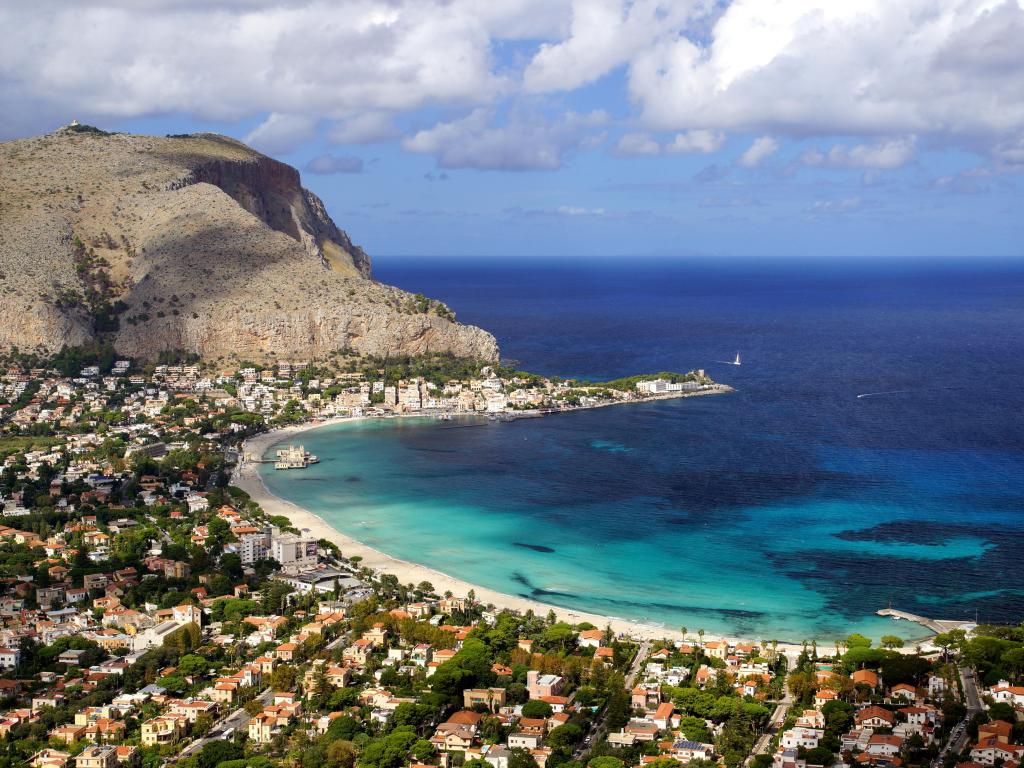 How to reach Sicily from Italy
Although you cannot drive directly over a bridge to Sicily from mainland Italy, you still have several easy and affordable ways to get there.
It's very easy to get to Sicily by ferry, train or commercial airplane. Sicily is a major travel destination, and many people make the trip there from various parts of Italy.
There are several ferry routes you can take from Italy to Sicily. traveling from Villa San Giovanni to Messina, Naples to Palermo, Genoa to Palermo, Civitavecchia to Palermo and Salerno to Catania are some of the most popular ferry options.
One of the most incredible ways to arrive in Sicily is by train. Once this unique train reaches the ferry terminal on the mainland, it is transferred into the ferry using special tracks. The ferry then carries the passengers to the island of Sicily.
Alternatively, you can take a flight from various airports on the mainland to Catania and Palermo International Airports as well as Comiso Vincenzo Magliocco Airport near Ragusa.
How to get to Sicily from Italy by ferry
First, drive from Reggio Calabria to the port of Villa San Giovanni. This route is a comfortable and fast route that stays on the efficient and scenic autostrada A2.
The ferry departs from the beautiful Villa San Giovanni to Messina and only takes 20 minutes. The ferry port is 15 km from the famous Italian city of Reggio Calabria and takes 20 minutes by car.
You can board your car on this ferry and drive it once you get to Sicily. The ferry runs year-round and because of the warm weather and mild winters, it is almost never delayed.
How to fly from Italy to Sicily
There are numerous internal flights from mainland Italy to Palermo on the Northwest coast of Sicily. Flying is the quickest way to get to Sicily from mainland Italy and the views from the windows are breathtaking.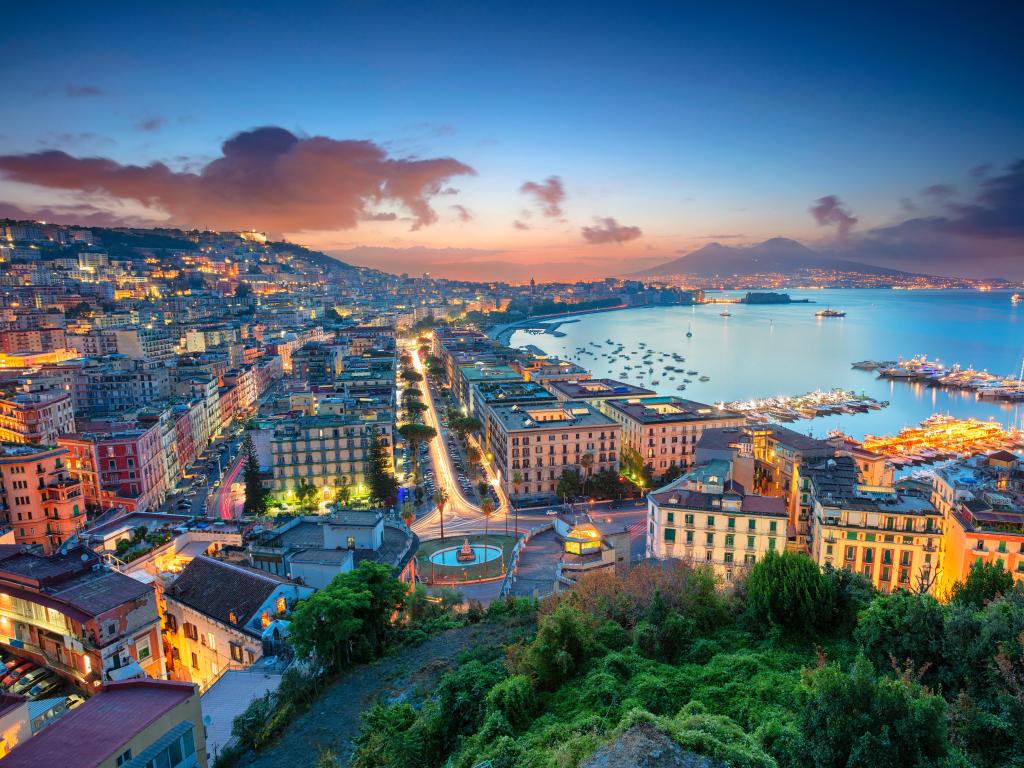 The most common flight is the flight from Naples. This is a very cheap and quick flight that's covered by several major airlines.
How long does it take to reach Sicily from Italy?
Because of the short distance between the mainland and Sicily and Italy's excellent transportation systems, crossing into Sicily is very easy and quick, with many options for you to explore.
Driving from Reggio Calabria and then going by ferry is the quickest way to get to Sicily. The drive from Reggio Calabria to Rada S Francesco (Messina) is roughly 50 minutes including the car ferry crossing.
The train from Reggio Calabria Centrale to Messina Centrale takes 3 hours. By taking the train, you're adding several hours to your journey but to have the unique experience of boarding a ferry on a train, you may find this to be worth every extra second.
The flight from Naples to Palermo takes around 1 hour. There will also be added time for check-in and boarding.
How much does it cost to travel to Sicily from Italy?
The Train from Reggio Calabria Centrale to Messina Centrale costs 11 Euros for a one-way ticket. The return ticket is 22 Euros, and the prices remain constant year-round.
A flight from Naples to Palermo on EasyJet will cost around 28 Euros one-way and 50 Euros round trip. Prices fluctuate so make sure to book a few months in advance to get the best deals.
The car ferry from Villa San Giovanni to Messina via the beautiful and modern Caronte Tourist costs 2.50 Euros each way if you're traveling by foot. If you take a car with you, it will have an extra cost of 33 Euros.
Which port should you choose as your destination in Sicily?
If you're driving or taking the train, you'll cross via ferry and arrive at the Messina Marittima in the port of Messina. This large port is right in the center of the historic city of Messina.
From here it's really easy to continue your journey via train or car. If you're arriving by plane, you'll arrive in the city of Palermo, on the northwest coast of the island.
Things you need to know about traveling to Sicily from Italy
Traveling to Sicily from Italy is very easy. It's the same country so you don't need any extra documentation or paperwork.
The trains and ferries in Italy run on time so make sure you arrive early to avoid being late. The crossing is quick so make sure you don't stay on deck too long.
Best time to visit Sicily
Sicily is perfect year-round for sun and beautiful weather. July and August are popular months with a lot of tourists. This increases the hotel prices substantially.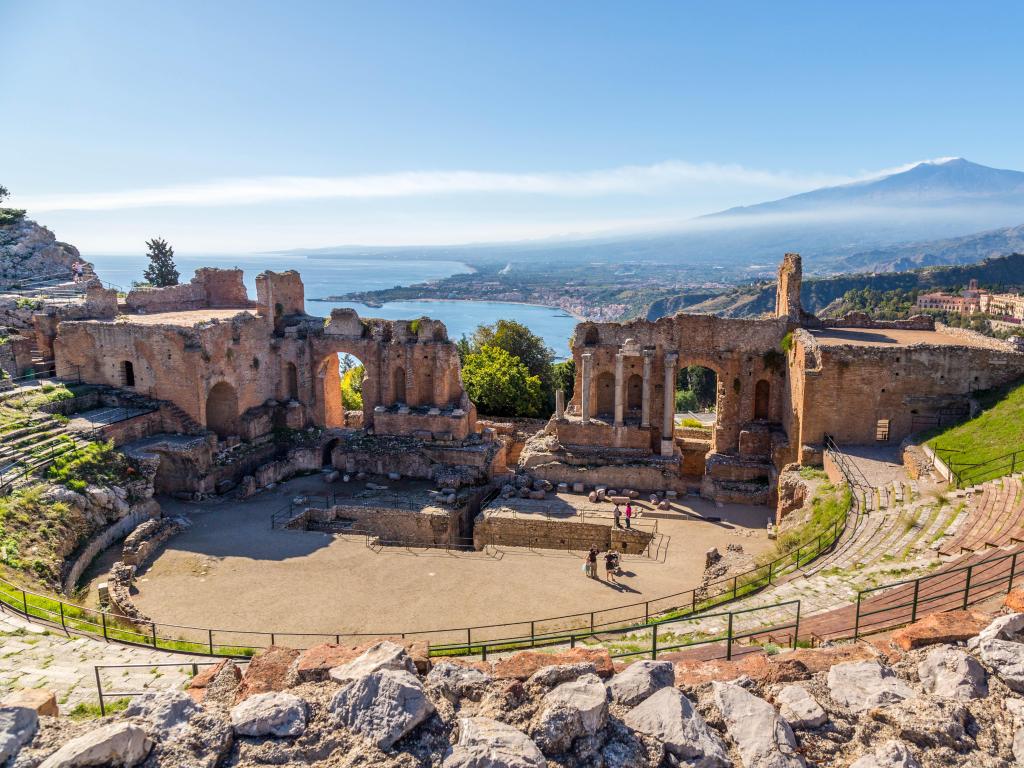 June to September sees the warmest temperatures and oftentimes during the hottest days, bathing in the sea is all you can do. July and August in particular have average temperatures of 26 and 27degrees Celsius.
During Easter, there are major festivals across Sicily. The Tuesday before Lent is Martedi Grasso, a huge carnival across Italy where people dress in costumes and march through the streets.
When is the best time to travel to Sicily?
Because the island is a year-round destination it really depends on what you want to see and experience. If you want to avoid crowds, winter, spring, and fall are the best times to visit.
That said, summer is the perfect time to soak up the sun on Sicily's endless coastline. The temperatures may be scorching but the emerald sea will provide the perfect escape.
Things to see once you reach Sicily
Sicily is full of historic sights, scenic views, natural wonders, and food galore. Below are our top things to do and see on this stunning Mediterranean island.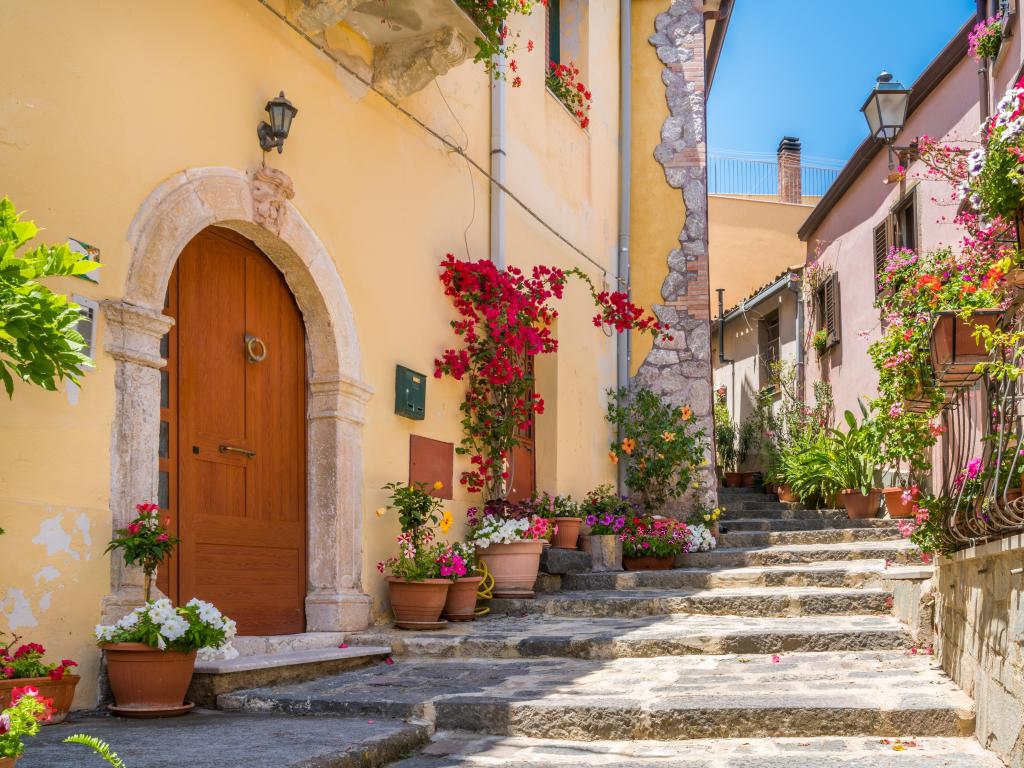 Messina - Once in the harbor city of Messina, you can explore the centuries-old local landmarks. Messina Cathedral, built in 1551, has stunning architecture and is the Piazza del Duomo.
Beaches - Sicily is rife with spectacular beaches. Isola Bella and Piscina di Venere are near Messina while Marinello Beach is well worth the extra journey time.
Aeolian Islands - In the Tyrrhenian Sea sit seven islands. You can reach the volcanic archipelago by boat to enjoy the most unblemished islands in the Mediterranean.
Roman Ruins - Make the journey into central Sicily to see the Villa Romana Del Casale. Dating back to the 4th century, this well-preserved palace has the world's largest Roman mosaic collection.
Palermo - If you want an urban experience head to Palermo where you lose yourself in the streets and enjoy Sicilian cuisine and the deep-rooted culture.