Puglia road trip - The ultimate 5 day driving itinerary
Puglia, the heel of Italy's boot, is a bit of an unsung hero in the Italian landscape.
Overshadowed by the rolling hills of Tuscany, the picturesque shores of the Amalfi Coast, and glittering Lake Como, the region of Puglia often falls behind on travellers' Italy bucket lists.
In reality though, this region has it all: quaint towns, verdant countryside, crystal-clear seas, and the freshest food, so there's no reason why it shouldn't rival its popular neighbours.
To prove it, we've put together a five-day Puglia itinerary covering the very best of what this region has to offer. Read on to discover this bellissima corner of Italy.
Day 1: Arrive into Bari, visit Polignano a Mare, have dinner in Alberobello & check into your hotel in Martina Franca
Miles: 59
We'll admit, this sounds like a lot to squeeze into day one, but being a small region everything is pretty close together, so if you catch a morning flight into Bari it's more than doable.
Pick up your hire car and drive along the coast to Polignano a Mare
After you've sorted your hire car, drive straight to Polignano a Mare from the airport.
Heading south through Bari and along the coast, this should only take around 40 minutes, meaning you'll hopefully arrive sometime in the mid-morning.
Find somewhere to park (blue stripes mean paid parking, yellow stripes mean residents' parking, and white stripes mean free parking), dig out your swimsuit from your suitcase and head off to explore.
Wander through Polignano a Mare old town
Perched high on a limestone cliff overlooking the Adriatic Sea, this seaside town is a popular holiday destination amongst Italians and is a beautiful place to begin your road trip.
Before you hit the beach to relax after your journey, we'd recommend taking a little time to explore the old town.
Pick up some fresh focaccia at Focacceria Del Corso on Via Pompeo Sarnelli to nibble on as you wriggle north through the labyrinthine streets.
We recommend strolling without any real destination; just take in the sleepy Italian seaside vibes and enjoy the first few hours of your holiday.
As you explore, be sure to look out for the beautiful Chiesa Matrice Parrocchia Santa Maria Assunta in Cielo (Church of Saint Mary of the Assumption), and check out the panoramic views of the Adriatic from the Largo Ardito viewpoint.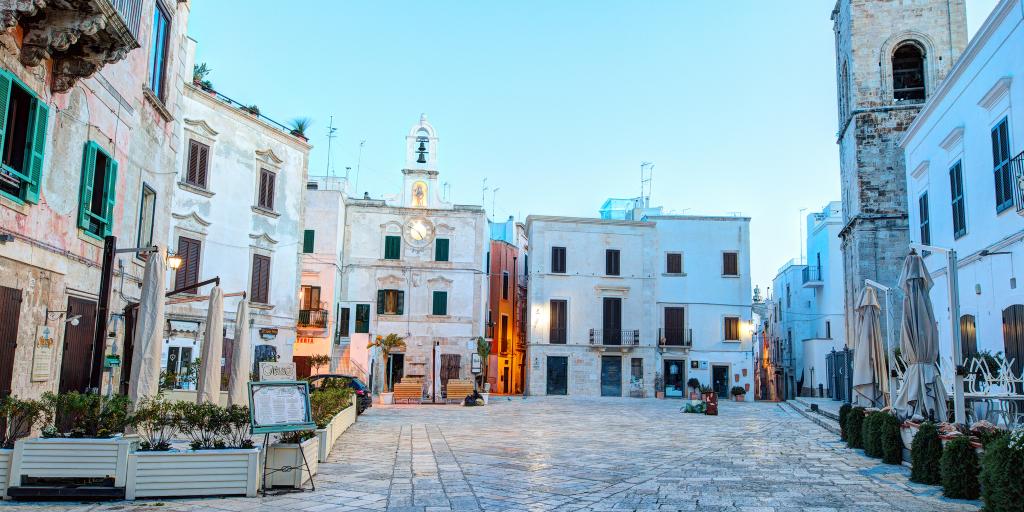 Spend the afternoon relaxing on the beach in Polignano a Mare
The main beach in Polignano a Mare is Lama Monachile, which is nestled in between rocky cliffs and accessed via the arches of a picturesque bridge.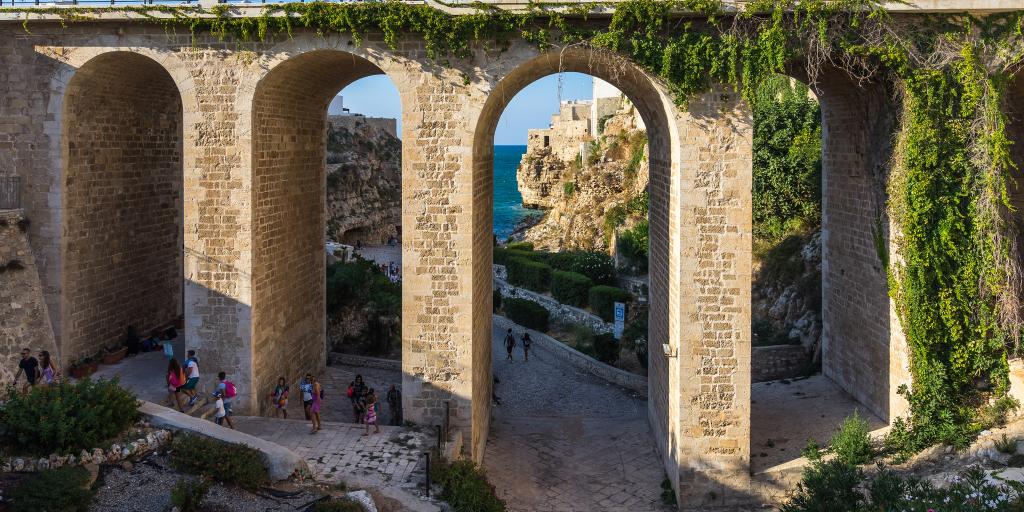 This white pebble beach is the ideal place to spend a couple of lazy hours relaxing in the sun and taking a dip in the clear blue water, so find a good spot and get stuck in to the first few chapters of your holiday book.
For the more adventurous among you, this beach is also a famous spot for cliff-diving. Having hosted the Red Bull Cliff Diving World Series since 2015, Polignano a Mare has become a hotspot for this adrenaline-fuelled activity.
Unless you're visiting during the competition, you're unlikely to see any really extreme jumping, however you can still do some (slightly less risky) jumping and diving into the turquoise water.
If you'd rather stay dry, you can just admire the action from the comfort of the beach - it's up to you!
Drive to Martina Franca, stopping in Alberobello for dinner
As the late afternoon sets in and once you've had enough of the beach, head back to the car and drive south to Alberobello - it's just 18 miles down the road.
This popular town is on the way to Martina Franca, where you'll be spending the next few nights, and is well worth a stop off before heading to your hotel.
Famed for its trulli, traditional Puglian dry stone huts with cone-shaped roofs, this town looks as if it's inhabited by hobbits, and is a lovely place to wander around and snap a few photos.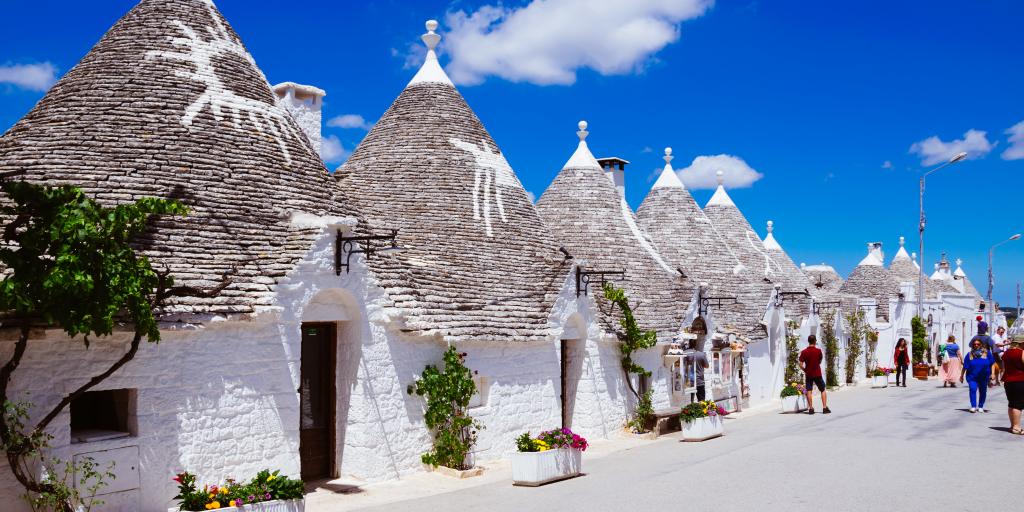 Walk up to the Belvedere Santa Lucia lookout to get amazing views over the conical rooftops as dusk falls; this is the ideal time to both beat the crowds and admire the golden light bouncing off the white stone.
Have a bit more of an explore if you fancy it, then make your way to Terra Madre for dinner.
This welcoming trattoria celebrates vegetables and serves up loads of great vegetarian dishes cooked with produce straight from their onsite garden and nearby farm.
Their simple, home-style food is delicious, fresh and sustainable, and you can enjoy it either in their cosy restaurant or on the veranda overlooking the garden.
Although there are a few meat options available, we'd recommend staying veggie here to fully appreciate the incredible local produce grown just a few metres away from your table.
After dinner, drive on to Martina Franca (it's only seven miles away, so don't be daunted by the prospect of driving in the dark), check into your hotel, and collapse after a busy day one.
Day 2: Take a mini road-trip tour of the Itria Valley & eat traditional orecchiette pasta
Miles: 36
Have breakfast and look around Martina Franca
You'll be zipping off pretty early for your tour of the Medieval towns of the Itria Valley on day two, but before you go have a quick look around Martina Franca.
Your base for the next two days, this town is the largest and one of the most bustling in the Itria Valley.
We'd recommend ditching the hotel breakfast and going for an early morning stroll to find a quaint Italian cafe, passing by beautiful piazzas, traditional churches, and original town gates.
Go as early as you can manage to enjoy the streets free from tourists, and leave enough time to look around before you embark on your mini road trip.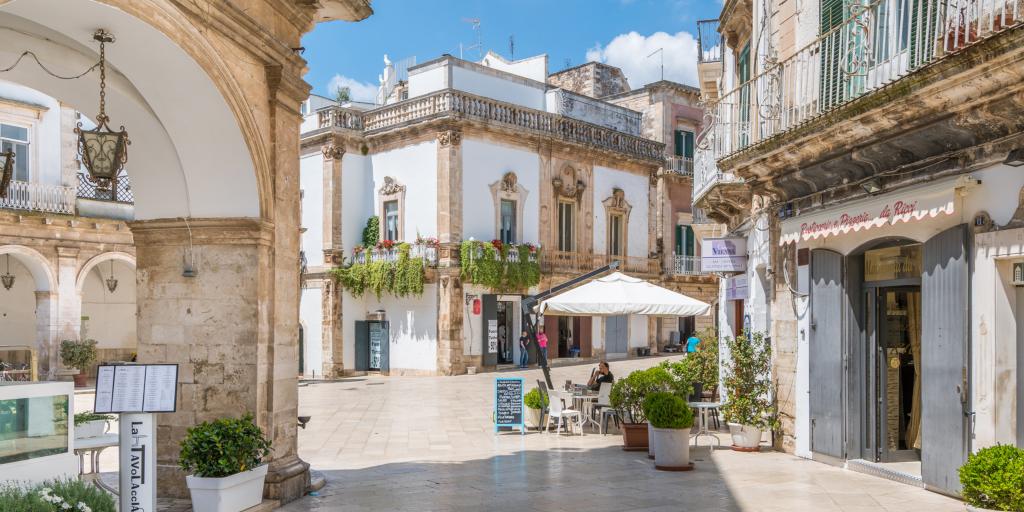 Start your mini road trip in Cisternino
Your day two itinerary will take you on a tour of three hilltop towns on a scenic round-trip drive from Martina Franca, starting with Cisternino before heading on to Ostuni and Ceglie Messapica.
As well as making the most of this picturesque trio of towns, make sure you enjoy the driving too! You'll pass beautiful green fields, quaint trulli houses, and rustic white stone walls which make driving here a true pleasure.
Your first stop, Cisternino, is roughly eight miles outside of Martina Franca, and it should only take you around 15 minutes to get there.
Widely regarded as one of the most beautiful small towns in Italy, Cisternino has an interesting history of Greek and Roman influences, as well as a picturesque medieval centre consisting of winding alleyways, arches, bleached buildings and flower-adorned balconies.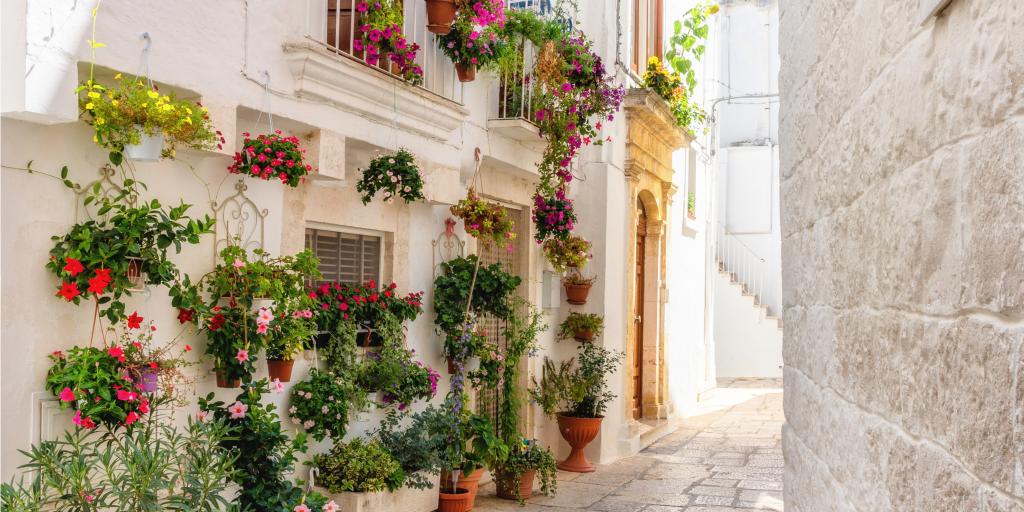 The best way to make the most of Cisternino is to spend the morning wandering through the tiny streets, stopping for a coffee or gelato (Bar FOD is a great option with loads of outdoor seating), and exploring the historic sights.
Have a look around the traditional, Romanesque Mother Church of Saint Nicholas of Pàtara, and admire the famous Torre dell'Orologio clock tower (which is above Bar FOD in Piazza Vittorio Emanuele) as you look around.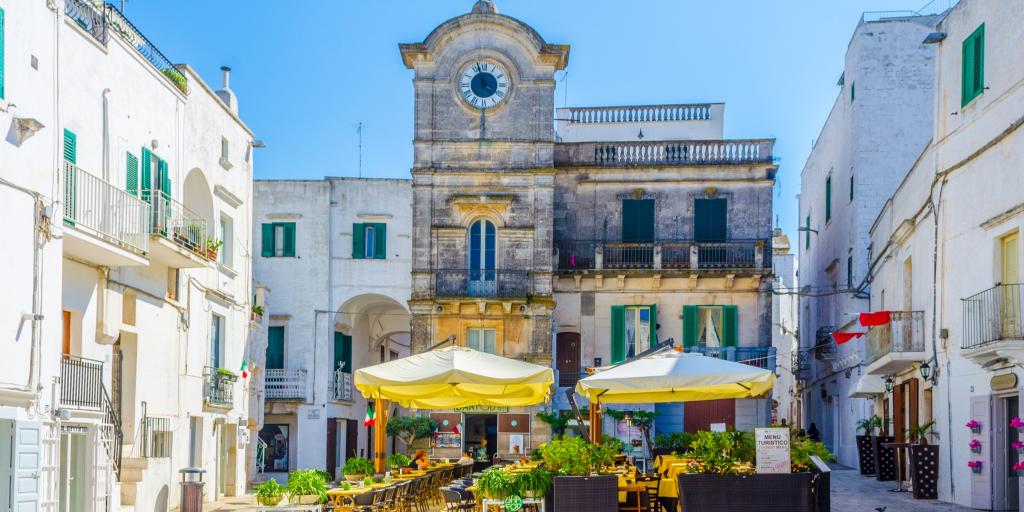 As morning turns to afternoon, head back to the car and drive ten miles east to Ostuni.
Drive to Ostuni and have lunch
By the time you've arrived in Ostuni you'll be ready for a late lunch, so park up and head straight to Osteria Monacelle.
This traditional restaurant is tucked away next to the cathedral, and is a simple place serving up delicious, authentic food local to the region.
While there are loads of great dishes on the menu to choose from, we'd recommend you opt for one of the most famous dishes in Puglia, orecchiette pasta served with cime di rape (turnip tops) and crispy breadcrumbs.
You'll probably end up eating this Puglian staple a lot over the course of your road trip, and there's no better place to try it for the first time than at Osteria Monacelle.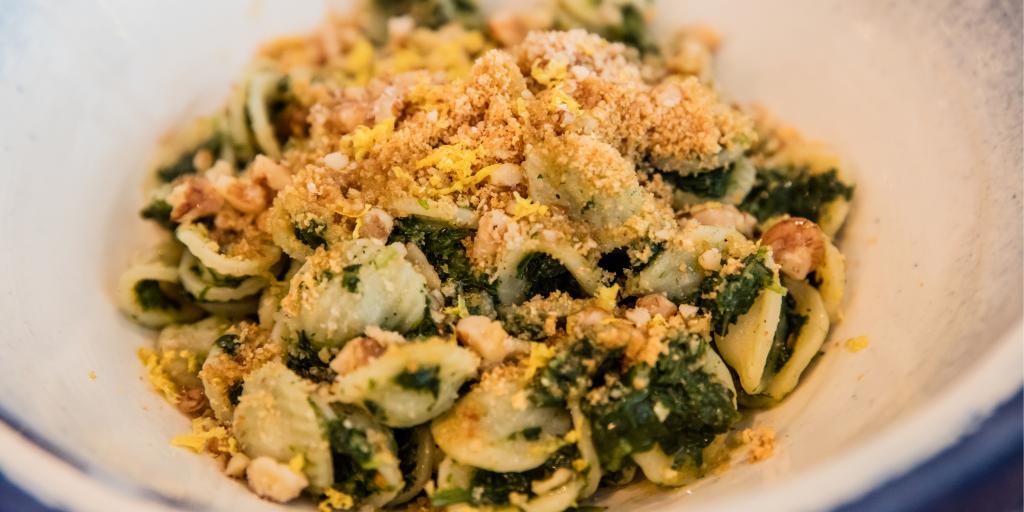 Watch your food being cooked through the window into the kitchen, then wash this delicious dish down with a glass of local wine (Puglia's wine production alone is roughly the same as Germany's!)
We'd also thoroughly recommend finishing your meal with a classic Italian tiramisu - it would be a crime not to!
Travel tip: Book in advance so that you definitely get a table; this spot is super popular. Lunch is served between 12pm and 3pm.
Have a look around Ostuni before driving on to Ceglie Messapica
After lunch, have a stroll to walk off all that pasta and make the most of Ostuni.
Known as 'The White City,' this beautiful town rises high above Puglia's verdant countryside, and is another photogenic tangle of winding alleyways and white-washed buildings.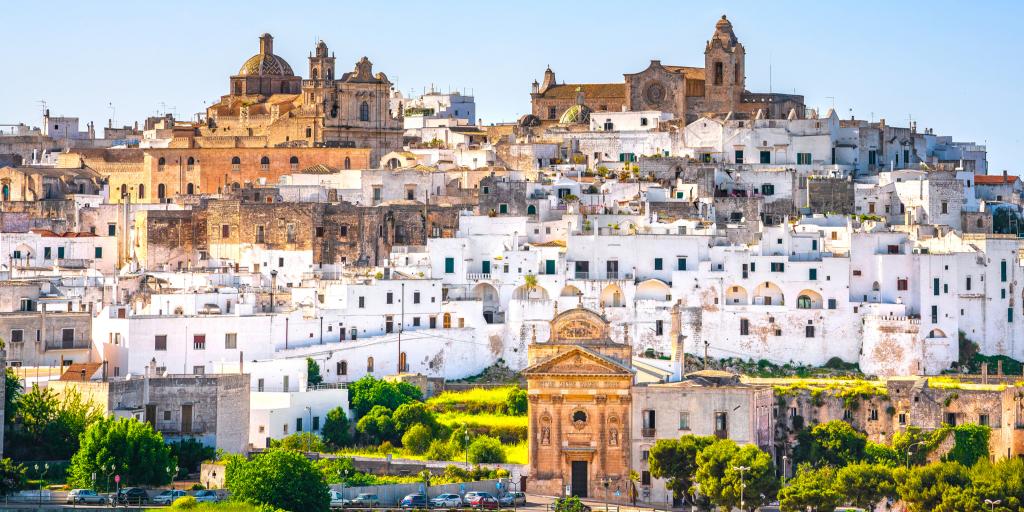 Visit the Cathedral of Ostuni
The restaurant is located right next to the Cathedral of Ostuni (Cathedral of Santa Maria dell'Assunzione), the town's centrepiece, so have a look around this impressive hilltop church before making your way down through the centro storico.
This 15th-century cathedral is considered one of Italy's national monuments and features three portals topped with incredibly detailed rose windows.
One of the most fascinating features of the cathedral's interior is the artwork. Beautiful 18th-century paintings adorn the walls and ceilings, including many depicting Jesus's life and tributes to important saints of the city.
Spend some time enjoying this vast church before continuing your walk through the old town.
Entry costs €1.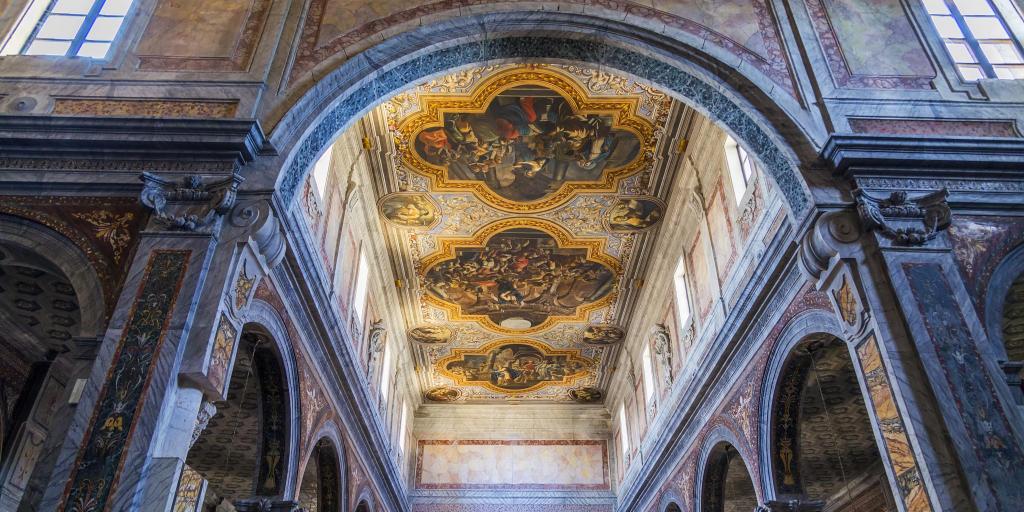 Stroll through the rest of the centro storico
Spend a final hour or two in Ostuni enjoying the labyrinthine streets of the historic centre.
As you walk, look out for the ornate Arco Scoppa archway, check out the quaint shops and squares, and follow the city walls before making your way back to the car and driving on to Ceglie Messapica.
Note: Throughout Puglia it's traditional to take an afternoon 'pause' (similar to a Spanish siesta), which often means lots of the shops and restaurants will close for a few hours.
This shouldn't be a problem if you're just exploring the town, and many businesses remain open for tourists, but be mindful that you may not be able to pop into a shop for a bottle of water or a snack, so come prepared!
Have dinner in Ceglie Messapica
You'll probably be pretty tired after all of the day's exploring, so use your time in Ceglie Messapica to enjoy the white buildings bathed in the golden glow of the sunset, and have another delicious local meal.
Dubbed one of Puglia's gourmet hotspots, you'll be spoilt for choice with local trattorias and osterias dotted all across this town's large historic centre.
Go for a leisurely stroll to work up an appetite and get a feel for the town (be sure to pass by the Church of Saint Mary of the Assumption, Ducal Castle, and Piazza Vecchia), before choosing a restaurant for dinner.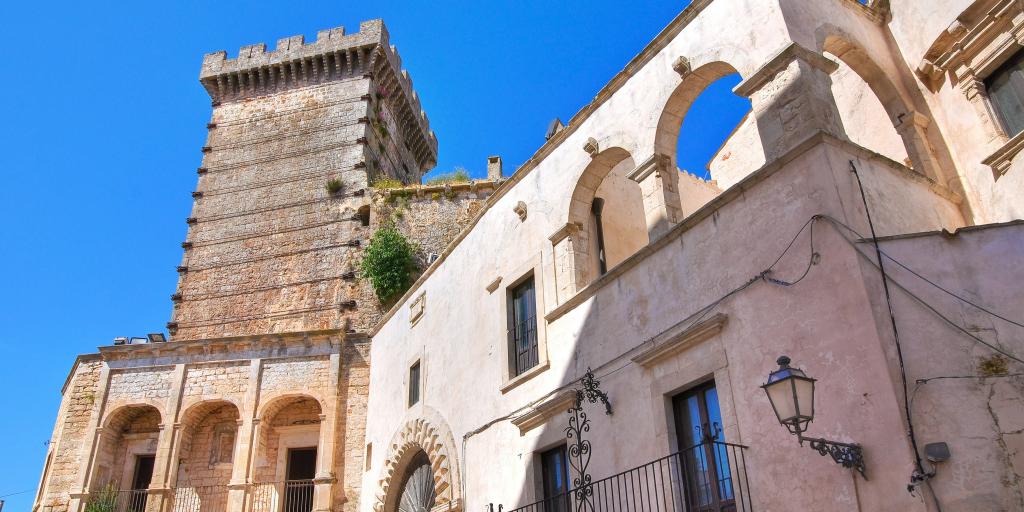 We'd recommend spontaneously deciding where to go (delicious smells and lots of customers are the best indicators of a great restaurant), however if you need a little inspiration here are a couple of suggestions:
Cibus - Tucked away in a beautiful stone building, Cibus serves up classic dishes celebrating the region's best ingredients. With the option to dine either beneath a canopy of vines in their courtyard or under the stone archways of the restaurant, this spot is the ideal place to celebrate the history and tradition of this beautiful town.

Ristorante Pizzeria Garden - If you're desperate for some authentic Italian pizza then Ristorante Pizzeria Garden is the place to go. This airy, modern restaurant offers a good selection of traditional, generously-sized pizzas that will be sure to satisfy those pizza cravings. If you're after a hearty meal for a reasonable price, definitely head here.
After dinner stick around in Ceglie Messapica for a drink if you fancy it, then drive back to Martina Franca and call it a night.
Day 3: Drive to Lecce & explore the island town of Gallipoli
Miles: 111
Set off early for Lecce and spend the morning touring the sights
It's time to move on from your Martina Franca base on day three, so pack up your things, check out of your hotel, and hit the road to drive to Lecce after breakfast.
Located around 64 miles south of Martina Franca, Lecce, also nicknamed 'The Florence of the South,' is often thought of as the jewel in Puglia's crown.
Its picturesque streets and famous Baroque architecture are this city's defining features, so much so that there's a name for its distinctive style - Barocco Leccese (Lecce Baroque).
To fill the remainder of the morning, there are two main sights we'd recommend you visit:
The Basilica di Santa Croce - One of the most beautiful churches in the city, this basilica features a stunning Baroque facade decorated with ornate sculptures and a large rose window. The 17 altars and mesmerising artwork on the inside are also well worth a visit.

Piazza Sant'Oronzo - This beautiful, open square is the site of a 15,000-seat Roman amphitheatre, unearthed from the ground in the 1930s. Take a tour of the well-preserved remains, or simply admire them from the square.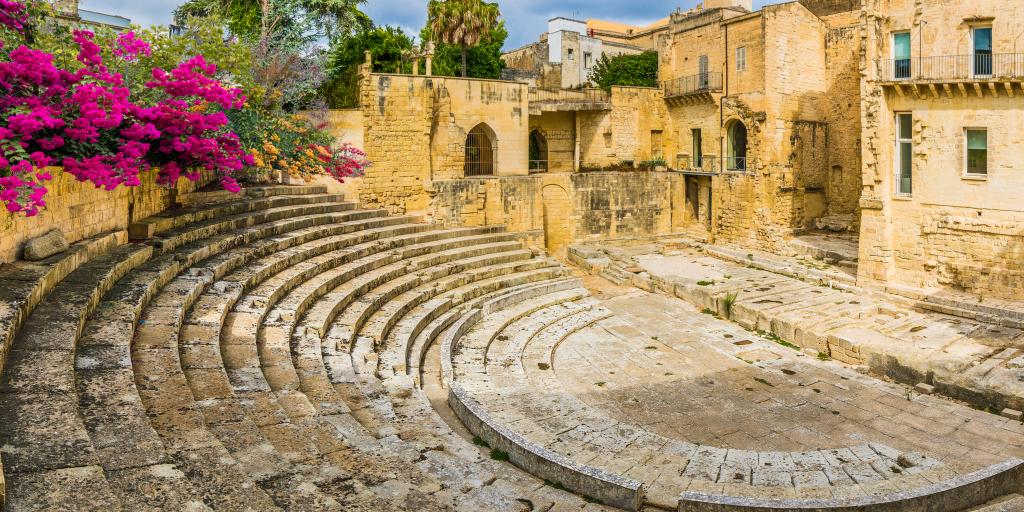 Grab lunch then drive to Gallipoli
Grab a traditional rustico Leccese (a pastry stuffed with mozzarella and tomato) and a caffè Leccese (iced coffee made with almond milk) for a speedy lunch, then head back to the car and drive south to Gallipoli.
Although it may not be as famous as its Turkish namesake, Italy's Gallipoli strikes the perfect balance between historic heritage and seaside charm, and offers something a bit different from the towns you've visited so far.
Situated on the Ionian coast of Puglia's Salento peninsula, you'll find the old town on a tiny island jutting off the coast which is accessible via a 17th-century bridge.
We'd recommend sticking to this area as mainland Gallipoli is a little industrial and built-up, and far less pretty than the island.
Browse the Gallipoli Fish Market
Cross the bridge and park in the car park on Lungomare Marconi, then head to nearby Gallipoli Fish Market to kick off your visit.
This bustling market is a haven of freshly caught fish and seafood sold by friendly locals, so be sure to wander through to get a feel for the incredible produce coming from these shores.
Sample an oyster fresh from the sea, but if you're too full from lunch don't worry - most of the local chefs visit twice a day to stock up their kitchens, so no doubt you'll get to try some at dinner later on.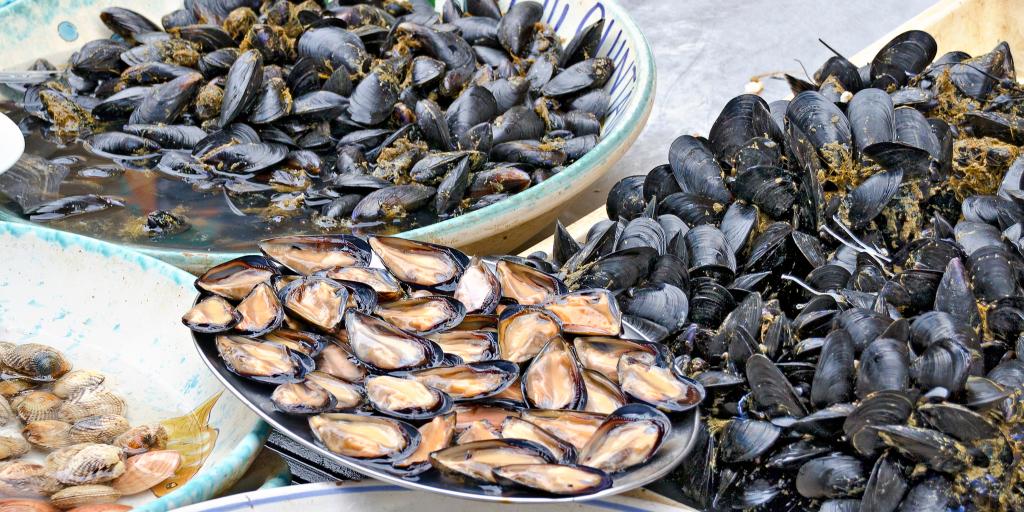 Stroll through the old town and walk along the town walls
Admire Gallipoli Castle across the road, then head into the old town for a wander.
Seeing as you've explored a lot of Puglia's old towns so far on your road trip, don't spend too much time here.
Just pass through the winding streets, snapping some photos of the many pretty churches and squares, and buying some locally-made souvenirs as you make your way towards the sea.
Walking west, you'll find that you end up at the town's main sandy beach, Spiaggia della Puritate (Purity Beach).
If you're feeling lazy or a little worn out, by all means find a spot on the sand and spend the rest of the afternoon here.
If, however, you've got some energy left in you, go for a walk along a stretch of the town walls.
These walls are thought to have been built in the 15th century to protect the town from attacks, and were later adapted in the 19th century to allow the stunning views of the sea to be visible from the town.
You'll essentially be walking along the Riviera Sauro road, heading past beachfront trattorias and whitewashed churches overlooking the glittering blue sea.
Walk as far as you fancy, then head back to the beach to relax before the sun sets.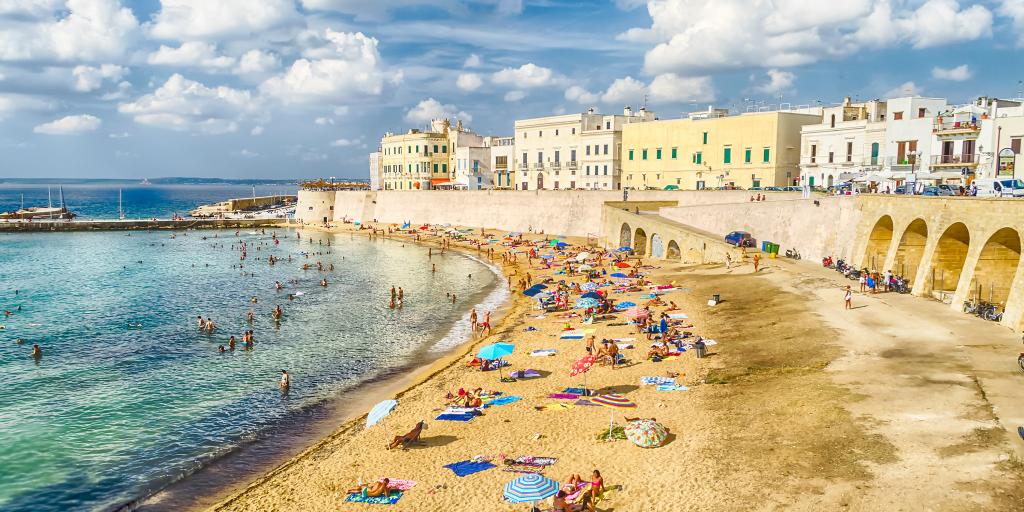 Eat some fresh seafood then head back to Lecce
On your walk back through town to the car, stop off at Il Pettolino restaurant for dinner before you return to Lecce. Located within the Palazzo Grumesi, this modern restaurant is grounded in tradition and serves up the best of Salento's produce.
Most of the menu is made up of fresh fish and local cheeses, with dishes changing according to the season and the fish available that day. Opt for the 'catch of the day' and enjoy your meal freshly plucked from the sea, and try to grab a table on the outdoor terrace to enjoy the sun setting over the water as you eat.
After dinner, find your car and make your way back to Lecce for the rest of the evening.
Day 4: Beach hopping on the southern tip of Puglia
Miles: 77
So far on your road trip you've only had a brief introduction to the region's beaches in Polignano a Mare and Gallipoli, so it's about time you dedicate a whole day to exploring Puglia's shores.
You're well positioned in Lecce to visit some of the best beaches in Puglia along its east coast, and our day four itinerary will take you to three idyllic spots.
Note: If beach hopping sounds like too much hard work, you could always opt to spend the day at just one beach. If you do choose to do this, we'd recommend heading to Baia dei Turchi as it has the most space and best facilities of the three.
Pick up some local produce for a picnic at Lecce's covered food market
A long day at the beach calls for a great picnic, so head to some of the city's local shops to put together a feast of Puglian produce.
You could easily pop to a local bakery close to your hotel for some fresh bread or some more of those cheesy rustico Leccese if you want to, but we'd recommend heading to the vibrant covered market next to the beautiful Porta Rudiae gate.
Technically known as Mercato Porta Rudiae, this simple food hall is bursting with fresh local produce, including luscious fruits and vegetables and rich local cheese, which is perfect for a basic picnic.
Collect a bag of delicious items, pack them with some cold water bottles to keep everything fresh, then hit the road to go to your first beach.
Drive to your first stop, Grotta della Poesia
Admittedly, your first stop, Grotta della Poesia, is more of a natural swimming pool than a beach, but we'd still thoroughly recommend including it in your beach day.
There are loads of beautiful caves along the Puglian coast, however this one, whose name translates to 'Poetry Cave,' is definitely one of the more unique you can visit.
Thought to have been a favourite swimming location for a beautiful princess who inspired the words of many poets, this giant sinkhole in the sea is a popular spot to jump in and enjoy the warm water.
You'll probably find you only stop here for an hour or so - enough time to soak up the atmosphere and leap into the water a few times - before continuing on your beach tour.
Travel tip: You can park in nearby Parcheggio Roca and walk to the cave.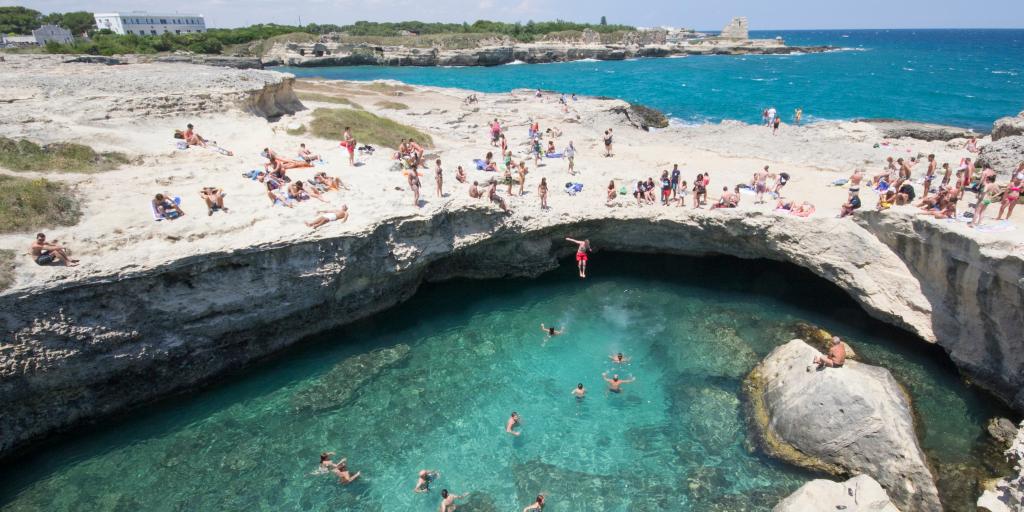 Drive south along the coast to Baia dei Turchi beach
Roughly ten miles south of the cave is Baia dei Turchi beach, your next stop.
After parking in the beach car park, a brief walk through a pine forest will take you onto this natural, beautiful beach.
This sandy stretch boasts shallow clear water and soft sand, making it perfect for snorkelers and sunbathers alike, and it's big enough that is doesn't feel too cramped.
The beauty of this beach is that it's home to a handful of small coves, so you can get away from the crowds if you want to.
On the main Baia dei Turchi beach you can hire a sun-lounger, grab a cold drink from the beach bar, and generally enjoy a more lively atmosphere, while the few smaller beaches next door are better suited to more relaxed beach-goers who'd rather just lay out their towel and soak up the sun in peace.
Seeing as you've brought lunch with you, you'll probably want to hit up one of the smaller beaches to enjoy your picnic and lounge on the sand.
Eat your lunch, go for a dip, and read your book on the sand before heading back to the car and setting off for beach number three.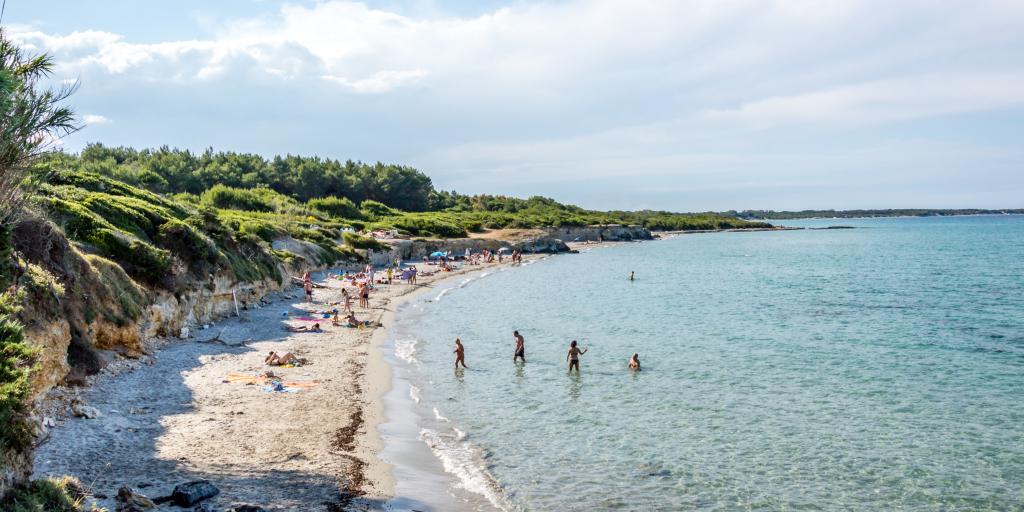 Spend the rest of the afternoon at Porto Miggiano beach
Make sure you arrive at your final beach with a good few hours of sunlight left - you'll want enough time to appreciate this picturesque cove.
Another 22 miles down the east coast of Italy's heel is Porto Miggiano beach, yet another stunning coastal stretch not to miss on your Puglia road trip.
This hidden cove is a little tricky to access via a staircase that's in desperate need of some TLC, however this means that fewer people opt to go there and it's less crowded.
With both rocks and soft sand, this beach offers the best of both worlds, and is a little more shaded by the cliffs, which you'll appreciate having already spent quite a lot of the day in the sun.
This rocky stretch of coast is also home to a historic tower, adding to the beauty of the area.
The rocks close to the tower are a favourite spot for jumping into the water (there's a ladder for climbing back out again), so if you've got some energy left why not take the plunge?
Spend a few more happy hours relaxing here before driving back to Lecce for dinner to round off your day.
Travel tip: If you're concerned about the difficult access to this beach, it's also possible to sit on the rocks further up the cliff to avoid the incline - a great option if you're not fussed about swimming and want to soak up the sea views.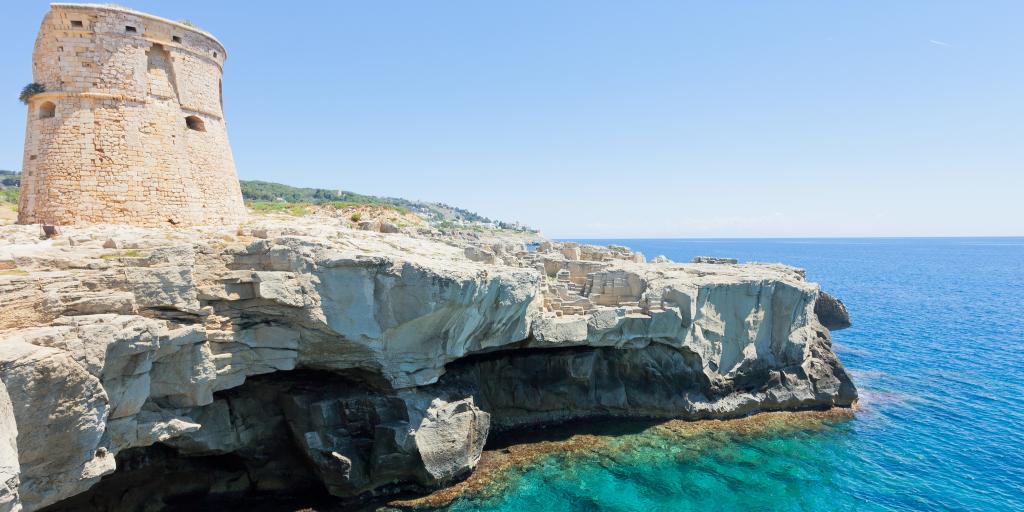 Drive back to Lecce for dinner
After a day at the beach you'll probably want to go back to your hotel to freshen up before heading out for dinner, so drive back to Lecce once you've had enough of Porto Miggiano.
It would be wrong not to indulge in a little more seafood to celebrate your day by the water, so book a table at Blu Notte for some of the best fish in town.
With a vast menu of dishes to choose from, it's hard to go wrong at this elegant restaurant as there's guaranteed to be something for everyone (even if you don't fancy fish).
Start with the mixed seafood platter to sample a selection of fish caught locally that day, and chat to the friendly staff about what they recommend for a main course.
Have a slow, lazy meal, then retire to your hotel - we bet you'll be knackered after today's itinerary!
Day 5: Explore Bari & fly home
Miles: 94
If you're in no rush to get home on day five, try to book a late afternoon/evening flight so that you have ample time to drive back to Bari and explore the city.
We're basing today's itinerary on the assumption that you've booked a return flight from Bari, however if you'd rather book two single fares and fly back from Brindisi (which is much closer to Lecce) that works too.
The drive from Lecce to Bari is around 94 miles along the coast, past sprawling fields and manicured vineyards, which makes this motorway drive far from boring.
There are also ample opportunities to take scenic diversions away from the main roads if you're in the market for an even prettier drive - just opt for the local roads that hug the coast (such as the SP90 between Torre Canne and Monopoli) and you won't be disappointed.
Park up and get exploring
Keep the car for now so you have somewhere to leave your bags, park in one of the many car parks and set off on foot to explore.
Bari has a distinctly more urban feel to the towns you've visited so far on your Puglia road trip, so expect the usual classic Italian charm complemented by a bit more buzz.
As always, the best place to start is the old town, or Bari Vecchia as it's known here.
Strolling through the old town is really special in Bari. The narrow streets are alive with locals and full of small churches, shops, and ancient houses, giving this area an amazing atmosphere.
One of the best sights to look out for are the Italian nonnas (grandmothers), who sit leisurely in the streets making orecchiette and chattering to one another - you'll definitely find a true slice of authentic Italy here.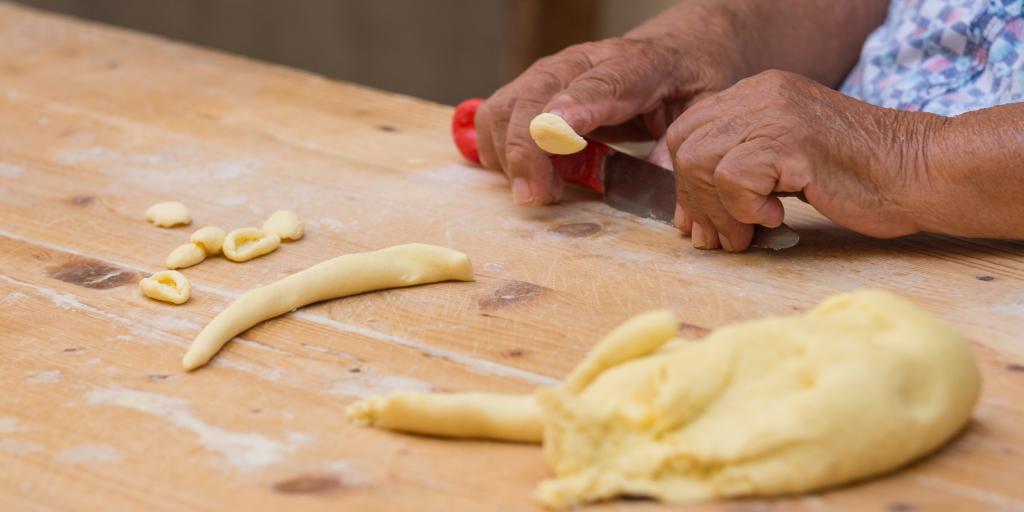 By this point it'll probably be lunch time and all that pasta would've made you hungry, so find a spot in the old town and enjoy one final plate of orecchiette.
Visit the Basilica di San Nicola
After lunch, you'll probably have time to squeeze in one more sight, and choosing the Basilica di San Nicola at the northern end of the old town is the obvious choice.
This famous church is an important pilgrimage destination and is thought to house some of the remains of St. Nicholas (yep, Santa Claus).
The Basilica is also home to one of the most important Romanesque sculptures in Southern Italy, a cathedra (bishop's throne) made for Bishop Elias in the 11th century, so look out for this iconic relic as you wander around.
Walk through the modern quarter back to your car and head to the airport
By this point it'll probably be about time to head to the airport, so walk through the modern Murat Quarter back to the car (this area has a really interesting mix of old and new architecture), buying any last minute souvenirs on your way.
Say ciao to Bari, take the car back to the car hire depot, and check in for your flight - we hope you've enjoyed your Puglia road trip!