Road trip north Italy - Scenic drive from Milan to Bologna
While often overlooked by visitors, North Italy is a magical region filled with mountains, lakes and little villages just waiting to be discovered - in fact, there's arguably no better place to explore by car.
This North Italy road trip itinerary spends eight days driving from Milan to Bologna, hitting some of the region's most exciting and dynamic cities, cruising down roads that are a dream to drive, exploring the stunning countryside and reaching the secret parts of Lake Como only accessible by car.
We'll tell you the sights you need to see (and the ones not to bother with), the roads to follow and the things you need to remember. Sold? Let's get driving.
Day 1: Milan - Fly in, see the Duomo and have an Italian dinner
Our road trip through north Italy will include a menu of the country's best northern cities, a serving of beautiful countryside and a big helping of some amazing driving roads, making this one of our favourite road trips you can do in Europe.
The trip starts with a little time spent in Milan and proposes a one-way albeit very indirect drive from Milan to Bologna.
If you are flying into Milan and hiring a car, getting back from Bologna to one of Milan's airports is reasonably quick, so add half a day on top of your itinerary to make that drive and hand in your rental car.
Parking in central Milan is both very expensive and frustrating, so we would recommend getting into town on old fashioned public transport or by taxi from the airport of your choice, as you will not need to drive to see Milan's fantastic sights.
Where to stay in Milan
The ideal place to stay in Milan is Starhotels E.c.ho: an awesome and elegantly designed hotel in a super convenient location right near the main train station.
One of its many perks is the hotel restaurant: the superb Orto Green Food & Mood restaurant by Eataly, which is decorated with lush greenery throughout and boasts a menu filled with locally sourced ingredients like Piedmont beef and Robiola di Roccaverano cheese.
The hotel also has an incredible roof terrace and a fitness room on the top floor with great views of the city - helping to motivate you in your morning workout!
The rooms are super spacious and unbelievable comfortable, each uniquely decorated.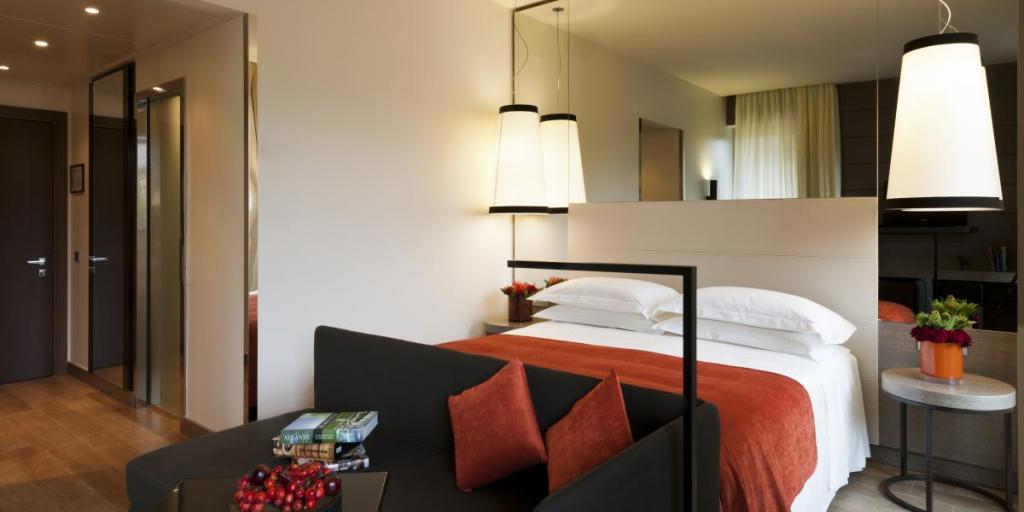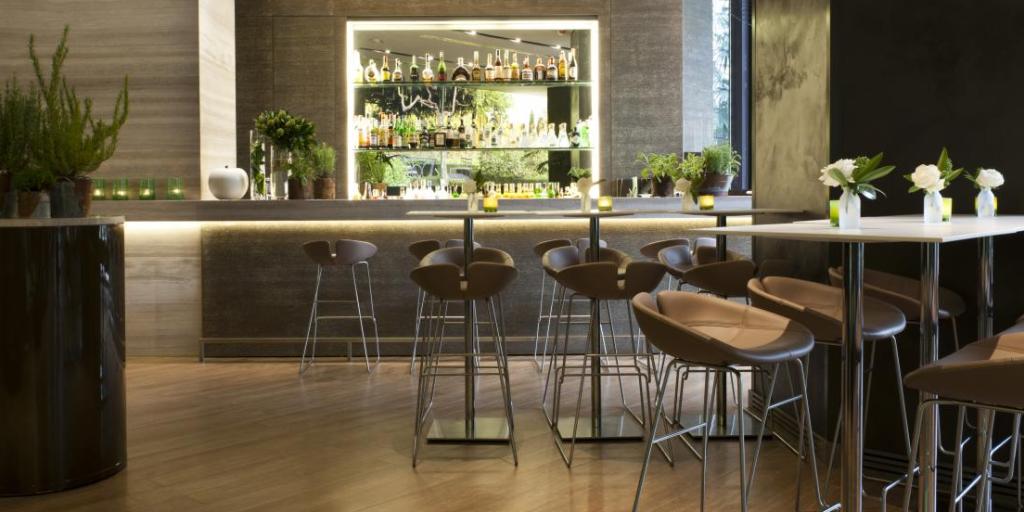 Buy a day public transport ticket at Milan Malpenza Airport for €4.50, then hop on the train to Stazione Centrale, which is just across the street from Starhotels E.c.ho.
It's an easy peasy one-hour journey from door to door. Then settle into your hotel room and spend some time relaxing after your journey.
Go out to explore the city
We highly recommend a trip to the square at the very center of the city – the Piazza del Duomo.
This square is surrounded by typical Milanese buildings on three sides and the white Gothic Duomo di Milano on the other. To get there, take the Metro Line 3 four stops south to Duomo. The journey should take about ten minutes.
Pop into the Duomo to have a look at the exquisite wealth of its interior following a recent renovation, and be sure to go up to the viewing platform at the top where you can see the entire city down below through the gargoyle–topped spires.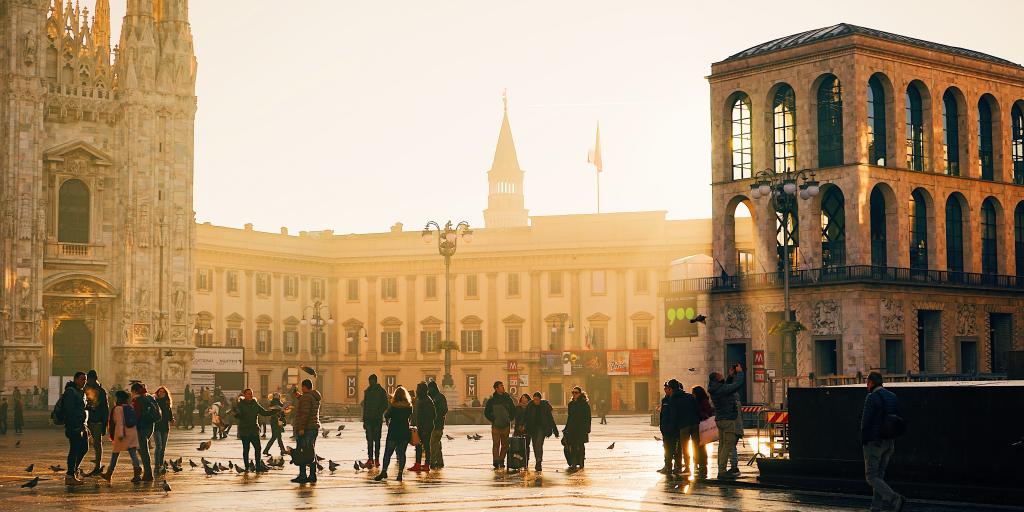 Spending an evening in Milan
How about a drink in one of Europe's most atmospheric cafes?
Go inside the Galleria Vittorio Emanuele II - you can't miss it if you make it to the central square; it is the great covered shopping mall to the north. Inside you will find a spot called Zucco bar. This is Milan classic serves up the city's best coffee, and it's also a very popular meeting place for locals.
Milan spoils for choice of evening restaurants. If we can give any advice, it's to make sure you book somewhere to avoid being turned away at the door.
Going for one of the highly rated restaurants slightly further out can return much better dividends, with these places catering to a discerning local public rather than being a tourist trap.
If you'd rather stay close to home, you could also opt for dinner back at the hotel. The tranquil ambience and healthy dishes are probably just what you crave after a day of travelling.
Day 2: Milan - Go sightseeing, see the Last Supper & head to the Opera
Visit the Basilica di Sant'Ambrogio
After a lie-in, head on out for a bit of sightseeing.
First stop on the itinerary is the Basilica di Sant'Ambrogio at the western end of Milan's central zone. It's an easy 15-minute metro ride on the 2 line (the lime green one) from Caiazzo station, which is just around the corner from your hotel.
The Basilica only opens at 10am, so be sure to grab breakfast if you haven't had something to eat in the hotel. If you have, grab another breakfast anyway! Streets leading from the Piazza del Duomo towards the Basilica are lined with restaurants and cafes filled with the smell of morning Italian espresso.
Since suffering heavy damage during the Second World War, the Basilica mainly serves as a museum.
Be aware that it still carries out religious services and if you are planning to visit on a Sunday, it's only open for 2 hours from 3pm.
Price of the entry ticket includes the audio guide, which is great for getting to learn a little more about this place.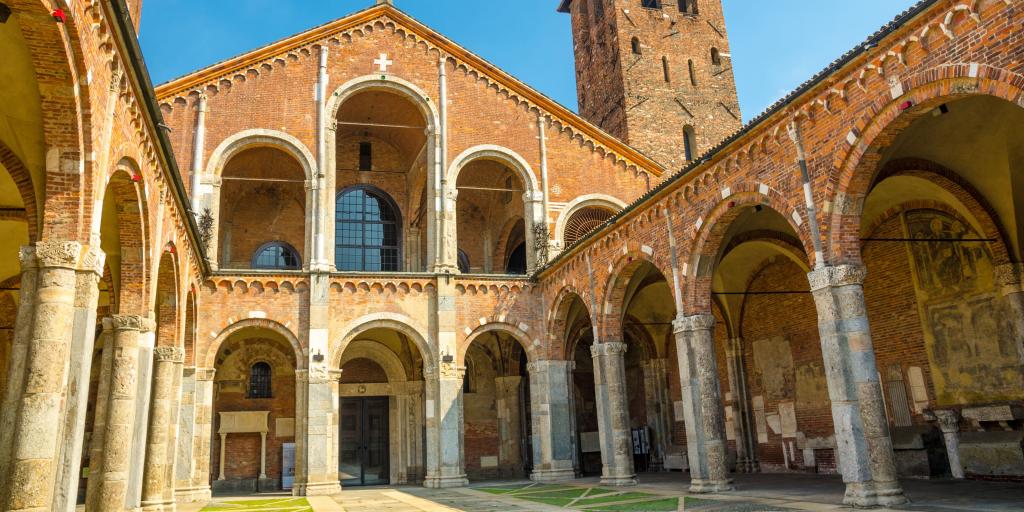 See da Vinci's Last Supper after lunch
While you are in this part of town and after you have indulged in the penne of your choosing at a local restaurant, it is time to go see one of the most famous works of art in the world... which just happens to be around the corner!
Leonardo da Vinci's Last Supper is the famous wall mural hanging in the Refectory of the Santa Maria delle Grazie.
But remember: you can't just turn up! Buy your tickets in advance for the right time slot and smile at the poor uninformed hordes of tourists by the entrance.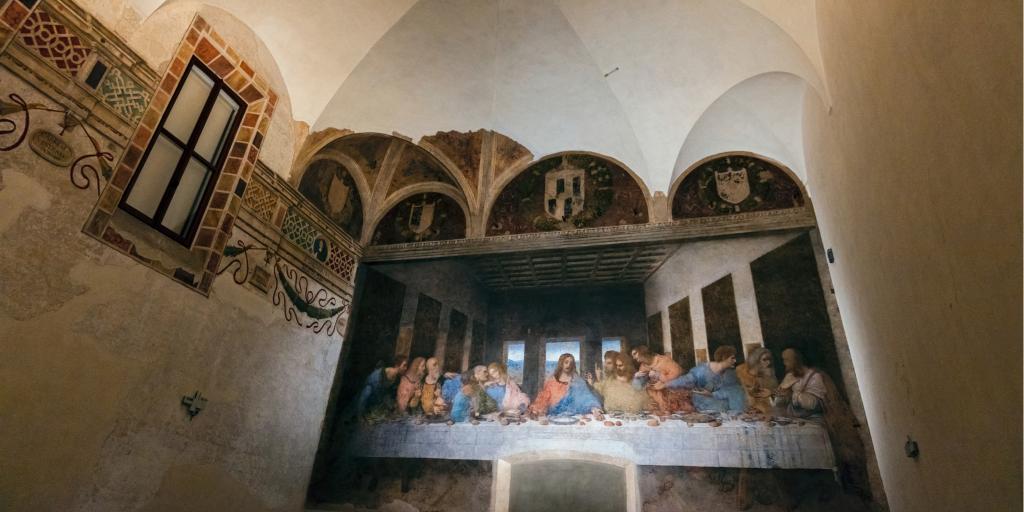 Go to the finest Opera in the world
Make sure to book your dinner somewhere in the centre or just to the north of the main Piazza. That way you can combine your chianti with a visit to Milan's Teatro alla Scala – the most famous opera theatre in Italy and arguably the whole world.
As you are in Milan, try out some of the local food specialities before the show.
Our particular favourite is the Cotoletta alla Milanese (breaded & fried calf rib). If you fancy a larger portion, order the Orecchio di elefante or an Ossobuco if you want to try veal.
Finish the meal off with a traditional Panettone to complete your Milanese culinary experience.
For the visit to La Scala, obviously make sure you have sorted out the tickets in advance to get a chance to witness the Luciano Pavorottis of tomorrow at the centuries–old venue.
After the performance, hail a taxi back to your hotel and enjoy a drink in the bar. They have a superb selection of local wines and traditional Italian liqueurs.
Day 3: Drive from Milan to Turin
Miles: 187
First things first – get your bags together and go find your car rental. Those who drove to Milan in the first place are lucky to have an extra hour in bed!
Most car hire locations are to the south of the main Piazza near the Missori metro station or up by the Stazione Centrale train station - convenient!
To get into the groove of your Italy road trip, first make the short journey north towards the Swiss border. Turn off the A9 just before you cross over and follow the shore through a number of stunningly beautiful towns and villages.
Stop for lunch near Como
We'd recommend going slightly further north away from the city of Como and stopping off at a spot of your choice for some delightful salad and local cured meats, or you can try some of local fish dishes with the alpine peaks of the mountain range behind you.
It is spots like this with unbelievable views and unique local food that truly differentiate a road trip from other types of travel. You simply can't get here without a car!
Once you are done with lunch and feel the need to move on, get back into the car and drive back towards Como.
Switch off the Satnav and keep on going towards Varese instead of turning back in the direction of Milan.
Here you'll find more stunning views as you meander along the Swiss border with lakes aplenty.
From Varese, head south towards Sesto Calende where you will enter the province of Piedmont. Look for signs for the A4 (E64), which will take you all the way into the city.
Where to stay in Turin
Now that you're travelling by car, you'll need to make sure there is parking available at or near your hotel.
Turin Palace Hotel not only has valet parking for a reasonable €25 a day (unfortunately you won't find anything much cheaper than this in the area), but it's also exceptionally located in the centre of the city, close to all the best attractions.
Plus, everything has been recently renovated, which means you can expect top-notch facilities including a relaxing spa with a sauna and jacuzzi, and a roof terrace with sensational views of the rooftops of Turin and the mountains beyond.
It's the perfect place for a romantic couple's getaway, a relaxing jaunt with friends or a memorable family stay.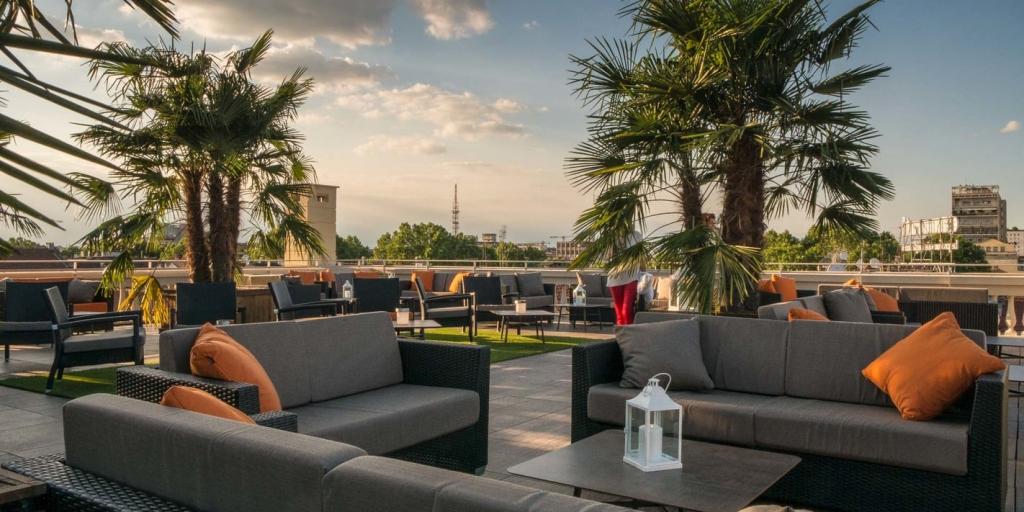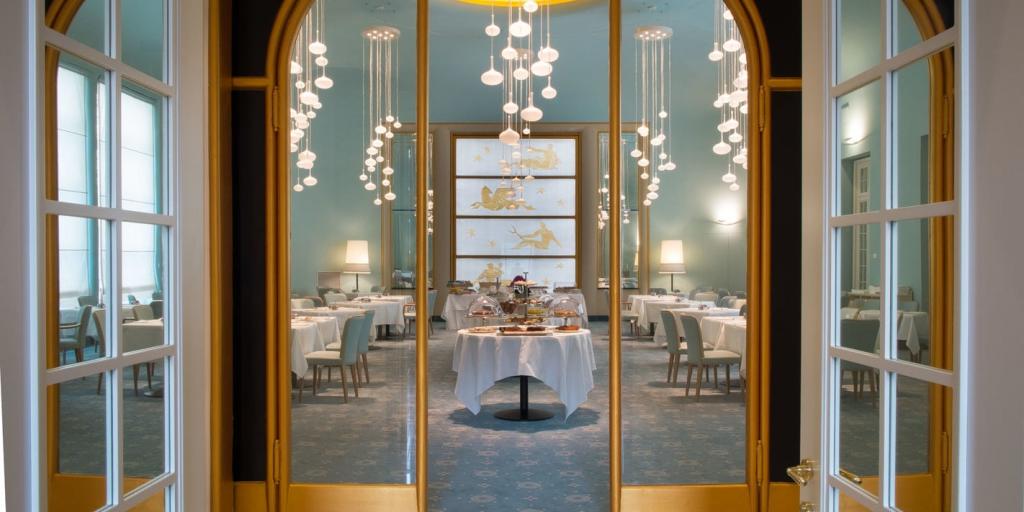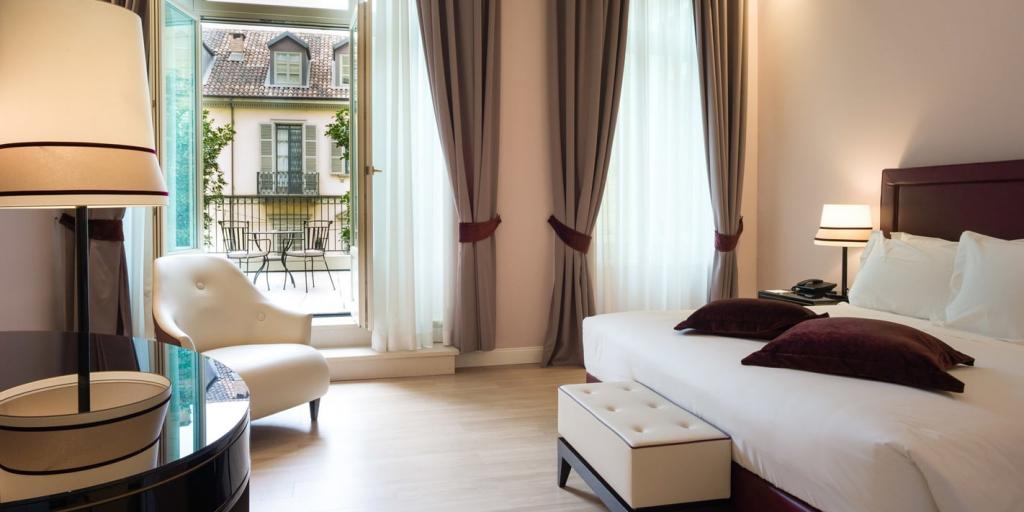 Despite its central location, the rooms at Turin Palace are quiet and peaceful.Some even come with private balconies where you can sip your morning coffee before heading out to explore.
The staff are very welcoming and professional, brimming with tips for how to best enjoy all that Turin has to offer.
P.S. If you'd rather not pay the extra charge for valet parking, you can park your car under the railway station across the street, which costs just €16 a day.
Once you're rid of the metal steed and you've dropped your bags off in the hotel, delve into the night of Turin.
This is a bustling and industrious city surrounded by the Alps, which gives it that unforgettable backdrop of snow-covered peaks. Wealth in the city means that there are a lot of amazing restaurants to choose from where you can fully unwind after a long lake-viewing road trip.
Day 4: Turin - Take in the sights in the historic city centre
The second major city on our north Italy road trip is a sharp contrast to Milan, despite being so close.
Turin has a definite local feel in comparison to Milan's grand worldwide hub status for business and fashion. The views are stunning and the best way to get to know Turin is by walking around.
Visit the Cinema Museum and the Turin Cathedral
The air here is fresh and the architecture throughout the centre creates an amazing atmosphere.
We recommend a visit to two of Turin's main sights: The Museo Nazionale del Cinema (a 25-minute walk away from your hotel) with the Mole Antonelliana and the Turin Cathedral – home to the infamous Shroud of Turin.
The building that houses the Cinema Museum in the heart of old Turin was originally built to be a Synagogue. The 167-meter-tall Mole Antonelliana tower was part of the design and took over a quarter of a century to complete.
By the time the building was finished, the original intentions had changed and it never became a place of religious worship, instead housing some of the city's museums.
Most recently, the Cinema Museum is the occupant and it really is an interesting place to visit.
You can get a lift up to a viewing platform for spectacular views over the entire city and the mountains beyond - but beware if you suffer from fear of heights: the lift is made of glass, making the journey up and down potentially precarious!
See the Shroud of Turin
After lunch, get yourself to the Turin Cathedral to see one of the world's most revered Christian objects: the Shroud of Turin.
This is a piece of linen with stains which appear to show an image of Jesus Christ's face. This relic is claimed to be the very cloth that covered the face of Jesus after his death on the cross.
Much debate surrounds this artefact, whose image is much harder to distinguish in real life compared with a photographic negative.
Scientific testing suggests that the shroud only came about during the Medieval period, a claim passionately contested by the religious establishment and some historians.
Day 5: Drive Turin to Genoa via the Col de Turini
Miles: 231
This has got to be our favourite part of the entire road trip. Day 5 brings fantastic sights, a beautiful mountain pass and one of the most picturesque coastlines in the world all in one drive.
Take a detour into France
We are going to cheat a little bit here and suggest popping over to neighbouring France as you weave your way down from Turin.
Head south towards Fossano where you need to turn west towards Borgo San Dalmazzo. From here, follow the SS20 up the valley into the mountains. Keep going for half an hour until you see a right turn to Sospel and take it.
Sospel is a village at the top of the most famous rally stage in the world - the classic Monaco race.
The road leading up and then back down towards Monaco is unbelievably beautiful with waterfalls, pit stops with a view to die for and crazy hairpins.
There are a couple of half–decent restaurants in Sospel which can be pretty useful for a spot of lunch.
Treat yourself to a french mountain dish of your choosing seeing as you are visiting the country before heading down towards Monaco.
Time permitting, if you really fancy a detour to the Principality, then by all means drive the 5 miles west along the coast, but we'll leave that for another day and point our compass back towards Italy and cross over the border.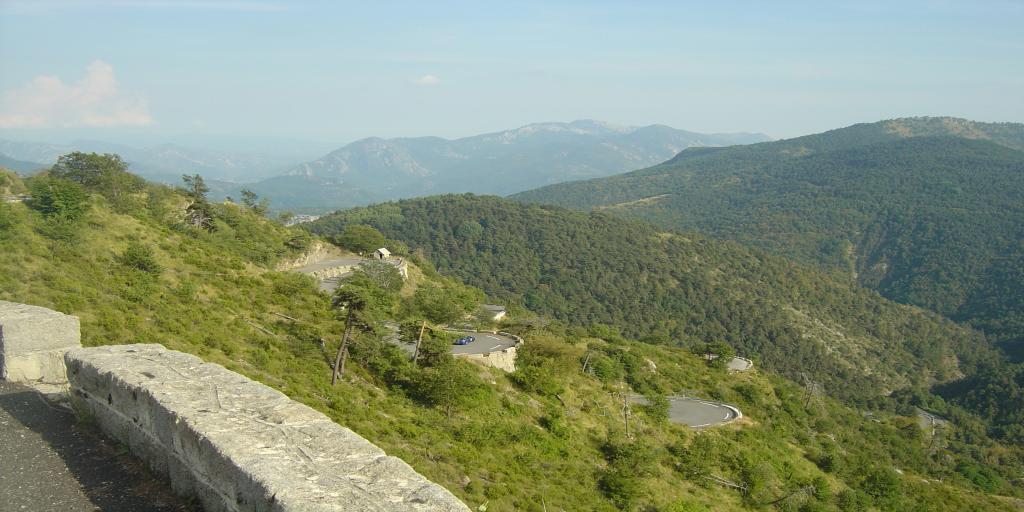 Drive along the Italian riviera to Genoa
The moment you cross back into Italy, the road will begin winding its way through the seaside hills and valleys of the Italian riviera.
If you left Turin early enough and time is still on your side, get off the A10 motorway at one of the first junctions and take the SS1 road running right along the coast through Bordighera and Sanremo.
This part of Italy is not particularly popular with tourists and we really don't understand why – it is stunning.
The seaside towns are full of colourful houses, piers and family–owned restaurants. The hills to your left are topped with castles or medieval villages and towns making the cruise along the Mediterranean coast unforgettable.
Rejoin the main road somewhere near Imperia and keep going all the way to Genoa until you hit the ancient city head on.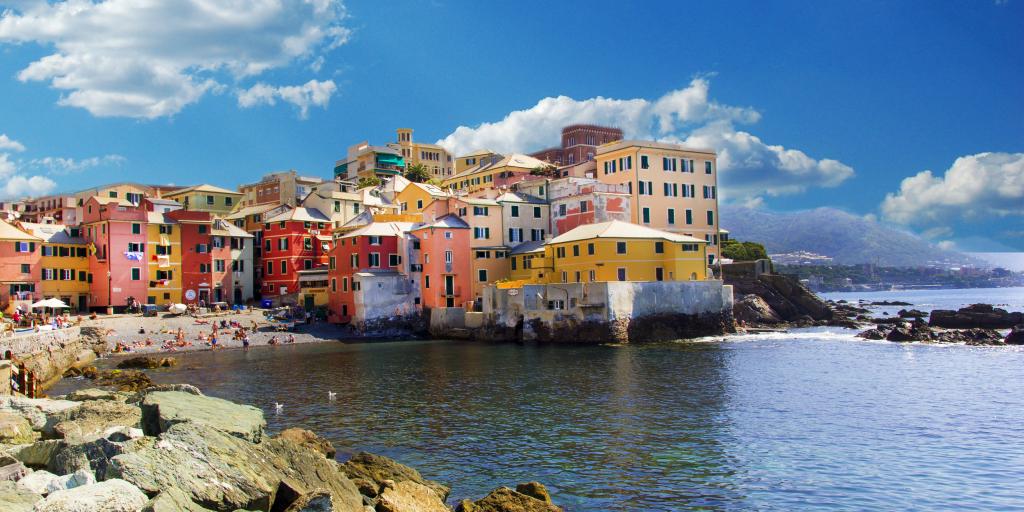 Where to stay in Genoa
After a day of driving, you'll want to stay somewhere that's peaceful, clean, and within easy access of all the fantastic seafood restaurants on the harbour in Genoa.
Enter Grand Hotel Savoia: a historic building with an old-world charm and a spectacular location just five minutes from the marine museum and the waterfront.
Built in 1897, Grand Hotel Savoia is one of the finest luxury hotels in the region, with a classy marble bar, glittering chandeliers and antique furniture galore. You're only here for one night, but you may as well make the most of it!
Expect spacious rooms and a sauna and spa on the basement level, which offers massage treatments to ease those driving muscle aches.
Private parking is available at €25 a night, or drive a little bit uphill from the hotel and see if you can spot any free street parking spaces.
Head out in Genoa for dinner
Once you've checked in and dropped your bags in your room, enjoy the cool breeze at one of a number of fantastic fish restaurants.
Try a true local spot and you will have a carafe of wine served into small ridge glasses and a menu scribbled on a chalkboard with food to die for.
Day 6: Drive from Genoa to Portofino
Miles: 79
Road trip along Italy's Ligurian coast & pop into Cinque Terre
After you've woken up early to explore the cobblestone streets once more and enjoy an espresso in the city centre, it's time to pack up your things and hit the road.
Use the morning to visit some of the world's most colourful and wonderfully bizarre towns along the Ligurian coast.
Take the motorway towards Spezia and shortly before you get there, you will come across a large national park to your right as the road moves further inland.
Here is a quintet of villages making up the Cinque Terre. We recommend visiting two of them, so put Vernazza and Manarola in the Satnav.
These are seaside spots build on steep cliffs rising from the sea covered in all manner of pastel coloured buildings unlike any place in the world.
We hope that by this point you have worked out your car's dimensions – parking here can be pretty tricky. Wander around the streets and help yourself to a delightful creamy gelato.
Remember to bring that camera because you will want to print those photos out to decorate your house!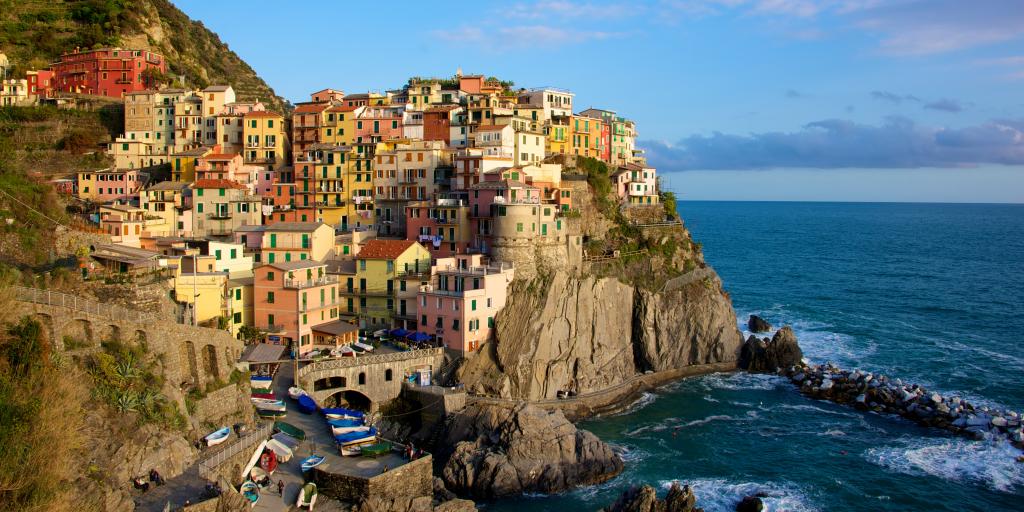 Drive on to Portofino
Once you have appreciated the rocks and the towns, head halfway back to Genoa until you get to Rapallo and turn off towards Portofino onto the Peninsula.
The road leading through a few resort towns gets progressively narrower, which - coupled with crazy Italian bus drivers coming the other way - is a guarantee of squeaky bum time in the driver's seat.
Portofino is a small town home to some of Italy's wealthiest families. Well... At least one of their homes in any case! You can see the opulent mansions gracing the hills around the perimeter from the Marina at the bottom.
The natural lagoon has a collection of exuberantly expensive yachts casually parked up against the pier to complete the picture.
Be prepared to pay top dollar for parking – we are talking around €10 an hour so bring some cash!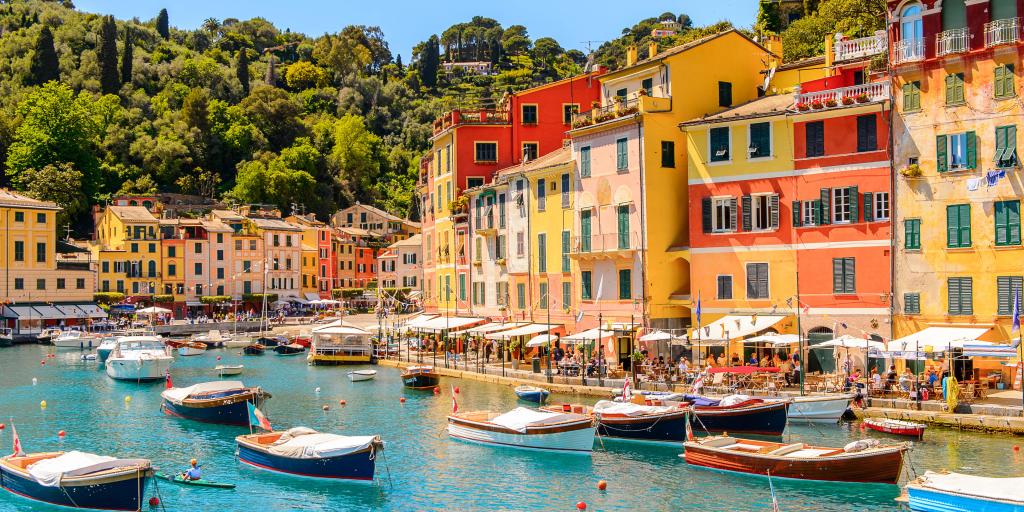 Where to stay in Portofino
If you're feeling swanky, enjoy the utmost luxury by staying the night here in Portofino.
After exploring the town centre, make your way uphill to the incredibly elegant Belmond Hotel Splendido, which is situated on a hilltop overlooking the town.
This spectacular hotel is truly special; it's the kind of place people return to again and again. It's no wonder it has attracted famous figures including Elizabeth Taylor and Humphrey Bogart over the years!
Unsurprisingly, it's all about the views here. The grounds have a heated saltwater swimming pool, beautiful gardens, and an all-weather tennis court, all of which overlook the turquoise sea below.
Most of the rooms come with a private terracotta terrace where you can enjoy room service or read a book in the sun.
Even the fitness centre has floor-to-ceiling glass walls that look out over the bay.
Belmond Hotel Splendido is a tad removed from the hubbub of the town centre (making it super peaceful and relaxing), but it's an easy 15-minute walk to get to the harbour, or you can hop on the complimentary shuttle that runs several times a day.
Day 7: Drive from Portofino to Bologna via Parma and Modena
Miles: 194
Detour to Italy's food capital
As you have probably already figured out our obsession with food, the main objective today is getting lunch in the home of Parma ham and Parmesan cheese.
It is against the law to eat anything else at this point in your trip, so please oblige at lunch today and order a selection of cured meats and local cheeses to go with some traditional breads.
Stop for some legendary Emilia Romagna food
The cities of Emilia Romagna are famous for two things: their farm produce (the food here can be exquisite) and fast cars with factories producing most of the world famous italian brands.
Pick any of the main towns along the route for a stop or two as all are worthy of a visit. Modena in particular has some amazing Gothic architecture on the main square.
Arriving into Bologna, you will be pleasantly surprised by the city.
Generally forgotten by tourists in favour of Venice, Milan or Florence surrounding it, Bologna is right up there in our list of favourite European destinations.
Its uncharacteristic medieval architecture gives it a particular charm and the city boasts some of the best restaurants we have come across in Italy - the choice is yours.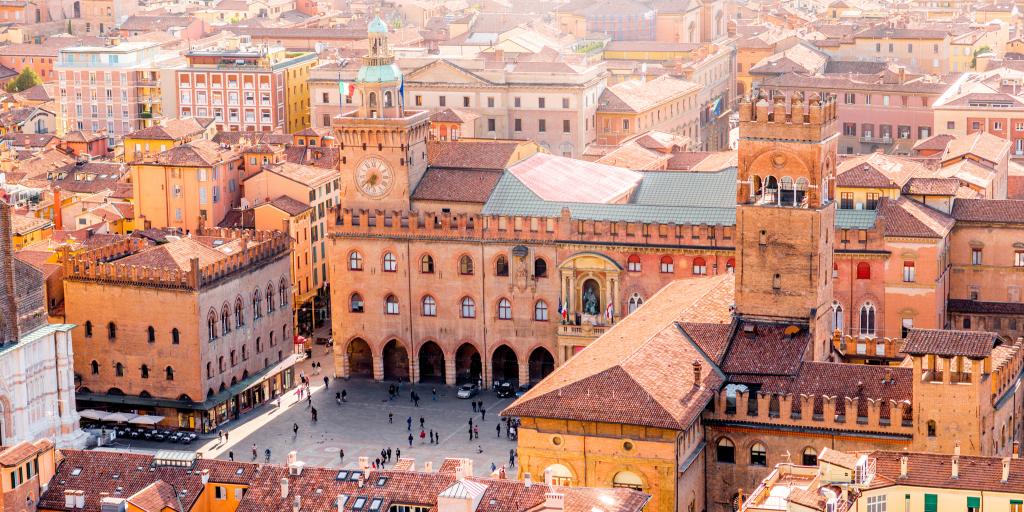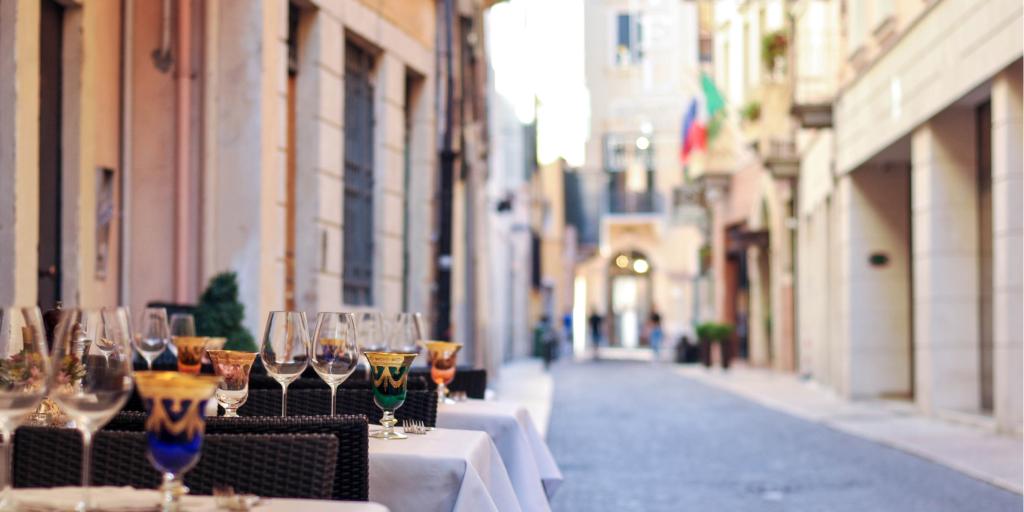 Where to stay in Bologna
After splashing out a bit in Portofino, you'll probably want to opt for somewhere more wallet-friendly for your stay in Bologna.
We recommend staying at the quaint Hotel Porta San Mamolo, a hidden gem that's in the ideal location just ten minutes' walk from the city centre.
The rooms here are elegant and cosy, and some have private terraces that overlook the peaceful interior gardens.
There's also a friendly house cat who wanders the premises basking in the attention he gets from guests!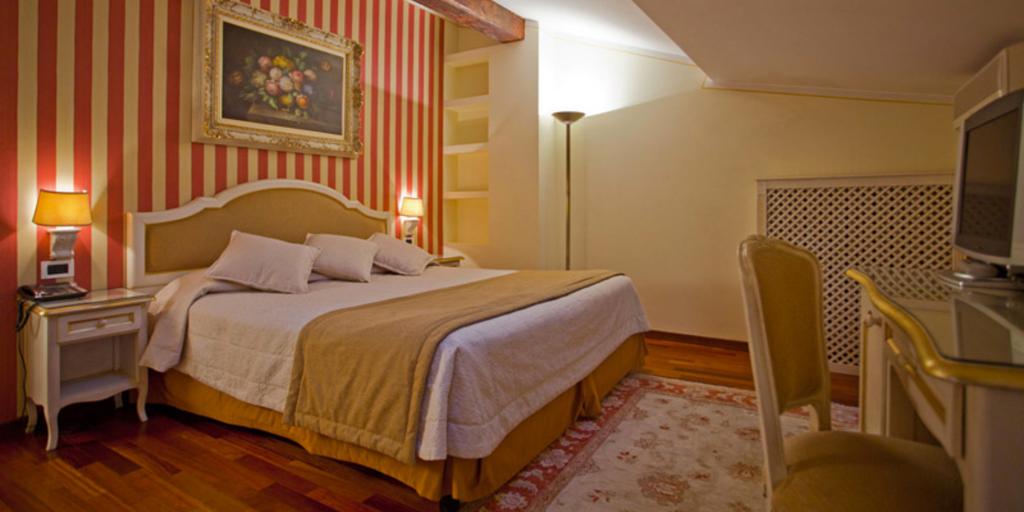 Day 8: Bologna - Shopping, sightseeing & gourmet dinner, then head home
All good things come to an end and so does our fantastic north Italy road trip.
A last day spent in Bologna is certainly a worthy send off. If you are feeling in the mood for relaxation, we very highly recommend staying at one of the agriturismos in the hills outside the city.
For a very reasonable rate, not only will you get a room to rival a good hotel, but an amazing dinner made of local produce and wine from the farm's own vineyard.
Explore the city of Bologna
Bologna itself is split into four distinct quarters - the business and living parts to the north and east respectively, a shopping district to the south of Piazza Maggiore, and a food zone to the west.
Streets to the south have covered arcades full of shops, from the typical high street clothing chains to local vendors.
Make sure you find time to visit the wine, cheese and meat stores just off the main square. The locals really do believe in fresh, great quality products.
Enjoy one final Italian dinner
And just to finish off the road trip on a high, here is a recommendation for a restaurant that will leave you drooling for days on end: Al Sangiovese is a fair bit out to the south of the town, about 20 minutes walk. The local dishes here are positively mouthwatering!
Don't forget to ask the owners for a recommendation on a hearty local red wine – you will not leave disappointed!
If you're staying another night at Hotel Porta San Mamolo, roll back to your room after dinner; it's just one minute away from the restaurant.
Driving in Italy: Hints and tips
There's a list of items that, by law, you are required to carry. Don't risk the steep on-the-spot fine by forgetting these bits: reflective jackets, a spare tyre, a warning triangle and headlamp beam deflectors. Cars that don't have a country flag on their number plate must have a sticker to show where the vehicle is registered.
Maximum speed limits are lower during rain or snow, dropping by at least 20kph on motorways and outside built up areas.
If you're used to driving an automatic then you will need to book your car hire in Italy in advance online - the majority of Italian cars are manual.
Many cities in Italy have Limited Traffic Zones to preserve their centres - visitors will almost certainly not be able to drive in these areas and those violating this can face hefty fines.
For more practical tips about how to do a road trip in Italy, read our guide to driving in Italy.