Amalfi Coast road trip - A thrilling 7 day itinerary
If you're planning an Amalfi Coast road trip in this iconic region of Italy, you can set off from either Rome or Naples, which have the nearest airports (and they're both international) and easy car hire options.
In the interests of costs - and a sense of adventure! - we're going to start Italian holiday in Naples, which is known as the gateway to the Amalfi Coast.
From there, it's a quick drive to scenic towns and medieval villages like Ravello, Positano and Praiano. The Amalfi Drive hugs the edge of the Salerno Gulf and Tyrrhenian Sea and is famous for its panoramic views over the ocean, as well as the pleasant Mediterranean climate that exists here pretty much year-round.
Top tip: If you're hitting the road during the summertime, make sure you've brought all the right stuff! Our definitive list of 25 essentials for your summer road trip packing list should help get you started.
Trip summary
Day 1: Naples sightseeing (Lungomare, Piazza de Plebiscito, Palazzo Reale, Naples Archaeological Museum, and Fontanelle Cemetery)
Day 2: Sorrento (Chiesa di San Francesco, Valley of the Mills, Marina Grande, and Villa Comunale)
Day 3: Pompeii and Herculaneum
Day 4: Positano (Chiesa di Santa Maria Assunta and Fornillo Beach)
Day 5: Path of the Gods
Day 6: Ravello (Villa Rufolo), Mount Vesuvius, and Naples (Vomero)
Day 7: Ischia
Day 8: Sightseeing in Ischia (Aragonese Castle and hot springs)
Driving the Amalfi Coast - is it safe?
The Amalfi Drive has a reputation for being somewhat... nerve-racking, shall we say.
It's true that Italian drivers and motorcyclists are known to weave in and out of lanes in a haphazard way, so you'll need to be on your guard as you navigate the Amalfi Coast road's twists and turns. But it's definitely possible to enjoy a road trip along the Amalfi Coast.
Without a doubt, a self drive tour is the best way to experience the Amalfi coastline, since you'll enjoy the freedom of your own car and won't have to stick to someone else's schedule.
Plus, you'll be able to roll down the windows and feel the wind in your hair while you experience the famously thrilling drive along the Amalfi Coast.
For more road trip tips, check out our post on driving in Italy, which features advice on toll roads, roundabouts, speed limits and more.
Buckle up.
Day 1: Naples - self-guided walking tour of Naples, pizza, & evening entertainment
Fly into Naples Airport
To begin your scenic Italian holiday, first fly into Naples International Airport.
Naples is the capital of the Campania region and the third largest city in Italy after Rome and Milan. It's also a great starting point for your Amalfi Coast road trip, as it's near important landmarks like Mount Vesuvius, Pompeii and Herculaneum (don't worry, we'll talk more about those later!)
First, you'll need to pick up your rental car from one of the companies at the Naples International Airport. Then, head into the city!
Travel tip: For future reference, you can also take a bus or private car into town from Naples International Airport (aka Capodichino Airport), which is about 7km north of the city centre.
The Naples Alibus shuttles leave from the airport about every 20 minutes between 6am and midnight, and take around 30 minutes to get to the city centre.
If you're driving in by car, ideally you should plan ahead to book a hotel with its own parking lot, as parking in the city is very limited and expensive. There are just a few hotels that have parking, so be sure to do your research.
Once you're in Naples, drop your bags at your hotel, freshen up, and head out to see the sights. Naples is super walkable but also quite hilly, so be sure to wear comfortable shoes.
It's also a little bit rough around the edges, so be mindful of your belongings and valuables as you explore the city.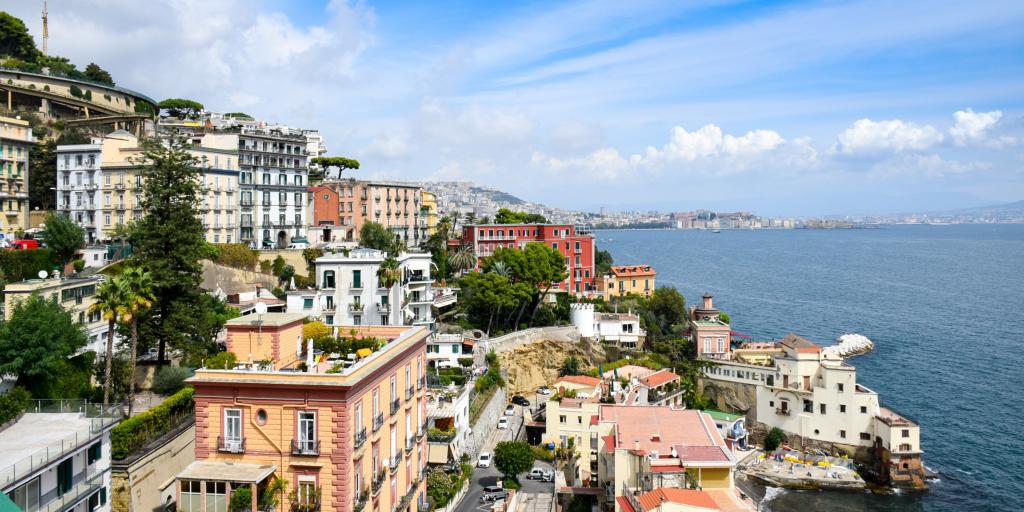 Where to stay in Naples
Escape the chaos of central Naples by staying in the hidden gem that is Metro 900 Hotel.
Conveniently located in the stunning old Mergellina train station, with easy and quick access to all of the top sights in Naples, Metro 900 Hotel is our absolute favourite place to call home when we travel to Naples.
This elegant boutique hotel is in a quiet and peaceful part of the city, just steps from the waterfront, and the room rates are amazing (we're talking under £100 a night even in peak season).
Plus, it's just down the road from 50 Kalo, one of the best pizzerias in all of Naples!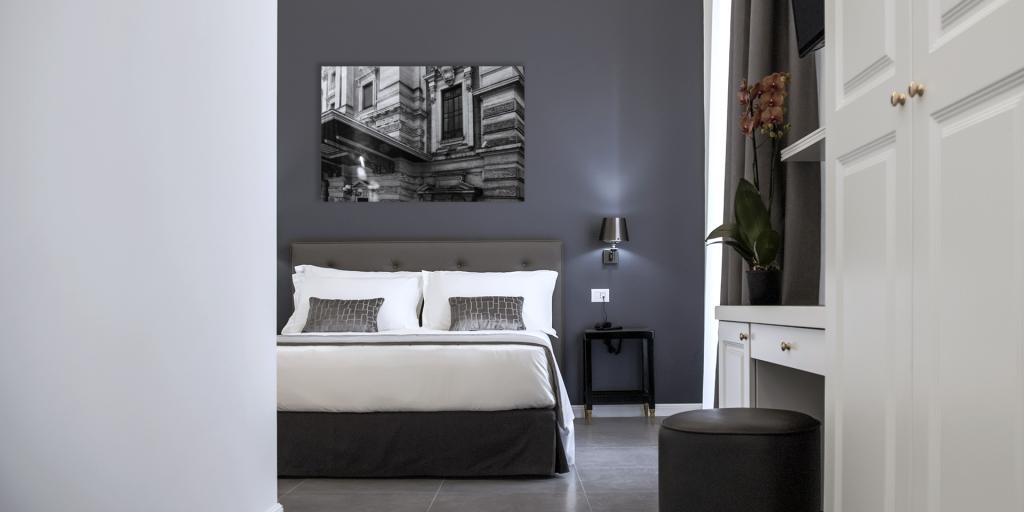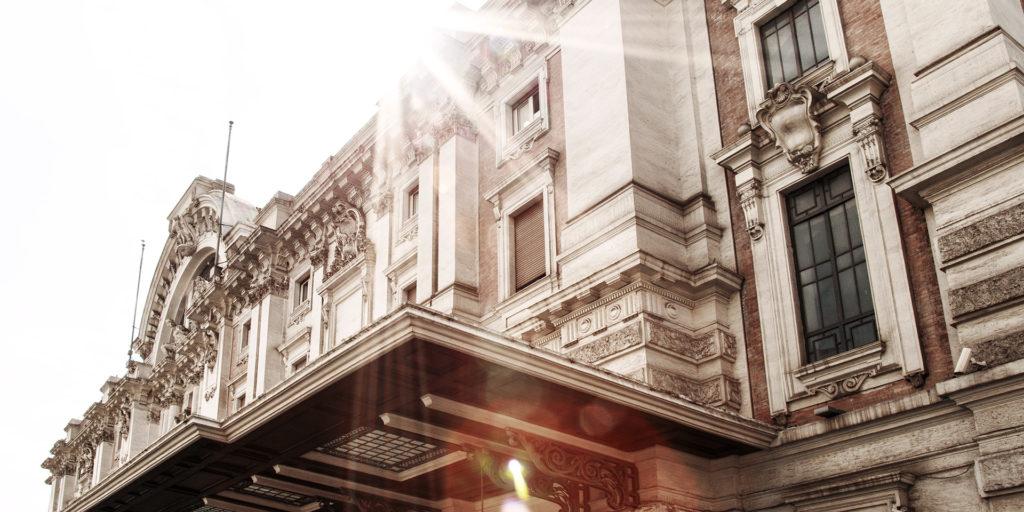 Walk along the Lungomare promenade
Once you've settled into your hotel, it's time to explore. Your first stop is Lungomare.
This partially pedestrianised promenade along the sea is the perfect place to begin your walking tour of Naples.
Lungomare, which is Italian for "seafront boardwalk", is positively choc-a-bloc with pretty viewpoints and charming bars and restaurants. It's also got spectacular views of Capri, Ischia, and the impressive Mount Vesuvius in the distance.
With a lovely sea breeze wafting over the three-kilometre stretch, Lungomare is the perfect place to take in the sunrise or simply relax and enjoy the atmosphere.
Begin at Mergellina port on the west end of the promenade, and follow the path along Via Francesco Caracciolo. On your left you'll pass by Villa Comunale, the most popular park in the city, with a network of winding pathways and child-friendly playgrounds.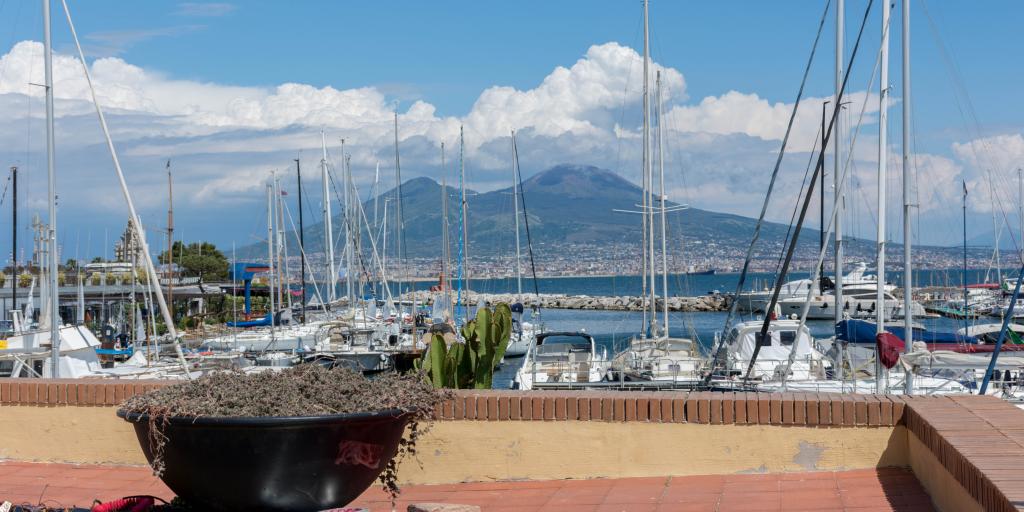 Visit the Piazza del Plebiscito & Palazzo Reale (Royal Palace)
After you reach the east end of Villa Comunale, head northeast towards Piazza del Plebiscito, Naples' main city square.
This vast open space is home to some of the most important landmarks in Naples including the Basilica Royal and Palazzo Reale, aka the Royal Palace.
Tickets to the Royal Palace are €10, and well worth it.
Step inside to see the ornate double staircase and extravagant royal apartments that were once used as a residence by the Bourbon Kings, who reigned over the Kingdom of the Two Sicilies from 1734 to 1860.
Other points of interest inside the Palazzo Reale are the sumptuous Court Theatre, the Hall of Hercules and the Royal Chapel.
From Piazza del Plebiscito, head eastward to Piazza Municipio and you'll find Castel Nuovo, a medieval castle that was erected in 1279.
This fortress, also known as Maschio Angioino, is a quintessential castle that you might imagine would appear in a fairy tale. It was built under the reign of Charles I of Anjou, who converted it from an old Fransican convent.
Travel tip: While it's a pretty sight to behold from the outside, it's probably not worth the €6 entrance fee to go inside, as there's not much to see once you're in.
Once you're done there, navigate your way to the Quartieri Spagnoli (the Spanish Quarter) for a well-deserved lunch.
The Spanish Quarter is just west of Piazza Municipio and consists of a grid of streets that feel utterly different from the winding streets in the rest of the city. The Spanish Quarter has a reputation for being a bit rough around the edges, but it's also home to lots of family-run restaurants serving up authentic Italian food.
Pizza lovers, rejoice: Naples is the city that first invented pizza, and there are plenty of no-fuss restaurants around this neighbourhood. Try grabbing a table at Antica Pizzeria Prigiobbo for tasty Neapolitan pies served in a simple, homey setting.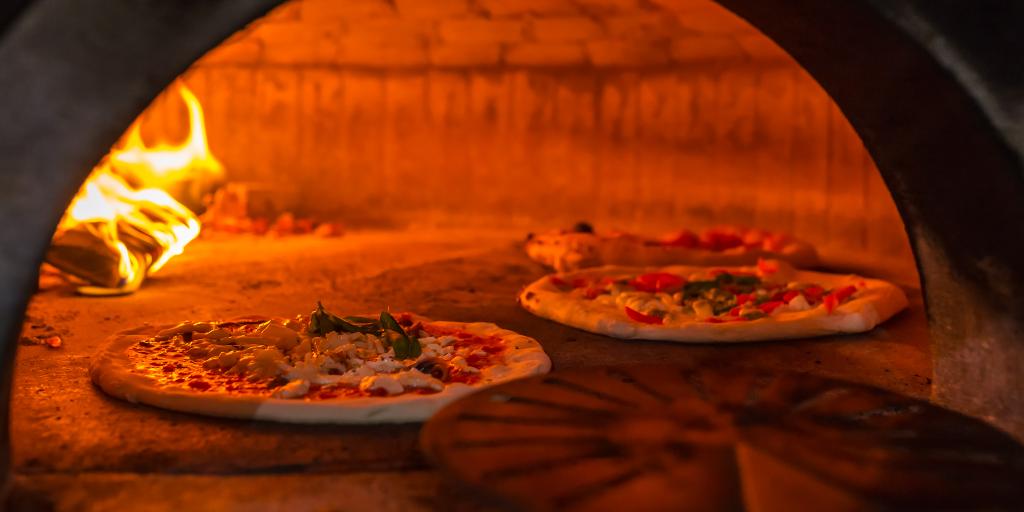 Explore the National Archaeological Museum of Naples - including the 'Secret Cabinet'
Once you've filled up on Pizza Margherita and espresso, it's time to do some more sightseeing.
Head back to Via Toledo and follow the road north for about 20 minutes until you hit the junction with Piazza Museo. Right in front of you is the Museo Archeologico Nazionale di Napoli (the Archaeological Museum), one of the most important museums in the city and one that's so enormous, you won't be able to miss it. (It's also bright pink, so that helps it stand out!)
The National Archaeological Museum of Naples was originally built in 1585 as a military barracks before becoming the seat of the University of Naples. In the late 18th century, it was established as a museum by King Charles II.
Pay the €12 entrance fee and spend a few hours marvelling at a spectacular array of Greco-Roman artifacts including sculptures, exquisite mosaics and relics from Pompeii.
The Farnese Collection is a particular favourite among visitors, with items that include the massive Farnese Bull, which is thought to be the biggest sculpture ever recovered from antiquity.
While you're at it (and if you've left the kids at home), pay a visit to the famous Secret Cabinet, or Gabinetto Segreto.
This secret room of the museum houses erotic paintings and sculptures that were discovered at the Pompeii excavation site.
For nearly 200 years, the Secret Cabinet was closed to the public because Francis I deemed it too racy (although he did allow gentlemen of good moral standing to take a peek). It was finally reopened in 2000.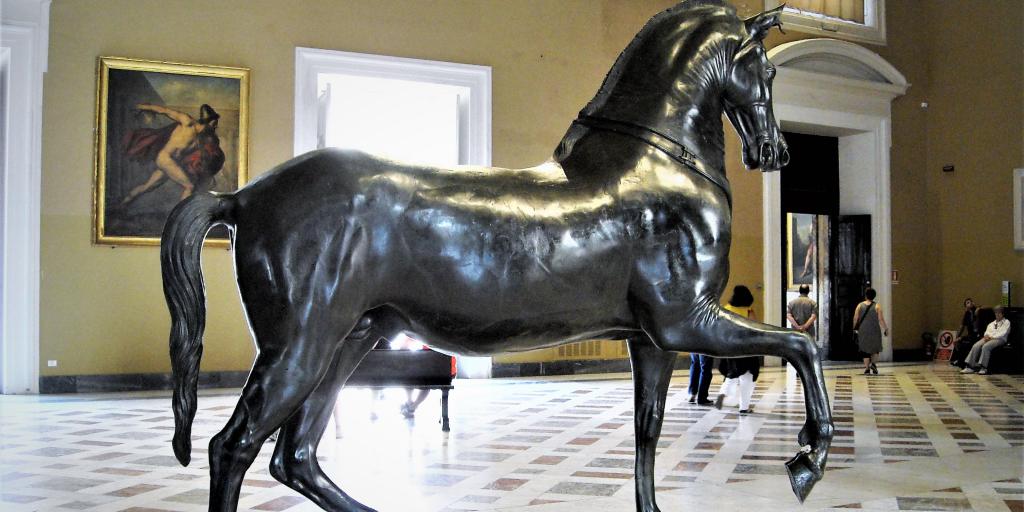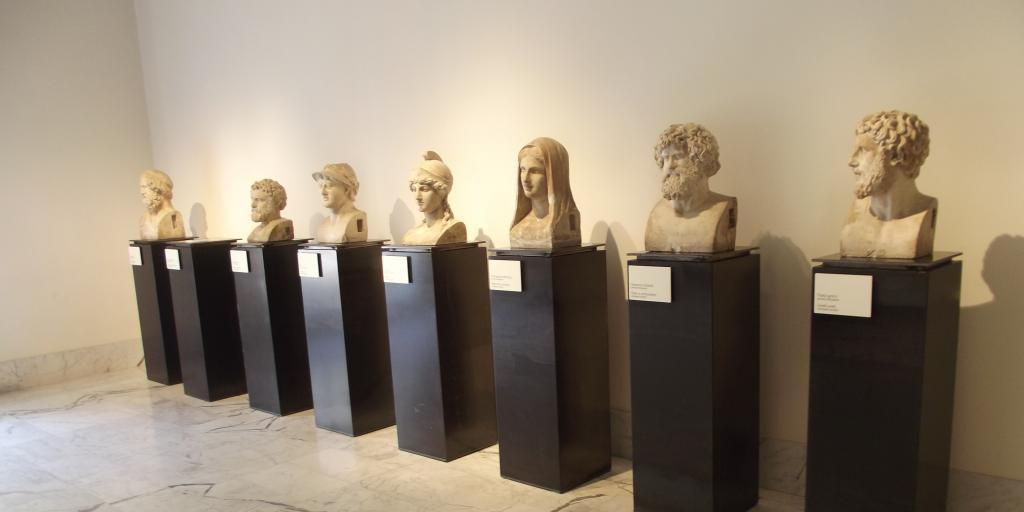 See the catacombs of Fontanelle Cemetery (Cimitero delle Fontanelle)
If you're up for it, round out the day by venturing underground to the spooky Cimitero delle Fontanelle (Fontanelle Cemetery), a massive catacombs outside the city centre that houses thousands of human skulls and bones in neatly arranged rows and stacks.
The best way to get there is probably to hail a taxi or take the L1 metro line from Museo to the Materdei station. From there, it's a ten-minute walk to the Fontanelle Cemetery.
This cavernous ruin was built into a tuff hillside in the Materdei neighbourhood and originally used as a burial place for Napoli residents when the churchyards and crypts in the city became overcrowded.
Later, it was the final resting place for victims of cholera epidemics and the devastating 1656 plague, which killed off at least half of the population. As you can imagine, the vibe inside Cimitero delle Fontanelle is pretty eerie.
To make things even creepier, in the 19th century it became popular for locals to "adopt" skulls in the cemetery, pray for their souls, and ask them for favours in a macabre practice called anime pezzentelle (poor souls). This was finally halted in the 1960s, when Cardinal Corrado Ursi closed down the ossuary, claiming that the ritual was bordering on fetishism.
The cemetery is open year round from 10am to 5pm, and entrance is free. Just be sure to bring a friend to hold your hand if you spook easily.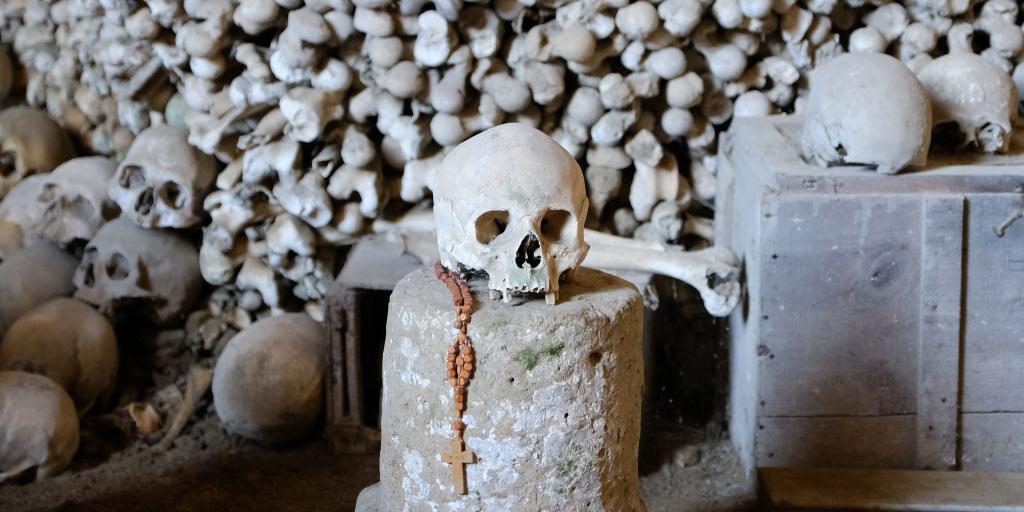 Enjoy a late dinner in Naples
Like in many Mediterranean cities, nightlife in Naples begins late. Plan to go out for dinner around 9 or 10pm, and pace yourself - slow and steady wins the race when it comes to Italian dining culture.
The historic centre - especially the area around Piazza Bellini and Decumano - is home to lots of vibrant dining spots with outdoor seating that's perfect for people-watching while sipping on a beer, a glass of wine or an Aperol Spritz.
The Chiaia neighbourhood also comes to life in the evening with lots of hopping bars, if that's what you're after.
If you're in the mood for live music or theatre, there are plenty of venues in Naples. Ask your hotel concierge for recommendations or try checking out Teatro Bellini, located in the city centre, which regularly puts on dance, operatic and Divine Comedy performances.
Day 2: Naples to Sorrento - scenic coastal drive, historic old town Sorrento & incredible views from Villa Comunale park
Miles: 30
Feel free to have a lie-in this morning to sleep off all those Aperol Spritzes from last night - the drive to Sorrento will take just an hour.
Once you've rolled out of bed, it's time to bid Naples farewell and continue on with your Amalfi Coast road trip. So pack up your things, check out of the hotel, and bundle into your rental car.
Once you're on the road, you'll want to take the A3 motorway, a toll road, in the direction of Salerno-Reggio Calabria. Unfortunately, this leg of your journey is not super scenic but it should be relatively quick.
When you reach the Castellammare di Stabia exit, you'll follow the route along SS145 (aka La Sorrentina), and this is where the famous panoramic views begin.
Follow this winding road in the direction of Sorrento. The entire journey should take about an hour - and it will definitely be worth it once you reach this charming seaside town.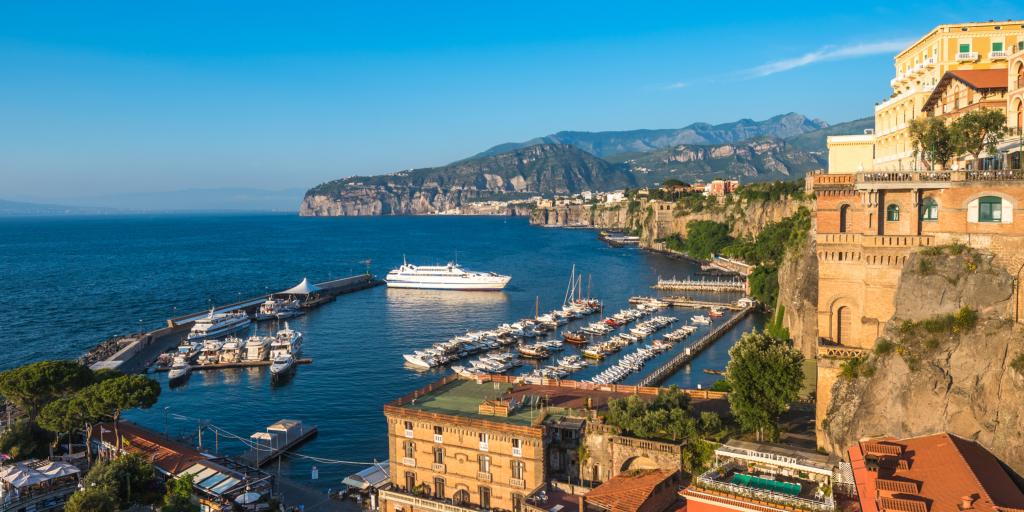 Sorrento is not technically part of the Amalfi Coast, but it's still a popular stop along the route - and rightly so.
The beautiful coastal town is perched on a steep cliff in the Sorrentine Peninsula overlooking the Bay of Naples, with points of interest that include the Piazza Tasso, the Museo Correale and the Marinas Piccoa and Grande.
Sorrento is divided into two parts - the waterfront around the port and the elevated part on top of the cliffs. Most of the accommodation in Sorrento is located on the cliffs with stunning views, but there are some places near the port,too.
Parking in Sorrento can be tricky, so try to book a room in a hotel that has some parking on the grounds. Then check in, drop your bags, and hit the town!
Travel tip: In the future if you decide to travel from Naples to Sorrento without a car, you can also hop on the Circumvesuviana train, which departs every half-hour from Naples and takes just over an hour.
Where to stay in Sorrento
Located in Sorrento's historic downtown, the charming Hotel Antiche Mura is our favourite place to stay in Sorrento, not least because it is one of the most budget-friendly hotels you'll find in the whole area, despite being absolutely superb.
The hotel's very central location means you can spend all day exploring and then roll into bed after a hearty and delicious Italian dinner.
Hotel Antiche Mura is an exquisite mix of classic and modern, with elegant decor and super light and airy rooms. There's also a sunny terrace and many rooms where you can admire the view while sipping on a strong coffee.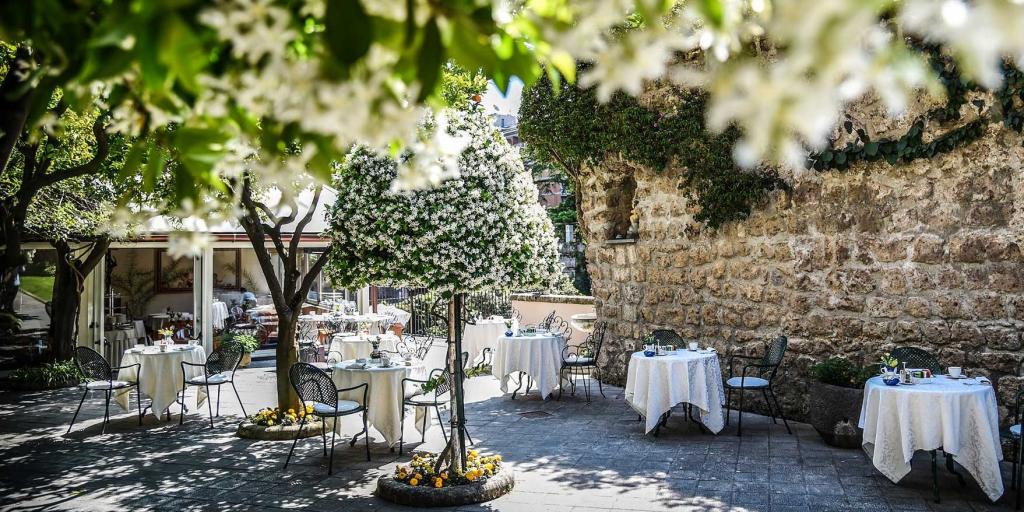 Visit Chiesa di San Francesco and the mysterious Valley of the Mills
The colourful houses, mild Mediterranean climate and scenic streets of Sorrento are its main draw, but there are plenty of other things to do here, from shopping and sightseeing to hiking and boat tours.
You can start by wandering through the narrow streets of the historic old town Sorrento and visiting the Chiesa di San Francesco, a 14th-century church with a pretty white stucco facade and tranquil cloister within.
During the summer, the church cloister sometimes hosts concerts and other musical events within its walls, making for quite the romantic setting. You can check with the Sorrento tourist office for a schedule of events.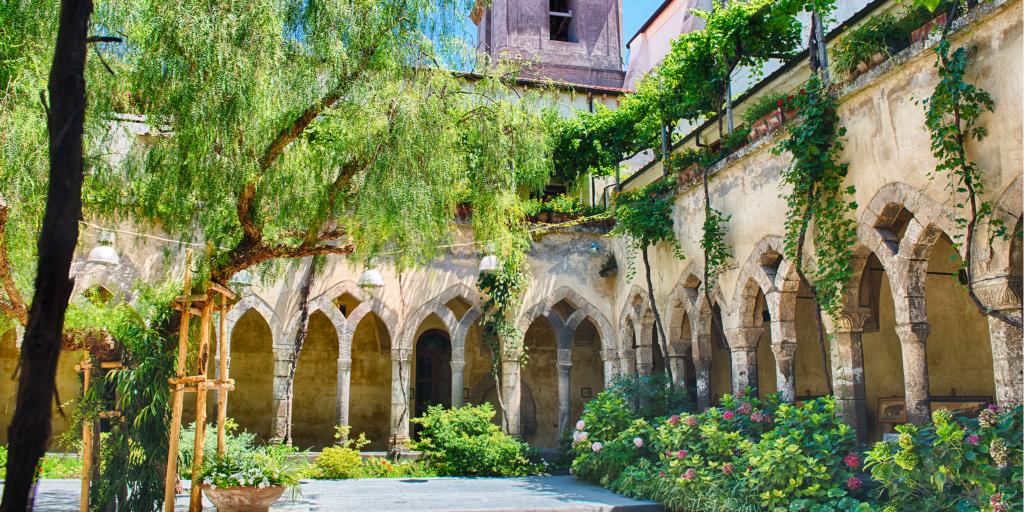 Break for gelato or coffee in Piazza Tasso, the central square and the hub of life and activity in Sorrento. Then, if you venture just behind the square, you'll be treated to a unique and surprising feast for the eyes: Il Vallone dei Mulini (Valley of the Mills).
Within this mysterious-looking valley, which was formed by a volcanic eruption thousands of years ago, you'll be able to see the abandoned remains of an old mill. The stunning moss-covered structures are like something from a post-apocalyptic world.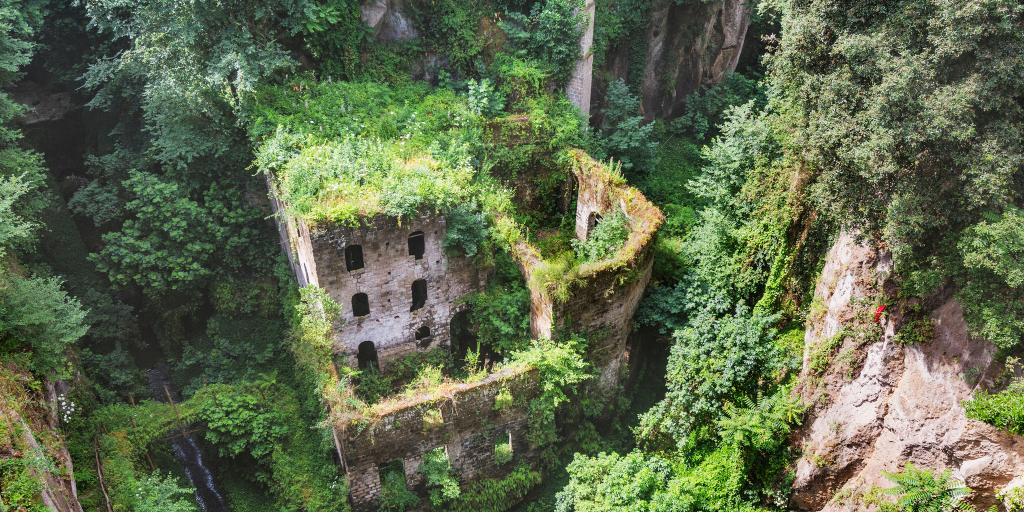 After taking a few pictures of Vallone dei Mulini, why not descend the ancient steps leading from the historic Sorrento town centre to Marina Grande, the fishing harbour below.
Take a walk along the beach, enjoy some fresh seafood at a waterside restaurant, or simply find a perch and watch the boats come and go, with Mount Vesuvius looming in the distance.
Get the best views from Villa Comunale park
Villa Comunale is a popular public park perched on the cliffside just behind the Chiostro di San Francesco, and it happens to have the best views in town. It's filled with tropical plants, palm trees, statues and benches.
To get there from Piazza Tasso, walk north on Via Luigi de Maio and continue onto Via S. Francesco. You'll see the monastery on your right and the park just next to it.
Take a moment to watch the sunset from here before you head off for dinner in Sorrento.
It's hard to walk more than a couple of steps in this town before stumbling upon a lovely restaurant. That being said, it's a good idea to reserve a table ahead of time, especially during the summer months.
We recommend trying one of the ristorantes near Piazza Tasso, Corso Italia and the Old Town.
Day 3: Sorrento - Day trip to Pompeii, stop off at Herculaneaum, & dinner in Sorrento
Day trip: Train from Sorrento to Pompeii
Today we're packing in a lot of important landmarks, so try to get an early start. It might be worth stopping at one of the supermarkets in Sorrento before you set off to pick up some snacks for the journey.
Once you're well stocked, head along Corso Italia, the main street, to the Sorrento train station and purchase a ticket to Pompeii. There are trains from Sorrento to Pompeii around every 20 minutes, with the journey taking about 30 minutes.
You'll want to get out at the Pompeii Scavi station and walk a few yards up the road past souvenir stalls to reach the entrance to Pompeii.
This vast archaeological site is truly epic, so you'll need a few hours to navigate it and see the best bits.
As you probably already know, Pompeii was once a thriving Roman city that was buried under volcanic ash from Mount Vesuvius' violent eruption in 79 AD. During your tour you'll be able to see ancient streets, houses and ruins, giving you a glimpse into daily life during Roman times.
The most heartbreaking section of Pompeii is the Garden of the Fugitives, where plaster replicas show the last moments of the men, women and children who were stopped in their tracks, asphyxiated by gases from the eruption and then slowly buried in ash.
It may be worth hiring a guide who can give you more information about this important moment in history.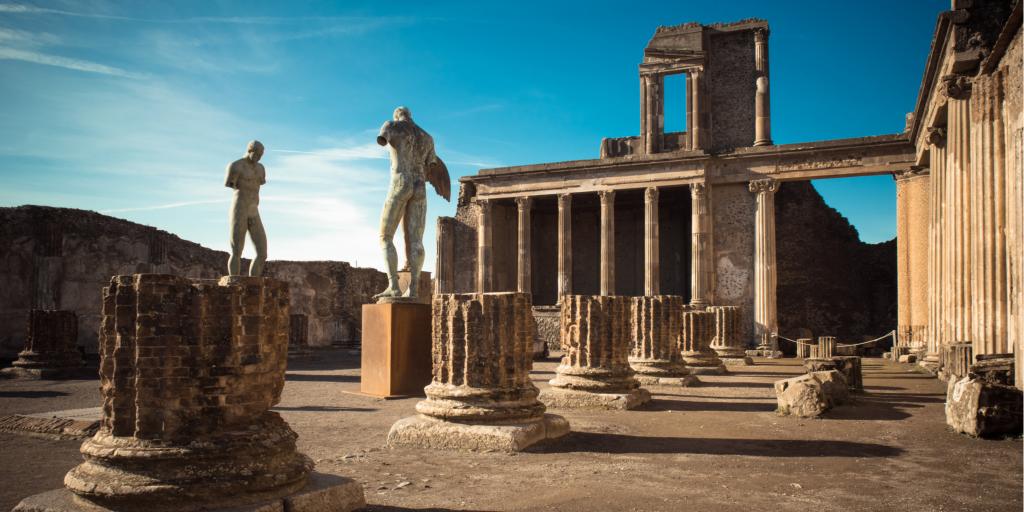 Stop off at Herculaneaum
After you've spent a few hours at Pompeii, head back to the train station. The same train you took from Sorrento to Pompeii will take you to Herculaneum just a few stops away, in the comune of Ercolano.
This excavated Roman town suffered the same fate as Pompeii in 79 AD, but in a slightly different way. Rather than being covered in volcanic ash, Herculaneum was destroyed by a pyroclastic surge that left it more preserved than Pompeii. It's also smaller in size and therefore more manageable to explore in depth.
Allow two hours to roam around this UNESCO World Heritage-listed site, where you'll see the remains of ancient streets, residential dwellings, shops and sculptures.
Travel tip: You should purchase a combined ticket that gives you access to both Pompeii and Herculaneum for a reduced fee (€20).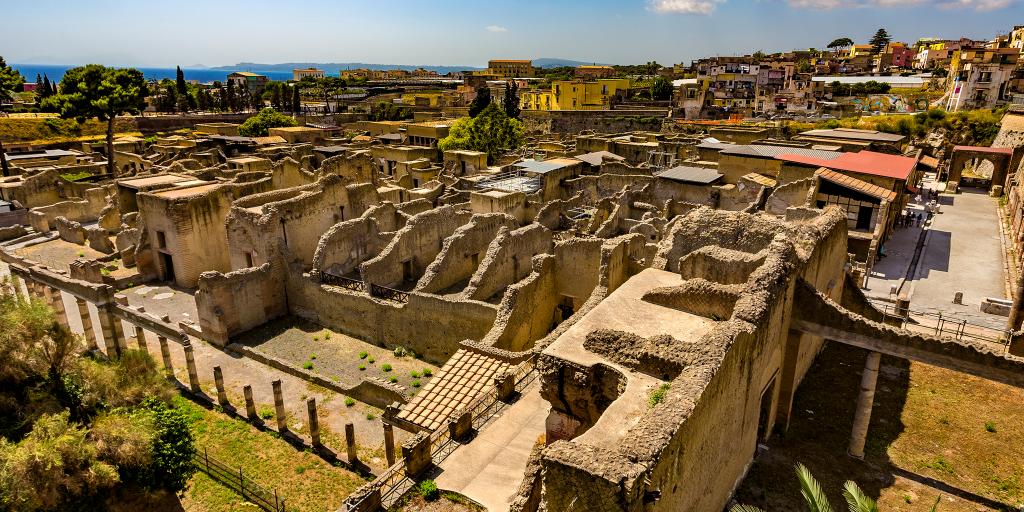 Treat yourself to seafood pasta and limoncello in Sorrento
At the end of the day, get on the train back to Sorrento. Freshen up in your hotel room and head out to Marina Grande to enjoy a dinner of seafood pasta on the seaside.
If you fancy an after-dinner drink, chase your meal with a cold shot of Limoncello, a popular local digestif made with lemon peels and alcohol that originated in this area.
Then head back to your hotel and get some beauty sleep.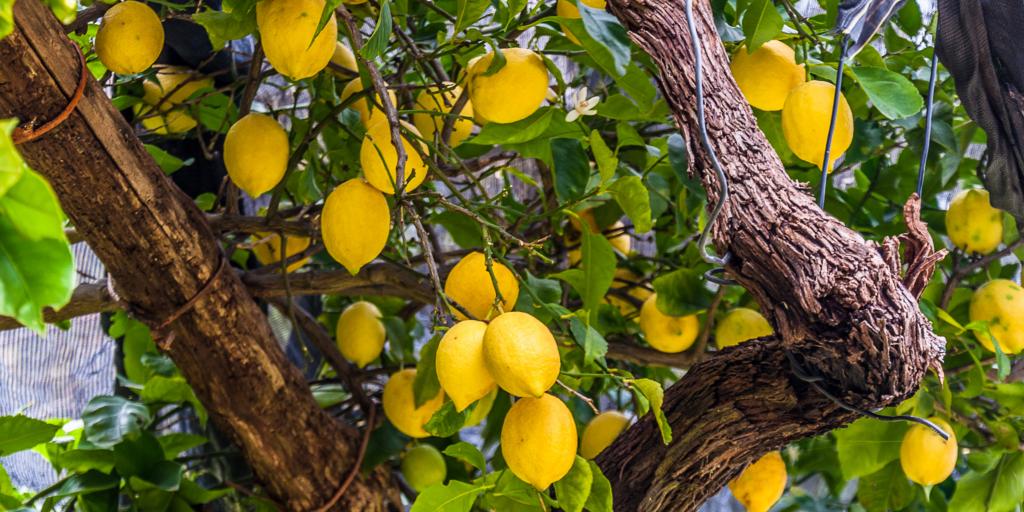 Day 4: Sorrento to Positano - drive to Positano & visit the Chiesa di Santa Maria Assunta and Spaggia Fornillo beach
Miles: 10
Drive from Sorrento to Positano
You've had quite the journey so far, and we haven't even reached the real Amalfi Coast yet! Until now.
How to get there
The scenic drive from Sorrento to Positano is a thrilling one that takes just under an hour on the SS163, which travels inland across the Sorrentine Peninsula before reaching the Mediterranean coastline.
Be sure to have a strong coffee before you head out on the road - you'll need to have your wits about you when you navigate this cliff-side route.
As with driving in any country, safety here comes first. Take your time on the road (especially around sharp bends) and keep an eye out for speedy motorcyclists and monster coaches transporting tourists around the area.
You may have to back up and let coaches pass if there isn't enough room on the road. All that being said, it's a beautiful coastal drive that will leave you with memories for life!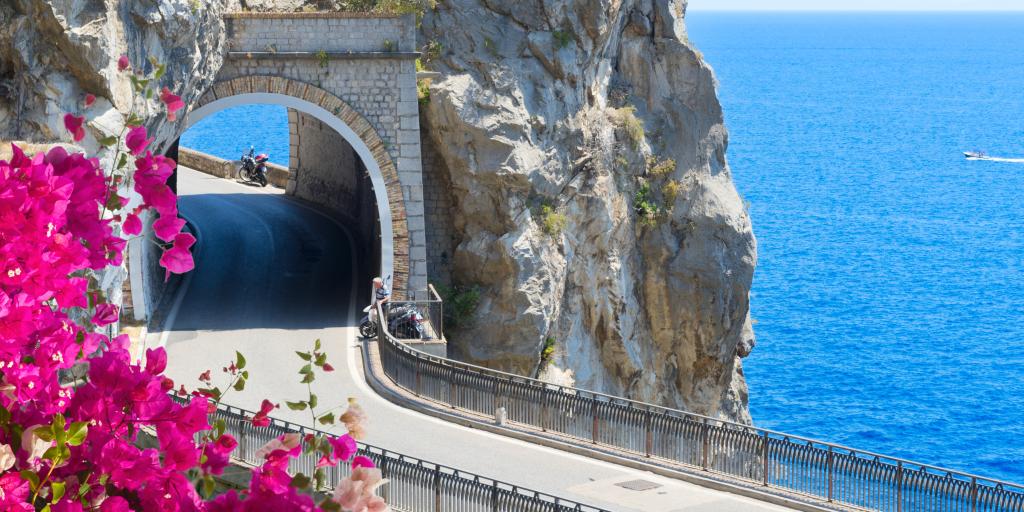 Once you reach Positano, you'll quickly see that it was worth the drive.
This colourful seaside village is one of the top Amalfi Coast towns to visit. Its crystal clear seas, winding pedestrian streets and pastel-coloured houses that seem to defy gravity give it an intoxicating charm that will make you want to stay forever.
Amid the charming homes and luxury resorts in Positano you'll also see a collection of Moorish-style buildings and Baroque architecture that reflect the town's history.
Take a look around and it should come as no surprise that writer John Steinbeck said of the town: "Positano bites deep. It is a dream place that isn't quite real when you are there and becomes beckoningly real after you have gone."
So park up your car in a car park (expect to pay up around €20 for a whole day) and get ready to see the sights. You can set off on foot to explore the small art galleries in town and do some shopping at the many chic boutiques touting handmade sandals.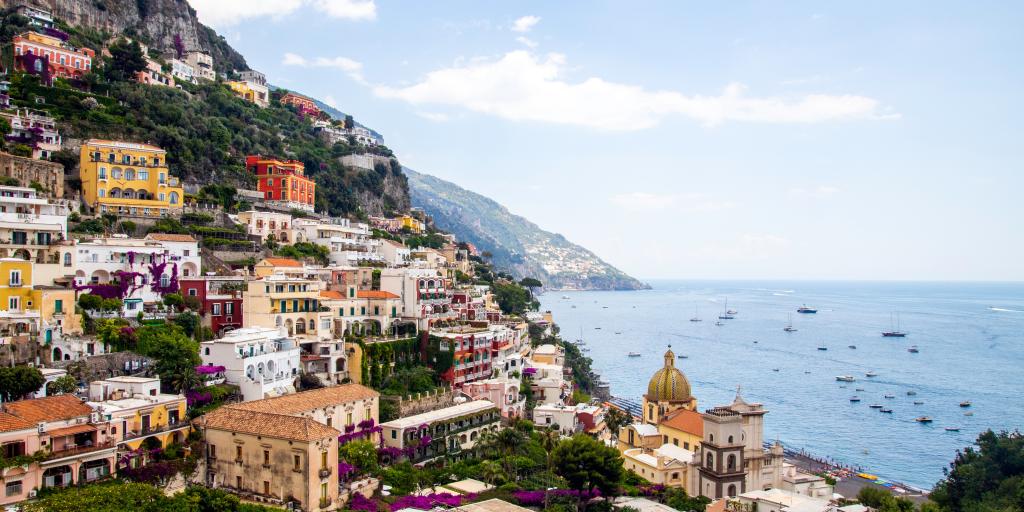 See the Black Madonna icon at Chiesa di Santa Maria Assunta
It won't be hard to find your way to the distinctive Chiesa di Santa Maria Assunta, a Catholic church on Via Marina Grande which was founded in the 10th century AD and is famous for housing a Byzantine Black Madonna icon and a medieval crypt located just below the altar. And if you time your visit right, you just might stumble upon a choir rehearsing their songs inside.
The church's colourful tiled dome, which gleams in the sunlight, is a sight to behold and one of the iconic symbols of the town. Don't forget to bring your camera: the church also has the best views in Positano.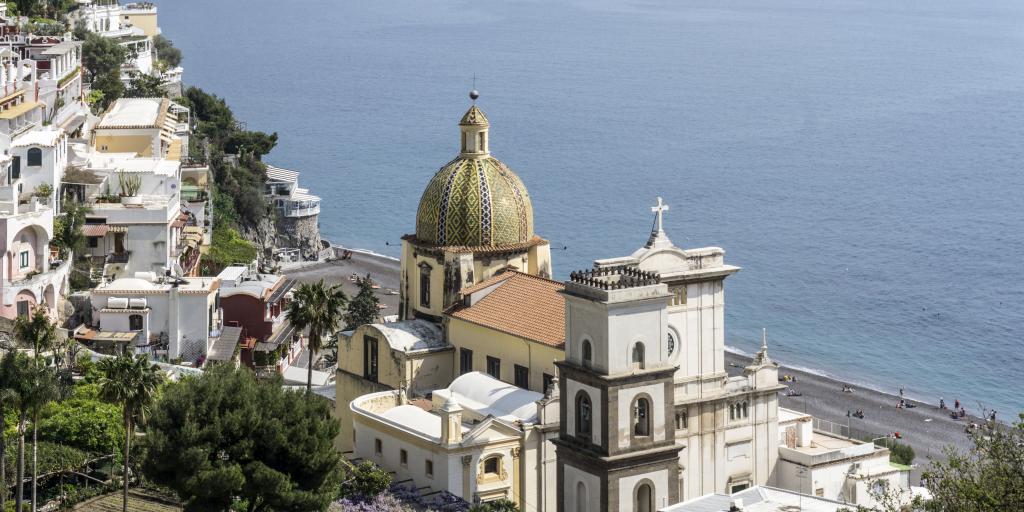 Relax on the Spaggia Fornillo beach
From the Chiesa di Santa Maria Assunta, take the scenic 12-minute walk west along the Via Positanesi D'America to Spiaggia Fornillo (Fornillo Beach).
This stretch of shoreline is home to a handful of little laid-back restaurants and beach bars where you can enjoy an afternoon meal while listening to the peaceful sound of waves lapping against the pebbled beach. Heaven!
There are also water taxis that travel between the main beach in Positano to Fornillo Beach if you'd rather take to the open seas than walk.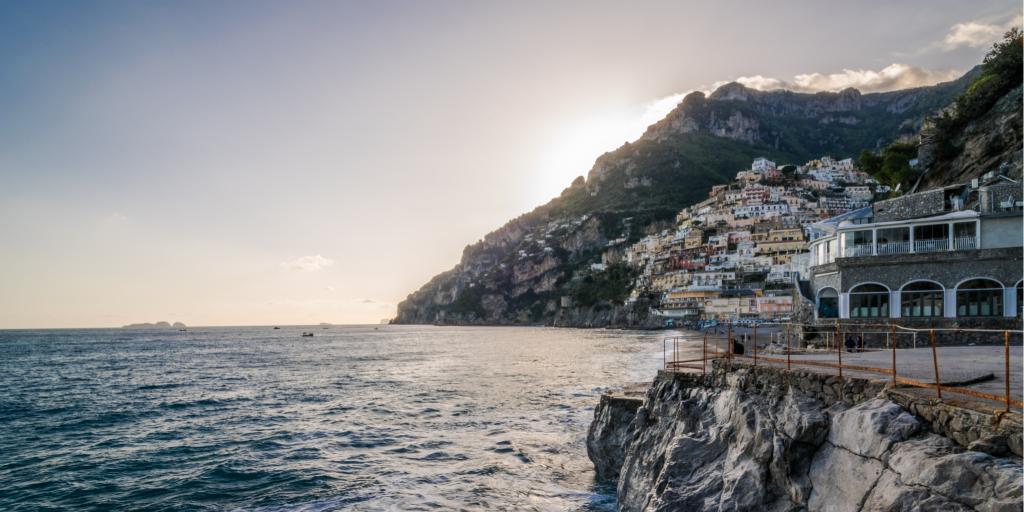 Head back to your hotel after a leisurely afternoon on the beach.
After an hour or so of rest in your room, and perhaps a relaxing nap, it's time for some more sensational Italian food.
Why not try one of the local delicacies for dinner tonight: tomato bruschetta, boiled octopus salad and meatballs with polenta are some of our favourites!
There are a number of romantic restaurants in Positano to choose from, and since it's such a small town, it's easy to visit them on foot.
Finally, enjoy a walk around the town square after dinner and try to get a relatively early night. Tomorrow will be a big day...
Day 5: Positano - hike along the Path of the Gods & evening entertainment in Positano
Rise and shine! Today's an early morning if you want to take in all that the Amalfi Coast has to offer.
Once you've checked out of your hotel, head to a cafe for a typical Positano breakfast of a cappuccino and a sfogliatelle (a shell-shaped pastry with a rich ricotta and orange peel filling). You'll need all the energy you can get to fuel you up for the day ahead.
A stop to a supermarket for bottled water and snacks would also be wise before you set off on the Path of the Gods - the hike of a lifetime!
Go for a hike along the Path of the Gods (Il Sentieri delgi Dei)
Whether you're a hiking enthusiast or not, trekking Il Sentieri Delgi Dei (the Path of the Gods) will be something to remember forever. It may have a dramatic name, but you'll soon see that it most definitely lives up to it!
Your epic journey will take you past towering limestone mountains, bright fields of wildflowers and ancient ruins while Peregrine falcons soar overhead, all with phenomenal views of the sea in the background. Ask anyone who's been and they'll tell you it truly is the hike of a lifetime.
The scenic 13km footpath links Bomerano in the town of Agerola with Nocelle, a hillside neighbourhood of Positano. Hikers can travel it in either direction, but it's recommended to go from east to west to get the best views.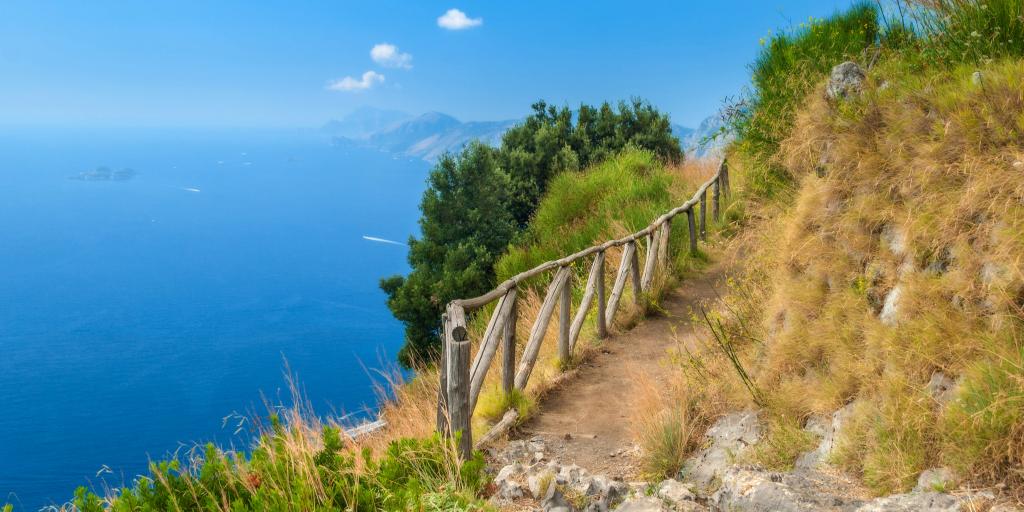 How to get there
To get to the start of the trail, hire a taxi or take a bus to the Bomerano stop. Signage is not ideal here, so you may have to ask fellow hikers which walking route takes you back towards Positano.
Once you're off, you'll be absolutely enchanted by the walk. The terrain is steep and a little uneven in some places, but you don't have to be super fit to conquer it.
Be sure to take plenty of photos, or else your friends back at home won't believe it!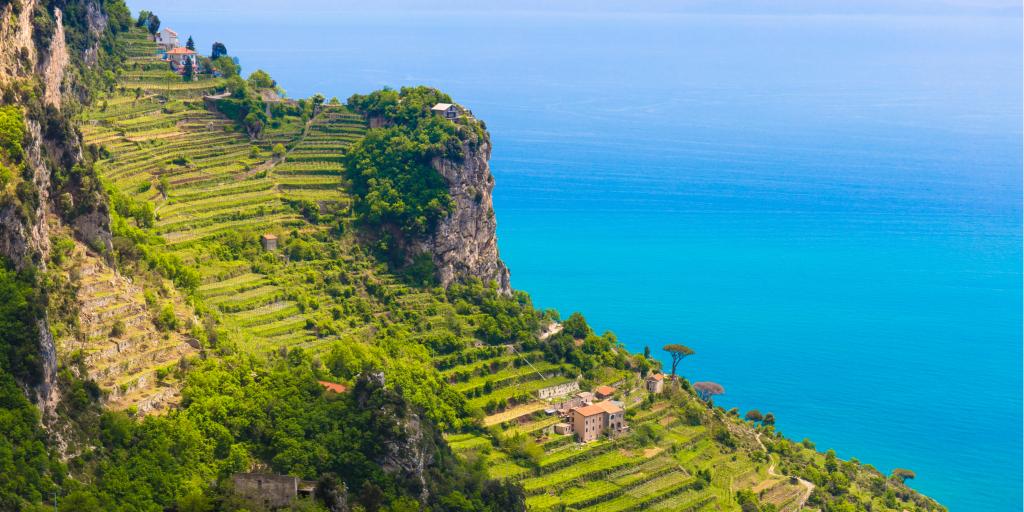 At the end of the trail there is a flight of steps leading back down into Positano. This leg of your journey has some of the best views of all, and it will leave you tired and ready for a meal at the other end.
But if your knees aren't quite up to all that downhill trekking (almost an hour), worry not: there is a bus service that goes from Nocelle to Positano.
If you managed to set out on the hike early, you should be back in town around lunch time. Rest your weary feet at a restaurant near Piazza Tasso or rent a sunlounger on Fornillo Beach and take a nap in the shade.
Alternatively, you could explore the many boutiques in Positano and stock up on souvenirs, or take a boat from downtown Positano to the Bagni D'Arienzo, a secluded beach cove.
Spend the evening in Positano
Restaurants
Tonight, you deserve all the calories in the world after that monster hike. Why not treat yourself to a hearty meal of grilled calamari and seafood pasta, followed by dessert and limoncello?
Next2 on Via Pasitea is a popular choice for honeymooners and stylish Italian families, while the artsy Ristorante Max, located in Piazza dei Mulini, has a cool setting in a gallery and a quaint courtyard.
And at the family-run Da Vicenzo, you can expect traditional Neapolitan dishes served up in a lively, welcoming atmosphere.
Nightlife
If you manage to muster up the energy after your long hike, get your dancing shoes on and head out to Music on the Rocks - basically the only nightlife option in Positano. This is a popular club venue with a standout setting in a cave on the beach, located on Via Grotte dell'Incanto.
The party here doesn't get going till around midnight, so get ready to dance well into the night. There are often famous singers and groups performing live, so check the listings before you go!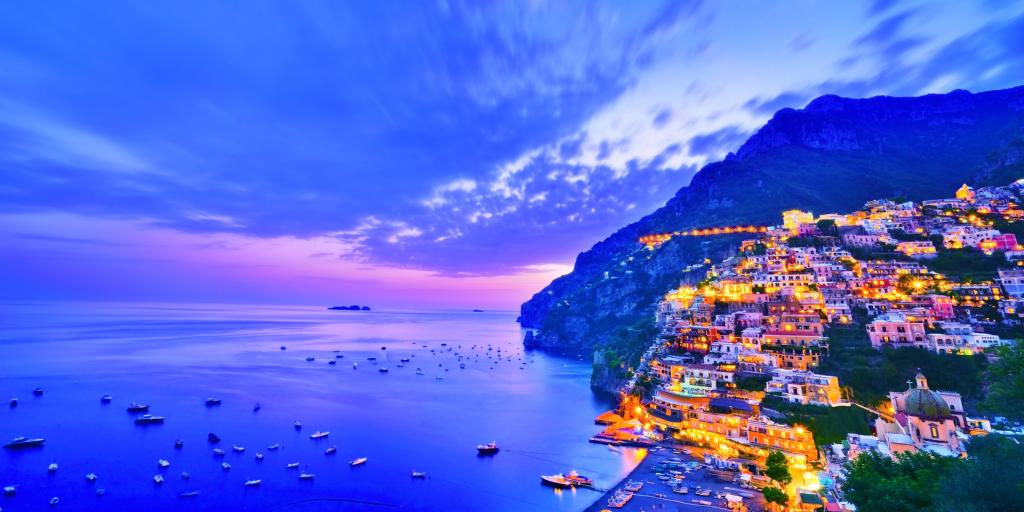 Day 6: Positano to Ravello to Naples - drive to Ravello, visit Villa Rufolo, & drive to Naples via Mount Vesuvius
Miles: 49
Sadly, our time in Positano is coming to an end, and it's time to head back to Naples. But first we need to make one final important stop: Ravello.
So pack up your bags, check out of your hotel and hop into your car to start your one-hour journey along the Amalfi Drive to the lush garden town of Ravello.
Arrive in Ravello
Wisteria-lined walkways, ancient villas and terraced gardens with unparalleled views of the sea… what's not to love about Ravello, Italy?
This mountaintop town overlooking the Tyrrhenian Sea has won the hearts of many a famous figure including Greta Garbo, Jackie Kennedy and Tennessee Williams. After a day spent here, you'll see why.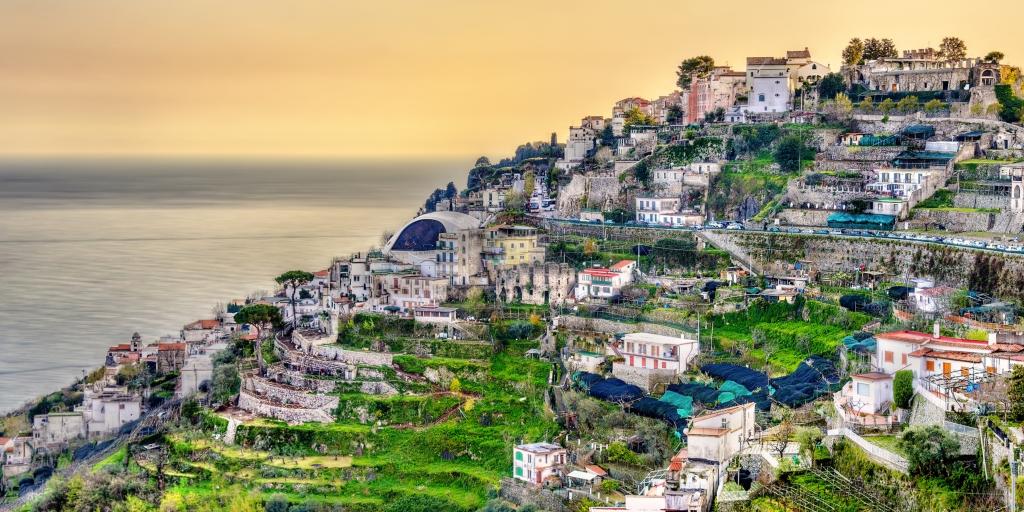 Visit the cascading gardens of Villa Rufolo
The top site in Ravello is Villa Rufolo, a historic palazzo with breathtaking cascading gardens overlooking the sea.
Situated on Piazza Duomo, Villa Rufolo is the historic and cultural centre of Ravello dating back to the 13th century. The villa consists of two vine-covered towers and a Moorish-style cloister similar to Spain's Alhambra (but obviously much smaller!)
It's famous for hosting world-class concerts during Ravello's annual classical music festival.
Entry to the villa is €7, and it's open from 9am to 7:30pm daily.
After you're finished sightseeing, treat yourself to a decadent lunch at one of the restaurants near Piazza del Duomo. Be sure to nab a table with a view - there are plenty to go around!
For something different, you can also try one of the cooking classes or pizza-making courses that are available in Ravello.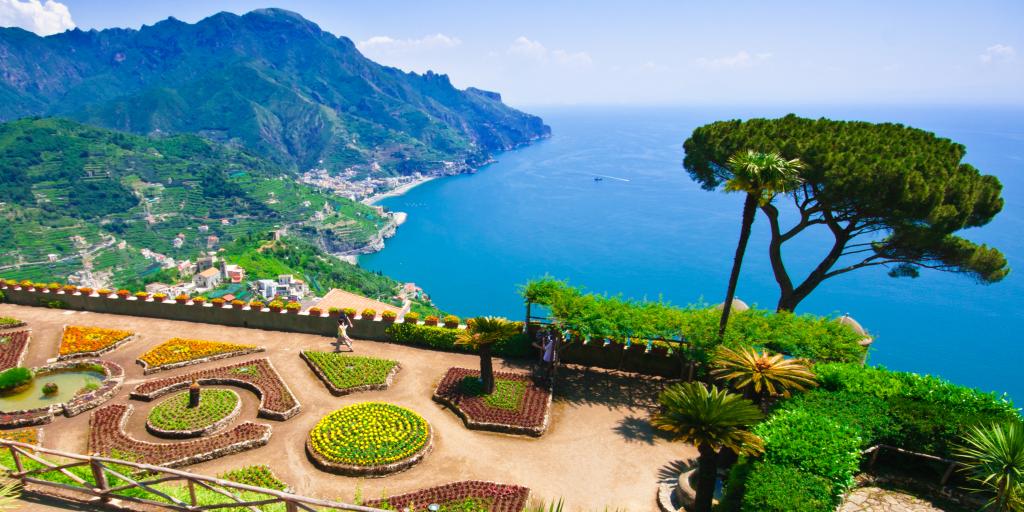 Drive from Ravello to Naples via Mount Vesuvius (1 hour 20 minutes)
Take a few final photos of the stunning scenery in Ravello, and then pack up the car once more and head back towards Naples. This is a relatively easy trip of about 1.5 hours altogether, not including stops along the way.
If you're feeling adventurous on your way back to Naples, you can stop at Mount Vesuvius, about 9km east of the city.
This volcano, which has an elevation of 1,281 metres, is famous around the world for erupting back in AD 79, destroying Pompeii and Herculaneum with lava and ash. These days, Vesuvio is the only active volcano on mainland Europe. Its last eruption was back in 1944, and experts say it's due for another one...
But that shouldn't stop you from getting out of your car to walk around! Hire a certified guide or brave the hike yourself to the top of the mountain for panoramic views of the city and the Bay of Naples, as well as a chance to peek inside the crater produced by that famous volcanic eruption almost 2,000 years ago. The climb up and back should take about an hour and a half.
Travel tip: The ticket office doesn't take credit cards, so be sure to bring along enough cash for the excursion (€10 entrance fee plus €2.50 for parking).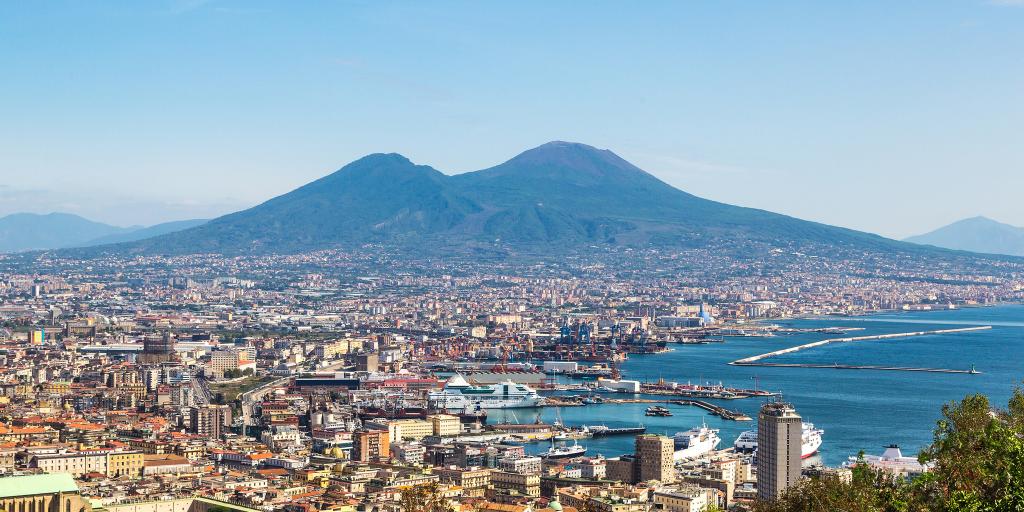 Once you've had your fill of molten rock, head back to your car and get on the A3 towards Naples. This leg of your journey will take between 30 and 40 minutes.
Whatever you didn't have a chance to do on your first day in Naples, now's your chance to do it. Take in a show, try a local dish, or sample the offerings at one of the city's popular wine bars. The world is your oyster!
Ride the funicular up to Vomero
If you have time, we recommend taking one of the funicular rides from the city centre up to the elegant Vomero district.
Up here in this leafy and glamorous district, the views of Naples and Mount Vesuvius are incredible and the streets are wide and clean, providing a welcome break from the nitty-gritty of central Naples.
Classy restaurants abound here, and it's the perfect place to round out your Amalfi Coast road trip.
Day 7: Naples to Ischia - Either head back to Naples International Airport or extend your trip and visit Ischia
Miles: 14
Sadly, all good things come to an end, and that includes epic road trips. It's time to treat yourself to one last Italian coffee (and gelato) before packing up your things and driving back to the Naples International Airport, leaving with plenty of time to return the rental car. Ciao, bella!
Hop on the ferry to the volcanic island of Ischia
Let's be honest - seven days is far too short to truly enjoy all that the Italian coastline has to offer.
If you're craving a bit more sun, sand and scenery, we recommend tacking on a couple of days at the end of your trip to spend on the beautiful island of Ischia.
There are a couple of ferry services that provide trips from Naples (Pozzuoli) to Ischia several times a day, and the one-way journey takes about an hour.
Before you set off, you can return your rental car at the airport or one of the drop-off points around Naples. Then head to the Napoli Piazza Garibandi train station, and get the train to Pozzuoli, which is about an hour away.
From there, you can take a ferry or hydrofoil boat to Ischia, arriving at either Ischia Porto or Casamicciola in the northern part of the island.
Day 8: Ischia - explore the island, visit the Aragonese Castle, & head home via Naples
Visit Ischia and the Aragonese Castle (Castello Aragonese)
Capri may be the best known of the Phlegraean Islands in the Gulf of Naples, but we prefer the less touristy, less expensive and much more interesting Ischia.
This volcanic Island has an area of just 17 square miles, but it boasts 40km of calm, sandy beaches as well as mountainous inland terrain.
Why not spend a few days exploring Ischia's beaches, natural hot springs and thermal spas for a restorative end to your journey? Ancient Roman aristocrats once bathed in these hot springs, so you know you're in good company.
We recommend Negombo in north Ischia and Sant'Angelo in the south, which are are some of the best thermal spas in Ischia.
Ischia is split into six "comune" (towns): Ischia Port and Ischia Ponte, Forio, Casamicciola, Lacco Ameno, Serrara Fontana and Barano.
Each of these is made up of a number of smaller hamlets or villages called "frazione". If you've read any of Elena Ferrante's novels, you'll be familiar with the bougainvillea-covered walls and white-washed villages that make Ischia so magical.
Take some time to get off the beaten path and explore these villages.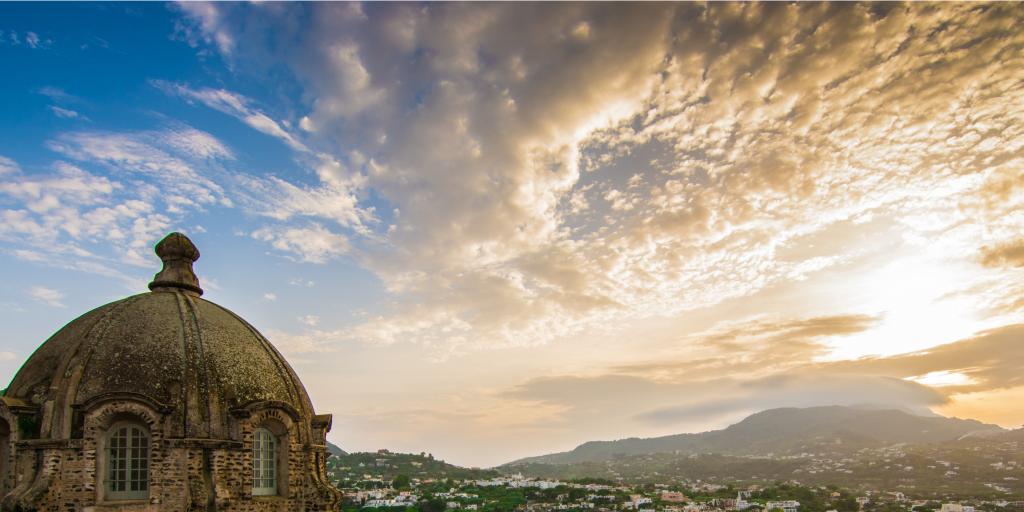 A trip to this spectacular island isn't complete without seeing the Aragonese Castle, a centuries-old fortress connected to Ischia Porto via a stone pedestrian bridge.
The castle has passed through many hands over the years, from the Normans to the Parthenopeans and the Romans. These days, it hosts regular art exhibitions and concerts as well as walking tours. You can also enjoy the views from one of its two scenic cafes.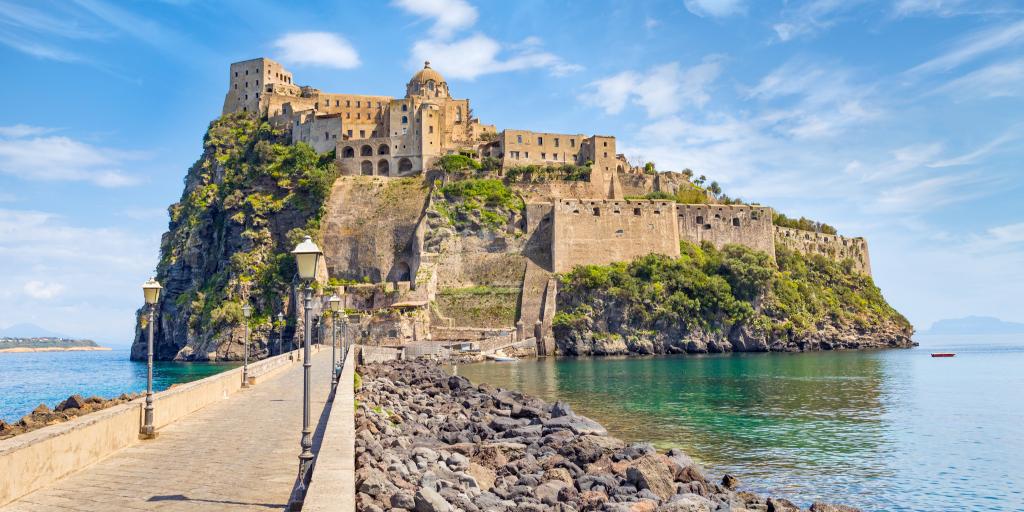 And while we're talking food, spend some time checking out the culinary scene in Ischia, which is slightly different from the cuisine in mainland Italy. Popular local dishes include mountain rabbit served with fresh herbs in a spaghetti or stew.
The fertile soil here has also paved the way for the production of high-quality wines including Biancolella (a soft white wine) and Piedirosso and Guarnaccia (both red wines).
Getting Around Ischia
Traffic can be heavy around the island in the summer months, so many travellers prefer to rent a bike or a scooter to get around.
There are also plenty of bus services that travel between the port and all six main towns. The cost for a single bus trip for non-residents is €1.50.
If you prefer taking taxis, you'll find these around the island too. Just be sure to check the cost regularly on the meter to avoid getting overcharged.
The end of your Amalfi Coast road trip
Say goodbye to Ischia (with some bottles of Biancolella in tow) and take the ferry back to Pozzuoli. From there you can get the train or take a 25-minute taxi ride back to Naples Airport.
And so concludes your Amalfi Coast road trip - and what a trip it's been. We've taken you to ancient ruins and underground burial sights, on sky-high hiking trails and rocky shorelines.
You've travelled by car, train and ferry over water, mountain and volcano - and all within a single week. We hope you've eaten well, learned a lot and taken plenty of pictures. If not, there's always next time!