Is there a ferry from Montauk to Block Island?
By
Pat Dorri
| Published on 29 September 2023
Sitting in the Atlantic Ocean around 10 miles south of the Rhode Island shoreline and 14 miles east of Long Island, Block Island is a small but beautiful outpost of the state of New York. Known for its historic lighthouses, sandy beaches, and ocean views, it's a fabulous place to escape city crowds.
There isn't a bridge to Block Island, so unless you have access to a light aircraft or yacht, the only way to get there is to take a ferry, which takes 1 hour 15 minutes from Montauk on Long Island. Ferries also leave from New London and Point Judith.
If you're planning a trip to Block Island, you'll probably want to find out more about the best ways to get across Block Island Sound. Keep on reading for information on how to make the short and simple journey from Montauk to Long Island.
Is there a ferry from Montauk to Block Island?
A ferry runs between Montauk, at the far eastern end of Long Island, and Block Island from May to October. It's a relatively quick and straightforward journey, but note that this service is for foot passengers only.
Getting to Montauk to board the ferry might not be the most convenient starting point for all travelers. If you're starting off in Connecticut, on the opposite side of Long Island Sound, you also have the option to take the ferry from New London.
The ferry from Montauk to Block Island doesn't take vehicles, so if you want to take your car across the island, you'll have to make the 4-hour drive around to Point Judith, RI, to take an alternative ferry service.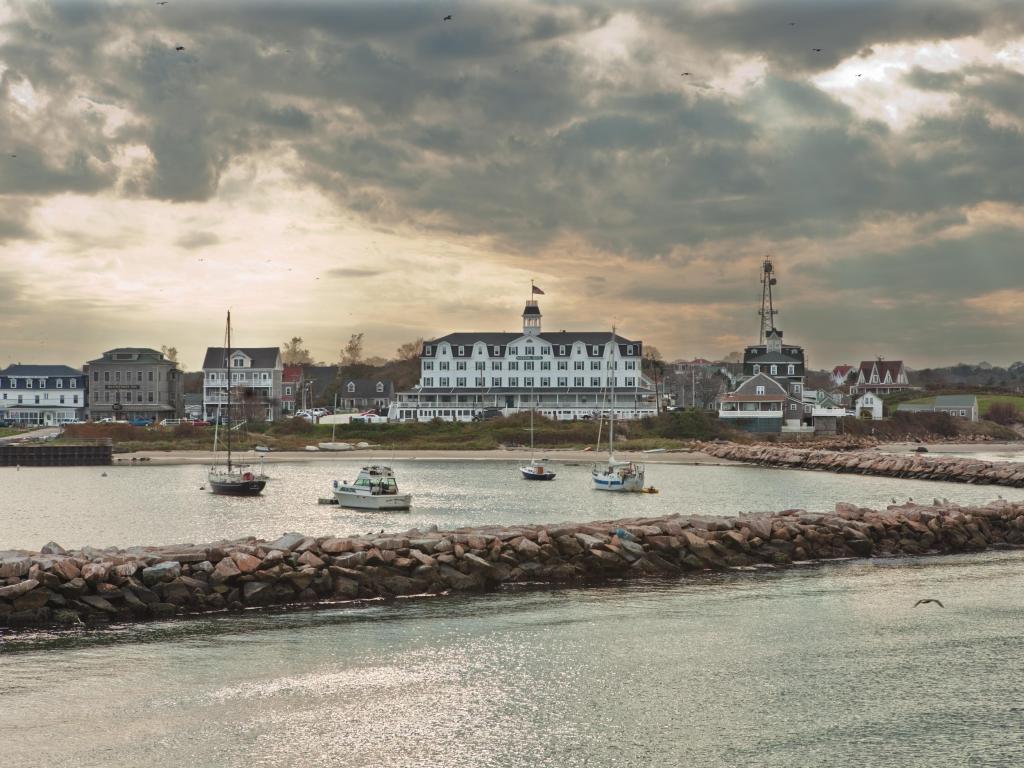 Taking the ferry from Montauk Harbor to Block Island Harbor
The ferry from Montauk to Block Island leaves from Montauk Harbor, which is located on West Lake Drive. It's a passenger-only ferry, but you can take a bicycle on board with you, which is the perfect way to explore the island.
To reach Montauk, I-495 takes you as far as Manorville. From here, follow signs to Eastport and pick up NY-27, which takes you the remaining distance to Montauk.
It can take almost three hours to reach Montauk from the western end of Long Island, so leave plenty of time for your drive and to get parked in the lot near the Viking Fleet Office.
Based on its current schedule, the ferry tends to depart Montauk at 10am, returning at 5pm. This makes it a fabulous day trip option, but there are also some beautiful places to stay if you want to spend a little longer on Block Island.
Always check the schedule before traveling, as it varies depending on the season. In the summer peak there are daily crossings, but in spring and fall the frequency reduces, so you'll only be able to travel between Friday and Sunday in spring and Friday to Monday in fall.
How long does it take to reach Block Island from Montauk?
The ferry between Montauk and Block Island takes 1 hour and 15 minutes to cross Block Island Sound, but you'll need to leave a little longer than this for your total journey.
Weather and tidal conditions can also increase your crossing time, especially in fall when the Atlantic Ocean experiences more turbulent weather.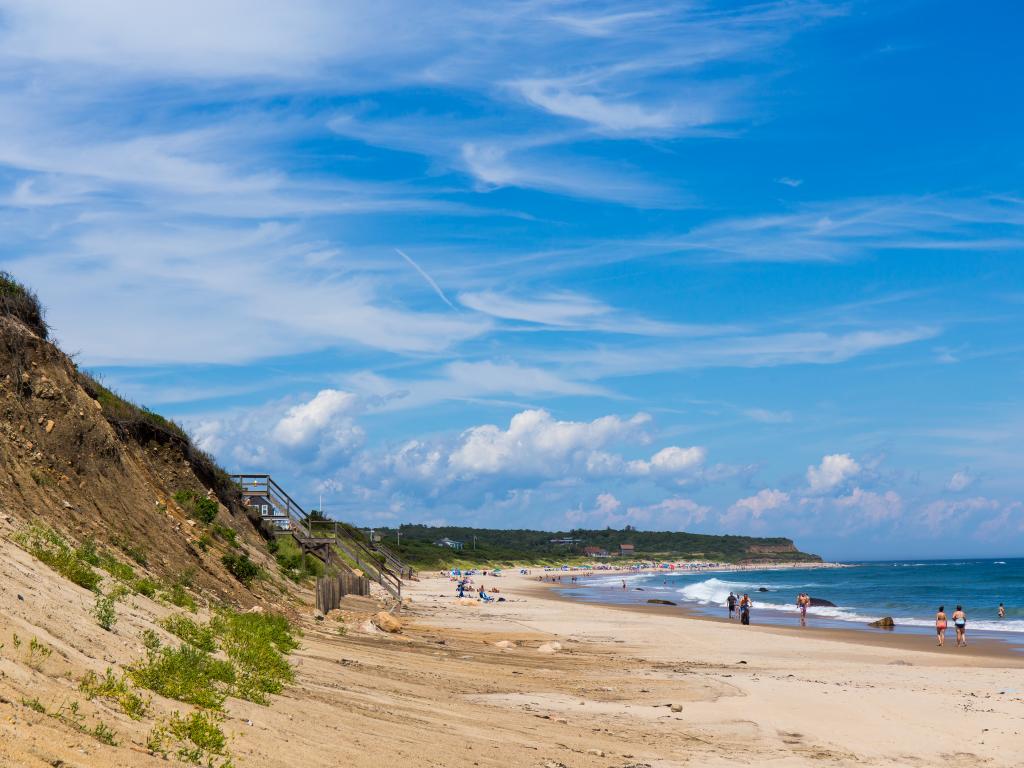 Allowing between 30 minutes and 1 hour to check in and embark on the ferry, then up to 30 minutes to disembark, it will take up to 2 hours 45 minutes between arriving at the ferry port in Montauk and beginning your adventures on Block Island.
Before traveling, always double-check when embarkation starts and finishes so that you don't miss your crossing if there are any changes.
How much does it cost to travel from Montauk to Block Island?
Comparison of fares from Montauk to Block Island

| Ticket type | Fare |
| --- | --- |
| One way | $45 |
| Round trip | $90 |
*Prices are calculated at the time of writing
The ferry trip from Montauk to Block Island costs $45 each way for an adult. There are reduced fares for children under 12, and children under 4 currently travel for free. There's a small discount if you book online in advance.
There's an additional charge to take your bike or surfboard with you, currently $5 each way. If you're driving to Montauk, parking is available near the ferry terminal for an extra $15 per day.
Prices stay the same all year round, but demand for spaces on the ferry will be much higher in the peak summer season.
Things you need to know about traveling from Montauk to Block Island
Taking the ferry from Montauk to Block Island is a fairly straightforward trip, but there are just a few things to keep in mind to help your journey run smoothly.
The ferry from Montauk arrives at Block Island Harbor in New Shoreham. From here, it's 1 mile to Frederick J. Benson Town Beach and a little further to Crescent Beach, South East Lighthouse, or Mohegan Bluffs.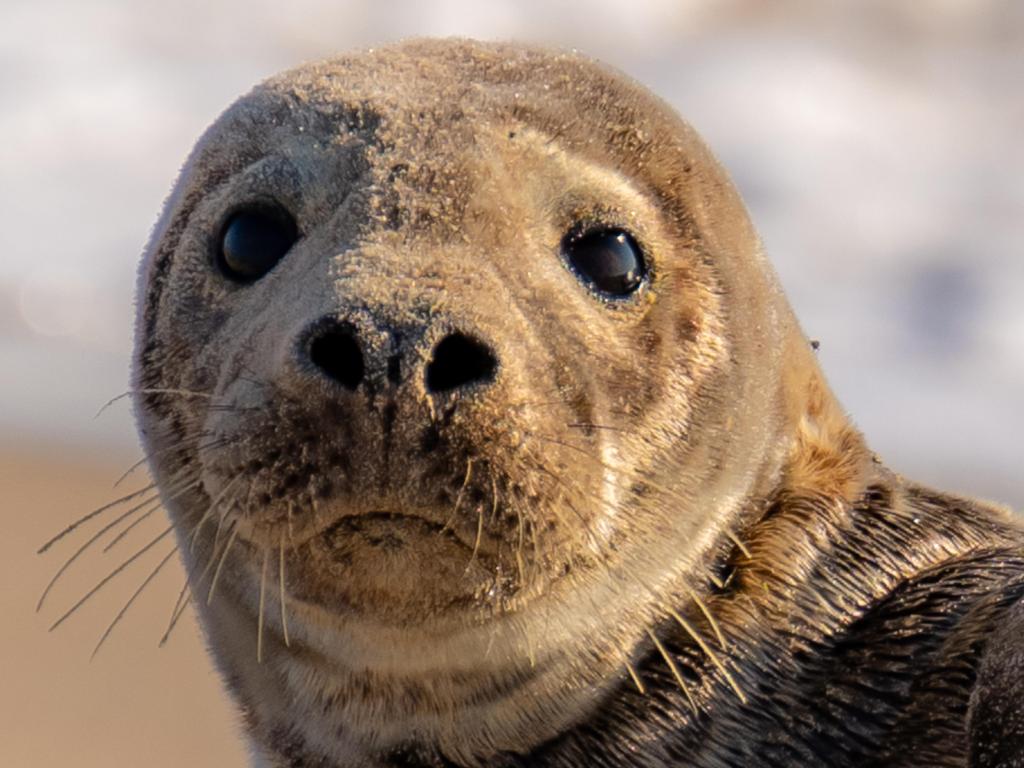 Since you will have left your car behind in Montauk, you'll need to allow a little more time to get around the island. While it's possible to walk across much of the island, renting a bicycle or moped is a popular choice. Taxis are also available.
The streets on Block Island are mostly narrow and can get very busy with cyclists exploring the island. If you're renting a bike, be sure to give way to pedestrians, but if you're traveling on foot, it pays to keep an eye out for novice cyclists, too.
Strong winds in the fall can make the ride rougher and ultimately take longer. Come prepared with any seasickness medication you think you might need so that you arrive in Block Island ready to enjoy your visit.
Best time to visit Block Island
With its fabulous beaches and ocean views, Block Island is a popular summer destination. The summer season is already ramping up by the time the annual Block Island Music Festival begins in the 2nd week of June.
Warm temperatures, which tend to sit between 75 and 80 degrees Fahrenheit from June to September, make this the ideal time to enjoy the beaches. It's warm enough to sunbathe and swim.
Block Island is also a stopover for migrating birds, which arrive in summer, making it a good time for birdwatching if you're looking to spend time in nature.
The main fallback of visiting in summer is that ferry services often run at full capacity, as do restaurants and other entertainment services. It means you can look forward to a buzzing atmosphere, but we'd recommend booking in advance where possible.
In contrast, hotel prices will be lower and the island will be quieter in the shoulder season, with budget accommodation often available from late September to November.
Winter is usually even cheaper, but with temperatures usually sitting below 40 degrees Fahrenheit and a high chance of snow, it will be a very different experience. There are only limited services on Block Island in winter, with restaurants running shorter opening hours, if open at all.
There are also fewer ferry services in winter. The ferries to Block Island from Montauk and New London don't run between mid-October and late May. However, if you want to visit during the winter you can still take the Point Judith to Block Island ferry which runs year-round.
Things to see once you reach Block Island
Unsurprisingly, the sites of Block Island are distinctly maritime in character. It's a beautiful place to escape from the rush of the city while you take in sweeping Atlantic views and fresh sea air.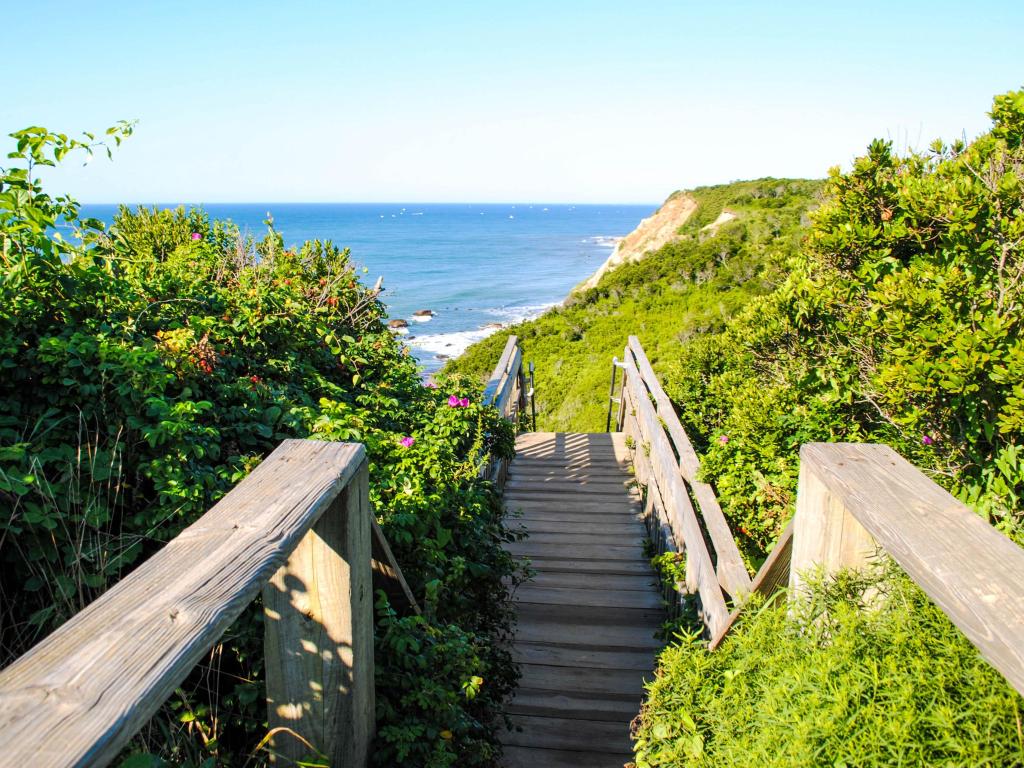 Mohegan Bluffs - Walk the 140-plus steps to reach the top of the 200-foot cliffs. From the top, you'll have panoramic views of the Atlantic Ocean.
Block Island Southeast Lighthouse - On top of the Mohegan Bluffs is this iconic lighthouse. The gothic-style architecture dates back to 1874 and there's a visitor's center where you can discover its maritime history.
Beaches - Spend a day relaxing on one of Block Island's many sandy beaches. Crescent Beach is a popular choice where you can kayak and paddleboard. Mansion Beach and Ballard's Beach are also favorite spots.
Old Harbor - Dine, browse the souvenir shops, and explore the quaint galleries. The historic district in New Shoreham has 42 buildings listed on the National Register of Historic Places.
Hiking and Biking - Rent a bike to explore Block Island's extensive network of scenic trails and bike paths, including riding through Rodman's Hollow Nature Reserve.
With so many outdoor activities to enjoy, don't forget to pack your hiking boots, swimsuit and sunscreen before you set out on your ferry trip to Block Island!