25 Best Road Trips From Boston
If you live in Boston or just visiting Beantown and want to get out of the city on a road trip, there are lots of amazing places you can explore all over New England.
From small towns in Massachusetts and neighbor states to mountains and National Parks, skiing destinations, a few ferry rides and stunning lakes, we've got the ultimate list of road trips from Boston.
Starting with the shortest, the following are in order of how long it takes you to get there. If you have at least a week, scroll to the bottom!
1. Salem, Massachusetts
40 minutes from Boston (15 miles)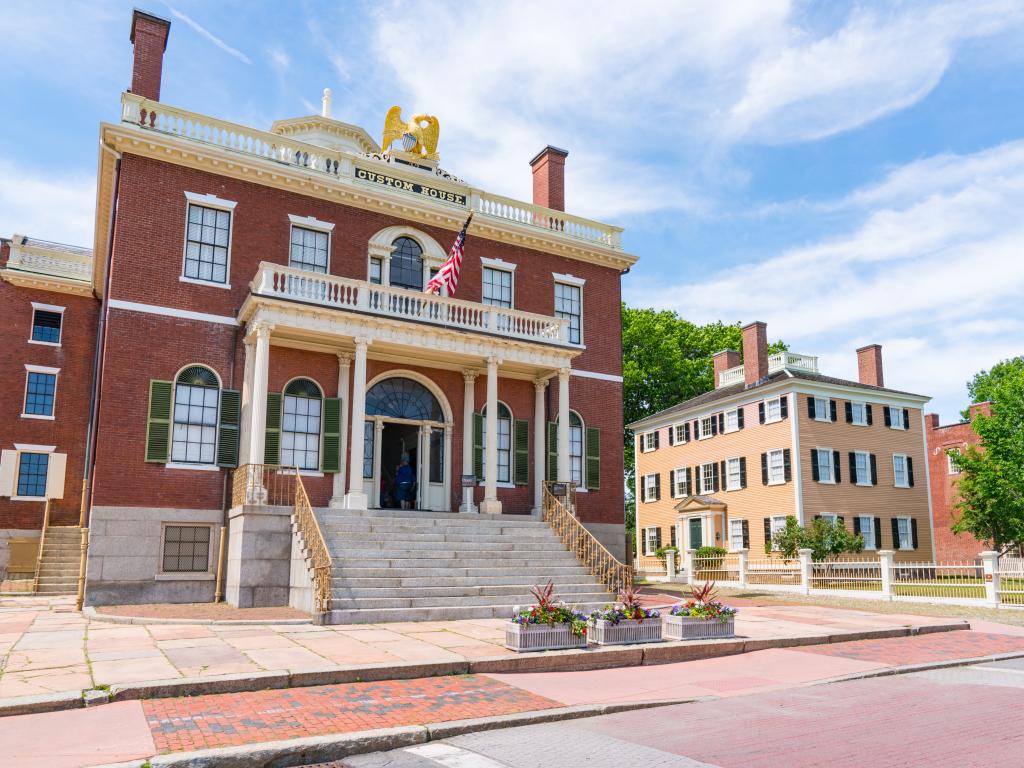 Our first destination hardly qualifies as a real road trip being only 15 miles from downtown Boston, but I thought I'd include it for those looking for a short drive out. If you'd like to learn about this drive in detail, click here for our detailed guide.
Salem is a historic city that was first established in 1626 and was a prominent port in early American history.
Salem is particularly well known as the location of the Salem witch trials that took place in 1692 and 1693. Of the 200 accused, 30 were found guilty of being witches, most of them ending up being executed.
If you haven't read it, check out Arthur Miller's The Crucible, which is a famous book that drew subtle parallels between the witch trails and 20th century anti-communist agenda.
The locals are quite proud of their witchcraft association - the Witch House museum is one of the most popular attractions in the city, local police cars have witches on them and the local high schools' sports teams are known as the Witches.
There's more to Salem than just 17th century witchcraft, - the Salem Maritime National Historic Site has 12 restored historic buildings and a replica of an 18th century sailing ship.
Then there's the House of the Seven Gables which dates back to 1668 and is one of the oldest timber-framed houses in North America, the Old Salem Jail, Peabody Essex Museum and the Federal Street District where you can see more of the town's history.
2. Plymouth, Massachusetts
50 minutes from Boston (41 miles)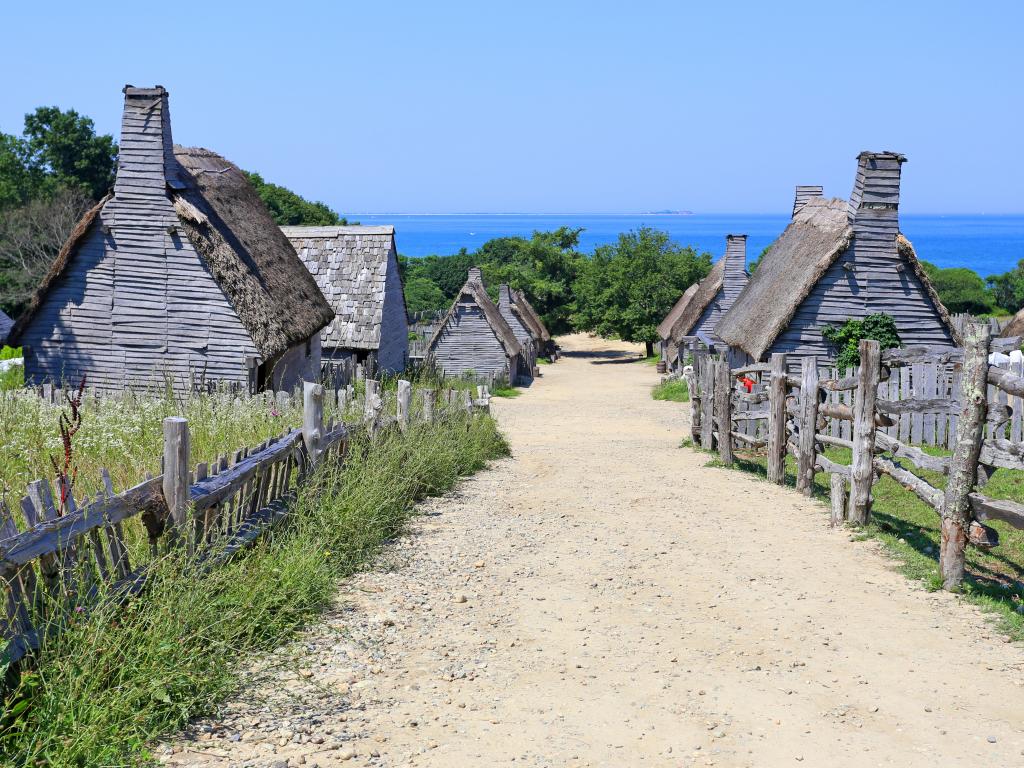 Plymouth is under an hour south from Boston - take Massachusetts Route 3 south from just outside the city.
Plymouth is known as America's Hometown - it is one of the oldest settlements in North America and was the first in New England when it was founded in 1620 by the settlers from the famous Mayflower ship. The name came from the English city from which the ship first sailed.
Given the rich history of the city, there are a lot of historical markers and sights to see. Plimoth Plantation is a recreation of the original settlement from 1620 and the Mayflower II is a detailed reconstruction of the original Mayflower ship - it was built in England and sailed across the Atlantic in 1957 and still frequently goes on short trips around the Cape Cod Bay.
Plymouth Rock is supposed to be the site where the original pilgrims landed and first settled although the precise location is a hotly debated topic. Nevertheless, there's a lot of historic buildings in the area, many of which you can visit including the Jabez Howland House and Harlow Old Fort House.
The tall National Monument to the Forefathers statue that is dedicated to the pilgrims and the Pilgrim Hall Museum with artifacts from the early settlers and local Indian tribes will complete your education on how America was first colonized.
3. Rockport, Massachusetts
55 minutes from Boston (39 miles)
You can do Rockport as a day trip from Boston or add in further stops up the coast into New Hampshire and Maine. Get out of Boston nice and early to beat the morning traffic and depending on where you start from head over the Tobin Memorial Bridge or along the I-93 - both routes take about the same amount of time.
As Rockport is a small fishing village, parking can be hard to find and you'll need to feed the meter $1 an hour or thereabouts. You can choose to park up at the Blue Gate Meadows Parking Lot instead which is free.
It's a 20 minute walk into town from the parking lot or a $1 shuttle - if there's a few of you going, you'll probably end up paying the same but it saves on the headache of finding a spot.
The most well known sight in Rockport is the Motif No. 1. The building on a pier is famous for being the most often painted building in America as the local artists keep painting it decade after decade. The original building blew over in 1978 but was almost immediately replaced with a replica.
There's some great quirky places to eat in Rockport. The Ice Cream Store that looks like it still lives in the 50s is an absolute must stop and you really ought to stay for dinner to try the local lobster at the Roy Moore Lobster Company.
Just outside Rockport is the curious Paper House. The entire house including walls, doors and much of the furniture inside was made out of newspapers by a mechanical engineer in 1922.
I'm not sure quite how it's still standing, but it's amazing to see and has running water, electricity, a stove and even a working fireplace!
4. Hampton, New Hampshire
55 minutes from Boston (46 miles)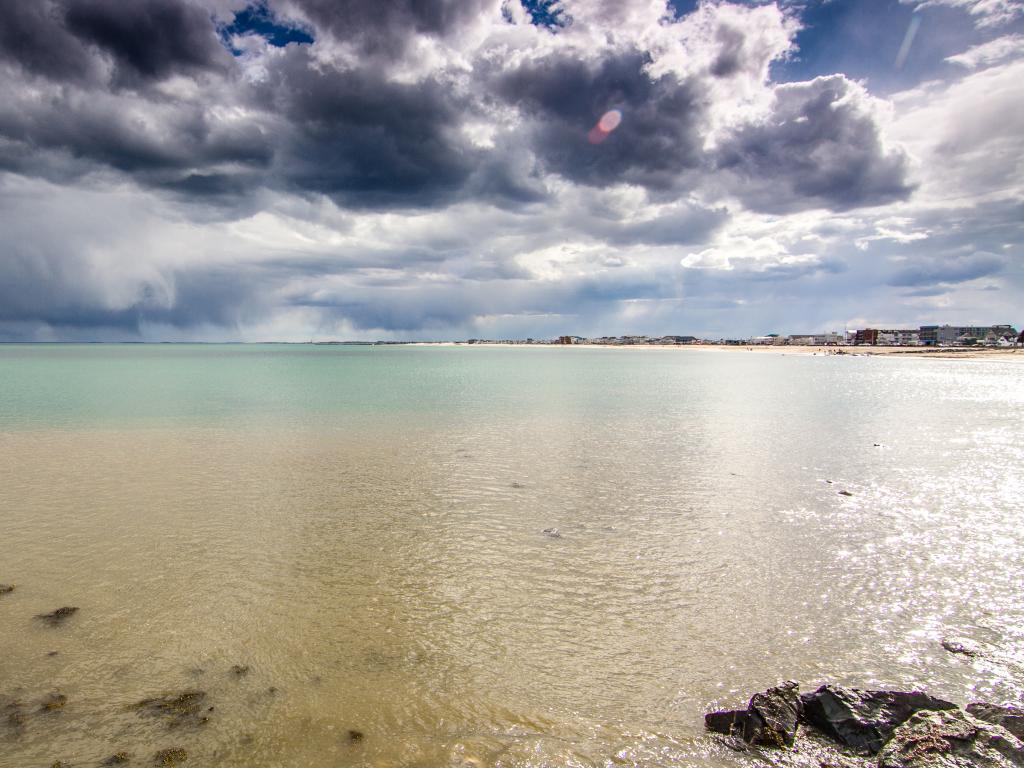 If you want to get away from it all and lay on the beach listening to the waves roll in, then the huge beach of Hampton is just under an hour's drive from downtown Boston.
The water is very clear (although a little chilly - it is the north Atlantic ocean!) and the sand is fine and relaxing. There's life guards at the beach and plenty of space to put down your towel and relax.
Parking can be a little tricky and if the weather is good, it can fill up fast, especially at the weekend. Your best option is to set off nice and early and aim to have breakfast in Hampton after you've parked up. Remember you'll need to buy a ticket first and display it in your car.
The beach comes with all the things you want for a fun day out - there's a boardwalk, shops and restaurants and an arcade to entertain the kids.
Be careful with picking your spot on the sand - the tide comes in pretty high and can take up most of the northern part of the beach when it comes in. Pick a spot a little further up to make sure if you're staying for the day.
5. Providence, Rhode Island
1 hour from Boston (51 miles)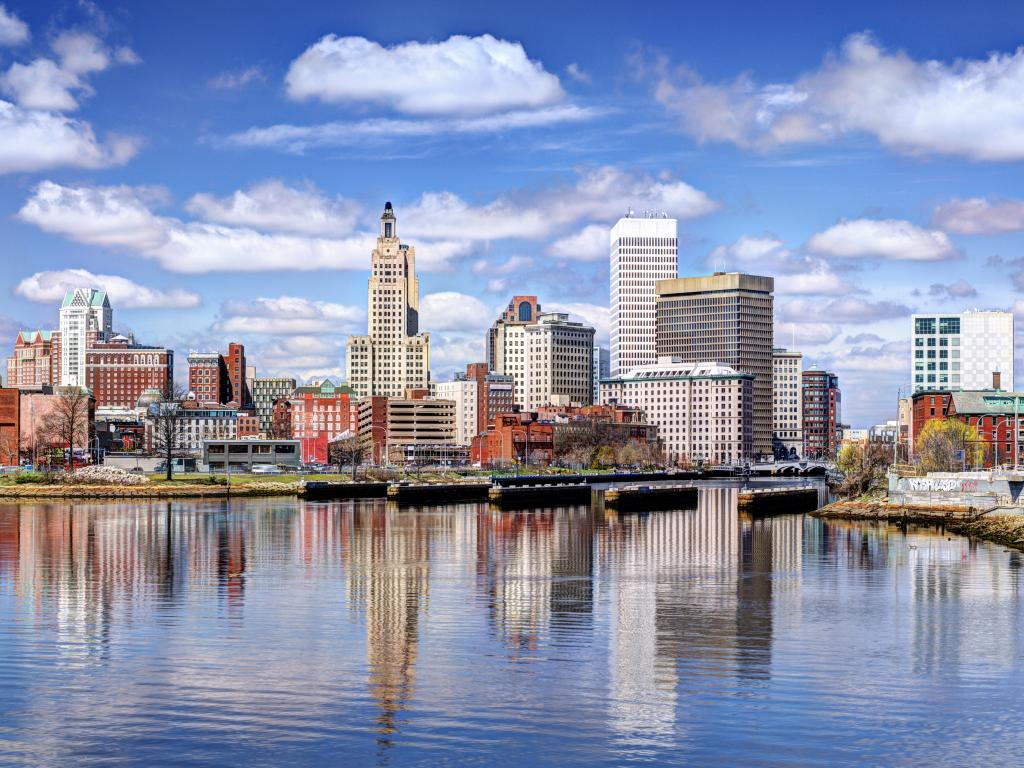 Providence is the capital city of Rhode Island and one of the oldest in the United States, having been founded in 1636. A road trip from Boston to the nation's smallest state offers a mix of history, charm and great food.
Unlike some of the other old settlements along the coast, Providence was established by exiles from the Massachusetts Bay colonies who wanted to leave the Puritan way of life and find another way.
Getting to Providence from Boston is relatively easy - follow the I-93 out of the city and then continue south along the I-95 after the two merge. You'll come to within a few blocks of Providence downtown by following the interstate for about an hour.
Most of the old buildings, museums, bars and restaurants in Providence sit around the point where Woonasquatucket and Moshassuck rivers merge into Providence River.
The RISD art museum Stephen Hopkins House built in 1707 and the First Baptist Church in America are all within a block of each other and you can move between them along Benefit Street which famously showcases the history of Providence starting with 18th century Federal houses at one end to Victorian and 20th century buildings at the other.
READ MORE - Road Trip from Boston to Providence, Rhode Island
6. Ogunquit, Maine
1 hour 20 minutes from Boston (77 miles)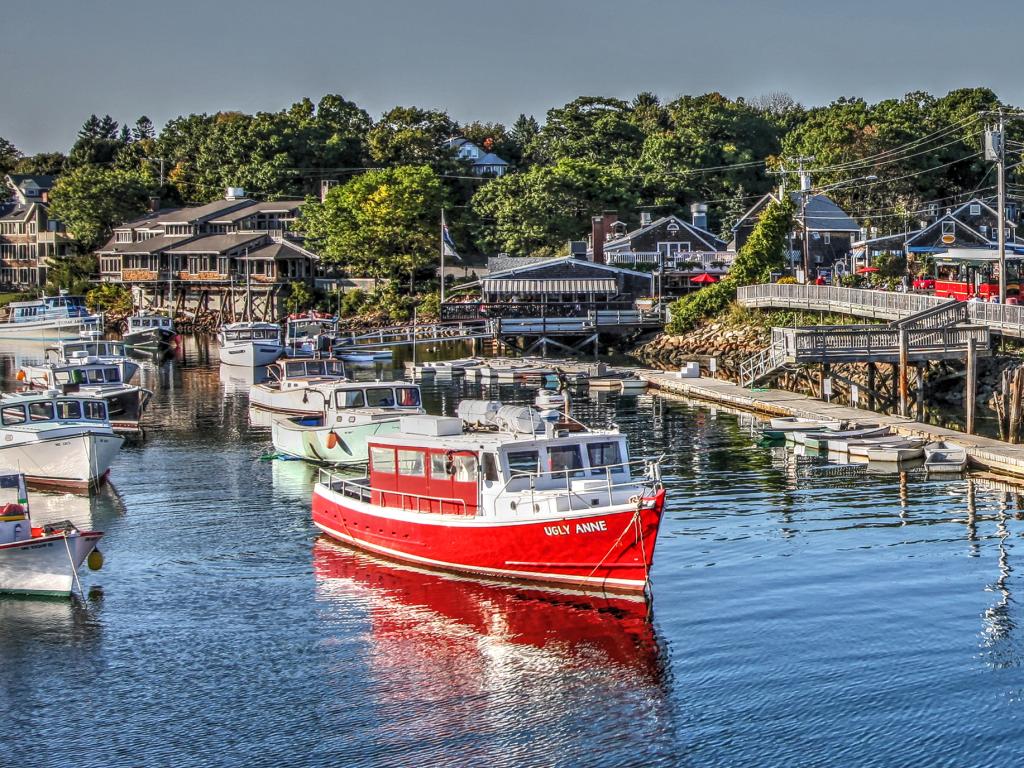 Although Ogunquit is in Maine, which means you have to drive through Massachusetts and New Hampshire, you can get here from Boston in under 90 minutes thanks to the size of New England states. Take the I-95 out of Boston and turn off when you get to York - Ogunquit will be another 7 miles up the coast.
Ogunquit is another beach destination on our list and this is no accident - the beach here frequently scores highly in various national beach awards.
Take your time and stroll along Marginal Way - the path that runs along the waterfront and ends up in Perkins Cove which is an old fishing village.
Most of the boats in the harbor are fishing and lobster boats and some will offer tours if you want to go out and see how it's done first hand.
Yes, it does have a few gift shops selling touristy things, but this is also a perfect place to have the local catch of the day for lunch and by catch of the day I do mean lobster. You're in Maine!
7. Newport, Rhode Island
1 hour 30 minutes from Boston (72 miles)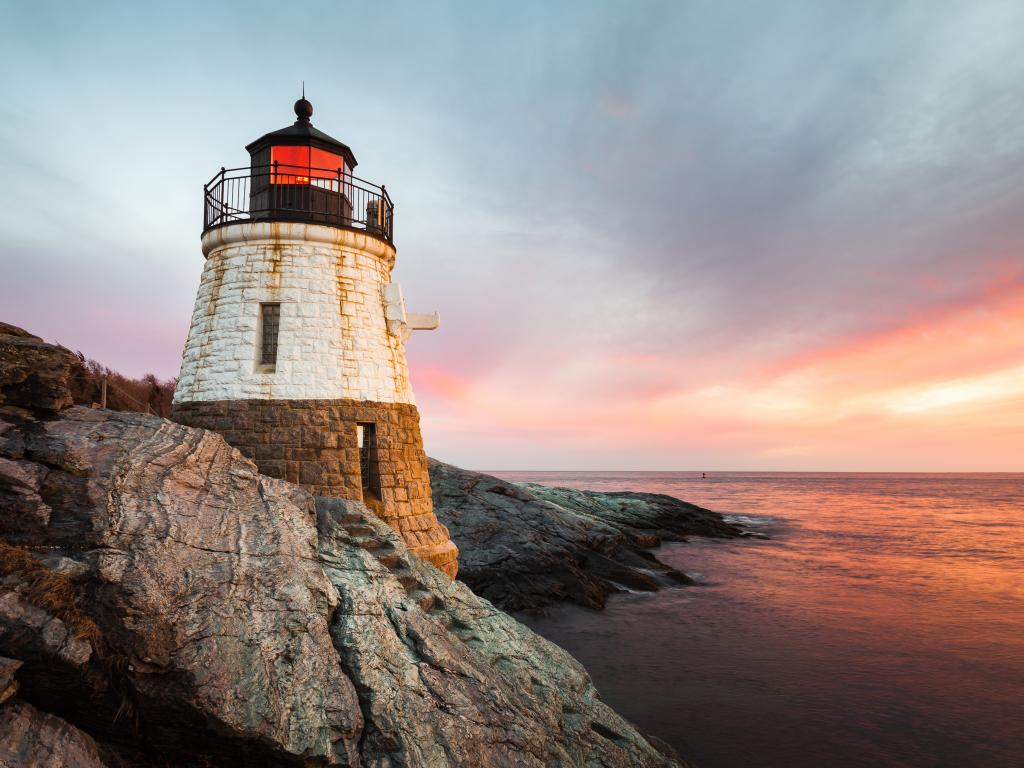 Newport is right at the southern tip of Rhode Island's Aquidneck Island. If you're coming on a road trip from Boston, I would recommend avoiding the traffic through Providence and heading down Route 24 instead. It may not be a big interstate, but it'll get you there 20 minutes faster.
Given I live in the UK, this part of New England has a lot of interesting town names - the early English (and Welsh) settlers around Narragansett Bay must have missed home naming their new colonies Warwick, Bristol, Exeter, Portsmouth, Swansea and Somerset but I digress.
In case you're wondering what Newport is all about, its two nicknames are the Sailing Capital of the World and the Queen of Summer Resorts so there you have it in a nutshell!
If you like sailing or just looking at the boats with the salty breeze blowing in your face, Newport is definitely the place to come. The U.S. Naval War College and a major Naval station are in the town and the America's Cup was held in Newport for over 50 years until 1983 after which it began moving to different locations around the world.
As you make your way around Newport, you'll notice a mix of classic architecture, large mansions and estates and beautiful rock cliffs. You can go on a tour of one of the huge mansions to the south of downtown Newport or stroll along Cliff Walk which starts at Easton Beach and goes past many of these mansions before looping back to Bailey Beach.
8. Kennebunkport, Maine
1 hour 35 minutes from Boston (90 miles)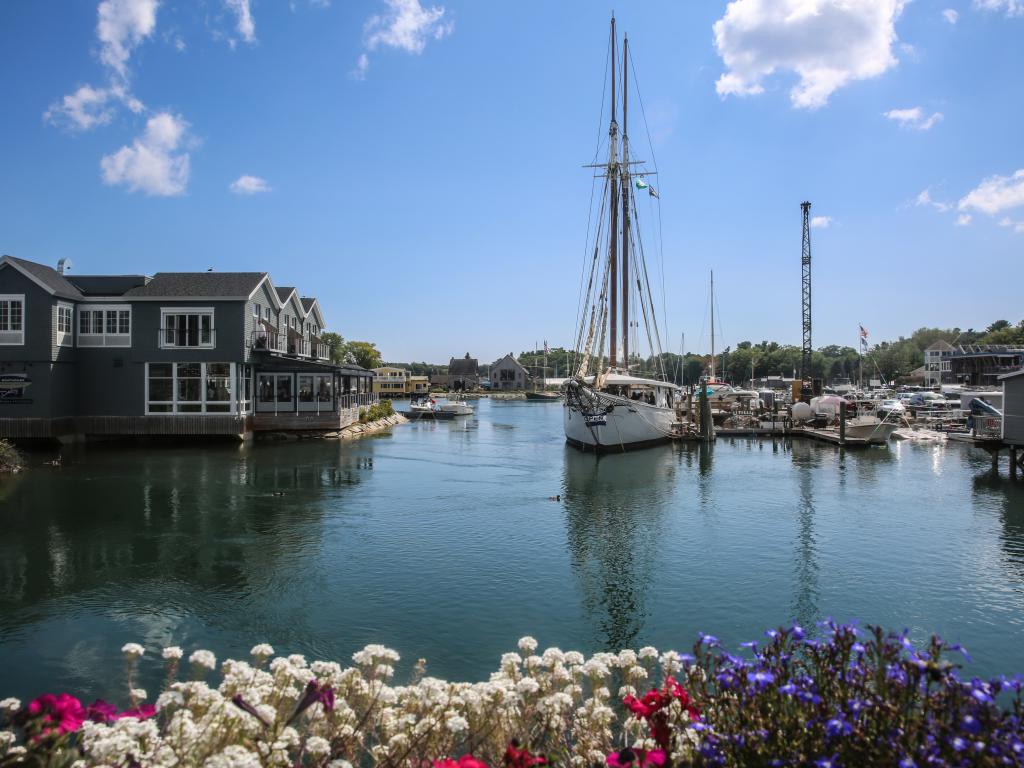 You might have heard of Kennebunkport being the summer home of former President George H. W. Bush and there's a few good reasons why you'd want to spend long summer weekends in this small Maine village on the coast.
The number 1, 2 and 3 reasons to come to Kennebunkport are food, drink and ice cream. I'm not talking fancy restaurants and Michelin stars - in Kennebunkport the order of the day is the lobster roll.
Although the Clam Shack has got a lot of media attention and reviews from the likes of the New York Times, there's a few equally good alternatives.
After a walk around the Kennebunkport Historic District, make a stop on the other side of Kennebunk river at the Kennebunkport Brewing Company or the Old Vines Wine Bar later on in the afternoon.
For desert, try one of the unique ice cream flavors at Rococo Ice Cream or opt for the Maine specialty - a slice of blueberry pie that you'll find served up at most of the restaurants around town.
9. Old Orchard Beach, Maine
1 hour 45 minutes from Boston (102 miles)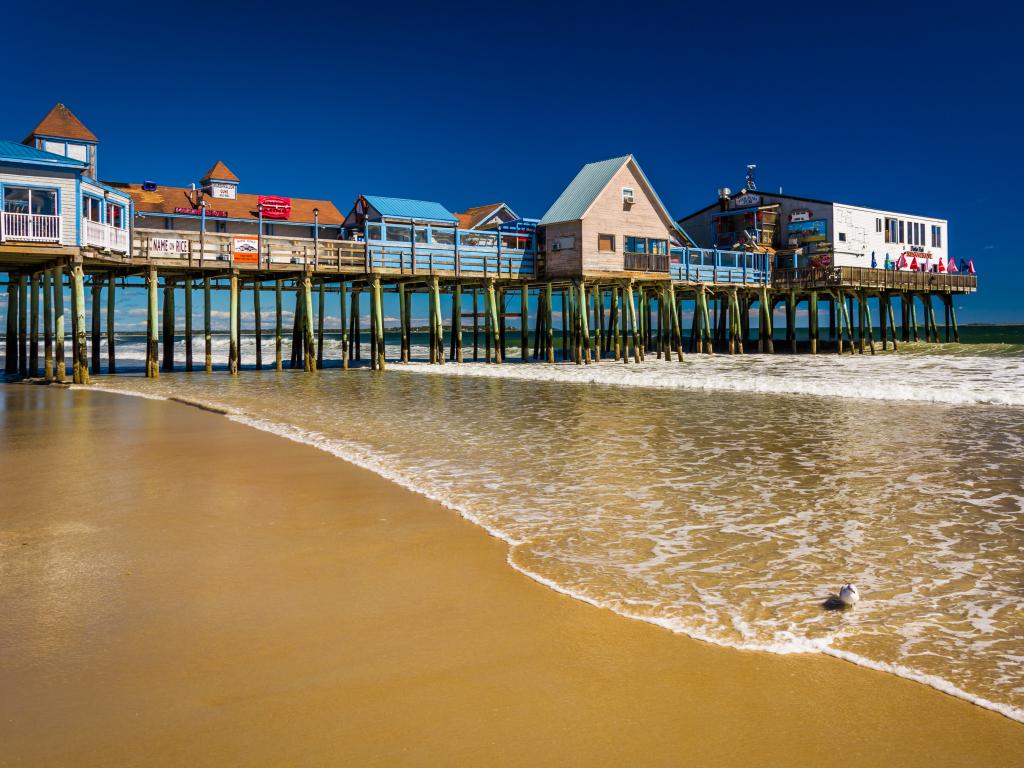 I know it might seem like the Maine coast is getting a little too much attention early on in this list with Kennebunkport and Ogunquit a few places above and Portland right below, but i you're looking for a road trip out of Boston that'll take under 2 hours one way, these are all fantastic options.
With more time, you can easily combine these into one epic dash up the coast towards the Canadian border, but if you're limited to a day or two and want to unwind to a classic beach getaway, Old Orchard Beach will deliver in full.
Just remember - this is not the fancy premium kind of beach destination. I'm talking more of a nostalgic trip back to the beach holidays of yesteryear with a fun-filled pier, boardwalk with arcades and fast food, and 7 miles of beach.
Just a few minutes away in Saco you'll find the Funtown Splashtown USA park which has a particularly descriptive name - it's a big water park where kids will go wild while you relax with a beverage of your preference.
One thing to remember is that most of the shops, restaurants and activities operate from Memorial Day to Labor Day - if you visit in the off-season, you can still enjoy it and there will be far fewer people about, but most places will be shut.
10. Portland, Maine
1 hour 50 minutes from Boston (112 miles)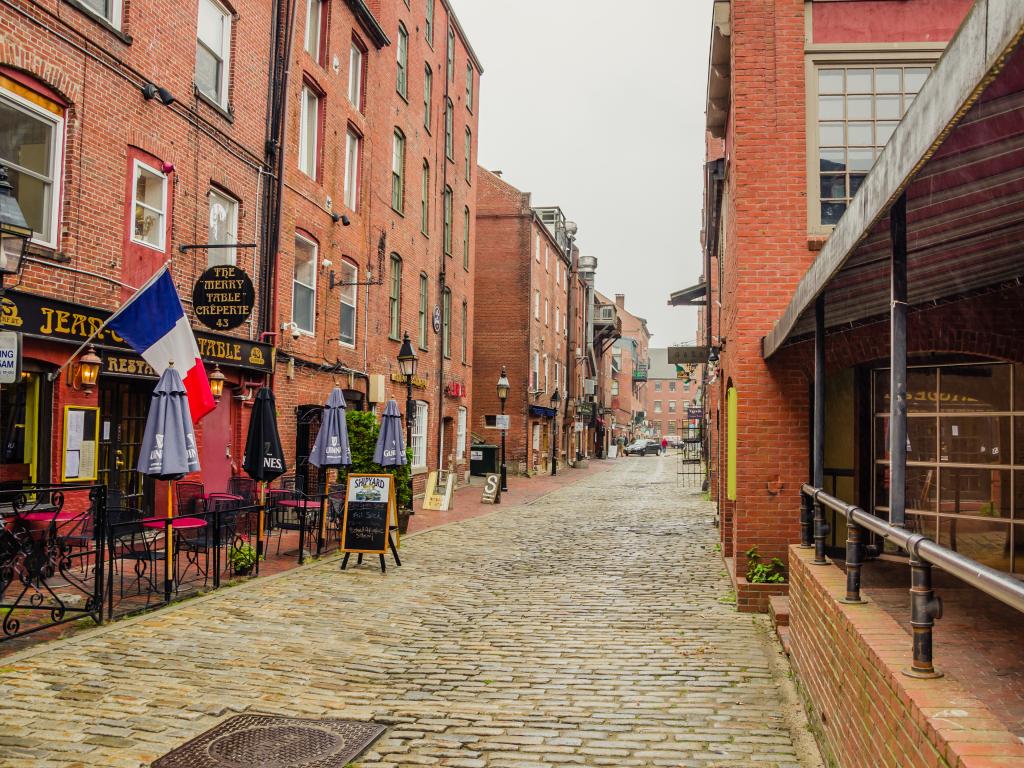 Portland, Maine is a city that effortlessly combines that New England small town charm with bustling art and food scenes.
The drive up the I-95 should take you a couple of hours, heading past all 3 of the other Maine destinations further up our list as you go.
The Portland Head Lighthouse is just outside the city in Fort Williams Park. It is reportedly the most photographed lighthouse in America which is quite a feat although the famous painter Edward Hopper opted for the Two Lights Lighthouse a few miles further south for his painting.
Once you get into Portland, park up your car and go for a walk through the Old Port which is the city's historic downtown area.
The Portland Museum of Art is a big draw for visitors who like art and Old Port is also the place to try local lobster rolls - just remember the food here is more likely to be served in a paper cone than on white cloth tables so don't overdress!
READ MORE - Road Trip from Boston to Portland, Maine
11. Mount Monadnock
2 hours from Boston (80 miles)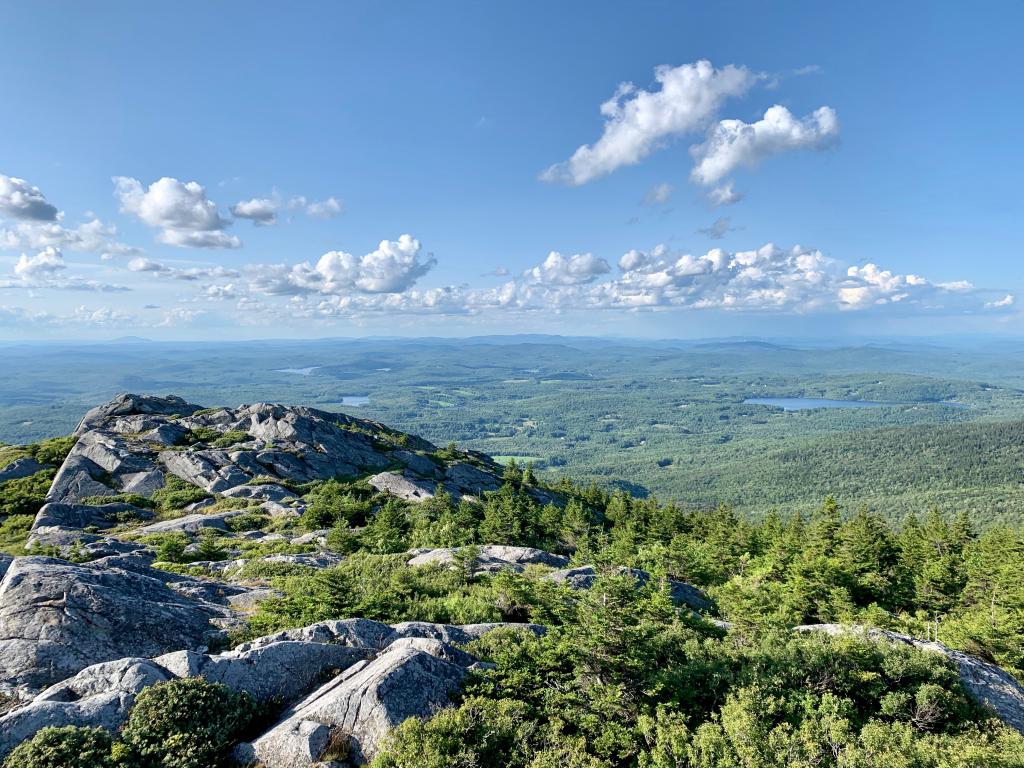 Mount Monadnock is just across the border in New Hampshire and is one of the best options for a weekend out in nature hiking without having to drive too far.
It'll cost you $5 to drive into the Monadnock State Park and park your car. Don't try to save money and park outside - you'll add hours onto your day just getting in and out on foot.
There are two main hiking routes that lead from the car park up the mountain - White Dot and White Cross as well as the longer Red Spot Trail if you want to spend more of the day on the mountain.
If you don't hike often and want the easier route, I'd go up and down via the White Cross Trail - it's a lot less steep and easier to walk but takes much longer as a result.
For those who feel a bit more up for it, go up the White Dot Trail (it does get rocky and a bit steep at times) and then come down the White Cross way - going down the steep sections of the White Dot Trail will be challenging and not in a good sort of way.
Once you get above the treeline, you'll begin getting views over the surrounding valleys. When you get to the top (3,165 feet up) and if the weather is clear, you can see all the way back to the Boston skyline on the horizon - the lack of any other sizable mountains in the area helps with the far-reaching views.
12. Cape Cod and Provincetown, Massachusetts
2 hours 10 minutes from Boston (115 miles)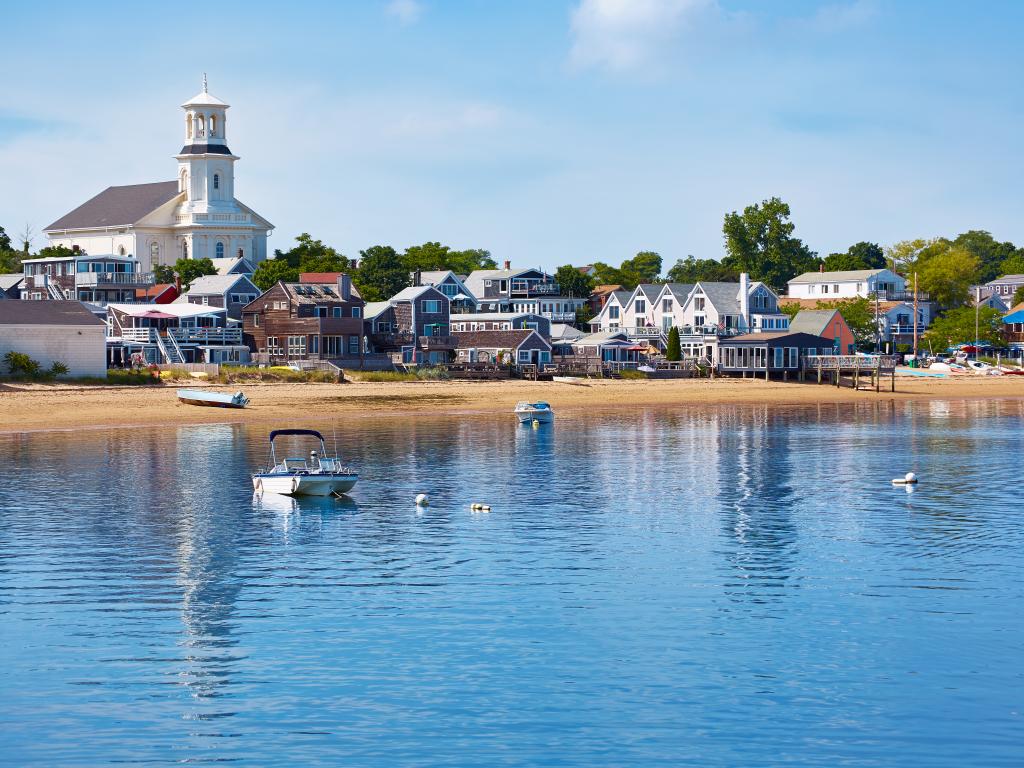 Cape Cod is the ultimate beach getaway destination from not only Boston, but the entire East Coast and with only 2 hours on the road separating you from all it has to offer, you might need to rethink your plans for next weekend.
There's amazing beaches all over Cape Cod with the southern part of the peninsula particularly popular - head to Hyannis and the nearby Craigville Beach to enjoy the relatively calm waters in a cove.
Cape Cod National Seashore at the tip of Cape Cod has amazing long stretches of perfect sand beaches, but the water is cooler and rougher here and sea creatures including sharks are more common - helicopters frequently circle warning of any spotted great whites!
Make sure you make it all the way around Cape Cod Bay to Provincetown. This is the kind of perfect seaside town where you might have a bottomless brunch to get you started in the morning before seeing the Pilgrim Monument on the spot where the Mayflower Pilgrims first set foot in the New World.
Dinner options offer a lot more than just the amazing local lobster - head to the P-town Canteen to try a real New England clam chowder or the cod skillet.
READ MORE - Road Trip from Boston to Cape Cod and Provincetown
13. The Appalachian Trail and White Mountain National Forest, New Hampshire
2 hours 10 minutes from Boston (132 miles)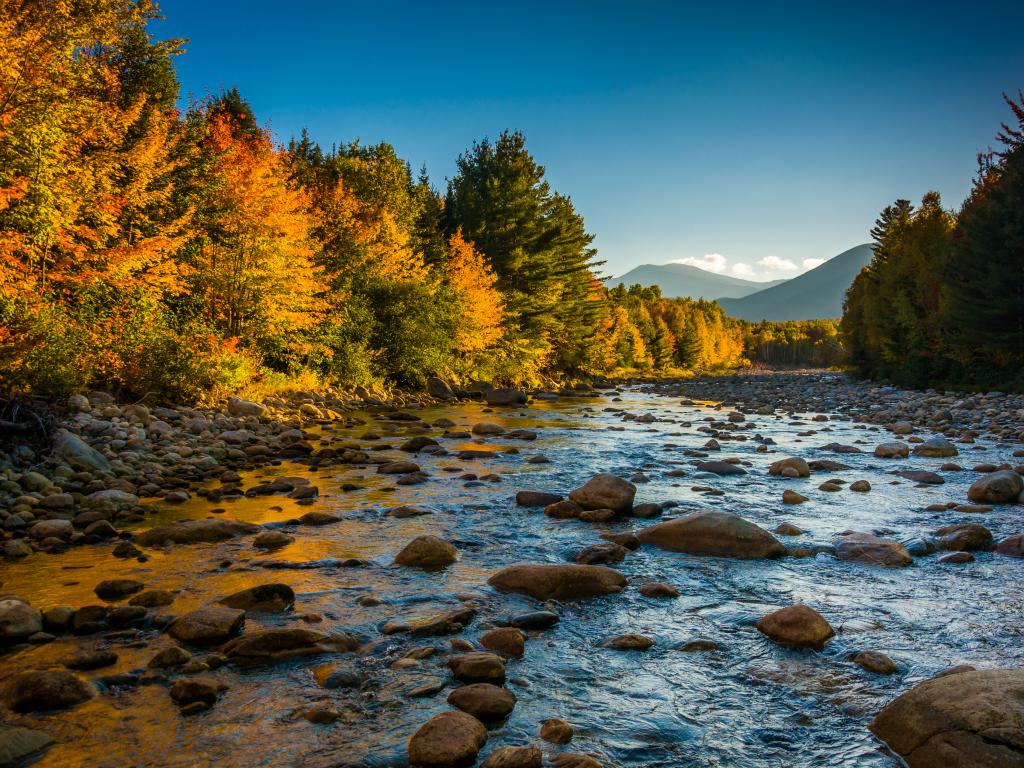 The White Mountain National Forest covers over 1,200 square miles in northern New Hampshire and is one of the best places to come and spend some time in Nature from Boston.
White Mountain is the only National Forest across Massachusetts, New Hampshire, Maine, Connecticut and Rhode Island. There's also only one National Park within these 4 states - the remote Acadia National Park off the coast of Maine (#22 below), so if you're going on a road trip from Boston, you're not exactly spoiled for choice.
Mount Washington is the tallest mountain in northeastern United States topping out at 6,288 feet (1,898 m) and there's dozens of hiking routes up and around the mountain including the Appalachian Trail which passes through the park.
If you like driving, however, you're in for a treat. There's a road that goes all the way to the summit offering amazing driving and spectacular views - everything you want from the perfect road trip.
The toll is $31 per car and driver plus $9 per passenger which is a little pricey, but it'll be well worth it when you make it to the top. The drive up is not for the faint-hearted - the average incline is 12% (which is quite a lot) but you do get a This car climbed Mt. Washington bumper sticker included in the toll price!
You also get an audio guide for the way up and a different one for the way down on CD. If you don't have a CD player (and actually even if you do), wind the windows down and enjoy the breeze as you make your way up the mountain instead!
Take care when hiking in the White Mountains whenever you go and especially in the winter or during stormy weather. The U.S. Forest Service publicly states that some of the peaks here have the worst weather in America. Wind speeds can reach over 200 miles per hour and winters can get very cold here so come prepared!
14. Green Mountain National Forest, Vermont
2 hours 50 minutes from Boston (139 miles)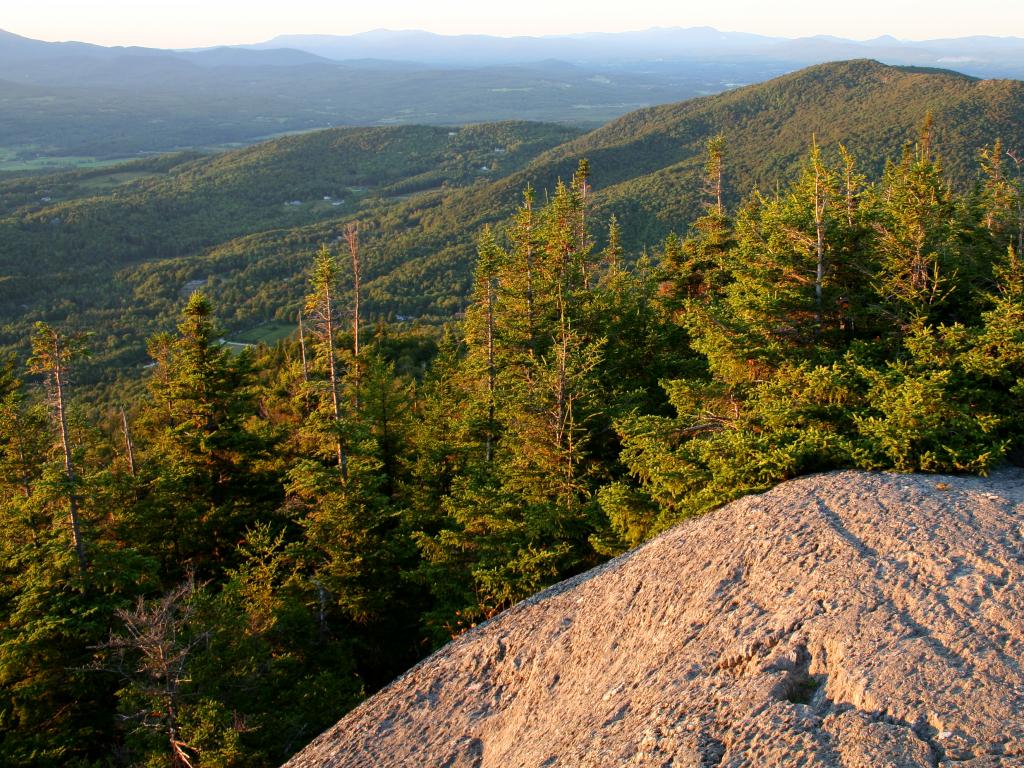 Green mountains run up through the state of Vermont and a large part of these mountains forms the Green Mountain National Forest.
Unlike many other National Forests, there are quite a few pretty small towns throughout the protected forest area. Bennington, Manchester and Arlington are all worth a stop with historic buildings and a relaxed mountain atmosphere.
There are 3 ski resorts in the Green Mountains - Mount Snow is the most popular due to it being the closest to cities like Boston and New York but Stratton Mountain and Bromley Mountain are decent too.
In the summer you can hike along some of the most famous trails in the country - both the Appalachian Trail and the Long Trail pass through the park and share the route over a 100-mile stretch.
If you want to mix up your exploration of nature, head to Manchester to visit the Lincoln Family Home which is a mansion where the son of President Lincoln lived, and the historic Old First Congregational Church.
A little further south in Bennington, you can visit the Bennington Battle Monument which commemorates the famous American Revolution battle and is over 300 feet tall.
15. Killington, Vermont
2 hours 50 minutes from Boston (159 miles)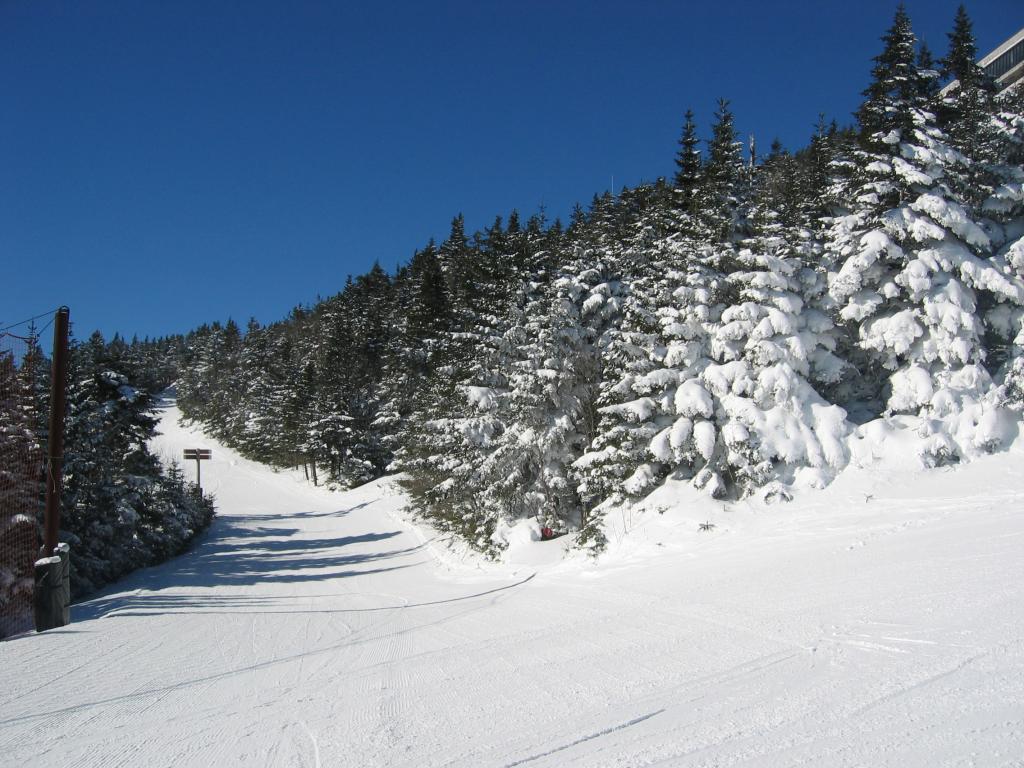 Killington is the largest ski resort in the eastern United States with 155 ski runs spread over an area of over 1,500 acres and 21 lifts that take you up the mountain.
From Boston you'll need to head up the I-93 to Concord and then the I-89 to Lebanon which sits on the White River which also doubles as the border between New Hampshire and Vermont. Once you've crossed the river, Route 4 heads up into the mountains and goes all the way to Killington.
For those who don't like skiing or snowboarding, Killington offers every other snow-based activity you can think of. Cross-country skiing, sledding, snowshoeing, ice skating and even go on a giant sleigh pulled along by a Snowcat.
For skiers and snowboarders, Killington offers so much it is the most visited ski resort in New England. A lot of the runs and areas are targeted at expert skiers - there are 5 snow parks with various jumps, a large half-pipe and difficult runs including the double black diamond Outer Limits mogul field.
Having said that, there's enough for beginners to get on with too. The Snowshed mountain is a wide open slope exclusively for beginners and there are other novice-friendly runs as well as a ski school in the resort.
16. Block Island, Rhode Island
3 hours from Boston (101 miles)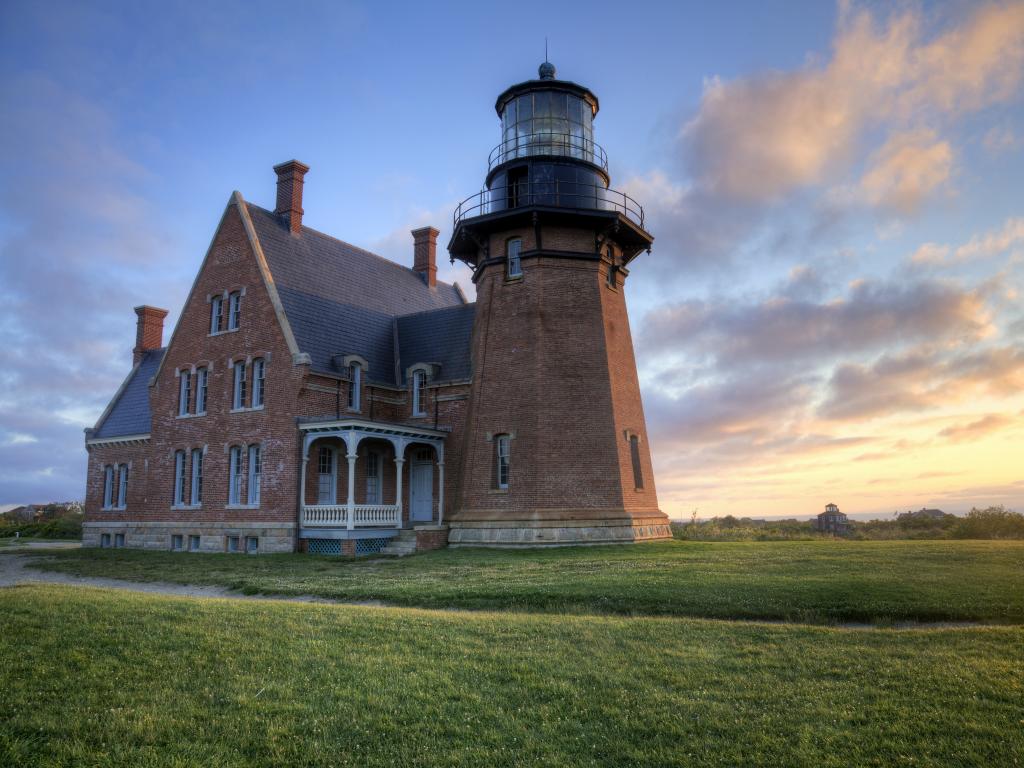 Block Island is a small island off the coast of Rhode Island and about halfway between Rhode Island and Montauk on Long Island.
To get here from Boston, you'll need to drive down to Point Judith, Rhode Island - the journey will take you through Providence and should take an hour and a half if traffic is kind to you.
The standard ferry goes all year round and costs a little under $25 per person for a return trip, taking 55 minutes to get to the island. If you want to bring your car, it'll cost you another $80 (or almost $100 for a larger vehicle). Standard ferries run every 2 hours in the summer and only a few times a day in the winter so check the schedule on the Block Island Ferry website.
If you want to save time, there are faster boats that cost just under $40 and take just 30 minutes to reach Block Island but they only run during the summer season and don't carry vehicles.
Spending time on Block Island is easy - the atmosphere is really relaxed and all the beaches around the island are public and free. Yes - even the parking!
There's curious local shops to explore, amazing restaurants to visit and, best of all, the opportunity to delete the busy thoughts from your brain and enjoy some quality time away from it all.
17. Stowe, Vermont
3 hours 15 minutes from Boston (199 miles)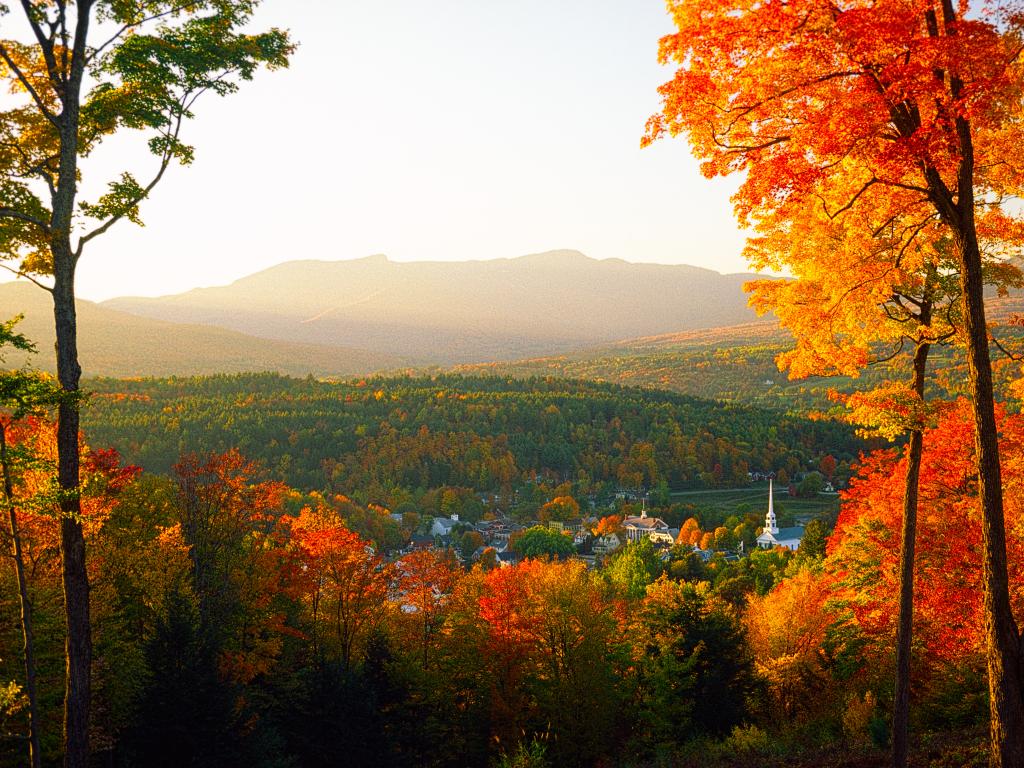 Stowe is another hugely popular ski resort in Vermont and although it's smaller than Killington (#15 above), the extra time to get there means it's often not as busy and can be a great option for a weekend road trip from Boston.
The Stowe Mountain ski resort is a few miles up Mountain Road (Route 108) from the town with the skiing area split between Mount Mansfield and Spruce Peak either side of the valley.
Although there's only 12 lifts, most of these are chairlifts and one fast gondola up to Cliff House which makes the way up more relaxing.
Off the ski slops, the historic town of Stowe is worth spending some time in as well - there's pretty local shops and restaurants in classic wooden clad buildings that put on the charm. The hotel options in Stowe are great - there's some very good upmarket options but the average standard is very high too.
Smugglers Notch is only 15 minutes away with its own smaller ski area. If you want to go skiing on a budget, it's a decent option although if you can afford Stowe, you should definitely go for it as the town, resort and skiing are all much better.
18. Lake George, New York
3 hours 30 minutes from Boston (226 miles)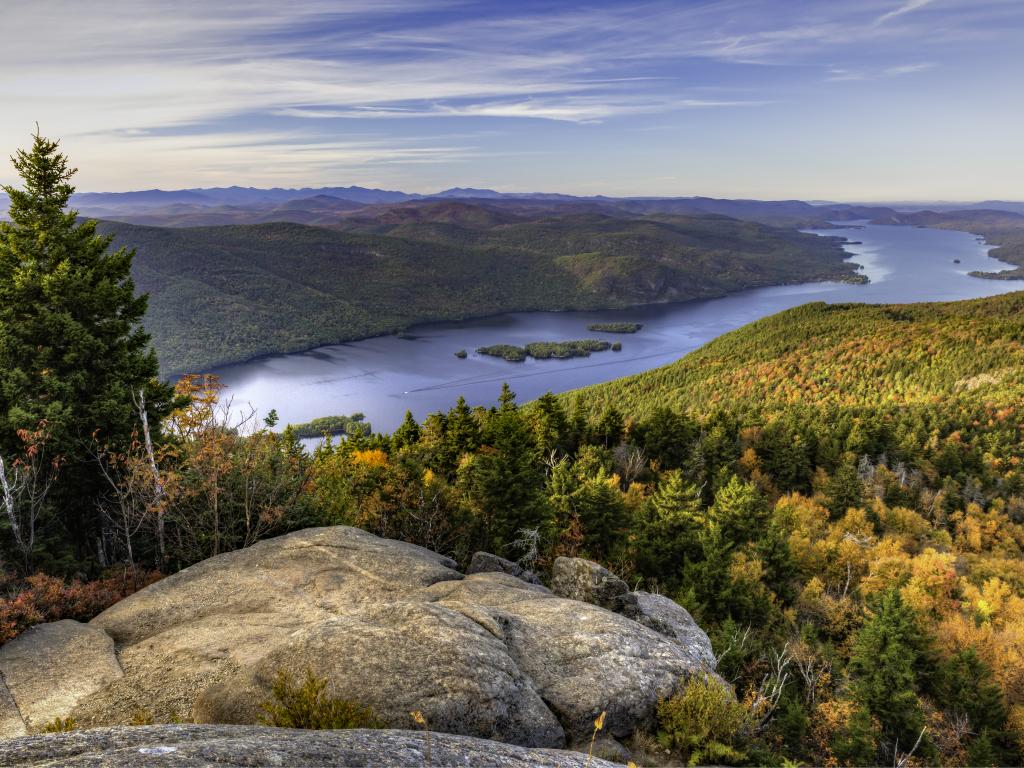 Lake George in upstate New York is a perfect spot to come and relax surrounded by tree-covered hills.
The shorter and more direct route that passes through New Hampshire's Green Mountains may be more scenic, but takes a solid hour longer than heading along the I-90 to Albany and then driving north to Lake George via Saratoga Springs.
Lake George became a popular destination for the millionaires of New York at the turn of the 20th century as you could get here on a direct train from the Big Apple.
Today you can see why they took such a liking to the place - the best way to see the scenery around the lake is to go on a steamboat cruise. Take note that the cruises only run over the summer months from May to October and October might just be the best month to come for the beautiful fall leaves.
There's plenty of hiking trails either side of the lake although the eastern shore has a better choice and some great overlooks - the Black Mountain Trailhead has great views down to the lake and is a relatively easy hike and the Sleeping Beauty Mountain Trail is phenomenal although you have to get here early to beat the crowds and get a parking spot.
19. Lake Champlain and Burlington, Vermont
3 hours 30 minutes from Boston (226 miles)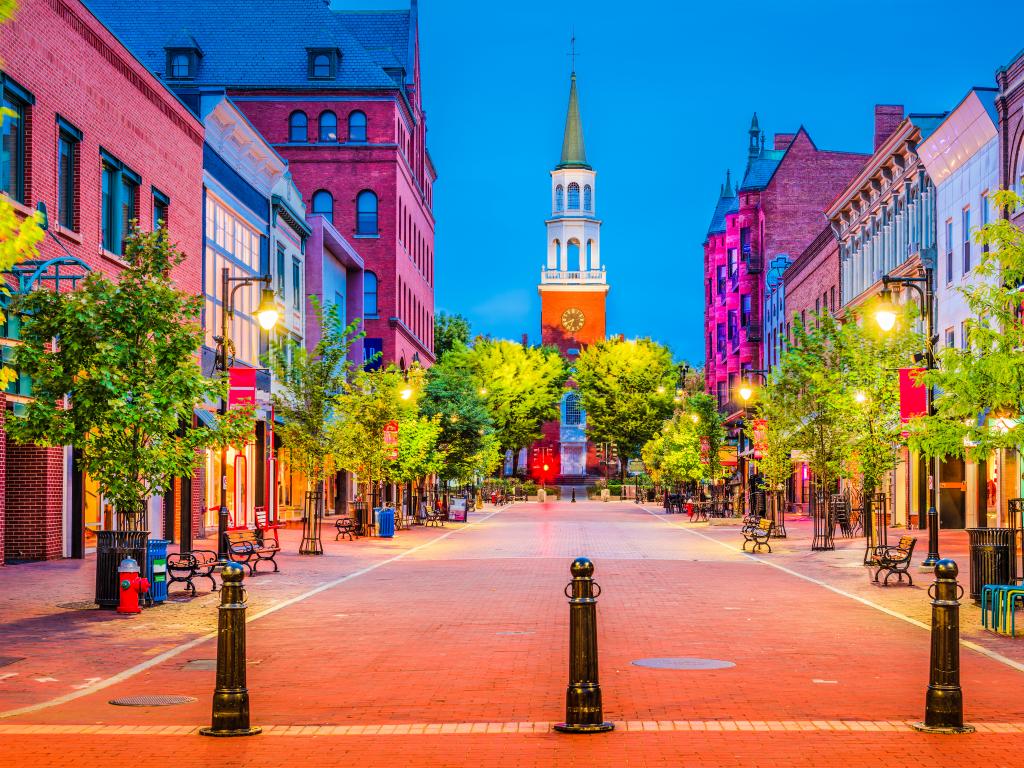 If your ideal road trip destination is somewhere where you can do absolutely nothing for a a couple of days or a week, then Lake Champlain in northern Vermont is where you need to drive.
Follow the I-93 from Boston to Concord and then get on the I-89 which will take you all the way to Burlington - a pretty simple route for such a long drive.
The town of Burlington is a great place to stay - there's a picturesque historic downtown around Church Street with cobbled streets and buildings that tell the history of this town that was first founded in 1783.
The combined population of Burlington and its neighbor South Burlington is just over 60,000 but that is enough to make this the biggest city in Vermont at almost 4 times the size of Rutland which is the second largest. Yes - Vermont is not very densely populated!
The city and the lake area are absolutely perfect for taking life in the slow lane and not doing much at all. Wake up late, have a leisurely brunch, go out on a boat and then try some craft beer at the Foam Brewers before dinner. Rinse and repeat for however long you're staying.
20. New York City, New York
4 hours from Boston (215 miles)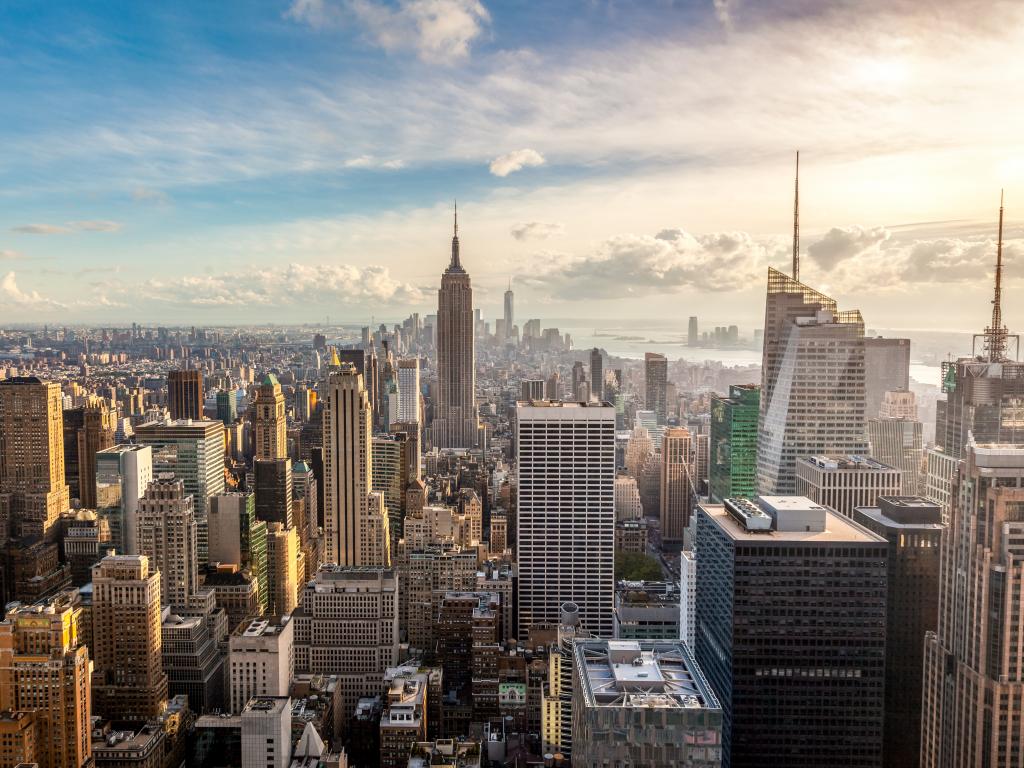 The Big Apple may be a solid 4 hour drive from Boston but if you're after a big city break, New York is the obvious choice for a road trip.
You could get there on a train, but those take 4 hours as well and you need to add time to get to and from the train station at either end. I may be a little biased on the road trip front, but you'll see a lot more on your way if you drive and you have the advantage of being able to see places just outside New York too.
There are a few reasons to visit New York - here's some of them: Empire State Building, Statue of Liberty, Central Park, Times Square, the Metropolitan Museum of Art, walking the Brooklyn Bridge, seeing the Grand Central Terminal from the inside and seeing the towering skyscrapers from the Top of the Rock.
If that's not enough to get you excited, you've got some amazing neighborhoods to explore away from the hustle and bustle of Manhattan - from Greenpoint to Brighton Beach, Brooklyn has an unbelievably diverse mix of people and culture and you haven't seen New York if you've not been to the Bronx.
If you want to make it into a bigger road trip, head back via Long Island and explore its wineries and the famously relaxed way of life before hopping on the ferry across Long Island Sound. See #23 below for more details.
READ MORE - Road Trip from Boston to New York City
21. Nantucket and Martha's Vineyard, Massachusetts
4 hours from Boston (100 miles)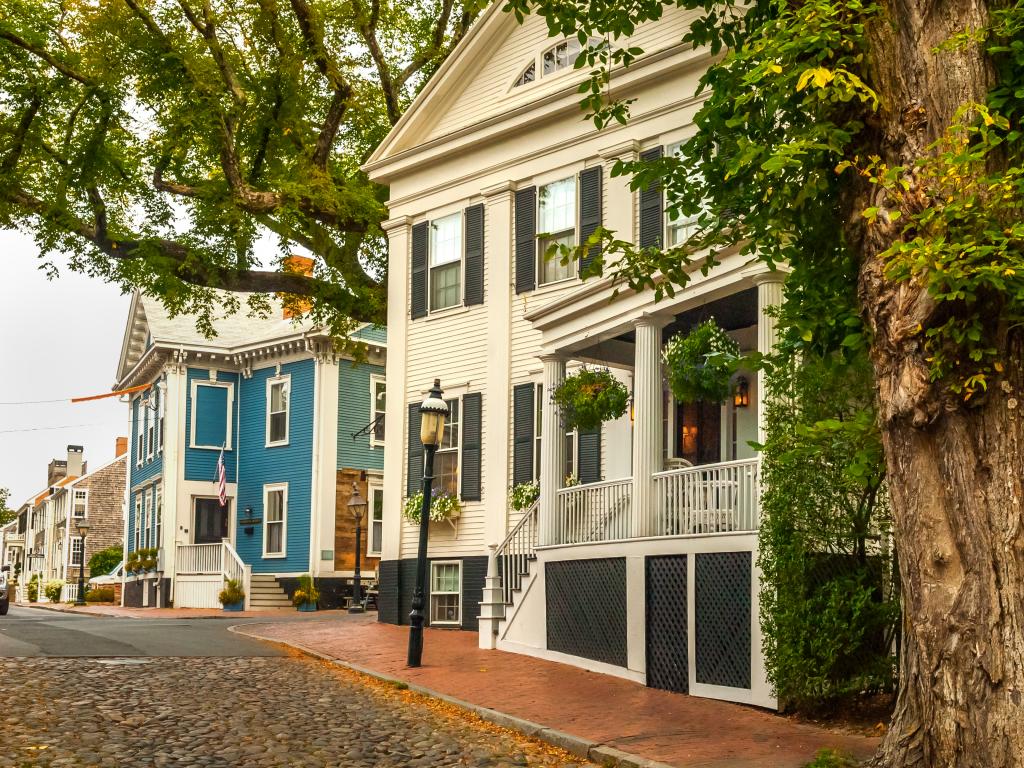 Nantucket and Martha's Vineyard are two islands off the southern coast of Massachusetts. You can visit them, but ferries only go to and from the mainland so you'll need to hop back before moving onto the next island.
Martha's Vineyard is the closer of the two with only a short 45 minute ferry ride from Woods Hole. Many advise you to park the car and get on the ferry on foot - tickets cost $17 per adult for a return trip.
The problem is that when you get onto the other side, you're either stuck with using public transport to get around the island which is not the best use of your time or you can rent a moped for the best part of $100 for a day and then experience a rush of adrenaline each time a big truck overtakes you on a narrow road.
If you're going to do it properly, book your car onto a boat (you really do need to book in advance as they sell out) - it'll cost you $180 going up to $200 if you travel Friday to Sunday for a return trip but you can then enjoy a few days on Martha's Vineyard a lot more. Don't get me wrong - if you want to save the cash, there are decent buses that will take you around so it's all about how much you value convenience.
Barack Obama famously played golf on Martha's Vineyard and in December 2019 the Obamas bought a mansion on the island for a cool $12 million so you just know it's an amazing place to spend a few days.
Nantucket is further away and more expensive to get to but it has a real old school New England feel about it so if you want to walk around the quaint streets of the old town, you'll need to get a ferry from Hyannis.
With Nantucket, you're better off leaving your car onshore. It'll cost you a cool $500 to ship it to Nantucket and back over a weekend and the island really is small enough for you to be able to visit it over a day and not need the car to get around.
Ferry tickets cost $37 per adult and the ferry takes 2 hours 15 minutes to get there or you can pay about double and hop on board the faster Hy-Line boat that'll get you there in an hour.
22. Acadia National Park, Maine
4 hours 40 minutes from Boston (280 miles)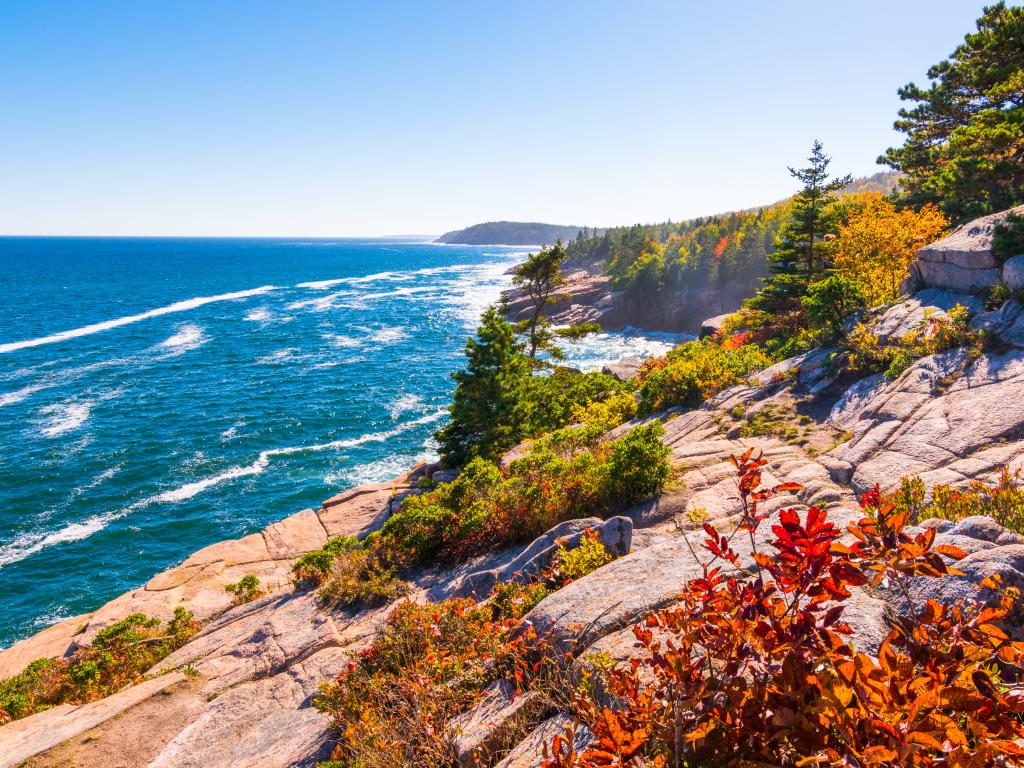 Acadia National Park may be the only National Park in New England, but it might just be one of, if not THE most spectacular one in the country which makes the long drive to get here more than worth it.
I couldn't settle on one photo for Acadia so I went ahead and included the Jordan Pond as well - 2 still seems like a small number to show how amazing the nature and scenery here are, but we'll have to make do.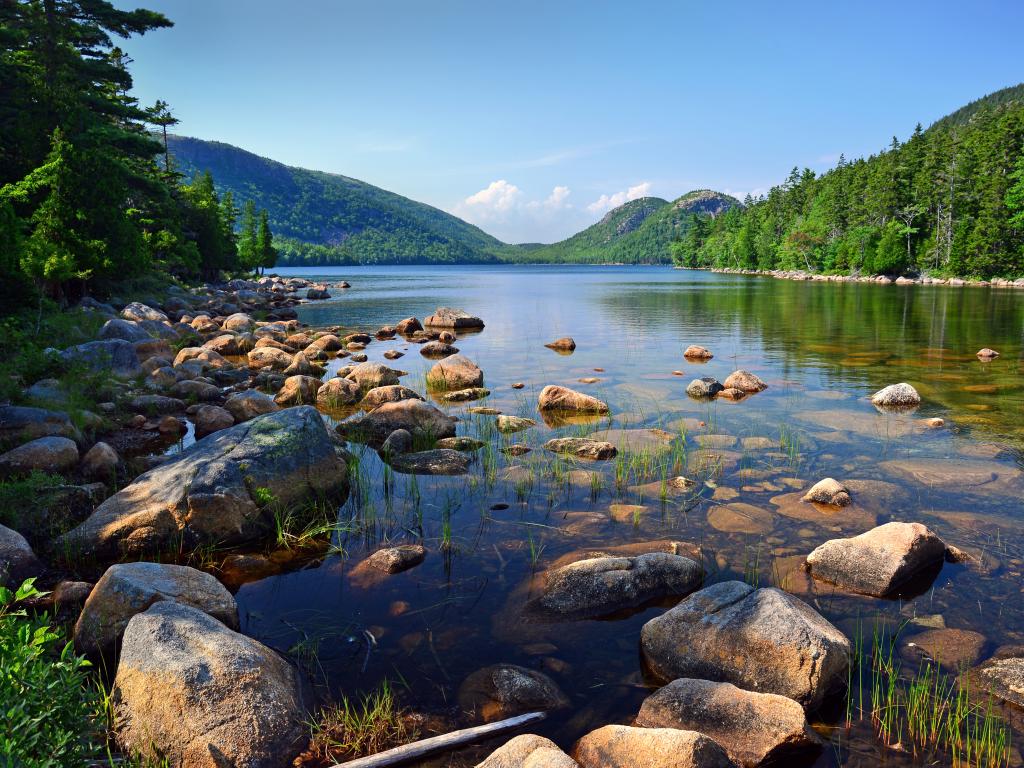 Acadia National Park is about as good for outdoors as anywhere in the country. There's hilly forests, beautiful lakes and sounds, rocky coastlines, lots of hiking trails and small towns and decent restaurants in places you might want to stop for lunch!
The fastest way to get there is to follow the I-95/I-295 all the way to Bangor and then follow Route 1A to Acadia.
But real road trips are not about speed so come off the interstate at Portland or Freeport and follow Route 1 instead. You'll pass through countless pretty coastal towns, eat more lobster than you knew you could and see dozens of beautiful lighthouses on the way in exchange for 40 minutes more driving time.
You can also find a spot to stay a night or two on the way to break up the journey or even add Portland to your itinerary which makes it an even better idea.
If you are visiting Acadia National Park and plan to drive on the Cadillac Summit Road, keep in mind that vehicle reservations might be required. Please check the national park's website to avoid any disappointment.
READ MORE - Road Trip from Boston to Acadia National Park and Bar Harbor
23. Long Island and Montauk, New York
5 hours from Boston (196 miles)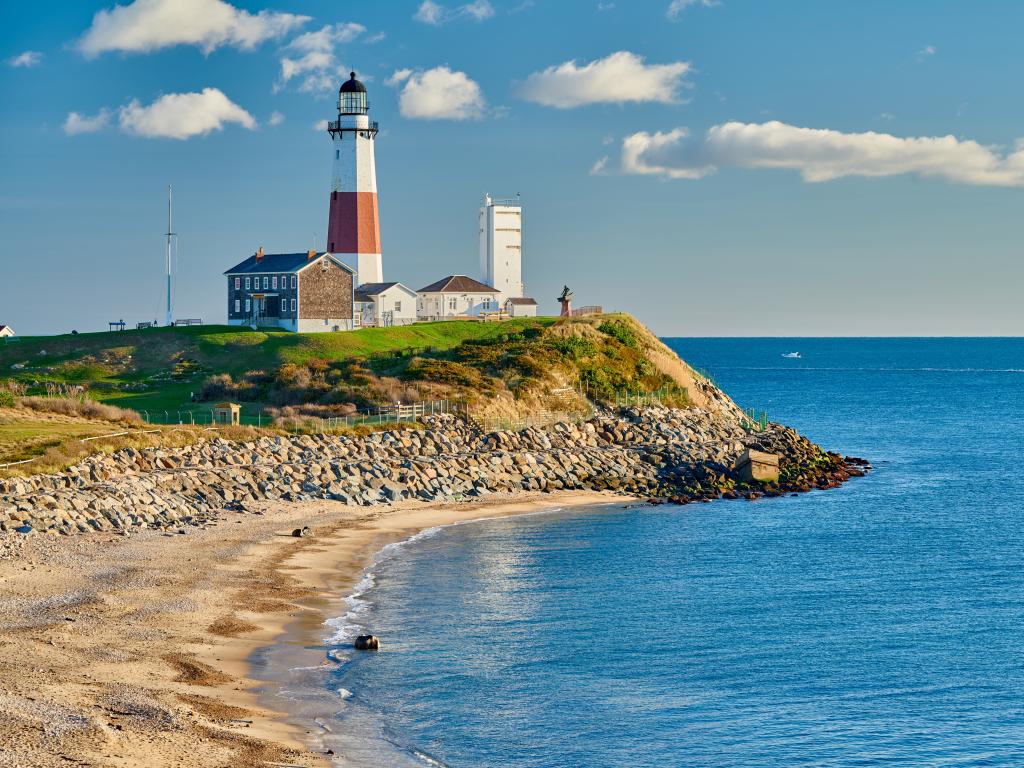 New York's Long Island is an amazing place for a road trip from Boston and it's easier to get here than you might think.
The drive from Boston to New London in Connecticut should take about 2 hours and you'll need to hop on a ferry to cross to Long Island. Ferries take an hour and 20 minutes so even allowing for waiting and boarding time, you can be on Long Island in under 4 hours!
Make sure you check the schedule and book your tickets in advance. The regular price for paying on the day is $61 for a car and driver to go one way (which seems great value when you compare it to the Nantucket and Martha's Vineyard prices).
If you register online on the Cross Sound Ferry website and pay in advance, you can cross for less than half the price so take the 5 minutes it takes to do that and book your spot.
You arrive onto Long Island right onto the North Fork which is where most of the island's best wineries are located. Bingo!
Take your time to drive down and visit/stay at some of the towns and vineyards along the way. You might not have heard of wine growing on Long Island before, but you may be pleasantly surprised by what you taste. I discovered Long Island wines when I lived in New York and I'm still a big fan to this day.
After looping through the famous Hamptons where the richest New Yorkers have their weekend mansions, make your way right to the tip of Long Island and visit Montauk.
This sleepy little town is perfect for a day or two of putting your feet up and watching the waves roll in although it has become much more popular with visitors ever since the Showtime series The Affair aired with most of it set here.
24. Philadelphia, Pennsylvania
5 hours 10 minutes from Boston (321 miles)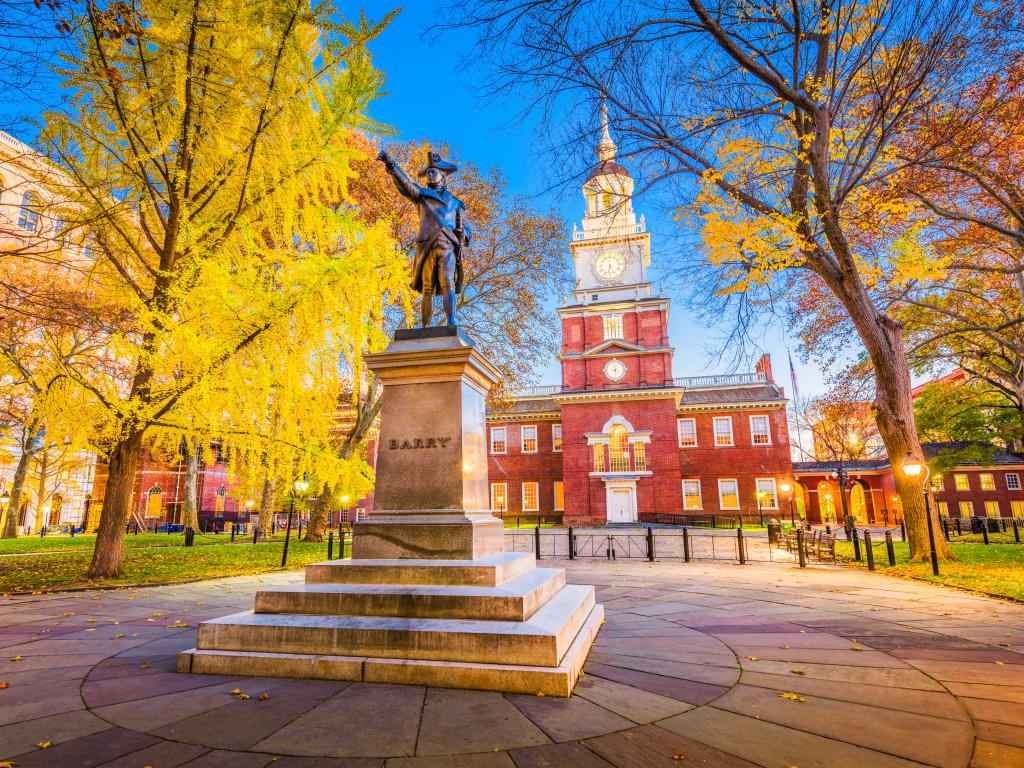 If you're interested in combining an amazing city break with learning about America's history right where a lot of it happened, then a road trip from Boston to Philadelphia should be on the cards.
It's a long drive from Boston - you'll have to first make your way towards New York City and then head south to Philadelphia - whether you choose to bypass New York altogether and cross the Hudson along the Governor Mario M. Cuomo Bridge or go over the George Washington, it'll take you about the same time so choose the route you prefer the look of.
You can spend a couple of days in Philadelphia or stay longer - the more time you have, the more you'll get to know this amazing place and see some of the more quirky sights.
The Independence Hall with its historical significance and a copy of the Declaration of Independence is an absolute must visit. After seeing the building where independence was declared and 11 years later the Constitution agreed, you can make stops at the Liberty Bell, City Hall and Society Hill Historic District which are all parts of the Independence National Historic Park.
Make sure you experience lunch at the Reading Terminal Market - the stalls here sell everything from jam to bbq food to deserts and it's a really authentic Philly experience.
Don't miss the art museums - Philadelphia has some of the best in the country and the Philadelphia Museum of Art has those famous steps that Sylvester Stallone's Rocky character ran up in the iconic movie.
25. Lake Ontario
9 hours from Boston to Toronto (550 miles)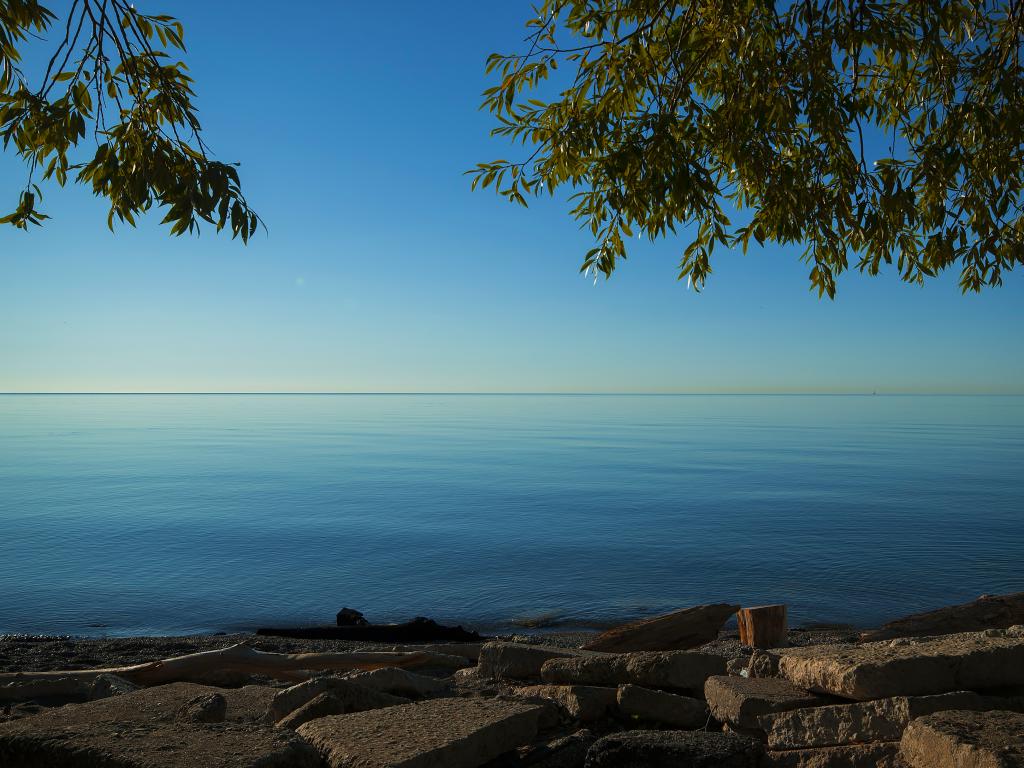 This list wouldn't be complete without a wacky option (and normally I include more than one!) so here's the road trip for those who have two weeks or more to devote.
Start off by heading west out of Boston towards the town of Oswego which sits on Lake Ontario. The route along the I-90 past Albany and Syracuse should take 5 to 6 hours on the road and is easily doable in a day with breaks and a stop for lunch.
Oswego is a cute little town with some great options for dinner after your long drive.
From Oswego, this route will take you clockwise around the lake seeing a lot of upstate New York before you get to Niagara Falls and the pretty town of Niagara-on-the-Lake after you've crossed the border into Canada (bring your passport and car paperwork).
Loop round into Toronto and keep on following the way around the lake to the wineries of Prince Edward County before eventually reaching the Thousand Island National Park.
On the way back you can explore amazing wilderness in upstate New York passing through High Peaks, Five Ponds, Sargent Pond and Dix Mountain on the way to Lake George (see #18 above) or take the longer route through Ottawa and Montreal and crossing back into the United States at the Alburgh-Noyan crossing to arrive at Lake Champlain in Vermont (#19 above).
READ MORE - Road Trip from Boston to Toronto