Can You Drive To Block Island?
Block Island is a popular vacation destination off the coast of Rhode Island. Its pristine beaches, stunning lighthouses, and a slower pace of life may make you wonder if you can actually get there by car.
You can drive to Block Island from mainland USA by taking the car ferry from Point Judith, Rhode Island, taking you to Old Harbor on Block Island. The ferry takes 1 hour to cross, but you will need time to get on and off and the pre-boarding wait.
Read on to find out exactly how to get to Block Island, how long you should plan to get there, and top tips on your trip to this Rhode Island gem.
Is it possible to drive to Block Island?
Block Island is known for its gorgeous beaches, excellent fishing, and sailing. The island is popular with cyclists and hikers, and its Lighthouses should be included in any visit to the Island. As a result, Block Island is a desirable summer tourist destination, and the ferry over to Block Island can get busy in the summer months.
It is possible to drive to Block Island from anywhere in mainland USA by using the Port Judith Ferry that departs from a pier located just south of the city of Narragansett.
There are no bridges or tunnels spanning the 12 miles that separate Block Island from mainland Rhode Island so using the ferry is your only option of getting across if you want to bring your car.
It's important to remember that if you want to ensure you'll get on the ferry, an advance reservation is necessary and especially so during the busier summer season.
You technically can turn up and buy the ticket there and then, but the boats are not that big and do fill up fast, so you may easily leave disappointed with no available crossings for the rest of the day or even week.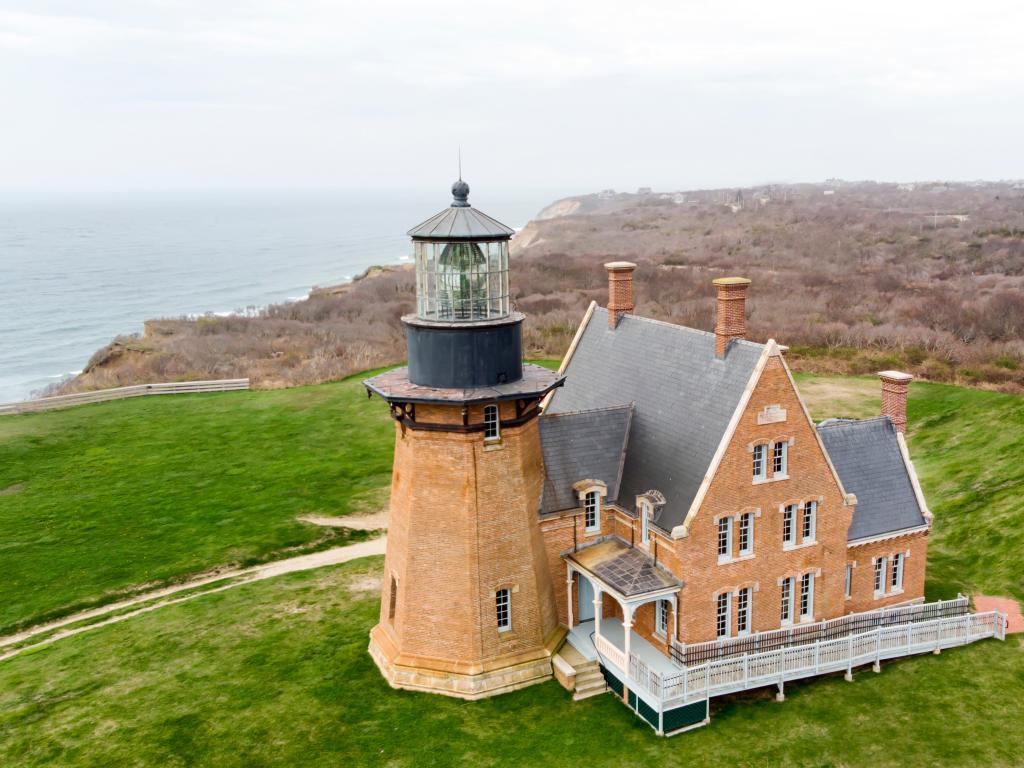 How to get to Block Island
The only way to get from the mainland over to Block Island is by taking a ferry. There are a few different ferry services, with the main one being from Point Judith, Rhode Island, and additional services from Newport, Fall River in Massachusetts, and even New London, Connecticut.
Unfortunately, all of these additional services, including the high-speed option from Point Judith, are passenger-only, which means for those who want to drive over, there's only one remaining ferry route.
The slower boats that go from Point Judith are large enough to have a full deck of cars and take on additional passengers. If booking tickets, make sure you book the Traditional ferry - that's the one you can see boarding in the photo below.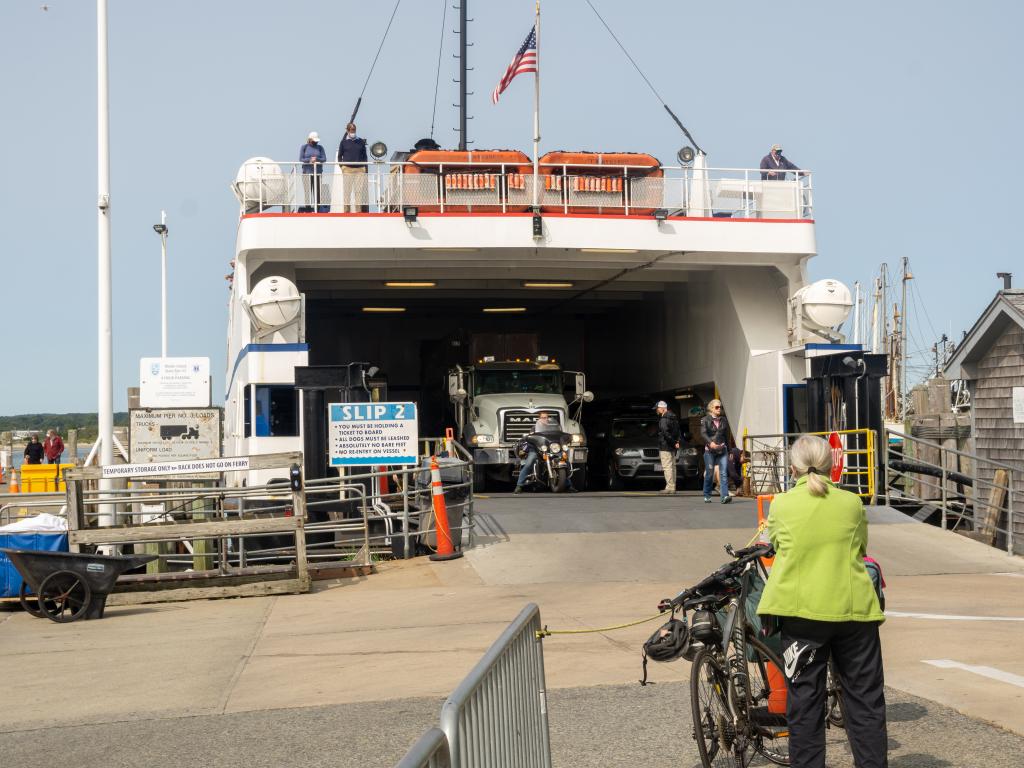 Although Montauk on Long Island is just 23 miles from Block Island, there is no ferry service connecting the two, and if you want to get across, you'll have to take the long route via New York City and Connecticut along the I-95.
Unsurprisingly, the other islands in the area also don't have a direct connection. If you're traveling to Fishers Island, Nantucket, or Martha's Vineyard, you'll need to take their respective ferries back to the mainland and then drive across to Point Judith in order to get onto the ferry down to Block Island.
How long does it take to get to Block Island?
Be prepared for your road trip over to Block Island to take longer than you may first anticipate.
First off, the car ferry option from Point Judith takes 55 minutes to make the crossing on average. Rough seas and delays can easily make that journey take over an hour.
This is double the time that the fast ferries take, but those are not equipped to bring cars and cargo - hence the much lighter and faster construction.
Remember that you'll need to account for the time it will take you to board and disembark from the ferry. With a pre-booked ticket, you will need to arrive a full hour before your departure time to allow for paperwork to be checked and for you and everybody else to get their cars onto the ferry.
The process can be somewhat amusing on busy days with the need for smart maneuvering.
Even at the other end, be prepared for it to take a solid 20 to 30 minutes for the ferry to dock fully, open its doors, and your turn to drive off to come.
With only 2 to 3 crossings available per day, finding the one you were aiming for fully booked can be a huge disappointment.
Make sure you book well ahead to avoid what it already going to take you the best part of 3 hours turning into something that wastes a lot more time than that.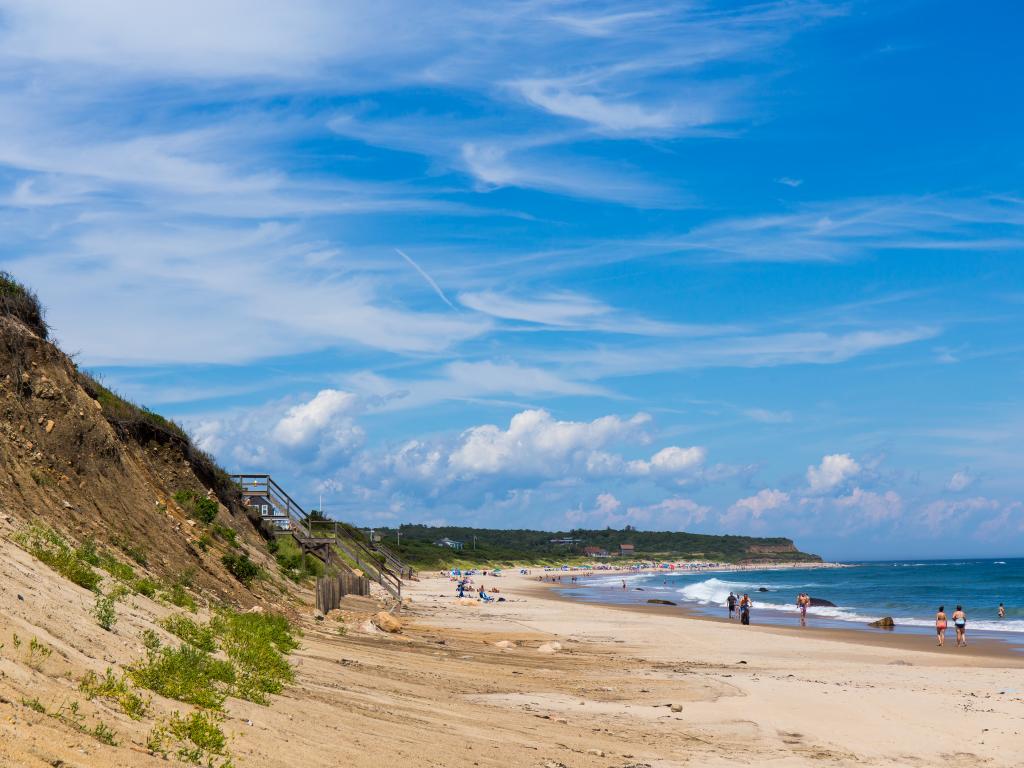 Things you need to know about driving to Block Island
There are a few quirky things you should know about getting your car over to Block Island.
Just to highlight how old school this destination is, car bookings done in advance have to be done by phone by calling the Block Island Ferry Reservations Office.
There is an online booking process but we haven't seen it actually working and their own website advises that you call instead. In case you're wondering, this is being written in November 2020.
Passengers are guaranteed a spot on the ferry, but are not included with the reservation. You will have to separately purchase passenger tickets before departure for all passengers onboard - allow plenty of time.
Although rare, in particularly bad weather ferries can get cancelled and although you'll get a refund, be prepared to wait if you're traveling in peak season.
The ferries arrive right in the heart of Old Harbor on Block Island - a historic district with many buildings dating back to the mid-1800s.
Here are the prices for the ferry at the time of writing. Check the website (link above) for full details as these are only the key prices that I felt were useful.
Ticket prices for the Block Island Ferry - Traditional Point Judith Route.
Ticket Type
One Way
Round Trip
Standard size vehicle
$39.60
$79.20
Full size vehicle


(SUV, Pickup, Van)

$48.70
$97.40
Adults
$11.80
$23.45


$21.45 same day

Seniors (65+)
$11.30
$22.45


$20.45 same day

Children (5-11)
$5.15
$10.30


$9.30 same day
Note that children under 5 go free.