Portugal road trip - The ultimate Porto to Lisbon drive
When it comes to doing a road trip around Portugal, towns in the Algarve like Albufeira and Lagos tend to get the most attention. And that's the precise reason why we recommend a more off-the-beaten track holiday along the western coast.
On this scenic stretch between Lisbon and Porto, wild beaches and surfing hotspots are interspersed with ultra modern cities and historic medieval towns.
You'll get to see the country's two vibrant big cities, as well as getting to know some of Portugal's secret spots and lesser-known destinations. Get ready to experience the ultimate Portugal driving holiday itinerary.
Need to know:
Portugal roads have electronic tolls and if you don't do your research beforehand, you may well face a fine for failing to pay.
Most car hire companies are required to give you the option of renting a prepaid transponder that gets debited each time you drive through what's called the Via Verde toll lane. Check out our Guide to driving in Portugal for more info and driving tips.
Day 1: Porto - Fly in, explore Ribeira, ride a funicular & do some shopping
Technically you could begin this trip in Porto or Lisbon, which both have big international airports and direct flights from all over the world.
We've chosen to fly into Porto and make our way south so that we can finish the journey on a high in Lisbon, one of the coolest and most vibrant destinations.
Getting to Porto from the airport
If you've flown in to Porto Airport, head to the city centre via the Metro do Porto light-rail system. A single journey costs about €2 and will take 20 to 30 minutes.
There's no need for a car for the next two days while you explore all that this magnificent city has to offer.
Drop your bags at your hotel of choice and get ready to explore the city. Ribeira, the historical centre of Porto, is the ideal place to start.
Where to stay in Porto
There's nothing better than finding a hidden gem of a hotel right in the middle of the action. That's exactly what you get when you stay at the Torel Avantgarde Hotel in Porto.
This super elegant hotel has beautiful rooms, stunning decor, a relaxing lobby with plush sofas, and a funky rooftop terrace offering views across the city.
Porto hotels are generally expensive and with the Torel Avantgarde you really get what you pay for - stunning views, luxurious decor and a hotel that was only opened in September 2017.
Best of all, the hotel is extremely central on Rua de Restauracao, right near the river and the Ribeiro Old Town with lots of great shops and restaurants. All in all, it's the perfect place to base yourself while exploring the city.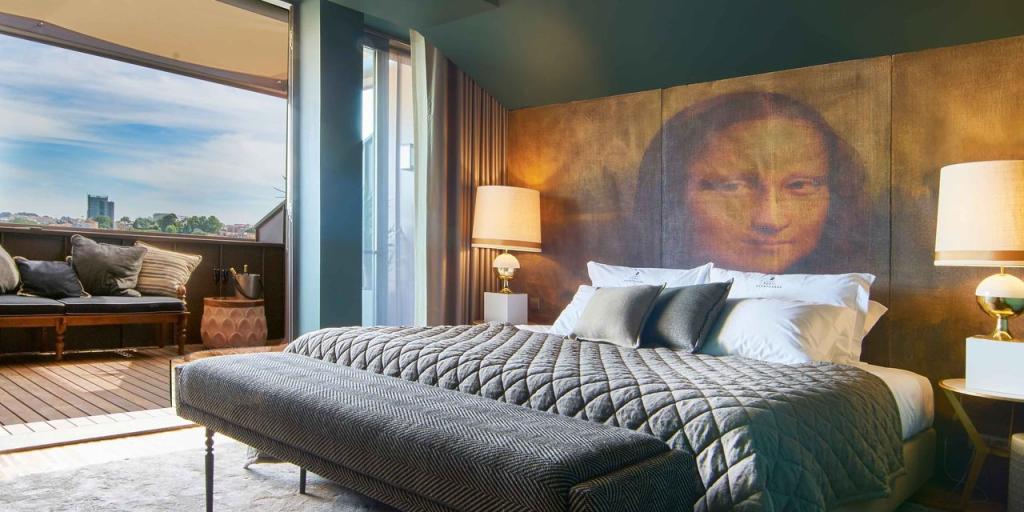 Get lost in the historic Ribeira neighbourhood
This UNESCO World Heritage-listed neighbourhood, which sits along the Rio Douro waterfront, is all winding medieval streets and easy-to-get-lost-in alleyways.
Peruse the neighbourhood's charming crafts stores, check out the impressive Ponte de D. Luis bridge, and marvel at the rainbow of colourful buildings.
To get a spectacular view of Ribeira and Porto as a whole, ride the Elevador da Ribeira (Ribeira Lift) for a small fee (€2.50, last time we checked) and take some photos from the viewpoint at the top.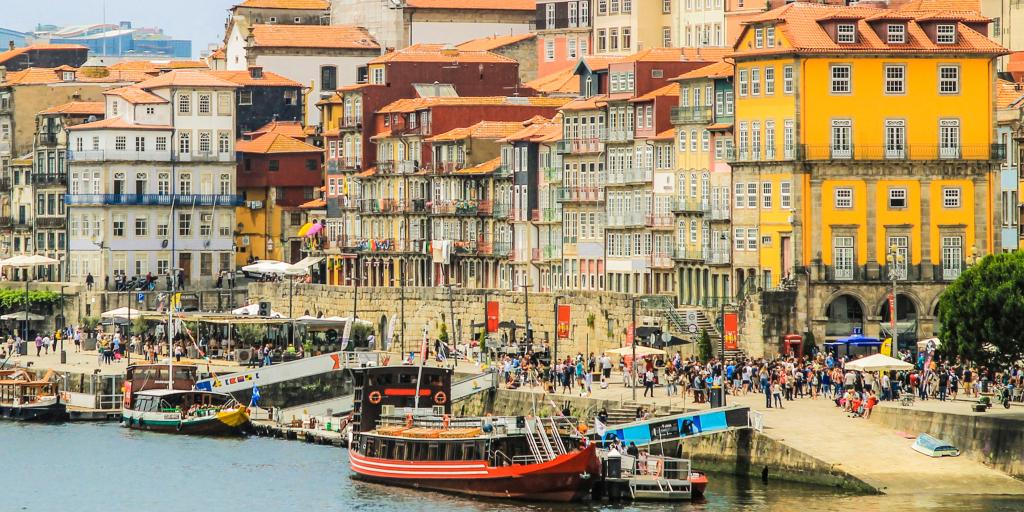 Take a photo of the distinctive blue Chapel of Souls
From Ribeira, walk north away from the river to the distinctive Chapel of Souls, or Capella de Almas, a bright blue church that's so photogenic it's one of the most popular Instagram subjects in the city.
This chapel's facade is covered in intricately painted blue and white tiles called azulejos, which have deep cultural roots in this part of the world. Take a few photos outside the church and, if it's open, step inside for a few moments of peace and quiet.
Travel tip: If you're into ornate chapels it's also worth making a stop at Sao Francisco church and the baroque Igreja do Carmo.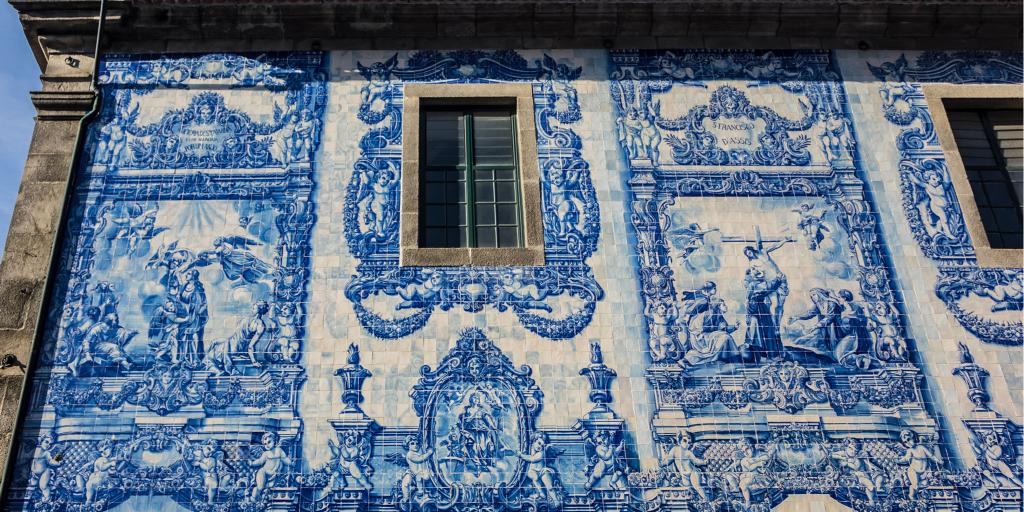 Go shopping on Rua Santa Catarina
Capela de Almas is right on Rua de Santa Catarina, one of Porto's main shopping streets - so if you're in the mood for some retail therapy, now's your chance.
High street shops like Pull and Bear sit alongside independent boutiques and inviting cafes. You'll also probably find some street performers and buskers here keeping the shoppers entertained!
Pop into the famous Livraria Lello bookshop
Next stop on your Porto itinerary is the whimsical Livraria Lello bookshop, a wonderfully enchanting space with bright red swirling staircases and ornate interior decor that apparently inspired J.K. Rowling to create some of the settings in Harry Potter.
Lello was built back in 1906 and opened by the Lello brothers Jose and Antonio, its Gothic facade and large stained glass window immediately setting it apart from the more modern buildings surrounding it.
Ever since, it's been a popular destination for locals and tourists alike, earning the title of "coolest bookshop in the world" according to Travel + Leisure.
Note: Entrance to the bookshop costs €5, which is redeemable against a book if you choose to purchase one.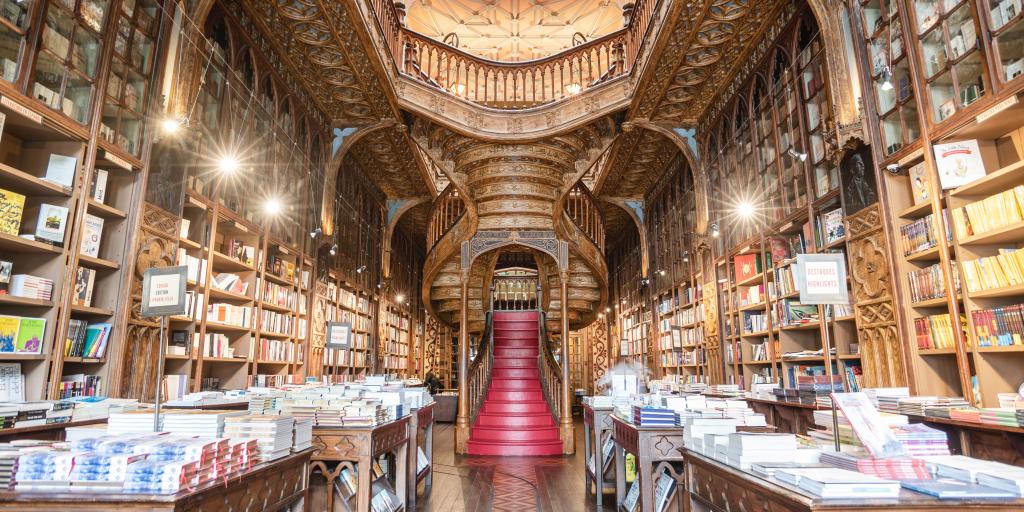 If you're feeling flashy and fashion-forward, head to the nearby Vogue Cafe Porto next for a coffee and a bite to eat.
This new trendy spot, which opened in 2017, is part of the luxury Infante de Sagres Hotel. Ultra-modern black and white interiors, sleek tables topped with issues of Vogue magazine, and friendly wait staff will make you feel like VIP.
The complimentary pastel de nata that comes at the end of your meal is a bonus!
Head to Casa da Musica
Next stop: Casa da Musica, a striking concert hall and cultural institution. This building is yet another popular spot for photo-taking, but it also offers great concerts featuring classical music, jazz and fado, the traditional Portuguese genre. Check the Casa da Musica website for a schedule of events before you go.
If you're feeling peckish, head upstairs to the restaurant or pop around the corner to Ponto2 for a coffee and pastries.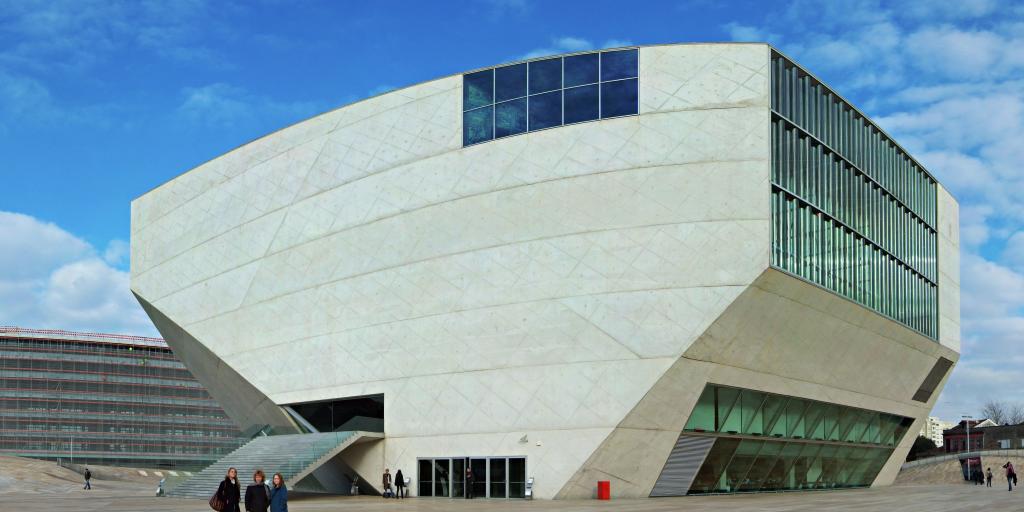 Walk through the gardens at the Serralves Foundation
Finish up your sightseeing session with a trip to the Serralves Foundation, a cultural institution and contemporary art museum.
Serralves is 20 minutes away from Casa da Musica by bus (it's the #203). The bubble gum pink Casa de Serralves (aka Serralves Villa) and the sleek white contemporary art museum create a sharp contrast against the green gardens and blue skies that surround the grounds.
Spend a few hours walking through the 18-hectare sprawling gardens, marvelling at the villa and exploring the exhibitions; you'll be glad you did.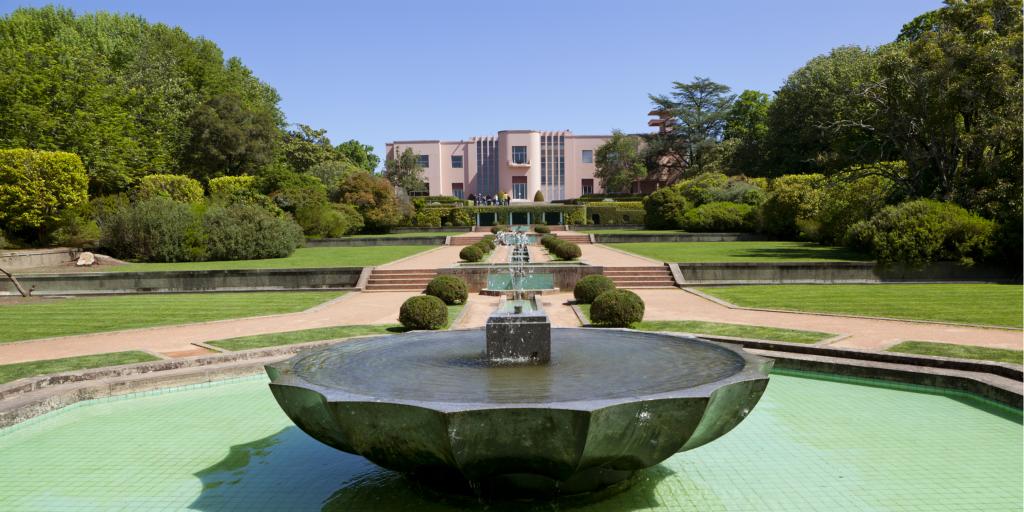 Taste some port in the city where it was born
Port is the birthplace of port wine, so you can't possibly spend a few days here without trying some. There are a number of port houses spread around the city that offer tastings and tours.
Here are some of our top picks:
Ferreira Cellars: One of the oldest and most highly esteemed family-run cellars in Porto.
Taylors: Another historically popular cellar with wine barrels to sit on and peacocks wandering around
Wine Quay Bar: Tapas, wine and a fantastic view
Day 2: Porto to Douro Valley - Embark on a river boat to Portugal's top wine region
Rise and shine; today we're going on a river boat adventure!
One of the top day trips from Porto is a trip up the Douro River to the Douro Valley, a famous wine region in a magical setting. There are multiple-day excursions you can go on, or you can just spend a day exploring this area and be back in Porto by sundown.
Cruzeiros Douro offers a one-day boat trip downstream and includes lunch served aboard. Prices start at €60 per person (children under three go for free and those between four and 11 get a 50% discount).
Catch the train to Regua
You'll need to head to São Bento Railway Station in the morning to catch the early train to Regua, the gateway to Douro Valley. Then cruise along the river, admire the scenery and try a few samples of local wine.
For more one-day river cruise options, visit http://www.cruzeiros-douro.pt/en/1-day-cruises/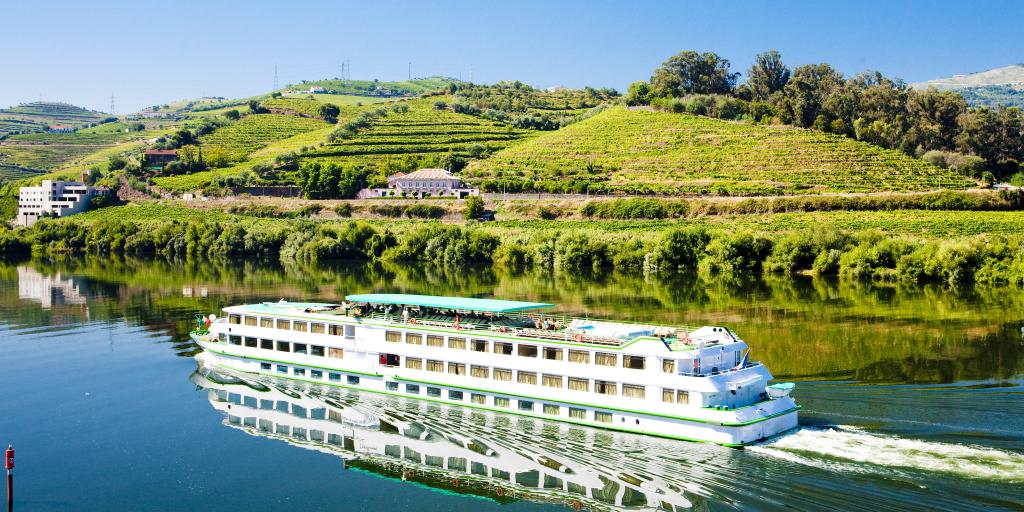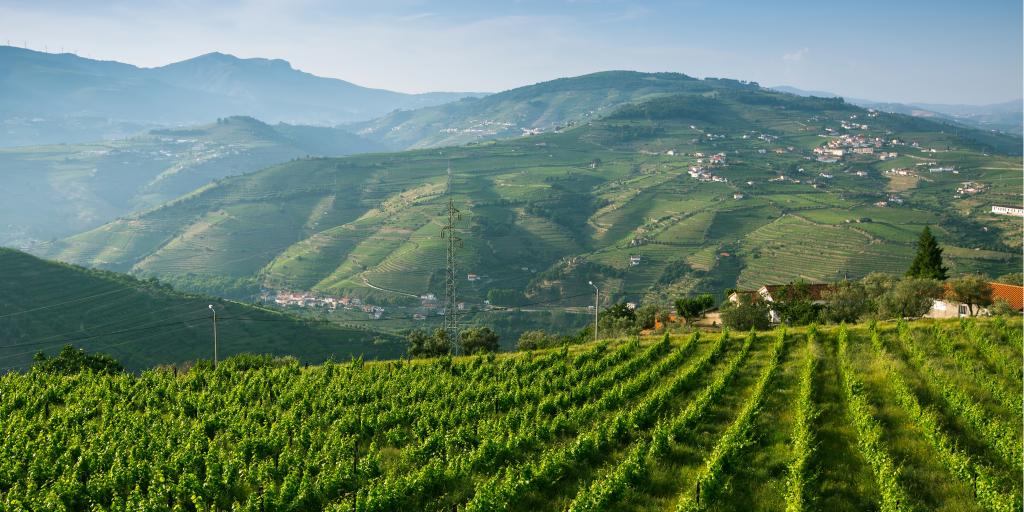 Have dinner back in Porto
Once you're back from the trip, grab some dinner at a restaurant downtown.
Pedro Lemos Restaurante, on Rua Padre Luis Cabral, has established itself as one of the top restaurants in Porto for traditional Portuguese cuisine. It's a bit on the pricey side, but hey - you're on holiday! (And how many chances do you get to order an elaborate eight-course tasting menu?)
Another stellar option is Tapabento on Rua da Madeira, a deceptively low-key tapas restaurant that serves some of the best food in the city.
Look out for fresh seafood dishes and experimental puddings (they're known for a crazy peanut foam dessert. Don't knock it till you try it!)
If you can't nab a table at Tapabento, you can walk five minutes down the street to Brick Clerigos, another local favourite that serves dinner family-style at a big communal table.
Day 3: Drive Porto to Coimbra
Miles: 76
Pick up your rental car at the airport & begin your road trip
Hop back on the Metro do Porto light-rail to the airport in order to pick up your rental car. It's cheaper to rent one from here than it is to get one from the city centre, and you'll have more choice. Don't forget to ask for a transponder!
Today we're officially embarking on the road trip. First stop: the ancient riverside city of Coimbra, home to the lovely Baroque-style Biblioteca Joanina.
Coimbra was Portugal's capital city for more than a hundred years. The historic University of Coimbra, one of the Portugal's greatest educational institutions, stands as a reminder of the city's cultural influence.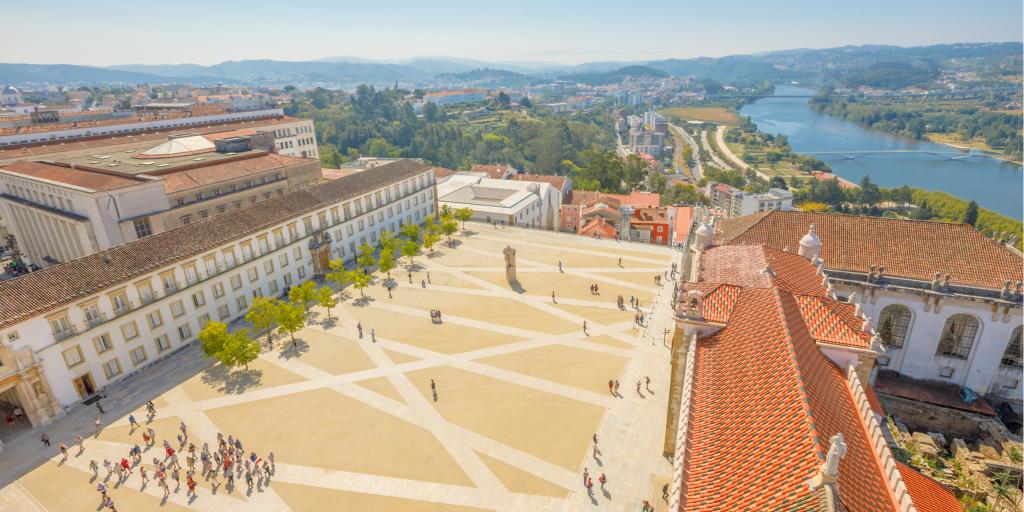 During term time, students mingle in the many charming cafes and bars dotted around the city, adding a buzz to the tranquil atmosphere.
Coimbra is a popular starting point for the Camino de Santiago pilgrimage, so don't be surprised if you see backpackers roaming around.
Where to stay in Coimbra
The lovely Vila Galé Coimbra, which is adjacent to the Mondego River and has a huge swimming pool overlooking the water, is our top choice of accommodation in Coimbra.
It's in a prime location very close to the historical centre of the city and an easy walk away from the famous University of Coimbra.
The rooms here are amazingly good value, starting at just £75 a night. Plus, the hotel have a garage where you can safely stow your rental car.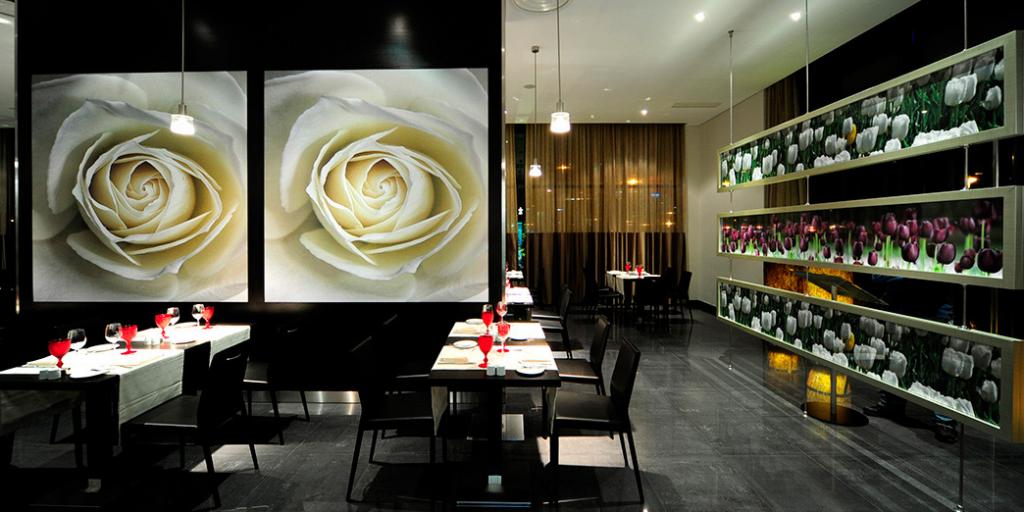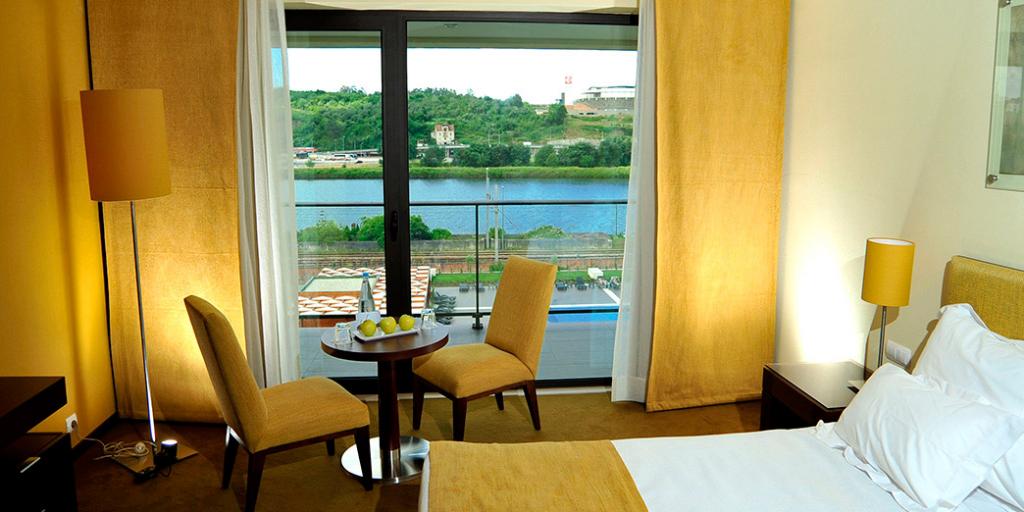 Head out to explore Coimbra
Park your car at your hotel or in one of the lots around the city (last time we checked, Coimbra B train station is a good spot) and head out to see the town.
The medieval city centre is built into a hillside along the Rio Mondego. Take a stroll through the historic streets and admire the colourful buildings.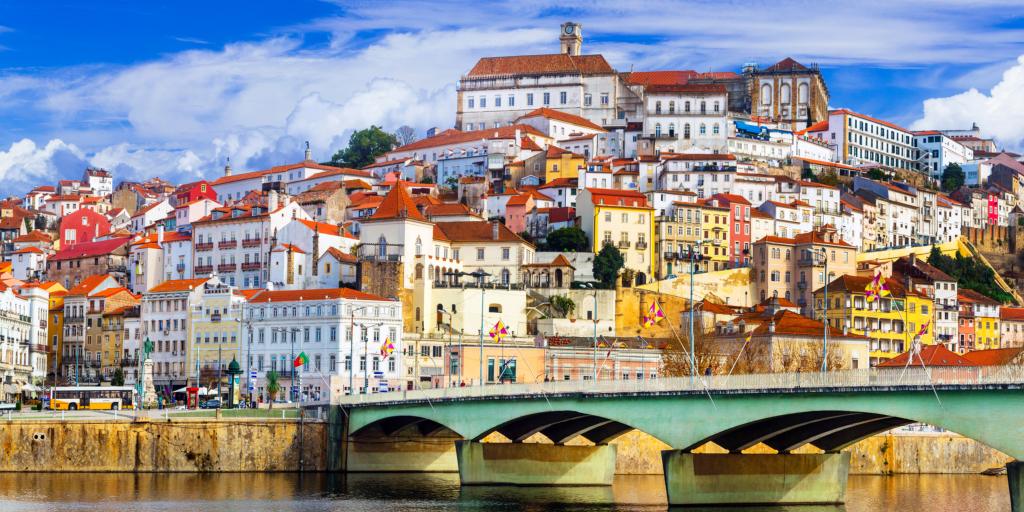 See Pedro e Ines Bridge & wander through the Jardin Botanico
One of the most striking features of this city is the futuristic looking Pedro e Ines bridge, a distinctive structure constructed from white concrete and pastel coloured glass panels.
Go for a walk along the bridge or hire a bike and cycle from one end to the other. The bridge is sandwiched between two parks: Parque Verde Mondego and Parque do Choupalinho. The former is great for jogging or letting children play in the playground.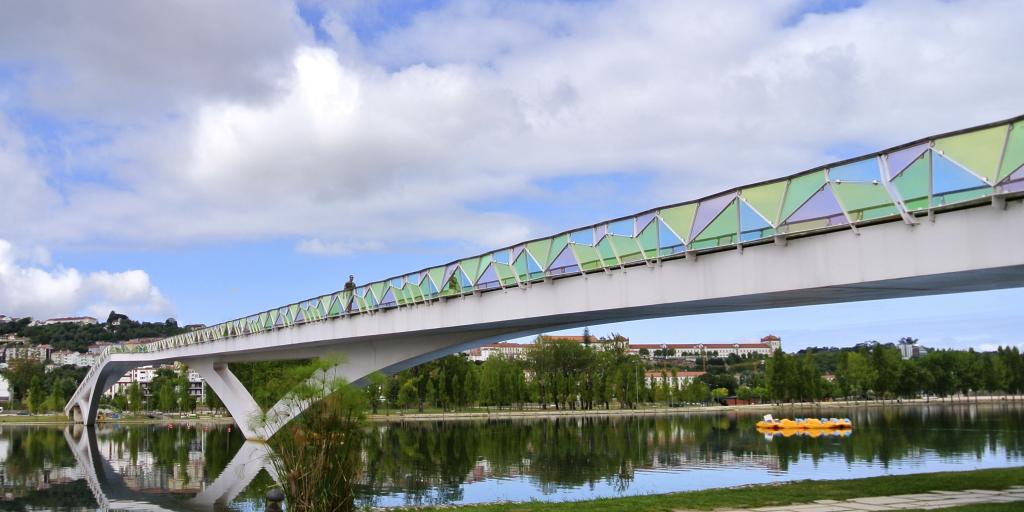 If you're after some more natural escapes, find your way to the Jardin Botanico, which is on the east side of Pedro e Ines bridge. This beautiful park is filled with wandering pathways lined with exotic plants and forests.
See if you can find the secret trail that leads down to the river! It's just past the old aqueducts and around to the left…
Tour the historic University of Coimbra
From the Botanical Garden, it's an easy walk to the impressive buildings that make up the University of Coimbra - not least of which is Biblioteca Joanina.
If you've still got a craving for books after your visit to Livraria Lello in Porto, Joanina will be right up your street.
This 18th-century library was built under the reign of King João V as part of his efforts to increase the artistic, cultural and scientific heritage of his country.
The interior is all intricately carved wooden bookshelves adorned in hand-painted motifs and frescoes. Have a wander inside and you'll feel as if you've stepped into the library featured in Beauty and the Beast!
Note: The queues are long during peak season, so arrive early if you can.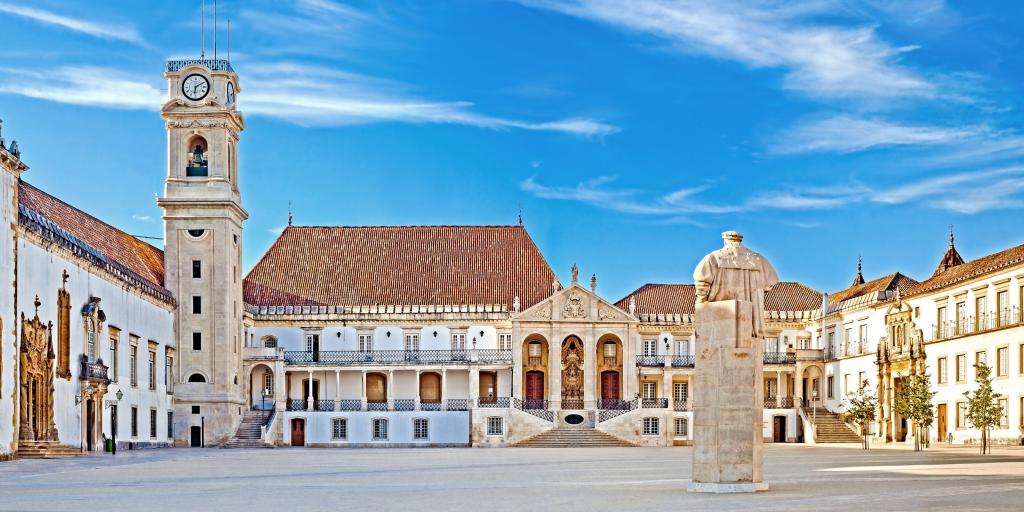 Dinner and drinks with a view in Coimbra
Have a rest in your hotel before heading out to grab a drink and some food. Passaporte Coimbra is a scenic yet relatively low-key bar with sensational views over the river. It's the perfect place to watch the sunset after a long day of exploration.
Finally, treat yourself to an authentically Portuguese dinner at Zé Manel dos Ossos on Beco do Forno. There are only seven tables, so be prepared to queue for about 30 minutes if they're all taken.
The serving sizes are generous and the prices are reasonable, but most of all the food is positively mouth-watering. You'll head to bed feeling full and satisfied!
Day 4: Drive Coimbra to Nazare to Obidos
Miles: 68
Time to leave Coimbra behind for the seaside town of Nazare, which is about 1.5 hours away.
Nazare is famous for its beaches including Praia do Norte, where the world record record for largest wave ever surfed was earned by Brazilian surfer Rodrigo Koxa in 2017.
Arrive in Nazare and have a fresh seafood lunch
Nazare is a former fishermen's town that has grown into a surfing hotspot, but its fishing heritage is still very much alive.
All along the waterfront and within Bairros dos Pescadores (the Fishermen's District) you'll find small seafood restaurants serving up some of the freshest and tastiest fish around. Look out for the colourful wooden boats where locals hang their fish to be dried and sold.
Unlike Coimbra or Porto, Nazare does not have any major tourist attractions or historical landmarks to look out for, and that's precisely what gives it its charm. This is the perfect place to spend a lazy afternoon snacking on fish and basking in the sunshine.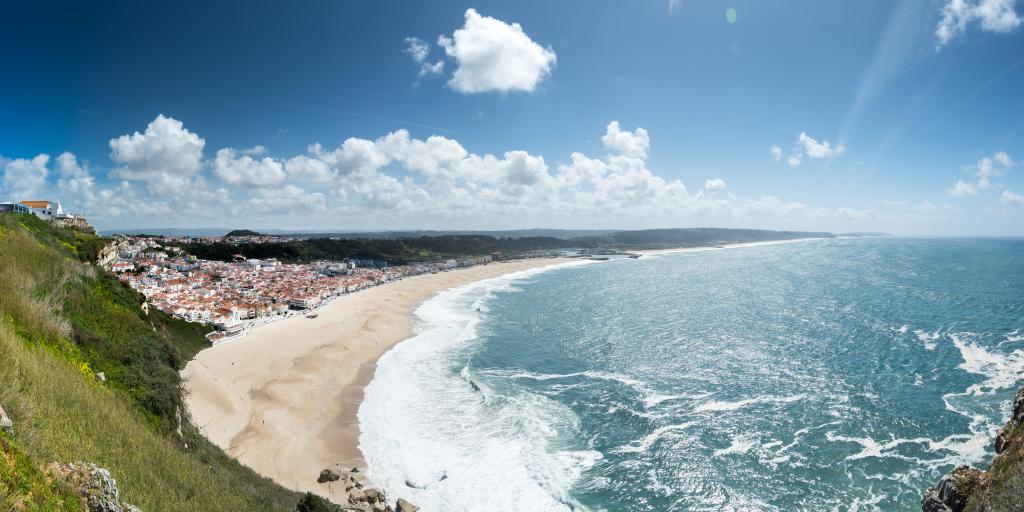 Drive to Obidos
Once you've had your fill of fish, get back in the car and drive south along the A8 to the historic fortified town of Obidos, a small municipality with just a few thousand inhabitants. It's about 40 minutes away from Nazare.
Drop your things at the hotel, freshen up and head out to wander through the cobbled streets and find some dinner.
Enjoy dinner and a nightcap in Obidos
There are a number of small family-run restaurants dishing out traditional home-cooked foods. A Nova Casa de Ramiro is a local favourite, known for its friendly service and top-notch food.
Alternatively, head to the highly esteemed Pousada de Castelo, which is set within the medieval Obidos Castle. It's a beautiful space with a lovely atmosphere, and the food is fantastic, too.
It's a bit pricier than other options around town, but you're really paying for the experience.
Finish off the night with some drinks at Bar Ibn Errik Rex, a tiny pub with a ceiling covered in hundreds of liquor bottles and walls covered in murals.
Soak in the ambience, mingle with the locals and make sure to try some Ginjinha, aka ginja, a berry-infused liquor that's traditional to this area.
An added bonus: in Obidos, ginja is often served in a chocolate shot glass. Bottoms up!
Travel tip: Obidos has a limited number of hotels, which means they get booked up quickly in the summer. If you're visiting during the peak months, be sure to book your room well in advance.
If there happens to be availability, you can even book a room in the historic Obidos Castle, which has been converted into one of Portugal's most luxurious hotels.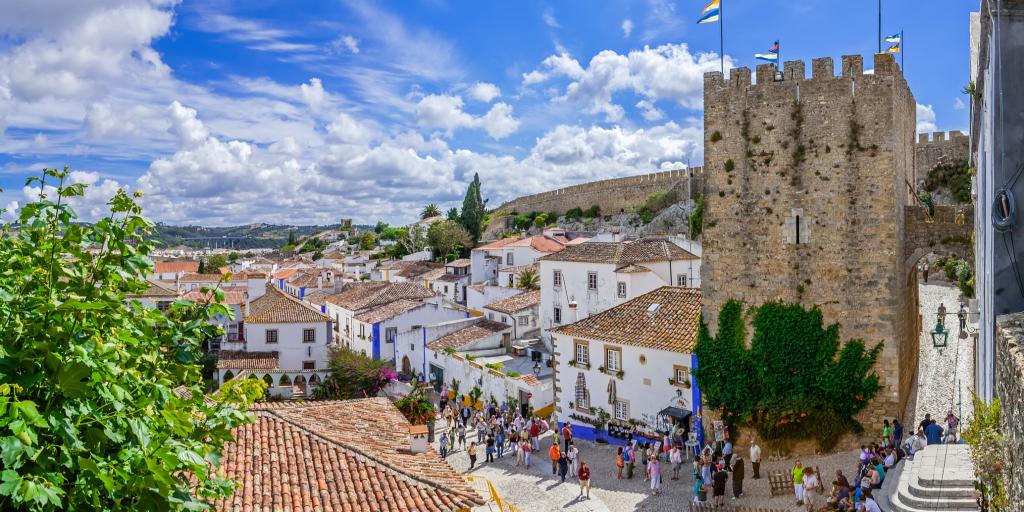 Day 5: Drive from Obidos to Peniche to Sintra
Miles: 58
Explore old town Obidos & shop for souvenirs
Rise and shine! This morning, spend some time walking around the walls of Obidos and exploring the town centre. You'll be charmed as you pass by the blossom-covered homes and get lost in all the winding alleyways.
Be sure to peek into the main gate of Obidos, Porta da Vila, with its beautiful tiles chapel that's covered in - you guessed it - azulejos.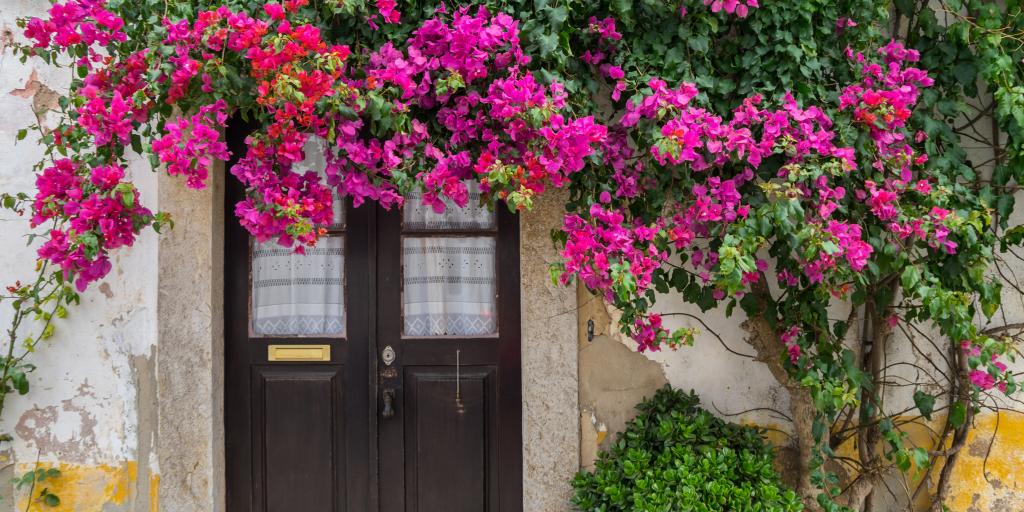 In terms of shopping, there are numerous artisan craft shops and independent vendors selling their wares. Walk along the Rua Direita and sneak a peek at the souvenir shops and quirky gift stores.
And if you've got time, pop into the Literary Man Hotel, which opened in 2015. The entire hotel is a bookstore, with every room filled with shelves and shelves of tomes.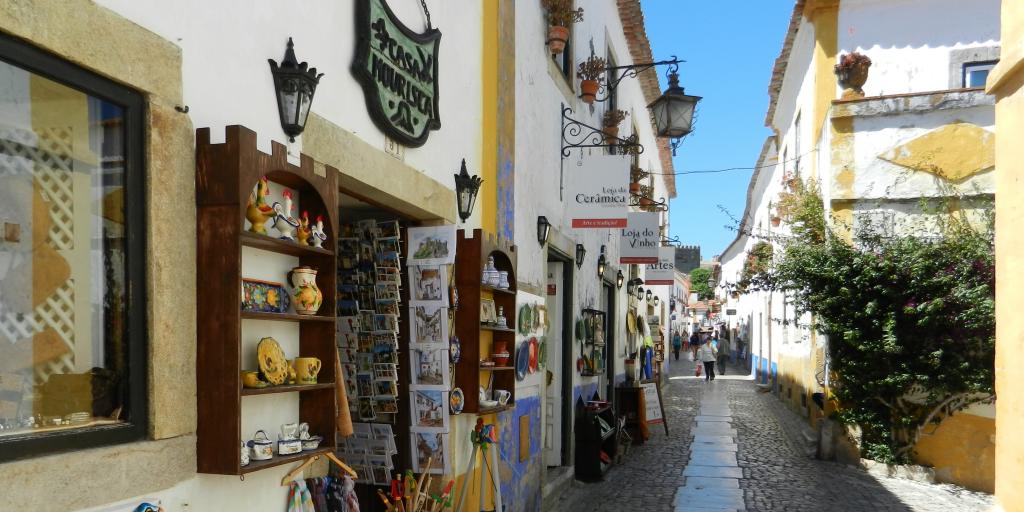 Pack up & head to Peniche
After lunchtime, it's time to pack up and go again, and this time we're headed to Peniche, one of the most popular beach destinations in Portugal.
Peniche is a 25-minute drive west of Obidos towards the coast, in what's known as the Silver Coast (Costa de Prata) of Portugal.
Like Nazare, it's known as one of the top surfing spots in Portugal, with scenic beaches and the types of waves that many surfers dream of.
Peniche has been a major fishing town and bustling port ever since ancient times. The impressive Fortaleza de Peniche, built in the 16th century, serves as a reminder of the town's cultural significance. It's not currently open to the public, but it's worth exploring the area and beach around it.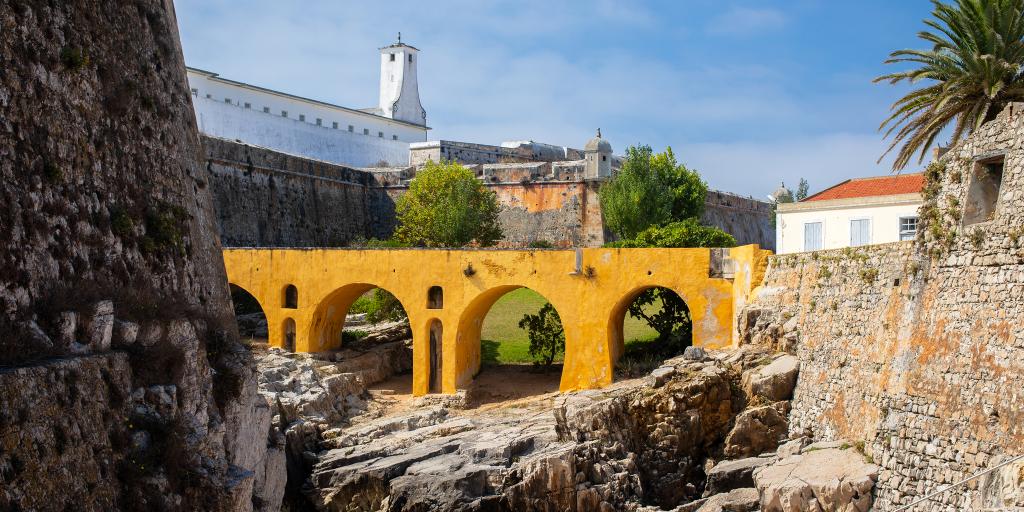 Hop on a boat to the Berlengas Archipelago nature resere
More importantly, Peniche is also the gateway to the Berlengas Archipelago, a group of sensational islands featuring crystal clear waters, dramatic red cliffs and prime hiking trails.
During the summer season (end of May to mid-September), Viamar ferries run from Peniche to the main Berlenga island several times a day.
Berlengas is a nature reserve, home to hundreds of lizards, colourful wildflowers and lots of seagulls. If you're a fan of nature or have kids who are, you're in for a treat.
Spend the afternoon swimming in the sea, exploring the grottoes and discovering hidden beaches and an abandoned castle, the Fort of São João Baptista das Berlengas.
Need to know:
The boat ride is notoriously choppy, so if you're prone to seasickness you may want to take precautions or give the excursion a miss
The seagulls essentially own the island; get in their way at your own risk!
Once you've returned from Berlengas all windswept and sun-kissed, head back to your rental car. It's time to exchange beaches for mountains.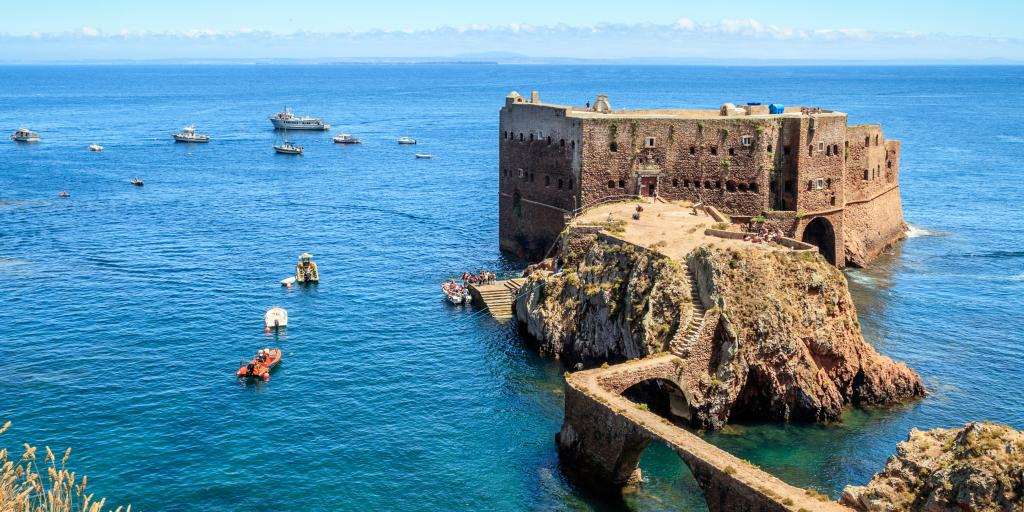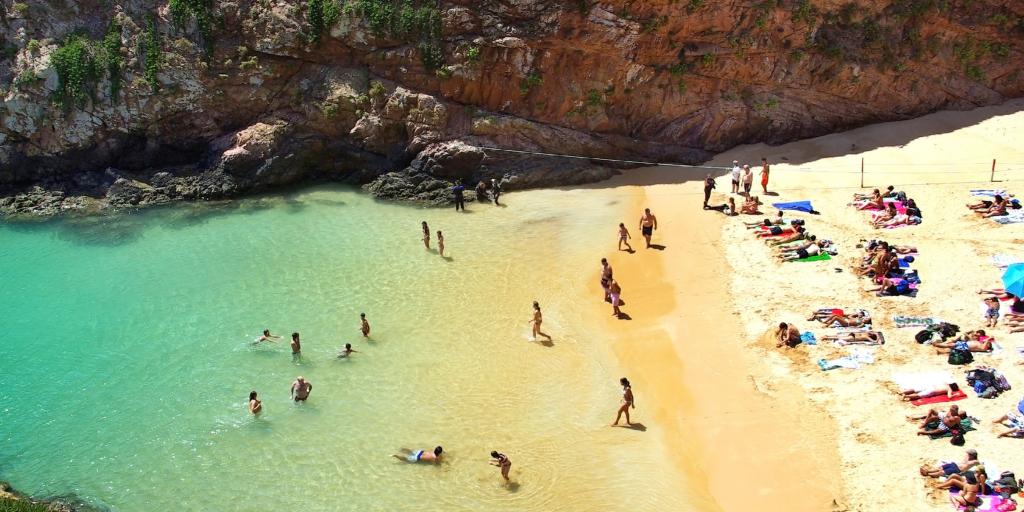 Drive on from Peniche to Sintra
Take the long scenic route to Sintra, which is about an hour and a half south.
Sintra is a magical, mystical town set in the verdant Sintra mountain range. Because of its high elevation and mountainous location, it tends to be slightly cooler than Lisbon, which is only about 40 minutes away.
And thanks to its incredible monuments and natural beauty, it has long been a favourite holiday destination among the Portuguese, including the royal family (more on that later).
Check into your hotel room, wash off that salt water and head out for dinner. For a small resort town, Sintra has a surprising number of fantastic restaurants to choose from.
Where to eat dinner in Sintra
A Raposa, which is right next to the train station, is one of the more romantic options with a great atmosphere and an even greater menu. It's also slightly off the beaten path, which means it's less crowded with tourists than some of the other eateries around.
Treat yourself to rich dishes like squid ink risotto, pork cheeks and perfectly cooked steak. The waiters are also happy to make expert wine recommendations. And if you've got a sweet tooth, don't forget to save some room for dessert!
Once you're full to the brim with delicious food, waddle back to your hotel room and have a rest. Keep the windows open to let in the fresh alpine air… you'll be sleeping like a baby in no time.
Day 6: Sintra - Sightseeing, a magical garden & lots of photo ops
Grab breakfast & head to the gardens of Quinta de Regaleira
Bom dia! Before you head out into Sintra to do some sightseeing, fuel up with some coffee and breakfast.
Saudade is a charming cafe on Avenida Doutor Miguel Bombarda with tasty brunch options, freshly squeezed lemonade and delectable cakes.
Fun fact: The name Saudade is a beautiful yet hard-to-translate Portuguese word which roughly means a bittersweet longing.
First stop on your Sintra itinerary is Quinta de Regaleira, a labyrinthine garden and estate with a palace, a chapel and underground walkways. It's a 25ish-minute walk uphill from Sintra, so be prepared for a slight workout.
Quinta da Regaleira is a magical mystery land of caves and caverns that are perfect for getting lost in and letting your imagination wander. If you have children with you, let them roam free and live out their ultimate Disney dreams.
Don't forget to see the Initiation Wells, which are lined with spiral staircases descending into a secret grotto.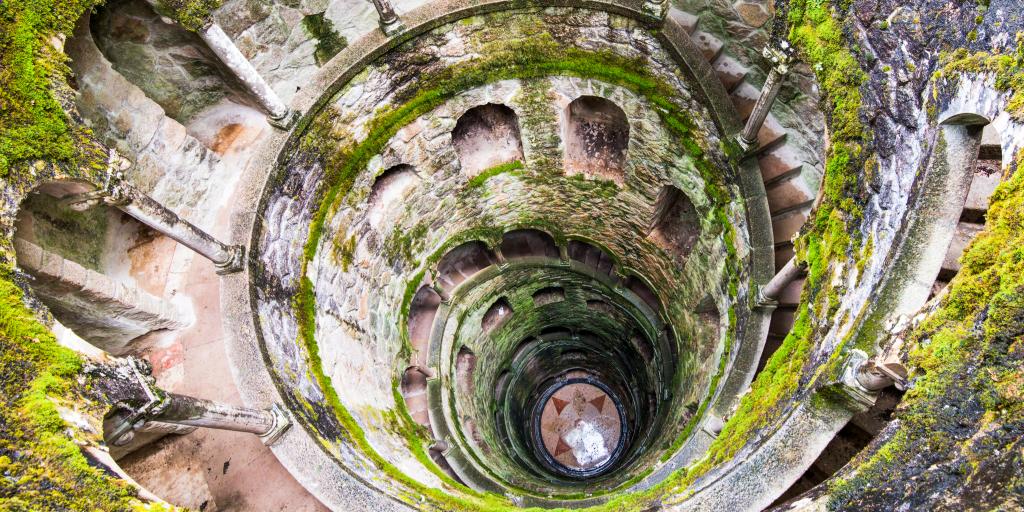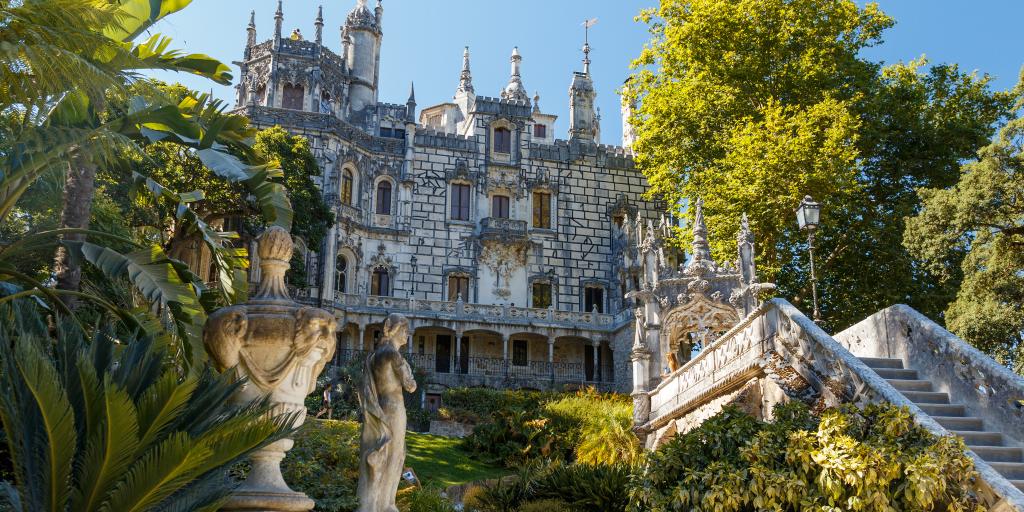 From here, hire a tuk tuk or catch the bus to Pena Palace, the true crowning jewel in Sintra's crown.
This distinctive rainbow-coloured castle is the city's iconic symbol, and chances are it's like nothing you've seen before. It was built in the 1800s under the reign of Ferdinand II of Portugal, who wanted to create a summer residence for the royal family.
Pena Palace consists of an enchanting melange of architectural styles including Gothic, Islamic and Renaissance. With its fairytale-esque turrets and lush garden, Pena Palace is like something out of a movie. Make sure you bring the camera.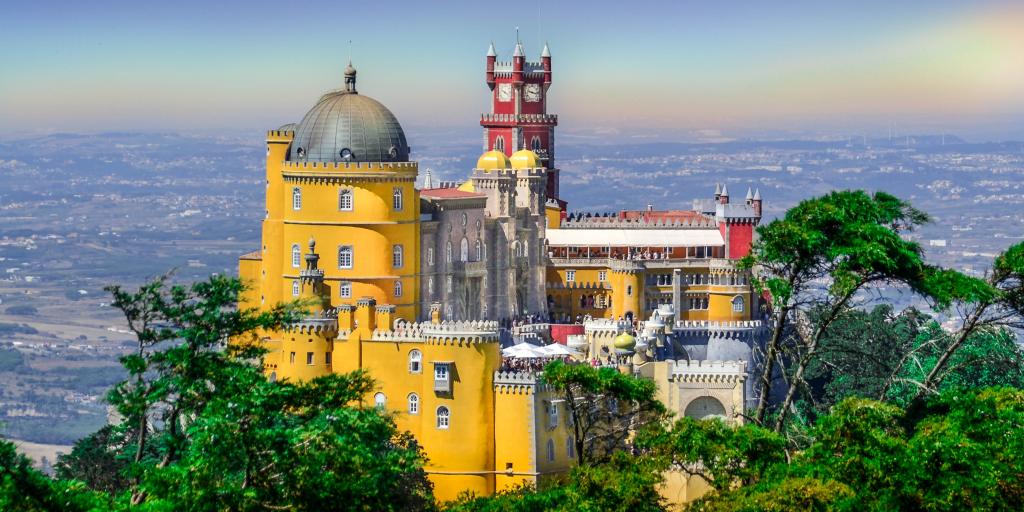 If you have time, pay a visit to the Castle of the Moors (Castelo dos Mouros), a medieval fortress built in the 8th and 9th centuries.
Prepare to climb lots of stairs to reach the top of the hill, but it's worth it for the sensational views.
For dinner, you can go for tasty tapas at the fantastic and highly-rated restaurant Tascantiga, or take a break from Portuguese food and grab a burger at Caldo Entornado.
Day 7: Drive from Sintra to Lisbon via some amazing beaches
Miles: 20
Wake up, have some breakfast, put on your swimsuit and collect your rental car. It's time for the final leg of your drive through Portugal: Sintra to Lisbon (35 minutes). Along the way, you have the option of stopping at some of the best beaches in Portugal.
Best beaches to visit along the way (from north to south)
Praia da Adraga - Dramatic cliffs and soft orange sand characterise Praia da Adraga. Walk the beach, explore the caves and watch the sunset if you can. It's also just a 15-minute drive from Cabo da Roca, the westernmost point of continental Europe.
Praia da Ursa - This incredibly scenic shoreline is secluded and peaceful, with some impressive rock formations to boot. Don't be surprised if you come across a few naturists; it's that secret!
Praia do Guincho - Great for windsurfers and other water sports enthusiasts. Grab a snack and a burger at the small food shack and watch the waves crash onto the shoreline.
Remember: This is the Atlantic, not the Mediterranean - so brace yourself for chilly water!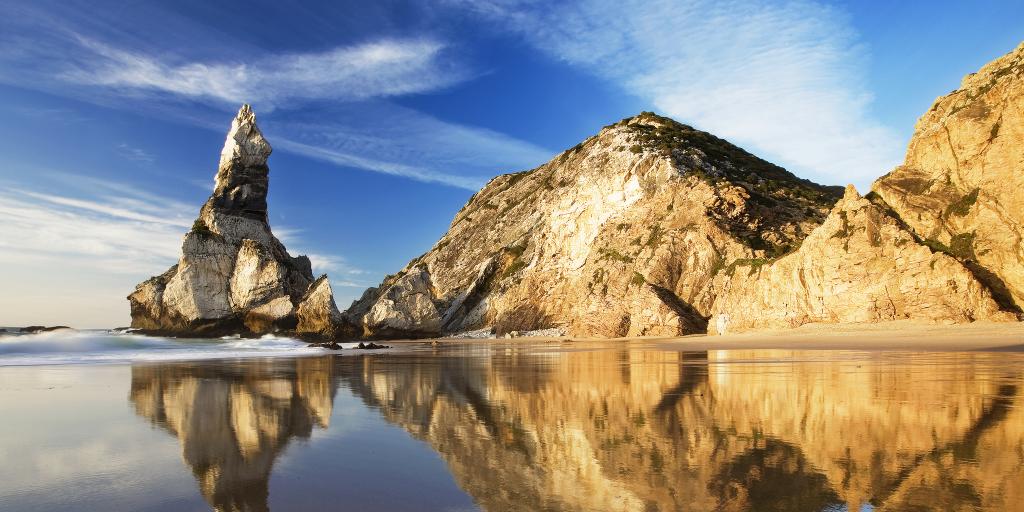 Once you've swum and sunbathed to your heart's desire, pile back into the car and drive onto your final stop: Lisbon (Lisboa to the locals).
Drive on to Lisbon
We've saved the best for last, as the Portuguese capital is one of the trendiest and most exciting European destinations. This is thanks in part to its pleasant Mediterranean climate (it famously gets more sun than anywhere else in Europe), but also because of its blossoming art scene, the cheap cost of living and a neverending roster of activities to do.
Welcome to Lisbon.
Driving tip:
You'll want to spend at least a couple of days in Lisbon, so it may be worth dropping off your rental car at the airport if possible before heading into the city centre. There's no need to have a car in Lisbon, which has great public transport (including funky funiculars and vintage yellow trams!)
Where to stay in Lisbon
There are loads of different types of accommodation in the city of seven hills, from quaint boutique hotels to grand palaces.
We recommend taking full advantage of Lisbon's quirky charm at the lovely Esquina Urban Lodge, handily situated in the heart of the city.
Cosy and comfortable rooms, fantastic value for money, characterful decor… these are just some of the reasons why we love this boutique hotel.
Plus, the super friendly staff will spoil you silly, going out of their way to make your stay perfect.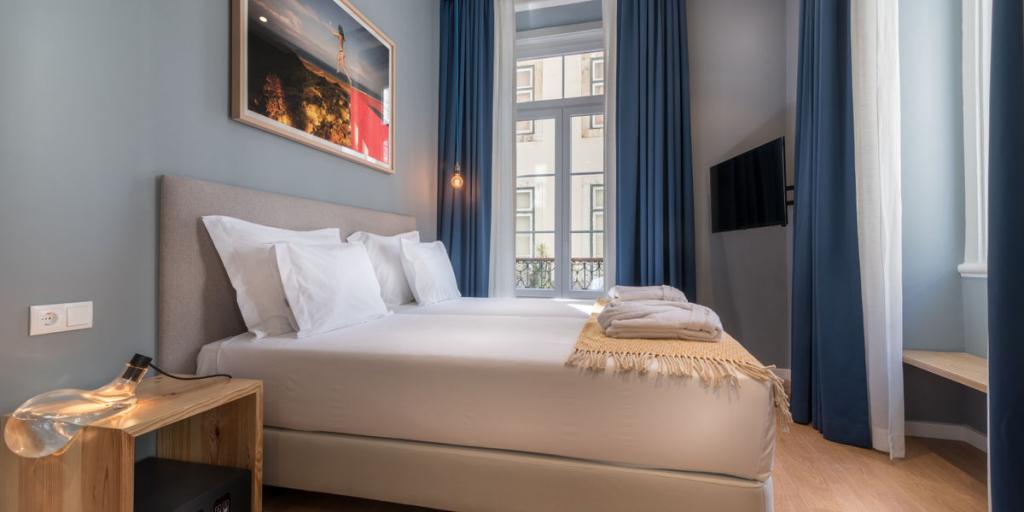 Grab an authentic Portuguese dinner in Bairro Alto
Once you've settled into your room, it's time to recharge. Hopefully after all that beach-hopping you've worked up an appetite; the food scene in Lisbon is positively divine.
Head to the bohemian Bairro Alto neighbourhood for some authentic Portuguese fare. There are even some restaurants that provide live fado performances while you dine.
After dinner, sip on a nightcap at Park, one of the best rooftop bars in Lisbon. With great views of the city and river, this car park rooftop terrace is a sky-high oasis in the middle of the bustle.
Day 8: Lisbon - Explore the waterfront & head to an aquarium
Good morning! Time to explore all the best waterfront attractions in Lisbon. But first things first: coffee time.
Have breakfast the Portuguese way
If you're a coffee connoisseur, you're in luck; not only is Lisbon one of the oldest cities in the world, it's also one of the world's best cities for coffee lovers.
Do it the Portuguese way by sidling up to a streetside quiosque, ordering a galão (espresso with steamed milk) and pairing it with a freshly made pastel de nata.
If you're a fan of these custardy delights, be sure to get the real deal at the iconic Pastéis de Belém, Lisbon's favourite bakery. You're good to go.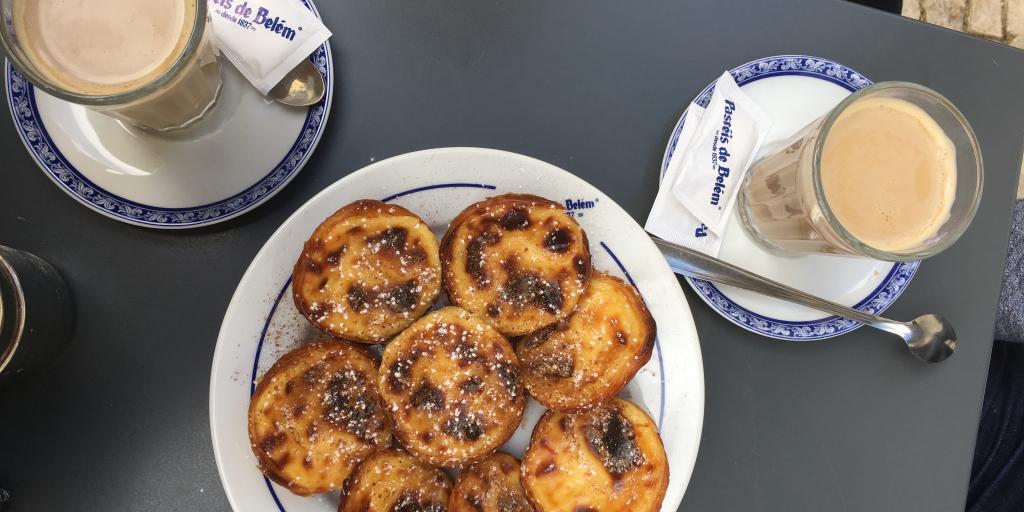 Lisbon was recently rated the ninth cheapest city break in Europe, so your money goes a long way here. Make it count by taking in as much as possible on this short trip.
Delve into Lisbon's history at Belem Tower
You can start with a trip to the UNESCO-listed Belem Tower (Torre de Belem), one of the Seven Wonders of Portugal.
This striking structure, which dates back to the 16th century, is made from beige-toned limestone that provides a warm contrast against the aquamarine water surrounding it.
Buy your tickets online in advance to avoid the queues, and head inside for a tour. The views from the top are sensational.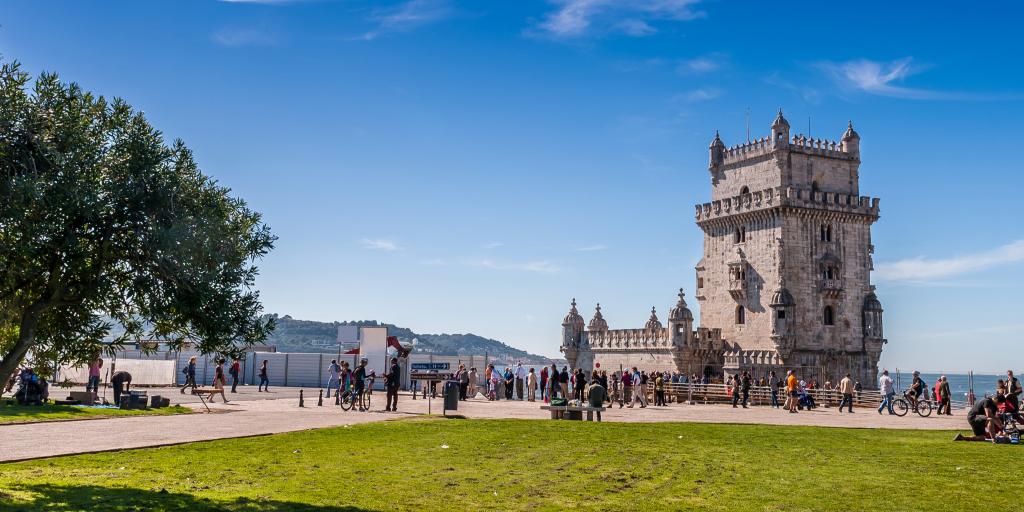 From here you're within easy access of two lovely green spaces: Jardin de Belem and the Botanical Garden. Take a breather there, or continue on to our next destination: LX Factory.
Make your way to LX Factory - Lisbon's trendiest neighbourhood
This super trendy neighbourhood, a former industrial complex situated beneath the Ponte 25 de Abril bridge, is where you'll find Lisbon's cool kids.
Stylish concept stores in converted warehouses sit alongside quirky yoga studios and beer gardens.
Among the artists and photographers working in studios, budding entrepreneurs and freelancers mingle with their laptops in ultra-modern co-working spaces. Plus, the street art scene is on point.
Spend a few hours in LX Factory channelling your inner hipster. You can peruse the flea markets and eclectic gift shops, have a coffee and a snack and do some good people-watching.
If you haven't quite fulfilled your book fix, be sure to pop into the Insta-famous Ler Devagar bookshop.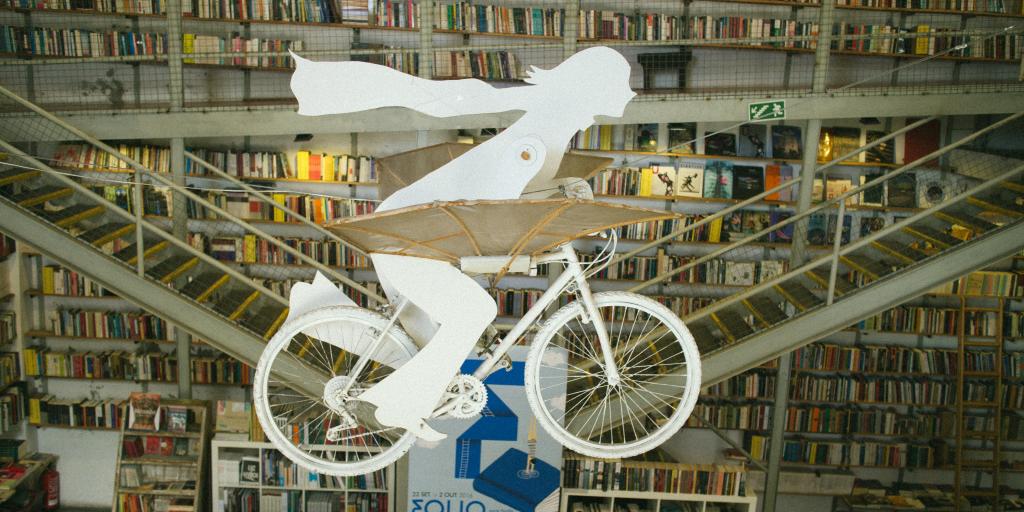 Head to the centre of Lisbon and walk through Praça do Comércio
A 20-minute bus ride east of LX Factory you'll find the Praça do Comércio, aka Terreiro do Paco, one of the most emblematic squares of Lisbon.
This historic city square was built on the site where the former Royal Palace was located before it was destroyed by the Great Lisbon Earthquake of 1755.
Throughout history, traders would come to the Praça do Comercio to sell their goods, and any big ships would dock in the port, with passengers disembarking in the square.
These days it's still a hub of life and activity, providing the perfect spot for relaxing in a cafe, doing some window-shopping, strolling around and admiring the grand architecture.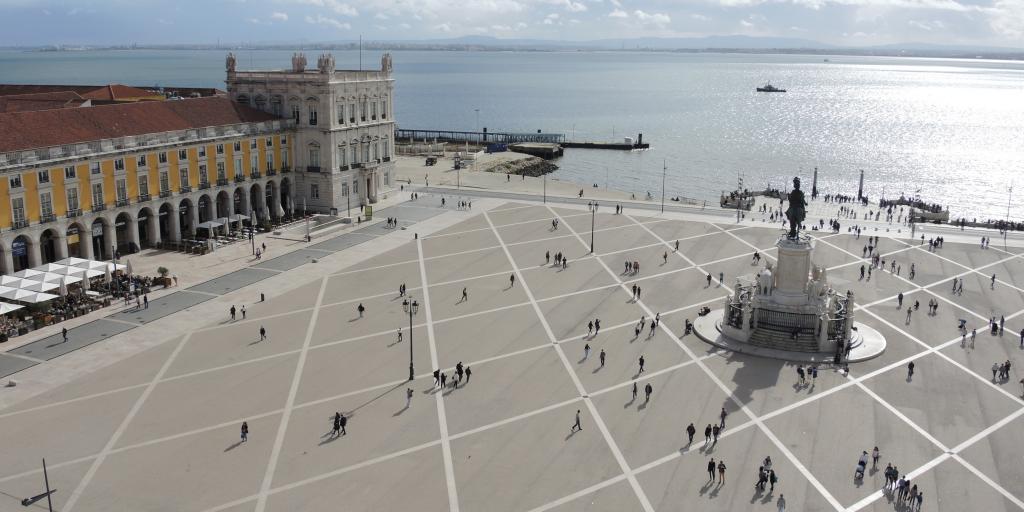 Spot the fishies at Oceanario de Lisboa
Have some lunch and a coffee before heading to the next destination: Europe's largest indoor aquarium.
Oceanario de Lisboa was designed to resemble an aircraft carrier, and but it's the inside that has the biggest effect.
Divided into four distinct climate zones with a large tank in the middle, the aquarium is home to a jaw-dropping 15,000 creatures from more than 450 different species.
If you have little ones with you, this attraction will provide endless fun and diversion. And even if it's a strictly adults-only trip, the Oceanario is bound to bring out your inner child. You could easily spend a good half-day here.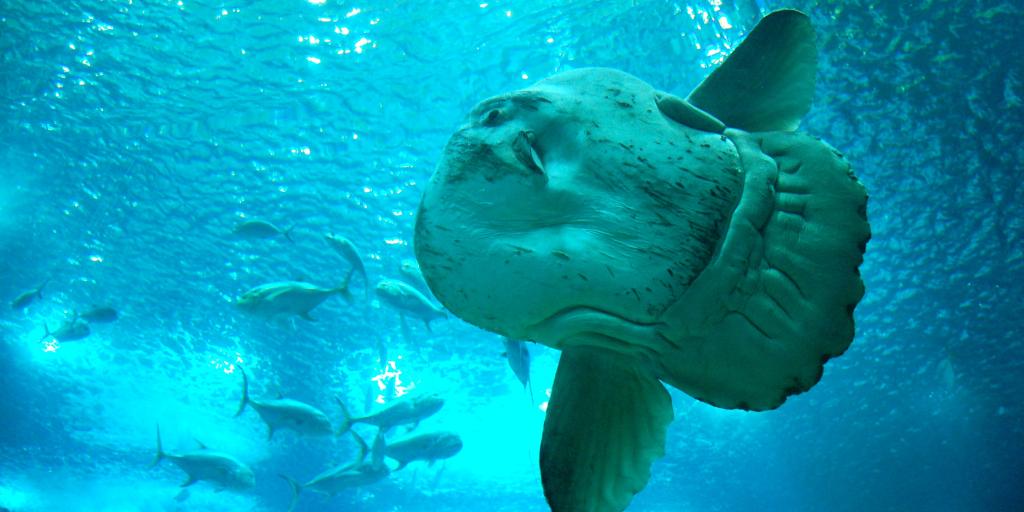 Have dinner & rest up at your hotel
Once you're ready to say goodbye to the fishies, head back to your hotel for a rest and then go out on the town and find some eats. Lisbon is your oyster, and there are an infinite number of restaurants to choose from. Follow your nose!
Day 9: Lisbon - Explore the old Alfama neighbourhood & experience Lisbon's nightlife
It's your final day in Portugal, so make the most of it! Once you've had your morning coffee, it's time to experience one of Lisbon's many eclectic markets.
Peruse the stalls at Feira da Ladra flea market
Head to Alfama, the oldest (and hilliest) district in Lisbon, which is home to Feira da Ladra.
This Tuesday and Saturday flea market is like a treasure hunt for grown-ups. Discover handmade goods, vintage clothes, cool antiques and second-hand books.
Learn about the heritage of Portuguese tiles
From here, make your way to the Museu Nacional do Azulejo, a fascinating heritage museum where you can learn all about those traditional blue tiles that seem to pop up everywhere in Portugal.
The museum is housed in a beautiful 16th-century convent with a secret garden cafe out back. It's open from 10am to 6pm every day except Monday and costs €5 to enter.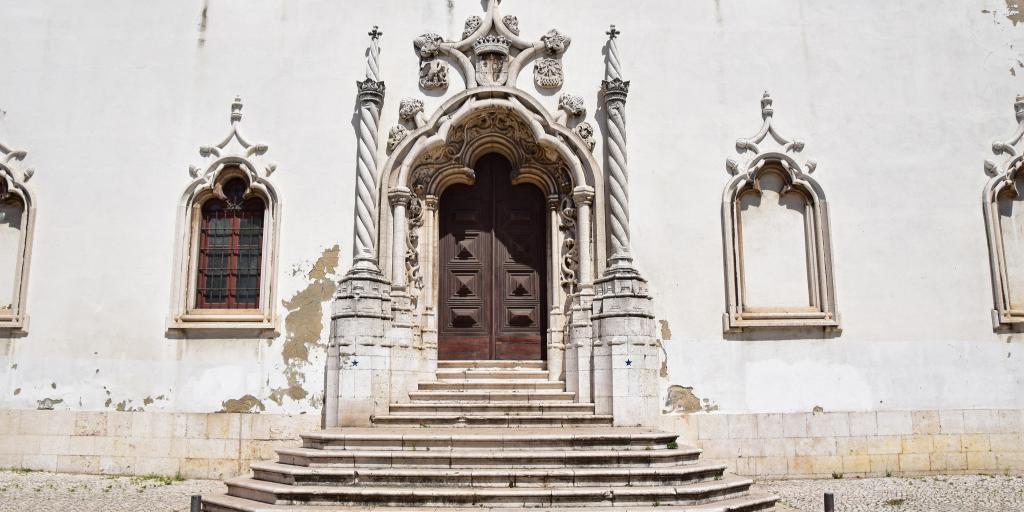 The final destination on your Lisbon itinerary is the Museu Coleção Berardo (Berardo Collection Museum) on Praça do Império.
Marvel at modern art in the Berardo Collection Museum
The museum houses an eclectic mix of contemporary works by artists like Picasso and Warhol as well as some avant-garde sculptures in the well-manicured garden.
If you've got a few hours to kill and you enjoy modern art, you should definitely consider visiting the Berardo. It's an outstanding museum on par with the likes of San Francisco's MOMA.
Travel tip: The Berardo Collection Museum is free to visit every Saturday.
Dinner & dancing in Cais do Sodre and Pink Street
On your final evening in Lisbon, head to the restaurant-rich neighbourhood Cais do Sodré neighbourhood and wander around until you find a restaurant that suits your tastes.
Cais do Sodre is home to the famous Pink Street, Lisbon's former Red Light District. These days, it's one of the most bustling areas in terms of bars, restaurants and music, so you'll have plenty of diverse options to choose from.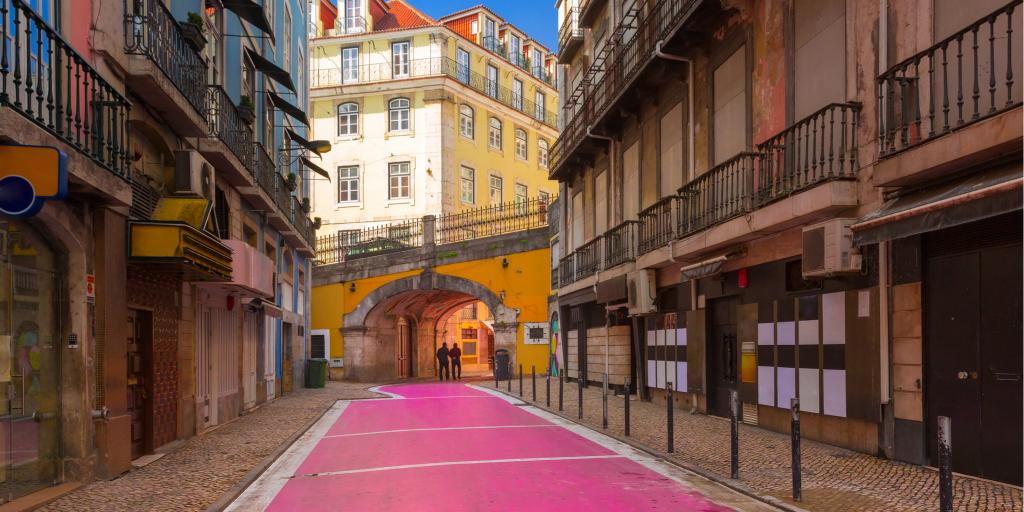 Before turning in for the night, have a nightcap at the nearby Pensao Amor, a former brothel.
With its crystal chandeliers, antique furniture and Roman mural painted onto the ceiling, this speakeasy-type bar is the perfect amount of kitsch. Order a cocktail, find a nook and sink into the one of the soft velvet sofas. No doubt you'll already be feeling saudade sinking in.
Day 10: Head back home from Lisbon
Pack up and head to the airport
Have one last pastel de nata before packing up your stuff and getting ready to return home. You can either fly out of Lisbon airport, or if you've bought a return flight from Porto, you can take the train back to the city. Tickets cost €30.30 and the journey takes 2.5 hours.
Driving in Portugal - Tips & rules of the road
Before you set off on your road trip, make sure you familiarise yourself with the rules and regulations of driving in Portugal - including toll roads, roundabouts and general etiquette. Safety first!