Driving in Portugal: Rules of the road, tolls and essential tips
Thinking of planning the ultimate Portugal road trip? Not sure of the rules of the road? Read on for our top tips for driving in Portugal, including etiquette, a checklist of what you need to bring, information on tolls, and where to park so you'll be cruising like a local in no time.
Etiquette
If a driver flashes their lights it usually means that they want you to give way.
You shouldn't honk your horn at night, and if you do it should only be to signal danger.
On-the-spot fines are common in Portugal, and expect to have to shell out in cash. Note: fines will only be accepted in Euros.
Portuguese drivers don't have the best reputation - people are often impatient so will drive very close behind other cars and overtake without warning, so keep your wits about you!
Rules of the road
Remember to drive on the right in Portugal
The blood alcohol limit is 0.05%, except for drivers who have had their license for less than three years - the limit in this case is 0.02%.
Using your mobile phone whilst driving is illegal and will result in a fine. Using a hands-free device is permitted.
Wearing headphones whilst driving is forbidden.
Littering whilst driving is punishable by fine.
Children under 12 years old aren't allowed to sit in the front passenger seat of the car.
It is illegal to overtake on the right in free-flowing traffic.
Green lanes (via verde) on the motorways are reserved for drivers using the automated payment systems for the tolls and mean they don't have to stop - a tag attached to the windshield transmits a signal that identifies the toll amount to be debited from their account. If no tag is identified then the car will be photographed and the driver could face paying the full amount for that toll stretch, or legal action could be taken.
Headlights must always be used when driving through tunnels
You must be 18 or over to drive and hire a car in Portugal. Be aware that drivers younger than 25 may have to pay a young driver surcharge.
Roundabouts
Cars already on the roundabout have the right of way, so wait your turn before you set off. It's also against the law to travel in the furthest right lane unless you're planning on taking the first exit, so make sure you're travelling in the correct lane for where you're aiming to come off. If you don't follow the rules, you could face a fine.
What do I need in my car?
In Portugal it is compulsory to have the following items in your car at all times:
A valid driver's license or an International Driving Permit if you don't have a photo card license
If you're from the UK you need a GB sticker on the back of your car unless you have Euro-plates
You need the certificate of your car insurance, your V5 registration document, or hire car paperwork
If your car is over three years old, you must carry your MOT certificate.A warning triangle to place in the road in case you break down
A reflective jacket which you need to wear if you stop and get out of your car at any point on the motorway
Spare bulbs for your external car lights
If you've had your license for less than a year you need a yellow '90' disk to display in your car. You can get one by applying to the Automovel de Club Portugal (ACP)
Your passport - the Portuguese authorities often stop foreign drivers and check their ID
If you need to wear glasses to drive, you must have a spare pair with you in the car
You are forbidden from carrying the following items in your car:
Cans of petrol
Radar detection devices
Dashboard cameras
Speed limits
The speed limit in Portugal depends on the road type (unless otherwise sign-posted):
On toll motorways the speed limit is 120km/75mph
On dual carriageways the speed limit is 100km/62mph
On other, smaller roads the speed limit is 90km/56mph
In built-up areas the speed limit is 50km/31mph
Speed limit signs are white and circular, with the number written within a red ring. If you see a circular blue sign displaying a number this is the minimum speed you must drive on that particular road.
Tolls
The toll system in Portugal is a little complicated, with a confusing payment system meaning there's a higher chance of being fined. However, if you get clued up before you set off, you'll find that these roads are really well maintained and connect the country well.
A Portuguese toll roads is known as a portagem, and most run alongside a free (but slightly shabbier) route that you can take instead if you want to. These roads are prefixed with an A or an E (e.g. A8 or E1) and use an exclusively electronic payment system; you won't be able to manually hand over any money as you drive from A to B.
There are a few different ways for foreign visitors to pay:
Easytoll - This is an automated payment system that associates your bank card with your number plate which is read as you pass through the toll, deducting the fare from your bank account. To sign up, you simply insert your bank card at one of the Welcome Point tolls (on the A28, A24, A25, and A22) and the process is automatic, connecting to the number plate for 30 days. It costs €0.74 to sign up, and there is a €0.32 fee on top of the fare with each journey.
Tollcard - This is a prepaid card which you activate using your phone. Drivers can buy a card preloaded with €5, €10, €20, or €40 from the post office, online, or at some service stations (including all on the A23 and A24).
Tollservice - This is also a prepaid option, however you buy a €20 card that is valid for unlimited use for three days, or a card for a specific date and journey (handy if you're driving from Spain to either Porto or Faro airport). You can buy the cards at Cepsa service stations in Viana dos Castelo (A28), Abrantes (A23) and Olhão (A22), at Porto Airport, at post-offices or online.
Temporary Via Verde device - This device allows fares to be automatically debited from your account without any administration fees. The device has an initial cost of €27.50 and costs €6 for the first week, then €1.50 for the following weeks (lasting for up to 90 days). You can buy one in Via Verde stores or online, and it allows you to drive in green lanes on the motorways.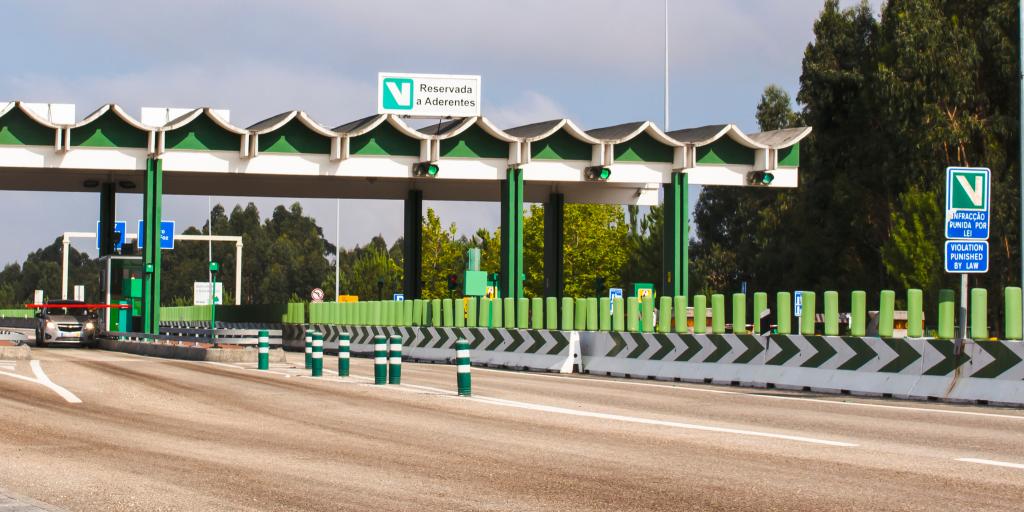 Insurance
You need a minimum of third-party cover to drive in Portugal, and you must carry proof of insurance with you in the car.
Parking
The Portuguese tend to make up their own rules (or lack thereof) when it comes to parking, so unless otherwise signposted, expect to find most of the regulations and restrictions in the big cities.
Lisbon - On-street parking is available in Lisbon and split into three zones: the red zone costing €1.60 per hour with a maximum stay of two hours, the yellow zone costing €1.20 per hour with a maximum stay of four hours, and the green zone costing €0.80 an hour with a maximum of four hours. Although this can be a good option at times, for the most part it's better to park in one of the many underground car parks. They are a little more expensive costing €1.50 to €3 per hour, or €15 to €45 per day depending on the location.
Porto - Paid on-street parking is available in the centre of Porto Monday to Friday from 8am to 8pm and costs between €0.50 and €1.00 per hour depending on the location. There are also several underground car parks costing a maximum of €15 per day.
Faro - There's a big free car park on the waterfront in Faro which is a great place to park with an easy walk into the centre of town. Most of the city centre is pedestrian-only so don't expect to park here, but there are various other car parks dotted around that have a small cost.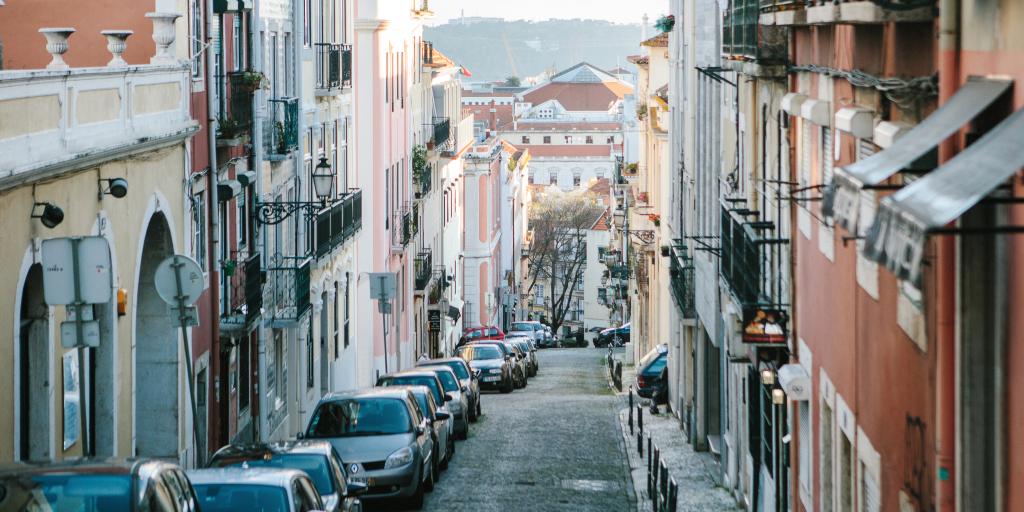 Disabled Parking
If you're visiting from a European country, your blue disabled badge is valid in Portugal, so just display it in your car when you park. If you're travelling from outside of Europe you will need to obtain a temporary permit to park - your home country's permit won't work.
Parking spaces reserved for disabled badge holders are clearly marked with a blue wheelchair symbol.
Fuel
You'll find fuel stations dotted around the country, but be aware that barely any of them stay open 24 hours a day. Most open at 7am and close at either 10pm or midnight, so if you're driving through the night be aware of where your fuel points are.
The cost of fuel in Portugal tends to fluctuate around €1.40 per litre for diesel, and €1.60 per litre for unleaded petrol. Generally you can pay for your fuel with credit and debit cards, but note that there's often a €0.50 charge to do so.
Important phrases to know
Esquerda = left
Direita = right
Siga em frente = go straight on
Autoestrada = motorway
Gasolina = petrol
Gasolina sem chumbo = unleaded petrol
Gasoleo = diesel
Velocidade permitida = speed limit
Onde está…? = where is…?
Pneu vazio = flat tyre
Entrada = entrance
Saída = exit
O meu carro falhou = my car broke down
Emergency phone numbers
To contact the emergency services dial 112 and request the police, an ambulance, or the fire department. This number is the same across continental Europe, and operators will be able to answer in English.
There are also emergency phones positioned along the motorways if you are unable to use your own.
Recommended road trips
If you're looking for ideas on where to go to on a road trip around Portugal, check out our epic itinerary: Portugal road trip - The ultimate Porto to Lisbon drive.;